Updated on 4 months by Jessica Green
If you're like the majority who shop for groceries on a tight budget, you must have noticed that the costs of food items keeps increasing with no hope of a reduction.

If you have ever wanted to purchase food items in cheap stores, this article reveals he you can.

There is a wide number of national and regional grocery shops around the United States.

While Dierbergs and Schnucks (one of the most fairly-priced grocery shops in my neighbourhood) are two of the most popular businesses in my neighbourhood, the pricing at both of these establishments are not exactly budget-friendly, especially Dierbergs!
The good news is that there are several low-cost grocery shops where you can get fresh fruit and high-quality food at reasonable costs.
8 Cheapest Grocery Stores Near You: Shop Quality Food on a Budget
Here is a list of the cheapest food shops you can find in the United States.

You may find digital and printable grocery coupons and apps on the websites of some of these stores, so before you go shopping at them in person, check online to see if there are any bargains.
ALDI
If you live in one of the 35 states where ALDI operates, there's a high chance that you know one out of their 1,600 locations

ALDI is one of the most reasonably priced grocery stores in the United States.
When you shop at ALDI, you can save up to 50% on your grocery budget, according to the company.

They also offer special brands products which are imported from Europe – These products are way cheaper when compared to their counterparts in the US
Amazon Fresh (also known as Amazon Prime Fresh)
This is a new grocery delivery business that is conducted online. Many individuals are unaware that they can really use Amazon to have their goods delivered.

With Amazon Fresh, you can shop for meat, fresh fruits and vegetables, and even organic goods, all in one convenient location.
This platform allows you to do the following:
Make a delivery appointment at a time that is convenient for you.
Get your meal brought to you by hand and enjoy yourself!
Costco Wholesale Corporation
There are hundreds of outlets in hundreds of cities across the globe for this membership-based food warehouse club.

This food-based wholesale corporation allows you to buy brand-name products and a high-quality assortment without having to pay exorbitant prices.
To ship in Costco, you need to acquire a membership card. This card can be obtained online or gotten in person from one of their outlets.
County Market
There are locations in Illinois, Indiana, Iowa, and Missouri for this midwestern supermarket company. They supply and sell items such as groceries, pet food, and hardwares. They also own pharmacies and petroleum stations.
Some of the specials that you can get at their grocery shops include:
Yellow Onions (3 lb. Bag) for $1.99
Green Onions (3 lb. Bag) for $1.99
Red Onions (3 lb. Bag) for $1.99.
Ripe Roma Tomatoes are available for $0.88.
$1.77 for a whole boneless pork loin roast.
County Market is a place where you can buy fresh produce. They sell an 8-piece fried chicken dinner for $7.99.
Dollar General
Dollar General is a well-known and respected names in the grocery industry.
It is a grocery store that can be found in 44 states across the United States, with over 15,000 locations.
It offers a wide range of products at inexpensive rates. A smartphone app for Dollar General is also available, which can be used to uncover bargains while on the road. It is available on the following platforms: iOS and Google Play.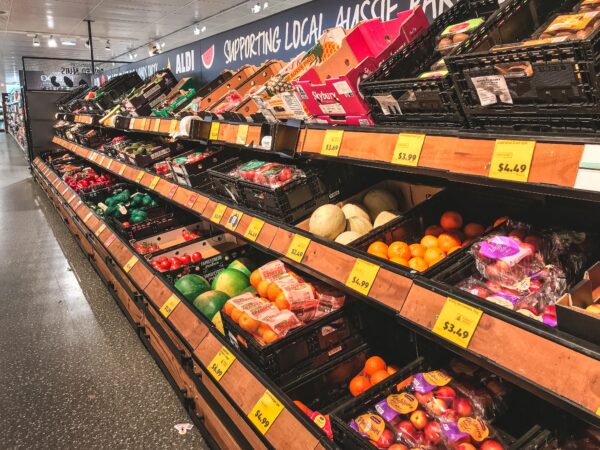 Food4Less Grocery Store
Food4Less is a fantastic grocery store chain with reasonable pricing and downloadable coupons. You can discover more than 500 accessible coupons on their website.
Food4Less also offers a mobile app that enables you to easily access weekly specials and coupons. The applications are available on the following platforms: iOS and Google Play.
H-E-B Grocery Store
This is a grocery store chain with a southern presence that provides reasonably priced items. If you are dissatisfied with a product that you have purchased, then you don't have to worry this is because they offer a money-return policy.
On H-E-B's website, you can find coupons that offers promos such as:

Buy one Charmin toilet paper product and get one free
3 cents off an H&EB meal White and dark meats are combined in a simple shredded chicken dish.
Tide PODS are $2.00 cheaper now.
Totino's Party Pizza Pack is discounted by $1.00.
Starbucks is offering a $1.00 discount.
To get updated on daily offers and weekly advertisement, download H-E-B's mobile apo on Google Play Store or iOS.
Kroger
Kroger is a reasonably priced grocery store that provides a variety of shopping options.
You have the option of shopping in person, shopping online and picking up in-store, or even having your food delivered to your door. They also provide a Shopper's Card that rewards you for your continued patronage.

You can find the following information on their website:

Coupons on the Internet
Ad Promotions on a Weekly Basis
5X Event Big Packs are available.
Fuel Reward Program
Kroger Gives Back to the Community
Kroger offers a free app that allows you to check their weekly in-store promotions. The app is available for download on Google Play Store and iOS.