Last updated Jan. 9, 2023 by Favour Chinaza
Online training platforms LMS(Learning Management Systems) are in high demand because most organizations are adopting online learning platforms to meet all training needs. This article, 27 Best Online Course Platforms For Learning and Teaching (Top 10 Picks), will help you choose the best learning platform.
Because there are so many online training tools in the market, it can be hard to choose the best one. Plus, each tool has its features, pros and cons, and price, which makes things even more confusing.
What Is Online Course Platforms
An online course platform is a webspace or portal for educational content and resources that provides a student with everything they need in one place. This includes lectures, resources, opportunities to meet and chat with other students, etc. It is also an excellent way for both the student and the teacher to track progress.
Professionals on these platforms share their knowledge through articles, PDFs, videos, text documents, training modules, etc. Most multinational companies give employees online training that they can do from anywhere. Online course software helps everyone stay up-to-date with the latest technologies and trends.
What is the Difference Between an Online Course Platform and a Learning Management System(LMS)?
The difference between LMS and online course platform basically is their different functionalities. LMS generally are more comprehensive in functionality compared to online course platform. Also, LMS are either hosted or on-premise, online course platforms are usually only hosted.
The more advanced type of LMS is typically utilized by businesses for employee onboarding and training and by academic institutions to support teaching. However, the entire category can occasionally contain WordPress plugins or even course platforms used by SMEs to develop & market online courses. Online Course Platforms are utilized by individuals.
Another factor is, online course platforms, in contrast to LMS, are cloud-hosted programs that let teachers submit educational content they have developed using text, images, videos, PDF files, and audio to construct online classes or individual lessons.
Features Of a Good Online Course Platform
Course Training software assists in providing some demo tests and exams so that users are aware of their knowledge level.
Online Course Platforms allow users to customize and personalize features as needed. For example, users can select the type of courses, the duration, and whether or not they want a certificate upon completion, among other options.
Online course platforms have features that track trainee progress and generate final performance records for future improvement.
Some training software has a basic and straightforward installation process that allows it to be scalable. Hence, it does not require the relocation of any service at any time via webcam recording, screen recording, chat practices, email composition, advanced reporting analysis, and so much more.
These training platforms can be integrated with other platforms, such as CRM, to provide highly effective customer relationship management to its trainees, thereby improving learning.
A lot of training software is platform-independent but works seamlessly with other devices, websites, and operating systems.
Pros of Online Course Platforms
While learning, online course platforms provide online and community support to users.
It allows for instant updates and unrestricted data and information from teachers and others.
Users can access and interact with materials in an accessible and interactive online format thanks to training software.
Online Course Platforms allow users to study and learn from any remote location they choose.
It ensures high mobility, allowing users to access the site from any device, such as a computer, mobile phone, or tablet.
Learning platforms lower total costs or, to put it another way, allows users to spend less money because there is no need for travel or room allocations.
Course Platforms ensure that large amounts of data and information can be easily transported.
They increase daily learning consistency and the sharing of updated knowledge on their platform.
It enables students to select any subject of their choice freely.
There is always an increasing user collaboration.
Extremely extensible software
Cons Of Online Course Platforms
Users spend a significant amount of time in front of their computer systems, and prolonged exposure to the electronic devices may cause some medical issues.
Because it is a virtual environment and the user is dealing with only computers, the user may not be self-disciplined enough to be consistent with the online training. The individual may feel lonely because there is no human effect.
Learning alone is difficult due to the communication gap; it is not enjoyable to learn alone. Moreover, virtual environment where the user is dealing with only computers, the individual might feel lonely since there is no human effect.
Related: 5 Best Sites To Make Money Tutoring Online
Benefits of Online Course Platforms
It gives the user a lot of freedom, allowing them to study and learn from anywhere they want.
Online course platforms lower overall costs because there is no need for travel or room reservations. Meanwhile, it is critical to the expansion of the collaboration.
It provides high mobility, allowing users to access the site from any device, such as a computer, mobile phone, or tablet.
Large amounts of data and information are becoming more portable as everything becomes digital.
Online learning platforms provide both community and online support.
Daily, a consistent learning platform and up-to-date knowledge are shared.
Online training accessibility and interactive formats of materials are available.
It gives students the freedom to choose any subject of their choice.
Course learning platforms are more convenient and adaptable.
They ensure immediate updates with unrestricted data and information.
Related: 5 Best Sites To Make Money Tutoring Online
27 Best Online Course Platforms For Learning and Teaching
Best Online Course Platforms (Top 10 Pick)
1. iSpring Suite (Best for Standalone and Corporate)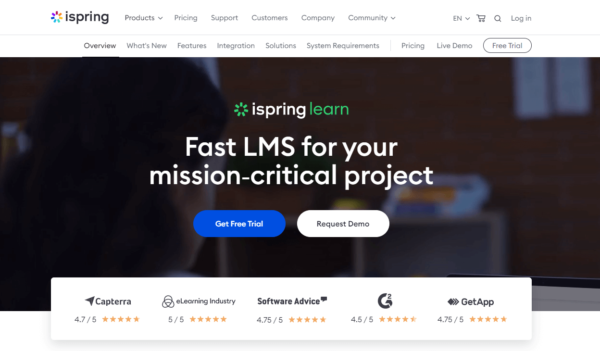 iSpring Suite is one of the top course creation platforms on the market, thanks to the cost-effective pricing structure, easy-to-learn ecosystem, and feature-rich capabilities. The learning authoring tool helps educators design the ultimate learning experience for their students as quickly as possible, with the minimum initial investment.
To ensure you can jump into course creation as fast as possible, iSpring Suite has access to a massive database of templates, design assets, and other handy features.
iSpring Suite has a user-friendly interface (both learners and professionals). Thus, professionals can launch e-learning quickly and efficiently.
iSpring Suite provides essential LMS features and add-ons at a fair price. Sign up for Spring Learn, upload learning materials, assign training, and launch online learning.
iSpring Suite Full Features
The powerful integration system of iSpring Suite provides the user greater flexibility and scalability.
Learners are given advanced reporting, certificates, feedback, and comments based on their performance.
Learner-friendly portal and customizable
It provides 24-hour customer service to respond quickly to questions and complaints from its user community.
iSpring Suite integrates seamlessly with the iSpring Suite and the authorizing tool.
Includes powerful user, content, and training management features.
Compatible with all major browsers, as well as iOS and Android.
Available as an app for mobile devices.
ISpring Suite Pricing
iSpring Suite is available for free for up to 14 days.
You'll have to pay around $770 per year for a single author, or you can get a discount if you have multiple authors (up to 3).
There's also the iSpring Suite "Max," which costs $970 per month.
2. Thinkific (Best for Marketing and Automation)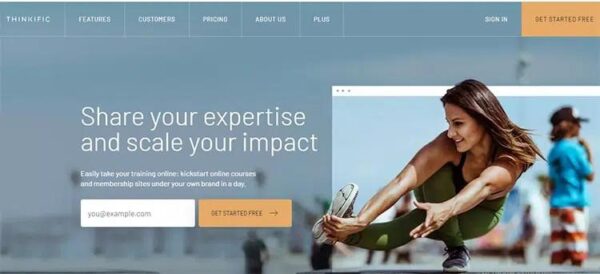 Thinkific is a lot like Teachable regarding how easy it is to use and how well-known it is. As a result, you can use this tool to make a wide range of interesting courses, from courses about digital marketing to those of music theory.
Thinkific is popular with creative educators because it's easy to use and has a free tier. Big brands like Hootsuite and Shopify also trust it.
Inside Thinkific, you'll find a simple ecosystem with tools that work quickly and technology that is easy to use. To get started, you don't need to know how to code, and the helpful support team will be there to answer any questions you may have.
You can choose a template for your course and start putting things in place by dragging and dropping.
Thinkific courses can have everything from quizzes and homework to live lessons, drip schedules, and completion certificates for your community.
Thinkific Full Features
Live Lessons and Cohorts enable you to deliver your course content to students worldwide in real-time.
Advanced customizations allow you to make your courses look and feel exactly how you want them to.
Without any design or coding experience, website themes allow you to quickly and easily create a professional-looking website.
Communities and Memberships enable your students to connect and learn together.
Progress tracking allows you to see how your students progress and identify areas where they may need assistance.
Assessments and certificates allow your students to demonstrate their comprehension and progress.
Thinkific Pricing
Thinkific free version gives you access to one admin account and several eCommerce features, which is a great way to test how well the app works.
$49 per month for the Basic package: To use a custom domain and other advanced features, you'll need to pay at least
The "Pro" package of $79 per month gives you priority support and "private courses," among other tools.
A Premier package costs $399 per month and gives you access to 15 group analysts, SSO, anunlimited mmunities, and integration with Brillium exams.
Kajabi is the best high-end course builder for businesses that sell information, not just small course makers.
When it comes to automating email marketing, it's the best. Pre-sale, pre-webinar, drip course, and upsell emails all need automation, and Kajabi does it best.
You can make fully automated marketing campaigns and funnels with their "Pipelines" feature. These are ready-made frameworks for getting leads, with copy that has already been written and is optimized for conversions.
It also has powerful themes for course sites, the ability to sell digital products, an editable checkout, and a blogging ability
Overall, it's the best high-end course platform. It has more built-in tools and features than the others on this list, but it costs a little more.
Kajabi Full Features
Course insights that give you a clear picture of how your students are doing
Unlimited video hosting so you can create as many courses as you want
Publish quickly to your website with just a few clicks – no need to learn to code!
SEO-optimized so your courses show up high in search engine results
Unlimited hosting for your classes and marketing materials
Safe and secure, so your data is always protected
One-click marketing sequences make it easy to promote your courses
Website builder lets you create a professional website in minutes without any design or coding experience required
Kajabi Pricing
Basic ($119/month): 1 website, one admin, 3 products, 3 pipelines, 10,000 contacts, and 1,000 active members.
Growth ($159/month): 1 website, 10 admins, 15 products, 15 pipelines, 25,000 contacts, and 10,000 active members.
Pro ($319/month): 3 websites, 25 admins, 100 products, 100 pipelines, 100,000 contacts, and 20,000 active members.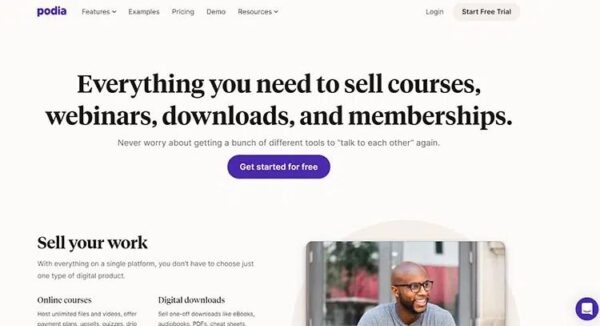 Podia is a platform for online courses that can be used for digital downloads, webinars, and memberships. It has more than 50,000 users.
You can grow your online community by talking to members, bundling products for certain groups, offering tiered plans, and connecting with Facebook Groups and Slack.
Podia can also host webinars, either live or after the fact.
Another great thing about Podia is that it lets you run your different affiliate programs. So you can see all of your affiliates in one place, get valuable reports, and payout based on a commission structure you set up yourself.
Support is available 24/7, there are no transaction fees, and it only takes three steps to get your course website up and running.
Podia Full Features
Drip courses allow you to release course content gradually over time, keeping your students engaged and returning for more.
With instant payouts, you can begin selling your courses right away.
You won't have to juggle multiple tools to get your business with an all-in-one platform.
Use tools like email marketing, landing pages, and social media integrations integrations to connect your audience and content.
Schedule and sell in advance, with the ability to create courses that are only available for enrollment for a limited time.
Because there are no transaction fees, you can keep more of your hard-earned profits.
Podia Pricing
Free Plan ($0/month) – Start building your email list by selling digital downloads or a coaching/consultation product.
Mover ($33/month) – Unlimited everything, no transaction fees, sell courses and digital downloads and send out 5k emails per month.
Shaker ($75/month) – Includes everything in Mover, plus the ability to create membership communities, add affiliates, and send up to 15k emails per month.
Earthquaker ($166/month) – Includes everything in Shaker, a dedicated account manager, personalized onboarding, and 50k emails sent per month.
5. Teachable (Best for Beginners)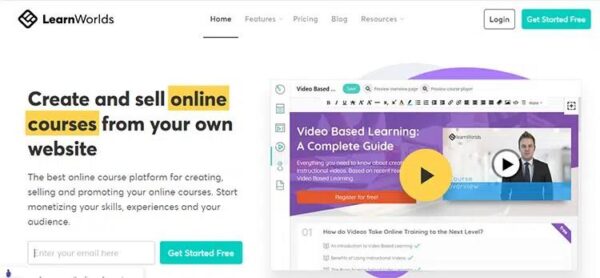 Teachable is one of the best online course platforms in the world. It has an easy-to-use interface and is excellent for people just starting.
Over the years, this course creator has helped more than 100,000-course creators sell more than $1 billion worth of coaching and courses. With Teachable, you get a nice back-end environment where you can quickly set up drip-based course content and plan your lessons to keep students interested.
There is also significant support for both customers and creators, so you won't be alone if you encounter any problems. Even tools to help you sell your online courses are available on Teachable. In addition, Teachable has a lot of learning tools for people who are just starting so they can learn how to make and share an online course. Finally, you can get a custom domain to make your educational branding stand out.
Teachable Full Features
Bring on authors to assist you in creating content for your courses. Anyone can become an instructor on Teachable and share their knowledge with the rest of the world.
Create beautiful, money-making sales pages to help you sell your courses. Teachable makes it simple to create a page that converts browsers into buyers.
Use PCI level-1 compliant payment providers to ensure your information is always safe and secure. Teachable handles all of the behind-the-scenes work, allowing you to focus on what matters most: teaching your students.
Connect to their domain or use Teachable's built-in domain to get started right away.
Live chat with your students, and schedule and host webinars directly from your Teachable account. Engage your students in a whole new way.
Schedule and host online courses that fit your hectic schedule. Teachable make it simple to schedule lessons.
Teachable Pricing
Teachable has a free version for beginners, but you must pay $1 and 10% of each transaction processed.
The free package allows for unlimited student registration and a single admin-level user.
Premium packages start at $39 per month for two admin-level users and go up to $299 for a team of twenty.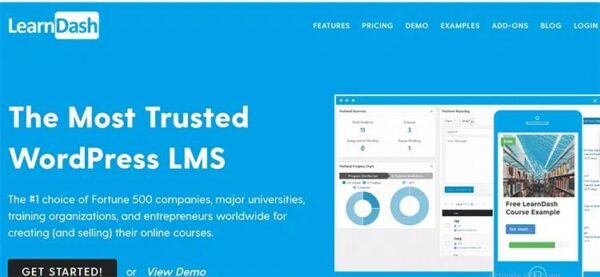 LearnWorlds is another trendy course builder that lets teachers interact with their students differently. For example, you can turn your classes into games and have students compete for prizes. You can also make interactive videos.
You could also offer free courses or mini-courses if you want to get more people to pay attention.
LearnWorlds lets users take transcripts from their courses and turn them into eBooks, blogs, and other things. You'll also get a custom domain name, fully white-labeled content, and the ability to give customers their certificates of completion.
LearnWorlds has a lot of essential tools for making content, but it also has a lot of unique tools, like the ability to make an entire membership site or access analytics that show the best ways to boost sales. You can also add tools for social media to your course.
Learn Worlds Full Features
The Learnworlds team is always available to assist you. You can watch walkthrough videos, read how-to articles, and even chat with our support staff live.
With our Mobile App Builder, you can easily create a mobile app for your courses. As a result, your classes can accompany students wherever they go!
Your students can connect and learn together using the Learning Community feature. They can exchange ideas, ask questions, and do other things
The Synchronized Transcript feature lets you easily track who is doing what and where they are in your course. It is fantastic for monitoring student progress!
Branded Digital Certificates allow your students to demonstrate their comprehension and progress. They'll be delighted to show them off!
Assessments for every need imply that you can create quizzes, tests, and other tools to assess your students' comprehension. You'll be able to tell where they stand!
LearnWorlds Pricing
LearnWorlds pricing begins at $29 per month if you choose the annual package, which saves you 20%.
You can also pay $99 monthly for a "Pro Trainer" package with no transaction fees.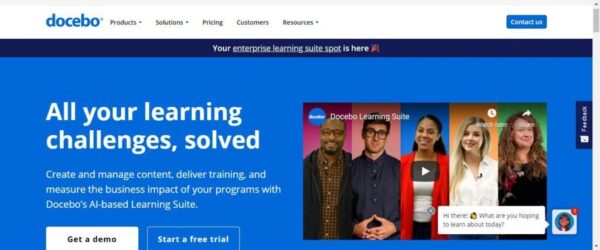 LearnDash is our central platform for our online courses, so it was an easy choice for our list. However, LearnDash is slightly different from other online course builders because it is a WordPress plug-in. Therefore, you can only use it to make a course for a WordPress site.
LearnDash is used by a lot of educators, including market leaders like the University of Michigan because WordPress is the most popular CMS in the world. In addition, the online platform has many special features, like "Focus Mode," which lets students run through a course without being distracted.
A full-featured course builder gives you access to email drip campaigns so you can let your students know about your newest content. A tech called a "grade book" even gives students a grade based on how well they do on quizzes and homework.
LearnDash Full Features
Their Gradebook technology takes LMS to a whole new level. With this technology, students get an overall grade based on how well they do on quizzes and homework. Teachers can then look at a weighted average of that grade.
Course points, badges, and certificates are given to students for their work in the course.
LearnDash is the best LMS plug-in if you're a teacher looking for grading systems that are as good as those in college.
LearnDash Pricing
LearnDash pricing is paid annually and starts at $159 for the Basic package, which includes a license for one site, complete courses, and a total number of users.
A "Plus" package costs $189 per year, and a "Pro" package costs $329 per year.
LearnDash does not provide a free trial but a 30-day money-back guarantee if you are not completely satisfied.
Related: The Best Online Freelance Writing Courses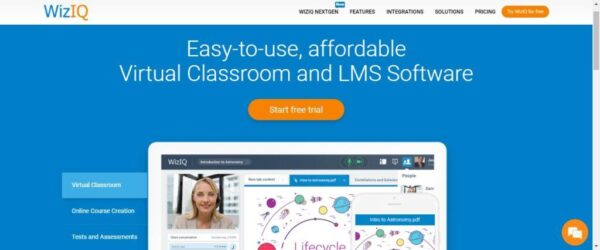 Docebo is a top online training software with a learning management system. This allows for the acceleration of corporate training for various organizations. It provides a high level of flexibility and scalability while integrating a full solution with users. Docebo's robust features allow it to track, train, and improve learners. Docebo is used to facilitate learning by over 2000 of the world's leading learning organizations.
Docebo Full Features
Docebo has an excellent interface and supports multiple languages.
It can assist in the creation of engaging learning content in minutes.
Docebo provides users with solutions such as employee onboarding, development, retention, partner training, compliance training, member training, social learning, and so on.
It is compatible with Windows, Linux, Android, iPhone, iPad, Windows Phone, and all major browsers.
Docebo features course catalogs, enrollment rules, training and certifications, white labeling, and so on.
Assists with audit trails, external training, learning plans, notifications, and subscription codes.
Supports coaching, gamification, e-commerce, large enterprise, and various other developers.
Strong integration and features like robust automation, labels, customized domains, an audit trail, and user empowerment.
It is available as a mobile application.
Docebo Pricing
Docebo charges $5 per user per month and provides a free trial version to prospective users.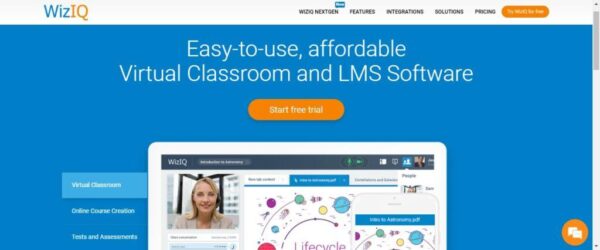 WizIQ is a popular online training tool in the e-learning market with a diverse user base. One of the many benefits of WizIQ is that it is simple for users to use via learning management software, and it is also an affordable virtual classroom.
WizIQ provides customers with the tools they need to deliver online learning and teach and train students, customers, and partners. It also allows users to customize their logos, banners, URLs, and colors to match their brands.
WizIQ Full Features
WizIQ supports a variety of languages.
Includes a safe web-based content library that users can use to create tutorials and programs.
Support multiple tutor accounts while still providing notifications and reports to users.
Provision of online tests and exams for the learner to check his performance and provide feedback to the learner.
It ensures secure video hosting and streaming and the ability to check programs automatically.
Compatible with Windows, Linux, Android, the iPhone, iPad, Mac, and all major browsers.
Has a mobile application.
WizIQ Pricing
WizIQ pricing ranges from $ 27 to $ 68, offering prospective users a one-month free trial version.
Best Online Development Course Platforms of 2023
11. Adobe Captivate Prime (Best for Standalone and Corporate)
Adobe Captivate Prime is a cloud-based e-platform and LMS that helps users set up and measure students' training using artificial intelligence-based social learning to motivate learning in the flow of work and allow learners to learn from each other.
Over a million people use Adobe Captivate Prime
Adobe Captivate Prime Full Features
Adobe Captivate Prime includes course authoring and an LMS.
It simplifies mobile and employee learning.
Improves e-commerce, media, and content management.
It runs a fast learning portal and creates rich blended, synchronous, social, and asynchronous learning for customers.
Upon program completion, it can easily issue certification and licensing.
SCORM-compliant LMS in Adobe Captivate Prime.
It administers tests and assessments at the learner's convenience to track progress.
Adobe Captivate Prime uses simulation and modeling to help students learn quickly.
It helps companies train employees, partners, and customers better.
Adobe Captivate Prime offers video conferencing, virtual classrooms, and gamification.
Fluicidic Player in Adobe Captivate Prime makes learning fun. This Fluicidic Player supports video, DOCX, and xAPI.
It's intuitive for administrators, managers, authors, and learners.
Adobe Captivate Prime Pricing
Adobe Captivate Prime costs $4 per month per registered learner and has a 30-day free trial for potential customers.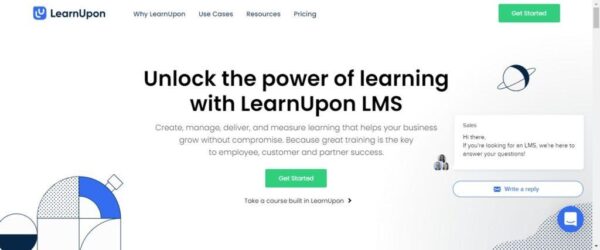 LearnUpon LMS is an open-source learning management system and online software that assists users in coordinating, unifying, and streamlining training delivery across their company's entire network span, providing them a competitive advantage.
LearnUpon LMS enables learning to flow freely across the user's network from a centralized and accessible platform.
LearnUpon LMS combines user-centered technology with industry-leading expertise to deliver meaningful and impactful training that inspires and engineers the success of employees, partners, and customers.
LearnUpon Full Features and Functions
Easy to deliver SCORM and xAPI courses.
It enables users to create engaging and diverse courses without any technical knowledge.
It is beneficial to test learners' knowledge by administering exams and assessment surveys to obtain valuable feedback.
Adobe enables Blended learning through live sessions or webinars.
It aids in the creation of various roles and groups to improve training management efficiency.
Issue certification to successful students.
Its learning portals can train multiple audiences in a single system.
Provides customizable brands
Extensive gamification capabilities.
It promotes social learning by allowing users to converse with one another and share knowledge with other forums.
Offers a user-friendly platform that allows users to engage and access training
Offers an e-commerce and a reporting platform.
Simple to integrate with any HR system, CRM, webinar tool, payment gateway, salesforce, and other applications.
LearnUpon seamlessly automates user workflows.
It is compatible with all major web browsers.
LearnUpon Pricing
$699 per month plan for 50 users,
$1,249 per month plan for 250 users, and
$999 per month plan for 500 users.
It also provides a free trial version to prospective customers before payment.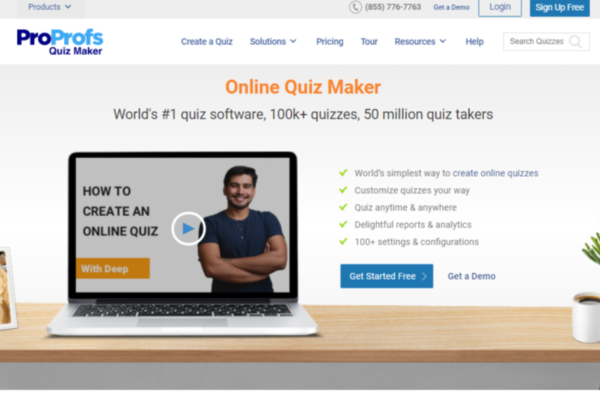 ProProfs Training Maker is online training software that helps industries like finance, hospitality, manufacturing, construction, non-profits, and more with their training needs. This LMS gives you everything you need to make learning easy for everyone in your organization.
The software for training is best known for making courses. It can be used in English, Spanish, and more than 70 other languages. More than 4 million people use this award-winning software to create online training easier.
Tin Can API is a feature of ProProfs that lets users import courses from other LMSs. You can also connect to Customer Relationship Management (CRM) solutions and email marketing.
ProProfs Full Features and Functions
ProProfs can provide not only online courses but also digital content creation.
Excellent customer service for all online issues and questions.
ProfProfs aids in the monitoring of trainee progress and the support of multiple platforms.
It allows and assists users in saving data by incorporating articles, online exams, quizzes, and documents.
Complete access control based on users' ID and passwords,
It aids in generating performance-based report analysis and works smoothly across multiple devices.
Compatible with Windows, Linux, and MAC operating systems, as well as web-based devices, Windows mobile, and all major browsers.
ProProfs Pricing
ProProfs prices range from $9 to $79 per month, depending on the package chosen by the user.
ProProfs provides a 30-day free trial and a money-back guarantee if the user does not want the value he selected previously.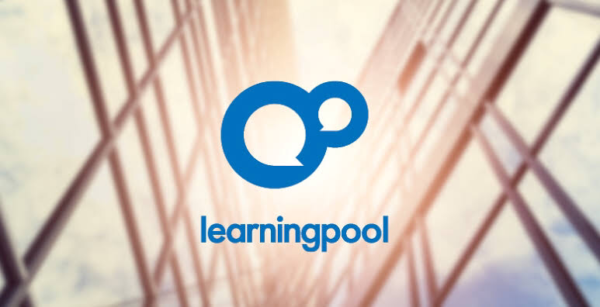 LearningPool by Stream LXP is an open-source learning management system (LMS) platform.
It helps to provide high-quality learning in users' daily workflows. Large enterprises, freelancers, small and medium businesses, government agencies, and organizations can all benefit from Learning Pool. Larger organizations with more than 250 employees can also benefit from Learning Pool.
LearningPool Full Features and Functions
LearningPool improves training by blending learning through Webinars, in-person sessions, documentation, and live online mode.
Modeling and simulation are possible with LearningPool.
It includes a learning management system and course authoring capabilities.
The online software enables users to share content and supports micro-learning and mobile learning.
LearningPoolprovides complete helpdesk, feedback, and email support.
Corporate organizations use LearningPool to train their employees through a learner portal.
LearningPool enables easy employee portal management and seamless gamification.
It aids in the smooth operation and management of e-commerce platforms.
Gives certification and licensing.
LearningPool assists in tracking courses completed by employees.
It enables users to personalize their brands.
LearningPool provides adaptive, personalized learning that aligns with job roles and competencies.
Learning Pool Pricing
Learning Pool's pricing is not on their website, but you can contact them for a quote. Unfortunately, they do not offer free trial versions.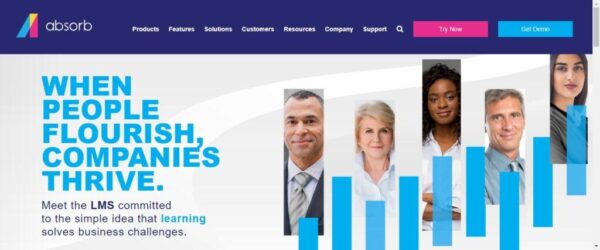 Absorb LMS is a cloud-based learning management system (LMS) that is well-known for motivating employees to learn and increasing business productivity. Absorb LMS is an online learning platform that uses cutting-edge technology to help drive the growth of any business or organization. In addition, compared to other LMS in the e-learning market, it provides exceptional customer service.
Because of its fantastic learning experiences, content retention fueling, and elevated training programs, it has proven to be one of the leading LMSs in the online learning market.
Absorb LMS is well-known in the field of an employee, global channel partner, and customer training. They have over 23 million users and over a thousand clients in approximately 34 countries worldwide. Customers can also sell their training content on the platform.
Absorb Full Features and Functions
Absorb LMS includes various features, including an electronic signature, an electronic handbook, and an employee portal.
Content sharing among platform users.
Absorb LMS is capable of issuing recognized certifications and licenses.
Managing content, documents, and the e-commerce platform are one of Absorb LMS's responsibilities.
The smooth operation of e-commerce, corporate, and business organizations.
Absorb LMS assists users in seamlessly blending learning through webinars and other means.
Has a built-in LMS and course authoring.
It improves asynchronous learning and simplifies academic work for students.
Customizable user interface that allows users to brand themselves exactly how they want.
Absorb LMS simplifies gamification and navigation for users.
Easily integrates with other leading CRMs, HCMs, and content libraries.
Absorb Pricing
Absorb LMS pricing is $ 800 per user per month, with a free trial version available for prospective clients.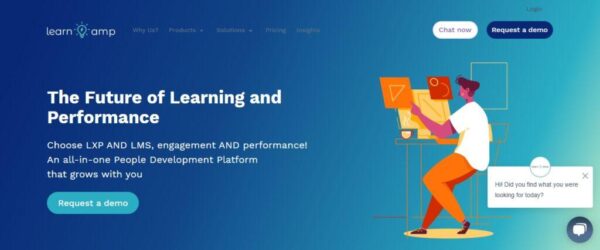 Learn Amp is a cloud-based learning management system (LMS) that delivers the ideal employee journey. They do this by assisting businesses in developing, engaging, attracting, and retaining the best talent through the combination of LMS, LXP, and community packages supported by a suite of assessment and performance management tools.
The learning package also understands the need to integrate into a business's ecosystem, which is why Learn Amp has many deep integrations with the modern workforce and others. Learn Amp's user interface, unique hierarchy, UX, and user ability are all unique selling points. Learn Amp has over a million users worldwide.
Learn Amp Full Features and Functions
24×7 email, chat, and knowledge-based support
It supports Linux, Windows, Mac, and all major browsers, including Safari, Chrome, IE, and Fox.
BambooHR, Office365, Slack, SCORM, xAPI, API, and Zoom are all supported.
It improves blended learning via documentation, in-person, Live streaming, online tutorials, and Webinars.
Learn Amp helps businesses succeed by facilitating employee, customer, channel, company, and workforce development.
Learn Amp's reporting feature allows users to see top-level trends and granular business detail.
Built-in assessment tools check learner progress and learning platforms.
Learn Amp's social community tool recognizes that peer-to-peer learning requires a sophisticated digital L&D strategy.
It lets teachers and trainers give learners asynchronous video, audio, or written feedback.
Learn Amp's customers can segment their user groups using a variety of customized and pre-set fields.
Learn Amp Pricing
Learn Amp Pricing is tailored to their users' specific businesses and can scale as their business grows. It also offers a free trial version to prospective customers.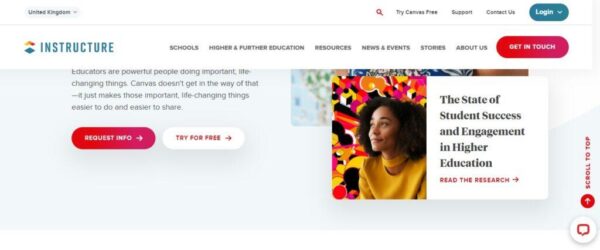 Canvas is an open-cloud learning management system (LMS) and online software developed by Instructure that allows institutions to manage digital learning.
Learning institutions, trainers, and students use Canvas to access and manage online course learning materials as well as communicate about achieving learning and skill development.
It includes several customized management tools, course creation, user analytics, statistics, and internal communication. Canvas is appropriate for all education levels, from young children to university students and business leaders. Many institutions and Ivy League schools around the world.
Canvas Full Features and Functions
Canvas is reliable, secure, and appropriate for any level of education.
Well-vetted partners and content providers who help with learning and teaching.
Collaborations, conferences, and groups inspire users to innovate, inform, and support.
Supports easy SIS and Open LTI app integration and is easy to use.
Canvas' course import tool helps instructors upload LMS course packages and materials.
Teachers share course content through assignments, discussions, modules, quizzes, and puzzles.
Students can register, enroll, and pay for courses in Canvas.
It has Canvas studio, an interactive video management platform that helps online students engage and collaborate.
Canvas Portfolium, a learner-friendly online portfolio.
The Canvas Commons feature is a learning object repository tool that instructors can use to store and share course content.
Masteryconnect helps design, deploy, and manage assessments across institutions.
Real-Time updates and course interaction through chats, calendars, announcements, and syllabus.
Easy plug-ins and SCORM and xAPI compliant.
Canvas Pricing
Canvas pricing begins at $ 120 per 50 users per year and includes a free version for prospective customers. Check out the Canvas free version
Read also, 17 Best Online Forum Platforms(Build your own community)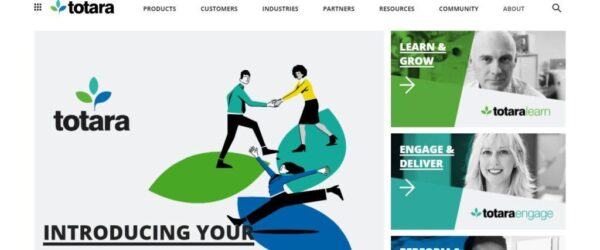 Totara is an open-source learning management system and online software designed by various agencies and startups. In addition, Totara Learn LMS is used in corporate learning to educate, manage, and connect to the talents of their users.
Totara is ideally suited for corporate eLearning platforms such as consistent online training, employee onboarding, successful planning, and regulatory certifications. Totara Learn is used by over 19 million people in over 1400 organizations worldwide.
Totara Full Features and Functions
Robust compliance management improves organization safety and reduces business risks.
The software integrates with users' technology to create innovations.
It improves blended learning and collaboration.
Quickly scale up their learning programs and Supports Multi-tenancy.
Totara Learn can track learner performance, send email notifications, and more.
It allows gamification and asynchronous learning.
Totara Learn is multilingual and extendable.
Flexible, scalable, and feature-rich functions.
Hierarchy assigns personalized learning plans and segment reports.
Certification on program completion
The software's intuitive and interactive interface makes mobile learning easy.
Totara Pricing
Totara charges $ 4 per month per registered user and offers a free trial version to prospective customers. Find out more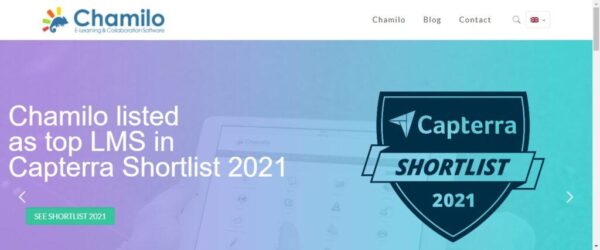 Chamilo is an open-source learning management system and web-based software that the Chamilo Association supports. In addition, the Chamilo Association works to improve access to online training by maintaining a clear communication channel and establishing a network of service providers and software contributors to promote the Chamilo software.
Chamilo is included on one of the most comprehensive open-source learning management systems (LMS) lists. Chamilo LMS is cloud-compatible and can quickly and efficiently resolve security flaws, making it well-known in the e-learning market.
The learning platform has a network of official providers that provide professional-level services for organizations that lack professional IT infrastructure resources and in-house to run the platform.
Chamilo is used by over 700,000 registered users and more than 5,000 learners worldwide.
Chamilo Key Features
An authoring tool that allows you to easily create online training that meets all of your learning preferences.
Provides mobile learning support, allowing learners to learn at their own pace and access online training materials at their leisure.
An excellent online community that promotes peer-to-peer content sharing, information sharing, and knowledge transfer.
24-hour customer support to assist users with various issues that may arise while using the platform.
Intuitive and interactive language and media settings are embedded within the platform, allowing them to customize their user interface and brand.
Wide range of valuable features, including SCORM and xAPI compliance, complex exam configuration, skills management, a course catalog, and course shopping carts.
Issues certification upon completion of the program
Chamilo Pricing
Chamilo's software products are completely free.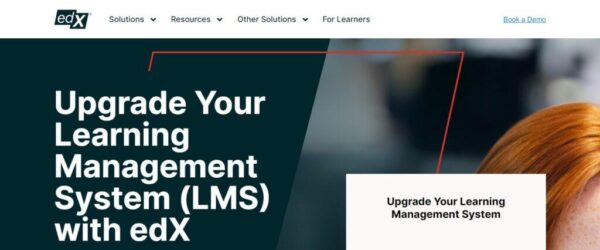 Because Open edX is an open-source, freemium tool, there are no premium pricing options. However, it accepts payments from corporations that use its services annually.
Open edX is a free and open-source learning management system (LMS) that enables learners to access online content such as videos and textbooks easily. It also aids in monitoring learners' progress in the online training course.
Open edX empowers edX courses by allowing institutions to host their instances of edX and improves their ability to offer classes. It is used by educational institutions, freelancers, non-profit organizations, and government agencies worldwide.
Open edX Full Features and Functions
Open edX's studio to manage your course schedule, team, grading policies, and more.
Access to key business processes by identifying checkpoints and requirements.
The learning platform improves practical guidance by empowering course teams to provide accessible online training.
Open edX's online community enhances discussion forums and helps students.
Supports online community with Webinars, blog posts, and upcoming events.
Provides mobile learning assistance and grades users' activities.
Issues certification on completion
Users can easily customize how they want to use it, and it is beneficial to categorize courses.
Game-based learning and gamification customization
It supports SCORM and integrates easily with other platforms.
Combines learning for students through documentation, in-person instruction, online live chats, webinars, videos, and other formats provided by the instructor.
Best Free and Paid Online Course Learning Software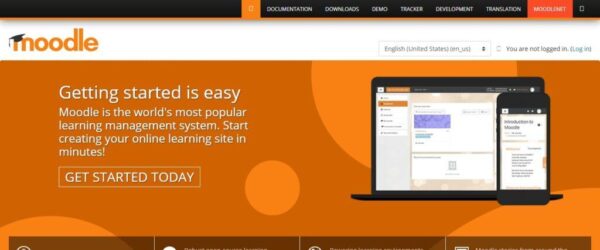 Moodle is a popular learning management system (LMS) and online software solution designed to assist educators, administrators, and learners in managing their content and providing a single robust, secure, and integrated system to help them create a personalized learning environment.
Moodle allows learners to learn on the go because it can be downloaded as a mobile application on their phones. It is complemented by an ecosystem of products, like a network of partners and services, and a Moodle Workplace, which improves platform hosting, customization, and support.
It is appropriate for postsecondary education, professional education, government, and non-profit organizations. Several institutions around the world have used and trusted it.
Moodle Key Features
Learner portal and an authoring platform.
Facilitates blended learning through webinars, videos, in-person sessions, and other methods.
Easy certification and licensing
Promotes mobile learning through its mobile learning platform, allowing learners to learn anywhere and at any time.
Simple gamification for learners
SCORM compliance integration
Moodle simplifies instructors' work by allowing them to track their student's attendance and progress.
Skill testing and detailed instructions for learning management system use, such as installation, teacher and administrator quick guides, course setup, and mobile application guidelines.
Moodle Pricing
Moodle LMS pricing is best tailored to their potential customers' budgets. On their website, you can find a list of prices and plans. Moodle also provides a free trial version for prospective users.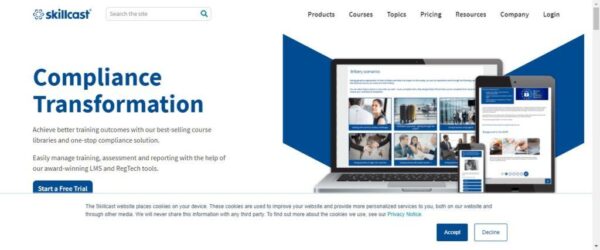 Skillcast online course platform is a fully managed cloud-based learning management system (LMS) designed to assist businesses in delivering e-learning compliance applications on a single platform. Skillcast LMS has a large number of registered users all over the world.
Skillcast LMS improves their users' fast and easy learning through mobile learning, which allows them to learn whenever and wherever they want, and it issues certification and licensing. In addition, it improves model and simulation usability for learners.
Skillcast Key Features
Gamification and interactive learning of learners on the platform are possible.
It includes an authoring tool and an LMS.
Skillcast assists in the creation and management of content for the e-learning platform.
Beneficial to combine learning methods such as audio recording, videos, and others.
It supports asynchronous learning and provides its users with an active and interactive learning portal.
Easily integrates with SCORM and other formats.
It administers assessments and tests to students to track their progress.
Aids in the efficient training of employees and businesses.
Additional features like storyboarding and template management.
Skillcast easily synchronizes data and dynamically assigns courses to learners.
Powerful l management reporting tool.
Skillcast Pricing
Skillcast's annual subscription fee is $ 27.60 per user.
It also provides other subscription packages specifically tailored to its customers' budgets; contact Skillcast enterprises for their price list.
They also provide potential customers with free trial versions.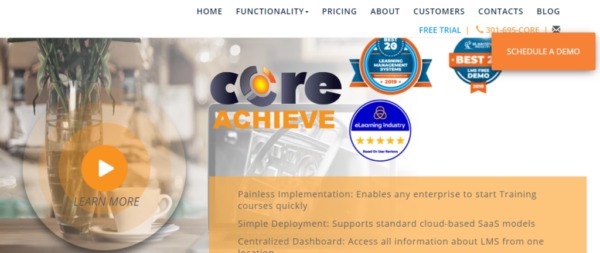 CoreAchieve is a learning management system and online software that simplifies training and learning for trainers and learners. CoreAchieve is a SaaS/PaaS LMS that allows instructors or trainers to create learning content, manage access, and design personalized training paths in the cloud.
CoreAchieve can track the progress of its learners' offline and online training. In addition, it easily supports an unlimited number of business units and courses and has several users worldwide accessing its platform daily.
CoreAchieve Key Features
CoreAchieve LMS helps professionals create and manage training materials.
CoreAchieve lets businesses add titles, filters, categories, tags, and descriptions to content.
It integrates SCORM, CRM, Office 365, WebEx, API, and more.
It simplifies platform content management.
Blended and adaptable learning experiences.
CoreAchieve LMS training is in-person, online, and documented.
CoreAchieve supports member training, compliance training, employee training, employee onboarding, customer training, an analytical model and business intelligence tool, and ILT and async class scheduling.
Learners can share certificates and accomplishments on social media.
It includes tutorials for technical and course development.
Presence of learner profile with purchase, course, credit, and certificate history.
CoreAchieve LMS has fast cloud-based SaaS or PaaS deployment.
CoreAchieve Pricing
CoreAchieve Pricing is $ 2.99 per user per month and has other pricing packages as required by their customers or based on their business processes. It also allows free trials for each pricing package it has available. Schedule a demo now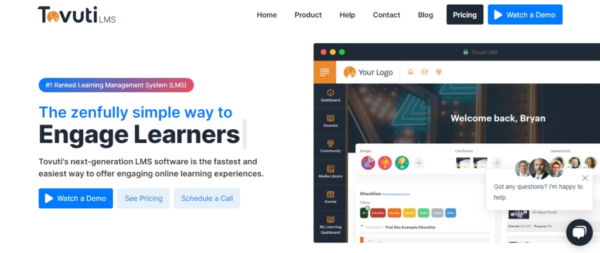 Tovuti is a cloud-based, all-in-one solution that helps organizations reach their full potential by making, delivering, and tracking online training and education.
The end-to-end solution gives users everything they need to build great eLearning programs, whether they're training their team, partners, or customers. Tovuti also has a complete content management system (CMS) and a brand manager that lets you host one or more websites with different branding.
Tovuti has a library with 7,000 HR training, compliance, and professional development courses. Tovuti was made to make training social and fun, like a game, so that people WANT to learn. And it's quick and easy to create content. The built-in tool for making courses can either use the content you already have or let you make more than 40 different kinds of highly interactive content.
And because everything is in one easy-to-use solution, you'll save time and money and be able to track your learners' entire journey.
Tovuti Pricing
Tovuti Pro: This powerful platform takes all the data from the Tovuti core and transmits it. It also has features such as a built-in virtual classroom, SSO, API integrations, and the ability to sell subscriptions, single courses, and event registration.
Tovuti Core: This is a platform that gives learners a simplified user experience to help get training to learners fast. It has a built-in course authoring suite, reporting, and easy-to-build courses and lessons.
Tovuti Key Features
Tovuti LMS builds an interactive learning community with social streams and forums.
XP, badges, levels, leaderboards, and streaks help increase traffic on its platform.
Tovuti LMS's customization and personalization options help users find purpose.
Built-in course authoring lets learners select courses easily.
It provides course templates based on the user's role, instructor, or learner.
Tovuti LMS lets instructors create and administer tests and quizzes with class sequences that students follow in order.
Tovuti LMS is available as an app for mobile learners.
Tovuti can send users notifications. As a result, users can plan and automatically distribute assignments.
Motivating users with tracking points, achievements, and badges improves course management.
Tovuti LMS solutions are industry and government-compliant and grant credentials.
It's SCORM-compatible and has attractive dashboards.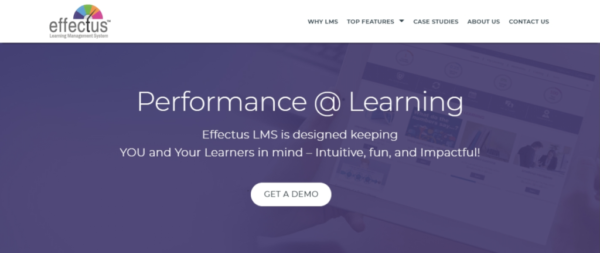 The Effectus learning management system was created by learning professionals for learning professionals. This results in a combination of content and technology that makes LMS use very simple for learners, trainers, managers, and administrators.
Effectus LMS assists in meeting the changing needs of businesses as they scale and grow. It is used by millions of professionals and students all over the world.
Effectus LMS Key Features
Effectus facilitates blended learning by providing online courses and digital assets. It also allows scheduling classes and virtual classroom sessions, tracking learner performance, and generating reports and data for learning analytics.
It allows for gamification, mobile compatibility, offline access to learning resources, and creation of a process rather than an event.
Dashboards in Effectus LMS are simple to use and visually appealing.
It enables customer onboarding as well as simple administration.
Allows for multiple customer customization.
This LMS can be installed and deployed in as little as 24 hours. Now is the time to request a demonstration.
Effectus Pricing
Effectus LMS pricing is based on the number of recurring users and starts at $ 450 per number of users in an organization per month. It also offers a free trial version to its customers.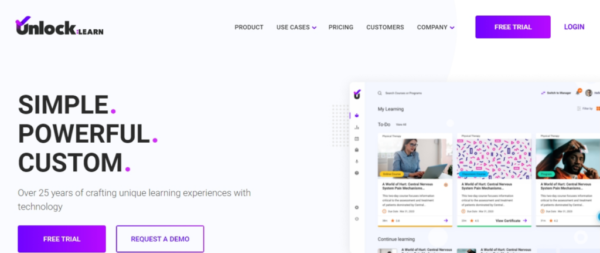 Unlock:Learn LMS is a robust platform that aids in the delivery of corporate training. Built-in features support a wide range of content tailored to the organization's specific requirements. In addition, their extensive reporting features enable organizations to track learners' progress and provide all relevant information. Consequently, this improves assessment and planning efficiency.
Unlock: discover Infopro Learning's LMS is designed to create products and services that focus on unlocking the performance of employees, businesses, and organizations.
Unlock:learn LMS Key Features
Superb customer service that attends to customers' queries.
Easy-to-learn features for administrators, learners, and customers.
Unlock LMS has an Al-enabled chatbot to engage learners and has built-in e-commerce on the platform.
Seamless integration with any software.
It accepts virtual learning content such as video, SCORM, and more.
Intuitive user interfaces for an excellent user experience.
It can be deployed easily on desktop applications, mobile applications, and more.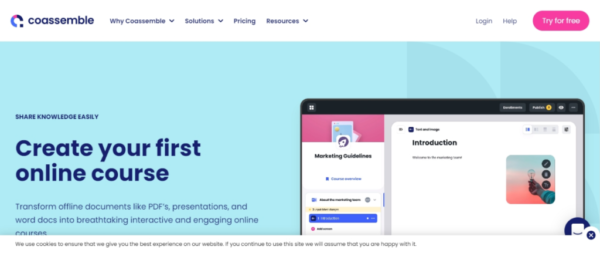 The Coassemble learning management system is an all-in-one authoring software that allows users to share knowledge with their team anytime and from any location.
Coassemble was explicitly created to assist corporate organizations and organizations that are just starting out in capturing the business knowledge needed to facilitate their organization's growth, as well as a well-designed unlimited plan package for just starting out organizations. Coassemble LMS has millions of users worldwide.
Coassemble Key Features
It offers over 40 course-creation templates.
Zapier, SCORM, and other platforms integrate easily with it.
Users can customize logos, fonts, and workspace schemes.
Students can self-enroll in online courses.
A workspace administrator can have unlimited users.
Internet-connected users can create engaging, interactive, and easy-to-update courses.
It has an intuitive design and course onboarding.
Coassemble Pricing
Coassemble pricing begins at $ 99 per month and includes additional pricing packages based on the organization's budget.
How to Select a Good Online Course Builder?
Integrations: It's helpful to be able to connect your tools for making courses to other software you'll often be using. For example, you might want to connect tools for automating email marketing, tools for marketing on social media, or even your CRM software. Check to see if these integrations can be turned on.
Elements of a course: What courses do you want to sell? Depending on how you answer this question, you'll be able to decide what "elements" you wish to include in your classes, such as homework, quizzes, videos, or live Q&A sessions.
Different Learning Management System (LMS) tools have other ways to make courses, so make sure you look at all of them before you choose one.
Security: If you share your hard-earned knowledge through an online course, you should ensure it's safe. Look for a platform for your course software that can protect your content with watermarks and password-protected downloads for your students.
Support: If something goes wrong with your classes, it's nice to know you can get help from a customer service team.
Tip* Check to see what customer service your course builder offers. How quickly will people respond, and how can you get in touch with them?
Depending on your needs, you can also think about many other things, like which payment platforms and solutions you need to make available to your students.
Ease of use: You and your students should enjoy using the online learning platform. Ensure the interface is easy to use so you can quickly build your classes. Also, consider what your students will learn when they sign up for your classes and submit their assignments.
How to Create an Online Course
Here is a step-by-step guide to creating an online course:
Step 1) Choose the subject matter you want to make the course.
Step 2) Test and analyze your idea with others before creating the course.
Step 3) Conduct extensive research on the subject.
Step 4) Create the course outline, including the name, topics, etc.
Step 5) Create detailed course content that includes an in-depth explanation, videos, media, etc.
Step 6) Once your course is complete, launch it on your channel, on course platforms, or directly sell or rent it to people.
Step 7) Create and nurture your course community and respond to their questions. ?
How to Sell an Online Course?
Here are some methods for selling an online course:
Create your channel for your course (website or blog) and optimize it for organic traffic.
Email marketing allows you to reach out to your ideal prospects.
Use social media to reach out to your target audience.
Create a sales funnel and use your network to your advantage.
Run promotions and discounts on your course.
Run paid advertisements with offers to attract your target audience.
Increase sales by utilizing referral and affiliate programs.
To promote your course, use podcasts and public speaking.
Participate in events and networks to promote your course.
Sell your course on third-party learning platforms such as Udemy, Skillshare, and Coursera.
Paid Courses vs. Free Courses
Most of the time, instructors use online course software for two reasons: they want to teach as a hobby or for extra income or to teach online to make more money. A clear idea of why you're training can help you figure out what you want from the set of tools you choose.
If you want to teach as a hobby, it's essential to pick a builder that lets you change the course as much as you want. On the other hand, if you want to teach in a way that is accessible, you need to think about your students' well-being above all else, and you'll need online course software that can meet that need.
To make money from online courses, you should use software that also helps market your courses. When it comes to online education, there is a lot of competition, but there are some companies and sites that can help you get the numbers you need.
What To Do After Creating an Online Course?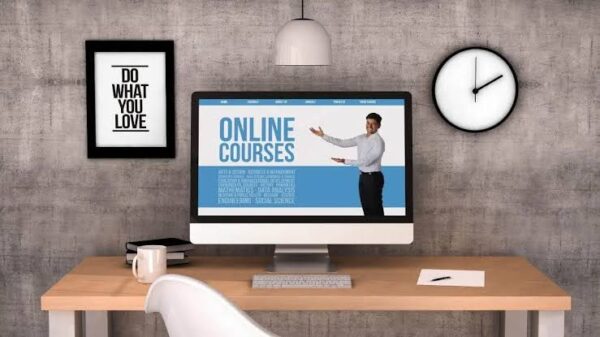 Developing an online course is only the first step toward becoming a successful online educator. After you've created your course, you should consider how you'll market and sell it. Consider what strategies you'll need to employ to bring your course to market, such as early-bird discount promotions, ad design, or even working with affiliates.
Consider the following options:
Pre-selling: Create a landing page with a discount offer before launching your course and collect potential subscriber information. If your landing page is compelling enough, this should encourage your students to enroll early.
Sales pages: Even if you don't want to pre-sell your course, you'll still need one to ensure conversions. You should design your sales page to highlight the most important benefits of your course and persuade people to sign up.
Online marketing: Use email, social media, and content creation to draw attention to your sales and landing pages. The more traffic you can direct to your sales pages, the better. Just make sure you know who you're promoting before you start.
Related: 23 Best Online Course Platforms of All Times
Bottom Line
Whether you enjoy teaching, want to expand your audience, or earn money from your courses, there is an online course creation platform to help you.
Consider your budget, time constraints, current online following, and earning potential when selecting a tool to launch your course. Start with a course marketplace if you're just getting started. Only after you've validated your course topic and content should you launch your course website. Don't be concerned about moving content from one platform to another. Most platforms support this, either for free or at a cost.
Finally, online course software should allow you to concentrate your efforts on the course content rather than the process of delivering it to your audience.
Frequently Asked Questions
Q: What Are the Most Popular Online Courses?
Coursera: An Introduction to Interactive Programming in Python
EdX: The Science of Everyday Thinking
Udemy: SEO Beginners: How I Get 1,000 Visitors a Day with SEO
Treehouse: JavaScript Basics
Udemy: The Complete Web Developer Course 2.0
Q: How Much Money Can I Make Selling Online Courses?
Earnings range from a few hundred to thousands of dollars. How much money you make selling online courses is determined by how much you charge, how many people buy it, and your marketing strategies.
Q: Why do we need eLearning platforms?
An eLearning platform, whether an LMS, CMS or even a CSCLS (we know it doesn't sound obvious), provides autonomy and extended control over training in your organization. These software solutions streamline in-house training processes and allow you to create a knowledge management system tailored to your specific requirements.
Q: What Makes a Great Online Course Platform?
An excellent online course platform will have everything you need in one place. In addition, they will have customizability, pricing options, and an easy-to-use player.
Q: How Much Do Online Learning Platforms Cost?
Online learning platforms have a wide range of prices, but they are generally cheaper than similar courses at traditional colleges and universities.
There are two main types of platforms: per-course platforms, where you pay per class or course package, and subscription platforms, where you pay a flat rate (usually monthly or annually) to access an unlimited number of individual courses during a given time.
Q: Why Use An Online Course Platform Instead of YouTube?
Compared to YouTube, using an online platform provides you with more tools and better monetization options. You can track performance, include files, and more with a platform.