Technology is the new dawn of the day, in today's world, as it has found its way into every nook and cranny of civilization. It is now, as a matter of fact, a basic necessity of most people in the world.
It is no longer news that people now approach online or e-platforms for everything they need because it is time and effort saving, also it can be done from the comfort of their homes, however, and whenever time they want to, all they need is access to the internet via their personal computers and mobile phones.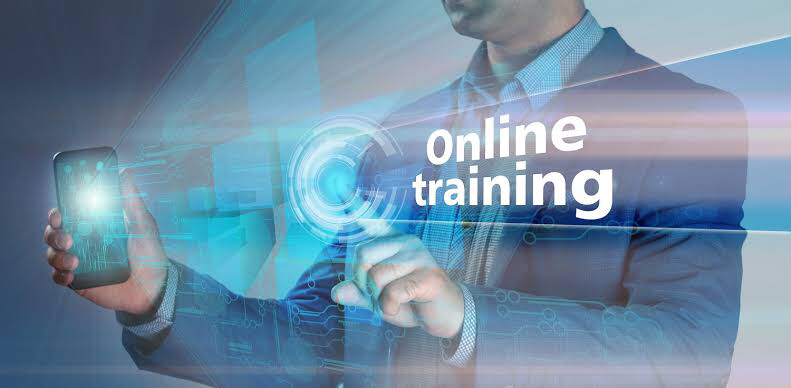 For you to be here, it means you are an online tutor or an aspiring online tutor searching for the best online training courses to do. Online Course training has helped to reduce the manual efforts of persons having to travel long distances to learn. They require no rooms or spaces, all they require is access to a computer and internet connectivity.
During the lockdown and stay-at-home order by the government due to the COVID-19 pandemic, online learning tremendously increased as a trend among students who wanted to learn, even corporate organizations met with their employees via online channels. This led to increased visibility and the appreciation of online training, hereby improving user experience in technology.
27 Best Online Course And Training Software For Learning And Teaching (In-depth Review)
Remote education became the new normal, a concept that otherwise looked impossible before the pandemic. People have come to appreciate the importance of online training vis-a-vis physical learning. Online Course platforms like Coursera, Udemy, and Edx have noted increased patronage from people.
"Online learning is not the next big thing, it is the new big thing".
This is quite right. In recent times, e-learning is interchangeably used with online learning/ training. However, there is a slight difference between them.
E-learning has to do with the acquisition of knowledge that occurs via electronic technologies and media. Simply put, e-learning is the learning that is enabled electronically and allows individuals to access their learning materials online at any place and time. E-learning usually takes place in the form of online training, online courses, or online educational programs.
The e-learning platform has a combination of good online features such as :
Educational information
Tools and software
Online tutors and study materials
Good resource support
And, an advanced educational system
And the good news about all these e-learning platforms is that they can be run from anywhere in the world.
The e-learning platform gives room for a number of freelancing opportunities to various persons to display their teachable talents worldwide. It allows professionals to share their knowledge via articles, PDF, videos, text documents, journals, discussion or interactive sessions, e-books, training modules, and other formats.
However, students who run online degree programs enjoy unwavering and unending flexibility as they get to choose the time suitable for them to study. They can access their course information and get to their assignments at any time. This set of people can be assessed at regular intervals via individual assignments, discussion activities, journal activities, and examinations.
Online training deals with the sharing of knowledge over the web from one resource center to several others all over the world. This shared knowledge helps several individuals who want to imbibe knowledge in a certain field of knowledge. Online training can either be free or paid for.
It will amuse you to know that several multinational corporations or companies go to the farthest extent of providing online training for their employees from a specific remote location to many other locations. And these online training helps their employees to not only update themselves but to gather industry-specific knowledge on their various departments or work fiel\ds. They are equally updated with information of current trends and as a such saves a lot of money for the companies they work for.
Online Course Learning Management System (LMS) is categorized under cloud-based learning management systems and open-source learning management systems. Enlisted below are the top leading cloud-based learning management system:
Docebo
Adobe captive prime
Litmos LMS
iSpring Learn
Talent LMS
The top leading open-source learning management system is enlisted below as follows:
Canvas
Totara Learn
Chamilo
Noodle
Open edX
Features Of Online Training Software
Course Training software helps to provide some demo tests and exams so as to ensure users become aware of their knowledge level.
This training software offers customization and personalization of features to users as they require. Users can decide the type of courses, the duration, and whether they want a certificate on completion, in addition to other things.
Online training software has the ability to track trainees' progress and generate the final performance records for improvement.
Some training software has a basic and simple installation process which makes it scalable and as such, does not need to relocate any service at any time via webcam recording, screen recording, chat practices, email composition, advanced reporting analysis and so much more.
It allows integration with other platforms such as CRM to enable the provision of highly effective customer relationship management with its trainees thereby improving learning.
A lot of training software is independent of other platforms but works seamlessly with other devices, websites, and different operating systems.
Pros of Online Training Software
Training software offers online and community support while learning.
It allows immediate updates alongside unrestricted data and information from teachers and alike.
Training software provides an accessible and interactive online format of materials to users.
Training software provides its users with unending flexibility to ensure a stress-less study and learning from any remote location they wish to.
It ensures high mobility so that the users can have access to the site from any device, be it a computer, mobile phone, or tablet.
Training software reduces the total cost or simply put, it helps users to spend less as there is no need for traveling and room allocations.
Training software ensures that large data and information are easily portable.
It allows the consistency of learning and the sharing of updated knowledge on its platform daily.
It helps learners to liberally choose any subject of their choice.
It plays a major role in expanding collaboration among users.
The software is very expandable.
Cons Of Online Training Software
There is a popular saying that "every advantage has a disadvantage" and this is relative to online learning, despite the meticulous benefits of online training software, it still has some disadvantages, and below are some++-+++++++++++—- of them:
It allows users to spend major time in front of their computer systems and long time exposure to the system may cause some medical problems for the users.
The user may not be self-disciplined enough to be consistent with the online training since it is a virtual environment and the user is dealing with only computers, the individual might feel lonely since there is no human effect.
Learning alone is really tough because of the communication gap created, it's no fun learning alone.
Ratings And Comparison Table Of Some Top Software
| | | | |
| --- | --- | --- | --- |
| Software | User Rating | Cost Range | Customer Types |
| iSpring Learn | 4/5 | High | Small, medium, and large scale |
| TalentLMS | 4/5 | Medium | All sales and as well as freelancers |
| Docebo | 4.5/5 | Medium | Large and medium scale |
| Litmos | 4.3/5 | Low | All scales non-excluding freelancers |
We have enlisted below, a list of the top 27 best online training software for workers and students who want to learn remotely :
iSpring Learn: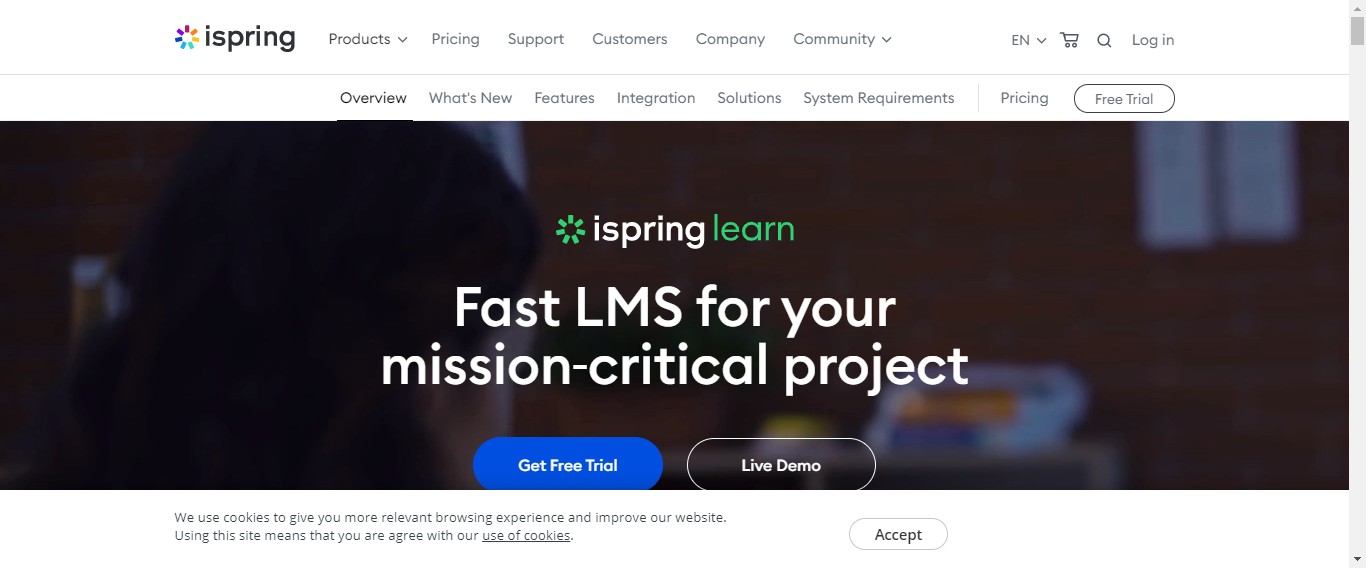 iSpring Learn pricing ranges from $2.82 – $3.66 per user every month or the annual billing depending on the value package the user selects. It also allows first-time users to enjoy a 14-day trial to let them ( their potential customers) have a taste of iSpring Learn services and capabilities.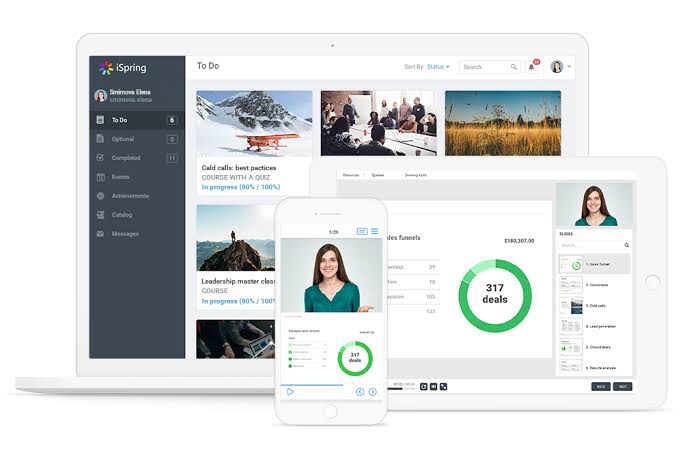 iSpring Learn is a cloud-based learning management system (LMS) that is designed solely for delivering high-standard corporate training for its users. iSpring Learn has an intuitive interface that enhances easy use for its users (both learners and professionals). Hence, it allows the fast and efficient training of learners by professionals to launch e-learning.
iSpring Learn ensures the provision of essential learning management system features and adding components to their users at a fair price. All that is required of the user to do to enjoy Spring Learn is to sign up for Spring Learn, upload learning materials assign training, and then launch online learning.
Features of iSpring Learn
iSpring Learn's powerful integration system allows more flexibility and scalability for the user.
The provision of advanced reporting, certificates, feedback, and comments to learners depending on their own performance.
The provision of a customizable learner-friendly portal.
It runs 24-hour customer support to respond quickly to queries and complaints from its community of users.
iSpring Learn allows perfect integration with the iSpring Suite, and authorizing tool.
It has strong in-built user, content, and training management functions.
It supports all major browsers, iOS, and Android.
It can also exist on mobile devices as an app. Check the free trial here
SkyPrep:

SkyPrep pricing ranges from $199- $499. The user could be billed monthly or annually and it also gives the user a 14-day free trial to have a peek of the service SkyPrep offers.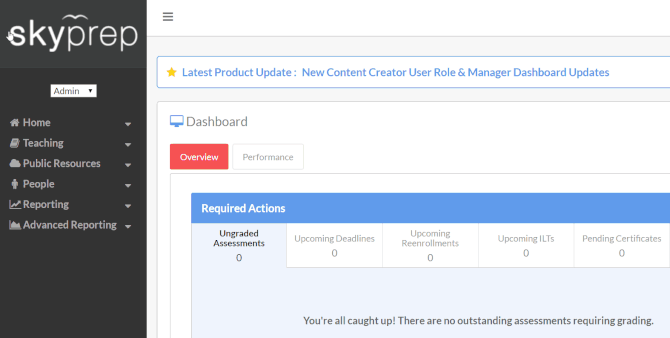 SkyPrep is a very powerful online training software that tends to be very intuitive and helps users to train their employees, customers, and partners. It serves as a training tool for several companies cutting across various industries across the globe and helps to facilitate distance learning.
It has a customizable platform that enables its users to manage, deliver, and track their training easily and efficiently. SkyPrep is an outstanding online training software known for its peculiar ease of use and its unique customer support.
The major pro of using SkyPrep is that the user can easily onboard employees, train customers on the users' products, and also enables the users to be able to meet up with compliance requirements seamlessly.
Features Of SkyPrep
SkyPrep has an open API.
The course is characterized by a highly customizable solution and as well as an intuitive and user-friendly interface.
It allows the user to customize his platform ranging from custom colors and logos to personalized automated emails to match the users' companies identity.
It has accessible features such as unlimited courses, assignments, and registered customers with viable online support.
SkyPrep supports about 19 different languages.
It has a multiple compliance feature that allows employees to be consistently compliant with company policies and industry regulations.
Supports Windows, Linux, Android, iPhone, web-based devices, and as well as all major browsers.
It has a mobile app. Start learning on SkyRep now
Lessonly:

Lessonly price is $300 per month for their users.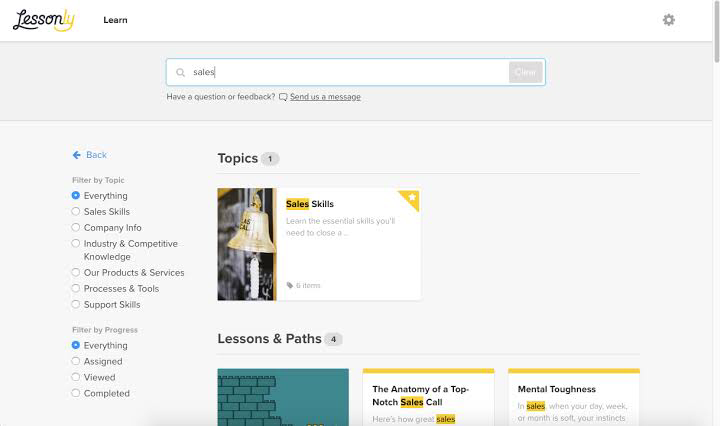 Lessonly is an online training software that is well-known due to its fantastic web-based training management system. Lessonly is user-friendly and simple to use software that was designed for sales, HR, and support teams.
It assists several organizations to provide study materials and training for their employees in order to help them update and develop their skills based on their requirements. The great news about Lessonly software is that users can use the online training any day, any time, and anywhere.
Features of Lessonly
The provision of feedback to the users based on their performance.
It renders bulk uploads, tags, and PDF export.
It supports a powerful learning library that allows the users to develop and improve themselves, thereby, increasing productivity.
It supports Windows, Linux, web-based devices, all Windows phones, and as well as supports all major browsers.
It is available for mobile iOS.
ProProfs: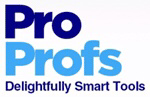 ProProfs price ranges from $9 -$79 per month depending on the users' package selected for use.
ProProfs offers a first-time 30-day free trial and even still carries out a money-back guarantee if the user does not want the value he selected before.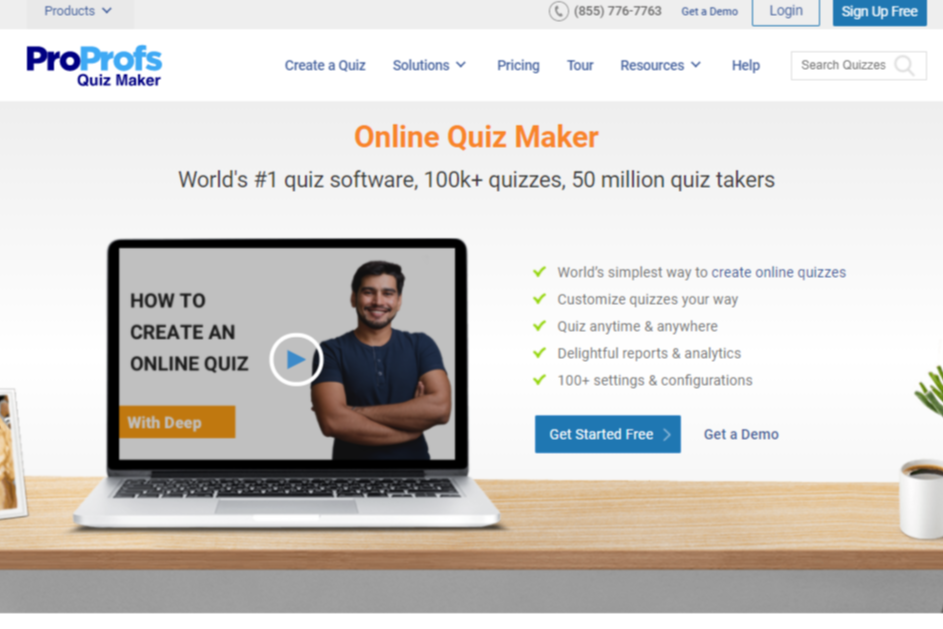 ProProfs is a highly renowned online training and web-based software with the provision of a wide range of tutorials and as well as other options for their users. The options are in form of training,
projects, live chat, discussions, quizzes, help desk and so much more. It allows the combination of many learning systems into one portal.
ProProfs helps in developing smart applications so as to ensure users work faster, smarter, and be satisfied with their work and thereby creating happy customers. This attributes to the reason ProProfs has over a million users across different platforms.
Features Of ProProfs
ProProfs has the capacity to provide not just online courses but digital content creation.
It is available as a mobile app.
ProProfs ensures the provision of good customer support for any issues and queries online.
ProfProfs helps to check trainees' progress and aids the support of the multiple platforms.
It permits and assists users to save their data by allowing the add-in of articles, online exams, quizzes, and documents.
It also checks and has full access control by users' ID and passwords, hence, ensuring that users' accounts are secured.
It helps to generate report analysis based on performance and works smoothly across different devices.
It supports Windows, Linux, MAC, web-based devices, Windows mobile, and all major browsers. Learn more about ProProfs
TalentLms: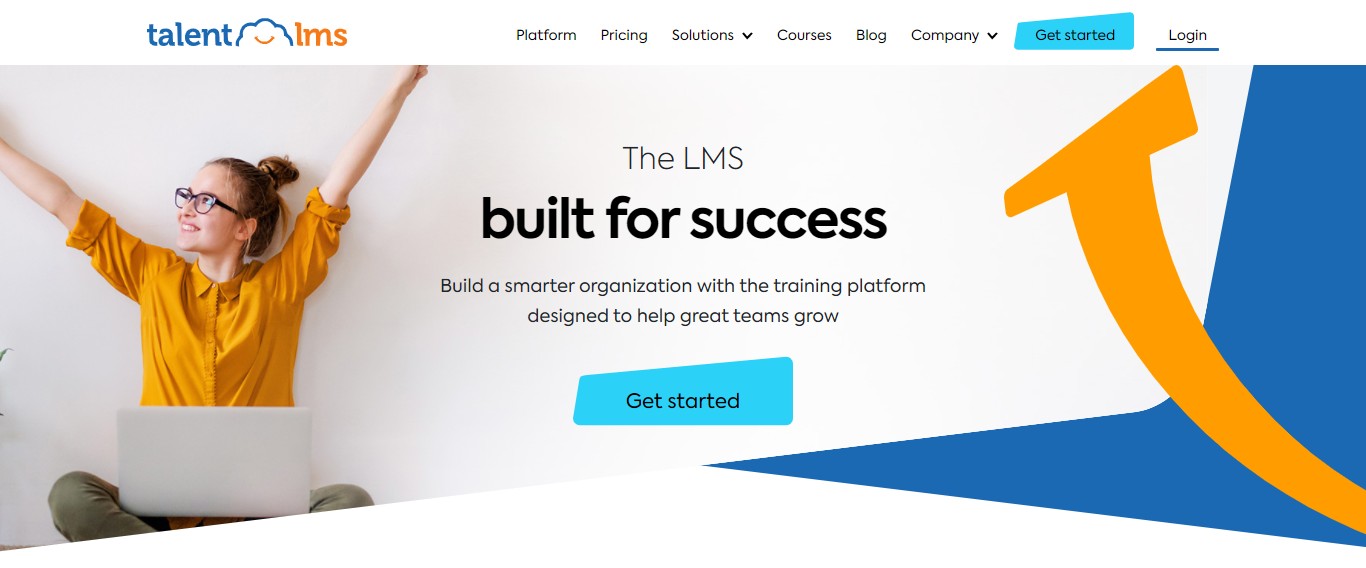 The pricing range of Talent Lms ranges from $29 -$349 per month and it allows users to enjoy a 10-day free trial version before deciding which of their value package to pay for.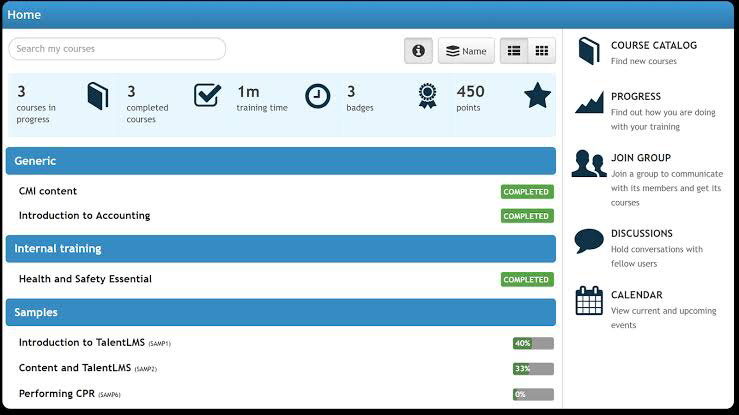 TalentLMS is a very popular online training management software that is developed so as to create a simple and best online learning platform with high flexibility for its users. TalentLMS is responsible for helping build beautiful and smart courses through extensive and updated learning materials.
TalentLMS is very flexible ranging from mobile to compliance version. This powerful software is scalable enough and well adjusted to suit the users' needs.
Features of TalentLMS
TalentLMS supports Windows mobile, Mac, Android, web-based devices, and all major browsers.
It facilitates gamification, blended learning, certifications, and e-commerce.
It has rich communication tools.
It facilitates the provision of strong course management via content friendly learning engine, surveys engine, and file repositories.
TalentLMS is characterized by functionalities such as customizable features, themed features, home page builder, integration with other APIs and so much more.
TalentLMS is a highly notable strategist that enhances branching, extensible profiles, reporting, mass actions, APIs, customer types and so much more.
It is very easy to use. Request a Demo
Litmos: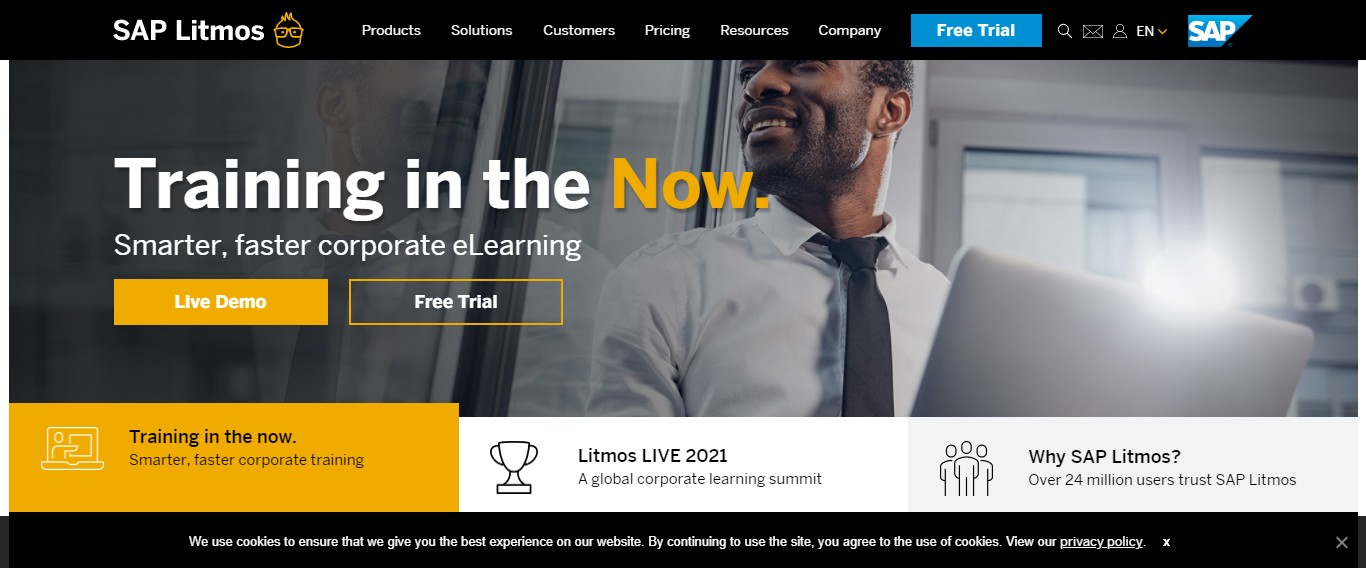 Litmos' price ranges from $5 -$9 per user. It allows its potential customers to enjoy a 30-day free trial.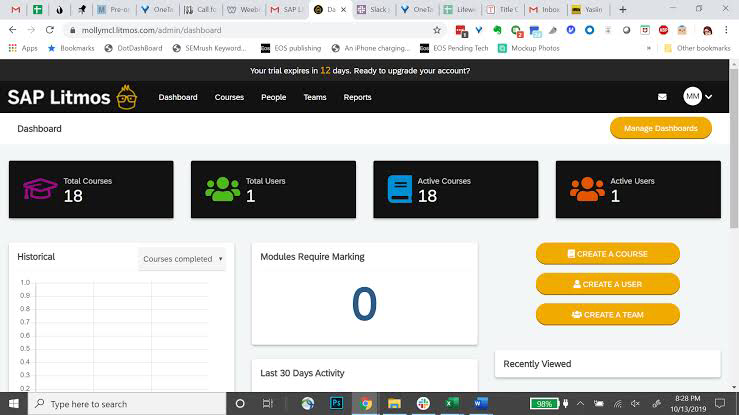 Litmos is well-renowned for its learning management system and as well as its online training software. Litmos functions under SAP. It is a dependable training software characterized by an all-in-one solution software that enhances teaching management, extended enterprise, and pre-programmed courses in an e- platform to be up to standards to meet any company or organization's requirements and needs.
Litmos is a highly secure online training software whose main target of satisfying is their end-users. Litmos has over 24 million users in 150 countries across the globe.
Features Of Litmos
It supports users in 35 different languages.
It is a universally accepted online training software.
Litmos allows a smooth integration of content development tools that helps to support multiple formats and enhances quick deployment for users.
It allows the easy creation of courses by users and as well as ensuring quick deployment.
It has bulletproof security and enhances quick scalability for its users.
It has features such as quick user onboarding, robust analytics, and reporting, fast automation, off-the-shelf content, customization options, and an embedded Al.
It provides good designs and can issue certification to users.
Litmos ensures the provision of good surveys and localization support.
Litmos supports notifications, assessments, messages, and gamification.
It supports Windows, Android, iPad, web-based devices, and all mobile devices.
Litmos houses an e-commerce shopping platform that allows users to sell online courses and also partake on all major internet browsers. Learn more
Mindflash :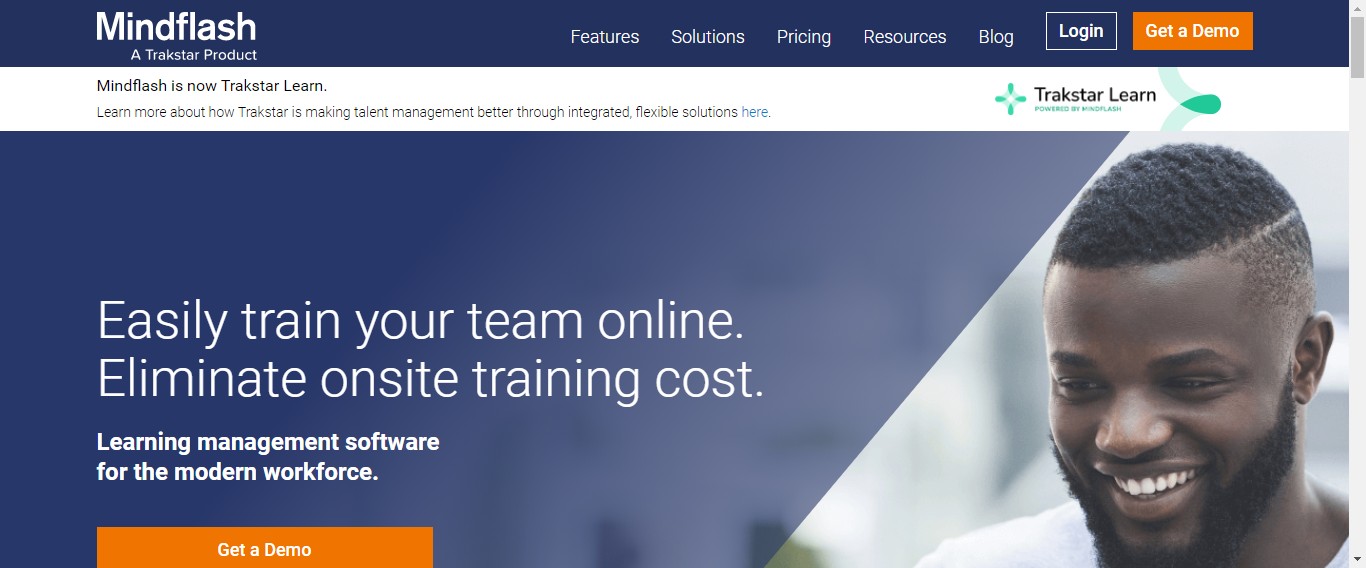 Mindflash's price ranges from $ 599 – $ 999 per month and so offers a few days trial offer for its potential customers.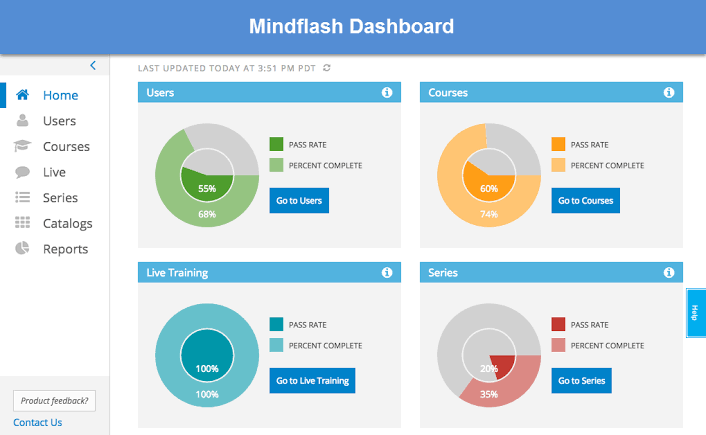 Mindflash is a very popular cloud-based and web-based online training portal that majors solely on solving users' biggest business challenges via online training for agents, resellers, customers, contractors, and other partners.
Mindflash facilitates fast, easy, and effective online training by specializing in program management, content creation, business analytics, and enterprise integration, thereby, giving users the option to move into new markets.
Mindflash learning management system helps to reduce the stress of training employees, thereby, giving the business owner more time to focus on more important things. Mindflash LMS is used in virtually all the industries of the world because they have a solution to offer those industries. Mindflash LMS is being used by more than 1000 businesses in over 177 countries across the globe
.
Features Of Mindflash
It supports iPad, web-based devices, and all major browsers.
Mindflash is pretty much very easy to use because it requires no setup, thus, the users can easily create online learning programs for themselves.
It enhances the provision of learning programs via series and also has supreme support for video, PowerPoint, PDF, and Word format.
It has characteristic features such as customizable and automatic grading, yammer application, and good reporting.
Mindflash has a sleek dashboard that allows users to be able to customize for training with their details such as emails, phone numbers, etc.
It is also available on the iPad as an app.
It enhances onboarding, virtual classroom, compliance training, and employee training.
It has customer support and remote employees training guides.
It has source content for professional development courses. Request a demo
8. DigitalChalk :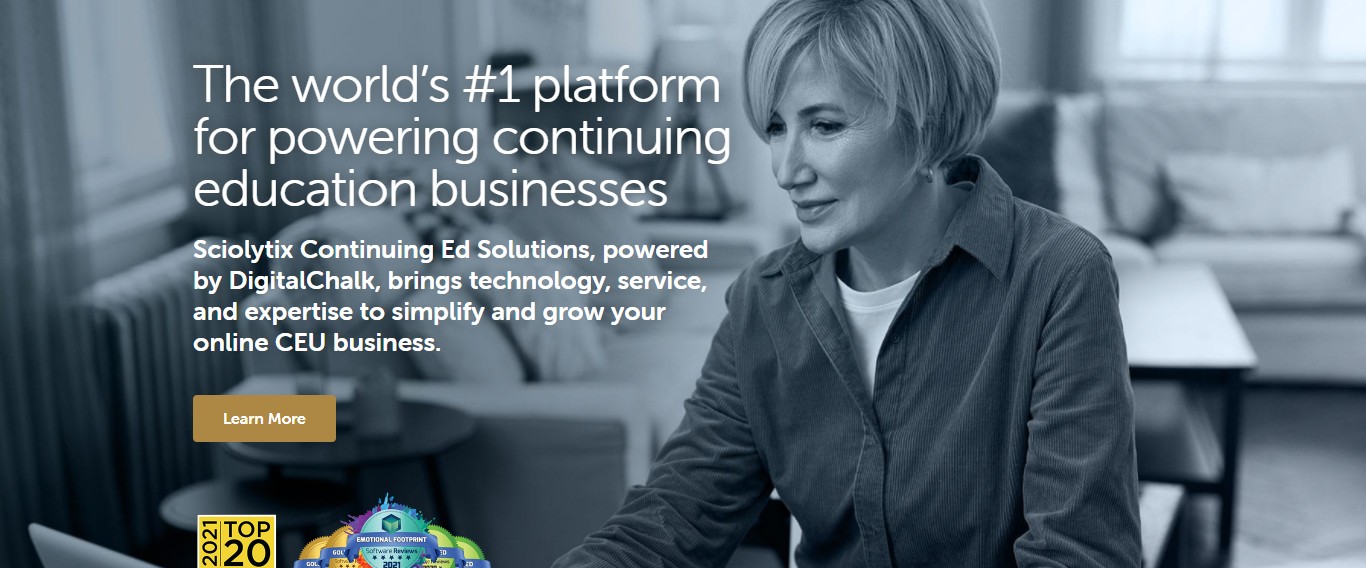 DigitalChalk price is $ 25 and the user can be billed monthly or annually depending on the payment mode the user selects.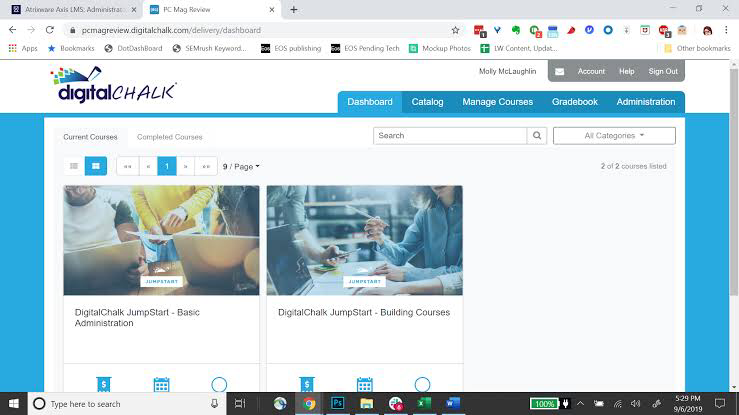 DigitalChalk is an all-in-one solution software. It is a web-based online software and learning management system that allows users to train effectively on the technology they want to gain more knowledge on.
The resource materials DigitalChalk provides consist of videos, animations, PowerPoint presentations, images, exams, and so much more. It creates unwavering flexibility of learning for the users, any day, anywhere, and anytime seamlessly. DigitalChalk is being used by several users across the globe and it has proven itself to be a strong LMS that tends to compete with other online training software in the e-learning market.
Features Of DigitalChalk
DigitalChalk has a supreme user interface and a very versatile nature.
It has an enhanced capacity to track its users' performance, and progress depending on the rewards it provides the users to encourage and motivate them.
DigitalChalk customizes delivery and flattering flexible designs with HD video clarity for the users' ease of learning.
It creates real-time analytics for users with full API support.
It supports Windows, Android, iPad, web-based devices, and all major browsers.
It offers full support from tutors with secure public and private training.
It is rich in features such as in-built shopping integration, multiple currencies, taxes, and a loaded app store.
It helps users to create powerful course content, and supplements learning with course files.
It also helps users to create and manage class assignments.
DigitalChalk is user-friendly as it can upload SCORM contents to its online platform. Learn More
Docebo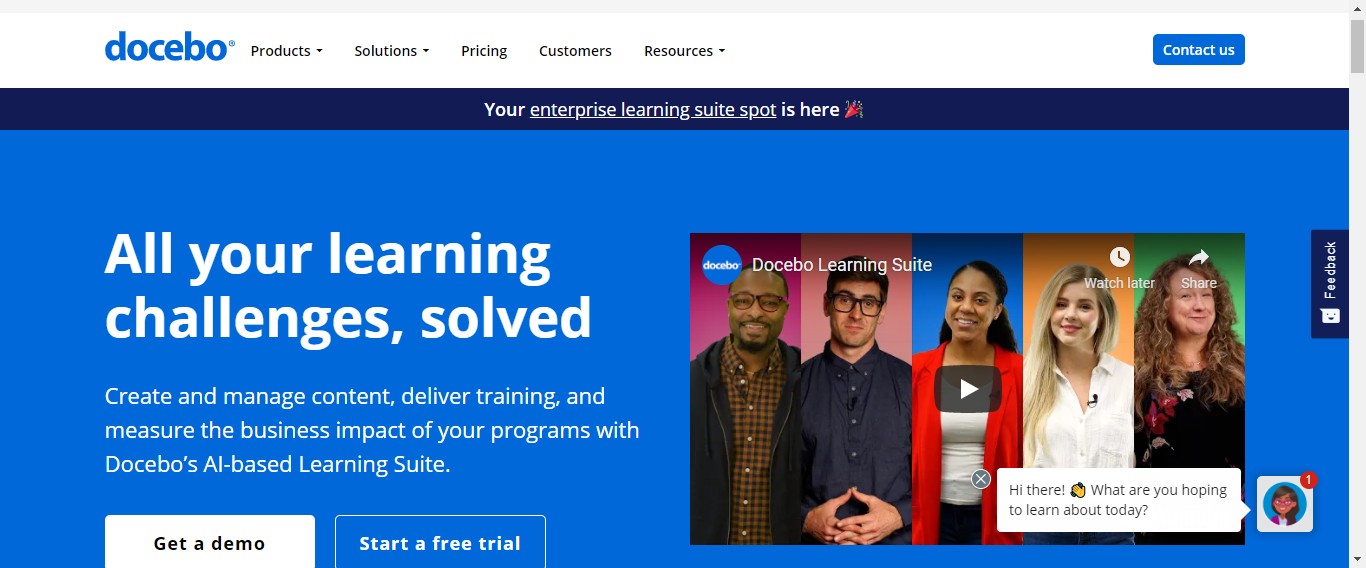 Docebo pricing is $5 per user per month and it also offers a free trial version for its potential users.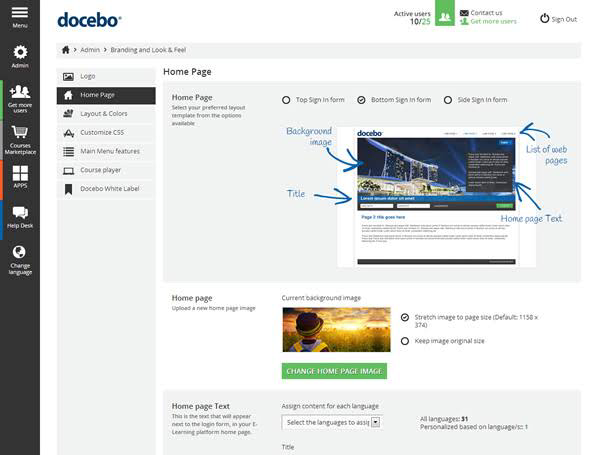 Docebo is one of the top online training software that provides a learning management system. This facilitates the acceleration of corporate training for different organizations. It creates high flexibility and scalability while integrating a complete solution with users. Docebo's rich features give room for it to help track, train, and improve learners. Over 2000 top leading learning organizations use Docebo to facilitate their learning.
Features Of Docebo
Docebo supports multiple languages with a good user interface.
It can help create engaging learning content in minutes.
Docebo offers solutions to users such as employee onboarding, employee development, and retention, partner training, compliance training, member training, social learning, etc.
It supports Windows, Linux, Android, iPhone, iPad, Windows mobile, and all major browsers.
Docebo has rich features such as courses catalogs, enrollment rules, training, and certifications, white-label, etc.
Docebo helps in the provision of audit trails, external training, learning plans, notifications, and subscription codes.
It offers support to coaching, gamification, e-commerce, extended enterprise, and several other builders.
Docebo has a powerful integration and as well as features such as strong automation, labels, customized domains, audit trail, and empowers users.
It is available as a mobile app. Request your demo here
10. WizIQ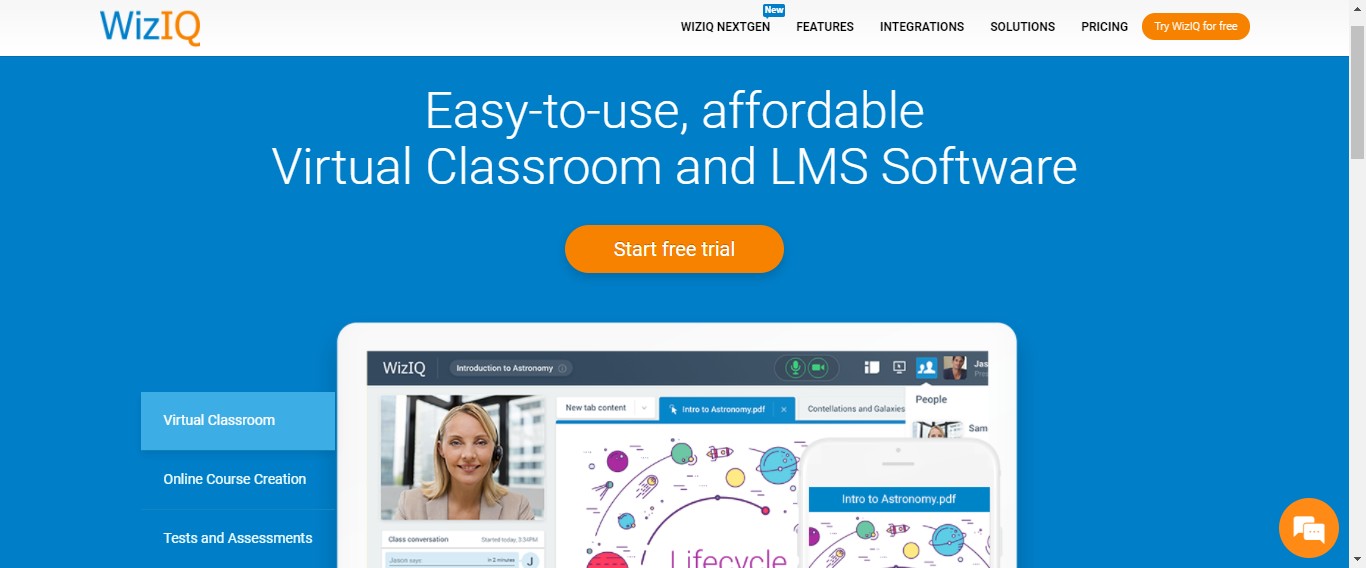 WizIQ pricing ranges from $ 27 -$ 68 and it also provides a 1 monthly free trial version for its potential users.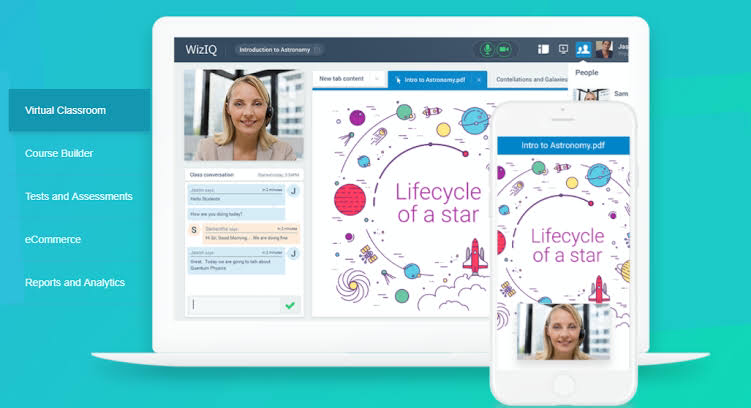 WizIQ is a very popular online training tool on the e-learning market that attracts a very wide range of users. One of the many pros of WizIQ is that it is very easy to use by the users via the learning management software, and as well as its an affordable virtual classroom.
WizIQ allows customers to enjoy all the tools they require to deliver online learning to be able to teach and train students, customers, and partners. It also helps users to customize their logo just the way they desire it to be, as well as banners, URLs, and colors to match their brands.
Features Of WizIQ
WizIQ supports multiple languages.
It has a secure web-based content library that helps users to create tutorials and programs.
It can support multiple tutor accounts and still give the users notifications and reports.
The provision of online tests and exams for the learner to be able to checkmate his performance and still give back the performance feedback to the learner.
It ensures secure video hosting, streaming and can automatically check the programs.
It supports Windows, Linux, Android, iPhone, iPad, Mac, and all major browsers.
It is available as a mobile app. Start a free trial
11. Adobe Captivate Prime: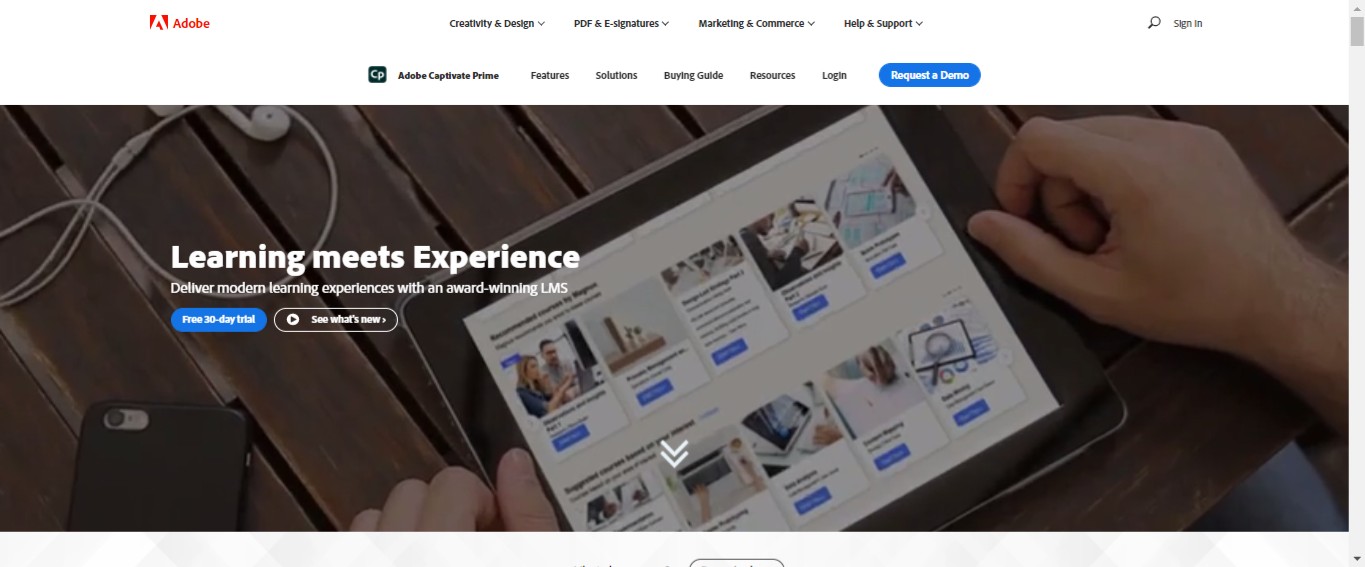 Adobe Captivate Prime pricing is $ 4 per month per registered learner, requiring no credit card, and it also allows a 30-day free trial version for their potential customers.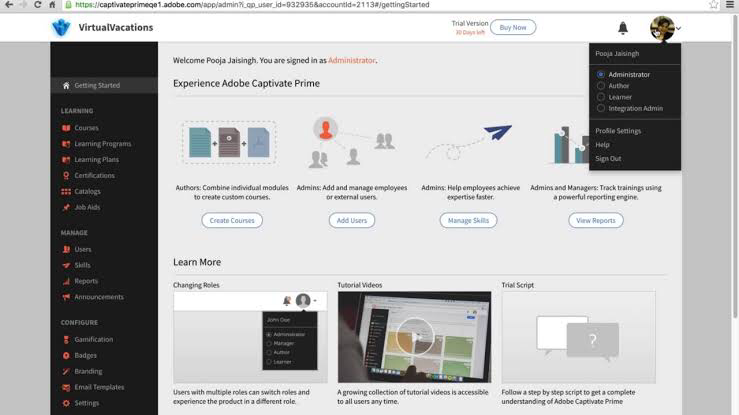 Adobe Captivate Prime is a cloud-based e-platform and learning management system (LMS) that is notched at helping users to set up and measuring students' training via its artificial intelligence-based social learning capabilities so as to motivate learning in the flow of work and allows learners to learn from each other.
Adobe Captivate Prime has proven to be a unique e-platform as it engages over a million users across the globe. Adobe Captivate Prime has achieved feats of numerous awards such as:
Ranking #1 in the Top 10 Cloud-Based LMS.
Ranking #2 in the Top 20 Customer Training LMS.
Features Of Adobe Captivate Prime
Adobe Captivate Prime has a built-in course authoring and as well as a built-in LMS rich feature.
It makes mobile learning and employee training very easy.
It enhances e-commerce management, content management, engagement analytics, and media management.
It runs a swift learning portal and creates rich blended learning and also creates synchronous learning, social learning, and asynchronous learning for their registered customers.
It can easily issue certification and licensing to its customers on the completion of its program.
Adobe Captivate Prime has an LMS that is SCORM compliant.
It conducts tests and assessments for learners at the learner's own time to help track the learner's progress.
Adobe Captivate Prime engages in simulation and modeling so that the learners can grasp the learning curves quickly.
It helps organizations to train their employees, partners, and customers more adequately and effectively.
Adobe Captivate Prime is rich in features like video conferencing, virtual classroom, and gamification that is easy to implement.
Adobe Captivate Prime has a Fluicidic Player that makes learning very exciting for its users. This Fluicidic Player is compliant with video files, DOCX, xAPI, and other formats.
It has a user interface that is intuitive for all roles such as administrators, managers, authors, and learners. Start the Free Trial
12. LearnUpon LMS: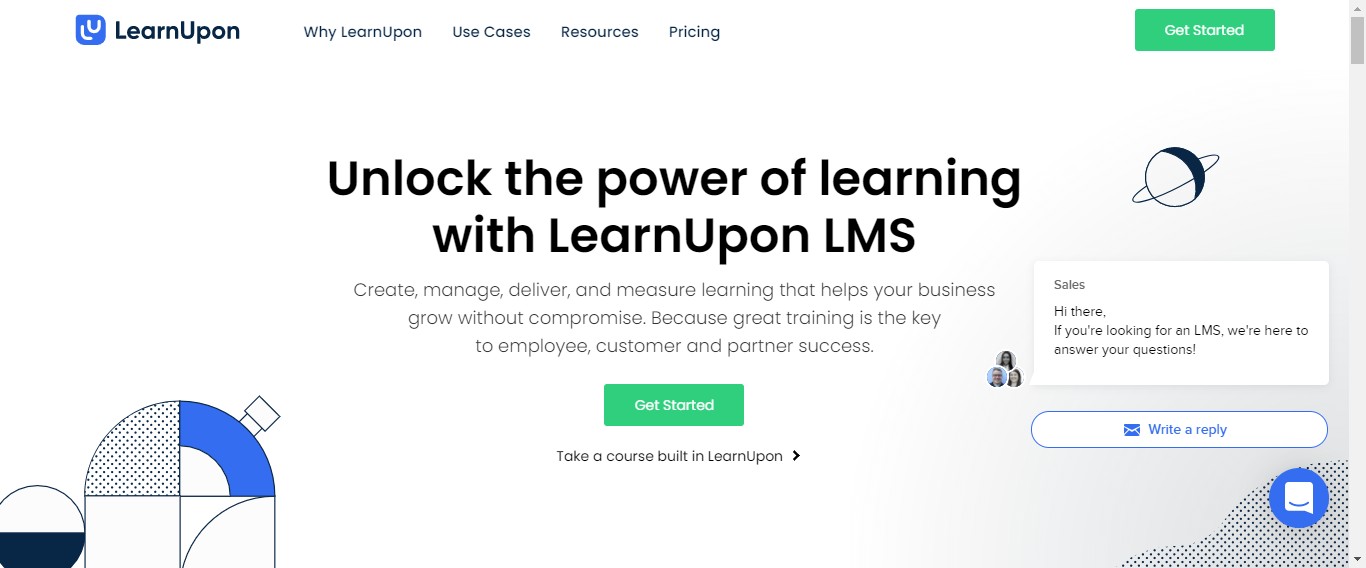 LearnUpon LMS Pricing: $ 699 per month per 50 users, $ 1249 per month per 250 users, $ 1999 per month per 500 users. It also offers a free trial version for its potential customers before payment.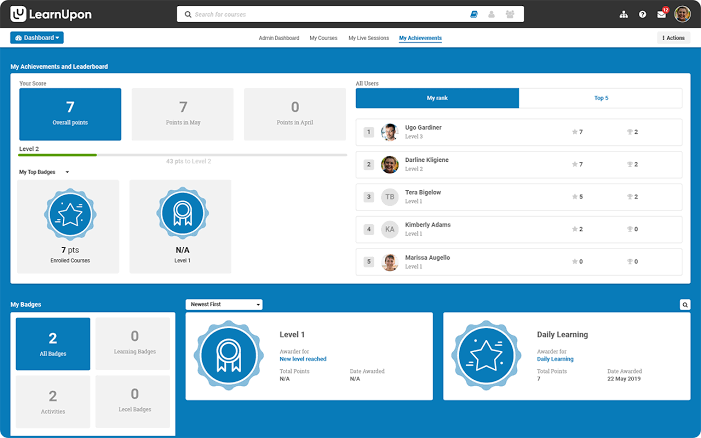 LearnUpon LMS is an open-source learning management system and online software that helps users to coordinate, unify, and streamline training delivery across their company's entire network span, thereby, giving them a competitive advantage.
LearnUpon LMS allows learning to freely flow from a centralized, and accessible platform across the user's network.
LearnUpon LMS combines user-focused technology and industry-leading expertise to deliver meaningful and impactful training that motivates and engineers employees, partners, and customers' success.
Features Of LearnUpon LMS
Using LearnUpon LMS is very easy due to its intuitive interface that allows a smooth delivery of SCORM and xAPI courses.
It helps users to build engaging and diverse courses without any technical expertise.
It helps to test learners' knowledge by conducting exams and assessment surveys to gain invaluable feedback.
It helps to create different roles and groups to make training management more efficient.
LearnUpon can issue certification to successful learners at the end of their programs.
It can train multiple audiences in one system via its learning portals.
The package allows users to customize their brands the way they want to.
LearnUpon has rich gamification features.
It encourages social learning by allowing conversation between users and enabling them to share knowledge with other forums.
Learn Upon has a learner-friendly platform that allows users to engage and be able to access training.
LearnUpon creates e-commerce and a reporting platform for its users.
It easily integrates with any HR system, CRM, webinar tool, payment gateway, salesforce, and more.
LearnUpon seamlessly automates workflows for users.
It supports all major web-based browsers. Learn More
13. Inquisiq LMS: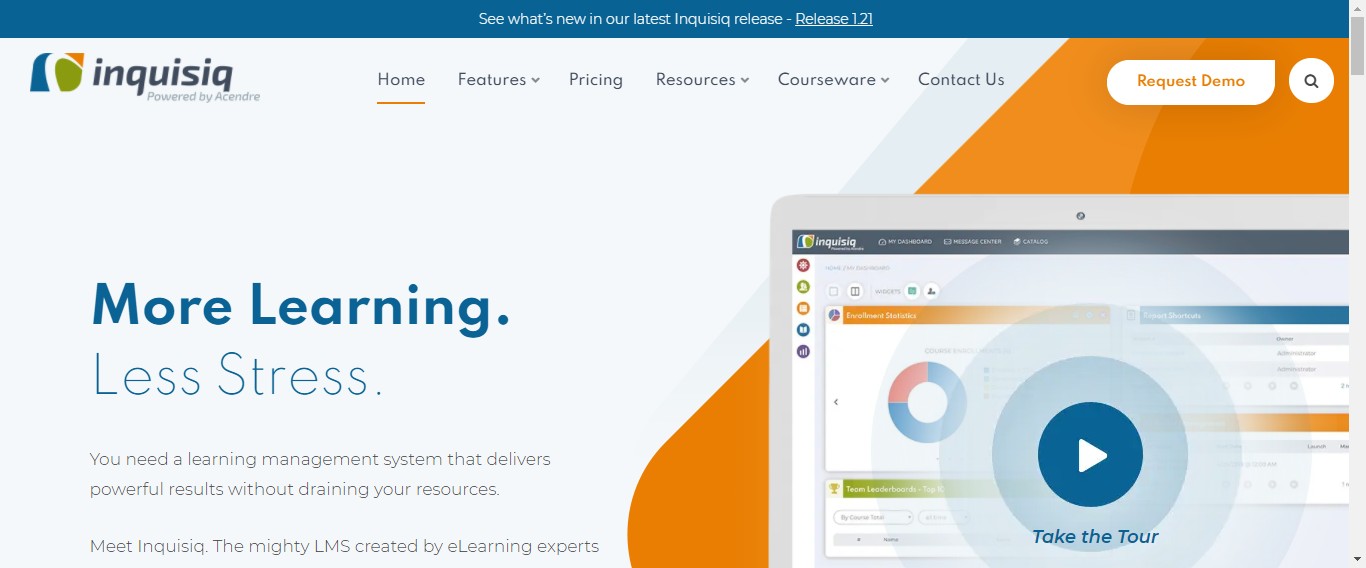 Inquisiq LMS Pricing is ranged at $ 4 per user per month and it is also dependent on the number of users, for instance, Inquisiq charges $ 4,128 per 100 users every month.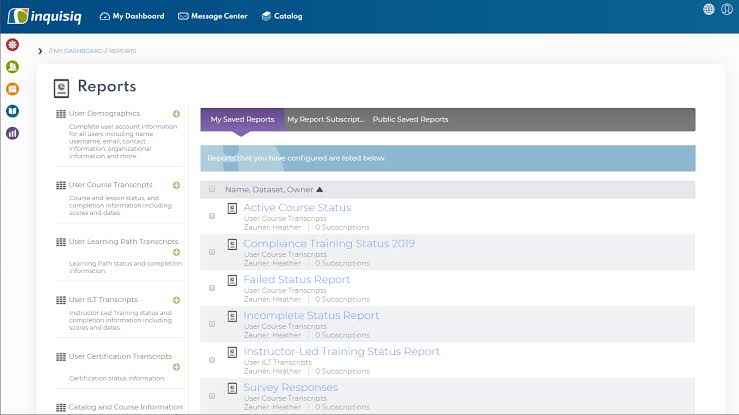 Inquisiq LMS helps their customers to deploy, manage and track education programs to their employees, members, customers, partners, and volunteers. It also helps to offer fully branded multi options and supplies learners with the courses they need when they need them.
Features Of Inquisiq LMS
Inquisiq LMS has a value-priced and e-learning technology available at price customers can afford.
It is mobile-friendly and also has a multilingual interface to facilitate a customized users experience.
Inquisiq LMS enhances SCORM compatibility by enabling users to access all learning content, authoring tools, and its e-library.
Inquisiq LMS helps to blend learning via its all-in-one platform.
Inquisiq LMS enables users in the community to share messages among themselves and this facilitates spontaneous communication.
Inquisiq LMS automates learning via its course enrollment, group access, reporting, and more.
It allows users to shop from their integrated e-commerce platform.
It helps to solve challenges associated with cooperating training and training providers. Request a Demo to start learning now!
14. Stream LXP From LearningPool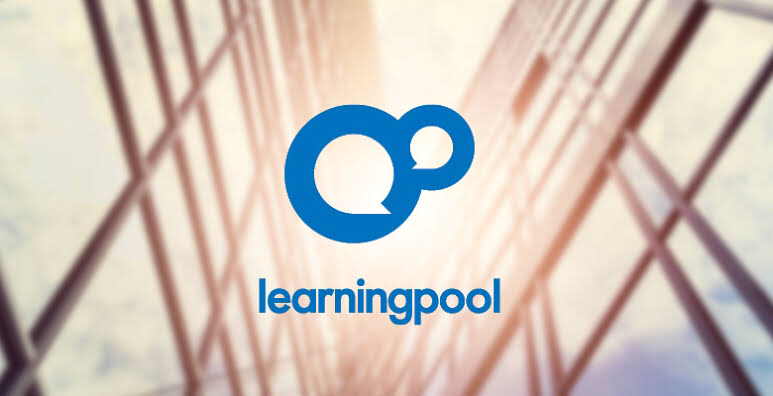 Learning Pool pricing is not visible on their website but potential customers can reach them for their price and they do not run free trial versions.
LearningPool is an open-source learning management system (LMS) platform from Stream LXP.
It helps to provide high-quality learning in the daily workflow of users. Learning Pool is suitable for large enterprises, freelancers, small and medium businesses, public administration, and organizations. Learning Pool can also be used in organizations having over 250 employees.
Features Of Learning Pool
LearningPool enhances training and helps to blend learning via Webinars, in persons, documentation, and live online mode.
LearningPool allows modeling and simulation.
It has a built-in learning management system and as well as a built-in course authoring.
It allows users to share content and also facilitates micro-learning and mobile learning.
It has full support for helpdesk, feedback, and email.
LearningPool is used by corporate organizations via learner portal to train their employees.
LearningPool allows seamless gamification and as well as running the employee portal easily.
It helps to run and manage e-commerce platforms seamlessly.
It issues certification and licensing.
LearningPool helps to track courses being done by the employees.
It allows users to customize their brands.
LearningPool is very quick to set and up and very easy to use.
LearningPool has adaptive, personalized learning that is consistent with job roles and competence.
It guarantees a free upgrade. Learn more
15. Absorb LMS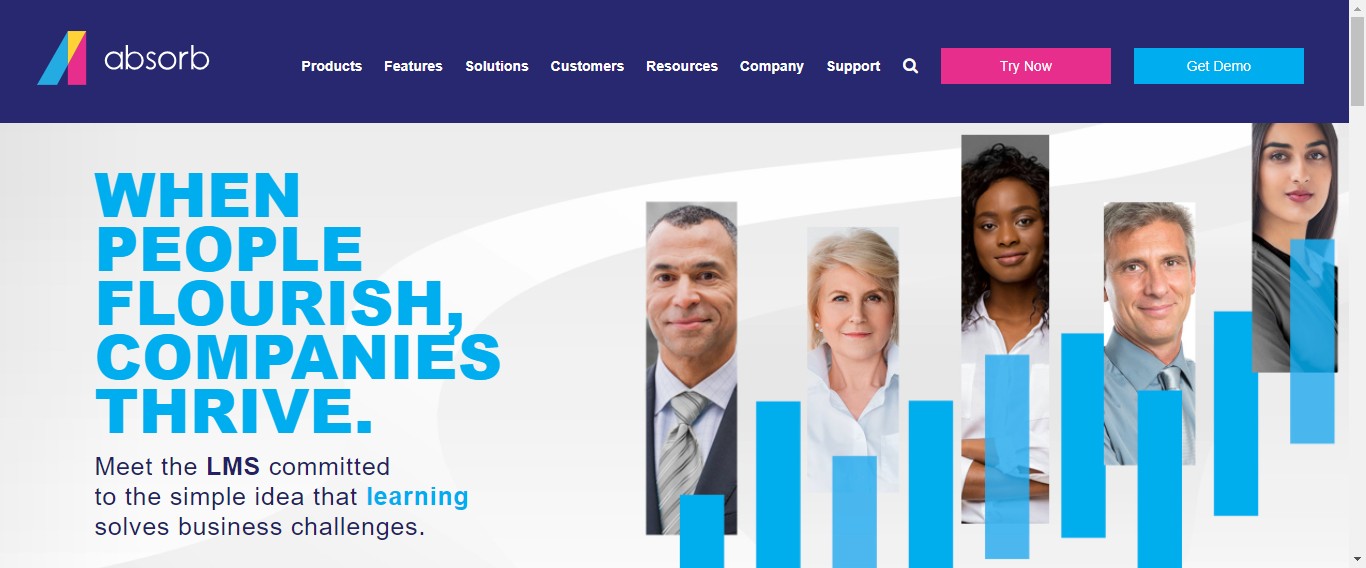 Absorb LMS Pricing is $ 800 per user per month and it has a free trial version for their potential clients.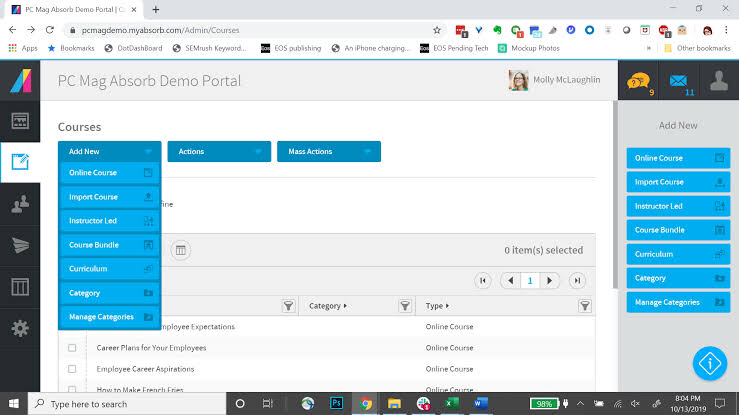 Absorb LMS is a cloud-based learning management system ( LMS) that is well renowned for inspiring learning and fueling business productivity. Absorb LMS is an online learning platform that helps to drive any business and organization growth by the combination of fast and forward-thinking technology. It has very rare and superb customer service as compared to other LMS on the e-learning market.
It has proven to be one of the top leading LMS known on the e-learning market because of its ability to empower and engage users via their amazing learning experiences, content retention fueling, and elevated training programs.
Absorb LMS is well known in the expertise area of training employees, global channel partners, and customers. They have over 23 million users and over a thousand clients in about 34 countries across the globe. It also allows customers to sell their training content on the platform.
Features Of Absorb LMS
Absorb LMS is rich in features such as electronic signature, electronic handbook, and an employee portal.
It helps to share content among users of the platform.
Absorb LMS can issue recognized certification and license.
One of Absorb LMS responsibilities involves the management of content, documents, and the e-commerce platform.
It helps e-commerce, corporate, and business organizations to run smoothly.
Absorb LMS helps to blend learning seamlessly for users via webinars and more.
It has a built-in LMS and built-in course authoring.
It enhances asynchronous learning and makes academic work very easy for students.
It has a customizable user interface that allows its users to brand just the way they want.
Absorb LMS makes gamification and navigation so easy for the user.
It gives the user an assured peace of mind by integrating easily with other leading CRMs, HCM, and content libraries. Get a Demo here
16. Learn Amp: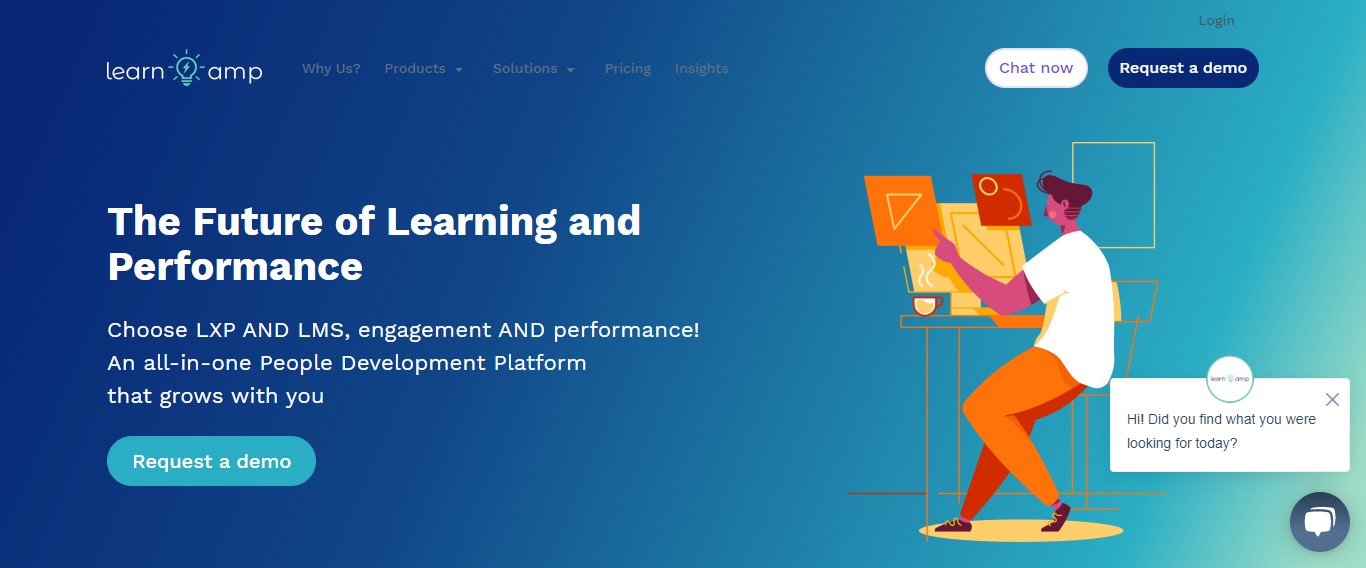 Learn Amp Pricing is tailored to suit their users' individual businesses that can scale as their business grows. It also has a free trial version for its potential clients.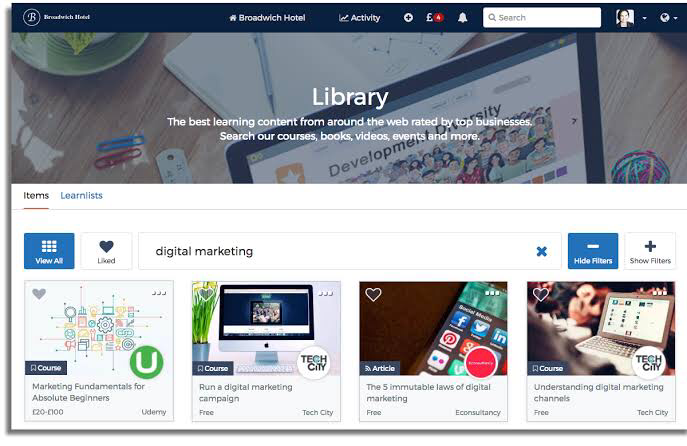 Learning Amp is the number one employee experience platform built for fast-growing global businesses for various sectors and sizes such as the small and medium businesses, large enterprises, entertainment industry, gambling and casinos, information technology and services, leisure, travel and tourism, marketing, and advertising, staffing and recruiting.
Learn Amp is a cloud-based learning management system (LMS ) that is totally driven and focused on delivering the ideal employee journey by helping businesses to develop, engage, attract, and retain the best talent via the combination offered by LMS, LXP, and community packages that is supported with a suite of assessment and performance management tools.
The learning package also understands the need to integrate into the ecosystem of a business, hence the reason why Learn Amp has many deep integrations with the modern workforce and many more. Learn Amp has several USPs in their user interface, unique hierarchy, UX, and user ability.
Learn Amp has won several awards because of its unique features, some of the awards won are:
Co-won award with customers for the Best use of digital technologies at the UK EXA awards 2019.
One of the top 3 LXPs as named by leading industry experts for the past 3 years.
And due to this and so much more, about 90% of customers have gotten to renew their rates with Learn Amp LMS for more than 3 years.
Learn Amp has over a million users across the globe.
Features Of Learn Amp
Learn Amp has 24 hours support via email, live online chat, and knowledge-based.
It supports Linux, Windows, Mac, and all other major browsers such as Apple Safari, Google Chrome, Internet Explorer, and Mozilla Fox.
It seamlessly integrates with BambooHR, office365, Slack, SCORM, xAPI, an API, and zoom.
It enhances efficient and easy blended learning for users via documentation, in person, Live streaming, online tutorials, and Webinars.
Learn Amp helps to drive towards the success of businesses by facilitating employees training, customer training, channel training, company training, and as well as workforce development.
Learn Amp has a reporting feature that permits the users to see top-level trends and drills down into the granular detail at each level of the business.
It has built-in assessment tools to check the progress of the learners and their learning platforms.
Learn Amp has a rich social community tool as such that recognizes that peer-to-peer learning should be run by a sophisticated digital L and D strategy.
It allows teachers and trainers to provide feedback asynchronously to the learners via video, audio, or written form.
Learn Amp allows their customers to segment their user groups via a wide range of customized and pre-set fields to classify their audience with the flexibility they want. Request a Demo
17. Canvas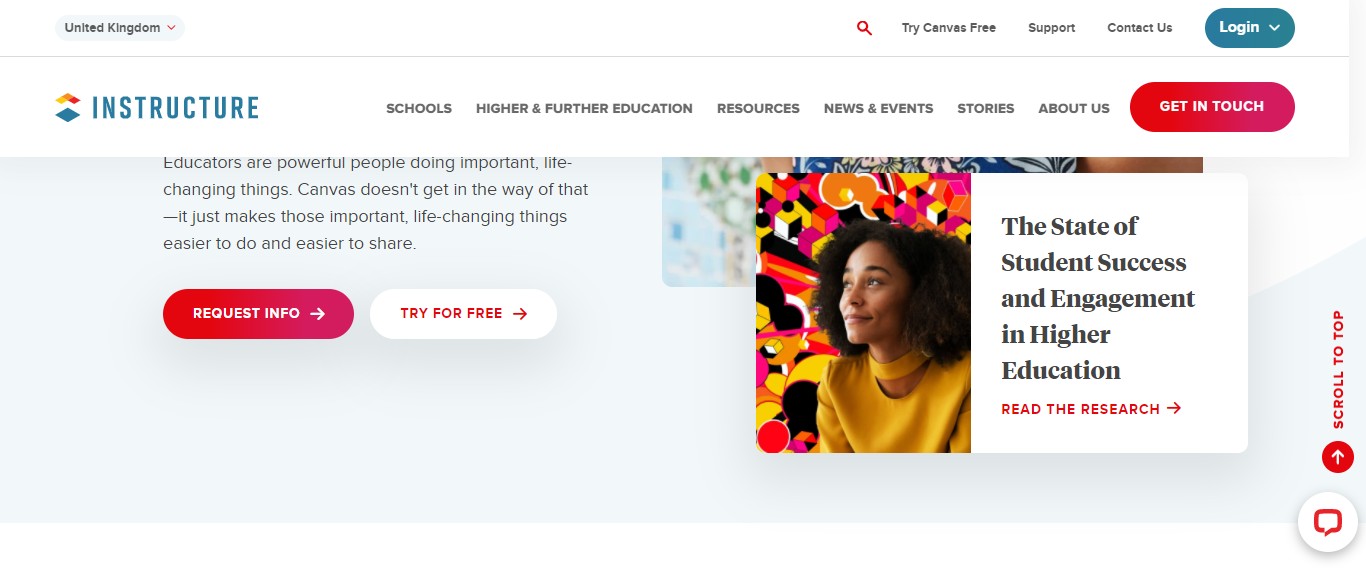 Canvas Pricing starts from $ 120 per 50 users per year and it also offers a free version for their potential customers. Check the free version here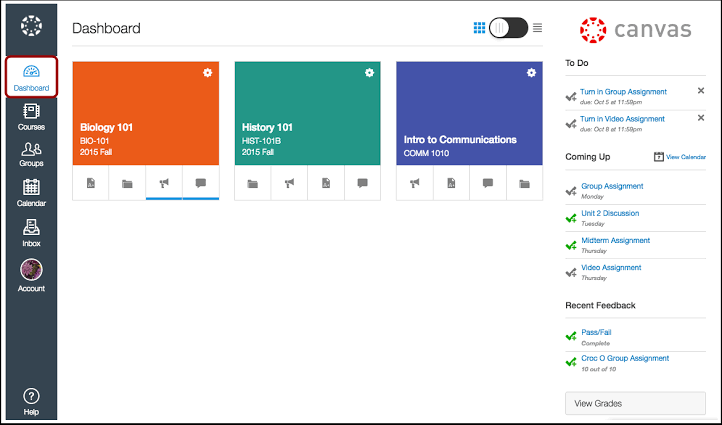 Canvas developed by Instructure is an open-cloud learning management system ( LMS) and online software that permits institutions to manage digital learning.
Canvas is being used by learning institutions, trainers, and students to access and manage online course learning materials and as well as communicate about achieving learning and skill development.
It has a variety of customized management tools and course creation, user analytics, statistics, and internal communication.
Canvas was designed to make teaching and learning simple for everyone ranging from the little learner to university students to business leaders. Simply put, canvas works for customers at any educational level. It is trusted by several institutions and Ivy League schools across the globe.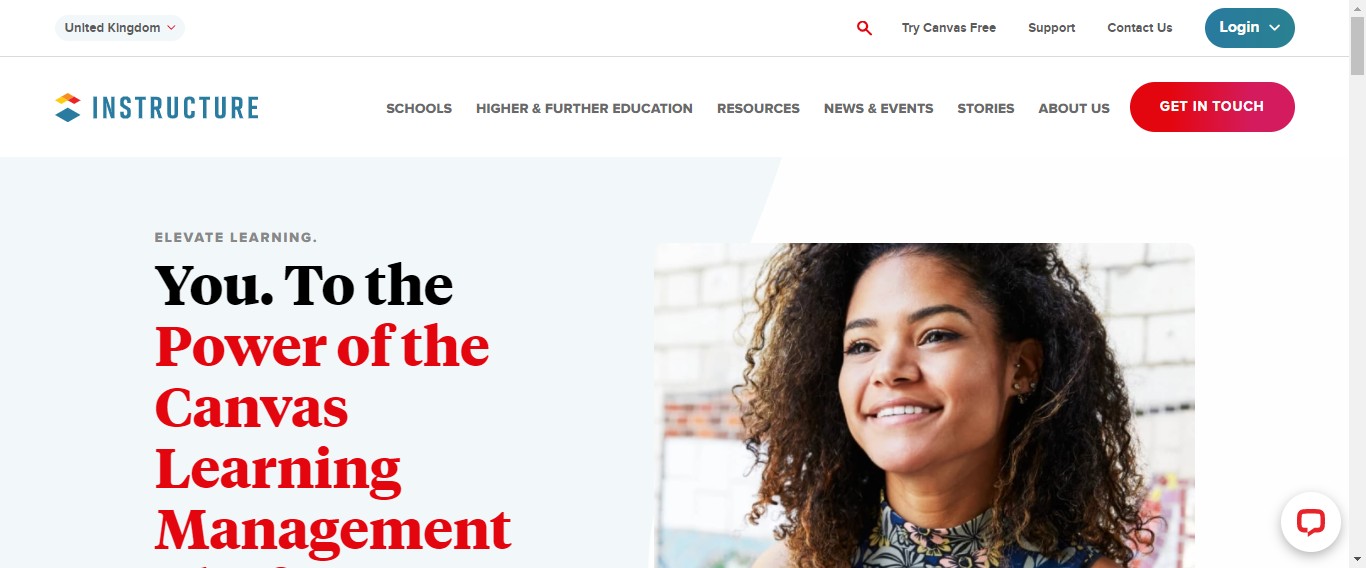 Features Of Canvas
Canvas is very reliable, secure, and suitable for education at any level.
Canvas LMS has partners and content providers that have been well-vetted technologically who in turn helps to provide amazing learning and teaching experience.
The educational community on Canvas is second to none because the users inspire innovation, information, and support via collaborations, conferences, and groups.
Canvas supports the easy SIS and Open LTI integration with their users' favorite educational app.
Canvas learning ecosystem is user-friendly and fun to use.
Canvas has a course import tool that helps instructors to upload bulk LMS course packages and course materials.
It helps instructors to share course contents with their learners via assignments, discussions, modules, quizzes, and puzzles.
Canvas catalog allows students to register, enroll, and pay for their courses.
Canvas studio is a very interactive video management platform that ensures students get involved and collaborates easily while taking courses online.
Canvas Portfolium is an online portfolio that that is integrated easily inside canvas for the learners to use.
Canvas Commons is a learning object repository tool that instructors can store course content for their personal use and as well as collaborate with their colleagues either within or outside their institutions.
Canvas Masteryconnect is a tool that helps designers, instructors, and trainers to build, deploy, and manage assessments across institutions.
Canvas can facilitate real-time updates and course interaction via chats, calendars, announcements, and syllabus.
Canvas has easy plug-ins for third-party tools.
Canvas is easily deployed and is also SCORM and xAPI compliant.
18. Totara Learn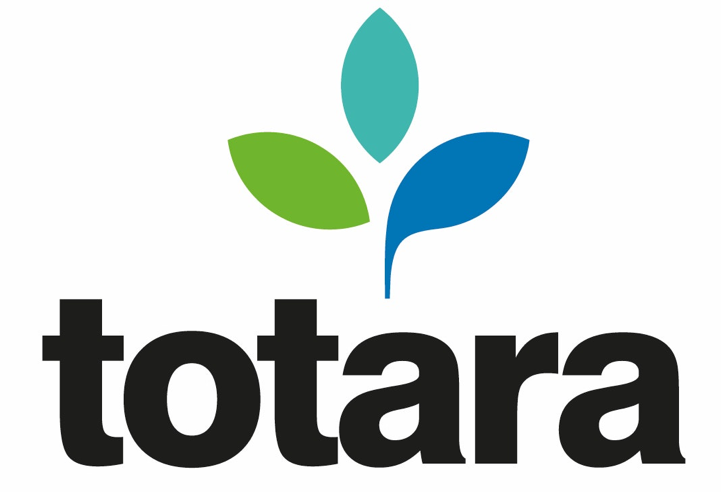 Totara Learn Pricing is $ 4 per month per registered user and it also runs a free trial version for their potential customers. Learn more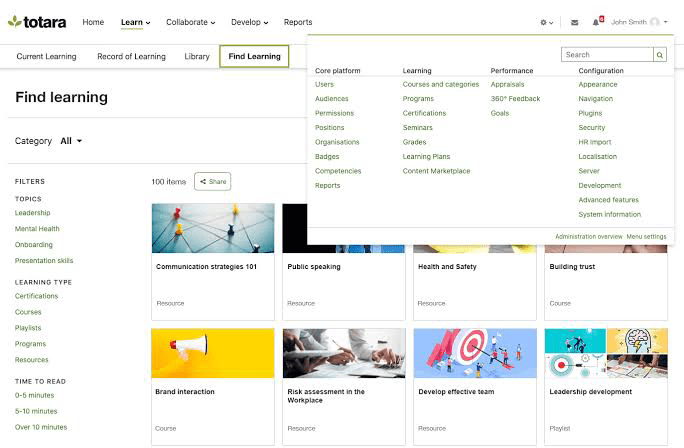 Totara Learn is an open-source learning management system and online software that is built to serve several agencies and startups. Totara Learn LMS is used in corporate learning to educate, manage, and connect to their users' talents.
Totara Learn is uniquely preferred and best suited for corporate eLearning platforms such as consistent online training, employee onboarding, successful planning, and regulatory certifications. Totara Learn is being used by over 19 million users in more than 1400 organizations worldwide.
Features Of Totara Learn
Totara Learn can protect their users' organizations by improving safety and reducing business risks due to their robust compliance management.
The software can integrate and align with their users' technology to create the innovations their users want.
It enhances blended learning and collaboration among users.
It allows users to scale up their learning programs easily whenever and wherever required.
Totara Learn can build comprehensive custom reports by tracking learners' performance, sending email notifications, and more.
It supports multi groups and organizations with multi-tenancy
It allows easy gamification and asynchronous learning for their users.
Totara Learn supports multiple languages and is very extensible.
The software is a highly flexible, scalable, and feature-rich enterprise learning management system.
It uses hierarchy to assign personalized learning plans and reports on specific segments.
Totara Learn issues out certification to learners on the completion of their program.
The Software has a very intuitive and interactive user interface and learning on the go is made easy.
19. Chamilo LMS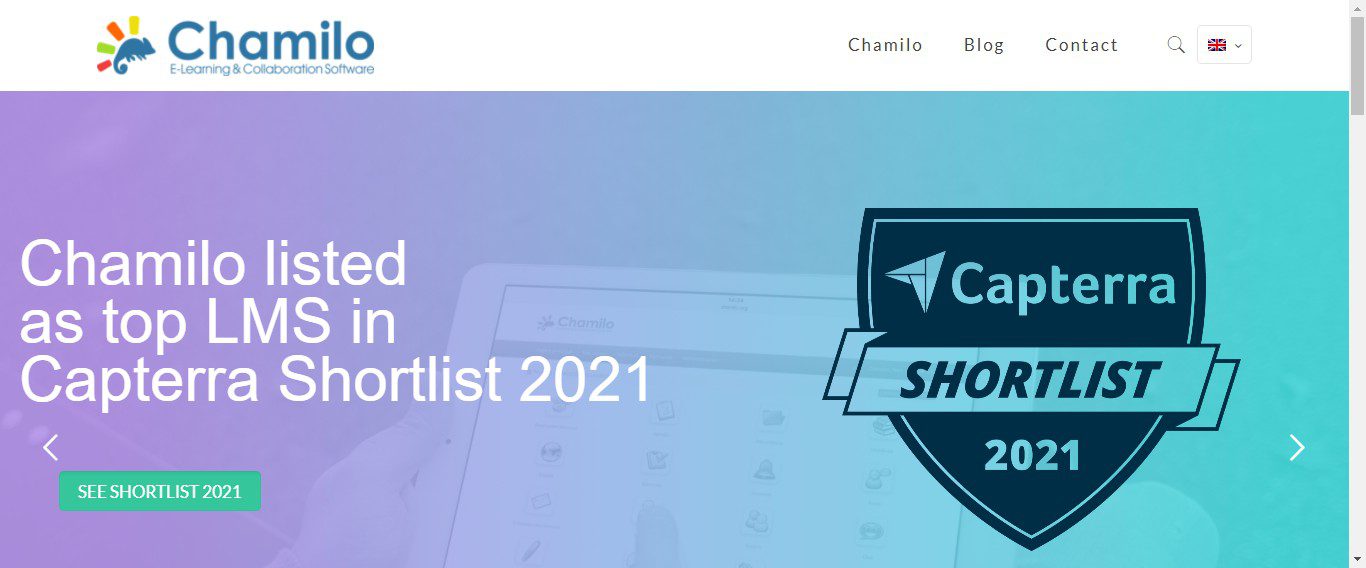 Chamilo Pricing: The software products provided by Chamilo are entirely free. Moreover, there is a network of official providers that helps to provide professional-level services for organizations that do not have professional IT infrastructure resources and in-house to run the platform. Learn more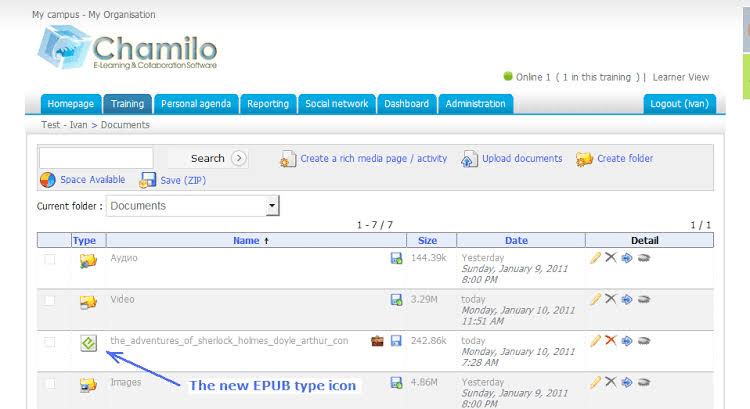 Chamilo is an open-source learning management system and web-based software that is backed up by the Chamilo Association that helps to improve accessibility to online training via maintaining a clear communication channel and building a network of service providers and software contributors
to promote the Chamilo software.
Chamilo is listed as one of the ultimate lists of open-source learning management systems (LMS). Chamilo LMS is cloud-compatible and has a very high capability of solving security flaws very quickly and efficiently and is famous for this reason in the e-learning market.
Chamilo is being used by over 700,000 registered users and more than 5,000 learners cutting across the globe.
Features Of Chamilo
Chamilo has a built-in authoring tool that helps to create online training easily and as such meeting up with all the learning preferences required.
Chamilo is mobile-friendly as it offers mobile learning support that ensures, learners, learn at their self-pace and access the online training materials at their own convenient time.
It has a superb online community that enhances peer-to-peer sharing of content, sharing of information, and imparting knowledge.
Chamilo has 24 hours customer support to help solve varieties of issues their users may experience on the platform.
Chamilo offers their users intuitive and interactive language and media settings embedded within the platform that gives them an array of options to help them customize their user interface and brand.
Chamilo renders a broad spectrum of rich features such as SCORM and xAPI compliance, complex exams configuration, skills management, course catalog, and courses shopping carts.
It helps to issue certification on their learners' completion of the program.
20. Open edX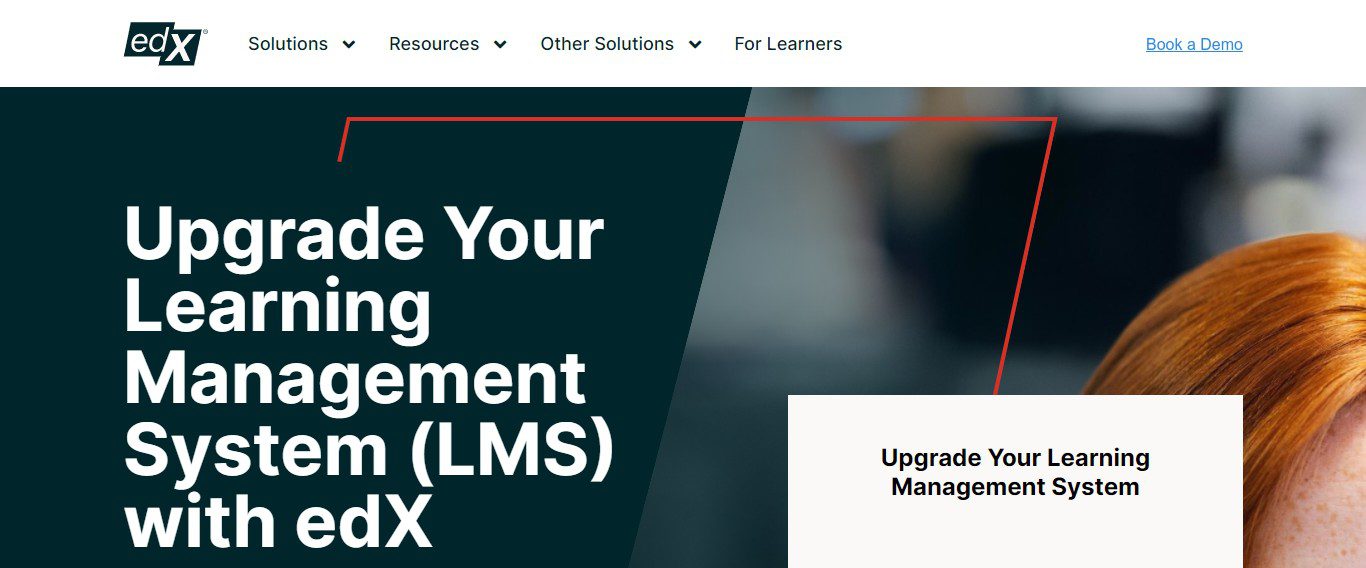 Open edX has no premium pricing option since it is an open-source, freemium tool. However, it accepts payment from corporate bodies that uses their services annually.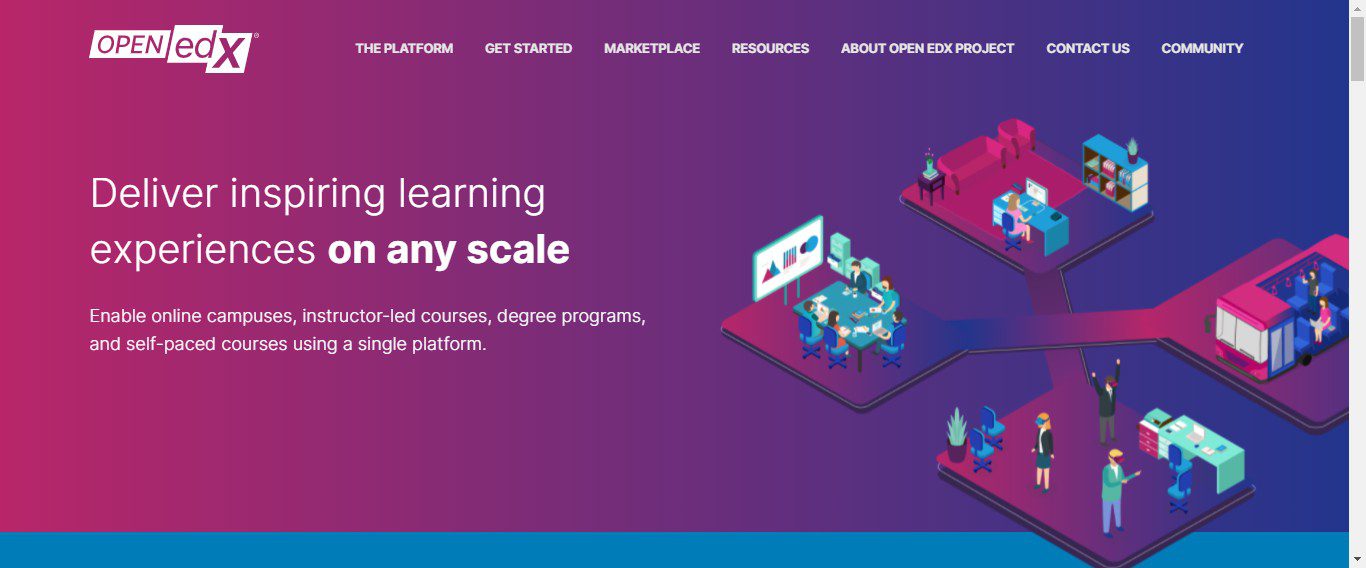 Open edX is an open-source learning management system (LMS) that provides tools for empowering learners so that they can easily access online content such as videos and textbooks. It also helps to check learners' progress in the online training course.
Open edX empowers edX courses and allows institutions to host their instances of edX and enhances them to offer their classes. It is being used by educational institutions, freelancers, non-profit organizations, and public administration worldwide.
Open edX was recently listed among the ultimate list of open source LMSs.
Features Of Open edX
Open edX has a studio that helps to build their learners' online training courses, create structures and add course content. And the studio can also help you manage the course schedule, course team, setting of grading policies, and more.
It enhances accessibility into key business processes by identifying checkpoints and requirements needed for learners to enjoy the platform.
Open edx enhances practical guidance by making course teams self-sufficient enough to make online training very accessible to their users.
Open edX has an online community that enhances discussion forums and gives learners insights. This online community support includes Webinars, blog posts, and upcoming events.
Open edX is easy to use and easy to manage.
It has mobile learning support and grades users' activities.
Open edX can issue certification on the completion of the learners' program.
It allows users to easily customize the way they want to
It helps to assign courses to categories.
Open edX has customized game-based learning and gamification.
Open edX is SCORM compliant and it integrates easily with other platforms.
It blends learning for students via documentation, in-person, online live chats, webinars, videos, and other formats by the instructor. Learn more
21. Moodle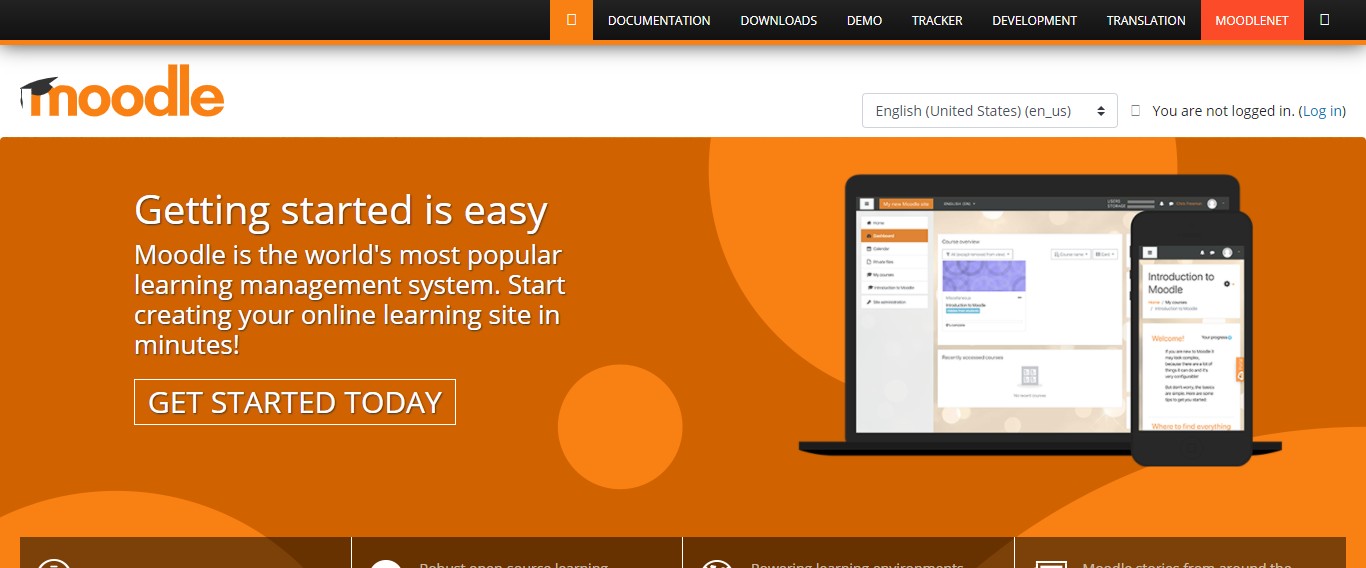 Moodle LMS Pricing is best tailored to suit the pocket of their potential customers. You can get a listing of their prices on their website. Moodle also allows a free trial version for its potential users. Check it out here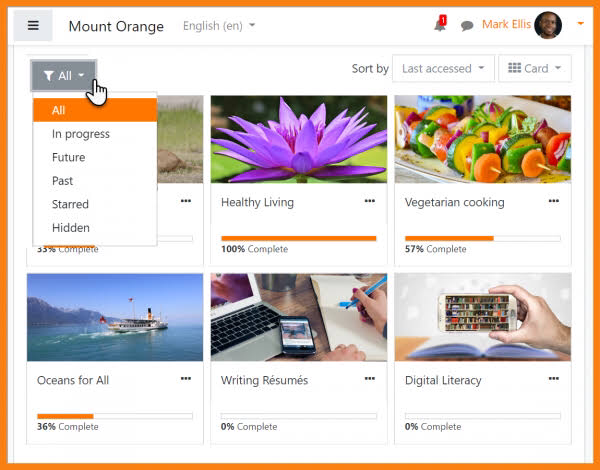 Moodle is a very popular learning management system ( LMS) and online software solution that is built to help educators, administrators, and learners to manage their contents and as well as assists them to provide a single robust, secure, and integrated system so as to help create for them a personalized learning environment.
Moodle makes learning on the go achievable for the learners as it can be downloaded as a mobile application on their mobile phones. It is complemented by an ecosystem of products such as a network of partners and services and as well as a Moodle Workplace that enhances the hosting, customization, and support for the platform.
It is suitable for higher school education, professional education, government, and non-profit organizations. It has been used and trusted by several institutions across the world.
Features Of Moodle
It has a built-in learner portal and a built-in authoring platform.
Moodle helps to blend learning through webinars, videos, in-person, and more.
It easily handles certification and licensing.
It encourages learning on the go via its mobile learning platform making it very easy for the learners to learn anywhere and at any time they want.
It allows easy gamification for learners.
Moodle integrates easily with SCORM compliance.
Moodle makes the instructors' work easy by helping them to track the attendance of their learners and as well as the progress of their students.
It helps to test skills and has detailed guidelines for learning management system use such as installation, teacher and administrators quick guides, course setup, and as well as mobile applications guidelines.
22. Skillcast LMS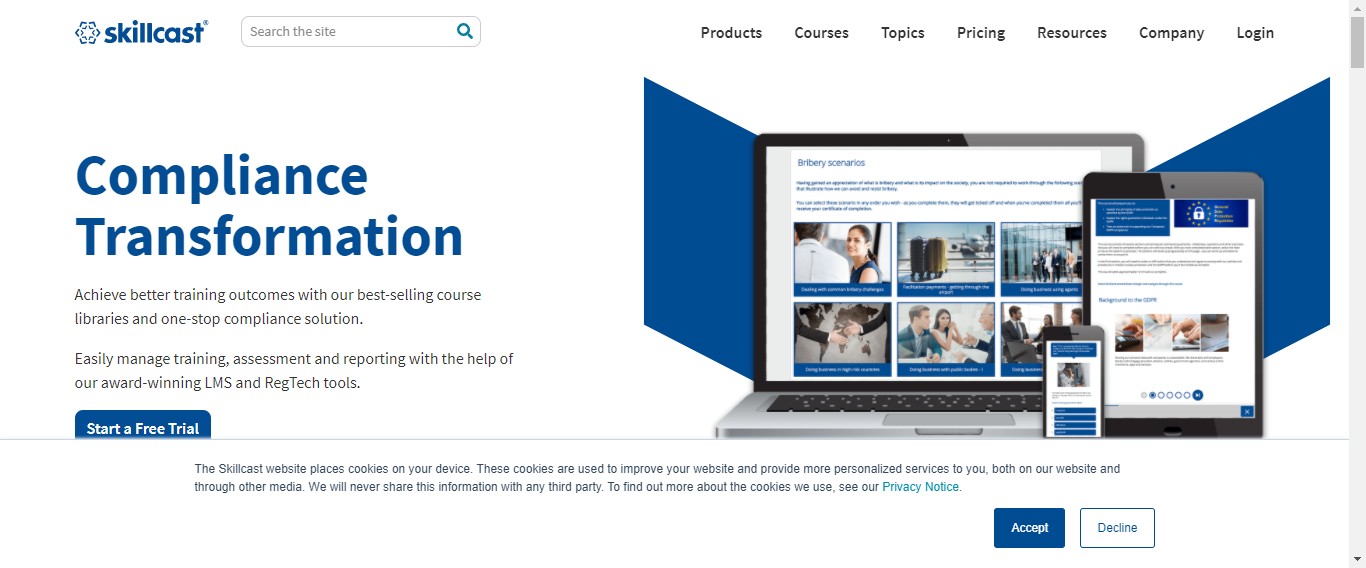 Skillcast LMS Pricing is $ 27. 60 per user per year. It offers other subscription packages that are specifically tailored to suit the pockets of their customers, all you have to do is to contact Skillcast enterprises for their price listing. They also offer free trial versions to their potential customers.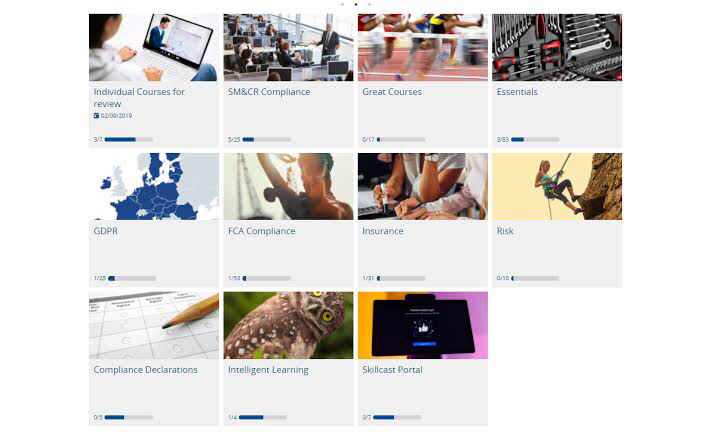 Skillcast is a cloud-based learning management system (LMS) that is fully managed and designed to help companies deliver e-learning compliance applications on a single platform. Skillcast LMS has several registered users across the globe.
Skillcast LMS enhances the fast and easy learning of their users via mobile learning which gives them access to learn anytime and anywhere they want to and it issues certification and licensing. It enhances model and simulation for learners' ease of use.
Features Of Skillcast LMS
It allows gamification and the interactive learning of learners on the platform.
It has a built-in authoring and built-in LMS.
Skillcast helps to develop and manage content on the e-learning platform.
It helps to blend learning via audio recording, videos, and more.
It allows asynchronous learning and creates an active and interactive learning portal for its users.
It integrates efficiently with SCORM and other formats.
It conducts assessments and tests for learners so they can be able to track their learners' progress.
It helps to efficiently train employees and companies.
It has additional features such as storyboarding, and template management on its platform.
Skillcast can easily synchronize data and it also dynamically allocates courses to learners.
It has a powerful management reporting tool. Learn more
23. CoreAchieve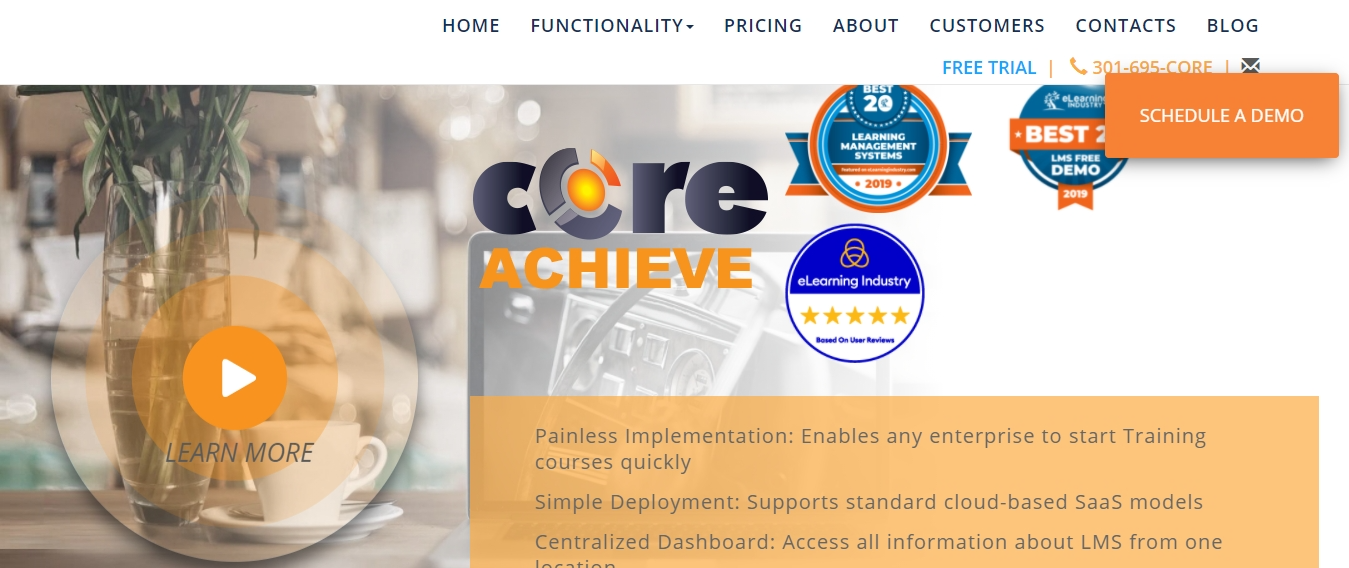 CoreAchieve Pricing is $ 2.99 per user per month and has other pricing packages as required by their customers or based on their business processes. It also allows free trials for each pricing package it has available. Schedule a demo now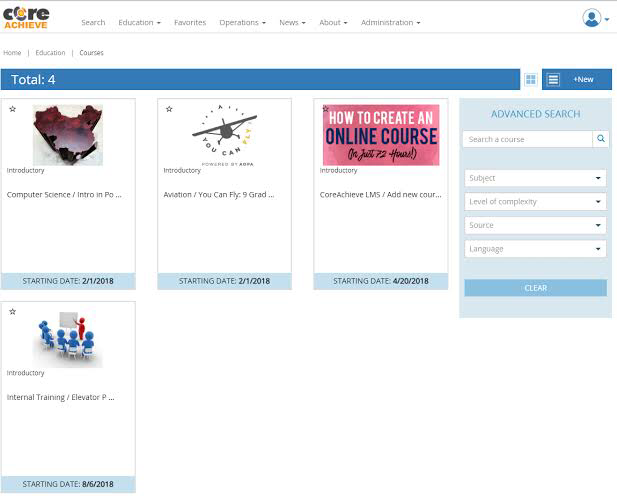 CoreAchieve is a learning management system and online software that makes training and learning experience so easy for both the trainer and the learner.
CoreAchieve is a cloud-based Saas/Paas LMS that allows instructors or trainers to create learning content, manage access, and design personalized training paths.
CoreAchieve can track both offline and online training progress. their learners. It supports unlimited business units and courses easily and has several users from across the globe accessing their platform daily without any hassle.
Features Of CoreAchieve
CoreAchieve LMS assists professionals to develop professional coaching materials and manage online training courses.
CoreAchieve permits businesses to define and add content through titles, filters, categorization, tags, and descriptions.
It allows easy and seamless integration with SCORM standards, CRM, office365, WebEx, API, and more.
It allows easy content management on the platform.
It facilitates blended learning for learners.
Training on CoreAchieve LMS occurs via documentation, in-person, and live online.
It provides learning experiences that are adaptable to learners.
CoreAchieve supports a variety of features such as member training, compliance training, employee training, employee onboarding, customer training, analytical model and business intelligence tool, ILT and async class scheduling, and employee development.
It entails certificates and achievements that learners can share on their social media platforms.
It has technical and course development and as well as built-in tutorials for learners' use.
It has a learners profile on the platform that gives access to the history of purchases, courses, credits, and certificates.
CoreAchieve LMS has a fast and quick deployment in the cloud-based SaaS or PaaS model.
24. Tovuti LMS: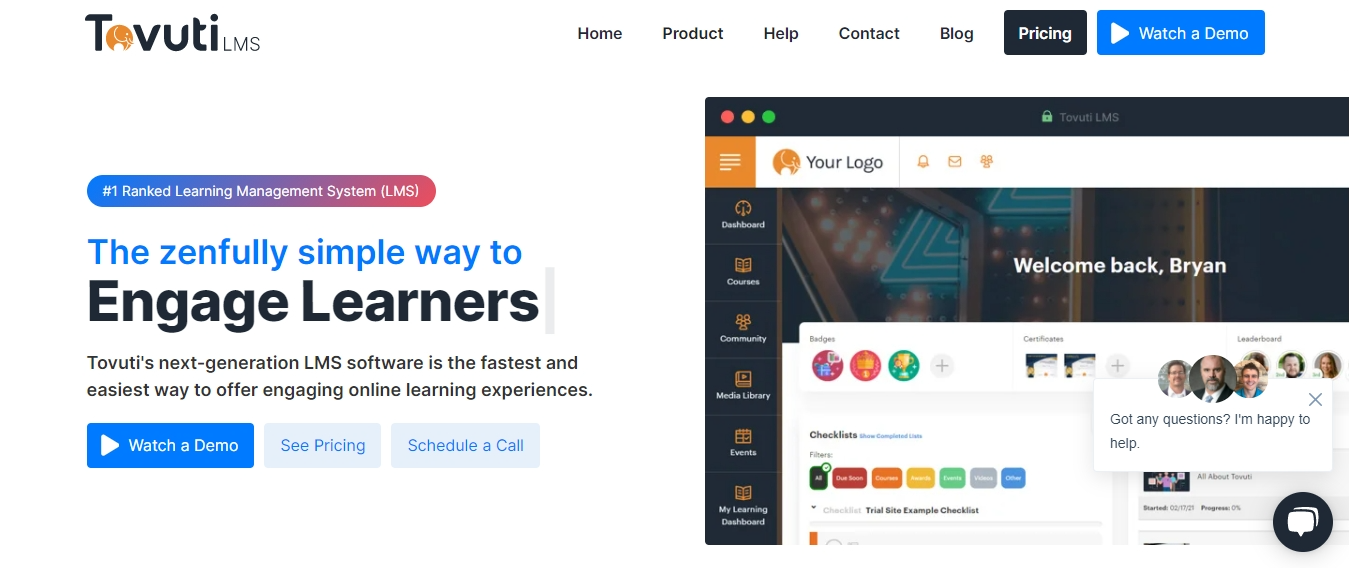 Tovuti LMS Pricing is basically dependent on their user's organizational budgets. There are two types of pricing plans provided by Tovuti learning management system and they are:
Tovuti Pro: This is a powerful platform that takes all the data from Tovuti core and transmits it. It also has additional features such as a built-in virtual classroom, SSO, API integrations, and the ability to sell subscriptions, single courses, and event registration.
Tovuti Core: This is a platform that gives learners a simplified user experience to help get training to learners fast. It comes with the built-in course authoring suite, reporting, and easy-to-build courses and lessons.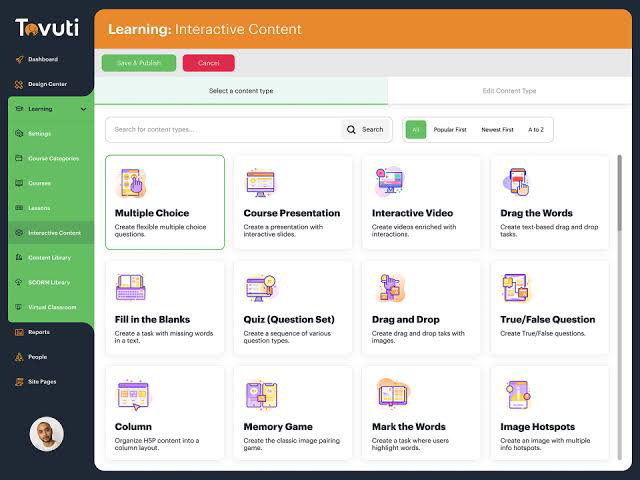 Tovuti learning management system (LMS) is an all-in-one cloud-based online software that provides all the tools required by their users to create, deliver, and track the effectiveness of the e-learning programs they are running online.
Features Of Tovuti LMS
Tovuti LMS uses Social streams and forums to build and create an interactive learning community.
It has an unparalleled gamification feature such as XP, badges, levels, leaderboards, and streaks that helps to increase traffic on its platform.
Tovuti LMS uses deep customization and personalization options to help create purposeful and epic meaning for users.
It has a built-in course authoring that allows learners to easily select courses.
It provides templates for course creation based on the role of the user, be it the instructor or the learner.
Tovuti LMS enables the design and administration of tests and quizzes by the instructors.
This special LMS creates sequences of classes that are followed by the learners in a specific order.
Tovuti LMS is available for their learners on the go since it can be downloaded as an app on their mobile devices.
Tovuti can communicate and send notifications to its users. It also enables users to plan assignments and automatically dispense them.
It enhances course management by doling out tracking points, achievements, and badges to their users as a way of motivating them.
Tovuti LMS solutions are compliant with industry and government regulations.
It issues certification and licensing.
It integrates easily with SCORM and has visually appealing dashboards. Learn more
25. Effectus LMS: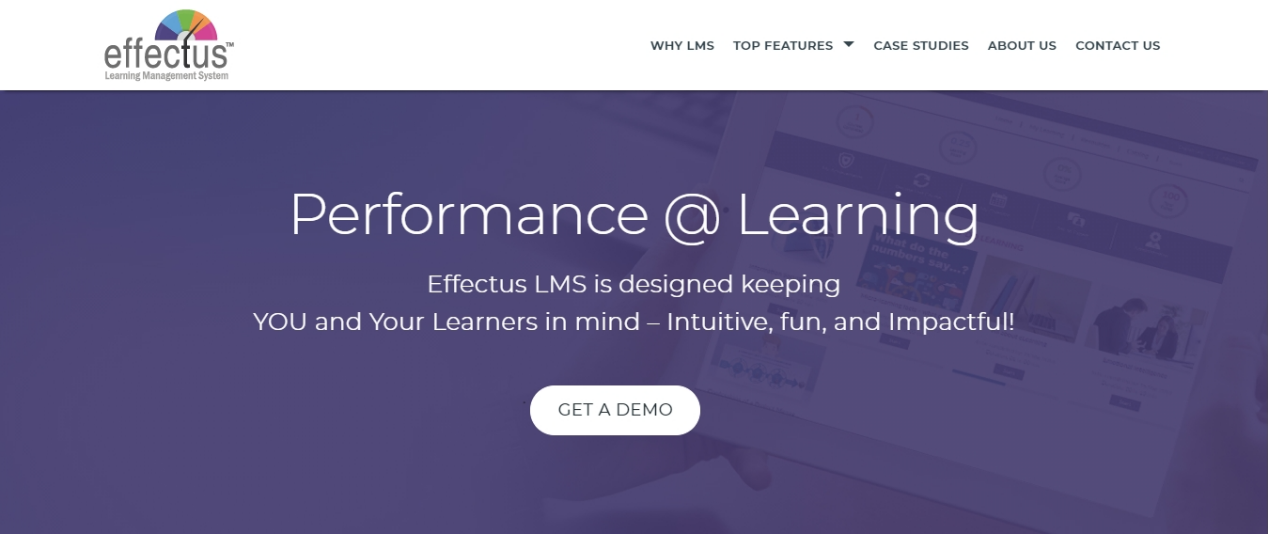 Effectus LMS Pricing is based on the recurring number of. users starting from $ 450 per number of users in an organization per month. It also runs a free trial version for its users.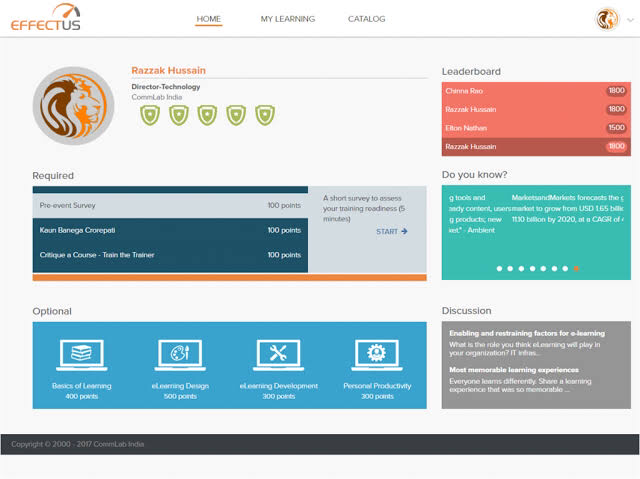 Effectus learning management system is built and designed by learning professionals for learning professionals. This brings about the combination of content and technology that makes the use of LMS very easy for learners, trainers, managers, and administrators.
Effectus LMS helps to accommodate dynamic business needs as they scale and grow. It is used by millions of professionals and learners across the globe.
Features of Effectus LMS
Effectus supports blended learning through online courses, digital assets, scheduling classes, and virtual classroom sessions, tracking learners' performance, and as well as generating reports and data for learning analytics.
It supports gamification, mobile compatibility, offline access to learning resources, and as well as making a process and not an event.
Effectus LMS offers intuitive and visually appealing dashboards.
It allows customer onboarding, easy and simple administration.
It allows customization for multiple customers.
This LMS can be installed and deployed within 24 hours. Request a Demo now
26 . Unlock:Learn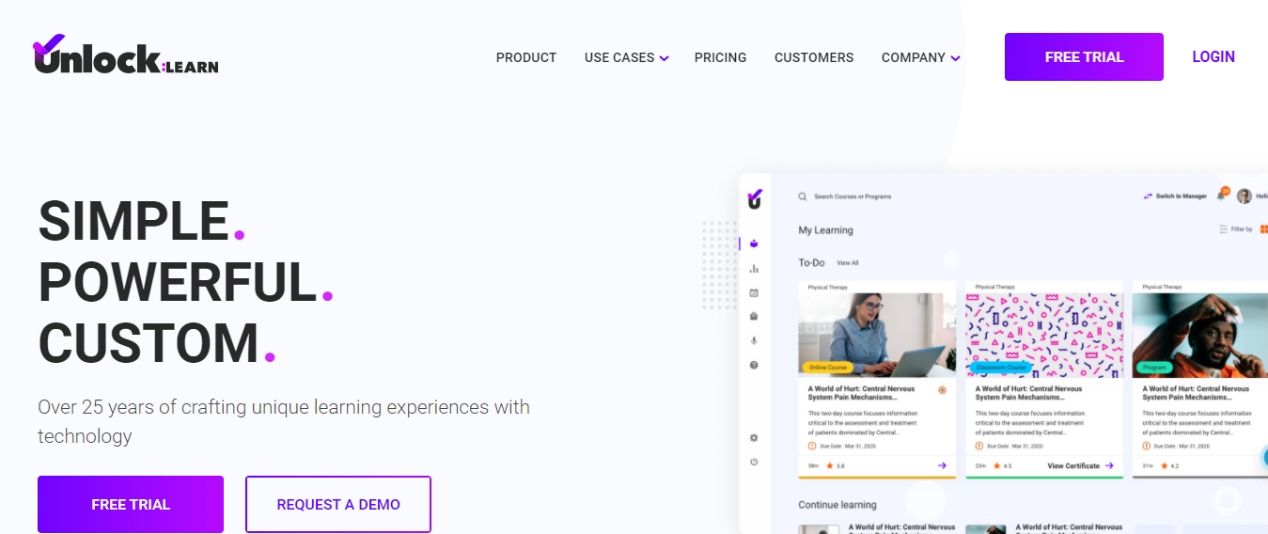 Unlock LMS is a robust platform that helps to deliver corporate training through its
in-built features supports a variety of content that can be customized to the personalized needs of the organization. Their extensive array of reporting features allows organizations to help to track the progress of learners with all relevant information. This enhances effective assessment and fool-proof planning.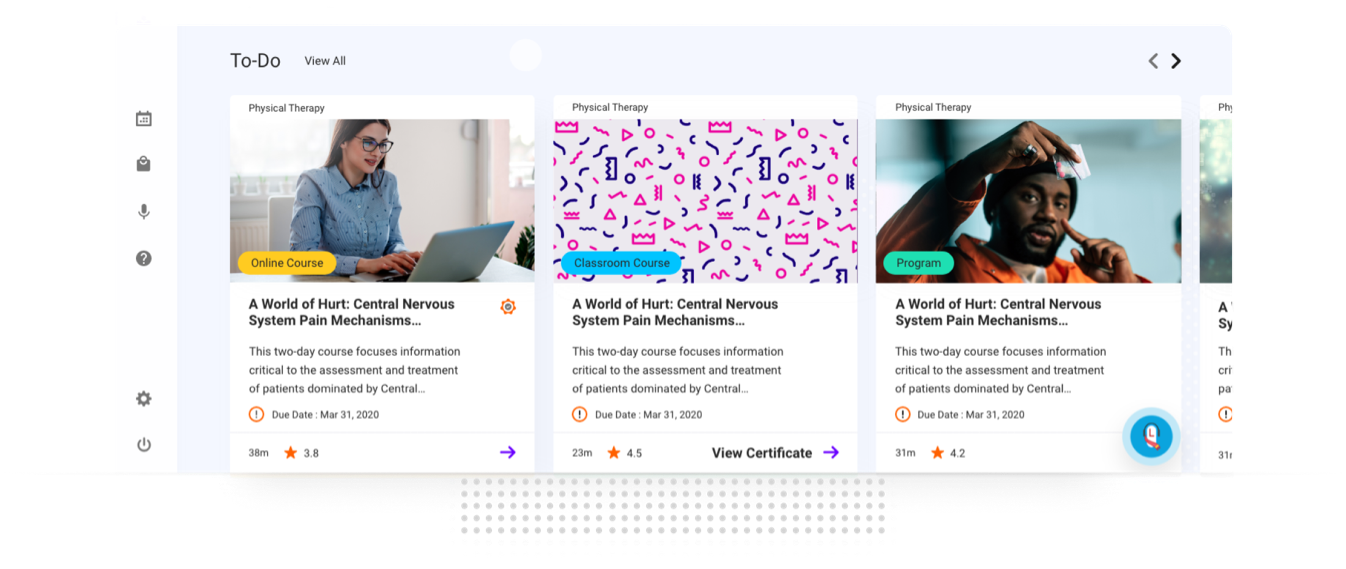 Unlock: learn LMS is from Infopro Learning which is designed and aimed at creating products and services while focusing on unlocking the performance of employees, businesses, and organizations.
Features Of Unlock:Learn
Unlock LMS has superb customer service that attends to customers' queries.
It has features that are easy to learn for administrators, learners, and customers.
It has an Al-enabled chatbot to engage learners.
Unlock LMS has built-in e-commerce on the platform.
It can seamlessly integrate with any software.
It accepts virtually learning content such as video, SCORM, and more.
Unlock LMS has intuitive user interfaces for a nice user experience.
It can be deployed easily on desktop applications, mobile applications, and more. Start the Free Trial
27. Coassemble LMS: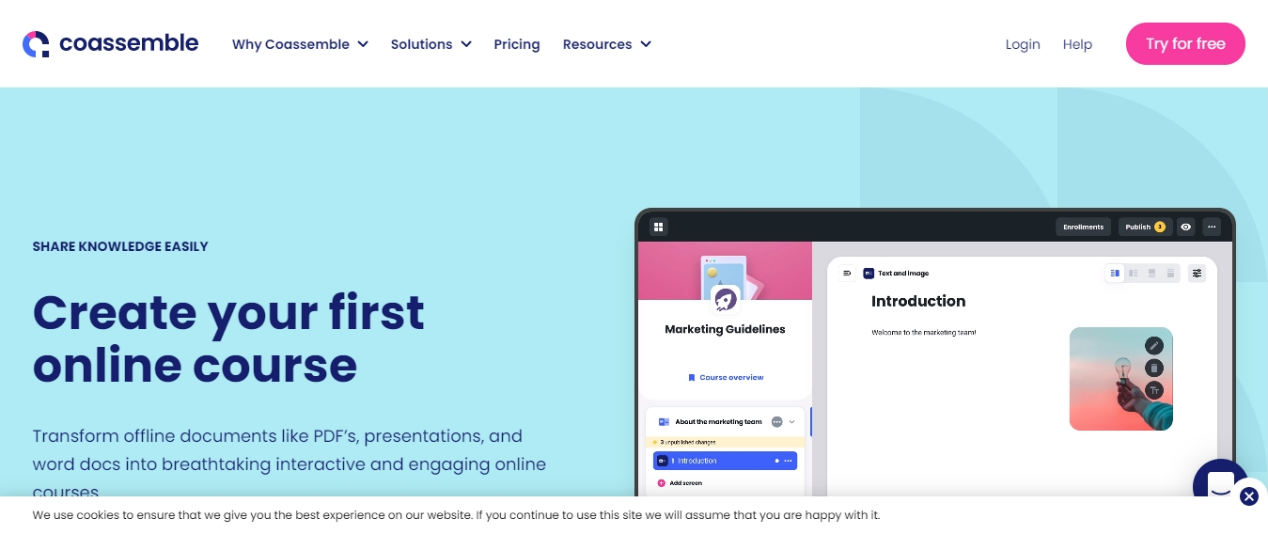 Coassemble Pricing starts at $ 99 per month and also has other pricing packages which are based on the budget of the organization. Try for Free Here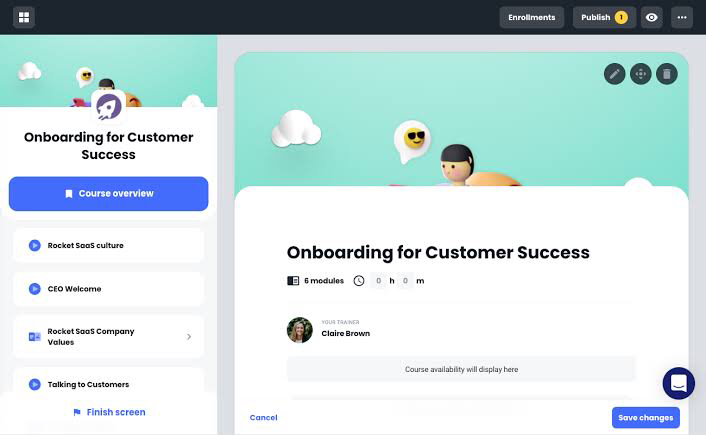 Coassemble learning management system is an all-in-one authoring software that helps users to share knowledge with their team anywhere and at any time.
Coassemble was designed specifically to help train corporate organizations, organizations that are just growing, so as to capture business knowledge they require to facilitate the growth of their organization and as well as a well-designed unlimited plan package for just growing organizations. Coassemble LMS has millions of users across the globe.
Features Of Coassemble
It has over 40-course creation templates for easy selection by its users.
It easily integrates with Zapier, SCORM, and more platforms.
It allows users to customize and personalize their brands ranging from their logos, custom fonts to their schemes on their workspace.
It shares courses online and allows learners to easily self-enroll.
There is no limit to the number of users an administrator can have in his workspace.
Users can create engaging bit-sized, interactive, and easy to update courses from anywhere as long as there's access to the Internet.
It has rich features such as course onboarding and an easy-to-use design.
Having taken a good look at the best 27 best online courses available for you, you can now go ahead and choose whichever is affordable and works for you.