Some of the links in this article are "affiliate links", a link with a special tracking code. This means if you click on an affiliate link and purchase the item, we will receive an affiliate commission.
The price of the item is the same whether it is an affiliate link or not. Regardless, we only recommend products or services we believe will add value to our readers.
By using the affiliate links, you are helping support our Website, and we genuinely appreciate your support.
Last updated Jan. 3, 2023 by Peter Jakes
In over 40 years of existence in Internet history, forums have not lost their importance. Despite the tremendous growth of social media over the past decade, these platforms have remained a haven for those looking to connect with like-minded people on a more global and anonymous scale. This sense of connection is more important than ever at a time when more work, communication, and socializing are being done online.
Online communities are particularly beneficial for businesses because they allow customers to interact with each other in a smaller circle than they could through social media, increasing brand engagement and affinity.
Today, the practice of creating a forum is becoming increasingly popular with businesses, as online communities have proven to be an incredibly valuable asset. Increasing community participation can generate up to a 25% increase in income.
But how do you create a community forum—this is where forum software comes in.
The forum software can be particularly useful as it allows your customers to interact with each other in a larger circle—in a way that they could not through social networks.
For example, let's say one of your customers has a problem with your product or service, and they post about it on their forum. This post is much easier to find on your company's forum than it is on Twitter or Facebook, where millions of users talk about million different things. Even better if another forum user has faced the same problem before and can answer the question even before your service reps see it.
What is a discussion forum?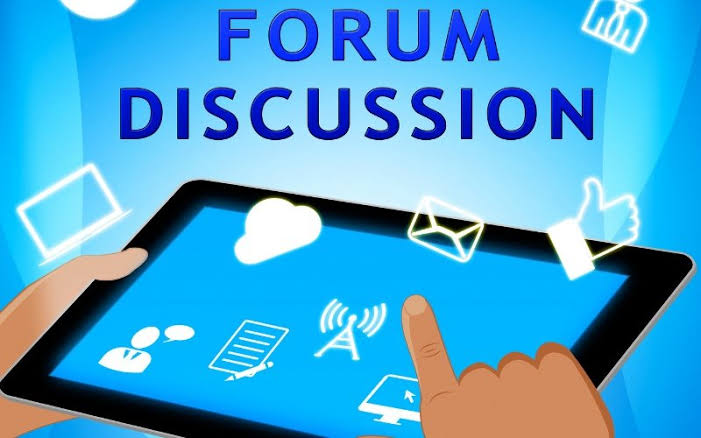 A discussion forum is essentially a form of online chat where people – in this case, your customers – can communicate with each other. They differ from chat rooms in that all participants can see the entire conversation, instead of being a private conversation between two people. This allows people to come and go, ask questions of the wider community, and seek advice from other customers on the products. In addition to this, customers do not want to feel alone in their usage of products. Discussion forum gives them this sense of belonging. In fact, it gives them to courage to purchase other products manufactured by the sellers due to reviews from other users. Discussion forums ensure the longevity of customer relationships with websites.
Why consider a discussion forum for your website or business?
Engaging with customers online is a must for your e-commerce business. Thanks to social media, no matter how big a brand is, companies can interact and talk with their customers. However, I think that social media platforms can also be busy, distracting places, which can make you compete for your customers' attention.
Customer engagement is just as important as customer service. Build trust & long-term relationships.
Do not misunderstand this nor confuse it with the importance of social media channels.
Social media is a great channel to interact with your customers and something you should do too. But, while users can tweet, pin, or tag brands to their heart's content, engaging with your customers through a forum allows for a deeper and more interactive conversation, one that can be leveraged to build relationships and learn more on the consumer mindset and meet those needs.
What features do I need in a forum software/platform?
For most forum software out there, you get all the basic features you need to create, run, and build an online community. You can easily create an account, set up your discussion rooms, post, comment, and respond to messages from your members.
There's also a user role system included in the forums, this means you can set up moderators and administrators with different permissions and limitations to your liking.
If you want users to upload a short video, then you need the ability to upload videos or embedded YouTube videos.
Modern-looking themes (templates), intuitive user interface, chat area, and options for semi-moderated discussion sessions and personal messages are some of the things that make visitors stay longer and visit the forum regularly.
To find out which website forum software is the best choice for you, watch out if the software is offering an additional feature to the basic functionality such as:
Admin / Moderate Control Panel
Forums usually have a few administrators but several moderators. The administrator controls the entire operation while the moderators help the administrator to keep the forum clean and running. Having a separate dashboard for moderators and administrators is an essential feature to consider.
Rich text editor
Online forums are mostly about the text interface, but some forums thrive on both text and visual content. Having a rich text editor with the option to add images and HTML support is a good way to promote the forum to new users.
Mobile optimization
Most Internet users prefer to use their mobile phones more than their Personal Computer. Therefore, it is recommended that your discussion forum have a mobile responsive forum optimized for both SEO and user experience perspectives.
Spam filter
Online forums are the preferred target of spammers, so having a robust spam filter integration system is a must for smooth forum management. Spamming can discourage your customers from using the discussion forum and they may not believe the information coming out of there anymore.
User classification system
One of the best ways to increase user participation in the forum is to have a ranking system for users. Users must be able to unlock new levels based on their interaction in the forum.
Profile customization
Allowing users to personalize their profile with avatar, signature and some other beautiful individual features is a great way to create a unique and fun community. Some customers enjoy the fact that they can customize their profiles with features that are novel to other discussion forums that just do the basic profile features.
Benefits of Adding a Discussion Forum
Here, I'll be discussing some of the many benefits of online discussion forums and the reasons you should consider installing one on your website.
1. Let your audience be your research team
You may not have the budget or resources to employ a research team to analyze your target audience. However, learning and understanding who your audience is and what they are looking for in a brand are becoming increasingly important in digital marketing.
I understand that you may not have time to speak to each of your users individually and I bet, no active website owner does, however, by adding a forum to your website, your users will do this work for you.
When setting up an interactive forum, you are encouraging your users to talk to each other naturally and honestly, no paid online reviews. This allows you to read, review, and respond to what your audience honestly thinks, without having to ask.
A forum will provide you with valuable information and marketing data about your customers.
By adding a discussion forum, you WILL INCREASE user engagement and increase your online community. Listening to and interacting with this community will not only help provide you with unique information about your target audience, but it will also help you generate more traffic and new users.
2. Foster relationships
While reviews are a must for those who sell products and services, the average review doesn't reveal much about who your audience is. In the same way that a speech can be informative but lacks the intimacy of an exchange, humans connect when the conversation goes both ways.
Forums offer an interactive platform where content can be spontaneous and often more honest. Just take a look at the average YouTube comment chain to see the flood of emotions that flow as users interact. While the reviews can be valuable, the conversations are eye-opening.
Forums are a great place for clients to come together and begin to create a sense of community. As a community supervisor, you will be able to nurture relationships as well as undermine conversations for customer insights and data.
3. Opportunities for Users to have a chat
A blog is a powerful content marketing tool and learning how to start a blog and write for the medium effectively should be high on the agenda of any online business owner. However, like product reviews, blogging can be a bit one-sided. Especially when the comment section does not afford very ample opportunities for users and readers to interact with each other. Some profiles even remain anonymous with boring avatars.
When you present a forum to your audience, you can not only sit back and watch your users interact with each other, but you can also participate in the conversation. This allows you to monitor your business from the inside out and make sure your users are happy with your service. It may also give users direct access to you if you wish to be known.
Users can ask you questions and even make suggestions, while you can lead conversations, gain information, and learn how to better sell to your customers.
4. Guarantee better quality
As diligent as you are, sometimes things just fall through the cracks. You may be missing delivery, customer service, or quality control issues. Your recruits may not fully have a total grip of operations as much as you would do.
While people may not write about these issues in their reviews, they are more likely to share with their peers via a forum. Also, through series of replies to comments, you may have a deeper understanding of what your users are talking about.
Foster a friendly, open, and above all honest atmosphere within your forum, and be attentive to any complaints. Your forum provides you with a great platform to apologize, interact, and rectify any issues.
You will need to establish basic community rules for your forum and make sure it is a safe place for people to talk. Do not make your rules too rigid as to discourage users or too flexible to give your users the opportunity to break them. Beware of spammers, trolls, and uninspiring content.
5. User-generated content
While forums are an incredible resource for communicating with your audience and streamlining your customer service processes, forums are also an opportunity for your users to get creative.
Given the opportunity, your audience could help shape your content, your social media strategy, or your actual products, simply by encouraging themselves to express themselves on your forum.
Their suggestions on the discussion forum for improvement can be very helpful. To help you, you will need to create an online community around your brand – one that your users will enjoy interacting with.
6. Transcend the relationship between the merchant and the customer
Not only does forum content allow you to enter your customers' world, help you solve problems
from the inside out, and assist you in leading your marketing strategy, your forum could be the ideal place for your customers to see the human side of your brand.
Authenticity is one of the main qualities that attract customers to a brand. When customers share their experiences with you, they are teaching you how to improve your products, services, and business. They could graduate from your customers to your fans.
Build a genuine relationship with your customers by letting them know who you are and what you care about. In a business environment where there are thousands of brands vying for billions of users' attention, there is invaluable value in speaking with their users first-hand and building relationships.
Consider starting a regular "question and answer" thread, allowing your users to learn more about the brand and the people behind it, or share a more personal blog post and invite your users to discuss the content through the forum. Make this about them and see them get more interested more than ever before.
Best Community and Forum Software in 2021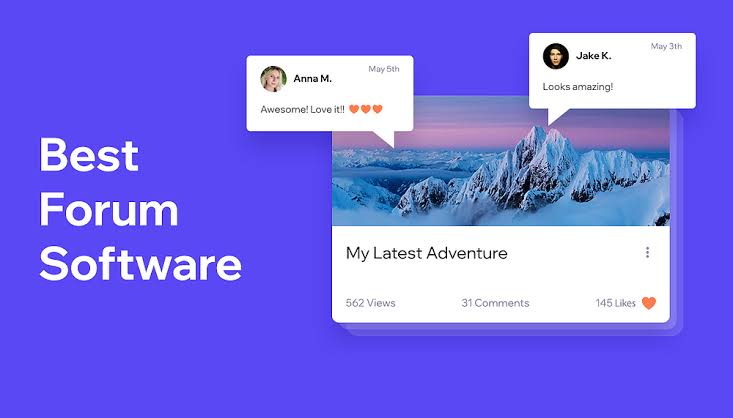 Forums can be used to unite your audience and allow them to connect, or as a source of feedback and support between users. Regardless of the purpose, you intend these platforms to serve, one of the most rewarding results is always the reinforced sense of connection between users and your product or service.
Take a look at this selection of the best forum software available and start planting the seeds for your future and thriving online community.
HubSpot Community—Better suited for startups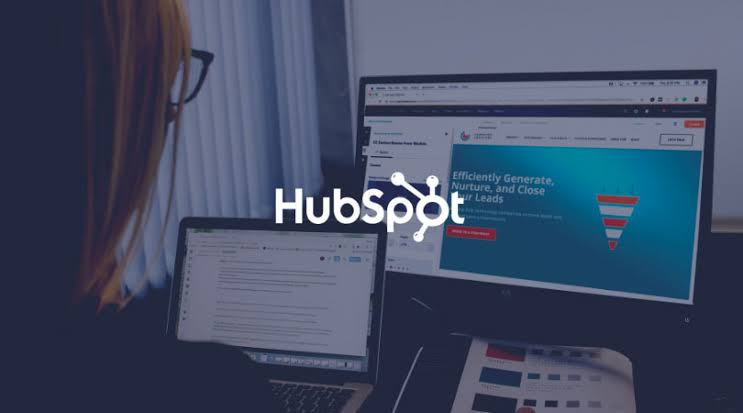 Check out HubSpot discussion forum here
HubSpot is a CRM platform that offers a complete stack of marketing, sales, and customer service software to help you grow your business. In addition to hosting your website on the platform, you can also set up forums to build a stronger online community. You can easily set up a forum on your hosted website or blog.
Pros
It has a Comprehensive Free Plan that you can enjoy, with many features
The Flexible Pricing of hubsport makes it easy for you to purchase it without breaking the bank
The CRM discussion forum is easy to use according to the majority of users
It is also easy to create and needing a fewer tutorial
The Customer Support of the platform is very quick, responsive, and smooth
Cons
Complicated Pricing Tiers
No Customer Support on Free Plan
Pricing
HubSpot CRM pricing ranges from $45/month if billed annual plan to about $4,200/month when billed annually. It's the best CRM software and is suitable for most businesses.
Get started with HubSpot's marketing software for free!
WordPress-based forum software (Plugins)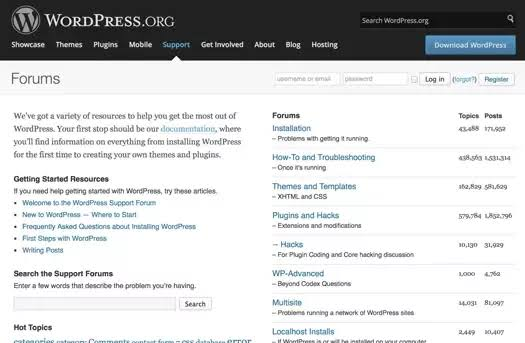 Price: Free and Premium Version
WordPress is a popular content management system (CMS), and many developers have created community forum plugins for WordPress that allow you to create a fully functional forum in just a few clicks.
WordPress's online community and forum tools are in form of different plugins which you can integrate into the CMS to create and run a forum alongside your website. There are tons of community and forum plugins on WordPress. Some paid, others free, and while you only get basic functions with some, you can get more advanced functionalities with others.
In this review, we'll be looking at some of the best WordPress community plugins that are worth looking at. Some of these plugins include bbPress, wpForo Forum, Asgaros Forum, etc. You can easily add one of these plugins to your WordPress without disrupting the existing website installation. Explore WordPress forums here
wpForo Forums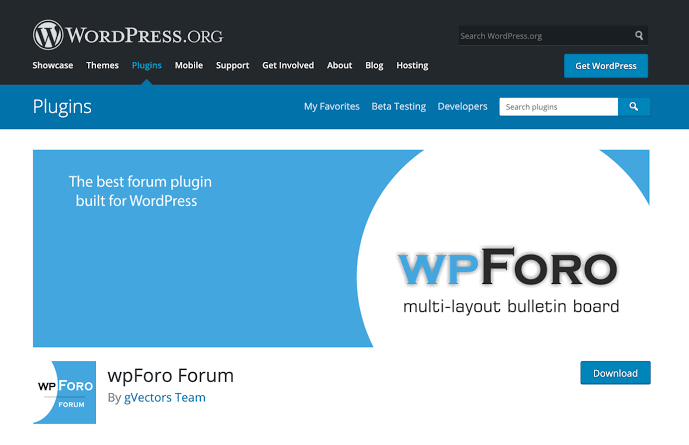 wpForo Forum is another powerful community forum plugin powered by WordPress. This plugin allows easy creation of a forum alongside your WordPress website installation.
Like most WordPress forum plugins, wpForo offers three types of Forum layouts that you can change any time without disrupting the structure of your forum. Also, the plugin allows you to edit and modify the theme of your forum including adding menu items, sidebar widgets, and changing the color to match the look and feel of your website.
wpForo has an impressive user management system that provides users with the ability to create a user rating system and set custom login and registration URLs.
wpForo is both a free-to-use and premium plugin. The premium version gives you more functionalities including user customization, allows users to create surveys, manage advertisements private message features, and embed multimedia content. Sign up here
Asgaros forum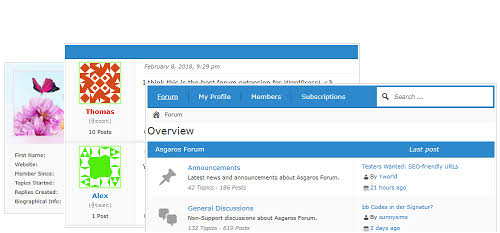 Asgaros Forum is a lightweight WordPress forum plugin that offers advanced functionalities without sacrificing simplicity and ease of use. The forum you create with Asgaros allows your customers to create a user profile by registering on the forum, create new threads, reply to other users' threads, and receive notifications when someone responds to their thread or a thread they've participated in.
When it comes to functionality, Asgaros offers its users just the basics including a content management system for administrators, user management functions, permission management, statistics, and member list.
PROS
It has analytics for your forum to let you evaluate how well it is functioning.
Clean and simple forum plugin suitable for both beginners and pros.
It has basic yet robust solutions for content creation and management, users, and permissions are provided.
It has many Plugins that work with many sites.
Cons
There are no extensions to provide extra functionality.
Asgaros allows you to add and customize your forum themes using the FTP client. Start the free trial here
Discussion Board Forum
Another WordPress plugin that can come in handy for WordPress website owners when creating a community forum is Discussion. What attracted me to this plugin the most is its host of features that meet your every demand to create and run a forum successfully.
You can create a password-protected forum, post new topics, and create separate pages for each topic. As the administrator of your forum, you have control over users' roles and actions which means you get to assign roles to new users or existing ones as you deem fit for the successful running of the community.
Discussion Forum has a free version but the Pro version comes with lots of additional features like the ability to add categories and tags, customize user profiles, upload images, set topics as solved or open, WYSISYG editor, and manual approval by the administrator. Start the free version here
bbPress Community Forums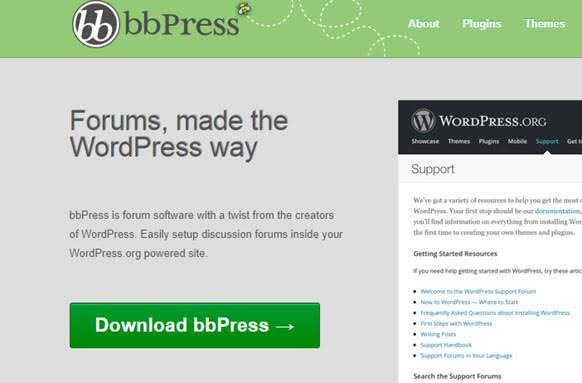 An interesting fact to know about bbPress is that it was created by Automatic, the same group that currently runs WordPress.org and .com which is why it's the most recommended community forum plugin. The plugin is an open-source forum plugin that gives users the ability to create a community for their website.
When Automatic was developing bbPress, they made emphasis on the ease of installation, speed, and meeting up with the latest web standard.
Although bbPress is a great tool to create community forums with just a few clicks, it's only ideal for small and medium-sized communities. For large communities? Not really.
Community Forum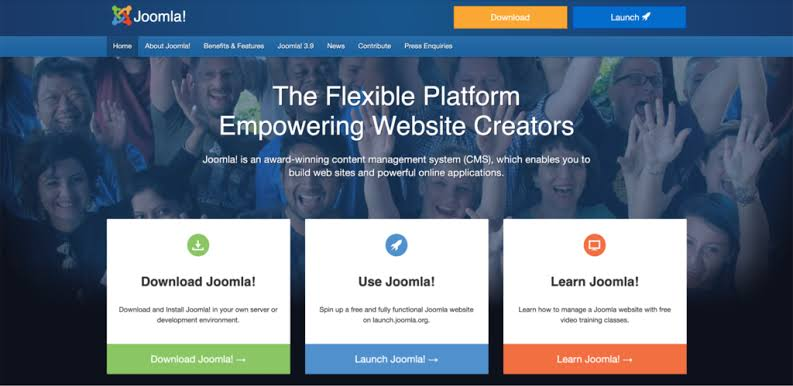 Price: Starts at $99 per year (plus development and hosting costs)
Joomla! is also an impressive CMS software like WordPress that offers its users the ability to create and run a community forum alongside their website. But unlike WordPress, Joomla! isn't simple to use and requires more management and attention to detail.
To create a forum with Joomla!, you'll need certain plugins like EasyDiscuss or Kunena, which were created specifically for the Joomla! The forum software is included in the packages when you pay for their open source management system. You can create powerful responsive website communities with forum software. Start exploring Joomla! now
Wix Forum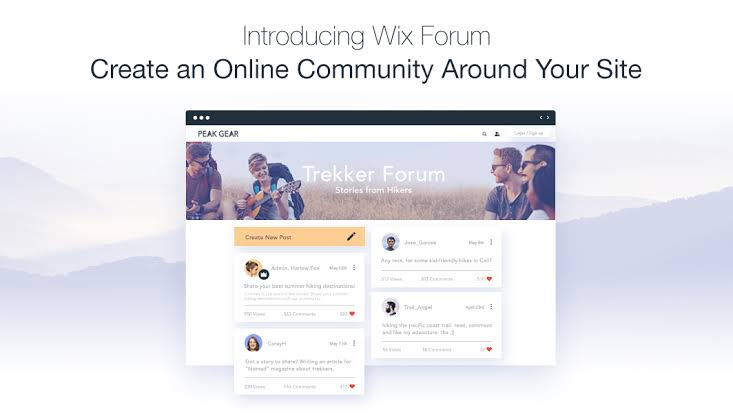 Price: Free
Wix Forum is the forum software for non-techy users who don't have prior experience in coding. The software allows you to create exceptional communities from scratch or by selecting one of their pre-made templates. You can easily customize these templates using their drag-and-drop editor.
Wix Forum allows social media and third-party integrations for additional features and a great user experience. This software focuses on members' interaction and creating meaningful relationships on the community forum. There is a personal profile page for each member which is modeled after most social media platforms where members get to see other people's posts and follow them.
For users who want their forum to be part of their website, Wix Forum allows you to easily merge the two. Start using Wix forum for free
phpBB Community Forum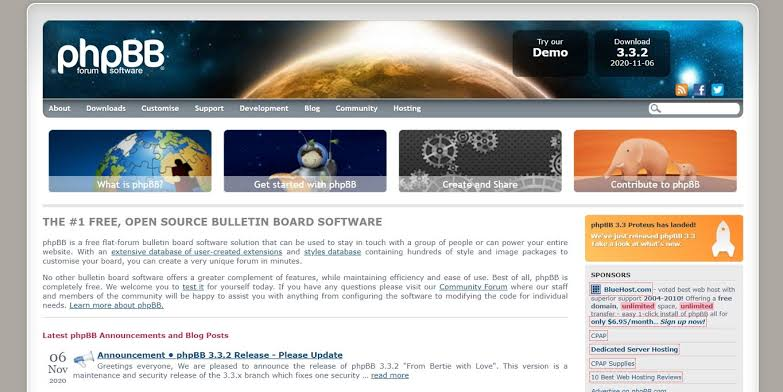 Price: Free
phpBB has been in this industry for a very long time and has the most experience when it comes to community forums. This popular forum builder is an open-source project based on PHP and gives its users the ability to create forums with tons of customization options and an extensive administrational panel.
The platform comes with an intuitive interface coupled with robust documentation and an administration panel all of which have been simplified for even non-techy users to use with ease. Also, you get all essential basic features such as multi-language support, security, notifications, and user moderation.
phpBB's shining point is its message board which allows users to post public or private as much as they want. You can also create as many message boards as you want without incurring any further charges.
This platform gives you control of forum rules and how they are enforced, the option to view active topics at the top of your forum, the ability to add password protection to your forums, etc.
Also, you can add more options and functionalities to your forum community by using various plugins and extensions—both free and paid options are available.
Key features
There is a very responsive design and userfriendly design
The forum has cross-browser compatibility across many browsers
It has an extensive management panel
There are Integrated SEO tools that make it easy for users
It has strong messaging capabilities that do not easily lag
Ther is a detailed documentation of activities
It has Video tutorialfor behinners
Pros
It has an excellent collection of plugins
There is private messaging
Presence of anti-spam measures
There are many customization options for administrators and users
It has free forum software
Cons
It has poor SEO features
It has obsolete Themes
Discourse Forum Platforms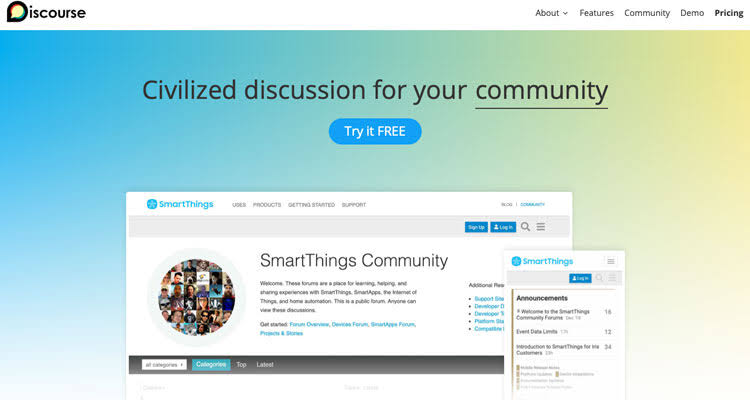 Price and Plans:
Standard Plan:
Starts at $100/month (plus the cost of accommodation) FREE 14-day trial
SSL integration, 100k monthly page views, Standard plugins, 20GB storage, Unlimited members, Staff & page view add-on, 5 staff users, Global CDN, Standard authentication, 100k monthly emails, and Mobile app,
Business Plan:
Starts at $300/month (plus the cost of accommodation) FREE 14 day trial
500k monthly page views, Business plugins, 100GB storage, Mobile app, Unlimited members, Global CDN, 15 staff users, Business authentication, SSL, Standard Migration, and 300k monthly emails.
Enterprise Plans:
Contact Discourse here for pricing
FREE 14-day trial
3M+ monthly page views, 200GB+ storage, Mobile app, Unlimited member, Priority support, Enterprise authentication, Enterprise plugins, Custom migration, 1.5M+ monthly emails, SSL, Global CDN, and Unlimited staff users.
Another open-source forum software we'll be discussing in the review is Discourse. The software can be easily installed or integrated into your existing website and CMS without disrupting any pre-existing installations.
Discourse offers a modern approach to creating community forums. The software comes with a more sophisticated look that is a step ahead of the traditional forum structure. Also, there're tons of integrations and features available on the platform. All forums created using Discourse have been optimized for mobile devices.
In addition to mobile optimization, community members can also use emojis, receive badge awards and dynamic notifications, etc.
Also, the software has a built-in moderation system created as a form of security for your community against abuse and spam.
Another innovative feature that Discourse possesses is a unique user ranking system that awards active members with some level of moderation roles. This feature encourages a community that is self-moderated and users are actively promoting user engagement.
Key features
The forum platform has the following features:
Performance analytical tools
Rich messaging tools
Business plugins
Social media integrations
Advanced moderation settings
Mobile device optimization
Pros
Discourse has a well-designed admin panel for users
It has excellent spam management
It has an automatic backup of data
CDN support is present
Discourse has a good multimedia support
The forum platform has good SEO features
There is the presence of a built-in translator
Discourse forum has free open source forum software for moderators
Cons
Discourse forum's mailing list mode UI needs improvement
They are known for mismanagement of brands
Register here for the free version
Vanilla Forums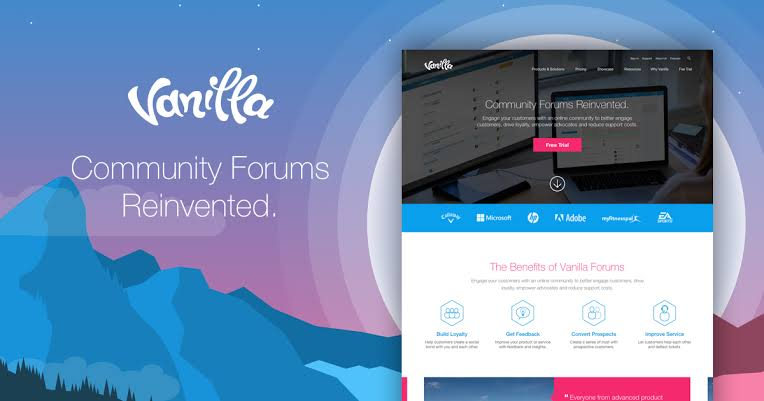 Price: $689 – $10,000/month for businesses for different plans
Vanilla Forums comes packed with tons of powerful features including an intuitive panel where you can control the operations of your community, manage users, and view members' statistics. You also have access to a powerful editor that supports Markdown, BBCode, and HTML.
The platform gives you full control over setting members' permissions and community regulations. You can also create, view, and submit voting polls to get innovative suggestions from your members. The question and answer features help you connect with your members better and keeps your community lively.
Among the list of features that Vanilla has to offer, the most important ones include gamification practices, automatic content curation, and a wide range of marketing integrations. You can say Vanilla is trying to achieve more than just support for online communities but a means of effectively increasing user engagement. There is a free version of the software as well as a premium one.
Vanilla allows you to provide community support to your members with their help desk feature. You can even create a ticketing system where members can submit their complaints. You also have access to their extensive knowledge base where users can learn anything related to community forums. Talk to sales now to get a quote on all their plans
Key features
It has an autosave function
There is a wide range of plugins and themes
Vanilla allows data sharing and social integration
It has a friendly interface for mobile devices
It is a quick, sm[ple and easy to use setup process
Pros
Social integration
Functional admin control panel
Intuitive user interface
Free open source script
Basic plugin and themes on offer
Cons
There is no way to know the price of the premium plan without contacting the CC
Limited themes and plugins
Register here to explore the features
8. Codoforum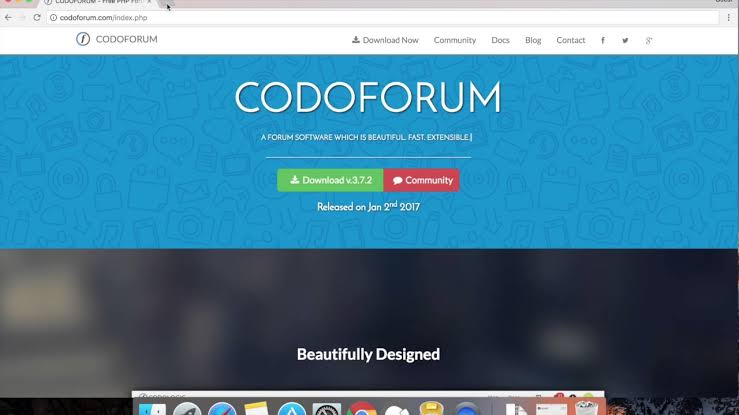 Price: Free
Codoforum is a new entry into the pool of community forum software. This software is built with PHP using the latest coding models and complies with the new PSR standards.
Apart from the clean user interface and modern design, Codoforum is well-optimized for mobile devices and desktop view, provides notifications for users, tons of integration, and SSO.
Since it's relatively new and free-to-use, Codoforum is not yet up to par with most of the big forum software but it can be a great choice to test forums if you are not yet sure about whether you need a community for your website. Start the free trial here
VBulletin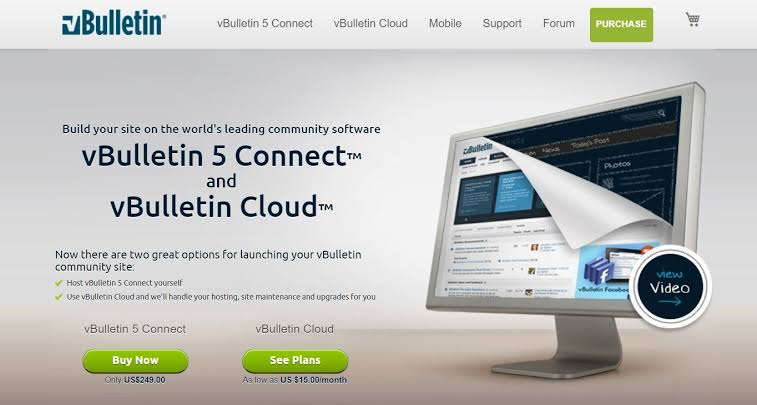 Price: vBulletin 5 Connect $249, vBulletin Cloud $15/month ad $175 yearly, vBulletin 5 Connect + Mobile Suite Bundle is $399.00 yearly for the new version and $359 for the upgrade version
vBulletin is well-known forum software that has powered over 100,000 websites forum communities including big names like EA Sports, Sony Pictures, NASA, etc. The company has been in business for over two decades now and has been praised as one of the best premium forum software multiple times.
This software isn't just popular for no reason, it combines responsive web design, built-in SEO capabilities, power management, security, AI-powered engagement feature, and more impressive lists of features into one giant forum solution.
With vBulletin, you can have an unlimited hierarchy of forums, as well as private forums. Also, the forum software comes with a lot of interesting and special features such as member's birthdays (displayed on the Forum home page, a friends list, the ability to view who's online, private messaging, etc.
vBulletin may not be the fastest forum out there but it comes with a clean design and interface and provide quality support services for its many users.
The platform was created in such a way that everybody no matter the level of technical knowledge can use the software. vBulleting offers two types of hosting: Cloud hosting (vBulletin Cloud, for non-techy users) and proprietary hosting (vBulletin 5 Connect, for professionals). Both are easy to set up and contains the same features. Learn more
Key features
Task scheduler
Integrated SEO tools
Powerful multimedia capabilities
Highly customizable themes
Mobile device optimization
Pros
It has a nice collection of themes and plugins
It has an excellent admin panel
There is a streamlined and responsive mobile design
It has a good spam prevention
It has good SEO features
There is a feature called integrated vB Messenger chat app
It has an intuitive user interface
Cons
It has expensive add-ons
The forum's future updates are not free
The Pricing is too expensive
10. Invision Community Forum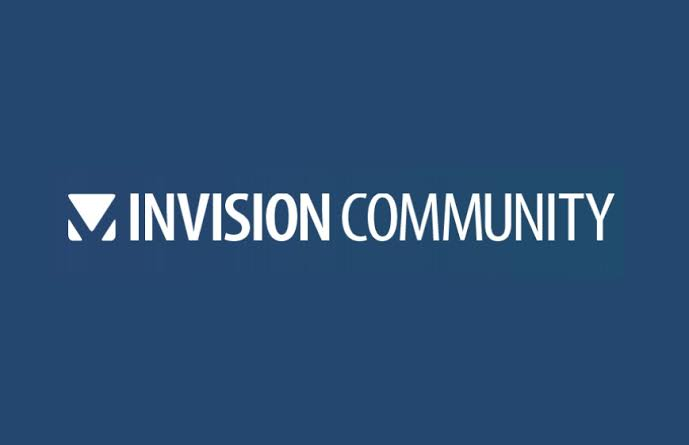 Price: varies based on forum size/data needs but starts at $45/month for 65 online visitors.
Invision Community, originally known as IPBoard, is highly recommended by many as one of the best forum software for enterprises. The platform did an excellent job in bringing rich content creation tools, a comprehensive admin panel, and a fully customizable interface fusing them into one software with easy setup and management features.
The software gives users complete control over how their forum looks like and you can customize everything includes your members' activity feed.
Members on your forum also enjoy a little bit of flexibility when interacting within your community. They can create and manage private forums, calendars, galleries, clubs, and even get appointed a forum manager.
Invision takes a step above other forum platforms with its multi-purpose feature which supports ticket systems, content management systems, e-commerce sites, blogs, file-sharing networks, among others.
Key features
Invision forum has comprehensive content applications
Ther is advanced security settings
It has powerful trading tools
Access to Premium club memberships
Ther is achievement rewards to encourage users
11. Flarum Discussion Forum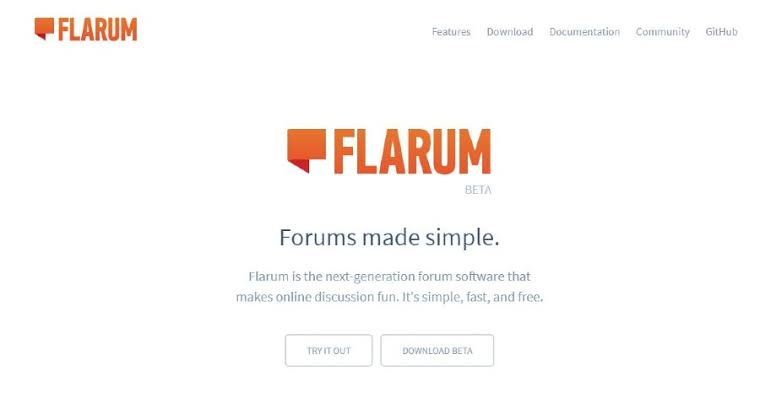 Price: Free
Flarum was developed by the same team of developers that created FluxBB and esoTalk (two of the fastest forum platforms in the world) which is why it's not a surprise that the platform comes with lots of impressive features and boasts tons of positive performance reviews.
The platform is still in its beta version and has an easy-to-navigate, optimized design layout. It is fast, responsive, offers swipe functions, and smooth animations for desktop and mobile devices.
Even though Flarum is a recently developed software and still in its beta form, it's a very popular and widely used platform and even considered as one of the best forum software around. And, this is because the software was created to be simple, modern, and fast—the three components most powerful forum software strive to achieve.
However, Flarum's shining point is its two-panel interface feature which gives users a flexible environment where community members can easily interact and participate in different discussions and topics without having to open too many tabs. Other features worth mentioning that Flarum offers include user mentions, notifications organized into discussions, live chat, and a floating message composer. Start using Flarum for free
12. MyBB Community Forum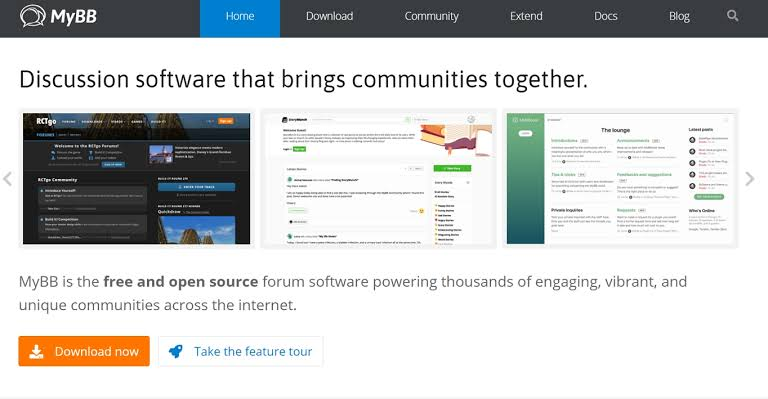 Price: Free
Another impressive open-source forum software that caught my attention during the research for the review is MyBB. This software is widely used by many and has powered thousands of online communities and forums.
MyBB offers its users tons of plugins and customizable themes. The platform is a "community" of its own and many users have contributed towards the upgrading of the software include translations available for the content of the software. Presently, there are over 30 languages available on the platform which makes it ideal for users who want to create a global community.
Taking a cue from its name, MyBB gives users the ability to personalize the forum created using the platform. The software's interface is fully customizable as well as the templates and themes using the platform's built-in editor tool. Community members also get some customization capabilities like adjusting the way they view discussions.
In addition to the basic features you get, you can add more options and functionalities by using plugins available on the platform such as gamification features, CDN capabilities, bulk email support, anti-spam tools, etc.
Although the number of extensions support by the platform is low compared to most forum software out there, it's definitely among the strongest contender in the race for the best of the best in the field of online community and forums software. Get the free version here
Pros
The forum platform is compatible with Nginx and Apache servers
It has a built-in translator
It has a feature called MyBB merge system for easier migration
There is a huge selection of plugins
Access to an excellent and beautiful collection of themes
It has a well-designed admin interface
Cons
The forum's spam filtering system needs improvement
13. inSided Community Forum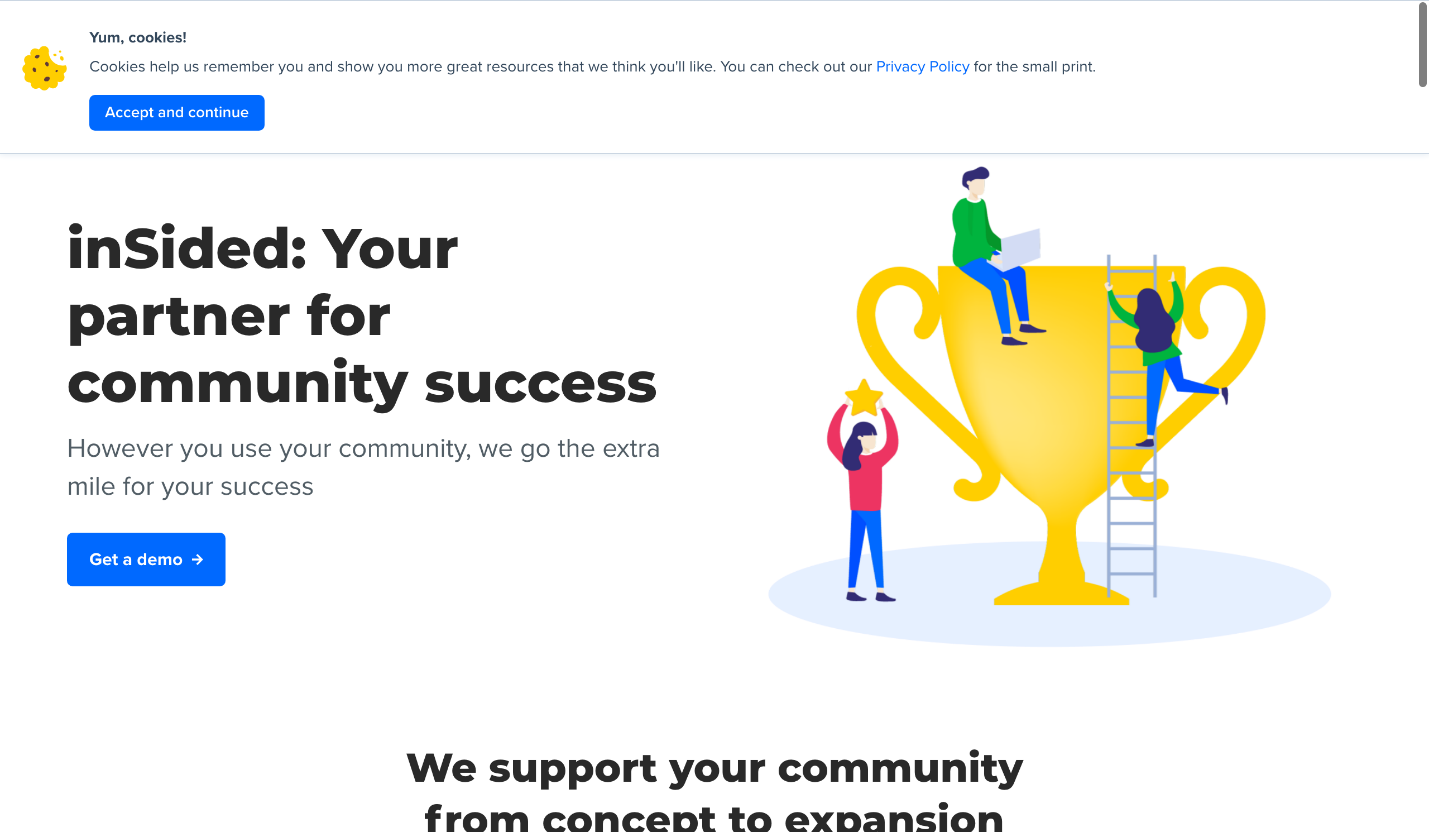 inSided is a comprehensive community platform for community and client success professionals seeking to increase client success. The platform combines excellent application support with an extensive knowledge base on a community platform. They help users increase the participation of their forum, improve promotion, and allow you to collect effective feedback from your customers.
One of the areas that inSided excels above most other forum platforms is its seamless integrations with third-party software like Mixpanel, Salesforce, Gainsight, Zendesk, etc. This allows you to have access to all your technology stacks on one platform.
At inSided, they believe that the community should be at the center of every customer service and success strategy. That's why they offer a customizable community platform that matches the look of your brand to seamlessly integrate into your Customer Success technology stack.
inSided will provide you with a solid experience in customer and community success, strategy and consultation, integration, and automatic feature updates without the need for development resources. Start exploring inSided now
Pricing and Plans
InSided Forum has the following plans:
Professional Plan (Foundation)
Community platform
In-App embeddable
Maximum 5 seats
Gamification
Ideation & Product updates
Knowledge Base
Public events & groups
CRM & ticketing integration
Advanced gamification
Private events & groups
Advanced Ideation & Product updates
Maximum 10 seats
Dedicated Customer Success
Custom volumes
Custom Security requirements
Custom integrations
Custom Terms & Conditions
14. Simple Machines Forum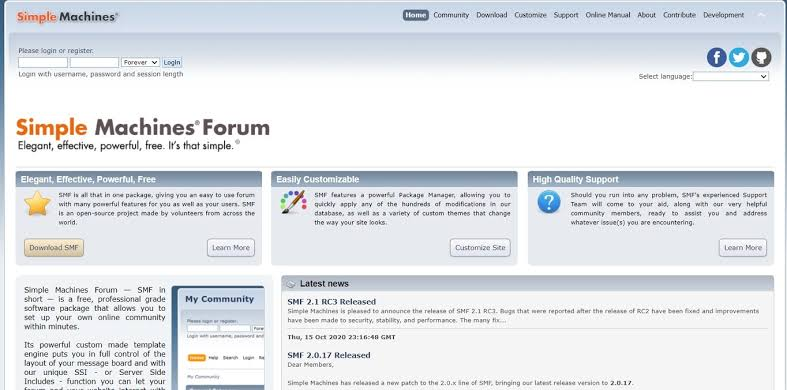 Price: Free
SMF, as it's popularly known in short, is a powerful open-source forum solution created specifically for users who need to create and manage a large community forum. With a simple and intuitive interface design, this platform offers you a more professional and less-flashy look for your online community—which is the best for growing customers engagement.
You get tons of powerful features alongside the ability to extend functionalities with customizable extensions and plugins. This offers users a more optimal performance and scalability. SMF priced itself as having one of the most flexible systems and modules which is due to its structured code documentation.
Their advanced package manager tool helps users create and effect large-scale modifications to their community without having to spend hours trying to edit endless lines of codes—a huge plus for the less-techy users. All you need is a few clicks and it's done, it's a simple as that. Sign up for free
Pros
It has an excellent and responsive community support
Access to User statistics
Ther is anti-spam, IP address blocking, and CAPTCHA security features
It has a functional ACL
There is a good and wide range of cool templates to select from
Ther is an Excellent plugin system
Cons
The forum has Average SEO characteristics that need improvement
15. XenForo Forum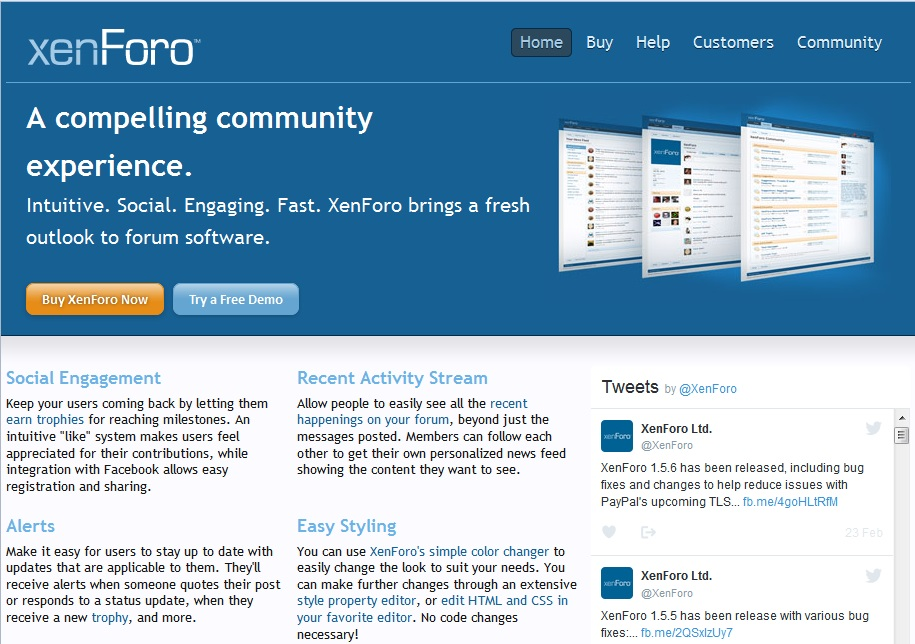 Price: $160/year which includes supports and updates for 12 months. You can purchase an additional 12 months extension at the price of $55. You can purchase Xenforo Enhanced SearcH, Media Gallery, Installation service, Resource Manager, and Branding Removal at different prices here.
XenForo offers a self-hosted forum solution that is better suited for brands and businesses. The platform interface comes with elegant themes all of which you can customize to match your brand's look and feel. Customization capabilities include the ability to implement your brand colors, create your typeface style, and changing the layout of the forum—all of which you can do without having prior knowledge of coding.
XenForo offers a lot when it comes to the extension of the software's capabilities and features with over 2,000 plugins available for users who are looking to add more features to their account.
What makes XenForo stand out among other forum software is the use of gamification to promote user engagement. This includes recognition tools, activity milestones, reward schemes, and social media sharing.
Other premium services that XenForo offers alongside their forum service include advanced resource management, improved SEO tools, and a media gallery.
Key feature
It has a wide range of accessories
Presence of customizable templates
XenForo has robust content tools
There are user participation rewards
It has a built-in SEO
16. PlushForums Community Forums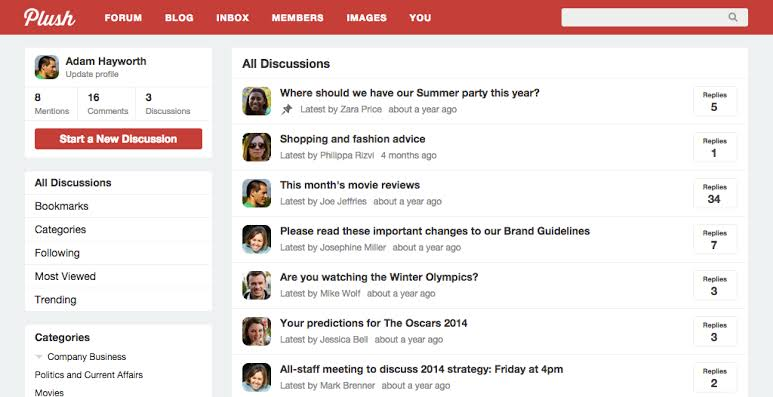 PlushForums is one of the recently develop community forum software that is purported to provide "the most polished, user-friendly forum software." Which isn't far from the truth, CMSCritic awarded PlushForums an award as the "Best Forum Solution".
The software is rather heavy on the pricing but they do offer a lot for even their lowest plan—there are unlimited page views across all the plans. The only difference between their plans is the limit to the number of users you can have online simultaneously.
Pros
Real-time updates and notifications: Say goodbye to having to refresh your page frequently to be able to see when there is a comment on your post waiting for your response or if someone replied to your comment.
Flush Forums comes with automatic update features that allow users to interact and communicate in discussions in real-time. This feature allows members to never miss an update on new content in the discussion including lurkers in the site forum who are yet to create an account or join the discussion. Also, you will receive a notification each time someone tags your name using @mentions in a conversion which allows you to be able to reply faster.
Sizable storage allocation: Plush Forums offers an impressive amount of storage allowance up to a massive 600 GB storage space for forum members to share files in discussion rooms.
You can share that short clip you made using your smartphone to prove that it captures good videos under low light or give them the Excel spreadsheet that shows the complete and well-computed budget proposal for your camping trip. The sky is the limit thanks to the generous storage allocation.
Cloud-hosted service: Being a cloud-based forum platform, Plush Forums takes away the hassle of having to go through software downloads and installations before using their services. You can start creating and participating in discussions by simply logging into their website.
Members all enjoy this same experience as it removes the limitations of checking for system compatibilities before they can join a group or community forum. Another advantage that cloud hosting offers is the security of files and conversations through an automatic backup feature unlike the physical drive which can be deleted or malfunction at any time.
Mobile-friendly: It's a known fact that most online searches and internet activities are being done from a mobile device. This makes it very important for most online service platforms to be mobile compatible.
Fortunately, Plush Forums software was created to be completely mobile-optimized without requiring you to download any app. You can easily access their services on their website through any mobile web browser of your choice. This allows community members to be able to participate in discussions on the go without having to connect through their PCs.
Cons
Requires your payment details be before activation of trial period: This is a major problem with Plush Forum. You'll have to submit card details before you can sign up for their free trial. Most users may find this annoying as there could be difficulties in canceling the auto-subscription before the trial period lapses.
However, you can always communicate your difficulties to their customer support service, they'll be more than happy to help you out.
Pricing
Plush Forums only offers 2 types of subscription tiers with different sub-tiers:
The Standard Plan: There are six different payment options available in the standard plan and pricing is based on storage capacity and the size of your audience member. There is
a free SSL certificate and CDN delivery across all the standard plans.
The cheapest tier in the standard plan is priced at $49/month for a 15GB storage space and can accommodate up to 100 members online simultaneously.
The second-tier cost $75/month with an upgrade of storage space to 20GB and 250 members online simultaneously.
The third-tier, which costs $120/month, comes with 35GB of storage space and allows 500 members online simultaneously.
For the fourth tier, you'll be charged $200/month for an increase in storage space to 70GB and 1,000 members online at the same time.
The next tier is priced at $375/month and raises the capacities even higher with 125GB worth of storage space and 2,000 members online simultaneously.
The final and most expensive tier in the standard plan would give you a massive storage space of 250GB and allow up to 5,000 members online at the same time. However, you'll have to contact the company for the pricing.
The Enterprise Plan: The enterprise plan costs a whopping $799/month and you get invoiced billings, white-label solutions, regular customer success calls, priority support, SSL and DDoS protection, a dedicated account manager, and 99.99% uptime. Learn more here
17. FluxBB Community Forum
FluxBB is well-known for its simplicity and you only get essential forum features that you need to create and run your online community successfully—you don't get overwhelmed with unnecessary features. This software is praised to be a high-quality lightweight alternative to many advanced features forum software.
Being lightweight doesn't mean FluxBB is lacking in features. The software contains all the essential tools for creating a community forum including moderation setting, message boards, etc. You also have access to a decent amount of themes and plugins.
Overall, FluxBB offers a fantastic experience if you want a simple and effective platform.
Pros
It includes advanced profile customization options and a user-ranking system
It offers top-notch performance out of the box
Cons
Its plugin and theme options are limited
Ways to build your community using a forum software
Top brands know the importance of having a good business-customer relationship to the growth of the business. And, what better way to communicate with your customers than using a community forum. Customers who interact with their brands and see themselves as important members of their community are much more likely to promote the brand through mouth marketing.
Here's how you can build a strong community using your forum software.
Spread the word.
Having a community is useless if no one knows it exists talk less about joining it. Let people know about your new forum by promoting it through your social media posts or newsletters with a link to join. You can also promote your community through your brand ambassadors or loyal customers by asking them to become active members of the forum and also promote it.
Listen and check your community regularly.
Don't leave your customers roaming in your community, take time to post on the forum and respond to messages from the audience. When you don't interact with your customers regularly, it is more likely they start to feel ignored and you don't want that to happen.
Making an appearance from time to time who tell your, customers, you value their opinions and care out their experience with your product. Also, checking on your community regularly will help you to monitor and control the community in case of any escalation in service before it gets out of hand.
Promote meaningful speech.
The purpose of having a forum is to create a safe place where the public including your fans, employees, prospects, and customers get to interact, socialize, ask questions, and even create suggestions about how you can improve your services. Creating a helpful philosophy and community guidelines that promote kindness and patience in responses can cause your community to grow sporadically.
Conclusion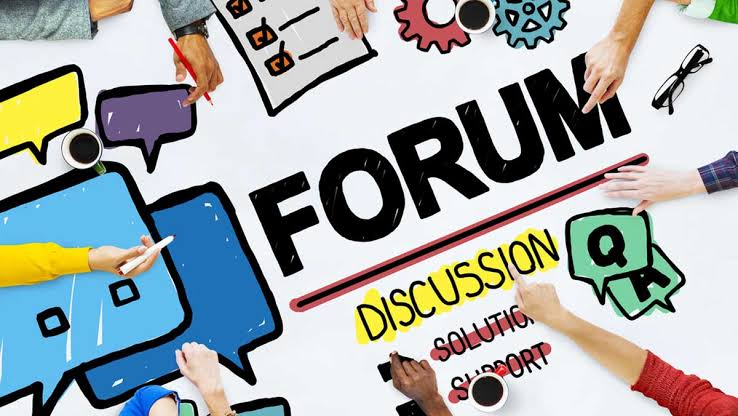 As I have discussed, forums provide us with the rare opportunity to have a two-way interaction with our clients. Take full advantage of this and let your users know about it. After all, it is much easier to have a sense of loyalty towards a person than a company without a face.
When it comes to successful digital marketing, getting a feel for your audience is always a good idea. Adding a discussion forum to your website is the perfect way to get to know your customers, speak to them first-hand, and ensure your customer service is up to standard.
But remember, unlike reviews, forums work both ways, so be willing to share, discuss, and connect with your users on a pleasant level. Create an honest environment in your forums that your customers can connect with, and your relationships between users and merchants will grow.