Last updated May. 25, 2023 by Charles Zemub
20 best customer relations management(CRM) software
Your customers are the most important determiner for business success. It is said that customer satisfaction is what keeps business going because if customers are coming back, business is good.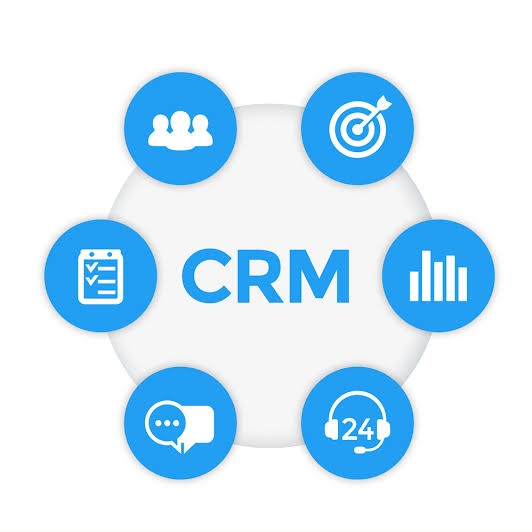 Sam Walton once said "The boss is the only customer. He can sack every employee in the company from the chairman to the last person just by spending his money some other place." Plain and simple.
CRM software allows all employees of the company to improve with customer relationships through CRM tools such as:
Sales reporting
Lead reporting
Customer service
Marketing analysis
Customer information
Segmentation
Historically, Large businesses and companies made use of CRM software. But today, CRM has evolved to fill the want of all organizations, notwithstanding the size or industry. That means that you should not fail to invest in CRM software ,even if you have a small company.
How to Choose CRM Software for Your Business?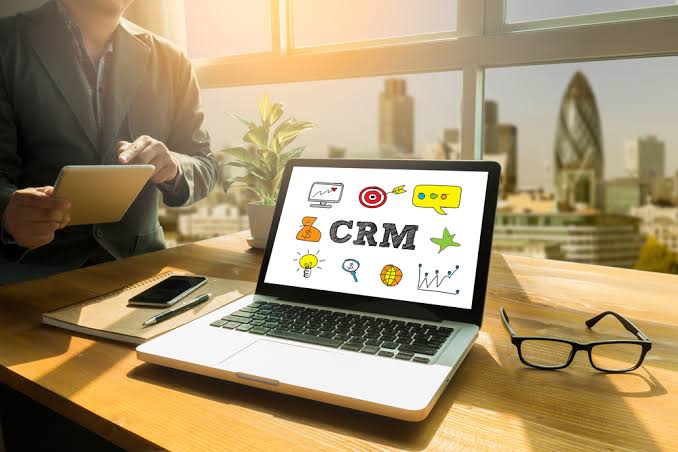 CRM software is quite a complex concept. With so many options to pick from, finding the best solution for your business might be a bit overwhelming at first.
You have to be careful when searching for the software that will suit your business needs.
1.Sellful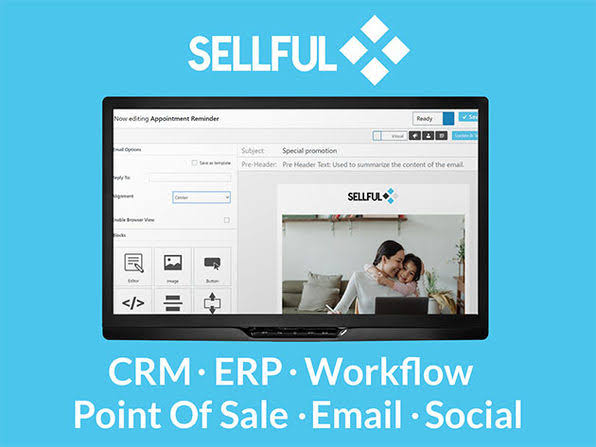 Sellful is a Drag-and-drop simple website builder that develops fully customized sites with awesome design and advanced ERP and CRM functionalities. Sellful is completely a white label by default.
It has over 200 customizable templates and SSL preinstalled on every account. Sellful is your secure solution for developing beautiful websites. Sellful's platform can assist you to manage and run every aspect of your work including customer relationships, appointments, managing your project, and a lot more.
Entrepreneurs have realized that customization and personalization is the key in today's contemporary business ventures.
In the business world, there are many unique companies with unique needs and wants from their customers, employees, and partners. You may even discover that some clients' wants simply can't be fulfilled on a single platform.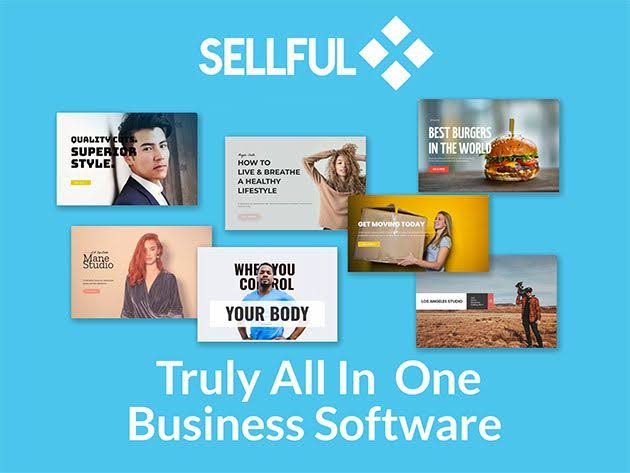 You have to need to expand your business and ensure you get creative just to satisfy some of your clients you cannot do without, who form the bedrock of the business.
When this need arises, the next normal thing is to look for different technology providers and get a bunch of quotes which after the stress, you may not get what you actually want. Sellful comes into the quotation as a business platform designed to help reduce the difficulty.
Sellful is an all-in-one business software designed to assist you to do anything from building simple websites to creating complex workflows to automating your entire business in just a few clicks.
You can manage email and social media marketing, build unique landing pages, run payroll, set up entire shops for clients, create invoices, and do much more with Sellful.
This widespread tool combines CRM, website construction, marketing, project coordinator, online store, ERP, billing, online classes, meetings, memberships, and point of sale features at the same stage, depending on what you actually want to use Sellful to do, which permits you to offer your customers truly personalized service.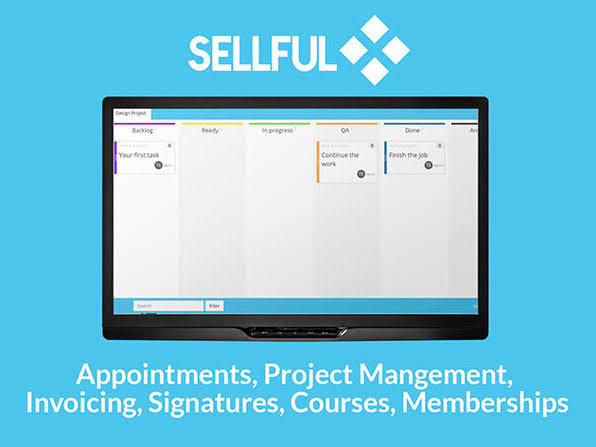 The native CRM enables you to monitor your customers while lead gen tools assist you to collate emails and phone contacts from customers, membership programs identify your customers that are more loyal, and the indigenous POS app assists you take charge of sales, inventory, coupons, and more in one place.
2. MyDatabase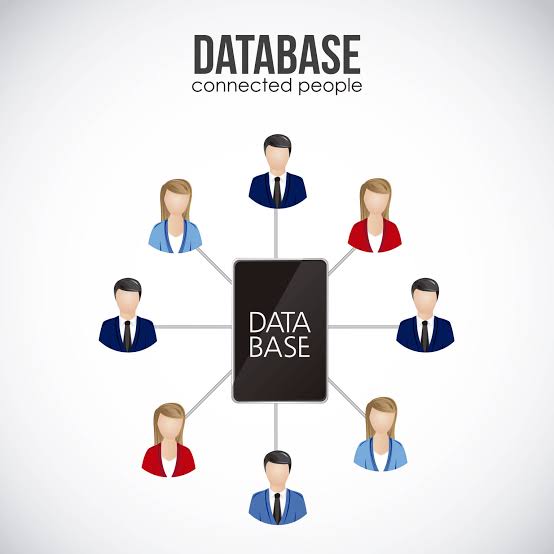 From the series of tests I conducted, Elibrium's MyDatabase 6.0 is the slightest complex program in this list by a wide margin. It is mostly purchased in chain office-supply stores and you can negotiate the price.
MyDatabase is the easiest go-to for small organizations that want to organize customer lists or for individuals who need a simple organization program.
MyDatabase can be used to send large e-mail texts and create labels, envelopes, and Rolodex cards, but it does not include Web deployment, support for workgroups, or programmability.
Though MyDatabase is adequate for individuals and small businesses, this program is not for medium-sized organizations as the program will find them overwhelming.
Installation of MyDatabase is not time-consuming and it can include 100 fonts and 10,000 clip-art images, when you finish the installation, your database is ready for importation or you can develop a new one.
Well, it came as a surprise to me that a product such as MyDatabase targeted at users with no database experience does not come with a start-up wizard. The 12-page booklet in the box wasn't of much help nor a good reference for its users.
The booklet only covers the basics, however, I found the on-screen guide more assistive and detailed. The top side of the interface has tabs that serves also as its major features. They are Data Entry, Data Table, Output Forms, Reports, and Email.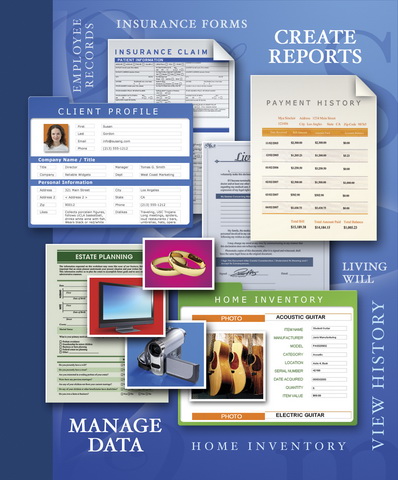 MyDatabase has 20 templates and either of them can be used during setup. The templates include Clients, Membership, Job Listings, and Recipes, or create your own.
The program can import files from Microsoft Excel and Access, Best Software's ACT!, Visual FoxPro, Borland's dBASE, Corel's Paradox, and as also as tab-separated and comma-separated text. You will notice that developing data entry forms from scratch can be stressful hence, it's better to use a template.
The customization interface can also be likened to an elementary image-processing app with a resemblance to the lines of Paint. You can configure values to be text or numeric, add background images and colors, and make drop-down lists for choices.
You have to look for a method of beefing up security because MyDatabase doesn't offer security features to keep other users out of proprietary data because it is designed for single-user offices.
Records are expected to meet a certain set of criteria as MyDatabase only filters records that meet these criteria however, performing queries is not part of its functions.
It doesn't allow you to set up relationships among databases, so I was unable to complete a testing exercise that involved creating a query that gathered information from two sets of data.
All the preset database templates have a set of reports you can use to summarize the data. Custom reports can also be created by finding out which of the data columns should appear on the final version.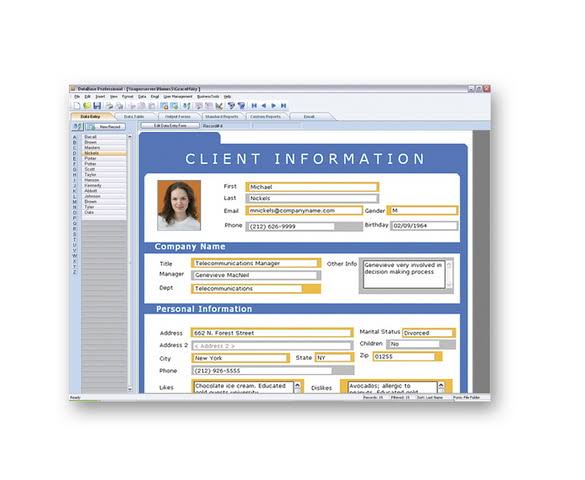 With less difficulty, you can print data from MyDatabase tables to envelopes or different options of labels. This is the point library of clip art and fonts comes in, allowing you to create a signature style on your stationery.
You can also send mass e-mail messages with MyDatabase, calling on your customer databases for any sort of information you require from them or any correspondences.
You'll need to enter your e-mail and server information before sending email messages. After that, just click on the e-mail tab to begin creating your message.
Small businesses or individuals who need tools for their organization but are discouraged by more complex databases will find MyDatabase a very useful entry-level solution. Just notes that its limited feature set means it won't grow as your company grows.
3. Inventoria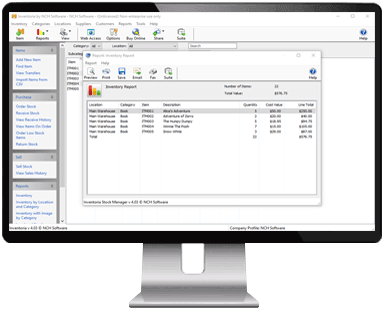 Inventoria is a professional software for inventory and stock management for Windows that permits you to manage inventory in one or different locations. Manage your stock levels by categories, locations, and vendors.
You can combine Inventoria with HourGuard, Express Accounts, and FlexiServer for a low-cost software solution to help manage your business. Inventoria is basically for Stock control, procurement, and reporting.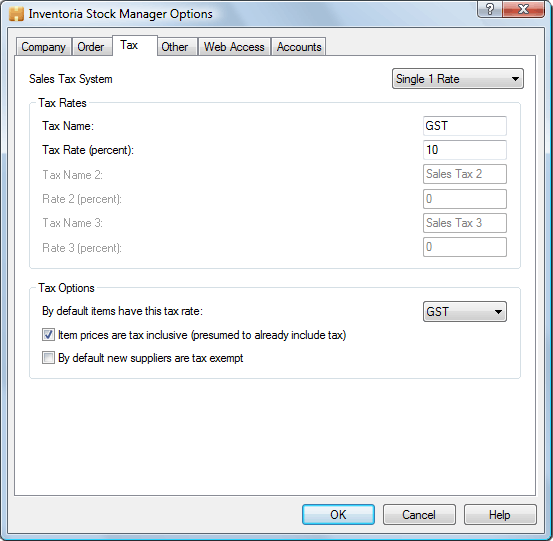 You can utilize Inventoria to manage multiple company profiles within the application. MAPI or SMTP email send settings include Secure Socket Layer (SSL). Assign items to Balance Sheet or Profit/Loss accounts.
Inventoria program can be used together with Express Invoice Version 1.37 and the latter seamlessly to process vendor's purchase orders. It notifies the perfect level of quantity and warns the inventory manager when stock has reduced below what is required.
With just a single installation, many users can have access to the data through a web version. User access and powers can also be restricted when using it with web UI.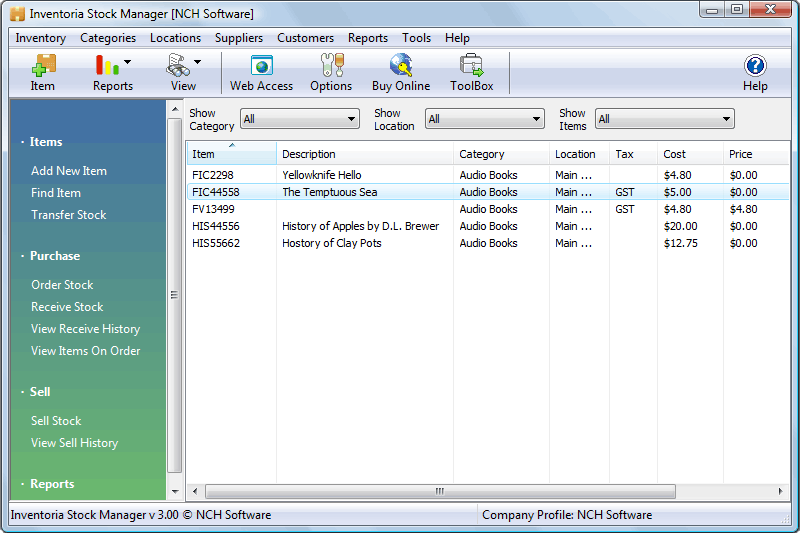 Main Features of Inventoria Inventory Control Software
Inventoria has less complex and easy to navigate interface.
It keeps track of your stock levels using easy and simplified reports.
Create purchase orders and sends them directly to your clients.
We saw that it sets up timely inventory management controls
Transfer stock between different locations with a few clicks.
Sustain your supplier database.
Put items in similar groups and categories for easy stock management.
Set-up recurring orders and send them automatically.
Manage many work profiles in the application.
MAPI or SMTP email send settings include Secure Socket Layer (SSL).
Designates items to Balance Sheet or Profit/Loss accounts.
Integrates flawlessly with Express Invoice (v 1.34 and later) to send out purchase orders to vendors.
The software supports mobile app, it is user friendly and can be accessed simply through a one-time payment option. It is not difficult to handle because it employs web-based deployment and installation procedures.
For clarified inventory management, it has e-commerce integration, bar-coding accessibility, inventory optimization, accounting integration, invoicing, and a lot more to guide it all through the simplest process of usage.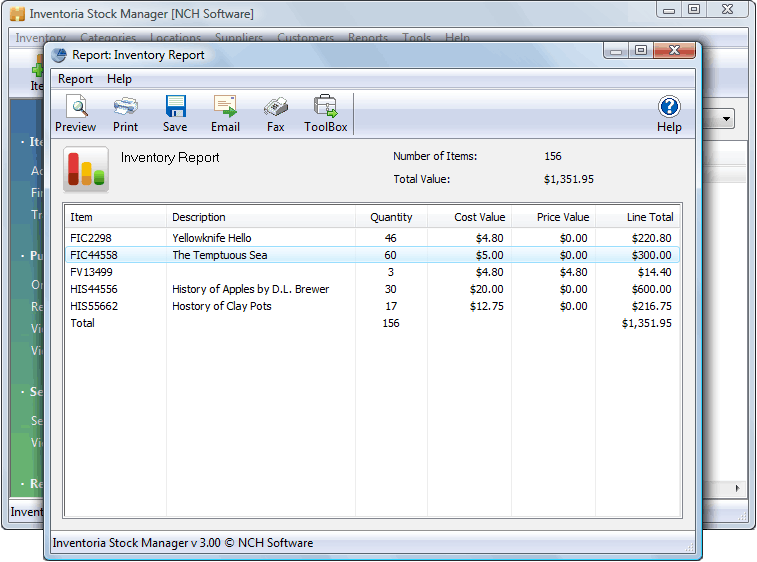 PROS
Inventory management is made easier by its Mobile app support
The automated app enhances great workflow and performs all the management processes at a quicker pace.
The software offers multiple features to make management streamlined well
I once used it for a small company, I streamlined the company's inventory management process through Inventoria and it managed the workflow with detailed precision and higher speed than its contemporaries due to its streamlined features and ease of use.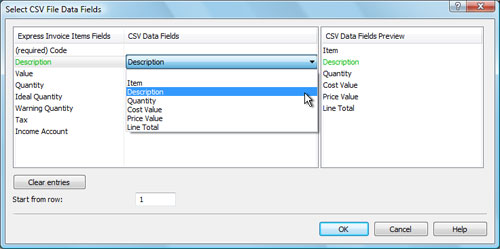 CONS
Not good for personalized set-up.
The processing can be delayed and management may not come out so wonderful. Also, users reported that they experienced sudden crashes in an application and this in turn may affect the workflow.
It has low customization tools.
The Web version features is different from the installable version.
4. Microsoft Dynamics CRM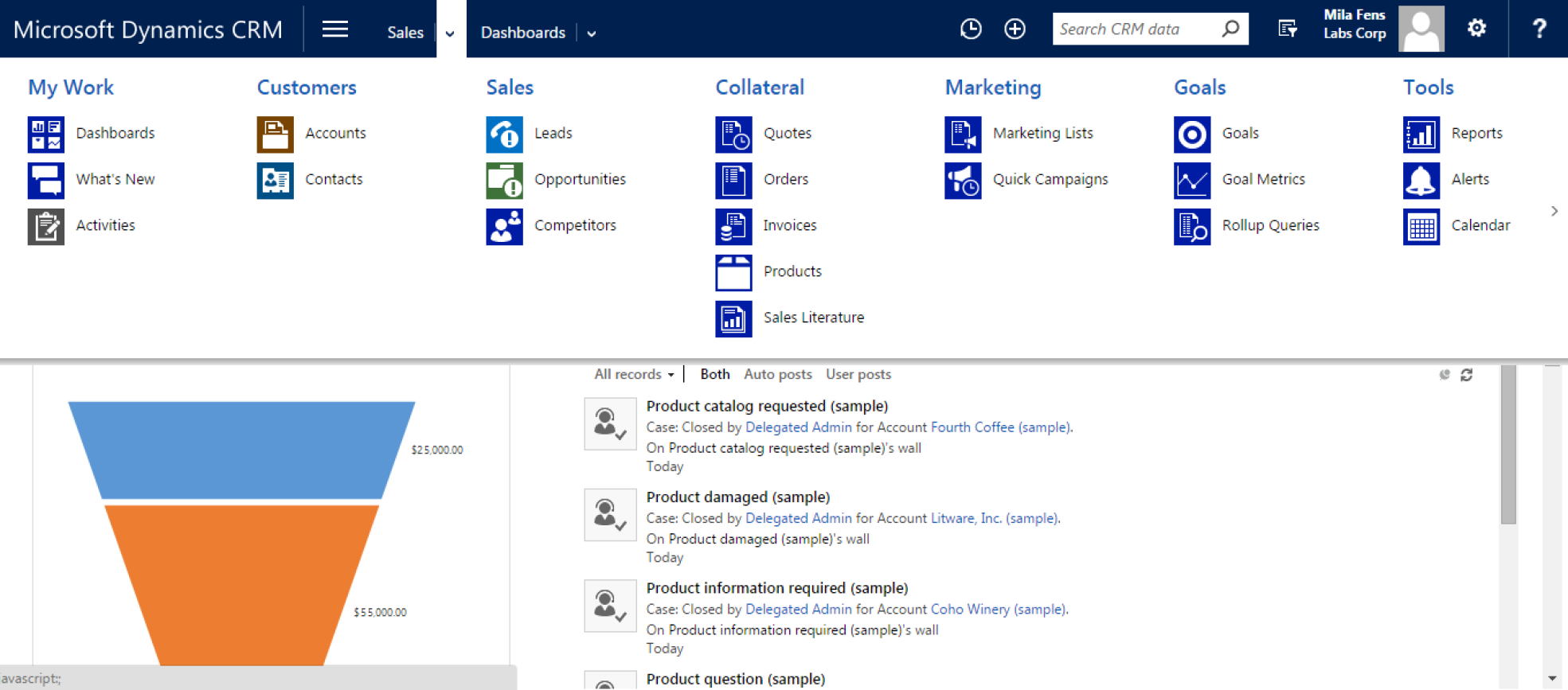 The Good is an extensive CRM functionality and integration with Microsoft products and LinkedIn plugins.
The Bad: it is difficult to navigate for beginners, novices. The mobile app features are limited.
Bottom Line: Microsoft Dynamics is a modular, cloud-based ERP and CRM solution that provided AI and mixed-reality tools, together with negotiable pricing options.
Microsoft Dynamics 365 is a modular, cloud-based enterprise resource planning (ERP) system with advanced customer relationship management (CRM) abilities. The platform offers Microsoft Dynamics CRM and rebranded versions of Microsoft Dynamics AX.
Dynamics 365 assists companies to make better decisions based on data-driven insights and recommendations. By automating and optimizing daily manual tasks with intelligent workflows, companies can operate more efficiently and effectively. It offers IOS and Android mobile apps.
Microsoft's CRM features offer clients the capability to unify relationship data using the LinkedIn Sales Navigator, coach sales employees with onboarding and analytic dashboards, and tailor customer experiences at an elevated scale.
Dynamics 365 also takes a contemporary methodology to ERP functionality by incorporating artificial intelligence (AI), machine learning, and mixed-reality (a merge of reality and virtual reality) tools for businesses. The solution offers:
Product visualizations
Mixed-reality remote assistance
Virtual sales agents
Predictive guidance for sales
Holographic guides
Automated fraud protection
Customer relationship management (CRM) software helps sales, marketing, and customer service professionals monitor which customers they communicate with, the time of communication, and the tenets under discussion.
Microsoft Dynamics CRM Online (begins at $65 per month) can be accessed offline, with good reports, and has strong links with Microsoft Office 365. Much like Salesforce.com and Sales Cloud, Microsoft Dynamics CRM Online targets large businesses, and the price tag and software interface reflects this.
However, I found Salesforce.com less difficult to customize and to use to develop automated rules. If your organization has invested a lot in Microsoft technologies like SharePoint and Office 365, you will experience a better experience with Microsoft Dynamics CRM Online.
Implementation/Integration
Microsoft works with third-party consultants who provide expert guidance and support in buying, implementing, and optimizing Dynamics 365 applications.
The software can be implemented through the cloud or on-premise. Companies can integrate the solution with Microsoft Power Platform (Power BI, PowerApps, and Flow), also Office 365, and LinkedIn.
Microsoft Dynamics Pricing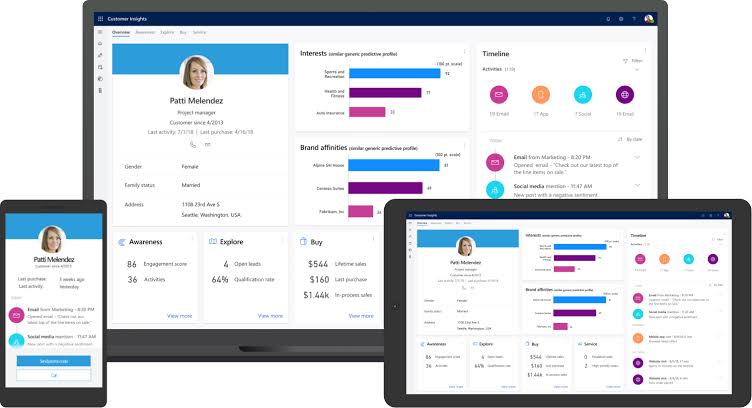 The pricing plans for Microsoft Dynamics CRM are a bit complex, with dissimilar plans focusing on sales and marketing professionals.
1.The Professional tier : ($65 per user monthly, and the tier I am actually using) is recommended for sales professionals and customer support services. It includes sales and customer service automation, social media analytics, and reports.
2. Social Engagement Professional: ($75 per user monthly) it offers tools for social listening, alerts for upcoming trends, a social center, and social accounts.
3. Sales Productivity module: has all the central features of Microsoft Dynamics CRM. ($105 per user per month, with an introductory price of $65 per user monthly) it merges Microsoft Dynamics CRM Online, Office 365, and Power BI (Microsoft's business intelligence service), to assist teams team up and close deals quickly.
4. Marketing module :($125 per user monthly) concentrates on prospects via multi-channel campaigns and snowballs the number of qualified leads. It offers social marketing and marketing analytics. campaign management, lead management, scoring, and brand management,
5. Microsoft Social Engagement Enterprise: ($125 per user monthly) proffers unlimited streams, sharing, and posts, including the CRM software.
6. The Enterprise 360 plan: ($200 per user monthly, with an introductory price of $150 per user monthly) This plan will suit marketing and customer care professionals. It comes with Microsoft Dynamics CRM Online, social management tools, lead and opportunity management, account management, Unified Service Desk, pipeline management and forecasting, and data analytics.
If you already are using Office 365 Enterprise E3, you can use Microsoft Dynamics CRM Online Professional for $45 per user monthly while adding power BI to it.
Microsoft Dynamics CRM online approves a minimum of five users. Smaller organizations needing less than five users, or wish to work with the on-premise version to install on their infrastructure, have to contact a Microsoft Partner for this to be possible.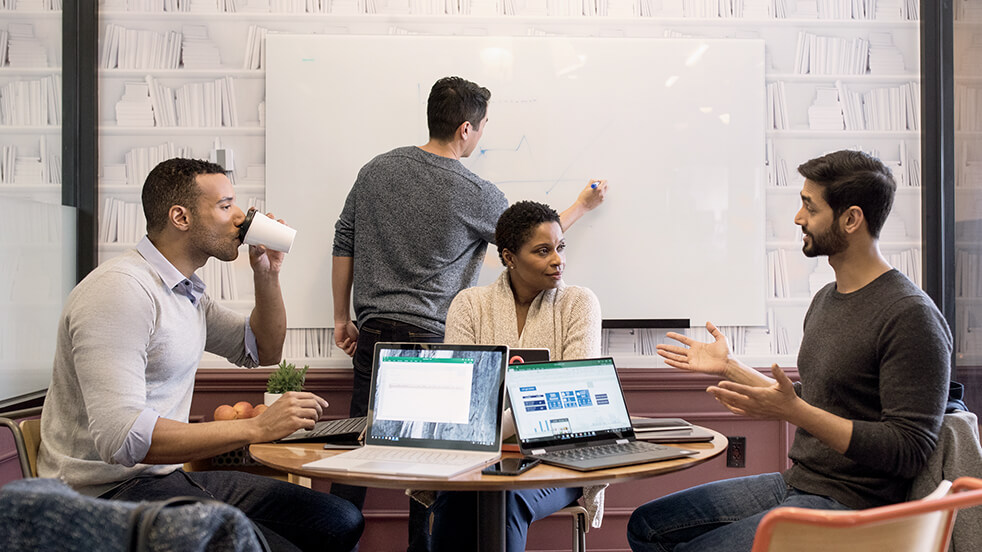 The minimum basic CRM plan is $325 for 5 qualified Microsoft Dynamics CRM Online users, which is more available only from SugarCRM, which has the same price but requires a yearly subscription of at least 10 users. This SugarCRM is due to launch at $4,800. The license can reach up to $2,000 per user for the on-site version of Microsoft Dynamics CRM as a unique fee.
Bottom Line
A beautiful interface, stellar reporting tools, and loads of automation features are supported by Microsoft Dynamics CRM Online. It is designed for larger organizations with complicated criteria for customer relationship management.
5. Wizzforms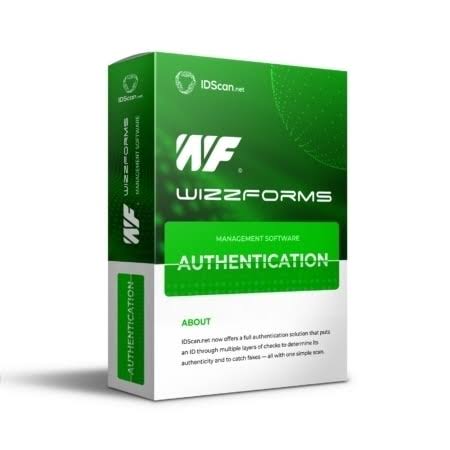 Developed by IDScan.net, WizzForms is an ID data and image capturing application for any PC software with text input fields. This software is a versatile program used to directly search driver licenses and state ID cards into ANY field entry program.
This includes MS Access, Excel, Outlook, Enterprise Resource Planning, QuickBooks Customer Relationship Software, or web forms running on your system.
A singular application works with a variety of forms via the scanning of any US or Canadian ID, such as State IDs and driver licenses, the app process forms, and data automation entry.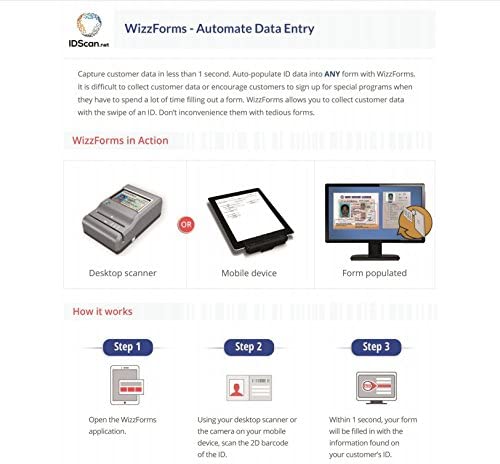 This application can auto-populate information including full name, age, gender, time stamp, address, and more. To use it, scan an ID card (via USB ID scanner) and WizzForms will complete the required fields of your form. The configuration of the program is very simple and requires only 4-6 minutes. You do not need programming skills to configure Wizzforms.
Benefits of using the system:
Speedier automation of data entry
Labor, Costs and time saving
Elimination of errors and typos
Easy to install and use
Seamlessly captures data and allows for integration into any application.
Fast and accurate data entry/age verification solution for:
Event Registration
PMS Systems
Auto dealerships
Guest and Visitor Check-in
Access/Lobby control
Medical Institutions
Age sensitive retail outlets
Casinos
Hotels/Motels
Restaurants
Marketing campaigns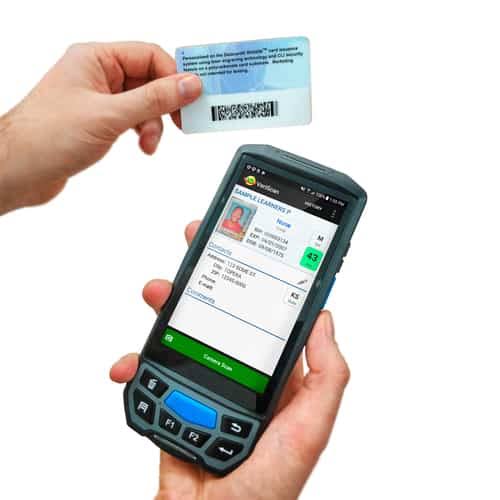 6. HubSpot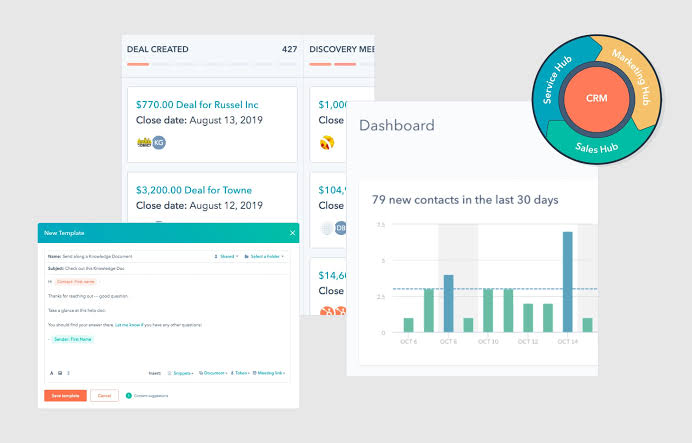 HubSpot is a popular name in the business world. The HubSpot blog is among the good resources for content related to sales, marketing, and similar services.
HubSpot is different because they provide free CRM software. They also have CRM for different positions within an organization, like CRM for:
Sales Leaders
Business Owners
Sales People
Customer Service Representatives
Operations Managers
Marketers
We have many CRM providers offering a free trial or free plan with basic features. But HubSpot's goes above what you'd normally get for free. Some of the top features for free sales CRM include:
Contact management
Task management
Email templates and scheduling
Deal management
Document sharing
Email tracking and notifications
Email integration (Gmail and Outlook)
Meeting scheduling
Live chat
Prices differ depending on what kind of CRM you are searching for and how many contacts you use when it comes to paid apps. CRM Sales, CRM Marketing, and CRM Support all have $ 50-a-month plans.
Enterprise plans start at $1,200 per month for Operation and Sales, and the Marketing Enterprise starts at $3,200 per month. Well, I am confident that, compared to the free ones, the paid choices are better bargains.
In order to help you navigate your relationships with future and current clients, they are supported by improved and more oriented functionality. A better ROI on this CRM app is guaranteed for you.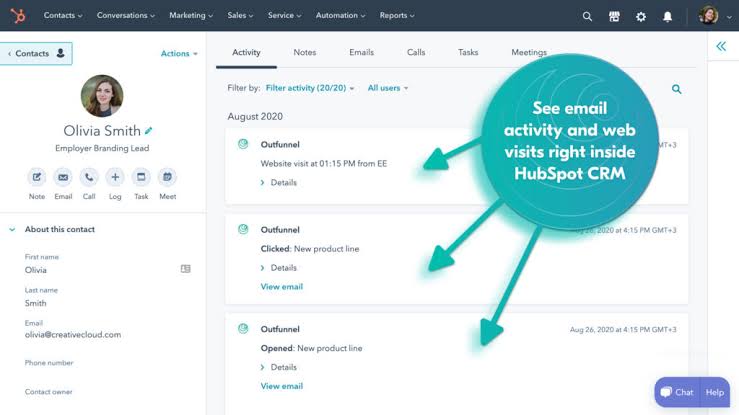 You can purchase a package of HubSpot for the CRM solutions used for many departments and users. Growth Suites are open to you and include, beginning at $112.50 a month, sales, marketing, and operation.
According to the specific tools you are searching for, you can also build your plan and pay. In your business, if you use several applications and want to incorporate them into the CRM program, HubSpot CRM is your perfect choice.
The mammoth App Marketplace has over 600 integrations available to various levels of HubSpot plans (e.g., Market Hub) CRM users with the free plan can choose from over 150 apps in categories such as eCommerce, finance, analytics, events, project management, and client success.
Not only that, many of these applications offer free editions, making it accessible to small businesses with limited resources.
The HubSpot CRM is always free and features unlimited users and space for a million contacts or so. It offers live chat/chatbot, business tracking, destination pages, basic email marketing, and a ticketing function to track service requests.
The above are created to give a foretaste of their Sales, Marketing, and Service Hubs, which offers advanced functionality at various prices.
For some businesses, all they just need is the CRM for tracking deals and managing relationships, especially when they are incorporating other business programs in their stack.
For instance, you can start with Linking your Outlook 365 or Gmail account so that you can directly send email from a contact folder, monitor conversations, and respond quickly using sales templates.
With a contact record showing all purchases, ticketing, and website operation, HubSpot makes relationship management simple and a calendar of pages visited if you install the tracking code.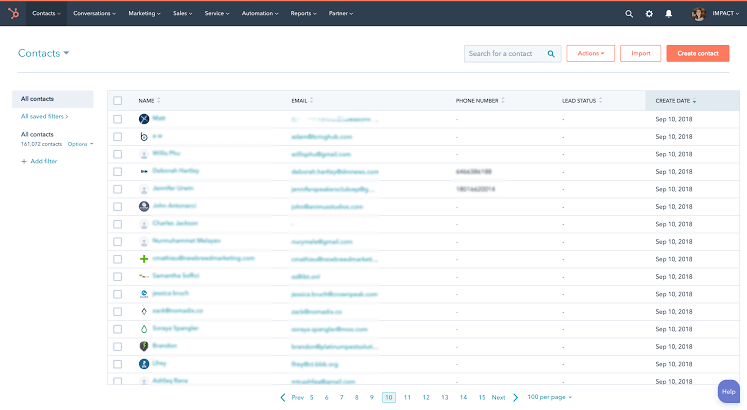 Your activities for integration will also be seen. You can see your contact record, For example, If you're using Mailchimp for mail promotions, it sends, opens, clicks and bounces.
Similarly, integration into the application of an event organizer can display an event record on the communication calendar.
Connecting apps was easy and hassle-free for a few that I linked, but if you get stuck, the integration page of each app has a setup guide and tools to support you. Note, however, that free CRM users will only have restricted integration features, as they need features from advanced paid plans.
7. Zoho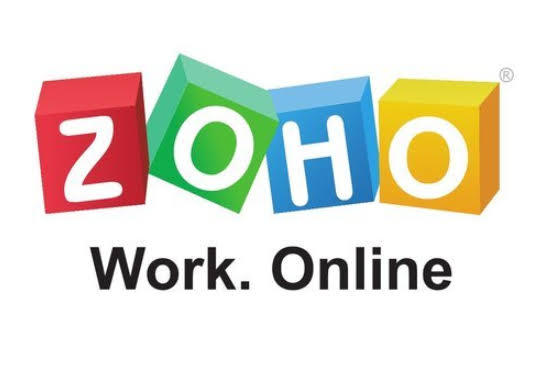 Easy to implement, insightful usage, and cheaper to adopt, Zoho CRM offers users lots of functionality at a fair price point. Though the customization options are not as expansive as the other CRMs I reviewed, there are still many ways to adjust Zoho to meet your needs.
Zoho has other business apps but its CRM module feels modern, clear, and immediately insightful.
Zoho also offers a plethora of click-to-install extensions through the Zoho Marketplace, and the easy adoption procedures make it possible for enterprises to develop a custom CRM solution without a developer. Zoho CRM is a robust solution that is suitable for any small business. It has a fair price and provides its customers with good service.
Our list of one of the best overall CRM solutions is Zoho CRM. It assists you to benchmark the effectiveness of your communication with clients. It can be used to automate your business so you don't repeat certain tasks. With Zoho CRM, you get real-time notifications when customers interact with your business.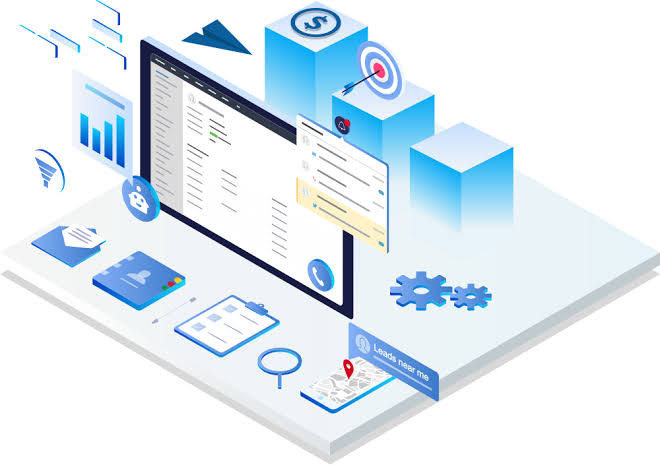 Zoho is a world pioneer in SaaS enterprises. More than 50 million people use their solutions around the world, and with good reason.
Unquestionably, Zoho CRM is one of the best solutions that this provider offers. It's used in 150+ organizations in 180,000+ nations. Zoho CRM  can be utilized to connect with customers, convert leads, and generate more revenue for your business.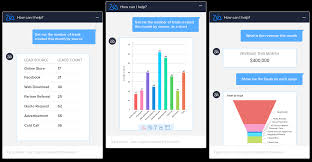 Zoho's software suite is still remembered for its distinction. Zoho Books comes out as one of the best applications for business accounting, as does Zoho Inventory, which is one of the best software for inventory management.
Known brands such as Netflix, Amazon, Maserati, and Suzuki use Zoho CRM for Customer Relationship Management. Here is a concise summary of the Zoho CRM plans and pricing:
Standard-$18 per month per consumer
-Specific and custom fields
-Rules for Scoring
-Conversion of Workflow
-Customized reporting and personalized dashboards
-Online forms
-Clusters and tagging
-Insights from email
-100,000 files
Professional-$30 a month per consumer
-The Web-to-case types
-Management of Processes
-Integration of email across many devices
-Rules of Validation
-Notifications in real-time
-Integration of Google Ads
-2.5 million files
Enterprise-$45 a month per consumer
-Incorporated analytics
-Emails pipeline view
-Customized display of a visual CRM record
-Mobile App and Web SDK
-Portals for multi-users
-Tailored buttons and modules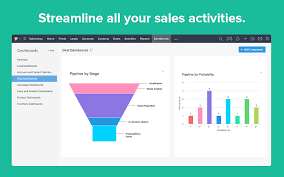 The free Zoho edition is extremely limited and suitable for home-based companies. The prices given above are for monthly plans. With annual plans, you can save up to 25 percent.
The Ultimate Package is offered by Zoho, but it is only available annually. It has characteristics such as recommendations for automation, advanced customization, better storage, and email sentiment. You will need to contact the Zoho sales team if you need a customized sales quote.
8. From SalesForce
SalesForce is one of the market's most commonly recognized tools for customer relationship management. For their customer relationship solutions, including famous ones such as Spotify, Macy's Amazon, Toyota, and United States Bank, more than 150,000 businesses rely on them. Salesforce has
Essentials-$25 monthly per user
-Lead Management
-Sales and service all-in-one
-Management of accounts
-Management of Opportunities
Integration of -Email
-Management of contacts
-Mobile app for Salesforce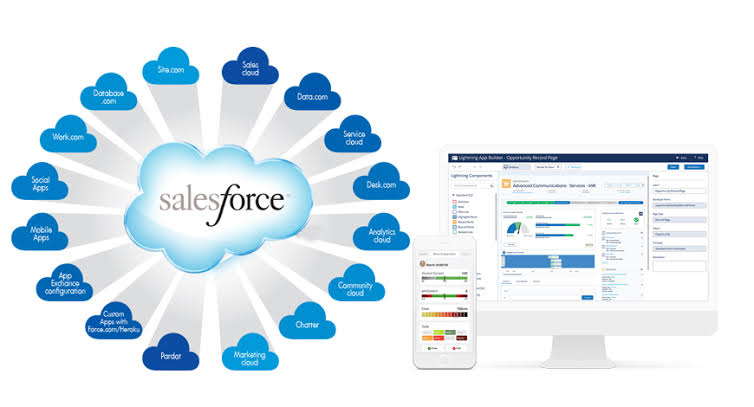 Professional-$75 monthly per consumer
-Forecasting collaboratively
-Best for all-size teams
-Registration of Lead
-Scoring Lead
Enterprise-$150 monthly per consumer
-A CRM Customizable
-automation of workflows
-Automation of approval
-All Professional qualities
Unlimited-$300 monthly per user
-Best guidance and support for all plans
-For big corporations
-24/7 services for maintenance and configuration.
-All Business Features
The above rates are annual rates, and if you try to do so, they will be higher.
9. FreshSales
Freshsales is a CRM app tailor-made especially for sales teams. Over 15,000 firms, including Best Western and Dyson, use it. Freshsales help the team locate all the sales leads and track them. You'll be able to connect with potential buyers quickly and effectively and boost the sales pipeline.
Here's a rundown of their plans and characteristics which come with them: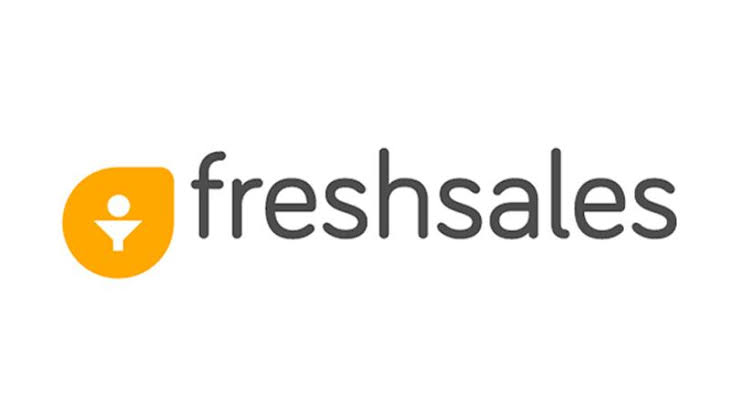 Blossom-$19 per consumer monthly ($12 with annual contract)
-Lead, account, communication, and management of deals
-Integration with SMS
-Visual pipeline revenue
-Access to API
-Scoring Lead
i-Access to apps in the market
Garden-$35 per user monthly ($25 with annual contract)
-Expanded Records
-5 revenue sales
-5 sequences per consumer for sales
-1,000 complimentary contacts
-250 per user bulk emails per day
-10 squads
-Automation of 10 workflows
-Lead allocations and regions
Estate – $65 per person / monthly ($49 with annual contract)
-Advanced CRM Customization
-Auto enrichment of profile (with social media information)
-Sales targets
-Tracking events
-Dashboard reporting
-Support multi-currency
Forest—79 dollars a month (billed annually only)
-Information center for the EEA
-Whitelisting for IP
-Logs of audit
-Dedicated manager of accounts
With a 21-day trial, you can try out any of these plans for free. Freshsales also has a free startup package with simple features for forever. I like Freshsales because it's great and affordable for a growing sales team. As your business expands, you can easily upgrade to a higher tier.
10.PipeDrive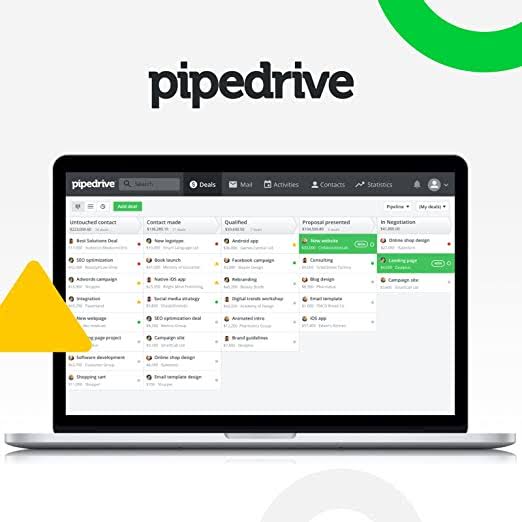 To simplify your sales process, Pipedrive CRM was created. Pipedrive CRM is used by over 90,000 organizations. The elevating factor of Pipedrive is its simple platform that is easy to find out for any user.
This CRM was built in a single location to produce more sales leads and sort your sales. It helps eliminate repetitive, unproductive administrative activities. It's built with less legwork to drive more sales.
Some Pipedrive CRM features and advantages include:
-Tracking Communication
-Lead Management
-Business data protection and security
-Management of Deals
-150+ third-party integrations
– Automation
-Deep perspectives and reports
-Mobile App Access
Sales of $24 billion and above are closed using Pipedrive. On average, after the first year using this CRM, companies raise their closing rate by 28 percent.
These are the Pipedrive CRM plans and prices:
Essential-$17 per user monthly ($12.50 with annual contract)
-AI sales assistance for sales
-Tailored pipelines
-Custom fields
-Personalized dashboard
-user and business target setting
Advanced-$31 per user monthly ($24.90 with yearly contract)
– Items Catalog
Integration of -Email
-Automation of sales task
-Email templates and automation for emails
Professional-$59 per consumer per month ($49.50 with yearly contract)
-Management of teams
-Tracking calls
-Predictions of sales
-Custom account and admin rights
-Unlimited scheduling for meetings
-Emails in batch
-Click-to-call
-Support for multi-dashboards
Essential- $99 per user per month (billed annually) (billed annually)
– Minimum of ten users
-Improved Security
-Phone Support
-Dedicated accounts person
-Importing data
-Additional user rights for maximum access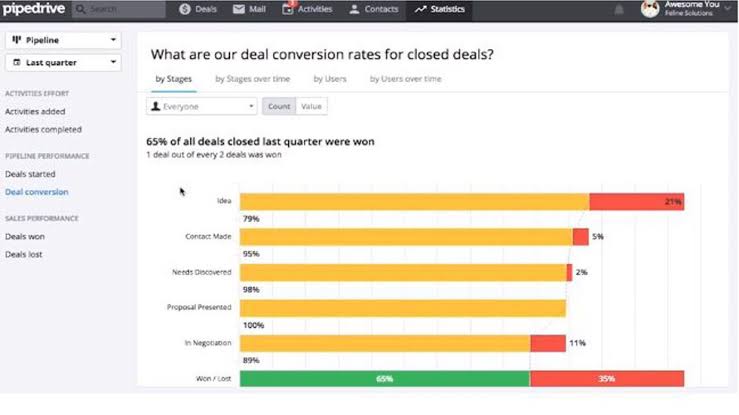 With a 14 day trial, Pipedrive CRM is free. Also, for Pipedrive, there is indeed a "Leadbooster" add-on for $39 per month ($32.50 with an annual contract).
The tool is billed per business. It is planned to turn more visitors to the website into leads. In essence, Leadbooster is a chatbot that communicates with clients with instant responses and making scheduling of meeting easier.
11. Oracle CRM on Demand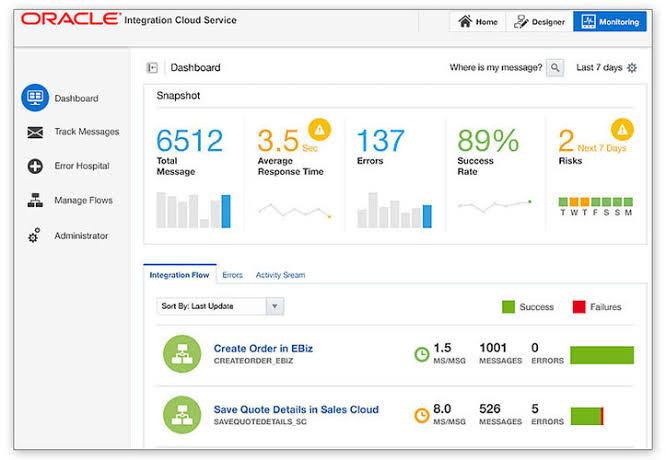 Oracle's Complete CRM solutions offer the widest and deepest capabilities that assist organizations to drive sales, marketing, loyalty, and service effectiveness.
Oracle CRM (Customer Relationship Management software) on Demand cloud services is a recognized market leader with over twelve years of experience serving millions of users.
Oracle delivers premium quality, end-to-end managed cloud services over its expansive business portfolio applications, hardware technologies, middleware, and database.
Oracle on Demand provides excellent automation of sales force and premium analytic capabilities with wide proficiencies to assist your organization drive sales, marketing, and improved customer service. It delivers a unified cross-network experience for all consumers.
Oracle offers a premium consumer relationship management solution with industry expertise in the human capital, automotive, high-tech, insurance, project portfolio, and supply chain, life sciences (medical and pharma), and wealth management industries with better, higher productive abilities for material business value from the beginning of the deployment.
Oracle on Demand has a full CRM suite of sales, marketing, and customer service tools, account, contact, opportunity management, and administrative functions such as calendar and task management.
The software also provides premium and insightful email marketing ability, workflow, acquisition tools, and lead management. You can Oracle is accessible through Microsoft Outlook and any mobile device for users not in the office or without internet connectivity.
Features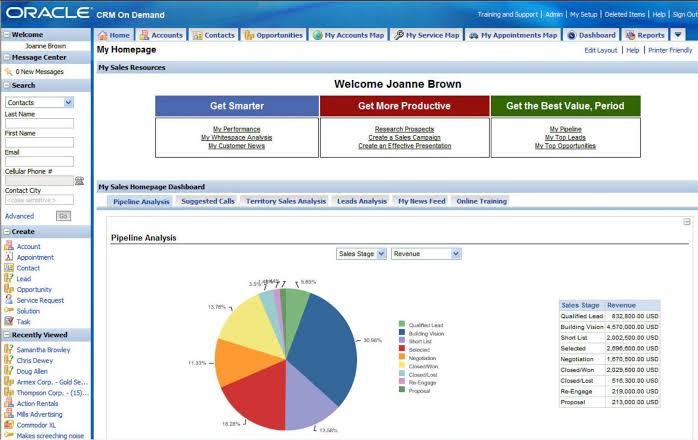 Easy to maneuver, Fast to deploy, Powerful analytics, Built-in contact center and can be accessed from one location, Pre-built industry solutions and reliability, Embedded sales, marketing, and service best practices, Seamless integrations, Seamless Microsoft Outlook integration.
Automatic two-way synchronization of data between Oracle CRM On Demand and Microsoft Outlook while creating reports tailored to your needs, Full-featured offline access, User-friendly formats and interface, Powerful customizations to add new objects and fields, modify UI layout and business rules for validation.
It is cloud-based and containing integrated, business applications that enable organizations to make decisions and manage costs of operations.
The suite includes a (CRM) solution designed to help departments of sales, service, and marketing make decisions guided by information and control costs and results. It helps streamline business processes and permits key divisions to draw references from the same source of data.
It's sales applications include sales force automation, sales order management, and channel management. Marketing applications include marketing automation, marketing resource management, and tradeshow management. Service applications include customer service, field service, call center, and self-service.
Oracle CRM On Demand appears in the following software guides:
CRM for Startups
CRM Software iPad CRM
Customer Engagement Platform
Online CRM Software
Small Business CRM Software
Pros
This program is good at keeping every information you require for different clients, projects, etc… all in one easy to use platform. It is time-saving and helps organizations. You can train new users especially if you are conversant with their other products. You can also integrate it into your business quotes to save the duplicate data entry.
You can utilize it to control multiple sales teams in different locations and there are no restrictions for integration with other platforms, especially with Ofice365.
Oracle promotes collaboration and teamwork, superior generation of reports, agile search for information including new opportunities and budgets.
Cons
As global enterprise software, Oracle On Demand can be expensive, especially for a small business. However, large businesses may not feel the weight. The user interface could use some updating as it appears obsolete. The workflows can be a bit complex for Beginners hence it needs simplification.
Oracle can do with the improvement of drop-down menus and icons.
The Software can be busy for the average user, depending on content requirements.
There should be more integration between the CRMOD and other reports/tools.
Internal support is needed as the interface is rigid and Workflows and mail notifications are deficient.
The mobile device experience should be improved.
12. Sugar CRM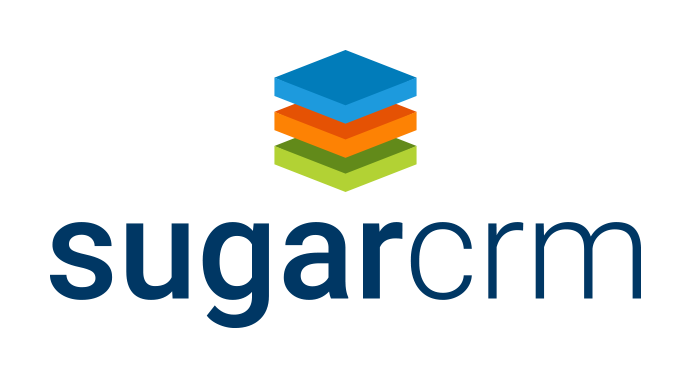 SugarCRM is a cloud-based software Like Bpm'online CRM, for handling sales, marketing automation, account management, and customer relationship management needs as the software is fragmented.
SugarCRM offers features such as customizable home pages, enhanced-view global search functions, and downloadable plug-ins, a new-user "wizard" tool for newbies, and a shortcut bar.
SugarCRM is developed on an open-source platform. This makes it easier to customize the solution to fit different company's needs. The software also integrates with different third-party systems and can adopt the new modules users can develop with the built-in tools.
The software can run on either a Windows or Mac operating system and supports Windows, Linux, MySQL, SQL Server, and Oracle systems.
SugarCRM is available as an on-premise solution. The mobile access can be adjusted according to specialized usage, and an offline client synchronization feature makes sure the data is not always obsolete.
SugarCRM Community Edition is good for music. It's reliable and has enough functionality to enable data-keeping. It is a self-host platform, using the small-scale workflow, it can be installed and maintain with your Web server.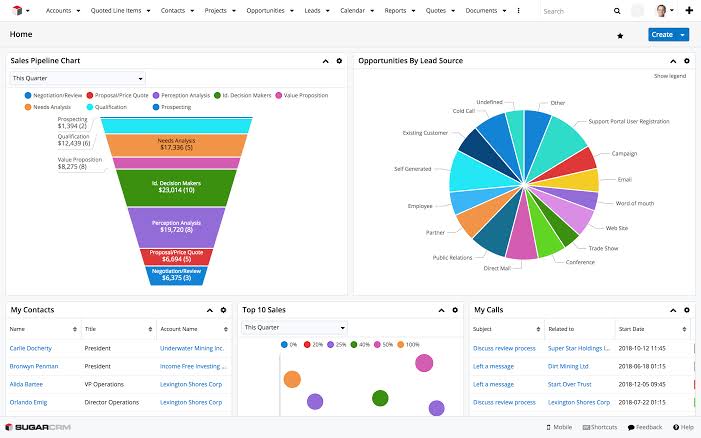 SugarCRM Pricing
SugarCRM has one big pricing caveat: a minimum of 10 users for each of the paid versions, which means you're looking at a minimum price of $4,800 annually.
SugarCRM, unlike Apptivo, offers many customizations, but the app doesn't have a minimum user requirement. That said, SugarCRM is undisputed when it applies to fully incorporating the software into your enterprise and custom branding.
Contacts, Leads, and Deals
SugarCRM opens up straight to the Accounts page, but you can navigate easily to other areas using the navigation menu at the top of the screen, this includes emails, contacts, opportunities, calendar, leads, and documents.
There is also a drop-down menu for each option, where you can create a new entry or document, import data, template emails and emails, and view reports. The navigation menu to the left has the
SugarCRM symbol with a drop-down menu to watch the stream, chart, workflows, and other options for your operation.
The activity stream displays CRM additions and edits and in the activity stream, users can upload, comment, and mention each other. You can import data from another contact manager, such as Gmail, from a CSV file.
Without moving away from what you are working on, you can add and edit entries as another panel opens to overlay the screen.
SugarCRM uses the hint extension to concentrate on tackling the difficulties that employees encounter using CRM and to appreciate its power as a tool, instead of thinking of it as extra work.
This extension searches different data sources to enrich contact and account entries, save time, and the stress of manually entering data. Users can then authorize findings field by field or together. In order to give salespeople a fuller picture, Hint can add data such as education and previous jobs.
In addition to basic information such as their personal address and email, when you see a contact, you can also see any new information found by Hint if you have signed up, as well as forthcoming calendar appointments and calls.
The right side of the screen displays the dashboards that you made. You can add several dashboards with Sugar Dashlets that pull in the necessary information, such as active tasks, prediction maps, and communication history. The calendar of SugarCRM will integrate with Microsoft Outlook and Google Calendar.
In the smartphone app, you can do everything you can do on the desktop app. You will have the option to sign up. If you like, you can use your fingerprint reader to sign in to the app. Users can use it even offline, which is handy, much like Zoho CRM's (go to Zoho CRM website) software.
Reporting and Integration with third parties
SugarCRM has strong information and data analytics capabilities, enabling you to create numerous dashboards, produce forecasts, and generate reports with visual representations of your data.
With a wizard, users can easily generate reports, scan in real-time, and plan regular delivery. It is possible to export data reports to CSV files as well.
In the lower right corner of the device, the app has built-in web support and Assistance and Support links. You have access to community forums and their interactions are recorded by users.
There are still webinars and live classes scheduled. SugarCRM has a Sugar University, where you can have access to certification courses and training materials.
Account-holders of SugarCRM Enterprise gets 12/5 phone and email support (Monday to Friday). Sugar Ultimate customers get 24/7 phone support is available.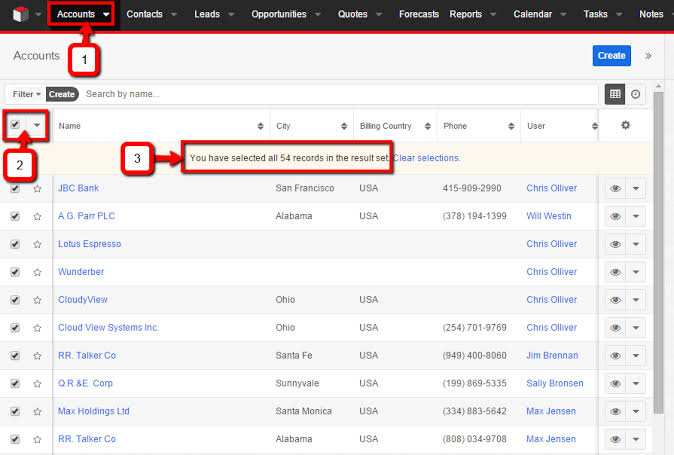 Pros
I used SugarCRM CRM for a business enterprise. It poses features that are similar to Salesforce Classic. It's a fantastic tool for monitoring client data, deal tracking, etc. You as an individual can easily self-host the platform and it is cheaper than a paid SaaS solution.
Cons
SugarCRM Community Edition looks outstayed. If you are less experienced with the typical CRM data model concept, it can be difficult to figure out how to work with the system.
The interface could be modernized to make it less difficult to traverse and find your way around. Another downside to the Community Edition is that one needs to learn how to install and maintain the platform on one server.
13. Reflect CRM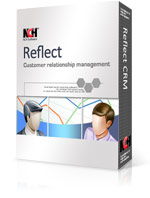 Reflect CRM Software enables businesses to monitor customer relationship information, interactions, notes, tasks, and events. Contact management helps businesses have better knowledge about their customers and build stronger relationships with clients.
NCH CRM is offline, and you can check on different activities locally on your computer without Internet connectivity. The setup size is not overwhelming and does not have much space on the hard-disk. You can generate custom reports with the software
Review:
Reflect CRM is a free software that comes pre-packaged with all of the standard features that you would expect from a CRM platform, including lead management, reporting, and a deals tracker.
Reflect came out the tenth on our benchmark list of free CRM platforms because some common features like a G Suite integration for Google users, an app for mobile devices, smart forms, and Kanban visualization is missing.
Reflect cannot also send bulk emails, send email notifications, manage teams, and have the files attached, and generate sales reports.
In all this, I found Reflect useful in the area of support for many sales pipelines, which can only be found in high-ranking options like Freshsales and Bitrix24. However, Reflect CRM does not offer the advanced features that Bitrix24 offers, such as call transcription, web conferencing, and multi-channel messaging.
Reflect CRM lacks mobile access and this is a significant limitation though it is a good option for sales teams with basic customer relationship management needs.
It is also too restricted to be used for email marketing, but as a simple sales/deals tracker, it is an effective solution with no cost. Businesses with more complex CRM needs should try Hubspot, which is also free and has double the amount of features offered by Reflect.
Pros
Improve customer loyalty and retention
Increase ROI on marketing campaigns with better targeting
Enhances cross-selling and up-selling success
CRM Customer Software merges customer information across enterprises to Assist in enhancing the happiness and loyalty of customers.
This gives companies more clear insights into their customers and clients, and lets front-line workers make decisions that are quicker and better educated.
Reflect CRM Key Features
Filtration of data easily to generate customer reports
Storage of to-do items, notes, and events linked to a customer
Install and run customer relationship software in less than 60 seconds
Set reminders for events, such as phone calls or meetings
Import customer information from a .CSV file
Print, fax, email, or export reports to PDF
Supports multiple users remote mobile access and web access mode
Very easy to use for the day-to-day operation
Run multiple businesses from one installation of Reflect CRM Software.
It works on Windows 7, XP, Vista and 64 bit Windows, Mac OS X 10.3 or later
Starting Price
$1.38/month
14. FreshBooks
Pros
-Double-entry accounting
-Excellent user experience
-Elaborate client records
-Team collaboration and time tracking tools
-Estimate and retainer functionality
-Inventory shadowing
-Proposals and projects support
-IOS tracking mileage is automated
Cons
-Setup needs assistance
-Some dashboard deficits
-Restricted invoice customization
-Mobile apps lack some site features and interface excellence
-Lack of quarterly tax estimates
FreshBooks started as an invoicing solution. Over the years, it has widened in scope and grown into a popular online accounting service for sole proprietors and startups. Its fame extends too small to midsize businesses.
The updated version dropped out Many functions in "Classic" FreshBooks, although they tend to be reintroduced over time.
The updated version of FreshBooks is the best choice for the smallest businesses because of its effortless usability and aesthetic features. The freelancer category makes it the perfect choice for editors.
FreshBooks Pricing
FreshBooks The Lite plan is available for $15 a month, and five customers are billable for this.
The Plus plan allows you to bill fifty customers for $25 per month, and you can bill as many as five hundred clients with the Premium plan for $50 per month, but I believe there should be a plan between Plus and Premium to be able to bill fifty to five hundred customers like two hundred and fifty customers.
You can Custom price above this level. Also note that Both plans offer the same benefits, regardless of the number of customers served, and you can enjoy a 30-day free trial at any stage, too. FreshBooks is a tad expensive when compared to other software of its like but the features are worth the cost.
Key Features in the Updated FreshBooks
FreshBooks' site has undergone some very significant changes. Essentially, FreshBooks is now staying true to the double-entry accounting rules, the industry-standard method of bookkeeping used by accountants and other websites for small business accounting.
An Efficient User Interface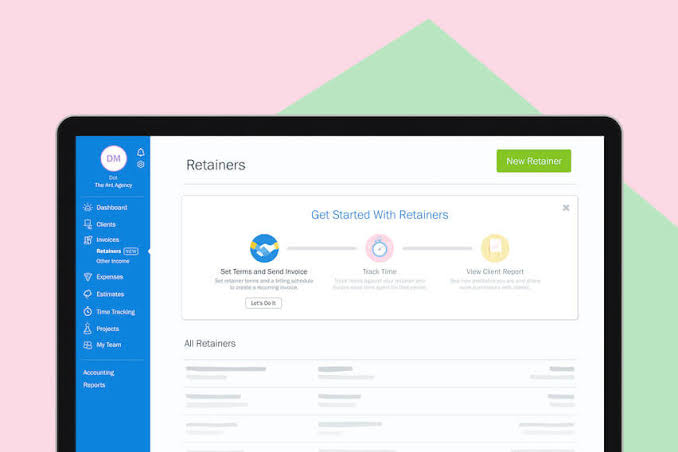 Also, FreshBooks has strengthened its training schedule. It asks a few fundamental questions about your company first (such as what you do and how you bill). You supply your contact details and are encouraged to allow members of your team to set up accounts.
Then, you are dropped into the main site by Freshbooks, where you encounter a box with three setup steps.
One of these boxes is to personalize your invoices, limited to two templates, logo, background image, options, and two fonts. Adding of logo is not manual and I had some difficulty while adding a particular enterprise logo. Other sites make this automatic. To fill an oblong box, FreshBooks takes your file and uses it.
You're on the web's Dashboard when you close the setup box, with no more help on how to get started. Wave and Xero have much better onboarding tools that direct you through multiple phases of setup.
The Dashboard gives you a simple rundown of the financial status of your firm. Five charts are shown there. Outstanding Revenue shows you who is behind on payments and who the debtors are. Full Profit gives you the present number of profit or loss. You may alter this graphic's date range. Revenue Streams and Unbilled Time dashboard.
You have different help links and a page that explains what is new in FreshBooks. Links in the upper right will take you to pages where you can invite team members, as an account manager, to build new records and transactions at different permission levels.
Unfortunately, you have a lot of scrolling to do to see the maps, and there is no list of what to do, just as in GoDaddy Bookkeeping.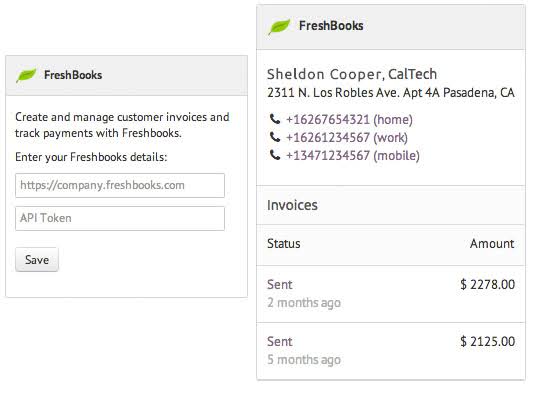 The core area of the tool includes Dashboard, Estimates, Clients, Invoices, Projects, Payments, Reports, Expenses, Time Tracking, My Team, Add-ons, Accounting, and Integrations.
Click the link above this list, next to your company name, and open the site settings. Here you can, for example, add additional businesses, contact support, create item and service records, and integrate third-party apps.
Overall, FreshBooks has the simplest, most intuitive, and most beautiful screen displays of all the services we have reviewed in this article.
It's easier to read at glance than Freshsales, but this is not the same as the old FreshBooks interface. Fortunately, FreshBooks offers plenty of guidance, including a searchable help database and email and phone support.
FreshBooks Pricing
Five clients are the upper limit. Fees for FreshBooks are based on the number of clients you stipulate as active. If you add a new client during the invoicing process and you previously had five active clients FreshBooks will bill you.
You can add additional companies, contact support, build item and service records, and incorporate third-party applications here, for example.
Of all the services we checked in this review, FreshBooks has the easiest, most responsive, and most exquisite screen displays.
It's simpler to read at a glimpse than Freshsales, but it's not the same as the old interface of FreshBooks. Thank goodness, FreshBooks provides plenty of advice, including a directory of searchable help and email and telephone support.
Directly below each item's cost, there is an Add Taxes link to establish your sales taxes from your invoice. Multiple sales taxes from the window can be described. To add those taxes to all line items on the invoice, you can either check a box or individually allocate them.
FreshBooks does not specifically align with a sales tax service such as the gold standard Avalara, but, like most of its rivals, it handles sales taxes even without this. The Sales Tax Overview report will assist you in filling out any applicable reports that are required.
Context-Sensitive Settings
Settings that are context-sensitive are unique to FreshBooks. This context awareness is a fantastic feature because it saves time and reminds you of great choices. For example, you can turn to a different type of invoice.
At particular intervals, you can also make the invoice recur, either automatically or manually, and set up online payments. Additional context-sensitive settings appear after you save an invoice.
FreshBooks Remarkable New Features
The current version of FreshBooks is easy to learn for beginners. FreshBooks' design is phenomenal and its navigation tools are intuitive. I recommend you email the company before switching from FreshBooks Classic to the new version, to ensure your basic features are intact.
If you are a freelancer that wants to manage your money well, you need FreshBooks for its exceptional invoicing and time-tracking tools, expense-management, client records, and reporting.
You need easy navigation throughout the site and FreshBooks user interface is the best of its class. FreshBooks is the Editors' Choice for accounting for sole proprietors, freelancers, and very small businesses again. However, FreshBooks is not the best for larger and more complex business needs.
15. BaseCamp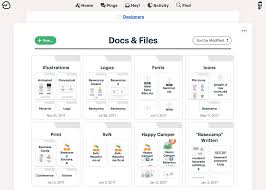 Pros
Not hard to set up and flexible
There is a flat monthly price for unlimited users
Supports integration with a broad variety of apps and services
Cons
Communications can feel isolated
Reports are limited
No proofing tools
Basecamp is an online collaborative app though some people will see it as project management software that allows people to manage their work as a team and communicate effectively within themselves.
It is used to monitor tasks, files, announcements, deadlines, and discussions, that occur during work. Its flexibility, lack of Gantt charts, and some other differentiators make it a collaboration app.
It's more like a virtual hub for teams and organizations. Basecamp is exceptional at what it does, and large teams can easily afford it.
I don't see Basecamp as a project management software because project management programs differ in the way they let you keep track of multiple projects at a time elaborately, paying attention in particular to deadlines, progress on tasks, and workloads.
Any good project management software allows you to know when a deadline is in danger of slipping before it happens. If someone misses a deadline, a project management software lets you change all the following task deadlines that relied on the one that slipped.
From 2004 to 2012, Basecamp has come and undergone some changes. The earlier version is called Basecamp Classic and the latest is Basecamp 3. In this review, I will be referring to Basecamp 3.
Basecamp Pricing
For unlimited team members and unlimited tasks, a Basecamp account costs $ 99 per month or $ 999 per year. Basecamp Personal is the free version of Basecamp, which allows you to manage three projects with up to 20 people, however, the account doesn't include all features.
What makes Basecamp stand out?
You can't compare Basecamp with other products because of its unique niche. Its work management and communication are balanced evenly unlike some apps that are heavy on workplace hub and light on communication or task management and vice versa. Workplace by Facebook, Air table, and Asana is guilty of this.
Getting Started with Basecamp
Basecamp runs on Windows, Mac OS, web browser, Android app, iPhone app, and iPad app. Basecamp takes a few minutes to set up. You pick an organization or team name for your account.
You also enter your name and title as you would like them to appear. Basecamp asks if you wish to set up spaces for common types of projects, such as product launch, an upcoming event, or redesign. Whatever you pick will automatically be added to your account.
In this account, there is a homepage with a few cards in three groups: Initiatives, Teams, and Projects. The view can be in card style or list.
To help acquaint you and give you an instance of how your account could look till more people enter it, you get a dummy team and a dummy project. You can uninstall it or archive it when you want to get rid of the dummy content.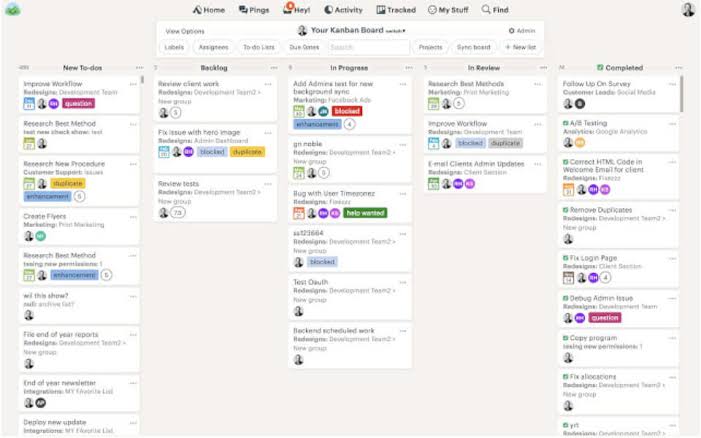 For Projects, you can develop a template if there's a particular type your team works on often. Note, however, that creating a project in Basecamp differs from creating one in a traditional project management software. Basecamp's process is more straightforward. It only needs a name and a description.
With other project management tools, you usually have to pick a start date and also an end date but in Basecamp, you surely could mark those dates on the calendar that comes with every project, but you wouldn't see the consequences of missing a milestone.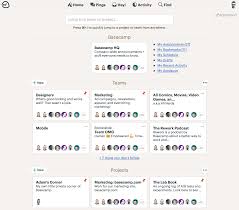 What happens in BaseCamp?
You handle assignments and deadlines, connect with each other, upload files to share, and otherwise work together.
You can go to the cards or list things you see for the projects and teams you belong to from the homepage. You have a second set of cards within each project, showing places to go deep into another layer.
Depending on how many you like, these cards can vary. You may get them personalized. Message Board, To-dos, Schedule, Docs & Data, Campfire (team chat), and Automatic Check-ins are all choices.
Docs & Files is where you upload files for your teammates to share and discuss with them. Rich text documents can also be accessed on the spot.
They are shown as thumbnails with captions when you import image files, if applicable. Anyone in that room will be able to comment on the files, update them, upload new copies, and access their activity history.
But to explain what you may not be able to clearly describe in text, you can not insert or draw on image files and PDFs.
You will not accept or score a file from a collection of options, which can often be helpful when uploading different versions of the same document and asking people for input.
Basecamp Remarkable Features
Basecamp is also highly isolated. Because you will always find yourself in spaces and then sections within the spaces, it's easy to feel like you're always running down a rabbit hole.
Higher Level Views
A section called 'My Stuff' makes for higher-level views. Here, you can see a list of all tasks assigned to you, regardless of the project, as well as everything on your calendar and a list of all your recent activities. Jumping between projects and conversations can get tiring.
Reports and Time Tracking
Basecamp has fairly basic reporting tools. You can generate reports for overdue tasks or tasks assigned to a particular person, but you don't get anything deeper than that.
Highly Flexible Collaboration
Basecamp as a collaboration platform does your work without much ado. It's easy to set up and use. Anyone can be invited to join.
The freeform feel of the software makes it a better choice in dissonance with other collaboration apps that are more structured, like Airtable and its databases or Trello and its kanban-style workflows. The most important thing about Basecamp is understanding what it does and doesn't do.
16. Trello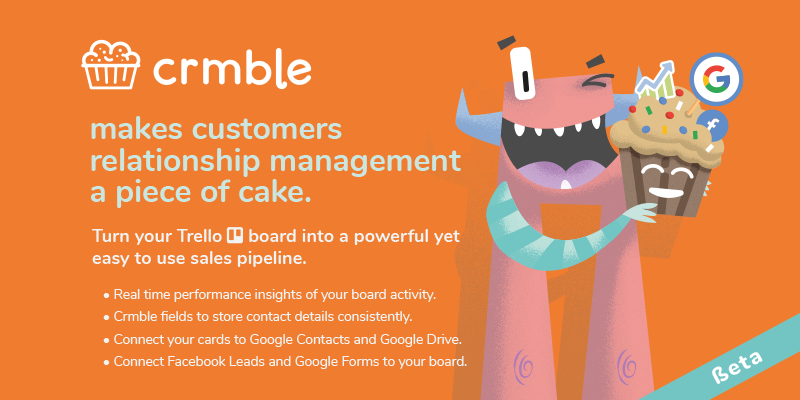 Pros
Flexible and customizable kanban app
Available in desktop and mobile apps
Intuitive interface
Cons
No Gantt charts, time-tracking, progress reports, or billing functions
Trello is an attractive, fun, and insightful app that assists people collaborate around work. The biggest challenge to utilizing it is deciphering whether it is the right kind of collaboration app your business needs.
Trello is best described as a kanban board app, a software category that's best for organizing, coordinating, and tracking work as it navigates through a workflow among a group of people. It isn't best suited for traditional project management. Its giveaway is its ease of use and ability to share Trello boards with outside collaborators.
Pricing and Plans
Trello once has a Gold option plan. Presently, it has just 3 plans, Free, Business Class, or Enterprise account plans.
There is a Trello Free account and you can use it to make as many personal boards, cards, and lists as you want, though not more than 10 team boards.
File attachments have a maximum limit of 10MB size, and you can't integrate your account with other apps. You also have only one power-up per board.
The power-up concept is what stands the free account out from the paid accounts. Power-ups are à la carte features that you add to your Trello boards.
With majority business software, you pick a tier of service based on the feature set offered at each level.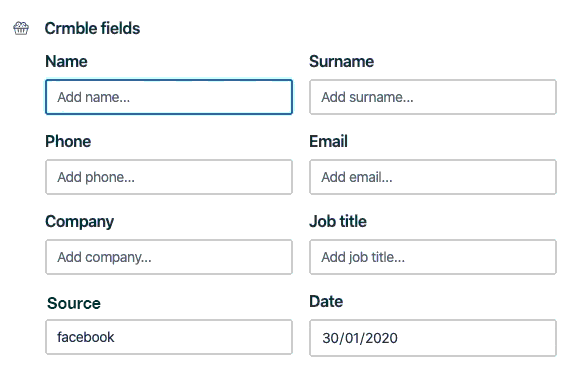 What Is Kanban?
Trello offers Kanban-style functionality. Kanban is a methodology for organizing, tracking, and managing work. Imagine that you want to manage a work to-do list using a poster board and sticky notes.
You might start by making three "lists" as Trello calls them, labeled to Do, Doing, and Done. You can then write on the sticky notes activities that must be done and add them to that first list.
Getting Started with Trello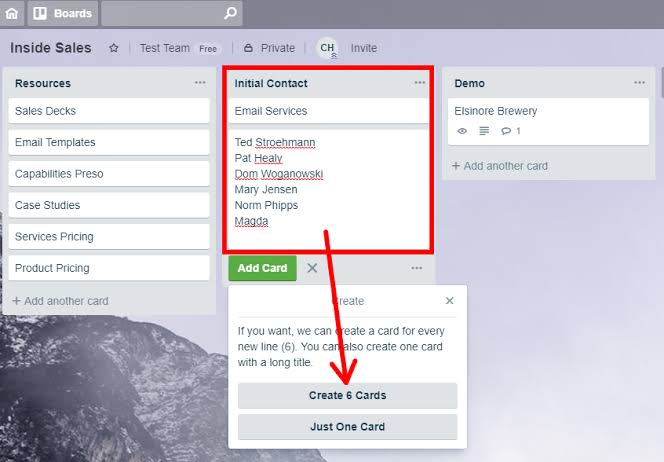 As with any kanban board app, Trello lets you create custom boards. You can create boards with as many columns (lists) as you like, and you can name those columns as you wish.
The columns contain cards. Trello's cards can be detailed. You can put the name of a task, assignee, subtasks, due date, description, hyperlinks, attachments, labels (same as tags), and more.
Automation
One of the recent features in Trello is the ability to create automation, otherwise known as command runs or Butler. The rules of the board in Trello is following one action (called a trigger) with another action, and it's the same action every time. When that's the case, you can create automation.
Features and Power-Ups
Color-coded labels are another tool for organizing cards, though I find them to be a bit of a letdown. Each label requires a particular color, which means you will run out of easily identifiable colors fast after maybe 10 or so.
There is an option to enable patterns for color-blind users. But this option does not use keyword tags as labels, the tags would have added more ways to search for, sort, and filter cards.
Another step to getting started is to invite people to join your board if you want to make team boards. You can also use Trello for personal kanban if you want to privately organize your own tasks and workflows.
Flexible, Visual, and Light
Trello is a collaborative and flexible app for managing work and workflows. Due to its flexibility, Trello may need some experimentation to know how to best use it for your team and the workload you manage. New templates reduce that burden though, giving you suggestions on how to get started in different contexts.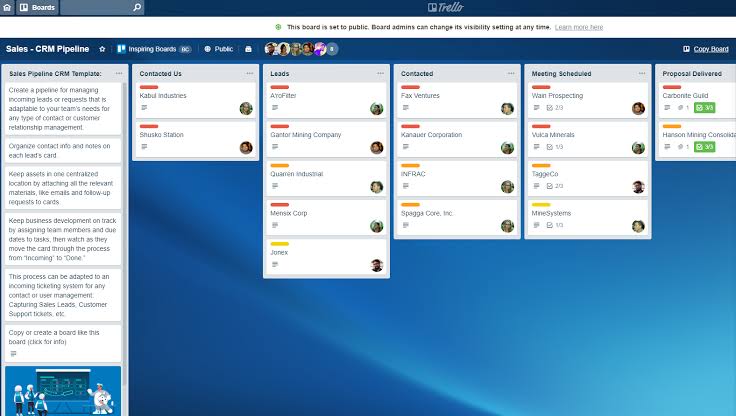 Trello is a great collaboration tool when you don't require a heavy-duty project management app. It's also a bit lighter than Asana, which gives you an interface that you can utilize for more than just kanban boards.
17. Asana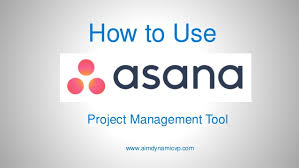 Asana is a top-notch collaboration tool that helps teams manage all kinds of tasks. Although it may be confusing at first, its flexibility and vast capabilities are well worth the initial effort it takes to get started.
Pros
It has a flexible, fast, and modern design
Capable free version
It is feature-rich
The New Timeline view makes it easier to manage dependencies
Cons
It is not ideal for graphics-intensive work
Productivity enthusiasts love Asana and for good reason. Specializing in process management, this online team collaboration tool also tackles the nitty-gritty of task management with aplomb.
This does not involve native time monitoring or other specialized resources for full-scale project management that I hope to see. But it's a versatile and elegant method to handle tasks and workflows that you can twist to your requirements.
Asana has four tiers of service: Basic (free), Premium ($13.49 per person per month), Business ($30.49 per person per month), and Enterprise (contact the company for a price quote).
The prices increased slightly in 2019. For the paid plans, you get a discount for paying annually. Small teams of 15 people or fewer who want more than the Basic account can get a discount on the Premium plan.
A few drawbacks come with the free Basic account. You don't get the Timeline view of Asana, which is basically Gantt maps. Start dates, task dependencies, deadlines, forms, custom fields, progress view, advanced search and reporting, portfolios, and a couple of other features are also not available. Free accounts come with all the key functions of task management,
Asana Business costs $30.49 per consumer monthly or $299.88 per person yearly. This tier of service is billed as for groups that "need to manage work across initiatives." Think about big organizations.
With this tier of service, you get everything in Premium plus Portfolios, Workload, Proofing, the ability to lock custom fields, an option to integrate with Adobe Creative Cloud, and a custom rules builder. The custom rules builder is another way of saying automations.
What Is Asana?
Asana is a management framework for workflows that you use mainly to execute tasks. As it lacks structure, it varies from the conventional project management software. Asana can be equated to a deck of cards, whereas a board game is likened to a project management program.
A board game with its sequence of preset rules is usually played, however, it is doubtful that players would wander too far from the rules, provided that certain changes are usually agreed upon periodically.
Asana maintains track of who is responsible for what task, the details concerning each task, and any other information related to the success of the task in more precise terms. It may be difficult to set up Asana, but after that, you can appreciate its open-ended nature.
What's the latest in Asana?
With annual updates, Asana supports its clients. One of the new improvements is the building automated custom rules builder. The list view is also grid-like to make things simpler to read results.
The update makes it easier for you to add new columns, display up to 20 custom fields in the project's main display, and conceal fields you wouldn't want to use. Recent Admin Console updates make it much easier to handle team accounts and get instant insights into the activities of team members.
Asana is innate but structure-less, and without a decent dose of prior planning, it makes it difficult to plunge in. With Project Models, Asana does provide some assistance with structure, but the prospect of translating an organizational format in a way that is sensible could be overwhelming.
Privacy and security
Asana uses at least the TLS 1.1 protocol to secure connections to its site and hosts its data in "secure SSAE 16 audited data centers via Amazon in the US." Asana also provides a bug bounty program for the service to report vulnerabilities.
The American Institute of CPAs recently granted SOC 2 Type 1 certification to Asana. As with Slack, via an online dashboard, you can also monitor Asana's status.
Asana look and feel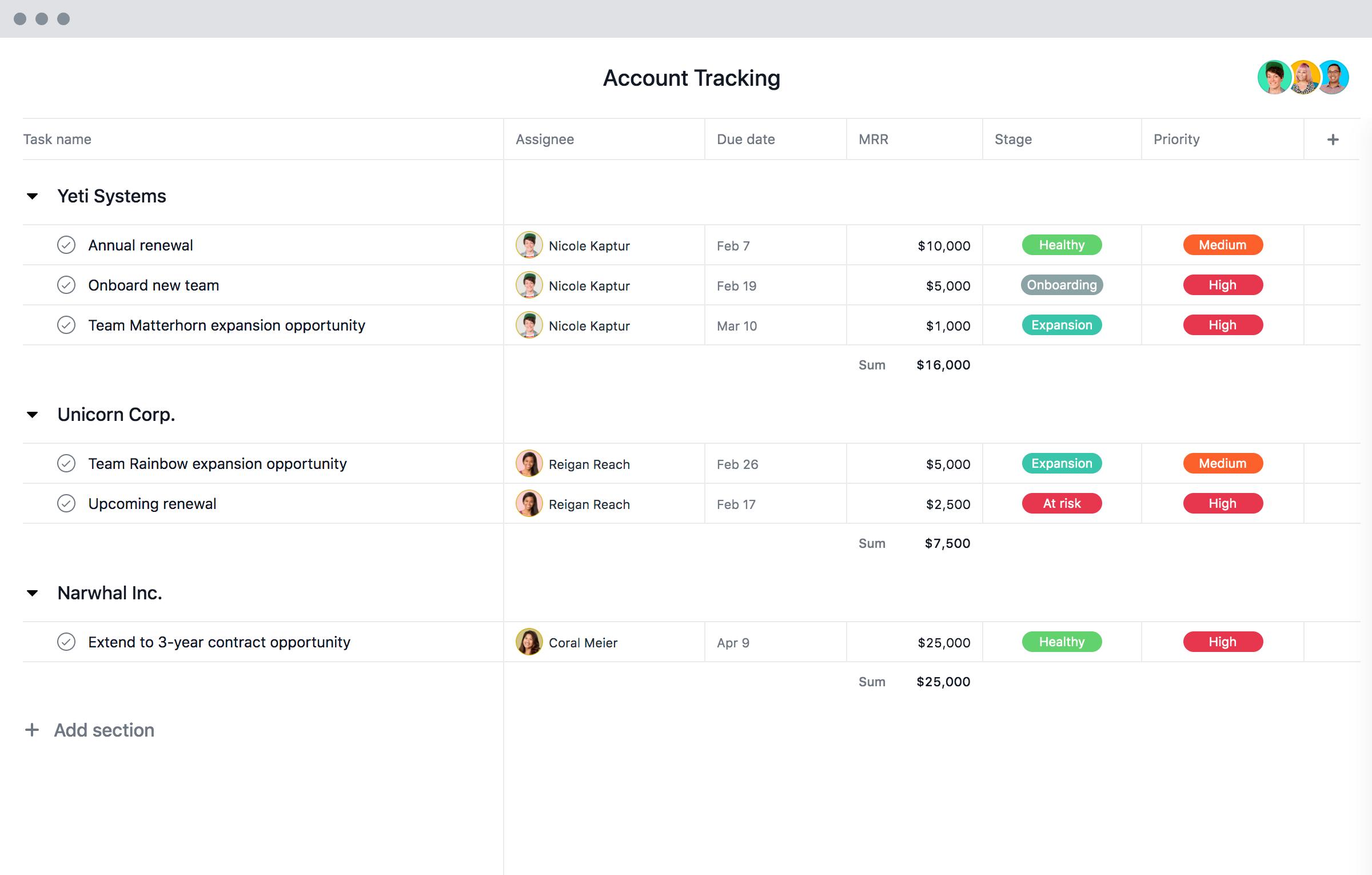 Asana is available on the web and through the Google Play Store and the App Store, but it does not offer a desktop app. Desktop versions are provided by some collaboration applications, such as Slack, but this is not a big deal.
Asana web interface is powerful and responsive, and has enough color and design without being cluttered, making it interesting and attractive. It has celebratory animations that appear from time to time on the screen, and if you don't like them, you can disable these extra effects.
In its settings part, Asana also includes a series of keyboard shortcuts called Hacks, which add different kinds of functionality and personality.
Your major choices are Home, My Projects, Inbox, and Dashboard, from top to bottom. Based on the global settings of your workspace, these options may differ. 'Home' is a new section showing your favorite and latest projects, while 'My Tasks' displays all the assigned projects to you.
Asana integrates a calendar that you can use to monitor the deadlines as well. Asana does not joke about its customer reviews and has reversed the update, and is working to ensure that, in addition to performance enhancements, legacy features are retained.
It is frustrating that, while it integrates with Slack and Microsoft Teams, Asana does not provide chat functionality.
Asana includes a space called 'Conversations', a message board on which team members can address problems that are not explicitly related to any specific task with each other. Asana now has a Board view, designed to give teams a way to coordinate work using kanban.
Search and Reports
Stellar and advanced search functionality is included in Asana. At the top level, you can decide whether you are looking for a task or conversation when compiling for a term. Additional default fields include: Assigned to, in projects; and Followed by.
Asana Mobile Apps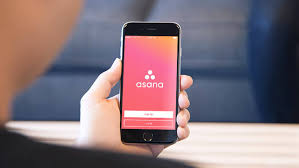 For Android and iOS, Asana provides free smartphone applications. Installed on Android running Google Pixel, it had no trouble installing the software and synchronizing to an account.
The app varies somewhat from the internet, but its clean look is maintained by the Graphical User Interface, for example, instead of on the left, most of the navigation links and structures are on the right-hand side of the screen.
In its free edition, Asana's thoughtful architecture, fluid interactive components, and generous member allotment make it a strong task management app for private projects and small teamwork.
It is also commendable for its all-encompassing feature set, versatility, and variety of workflow views. While it's a little costly and can initially cause some stress because of its lack of structure, it's worth using.
18. Todoist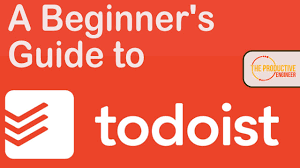 Pros  
It has a nice Graphical User Interface.
It has support from cross-platform
Functionality offline.
It is embedded with outstanding functions such as feedback in natural language and reports on efficiency.
It has collaboration features.
Cons
Some essential features that free users do not have access to.
Todoist is without a doubt the best to-do list app, it lets you plan on all your activities, works on all devices, and has great features to keep track of productivity. This app is available on various devices.
It is reliable and very easy to use. The free version is good, but the Premium level is on another pedestal. It's a good thing to organize your task and that of others. It's personal task-management and lightweight features are also admirable.
Todoist Pricing
Todoist has three versions: free, premium ($36 per year), and business ($60 per person annually). The software administrators give discounts to people in education and non-profit institutions.
The free account offers a considerable experience for its level, but it retains some of the features you might want, such as reminders, labels, filters, and the capability to comment on tasks and upload files.With a free account, you can work with others, at most five per project, and handle at least 70 projects.
The other tier is Premium at $36 annually. You get all the best features with the premium version.
Everything that is restricted to free members is made available to you including support, activity log, syncing of a calendar, automatic backups, productivity reports, forwarding of emails automatically, premium themes, and project templates. You can handle up to 250 projects and work with 20 people on each project.
The business version is the final tier. It costs $6 per person monthly but if you pay annually, it comes down to $60. You can handle 600 projects and work with up to 50 people on each project.
The business version comes with admin and member roles, central billing, team box, priority support, and other advantages of the Premium account.
How to start Todoist.

In Todoist, all your tasks and notes are synchronized automatically to any device you use with the app this is because Todoist is cloud-based. The offline app can be used to sync your adjustments later. Todoist is on Windows, iOS, Android, macOS, Apple Watch, and web version.
Todoist reeks of a lot of functionalities and features, but you can never feel intimidated by them because of its basic and simple looking user interface. Todoist is not slowed down with buttons or drop-down menus that are unusually stretched outs.
On the first usage, it won't be hard for you to know how to use Todoist basic functions like creating tasks, commenting on the app, and scheduling dates. As you use Todoist, you will become conversant with it.
To set up Todoist, you have to start by creating your first project. You can differentiate the projects by colors.
After this, add a task to the projects, priority rating, due date, comments, and other details you need. Inside tasks, you can have subtasks. If you want to create subtasks, write the subtask as if it were like any other task, after this, drag and drop it below the main task. It is easy to remove subtasks and disengage them from the main task.
Key Task Features
Reminders and labels can be added to tasks that have similar functions like tags in other apps. You should not forget that this is in addition to ratings, due dates, and comments you initially added.
As you have set up the Todoist account and have a created some tasks, you can create a customized filter or display of task which meet certain specifications.
Todoist has some decent reminder suggestions. You will see notifications for emails and some notifications for specific devices like SMS alerts, push notifications, and reminders based on locations.
While setting up due dates and dates for repeating tasks, Todoist allows the use of natural language. If you want to repeat a task every day, you can type "ev day" next to the task name, Todoist will create a new task for it every single day.
You can share a sports or recreational list with someone or tag-team a family project from beginning to end with Todoist. If you want to use Todoist to collaborate, first of all, invite collaborators to your project.
They will now sign up for a Todoist account, though there is no need to upgrade to Todoist Premium. Alerts you receive can be customized; should you not want to know every single change that your collaborators make to the projects.
Todoist Extra Functionalities
Todoist design is attractive and very functional, It improves when you pick a theme or color that you love. Color options are available on Todoist though not much and they are all solid colors.
If you want background images or any picture with more styles, you have to import them yourself. Todoist have a dark theme with inverted colors you can use if you are having eye strain. Todoist has an automatic Scheduler for users who constantly don't meet deadlines and have to reschedule tasks.
Todoist backups data automatically. If you explore this, you will see a backup list with dates and labels. When you download the files, you will get a Zipped file that has a .CSV file for every one of your projects from that time of creation and date. You can use it to restore your data or move it to another application.
You use the Todoist template gallery to set up projects. It has a template for projects that covers a lot of topics ranging from personal projects, apartment change, to work-related tasks, like a PowerPoint presentation.
You can use the Todoist Premium account to monitor your activities and generates a report on productivity that is updated every day. You are also given a score, called a Karma Score. The Karma score feature is used to set a goal for the daily number of tasks you hope to complete.
Todoist Integrations
Todoist does make an app that all major platforms use. It also provides various plugins and integrations. They make it less difficult to input tasks to your to-do list from another application.
To use Todoist or No?
You can never go wrong with the Todoist paid Premium version because it is one of the best apps with a lot of features that I have come across.
The simple and functional user interface makes it easy for collaboration support from other apps of different platforms so that you can easily access your worklist no matter your location. Todoist is quite a premium choice.
19. Evernote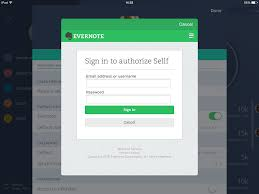 Evernote is a very impressive note-taking app, but because it is expensive, it leaves potential new users wondering if the features are worth the price. It may worth it for dedicated users, but new users should try OneNote too.
Evernote can't be dispensed with because of its features like writing down notes and utilizing them for the work you are doing and syncing it across all your devices seamlessly.
Evernote has always taken a high place in note-taking, however, it is expensive, guts its free trial, it does not answer the key concerns of its users.
Even so, it is tough to locate a service that does what Evernote does in terms of features, which makes it remain an Editor's Option. For many, the high cost is a deal-breaker, and the free trial for most is insufficient. The Business or Premium Account is needed to get the most out of Evernote
Remarkable Features of Evernote
You either get Evernote or fail to comprehend it. It's neither rigid nor closed up. Evernote Company blog dolls out tips will help you understand how to use it. In furtherance, when you're using it more frequently, it gets better. But you may never understand, appreciate, or trust it unless you fill it with notes.
In summary, Evernote is used to put down all your files, thoughts, observations, voice memos, photos, data, and everything you post to record, archive, save, organize, and scan.
Every action is hosted in the server so that from your device, smartphone, or laptop you can get to it. It provides a fantastic search feature that helps you to locate anything that you upload to your account.
Evernote provides a range of tools, like tags, geographical location tags, journals, and collections of notebooks, to sort and locate your notes in different ways.
How is Evernote Designed
Evernote has Windows, web, iPhone, Mobile, Android, macOS, and iPad applications.  Every browser supports the web app and that's an essential feature. You can access your website with a web app.
Evernote utilizes rich formatting, and this has been improved in the new iOS release and hopefully in later versions of other OS.
The Menu lets you change the typeface, point size, alignment, and so forth. Some people find formatting distracting, and if you aren't comfortable, find an app that supports Markdown language.
Features in Evernote
Evernote has several advanced features that most other note-taking apps don't have. It is remarkable to note that you can search for text and find it in images, whether those images are snapshots of a page of typed text or contain handwritten text.
Microsoft OneNote can also do it, and few other note-taking apps can. The note-taking feature is an incredible function, although it's not confirmed over time.
The Search feature in Evernote works so well so searching for files in Evernote is not a big deal.
You can always search for text anywhere in the app even if it is in the image. For Premium and Business accounts, Evernote also searches the text inside attached PDF and office files.
To narrow down your search to a particular file, you can search in only selected notebooks or stacks of notebooks or side notes that do not have a specific tag on them.
Premium and Business users have this special feature known as Context.  Context examines the content of your notes, including the text and metadata, and goes ahead to recommend relevant notes related to the context and news stories.
Context suggestions sometimes can be a distraction you while working with EverNote, well, this largely depends on how you use Evernote activity and what you do with it.
You can still disable the Context or you can tailor the recommendations to what you like and for them to come from the particular sources you want them to.
I wasn't too conversant with "Conflicting Changes" features but if Evernote finds out that something is not right in a note because of a syncing problem, it informs you of this and creates a folder called Conflicting changes and save copies of the note to that folder.
In terms of features and functionality, Evernote is one of the recommended apps for note-taking and syncing, that is why its Premium and Business plans is still a noteworthy choice for editors, though free users may not find it too good.
If you get conversant with Evernote, it will be hard to quit and because of its great features, it's an app you will easily stick with. in addition, a new IOS app is rolling out in Evernote, and new revamped apps for all the other operating systems. You can always give Evernote a try.
20. Airtable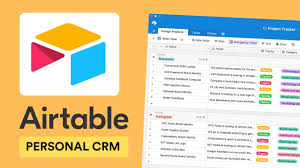 Pros
It has a User-friendly and light interface
Its services integration is large
Its selection of views is cool
Excellent collaboration and support features
Cons
Formatting issues.
Database link issues.
Airtable serves as both an online collaboration application and a relatable database tool. Airtable has great visual qualities and it facilitates good communication. it can be useful for managing Businesses and Individual CRM issues and it also creates and organizes their own inventories of collections.
Airtable is not the same with more obsolete database management systems as it looks so iPhone friendly. It is suitable for collaborative uses because it works like a Kanban board.
Airtable is a very unassuming system for database management you will come across, and it has a good line-up of templates to assist you to get a grasp of how other users utilize it.
Well, if the database is not part of your objectives for wanting this app, then Airtable is not for you. It can still improve but for now, it offers great service.
Airtable Plans and Pricing
The free version of Airtable will enable you to build and maintain many more databases as you would like, and the amount of persons who can enter the plan is not limited. However, if you just have 2GB of storage space, you're limited to 1,200 records for each database. You're also limited to a revision and snapshot history of 2 weeks.
The Airtable Plus account charges $12 per user for each month; the price drops to around $10 per person every month if you make annual payments. With this plan, you get the chance to have enough databases as you require,
The Pro account costs $24 a month per individual, but you get the equivalent of $20 per person monthly with annual payments.
There are 50,000 records in this pro plan for each database and Airtable also has an annual history of revision and snapshots, customized and branded forms, personal opinions, priority support, and an expanded dropdown field color scheme.
Airtable provides an Enterprise account, but for a price quote, you must visit the website or contact them. For firms operating in the non-profit and educational fields, the company makes exclusive deals for them.
Airtable's Main Features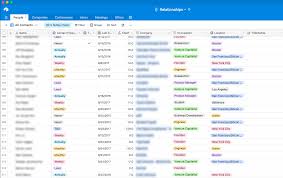 Airtable 's main work is that it is an online framework for a community of people to develop and edit databases, though a single person can use it.
A database is just a collection of items clustered together, and nothing more, and with this open definition, Airtable does not joke with this open definition seriously. You can use Airtable to control information about almost everything.
You should also note something about Airtable, it also provides tools for spreadsheets. At first glimpse, it looks like a spreadsheet, and it's highly accessible for this reason.
A basic component of Airtable is collaboration. When someone is invited to enter a database, you can grant them any of the three permission levels in the Creator role.
The first is The Creator. Anybody with Creator privileges has full access to the database, along with the ability to adjust the permission levels of other users and revoke the permission.
The other is Edit-Only. Individuals with Edit-Only permission can add, remove, and alter both views and rows Users with Edit-Only permission are not permitted to modify field types, (the column). The third access, meaning that the user can only view the documents and can in no way edit them.
Integrations and Applications
What is Lacking
Airtable has software for macOS, Windows, Android, and iOS. It had a Web edition as well. Airtable can connect to a significant number of other internet platforms, such as Asana, as well.
Perusing through the feature issues raised online by Airtable users, I found that many of them were focused on formatting. One that reported that Airtable was unable to wrap texts in a table caught my interest. Users want to maintain reasonably long text in cells for certain kinds of spreadsheets, and they should be able to see the details when it is in grid view.
Users of Airtable complain of their inability to use conditional formatting, for instance, if the cell value is "no," then make it red.
The is sensitive though. I noticed that the ability to export report data into charts and graphs is one of the most requested features, which is already supported in the beta version for subscribers that pay.
The ability to link databases to each other is another missing feature. For Airtable, instead of building multiple databases, you can have one database with multiple saved views.
Airtable as the Easiest Database Tool
Airtable might be the least restrictive management tool you'll ever use for database management. Instead of users who enjoy working abstractly with numbers and symbols, it's designed for users who want to understand the job they're doing and how they will get it done effectively.
The array of templates and instructions guides you to explore new ways you could use the app, and Airtable feels very light and simple.
Good collaboration and support, including the fact that the price is not cut-throat, makes Airtable desirable. Airtable is certainly not a bad choice.