Some of the links in this article are "affiliate links", a link with a special tracking code. This means if you click on an affiliate link and purchase the item, we will receive an affiliate commission.
The price of the item is the same whether it is an affiliate link or not. Regardless, we only recommend products or services we believe will add value to our readers.
By using the affiliate links, you are helping support our Website, and we genuinely appreciate your support.
Last updated Feb. 2, 2022 by Peter Jakes
One is of the largest internet site for sharing videos is Youtube. YouTube is incredibly popular with thousands of users. People enjoy creating and posting memories, posting funny video clips, and all other kinds of content. People also love to watch tutorial videos, high definition MV, createve content, tidbits, etc. Hence the need to download videos for their enjoyment.
You can download Youtube videos on Mac in several ways; through your desktop software, an online video downloader, and via a media player.
How to Download via Desktop Software
1. Using NoteBurner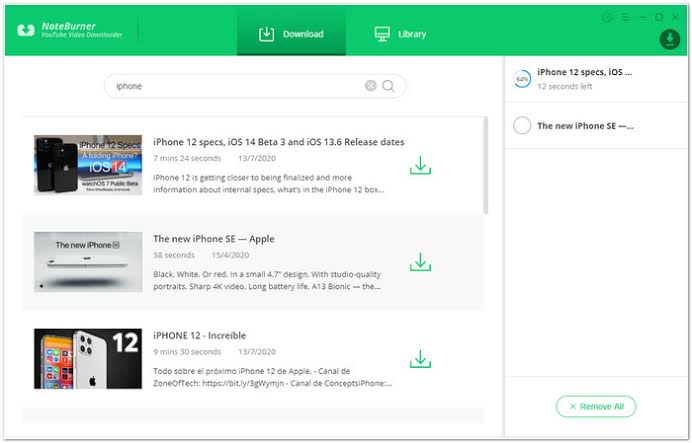 NoteBurner YouTube Video Downloader allows you to download Youtube videos in both MP4 and MKV formats. You can download in any output quality of your choice, including HD 1080p quality, HD 720p quality, SD 480p quality, and 4K. You can also download music files from YouTube to M4A via Noteburner. Then you can enjoy watching your already downloaded YouTube videos on your computer, tv, mobile device, or tablet. Use the steps below to download Youtube videos via Note Burner Downloader.
Step 1
Download, install and launch NoteBurner YouTube Video Downloader on Mac.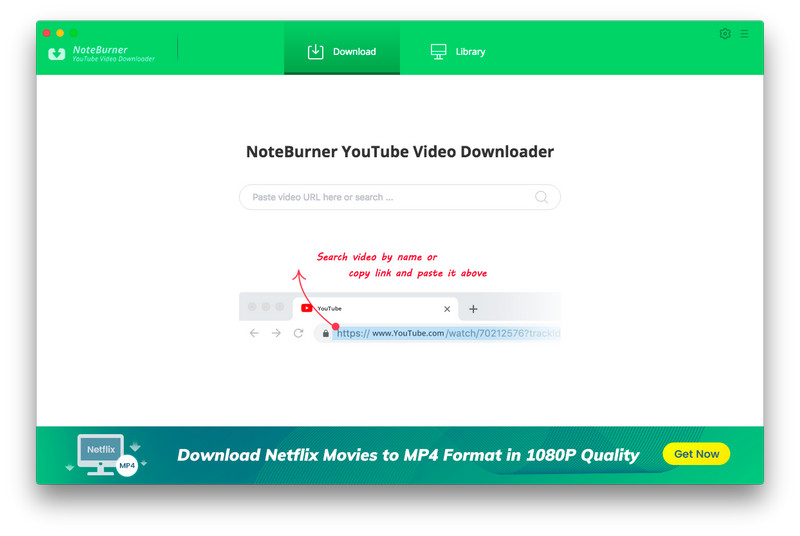 Step 2
Go to the Youtube web browser to search for the video you want to download or copy and paste the URL for the video. Place the URL on the search field and allow the software to search the video. After it searches the video, you can preview the video if you choose. Click the download button on the track view area and choose your preferred format; whether WEBM, MP4, M4A, or MKV. You can download in output quality such as 480p, 720p, 1080p, and 4K.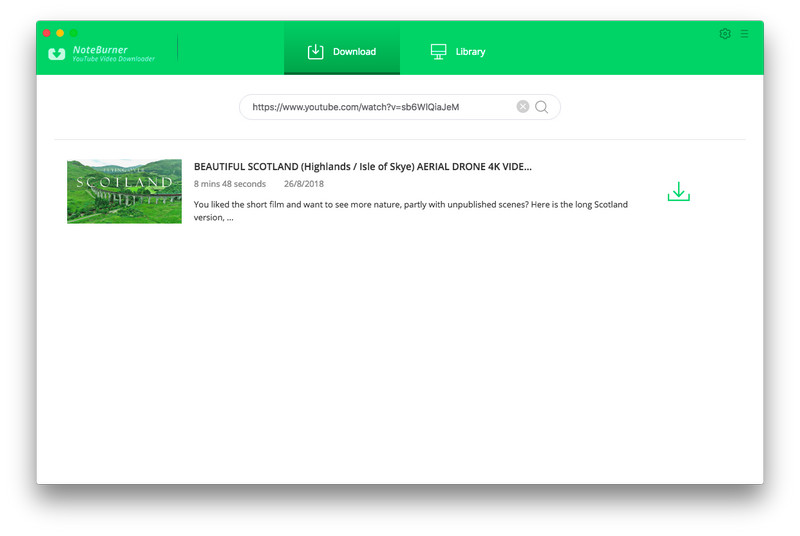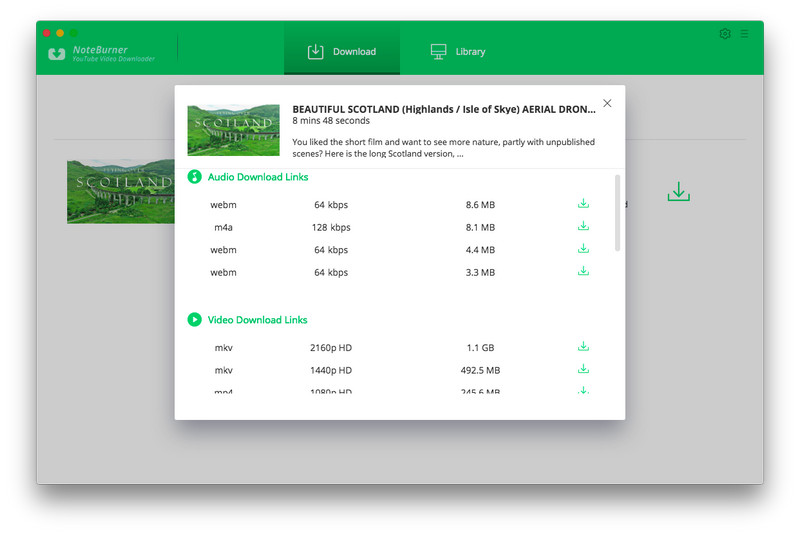 Step 3
Click on Download to start downloading the video. Choose your output folder and the Youtube video automatically saves in your selected folder.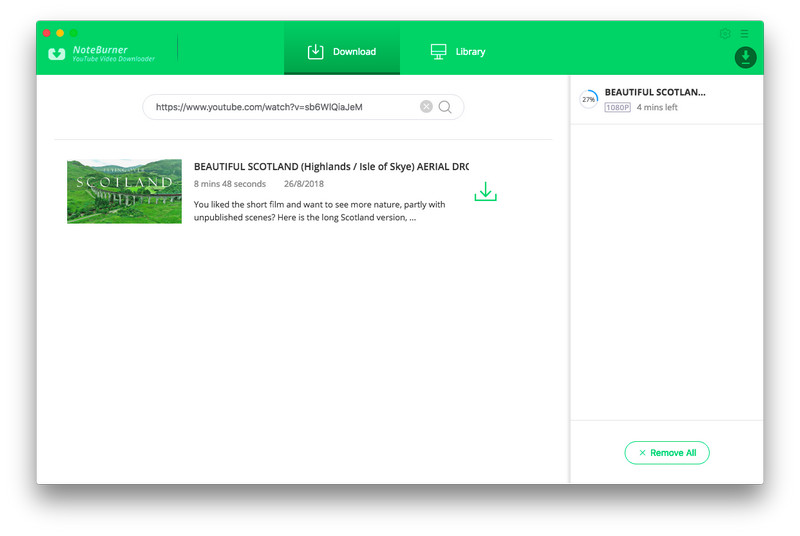 2. Using Any Video Converter
One of the Youtube video downloaders that are compatible with Mac is Any Video Converter. Any Video Converter allows you to download videos from YouTube and other sites like Facebook, Vimeo, VEVO, Dailymotion, etc. It can also extract videos in over 200 digital output formats and even burn videos to DVD. Any Video Converter has a mini video editing suite that allows users to edit videos. Use the following steps to download youtube videos using Any Video Converter.
Step 1
Download, install, and launch Any Video Converter.
Step 2
Copy the video URL you want to download, then paste the video URL by clicking on "Add URL." Click ok when done.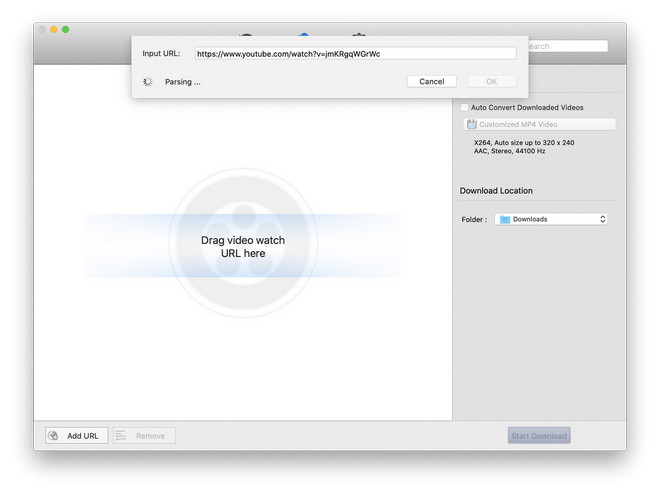 Step 3
Select the download format and start downloading
Choose your preferred download format and start downloading.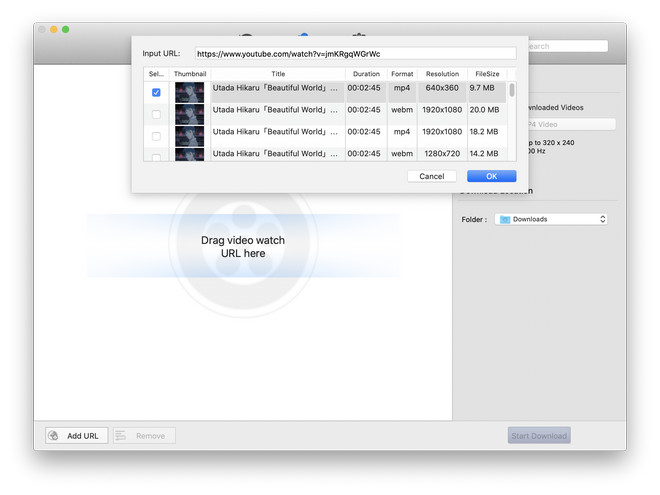 3. Using YoutubeDownloader
YoutubeDownloader is a program that allows you to download Youtube videos in any format as well. Use the following steps to download using YoutubeDownloader.
Step 1
Download and launch YoutubeDownloader for Mac.
Step 2
Copy and paste the YouTube video URL. Click on "Download" to start downloading YouTube videos.

How to Download Using Online Video Downloader
4. Via Keepvid
Keepvid is a popular Youtube video downloading site. It is easy to use. All you have to do is copy and paste the video URL, then click on download.
How to Download YouTube Video with Media Player
5. Using VLC Media Player
VLC Media Player can play local and streaming videos. You can also use it to download Youtube videos and videos from other websites. Use the following steps to download Youtube videos via VLC Media Player.
1. Download and launch VLC Media Player Mac.
2. Click on "Open Network Stream" to go to the "Open Source" page. Copy and paste Youtube video URL into the field, click " open" to play the video.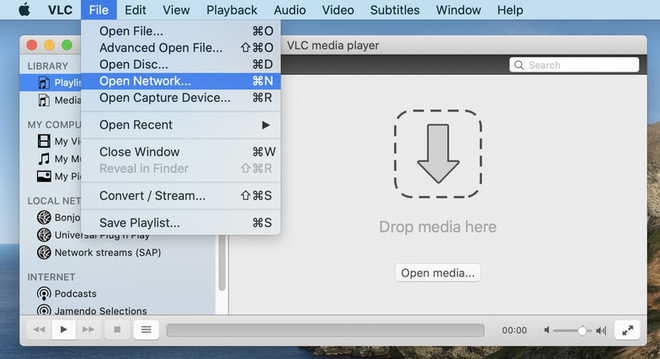 3. Right-click the video to bring out the Media Information.
4. Copy the location URL and paste it into your web browser page.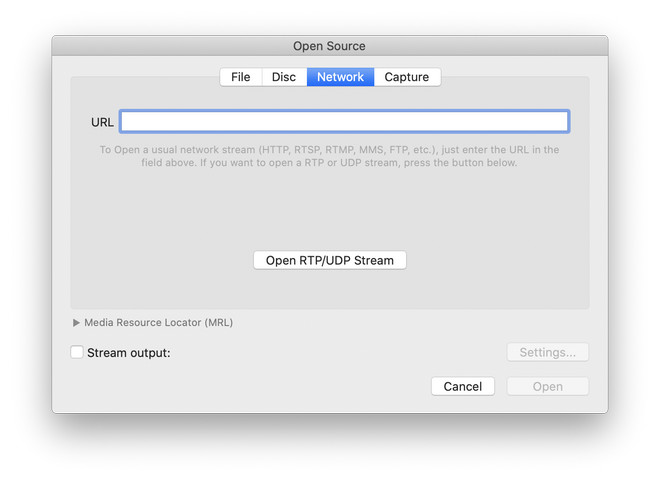 5. Right-click the video. Then select "Save Video." The video starts downloading and plays on your Mac.
Downloading Youtube videos on Mac isn't so difficult after all. Try one of these options to see which works for you best.