Some of the links in this article are "affiliate links", a link with a special tracking code. This means if you click on an affiliate link and purchase the item, we will receive an affiliate commission.
The price of the item is the same whether it is an affiliate link or not. Regardless, we only recommend products or services we believe will add value to our readers.
By using the affiliate links, you are helping support our Website, and we genuinely appreciate your support.
Last updated Aug. 3, 2022 by Peter Jakes
Will cheap storage ideas make a difference? When you search for how to manage small spaces in your home or office, you will have to consider several options to come up with great storage ideas.
Not every cheap storage idea will make a difference. If you are on a budget, some great cheap storage ideas will help you in creating a new small space. What are the best storage ideas to consider? In this article, you will learn about the 37 cheap storage ideas for small spaces on a budget.
37 Cheap Storage Ideas for Small Spaces on a Budget
When you consider managing small spaces on a budget, you have to get a little bit creative. But keep in mind that some storage ideas actually come at a price.
So which storage ideas are considered the best? The 37 cheap storage ideas for small spaces on a budget consist of the following.
Bath Towel Keeper
Let's start with the bathroom. Instead of hanging your towel at any spot, you should get a towel rack with vintage taps installed in your bathroom.
The essence of this towel rack is to provide enough space to hook your towel while you bathe. Most bath towel keepers are made to give users comfort while they shower. But some towel racks actually come with a price. Since you are on a budget, you should consider going for a towel rack with vintage taps to save money and space.
This towel rack was designed with salvaged barn siding and cross-handle faucet taps. It also comes with an added shelf on top and an ornate cast-iron bracket which supports its firmness.
Vertical Cooking Oil Bottle Shelf Holder
When it comes to managing small spaces in the kitchen, most people are confused about how to get started with this plan. Since you will always buy cooking oil in a bottle from the grocery, you have to make provisions to store them.
The cooking oil bottle shelf holder is especially important if you buy more than one cooking oil at a time. If you only buy a bottle at time, you may not need this shelf.
Whitmor 4-Section Closet Shelving Organizer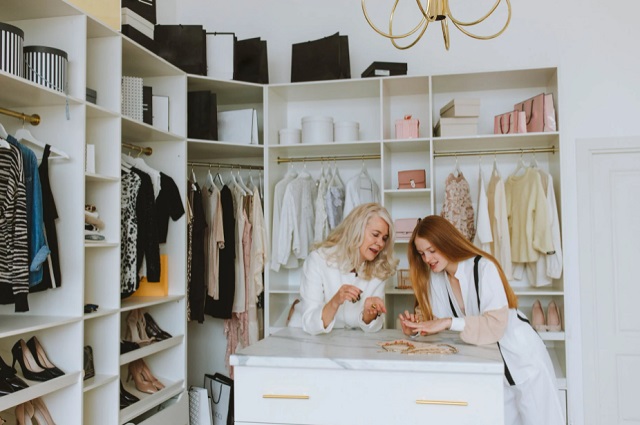 If you hope to manage a small space at home, you may have to choose a smaller closet that will give room for your clothes and save space as well.
Whitmor 4-section closet shelving organizer is designed to accommodate your clothes and other essential items. This closet has four massive cubbies with metal garment rods as well.
Unlike most closets, the Whitmor 4-section closet shelving organizer allows you to store folded items and hang other items on a single spot. It also comes with three chrome rods attached to three hooks to enable you to hang your clothes directly on the closet rod.
Most of your folded and hanging items will surely fit inside this closet and make your room appear more decent.
Storage Bed
The storage bed creates storage space to accommodate your luggage and other household items. This storage bed is designed with enough space beneath the foam. The essence of this space is to accommodate more items and give enough space in your room.
In fact, more people have been adopting this method to manage small spaces in their bedrooms. As you make a move to purchase a storage bed, keep in mind that they mostly come in different sizes and shapes.
In fact, some storage spaces are designed to accommodate more items than others. But the bigger they get, the more costly they become. But since you are on a budget, you should go for the affordable options and create more space in your bedroom.
Knee-Wall Dresser
The Knee-Wall Dresser is installed as a hidden chest of drawers attached to the wall. This implies that the wall dresser must be installed when the building is still undergoing the developmental stage.
Most people have installed this drawer in their homes to manage small spaces with ease. Once you have the knee-wall dresser in your home, you may not see the need for a closet again.
You will gain a full-size eight-drawer to keep folded and other items. The good news is that you don't have to sacrifice any floor space for this drawer to exist, as it will be firmly attached to the wall.
Kid's Toy Chest
The Kid's Toy Chest is designed as a special toy box that comes with lid supports. Almost every child desires to play with toys. When you have children at home, you should not deny them this great joy.
However, supporting their playtime with kids' toy chests will enable them to have more fun while playing with their toys. The toy chest should be big enough to accommodate your kid's entire toy collection.
The essence of making this chest is to ensure that your kid does not litter the environment with toys. You will also help the child to keep the toys together at all times.
The good news is that you don't have to purchase the toy chest from a store before providing your kid with one. You can make one at home with an old carton or by joining pieces of wood together.
Decorative Wall Niche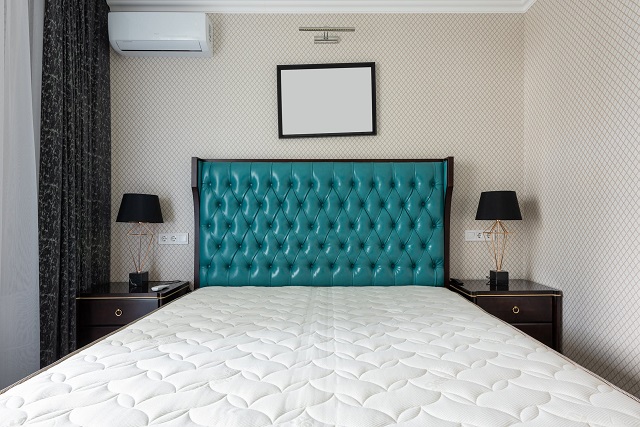 If you love to give your wall a unique beauty, you may consider decorating it specially. However, as you move to decorate your wall, you should think of a way to save space. Several innovative ideas have been proposed to enable people to make space while decorating their walls.
Instead of keeping your beautiful flowers on a desk, or a table, you can hang them on your wall to save space. Some people prefer to hang their beautiful flowers in transparent glass chambers on their walls.
You may deploy this innovative solution, or think of another creative way to decorate your walls with items that could have occupied some space on the ground. If you can create a hole in your wall and mount the glass chamber of flowers, you will likely save more space in your home.
Garden Tool Rack
If you have a garden around your home, you will surely see the need for garden tools to keep your surroundings in a good shape. When you do not store used garden tools without storing them properly, they will occupy space meant for other household items.
The garden tool rack is designed to satisfy this need. Instead of littering your house with the garden tools, you can store the collection in this garden tool rack. You will find numerous garden tool racks out there in the market.
But the best tool rack to consider is the vintage garden gear. Aside from giving you the best services, the vintage garden gear comes at a cheaper price. You can get it on some flea markets at $1. However, this price may vary with time.
Workshop Tool Bench
When you always find the need to execute some workshop-related services, you may consider getting a workshop tool bench in your home.
The essence of providing this tool bench is to accommodate your workshop needs and keep your tools safe from harming any member of your entire household. Most people often perform DIY projects at home.
Instead of doing this task at any corner of your home, get a workshop tool bench for safety reasons and to save space. If you have experience in carpentry crafts, you can construct a workshop tool bench by joining plywood together.
But if you cannot handle the tasks involved, you may consider hiring an expert in this field to handle the tasks involved.
Mudroom Bench
Mudrooms are installed in most homes to enable people to hang their raincoats, rain-soaked umbrellas, and other messy items before walking into their rooms.
The essence of the mudroom is to enable people to keep their rooms clean and avoid staining the environment with messy items. Instead of building a mudroom with only hooks, you may consider adding a bench to it.
Sometimes, people that arrive home from a long-distance walk may become too tired to do anything else. Hence, they will likely need a space to sit while getting enough rest. Installing a mudroom bench will give them a space to rest for a while.
Mudroom benches consist of plywood, layered moldings, and shelf panels. You can purchase one from a store or invite an expert in the field to make a customized mudroom bench for you.
Garden Bench with Hidden Storage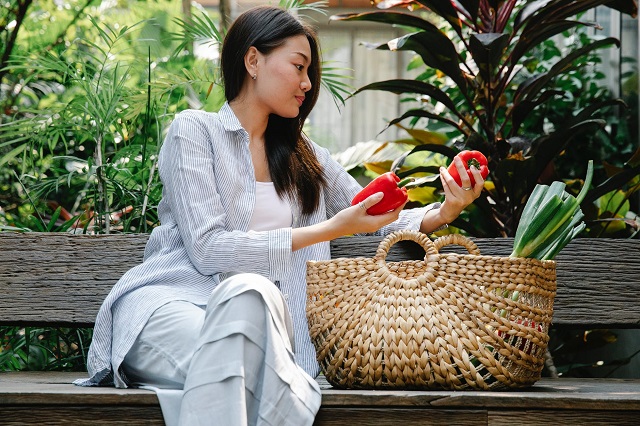 If you own a garden, you surely see the need to put a bench out there for rest time. Instead of putting out a regular bench in your garden, you may opt for a garden bench with hidden storage.
The hidden storage will be used to store garden tools and other items used for the garden. Hence, instead of taking your muddy boots into your home, you will easily wash and store them in your garden bench for future reuse.
Most gardeners prefer to use this hidden storage for many purposes. Hence, you must see the need before requesting one. Carpenters within your locality can make one for you, or you proceed to order for the garden bench from an online store.
Go for Headboard with Storage
A headboard with storage is a great option when you hope to manage your bed space wisely. Instead of going for a regular headboard, you should choose a unique type of headboard with storage.
On this headboard, you can store many household items and free up more space in your room. When you want to choose a headboard, keep in mind that they all come in different shapes and sizes.
Since you are on a budget, you should choose an affordable headboard with enough storage space to accommodate most of your items. The best items to store inside the headboard are clothes, cooking utensils, shoes, and more. You can purchase the headboard from online stores or your locality.
Keep your yoga mat on the wall
When you love to practice yoga daily, you may become confused about where to store your yoga mats afterward. Innovators have suggested various ways to accomplish this.
But the most realistic way of saving storage space is by storing your yoga mat on the wall. Before you proceed to hang it on the wall, endeavor to roll it up nicely and find a great spot to hang the mat.
Preferably, you can install a Namaste Yoga Mat Hanger at the back of your bedroom door to hang the mat. If you are creative, you may consider creating a small shelf to store the mat.
Stack Old suitcases onto each other to create a Vintage Nightstand
When you search for how to create space in your bedroom, you may consider stacking old suitcases on top of each other. But instead of keeping the stacked suitcases away from you, proceed to use them for a vintage nightstand.
Carefully place a fascinating night light on top of the briefcase to give your bedroom a unique beauty. This implies that you will no longer see the need to spend money on a regular vintage nightstand.
Hence, this option is completely free and does not require any extra expenses from you. But you should have old and clean suitcases to successfully build a unique nightstand.
Shoe Storage Hanger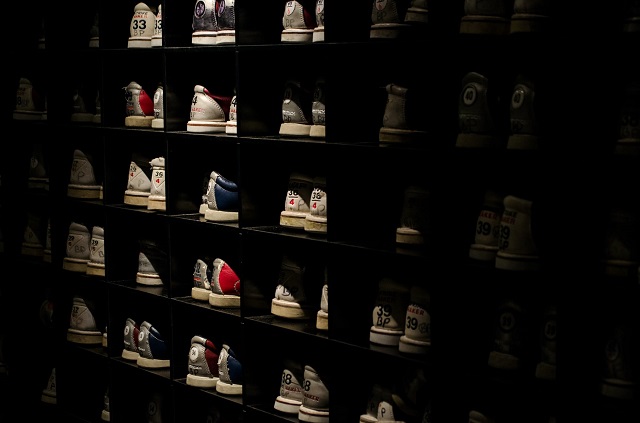 If you are a great fan of a shoe, you may likely have several shoes in your closet. You surely need storage space to store your shoe. If you fail to make wise decisions, your shoes will occupy more space than you earlier expected.
To manage space on a budget, you may consider hanging pegs on the back of your closet door to store your shoes. The length of these pegs must depend on your closet. Hence, you must consider the length of your closet first before purchasing the shoe-hanging pegs.
Keep in mind that the back of your closet will remain empty if you ignore it to take advantage of this space. By installing the shoe hangers here, you will take advantage of the space and store your shoes wisely.
Put shelves above your doorways
Instead of leaving the upper path of doorways empty, you should consider putting shelves over your space to fill up the gap. The essence of taking advantage of this space is to add a unique beauty to your room.
This shelf should be massive enough to accommodate more items. You can keep flowers, books, and other personal items on these shelves. Since you are on a budget, you should focus on buying only affordable shelves.
You can purchase from a store or invite an expert to install a customizable shelf in your home. If you must buy an already made shelf, ensure that you compare its size with the measurement of the shelf. This act is to ensure that you are on the right track.
Keep a low bookcase underneath Your Window
In most cases, the space beneath the window is always left empty. However, you should find a way to fill up the space with something creative. Installing a low bookcase beneath your window is a great decision to make.
This bookcase will be used to store books and save space. Hence, allow this space to waste. Before you proceed to purchase your low bookcase, you must learn the actual measurement of your window to avoid miscalculation.
Through this approach, you can save enough space in your home and office.
Put your pants in a rack
Instead of keeping your pants in a regular closet, you should install a pant rack in your home to save space. Most people will prefer to install this rack at a hidden corner of their home.
However, you can still install it in your closet to manage space within this area. The pants rack should be arranged in such a way that there will be provided to accommodate other clothing items within the closet.
If your wardrobe comes with the pants rack, it will serve as an added advantage. But when it comes without the rack, you can buy the pant rack online or within your locality.
Store your bedsheets beneath your mattress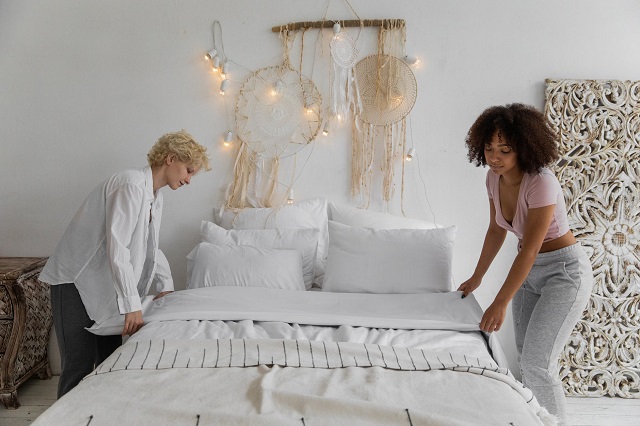 Most people will prefer to store their bedsheets in their closet or any other convenient spot within the room. However, you don't have to mess your room around with large piles of bed sheets.
Instead, find a way to store your unused bed sheets under your mattress. Through this creative approach, you will make a new space for other items to occupy.
Hang your bicycle from the ceiling
Instead of parking your bicycle in a regular parking space, you can opt to hang your bicycle on your ceiling. Most people have deployed this tactic in managing space for other purposes.
When you suspend your bicycle from the ceiling, you will surely give your room a new beautiful outlook. But as you proceed to take this action, take note of safety precautions.
You should always keep in mind that poorly hanged bicycles can fall from the ceiling and cause a home accident. To avoid creating a scene for a home accident, invite a professional to hang the bicycle for you.
Opt for a desk with storage cubbies
You cannot deny the usefulness of a desk in your home and office. Since you cannot be aware of this household item, you should opt for the best design of the desk.
Instead of buying a regular desk, you should go for a desk with storage cubbies. When you work on your desk, you may want to place some items in this storage space.
Desks with storage cubbies create a new room for its users to manage space in both homes and offices. Endeavor to take advantage of this unique storage item.
Glass bar cabinet
Almost everyone uses glasses in their homes and offices. When you ignore storing your glass cups carefully, they will continue to break, creating a new expense for you.
If you want to avoid breaking your glass bar constantly, you should go for a glass bar cabinet. This glass bar cabinet is built to give your glasses firm holdings and protect them from cracking. You can also use the cabinet to save space in your home and office.
Pot Rack hung on the Wall
If you are struggling to manage space in your kitchen, you may prefer to hang a pot rack on your kitchen wall. However, if you have many pots to hang, you may choose to hang more than one pot rack.
Pot racks help in holding your pots firmly and prevent them from falling. When your pots are hanging on the wall, you can use the space to store another item.
Build Kid's toolbox
Children love to get creative using several tools. When they complete their play section, you may drop the tools carelessly without considering the security features attached to them.
To ensure that your children are safe, you should build a kid's toolbox for them. This toolbox will make it easier for them to store their playing tools carefully without creating hazards within your home.
You don't have to consult a professional to build this toolbox as you can comfortably make them at home. To make a DIY toolbox at home, you will have to provide yourself with plywood, screws, and other materials that will guarantee your success.
Magazine Storage rack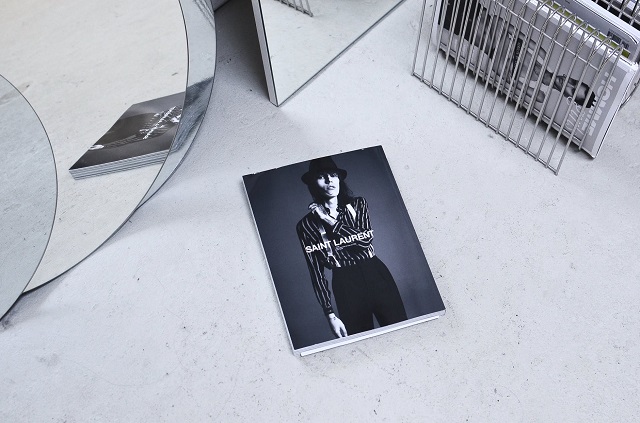 You surely need a magazine storage rack to put aside your magazines and avoid littering your homes. If you often welcome visitors to your home and office, you can keep this magazine storage rack in a reachable position to entertain them.
Most magazine storage racks are designed with a fancy outlook to attract a unique beauty to your home.
Shed for Trash Can
Instead of keeping your trash can open, you may prefer to put a shed over it to protect your room. Shed over trash should be built to serve other purposes.
Most trash can sheds can help to provide a new space where you can store other household items.
Store your makeup in bead Organizers
Almost every woman has numerous makeup kits. However, some women are still struggling in keeping these kits in an appropriate position.
Instead of keeping your makeup on your desks after usage, you should opt for bead organizers to store your makeup in a well-arranged manner.
Add risers to your bed
You can save space by adding bed risers to your regular bed. These risers will give your bed a bed boost and provide you with a 3B 4-Piece USB charging station which you can use to charge your phone.
Imagine where you charge your phone without actually wasting a new space. Bed risers will surely give you this additional advantage.
Construct a balance bookshelf
A balance bookshelf is often built to enable you to store your books without the need for a regular bookshelf. You can construct this balanced bookshelf at home using plywood and strong thread. If you complete the construction, you can hang it on the wall and carefully place your book in the flat plywood.
Stack cabinets
If you have several cabinets at home, you should stack them on top of each other. Taking this action will enable you to create a new space and arrange your room in order.
As you stack the cabinets, endeavor to put lighter cabinets on top of the heavier ones. This is to ensure that the heavy cabinets do not create a crack on the lighter ones.
Place a window seat in your bedroom
Your bedroom window is a great spot where you can place a storage bench to rest upon it when you don't feel like sleeping on the mattress.
Most people could have preferred to put only a regular bench at this spot. But a regular bench will make it challenging for you to create new storage space for yourself. Instead of a regular bench, opt for a storage bench to increase your comfort and create a new space as well.
Use a Vertical Shoe Rack to store your shoe
Most people are often confused about creating a new space from the area occupied by their shoes.
If your shoes occupy up too much space in your home, you may consider deploying vertical shoe racks to save more space. Vertical shoe racks are designed to store shoes vertically and create a new space for other items.
Go for a smaller bookcase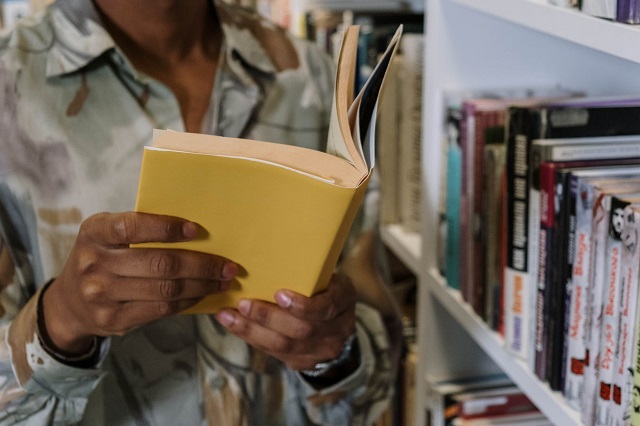 A bookcase helps you to store your books and protect them from damage. Most people will prefer to go for a bigger bookcase to create additional room for future books.
A smaller bookcase will protect your books and help you to save money as well. However, the size of your bookcase should depend on the number of books you own. When you buy a small bookcase, you will occupy only a smaller portion of your home.
Food serving station for dogs
Most dog owners prefer to give their dogs preferential treatment. Providing your dogs with food serving stations will make them feel more loved and eat in a well-organized manner.
When you deploy the regular method of serving dogs food to feed your dog, you will likely occupy space with the plate and other items. But a food serving station for dogs will enable you to save space with time.
Storage chairs
Instead of buying regular chairs to use at home, you can opt for storage chairs. Most storage chairs are designed to give you comfort while storing some items for you.
The size of the storage often depends on the size of the chair. Hence, you should choose the size wisely to provide extra space for yourself.
TV Cabinet
Most people will prefer to hang their TV directly on the wall. However, you should think of installing a TV cabinet to create a new space to store other items.
The TV cabinet should be strong enough to carry lighter household items. You can keep these items on top of the cabinet, or create an extra storage space for them.
Work with Professionals
When you deploy the ideas listed above, you will likely create a new space in your home and office. However, if you involve experts in this field, they will assist in creating more space for you.
Make Space is one of the best companies that help people to create space in their homes and offices. But if this company does not render services in your location, you may find another service provider within your locality to get this essential service from them.
Conclusion
Creating extra space in your home of office is not rocket science. Little innovation here and there will give you the space needed to store your stuff more nicely. And who does not like a home or office with more space?