Last updated Jun. 27, 2023 by Charles Zemub
13 best project management software
Imagine project management without dedicated tools or software to streamline the process.
In my experience, before adopting project management tools, I struggled between a loop of never-ending weekly update meetings and post-its. Having to update spreadsheets almost every time was a painstaking experience. And that was just the tip of the iceberg.
Simply put, it was chaotic.
Even a professional task manager would agree with me that the process can be complicated, overwhelming, and time-consuming without these super tools.
But do you know what's more chaotic? Choosing the wrong project management software, it's a complete waste of time and resources.
Many software solutions are online, each masquerading itself as the "best project management software." This makes it hard to separate the wheat from the chaff.
In this article, I will save you the time and trouble of probing through the internet by sharing with you the result of my quest for the best project management tools on the market; we will be recommending 13 of them.
Before we go down to the list of software, it would be beneficial if you knew the important features you should watch out for when choosing an ideal project management software for your business. This knowledge would come in handy if you'll ever need to review a project management software personally.
What Makes a Good Project Management Software?
Project management tools are munitions for task managers and teams alike, and you don't want to bring a knife to a gunfight.
Hence, it makes sense to be picky about which software you adopt. This will ensure you end up with a perfect fit for you with less probability of turning into a headache in the future.
There are basic yet important features a good project management tool should have.
These include:
1. Cloud-based
What you should be looking for is a product that's available online. This will spare you the pain of work-disrupting upgrades, large licensing fees, and installation issues.
You will also be able to manage your project operations anywhere, anytime. It's preferable if the tool is designed as Software as a Service (SaaS).
2. Flexibility
Projects vary in size and type. You would want to choose a project management software that is flexible enough to handle small and large-scale operations. The built-in workflow should be able to work well for your project operations regardless of the kind of job.
3. Scalability
Perhaps your business is still in its preliminary stage; you only have a few clients and projects to handle. You probably won't require much of your project management tool at the moment; basic features would be enough.
However, you'll want to ask whether your project management tool can still work for you if your business experiences sudden growth. A product that can't grow with your business is a complete waste of time and resources.
4. Reporting
The tool must be able to retrieve and display the information you put into it when needed. Having plenty of reporting options would benefit you in the long run.
Think about it.
How would you know how much time your team members are putting into the project? Or track the progress of your projects and when you need more staff.
All this information can only be received through accurate and timely reporting.
5. Customization
Another vital factor to consider while shopping for project management software is the level of control it offers.
You should consider a tool that allows you to control the scheduling of work, files, communication records, team members, projects, and so on. The more feeling of control you get, the less chance of you scrambling or panicking during the project.
6. It's Impressive Inside and Out
While it's nice for project management software to have good aesthetic designs, you should also be sure of what you're getting inside the product.
You should look out for hidden charges, support team availability, dashboard view, training, and tutorials. These little things can be the difference between a good and bad user experience.
7. Integration options
I've researched over 50+ project management tools and can tell you one thing: only a handful of project management software out there can pass as a one-stop solution and their prices are usually high.
The ability of the tool to integrate with several third-party solutions is a critical criterion you should prioritize when choosing a project management software.
Managing all your project operations from one place would help you increase your efficiency and productivity.
8. Simplicity
The ease of use is more important than a plethora of features. You don't want to stress yourself with a complex tool that would require lots of learning.
For users that run multiple projects simultaneously, there's a cogent need for your software solution to have tracking abilities that keep things clear, organized, and simple. This makes moving between expenses, jobs, projects, and clients seamless.
Now that you know what makes good project management software, let's start with my top recommendations.
List of Top 13 Project Management Software
Looking for the ideal project management software for your work and business operations? Here are some of the best PM software you should consider available on the market.
ProofHub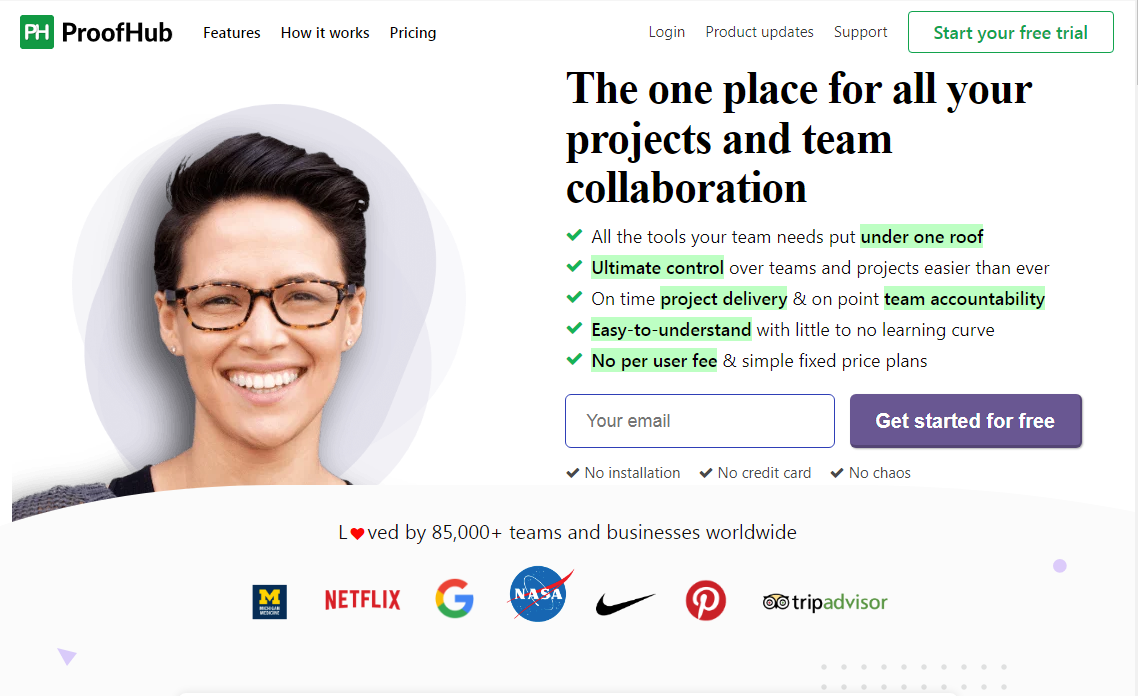 ProofHub is a well-known time-conscious project management software. The tool's major shining point is its ability to facilitate timely project completion and effective team collaboration. Other areas of strength include accountability, progress tracking, visibility, and communication.
Some of the notable features ProofHub has to offer to include a discussion portal where you can hold public or private conversations with team members about ideas and tasks.
Users can also store, edit, and share files using their easy-to-use file management and organization tools. A special proofing tool also allows team members to receive real-time feedback on assignments, designs, and other documents.
ProofHub comes with a Gantt chart feature to ensure projects are delivered on schedule. This feature is useful in removing time discrepancies and managing dependencies between tasks. The software also lets you add employee timesheets, milestones, and special project events to your calendar.
We love their impressive set of project management tools and features. The functionality you get at an affordable price is impressive.
The software allows third-party integrations, which complement its weak points. However, the number of supported third-party software is disappointing.
Regardless of this, ProofHub ticks all of my boxes as an ideal choice of task management software.
Proofhub's Pricing and Plans

ProofHub offers one of the best deals; users have the option to choose between two premium plans; Essential and Ultimate Control.
Essential is the cheapest plan ProofHub has to offer. You are charged a monthly fee of $50 if billed monthly, the price is reduced to $45/month for annual subscriptions. Users enjoy core features and can add an unlimited number of users. But you can only add up to 40 projects and 15GB of storage.
The Ultimate Control plan is mostly recommended. There is no restriction to the number of users or projects, and you get 100GB worth of storage space.
You also have additional custom tools and features. If you're paying monthly, the price is set at $150. Annual subscribers get a discounted price of $135 per month.
Final Verdict on ProofHub
The software is better suited for small to medium-sized companies.
Start using Proofhub now.
2. Zoho Projects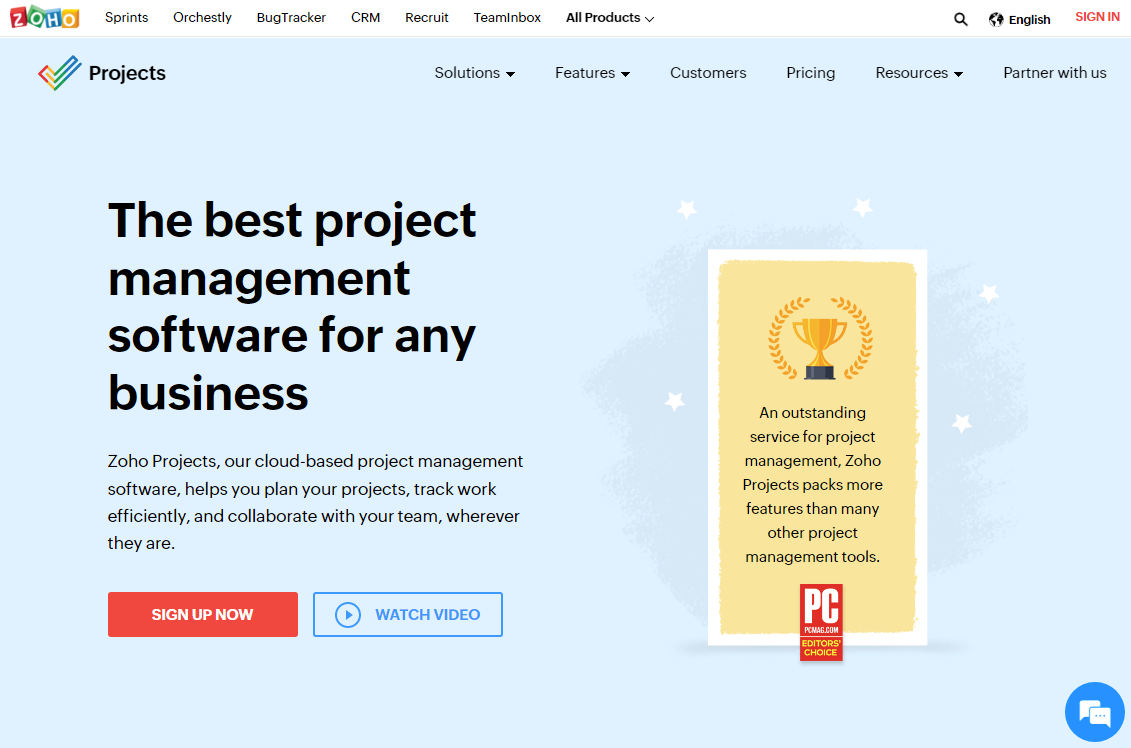 Zoho projects help you track your projects, milestones, and tasks and collaborate with your team members. The tool comes with one of the industry's best task management features and collaboration tools.
Yet, the software is easy-to-use and has a short learning curve. Mobile devices are also supported, so you can track your projects from anywhere.
There is a dedicated marketplace on the platform where you can add all the integrations you need to keep project operations in one place. Zoho projects come with a few native integrations like Zoho CRM, Zoho Desk, and Zoho Click, which are free. There are also premium ones like Zapier, dropbox, google drive, and so on.
Its smart task automation feature makes Zoho projects stand out from the rest. You can automate follow-up emails and notifications to team members and are sent according to your specifications.
I'm recommending Zoho Projects because of its easy-to-use system, customization options, and range of useful features.
We love the overall design of the software and how the modules were well-organized. You can change how your dashboard looks with an option to choose between classic, plain, and Kanban views. The complete control you get over how you view the sections of the dashboard is also incredible.
The only downside I found with Zoho projects lies in its greatest strength, a wide selection of tools and features. You can sometimes have a hard time finding the ones you need.
Zoho Project's Pricing and Plans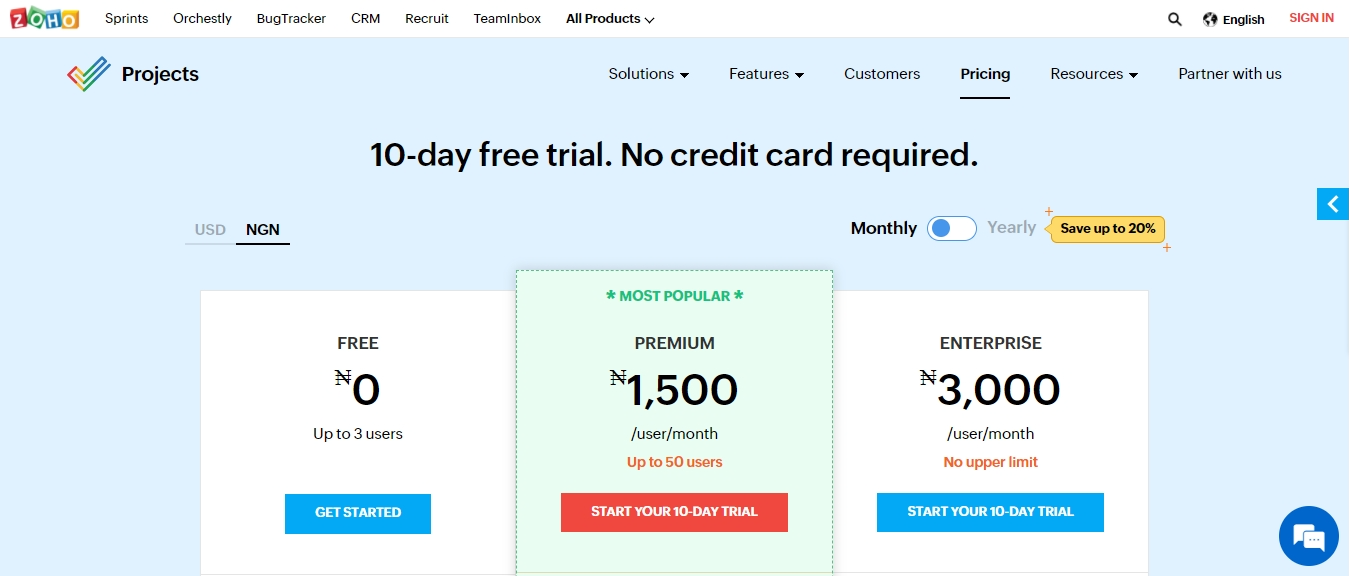 Zoho Projects is reasonably priced, and you are offered three different service plans, including a free forever plan. Users can choose between paying monthly or annually, there's a commitment discount for annual subscribers.
The Free Plan comes with no cost whatsoever but has extreme limitations. You get to add up to 3 users and 2 projects plus a measly 10MB of storage space.
Freemium users get access to the Gantt chart viewer and other basic features. However, I do not recommend this plan if you want to manage your projects on the platform.The pricing structure for the paid plans is pay per month per user.
The Premium plan is the cheapest and costs $4 per month/user (if you're paying annually). This plan offers users 20 project templates, up to 50 users, 100GB worth of storage space, and unlimited projects.
The Enterprise plan would get you 30 project templates and a whopping 120GB of storage space for $9 per month/user (paid annually). There is no limit to the number of users of projects. You also have unrestricted access to all Zoho Projects have to offer.
If you want to test Zoho Projects offerings, you can take advantage of the 10-day trial period.
Final Verdict on ZohoProjects
This software is an ideal choice of project management tool for remote workers. Teams with complex digital workflows would also find its integration options useful. If you're tired of your current project management software and looking for a better option, Zoho Projects could be what you're looking for.
3. Basecamp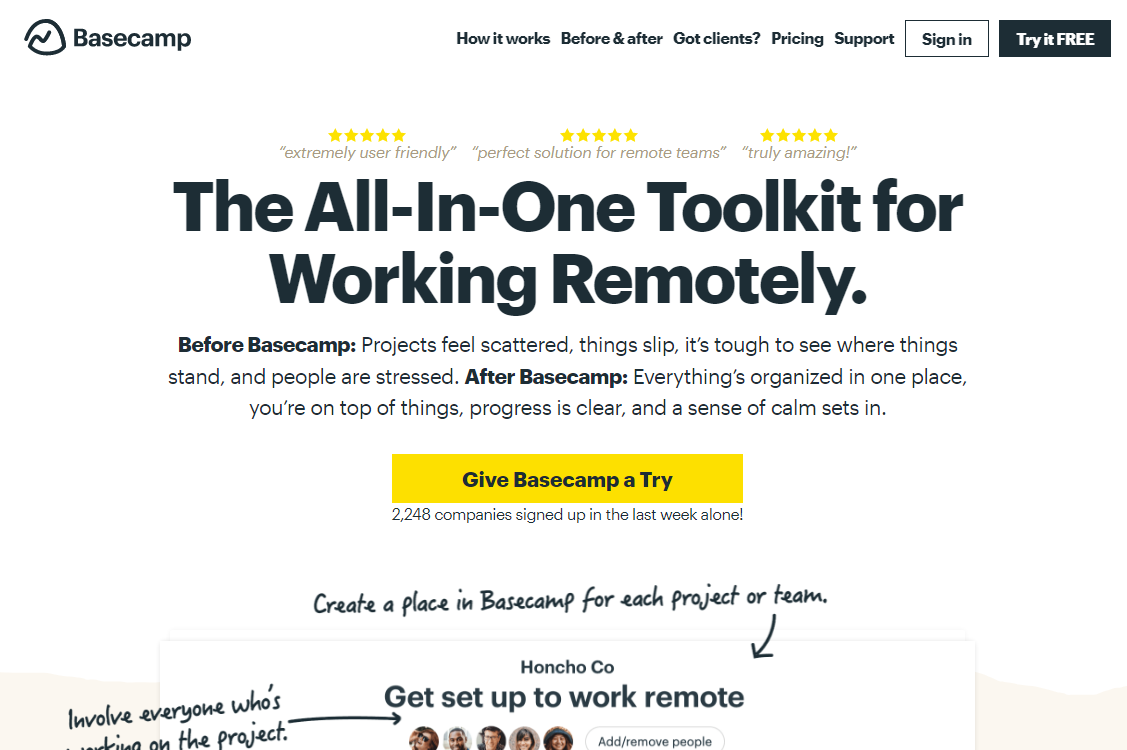 Basecamp is not a conventional type of project management software. The software is a blend of both business collaboration and project management tools. This unique all-in-one approach taken by the developers helps businesses keep track of tasks, collaborate on work, and communicate with colleagues from a single clean interface.
Tools featured on the platform include campfire (a real-time group chat), schedules, docs and file storage, automatic check-ins, to-do lists, message boards, and many more. Most of the tools are pretty straightforward and have a short learning curve.
You can also toggle these tools on and off or rearrange them to suit your preferences and needs.
As with most other project managers, basecamp is divided into spaces instead of tags. After signing up, the software will prompt you to create your first space called the HQ space. This space is for company-wide announcements and general things.
Afterward, what you do with the rest of the spaces is up to you. You can arrange these spaces into different projects and teams.
The overall user experience is exceptional. It's impressive to see the software's ease of use despite the high degree of functionality. Thanks to its high level of flexibility, you can adapt the tool to work well for different projects.
Yet, while the software promotes itself as a better replacement for tools like Asana, Google Suite, and Slack, none of its tools levels up to those three separate apps.
You can power up the software by integrating third-party software. But, these integrations can increase the overall price astronomically.
Also, this tool is more of a collaboration tool than a project management software. When pitched against some of the best project management tools in the industry, the software is lacking in certain areas. This shortcoming, however, doesn't resign Basecamp as an inferior tool.
Basecamp's Pricing and Plans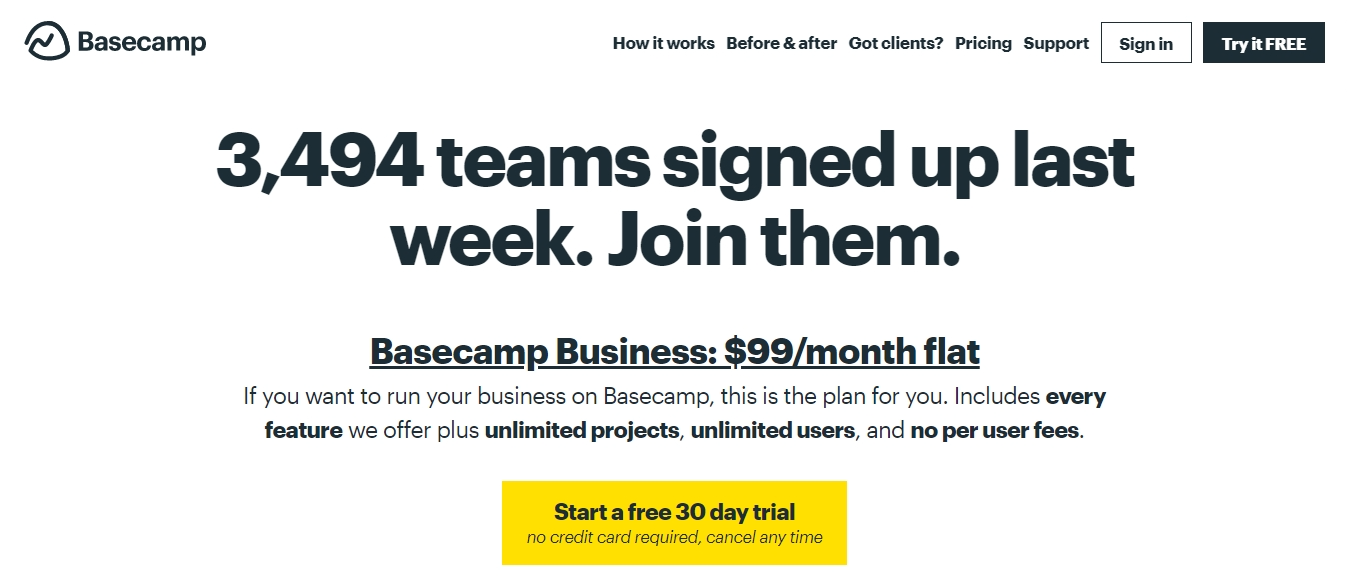 Basecamp offers two different plans; Basecamp Business (paid) and Basecamp Personal (forever free, but limited).
The Basecamp Business is available at a flat rate of $99/month. This plan unlocks every feature and accommodates unlimited users and projects. If you want to test out the paid version first, you can always sign up for a 30-day free trial.
Final Verdict on Basecamp
Basecamp is best suited for small to medium-sized organizations that need an unsophisticated task manager. Big corporations would enjoy their elaborate collaboration and communication tools.
Start your 30-day free trial here
4. Trello Project Software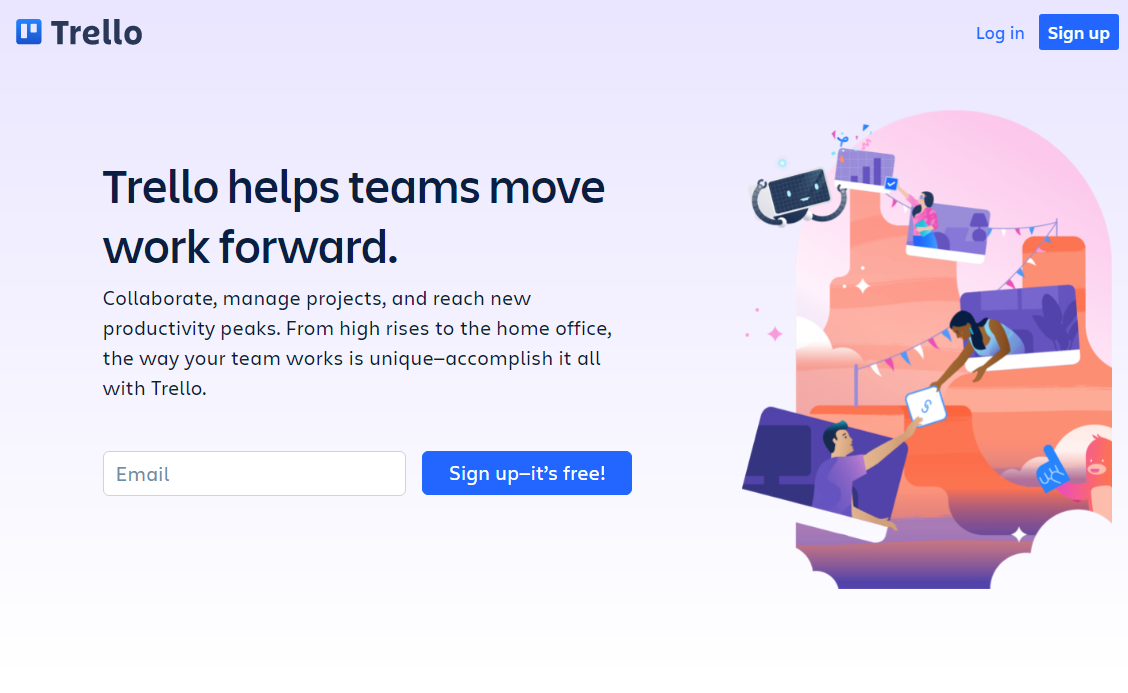 If you're familiar with many dedicated project management software, you'll notice they all have two common drawbacks, they require much time to master, and their useful versions are usually pricey. Trello was designed to cover these drawbacks through an easy-to-use and pocket-friendly light project management solution.
Trello offers users a plethora of features, including a few smart ones that makes it stand out from other workflow and task management software. Butler is one of Trello's aces.
The automation tool gives you the ability to automate almost every one of your commands, from boards and card buttons to the due date and scheduled commands.
Trello's extreme simplicity is not easily matched by other project management software; however, this can be both a blessing and a curse.
Simple means you get the accessibility harder-to-learn (but often richer-in-feature) that most project management tools lack. But it can also mean missing out on some important features like time-tracking and Gantt charts. This software is not a great replacement for tools like Basecamp.
Trello's Pricing and Plans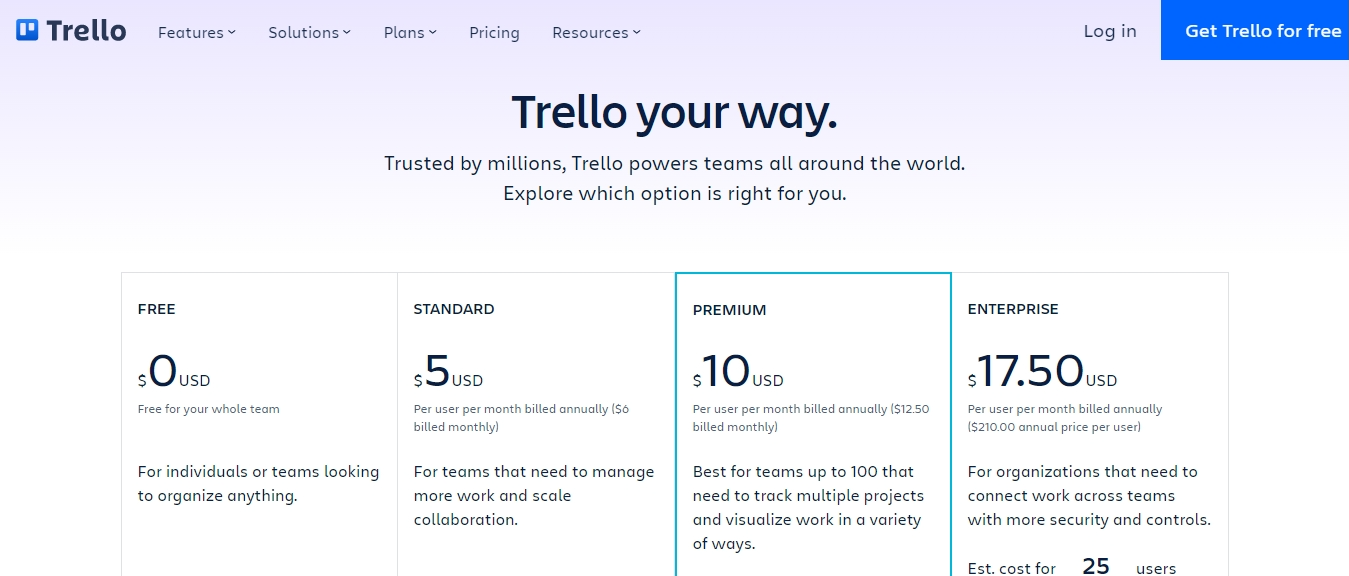 Trello offers most of its value for free. You'll have access to important features on the free plan, including unlimited users, cards, and boards. This means subscribing to a paid plan might not be necessary, most ideal for small businesses and startups. However, the number of integrations for free users is limited. You are also restricted to 10MB/card for file attachments to cards.
The premium plan; Trello Enterprise, Trello Business Class, and Trello Gold, would remove the limitations attached to the free plan plus additional features. But, most small businesses or teams will do fine without them.
For more information about Trello's premium plans, click here.
Final Verdict on Trello
Is Trello the right app for you?
Well, it depends on some factors. Trello isn't the ideal app for big corporations or businesses with specialized needs due to its lack of deep management features.
However, small businesses and startups would benefit greatly from the app. They would appreciate getting to use simple (and cheap) tools creatively.
5. JIRA Project Software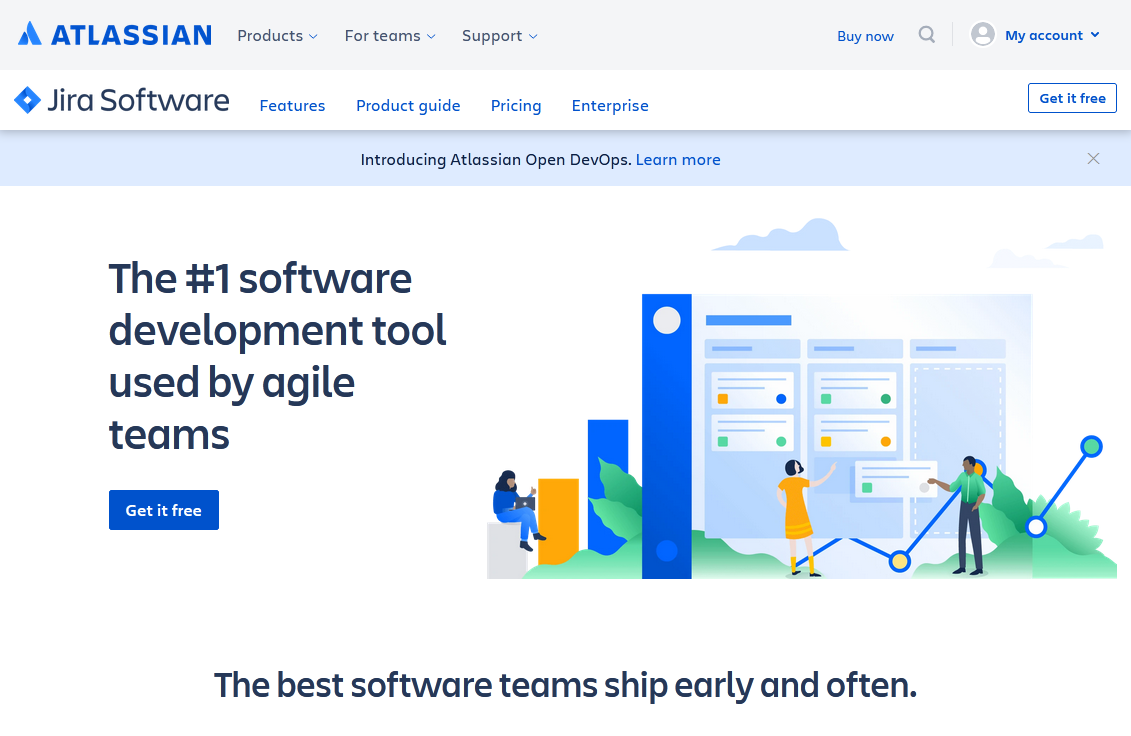 Jira is one of many software solutions produced by Atlassian, a big name in the SaaS space.
The software was developed with an emphasis on its issue-tracking ability, making it ideal specifically for software teams. However, the flexibility of the software allows teams of any vertical and size to be able to maximize the efficiency of their project management operations.
What made Jira catch my attention is its wide range of features. In addition to an advanced data center package, users get essential core features like reporting, collaboration, and time-tracking tools. With their impressive customization and automation tools, you also have full control of the management process.
The only problem I have with Jira is the steep learning curve and the denseness of the software.
A probable solution is to take advantage of the free trial period to have your project managers and team familiarize themselves with its vast functionalities. This will help you realize whether the software is compatible with your team before paying.
JIRA Pricing and Plans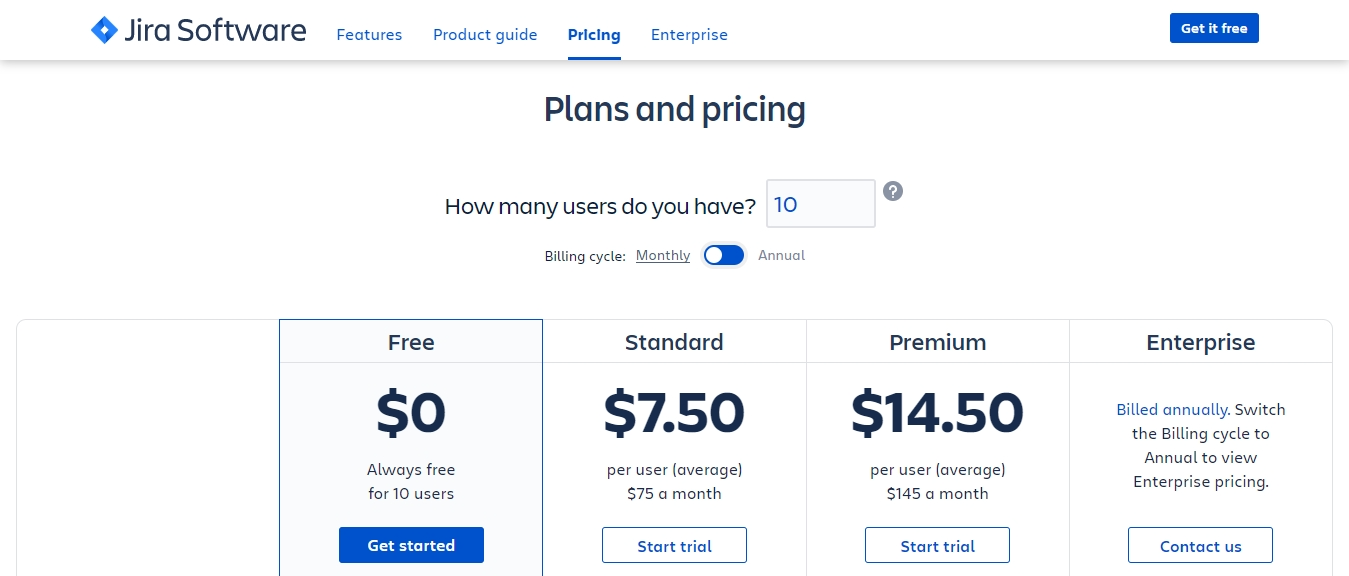 Jira's pricing depends on the type of hosting solution you choose and the number of users you have. They offer two types of hosting services; cloud-based and locally hosted solutions. Both plans have a free trial period; 30 days for locally hosted solutions and 7 days for cloud-based ones.
The cloud-based option is better suited for small and midsize businesses and offers highly scalable plans that support growth.
Pricing for the paid version ranges from $7-$14 per user per month. There is also a less restrictive free plan, in case you need time before deciding if the software is worth the financial investment.
Big enterprises would favor the locally hosted option because of the additional services; like the Atlassian-supported disaster recoveryand powerful features that come with it.
Also, every essential feature Jira offers is unlocked, including thorough reports, open APIs, developers, add-on integrations, customizable workflows, Scrum and Kanban boards, and project tracking.
To understand Jira's pricing structure better, visit their official pricing page to see the breakdown.
Final Verdict on JIRA
Jira ranks first as my most agile project management solution. The versatility of its offering makes it a one-size-fits-all type of task management solution. Both small businesses and larger companies can enjoy the comprehensive features that Jira has to offer. The option to choose between hosting locally and the cloud make is ideal for businesses of different sizes and types.
Related:17 best project management software and tools
6. Asana Project Software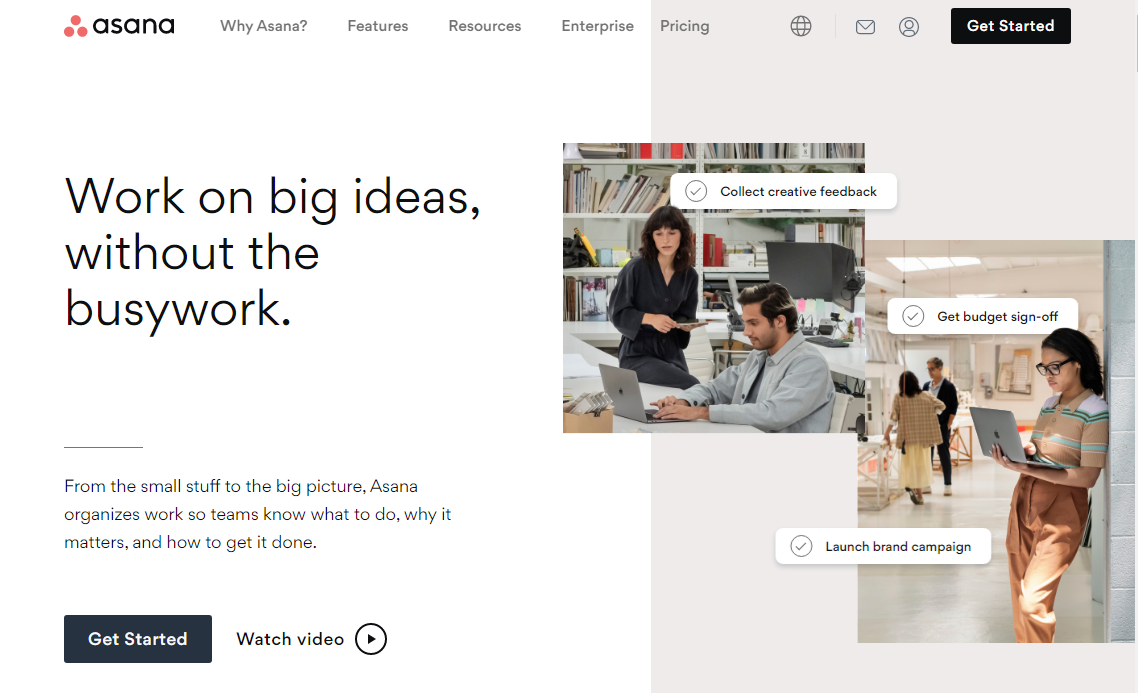 Asana is another excellent management tool you can trust to help you manage your business operations and ongoing tasks.
The software is well-known for its high flexibility. Its task management services are facilitated with a plethora of features, an appealing design, and excellent customization capabilities. You can also maximize your team's productivity using their creative Kanban boards and Gantt charts.
Asana's major shining point is its impressive automation capabilities. The software allows you to seamlessly take care of all operations, courtesy of highly effective Gantt charts, tables, and timesheets.
Although Asana is missing a native chat app, the software compensates for this lack through its excellent collaboration features. You can communicate with your team through comments, attachments, and suggestions (using the edit option).
Another alternative Asana offers to make up for the absence of a direct chap app is the ability to integrate with third-party messaging tools such as Slack.
I like how Asana is highly interoperable with other tools and apps, especially the ones that compensate for the features it lacks. There are tons of integrations available, including software like Zoom, Microsoft Teams, YouTube, Google Drive, Gmail, Google Calendar, Salesforce, Jira, Adobe Creative Cloud, and Zapier, to mention a few.
This always allows you to get more out of the software and keep all your task management process on one convenient platform. However, most of the integrations mentioned above are only available on their premium version.
Asana's Pricing and Plans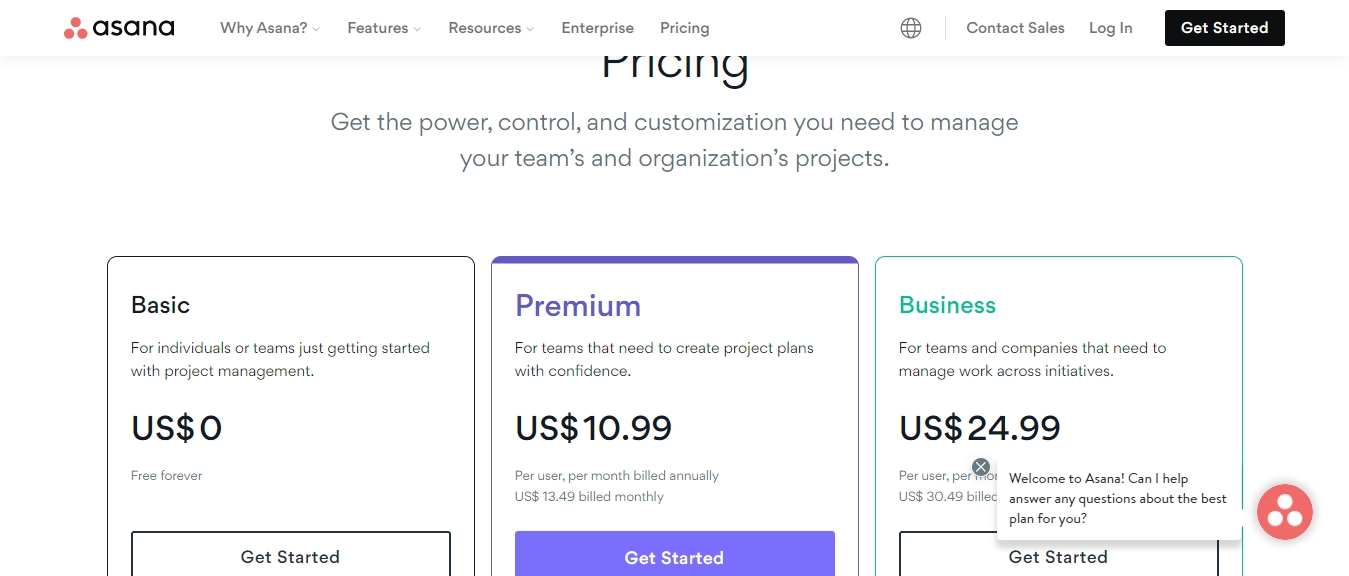 Asana offers users a three-tier payment structure, including a free yet decent basic package.
The basic package is free. You are allowed access to over 100+ integrations, time tracking features, project briefs, Asana personal overviews, calendar and board views, list view projects, a storage space of 100MB per file, unlimited projects, and can accommodate up to 15 members. That's as good as it gets when it comes to the free plan.
Their cheapest plan, the premium package, costs $13.49 per user per month for monthly subscribers. The price is reduced to $10.99 per user per month for a one-year service commitment.
In addition to what's available on the free plan, you get advanced searches and reports, private projects and teams, admin console, milestones, templates, start dates and task durations, forms, rules, unlimited free guests, custom fields, and unlimited dashboards and timelines.
The Business package unlocks Asana's full offerings. It is priced at 30.49 per month when billed monthly; the price drops to $24.99 per user per month for annual billings.
With this plan, you get access to additional integrations, proofing tools, differentiated approvals and access, advanced customization for forms and rules, workload access, goals, and portfolio views.
Final Verdict on Asana
Asana is a go-to and all-in-one project management software for remote teams. The tool is ideal for small startups (value-packed free plan) and big businesses (who use their paid plan) alike.
7. LiquidPlanner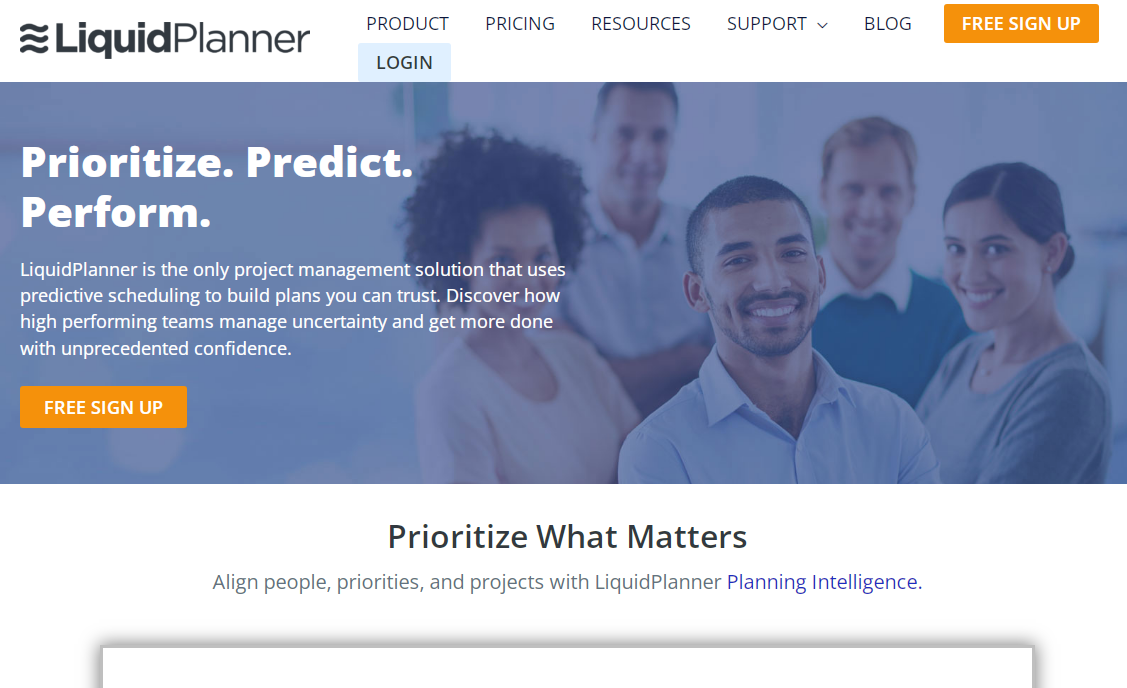 LiquidPlanner is famous for its collaborative and organizational abilities but has an impressive analytical system. The software comes with dedicated features capable of analyzing your business work ethics, trends, and growth.
This exposes the areas in your business operations and the company where you can improve. You will also gain better insight into your project management process and team.
LiquidPlanner's features include advanced analytics, integrated time and budget tracking, contextual collaboration, cross-project visibility, resource management, smart schedules, and many more.
In addition to the built-in features, LiquidPlanner also provides key integrations to help keep your project operations in one place. The software works seamlessly alongside other programs like Zapier, Okta, Google Drive, and DropBox.
Most advanced project management programs out there are difficult to understand; and LiquidPlanner is no different. The software's design is a bit complex, and the interface looks intimidating if you're a new user. It can also be hard to navigate through features or find tools. This makes the learning process time-consuming.
Now imagine having to train your entire team on the software.
LiquidPlanner seeks to remove this limitation by offering an onboarding plan that helps your team get used to the program. The onboarding plan is helpful to both newbies to project management software and those transiting from another program.
However, this feature is only available on the Profession or Enterprise plan. You can train 10 or more users depending on the plan you choose.
LiquidPlanner Pricing and Plans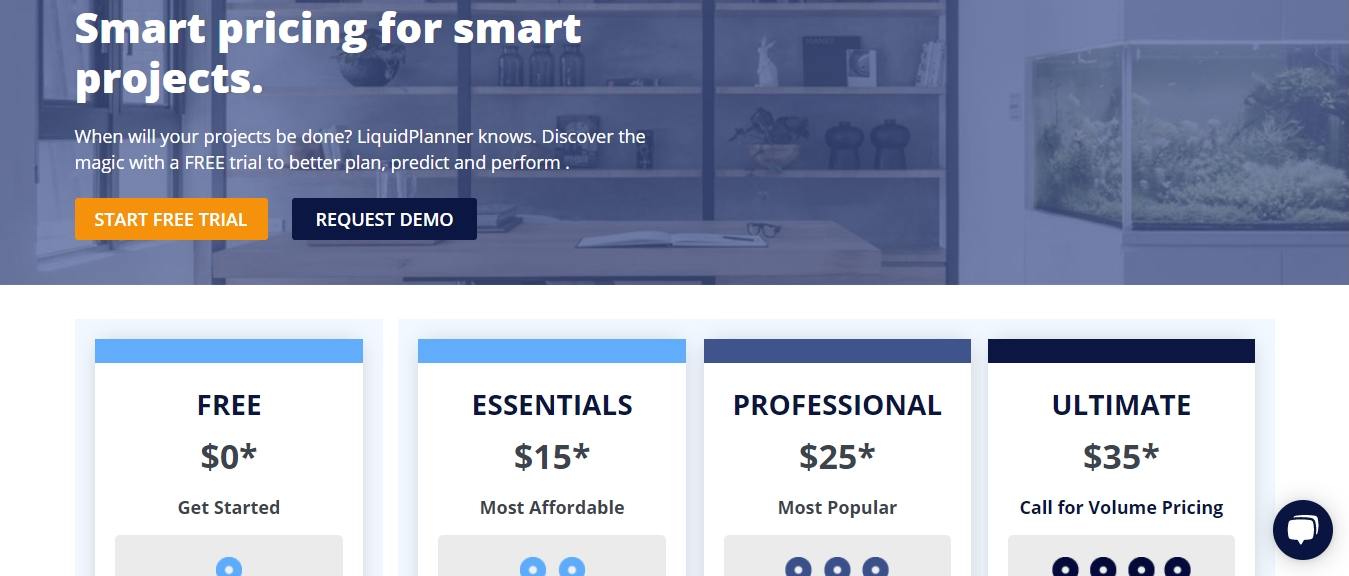 The liquidPlanner pricing structure does not support monthly payments. You are required to pay for the whole year upon signup. However, they offer new subscribers a 14-day free trial period if you want to test the product before paying.
There are two paid plans; the Professional plan and the Enterprise plan.
The professional costs $540 per year. Users get basic LiquidPlanner features plus 10 external dashboards, 2,000 active tasks, internal dashboards, phone and email support, time-tracking tools, a comment option for tasks, an onboarding package for 10 users, 25 virtual members, 100GB storage space, 20 custom fields.
LiquidPlanner's full package is available in the Enterprise plan. The cost is not made public; you'll have to call up the company for a quote. You get all features the software has to offer, plus expense reports, resource workload, onboarding packages, unlimited external dashboards, 50 custom fields, unlimited clients, unlimited active tasks, 500GB of storage space, and up to 50 virtual members.
Final Verdict on LiquidPlanner
LiquidPlanner is a top-quality choice most suitable for small businesses and startups. The software is highly scalable and can accommodate large teams.
If you want a smart, intricate system that offers comprehensive reporting and tracking features, LiquidPlanner could be the one you're looking for. Request your Demo here.
8. Scoro Project Software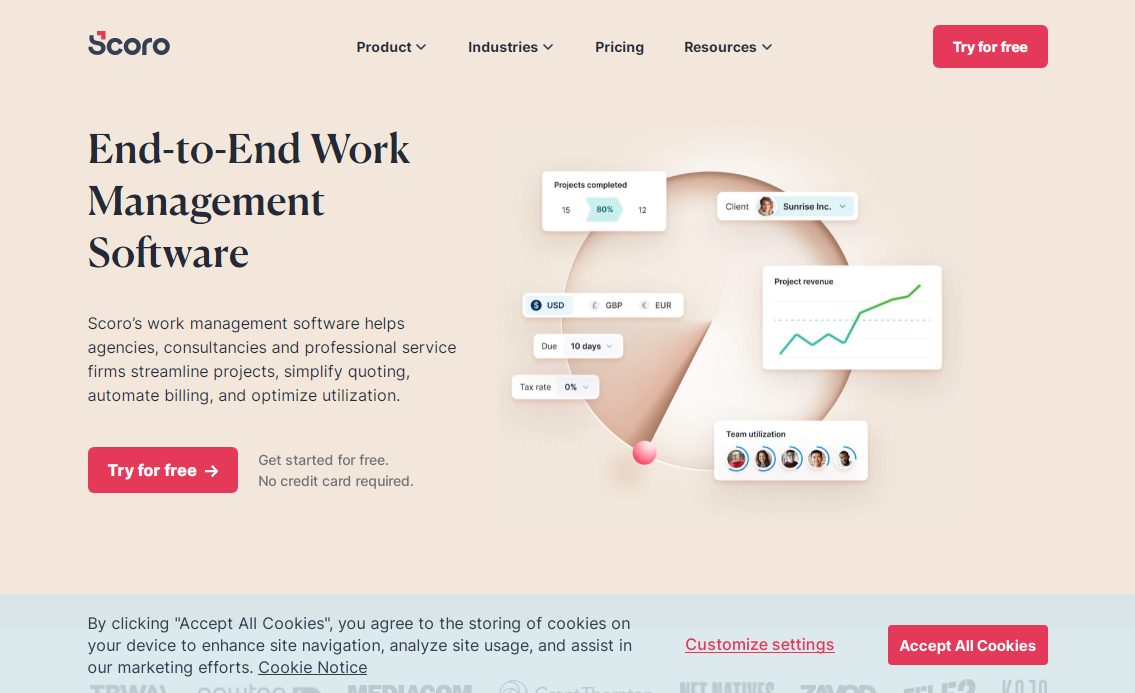 Scoro bills itself as an all-in-one project management software that provides you with everything you need to manage your projects and track your profitability, time, and work progress.
The online solution helps users consolidate processes and unify data by interconnecting the different aspects of a business. Your operational efficiency is also improved, and workflows are streamlined with this tool.
There are lots of impressive features on the table. Scoro's Gantt chart feature is one of the best in class for real-time tracking events, dependencies, tasks, and project progress. It's also easy to keep margins on target, create forecasts, compare budgets, and track profitability.
Other noteworthy features include timesheets, shared calendars, Kanban board, planner, deadline alerts, automatic notifications, and utilization reports, to mention a few.
Perhaps Scoro's shining point is its sales hub and CRM tools, allowing users to get a bird's eye view of their customers and sales activities. You can create high-level reports, track KPIs, use partial invoicing, and automate billing from a single dashboard.
Integrations with services like Zappier, QuickBooks, and Xero are also supported, as well as custom integrations.
Scoro Pricing and Plans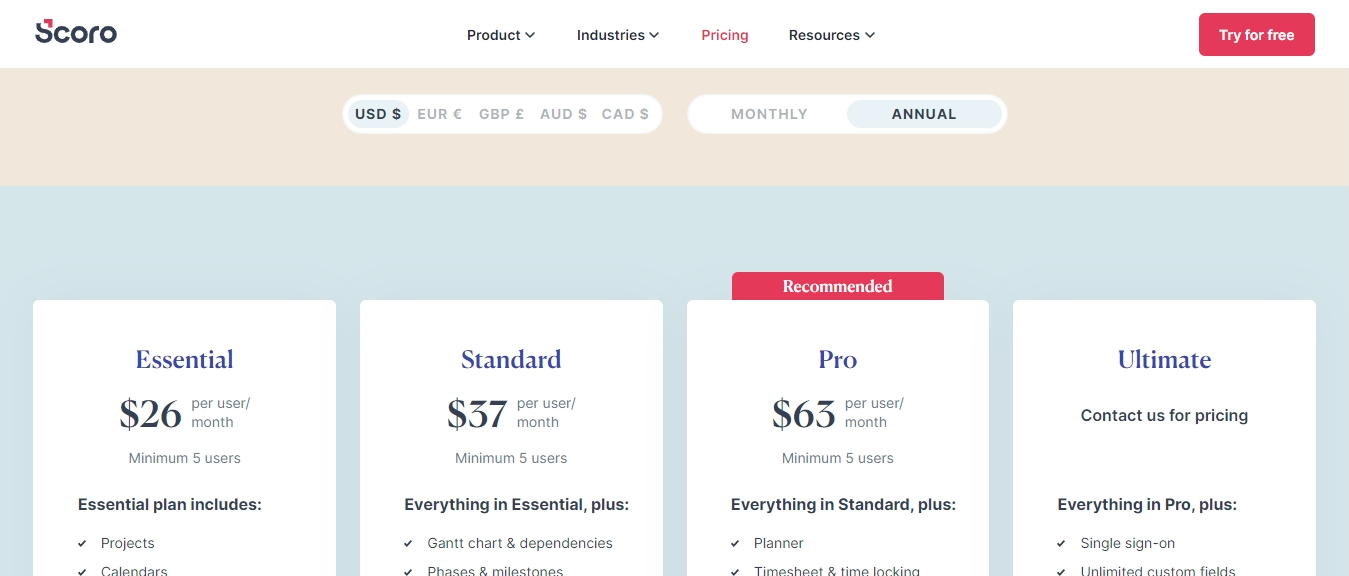 Users have the option to choose between four pricing plans. Note that you are required to have registered a minimum of five users, the plan you choose notwithstanding.
The Essential plan is the cheapest. It is priced at $26 per user per month. You get basic project management features, including a dashboard, invoices, quotes, contact management, task list, and board, summary and detailed reports, and calendar tools.
The next plan, Standard Plan, is available at $37 per user per month. This gives you access to everything available in the previous plan, plus detailed financial reports, automation, phases, dependencies, recurring tasks, expenses, purchase orders, templates, time tracking, milestones, and a Gantt chart.
There is also the Pro Plan, which is priced at $63 per user per month. This unlocks additional features to what you get from the standard plan. You get advanced tools like reminders, sales pipelines, billable time trackers, time locking, timesheets, planners, and more reports.
Finally, they offer big businesses a custom plan called the Ultimate Plan. Pricing is unavailable; you'll have to contact Scoro for a custom quote. You get unrestricted access to all Scoro's packages and features plus enterprise tools like supplier reports, customer portal, forecasts, budgets, unlimited custom fields, and SSO, to mention a few.
Scoro's onboarding services are billed separately, starting from $1,699 for six weeks.
Final Verdict on Scoro
Scoro is better suited for medium-sized companies. The software services are tailored-fit for customers offering professional services, business consultancies, and marketing agencies—but not limited to this list.
9. Workzone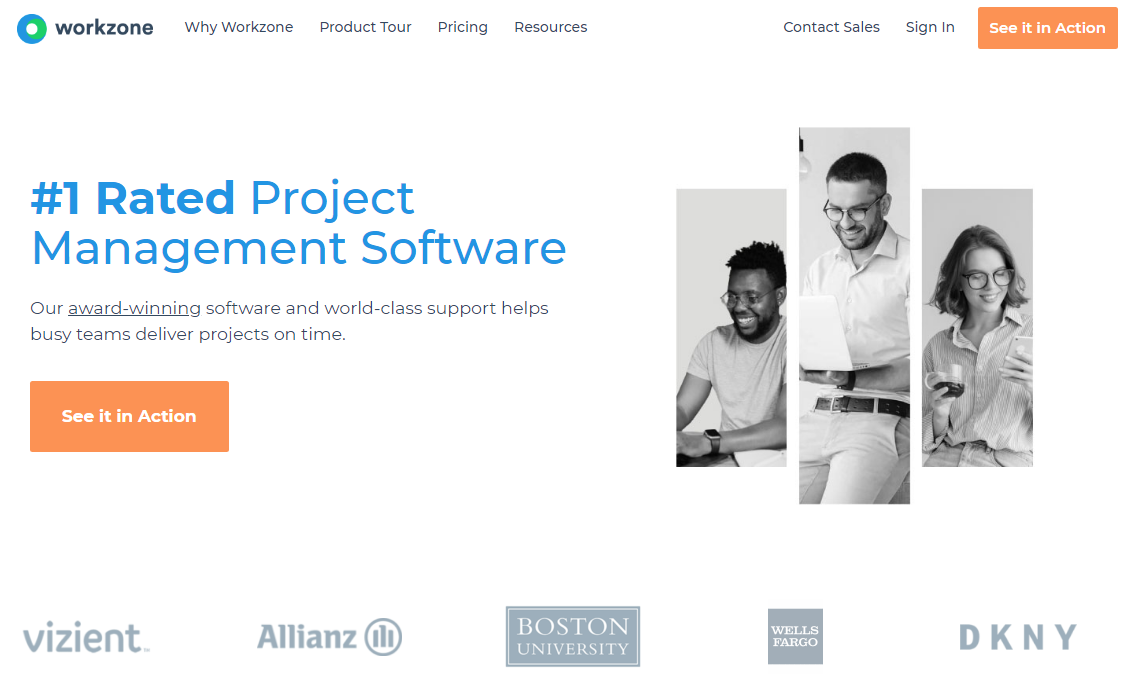 Workzone is a versatile online project management program that allows users to track and manage multiple tasks and projects with comprehensive views. You can easily change from a view of different tasks with detailed information on approvals, comments, attachments, due dates, and assignees to interdependent projects.
In addition to its enhanced visibility, the software offers great collaboration tools with automated alerts and reminders, allowing communication between teams and management of projects from one place.
The software has an impressive set of useful features suitable for different organizations and teams. A comprehensive project dashboard gives users a bird's-eye view of projects across the initiatives, clientele, or organization.
There's also a built-in time tracking tool that helps users track the amount of time spent on each task , useful for project costing or client billing.
Another feature worth mentioning is the Gantt charts tool; this gives you a graphical view of your project schedules and helps you identify areas in your project operations that need improvement.
Workzone Pricing and Plans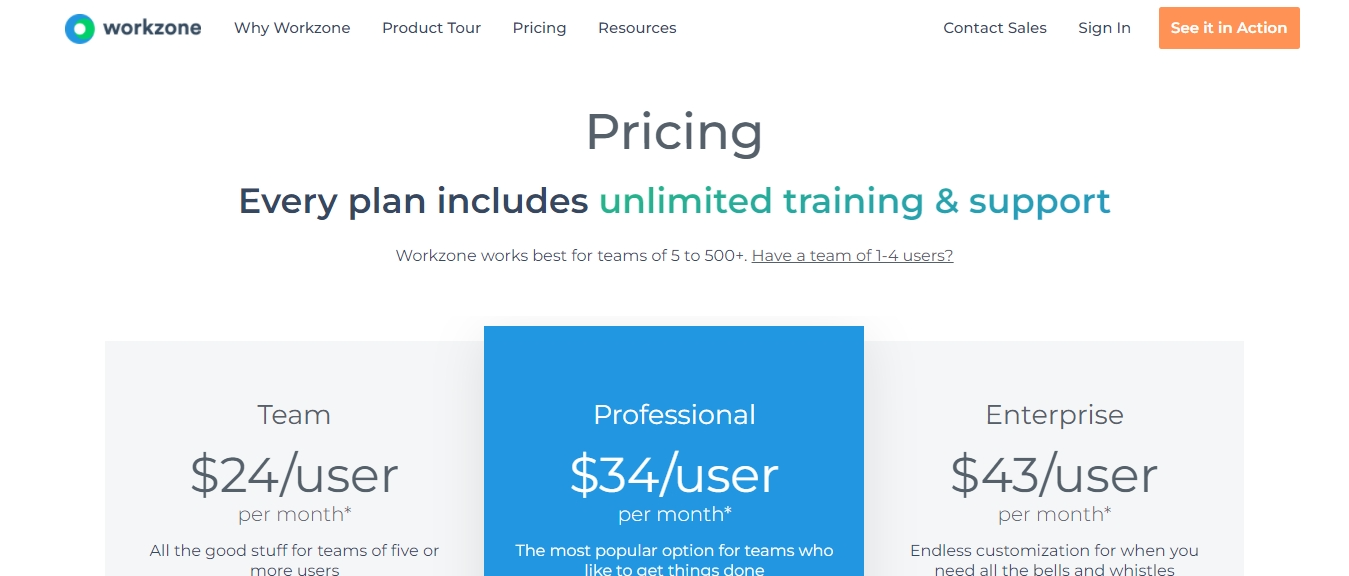 Workzone's offerings are available in three different plans; the Team, Professional, and Enterprise plans. The plans are billed annually per the number of users added. All plan comes with training support and unlimited task and project management. You can also request a free trial period if you want to test-run the product before buying.
The Team plan is billed annually and costs $24 per user per month. You get the essentials, including advanced reporting, resources management, time tracking, image markup, file share and approval, project templates, task dependencies, Gantt charts, and storage space of 100GB.
The Professional plan offers bigger storage space 100GB and additional features to the Team plans, including API access and project intake forms. This plan is priced at $34 per user per month.
Going for the Enterprise plan would give you access to Workzone's entire offerings, including SSO, workspace groups, critical path, cross-project dependencies, public access forms, custom reporting, custom fields, and 200GB worth of storage space. The plan costs $43 per user per month, paid annually.
Final Verdict on Workzone
Workzone is flexible enough to be used by businesses and teams of all sizes. It provides simple-to-use project management and collaboration features in a single platform for all types of users.
The software is popular among many industries like NGOs, banking, clothing and apparel, insurance and asset management, educational institutions, manufacturing, accounting, real estate, and health care.
10. Notion Project Software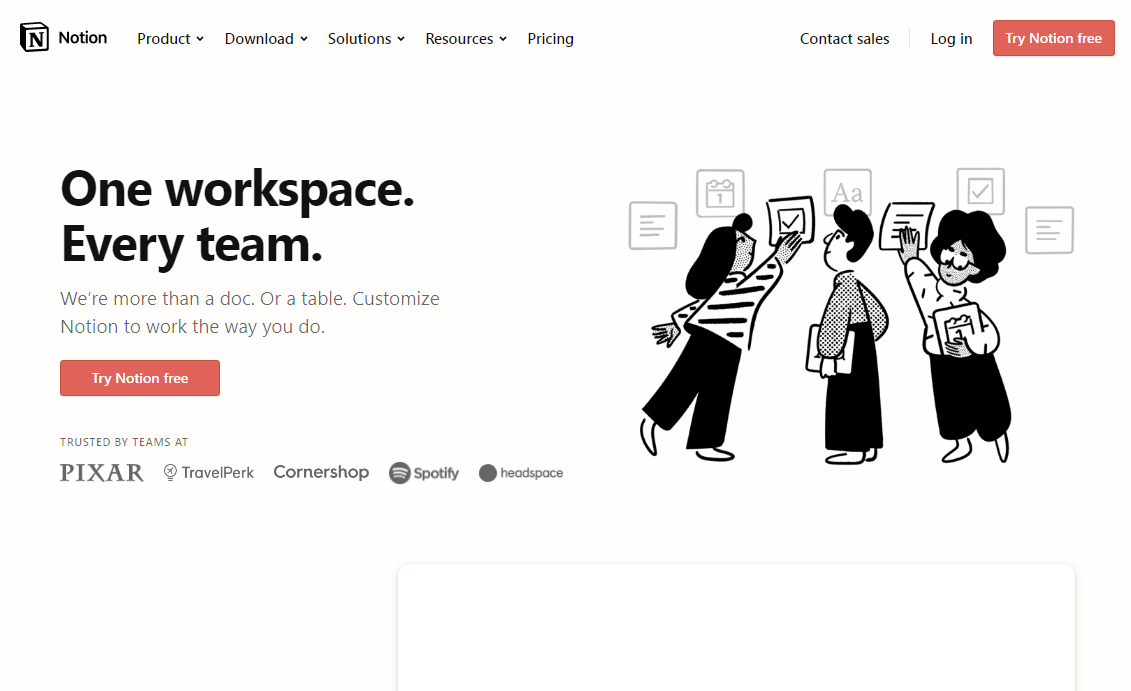 Notion is unique from other software we've reviewed in its DIY approach to project management. Users get to create their tools and workflow even without basic knowledge of coding. This makes the tool very flexible and compatible with almost any business or industry.
The software gives you a tool that allows you to build everything you need; which means there's no need for flicking between tools, porting, or APIs. You get the functionality normally only possible with multiple tools inside a convenient, easy-to-use tool.
What sold Notion to me was the incredible collaboration and organization ability. The software makes it possible for team members to stay on the same page at all times. I love the way the content is organized; it makes everything look simple and easy.
However, the major turn-off I experienced with this tool is its inability to integrate with other tools it claims to replace. This isn't a bad thing, except it could become a problem between organizations that use different tools.
While Notion is a good self, task, and project management tool in its rights, it doesn't excel at many other things; crippled with patches of missing functionality.
For example, its project management functionality can't compete with Basecamp. Also, its CRM functionality is on a subpar level to other tools like Copper or Salesforce. Although Notion would trump Trello's basic version easily, you'll still miss the range of plugins and integrations that Trello offers.
Notion Pricing and Plans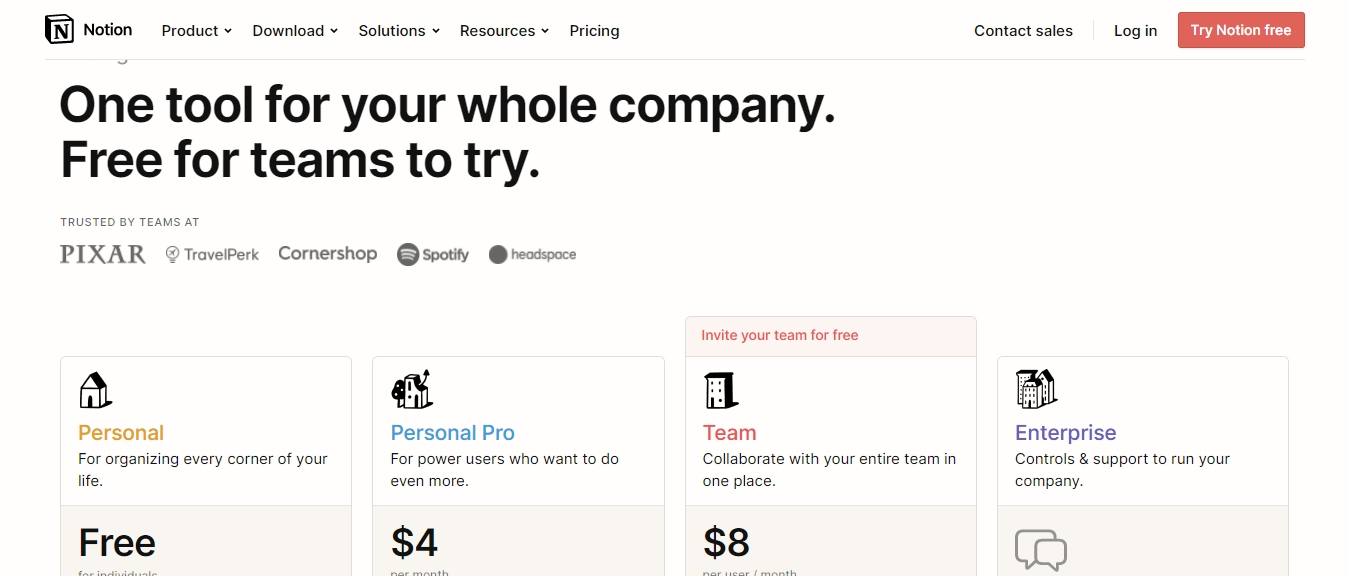 Notion offers users a straightforward price selection. There are four pricing plans to choose from, including a forever-free plan.
The Free plan is completely free, but I consider the features available in this plan very limiting. It's not recommended if you plan to use Notion on a long-term basis. However, it's a good trial plan to test-run the product and its services.
The Personal plan would cost you $4 every month, one user. There are no restrictions as in the free plan. This plan is specifically designed for personal use.
The Team plan can accommodate your whole team, and it's priced at $8 per user per month. It comes with the same set of features as the previous plan.
The Enterprise Plan is the most expensive of Notion's offerings. This plan features a huge monthly price jump to $20 per user. You get unrestricted access to all the features available on the platform, including a dedicated manager and unlimited of almost everything.
Final Verdict on Notion
Notion is a highly-flexible solution; however, the generalist approach the software developers took makes it hard to specialize. This also doesn't make the software the best fit for everybody; some would be better off without the product.
Don't expect much from Notion if you're on the hunt for the best Kanban, collaborative image, or CRM tool. However, the software's wiki creation and note-taking tools are best-in-class.
I'll recommend you test-run their services to determine if Notion would work for you.
11. Meister Task Project Software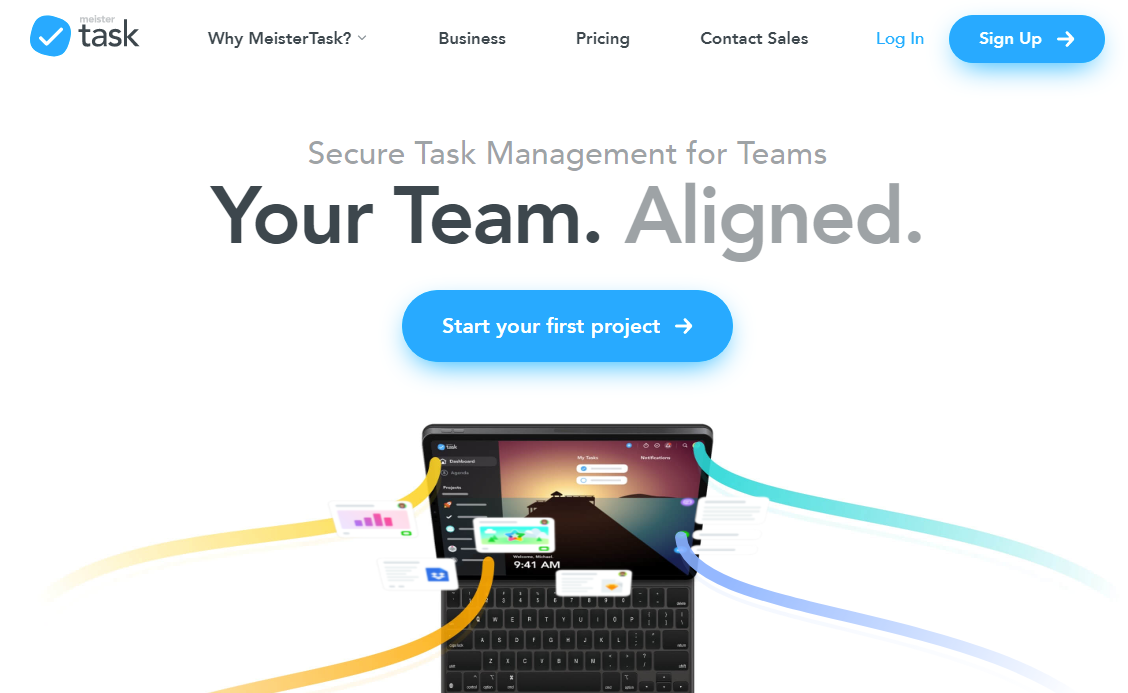 Meister Task is an online-based project and task management platform, especially for task managers who like to have complete control over their entire project process. The software also has out-of-the-box collaboration features and monitoring capabilities needed by team members and managers to improve work efficiency.
There are tons of innovative tools on the platform, including automation, reporting, and integration features. The software is interoperable with third-party apps like Dropbox and Google Drive.
The cherry on top is its ease of use. You can easily assign tasks, add team members, and create projects with a single click.
Users' flexibility with the project boards and workflows is phenomenal. All team members have access to view the project boards. This allows everyone to know where they are in terms of due dates, assignments, tasks, progress, and project status.
There is a specialized dashboard for each team member, which gives the user a quick overview of completed and in-progress tasks.
MeisterTask Pricing and Plans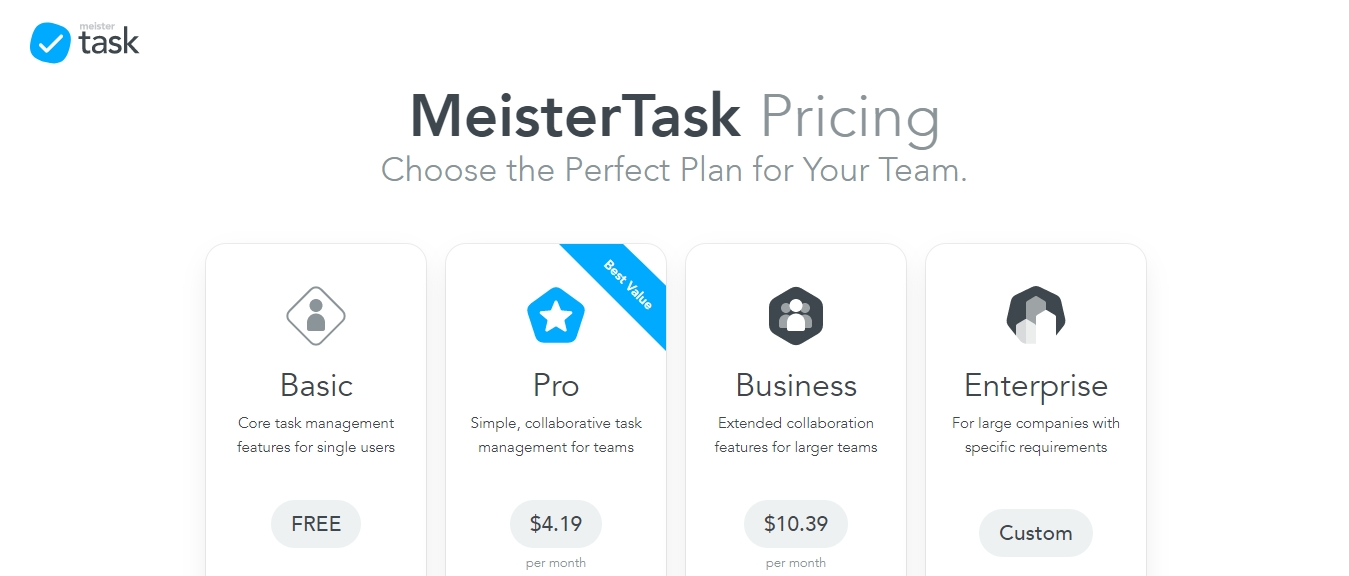 MeisterTask offers four pricing plans – Basic, Pro, Business, and Enterprise.
The Basic Plan is free but only advisable for simple task management. You get email support, mobile apps, file attachments up to 20MB per file, limited integration options, customizable project boards, unlimited project members, and up to 3 projects.
An upgrade to the Pro Plan would cost you $8.25 per user per month. You get unlimited integrations, an admin account, multiple team members, statistics and reports, a searchable task archive, custom backgrounds, WIP Limits, an agenda, multiple checklists, automation, recurring tasks, project groups, as well as everything in the Basic Plan.
The Business Plan costs $20.75 per user per month. It's ideal for big companies in need of sophisticated permissions and group sharing. You get all the features in the Pro Plan plus additional ones such as phone support, security restrictions, group sharing, team-wide project sharing, compliance and activity exports, roles and permissions, the ability to add groups to your team, custom fields, and timeline.
The Enterprise Plan is the peak of MeisterTask's offering. Pricing is not available; you'll have to contact the company for a custom quote. In addition to the features available in the Business Plan, you also get SAML Single Sign-on, custom security review, personalized onboarding assistance, and a dedicated account manager.
Final Verdict on Meister Task
MeisterTask is a one-stop-shop solution for your project collaboration and management needs.
Small businesses or freelancers would do well with the basic features available on the free plan. However, larger companies that need advanced project management would have to upgrade to one of their premium plans.
The most recommended plan is the Pro Plan. It's optimized for workflow automation and powerful integration;you get the best value for your money.
Try the free plan here
12. Nifty Project Software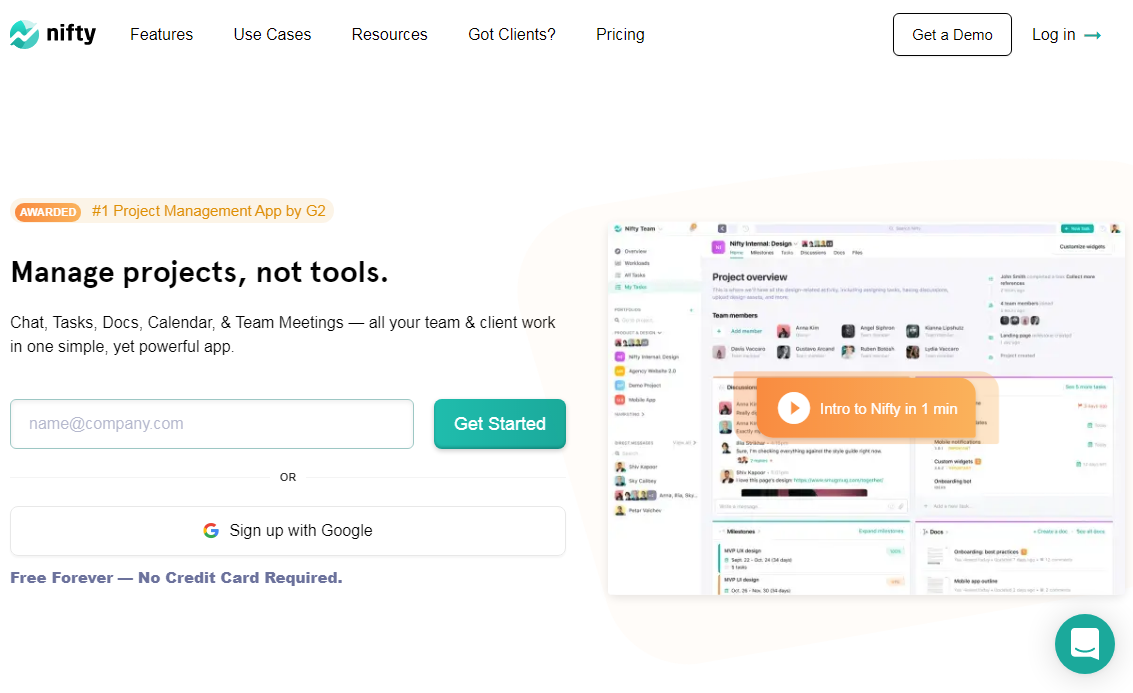 Nifty is another task management solution that allows users to organize and manage files, tasks, teams, and projects from a single platform. The solution also encourages collaboration between team members with different built-in smart tools; a game-changer with Google integration.
One of Nifty's strengths is the incredible amount of automation present. You can easily set up a workflow, and better still, affected team members are automatically alerted about updates done.
We also admire Nifty's customization abilities. It allows you to assign specific tasks to members and set deadlines in sync with its time-tracking capability. You will also enjoy the freedom to choose between multiple views: List, Kanban, or others.
Nifty's learning curve is very small, unlike other robust project management software. You won't have any difficulties adjusting to the interface, even if you're a newbie to project management tools.
Finally, real-time chat is available, making questions, quick check-ins, etc., effortless.
Nifty Pricing and Plans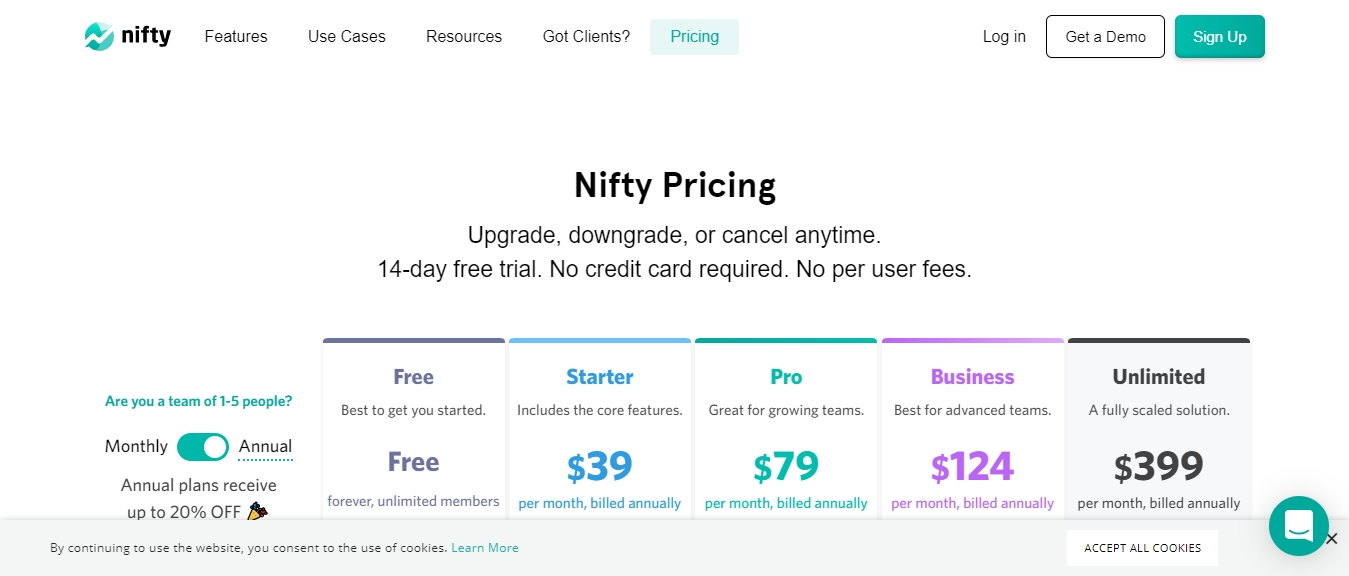 Users are offered 4 different plans with the freedom to choose between either paying monthly or annually. There is also a 7-day free trial; no credit card information required, this is enough time to access most of their features.
The starter plan unlocks unlimited guests, 10 active projects, 100GB worth of storage space, and up to 10 team members. Extra features can be added, including time tracking and cross-project overviews, for an extra fee of $20 per month.
The Pro plan gives you cross-project overviews, unlimited guests and active projects, 500GB worth of storage space, and can accommodate up to 20 team members.
Upgrading to the Business plan will give you access to all their advanced features, open API hosting, and priority support. You get a whopping 1TB worth of storage space, add unlimited guests and projects, and support up to 30 team members.
Nifty top tier plan, the Enterprise plan, is the most expensive option. The peak of this plan is that you get custom storage space, can add unlimited team members, and have the most access to advanced features. In addition, you also get customer support and account hosting options.
Depending on your team's size, the business plan is probably the best bang for your buck. It offers access to all advanced features while not maxing out on price.
Final Verdict on Nifty
Nifty is an excellent choice if versatility and ease of use are your topmost priority for project management software. The tool is a centralized project hub that combines reporting, project creation and management, and collaboration tools into one simple solution.
In terms of value for money, Nifty offers more than most other cloud-based project management software such as Asana and Basecamp. And, while Nifty isn't perfect, it's always improving and could become top in line in the future.
13. TeamWork Projects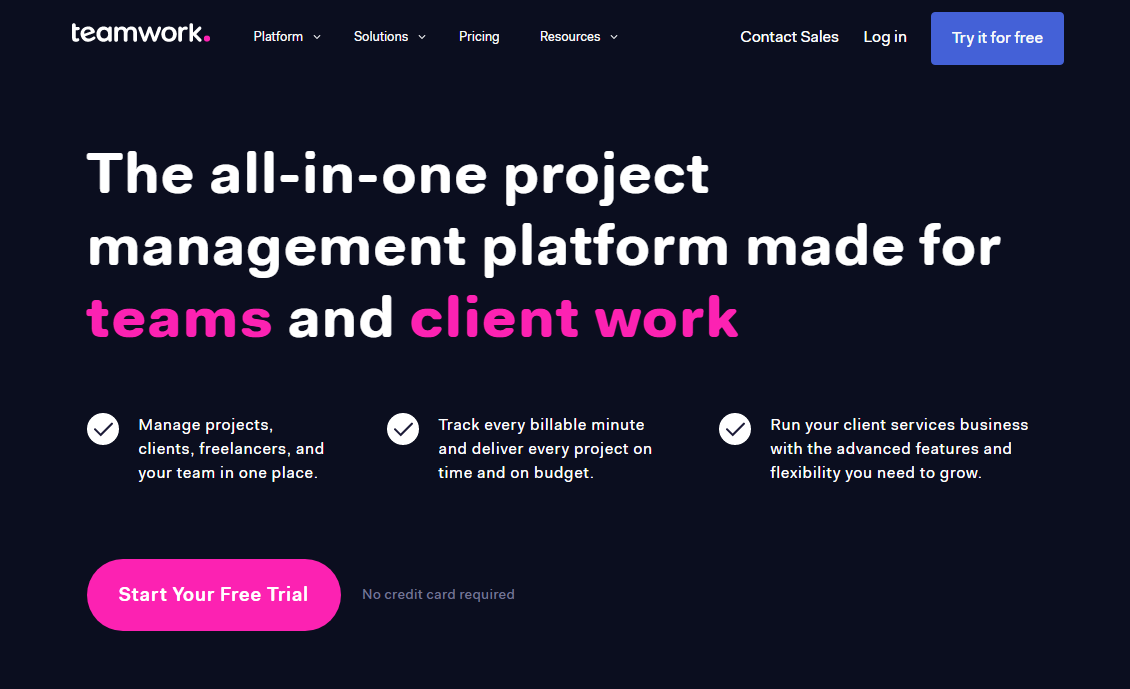 Teamwork Projects is popular for its support for different methodologies with a variety of customization options, templates, and views. Like most project management software in this review, it comes with built-in collaboration tools to increase accountability and visibility.
The software allows you to get a detailed and accurate report of your portfolio, workload, schedules, and more. Team members also have the opportunity to collaborate about work, as well as plan milestones and projects. Fast delivery of projects is also facilitated with integrations and smart apps.
Gantt chart is available to ensure easy project planning and full visibility of milestones and tasks. A task management tool also helps users reduce workload with its seamless ability to create tasks and subtasks. You can also assign them to one or multiple team members.
Other noteworthy feature TeamWork Project has to offer includes a calendar view for important tasks, events, and milestones, project owner assignment for clarity and accountability, and customizable task list templates.
Teamwork Projects Pricing and Plans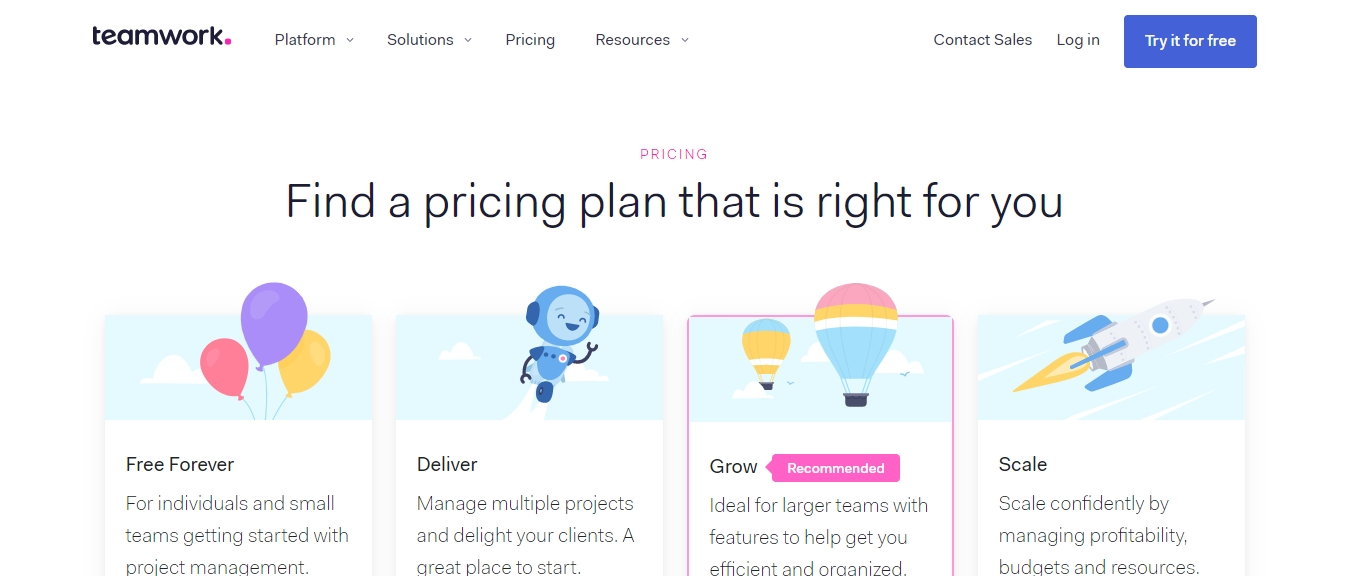 Teamwork Projects offers four convenient plans to users. There's a 30-day free trial period on all paid plans. This gives you more than enough time to examine the product yourself and get used to the software. Note that all paid plan requires you to add a minimum of 5 users.
The Free Forever plan is completely free and supports up to 5 team members. You get basic features as well as 100MB file space, limited boards, and 2 active projects. While it's limited, it's useful for small businesses just getting off the ground.
Their cheapest paid plan, the Pro plan, is priced at $11.25 per user per month. The price is reduced to $9 if you choose to pay annually. You get all that's available on the Free plan plus 100GB of file space, integrations, board view, 20 project templates, 300 projects, and can accommodate up to 50 users.
If you need more advanced features, you can opt-in for the Premium plan, which is priced at $15 per user per month. There's also an Enterprise plan for big corporations that have custom needs. However, you'll have to contact the company for custom pricing.
Final Verdict on TeamWork Projects
Organizations and teams of all sizes in different industries can use TeamWork Projects. The offerings are suitable for enterprise, professional service, product, support, and marketing teams.
Teamwork Projects is worth checking out if you're looking for a project and work management tool with collaborative features in a central place.
Start Using TeamWork now.
Other good Project management Softwares to check out…
There are some other great project management tools beyond this list that are worth checking out. Other top recommendations are:
Kissflow Projects
Wrike
Monday.com
Clarizen
Airtable
Kanban Tool
Zenkit
Clickup, and
Paymo.
Frequently Asked Questions About Project Management Software
Q1: What is project management software used for?
Project managers and teams make use of project management software to control their work operations, optimize efficiency to hit project deadlines, and manage costs. It allows users to be able to deliver projects on time.
It also helps people to team members track their payments, whether it's the right amount or coming at the right time. They usually come with many high-level bucket features useful for work management, project management, and team collaboration.
Q2: What are the stages of a project in project management?
No two projects are the same. But in most cases, the project management life cycle is divided into four phases: initiation, planning, execution, and closure. These phases make up the road that leads from the start to finish your project.
Q3: What are the most important aspects of project management software?
A good project management software should have the following features:
Project planning and scheduling.
Team collaboration.
Time tracking.
Reporting.
Project budgeting.
Billing & quotes.
Q4: Why are project management tools important?
A project management application allows you to easily create a task hierarchy for quick and efficient completion. It also allows you to designate which actions are performed in a specific order and which tasks are interdependent. As a result, the team's mission becomes easier to do.
Q5: What is the primary use of project management software?
Even though project management software is utilized in many ways, its primary goal is to make the planning and tracking of project components, stakeholders, and resources easier.
Q6: What is the most commonly used project management tool?
JIRA is the most widely used project management software among firms following the Agile SDLC methodology. The teams can use the real-time reporting features and develop Kanban boards and custom scrum boards.
Q7: Is Excel a project management tool?
Although Excel's tools aren't expressly developed for project management like some other software, it can handle many of the responsibilities connected with planning out the project scope, managing finances, and managing day-to-day operations.
Conclusion
Finding the best Project Management software that's a perfect fit isn't as hard as it seems. It requires thorough research and investigative skills.
This article has narrowed down the list for you. The quest is easier and shorter when you're only focusing on a selected few.
By now, you should be able to personally review a project management software and discern which is better suited for you.
As a word of caution, avoid unpopular or newly created project management software that promises down-to-earth prices. If it's as great as advertised, chances are, it won't be so cheap.
The value you get from some PM tools is worth the investment. Stick to project management tools that have withstood the test of time and have many users.
Project and task management should be fun and stress-free.