Last updated Jul. 11, 2023 by Favour Chinaza
17 Best Project Management Software and Tools
It might be challenging to pick which Project Management software is ideal for your project's needs with many available options.
You are a project manager if you manage work. However, this was not always the case. For many years, the only persons in charge of project management were (unsurprisingly) project managers.
These highly specialized professions require substantial training and the ability to handle legacy tools.
Now that practically everyone is expected to manage their projects, these obsolete technologies are no longer useful.
While project manager positions and old software remain, current project management software has evolved to meet the demands of a more dynamic, collaborative workforce.
There is project management software for everyone, whether you are a brand new business owner who only wants help with invoicing or you run a multi-national corporation.
Here's a guide to the best project management software for your company's needs and tools for any project to save you the burden of having to sift through various software for the appropriate one.
What Is Project Management Software?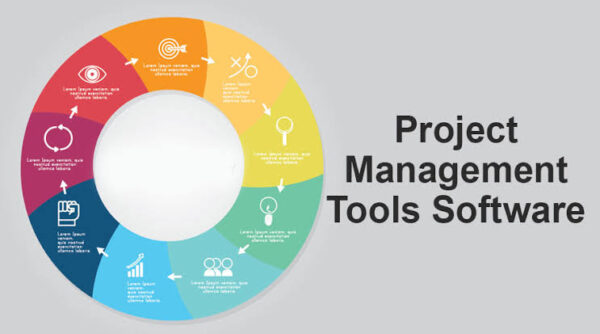 Project management software is a digital platform/tool that businesses or individuals use to do the following:
plan projects
allocate and track project resources,
schedule project timelines and tasks,
assign tasks
track progress
capture and implement knowledge and ideas, and
collaborate with team members for project completion.
Project management software also helps businesses keep organized by providing document storage, search, and organizational tools.
PM software enables successful project management and control by combining project planning, task management, resource allocation, time tracking, and communication into a single application.
It gives project managers real-time status updates, allowing them to make quick decisions and change a project to keep it on track.
Finally, project management software aids in the transformation of chaos into clarity and provides you with the control you require to direct your projects toward their intended aims and outcomes.
Good Read: 24 Best Social Media Management Tools, Apps, and Software
What Makes a Good Project Management Software?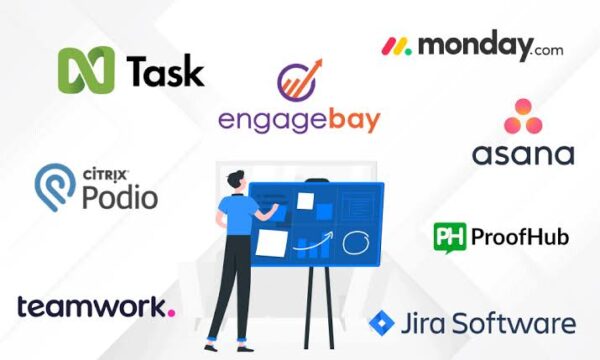 From tracking deliverables to managing resources and budget management to collaboration with team members, there is a lot to consider when running and managing projects.
This holds true when choosing the right project management software tool as well.
Here's a list of the top 5 key functional aspects of project management software to guide you in your decision.
Task lists – being able to assign and update the status of tasks so that everyone in your team is on the same page is critical.
Schedules – many tools offer calendars, Gantt charts, or milestone tools that help you understand where a task fits into the project as a whole and how much time there is to complete it.
File sharing – sharing and organizing key project documents eliminates time wasted searching for files.
Communication – this is critical in project management as a smooth flow of communication means quick and easy problem solving
Reporting – this is important for all team members when it comes to updating themselves on the project as a whole. However, this is also a huge plus for project managers who want to ensure that the project is progressing and tasks are being carried out in a timely manner.
Benefits Of Project Management Software
Overall, project management software may help firms track the progress of projects, campaigns, resource allocation, and activities across an organization.
Project managers and team leaders can use a project management solution to understand better how organizations and teams are pacing and to keep teams on the same page.
Teams without project management software have struggled to track all remote work and project updates, as we can no longer rely on in-person meetings to communicate information.
That is why, whether you are just establishing a business or seeking ways to adapt your well-established organization, project management software will be more important in 2023 (and beyond) than ever before.
Here are a few of the most important advantages of using project management software:
Improves communication and teamwork within an organization
Allows leadership to see the big picture of project development. Aids teams in keeping tasks in perspective and understanding priorities.
Aids in cost control and budget management, aids in resource allocation; and reduces team-wide burnout.
Remote collaboration is made easier for dispersed teams or using a mixed work paradigm.
Best Project Management Software and Tools
Monday.com:- Best for large teams with complex workflows
Trello:– Known for its flexibility in task management but best for small teams
Click-Up:- Suitable for teams of all sizes and best for unlimited users
Asana:- Best for Project tracking
SmartSheet:- Known for its flexible spreadsheet-centric work management tool.
BaseCamp:- Suitable for teams working with external people
Hive: – Widely known for its Advanced collaborative feature
Wrike: – Known for its Simplified all-in-one solution for team collaboration
Jira: – Known for its agile management tools that support agile methodology.
Nifty: – Best for Remote team members
Zoho Project: – Best known for its Inexpensive pricing plan
ProofHub: -Absence of per-user fee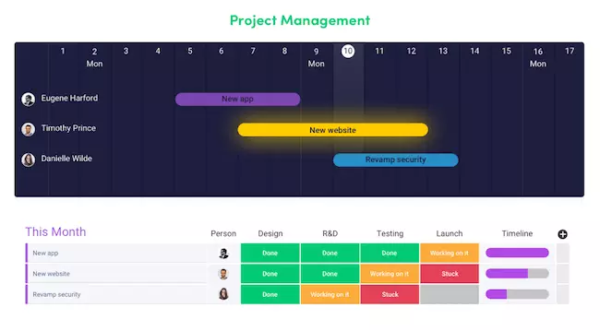 Monday.com is a project management software with several features that simplify project operations using a visual approach.
This tool is almost entirely customizable. Aside from the various task views, custom fields, and collaboration tools, Monday.com excels in assisting you in creating automated processes.
The automation center is a screen where you may choose from pre-defined templates and simply click to select the most relevant information from dropdown menus.
You can also find template actions for connections like Slack and bespoke cards that you can create from scratch. If you follow this path, you will be sent to a drag-and-drop builder.
Monday.com Key Features
Built-in Time Tracking: This feature gives insight into how much time you spend on specific tasks, how to streamline future projects, and the most time-consuming project.
Customized Template feature that provides you with ready-made templates and tools for customizing your templates.
Workflow Automation features that prevent the occurrence of repetitive tasks, thereby enabling faster progress on tasks.
Robust Integration: To prevent you from moving back and forth between platforms, this software provides you with tools such as Dropbox, Google Calendar, Slack, Jira, Outlook, Zoom, Gmail, and more.
Multiple Project Views: Monday.com allows you to view and access multiple projects at the same time through the Kanban board, Calendar view, and Gantt chart.
Collaboration Features that provide team members with tools to interact about topics relating to project status.
Enables the integration of various third-party software program
Offers 24/7 customers support service.
Pros
Helpful visual/color coding customization
Easy to customize a workflow or board
Long list of supported integrations
Huge focus on collaboration
Cons
May be too robust for small teams
Gantt charts locked to mid-level plan
Complex pricing rubric
Pricing
Depending on the size of the firm and the number of users, Monday.com offers a variety of premium plans. Basic $8(2 users/month) up to Pro $16 (2 users/month). They also provide an Enterprise package (price upon request).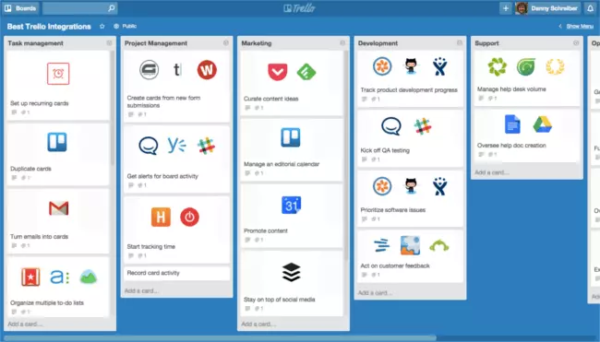 Trello is a Kanban board platform that helps businesses keep track of everything. It's a simple and adaptable project management software that allows agile teams to manage and arrange their tasks in real-time while working on critical projects.
Trello is an online Kanban tool that distinguishes it from other project management software. This means that it depicts a full project in a single view.
Trello allows you to create cards and move them across the 'board.' These cards can display a variety of information, such as chats or to-do lists,
The cards can also be placed on a board, making them available to any of the designated tool users.
Trello Key Features
Boards, Cards, and List System– On the Trello application, the board feature lets you keep track of information. The list feature keeps tasks organized in their stages of progress, making you know their progress status, while the unlimited card feature represents tasks.
Power-up Feature– this feature adds and edits content to your board. It also enables you to integrate third-party apps like Zoho, Zapier, Jira, and Evernote into Trello.
Offers In-line tasks list editing feature using Drag-and-Drop mechanism
Offers File Attachment and Checklist feature.
Labeling, Tags, and Comment Feature
Offers six major views
Voting option– With this feature, team members and customers can vote on cards making it easier to know which task should be prioritized, leading to team-driven decisions.
Allows for Multiple Integration – Trello allows for seamless multiple integrations with third-party apps, plug-ins, extensions, and systems.
Pricing
Trello offers four pricing plans. The free Trello plan allows access to unlimited cards, lists, members, and checklists. However, you can only access a maximum number of ten boards.
The standard pricing plan costs $ 5/month and comes with the same set of features available in the free plan. But there are no restrictions on the number of boards to be used.
The Business plan costs $10/month per user and allows access to multiple views, unlimited boards, lists, cards, checklists, and power-ups. It comes with unlimited storage but limits each file's storage space to 250MB.
The Enterprise plan costs $17.50/month per user and offers features available in the business pricing plan. It also provides other features that enable more security and control across teams.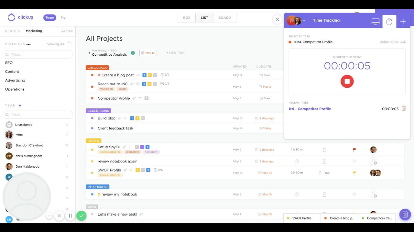 ClickUp is project management software with numerous features promoting team collaboration and communication.
We endorse ClickUp because they tackle the idea of creating an app that nicely replaces all others.
Because the features offered in this program primarily foster cooperation, it is an alternative for remote teams.
You won't need to leave this platform unless you need to bill the customer, thanks to features like the ability to tag people in conversations and collaborative documents and whiteboards that allow users to co-create.
ClickUp Key Features
Customizable task management feature enables you to build tasks according to your preferences. This feature allows you to organize your tasks into sub-tasks, helps you minimize a task, track a task, and view all tasks in one view. This feature also enables users to create Gantt charts, timelines, and calendars.
Offers Communication and Document Collaboration Tools that aid collaborative sharing and editing of documents. This feature also allows users to leave comments within tasks.
Zapier offers a wide range of integrations with G Suite, Dropbox, Slack, and other 1000+ integrations through Zapier.
It offers project and financial reporting features that enable you to create custom dashboards. It also offers six built-in report types to aid reports on financial goals and account management.
Time Tracking: This feature gives you an insight into your employee's progress and movement on specific tasks.
Support for Agile Methodology
Timesheet Tracking
Pros
The most comprehensive and cost-effective assortment of programs to satisfy the needs of various-sized teams.
Keep track of many projects and assignments in one location using the Inbox.
Gantt chart software for managing project task dependencies
Configurability is robust for modifying and managing platform workflows.
Allows you to insert spreadsheets from Google Projects and Google Sheets directly into your project space.
With Custom Access Rights, you can add freelancers to your team workspace.
Workload View allows for efficient resource allocation.
Utilize Pulse, a useful feature for remote work.
Mobile apps for iOS and Android that are really powerful
Web developer Chrome extension
ClickUp, unlike other project management software, features a feature-rich free edition.
Over 1,000 integrations for developers, business suites, storage, and more are available.
Cons
Slight variance between imported file and platform results.
Some platform actions are less intuitive and require additional troubleshooting.
Occasional lagging between moving pages and lingering platform notices.
Pricing Plan
ClickUp offers five pricing plans to its users. The price for the different plans ranges from $0 to $19. The free plan comes with sufficient features that make it suitable for small business owners.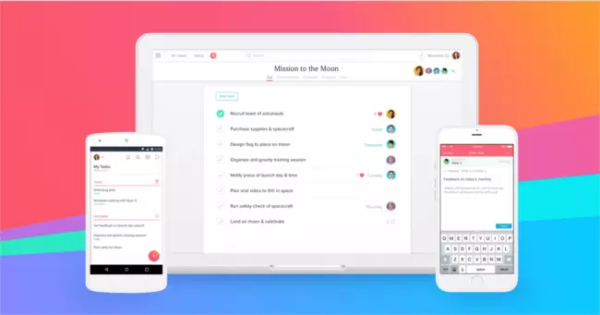 Asana is a straightforward cloud-based project management tool that assists businesses in organizing activities into projects and teams. It is also one of the best accounting software for business.
Asana's user experience is colorful, rich, and appealing, with everything from segregated productivity elements to amusing cartoon animations that "zoom" across the screen to celebrate task completion.
This earned them high marks in the evaluation criteria's UX category.
Asana allows you to view your data in the following views: board, list, timeline, and calendar, where you may save and visualize project information such as tasks, subtasks, milestones, task assignees, sections, custom fields, and much more.
Asana Key Features
Advanced Customization Option: this feature permits the manipulation of details during project management.
Advanced Automation Feature that helps build simple custom workflow and reduce bottlenecks.
Multiple Integration: Asana connects with tools like Trello, Salesforce, Google Drive, Zendesk, Slack, and more.
Enables group discussions, comments, tags, events, add followers option, meetings, searched views, multiple workplaces, customer support, prioritization, subtasks, email integration, and tracking.
Offers Communication Tools that allow team members to cooperate on projects, discuss projects, and share files without third-party apps.
Pros
Robust feature set competing with the best in project management software.
Friendly user interface and flexible controls for different tools.
Extensive import options, including multiple top project management platforms.
Cons
The interface is less intuitive at times than competing project management tools.
Deploying some features and advanced tools has a steep learning curve.
When switching between platform sites, there are occasional error messages and latency.
Pricing Plan
Asana offers four pricing plans. The Free plan costs $0 with 15 team members as the limit. The Premium plan costs $10/month per user when billed annually.
The Business plan costs $24.99/month per user when billed annually but costs $30.49 when billed monthly. To find out the Enterprise price plan, contact the Asana Team.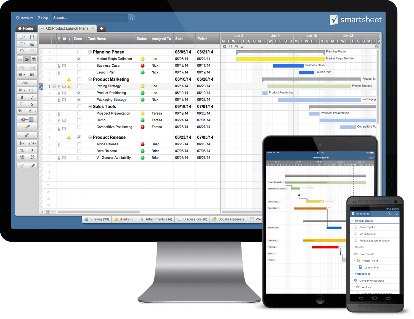 SmartSheet project management software includes a spreadsheet-based application for easy project management and workflow automation.
From onboarding to using the platform, I was impressed by the interface's user-friendliness and the features' extensibility.
Smartsheet improves on previous technologies by providing an accessible user experience, necessary integrations, strong configurability, and no-code capabilities in a spreadsheet interface.
Smartsheet's price is among the most expensive on the market, and there is no free unlimited option. Nonetheless, the platform's advantages outweigh the drawbacks for small teams to enterprise businesses.
SmartSheet Key Features
Project Research Management Tools: this feature enables client's project adding, importation of employees rooster from a spreadsheet file, the building of agenda for tasks, task tracking, and reporting.
Interactive Gantt Chart View: Smartsheet utilizes this feature to enable project administrators to track task progress and status. It also aids in the visualization of tasks relationship.
Offers tools for communication and collaboration among team members.
Enables you to work on different projects from a single control feature and also allows for Widget-based visualization of project status
Seamless Integration With Multiple Third-Party Software.
Customization tools
Enables Multiple Integrations and Add-ons.
Task Automation
Pros
Friendly user interface for moving from legacy spreadsheet tools.
Extensive documentation and access to onboarding assistance.
Prebuilt project and automation templates to get to work fast.
Cons
Several tools are add-ons, requiring an additional purchase.
Security features are limited to the Enterprise subscription.
Premium support is only available for higher-tier plans.
Pricing Plan
SmartSheet offers no free plan, but each paid plan comes with a 30-day free trial.
The standard (Pro) plan costs $7/ per month when billed annually, while the Business plan costs $25/monthly per user.
There is no pricing for the Enterprise plan, and you'll have to contact the SmartSheet Team.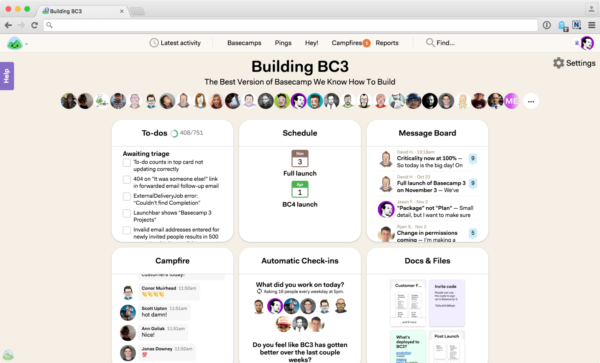 BaseCamp is a project management software that allows for file sharing and storage, job management, and team communication. Basecamp also doubles as one of the best CRM software for your business.
Basecamp is a popular project management software that many project management teams utilize. This software provides a variety of collaboration capabilities, such as a specific discussion space where users can submit comments.
A daily summary of the projects on which your team is working (with statuses and updates) is also delivered to your email. Users can also participate in debates by email.
If you can't find something, you can utilize this software's excellent search engine to find files or discussions.
Basecamp may not replace other paid monthly services such as Dropbox and Slack, but it provides many of the same features and tools as those services and integrates them into a single system.
Scheduling and calendaring, real-time chat, private messaging, file storage, and other features are available.
It has a streamlined layout and sophisticated search options that make it simple to discover the task, image, or message you're looking for. It also has a robust reporting package allowing you to go as broad or deep as you need.
Working with customers is well-managed, with email integration and the ability to exchange specific assignments and communications with persons outside the organization.
Notifications can be tailored to your needs, and you can even suspend them after business hours.
Basecamp Key Feature
Team Communication platform: this project management software is characterized by Campfires and Ping features that allow for private messaging, group discussions, file sharing, and queries among team members.
It Offers To-do lists feature that helps administrators create to-do lists to be assigned to team members. Subtasks, deadlines, notification settings, notes, images, and other files can be added with this feature.
Reporting features: This feature enables reports on tasks deadline, task status and progress, new tasks, and completed tasks.
Hill Chart: This feature gives a real-time report on a project's status and progress.
Extensive Third-Party Integration
Pros
Features include scheduling, calendars, real-time chat, and more
Robust reporting capabilities
Easy collaboration with those outside the organization
Cons
No free plan
Lack of milestones and customizing choices,
Inability to specify an anticipated length for work or assign it to more than one person.
$99/month pricing may be a sticking point for small teams
Pricing Plan
BaseCamp offers two pricing plans, including Personal and Business plans.
The free personal plan allows you access to 1GB of storage space, 20 users, and 3 projects.
The business plan costs $99 per month for the entire team. It comes with unlimited features.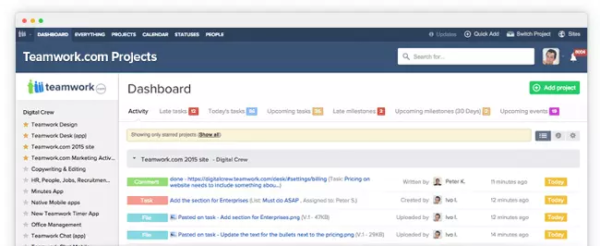 TeamWork is a project management software product that makes project management easier.
Teamwork Projects is an excellent project management software for the seasoned project manager.
Teamwork Projects contains all of the tools you'll need to track the progress of a project.
The program is highly versatile, with features such as Task Management, Milestones (you can link task lists to Milestones), Messaging, File Storage, Time Tracking tools, and more.
Teamwork also assists project teams in visualizing the project through the use of a marked calendar, Gantt chart, and set-up reporting. DropBox, Google Drive, and Box.com all provide file management services.
TeamWork Key Features
Gantt Chart: This feature allows for assessing a project's duration. It also enables you to view the needed resources for a project and the steps to complete a task.
Offers Collaboration Tools that make collaboration amongst team members efficient.
The Kanban Board View feature enables you to visualize the work done at the various stages of a task.
Portfolio: This feature gives you insight into a project's status and the challenges each project faces.
File and Versioning feature that lets you manage a project's file. This feature also gives you reports on who accessed a file and when.
TeamWork also offers features such as a task list template, CRM, Reporting feature, customized dashboard, integration, and more.
Time Tracking Feature that enables the tracking of tasks.
Automation Feature
Pros
Loads of customizability
Lots of native features, such as an invoicing tool for clients using built-in timesheets
Good mobile applications
Cons
Cannot handle complex project management
Free plan only useful for very small teams working on two or fewer projects
Pricing Plan
TeamWork offers four pricing plans: the Free Forever plan, which comes with no price tag. The Deliver plan costs $10/month when billed annually. The Grow plan costs $18./month when billed annually, and the Scale Plan.
Contact TeamWork to find out the price tag for the scale plan. Both Deliver plan and Grow plan offers a 30-day trial feature.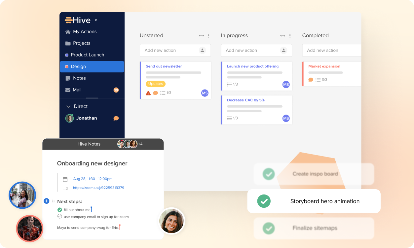 Hive is a cloud-based collaborative project management software that enables large and small teams to manage projects efficiently.
Hive streamlines your work in one centralized platform by providing flexible project views, dependencies, infinite projects, and dozens of integrations.
Hive, used by teams ranging in size from 10 to 1,000 individuals, is an excellent choice for various businesses and work styles.
Hive's time tracking, analytics, and flexible view options enable a clear picture of the work of other team members and impending initiatives.
Hive's project management module also has a complete email connection, allowing you to send and receive Gmail and Outlook messages directly from the app.
Choose Hive if you're looking for a well-designed, all-encompassing project management application that can be scaled up or down, dependent on team requirements.
Hive Key Features
Offers Gantt view, Kanban view, Calendar view, Portfolio view, Table View, and Label view.
Offers a track sheet feature that keeps you updated on time spent on tasks, most productive tasks, and individual task status.
Hive is Integrated with over 1000 third-party apps to keep you from going back and forth between platforms.
Communication tools to help communicate with team members.
Allows for external collaboration
Offers advanced collaborative features.
Allows for the importation of data from other project management tools.
Offers Free Demo
Pros
Easy to integrate with other tools
Intuitive & pleasant UI
Great all-in-one option for SMBs
Excellent built-in communication features
Cons
The mobile version is limited in functionality
Vastness of capabilities means a steep learning curve
Reporting functions could be expanded
Pricing Plan
Hive offers three types of pricing plans.
Hive Solo, the free forever plan, is designed for individuals and small teams.
Hive Teams costs $12/month per user when billed annually but costs $16/month when billed monthly.
The Hive enterprise price plan isn't specified, but it's designed for teams with the need for custom project management features.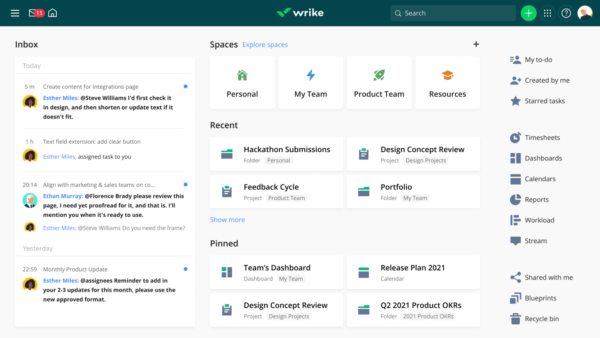 This project management software provides your team with 360° visibility on tasks, enabling better project management. It doubles as one of the best CMMS software you can deploy for your business.
Wrike is a collaboration and project management software that runs in the cloud.
This application assists its users in keeping track of day-to-day activities and ensuring that the project is completed within a specific time frame and budget.
Wrike may be coupled with various corporate applications such as Google Apps, Microsoft Excel, Dropbox, and many more for creating tasks.
The Wrike app also allows you to convert emails into tasks. Users can also utilize this email integration to create, assign, or edit documents from their email accounts.
Wrike Key Features
Offers interactive Gantt view, built-in purpose templates, kanban board, drag-and-drop editor, and customized request forms.
It allows for the integration of over 400 third-party apps.
Offers collaborative tools such as visual proofing, digital publishing, and shared team calendar.
Wrike enables 360° visibility of projects and their outcomes by offering features such as time tracking, project portfolio management, advanced analytics, to-do list, billing, and shared dashboards.
Offers enterprise-grade security that enables data protection.
Automated workflow
Pros
Plans for teams managing complex workloads, marketing, and professional services.
Extensive interoperability and workflow capabilities with business-critical applications.
Enterprise-ready with premium security and data privacy controls.
Cons
More expensive than most project management solutions.
A steep learning curve for maximizing the extent of platform features.
Several tools are only available as an add-on feature or a higher subscription.
Wrike's Pricing Plan
Wrike's five-pricing plan makes it accessible to individuals, small teams, professional service teams, and marketing teams.
Wrike's free plan is free but only suitable for 1 to 5 team members. The professional plan enables 5 – 200 users and costs $9.80/month per user for teams looking to facilitate its project planning and collaboration process.
The business plan, which is the most popular plan amongst Wrike users, costs $24.80 and is suitable for a 5 – 200 user team looking for a customized platform. The Enterprise and Pinnacle plan allows for unlimited users but comes with advanced security tools.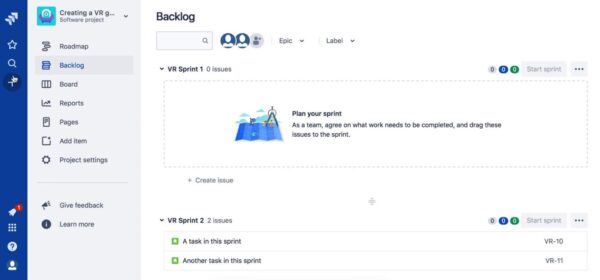 Atlassian Jira software is built on the agile methodology, making it ideal for agile teams. It is a project management software that allows you to track issues, large projects, and projects in general.
These teams can utilize the software to create customized scrum boards and kanban boards and employ agile reporting (in real-time).
Users can also log problems, view unresolved issues, and track time spent on each activity. JIRA includes a sophisticated set of APIs that allow users to integrate it with various third-party services.
Jira Key Features
Enables support for mobile applications that are compatible with IOS and Android devices, thereby making it possible for remote workers to stay engaged on the platform.
Offers customizable scrum boards, Kanban boards, roadmaps, and robust reporting.
Enables real-time notification feature that provides users with notifications on email alerts, updates, and tasks.
Offers integration with 3000+ third-party apps and developer tools.
Enables customizable automated workflow
Support for 800+ add-ons and plug-ins
Task tracking feature
Pros
More than 500 integrations and 3,000 extensions for workflow apps.
Bundle with Atlassian's portfolio of tools like BitBucket, Crucible, and Trello.
Built-in time tracking tools for tracking effort against tasks.
Cons
Higher learning curve for non-software development teams.
Not as intuitive as other top project management tools.
Still a developing application relative to Jira Software's accolades.
Jira Pricing Plan
Jira provides four pricing plans for its users. The free plan, which is limited to 10 users, is great for small teams aiming to plan and track their projects.
The standard plan comes with a 20,000-user limit at the cost of $7.5/per user, while the premium plan costs $14.50/per user.
The enterprise plan is designed for organizations with bigger needs, and you'll have to contact the Atlassian Jira team for its price plan.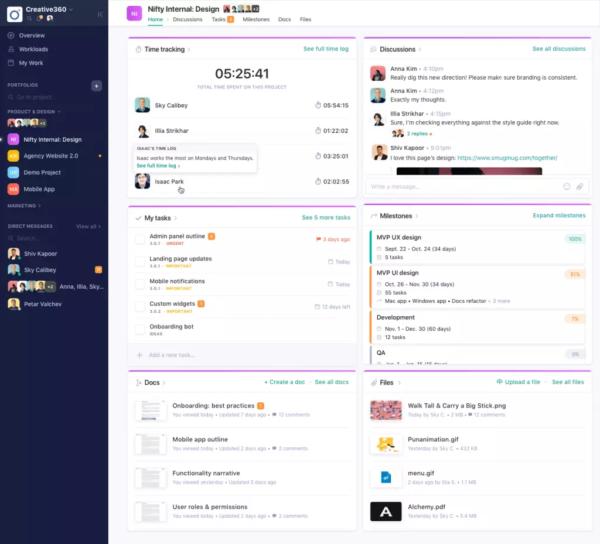 Nifty is a cutting-edge project management tool that shortens project development cycles and boosts team productivity by merging all of the essential project management capabilities into a single piece of software.
The ultimate result is milestone-driven development that keeps teams motivated and corporate goals on track.
Nifty's software allows you to manage tasks in Kanban or list view, includes a built-in calendar that can be integrated with Google, and allows you to share files and documents.
Collaboration on Nifty comes naturally because each project has its own discussion thread that encourages project-specific dialogue.
Nifty also features a Github integration, which truly distinguishes it by fostering cross-departmental cooperation like no other.
Nifty Key Features
Offers portfolio management tools: this feature erases errors and bottlenecks by improving task organization, giving users an overview of a project's status.
Enables milestone function: this color-coded function gives your team purpose and allows them to achieve set goals on projects.
Time tracking and reporting feature that gives detailed insight on how long a task takes, who's handling a task, and what task is being worked on.
Offers a user's role function that enables you to restrict a user's access to various features on the app.
Enables multiple project views such as list view, Gantt chart view, board view, calendar view, and table view.
Provides team collaboration tools
Allows importation and integration
Pricing Plan
Nifty provides five pricing plans for its users, each with distinct features. The free Forever plan costs $0, and the Starter plan costs $39/month when billed annually. The Pro costs $79/month when billed annually, the Business plan $124/month billed annually, and the Unlimited plan $399.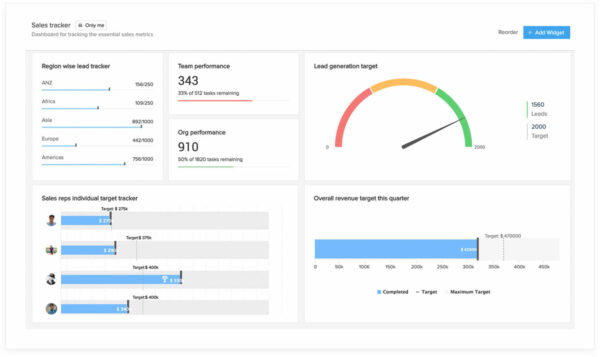 Zoho Projects is project management software that is hosted in the cloud. Zoho Projects is a comprehensive project management software with an easy-to-use interface.
The Zoho platform is a one-stop-shop software as it is also ranked as one of the with the Zoho Desk.
Zoho is a web-based CRM suite that is best used to manage leads, purchases, and pipelines. It is not a traditional project management software.
This CRM software includes capabilities for automating account management, lead tracking, prospect tracking, and other sales operations.
The Zoho also has a native chatroom that may be private or public and the ability to track project time.
The program also contains functions that go beyond project management and marketing, such as HR and financial management.
You may also use a Zoho CRM Integration to connect the platform to other common work products you already use.
This program includes everything from Project Planning (breaking down projects into manageable components) to Gantt Charts (visualizing task progress).
It also includes Reporting Tools, Collaboration Software (to facilitate communication among consultants, vendors, staff, and clients), and Document Management.
It is also compatible with programs like Google Apps and DropBox. Here's a closer look at Zoho.
Zoho Key Features
Team collaboration tools: this feature allows for messaging, file sharing, mentions, interactive feeds, forums, and more to enable collaboration among team members.
Customizations function: this feature enables you to create a custom layout, custom views, custom fields, custom status, custom functions, custom templates, custom domains, and custom tags.
Imports feature: This feature permits the importation of projects from Microsoft projects, Jira, and BaseCamp.
Apps and devices: Zoho projects allow you to access your projects from browsers and mobile devices.
Offers Task management features which include issue or bug management, multiple task view, universal adds, Gantt view, dependencies, reminder function, portfolio dashboard, and more.
Gantt charts offer Zoho Integration, including Zoho desk, books and invoices, Zoho CRM, Zoho Mail, and Zoho flow.
Integration and Add-ons
Time management feature
Charts and Report feature
Automation feature
Pros
Least expensive subscription plans among the top project management platforms.
Robust feature set considering its affordability.
Familiar interface and bundling value for existing Zoho customers.
Cons
Lagging when moving between different platform pages.
Limited options for viewing project data relative to competitors.
Some platform actions, like creating multiple subtasks, aren't intuitive.
Pricing plan
Zoho project provides three inexpensive pricing plans that are suitable for teams of all sizes. Its free plan is limited to 3 users, while its premium plan, which costs $5/month per user, is limited to 50 users.
Zoho project also offers an Enterprise plan which costs $10/month per user with no user limitation. All-paid plan offers a 10-day trial.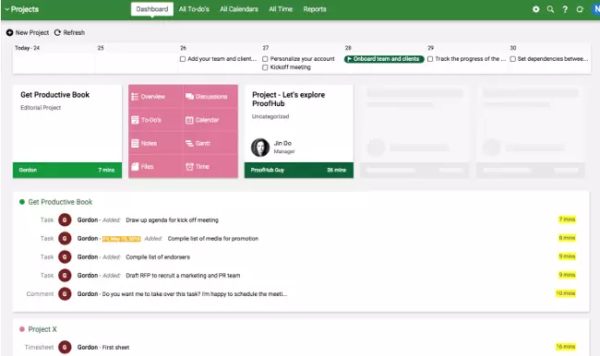 ProofHub is a SaaS-based project management platform that can be used via the web, Android, and iPhone/iPad.
It has capabilities like proofreading, reporting, analysis, MeView, etc. ProofHub is an online project management app with a focus on simplicity.
This project management software is mostly geared toward small and emerging businesses. Projects are allocated to groups or clients who can discuss, share, and change them.
Proofhub also allows users to define unique roles for creating Gantt charts.
The following are some of the subcomponents of ProofHub:
Custom Roles
Task management
Workflows and Boards
Gantt Charts
Reports
Time tracking
Discussions,
Chat,
Calendar
File management,
Notes and in-app notifications.
Proofhub Key Features
Enables the creation of tasks and subtasks
Allows the creation of custom roles for team members
Task management tool as well as a built-in proofing tool.
Offers table views
A white-Labeling feature allows you to give your ProofHub account the design that fits your brand.
Enables Kanban board and Gantt chart.
Offers detailed custom report of a project's progress
Timesheet feature that tracks project duration and reports it to you.
Provides multiple language feature
offers, a request form feature, a discussion function, integrations, notifications, account transfer tools, and more features.
Collaboration and Prioritization tools
ProofHub Pricing Plan
ProofHub offers two pricing plans with a 30-day free trial period. The standard plan costs $45/month and comes with limited features and restrictions for 1 – 10 users.
The premium plan costs $135/per month and unlocks all features ProofHub offers.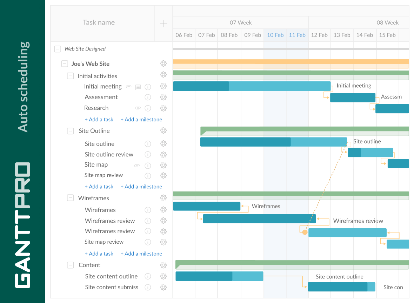 GanttPRO is a top project management software tool with over 250k users worldwide.
It allows you to create project plans and timetables, measure activity, regulate expenses, meet deadlines, and organize efficient collaboration all in one spot. For a quick start, the solution provides ready-made Gantt chart templates.
TeamGantt is a project management software that is ideal for small organizations. It is fairly simple to set up and should be operational within an hour or two.
Users of the software can invite colleagues to a Gantt chart, which they can also change once access is given. The only flaws with TeamGantt are in-app communication and collaboration.
GanttPRO Key Features
Sharing, Import, and Exporting of Projects: this feature enables you to import and export projects from and to a third-party application.
Gantt Chart Templates: GanttPRO provides ready-made templates and permits you to customize your templates.
Auto Scheduling and Critical Path feature: the auto-scheduling feature helps you to modify your project schedule when there's an occurrence, while the critical path feature highlights possible ways to complete a task.
Multiple views: this feature enables you to switch between views of your choice.
Resource management tool: – this feature gives real-time insight into a project's budget, thereby allowing for better project budget management.
Progress tracking tool: this tool enables you to view task progress and set time duration for tasks and subtasks.
Task management with dependencies: this feature enables you to create tasks and set up the tasks in the order in which they'll be performed (dependencies). GanttPRO offers four types of dependencies.
A team Collaboration tool that aids communication among team members.
User Setting and Administration
Offers advanced data security options.
Pricing Plan
GanttPRO provides four pricing plans to its users. The basic plan, which is suitable for small teams, costs $7/month per user when billed annually.
The PRO plan comes with a price tag of $12.99/month when billed annually, while the business plan, which is designed for companies aiming for an extensive project portfolio, costs $19.99.
The Enterprise plan offers advanced security and support features. Contact the GanttPRO team for information on the Enterprise pricing plan cost.
This cloud-based project management software is an all-in-one tool that assists teams in achieving smooth and effective project execution. It has numerous features, which are described below.
Clarizen is a highly-rated online project management software designed for medium to large enterprises.
Because the system is only for web-based project management, the lack of a mobile app may limit its usefulness for some teams.
Users appreciate sophisticated reporting options and the ability to manage resource usage, but no to-do list or time tracking exists.
The learning curve is somewhat steep because it has specialized ways of organizing workflows.
Clarizen best suits enterprise-level project managers, IT organizations, and professional services teams looking for robust, versatile, and user-friendly web-based project management software.
Clarizen Key Features
File sharing, import, and export of projects from a third-party application
Task management tools
Workforce, Risk, Portfolio, and Resource management tool
Customization of templates
Issue, budget, and time tracking feature
Multi-language option
Assignment of role feature
Salesforce Integration
Gantt Chart
Offers executive dashboard
API access
Mobile Application
Pricing Plan
Clarizen's pricing plan includes three paid plans. The Enterprise plan costs $45/month per user, the Unlimited plan costs $60/month per user, and the Salesforce plan costs $100/month per user.
These paid plans come with a 30-day free trial period to give you a preview of the features Clarizen offers.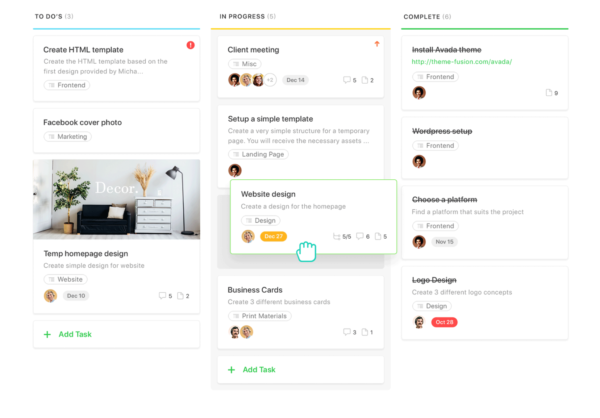 PayMo is project management software that includes reporting, collaboration, and project management capabilities to assist businesses in orchestrating every stage of project execution.
If you work in consulting or the creative/marketing profession, Paymo is the best project management software to utilize.
Paymo is ideal for freelancers, small and medium teams, and corporations since it allows creatives to manage projects and tasks, track their time, and charge clients from the same platform.
Paymo allows you to streamline your productivity while managing a creative project. Paymo provides a good understanding of task specifics and status (task management) through using numerous views, task lists, Kanban, and Gantt charts.
You'll be able to check how many hours you've worked (time tracking) and how it compares to your early estimations.
You can then send invoices to your clients and receive payments through online payment channels such as Square, Stripe, and others. Furthermore, you can manage anything on the go with the smartphone app.
Paymo allows you to assign users, communicate in real-time, file proof, receive notifications, and monitor the recent activity stream.
Paymo also includes a resource scheduling module and resource management to assist in managing leave days and scheduling client appointments.
PayMo Key Features
This task management feature allows you to switch between views, create tasks and subtasks, and build conversation around tasks.
Using the Gantt chart, this project management tool gives you a broad view of every detail of your project.
Milestone feature that gives you updates on major projects
Timesheet and reporting feature that lets you in on time spent on projects as well as your performance on projects.
Collaboration and Communication features
Other features include file sharing, design proofing, expense tracking, online invoicing, and more.
Paymo integrations
Paymo Pricing Plan
Paymo provides a free forever version for individuals and freelancers, and its paid plans offer a free trial period to enable you to explore the features offered by PayMo.
Its paid plan price ranges from $4.95/month per user to $20.79/month per user.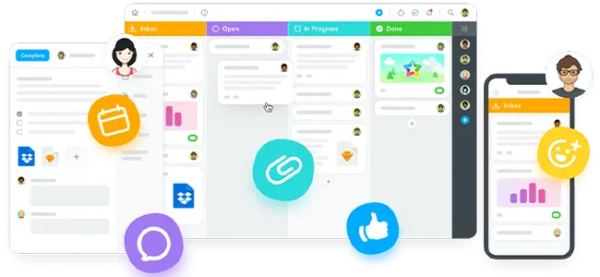 MeisterTask is yet another excellent project management software application that provides functionality both small and large businesses require to complete projects successfully.
MeisterTask is a web-based task and project management solution designed for agile project management on simple Kanban-style boards.
The product has user-friendly interfaces, easy functionality, and seamless interactions with other project applications.
The tool contains colorful, configurable project boards and other features that help streamline efficient and effective projects.
The timeline feature enables workload management by providing a Gantt-style overview of tasks, allowing users to identify bottlenecks and keep work moving smoothly.
Automation can also be set up to speed up human work and automate the completion of recurrent chores.
MeisterTask Key Features
Gantt-typed timeline feature to enable efficient task coordination and planning.
Time tracking and reporting feature that gives you and other members updates and reports on time spent on tasks.
Offers an automated workflow function that enables the smooth process of task execution.
Task and file management feature that lets you create and manage tasks and files.
Other features include email notifications, task commenting, progress reporting, and more.
Pricing Plan
MeisterTask offers three pricing plans, with one of them being a free plan.
The Pro plan costs $8.25/per month per user, while the Business plan costs $20.75/month per user.
Other Best Project Management Software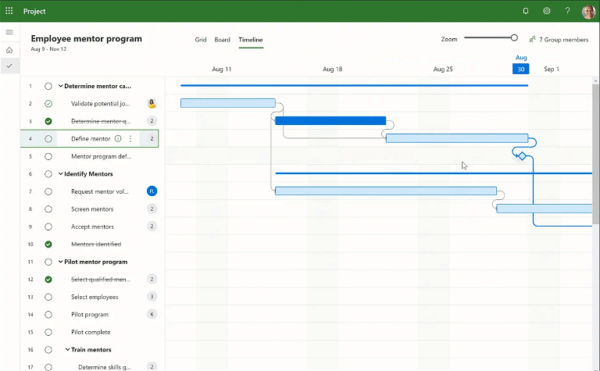 MS Projects is Microsoft's project management solution. This application allows users to manage agile projects using simple, visual task boards that support Scrum, Kanban, or custom workflows and choose whether the methodology is appropriate for the project: agile, waterfall, or hybrid.
This project management software is especially simple to use and learn if you are familiar with the Microsoft family of products, which most businesses are these days.
Online tutorials and forums can help to fill in any gaps, reducing the learning curve. As a result, it scored highly in Usability.
Microsoft Project is a well-known and widely used application. However, it is not without flaws. One significant disadvantage is that it is difficult to operate on iOS.
If you like MS Projects but want something similar that runs on a Mac, see my post on MS Project choices for Mac.
LiquidPlanner is one of those pieces of software that strives to be everything to everyone, and unlike most others, it generally succeeds.
In addition to being a superb project management application with all the capabilities you'd expect, LiquidPlanner also works well as a help desk-style problem tracker and general resource management tool.
Strong reporting capabilities are built in, as is interaction with major cloud storage providers. You can also use Zapier to create automated connections with other business tools.
One-time tasks can be assigned to any user or group, and the influence on the persons executing them is automatically included when predicting project deliverables.
With more functionality comes more complexity, and while LiquidPlanner does a decent job of explaining and getting out of the way, it still takes more effort to set up, understand, and master than many of its competitors.
Because of this and the cost, it is better suited to larger teams and organizations rather than small, ad hoc groupings.
LiquidPlanner does not have a free tier. However, you can try out several plans for two weeks for free.
Plans begin at $15 per month per user, payable annually, for a maximum of 50 projects and progress upward from there.
Scoro is a complicated project management software that assists teams with task management and reporting.
Tasks can be monitored and grouped into subtasks, assigned to individuals, and set deadlines and milestones.
Scoro is also useful for sending invoices because it allows you to send sales quotes and bills directly from the app.
This application also has extensive reporting capabilities, allowing you to view project status reports, unplanned time, and projects by accounts.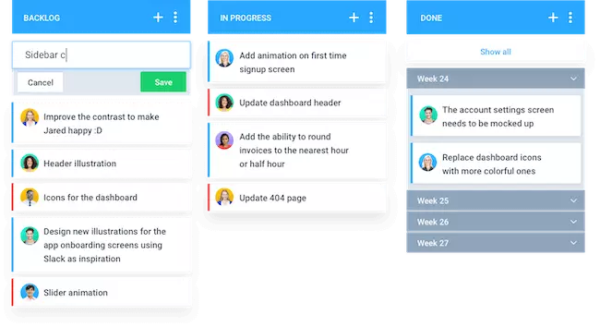 Hubstaff Tasks is project management software that includes a variety of task tracking and collaboration functions.
Its interface is based on the Kanban system, allowing you to organize activities in various project stages, represented by columns. Color-coded labels can be used to categorize each task.
Custom workflows are one of its standout characteristics. These allow you to automate assigning tasks to team members at various project phases and move them ahead with a single click.
You can add checklists within each job and track them using progress bars from the project view.
Attaching files to task cards is also possible, although the free plan only allows for 100 MB of storage per user.
When you switch to the sprints view, you'll see all your allocated tasks sorted by sprint.
Using a drag-and-drop mechanism similar to Kanban, you can transfer tasks to current or future sprints or the backlog.
Mavenlink was created with service firms' operational and financial aspects in mind. This project management software acts as the "Operational Service of Record" for service enterprises, seamlessly connecting whole organizations.
Mavenlink assists businesses by assisting them in managing money and staying on track, whether they are developing a business strategy or optimizing the operations of a long-established corporation.
Numerous capabilities within the program, such as traditional project management, resource management, and company accounting, help to combine multiple people working on a given project.
Mavenlink's resourcing and budgeting capabilities are especially valuable because they help boost an organization's total financial visibility.
Kintone is a project tracking tool that can be customized and is used by teams at Volvo Trucks North America, Japan Airlines, Shiseido, and over 23,000 other organizations globally.
Their innovative project and task management approach enables you to create a wide range of customizable "apps" from scratch using templates or using existing spreadsheets.
Kintone apps can be tailored for project management, sales CRM, customer databases, expenditure reporting, shared to-do lists, equipment management, product feedback, etc.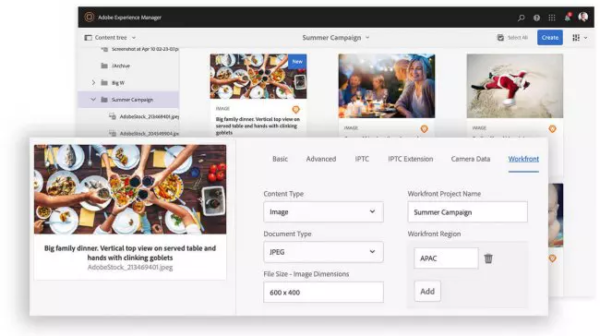 Adobe Workfront is an easy-to-use project management software that provides customizable project dashboards, real-time reporting, and a clear view of all ongoing activities and processes.
It also provides tools for capacity planning, project prioritization, and notifying teams of work in progress.
Workfront can be linked to other applications, including Adobe Creative Cloud, Google Drive, and Microsoft Outlook.
Airtable is a project management app that allows users to add attachments, long text notes, checkboxes, URLs, barcodes, and other features to data in different tables.
Filtering, sorting, and grouping tools allow you the flexibility to organize your work in whatever way works best for your team.
Airtable's user interface is slick, modern, bright, and appealing, making it a joy to use and navigate. This software performed well on the UX evaluation criteria listed earlier in this article.
Airtable's learning curve is complicated by a general lack of tutorials and training on their website. Certain aspects, such as posting tasks, may be difficult to teach or learn.
Celoxis is ranked among the world's top three finest project management software.
This software is uncomplicated and easy to use, with a responsive design that offers a Gantt chart view of projects and a variety of financial capabilities for tracking hours and project income.
Celoxis provides an online version (the SaaS plan), or users can host their own data. This software has many useful features, but its advanced reporting engine, drill-down charts, time-stamped data, and flexible/shareable reports stand out.
How To Choose the Best Project Management Software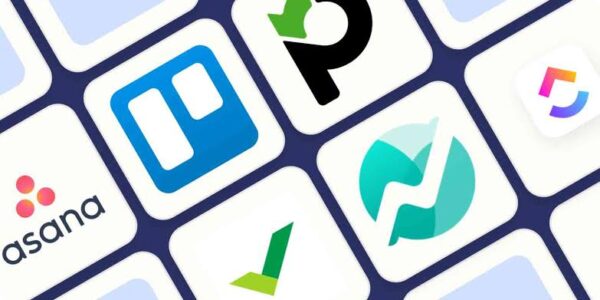 Consider each provider's cost and additional costs, full features and functionality provided, reporting, integration possibilities, necessary features vs. feature overload, customer reviews, and customer support when selecting project management software.
Features of Project Management Software
Most projects require the fundamental features of project management software to be successful.
Extra or unique features, on the other hand, make some software alternatives superior for specific teams or enterprises.
It is critical to conduct a study to determine what unique elements, based on your team approach, type of business, or type of project, may make your project more successful.
Among the most popular project management tools and features are:
Budget Planning Tools:
Budget planning software allows you to submit your predetermined budget and then track spending and invoices to compare project costs to the budget.
You can assess if you have a budgeting problem by tracking this variance. Financial forecasting tools can also assist you in avoiding going over budget or, worse, having to cancel a project due to a lack of finances.
Resource Management Tools:
Resource utilization solutions enable you to plan, track, and record how resources, such as your talent, are utilized during project execution.
This helps to identify gaps in availability or when certain team members are overworked (risking burnout) and then change resource allocation to avoid difficulties.
Task Management Features:
Automation (which removes redundant jobs from to-do lists) is among the task management capabilities.
Examples include invoicing automation, identifying key project modifications, and managing project workflows.
Boards (to depict moving tasks through their phases to completion), calendars, timeline views, scheduling, task tracking, and task prioritization are some more task management tools.
Risk Management Features:
Common project risks include exceeding budget, delivering a lower-quality result than intended, or failing to complete on schedule.
Many features in project management software, such as critical path charts, checklists, scheduling tools, cost breakdowns, cost variance reports, and timeframes, can assist you in balancing competing demands to complete the project as planned.
Reports and Charts
Project management software includes digital charts for planning, tracking, and altering the timeframes, budget, and quality of your projects as needed.
Kanban charts, for example, display tasks and their status on a timeline board. Gantt charts also provide an overview of a project's timetable, including phases, tasks, and results. You can collect or feed data into these charts, which will change in real-time.
Mobile App
Mobile apps enable teams to effortlessly track, manage, and deliver project deliverables from anywhere, ensuring that all members are always in the loop regardless of where they are.
Real-time knowledge can assist them in making sound decisions that keep projects on track.
Apps also provide customized content so team members know the tasks, activities, and milestones that must be completed daily.
Integrations
Integrations allow you to improve the performance of project management software and tailor it to your specific requirements.
For example, integrations like Slack and Google Drive allow team members to collaborate on project deliverables within the software.
Stripe also allows your team to bill clients for deliverables. Many project management software packages have hundreds, if not thousands, of integration options.
Client management tools:
Many project management software packages provide capabilities for including your clients in project execution, informing them of project status, and maintaining a professional connection.
Examples of such products are video-conferencing tools, invoicing, and the ability to add clients as users to project management software while preserving control over what they can and cannot see.
Collaboration tools:
Many project management platforms provide tools that let project execution team members collaborate seamlessly, even across geographical boundaries.
Some, like Slack, are in the form of integrations. Others, on the other hand, are built in.
Shared calendars, group chats, document sharing, discussion forums, and team email are all examples of built-in capabilities.
Demos and Team Feedback:
Although project management software may have all of the necessary capabilities, it may underperform in project execution if your team is uncomfortable with it.
As a result, many software applications provide demos that your team can utilize to test them, and some even allow you to pilot them in a real project.
From there, you can solicit team feedback to determine the software's suitability for your team and needs.
Depending on the features you need, small- to medium-sized business project management software typically costs nothing to $20 per user per month.
Most additionally provide a 15% to 50% discount for paying your account annually.
Furthermore, many businesses, including startups, nonprofits, and educational institutions, can utilize such software for free.
Users can use free trials to determine whether to upgrade from a free to a paid plan.
More specifically, most service providers give a free plan with a user limit. Monday.com, for example, enables two users per free account. More users are permitted as plans build up.
Furthermore, higher-tiered (and hence more expensive) plans include more powerful features, including additional storage, viewers, customer support, security, collaboration tools, automation, customizations, and charts. Businesses frequently require custom quotes.
What are the Steps to Choose the Best Project Management Tool For Your Business?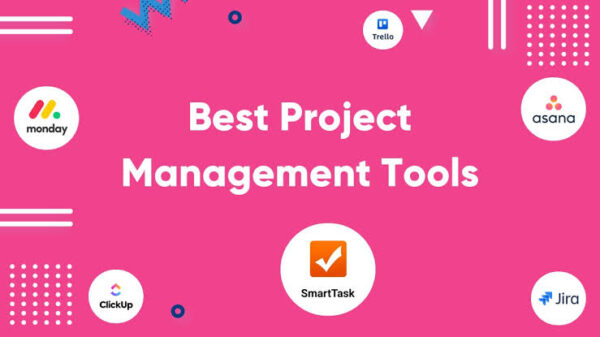 Here are the six steps you can take to select the best project management tool.
1. Identify Your Project Management Needs
To begin, you must identify current issues in your present workflow.
It's also crucial to think about the full firm because the finest project management tool should be cross-functional to scale up through the organization.
After all, collaborating with several departments using different project management software would be a nightmare.
With this in mind, you must evaluate your organization's company culture and project management methods.
You want your project management application to blend in with the rest of the organization.
2. Assemble an Evaluation Team.
When you get to this stage, it's critical to assemble a team representing many organizational functions.
The sales team, for example, might use the project management software product very differently than the marketing team.
Furthermore, managers may be interested in higher-level overviews, while specialists must be able to traverse through granular project components. Great project management tools must be adaptable.
Then you must develop evaluation criteria. It's tough to assess a tool's performance when everyone's vocabulary for providing input varies.
Finally, make a list of the top tools competing for your company. Our top ten list is a wonderful place to start.
3. Evaluate the Management Tool
It's now time to put your chosen project management tool or tools to the test.
Set a time frame for when you will use the gadget to its maximum potential. This is the moment to test a project to evaluate if the project management solution will meet your needs from step 1.
Learn the tool by reading help documents, attending webinars, contacting customer care, and requesting a demo from the sales team.
For example, project management companies like ClickUp and Hive provide 24/7 client chat and email assistance, and coaches and support personnel are available to demo the platform.
4. Get Management Buy-in
Following a successful pilot, it's time to persuade your boss to adopt this project management application. It's critical to remember these points when speaking to the executive team.
What are the potential objections that management might have that I can address?
What management issues does this technology assist in resolving?
Do we have evidence to back up the project management solution's efficacy?
5. Purchase and Implement the Tool
Congratulations! The use of this project management tool has been approved by management.
However, your work as a project manager is far from over. First, develop a timeline and a plan. When do you want to invite everyone?
How much training will your team members require to make the most of this project management technology, and who will provide it?
For example, some project management provides professional services to assist teams in transitioning to the platform.
Is there any existing software that needs to be integrated into the project management workflow?
6. Review and Iterate the tool's influence on your business
Following installation, you should assess the tool's influence on your organization. Did it meet the needs you set out to meet in step one?
After everyone has passed the learning curve, solicit feedback from your team. Is there anything that could be improved?
Furthermore, the project management application may provide functionality that you were previously unaware of.
Continue collaborating with client success and attend training courses related to your workflows to integrate the technology within your business further.
How Much Does a Project Management Software Cost?
The price of project management software can vary depending on the vendor and the package size.
Plans for smaller businesses with fewer features can cost around $5 per user, while plans for larger and enterprise-level businesses can cost approximately $25 per user.
"Project management software" refers to a wide range of project management tools, from simple and lightweight task management tools to robust and advanced portfolio management apps.
It is important to know the different kinds of project management systems that are out there so that you can get a better idea of how much they cost and find the best one for your needs.
Some of the features and tools may be included in the lower-tier pricing plans of most project management systems.
Others may only be available in a higher enterprise-tier package that is designed for larger businesses that need more from their project management solution.
Is Project Management Software Worth it?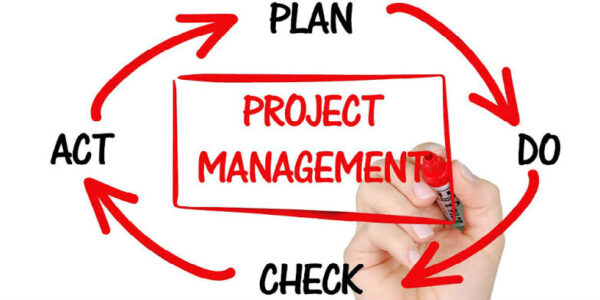 Yes, in a nutshell! The advantages of project management software are practically limitless.
Most people associate project management software with increased productivity, but the correct project management software can offer much more than that.
If you invest in the best project management software, you can break through silos and connect your entire firm to your largest ambitions and goals.
This allows everyone to focus more on the projects that are most important to them.
Good Read: 13 Best Small Business Apps to Grow Your Business
Bottom Line
To choose the right project management software, you should consider how big your business and team are, how many features you need, and which features you value the most. In either case, I think you'll see quickly that having this kind of program will make your daily work much easier.
We hope this review has given you ideas about which project management software might be best for your business. If you have any ideas or know of other great project management software, please leave them in the comments below.
Once your project management software is up and running, you should start thinking about how you'll keep track of how happy your customers are. In fact, many of the above product management software, like Mopinion, can be integrated with other user feedback software.
Frequently Asked Questions
Q: Why is project management important?
Project management is vital in business because it allows you to successfully finish projects and meet goals for yourself and your clients.
Even the most seasoned project manager finds it difficult to coordinate a multidimensional project for which numerous people owe deliverables, keep everyone organized, and ensure the output matches expectations—all while under the stress of a deadline. Project management best practices make these issues more manageable.
Q: Who are project managers, and what do they do?
Every project requires an owner accountable for its completion and success to have the best chance of success. Project managers exist to fill this void by keeping a team on track and ensuring that the project meets the needs of all stakeholders. This title could refer to a subset of responsibilities or an official job title.
A professional project manager is required in a wide range of sectors. You can work as a project manager in various industries, including construction, publishing, finance, professional services, utilities, etc. Even though the results of these projects varied greatly, the actions and skills required to keep a team organized fluently transcend throughout the corporate world.
Q: How does project management software work?
Project management software is a tool that assists you in coordinating all aspects of project management. This frequently includes creating and assigning tasks, scheduling all project components, and collaborating with others on your project team. The best project management software will allow you to collaborate cross-functionally across your organization's teams, departments, and projects.
Q: What's the difference between project management software and task management software?
Task management software is used solely to manage tasks and is production-oriented. This frequently appears as a computerized to-do list with additional capabilities. Project management software goes beyond task management, including project planning, collaboration, and goals. This includes the big-picture, high-impact work, and the specific tasks required to get there. Task management skills are often included in good project management software. However, this is not always the case.
Q: What is the best project management software for small businesses?
Businesses should select the best project management software for their demands and budget. Monday.com, on the other hand, Monday.com is a very popular project management software among small firms due to its functionality, low pricing, and free edition.
Q: What are the three main types of project management software?
One person configures individual project management software with a single view, such as a spreadsheet view. Collaborative project management software provides a single source of truth. It features that allow employees to operate on their terms and within their own roles, such as real-time editing and task assignment. Finally, integrated project management software will enable you to manage and track numerous projects simultaneously.
Q: Is project management software secure?
Like other forms of software, the best project management software systems include multiple degrees of protection. When selecting this type of software, look for security features such as two-factor authentication (2FA) or multifactor authentication (MFA), documentation demonstrating frequent security updates and patches, intrusion detection, user activity monitoring, data encryption, and privacy protection.
Q: Who Uses Project Management Software Tools?
Project management software tools are used by:
Work teams
Small business owners
Individuals managing multiple projects
Remote workers
Sales teams
Contractors and construction workers
Q: Are Project Management Software Tools Worth the Cost?
Project management software can be extremely useful in a team or remote work environment. They allow numerous people to collaborate, take notes, and fulfill deadlines in one location. If you're just getting started and want to test the software, a free edition is a wonderful place to start. However, if you have a huge company or a large team, paying for project management software and getting the work done is usually worthwhile.