Last updated Jul. 13, 2023 by Favour Chinaza
Wix vs WordPress: Which One Should You Choose?
Do you have trouble deciding between Wix and WordPress? It's not a difficult decision to make if you're clear on your website's requirements.
That means you won't know which one to choose until you know your needs/goals because Wix and WordPress offer different services, even if they are both website creation platforms.
You'll need to learn how to make a website if you want to start a blog or an online business. When deciding between Wix and WordPress, it might be difficult to determine which platform is best for you.
Wix and WordPress differ primarily because Wix is one of the best webhosting service providers and provides all-in-one website building and hosting services. In contrast, WordPress is an open-source CMS with more customization choices.
This post will help you choose between Wix and WordPress by outlining their pros, cons, and differences.
Good Read: Wix vs. Squarespace: Choosing the Best Website Builder
WordPress vs. Wix at a Glance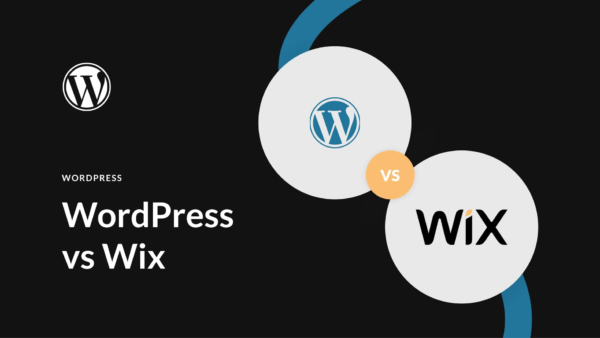 When choosing between Wix and WordPress, keep in mind that both are viable solutions that performed well in our review of the best website builders.
Wix charges a monthly price that includes both your website and hosting.
WordPress.org is free. However, you must pay a hosting company to get your website hosted.
While Wix is simple to use, it lacks the customization capabilities of WordPress.org. Similarly, WordPress.org has a learning curve that Wix does not have.
It's vital to remember that WordPress.org differs from WordPress.com because the former requires hosting, whereas the latter hosts your site on its own servers.
Differences Between Wix and WordPress
Now that you're aware of the benefits and drawbacks of both Wix and WordPress, a comparison of the two will help you decide which to choose.
| | | |
| --- | --- | --- |
| | WIX ($16/month) | WORDPRESS ($1.95/month) |
| Ease of Use | Wix is best known for making it easy for absolute beginners to create stunning websites in less time. This is because of its drag-and-drop feature that makes website creation straightforward. | WordPress is a bit technical and can be overwhelming for beginners since it requires some knowledge about website creation. |
| Pricing | Wix offers eight pricing plans ranging from $0 to $500/month and can be paid monthly or yearly. The free plan, suitable for personal blogs, gives you access to free website hosting that includes 500MB of cloud storage and Bandwidth. | WordPress site is free but comes with some underlying costs. With WordPress, you can pay for website hosting, premium themes, and plug-ins. The pricing plan for WordPress isn't spelled out since it depends on whether you would go for premium or free plug-ins and themes. |
| E-commerce | Three of Wix's premium plans come with a built-in e-commerce platform suitable for small businesses to sell things online and in-store. With Wix, you can start an e-commerce store for as low as $23/month. Paying this amount will give you access to all the tools and services you need to run an online store. | WordPress has no built-in e-commerce platform. So to sell online on WordPress, you will have to install an e-commerce plug-in, which is WooCommerce. After installing the e-commerce plug-in, you'll incur additional costs when hosting the store, getting a domain name, and purchasing themes. WordPress is the best for e-commerce stores because it offers you the more advanced and powerful features needed to run a large online store. |
| SEO | Wix offers a built-in SEO platform with all the essential features like meta titles and descriptions to enable you to rank higher in search engines, but when compared with | WordPress has a large range of SEO plug-ins that perform advanced SEO functions for your blog. |
| Help and Support | With Wix, you can have access to Wix's team support via phone calls, live chats, and email. There are also countless tutorials and articles to guide you as you build and maintain your website. In addition, the Wix team is always available to sort out any technical issues your site would face. | WordPress does not offer any sort of technical support. The only support you can get is from your hosting company. |
| Apps and Plug-ins | Wix has an App Market where you can find any app you need to extend your website's functionality, but these apps can only perform well on smaller sites. | You have access to many advanced and powerful plug-ins suitable for sites of all sizes. WordPress also allows you to create a plug-in that fits into your site's image. Therefore, even if Wix's app is easy to set up and maintain, it still falls short when compared to WordPress plug-ins that offer a variety of choices. |
| Design and Control | Wix offers a wide range of impressive customizable themes and templates, giving plenty of variety. | WordPress is like a blank canvas that allows you to design your themes and templates. This means that you get total control over your site's design. In addition, WordPress enables you to oversee the technical aspects of your website, unlike Wix. |
| Blogging | Wix has an easy and intuitive interface that makes it easy for you to create categories, tags, scheduled posts, related posts, and more. | WordPress comes with a full-package blogging option that gives you everything you need for your blogging career. These options include contact forms, Seo-friendly pages and posts, reading time estimation, comments, and more. |
| Ongoing Maintenance | Wix does not offer its platform to external developers. Therefore, it controls all parts of the platform, including all upgrades and maintenance work. | Requires continuous maintenance and monitoring, especially if the platform, theme, or plug-ins are updated. You are responsible for the upkeep of your website. |
| Security | Built-in updates and other security protection | Security depends on web hosting Implement your own security measures. |
| Website design | AI-generated custom design | Site editor for code-free theme edits |
| Ease of use | No need to purchase hosting or a domain | Less beginner-friendly dashboard |
What is Wix?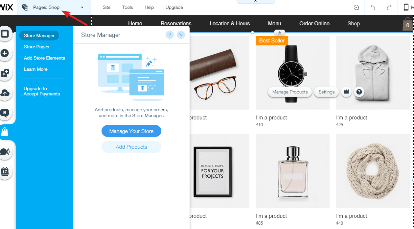 Wix is a free website-building tool that allows you to create a stunning website, even if you have little or no knowledge about website creation or programming.
With Wix, you can access all functionality you need to create the website of your choice without having to employ the services of a web programmer.
Wix makes it easy for anyone to build, maintain, and promote a website, and its numerous features are one of the top reasons to use Wix.
Pros and Cons of Using Wix
Pros
✅Drag-and-Drop Building tool:
This tool makes it easy for you to edit and manipulate your website page by just having to drag and drop any element of your choice.
You don't need any coding knowledge to design your website because Wix provides everything you need. All you have to do when building a website with Wix is to pick an element and then drag and drop it where you want.
This drag-and-drop feature makes it easy for you to create and design your website in minutes.
✅Advanced Site Security with Incredible Speed:
Wix provides you with free security that makes it impossible for hackers to hack your website.
This is because Wix is a closed-source platform that prevents anyone from accessing their codes, even you. So when using Wix, you'll never have to worry about security.
And even when you encounter problems, all you have to do is contact the Wix team, and they'll solve the problem. Incredible site speed is another advantage of using Wix.
✅Massive Pre-built Customizable Template:
Wix offers over 800+ free pre-built website templates that are highly customizable to enable you to set up good-looking websites easily.
Wix also offers free templates for online stores, making it easy to build an e-commerce site without stress. You'll also get to receive guidelines on how to customize the pre-built templates.
✅Easy to understand Interface:
Wix understands that everyone can't be a Pro when creating websites, so it provides you with an easy-to-understand interface that brings everything you need to your reach.
This will make you understand what to do even as a first-timer in website creation.
✅Affordable Pricing Plans with an easy way out:
If you want to opt out of Wix's free plan, seven paid plans are available for you, ranging from $16 to $500 per month.
These plans can be paid for monthly, so you don't have to worry about being tied to a 1/year paid contract. In addition, Wix makes it possible for you to opt out of any plan anytime you want.
✅Offers a Wholesome Solution Package:
With Wix, you don't have to bother about finding a solution for a problem you encounter on your website. All you have to do is contact Wix's customer service and have them solve it for you.
✅ Access to lots of support:
With Wix, you can have access to free HTTPS, customers quotation, a free logo maker, an integrated payment feature, and more.
✅E-commerce Functionality:
Wix's free software allows you to add products, but you'll need to upgrade your account if you wish to collect payments. Adding products to the platform is a breeze.
✅Built-in SEO:
Wix is one of the best SEO tools, and its SEO features allow you to input meta descriptions, keywords, and other functions that'll enable you to track keywords ranking and SEO performance.
Cons of using Wix
❌ Wix's free plan comes with the Wix branding
❌Absence of Tracking and Analytics in Free Plan: In Wix's free plan, you can't track the performance of your website until you upgrade to a paid plan.
❌Unable to switch templates after going live:
If you value flexibility and the prerogative to change your mind, you may not love that you're stuck once you choose a template and publish. If you wish to change something, you must completely rebuild the site.
❌Not suitable for large websites
❌It is impossible to export data: Wix makes it impossible for you to transfer your website, which means you're forever stuck with Wix after creating a website with them.
❌Free plan comes with Wix ads
❌Premium features of Wix aren't transferable to other sites.
Who Is Wix Best For?
Wix is best for folks who want an easy-to-use platform for creating a professional-looking website without requiring a lot of technical knowledge or creative abilities.
It is ideal for small enterprises, entrepreneurs, and people who want to establish a website for personal or professional purposes.
Wix is also an excellent choice for people searching for a platform with a wide range of design options and templates, as well as a number of tools and integrations that can be used to improve the operation of their website.
What is WordPress?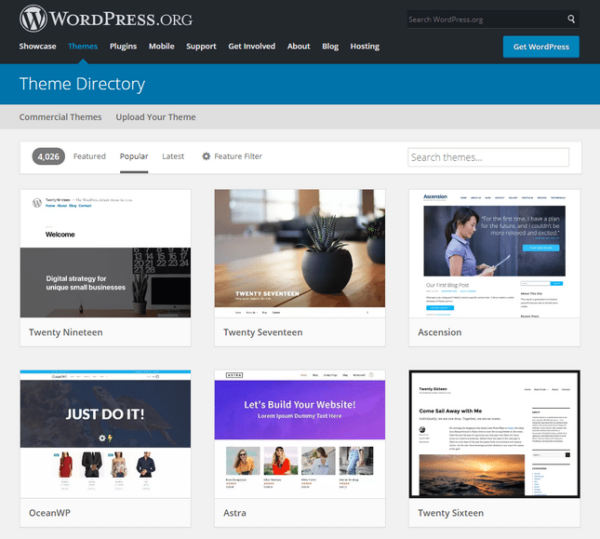 WordPress is a content management system that allows you to create a stunning and complex website with its advanced features.
But one notable fact about using WordPress is that it can be a bit overwhelming for first-time website creators. And although coding knowledge is not often required, customizing the website isn't what many can do.
So unlike using Wix, you definitely can't set up your website in minutes when using WordPress, and there are lots of best webhosting companies for WordPress websites to choose from.
But it does come with advantages that may just be what you need for your website.
Pros and Cons of Using WordPress
Pros
✅Flexibility
One of the great pros of WordPress is its extreme flexibility. With WordPress, you can build virtually anything you want for your site.
WordPress doesn't limit your creativity. Instead, it allows you to modify, customize, and expand your many types of websites.
So even if you want a personal blog or a website for a large business entity, WordPress can give you all the customizable features you desire.
✅Customizable Plug-ins
Using WordPress gives you access to over 54,000 plug-ins to choose from. And these various plug-ins enable you to add complex functionality to your website, save time, create backlinks for SEO, and enhance your WordPress site.
✅Open-source platform
Using WordPress allows you to participate in your site's technical aspects. This means that you get to be responsible for the updates and maintenance of your website.
This benefit of WordPress also enables you to use, modify, study, and change WordPress's source codes, thereby allowing you to find and identify issues with your site.
✅Tons of accessible themes
WordPress has tons of customizable free and premium themes that facilitate your creation of an impressive website design.
These themes, which are over 9000 in number, are highly responsive. They have the ability to adjust your website's image and content, making them compatible with any device used to access your site.
✅Third-party tool integration
Third-party tool integration with a WordPress website is when you connect your WordPress website to any third-party platform to enable the smooth exchange of data between them.
WordPress allows for this to enable you to extend your WordPress website functionality. Zapier, PayPal, Google Analytics, Mailchimp, YouTube, and more can be integrated into WordPress.
Cons of Using WordPress
✅Vulnerable to Hackers
Being an open-source platform that permits anyone to use, change, study, and share source codes, WordPress is vulnerable to hackers.
In cases of outdated WordPress plug-ins, themes, and core, your website becomes prone to attacks from hackers.
Other WordPress security vulnerabilities include MySQL database exploits, brute force, file inclusion, and more.
✅Poor Speed and Performance
Although WordPress plug-ins enable you to insert complex functionality into your website, it has downsides.
This means that some WordPress plug-ins are capable of slowing down your site's response time. Therefore, using WordPress means you stand the chance to face problems such as slow speed.
✅Expensive to Customize
While WordPress software is free to download and use on any website, it is expensive to build.
This means you incur costs when building a customized WordPress website with impressive features. This is because getting a domain name, web hosting, and designing costs a lot.
✅Regular Updates of Themes and Plug-ins
WordPress's beauty lies in its countless arrays of themes and plug-ins. But this can sometimes act as a disadvantage since each plug-in requires constant updates to prevent your website from being vulnerable to hackers.
In addition, your WordPress website suffers risks of breaking down during new installation of plug-ins, updates of old plug-ins, and WordPress version updates.
Who Is WordPress Best For?
WordPress is often recommended for people seeking a more powerful and flexible platform with limitless choices for designing and customizing a website.
It is ideal for people searching for a CMS that gives them complete control over the appearance and functionality of their website, and developers and designers frequently use it to create unique solutions for customers.
WordPress is also a fantastic choice for people searching for a platform with a strong developer community, as many themes, plug-ins, and bespoke solutions are available to improve a WordPress website's functionality.
Wix Vs. WordPress: Features
1. Drag-and-Drop Site Builders
Wix
Wix is a website builder platform that makes it simple for customers to design and customize their websites with a drag-and-drop editor.
With several design options, the drag-and-drop editor lets you move components like text, photos, and media about the page and change their appearance.
This makes creating a professional-looking website simple for anyone with no coding experience.
WordPress
WordPress's core feature does not include a drag-and-drop editor. However, WordPress plug-ins and themes include drag-and-drop page builders, making it easy to change your website's layout and design.
These drag-and-drop page builders are not as comprehensive as Wix's and may not be user-friendly for individuals without coding experience.
2. Themes and Templates
Wix and WordPress both provide a range of themes and templates for building a website.
Wix

Wix offers free, premium templates that may be altered with the platform's drag-and-drop editor and design features. Premium templates are generally of higher quality and have more design possibilities.
WordPress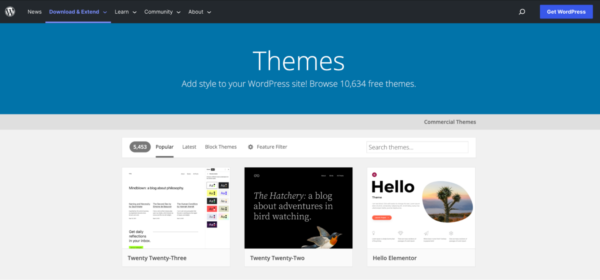 WordPress also provides free and premium templates and the flexibility to use third-party themes and templates or build your own custom theme.
WordPress provides a larger selection of themes and templates, including several that are professionally developed and maintained. However, the quality of the themes and templates on both platforms can differ.
3. Custom Coding (HTML, CSS, and JavaScript)
Wix
Wix, contrary to widespread assumption, supports custom HTML and CSS. This is accomplished by using what Wix refers to as a Custom Element.
It will not, however, give any support for custom elements that Wix did not create.
Otherwise, your website's look and functionality are limited to what Wix offers through its templates, design elements, and app market.
WordPress
WordPress, however, allows you to freely use custom HTML, CSS, and JavaScript on your website.
You can use these coding languages to extend the design and functionality of your website beyond what themes and plug-ins provide.
If you know how to code, this can give you a lot of control and flexibility over the appearance and feel of your website.
However, it is crucial to remember that using custom code requires a certain level of expertise and skill, which is not appropriate for everyone.
4. Apps, plug-ins, and add-ons
Wix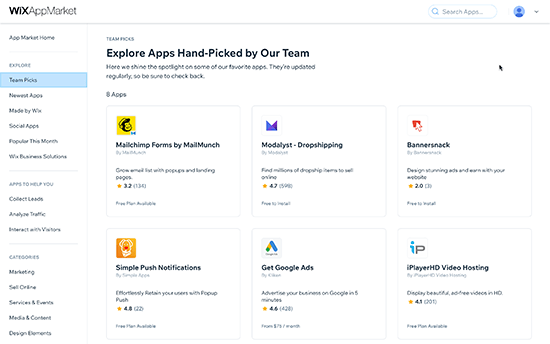 Wix provides various tools known as plug-ins, applications, and add-ons that can be used to expand your website's features and operation.
Examples of such features include contact forms, online booking, and social media integration.
The tools are accessible on the Wix App Market and are simple to install on your website. Some tools are free to use, while others charge a fee.
WordPress
WordPress also offers a plug-in library that can be used to add various features and functionality to your website. There are thousands of free and paid plug-ins accessible, including contact forms, e-commerce, and SEO alternatives.
Because WordPress has a huge developer community, there is a high degree of support and updates for the plug-ins.
5. Mobile-Friendliness
Both Wix and WordPress are mobile-friendly, which means they are optimized for browsing on mobile devices like smartphones and tablets.
Wix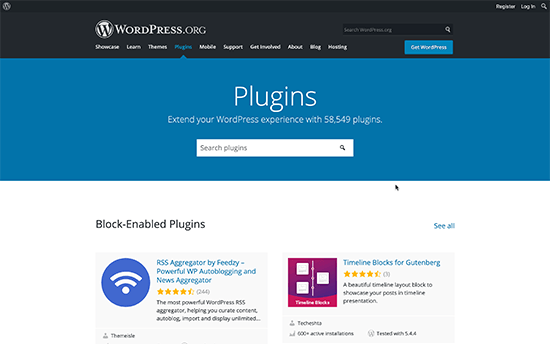 Wix has a mobile-first approach to design, meaning all its templates and design elements are responsive and look amazing on mobile devices.
Wix also provides some mobile-specific design options, such as the ability to build a separate mobile version of your website or conceal specific features on mobile.
WordPress

WordPress is also mobile-friendly, and most WordPress themes are responsive, which means they alter their layout and design to appear nice on different screen sizes.
Furthermore, WordPress provides several mobile-specific plug-ins that can be utilized to maximize your website's mobile experience.
6. Privacy and Security
Wix
For any website, privacy and security are critical factors. Wix offers a variety of security features to protect your website and your user's data, including SSL encryption, firewall protection, and daily virus scans.
It also has a security staff dedicated to monitoring and responding to any threats.
WordPress
WordPress is developed with security in mind, with features like user authentication and password hashing built in. Additional security methods, such as SSL encryption and firewall protection, can also be used to safeguard a WordPress website, and there are a number of security plug-ins available to improve the security of a WordPress website.
7. Customer Support
WordPress
WordPress features a knowledge base as well as guides and tutorials to assist users in getting started and troubleshooting any issues that may arise.
It also has a large user community that may offer support and assistance through forums and online groups.
Furthermore, many WordPress themes and plug-ins include their own assistance, including documentation, FAQs, and support forums.
Wix
Wix's premium plans all provide 24/7 customer assistance, with the VIP level providing priority service.
Both the website and business/e-commerce plans include the VIP level. There is also a comprehensive knowledge source with up-to-date courses and FAQs.
8. Resources for Learning
Wix and WordPress offer several instructional tools to assist users in learning how to utilize their platforms.
Wix
Wix includes a large knowledge base, tutorials, and videos to walk users through creating a website.
It also features a help center with frequently asked questions and a community forum where users may ask issues and get answers from other Wix users.
WordPress
WordPress is one of the most popular website construction platforms, providing a wealth of information to its users.
The WordPress Codex is a comprehensive reference manual that covers everything from installation to customization and development.
Furthermore, it has a large user community that is always prepared to assist with any queries or issues that may arise.
Furthermore, depending on your web host, it may provide additional support services and tutorials.
Finally, it's worth noting that both Wix and WordPress have much to offer regarding user education and support.
Although Wix provides a more basic knowledge base and tutorials, WordPress is an open-source platform with a large community of users who can assist you with any problems or concerns you may have.
Or they can show you how to do anything you want with your site.
Wix Vs. WordPress: Pricing
If you want to create a simple website for free, Wix is an excellent choice. Wix's free package provides web hosting, 500 MB of storage, and a dedicated customer care team.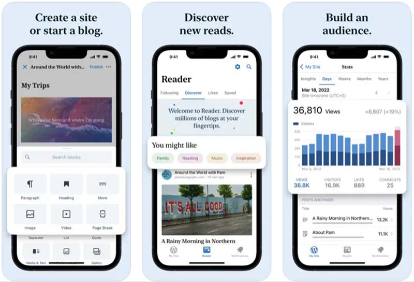 However, there are some drawbacks to this. Wix advertising will appear on every website page, and you cannot use a custom domain name.
Upgrade your free site to a premium plan to gain access to a custom domain, a professional logo, and a free SSL certificate. Personal use starts at $11 per month.
Meanwhile, the WordPress software is available for free download.
You'll normally need a web hosting package, a domain name, and an SSL certificate to run your website. You can generally obtain all of these capabilities in one plan if you choose the correct hosting company.
So, while comparing your WordPress options, consider the entire cost of ownership, including WordPress pricing and the free software download.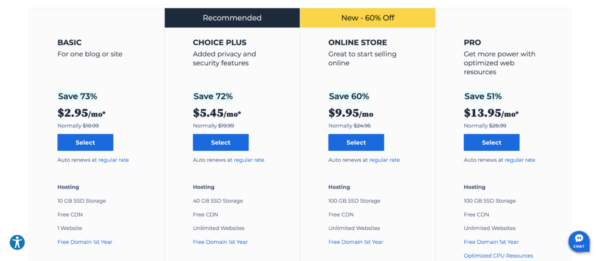 The cost of these hosting plans varies based on the supplier. WordPress site hosting is available at Hostinger for as little as $1.99 per month.
Depending on your plan, You can buy all the functionality you need to run your WordPress website. This can be a good approach to keep all of your costs in one location.
Wix is a good choice for beginners because it offers a completely free plan. However, WordPress provides the best value for money. The software is free, and finding an economical host for your site is simple.
Wix: Quality
Wix's App Market offers over 300 free and paid apps, all of which you can add to your site in just a few clicks.
You can browse different categories to find the kinds of tools you want, from e-commerce to media and marketing.
Managing your apps is easy to do through the site's editor. There are quick-access links in the dashboard which makes everything a lot more streamlined and user-friendly.
You won't need to worry about installation because every app comes ready to integrate with Wix websites. And Wix reviews every third-party app to ensure it meets in-house guidelines – so you won't see any apps in the market that the Wix team hasn't approved.
WordPress: Quantity
Since WordPress is an open-source platform, any developer can use it to create plug-ins for other users to either purchase or download for free.
The upside of this is that over 55,000 WordPress plug-ins are available – so odds are, you'll be able to find exactly the website tools you want.
The downside is that there is no vetting process for creating a WordPress plug-in, so you may have to sift through a few junky ones in order to find what you need.
However, you're never more than a quick Google search away from user reviews that can steer you in the right direction.
WordPress vs. Wix – Performance comparison
Website performance can be measured in a variety of ways, including stability, speed, and scalability.
Stability
A dependable platform is essential for every organization. IT outages can cost businesses up to $16,000 per minute.
WordPress and Wix are both relatively robust platforms with little downtime. They are both updated on a regular basis to address concerns and guarantee that everything works properly.
Speed
Page load speed is an important performance indicator that influences both user experience and SEO.
According to a ToolTester analysis, Wix exceeds WordPress in three of four areas, with the exception of mobile performance, where WordPress performs marginally better.
In the table below, you can compare the performance of Wix with WordPress.
A desktop or mobile performance score of 90 is considered good, 50-90 requires improvement, and less than 50 is considered poor.
Wix used to perform poorly before improving its SEO tools.
According to Search Engine Journal, Wix's approach to technology management may explain why it outpaced WordPress.
Wix controls each element as a website builder, ensuring that websites on the platform adhere to a consistent standard.
In contrast, the open-source nature of WordPress may have contributed to its poor performance. Users can choose which themes and plug-ins to use, but not all of them are as well optimized for SEO as one would like.
Scalability
Scalability is considerably easier to achieve using WordPress.
When your current Wix plan expires, you must upgrade to the next tier until you reach the costly enterprise plan.
However, WordPress remains the same.
WordPress is the CMS underlying some of the world's most popular websites, like Meta Newsroom and TechCrunch.
How Much Control Do You Have Over Your Website's Functionality?
Whereas Wix triumphed in terms of ease of use, WordPress takes the cake regarding flexibility and modifications.
Wix
You'll largely rely on the Wix App Market to add functionality to your Wix site:
This app market provides greater versatility than Squarespace, but it still falls short of covering everything WordPress can do.
The Wix App Market currently offers only 288 apps. That pales compared to WordPress, as you'll see in a moment.
Aside from that, you're extremely limited in terms of making your own code changes (or having a developer do code changes for you).
Wix lets you add custom code, but only in a "sandboxed iFrame" with some limitations.
WordPress
WordPress provides significantly more freedom on both counts. To begin, let's look at plug-ins.
WordPress plug-ins allow you to add new functionality or modify current functionality without knowing any code.
WordPress currently offers over 53,000 free plug-ins, with thousands more premium plug-ins available.
Do you want to incorporate social media into your website? Make use of a social networking plug-in.
The same goes for ad management, contact forms, quizzes, iframes, and pretty much any additional functionality you can think of.
And, if you want to build all of your content using the simplicity of the Wix Editor, you may use one of the many page builder plug-ins available.
Aside from that, you (or a developer) can add any custom code to your website, giving you even more versatility. Unlike Wix, you won't have to deal with any code constraints.
Wix Vs. WordPress: Which Is Better for SEO and Marketing?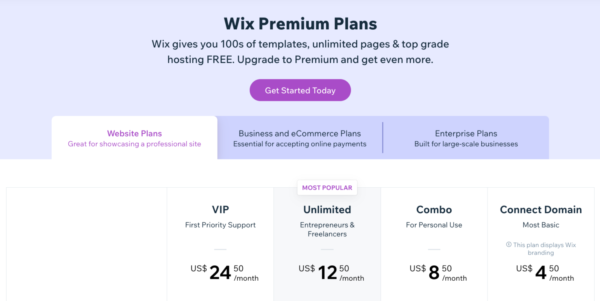 Wix and WordPress have several features that might be beneficial for SEO and digital marketing.
Wix is widely regarded as a solid basic SEO and marketing platform, with features like adjustable page names and descriptions, the ability to add alt tags to photos, and interaction with Google Analytics.
However, it may not have as many advanced SEO and marketing tools as WordPress, and it may not be as configurable or flexible for search engine optimization.
WordPress is a popular choice among digital marketers because it is more powerful and adaptable in terms of SEO and marketing.
It includes built-in tools and plug-ins for optimizing your website for search engines and engaging with your audience.
The tool includes customizable page titles and descriptions, adding alt tags to images, interaction with Google Analytics, and structured data support.
Furthermore, because WordPress has a large developer community, many plug-ins and custom solutions are available to assist you with SEO and marketing.
Both Wix and WordPress include a number of features that can be useful for SEO and digital marketing. Still, WordPress is widely regarded as more powerful and adaptable in this area.
Wix Vs. WordPress: Which Is Better for Blogging?
Both Wix and WordPress can be used for blogging, but there are significant distinctions that may make one better suited to your individual needs.
Wix is a website-building platform that provides templates and design options for creating a blog and a built-in blog editor for creating and publishing content.
Wix's blogging options, on the other hand, may not be as advanced or versatile as those provided by WordPress.
WordPress is a content management system (CMS) that was created primarily for blogging and is widely used by bloggers.
It has a powerful editor, customizable categories and tags, the ability to plan posts in advance, and social network integration to simplify building and managing a blog.
Because WordPress has a big developer community, numerous themes, and plug-ins are available to improve your blog's functionality.
Both Wix and WordPress can be used for blogging, but WordPress is widely regarded as more powerful and adaptable, especially for those seeking additional features and customization possibilities.
Wix Vs. WordPress: Which Is Easier To Use?
Wix is typically thought to be more user-friendly than WordPress in terms of simplicity of use.
Wix is a website-building platform that employs drag-and-drop capabilities and pre-designed templates to allow anyone with no coding skills to create a professional-looking website.
WordPress, on the other hand, is a content management system that requires some technical know-how to utilize properly.
While using WordPress without understanding how to code is possible, customizing your website beyond the possibilities provided by themes and plug-ins may be more difficult.
In summary, your specific requirements and skills will determine the simplicity of use.
Wix may be a better option if you want a basic platform that allows you to quickly and easily design a website without any coding skills.
It can be a strong and adaptable platform if you are prepared to put in the time and effort to learn how to use WordPress or if you have unique needs that necessitate more complex customization possibilities.
Wix Vs. WordPress: Which Is Better for E-Commerce?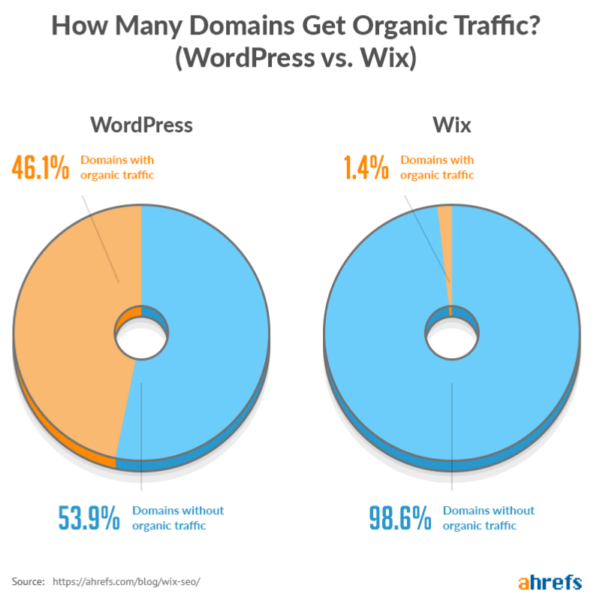 Both Wix and WordPress include a number of e-commerce functionality, but there are significant distinctions between the two systems that may make one better suited to your specific requirements.
Wix is a website-building platform that includes an e-commerce platform, allowing you to effortlessly add and manage products, process orders and payments, and track inventory. So if you want to start an e-commerce store, Wix is a good place to start.
It also has unique shipping and tax options, discount codes, and interaction with payment platforms like PayPal and Stripe.
WordPress is a popular content management system for e-commerce. It has a plethora of tools and plug-ins for creating and managing an online store.
This includes popular e-commerce plug-ins like WooCommerce and Easy Digital Downloads. It also contains themes and plug-ins for customizing the look and functionality of your store, as well as integration with numerous payment systems.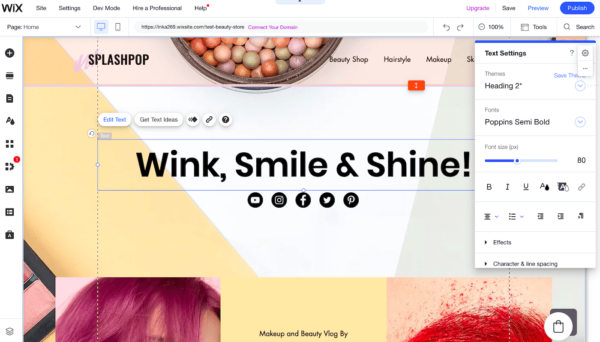 WordPress is widely regarded as more powerful and adaptable for e-commerce, particularly for those seeking sophisticated features and customization choices.
Is It Worth Moving From WordPress to Wix?
WordPress website owners must either invest a significant amount of time or pay someone else a considerable amount of money to manage their website.
WordPress websites and plug-ins are regularly updated, and someone must keep up with the changes.
Furthermore, website owners are responsible for their own security, firewalls, and SSL certificates.
These tasks are time-consuming and difficult; many users do not want to deal with them.
Migrating from WordPress to Wix is a viable alternative for website owners who want to focus on growing their business rather than spending time or money on website maintenance.
They gain from the backing of a team of expert developers after the transition because Wix packages include hosting and tech support.
If you want to work on a platform that is simple to use and won't leave you with endless technical challenges, Wix is worth considering.
Should I Go For Wix or WordPress?
Both Wix and WordPress can assist you in creating a decent website. WordPress is less expensive, more configurable, and well-suited for blogging.
You may, however, benefit more from Wix's dedicated customer service team.
Here are the top ten features to consider while deciding between Wix vs. WordPress:
Website design – WordPress provides many free themes that may be customized without any coding knowledge.
eCommerce – You can easily convert a WordPress website into an online store by installing an eCommerce plug-in. Wix requires you to acquire a more expensive subscription.
Customization – thanks to its block editor and full site editing, WordPress is more flexible and customizable.
Ease of use – both Wix and WordPress have a simple, beginner-friendly interface, but WordPress provides a more extensive setup process.
Pricing – While Wix allows you to create a free website, WordPress frequently gives more value for the money.
Third-party extensions – Wix and WordPress allow you to add new features to your website using third-party extensions. WordPress, on the other hand, has a larger assortment of plug-ins.
Search Engine Optimization (SEO) – Wix and WordPress both provide necessary SEO features. However, WordPress offers extra SEO plug-ins that allow you to handle these elements in a single location.
Blogging – While Wix can handle a blog page, WordPress remains one of the top blogging platforms.
Security – Wix has several security features by default, but WordPress websites can be just as secure with a good hosting plan and regular upgrades.
Customer support – Wix provides 24/7 customer support, whereas WordPress users have to rely on their hosting providers or community forums for assistance.
Wix and WordPress Alternatives
Weebly: Best for Beginners
Weebly is a website builder platform noted for its user-friendly layout, and it is often recommended for individuals searching for a simple platform to develop a professional-looking website. For additional information, go to Weebly's website.
GoDaddy: Best for Quick-start Websites
GoDaddy is a popular website hosting provider that offers domain name registration and web hosting services and the ability to build a website using its simple drag-and-drop website builder.
It has long been a viable alternative to Wix and is perfect for small enterprises and startups.
It has minimal capabilities and does not allow you to add third-party tools to create a robust site. Weebly also charges a 3% processing fee for each payment if you plan to establish an online store.
IONOS
IONOS by 1&1 is an all-in-one website solution that allows you to register a domain, host your website and create a site using its website builder.
It also has some of the greatest help and support, rating the same as Wix, 4.8 out of 5. But what else can this constructor provide?
It places internationalization at the heart of its platform, making it suitable for organizations looking to expand into new markets.
Web.com
Web.com is a popular website builder for small businesses. They're a popular Wix alternative among business owners due to their reasonable price levels.
They provide an easy-to-use drag-and-drop website builder, allowing anyone to create a website without any technical knowledge.
Shopify: Best for Online Stores
Shopify is eCommerce software that works in conjunction with your website builder to create an online store. Shopify can be used as an alternative to Wix.
Unlike BigCommerce, Shopify requires you to pay transaction fees for each sale you make. It also grows costly as you add additional features and expansions to your online store.
Squarespace: Best for Creative and Influencers
Squarespace is a premium website builder that competes with Wix. It is simple for beginners to use and allows them to post material anywhere on the site without modifying any code.
However, Squarespace offers a limited number of third-party integrations, which can be a barrier to your company's growth.
It may be fine at first, but as your business grows, you must upgrade to a more robust platform, like WordPress.
Webflow: Best for Advanced and Dynamic Design
Webflow is a high-end no-code website builder designed for designers, marketers, and developers. Webflow, unlike other Wix competitors, does not rely on predefined templates.
You may use a visual editor to combine the power of HTML, CSS, and JavaScript to create fantastic unique websites, commercial or personal. This is only a subset of Webflow's capabilities. It's a highly versatile builder that has become as well-known as Wix in its field. Over 3,500,000 designers use it worldwide.
Zyro: Best for Content Creation
For individuals looking for a platform with AI branding skills, Zyro is a fantastic option for Wix. Zyro makes it simple for customers to establish a professional-looking website for their business.
They do this by providing features such as unlimited bandwidth, unlimited storage, a free domain for one year, and a variety of design templates and SEO tools.
CMS Hub: Best for Integrated Marketing and Sales
HubSpot CMS Hub is a sophisticated website builder and WordPress replacement that allows you to create a custom website in minutes.
It combines the power of its drag-and-drop website builder, marketing automation tools, and CRM to provide your users with a tailored digital experience.
You may rapidly create a website that delivers results using their conversion-focused website designs.
Drupal: Best for News Outlets and Content-driven Sites
Drupal is another well-known open-source CMS. Like WordPress and Joomla, Drupal has a large user base and developer community.
It is responsible for almost 2.1% of all websites on the internet, including The White House, The Economist, the State of Georgia, and many others.
Drupal modules and themes are similar to WordPress plug-ins and themes. It has the same software needs as WordPress and Joomla. Therefore it will work on any web server that supports WordPress.
Blogger: Best for Free Blogs
Blogger is a free blog hosting service provided by Google that includes everything you need to easily establish and start a blog, such as hosting, an SSL certificate, and themes.
Blogger is a popular platform for beginners to establish simple blogs and business sites due to its ease of use and inexpensive fees.
Bottom Line
With the previous comparison of the benefits, drawbacks, and differences between Wix and WordPress, it is believed that you have made a decision on which one to choose.
Wix is a simple, all-in-one website builder that can help anyone create a beautiful website. Meanwhile, WordPress is a robust, adaptable platform that allows you complete control over your site's design and security. Wix is great for beginners, but WordPress is more technical.
However, it all depends on what you're looking for. For example, if you want to build a huge online store, Wix allows you to do so quickly and easily, whereas WordPress is a terrific choice for scaling your business.
Go for Wix If…
You don't have a lot of technical experience building websites and want a simple platform that doesn't require any coding. If you do not use Wix's free plan, which includes annoying adverts, it will cost you between $16 and $45 per month (paid annually).
Overall, Wix receives a 4.8 out of 5 in our assessment, owing to its simple drag-and-drop editor and additional site features. If you are new to website design and need a solid site for personal or small commercial needs, you should definitely go with Wix.
Go for WordPress If…
You're more tech-savvy and desire more power and flexibility. Be aware that some coding experience is required, and you will need to maintain your website as WordPress evolves. Costs vary, but generally, you'll be looking at a variable $0 – $200 setup fee, followed by continuous monthly fees.
Finally, we recommend Wix if you are a one-person team or do not have specialized technical staff to assist you in designing, maintaining, or debugging a website. If you're unsure, sign up for a free trial and give Wix a spin. However, if you require complete control over every part of your site and plan to construct a large site, WordPress is the way to go.
Good Read: 19 Best Website Builders: Wix, Squarespace, and Best Others
Frequently Asked Questions
Q: Is Wix better than WordPress?
WordPress.org is the better option for individuals looking for advanced customization capabilities. At the same time, Wix is best for people who want a platform that is simple to use and does not require any technical knowledge. We produced this top ten website builders guide since there are various aspects to consider when choosing the best website builder for your specific budget and demands.
Q: Wix or WordPress, which is worth your investment?
WordPress is a better value than Wix. Although neither of these platforms received full scores for value for money, WordPress outperformed Wix in our in-house testing, scoring 4.8 out of 5 in this category. This means that WordPress pricing is far better value and more affordable than Wix prices. While WordPress costs fluctuate depending on hosting and domain purchases, this works in its favor; Wix's set rates are more stable but more expensive.
Q: Which is Better for an eCommerce Website?
WordPress makes it simple to create a free eCommerce website. You can immediately begin selling your products after installing the WooCommerce plug-in. If you want to create an eCommerce website with Wix, you'll need to upgrade to a business plan, which starts at $16 per month plus transaction fees.
Q: How is Wix different from WordPress?
Wix and WordPress differ primarily in that Wix provides web hosting and is a website builder, whereas WordPress is an open-source CMS with more customization choices. In this piece, we will compare Wix with WordPress.
Q: Which platform offers more storage and bandwidth?
Most WordPress hosting companies provide unlimited storage and bandwidth, unlike Wix, which restricts storage space according to your chosen plan. For example, their base plan provides users with 500 MB of storage, 1 GB of bandwidth, and no video hours.
Q: Is Wix or WordPress easier to use?
Wix is a website builder platform designed to be simple to use. It allows users to quickly and easily construct and customize a website, even if they lack technical abilities or design experience. WordPress is a powerful and configurable content management system that may require more technical skills and experience than Wix.
Q: Which one is cheaper, Wix vs WordPress?
Wix offers free plans that include their branded domain name and adverts. Their paid options, which start at $16 a month with extremely limited storage and features, allow you to remove the branding and use your own domain name. Your costs will rise if you want to upgrade to more feature-rich plans. WordPress, on the other hand, only needs hosting and a domain name. For example, Bluehost starts at $2.75 monthly and includes a free domain name and SSL certificate. WordPress becomes a lot cheaper in the long run when you consider that it also allows you to add whatever feature you desire to your website.
Q: Can I transfer my WordPress website to Wix?
Yes, you can move your WordPress website to Wix, but it's not as simple as copying and pasting. It is impossible to export data from WordPress and import it into Wix. You'll need to take care of your domain name, DNS settings, and email accounts.
Q: Is it possible to use WordPress on Wix?
WordPress cannot be used directly on Wix. Wix is a website builder platform with its proprietary content management system and tools for creating and managing websites. In contrast, WordPress is a distinct content management system that can be used to create and manage websites on its own or with a hosting provider. While Wix and WordPress have some similarities regarding the types of websites they may generate, they are not directly interoperable and cannot be used interchangeably.
Q: Does Wix build websites for you?
Wix provides several methods for creating your own free website, allowing you to select the best method. Do you need to get online quickly? Wix ADI (Artificial Design Intelligence) will create a website for you after you answer a few easy questions.
Q: Is Wix good for SEO?
Overall, Wix is an excellent SEO website builder. While it isn't as advanced or competent as more complex CMSs like WordPress, it's more than adequate for folks who simply want to make a website and don't have the time or interest in a steep learning curve.