Last updated Jan. 9, 2023 by Favour Chinaza
Businesses can lose billions of dollars due to unplanned downtime. Typically, such breakdowns can be traced back to equipment failure, which can be easily avoided by selecting the appropriate maintenance management software.
You can use CMMS Software to monitor equipment activity and avoid costly downtime. Learn more about CMMS in this article.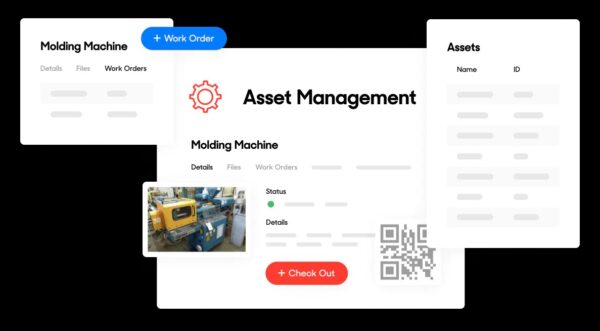 Whether your business is in retail, transportation, manufacturing, or hospitality, it is important to take care of your assets to provide good products and services. Your maintenance team spends hours weekly on scheduled maintenance of heavy equipment, machinery, spare parts, and more.
A computerized maintenance management system (CMMS) makes it easier for your team to get things done by giving them information about what to do and when to do it.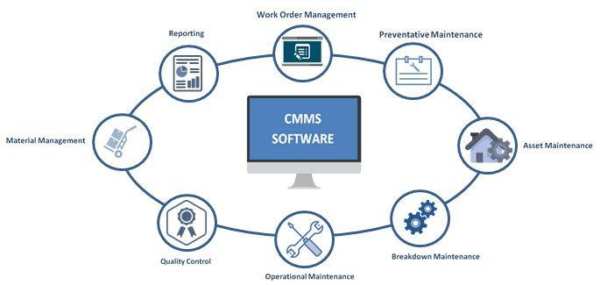 CMMS (maintenance software) helps a business build a virtual database of information about its maintenance operations.
Buying a CMMS solution can be challenging because so many products are on the market. This buyer's guide has all the essential information you need to know about buying CMMS software to determine which tool is best for your business.
What is CMMS Software?
CMMS software is a platform that helps organizations track how they take care of their assets and how much it costs to do so. The goal is to extend the life of an asset for as little money as possible.
Just like project management software, CMMS software is used to manage assets, facilities, equipment, fleet maintenance, and the maintenance of other types of machinery. In addition, the CMMS software can make maintenance reports and handle requests for inspection of scheduled maintenance.
Types of CMMS Software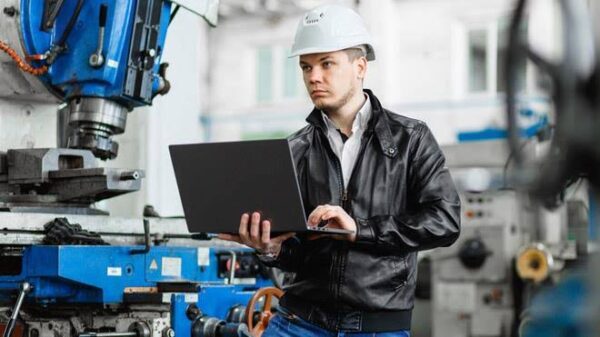 A CMMS is classified into two types: on-premise and cloud-based. Your choice will have a significant impact on how you use the software.
1. On-premise CMMS Software
An on-premise CMMS is an in-house software system to manage maintenance and inventory. You are frequently responsible for installing the system and configuring firewalls and IT infrastructure. These systems were used before the availability of high-speed Internet and software-as-a-service (SaaS) products. Cloud-based products are now in use.
2. Cloud-based CMMS Software
Unlike an on-premise solution, The provider manages a cloud-based, so all you have to do is focus on using the product. In addition, updates occur automatically with software hosted on infrastructure managed by the provider. As a result, you get new features without reinstalling the software. With on-premise, you must perform system updates as they become available.
Another advantage of cloud-based systems is entering maintenance data from any location. It enables technicians to view and update work orders from the repair site or anywhere there is an internet connection using a mobile application. In addition, the mobile application communicates with the primary server, which stores all maintenance data. This eliminates the need for technicians to re-enter data from a desktop computer.
How Does a CMMS work?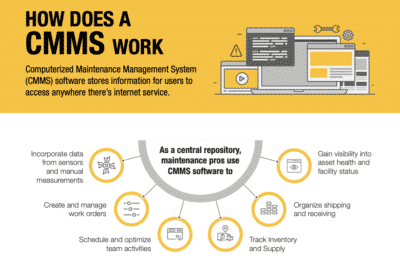 The information in a CMMS database supports various system functions, enabling the following capabilities:
Management of Resources and Labor:
CMMS software records available employees and equipment certifications, assigns specific tasks, and forms teams. In addition, it manages pay rates and shift scheduling.
Asset Registry:
A system for storing, accessing, and sharing asset information such as:
Manufacturer, model, serial number, and class and type of equipment
Costs and codes associated
Position and location
Statistics on performance and downtime:
Repair manuals, safety procedures, and warranties, as well as related documentation, video, and images
Meters, sensors, and Internet of Things (IoT) instrumentation are all available.
Work Order Administration:
Work order management, which is commonly regarded as the primary function of CMMS, includes data such as:
Order number for work
Priority and description
Type of order (repair, replace, scheduled)
Cause and effect codes
Personnel and materials assigned
Work order management: It includes the ability to:
Automate the creation of work orders.
Materials and equipment on hand
Employees, crews, and shifts should be scheduled and assigned.
Examine the status and track downtime
Keep track of both planned and actual costs.
Attach any necessary documentation, repair, and safety media.
Preventive Maintenance:
CMMS software like most market automation tools, can automate work order initiation based on time, usage, or triggered events. To organize and associate assets across multiple orders, use preventive maintenance.
Materials and Inventory Management:
CMMS inventory management entails the following:
Inventorying, distributing, and reclaiming MRO equipment and materials across storage areas, distribution centers, and facilities.
Manage suppliers, keep inventory costs under control, and automate resupply.
Reporting, Analysis, and Auditing:
CMMS software creates reports on:
asset availability
material usage
labor and material costs
supplier assessments, etc.
Analyze data to understand asset availability, performance trends, MRO inventory optimization, and other data to support business decisions and collect and organize data for audits
What is the Difference Between EAM and CMMS?
CMMS and EAM (Enterprise Asset Management) are frequently used interchangeably. The two have very similar functions and goals but are fundamentally different. To understand the critical differences between CMMS and EAM, consider the history of CMMS and the relationship between CMMS, EAM, and APM.
As CMMS evolved, it laid the groundwork for EAM. EAM essentially contains CMMS functionality, and their functions can overlap. For example, the EAM allows CMMS to span sites, foster collaboration across work departments, and provide deeper integration with other systems. These systems include enterprise resource planning, thanks partly to increased connectivity and information sharing (ERP). CMMS solutions, on the other hand, tend to focus on fixed asset availability and uptime
CMMS Software Trends For 2023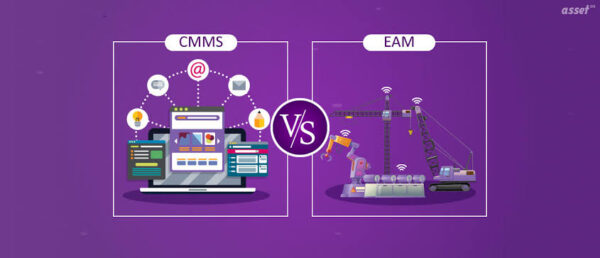 Modern technologies like artificial intelligence (AI) and machine learning are being used increasingly to improve the accuracy and efficiency of CMMS systems. This usage is a trend that is likely to continue.
These technologies can help find patterns and trends in maintenance data and can be used to predict when equipment is likely to break down or need maintenance.
There could also be a trend toward more integration of CMMS with other systems and technologies, like the Internet of Things (IoT) devices and predictive maintenance tools. It would make it easier for organizations to track and keep an eye on how their assets and equipment progress and to find and fix problems earlier.
Smartphone and tablet users accessing and updating CMMS systems is another trend that is likely to continue. The smartphone will make it easier for maintenance workers to get information and update records while on the job, making maintenance work more efficient and effective.
Benefits of Having CMMS Software for Your Business
CMMS Software is Cheap to Maintain:
CMMS software gives an organization a central place to store information about equipment, service repairs, inventories, and other assets. It eliminates the need to use pen and paper or spreadsheets to keep track of and record data about asset maintenance.
A CMMS platform helps you plan maintenance so you don't have to do expensive repairs or shutdowns at the last minute. In addition, this ability to report and keep track of things helps keep maintenance costs down as a whole.
Helps in Compliance Management:
CMMS software makes reports on the performance of assets and maintenance operations. You can use these reports during audits. In addition, the software can keep track of maintenance procedures and inspections so that you can give compliance agencies all the information they need when they ask.
Better Visibility of Your Company Assets!
With CMMS software, your business maintenance team can see the status of all work orders and mark the ones that need extra attention. For example, you can quickly see when an asset was bought, when maintenance was done, how often it broke down, what parts were used, and more.
Having a clear picture of your business assets and their maintenance schedules can help you avoid equipment breakdowns at the last minute and make your maintenance operations run more smoothly.
Why Do You Need a CMMS Software?
A CMMS helps you plan and keep track of preventive maintenance tasks and inspections. It helps to find minor problems with every asset or piece of equipment early and fix them before they get worse. In addition, planning ahead helps you to save money by letting you fix a problem before it gets too bad.
CMMS acts as reactive maintenance. Even if you take all the preventive steps, things can still go wrong. When this happens, It helps businesses act more quickly by showing them what to do next.
CMMS makes it easier to keep track of several applications and even the stocks of any company's stock such as Marathon Oil Stock. If machine parts didn't come on time from the vendor, a small problem could slow down the repair process and make it hard to get on with other activities. The CMMS software keeps track of what parts you have in stock and what you might need to order ahead.
When equipment breaks, CMMS makes it cheaper to order repair parts overnight. Then, when you know what equipment parts you don't have, you can order them ahead of time so that you have them when you need them and don't have to pay extra for overnight shipping.
The best CMMS Software lets you use the information it stores to help you make better decisions. For example, you know which equipment will need maintenance and when, and you can trust the information in the software to help you take the proper steps.
10 best CMMS Software for Your Business
1. MaintainX (Best Overall CMMS Software)
Rating: 4.76 (332 reviews)
G2 Ratings 4.8/5 (297 Reviews)
MaintainX is our top choice for CMMS software in general. The solution makes it easy for businesses to take care of their buildings, equipment, safety standards, and communication within the maintenance department.
Global leaders like Hilton Hotels, McDonald's, Marriott, and Burger King use and trust MaintainX.
The CMMS software is perfect for any business that needs to improve the daily tasks that come with managing many assets. It also does both planned and unplanned maintenance to keep costs down. MaintainX is often used in schools, country clubs, manufacturing and industrial businesses, facilities management, and property management.
MaintainX Key Features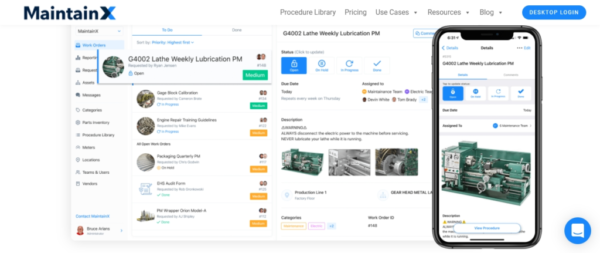 Some of the best features and benefits are:
Unrestricted work orders
Unlimited locations and assets
Unlimited pictures and messages
An app that works well on mobile devices
Templates for making forms
Collaboration workflows
MaintainX has features for managing assets, doing inspections, keeping track of inventory, making work orders, doing preventive maintenance, and more.
MaintainX Pricing and Plans
MaintainX pricing and plans are:
Essential Plan— $8.33 per month
Including everything in the free Plan.
Limitless Work Orders with Pictures.
Unlimited Requests and Request Approvals.
Unrestricted Work Orders Chains/Months that are repeatable.
Reporting & Analytics (3-Month Window)
The monthly premium is $32.50
Everything in the Essential Plan, including.
Unrestricted Parts Inventory.
Importing of Assets and Locations for free.
Unrestricted Advanced Forms.
Sub-Assets/Sub-Locations.
Time & Cost Tracking.
Meters.
Reporting Work Order Filters.
Offline Mode.
Reporting & Analytics (6-Month Window).
Attachment of Files like PDFs to Work Orders.
CSV Export.
REST API Access.
Premium Support
$115 per month for Enterprise
Everything is in the premium plan.
Dedicated Account Manager.
Custom User Permissions.
Escalation Protocols.
IoT Meters.
Site Manager & Switcher.
Enterprise Grid Reporting and Analytics.
Procedure Digitization and Implementation.
Mean Time Between Failures (MTBF).
SAML-based Single Sign-on (SSO).
Platinum Support.
Dedicated Account Manager.
Service Level Agreement (SLA)
There is also a free plan for MaintainX, but it has some limits. All of the prices above are based on a one-year agreement. Pricing by the month is available, but it costs more.
MaintainX is our top pick in this category because it has excellent features, can be used in many different ways, and doesn't cost too much.
Start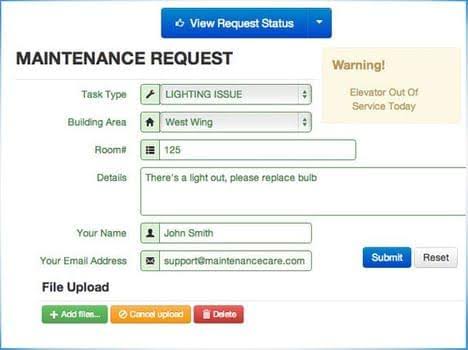 Rating: 4.57 (46 reviews)
G2 Ratings 4.3/5 (13 Reviews)
Maintenance Care is an excellent choice for companies that don't have CMMS software. However, if you keep track of work orders and maintenance management with Excel spreadsheets or paper records, this software is a great way to learn about CMMS and other online learning software.
More than 30,000 users in charge of more than 10 million assets trust this CMMS tool. Maintenance Care has saved its clients over $250 million in return on investment (ROI).
Maintenance Care Key Features
Maintenance Care has a long list of great features, such as:
Work orders
Tracking assets
The parts and stock
Upkeep to avoid problems
Document storage
Wireless sensors
Reporting\Integrations
With a free mobile app, you'll also be able to track and manage everything on the go.
Overall, this software is strong enough and flexible enough to meet the needs of a wide range of businesses.
It is used by property managers, small businesses, senior care centers, government agencies, businesses in the hospitality industry, businesses that make things, and more.
Maintenance Care Pricing and Plans
Maintenance Care starts at $75 per month, billed once a year. The Plan comes with unlimited users, support for multiple sites, advanced work orders, and customer support built right in.
For more advanced features like tracking asset management, parts and inventory, and preventive maintenance, you'll need a custom quote from the sales team.
Maintenance Care's free Plan lasts forever and is great for basic use and managing online work orders. You can still use features like unlimited task types, basic reporting, and automatic task notifications without spending a dime.
Check out Maintenance Care for free
See the 12 Best Accounting Software for Business
3. Limble CMMS — Best For Enterprise Asset Management (EAM)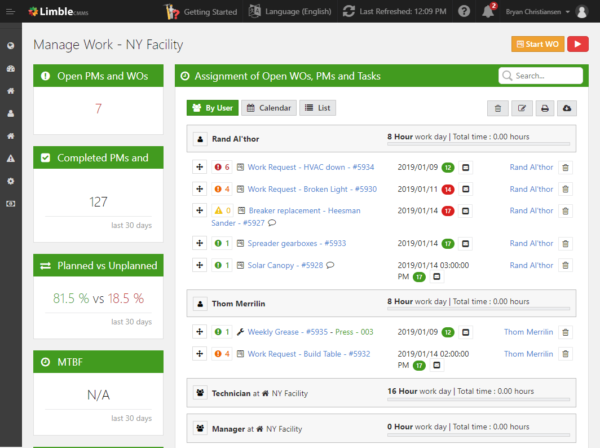 Rating: 4.85 (200 reviews)
G2 Ratings 4.9/5 (184 Reviews)
Limble CMMS bought offers EAM functionalities. Of course, CMMS and EAM are different. However, Limble CMMS has the tools you need for scaling up EAM roo. Whether your organization has ten or 100,000 assets, the software makes it easy to keep track of everything about all of them in a single place.
You can use Limble CMMS to see detailed maintenance logs, get real-time asset data with sensor connections, track KPIs, and quickly find information using QR codes.
The Limble software lets you make as many custom search fields as you want, so you can keep track of your assets in any way you want. You'll also be able to use a parent-to-child hierarchy to set up complex assets.
Limble CMMS Key Features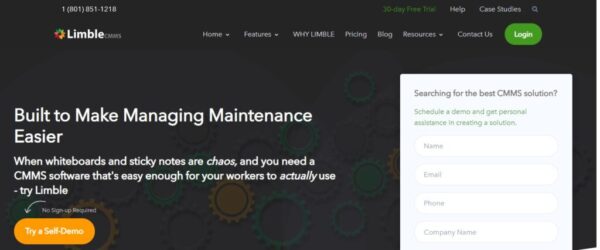 Limble CMMS has more than just tools for managing assets. It also has features for:
Work orders
Upkeep to avoid problems
Planned maintenance
Requests for work and tracking them
Reports and dashboards made to order
Keeping track of parts and stock
Vendor management
Limble CMMS Pricing and Plans
Limble CMMS has two monthly plans. The prices for each user are $35 and $49, respectively. Both are free to try for 30 days.
The entry-level Plan is best for smaller teams, while the next level-up is best for teams with a medium number of players. Contact Limble CMMS for custom enterprise software if you have a big team or a lot of needs.
Start Limble CMMS 30-day free trial.
4. eMaint (Best CMMS Software For Scalability)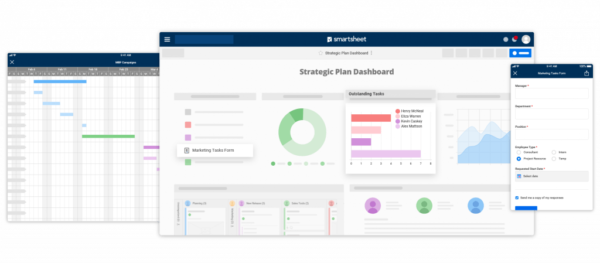 Rating: 4.42 (259 reviews)
G2 Ratings 4.4/5 (116 Reviews)
More than 50,000 people trust eMaint, making it one of the most popular CMMS tools on the market today.
Businesses in manufacturing, facilities, food and beverage, warehouses, oil and gas, fleet maintenance, and healthcare use it often.
In addition to the CMMS tools, eMaint has powerful tools for enterprise asset management (EAM). The eMaint CMMS software is easy to set up, so you can change everything to fit your organization's needs. In addition, the software is made to grow as needed. eMaint will grow with your business as you add team members, departments, locations, and assets.
eMaint CMMS Key Features
Some of the best things about eMaint are:
Work order management
Scheduling
Reporting
Maintenance that is both Preventive and proactive
Multi-site support
Asset management
Keeping track of stock
Serve history tracking.
Technician management.
Mobile Access.
Billing and preparing invoices
With e-Maint, a hierarchical structure of parent and child assets could be made out of the assets. So, improving the performance of those assets and how much downtime has been cut has been done.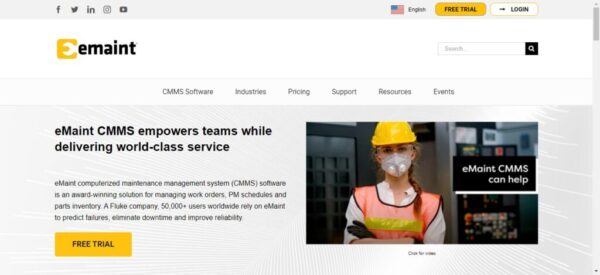 The most exciting thing about the e-Maint system is that the software has an ROI calculator that helps determine the potential return on investment and the savings that could come from better operational maintenance.
You can use the e-Maint software on PCs, smartphones, tablets, and other mobile devices, just like other CMMS software.
eMaint Pricing and Plans
Prices start at $33 per user per month for eMaint. With the basic Plan, you need at least three users.
The price goes up to $85 per user per month if you want more advanced features or more than three users.
Rates for businesses begin at $120 per month.
eMaint is free to try for 15 days.
5. Fiix CMMS Software (Best for Fleet and factory maintenance)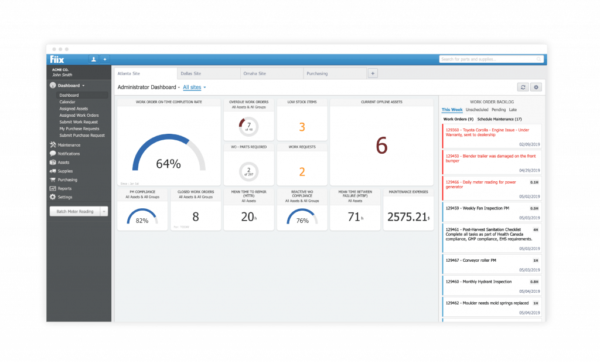 Rating: 4.45 (585 reviews)
G2 Ratings 4.7/5 (180 Reviews)
Fiix CMMS software is designed to simplify maintenance management and improve productivity within organizations. It's a top solution for businesses that don't need complex features for CMMS.
The core features of Fiix are work order management, asset management, parts, and supplies control, and reporting.
The Fiix CMMS software helps you keep track of your organization's equipment, vehicles, buildings, inventory, and many other assets. Fiix helps you import existing data before you sign up. Then, you can upload your existing data by uploading a CSV or Excel file directly into the system.
Fiix's main job is to help keep track of assets, monitor them, and make their operation more manageable. It also ensures:
Management of the work system
management of inventory
analytics and reporting
inventory management,
With Fiix, you can look at parts forecasts, which are data analyses that tell you what parts the company is likely to be worked on in the future.
Fiix CMMS Key Features
There are a few things about Fiix that make it stand out. Among them are:
The Fiix App Exchange has a pie-built IIoT built to help capture real-time data from PLCs and other industrial devices.
Fiix Foresight is an AI system for maintenance that looks at data to find trends and figure out which parts or areas need to be fixed.– this comes with a pie-built IIoT integrated to assist in capturing real-time data from PLCs and other industrial devices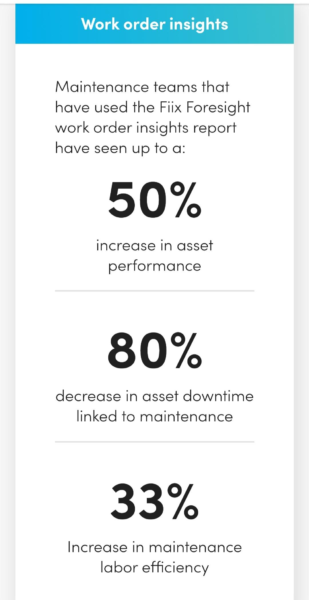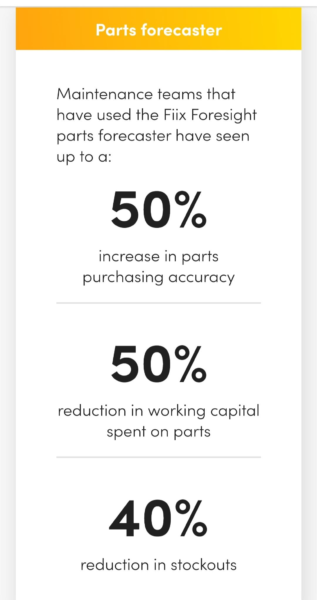 Parts and inventory management:
With Fiix, you can set a minimum number of spare parts and get a message when that number is reached. It also lets you simplify how you buy things so that you can send POs, RFQs, and RFPs easily through email.
Work order management: Because Fiix is in the cloud, you don't have to deal with work orders on paper. Users can send requests through a portal and import work orders from a CSV file.
Fiix Pricing and Plans
Fiix is one of the best and most affordable CMMS programs to help you manage your assets and work orders and make reports.
Fiix paid plans are:
Basic — $40 per user per month
Professional — $60 per user per month
Enterprise — Custom pricing
Fiix is a cheap and easy way for small and large teams to keep track of work orders and assets. But the software is probably not for you if you want the most powerful and feature-rich solution on the market.
You get one month free when you sign up for Fiix annual billing.
6. UpKeep (Best CMMS Mobile App)
Rating: 4.64 (1248 reviews)
G2 Ratings 4.5/5 (757 Reviews)
Most of the best CMMS software today has a mobile app, but UpKeep CMMS was built from the ground up for usage on mobile devices. UpKeep is excellent for technicians and maintenance teams always on the go because it puts the mobile app first.
Businesses in many fields, such as manufacturing, property management, transportation, government, education, and more, often use this software.
If you do a quick search online for UpKeep, you'll find thousands of reviews from current users that give it five stars.
UpKeep Key Features
Some of the best things about UpKeep's CMMS solution are:
Work orders
Requests for work
Maintenance checklists
Keeping track of stock
Tracking depreciation
Automation of workflow
Warranty follow-up
Orders to buy
Keep track of time and money
The CMMS software can also manage inventory and assets in the field with the help of QR codes and meter readings. But, again, you can do this right from the UpKeep app on your phone.
UpKeep Pricing and Plans
Here's a quick look at how much UpKeep costs:
Starter — $35 per user per month
Professional: $60 a month per user
Business Plus costs $100 a month per user.
Enterprise: $180 a month per user
Unlike other software we've looked at, UpKeep's plans don't allow unlimited users. Even at the enterprise level, you still pay per user, which can add up to a lot of money.
That being said, the UpKeep mobile app is the best, which is why more than 150,000 maintenance professionals worldwide trust it.
7. Hippo CMMS (Best Web-Based CMMS)

Rating: 4.43 (306 reviews)
G2 Ratings 4.2/5 (234 Reviews)
With only 1,300 customers, Hippo CMMS isn't necessarily the most popular solution on the market. But if you want an easy-to-use web-based CMMS, this is a great option to think about.
Even though the list of customers isn't very long, those customers manage more than 11,000 facilities and more than 32,000 users.
Hippo CMMS Key Features
Hippo CMMS is an all-in-one tool for managing maintenance. You'll benefit from features like:
Work order management
Equipment management
Planned maintenance
Keeping track of inventory and parts
Maintenance reports
Vendor management
Hippo CMMS doesn't require your
team to be tech-savvy. It is easy for anyone to figure out because it is web-based and has a simple interface.
Compared to other platforms we've looked at, Hippo CMMS doesn't have all the features you'd expect in this category to track assets.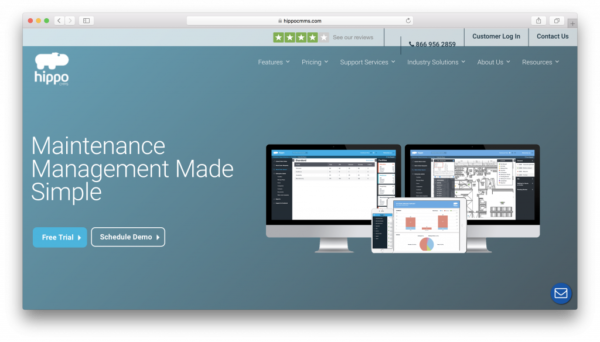 Online, you can't find out how much Hippo CMMS costs. Instead, you must fill out a short form field with more information about your business to get started. Then, for 14 days, Hippo CMMS is free to try.
8. Fracttal CMMS Software (Best for Health care and food service industries)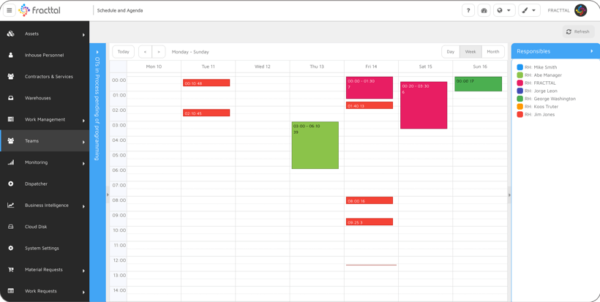 Rating: 4.55 (487 reviews)
G2 Ratings 4.8/5 (391 Reviews)
Fracttal is an intelligent maintenance platform that combines CMMS, AI, and IoT technologies into one place. With Fracttal, you can easily manage your assets, make data-based decisions, and connect your assets to the Internet of Things.
Fracttal can be used by all businesses, regardless of size. Companies in manufacturing, construction, energy, technology and other fields can also use it.
Key Features of Fracttal
Work order management is one of the essential parts of Fracttal. It lets users schedule and reschedule work orders on one screen. You can use it on a phone, tablet, computer, smart TV, and other devices because it was made with mobile in mind.
Fracttal can also work with Sage, Gmail, Salesforce, SAP, Microsoft Dynamics, and other programs.
Predictto Feature: Weibull analysis is used by Fracttal's Predictto solution to give you the information you need to plan maintenance. Predictto uses models of deterioration and reliability to make predictions about your assets.
NFC tags and QR codes: With Fracttal, you can scan QR codes or NFC tags on assets to find out how they are doing and what they have been doing. With this, you can get the information you need right when you need it.
IoT connection: With the Fracttal X solution, you can connect your assets to the Internet of Things to make many things possible. With this, you can turn on temperature monitoring, report incidents, and check the status of sensors in real-time.
Fracttal Pricing and Plans
Fracttal has four different price plans:
Free Starter plan,
Pro plan for $585,
Corporate Plan for $975 and
Quote-based Advanced Plan.
9. eWorkOrders CMMS Software (Best for Cloud Services)
Rating: 4.89 (74 reviews)
G2 Ratings 4.9/5 (12 Reviews)
eWorkOrders is a web-based CMMS that helps businesses of all sizes extend the life of their assets by providing a platform that is both safe and easy to use. By using eWorkOrders, companies can control costs, improve the efficiency of their workflow, and make their operations run better overall.
This CMMS solution can help clients in many fields, such as manufacturing, healthcare, oil, and gas.
eWorkOrders Key Features
Work order management: is one of the most critical parts of eWorkOrders. It helps users submit work orders quickly and easily. On the other hand, some of its more advanced features, like predictive maintenance, let users spot trends rapidly so they can fix business problems. In addition, API makes it possible to connect eWorkOrders to hardware, ERP systems, and other third-party apps.
GIS mapping. By looking at a shared, real-time web map, this feature lets techs on the job ensure they are in the right place. It also gives them access to real-time data, making it easy to find assets.
Signature capture. You can put signatures into the system from anywhere with this feature. You can set up the sign-offs you need and ensure they are linked to the right work orders.
Service requests. Users can send service requests through eWorkOrders's user-friendly interface 24 hours a day, 7 days a week. The request is automatically sent to the right employee or service provider, and the user is told when the request is done.
eWorkOrders Pricing and Plans
eWorkOrders offers pricing based on quotes, which can be gotten from the vendor when asked.
Related: 18+ Best CRM Software (Compared and Reviewed)
10. FMX CMMS Software (Best for Facility Optimization)
Rating: 4.70 (381 reviews)
G2 Ratings 4.8/5 (5 Reviews)
FMX is a platform for managing facilities and maintenance that helps small businesses and companies of all sizes improve and take charge of their operations. With FMX, organizations can make their processes easier, get more out of their assets, and plan based on data. You can use the solution in many fields, including education, manufacturing, healthcare, government, and more.
One of the best things about FMX is that it can help keep your equipment in good shape. This management enables you to avoid unplanned downtime and extend the life of your assets by keeping them on a reliable maintenance and service schedule.
On the other hand, its work order solution lets you use QR codes to route and tag jobs automatically. FMX can work with many different apps, like Oracle, QuickBooks Online, Slack, and more
FMX Key Features
Custom workflows. This feature allows you to manage workflows specific to your business or industry. For example, when you set up your work order, you can decide who can send requests or add particular fields for specific recommendations.
Ticketing with technology. With this feature, IT tickets can be sent in quickly by staff. The IT department can work with the person who filled out the ticket to get more information and speed up the problem's resolution.
Purchase order management. With this feature, you can keep your purchase orders, inventory, and asset management all in one place to get a complete picture of your facilities. It lets you send POs to suppliers, buy one-time items, and restock your inventory.
FMX Pricing and Plans
FMX has four plans:
The Essentials plan, which is free,
Select Plan, which costs $35 per user per month,
Plus Plan, which costs $60 per user per month, and
the Premium plan, which is based on a quote.
Ideal Features Businesses Look Out For in a CMMS Software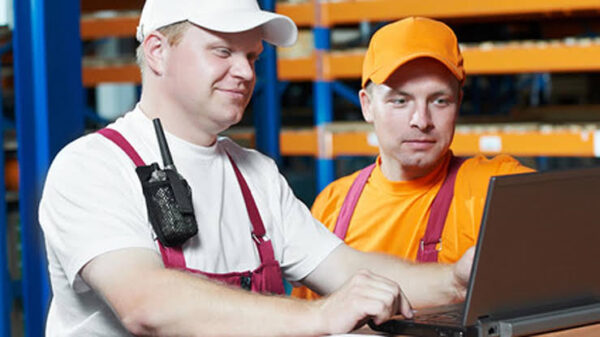 Asset Tracking:
Monitor the lifecycle and usage of assets, such as equipment, tools, and hardware, from acquisition to retirement.
Preventive Maintenance:
Plan and perform maintenance of equipment at specific time intervals to prevent the chances of unexpected failure.
Work Order Management:
Manage the timely processing and completion of maintenance work orders to avoid asset downtime. Work order management includes processing work requests, checking resource availability, assigning tasks, tracking warranty, tracking downtime, and managing inventory.
Reports and Statistics:
CMMS can use Reports and statistics to track and analyze the assets' health, productivity, maintenance costs, etc. As a result, CMMS makes it easy for teams to manage assets, keep track of problems, and make decisions based on reports.
Billing and Invoicing:
Manage monetary transactions and invoices with external customers or internal departments. Invoicing involves generating quotes for services offered, creating invoices, and getting paid.
Inventory Management:
Track the parts, tools, and other materials required to perform routine upkeep in your maintenance program. The invoicing helps manage the number of resources on hand to maintain proper supply.
Mobile Access:
Access the software remotely on mobile devices such as smartphones, tablets, and laptops through an app or a browser.
Scheduling Plan:
The availability of resources and assigning specific maintenance tasks to be completed over time.
Service History:
Track the work performed, maintenance history, and resources used for past customers, sites, or assets.
Technician Management:
Track the work orders and scheduled services assigned to each technician. The software helps manage technicians' availability and assigns specific tasks to them.
Third-party Integrations:
Integrate CMMS software with other solutions and applications to sync data. Integration helps avoid any duplicate data entry and ensures informed decision-making.
Industries That Need CMMS Software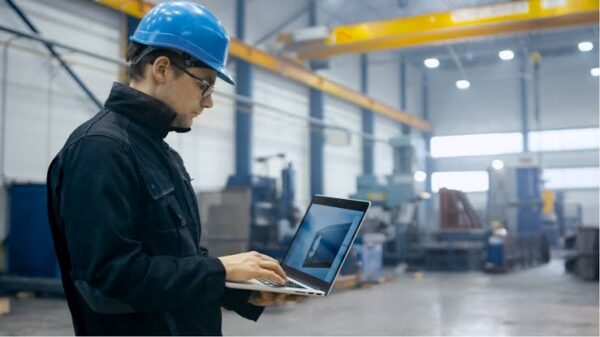 A CMMS can help any business that has to take care of equipment. But, as you might guess, some organizations depend much more on the functionality of their assets (and the environment they work in) than others.
#1 CMMS for Big Businesses
When we talk about heavy industries, we mean mining, construction, manufacturing, energy, the aircraft industry, and similar things.
Maintenance management costs a lot in these industries because if equipment breaks down, workers' activities stop, hurting their deadlines. They have significant, expensive assets that last a long time and have to deal with very high downtime costs and strict safety rules.
#2 CMMS for Running Buildings
Building maintenance is an integral part of managing a building. Its purpose is to ensure that all of the building's systems work well and that the people living there are comfortable. It means taking care of the building's structure, plumbing, electrical, lighting systems, heating, ventilation, air conditioning (HVAC), and other assets and equipment.
Many businesses, such as hotels, casinos, churches, gyms, office buildings, museums, water parks, etc., use it.
#3 CMMS for Fleet Management
Fleet maintenance is there to ensure that your business's vehicles are in good shape, as the name suggests. It is used by trucking companies, businesses that rent cars, some government agencies, farming businesses, delivery services, and more.
Fleet management is unique in that it gives a lot of weight to things like asset tracking and fuel management, which significantly affect how well a vehicle works and how much it costs to keep it running.
#4 CMMS for Field Maintenance
Field maintenance aims to take care of shared assets that work independently. CMMS software can be used to do specific maintenance tasks in the field in most of the industries listed above. Some common examples include:
Managing infrastructure for communication, such as cell phone towers
Taking care of different parts of an electrical grid, fixing HVACs in homes and businesses,
Doing landscaping as part of grounds maintenance and going to people's homes to maintain and repair medical equipment.
These examples have one thing in common: the CMMS helps their maintenance team, their maintenance team helps their assets, and their assets help their bottom line.
How to Choose the Right CMMS for Your Business.
You will need to research and test to find the best CMMS solution for your business.
We recommend the following steps:
Step 1: Figure out what the main problems are that you and your team want to solve.
Some customers are very slow to fix problems when they happen. Others are trying to make things more reliable all around. Every company has issues; if you know yours, you'll know what to look for.
Step 2: Make a list of "must haves" features and "nice-to-haves."
Making a list will help you figure out what's essential and what you might want to work on shortly. But, of course, nice-to-haves can sometimes be a trap, so don't worry too much about getting everything.
Review and try out your top two or three CMMS
Do your testing of the software. Then, contact the CMMS provider and ask about details you don't understand.
Supervisors and technicians are the ones who will use the platform every day, so it is often a good idea to include them in the testing process. Not only that, but they'll be more excited to use it if they feel they have a say in picking it.
Do In-depth testing of the CMMS
It is essential to make sure that a CMMS is easy to use. You can see how many clicks it takes to do something in the CMMS or by throwing the sales rep a curveball and asking them to show you how to import items immediately. Ask yourself, "does it look and feel modern?" Check out the CMMS's support right away. Then, try to beat it at its own game.
How to Get the Most Out of Your CMMS Software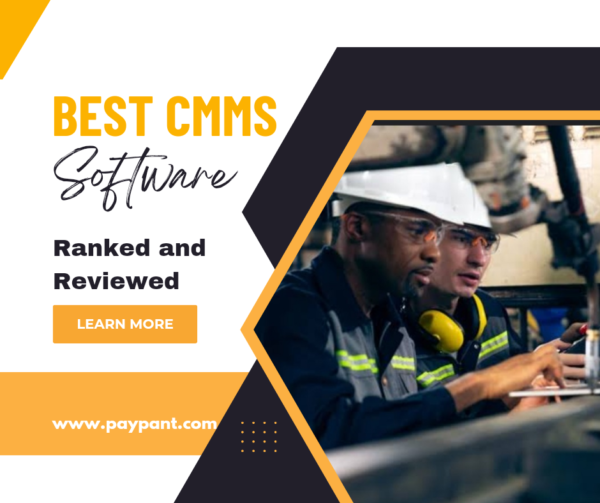 To get the most out of your CMMS, you need to follow one central idea:
Tip* The more CMMS features you use, your return on investment (ROI) will likely increase.
Not every business will need the same CMMS features, though. Test each component for four weeks to determine which ones you need the most. At the end of 4 weeks, check to see if it made a difference. If it did, you just found a new way to get more done with less. If it didn't, stop using that part of the CMMS.
Here are a few tips to help you get the most out of the CMMS features you are already using:
● Make sure to train CMMS Operators well
Some CMMS are more difficult to use than others. Some techs might need more time to learn how to use the software. A modern CMMS will have a knowledge base, video tutorials, or even a customer success manager who can train people.
● Fix mistakes as soon as you can.
During the first few months, keeping an eye on how people use the software is essential. Watch out for people who skip steps or take shortcuts. Stopping these bad habits early on can lead to significant changes.
● Measure and make changes
Use the CMMS reporting features to see how things are going from month to month. This will tell you where or who needs to get better.
● Utilize Customer Support
The majority of modern CMMS will do this for free. At Limble, they assign a customer success manager to every customer to help them use the software in the best way possible.
Check out these 23 Best ERP Software for your Website and Business
Bottom Line
Not every CMMS solution is made the same way. Some focus on the more traditional parts of CMMS, like the maintenance of assets and equipment, preventive management, and real-time data for reporting. On the other hand, some are cutting-edge and use exciting new technologies like 3D mapping, wireless sensors, and connections to the Internet of Things.
Wrike is a solution that stands out among the many others on the market. This powerful work management platform promises a complete view of your organization and uses AI to help teams work more efficiently. However, no matter which solution you choose, it's crucial to think about your needs, not just bells and whistles. This will help you find the keys to a successful CMMS software implementation.
Frequently Asked Questions
Q: Why CMMS implementations fail?
CMMS implementation fails due to a lack of planning. Implementing a CMMS takes planning, time, and buy-in from your team and management.
Q: Is CMMS Suitable For a Small Business?
A CMMS can give small businesses the tools they need to keep track of maintenance management, schedule preventive maintenance, manage inventory, make reports, keep track of assets, make purchases, and do other things.
Q: Do I need a CMMS?
Preparing for an audit is more accessible and cheaper with CMMS software. It makes inspection rounds easier and lets you search the system for maintaining records for a specific asset or period.
Q: What is the difference between CMMS and ERP?
Enterprise Resource Planning (ERP) is a piece of software that runs all of an organization's operations and tasks without any help from a person. Maintenance is all that CMMS is about. ERP is mostly about how to organize everything. CMMS doesn't care for and improve an organization's processes.
Q: Where can CMMS be used?
CMMS is used in manufacturing, oil and gas production, power generation, construction, transportation, and other industries where physical infrastructure is important.