Last updated Jan. 15, 2023 by Favour Chinaza
Podcasts have become essential for individuals to express their ideas and become celebrity influencers for the better of a decade. Whether it's news, sports, or entertainment, a podcast is unquestionably one of the best ways to share your thoughts with the rest of the world. These 25 Best Podcast Hosting Platforms of 2023 (Plus Free Options) will help you make a better choice for your podcast hosting platform and help you with hands-on tips to optimize your podcasts.
However, you can't just wake up one day and start a successful podcast. It will necessitate extensive planning and diligence on your part. The most important decision you will make in the early stages is selecting a podcast hosting provider. Podcasters can use these services to upload their audio episodes.
After RSS feeds are automated, a podcast hosting service will send these uploads to directories like Google Podcasts, Spotify, Apple Podcasts, etc. Because of this, you should only choose a hosting provider that does both of these things well. Of course, this is easier to say than to do since there are so many podcast hosts.
What is a Podcast Host?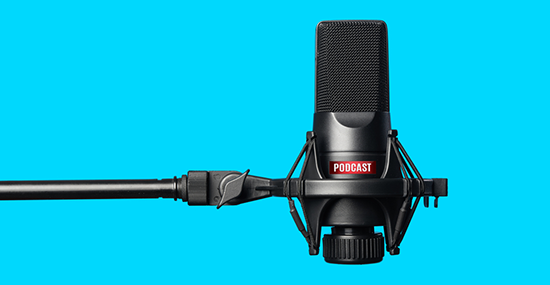 A podcast host is a website that stores the media files for your podcast sends them to the podcast directories you choose, and then sends your podcast to the people who want to listen to it. It is a specialized service that offers to store and deliver media files associated with a podcast.
Podcast hosting platforms connect the people who make podcasts to the directories where they want their podcasts to be listed.
Why Do You Need a Podcast Hosting Platform
Just like you need a website hosting service to store all your website files, podcast hosting offers the same service but for your podcast's media files.
To store large media files
The best podcast hosting platforms can better store the media files that make up your podcast. This is because podcast recordings are usually huge files that need much storage space and bandwidth. A podcast hosting site has both of these things.
To simplify podcast distribution
By giving you an RSS feed, podcast hosts make it much easier to share your podcasts. Distribution means sending your episodes to the podcast directories (or listening platforms) of your choice and then to your listeners.
● To monitor your podcast's performance
Podcast hosting services give you helpful information about how well your podcast is doing, how your listeners interact with it, and more. This kind of information is beneficial for improving the content you put out.
Now, podcast hosts do much more for you than just storing and sharing your podcast. Most big hosting sites have different tools to help you grow your podcast.
Related: 15 Best Audio Editing Software ( Best Audio Editing Software for Podcasts )
25 Best Podcast Hosting Platforms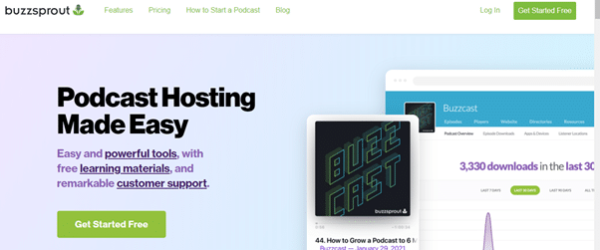 Buzzsprout is one of the best podcast-hosting platforms for podcasters just starting. Since 2009, Buzzsprout has built a strong community of podcasters, including some of the best podcasters.
The podcast hosting platform will be more straightforward for you as a beginner. Just upload your file, and the rest will be taken care of. In addition, Buzzsprout will automatically send your episodes to the best podcast directories, ensuring that your podcast is available on all devices and apps.
Their podcast player can be embedded and looks excellent, and works well on all sizes of screens. It shows the cover art, buttons for sharing on social media, controls for skipping forward and backward, and more.
They also have a free plugin for WordPress that makes it even easier to embed. Buzzsprout can create a site for you if you don't want to do it yourself. You can change the way it looks and use your domain name. Even their paid plans limit how much space you can use and how much data you can send.
Features
Customization: Buzzsprout gives you absolute control over the design of your podcast website. You can also insert your website into your custom URL.
Advanced Statistics: This feature provides data on your performance and listeners.
Automatic Episode Optimization: This feature takes the stress off your hands by automatically optimizing your episodes.
Dynamic Content Tool: This feature allows you to edit segments in your podcast episodes.
Get your podcasts listed in all major directories, such as Spotify, Google, Apple, and others.
Pre-roll and post-roll segments with dynamic content can be added or removed.
Inside Buzzsprout, you can transcribe your episodes.
Other features include social media sharing, custom embedded players, multiple podcast management tools, promotion tools, unlimited team members, and more.
Pros
There is a free plan available.
Pricing plans are also very reasonable.
Very simple to use and great for beginners.
Allows for an unlimited number of team members.
Cons
The analytics presented can be difficult to understand.
Pricing
The free plan has a few options to host each episode for up to 2 hours a month or 90 days. $12/month – Can upload 3 hours each month, unlimited hosting
$18/month – Can upload 6 hours each month, unlimited hosting
$24/month – Can upload 12 hours each month, unlimited hosting.
What We Think of Buzzsprout
Buzzsprout provides a podcast hosting platform that is simple to use, includes free learning materials, and offers excellent customer support. This, along with its numerous features, makes the platform one of the best podcast hosting platforms currently in use.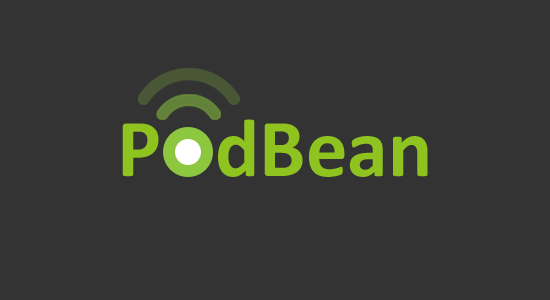 PodBean has a simple, intuitive, and user-friendly interface that enables you to upload, supervise, publish, and promote your podcasts in minutes.
This hosting site is unique as it offers crowdfunding options for creators using its site. With PodBeans, you have a variety of ways to make money.PodBeans allows you to sell virtual tickets for your live streams, and it also allows you to receive virtual gifts. In addition, podBeans enables the conversion of these virtual items to cash.
It also has lovely design tools for hosting your website with customizable themes. You can also easily incorporate the Podbean podcast player into your WordPress posts and pages.
They also have podcast promotion tools that automatically submit your episodes to all top podcast directories. This promotion tool lets your audience listen to and download podcasts using their preferred devices.
Podbean also provides an advertising marketplace where podcasters can monetize their content. They also have a sizable podcasting community that already uses Podbean as their podcasting platform.
Features
Obtain statistics on downloads, listener demographics, and so on.
PodBean's live streaming application lets you chat and interact with your audience in real-time.
Schedule your podcast posts for timely publication.
Create stunning podcast cover art with many font, image, and template options.
To find sponsors, list podcasts on PodBean's unique advertising marketplace.
Pros
The dedicated advertising marketplace simplifies monetization.
The possibilities for customization are truly fascinating.
The no-cost plan.
Apps for iOS and Android are available.
Cons
Some features are lacking in the creation of cover art.
What We Think of Podbean
PodBean is one of the best podcast hosting platforms because it caters to podcasters who want to make a career out of their podcasting. It accomplishes this by providing simple monetization tools and many branding customization options.
Pricing
Free Plan: 5 hours of storage space with a monthly bandwidth of 100 GB
Paid plan for $9, $29, and $99 per month with Unlimited storage space and bandwidth for per month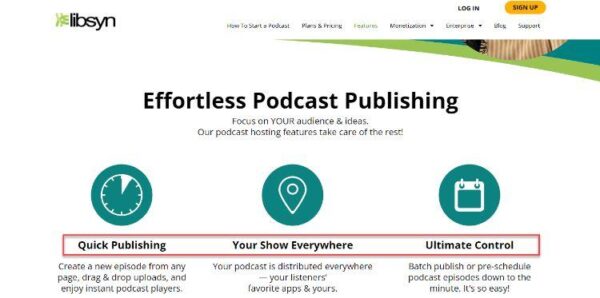 Libsyn is yet another trustworthy and best podcast hosting platform. They provide an easy-to-use platform that puts your brand in the spotlight and assists you in promoting your podcast across various platforms, apps, and devices.
Libsyn was founded in 2004, making it one of the first podcast-hosting service providers. It was developed by podcasters for podcasters and had a large user base that includes some of the most influential podcasters.
This podcast service provider has an excellent user interface, making it simple to navigate and understand – even for inexperienced users. In addition, they provide a wide range of features ideal for new and experienced podcasters. For example, Libsyn Studio allows you to create and record a podcast using only your computer and no additional equipment. Because no other equipment is required, anyone can start podcasting right away, which is a massive advantage for Libsyn.
They also provide various options for offering subscriptions, running ads, and monetizing your podcast. So if you want to share your knowledge about a topic while also building a community around your show, Libsyn is a great option.
Features
You can upload as many episodes as you want without worrying about exceeding your bandwidth limit.
Advanced statistics provide in-depth information about your audience and their interaction with your show.
The ad-free podcast website provides a professional appearance and feels without the hassle of dealing with advertisements.
Monetization feature that enables you to run advertisements on your show and earn money from your episodes.
The social promotion scheduler simplifies sharing your episodes on social media and reaching a larger audience.
You can personalize the look and feel of your podcast player to match your brand.
Pros
Libsyn is easy to reach and eager to assist with prompt customer service.
Analytical reporting per the Advanced Advertising Industry Standard.
Audio, video and PDF files can be hosted and distributed.
RSS feed is 100% compatible with all major podcast streaming platforms.
iOS and Android apps are tailored to your podcast's brand identity.
Access to a variety of monetization tools.
There are several ways to share and schedule your content in terms of posting options.
Cons
Unlimited bandwidth and reach.
Customer service is dependable.
There is no free trial to try out the platform before purchasing a paid plan.
Custom HTML5 media player.
Pricing
Pricing starts at $5 per month for 3 hours of new uploads and 162 MB of storage per month.
Based on the number of hourly uploads per month, you can choose from the following plans:
3 hours: $5
6 hours: $15
10 hours: $20
14 hours: $40
27 hours: $75
55 hours: $150
Podcasters can do everything on Spreaker. Spreaker has a way for everyone, from podcasters just starting to publishers making a lot of content to make their journeys smooth and profitable.
Spreaker is a podcast hosting platform where podcast listeners, podcast makers, and advertisers can meet (web and mobile apps). It makes it easy for any podcast creator to make money from their whole collection of podcasts.
Spreaker is another best podcast hosting platforms that distributes, hosts monetizes, and tracks your podcasts. With Spreaker, you can earn money from every audience stream. This platform is excellent for creators who aspire to take their podcast hosting career to the next level. It is also suitable for large brands.
Features
Content management system enables podcasters of any "level" to automatically distribute new episodes to the major listening platforms (Apple Podcast, Spotify, Google Podcast, iHeartRadio, Alexa, Deezer, etc.)
Manage and schedule multiple podcasts from the same account, and set your monetization (via dynamic ad insertion) at the episode and show level.
Team management features and collaborators are available
Spreaker Has the IAB certified statistics.
Multiple Podcast Distribution
Analytics and Podcast Recording App
Unlimited bandwidth and reach to millions of listeners
Pros
Spreaker's fantastic set of features makes it simple to create and share a podcast with the rest of the world.
Because of the All-in-One platform's simplicity, you won't need multiple tools to get your podcast online.
Customer service is prompt and always willing to assist.
Other shows are easily found and sorted by category and topic, making it simple to discover new content.
Cons
When you reach a certain number of downloads, you start paying a higher rate, which may be a turnoff for some people.
A few times, technical difficulties prevented a show recording from being uploaded.
Pricing
The free plan enables you to host 5 hours worth of podcast recording)
The On-air- talent plan costs $8/month and allows for 100 hours of storage.
The broadcaster plan costs $20/month and allows 500 hours of storage.
The Anchorman plan comes at the price of $50/month and offers 1500 hours of storage.
The publishers' plan offers unlimited storage and comes at the cost of $120/month.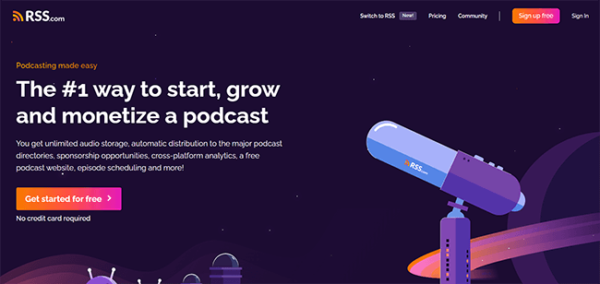 RSS.com has been a hosting platform in the podcasting space since 2005. It's a podcast hosting site that's easy to use with its creative tools and resources. If you want your podcast to grow, RSS.com is the best way to do it. This service has unlimited storage and bandwidth, which is excellent for popular podcasts.
RSS.com also has a lot of tools, like the ability to schedule episodes and connect to social media, that makes it easy to manage your podcast and talk to your audience. Podcasters who use RSS.com seem to like how easy it is to get started with their platform. Most users can be up and running in just five minutes.
Podcasts can use RSS.com's partnerships to grow their audience, aside engaging online forum platforms, and find the right sponsor for their needs. Setting up a podcast is quick and easy.
RSS.com makes it easy for users to grow their podcasts, even if they only have a few episodes and end up with hundreds or thousands of regular listeners. Users can download and record as many episodes as they want and do this as often as they wish.
Detailed data and analytics help you tune and change your podcast to reach the most people. This kind of information is the key to taking your podcasting to the next level because it lets you change and focus on content that is relevant to your audience.
Features
Create custom embedded platform-agnostic players, allowing you to showcase your podcast uniquely.
Distribution to significant podcast directories such as Spotify, Apple Podcasts, and Google Podcasts is automatic and guided.
RSS.com provides several options for monetizing your podcast, including adding a donation button.
Podcasters love RSS.com's service, with an NPS (net promoter score) of 63 and an average star rating of 4.9.
Sponsorship opportunities through Podcorn and a donate button on your free public podcast website are two options for monetization.
A professional-looking podcast website will lend legitimacy to your content, while episode transcription will make it easier for fans to follow along.
Using another platform provider, you can easily export your current podcast to RSS.com and start using their service immediately.
Pros
You get statistics on how well your podcast is doing and where your listeners are coming from are easily accessible.
You can efficiently distribute content to various social media platforms with just a few clicks.
Integrates with leading podcast distributors to ensure that as many people hear your show as possible.
Cons
It can be challenging to keep track of your subscribers at times.
The free version is quite limited in terms of what you can do and the number of shows you can have.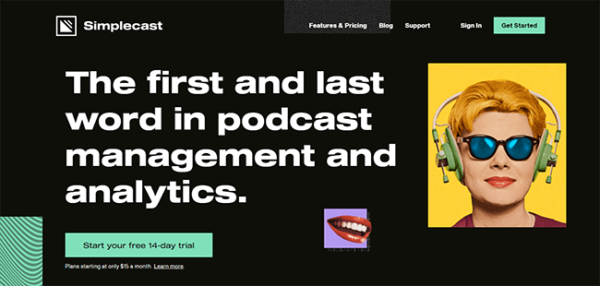 Simplecast allows you to record podcasts for Apple, Spotify, iTunes, and multiple directories. In addition, top brands like Facebook, Bazaar, Shopify, Medium, and Hollywood reporters use Simplecast for their podcasts.
Simplecast is known for its industry-leading features, which start at $15 per month. "From your first listen to your first million, Simplecast provides powerful tools needed to manage, distribute, share, and grow your podcast," they say on their website.
Simplecast podcast hosting platform has been in business for over six years and powers some of the most well-known podcast brands, such as Kickstarter, Nike, Facebook, and HBO.
Features
Unlimited storage and uploads
Podcasters can publish content across multiple audio-uploading channels with a single click. Includes a custom web domain and a "managing team" feature, which is ideal for multi-member podcasting teams.
Multiple web players and podcast players.
Integrated social media platform-sharing tools
Recast tool that lets you schedule and share podcast clips on social media.
Listener Report and Advanced Analytics
Pros
Excellent customer service
A fully-functioning website.
User-efficiency
Packages that are reasonably priced
One-click publishing.
Collaborate with multiple team members in one account.
Advanced analytics tools.
Cons
Its "uptime feature" has a rating that is below average.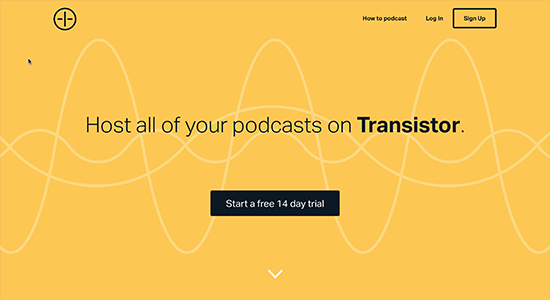 Transistor was released a few years ago but has become a popular podcast hosting platform. It has a wide array of powerful and advanced features that enables you to easily record and upload your podcasts created for both beginners and large brands.
Transistor aims to outperform its competitors in two areas: private podcasts and superior analytics. Private podcasts are appropriate for those who want members-only access to their content or who want to charge per stream of each piece of content. In addition, companies that want to deliver secure content to their employees or shareholders frequently use private podcasts.
Transistor's analytics are also impressive, providing a detailed breakdown of listenership statistics such as average downloads per episode, total subscribers, and listener trends. In addition, your stats are aggregated from all your platforms (for example, Apple, Spotify, Overcast, and so on), allowing for quick top-down visualizations of your data.
Those two areas of expertise may lead one to believe it is geared toward professionals and large corporations. However, when you look at the pricing, it is also very accessible for beginner podcasters, so it's a choice among the best podcast hosting platform.
The only thing to remember is Transistor's streams-per-month model — if you host multiple podcast episodes, your total streams per month will quickly decrease as your various shows consume your stream count. So if you are getting 10,000 streams per month on their basic plan, you will most likely be happy to upgrade to Transistor hosting.
Features
Access to unlimited podcasts
Per account, you can manage multiple users.
Make branded websites using your domain name.
Unlimited bandwidth
Getting your podcast on major networks.
Transistor has advanced analytics and reporting.
Pros
Members-only or pay-per-use private podcasts for the secure enterprise
Any website can include a podcast player.
Concentrate on businesses and professional podcasters
An alternative pricing model in which you receive a certain number of podcast downloads rather than bandwidth.
Possibility of hosting an infinite number of shows
Excellent analytics
Support for live chat allows teams to manage podcasts.
Cons
While reasonably priced, beginners are unlikely to make the most of the features.
There is no free option.
When you have multiple shows, your downloads will be limited.
Pricing
Transistor has three plans ranging from $19 to $99 per month. It also offers uh a 14-day free trial period.

Blubrry is a go-to podcast hosting platform for absolute beginners. This is due to its clean interface, impressive customer support, advanced statistics, and easy migration process.
Blubrry is one of the best podcast hosting services because all their plans come with unlimited bandwidth. If you have a popular podcast or podcast with many listeners, the fact that you can use as much bandwidth as you want will be a big selling point.
The price you pay for that unlimited bandwidth is that Blubrry doesn't offer much storage. On their cheapest plan, you can only store 100MB per month, which is about four hours of audio most of the time. There is a Professional plan with unlimited storage, but they don't say how much it costs, which is code for "expensive."
Note* They only give you a small amount of storage space, but they won't charge you if you go up to 25% over your monthly limit.
If you use WordPress, you'll like that Blubrry will give you a free WordPress website. With their Powerpress plugin, you'll be able to upload podcasts directly from your website. This means that users don't have to deal with as many interfaces, which always saves time. The IAB-certified analytics on Blubrry is also excellent. However, many of the more advanced analytics don't come for free with this podcast hosting service.
Blubrry is worth a look if you use WordPress and don't want to worry about your bandwidth. But if you're going to upload a lot of content every month, you might want to look at other best podcast hosting platforms.
Features
It has an embeddable player, multiple podcast distribution, easy integration with the Powerpress plugin, and more.
Embed Player with Customization.
WordPress Website for Free.
Episode migration is entirely free.
Share and collaborate on episodes with other members of your team.
Pricing
Blubrry pricing includes: Small ($12 per month), Medium ($20 per month), Large ($40 per month), Extra Large ($80 per month), Professional (Unlimited Storage)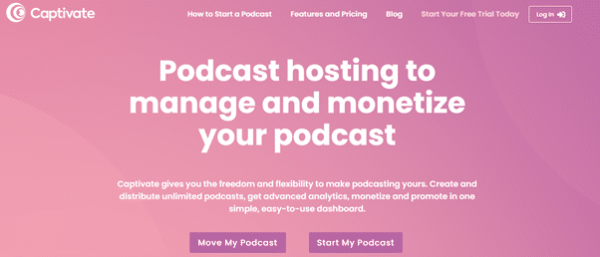 The Captivate hosting platform provides a well-designed and user-intuitive dashboard that makes your work easy. Most of the platforms on the list of the best podcast hosting platform try to find a way to stand out. However, the distinct feature of Captivate is its audience growth.
After doing some research, it's clear that Captivate has put a lot of thought into making features that help podcasters grow their audience and profile rather than just adding flashy things to get people's attention.
As a standout feature that helps podcasters grow their audiences, Captivate lets you put calls to action in the podcast, so you can send people to your website or add them to your email list.
Analytics is easy to use and gives you a lot of information, which is essential when figuring out what works and what doesn't when growing your audience. Captivate also works with the Interactive Advertising Bureau (IAB), meaning all its analytics are designed to be industry standards for podcasting. This means that every statistic is intended to be useful.
Because growing a podcast often requires input from many people, Captivate also lets you have unlimited team members. Little things like this help. On the negative side, there isn't much, except that there is no free plan, and their streams per month model might not work for everyone.
Features
It provides features that enable you to grow your audience and followers.
In-depth analytics and Cross-platform distribution
Offers marketing tools
Captivate also provides customization tools, monetization tools, and multiple directories.
Unlimited podcasts and team members
Pricing
This hosting platform has three-tier pricing ranging from $17 to $90 per month.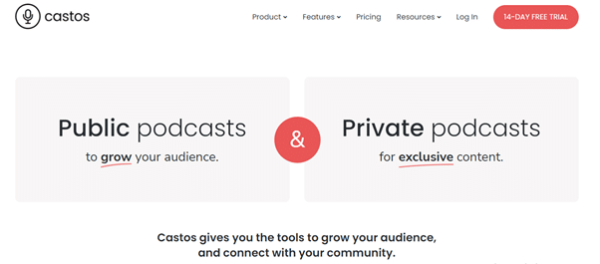 Castos is a podcast hosting platform that gives brands/ podcasters the tools they require to grow their audience and monetize their content. It also offers outstanding features that integrate easily with WordPress. With Castos, you can create unlimited podcasts and episodes irrespective of the pricing plan and manage your podcasting activities from one dashboard.
Features
An all-in-come dashboard that manages podcasts on multiple directories
Upload your audio files, and transcriptions will be added to your dashboard within minutes.
Republish the video to YouTube.
Castos Productions provides podcast editing services.
Podcast webpage that can be customized.
Analytics for podcasts.
Multiple payment options
Pros
Optimized for your WordPress site invisibly
Simple WordPress plugin that provides one of the most comprehensive suites in its basic plan.
The 14-day trial period gives you access to everything Castos has to offer.
Automated transcriptions of all uploaded episodes
Cons
The plans come with a higher price tag
The $19 plan provides unlimited storage but limited experimentation space.
Pricing
The pricing platform on this platform ranges from $19 to $99 per month in three-tier plans: Starter, Growth, and Pro. Castos also provides a 14-day free trial period.
If you sign up for their $19/month plan, you can upload and use as much bandwidth as you want each month. They also have an easy-to-use player you can customize and put on your website.
RedCircle is one of the best hosting platforms. It tailors its features to meet the needs of individual podcasters and large brands. Also, agencies looking to launch or expand their advertising campaigns to scale quickly and reach a larger audience while spending smarter will find RedCircle useful. If you're a podcaster looking to grow your audience, reach a larger audience, and make money, RedCircle is your platform.
You can also monetize your podcast by selling subscriptions, accepting donations, and cross-promoting with other shows through the ad platform. The ability to fully customize and control your content distinguishes this platform as one of the best for podcasters.
You have complete control over when, how, and to whom you distribute your content. When it comes to your content, there are no contracts or exclusivities. With RedCircle, you have total control over the advertisements you run on your podcasts. RedCircle allows you to seek out every money-making opportunity on its platform.
RedCircle also allows you to partner with other podcasters, launch a joint campaign, increase your listeners, and join communities.
Features
Cross-Promotion Marketplace that allows you to connect with other shows to expand your audience.
Accept one-time and recurring donations to keep your show running on an all-in-one platform that hosts, distributes, and monetizes your content.
Innovative podcast growth tools can help you succeed.
Increase your subscription revenue to ensure long-term success.
Pricing
RedCircle makes it easy to convert donations to cash. Its paid plan starts at $12/month and ends at $35/month.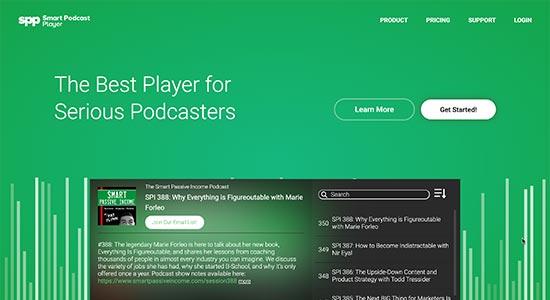 Fusebox is a way to host podcasts. It has several embeddable players that can be used in different ways. You can put podcast episodes on other websites by using this platform.
FuseBox could be the podcast hosting service you need if you want to use podcasts as part of an online course platform or as extra content for site members. Fusebox has many great features, like email capture (one of the few podcast players that can do this) and many more.
They have a plugin that automatically adds podcast transcripts to your site. It uses live text that is good for SEO. And if you want to know how the player works, it's not hard to figure out.
You add your RSS feed after setting up the Fusebox WordPress plugin. Next, you enter your subscription URLs to send your show to the major directories. Lastly, you change your podcast player's colors and add them to your pages and posts.
Features
Storage: Free Plan gives up to 10K monthly views and 3 shows; Pro Plan gives up to 100K monthly views and more than 3 shows
Bandwidth: Unlimited Bandwidth
Website Integration: Yes
Analytics: No
Marketing and Monetization Support: Yes
Pricing: Free, Fusebox Pro ($19/month)

SoundCloud is a popular podcast hosting site. Although it serves as an online audio distribution site, SoundCloud provides features that enable podcast hosting. Come to think of it, when you think of places to host podcasts, SoundCloud might be one of the first things that come to mind. The platform was first made to host podcasts, but it quickly became the place where artists and other creative people went to share their love of music.
At the same time, podcasters keep saying that SoundCloud is one of the best ways to get their shows out there. One of the best things about SoundCloud is that it is made with the audience in mind. So your podcasts are easy for people to download, like, and share on the platforms they use most.
With SoundCloud's premium plan, you can do a few different things. You can schedule your episodes, get unlimited hosting time, send direct messages to your fans, and talk to your fans in the comments. In addition, it comes with a free plan that gives you a window view of what's to be expected in the paid plans.
Features
Storage: The Free Plan includes 3 hours of audio storage, while the Unlimited Plan includes unlimited storage.
The bandwidth is 256kbps.
there is website integration (WordPress)
Analytics.
Content repurposing.
Marketing and monetization assistance is available.
Easy interaction with your listeners and organized releases.
Pros
Excellent features for engaging the audience
Simple distribution via your preferred social media channels
Listeners can easily download your podcasts using the company's designated app.
You can freely upload music and podcasts, as well as share content, without being charged.
One of the most well-known platforms, it provides access to a much larger audience; approximately 175 million unique listeners tune in each month.
Cons
The free plan has a two-hour upload time limit.
Inability to bulk upload audios from your existing RSS feed.
Pricing
SoundCloud's free plan comes with a three-hour upload limit per month, while the Pro plan offers no limitations at $135/year.

Podcastics is one podcast hosting service that gets the right balance between podcast management and analytics. And it does a great job of making money.
It's easy to import from another service that hosts podcasts. Podcastics says that with just two clicks, you can import content from Apple Podcasts or any other source that has an RSS feed. Then, after you've moved everything, you can start managing your episodes. You'll even be able to let other team members in if you want to.
Podcastics won't limit how many files you can upload, so that you can add as many as possible. And to keep track of your goals, you can use the analytics feature to see how many people listened to your podcast.
Since this platform hosting platform uses powerful Amazon servers, you can be sure that your files will always be safe. And because Podcastics uses a worldwide content delivery network (CDN), everyone, no matter what country they are from, will be able to listen to your show without delay.
Your podcast will be available on Apple Podcasts, Spotify, Stitcher, Overcast, and Podcast Addict, as well as other big podcast streaming sites. You also get a free website with Podcastics that you can use to spread the word about your content.
You can make money if people give you money (Patreon, PayPal, or Tipeee). With the Podcastics Affiliate Program, you can get 20% cashback for life on purchases you send people to make.
Pricing
Premium costs $4 per month, Pro costs $8 per month, and Max costs $39 per month.
Podcast Websites offer everything you need to kick-start a podcast hosting career. It is an all-in-one podcasting site because it provides a straightforward workflow, fully responsive website hosting and security, daily backups, built-in statistics, and 24/7 support.
You'll also get digital marketing help to promote your podcast, ads, and podcasting advice from real, experienced podcasters as a Podcast Websites member. Their academy also includes video tutorials, media, and a helpful community forum where podcasters can discuss strategies with one another.
You can also use Builder, a drag-and-drop website builder with podcast-specific themes. These themes are mobile-friendly, and you can use them for marketing your podcast. Finally, one of the best podcast hosting platforms is Podcast Websites.
Pricing
It offers pricing plans ranging from $9/month to $77/month. In addition, the Podcast website offers features such as web hosting, a WordPress website, and unlimited podcast hosting.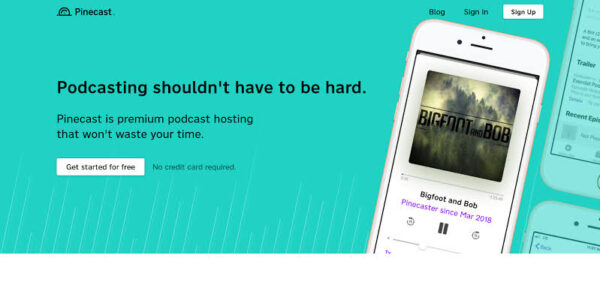 Pinecast is a freemium platform for hosting podcasts that will help you make a great podcast for a low price. It has analytics that meets IAB standards and charts that are easy to understand. In addition, it gives information about subscribers and listeners, such as the source, episode, and time of day when they listen.
Pinecast also gives you a podcast website that is fully customizable and SEO-friendly. This can help you get the word out about your project. Also, you can embed your podcast episodes anywhere using the best media player that fits your brand.
With the tip jar feature, your listeners can donate money to help your podcast grow. Pinecast, on the other hand, has a limit of $10 per tip and a 30% fee on the free plan. There are also processing fees. Pinecast's free program helps you upload up to 48 MB per episode and do so as often as you want. But you will only be able to watch the 10 most recent episodes.
Pricing
The paid plan gives you more options. For $10 a month, you can store as much as you want and make as many podcasts as possible. In addition, each podcast will have its website.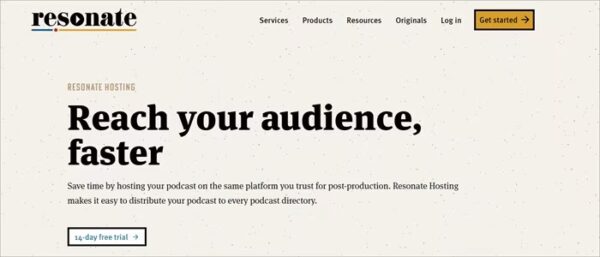 Resonate Holdings is a popular podcast platform for editing and producing podcasts. Resonate is one of the best podcast hosting platforms because it lets you send your podcast to multiple listening apps with just one click. Of course, you must upload the episode and choose when you want it to come out, and Resonate will take care of the rest.
You also have access to a live visual dashboard that gives you a detailed breakdown of how well your podcast is doing based on several factors. You'll also get a podcast player that you can put on your website, social media pages, and blogs to get more attention.
Features
Include features like podcast launching, editing tools, collaboration tools, audio production, video production, marketing tools, and enterprise podcasting
Get online with a Podcast microsite that is generated automatically.
Podcast embedding player that works well with the website and pages.
Listener tracking Geographics.
You can examine detailed statistics using the insights dashboard.
Add and manage podcast advertisements.
Pricing
You can enjoy a 45-day free trial with Resonate Holding for all its pricing plans. After that, paid plan starts at $25/month.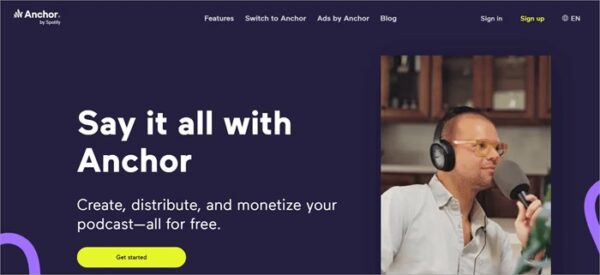 Anchor is a free podcast hosting platform owned by Spotify. It establishes, distributes, and monetizes your podcast. Podcasters get built-in recording and editing tools with Anchor, making publishing, promoting, and monetizing a podcast much easier. In addition, the platform allows you to host unlimited podcast episodes for free and helps you reach a larger audience through one-step distribution to apps like Spotify.
With its IAB 2.0-certified analytics, you can gain valuable insight into your podcast's performance. The monetization tools are also quite appealing, with "Listener Support" topping it. You can use this feature to add a small button to your Anchor profile that allows listeners to donate money directly to you.
Anchor's analytics dashboard gives accurate, reliable information like the number of plays, the number of plays per episode, and the audience's location. So you can decide how to use it, when, and what to talk about with your audience.
Anchor also has a way to make money called Anchor Sponsorships, which helps podcasters find sponsors. When an ad is played on the podcast, you can make money from it. But only podcasters who live in the United States can use this feature. Although it is a 100% free platform, it offers monetization options for your podcasting. There's a donation tool; you can also display ads to earn money.
Features
Easy one-step distribution to listening apps.
Get all of your certified metrics on one dashboard.
Get demographic information about your audience.
Send the people who signed up for the subscription an email.
Pros
Free, Unlimited Hosting.
Works great on Spotify.
Create pricing structures for subscriptions that make it easy for monetization
Record your voice for the ads.
Cons
Since the tool is free, you don't own it or have any control over what you do with it.
Pricing
Anchor podcasting software is free.
With Anchor, it's easy to make podcasts, get them out there, and keep track of them. You don't have to pay anything to get unlimited storage, a great user interface, and easy ways to make money.

Audioboom is another best podcast hosting site that creates room for creators to make money. This podcast hosting platform markets itself as the best podcasting site for content monetization.
Audioboom is another popular podcasting site, mainly because it is one of the few that makes it easy to import an existing podcast through RSS. In addition, the site gives you all the tools you need to make, run, and make money from a podcast.
Audioboom comes with all the standard features you'd expect from a tool of its caliber, plus a platform that lets you manage multiple podcasts from a single dashboard. Audioboom is considered one of the best places to host podcasts by podcasting networks, radio groups, and casual independent creators because of this alone.
Features
Easy integration of embedded players and social media platforms
Multiple platforms distribution
Monthly episode uploads are unlimited.
Their standard plan allows for up to 10,000 plays per month, and their plus plan provides 25,000 plays per month.
Advanced analytics with breakdowns by geographic region, app, and device
Pros
Strong distribution partners, including Spotify, Apple, and Stitcher.
Analytics from each of its partners/integrations can be compiled.
Embeddable players allow you to integrate your podcast into various social media platforms, websites, and blogs.
Trackable promo code to assist you with promotion and landing better sponsorship opportunities
It provides users with real-time dynamic advertisements to target audiences and increases engagement with local and national ads, video spots, etc.
From the same platform, you can manage multiple podcast channels.
Midroll ad placement to maximize revenue
Cons
Audioboom podcasting software does not have a mobile app
You need a higher threshold to hit the pro plan.
Pricing
Audioboom offers two pricing plans.
Podcasters Plan: This plan is suitable for podcast hosts with less than 10,000 listeners per episode.
Podcasters Pro: This plan is suitable for content creators with over 10,000 listeners per episode.
The Podcasters plan starts at $9.99/ month, but Audioboom doesn't disclose the cost of acquiring Podcasters Pro.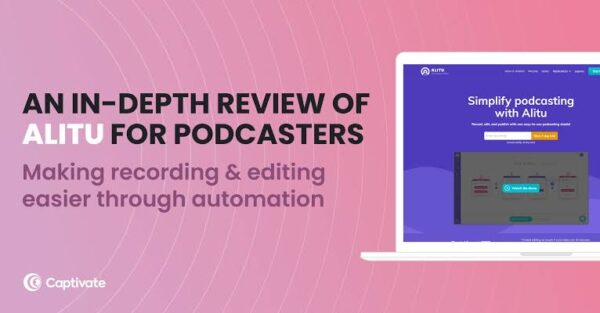 Alitu podcast hosting software includes everything you need to record, produce, and publish your show. In addition, new features are constantly being to Alitu.
You can record directly into Alitu whether you have a solo show, a podcast with a co-host, or do remote interviews. Editing is simpler than navigating a typical social media app, and production (noise reduction, leveling, etc.) is automated. Then, you hit publish when you're finished with your episode.
While Alitu provides everything you require, it also integrates well with other services. For example, suppose you still want to use one of the other podcast hosting platforms listed here; it will connect to most of them automatically, allowing you to publish from within Alitu's interface. Alternatively, you can easily download your completed episode and manually upload it elsewhere.
If you prefer to use other remote recording software, it will automatically merge double-enders and apply the standard post-production TLC. Podcast transcription is critical for audience accessibility, and Alitu now has a beta auto-transcription feature. This feature allows you to provide written versions of your episodes at no additional cost.
Alitu is a one-stop shop for busy people, non-techies, and those looking to save money on their overall podcast spending.
Features
one-time login and subscription fee to enjoy all Alitu features.
Remote conversation call recording
You can solo record with the Alitu podcast hosting tool
Podcast editing – quickly and easily remove errors
Music, transitions, and other segments can be added to the episode builder
Combine double-ender recordings from different call recording software.
Alitu automatically cleans up your audio, adjusts the volume levels, and optimizes the sound.
Podcast music library for free
Pricing
Alitu gives you access to ALL of its features for a flat monthly fee of $38. You get two months free if you pay annually.
Pricing allows for a total of 1000 downloads per month, which is usually more than enough for most podcasters.
Adobe Audition is a well-known professional-grade podcast recording and editing software. Its jam-packed features make your podcast easy to edit and sound fantastic. That level of quality, however, comes at a high cost, and Adobe Audition's monthly fee of $20.99 may be too much for you if you're starting.
Features
A sound panel is required for professional-quality audio.
It includes built-in presets to assist new podcasters in getting started.
Recording on a single or multiple tracks
Capabilities for noise reduction and advanced compression
Batch processing allows you to apply effects to a single file and save the settings for later use on another batch of files.
Pros
Adobe is a well-known brand, so it is easy to find hands-on online tutorials to get you through
Excellent and professional Features podcasting features
Cons
Adobe Audition podcast hosting software is expensive, with a steep learning curve.
Firstory is a great way for new and experienced podcasters who want to grow their shows to host their podcasts in one place. Even with the free plan, they offer unlimited storage, downloads, and bandwidth, which most long-standing podcast hosting services charge for or limit.
On the Firstory podcast platform, all you have to do to start a podcast is put in the name, author, cover art, and first episode (usually a trailer). Then, with just one click, you can automatically add your episodes to significant directories like Spotify. Let's say you're moving from another platform to Firstory. Then, you have to copy and paste your RSS feed into Firstory and copy and paste the new RSS feed that Firstory gives you onto your old hosting platform.
You can also import all the information about your previous downloads, so you don't lose track of your progress and goals. In addition, the podcast hosting platform has a straightforward, easy-to-use interface that gives every podcast a free website.
The podcast hosting website is full of tools only available through Firstory, like a cross-platform comment tool and an inbox for voice messages. Firstory Studio also has a unique integration with Apple Podcasts that lets you see all of your Apple reviews from all over the world right from Firstory.
Features
Audience Engagement and Interaction: Use cross-platform comment and voice messaging tools to collect feedback from fans no matter where they're listening.
FLink Sharing: Use an auto-generated universal link to promote your podcast and save time. Similar to Linktree but tailored to podcasters.
Monetize by Placing Ads: Easily swap, add, and remove audio clips from published and future episodes using dynamic ad insertion, which is also free.
Free Unlimited Podcasting: The platform provides unlimited bandwidth, uploads, and storage space.
Benchmarking Analytics: Firstory offers valuable insights that compare your podcast's performance to other shows.
Pricing
Firstory has a free plan that gives you all the tools you need to start your podcast.
You can switch to the Pro plan for only $15/month ($19/month if billed monthly) to get more features and better customization.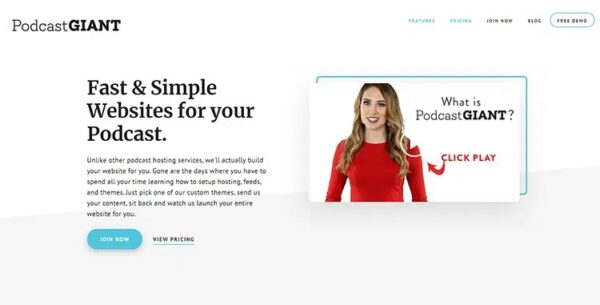 PodcastGIANT helps you make the website. You don't have to learn how to set up hosting, themes, podcast feeds, etc.
Choose one of the custom themes, send in your content, and then sit back and relax while the PodcastGIANT team launches your whole site. This is an excellent platform for people who have never hosted a podcast.
Features
There is no limit to the number of podcasts or bandwidth available. You are free to upload as much content as you want.
You get everything you need to build a successful and optimized podcast website, including unlimited hosting.
SEO-Optimized: Your website has been optimized for search engines so your listeners can easily find your content.
Nightly Backups: You can rest easy knowing that the website backs up your entire website every night.
Pros
The platform provides scalable, growth-oriented plans.
They provide a free setup for new customers.
With each account, you get done-for-you podcast web hosts.
Monthly pricing is reasonable for unlimited uploads.
Themes that are beautiful, optimized, and easily customizable
Pricing
PodcastGIANT only offers one monthly plan for $49.
They provide a free setup for new users and a fully optimized website with one of their many beautiful themes.
SquareSpace is a free platform for hosting podcasts known for its eCommerce and website features. We picked SquareSpace as one of the best podcast hosting platforms because it hosts podcasts aside from being one of the best web hosting sites. You can make and manage podcasts with Squarespace's free plan. In addition, you can publish to Apple Podcasts and many other subscription services using the RSS feeds that come with your site.
Businesses can find archived episodes, show notes, and other podcast-related information on your Squarespace website. First, you must set up a podcast blog page, add a blog post with your episode using an audio blog, and then submit your RSS feed for distribution.
Features
Website of High Quality: SquareSpace provides high-quality, customizable podcast website host templates.
Free to Use: You can add a podcast for free if you already have a Squarespace website.
Podcast Publishing: You can publish to all major podcast subscription services with an integrated RSS feed.
In-Depth Knowledge Base: There are numerous videos and articles to assist you in getting started with podcasting with Squarespace.
Pros
The platform is straightforward to use.
Submitting your podcast to all directories is simple.
You can use it for free if you have already paid for a Squarespace website.
Squarespace is a reputable and well-known podcast host.
Analytics can help you track your listeners.
Pricing
Existing Squarespace users can use the podcasting host services for free.
Best Free Podcast Hosting Platforms For Monetization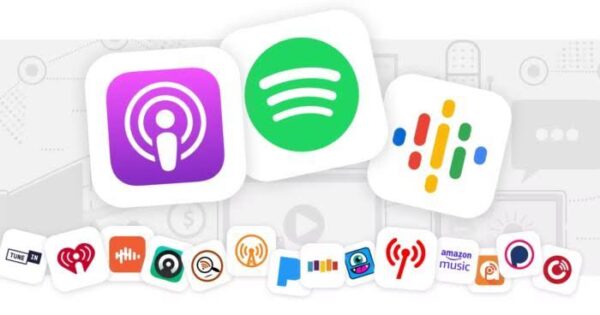 Buzzsprout: Buzzsprout's free plan for hosting podcasts has the most features of all the hosts on this list.
With their free plan, you can upload for up to two hours, episodes can be hosted for up to 90 days, and you get a complete podcast dashboard. If you are new to podcasting, the Buzzsprout free plan is a great way to get your feet wet and learn the ropes.
Podomatic: Creators can record, upload, and promote their new audio content from the same dashboard on Podomatic. With the help of Patreon and Advertisecast, you can build your podcast's advertising and crowdsourcing. This is one of their strengths.
Podomatic also has options for social sharing, and your podcast can be played on Facebook and Twitter feeds. In addition, they work with Weebly to help you make a website, and they have a free podcast app for iOS and Android.
Other best free podcast hosting platforms include
Blubrry
SoundCloud
Podbean
Acast
Audioboom
Spreaker
Simplecast
What Equipment Do You Need for Podcasting?
Many professional podcasters use different kinds of expensive equipment to record their shows. Just as artists will need the best audio editing software, you only need the best equipment. Some of the podcast gear include:
Microphones
audio interface
mixer
windscreen
shock mounts, and more.
Remember, you don't need them all to make a Podcast. The only piece of equipment you should buy right away is a good microphone.
We suggest you use Rode Podcaster, which you can connect to your computer through a USB port. If you have a little more money, you can buy the Rode Podcaster Kit, which comes with a boom arm and a shock mount.
The Samson C01UCW is a good microphone for recording podcasts if you are starting. Then, once your podcast gets bigger and you start making money from it, you can put money into making it better. But remember that you can't make something better if you don't start, so do it!
How to Promote Your Podcast on Your Own Website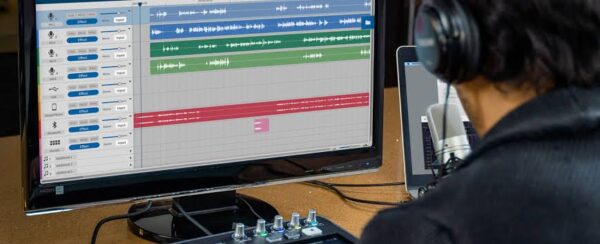 A WordPress website for your podcast allows you to promote it in various ways. To begin, we recommend following our WordPress SEO guide to ensure your podcast website receives search traffic.
As people begin to visit your website, you will notice that the majority of them leave without subscribing to your podcast. Email marketing comes into play here. First, you must launch an email newsletter through which users can subscribe to your podcast.
Many new podcasters gain new listeners and subscribers by hosting a giveaway contest. We recommend that you use RafflePress, the best WordPress giveaway plugin. It enables you to create viral giveaway contests that will help you quickly increase the number of visitors to your website.
Related: 37 Best Podcast Hosting Software that Works Well
How To Host a Podcast
Here's a step-by-step tutorial on how to host a podcast.
1. Select a Podcast Topic
Before you decide to become a podcast host, you should conduct research and select a topic that will be of interest to your audience. After that, decide on a podcast name and a topic to focus on.
2. Select a Podcast Format
The following step is to decide on a podcast format. For example, you can host interviews with interesting people, tell stories, or host radio dramas.
In this step, you must determine things such as:
How long will my podcast episodes be?
Will I require a co-host?
Your podcast channel's name
The category in which your podcast falls.
Various categories include entertainment, true crime, politics, news, and so on. This step also necessitates the creation of your podcast description and cover art.
3. Gather Your Resources
Before you begin your podcast hosting career, you must have the necessary equipment. Headphones, microphones, mixers, shock mounts, pop filters, microphone stands, USB mics, PC, XLR connections, recording software, and other accessories are available.
Most of the recording devices listed above are unnecessary if you have an iPhone.
4. Write down and record your episode.
With everything ready, it's time to start writing the scripts for your episodes. The majority of podcast hosts outsource this task.
When you're finished with your script, it's time to record your podcast. After recording, edit your content and prepare it for uploading. Make sure to include a captivating intro and an impressive outro.
5. Decide on a Podcast Hosting Platform
This article examined the 25 best podcast hosting platforms. Choose one of them to host your podcast.
6. Market and Monetize your podcast
The various platforms discussed here provide multiple monetization options. For example, you can begin marketing your podcast channel after you've published a few podcast episodes.
Where Can I Publish my Podcast?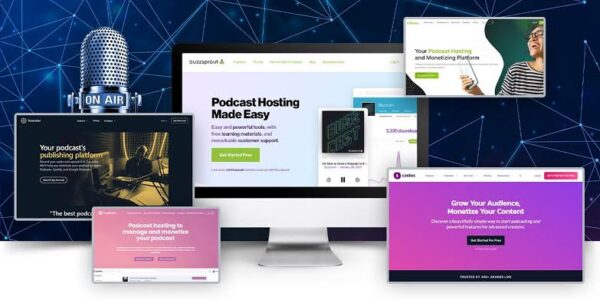 Once you have uploaded your files to your podcast host, you can decide where your audience will find you. These directories ensure you reach as many listeners as possible, and your feeds are automatically updated after each episode. Here is a short list of some of the best places to listen to podcasts. You can publish on Spotify, iTunes, Google Play, Tunein, Stitcher, etc.
Can you upload your podcast to Spotify?
On the other hand, Spotify does not permit podcast hosting on its platform. However, there are methods for submitting your podcasts to Spotify.
1. Create a Spotify Account and Link to your RSS Feed
This step requires you to create a Spotify account using the same email address you used to create a podcast hosting account.
2. Set Up your Spotify Account
After creating an account on Spotify, click on the "Get Started" menu.
3. Paste your Podcast's RSS Feed Link
Next, copy your Podcast's RSS feed and paste it into the space Spotify gives you. After you do this, your screen will show you everything you need to know about your podcasts.
4. Verify your Podcast
Spotify will require you to enter a code sent to your email to be safe.
5. Review the Details and Submit.
Following the verification process, you must enter your podcast category, language, and country information. Then click the submit button.
Benefits of a Podcast Host Site?
Yes, you need a Podcast host site. Podcasting is a significant content marketing platform you should not overlook as a content creator or social media influencer. However, if you're on the fence about starting a podcast host channel, here are some compelling reasons why you should.
Podcasting exposes you to a larger audience.
When you submit your episodes to a podcast hosting platform, you can reach a larger audience by submitting your podcast to various directories such as iTunes, Spotify, Google Play Music, and others.
These directories help newer audiences discover your content.
You can also add transcription to your podcast to make it visible to Google Search Engines. You can also promote your podcast on blogs.
Podcasting increases your audience engagement.
People can easily connect with you because podcast allows audio recordings to be uploaded.
They become loyal fans when they hear your voice and views on issues that are important to them.
Podcasting connects you with your ideal customers.
A podcast is a great way to reach out to your target audience if you are an influencer or an online marketer. Various directories, such as iTunes and Spotify, host millions monthly listeners. Therefore, podcasts allow you to easily reach millions of potential customers, just like the right social media management tools help you reach more audiences.
Features to Look Out For When Choosing a Podcast Hosting Platform

Before deciding to use a podcasting platform, knowing the best fit for your brand is essential. Here are some features to consider when picking a podcast hosting site.
1. Storage Capabilities
Whether you're just starting with podcasts or moving to a better platform, you need one that lets you store audio and has unlimited bandwidth. You don't want to run out of space on the media host to keep your audio files, so choose a platform with unlimited storage and episode uploads to ensure you never run out of space.
2. Integrations on Websites
A podcast website is a central place where listeners can find hours of audio about everything they need to know about your show, from learning more about your brand to subscribing to the podcast and listening to your latest episode.
So make sure the podcast host you choose can work with your website and web hosting. For example, if you have a WordPress site, make sure there is a plugin for podcasting made just for WordPress.
3. Audience Analytics
For you to grow your podcast engagement, you must understand your audience. With advanced podcast analytics, you need to know where they listen, how long they listen, what platforms they use, and so on.
Choose a podcast host with the right audience analytics tools and a simple podcasting WordPress plugin so you can learn all of this and more for your WordPress site.
4. Monetization Support
At some point, you will want to make money off of your podcast. It means that your podcast host should help you make money. Much progress is being made in business about making money from podcasts. Just make sure that the host you choose has support and technology for the kinds of ways you want to make money.
5. Content Repurposing Services
Most podcast hosts make it easy to add your podcast to all directories, but not all of them help you reach your audience on YouTube, which is where many are. More and more people are listening to podcasts on YouTube, so you should choose a podcast hosting site that makes it easy to republish to YouTube. You can start a YouTube channel that makes money alongside podcasts to make the integration easier. Even better if they have services for putting audio files into text.
Can You Use Your Webhosting to Host Podcasts?
You may wonder if you could just store your podcast files on the same server hosting your website or blog. Of course, you can do that, but it wouldn't suit your website or listeners. You see, podcast episodes are large files. It will take up a lot of server resources to send them from the same server. In addition, podcast hosting would slow down your website and even crash when it's busy.
If several users start downloading simultaneously, most shared hosting services will stop the processes using up server resources. Users won't be able to get your podcast this way. And this is precisely why you need a service that hosts podcasts. These companies store and send large media files as their primary business. They are made just for podcasters and come with tools that make it easy to work with media files.
You also get help from people who know much about the Webhosting
field. In the long run, this makes a huge difference. However, podcast hosting and blogging could go hand in hand because some podcasters and bloggers make a lot of money through this.
What Are Podcast Directories?
Services like iTunes, Spotify, and Google Play are examples of podcast directories. They get your RSS feeds and podcast files and send them to their front-end systems. These directories make it easy for your audience to find your show on their computer, iPhone, Android phone, or tablet using a podcast app.
How Much Do Podcast Hosts Make?
Podcast hosts can make nothing or millions of dollars. However, podcasting is unique because it can be entirely free or paid. It is one of the few things you can do online that you can do as a hobby or as a job.
Related: 43 Best Video Editing Software (Edit Videos quickly)
Bottom Line
There are numerous podcast hosting options available, but we've done our best to narrow them down to the top six — that should be enough to meet most needs without overwhelming you with options.
The best part is that every single podcast hosting provider on this list offers a free trial period, and some even offer completely free, permanent options. So nothing is stopping you from giving podcasting a try. Remember that even the greatest podcasters took time to break into the top ten, so set your goals and work with your podcasting host services to analyze your data to help you achieve them.
Frequently Asked Questions
Q: Do I need a podcast hosting service?
If you expect to run a successful podcast that reaches as many ears as possible, it would be wise to opt for a podcast hosting service. This service will offer the features needed to create and broadcast your content to your potential listeners. Unfortunately, most podcasters aren't technically adept and don't know how to whittle an RSS feed. Fortunately, this is something a podcast distribution site will do well at your behest.
Q: Which is better, Podbean or Buzzsprout?
The decision between Podbean and Buzzsprout will come from your podcasting and business goals. Buzzsprout provides more repurposed, and affiliate marketing functionality, but its basic plans are limited. Podbean has excellent functionality but a more limited set of marketing tools.
Q: Where can I host my podcast in 2023?
A podcast hosting platform can be used to host your podcasts. You can host and store your media files on these hosting solutions for download and distribution in the same way that you can store visual and text-based content on a website.
Q: Which platform is best for podcasting?
Choosing the best podcast platforms is arguably one of the most challenging tasks you'll have to undertake during the inception stage of your new podcasting venture. For your reference, we have listed the best podcast hosts to give you precisely what you need to launch a successful podcast.
Q: Do podcasters make money?
Podcasting is lucrative, provided you can amass a sizeable audience base. It is straightforward to monetize a podcast once it blows up in popularity. Several successful podcasters make money via sponsorships, affiliate sales, or selling premium content for a subscription fee. A successful podcast with a stable audience can easily rake in $100,000 per month. One of the biggest podcasts in the US right now – The Joe Rogan Experience, makes around $80000 per episode.
Q: Can I Post a Podcast for Free?
Yes! You can post a podcast for free. This is possible using free podcast platforms like Acast, Anchor, and Podbean.
Q: What is the best platform for free podcast hosting?
Podbean and Buzzsprout are among the best free podcast hosting platforms due to their ease of use, extensive podcasting assistive functions, storage, multimedia capabilities, and, most importantly, lifetime free plans.