Last updated May. 19, 2023 by Charles Zemub
37 best podcast hosting software that works well
Since its initial start in the early 1980s, podcast (also known as audio blogging) has become very popular in the 21st century. This has created lots of audio content that's impossible to keep track of. Unlike in the early stages, podcasters can get access to tons of podcast hosting platforms and sites available.
The reason for this article is to help upcoming podcasters or current audio bloggers who are looking for the right platform to host their podcasts.
On the bright side, this article will give you insights about how to choose a podcast host, how to start a successful podcast in 2021(with useful tips), the best podcasting equipment, and a review of 37 top best podcast hosting software.
With all being said, let's start by getting familiar with podcast hosting.
What Is Podcast Hosting?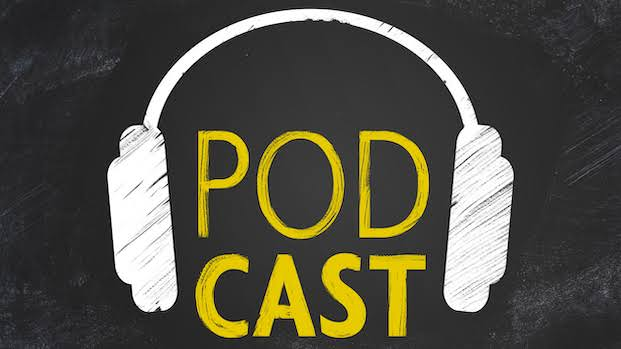 A podcast hosting is a platform (either a website or software) that allows you to host, store, and deliver podcasts (audio files) to your audience.
You can think of it as a website hosting platform specifically for audio media files.
the same service but for your podcast's media files.
The common question many newbie podcasters ask is, why to have a separate hosting company for my podcast file when I can use my website hosting?
This is so true.
You can use your website hosting instead of podcasting hosting but, it's not ideal for both your website or your audience on a long-term basis.
These podcast audio files are usually large and hosting on the same hosting server with your website will require a lot of space and resources. This would affect your website's speed or worse, crash it due to high load.
For example, let's say in a scenario where many users are trying to download your podcast simultaneously. This would require a lot of processes and resources which your website hosting cannot afford you.
The majority of website servers would most likely block the processes and prevent your listeners from downloading your podcast.
You don't want this to happen. This is the more reason why you need a podcast hosting service.
Why Podcast Hosting?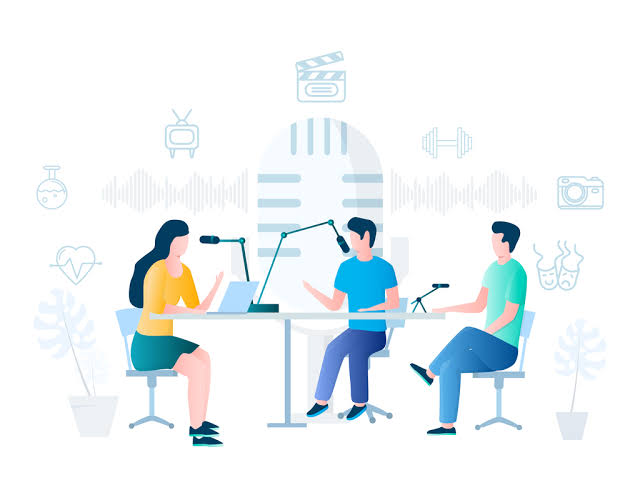 In one word, specialization.
You see, podcast hosting companies are built specifically for hosting, storing, and delivering podcast files. They are developed to cater to podcasters who need space to store large media files.
They also have the tools that would make your podcasting journey an awesome experience for both you (the podcaster) and your listeners.
Can I Use a Free Podcast Host?
Free Podcast Host is only good for newbies or people who are seeking a hobby in podcaster and want to get a feeling of what it's like to be a podcaster.
If you fall into the above category, then using a free hosting service provider is enough for you. Also, paying for a service that won't yield any return on investment is a waste of resources. So, play around with the free hosting services before you finally decide to pursue a serious career in podcasting.
If you don't have a large listeners base, the idea of opting for a free podcast host might seem plausible. But if you're considering growing and earning some income from your podcasts in the future, free won't cut it. We'll be discussing the 37 best podcast-hosting service providers at the latter stage of this article.
How Do I Choose A Podcast Host?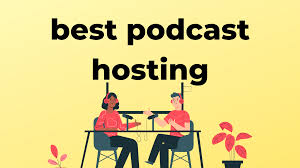 One of the most important steps you must take toward launching your audio blog (podcast) is to decide on which podcast hosting platform you're going to use.
You should think in terms of your present and future needs, this will allow you to be able to scale up without having to stress about changing hosting companies later in the future.
We'll be discussing the requirements you should set for your ideal podcast host below.
What to Consider When Choosing Your Podcast Host?
At first glance, all podcast hosting companies may seem similar in some sense. A lot of podcast host providers offer similar solutions like handling your RSS's feed and the capability to integrate with top podcast directories.
However, these are just basic offerings that any podcast host should have. Your dream podcast host should offer more than just basics and should include advanced features that support growth and let you make money from your podcast.
Before we dive into the review of our top 37 picks among the best podcast host available, let us discuss five must-have qualities you should look out for in your ideal host provider to maximize your chances of success as a podcaster.
1. Storage Capabilities
Podcasting is all about talking, which is why a lot of camera-shy people tend to like the idea of starting a podcast show. The storage capacity of a hosting site should be a top priority for every podcaster both newbies and veteran audio bloggers. It's very beneficial especially when looking at it on a long-term basis.
The pricing model of most hosting sites is based on the amount of storage allocated and you'll be required to pay an extra fee if you want a higher storage capacity.
When pricing structure the ideal choice of podcast hosting company, you should consider your long-term storage needs on long-term basics and what it means to your budget.
Some hosting sites only offer up to two hours' worth of audio files each month, so you'll have to be strategic and intentional about how often and when you publish a podcast so that you can maintain consistency with your audience.
As your podcast grows, this might not be enough anymore as you'll need to start posting podcast episodes periodically to keep your audience more engaged.
Your ideal hosting site should be able to host your podcasts on different RSS feeds and allow you to create, publish, and manage them from a single interface.
2. Audience Analytics
Having an overview of how your audience interacts with your podcast website will help you improve your podcast's engagement. You should choose a podcast host that will give you insights into your audience's activities like where they're listening, what and for how long, and on which platforms.
This information would help you understand your audience better and would help you to create more engaging content. Although the majority of podcast host providers offer analytics features, you should do some extra research to know how extensive the insights you get from their analytic tool.
3. Content Repurposing Services
The ability to seamlessly publish your podcasts on different directories should be one of the main criteria for your dream podcast host.
Another thing you can add to your content strategy is to republish your podcasts on the second-largest search engine; Youtube
You might be surprised by this because YouTube is a video-based platform. It's becoming a trend for people to listen to podcasts on YouTube. You should consider if your podcast host supports YouTube republishing and if it can also help you automate the process.
This can come in handy as it increases your audience reach and saves you time that would have been originally spent doing it manually.
A bonus tip on how to increase your audience reach is to include a transcript of your podcast episode on your website. You can hire the service of a third-party transcription service but I'll recommend you go for an all-in-one podcast host.
This can also be a way for your content to reach people with hearing difficulty. This can also help to improve the SEO of your podcast website.
5. Monetization Support
If you're serious about making money from your podcasts, you'd go for a podcast host that has features that would aid your marketing strategies.
Some of the features you should look out for as regard monetizing your podcasts includes whether they support premium subscription technology or have tutorials on how to pitch sponsors or cross-promote other businesses on their website.
Avoid podcast host that doesn't offer any form of support towards the monetization of your podcast. Even though there's no possibility you begin earning from your podcast as soon as you create it, you should ensure that your podcast host would cater to your needs in the future.
How do I make money with a Podcast?
This question is what most newbie podcasters ask when deciding to embark on their podcasting journey: "How much money can I make as a podcaster?" They want to know if starting a podcast is worth it.
To answer the question, many podcasters don't even make a dime. Often time, many start with a negative cash flow with the initial capital they invested in paying hosting company equipment like mic before they start earning anything at all.
Many make the mistake of thinking that podcasting is an easy way to make fast money. This however is not the case, it takes time before building an audience and for the audience to decide that they get a lot of value from your content.
That doesn't mean it isn't rewarding, if you're consistent and engage your audience with amazing content, you'll eventually grow your podcast listenership to a stage where you can earn a lot of profit.
There're many big podcasters today, that make a decent living off podcasting with just a few hours of work daily.
How Do Podcasts Make Money?
There're a lot of creative ways you can make money off podcasting. Most of the successful podcasts you can find make use of more than one strategy to make money, so there's a lot of inflow of cash from different places.
The reason for such diversification is to have security. For example, if YouTube is your only source of income for your podcasts, what do you think would happen if YouTube decides to ban your channel you'll be left out to hang and dry. The best monetization strategy is to have multiple sources of income.
Let's discuss many ways through which you can earn money through your podcast. We'll be focusing on four monetization strategies that most successful podcasters use to earn money on their podcasts.
1. Through Sponsorships
Sponsorships are the most well-known way podcasters bring in cash. This is mostly the point where your podcast promotes the sponsor during your podcast sections. You must have heard your number one shows promote their advertisers a couple of times on each of their episodes.
The amount you get from a sponsor relies upon the number of downloads your episodes can generate. Sponsors pay a price paid for every mille downloads (mille is a Latin word that means "thousand"). The total amount per mile ranges from $18 to $50 CPM, however, top podcasters can pull in much more.
You can value your ads diversely relying upon where you place them inside your episode. Pre-roll ads run toward the start of the show, normally for around 15-30 seconds.
Post-roll ads run toward the finish of the show, additionally for 15-30 seconds. These ad placements all have different values for advertisers.
At the point when you first begin pitching your podcast, I'll suggest requesting $15 for pre-and post-roll ads and $20 for mid-roll ads.
2. Direct help including premium content
Direct help is the point at which you essentially request that your fans send you cash to help keep your show running. If your listeners think your content and character are of value, there are a lot of individuals who will joyfully toss you a couple of dollars so you can continue to deliver episodes.
This is one of the main strategies I prescribe to podcasters hoping to adapt their show since it's not difficult to set up. The best technique is to make a "Patron page" that clarifies how much value you can give and why they should give you their money.
3. Affiliate deals
Affiliate deals are like sponsorships, however, as opposed to getting paid by the download, you get paid depending on what you sell for another organization. The other organization pays you a commission for every deal.
For example, Audible has a mainstream affiliate program that plenty of podcasters and YouTubers exploit. Audible gives you an uncommon affiliate connection for you to grow. At the point when somebody uses your connection, you get compensated for the deal and a reward of $15.
If you wish to engage in affiliate deals, ensure the organization gives you a straightforward connection that is simple for you to pitch to your audience and easy for your members to comprehend.
Step-by-step Instructions to Start a Podcast in 2021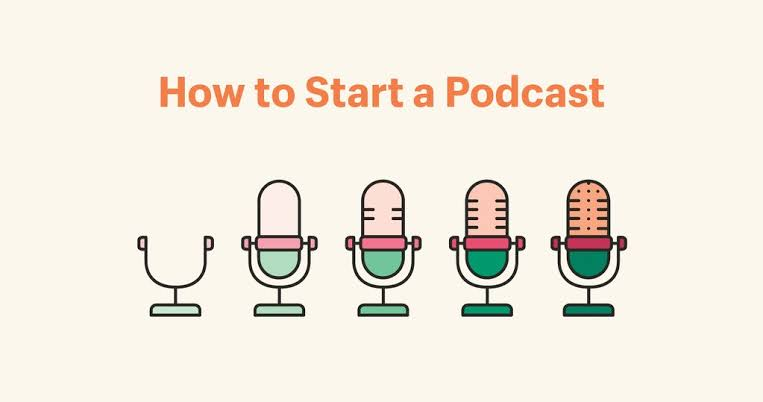 There are two unavoidable issues you need to ask yourself here, and they are intertwined with one another.
The first is, What's Your Podcast For?
1. What's Your Podcast For?
So initially, for what reason would you like to make a podcast?
Are you a freelancer? A business owner? Or perhaps, a marketing manager? Assuming this is the case, you may have recognized podcasting as an extraordinary method to gain authority and engage your clients and target audience with significant and value-driven content.
Or if you just view podcasting as a hobby? This may mean you'll be making a show during your extra time. Furthermore, the subject will be something that you're passionate about.
Even if you can distinguish your "why" here. It should be easy to remember, so you can remain motivated, in any event, when you're thinking that it's hard to get a show out.
Then, what might be said about your "who"?
2. Who is Your Podcast For?
So the first day, get the central issue in: Who are you causing this to the podcast for?
The thing is, except if you know precisely who you're making your show for, and why you're doing it, you have zero chance of growing an audience.
In case you're coming at it from a business perspective, and you're (for instance) a fitness coach who needs to make a health and wellness podcast, at that point your target audience may be individuals who are more interested in specific topics like dieting, weight reduction, exercise, or working out.
In case you're making a leisure activity show suppose it's based around your affection for zombies and "ending of the word" fiction at that point, your target audience would essentially be people with similar energy.
They may be fanatics of TV shows like The Walking Dead, computer games like Resident Evil, books like World War Z, and movies like Night of the Living Dead.
You might wonder, what if I have no Audience?
Welcome to the world that most individuals who start a podcast live in! Of the numerous things that may put you off from starting your show, don't let this sway you a bit. Most podcasters kick things off by talking "into the deep darkness", however in this guide, we'll be discussing how you can connect, engage, and make money by growing your audience.
Here's some uplifting news for you as well. In a research conducted in 2020, the results showed that potential new audience members couldn't care less whether they've never known about you.
Truth be told, it's the most un-significant factor they'll consider when they are deciding whether to hit play or not.
3. Give Them a Reason to Listen
Regardless of whether you're giving information that will assist somebody with shedding pounds (on account of our fitness coach), or doing a truly engaging meeting with one of your #1 creators (on account of our zombie podcaster) you're offering some incentive for your audience.
Not just have you given them the motivation to tune in, but you've given them the motivation to come back for more of your content.
It's crucial to consider this in the beginning stages. Would you be able to record 10-15 potential episodes that you figure your target audience couldn't imagine anything better than to tune in to?
4. Naming Your Podcast
No "how to begin a podcast" guide is complete without mentioning the most important thing of all what do I call the thing?
There are three fundamental approaches with regard to naming your show.
Naming Technique 1 – The Clever Name
Even though you might have a thought-out funny name to call your show, you should consider that your audience would have the option to discover you when they're looking for information relating to your niche.
If you have a shrewd/infectious name for your show, try to compensate for this by adding niche-relevant words to the title. Having extraordinary content is useless if no one gets to find it.
Naming Technique 2 – The Descriptive Name
The most effective (yet some may say exhausting) approach is to just call your show what your target audience is looking for. For example, a fitness coach named her show The Fitness Podcast, potential listeners would know what to expect from her podcasts just by looking at the Podcast's name. As simple as this naming technique is, it works.
You should also bear it in mind to avoid using long names when deciding a name for your podcast show. You might be required to say it a lot when recording your episodes, so ensure it isn't a tongue-twister.
Naming Technique 3 – Using Your Name
This method of naming is not advisable especially when you're just starting and you don't already have an audience. For example, if someone decides to name his podcast "The Matt Jeffrey Show" and it was about travels and outdoor activity, most by-passers would probably think "Who is Matt Jeffrey?" and move to the next podcast.
Another approach you can take if you want to use this naming technique is to add something relating to your niche to your name like "Traveling the World with Matt Jeffrey".
5. How Long Should A Podcast Episode Be?
Podcast length relies exclusively upon content. Try not to chop down great content or cushion out compact work!
How long should it be to get the message out? If you asked most podcast audience members, a "short" episode would likely be anything under 15 minutes. Furthermore, a "long" episode would likely be anything longer than 60 minutes.
Many will reference the hour of the normal drive (said to associate with 20 minutes) as a decent length to go for. Yet, anything from 20 as long as 45 minutes is by all accounts inside the "sweet spot" for an episode length.
Try not to stress a lot over these figures however, at last, your episode lengths ought to be chosen by two things.
If you have 50 minutes of significant, important content, why cleave it down to 20? Or on the other hand in like manner, if you've said all that you need to say in a short time, why extend it out to 30?
In extraordinary cases, say you do a meeting and it's an incredible discussion from beginning to end but runs for 2 hours. You can generally slash it into equal parts and make two episodes.
Over the long run, your audience members will advise you if they think your episodes are excessively short or excessively long. Attempt to study your crowd once every year to assemble information like this, and you can change likewise.
At the point when you get that information, there's no compelling reason to adhere to a similar length each time, however, it's acceptable to have a 'normal' so your audience members realize what's in store.
Short and smart brief episodes could suit a specific sort of audience or immense 3 hours inside and episodes may suit another. Consider whether length may be a conscious special decision for you.
6. How Often Should I Release New Episodes?
This is one of the greatest starter questions. Here's the appropriate response:
The best timetable is ordinarily the most continuous one that you can adhere to, consistently.
Thus, if you can post a podcast episode once every month, that is fine. But if you can deal with it at regular intervals, far better. And if you can post weekly, that is incredible.
All things considered, posting content regularly is not a must. With just a monthly post of one superb episode, you can do far better than posting average episodes consistently.
7. Picking Good Episode Titles
Much the same as picking a name for your podcast, picking great, accessible, unmistakable titles for your episodes is significant.
The greatest mistake with regard to naming your episodes is to call them "Episode 1", "Episode 2, etc. No one will realize what's in store on the off chance that they tune in. The general purpose of a podcast is that individuals hear it out, so give them the motivation to tap on one of your episodes.
Make it clear to individuals what they will get from tuning in to your show. Perhaps you might have seen many podcast directories with titles like "How To… ", "Five Tips For… ", and so on. These are famous because they work. You simply need to ensure that you are conveying in your podcast what you guaranteed in the title.
The additional advantage of this is that Apple/iTunes permits users to search by episode name. So you can appear not just for the terms in your podcast name, but for the keywords in your episode titles. That gives you an entire additional degree of reach if you name your episodes well.
8. Picking a Podcast Format
The type of podcast format you choose is very crucial and relies upon who or how many are included! For example, if the podcast is being hosted by only you, you're not doing a co-facilitated show any time soon.
The main determinant here is the length of your podcasts: while it's acceptable to have a 'normal' format, so your audience members realize what's in store, you don't need to adhere to it without fail.
You may be alright with a specific format and subside into a section, or you may incline toward a 'hodgepodge' approach. It's absolutely up to you.
So what are the regular sorts of podcast show formats?
The Solo Show (Otherwise called the monologue)
Advantages: You don't have to depend on any other individual to record your episodes, and you're assembling a standing as the authority regarding your matter. The podcast is additionally solely yours, so you can settle on decisions on sponsorship and adaptation. Also, you don't have to part the profits with anybody.
Difficulties: Perhaps the scariest style of show for any newbie podcaster. Perhaps the greatest test of the solo show is getting over the inclination that you're 'conversing with yourself' and understanding that you're conversing with the audience.
The Co-Hosted Show (with a close companion or partner)
Advantages: An incredible path around the 'mic-alarm' or recording alone is to talk on the show with another person. If you can find a correct co-host, you'll have somebody to bounce off, debate, or even make fun of (don't be excessively mean!). Some co-facilitated podcasts have incredible science between the presenters. This can make a top-notch listening experience.
Difficulties: Not just do you need to put aside an ideal opportunity to record, however that time should likewise be appropriate for your co-host. There's likewise the subject of possession: who's podcast right? Do you split any future pay 50/50? Also, what occurs if your co-host loses interest or gets inaccessible later on?
Advantages: Talking to your mentors. Doing an interview show offers you the chance to stop for a moment to talk with somebody you've generally admired and look up to. On top of this, your guests will have their audiences who may tune in to the interview and most of the time end up buying into your show. Whenever done right, you can truly grow a crowd of people using this format.
Difficulties: Interviewing is an ability that you'll have to sharpen through training, so don't move toward the A-listers in your field straight away. You'll have to continually discover and move toward expected guests, plan interviews, and depend on others to appear (face-to-face or carefully). You additionally need to depend on innovation to work appropriately all through each call.
9. Recording Equipment
The absolute minimum you need to record a podcast is a PC with a USB microphone and access to the internet. When in doubt, however, the more restricted and cheaper your setup and equipment, the more restricted the sound nature of your show will be.
Basic USB microphone setups can give great outcomes if you pick the right mic. Also, you are most likely just starting to see and discover whether you appreciate it before investing lots of cash in sound equipment.
10. Recording and Editing Software
At the point when you plug your USB microphone into your PC, you will require some product to record and edit the sound. Fortunately, there are a couple of choices for this, and some of them won't even cost you anything.
11. Scripting your Show
When you reached the point where you've set up your microphone, readied your editing software, and are about to hit 'Record' what will you say? That is the place where scripting comes in.
At the point when we talk about 'scripting', it's not difficult to envision an inside and out paper that's filled with words that you'd turn into your podcast episode. That approach can work but it isn't an ideal method for podcasters who want to post regularly.
First of all, it takes a lot of time to write down a script for a show, so unless you're working yourself, you won't be able to deliver consistently.
The main idea behind podcasting is more about discussing a matter of interest, instead of a message. So, the best way to go about scripting your show is to come up with a list of areas that you need to cover instead of a completely scripted show saves a lot of time and effort.
You'll get the hang of this over a while with training until, in the end, you're able to compose full content that's free-flowing and engaging.
After you've scaled over the problem of what to say, another thing you'll have to deal with is how to open and close your episodes' intros and outros.
12. Talking into a Mic
One of the most common troubles many newbie podcasters face when still figuring out how to start is the concept of "talking into a mic".
This is probably one of the most difficult things newbie podcasters have to face when figuring out how to begin a podcast. Often time, they get it wrong by thinking they are either "conversing with yourself" or 'conversing with a microphone".
The best approach to vanquish this problem is to envision that you're conversing with a single person. Earlier on, we talked about who your podcast is meant for your audience persona. If you're looking to make serious money from podcasting, you'll have to keep this persona in mind.
In the process of creating this persona, it now depends on how much information you can put in. You can group your audience based on interests, occupations, likes and dislikes, leisure activities, and so on.
The objective here is that you're conversing with them, instead of yourself or the microphone, which will resonate more with them converting them into regular visitors.
This means that whenever someone listens to your podcasts, they feel like you're talking directly to them. This helps to build and solidify trust in the long run.
13. Editing your Podcast
By now, you should have gotten used to recording with Audacity or any recording software you are using.
Assuming this is the case, this next stage is more creativity. Here, you cut out what's not important and arrange your recording into what the audience would listen to and what to listen to more.
Get Someone Else to Edit Your Show?
If you don't mind spending extra to save some time, then you can ideally outsource your podcast editing to another person. You'll find different choices depending on your budget and needs on various freelancing platforms.
14. Music for your Podcast
Adding music to your podcast show is not a necessity, a lot of podcasters do add some at the beginning of the podcast and at the end to add extra effects to their podcast show.
This is very common in movies or TV shows with 1 moment + of intro music (theme song), don't duplicate this in your podcast. I'd say that you would prefer not to have a piece of music all alone for any more than 15 seconds.
What Music Can I Use?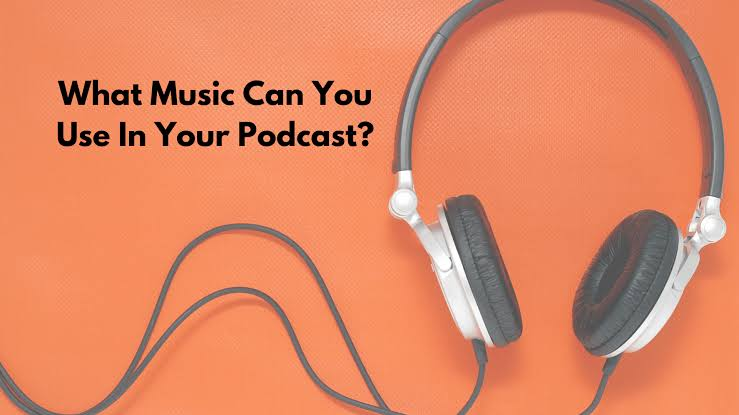 There're lots of sites where you can legally download music for use on your podcast. These types of music would ideally be copyright-free, stock, or library music. Some sites may require that you become a member before you can have access to their large libraries plus lifetime licenses on anything you use during that membership.
Some sites where you can get music for podcasts include:
Audioblocks – from $19/£14 every month
There's also the option to use royalty-free or no-copyright music but this kind of music is widely used and so can remove a touch of uniqueness from your podcast.
There're certain exceptions when it comes to copyrighted music where the owner allows you to use the music liberally, most prohibit you from making use of their music for business purposes. Make sure to find out whether you have authorization before using particular music.
16. Cover Art
Same as your episode titles, intros are everything. Having an appealing cover design that makes your show special among others is very important especially when your show would be competing with a whole lot of others.
Like with music, there can be copyrights on visual designs as well so be sure you're not infringing any copyrights when using an image. There are many online editors you can use to make amazing covers like Canva.
One way to go about this is to outsource the design to a professional. You can find good graphic designers for hire on freelancing platforms like Fiverr. Another way is to ask a friend or partner who has photography skills or design know-how to help you draft something up.
The recommended dimension for your cover design should be 1400 x 1400 pixels, in PNG or JPG format, and a size not exceeding 500kb. Using this specification, you won't have any problems adding your podcasts to registries like iTunes/Apple.
Remember, people judge a book based on its cover and your cover design is what most of your prospects would use to judge whether your show is worth listening to or not, even without hearing what you have to say.
17. Picking Your Podcast Hosting
When it comes to getting your voice out for the world to listen to, you'll need podcast hosting software or a website. Podcast Host is a platform that allows you to store your podcasts and allows your audience to be able to tune in, download, and buy your digital broadcasts.
You can either set up your podcasts on the host website or showcase them on your website, either you'll still need a podcast host to store your sound records.
18. Submitting to Directories
After crossing the hurdle of getting a podcast host, you can now submit your podcasts to different indexes or directories, where your prospects can find, buy, and download them.
Also, one important feature you should look out for in a good podcast host is the ability to auto-submit your podcasts to directories. This will help you save a lot of time and seamlessly get your show into Google Podcasts, Google Podcasts, Spotify, and other major directories.
19. What Website do you Put your Podcasts and Records On?
During your research about which podcast host you should choose, you'll have most likely come across some like Captivate, Buzzsprout, and Transistor who promises a free (or paid), basic, professional-looking site for your Podcast.
If you're not going big on your show or see podcasting as more of a hobby rather than a business then this would be an excellent alternative to keep things simple and less expensive.
If you want more control, advanced features, branding, and authority over where your podcast is hosted, you'll need to make your site for it. You'll need to buy a website hosting service for this. Bluehost is worth checking out for this.
If you already have a site for your business or brand, that's great, you needn't bother with getting a website host you can just host your podcast on your website. And also, there is the option of a permanent space for your podcast by setting up a WordPress site.
What Are Podcast Directories?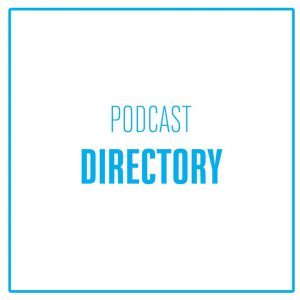 Podcast directories mean different things to different people depending on the context and who you're asking an audience member of a podcaster.
A directory helps podcasters organize their shows for a large listenership and is usually in the form of apps and websites.
To an audience member, podcast directories are a place where you can find new podcast episodes and tune in anytime you want to. Your podcast episodes are well arranged to make sure audience members can easily find whichever episode they're looking for.
The definition of podcast directories to a podcaster is simple and straightforward – an avenue to reach a larger audience. Podcast lovers are drawn to podcast directories due to their intuitive interface and they go there looking for new podcast episodes.
What Directories Should My Podcast Be Listed?
One of the most frequent questions that many newbie podcasters ask is, "Where should my podcast be listed on?". The main goal is to increase to exposure of your podcasts to a large listener base, so the more directory it's listed on the better.
Limiting the presence of your podcasts on multiple directories will mar your chances of getting potential audience members that can be acquired from different directories. This will make your podcast episode easy to find plus the exposure you'll get is limitless.
Now, this gives birth to the question, what are the top podcast directories in 2021, and how to get your podcast episode in them?
1. Apple Podcasts
Originally known as iTunes. This podcast directory was created in 2005 and has been dominating the podcast directory world ever since. It's undisputedly the highest podcast directory around the world today.
Although it might have started as a segment under iTunes, ever since it became a standalone feature as Apple Podcasts, it has turned out to be more mainstream.
It's one of the podcast registries you'd have your podcasts listed on. For some, it's all they need to reach the peak of podcasting.
2. Google Podcasts
Google Podcast was released by Google in 2019, shortly after the disappearance of Google Play Music. It soon became a haven for dedicated podcast audience members to tune in to their favorite podcast episodes. Google Podcasts.
Google Podcasts makes podcasters' work more agreeable, as it travels through the web consequently to gather podcasts.
Likewise, podcast episodes currently show up on Google searches which means your show's possibility of being found has expanded.
3. Spotify
Spotify is developing fast, and it is expanding very constantly. It has over 270M dedicated clients that subscribe monthly, and it is a superb platform for all types of audio content.
Spotify as of late extended its scope as it obtained Anchor and Gimlet Media. You get a gigantic crowd to your podcast if you get it on this directory.
4. Stitcher
Before Google became the spotlight in the podcast industry, Stitcher was the star for Android clients since Apple Podcasts only supported Apple clients.
Stitcher still has a decent user base to date mostly previous loyal clients. The platform is great and would be an excellent place to showcase your podcast episodes.
Stitcher has an amazing feature that allows you to know how well your podcast is performing.
Their application is also available on more than fifty car models, which is a great thing for people who prefer listening to podcasts while commuting to or from their workplace. It'll work in any car that has Android Auto or Apple's CarPlay.
5. Podchaser
Podchaser is well-known because of the high degree of interaction that exists between its user and podcasts on it. Your show/episodes can be rated by the audience making the podcast with a good rating superior and easy to find for new members.
You can make a profile for each podcast so every client can see data about the podcast, from the episodes to the measurements, and audits. There is likewise space for information about the podcast maker.
6. TuneIn
TuneIn isn't very popular among passionate podcast audience members but it's not a platform you can rule out either. It's more of a radio platform and has a listener base of over 75 million people.
7. iHeartRadio
iHeartRadio is a tremendous podcast and radio platform, and it is more popular among the more seasoned age; they have a weekly chart for top podcasts, and they suggest podcast shows for their audience members.
8. Pandora
Pandora is a very popular podcast directory with a large audience base. It also has a very powerful podcast suggestion feature.
It launched a project in August 2019, "Podcast Genome Project", a project that has assisted the platform in offering personalized podcast suggestions for each of their client.
They suggest podcast shows and episodes based on past user experiences, their likes, and dislikes, client's listening history.
9. Pocket Casts
Pocket Casts is an app-based platform that is owned partially by NPR. Surprisingly, this application is free for iOS and Android clients. They have a hand-curated list of the top podcast shows in the registry.
Pocket Casts is incredible for audience members as it accompanies the top podcast applications' best highlights. Highlights like the programmed download of new episodes and simple disclosure of the best podcast shows.
10. Castro
Castro gives clients a lot of command over how they need to tune in to podcast shows. Clients can set download limits for shows that distribute habitually; clients can likewise set the beginning time as they wish for podcast shows that have long intros.
11. Deezer
Deezer is headquartered in Europe. Some call it Europe's adaptation of Spotify; it has numerous users, with more than 14 million clients as of now.
If you can get your podcast on this platform, you can be sure of exposure to a large audience. Deezer has recently added the podcast classification to its streaming platform.
12. Castbox
Castbox is a podcast catalog that has zeroed in on upgrading SEO. Finding podcast shows on this platform is simple and easy because of AI help. Likewise, Castbox has lots of online media highlights that make it fun. Audience members can comment on episodes to assist you with getting other individuals to see your show.
How to Get Listed on Podcast Directories?
Apple Podcasts
You have first to distribute your podcast to a host, at that point discover your podcast RSS channel. After this, you should make another Apple ID, and at that point sign into Apple Podcasts associate. At long last, you will add another podcast to the o podcasts interface.
Google Podcasts
You need to sign in to your show Google account. After this, you will present your show's RSS channel to Google.
The subsequent stage is to guarantee your show on Google Podcast director. On Google Manager, Google needs to match up your RSS channel to the one you submitted before, so you need to enter your RSS channel.
The last two stages are to see your podcast take care of and check if you are to be sure the proprietor of your show.
Spotify
You have first to ensure that your podcast matches Spotify's prerequisites. After which you will make a Spotify record and afterward consent to the terms and conditions. You should enter your RSS channel similarly as with different stages and afterward confirm responsibility for the podcast.
After confirmation of possession, you will place in insights regarding your podcast, trailed by the last advance where you survey and present your podcast.
Stitcher
The initial step is to guarantee that your podcast matches Stitcher's prerequisites. The subsequent stage is to join the Stitcher stage as a content supplier, after which you should enter your podcast's RSS channel interface.
You will at that point approve adding your podcast to Stitcher. Similarly, as with most stages, you should acknowledge the terms and conditions.
The last advances are to adjust your podcast subtleties and add a Stitcher buy-in catch to your podcast site.
Podchaser
The initial step is to have a maker's profile on the stage. Round out your profile and present your RSS connect.
TuneIn
Go to the accommodation page on TuneIn. Fill in your subtleties including your podcast RSS channel connect.
iHeartRadio
Remember to acknowledge the terms and conditions.
Pandora
To get your podcast on Pandora:
After this, you should alter your podcast subtleties and afterward confirm that you own the podcast.
In the wake of consenting to the terms and conditions, you should hang tight for somewhere in the range of four and a month and a half.
Pocket Casts
To get your podcast on Pocket Casts, visit their site and present your podcast RSS channel connect. Pick the public alternative for your podcast to show up in quests. It could require as long as 12 hours for your podcast to show up on their web search tool.
Castro
To get your podcast on Castro, you should run down your show on Apple Podcasts and get your iTunes ID.
Deezer
To get your podcast on Deezer, right off the bat, you should present your RSS channel interface, at that point check. Then sit tight for one working day for your podcast to show up on Deezer.
Castbox
To get your podcast on Castbox, you need to:
37 Best Podcast Hosting Services
If you're looking for a way to kickstart your podcasting journey that ends in massive engagement and sharing of your audio content with the world, you'll need a podcast host.
Podcasting isn't pretty much as basic as recording some sound and uploading it to iTunes – first; you need to have your podcasts episode hosted on a podcast hosting service.
In this guide, I positioned and surveyed the best podcast hosting services based on their value, unwavering quality, customer service, month-to-month upload volume, consistency, organization, adaptation, usability, promoting highlights, and supported applications, and that's only the tip of the iceberg.
1. Buzzsprout.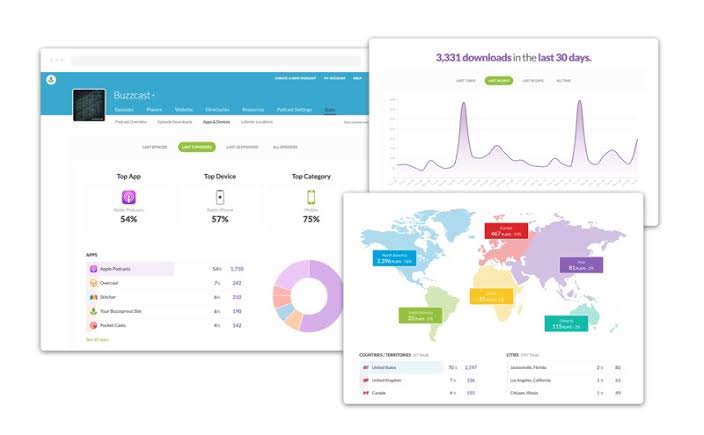 Buzzsprout has been in the business of podcast hosting since 2009 and is trusted by more than 100,000 podcasters. Also, they're one of the few podcast hosts that offer a freemium plan that allows you to have unlimited partner accounts.
Buzzsprout allows podcasters to integrate a podcast recording player directly on your site – and you can choose to upload only one episode or an entire playlist of episodes. They have a lot of amazing features which makes them easily rank first on our list.
They offer a very intuitive dashboard with an analytics feature that highlights the number of audience members that each of your episodes gets. You can also see where your audience member is from so you can understand your crowd better.
This analytics tool is very useful and by far the most important feature that lets you know how well your podcast is performing.
The platform's sound quality is amazing and you can move up to 128k sound system enhancement for better stability. Also, they offer podcast record administrations.
With Buzzsprout, uploading your podcasts is very easy and you can also schedule the release of your podcast as well. You just have to upload your podcast record, insert the episode title and description, and add your podcast to relevant categories, it's as simple as that.
Another shining point of Buzzsprout is its ability to allow podcasters to easily schedule the upload of a podcast episode. This feature allows the audience member to have access to your content uninterruptedly and consistently.
Pricing Structure
The free plan lets you upload audio for up to two hours for 90 days. If you're into podcasting for the long haul, you need to upgrade to the paid plan to get more features and unlimited upload time.
The paid plan starts at $12/month and accommodates an upload time of up to 3 hours every month with unlimited hosting and unlimited capacity.
There's also an option to upgrade to a higher plan that is priced at $18/month with an increase to 6 hours of upload time every month. Their most expensive plan is set at $24/month with an increase to the upload time up to 12 hours every month.
In conclusion, Buzzsprout's pocket-friendly monthly pricing model, intuitive dashboard, and great user experience make it worth the try. You can also take advantage of their free plan to check out their services and later decide whether to upgrade to a paid plan depending on the expected length of the podcasts that you want to upload on the platform.
2. Spreaker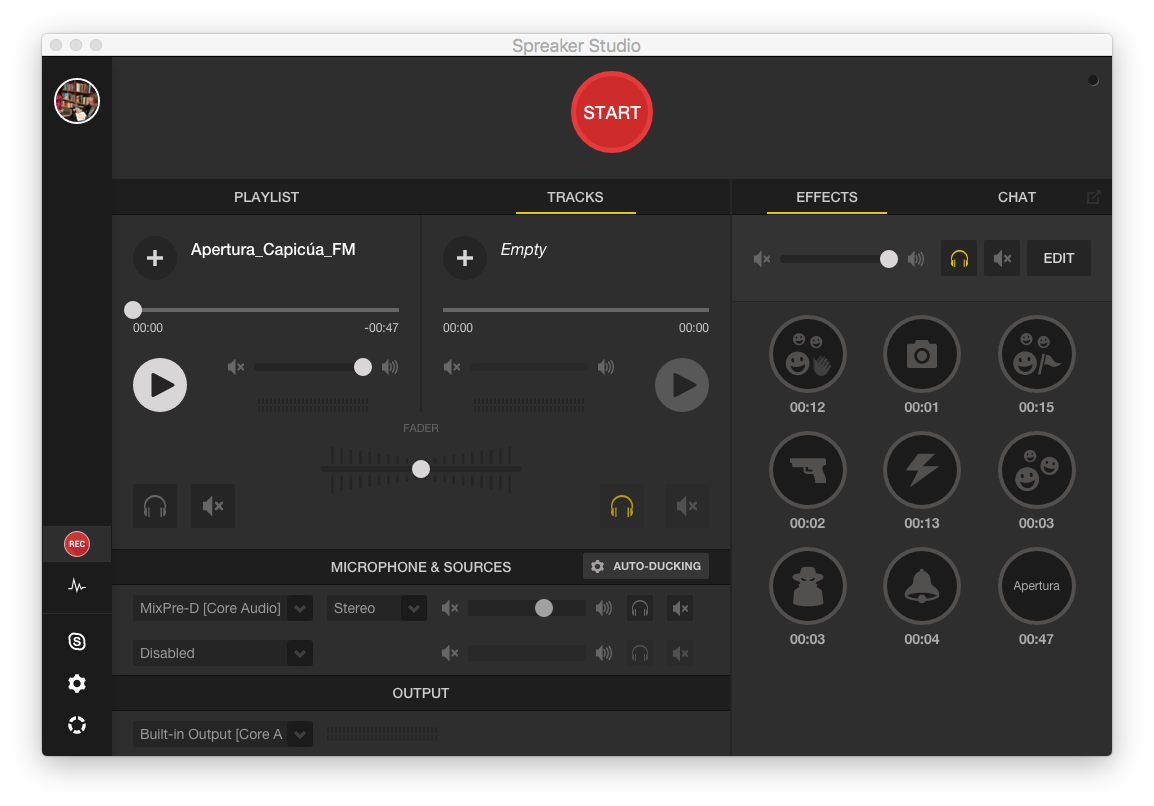 Spreaker is an all-around podcast hosting solution for podcasters. From simplicity for newbies to the ability to upload large audio content, Spreaker has an answer for almost everything a podcaster would want to make the journey a smooth and beneficial one.
The podcast host platform caters to both audience members, podcasters, and sponsors on a single interface (both web and applications) and they've made it easy for a podcaster to make use of their whole podcast inventory.
Key Features
Some of the amazing features that Spreaker offers include:
Content administration framework permits podcasters of any "level" to easily post their new episodes to significant listening directories (Deezer, Alexa, iHeartRadio, Google Podcast, Spotify, Apple Podcast, and so on)
Control and schedule multiple podcasts under a similar record.
Categorizes your members and can add partners.
Analytics data is available through the IAB.
Pricing
Spreaker offers a free plan that can accommodate up to 10 podcast episodes with a record time of up to 5 hours. If you want more from Spreaker you'll have to pay for their paid plan.
They have three premium plans. Their basic plan "Live Talent" is priced at $5.50/month has a capacity of up to 100 hours of record time per month. If you require more record time capacity, you can upgrade to the next plan "Broadcaster", for an increase of up to 500 hours for a payment of $16.50/month.
Their most expensive plan is priced at $41.25/month and can accommodate up to 1,500 hours of record time.
The most popular plan is the Broadcaster Plan at $18/month. With this plan, you get 500 hours of record time, advanced details, and their adaptation highlights.
3. Transistor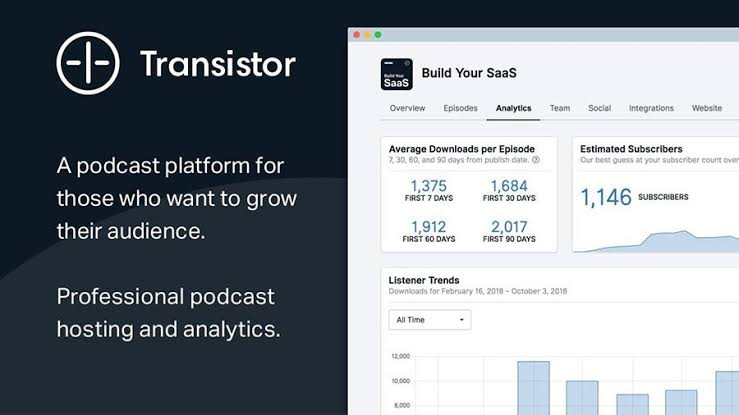 Transistor.FM is a proficient podcast hosting service provider and has provided its service to the major podcast including Cards Against Humanity, Honeybadger, and Drift.
They are very popular because they provide podcasters with helpful tools and features to acquire your podcast audience.
Key Features:
Host Unlimited shows.
Deal with numerous clients per account.
Produce branded sites with your space name
Getting your podcast listed on significant directories.
View advanced analytics and insights.
Their major shining point is their advanced analytics feature which makes them stand out from the crowd. The dashboard shows you all essential information like the number of sponsors, downloads per episode, and downloads after some time.
Also, if you're already using another hosting platform like Anchor or Libsyn, you can easily bring your current feed into Transistor with straightforward relocation tools.
Pricing Structure
Transistors don't have a freemium plan. They offer their clients three straightforward pricing options.
The lowest plan is priced at $19/month and allows unlimited podcasts and episodes, up to 2 partners, and 10k downloads per month.
For more, you can upgrade to the Professional Plan which costs $49/month and provides everything in the starter plan plus an increase to five partners and 50k downloads per month. The Business Plan includes all that Transistor has to offer and goes as far as up to 10 partners supported and 150k downloads per month.
Transistor has a provision that allows you to scale up your subscription plan as you get more audience. Mostly, the ideal plan for you will be determined by the number of downloads you need each month. You can start with the Starter Plan and upgrade as you grow.
4. PodBean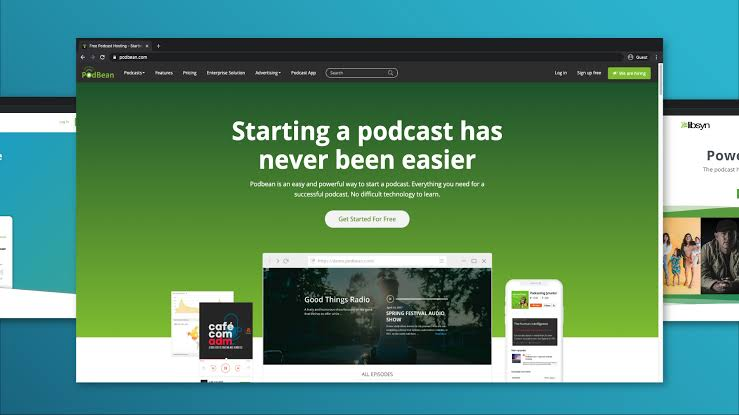 Making the 4th on my top recommendation, PodBean has been in service for over 10 years and boasts a client base of over 540k podcasters. They are the most simple-to-use platform on this list.
Key Features
5 hours of capacity on the free plan.
Unlimited capacity on the $9/month plan.
Dynamic advertisement inclusion.
Patreon program to acknowledge repeating income from audience members.
Auto-uploads to YouTube.
Versatile application.
Auto-presenting via web-based media like Facebook and Twitter.
Pricing structure
PodBean offers a free open-source plan, the "Fundamental Plan" that can accommodate up to 5 hours of capacity and 100 GB month to month. They've three paid plans.
The first plan, "Unlimited Audio", starts at $9/month and allows unlimited capacity and upload speed, advanced features, promotions, and access to their discussion forum. Higher up the pricing ladder is the "Unlimited Plus", which is priced at $29/month and highlights all that's present in the previous plan plus the Patreon program and dynamic promotion inclusion.
The most expensive plan, the "Business Plan" costs $99/month and covers all that's in the above plan plus advanced analytics features, hosting live shows, and private podcasts.
The most ideal plan for podcasters who really what to make a substantial amount from podcasting is the Unlimited Plus Plan which is priced at $29/month.
5. Simplecast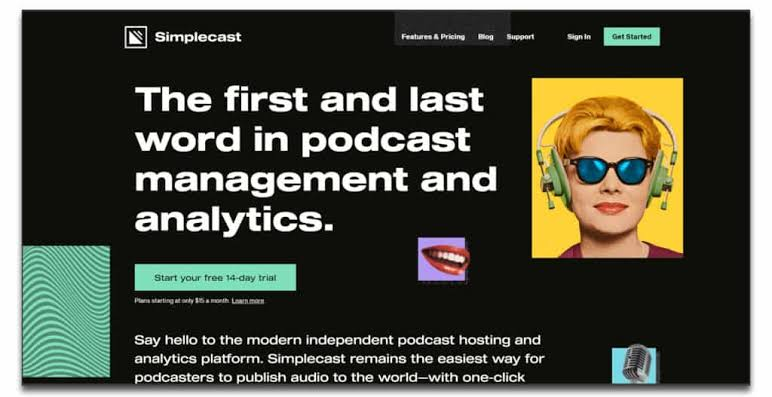 Simplecast is well-known for industry-driving features which cost as low as just $15/month. They're not shy to state their mission on their website: "From your first audience to your first million, Simplecast gives you amazing assets expected to control, upload, share, and become your podcast."
Simplecast has been around for more than six years and hosts probably the biggest brands in podcasting, including HBO, Facebook, Nike, and Kickstarter.
Key Features
A single click distributing.
Different web players and podcast players.
A completely working site.
Advanced analytic tools.
Work together with different partners in a single record.
One champion element is their Recast™ instrument, which permits you to schedule and drip-feed your podcast via web-based media.
Pricing Structure
Although they don't offer a free plan, their service is reasonably priced and pocket-friendly. They offer users three premium plans.
The Essential Plan costs just $15 per month with unlimited capacity and uploads, two-partner accounts, an adaptable show site, 20k downloads each month, an embeddable web player, and email uphold.
The Fundamental Plan is priced at $35 per month and contains all benefits in the previous plan plus extra web players, 50k downloads per month, a live show, the addition of two partner accounts, and more.
The most expensive option, the Development Plan, costs a whopping $85 per month and includes all the benefits of the previous plan plus additional 5 partners account (9 on aggregate), ISP investigation, 120k downloads each month, and more.
In case you're just starting, the Basic Plan is the ideal plan to test drive their services. Although the basic plan contains a lot of essential features, you'll possibly need to upgrade to a higher plan when you have more audience or downloads each month.
6. Podcast Websites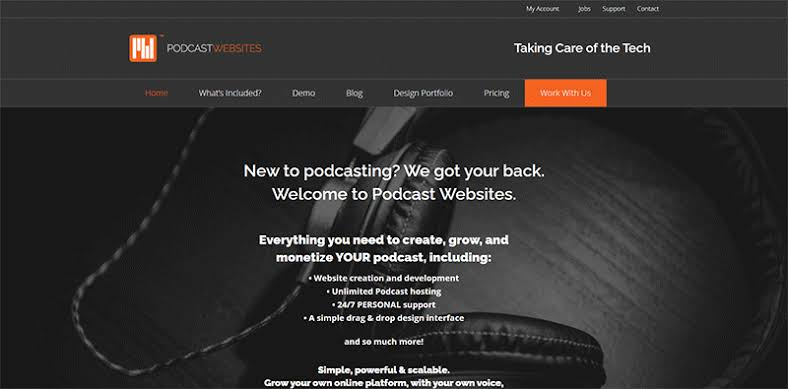 Podcast Websites is an all-rounder service provider consisting of a WordPress website, web hosting, unlimited podcast hosting, domain name, email address, and a whole lot of others. This podcast hosting company was created by two long-term (and popular) podcasters so they've got a great understanding of what newbie podcasters need to guarantee success.
The email marketing service lets you build your email list as they connect to many of the top email service providers too. They also recently included their Academy membership to help you learn with their video library.
Pricing Structure
Podcast Website is available for a monthly payment of $97/month. You can save up to $240/year if you choose to pay for their services annually at $77/month. They also offer unsatisfied clients a no-hassle 7-day money-back guarantee so if you ever think they're not a good fit for you, you can request your money back.
7. Fusebox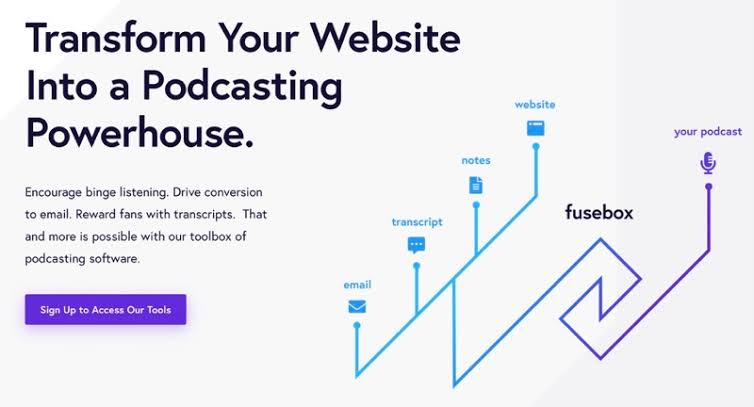 Fusebox is a product of the genius innovation of renowned podcaster Pat Flynn of Smart Passive Income. During his time as a podcaster, he was researching about making the most ideal podcast player for your site that your guests will adore.
Who better to make the ideal podcasting tool than a productive podcaster himself?
Fusebox has a ton of extraordinary features, plus add-in email services (one of the few podcast hosts to offer this) and other advanced features.
They have a record module with SEO live content that consequently adds podcast records to your site. Furthermore, in case you're want to know how the player functions, it's clear on their website.
You enter the Fusebox's WordPress module and add your RSS channel. Then, you enter your membership URLs to push your show to the significant catalogs. Finally, you modify the cover of your podcast player, and afterward, add the player to your posts and pages.
Pricing
They offer a restricted free plan which is ideal for newbie podcasters just starting. You can subscribe to their paid version Fusebox Pro for $19/month.
There's also an arrangement to pay yearly which reduces the cost to $15.83/month and you also get two months free. The pro version gives you pro access to their advanced player features, transcripts plugin, webinar training, and email support.
8. Audioboom

AudioBoom is a celebrity podcast hosting platform that has captured everyone's eyes. It's different from normal podcast hosting platforms since it caters to more than individual podcaster.
Their support service is industry standard and does a great job in handling many podcasts almost immediately. This is useful for radio programs or groups of podcasters searching for one interface to work with.
The company is also extraordinary when it comes to advanced features integration and marketing of podcasts regardless of promotion blockers.
It gives analytics data on listeners' user experience to assist podcasters with understanding who their audience members are, the content they need, and how the podcast is performing.
AudioBoom Features
As a newbie podcaster looking for a podcast host and reviewing them, one thing you don't want to miss is knowing what you're going to get. AudioBoom features include:
Advanced Analytics
Distribution
Embeddable Players
Sponsorships
Dynamic Ad Insertion
Different Channel Management
Income Optimization
Audioboom Pricing Structure
You can get AudioBoom for just $9.99 billed monthly or $99 when you choose to pay yearly. For a pro podcaster who wants more advanced options, you can contact AudioBoom separately for a custom quote.
9. Resonate
Resonate is a crowd-favorite podcast production company that has been around for quite some time now. Recently, they added a hosting platform to their services. This means you can use a single platform to professionally edit and produce your podcasts and afterward flawlessly host your show. You can also use the Resonate Hosting service independently too.
You'll get your podcast site, an extraordinary-looking install player that assists with following how individuals are tuning in, and definite analytics, and that's just the beginning.
The pricing for their hosting services begins at $25/month for unlimited shows, episodes, and data upload capacity.
10. Captivate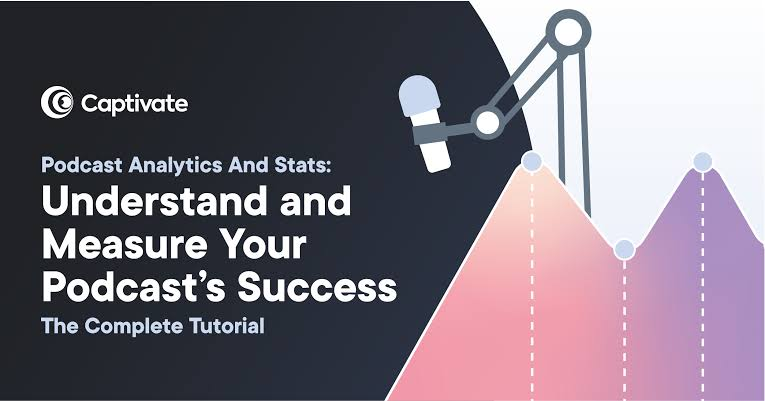 Captivate is an amazing podcast hosting platform – and it was created by the same company behind Podcast Website so you can tell that they know what they are doing.
You can tell right away that they thought about everything through their dashboard:
There are a lot of other helpful things like bulk uploads, powerful AI highlights like default plan time, WordPress combination with their custom module, and lots more.
Something cool they just added was an extraordinary-looking and simple-to-produce podcast sponsorship kit that allows you to feature the latest episodes and shows key download numbers.
Captivate offers users three core payment plans; Personal, Professional, and Business Plan.
The Personal Plan costs $19/month ($204 annually) and accommodates up to 150 private subscribers, 12k downloads per month, and includes one private podcast. This plan is suitable for beginner podcasters who are just starting.
The Professional Plan is priced at $49/month ($528 annually) and includes all that is available in the Personal Plan with an increase in the number of private subscribers and downloads limit to 500 and 60k respectively. This plan is suitable for podcasters who have a large audience base.
The Business Plan costs $99/month ($1080 annually) and offers all that Captivate has to offer including 150k downloads/month, three private podcasts, and up to 1000 private subscribers per podcast. This plan is more suitable for networks, agencies, as well as professionals who manage other people's podcasts.
11. Podcastics

Podcastics is one of the few podcast-hosting companies that offer true value for your money. They've made podcasting so simple that you can set up your podcast, create an RSS feed, and get your podcast approved and listed on major directories like Apple.
One of the impressive things about podcastics is the free website included in their offerings. Their analytic tool is very in-depth which is a big deal since quality analytics is the key to podcasting success. The player interface offers you a lot of customization options including changing the color and adding original artwork.
Podcastics offer a free 1-month trial period without any credit card required. They offer unlimited episodes and podcasts across all the paid plans.
The free plan is limited in terms of features but you can always upgrade to a paid plan when the trial period ends. They have four payment plans, the Premium Plan ($4/month), Pro Plan ($8/month), and Max Plan ($39/month).
12. Castos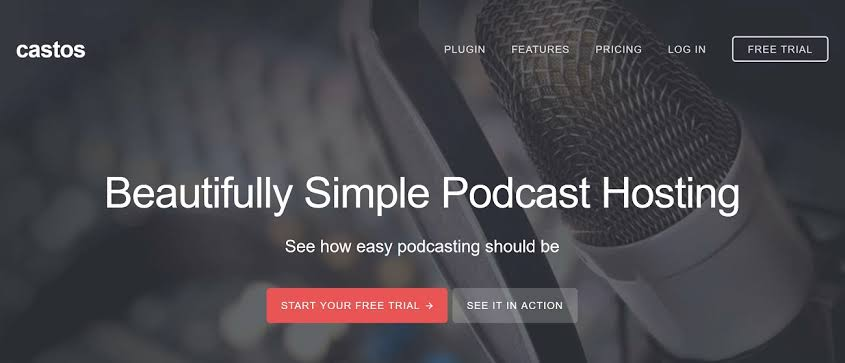 Castos Podcast Hosting has some incredible highlights and integrates flawlessly with WordPress. They own a Simple Podcasting WordPress module where you can deal with your take care of and upload new episodes directly from WordPress.
Castos has a lot of amazing features necessary for successful podcasting including WordPress Integration, a World-class analytic tool, Podcast transcriptions, Media files & bitrate, Private podcasting, and the ability to monetize your podcasts.
Castos Pricing is a bit unique from others we've been reviewing as its pricing model is based on the features you get. For all their payment plans you get unlimited storage and downloads.
Their cheapest plan costs $19/month and is only ideal if you are into podcasting without republishing, the next plan is priced at $34/month and allows you to republish your podcasts on YouTube. The highest plan will cost you $49/month and allows you to do video podcasting.
13. PremiumBeat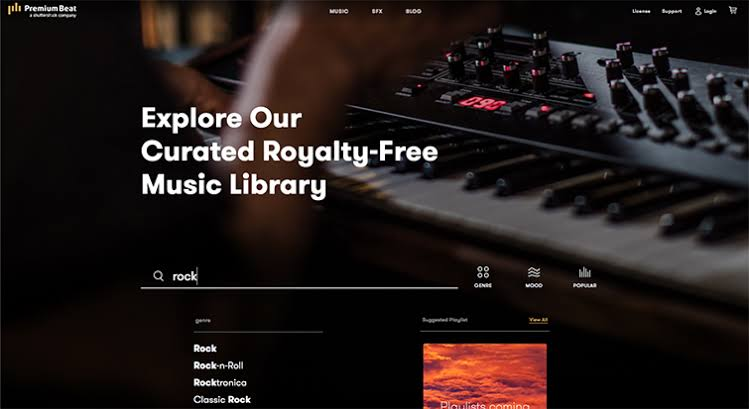 PremiumBeat is a large library of curated copyrights-free music that podcasters can use to create the podcast background music, intros, and outros without worrying about infringing any ownership laws. The company is a sub-division of Shutterstock.
Their offerings are wide and undoubtedly impressive. They offer an extraordinary list of royalty-free music in over 8 music genres, over 14 music moods, and music instruments.
To have access to their vast library, you'll have to subscribe to their service. Premiumbeat pricing is pretty straightforward and reasonable. They offer users two premium tiers; the Standard License (priced at $49) and Premium License (priced at $199).
14. bCast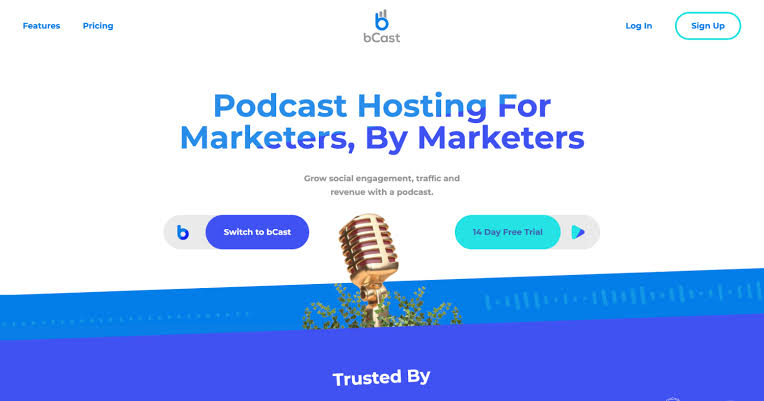 bCast is a very powerful podcast hosting platform that combines podcast hosting, distribution, and analytics features that convert listeners to leads.
This platform is filled with amazing features including Auto Opt-In, Dynamic Content Insertion, Growth Analytics, Zapier integration, Custom Podcast pages, Email Integration, and many more.
You can turn your listeners into leads through target emailing, add CTAs to each of your episodes with their Dynamic Content Insertion feature, and host your podcast on a custom domain.
This platform is ideal for podcasters, agencies, or marketers who want to increase their ROI from their podcasts.
bCast pricing is in three tiers; the Starter, Growth, and Legend Plan. They also offer unlimited episodes and storage across all their amazing payment plan.
The Starter Plan costs $15/month ($144/year) and you can host one podcast, downloads are limited to 10,000/month, and you'll have access to their standard support service.
The Growth Plan is priced at $35/month ($336/year) and allows you to host up to three podcasts with 50k downloads/month, and access to their standard support service.
The Legend Plan costs $75/month ($720/year) and includes unlimited podcast hosting, unlimited downloads, and access to their premium support service.
15. Podcasts.com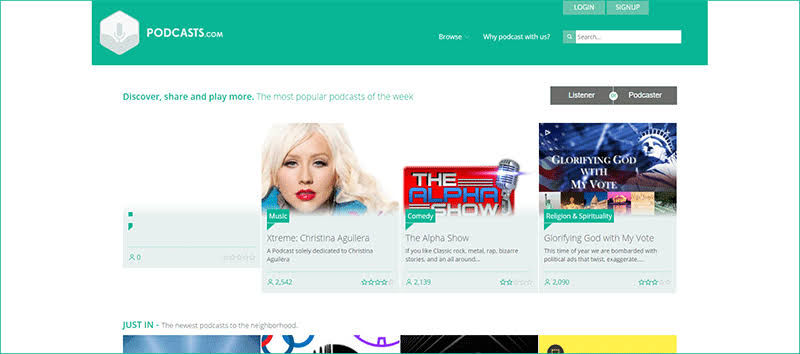 Podcasts.com is a freemium podcast hosting site that lets podcasters create, distribute and monetize their podcast. They have lots of essential features that will let you make the most out of your podcasting experience.
Some of the amazing features that you can get on Podcasts.com include 100% free podcast hosting, automatic subscriber update, SEO-optimized directory listing, easy iTunes integration, Google Analytics Integration, and many more.
Despite how untrue this may sound, they offer unlimited everything including downloads and storage for free.
16. Squarespace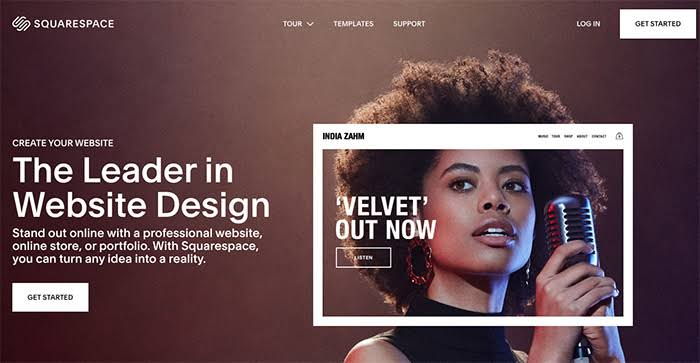 Squarespace is originally a website builder but has extended its services towards the podcast hosting industry. Being a very powerful website builder, it's not surprising that the same can be said about their podcast hosting services.
They offer users a professionally created podcast website filled with tools to enhance their chances of success.
Squarespace has three payment plans; the Personal, Business, and Commerce plan. Their basic plan starts at $8/month billed annually for the Personal plan and you can get the Business plan for $18/month billed annually. To have access to all that Squarespace has to offer, you should subscribe to their Commerce Plan which is priced at $26/month.
17. Blubrry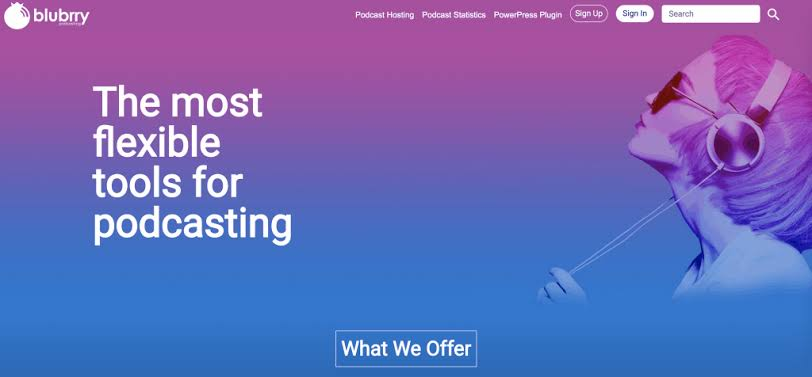 In the past, Blubrry has always dominated the competition and even closed competitors with big names in the podcast hosting industry. A great deal has changed from that point forward and they wouldn't be my top decision today, yet they are worth a mention.
The reasons why Blubrry made the list are:
Their paid plan starts at $12/month with 100MB audio storage capacity each month. There are however limitations based on the number of episodes, length, and quality, if you require more you can upgrade to a higher plan.
18. podServe.FM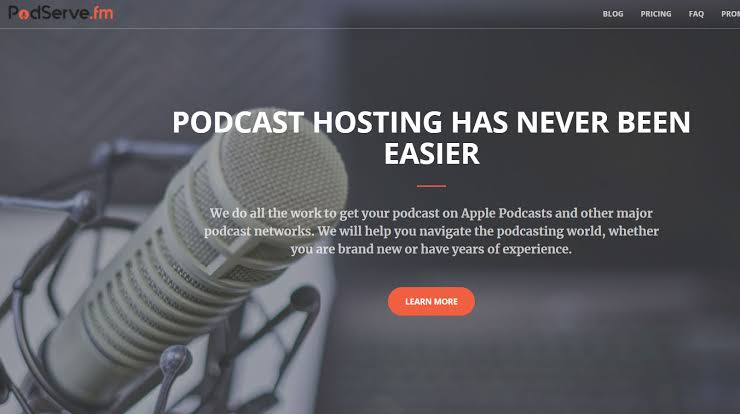 PodServe.FM permits you to have unlimited podcasts with a 2,000GB data limit every month. That is adequate for over 60K downloads every month which is more than enough in the long haul.
What makes them different from others is that you get free access to their PodParadise, a podcast platform that gets an enormous number of visitors every month.
They in like manner make everything easy to set up and get recorded everywhere.
Pricing is $19/month and if you do end up requiring lots of downloads, you can pay $20 per 3,000GB.
19. Podiant
Podiant makes it incredibly easy to start and grow a podcast. They offer the users a 14-day trial to test run their service which you can take advantage of to personally review the platform.
A bit of the feature that are present on Podiant includes:
Pricing starts with a limited plan that costs $12.99/month and there's an option to upgrade to a higher plan anytime, anywhere.
20. PodCastGiant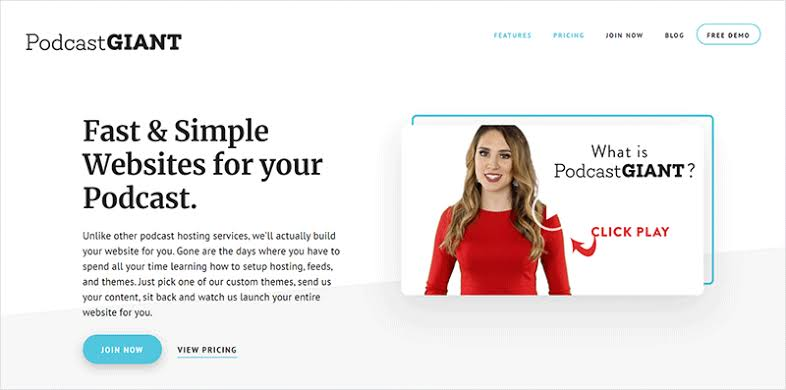 This podcast host is out for newbies who aren't tech-savvy. If you're looking for a podcast that combines automation plus DFY (Done For You) in their podcasting hosting, and site hosting services, and will manage your necessities whether you're just starting or have a considerable number of crowd individuals, PodcastGIANT is the best for you.
Some of the selling points of PodcastGIANT include quick speeds, elegant themes, daily backups, scalability, and many more. If you're looking for an easy fix or click-and-drop type of hosting and site builder, this is the platform to start with.
Pricing
There is a free demo version for you to test run their services plus the option to use a coupon code for a discount. You can have access to PodcastGIANT for $48/month. This will give you access to professionally pre-made podcast websites with fast navigation speed, backups, SEO-optimized themes, and unlimited podcast hosting.
21. Simple Podcast Press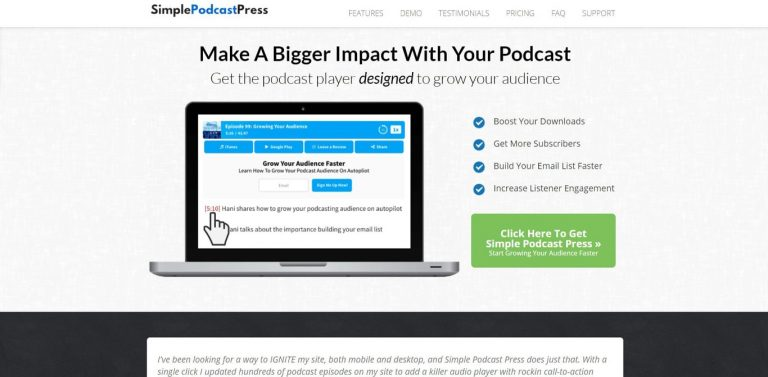 Simple Podcast Press is a powerful WordPress podcasting option for those with an iTunes, Libsyn, Buzzsprout, or SoundCloud account. It works a bit like Libsyn Podcasting by linking cloud-hosted podcasts with your WordPress website.
Simple Podcast Press is a very simple plugin, in a good way. It integrates into your website and allows you to quickly list your podcasts, add a media player, and add images and descriptions to each podcast. It will also automatically update your site whenever you release a new podcast on your chosen platform.
Features of Simple Podcast Press:
Works with many leading podcast platforms
Integrates well with WordPress
Supports iTunes reviews and Clammr for social sharing
Includes subscription tools
Has timestamp and playback options
Pros of Simple Podcast Press:
Very user-friendly and easy to set up
Integrates with cloud-hosted podcasts
Social sharing and URL shortening options
Ideal for promoting across multiple channels
Cons of Simple Podcast Press:
The Simple Podcast Press WordPress podcast plugin costs from $69 per year up to $147.
22. Backtracks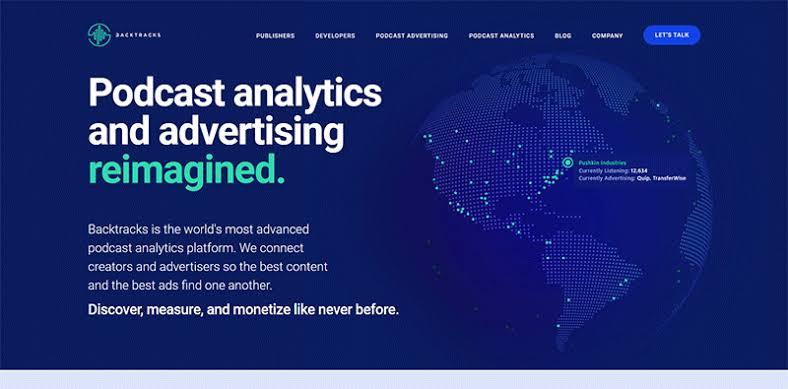 Backtracks claim to have "the world's most advanced podcast analytics and hosting platform". Having access to world-class analytic data is inestimable which is why Backtracks is one of the major players in its industry.
Their pricing and set of features are likely over the top if you're just starting, yet it works perfectly with brands and small-size enterprises.
This podcast hosting company is trusted by various big brands that uses them and they have a genuinely good embeddable player with intelligent transcripts.
Pricing
Backtracks offer a free 7-day trial period for new users to review the services. After this honeymoon period ends, you'll be required to upgrade to a paid plan. They have four pricing plans including the Publisher Plan ($99/month), Publisher Plus Plan($199/month), Publisher Premium Plan ($299/month), and Enterprise Plan (contact them for a custom quote).
23. Libsyn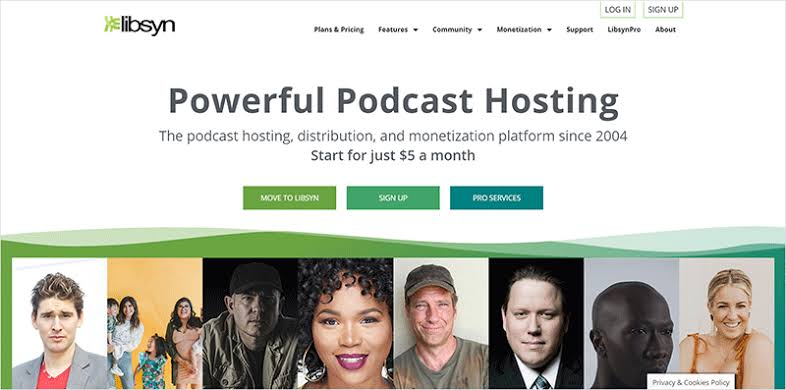 Libsyn is a podcast-hosting company that has been around since the start of podcasting. They are still one of the big guys in business considering the way that it is what long-term podcasters have used and recommended for a seriously long time, yet there are better platforms now. Their site and dashboard seriously need to be developed too.

A deep dive into the features of this platform revealed a lot of powerful tools that can propel you're your podcast to success. Some of the features include audio file management, channel management, contact database, customizable templates, lead management, multi-campaign, SEO management, video support, and website management.
Libsyn's pricing plans start at $5/month with an extremely small audio upload capacity of 50MB (which is too small for a considerable number of individuals) so at any rate, you'll have to upgrade to at least their $15/month plan that increases the capacity up to 250MB of upload every month.
24. Megaphone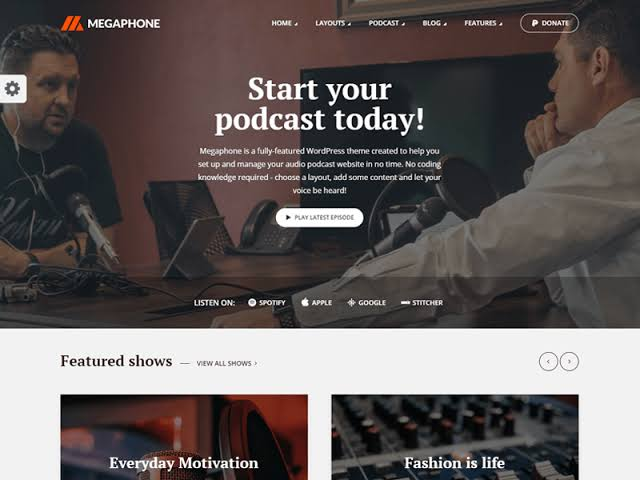 Megaphone formerly known as Panoply Media is a podcasting platform planned for greater, adventure-level podcasts and it focuses on helping you get more out of your podcasts.
They also serve advertisers wanting to show up on these acclaimed podcasts by reaching over 60,000 people. This audience-targeting data is more far-reaching than any other podcast platform of the same magnitude.
Megaphone is designed for publishers dealing with large teams and complex podcast networks. They use the Megaphone Targeted Marketplace MTM to manage inventory catalogs and fill unsold podcast tracks.
Megaphone has a producer-friendly interface that is simple and time-saving. They also have a straightforward onboarding process that makes sure no data gets lost during migration from another platform to Megaphone. You can also submit to listening directories directly from their platform.
You'll need to request a consultation to get your podcast encouraged on their platform regardless of the way that it shows up, they're developing a game plan for smaller podcasts soon.
25. Whooshkaa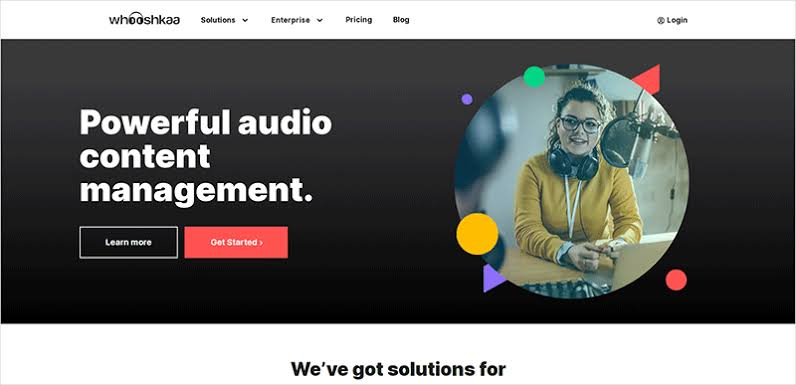 Whooshkaa is an Australian-based podcast company that has teamed up with various huge brands like Wondery and WNYC.
A lot of their spotlight is apparently on their dynamic notice platform that changes progress based on audience authority and podcast pricing.
They furthermore have text-to-voice features, customizable players, sharing gadgets, and significantly more.
Pricing
Whooshkaa offers its services in three packages; Semi-Pro, Pro, and Business packages. The Semi-Pro is priced at $29/month and is more suitable for beginner podcasters who are just starting. This plan allows you to host up to two podcast shows, 10,000 monthly listens 2 hours of automated transcription and many more advanced features.
The Pro Plan costs $99/month, and contains all that is present in the previous plan plus additional 3 podcast shows and 15,000 monthly listens. This plan is perfect for small teams or podcasters with a large audience base.
The Business Plan is strictly meant for brands and businesses. It costs a whopping $199/month and comes with even more advanced features to cater to a large audience.
26. Fireside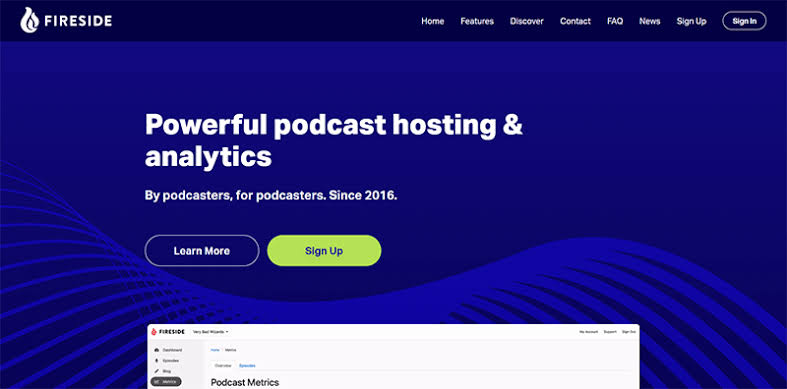 Fireside was created by Dan Benjamin of the 5by5 association. He and his companions make a lot of podcasts and know the business well. Fireside is an all-in-one type of platform in that you get podcast hosting, a fair-looking site, and podcast analytics.
The platform is filled with lots of amazing features including accurate download stats, analytics, a responsive website, a blog, fireside player, and many more professional tools made for podcasters.
With their pricing, they keep things very simple and straightforward. You can have unrestricted access to their suite of features for a payment of $19/month.
27. Podigee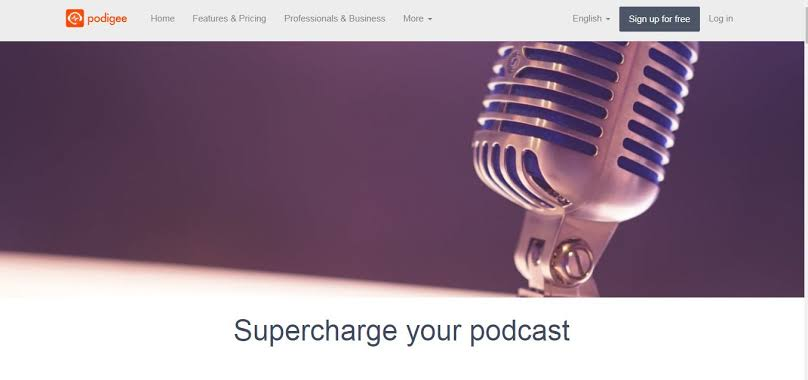 Podigee Podcast is a profoundly current, amazing, and adaptable podcast player for podcasters. It allows you to list your podcasts on diverse podcast platforms. It has a podcast player, podcast analytics, audio encoding, and a website, and you can host multiple shows on each account.
Highlights
Pricing is simple and straightforward with just two payment plans; the Basic (costs $13/month), and the Advanced (priced at $29/month). The advanced plans offer network support, customized RSS feeds, automated transcripts, and team member logins.
28. Red Circle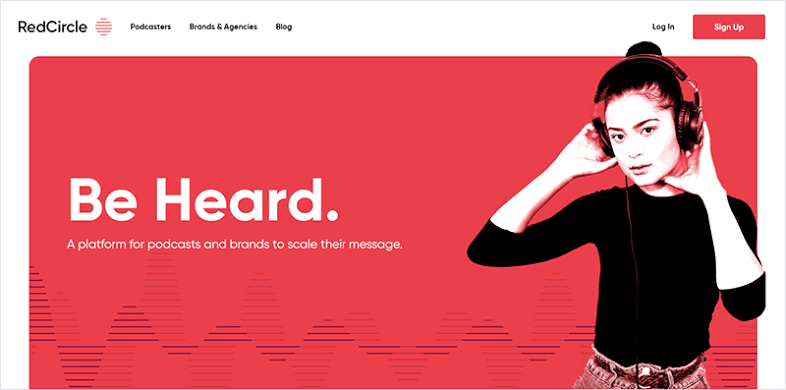 RedCircle which was launched in February 2019 focuses on "semi-professional" podcasters. It has a unique cross-promotion feature that you can use to promote another podcast show.
One amazing fact about RedCircle is that it's also one of the best freemium podcast hosting platforms around.
Currently, one of their unique features is the ability to interface and cross-promote your podcast inside the platform. You can search for podcasts, associate with them to pitch and set audio terms, and exchange pre-recorded messages propelling each other's podcasts.
Hosting is free with the target to help podcasters with adjusting their shows and offers in their pay. Shared advantage.
29. Anchor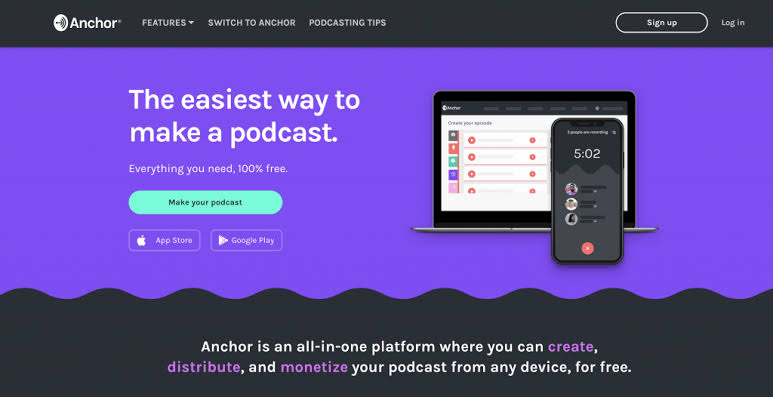 Anchor is likely the best all-in-one free podcast platform out there. It has a lot of tools like recording with friends, one-click distribution, unlimited hosting, and monetization features.
Their unique selling point is their easily adaptable podcasting platform; however, you can use their web interface to modify and manage your episodes. Their apps are easy to use, you only need a quick setup process.
They offer a very intuitive interface where you can easily edit your sound records and are regularly adding new features. You can also upload your cover page, use their text editor and have unrestricted access to their large library with high-quality images.
The only slight disadvantage of this platform is that you can't change the email address in your RSS channel, which is used to check your podcast on various organizations.
The sweetest part is that everything is free with Anchor.
30. ShoutEngine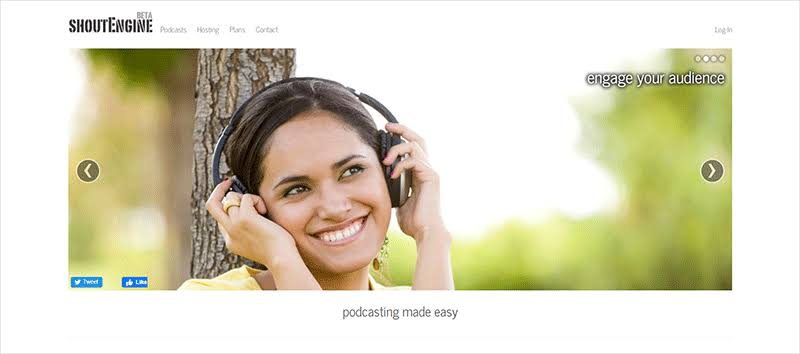 ShoutEngine is one of the top players in the podcast hosting industry. It allows you to make a podcast, host it, and offer it to clients around the world. With this platform, you can market the podcast easily.
ShoutEngine offers advanced analytics that gives point-by-point data about site traffic and related information. You can upload your first podcast on the web with just a couple of clicks.
With ShoutEngine hosting, you can share your podcasts with the world in a flash. The company is well-suited to cater to a large audience base. This is because of its AI automation that lets you create, upload, and market your podcasts with little human input.
The platform has a network including 9 servers that span different nations around the globe. They offer speed, high functionality, and dependability for your podcasts.
There is no restriction on the amount of content you can upload. When you add new podcasts to the hosts, it's automatically organized into categories. This way, your audience member would have no problem finding your new or old podcast episodes.
To begin with ShoutEngine hosting, you should simply choose a payment plan. You would then be able to sign in using your Facebook, Google, or Twitter account. You can do all this in less than five minutes.
Their customer service is also ideal for podcasters who need help to get started without burning through much time. You will get different marketing tools to make your podcasts all over the internet.
ShoutEngine has a powerful content management system (CMS) that consists of ID3 labels. It uses search engine optimization (SEO) to make your podcast site visible to web indexes in a split second.
31. SoundCloud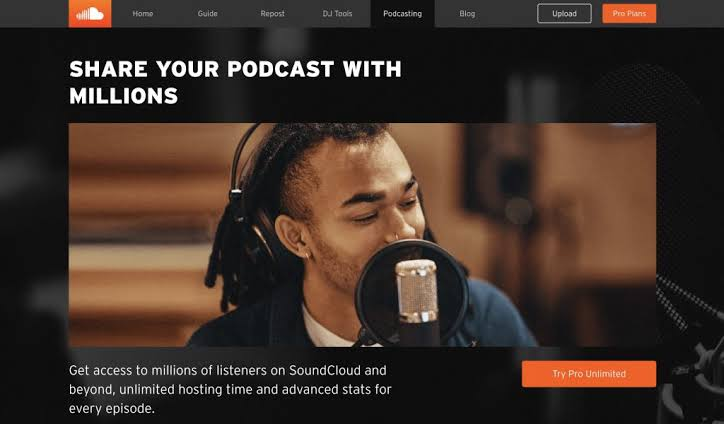 SoundCloud can be accessed for free, however, there're certain limitations in podcasting features. What makes SoundCloud special is that it is not just a podcast hosting platform, it is also a social platform. Just like social media, people interact with albums, tracks, and users on SoundCloud.
SoundCloud has an official app where listeners can download your episodes if you upload them on their platform. Some podcasters complain of this Android problem and SoundCloud has solved it.
SoundCloud does not depend on simple RSS to market podcasts, it lets your listeners engage you directly.
With the free plan, you get up to 3 hours of upload capacity and you can upgrade to their Pro Unlimited plan if you need more capacity. Their Pro Unlimited Plan costs $135 billed yearly. Another advantage of this Pro Unlimited is that it schedules podcast releases and replaces tracks. Any podcaster will admit that these two features are very invaluable.
If you can, avoid the other paid plans as you can only upload 6 hours of content instead of the 30 hours that the Pro Unlimited Plan offers.
32. OmnyStudio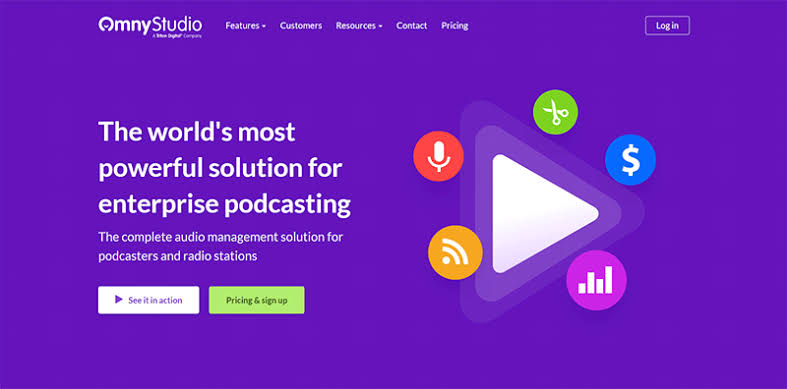 OmnyStudio, an assistant of Triton Digital has now developed into one of the world's driving podcast development platforms, with distributors of every sort trusting in the platform and gathering to help share their records with countless crowd individuals reliably.
OmnyStudio's holistic approach to podcast hosting is to gives you all the tools you need to start, manage, and market your podcasts under one roof. Their platform is versatile and aims to help big companies and they are always enthusiastic about improving their features.
OmnyStudio comes with lots of features including sound editor, sound normalization, content management, embed player, playlists, and analytics.
You can start your podcasting journey with OmnyStudio for $29/month.
33. Podcast Blastoff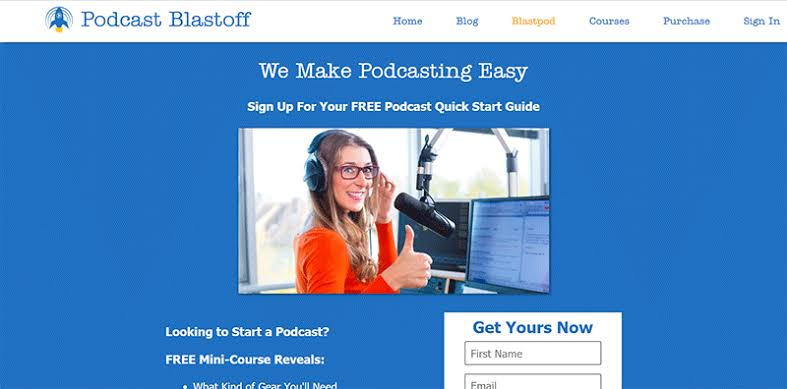 Podcast Blastoff, as the name suggests, allows you to create and host your podcast swiftly. The platform has consistently developed its functionality over the year. The platform is very simple and easy to use because of its support course that offers a guide on how to effectively make use of the features on it.
To use Podcast Blastoff, you'll need to do some basic things to create a Podcast Studio. These include an amplifier, earphones, blender and sound interface, recording programming, links, and strings.
A review on their site shows that they offer three types of paid plans. The first is Silver Tier which will cost you $29.99/month. With a fair limitation of 250MB of content in your subscription period, you can upload podcast records easily.
The subsequent plan is the Gold Tier. It costs $49.99/month and enables you to upload up to 500 MB/month.
At last, the Platinum Tier costs $59.99/month and offers up to 800MB of upload limit a month. It is easy to use PayPal to pay for their service. To use it, you first need to join and sign in to your account.
34. Zencast. FM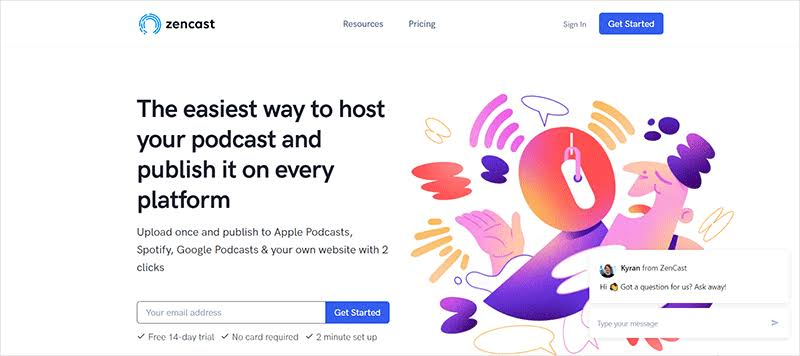 ZenCast.FM is a well-known hosting company that was created to make the process of creating and marking podcasts simple. The entirety of their hosting plans has no upload or download limits. This eliminates the restriction of the number of content uploads around your monthly payment option.
This podcast site hosting highlights the podcaster's profiles to give audience members more information about the podcaster and create an immediate connection between the podcaster and the audience member.
Highlights
Audio Editing tools, Audio Recording, and Audio Text Transcription
It supports multiple hosts, Subscriber management, and Video Support
Pricing and Plans
ZenCast has a 14-day free trial that you can enjoy but you have to subscribe to a paid plan to continue enjoying its features after the free trial is over. The three pricing plans include Hobby Plan for $ 12 per month, the Professional Plan for $35 per month, and the Celebrity Plan for $89 per month.
35. Acast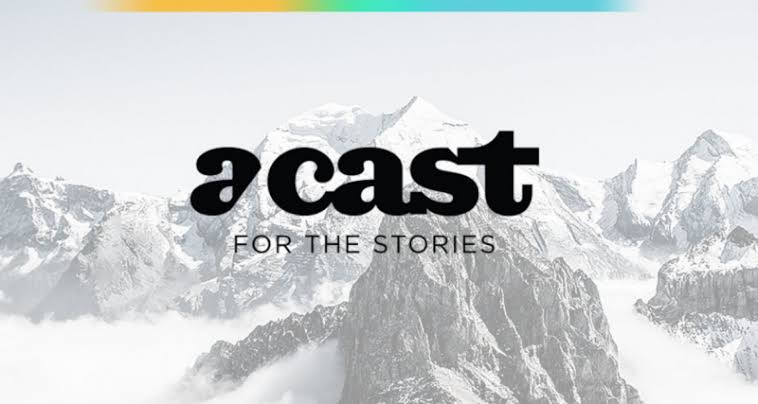 Acast gives podcasters a wide range of advantages, including integration with great tools like IBM Watson. This site naturally makes free records of your episodes. They additionally offer the Snipper tool, which encourages you to make recordings effortlessly.
This podcast site offers a free plan which you can take advantage of to personally evaluate their offerings and decide later whether to upgrade to a paid plan or not.
They only offer two payment plans; the Influencer plan and the Ace plan.
The Influencer plan costs $14.99/month and includes Patreon Integration, Advanced Analytics, a Customizable Podcast website, Amazon Music, Spotify, SoundCloud, and YouTube, Unlimited Episodes and downloads, and all the tools you need to monetize your podcast.
The Ace plan is priced at $29.99/month and offers all that's in the previous plan plus Team and Network management, Advanced Support, Pro Webinars, Publishing API, Episode Transcription, and Potential to monetize.
36. Pinecast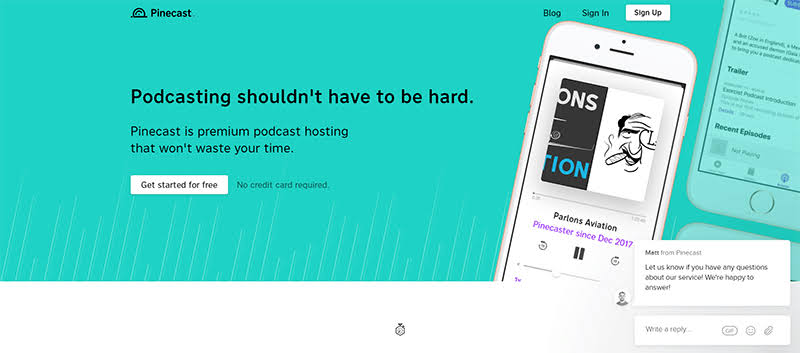 Pinecast was developed in 2015 and is headquartered in Chicago, Illinois. This platform was initially used by the creator Matt Basta and a few of his friends. Later, the podcast-hosting platform developed into a mainstream platform for podcasters around the globe.
Pinecast's creation guideline was to make podcast hosting moderate for everybody. This has remained one of its guiding principles right up until today. The company focuses on its clients and offers great services.
Some important highlights of Pinecast include:
The rights to your audio files are not retained by Pinecast. For every file you upload, you have 100% ownership of it.
It has easy to use dashboard that lets you create podcasts without much stress
It has insightful podcast analytics
It lets you upload audio files like M4A, AAC, and MP3 however, it does not accept files higher than 256MB
It does not modify podcast files without express permission, unlike other podcast hosting software.
They offer users a free plan, no Mastercard required! The Free plan allows you to upload up to 2 shows. Each feed can have up to 10 episodes with every episode being a limit of 48MB. You'll gain access to their podcast analytics and the Tip Jar.
The free plan is somewhat restricted, particularly while thinking of it as brands your content with the Pinecast logo.
However, this is to be excepted as you get what you pay for and worse when you're paying nothing. The free plan offers some incredible highlights and is ideal for anybody new to podcast hosting.
The paid plan costs $10 each month and is substantially more adaptable and more suitable for more-settled podcasts. It allows you to upload unlimited podcasts and unlimited sound stockpiling.
You'll gain access to more analytics for your podcasts and the Tip Jar liberated from the extra 30% expense. You'll additionally get sites for each show and the choice to make customized markings for your podcast.
In any case, Pinecast also offers discounts through promo codes to reduce the cost of their paid plan, especially for newbie podcasters.
37. PodOmatic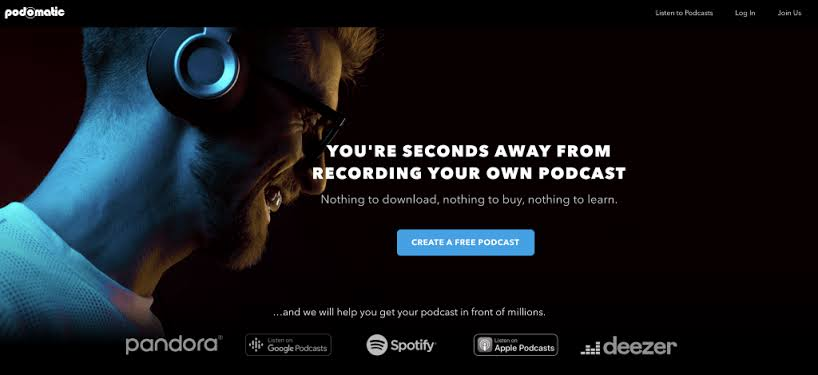 PodOmatic offers users a freemium package plus amazing discounts to help newbie podcasters build their audience base. On this podcast hosting site, you can set up a Patreon page for your podcast to collect money from people willing to pay for your content.
This podcasting software is good for beginners. Their variety of subject areas is another important advantage of PodOmatic.
Major highlights of PodOmatic include the following:
It has helpful instructions at every step of the process
Upload and store as long as six hours of sound content free of charge.
They offer their clients three pricing plan which includes the Pro (costs $2.49/month), Pro Plus (costs $18/month), and Pro Platinum plan (priced at $45/month).
Conclusion
Starting as a podcaster can be a tedious experience, but it doesn't have to be that hard. With the right podcast hosting company by your side, the journey can become a smooth rollercoaster.
This review aims to help you make the right choice and give you all the information you need to have a successful podcasting career.
Happy Podcasting!