Last updated May. 23, 2023 by Charles Zemub
25 Best Remote Desktop Software and Access Tools
One of the greatest inventions of all time is unarguably the internet. This invention does not in any way relegate the usefulness of computers on its own, but it allows computers to reach their full potential as far as we've been able to push it.
While some people still believe the human race is yet to utilize the internet entirely, we've seen tremendous progress from its inception. It brings us right back to why we are here remote desktop software and access tools.
This software allows computer users to access their computers without necessarily having the hardware in front of them. The most practical users of remote desktop software are IT professionals who assist with debugging computer systems remotely.
Have you ever wondered how any support personnel can provide training, maintenance, and assistance? With administration tools like desktop software, they can gain access to your computer at the same level that you would while sitting in front of your computer.
The difference between remote desktop software and screen-sharing software is that screen-sharing is used literally by users to share their screens for document presentations or web conferencing.
However, the Remote desktop, on its own allows for a full set of features for real remote use. This always comes in handy for usage away from the office and also for support calls when it concerns tech.
There is also a difference between VDI software and Remote desktop software. In VDI software the user can access the network of the company, he can also verify this by user identification and authentication.
VDI gives the user the leverage to use his computer to access network resources and servers from a different, remote location. However, Remote desktop software is more or less comprehensive and normally replicates the desktop experience.
Support technicians and professionals use Remote Desktop Software to remotely configure data centers and other applications for industrial uses.
Remote desktop software has two main categories, they are software that is operating-system-based and software that is third-party solutions.
The company that provides your business' Operating System is the same company that provides the Operating System-based solution. This means that the OS is embedded right into the system.
Ease of use is the mainstay of Third-party solutions because all you need to do is just download the program, run it, troubleshoot it, and the software will do the job.
A remote desktop software must have the following;
It must support different operating systems
The user must have total control and access over the remote software
The Software's remote desktop screen must be displayed on the user's computer screen in real-time
The remote desktop software must allow internal connection or connection via the IP address
The user must use his mouse and keyboard to control the remote screen
How does Remote Access Software Operate?
When a remote desktop session is started by a user, a signal is transmitted to the client system via a standard listening port through the internet to the host system and asks for access by the user to connect and log in.
The host system responds to this request by asking for the user's login credentials. It uses an internal validating process to check in the list of the remote desktop user.
After the user logs in, the data or screen of the system he is hosting will be displayed and the user can perform an operation and control the system just like the user working in the local system.
Some remote desktop software does not support multiple connections. The connection will be terminated if any user tries it.
General Features of Remote Desktop Software
There are several desktop software and access tools available in the market today. Like most things, while they may have specific features that differentiate them from one other, they share broader features that they share and must have. These features include:
Easy Access to the Computer

It is the central feature all remote desktop software must possess. The whole idea of utilizing access tools is to have unattended access to the computer. Simply put, whether the computer is sleeping or powered off, the software can give you access with a single click.
File Management and Transfer

Without this feature included, you would have difficulty working effectively from a remote location. Imagine trying to remotely work around an outdated or damaged file with no file management feature enabled on the software. This feature alone allows for the installation, removal, or upgrade of files with ease.
If there is a need to stay updated with a client on their computer while working remotely, built-in chats allow instant messaging. With this alone, you save a lot of time trying to contact the client through emails or calls.
Screen Capture & Monitoring
Whatever your chosen access tool, it is essential you can monitor activities happening in real-time on the other computer. It could include alerts and notifications appearing as you are working remotely on the computer.
The list is not exhaustive, but any remote desktop control needs to have these practical features.
As far as remote administration tools are concerned, here are the best remote desktop and access tools in 2021.
1. ISL Online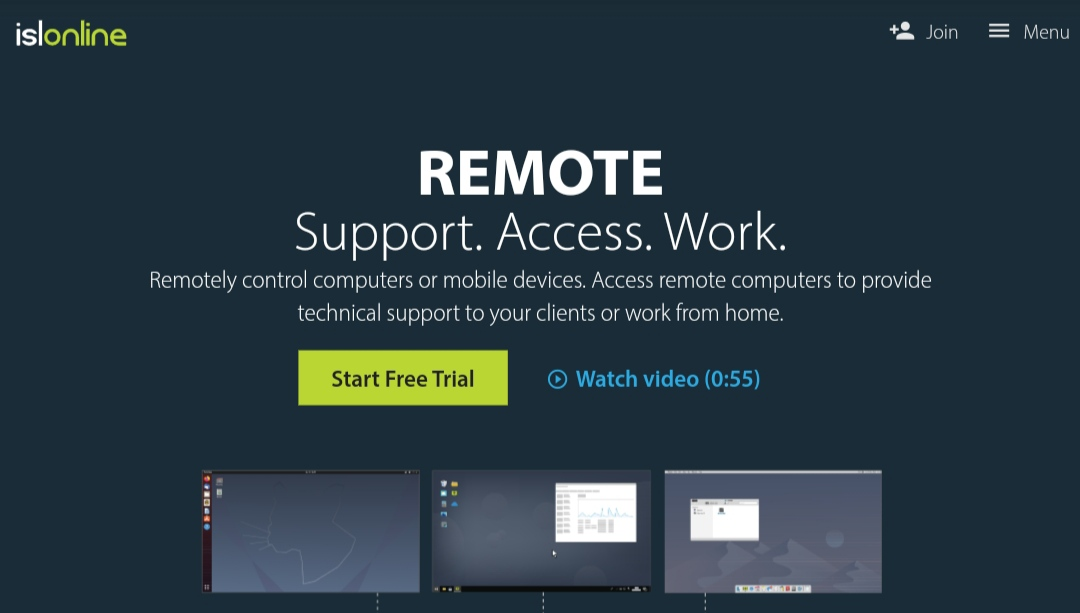 It stands out in the world of remote desktop software available in the market today. The company and access tool software was developed in 2001 and has its name as an abbreviation for Internet Service Layer.
It allows for easy access to any computer (Linux, Windows, and Mac), as well as to mobile devices (Windows 10, Android, and iOS). It is hosted all over the world by over 50 data centers and over 100 servers.
Features:
24/7 customer support which includes built-in chat for live support
Invitation through the desktop app, web, or email creates the connection
Easy access to unattended computers through RDP & SSH connection
Recorded guaranteed uptime of 99.95%
Two-factor authentication provides connections with maximum security
Easy customization of the desktop app
Share screen, pause a session, transfer, switch, and record from a remote desktop.
Subscription Plan
The Company currently offers a 15-day free trial which includes all available features without requiring a credit card. Payment services include:
Pay-per-Use is priced at $145 per 500 min/year and includes all features except premium support. It is designed for use by small businesses and has a 12-month validity.
Cloud – This is priced at $469 per license/year. It is a multi-user license designed particularly for growing businesses. It also comes with all available features. With a 12-month validity, upgrades and updates are available for free.
Self-Hosted – This is designed for larger businesses and would require server installation. Priced at $990 per license/lifetime, it comes with all features. Updates and upgrades are also available at $139 per license/year.
Bring your work home. Join the ISL Online family today!
2. RemotePC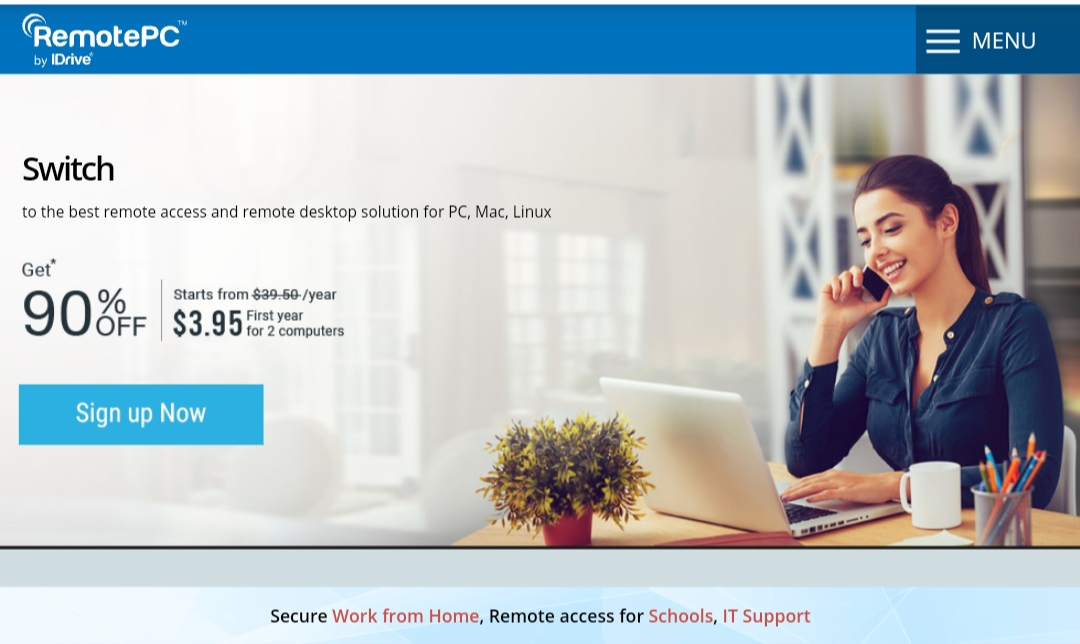 It is another popular remote desktop access tool. Developed by IDrive Inc., the company was founded sometime in 1995. The software is one of three products the company has developed.
The software is designed to provide users with better cloud storage solutions and backup and remote access possibilities. Remote Desktop is a widely known remote computer access application that's suitable for both home and specifically for business users.
It makes use of cloud technology to deliver stellar and classy remote access solutions by using a web application that is intuitive. It also makes use of the mobile application and native desktop. Voice chat is one of its collaboration features.
Features:
Complete control of a computer with Always-On remote access
Easy connection to computers from a web-based platform with software installation
A safe link from all computer and mobile platforms
One-time instant access through encrypted key and ID
Allows for easy remote printing irrespective of location
Managed multiple screens with Multi-to-Multi monitoring
File transfer and management between connected computers or devices
Subscription Plan
The software company currently offers a 25% discount on its first year and a 50% discount on the first year if a user opts for a two-year plan.
Consumer – With its 50% discount, this plan is currently priced at $29.2 for the first year and $59.25 for two years. It allows for one user license and access to 2 computers. The plan's features are unlimited remote access, 24/7 chat and email support, whiteboard, remote reboot, unlimited access, video conferencing solution, Always-on remote access, remote printing, and file transfer.
Soho – The plan is currently offered at $52.12 for the first year and $104.25 for two years. User licenses are unlimited and allow for up to 10 computers connection. It has all the Consumer plan features with an additional feature that allows for organization and users' addition.
Team – With its 50% discount going for $187.12 for its first year, and $374.25 for two years, it currently has a 7-day free trial. All the Soho plan features and additional helpdesk on-demand remote support, active directory/SSO, and an active Directory Sync (IdP Sync).
Enterprise – It allows unlimited user licenses with access to 100 computers. Its starting price is $374.62 in the first year. Users can also get it for $749.25 if opting for two years. It comes with a 7-day free trial and all features of the Team plan. Notable inclusion to this plan includes Deployment, user permission access and role assignment, and computer grouping.
HelpDesk -This plan is available at an incredible 90% discount for its first year and a 7-day free trial. Current pricing is at $49.55 and comes with 24/7 unlimited support, multiple or individual monitor viewing, file transfer, zero-limit technicians, and simultaneous connections.
Enjoy these amazing discounts without compromising on the functionality of your remote desktop software. Install Now!
3. LogMeIn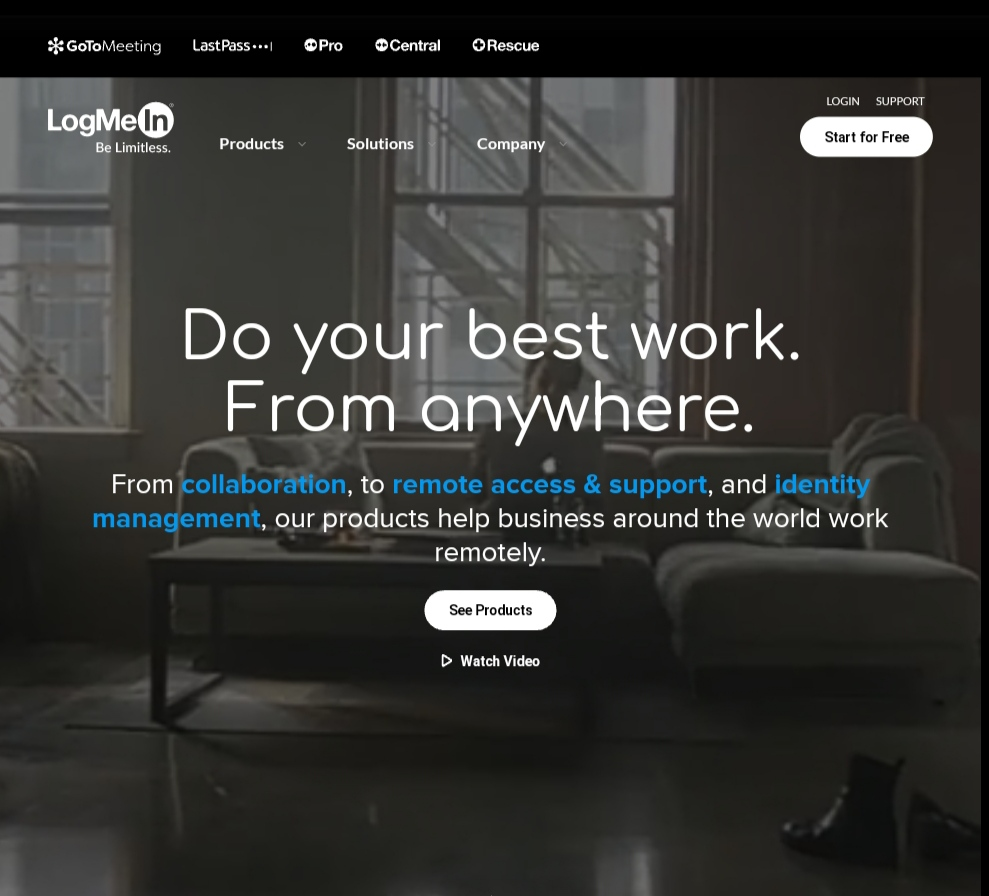 It is one of the names to be reckoned with in software as a Service (Saas), the company started in 2003. It has more than two million users currently using its services, and this cloud-based solution provider offers the basic features of any remote desktop software.
Remote access to your systems and files means more flexibility, faster delivery, and greater connectivity.
If the best remote desktop software and access tools are what you are looking for, LogMeIn is it for you because the good features it has are what make it stand out.
LogMeIn has unlimited User access and this is good for small and medium-sized businesses. It has 1TB file storage and multiple monitors are supported.
There are also a lot of security functionalities to help ensure that the user's data is secured and private. You will find the two-tier plans very useful. The plans are Pro and Central. You can find these plans on the main LogMeIn website.
Features:
Easy to collaborate with other users through the screen share feature
Secured connection from computer to any device – mobile or another computer – with SSL/TLS security
Single click provides ease for collaboration, storing, and sharing of files and folders
Remote printing capabilities
24/7 phone support and chat
1TB of cloud space and unlimited users
LogMeIn Pro Subscription Plan:
It has three main plans and all of which allow for unlimited users. In addition to this, a 14-day free trial is available on all of the offered modules.
Individual – The base plan, starting at $30/month, allows access to just two computers, and users get a free license to LastPass Premium. All features mentioned are also available for grabs on this plan.
Power Users – The plan allows for access to about five computers and comes at a starting price of $70/month. In addition to the base plan features, this comes with 3 LastPass Premium licenses.
Small Businesses – With 5 LastPass Premium licenses, their highest plan allows connection to about ten computers. All of this is available for just $129/month.
LogMeIn Central Subscription Plan
It has just one main plan that allows for customization. This base plan is available from $80/month. This plan also enjoys all the features of the LogMeIn Pro.
Sign up now! Take control of all your work files and data right from the comfort of your home.
4. Chrome Remote Desktop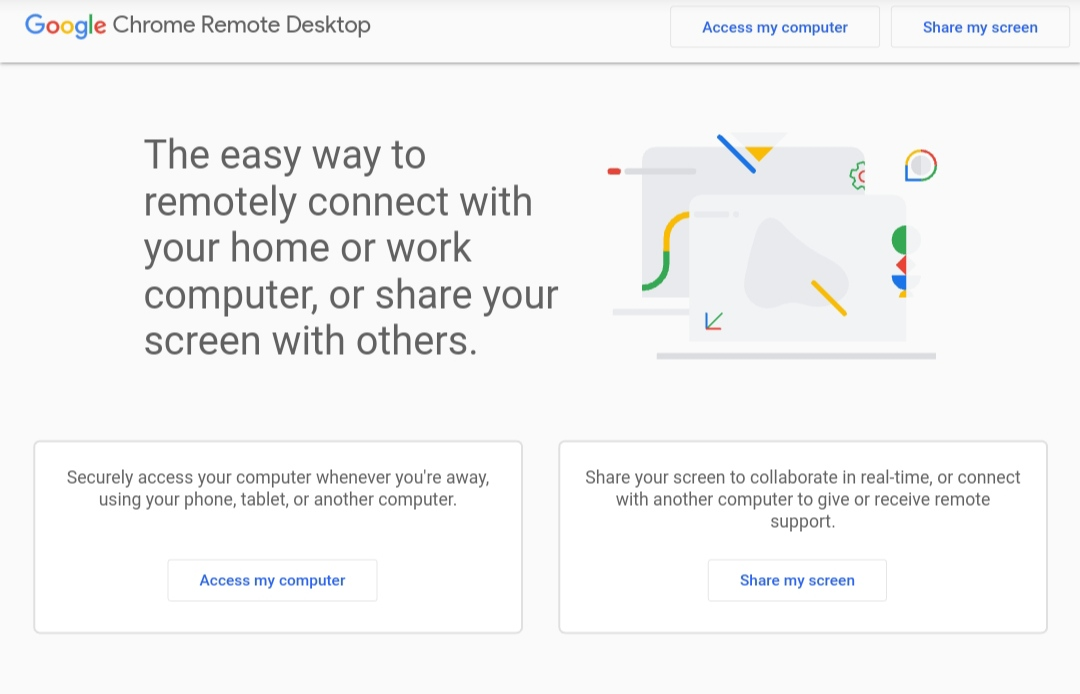 Google has never liked to play on the sidelines, so it's no surprise it ventured into the remote desktop software and access tools market.
This software started as an extension of Chrome's browser but was eventually created to work independently. This desktop software is offered for free by Google and is accessible by anyone with a Google account.
If the remote desktop software is free, why would anyone bother using other remote desktop software? With its cost or lack of it comes a certain level of limitation as remote desktop software.
Features:
It offers a simplistic approach for use with a fast connection
Secured connection through WebRTC and allows for screen sharing
Easy customization of access for each device
With the use of an app
users can access the software with ease
when not logged in, it still allows users to have remote access
Cons
No file-sharing or remote printing is allowed
As a property of Google, the Chrome browser is the only way to access its functions.
Users will require a registered Google account to access
With limitations in security to HTTPS, a PIN would have to be generated by users every time they need to get access
It does not support chat
With all these cons, one would be wondering why it made it to the list of the best 25 remote desktop software and access tools. Your guess is as good as mine, it is free! Its functionality may be limited for use by businesses but great for individuals.
What better way to begin your remote desktop management; sign up for free software!
5. Zoho Assist
As a simple, price-friendly cloud-based remote software, Zoho offers all the features required in remote desktop software. The company currently offers a 15-day free trial and sign-up. Zoho provides an easy and quick way of making remote software available to clients.
If you need your quick support issues to get solved, Zoho Assist is there for you. Imagine the times of COVID and the long-distance customer issues, Zoho will be good for you.
Features:
Unattended remote access to computers from anywhere in the world
Screen sharing and file transfer
Record sessions that allow for playback and audit trail
Instant support is available 24/7
Multi-factor authentication, secured with SSL and 256-bit AES Encryption
Firewall-friendly and antivirus compatible
Customization and integrations
Subscription Plan
Zoho Assist has two main plan tiers and also offers a free plan for users on a budget
Free plan – This includes a remote support technician, SalesIQ and Desk integration, UAC compatibility as well as MAC support, a single concurrent session, up to 5 unattended computers, seamless user management, a desktop app, and instant messaging.
Remote support – This has three plans that include Standard, Professional, and Enterprise. Each has a starting price of $8, $13, and $21, respectively.
Unattended access -This comes in 2 sub-plans known as Standard and Professional. Both allow for up to 25 unattended computers and have a starting price of $8 and $13, respectively.
Grab your 15-day free trial here!
6. Parallels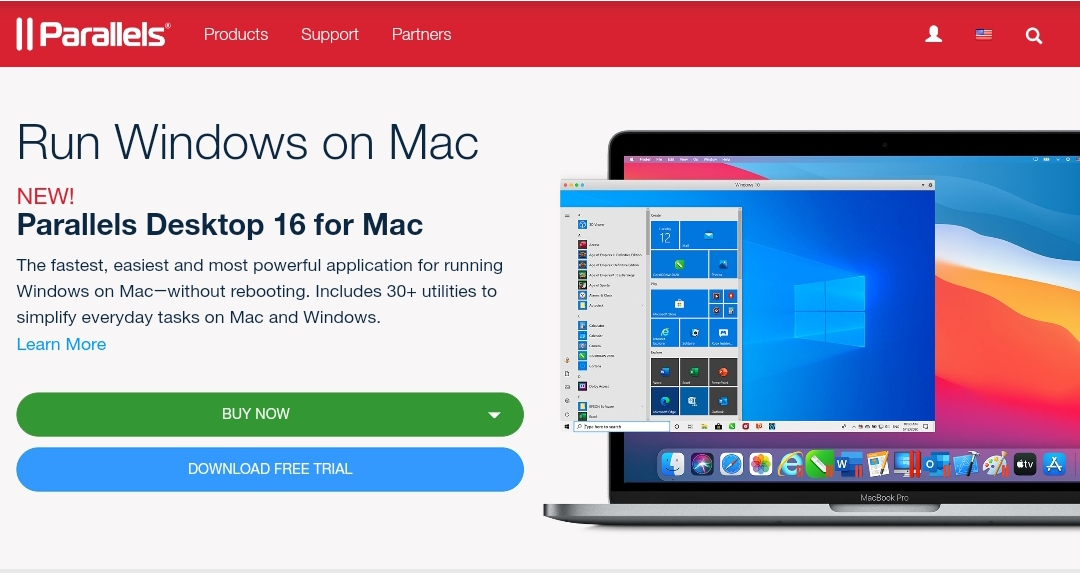 It is one of the most mobile-friendly remote desktop software available in the market today. The first administrative tool product launched in 2004 allowed users to enjoy multi-computer virtual access.
One of its leading products is mobile-friendly Parallels Access. Specifically designed to run on mobile devices, the user interface is top-notch. They also offer a variety of options for different computer software.
Features:
Easy access to files on computers through mobile devices
Instant chat is available, as well as 24/7 support
SSL data security for secure connections through its 256-bit AES encryption
Subscription Plans:
Categorized in terms of user type, the company offers two primary types of plans. These are for Business and Home use.
Business
Parallels Remote Application Server -This has three modules differentiated by the number of years of subscription. $99.99 for a 1-year subscription, $189.99 for a 2-year subscription, and $269.99 for a 3-year subscription. All are available per concurrent user.
Parallels Desktop for Mac Business – This has three editions available for purchase. For student or home use, the Desktop price starts at $79.99. At $99.99/year, users can opt for Power users, developers, and testers Pro Edition. Business Edition, designed for use in the work environment, comes at the exact price.
Parallels Desktop for Mac Pro Edition – IT professionals or everyday users who own Macs but intend to run non-Mac apps can make use of this plan.
Parallels Desktop for Chromebook Enterprise – The fantastic thing about this module is not only the possibility of running Windows applications on a Chrome device but its offline mode of operation.
Parallels Mac Management for Microsoft SCCM – With this, users can connect and control files from both Mac and Windows systems from the comfort of a remote computer.
Parallels Access for Business – This comes in two significant plans; Personal and Business. The Personal module has a 1-year plan price of $19.99 and a 2-year plan price of $34.99. The Business plan starts at $49.99 for a 1-year and $89.99 for a 2-year subscription.
Home
Home Use plans are also available on their platform under three major types. These are the Parallels Toolbox for Mac & Windows, Parallels Desktop for Mac, and the Parallels Access.
Parallels Toolbox for Mac & Windows – It comes with an administration toolbox to help manage files on Windows or Mac systems.
Parallels Desktop for Mac – Explicitly designed for use in the home, the available Toolbox allows for easy use of Windows applications on a Mac system.
Parallels Access – Remote working has never been made easy than through the solutions offered by this module. From the comfort of your home, make connections and control and manage files from anywhere in the world.
Are you an IT professional looking to take remote control of the world? Give Parallels a try!
7. TeamViewer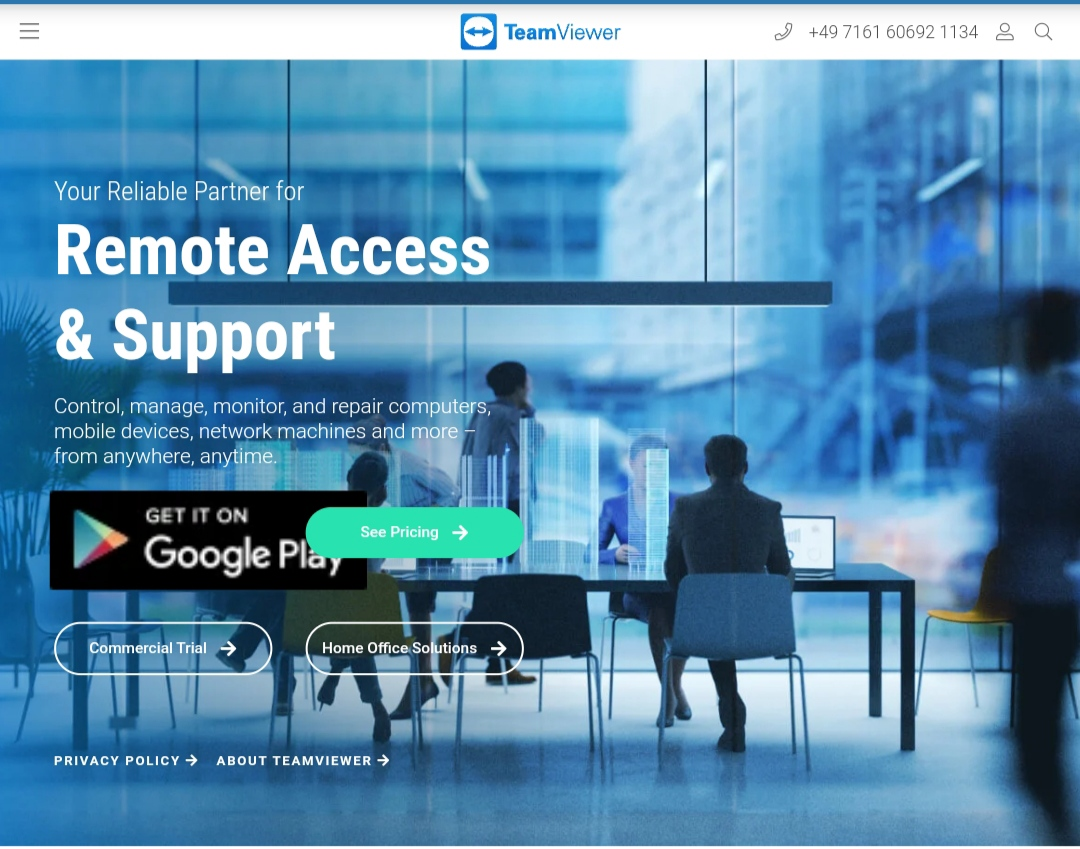 The company launched the software sometime in 2005. As its name suggests, it allows multi-users to access the computer remotely.
It is a remote access software that is powerful and it allows remote access to mobile devices, computers, network machines, and others to and fro. Unfortunately, you may find it really expensive compared to other programs.
A significant advantage of this software is its ease of use when centered on team collaborations. It is enormous when it comes to presentation and communication features.
It allows for about 400,000 downloads daily, with up to about 45 million devices being connected online simultaneously all over the world.
Features:
Provides remote support anywhere in the world
It is mobile-friendly and supports all major mobile device platforms
It offers IoT assistance to detect and resolve problems remotely
It has a tremendous global video conferencing feature
Subscription Plans:
TeamViewer offers three main plans to service user types.
Single user – It allows for one user per session and comes with a Business License. Priced at $23.90/month, it comes with custom branding, licensed users, remote control and access to a computer, phone support, file sharing, unlimited endpoints, and unattended secured access to the computer. It supports add-ons of mobile devices if needed.
Multi-user – This comes with a Premium License and allows for multiple seats per remote session. It has all the features of the Single User with other additional features. Add-ons also include their Service camp Service Desk. At $47.90/month, the plan is available to users.
For Teams – With three remote sessions allowing multiple seats, this plan is priced at $93.90/month. It comes with a Corporate License and has all the features of the previous two subscriptions combined. Its add-on also includes extra concurrent users.
Create an account and remote control your world here!
8. SolarWinds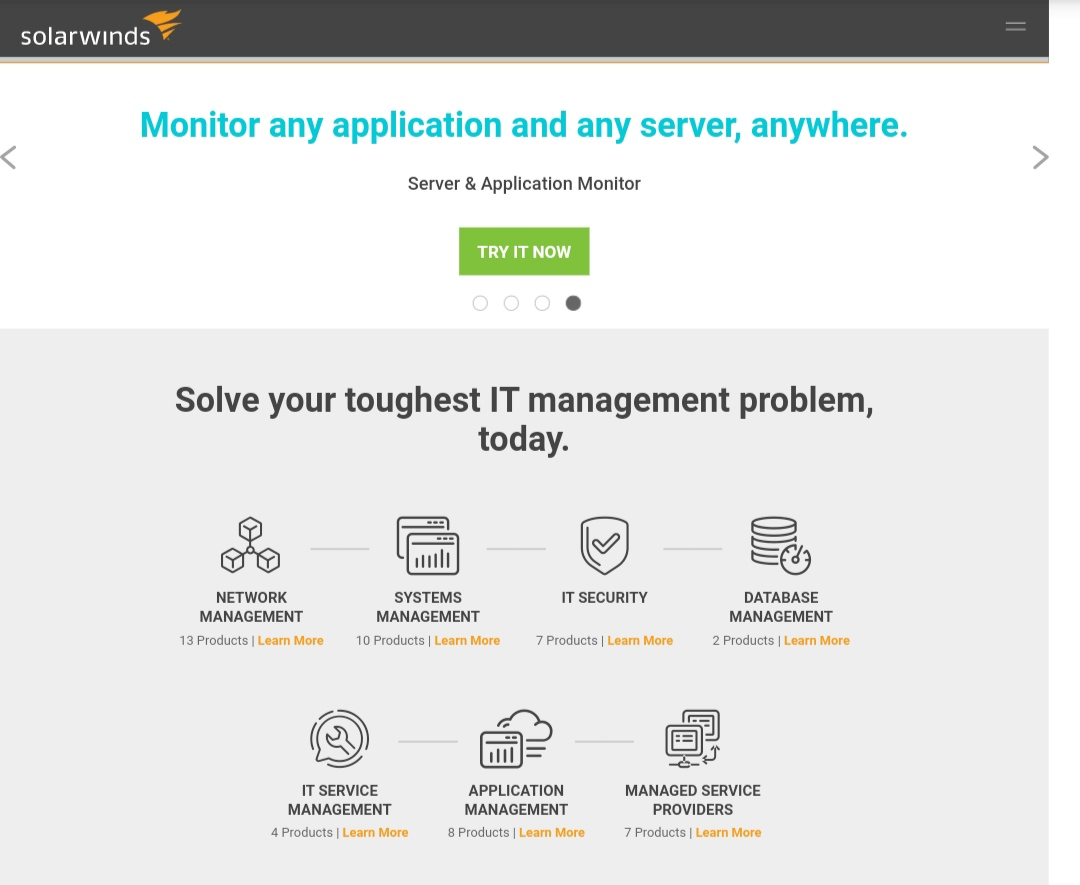 In the world of management software, the company is one of its leaders. They have been in the business for over 20 years. IT professionals can solve problems remotely, either in the cloud, on-site, or hybrid, with this remote desktop software.
Features:
Comprehensive support capabilities
Multiple access to different computer software platforms
Automation of support tasks
Good remote management of files and directory
Subscription Plan:
The software comes in two major types. These are the Remote Everywhere and Remote Support.
Dameware Remote Support – Depending on the number of technicians needed, the price per license varies. Starting at $407 per license, this allows just a single technician. All of these have unlimited end-users. The plans include free product updates, unlimited access to product training in their academy, and 24/7 technical support. Users can enjoy their 14-day free trial offer.
Dameware Remote Everywhere – This plan has a starting price of $540/year for a single technician. Like the previous plan, users get a 14-day free trial period and sign-up. This software can support 500 endpoints effortlessly fully. Just like the other plan, technical support is readily available 24/7.
What are you waiting for? Sign up here!
9. Microsoft Remote Desktop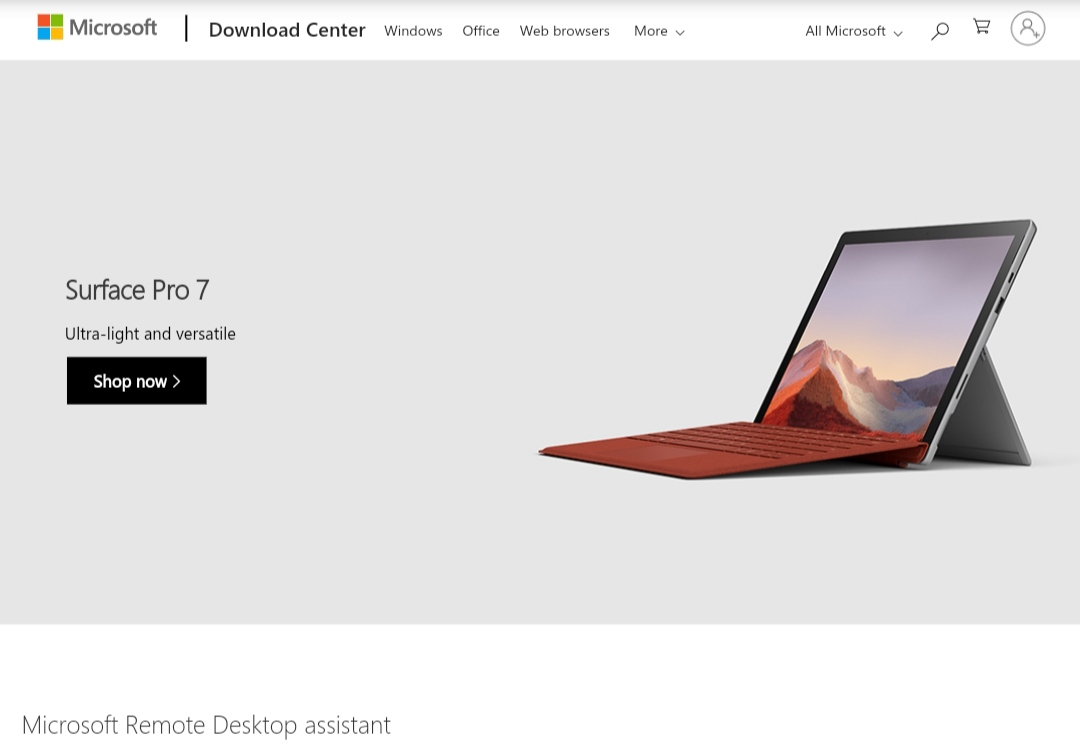 Microsoft engineers this remote desktop software. It pretty much does what any access and control management tool should do.
Features:
It allows for easy installation of about eight devices on the go
Screen viewing and capture capability
Secured encryption connection between devices
Easy access to remote files
Supports all computer and mobile device platforms
Running on Microsoft desktop protocol, the software is free to use and access.
Cons:
Set up is not as easy to do if one is not tech-savvy. Connecting computers outside the office requires basic tech knowledge.
Although it's free to use, there's a restriction on Windows compatibility. It only works on WindowsPro, Windows Business, and Windows Ultimate versions. You'll need to upgrade your Windows version if you're not currently on any of these.
Rebooting a remote computer is practically impossible. It means automatic reconnecting is not always possible.
It's impossible to know what's happening on the other end as a remote user because the software locks the screen.
This remote desktop software is ideal for use for conventional work and home network administration access. If you're looking to provide technical support or IT-related solutions, this may not be a preferred choice.
Get the best out of your Windows PC today!
10. Perimeter 81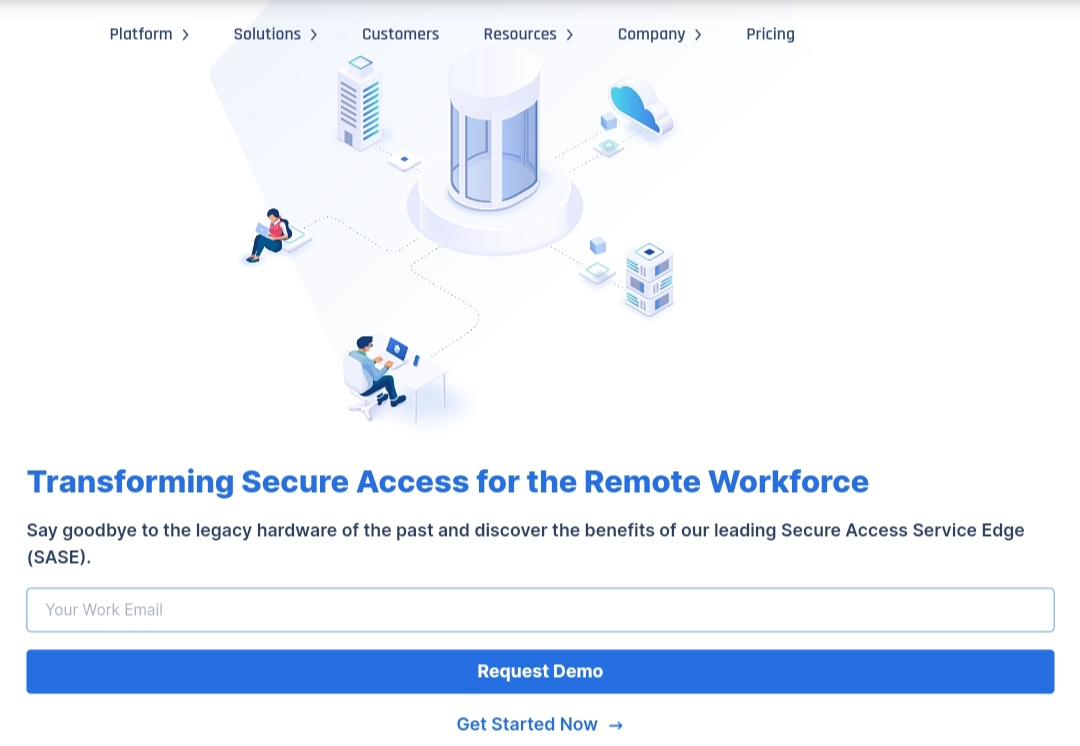 The company, launched in 2018, shares a vision to simplify remote access to devices through a more secure network. It also seeks to integrate and allow for seamless collaboration between computers and mobile devices.
Features:
It has multi-layered security, which includes DNS security, SSO, and 2FA, amongst others
Easy customization of access management
Easy integration with top cloud service providers
Reports on activities and audits are readily available
24/7 technical support
Subscription Plan
It has three main plans – Essentials, Premium, and Enterprise
Essential – All fundamental features required in remote desktop software are readily available. It allows for a minimum of 5 users. The plan is open at $8 per user/month.
Premium – This features more advanced management and security tools. It allows for a minimum of 10 users, with a starting price of $12 per user/month.
Enterprise – The plan offers more advanced features and add-ons than the Premium plan. The website has nothing about subscription pricing on its website. A call to support staff will help get a more exact price.
Make that call and get started now!
11. UltraVNC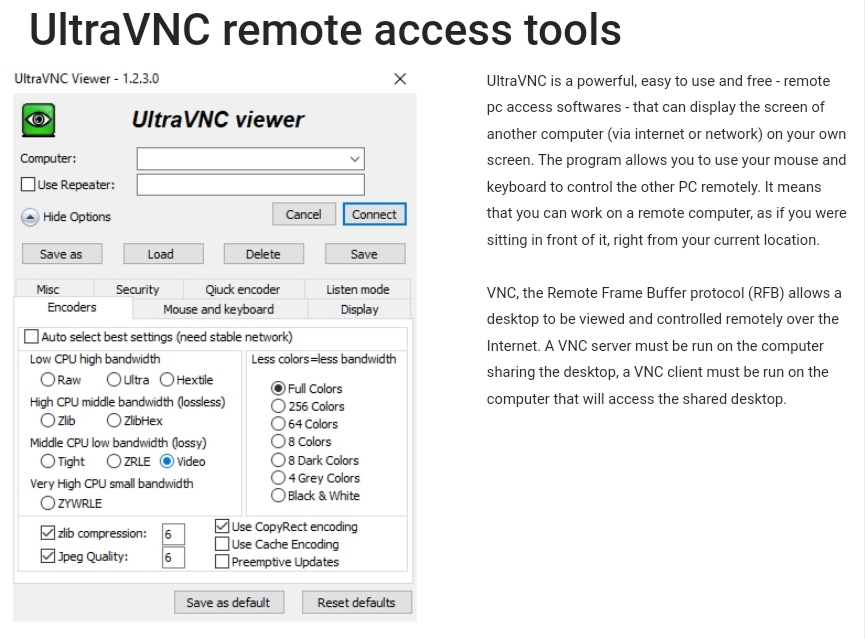 It is another good remote desktop software solution for homes and businesses looking to have remote access to their computers. It offers all the basic features of any administration tool. It is best suited for on-site control of files with easy transfer between computers.
Features:
It allows for easy file sharing and management
Screen viewing and sharing
Secured connections through plug-in encryption
Instant messaging
Subscription Plan
UltraVNC does not offer any free trial but does have a free version for download. The software provides four major modules to its users.
UltraVNC – Access is granted through the use of an IP address. The module includes GPL, encryption key plug-in, file transfer, instant messaging through live chat, and uses a TCP network protocol.
UltraVNC SC – This has a slight difficulty level than the previous module. It has most of the features and also uses a TCP network protocol.
PcHelpWareV2 – The bundling of GPL is not allowed here, unlike what is obtainable in the previous two modules. It uses the UDP network protocol and access code to gain access to the system. 256-bit AES encryption secures, with password characters of up to 32 characters. Users can perform file transfers through chat. It has more easy to understand than the first two modules.
Uvnc2me – Features are almost similar to the previous plan. It has the lowest manager difficulty level.
Download your free version here!
12. AnyDesk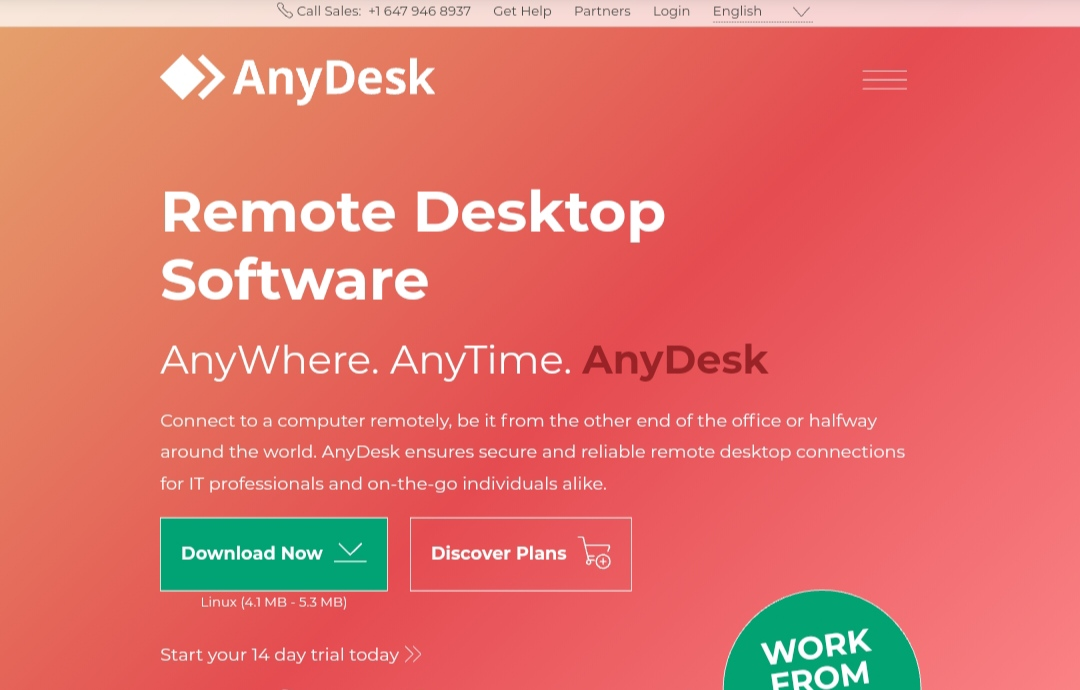 With over 300 million users worldwide, with a recorded 14 million add-ins every month, AnyDesk is a one-stop shop for remote desktop connection and access tools. Founded in Germany in 2014, the company is one of the top 50 fastest-growing companies in the country. The software prides itself on ease of use for both IT professionals and everyday users.
Features:
TLS 1.2 security helps keep computers safe from hackers
Flexibility and accessibility from anywhere
File transfer and management, as well as audio files
Updates are done automatically with this license cover
Works on all computer operating systems
Subscription Plan:
The Company offers three plans for its customers.
Lite – If you're a freelancer or just a small business, this plan fits right into your needs. It allows for one device and only a single session. It is priced at $10.99/month and billed annually. The plan features include auto-discovery, file transfer, whiteboard on-screen, compatibility with mobile devices and easy control, and remote printing.
Professional – Allowing for one or more sessions, this plan is ideal for users with more extensive volume needs. At $20.99/month, this plan is suitable for medium-sized businesses. All features from Lite are available with a few additions.
Power – If the name isn't self-explanatory enough, this plan is ideal for larger businesses looking for more sessions. This plan is up for grabs at just $52.49/month with multiple devices connected and unlimited sessions.
Become an AnyDesk subscriber today!
13. ConnectWise Control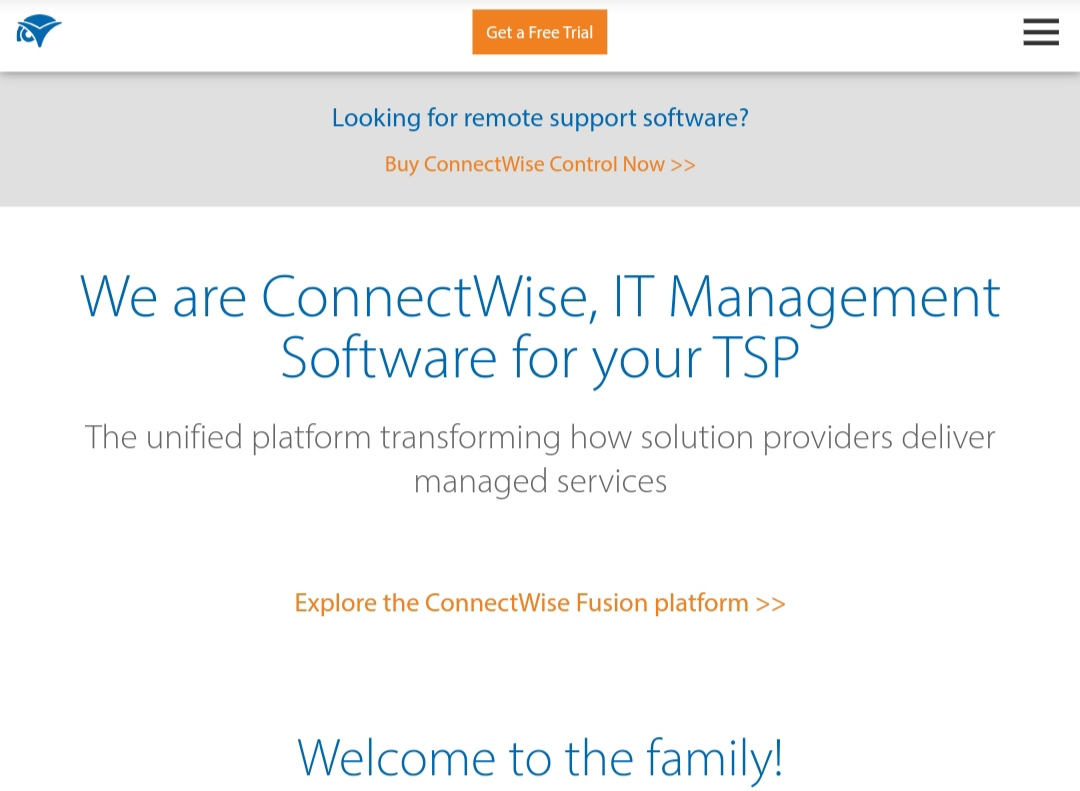 It is one of the leaders in remote administration control and support. The company changed its name from ScreenConnect and has improved ever since, providing ease of use for IT professionals. When it comes to remote tech control and support, this is one of the software that stands out.
Features:
It offers excellent collaboration tools as well as discussion groups and forums.
Remote control and access
Easy tasks and meeting management
Video chat and conferencing
Live chat and support
File sharing and third-party integration
Subscription Plan:
There are numerous plans available for users. The focus here will be on the Control Support plan.
One – As the name implies, comes with just a single license and only a single connection. It offers two monthly prices depending on if one is paying monthly or annually. The monthly payment, annually, is available at $19/month, while the regular monthly payment is available at $24/month. It caters to a maximum of 10 unattended computers with ease of access.
Standard – A user can establish three connections at the same time. Access to unlimited unattended devices and supports the two major mobile software platforms. The price is $35/month per concurrent session.
Premium – Up to 10 connections can be made, at the same time, by a user. It includes all features in the Standard plans and a little more. The subscription is available at $45/month per concurrent session.
Hurry now! Join the family
14. Ammyy Admin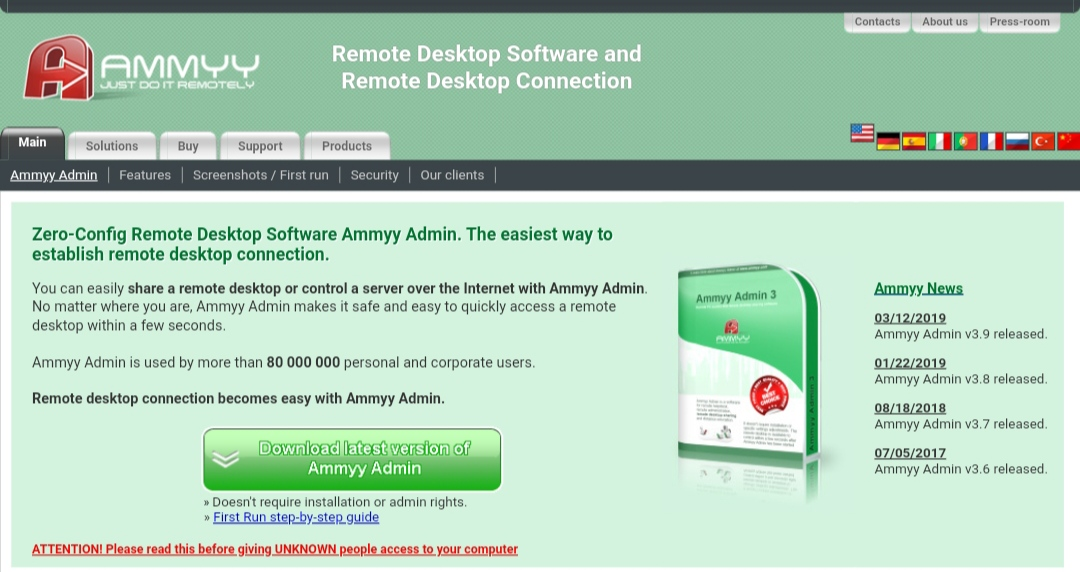 The company developed the product in 2007. The company prides itself by simplifying and easy-to-use remote software for IT professionals and general users. The software is a perfect blend of usability and functionality.
Features:
It doesn't require installation
Compatible with firewalls ensuring ease of connection
One of the best-secured data transfer connections through AES & RSA encryption
Access to unattended computers with quality controls
Voice chat enabled
Subscription Plan:
The company offers a free plan as well as three paid subscriptions.
Free – It's suitable for use for non-commercial purposes. Access could be limited if used more than 15 hours a month. In addition to this, the company decided what this limit entails and would usually not notify users before making changes.
Starter v3 – It is currently being offered at $33.90. Although there are certain limitations, it has much more features than the free plan.
Premium v3 – It comes with a license for 50 or more computers. It has all the features of any remote desktop software. At $66.90, this is suitable for medium-scale businesses.
Corporate v3 -While this has all other plan features, it allows for more integration and collaboration of more computers. The plan's price goes to $99.90.
Choose a plan that fits your needs. Do it here!
15. SysAid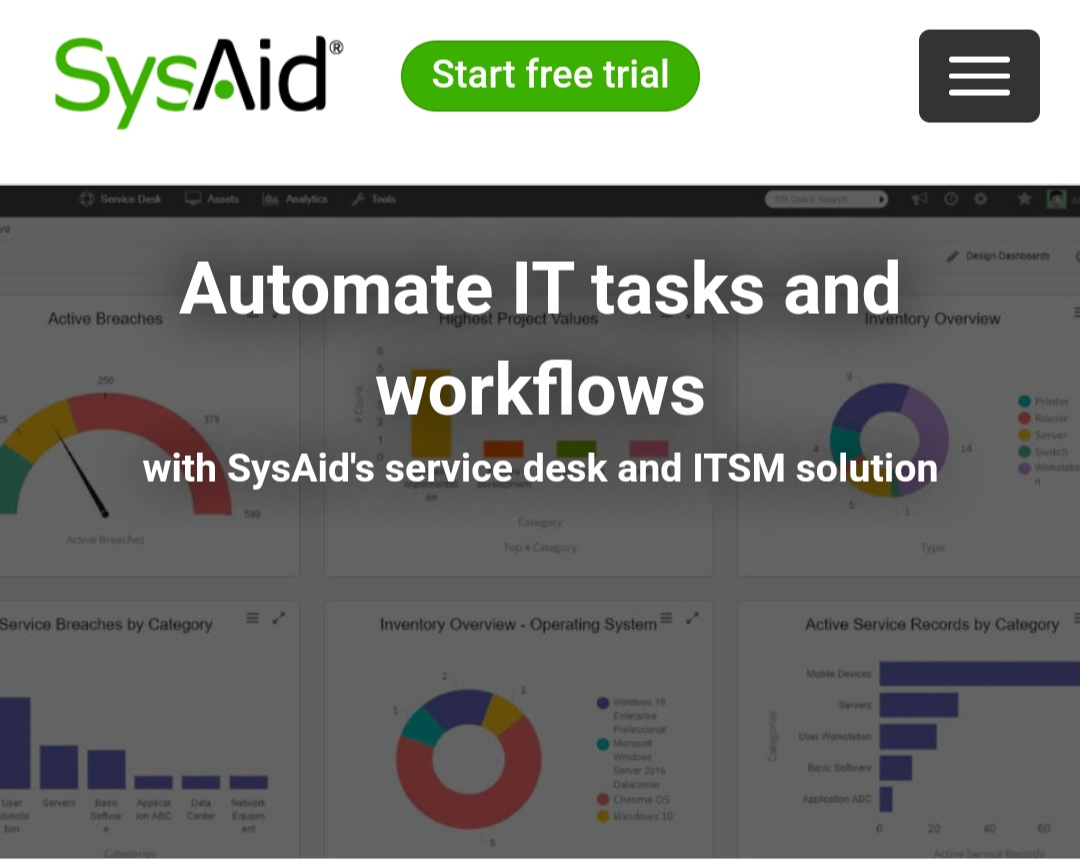 The company was created in 2002 with a mission to assist IT professionals with their day-to-day jobs of providing solutions to the ever-growing computer world. With a customer base spanning 140 countries, the company currently has an active user population of 10,000 companies, including some Fortune 500 companies.
Features:
Powerful help desk management tool
Easy optimization of performance
Automation of important services
Subscription Plan
The company offers a 30-day free trial to first users and has a free version available for download. The company's website does not have prices for its subscription plans readily available on the website.
They encourage users to send in details of their needs, to have services and pricing tailored for them. However, the company offers three different products- SysAid Cloud, SysAid On-premise, and SysAid MSP.
SysAid Cloud – In recent years we have seen the effectiveness of cloud solutions. Cloud-based solutions do not require server installation or upgrades. It ensures you save a lot of money on the purchase of hardware. The product offers three plans – SysAid Basic, SysAid Full, and SysAid À La Carte.
SysAid On-premise – The product offers a simple solution to asset management tools, allowing users to control their file management experience fully. Three features that stand out from others are its flexibility, automation, and provision of analytics. It also comes in the same plans as obtainable in SysAid Cloud.
SysAid MSP – Fully recognized as Managed Service Providers, offers IT professionals with management tools that allow them to work with multiple companies. It means it fully has multi-language and multi-companies capabilities. IT professionals can manage and control and work with different clients from a single remote system with its unlimited user base feature.
Take advantage of the 30-day offer while it lasts!
16. Radmin3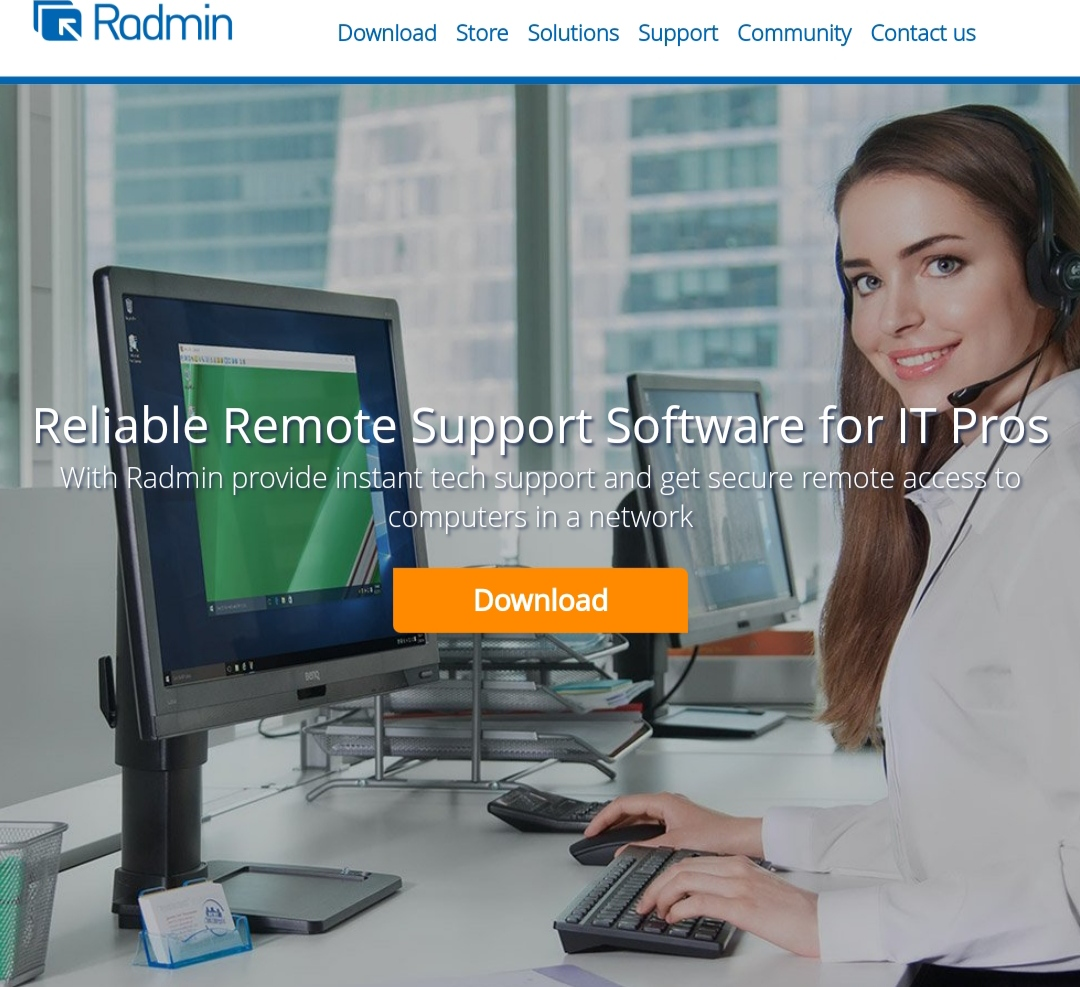 The company behind Radmin is Famatech. The company first launched the Radmin product in 1999 to provide computer access solutions. Since then, the company has continued improving the software, fine-tuning it to industry standards.
According to the company, 40% of Fortune 500 companies use the software. For over 17 years, the company had an active worldwide user base of 18 million and serves over 27 languages.
Features:
It has a fast operating speed, which allows for a quick connection between computer systems.
Secure connections are achieved through itsWith its AES 256-bit encryption.
It is user-friendly and allows for seamless updates
The software enables maintenance on unattended computers, with easy access
Subscription Plan
With just a click, Radmin is available for a 30-day free trial. The company offers the software to users to feel what they have to offer before making any commitment. The software has s flat rate of $49.00 one-time payment.
Get started right now!
17. Goverlan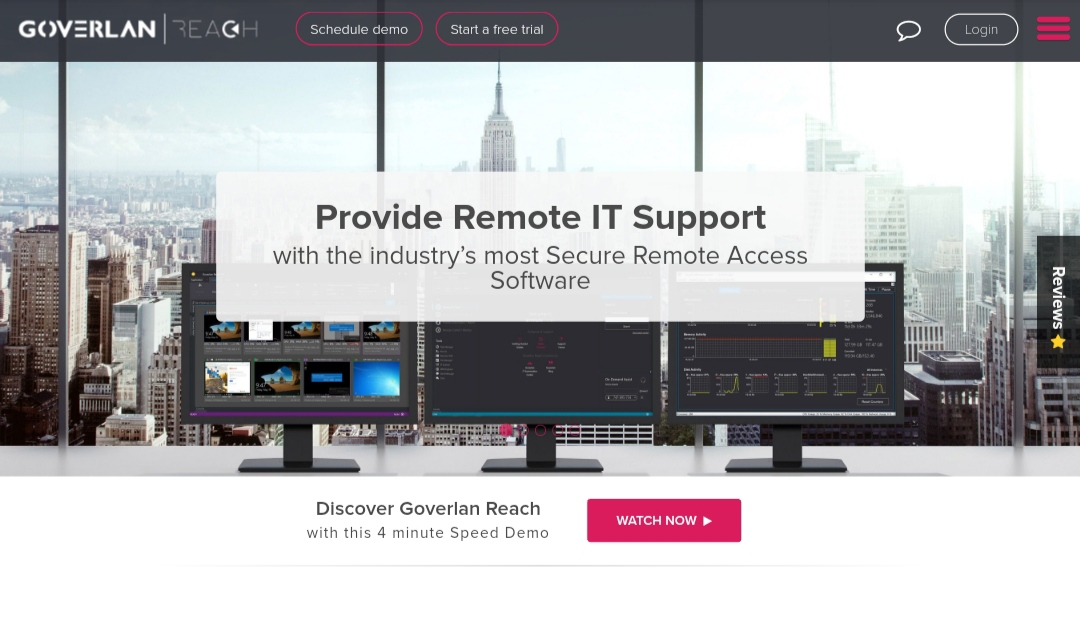 Rated amongst the top 100 software companies by G2Crowd, the company sits comfortably as a reliable remote desktop software provider.
The company offers two main software products – Goverlan Reach and Goverlan MDM. With Goverlan Reach's help, IT professionals can control and provide solutions remotely from anywhere in the world. Goverlan MDM works best in controlling mobile devices remotely from anywhere.
Features:
IT Compliance
Easy Remote control from any location in the world
Users can actively manage the directory
Smart Card support
Unattended access to multiple computers
Subscription Plan
The company offers three main plans and an add-on package for users looking for an upgrade.
Standard – This comes with all the needed features required for practical IT support. The plan price starts at $29/month, billed annually.
Professional – Starting at $69/month, the plan comes with more advanced features than its Standard counterparts.
Enterprise – IT professionals looking for maximum control power, will love to opt-in for this plan. It starts at a base price of $129/month. It is an annual payment.
Incidental module – This comes as an add-on package with added features like automation. For just $55/month, upgrades can be made but only to the Professional and Enterprise plan.
18. Netop Remote Control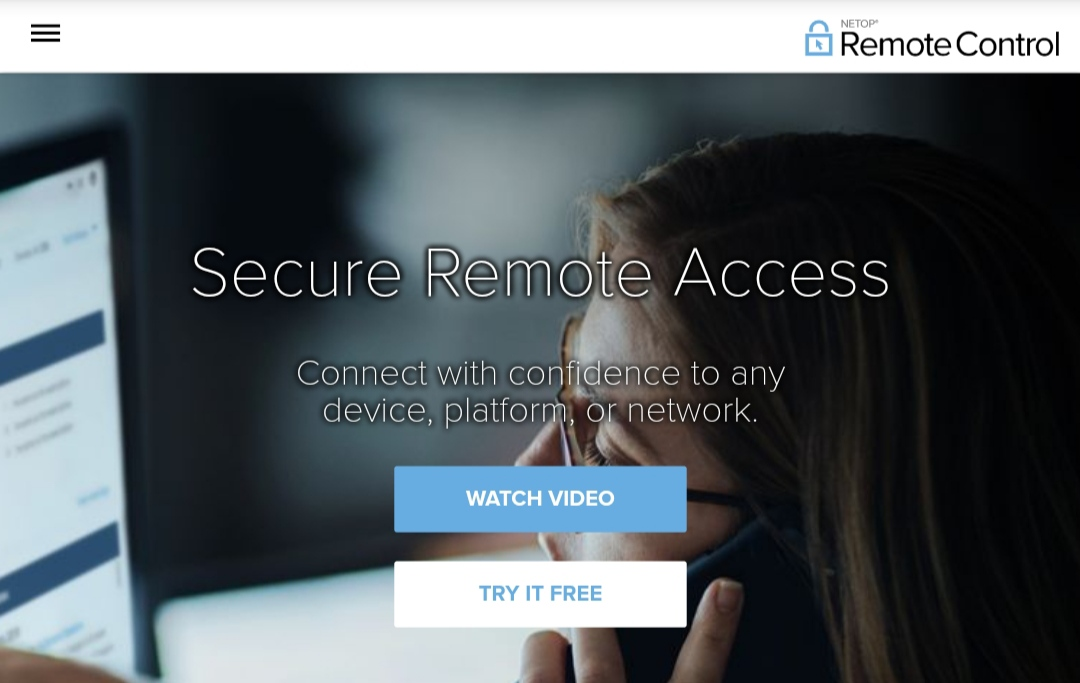 Headquartered in Birkerod, Denmark, the company was founded in 1981. The company produces software solutions to assist in the control of smart devices and computers remotely.
It provides services to millions of people worldwide and allows over 100 million fast connections every day. According to the company, about half of Fortune 500 companies use its software.
Features:
Supports connection to any device, irrespective of platform
Allows for all types of hosting – Cloud, on-site, and hybrid
Provides analytical tools to help users
Screen sharing
Recording and transfer of sessions and files
Live chat support
Subscription Plan
Not much is available on their website with regard to their actual pricing. They do, however, offer a free trial of the software. The company promises there would be no need to input credit card details before attempting a free use.
During the free trial period, users can connect up to 5 devices. A free version is also available for download. Pricing is more customized to users' needs.
Start with your free trial here!
19. FixMe.IT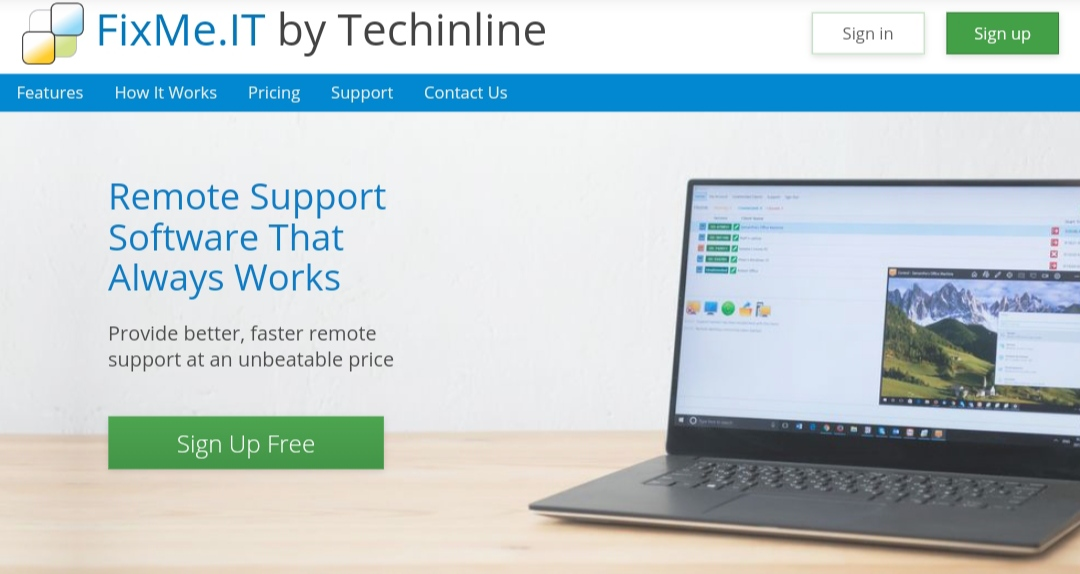 Techinline Company is the owner of this software solution. The company is in Toronto, Canada. The ease and reliability of software remote control are paramount to achieving its success.
Features:
Multi-session handling allows computers to be connected and controlled remotely.
Effortless file transfer
Live chat and support
Automatic reboot and reconnection
Secured connection with two-key authentication
Availability of whiteboard tools and easy administrative tasks completion
Subscription Plan
The company offers just two billing plans – monthly or annual plans. The monthly plan is priced at $30 per seat/month, while at $300 per seat/year, you can have the yearly plan. With the annual plan, users get to save $60.
Sign up for free and save $60 here!
20. Splashtop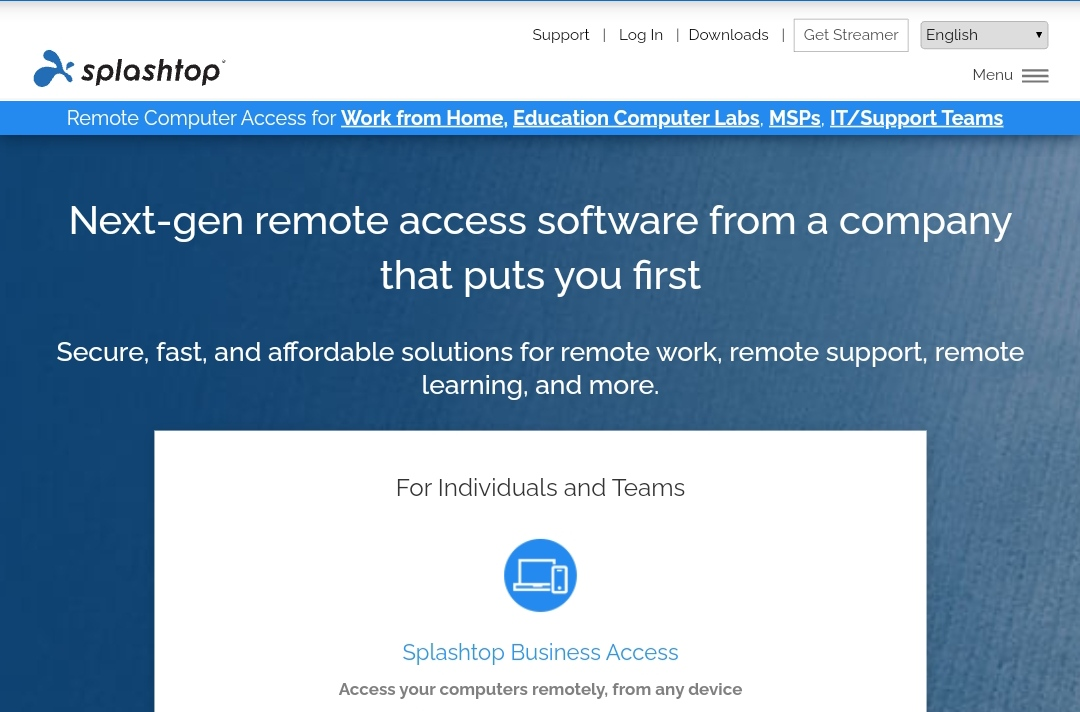 Formerly known as DeviceVM, when founded in 2006, the company did not set out to be a remote desktop software provider. In 2010, the company rebranded and decided to develop software that would provide easy access to devices from a remote location
Headquartered right in Silicon Valley, more than 30 million users are currently using the software, with combined sessions of over 800 million.
Features:
Great collaboration tools for teams
Remote control and support
Instant messaging
Easy monitoring of user's activities
Screen recording and sharing
Easy file transfer
Remote printing enabled
Analytical and diagnostic tools
Mobile friendly
Subscription Plan
The company offers four categories for users to choose from, depending on the purpose of use. These categories include Business & Individuals, Managed Service Providers, IT, Support, Help desk, and Education.
Splashtop Business Access
Business Access Solo – This is designed for individual users. The plan allows access to two computers only. With the subscription billed annually, it starts at $5/month. Users can initiate remote printing, logging, file sharing, and switching between computers.

The only drawback here is that it allows for viewing remote computers one after the other. The company does not offer monthly billing for this plan.

Business Access Pro – At $8.25 per user/month, the plan is up for grabs. This plan allows access to about ten computers. Users with small businesses or individuals can opt for this plan. It includes all of the features in the Solo plan and has additional features.
However, it offers a specific discount depending on the number of users connected. Although billed annually at $99, with 4-9 users connected, the plan allows customers to save up to 20%. With ten or more customers, you get to save 25%.
Splashtop Remote Support
Premium – it allows the connection of up to 25 computers. It has a starting price of $40/month and is billed annually at $479. It comes packed with lots of features. 0
SOS
SOS – Its plan allows users to use an unlimited number of on-demand devices. It is available at $15/month, billed annually at $169.15 per concurrent user or technician.
SOS+10 – Allows for unlimited support of devices like the previous plan but has included unattended access for up to 10 computers. It is being offered at $16/month and billed annually at $186.15 per concurrent user
SOS Unlimited – Currently being offered at $29/month and $339.15 per concurrent user/year. According to the company, this plan provides the best value for service.
Enterprise – Among other features, comes with unattended Android access, easy SSO/SAML integration, and remote desktop management.
Splashtop Education
Mirroring360 Pro -This plan allows users to share and mirror mobile device screens with their computers. It can accommodate, with ease, up to 40 devices connected at the same time. With no hidden or extra charge for students, the plan is available at $29.99/year per teacher. It has a free trial for first users.
Classroom Cloud – Teachers can control and manage files on their computers through mobile devices in the classroom. It allows for the sharing of educational materials with students. The starting price of $29.99/year allows a single teacher to connect with up to 3 students. For $99.99/year, the teacher can share with about 40 students. This plan also has a free trial offer.
Enterprise – This takes the Education plan to a whole new level because it allows teachers to have remote control access to school computers from anywhere. It has the basic features of remote desktop software and an access tool.
Remote working is the new norm. Take your business seriously and sign up now!
21. Apple Remote Desktop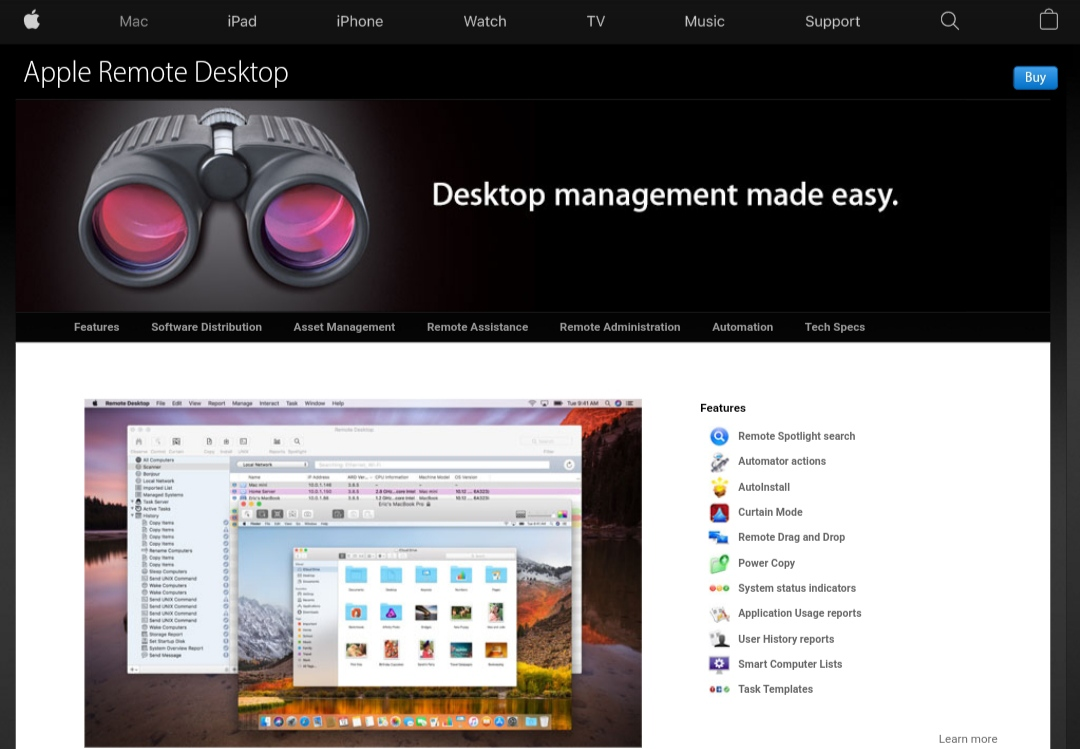 This remote desktop software is available for use on the Mac OS X platform. Designed by one of the world's best tech leaders, Apple, the software allows for easy file sharing and remote control management. 64-bit Intel is the minimum requirement for Mac for the software to run effortlessly.
Features:
Real-time updates of results
Management tools to keep track of connected systems
Unattended access to computers
AutoInstall features allow for easy updates and reboot
Curtain Mode provides privacy from other users or computers
Amazing UI
File sharing
With a one-time payment of $109.99, the software is available for purchase
Subscription Plan
A major noticeable drawback of this software is that it is not compatible with iOS. It means it is impossible to remote control your Mac from your iPhone devices.
Get the best with Apple remote software today!
22. Remote Utilities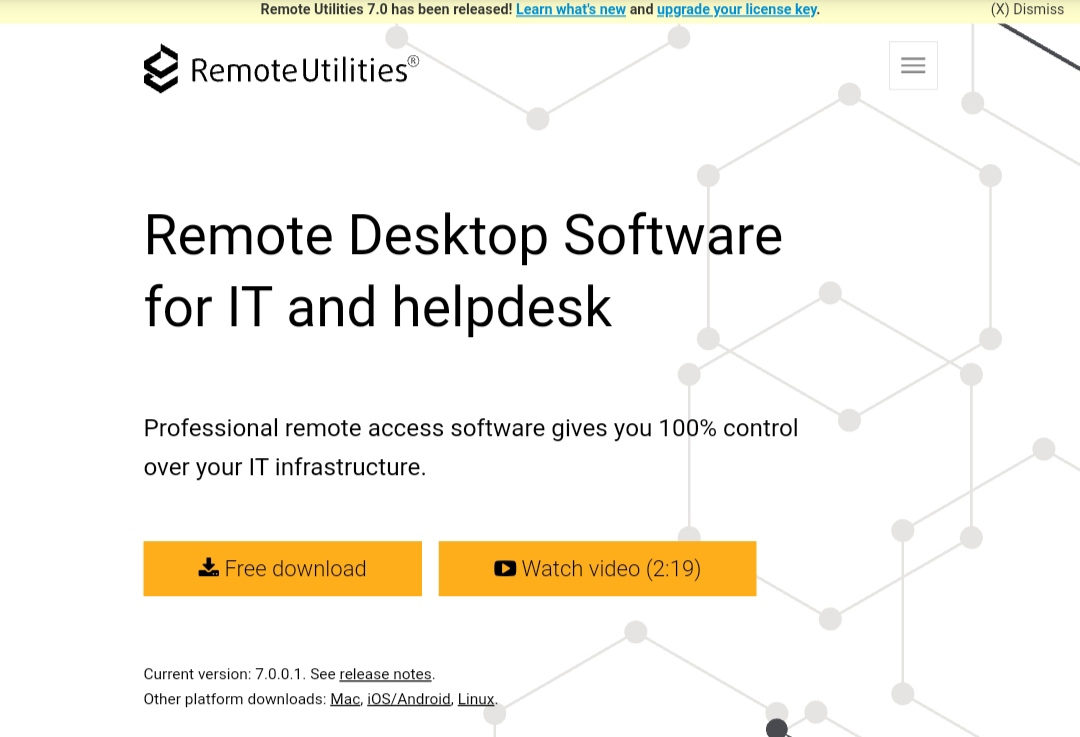 It offers simplistic, configurable remote desktop software that allows users to manage and transfer files between computers. It gives remote control access to connected computer systems, just like one is physically seated in front of an on-premise computer.
Features:
Secure connection through TLS 1.2 encryption
Firewall bypass
Easy customization with MSI configuration
Remote access/control
Two-factor authentication
File sharing
Ease of sharing and recording sessions
Subscription Plan
The company offers both a free trial and a free version of the software for first-time users to have a feel of it. Pricing for the software starts at $99.00. It is also available as a one-time payment offer.
23. SupRemo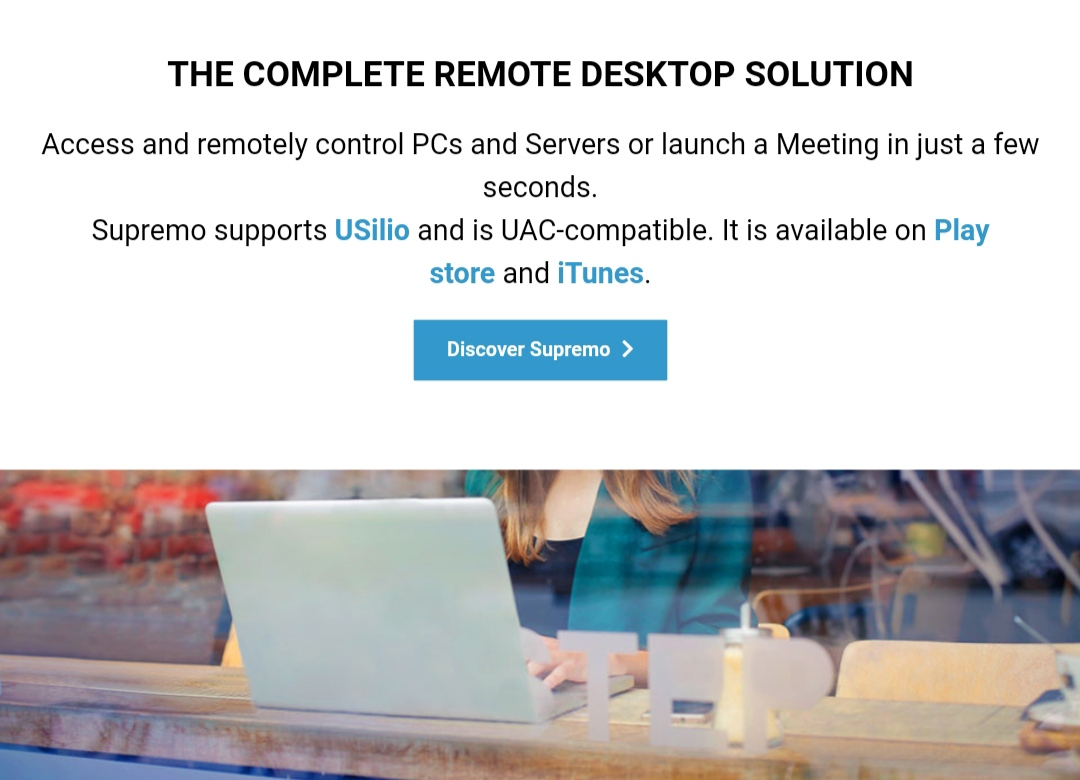 Nanosystems Company is the creator of this remote access and control software. The software offers users simple functionality and doesn't require the installation and configuration of routers and firewalls.
Features:
AES 256-bit algorithm secures connections between systems
Unattended access
The user interface is customizable
Seamless UAC compatibility
Works well with computer and mobile devices platforms
Subscription Plan
It comes with two significant plans for users to choose from according to their needs. Both subscriptions enjoy the basic features of remote control software.
Solo – This allows for just a single connection. At $39 for quarterly and $117 for annual payments, users can hope on the offer. Users are unable to add more systems to this plan.
Business -The plan allows for up to three connections at the same time. Expansion of connected computers is allowed for $16 for each additional user. This amount is applicable for the quarterly plan payment at $70.
The annual fee for this plan starts at $212. A cheaper alternative is a monthly payment plan of $6 per connection/month. It will cost $47 for each expandable connection.
Why wait to discover SupRemo? Begin your journey here!
24. AeroAdmin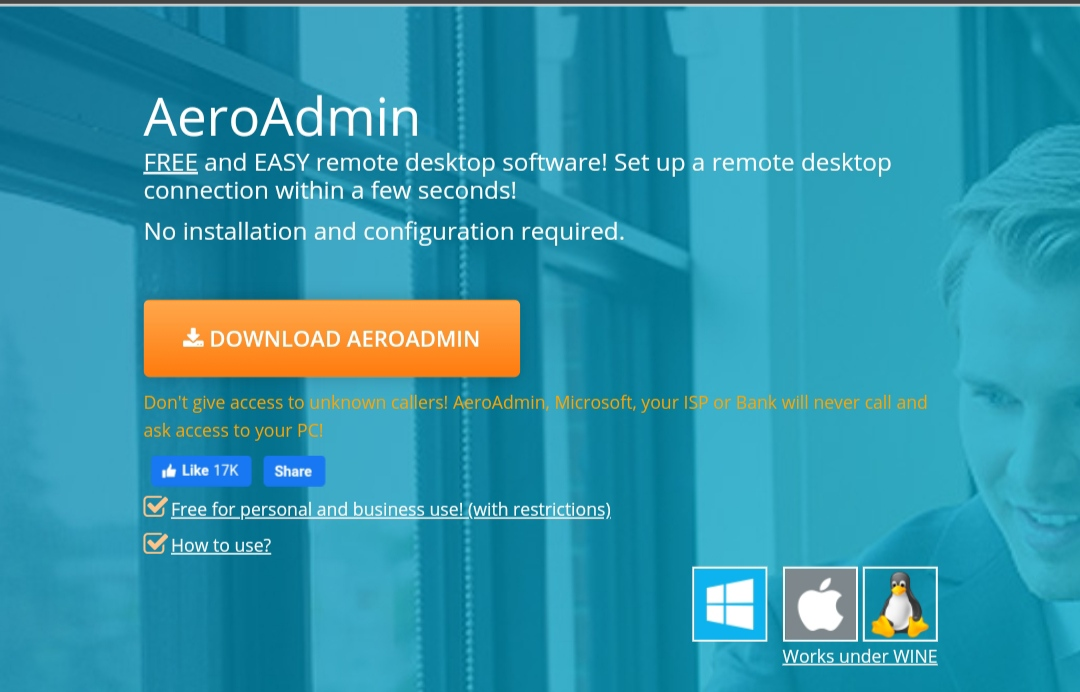 The company was founded in 2012 and provides easy-to-use remote control tools while ensuring top-notch security between connections.
The company says the software addresses the needs of everyone, no matter the purpose of the operation. With three basic principles in mind, simplicity, security, and reliability, the company says the software can rival whatever is available in today's market.
Features:
Do not need configuration or installation
Bypasses NAT and connects easily to different LAN
Uses both AES and RSA encryption to secure connections
File transfer
Session reports
Ease of customization
Subscription Plan
The software comes both free and subscription-based. For the subscription plans, three significant modules are for grabs; Pro, Business, and Corporate.
Free – It can serve well for commercial purposes. It does come with a connection limit of 17 hours per month. The total endpoints allowable per user ID is 20. One computer can only take on two concurrent sessions. All other essential features of remote desktop software are available.
Pro -This doesn't have a fixed price but is dependent upon the number of concurrent users. Its pricing starts at $89.90/year and comes with a single seat. Unlike the free version, this has unlimited connection time and endpoints. All other features present in the free version are available here. Added features like file transfer and remote reboot are available.
Business Plan – It has a starting price of $119.90/year for a single seat. The Pro's features are a multilingual interface, zero splash and ads, system key transmission, and technical support.
Corporate – It comes with SOCKS 4.5 PROXY support, customization, and remote Windows lock. It is available at $139.90/year for a single-seat package. The features in the previous plan come in this plan also.
Take flight with AeroAdmin here!
25. BeyondTrust Remote Support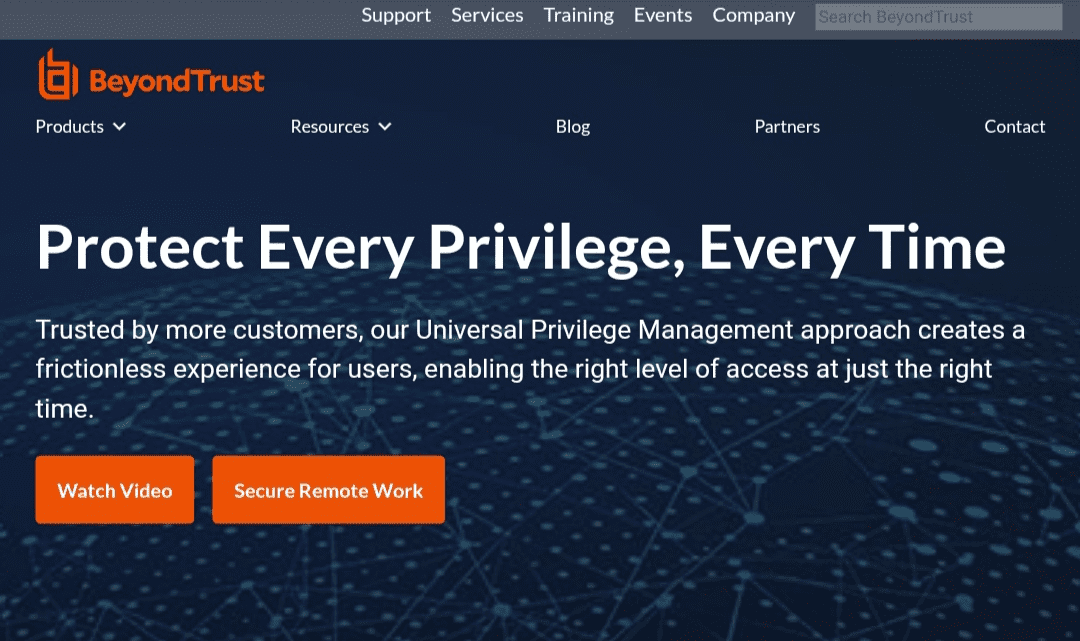 It offers quality remote support and control on devices on all computer and mobile platforms. The company prides itself as one of the world leaders in access management and remote computer control. They also serve about half of the Fortune 100 companies.
Features:
Remote control and access
Branding and customization
Collaboration between computers
Multi-factor authentication with TOTP native 2FA security
Real-time performance monitoring
Compliance and audit
Subscription Plan
The company offers a free trial for first-time users. There are only two plans listed officially on their website. Although much information is not expressly available on their website, the subscriptions are unique to customers' specific needs. One would have to contact the company's support to get a detailed plan pricing.
Cloud – This plan focuses more on the infrastructure aspect. Starting price listed is $2,097 per concurrent license for the first year. The subscription allows you to manage and control unattended devices and unlimited access to isolated networks, LAN remote access, and external networks. It runs on all platforms.
Owned Appliance – This plan is offered as a one-time payment and does not require monthly fees. Features include all available in the Cloud plan, including integrations, internal IT support, and all administrative tools.
Frequently Asked Questions (FAQs)
1. What is the difference between Remote Desktop System and Remote Assistance Access?
Both of these systems undoubtedly, share many similarities, but there are significant differences in both. These differences are what make each unique from the other.
As the name suggests, remote assistance access is needed to gain control and provide technical support and solutions. IT professionals usually use them to render these solutions. Support staff and the user are typically able to monitor activities on both systems.
On the other hand, the Remote desktop system allows users to control one or multiple systems from a remote location.
2. What is the ideal cost for Remote Desktop Software?
There is no straightforward answer to this question, and it would depend on many things. The most significant thing to consider is what the system needs. A budget, using this as a guide to see what products fit into it, can be drawn up.
There exists a wide range of pricing for users and prospective customers to select. As listed above, some are offered freely and still provide proper functionality.
3. What are the most common issues with Remote Desktop Software?
The whole idea of having remote access and control to systems is to organize and manage files quickly and conveniently.
Since the system is made possible by connections, having connectivity issues could seriously dampen the entire process. For this reason, top remote access solution providers compete heavily on the speed of the file and data transfer.
Another issue that could arise is privacy and security, especially since files and data are involved. Remote control solution providers go the extra mile to secure connections with up-to-date security and encryption features.
4. If there is free remote desktop software, why opt for paid?
Providers offering free remote access software do not do it to undermine those that require subscriptions. Most remote desktop software providers often offer trial versions and free plans too.
In comparison, free subscription functionality and those with a subscription (no matter how low the cost) can never be the same. Why it is needed will determine to a large extent if the free version or plans is sufficient. For this same reason, upgrades and add-ons exist to improve the functionality of the software.
Conclusion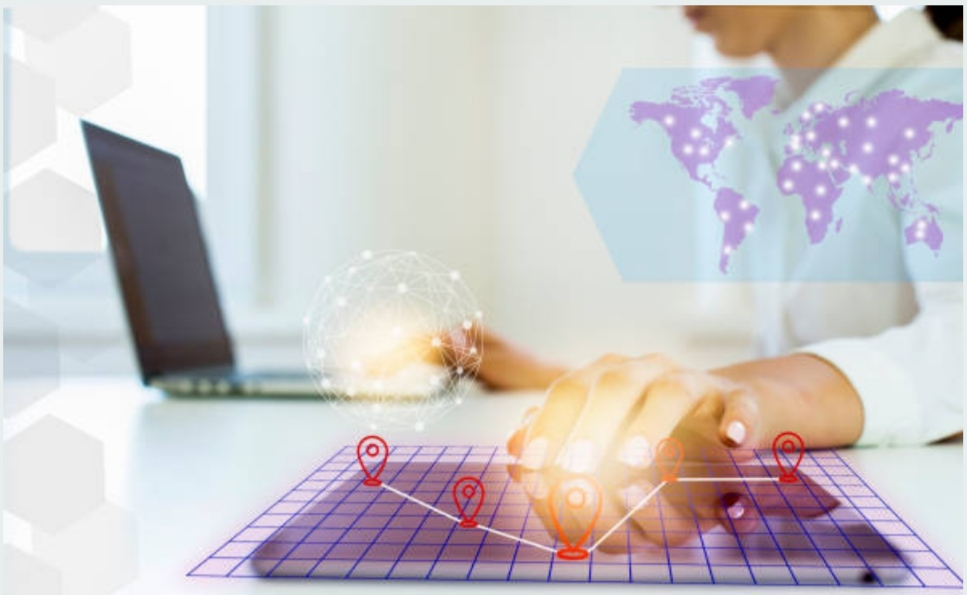 As the world moved on from an On-premise mode of working to a remote style, the need for remote desktop software and access tools has become a necessity, even in the year 2021. While the list contains the best 25 remote desktop software, it is not exhaustive in itself.
There are different factors one would need to consider before choosing any of this software. The most important thing is to ensure the choice made fits perfectly into the need of your business or home.