Last updated Apr. 26, 2023 by Favour Chinaza
Top 31 Highest-Earning Bloggers Who Make a Lot of Money Yearly
It may surprise you to learn that the most popular blogs are not always the richest or highest-earning blogs.
Blogging is one of the few online businesses that require little initial investment; all you need to get started is a laptop with an internet connection.
When your blog reaches a certain size, you can decide to upgrade to a better hosting service to accommodate the growing audience.
Today's most successful bloggers earning thousands of dollars monthly, started blogging as a hobby.
With millions of blogs scattered across the internet, only a few blog owners have figured out how to make money through blogging.
What Makes A Successful Blogger?
They delegate and outsource blogging.
They understand that knowing when to give up or keep trying is important to success.
Use practical tools to save time, money, labor, and other resources.
They are concerned with the big picture and have a big vision.
They are fully aware of the value they provide and charge accordingly.
Perceiving the ideas of their target audience and delivering amazing content as a result.
Spend a lot of Money on Search Engine Optimization.
They dominate their niche.
They concentrate on productivity and continuous improvement.
Good Read: The Best Online Freelance Writing Courses.
Top Highest-Earning Bloggers Who Make a Lot of Money
1. Arianna Huffington/$250 million per year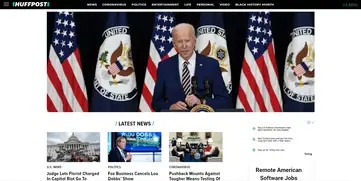 Arianna Huffington's Huffingtonpost.com grosses $14,000,000 per month
Arianna Huffington is one of the top blogging sensations and was named the world's richest blogger by The Observer. She is our top pick among the 31 Bloggers Who Make a Lot of Money.
The 71-year-old Greek-American blogger founded The Huffington Post (now known as HuffPost), is the CEO of Thrive Global, and is the author of 15 books.
Her most successful blog, The Huffington Post, is one of the most authoritative content aggregators and news websites in the internet space.
Huffington Post, like most other successful blogs, began as a hobby. Today, it is one of the most reliable and leading sources of original content in the United States, covering topics such as technology, comedy, world news, style, entertainment, and international politics.
According to the blog's analytics report, the site has a domain authority of 93/100, ranks 734 on Alexa's global website rankings, and has over 90 million monthly unique visitors.
The main source of income for this blog is pay-per-click advertising and sponsored banners.
Huffington Post earns an average of $250 million per month, contributing to an annual revenue of more than $1 billion, making it the most successful blog in the world.
As impressive as Arianna Huffington's accomplishment may appear today, remember that it did not occur overnight.
She claims that her success results from a decade of consistent efforts and dedication to developing her passion into what most editors and advertisers would love to identify with today.
2. Timothy Sykes/$1 million per month
Timothy Sykes is a penny stock trader and trading instructor who has made millions of dollars from a five-figure investment.
Sykes' eponymous blog is the most profitable on our list, bringing in around $1 million monthly.
Timothy Sykes's blog combines penny stock news, evergreen stock trading guides, and calls to action encouraging visitors to enroll in Sykes' stock trading courses. CTAs are especially important for monetizing the blog.
Sykes has used various outlets to promote his personal brand, including CNN, Forbes, and Fox Business.
Perhaps most notably, the stock trader has appeared multiple times as a charter yacht client on the Bravo reality TV show Below Deck.
Sykes brings a group of students aboard the ship and sets up a stock trading office at sea in one episode of the show.
Whereas most charter guests on Below Deck only make brief mentions of their professional lives, Sykes makes his work the episode's dominant theme. During the trip, he even has his guests wear branded t-shirts.
Not every blogger gets to appear on a popular reality TV show. Still, Sykes' approach teaches anyone looking to promote their blog: to make the most of publicity opportunities by emphasizing your core messaging.
If you think penny stocks are one of the things that helped Sykes, you could learn things to know before investing in penny stocks.
How Does Tim Sykes Make His Money?
Sykes has a history of getting his money through:
His blog is expected to earn $15-20 million per year.
DVD course packages that brought in a lot of money
The majority of the blogger's earnings are generated by Instagram, where he has over 1.2 million followers.
3. Darren Rowse/$40,000+/month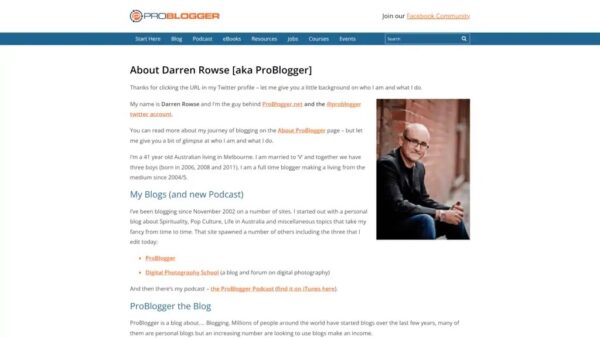 Darren Rowse is one of the major sensations in the blogging world and has founded and co-founded different blogs and blog networks. In addition, his name and handprints can be seen on over 20 other blogs.
Although he has two main personal blogs, Digital Photography School and Problogger, which features blogging tips, and Digital Photography School, the latter offers photography tips.
The web analytics report shows that his two main blogs receive between 85k-100k unique visitors daily and make $20,000+ from ads alone every month.
The Australian blogger has also contributed to some topic-specific blogs with other bloggers, including the Michael Jackson court case and the Athens Olympics. He is also a co-founder of the blog network b5media.
He created it with his fellow bloggers Duncan Riley, Shai Coggins, and Jeremy Wright in September 2005.
With over 300 blogs purported to be on the blog network, b5media was one of the largest media networks, with an average of one million page views by 2006.
4. Michael Arrington/$2,500,000 per month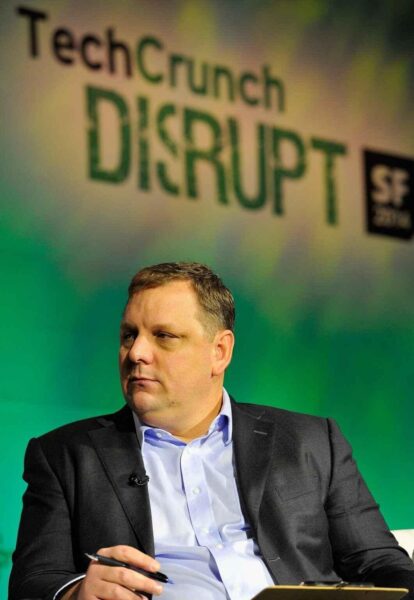 Michael Arrington is a blogging icon that dominates the tech niche. The 51-year-old United States entrepreneur and tech blogger is the founder of uncrunched.com and TechCrunch—both top blogs in the tech industry.
Arrington has been named the most powerful and influential figure online by major publications such as TIME, Forbes, and Wired.
TechCrunch, his most popular blog, which he founded in 2005, is a well-known tech news blog that covers a wide range of tech topics such as mobile, gadgets, apps, and so on.
AOL, an online service provider, later purchased TechCrunch. Following his retirement as the blog's editor following AOL's acquisition, he founded CrunchFund, a venture capital platform designed to assist technology startups.
The blog has an estimated 17 million monthly visitors, a global Alexa ranking of 1476, and a domain authority of 94.
Michael Arrington is reported to earn $750,000+ per month from TechCrunch and his other blogs, estimated yearly earnings of $23 million, and a total net worth of $15 million, making him an obvious choice as one of the top earners in the blogging world.
According to analytics reports, advertising banners are his blogs' primary income source.
5. Pete Cashmore /$2,000,000 per month
Pete Cashmore, the founder of Marshable.com and an internet and social media sensation, is among the Highest Earning Bloggers. According to INQ, he is the most influential Twitter user and Briton, blogging since 2005.
He's the founder and former owner of Mashable, a blog—that publishes articles and news on travel, science, culture, entertainment, technology, etc., with huge authority on the internet.
The 26-year-old blogger is reported to earn over $600,000 monthly from his blog, making it one of the top bloggers that makes a lot of money. In addition, his blog is reported to make money through advertisement banners—in different formats.
Mashable, with 467,960 unique visitors per day, is another blog that earns more than $11,952 per day on average. The blog was founded in 2005 by Pete Cashmore.
It is a well-known social media news blog that covers interesting new websites and social networks such as Facebook, Google, Twitter, and YouTube.
Mashable is now worth more than $94 million. However, Mashable was later acquired in 2017 by Ziff Davis for $50M.
6. Mario Armando Lavanderia Jr. – $575,000 per month
Mario Armand Lavanderia Jr., with the professional and blog name of Perez Hilton, is the founder and CEO of a notorious gossip blog, Perez Hilton, originally known as Pagesixsixsix.com.
The 43-year-old blogger is also YouTuber with two channels and a writer with four published books.
Her blog, Perez Hilton, has a domain authority of 89, ranks 11,877 on Alexa global rankings, and attracts over 2 million audiences monthly.
The blog generates $450,000 in monthly revenue and stacks up to $42 million annually. The main source of income is a direct advertisement at various places on the website. She has been reported to have made a net worth of $32 million.
7. Peter Rojas / $325,000 per month
Peter Rojas is well-known for founding two famous blogs, Gizmodo and Engadget. Engadget was Peter's first blog, which he started as a hobby in 2004 and has since become a massive site for articles.
The articles include tech products, gear, consumer electronics, entertainment, events and reviews, gaming, etc.
Engadget has a domain authority of 93 and ranks 1,130 in Alexa's global website rankings. It receives over 31 million monthly visitors and generates up to 50 million dollars annually. In addition, direct advertising on the site contributes significantly to Engadget's revenue.
Gizmodo is another popular blog founded and managed by Peter Rojas. The blog primarily focuses on technology and design niches.
Gizmodo has a domain authority of 93, ranks 1,748 on Alexa's global ranking, and receives over 22 million visitors monthly.
It brings in more than $5 million per year. Peter Rojas makes a lot of Money from Gizmodo, just from sponsor ads, which is why he's one of the top bloggers who makes a lot of money.
8. Rand Fishkin / $4,250,000 per month
Think Moz SEO, Think Rand Fishkin. The blog "Moz," founded by Rand Fishkin in 1998, is well-known today for contributing to the revolutionization of search engine optimization.
Many successful bloggers today recognize Moz's influence in assisting them in creating great marketing articles for improved blog performance and visibility.
Moz generates approximately $3 million in revenue per year. It also has excellent stat, such as a domain authority of 91 and a global Alexa rank of 3,139.
Every month, over 3 million unique visitors visit Moz. This blog generates a lot of money for itself and other bloggers, directly or indirectly.
9. Sarah Titus/ $200,000 per month
With her lifestyle blog Sarahtitus, she is known for being one of the highest-paid parenting bloggers.
Her blog basics revolve around her parenting, children, and how to be an inspiring writer and make money from the comfort of your own home.
Her target audience consists primarily of new mothers looking for parenting tips and advice on balancing work and parenting.
How does Sarah Titus make money from her blog?
Her blog is estimated to earn $10-12 million per year.
Her main sources of income are the printables she sells and the affiliate marketing she does.
Sarah enjoys discussing her life story and the lessons she has learned to become who she is today.
Her audience has grown due to this practice and her genuine personality.
10. Brain Clark- $1,000,000 per month
Brain Clark is the brain behind what is probably the best blog that provides quality advice on content marketing—CopyBlogger.
He started CopyBlogger in 2005, with an initial investment of $2000, and it has now grown into a million-dollar money-making machine.
CopyBlogger's analytics reports show some impressive stats, such as a domain authority of 81, a global Alexa rank of 12,449, over 500,000 unique monthly visits, and a massive yearly income of up to 32 million dollars.
11. Melyssa Griffin/$238,000 per Month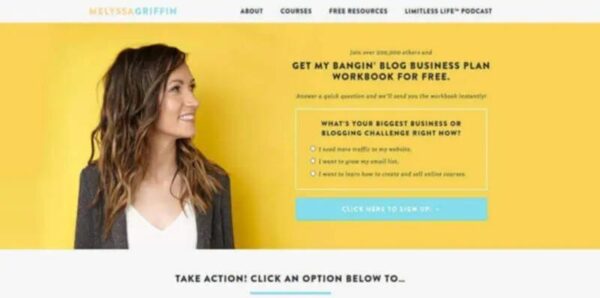 Melyssa Griffin is a well-known entrepreneur and the founder of the blog "Melyssa Griffin," which she launched in 2013. Her blog is about entrepreneurship, how to run a successful business, and how to make money.
She started her blog while living in Tokyo, Japan, and doing something she didn't like. After returning to California, she started this blog to share her experiences. She failed business.
She is well-known for her engaging content and writing style, which draws readers to her blog and makes her an exciting and intriguing personality.
How Melyssa Griffin Makes Money From Blogging
She makes most of her money by selling her courses, marketing other people's courses, and hosting her podcast.
After gaining a larger audience on her blog, she ventured into starting a podcast called "Limitless Entrepreneur," which proved to be a wise decision because many people began listening to her podcasts, generating revenue for her.
What distinguishes her blog from others? Her nature distinguishes her blog from others, as do the numerous posts she creates to assist her audience.
12. Elisa Larson and Emma Chapman/ $125,000 per month
When the sisters created "A Beautiful Mess," they became bloggers and business partners.
The sisters discuss day-to-day problems, lifestyle, decorations, and fashion choices on their blog, expanding into everything domestic.
People began to take notice of their website because both sisters addressed various topics appropriate for all age groups.
Recipes, do-it-yourself projects, home décor, and fashion are among the topics covered, as are serious issues such as depression and anxiety.
Soon after, they published their first cookbook, a home décor book, and collaborated with companies to create editing apps for IOS and Android.
How Do These Sister Bloggers Make Money?
These sisters make most of their money through affiliate marketing for digital or marketing products.
In 2019, their blog was one of the highest-paid blogs.
This blog's annual earnings are estimated to be between $2 and $3 million.
What Makes This Blog Unique is the relatability these sisters provide to their audience makes this blog one of the most successful.
13. Chiara Ferrangi ($250,000/ Month)
Chiara Ferragni is living every woman's dream life by turning her personal blog, "The Blond Salad," into a massive fashion brand.
Ferragni started her blog, which she named after herself, in 2009. Her blog posts initially focused on home life, motherhood, and how to make money from home.
However, she gradually transitioned to fashion and lifestyle, discussing fashion options for every woman.
She began blogging not to make money but because she enjoyed it. Her blog quickly grew to over half a million monthly visitors.
How Does Chiara Ferragnir Make Her Monthly Salary?
The number of visitors she received each month prompted her to create her own brand. As a result, it generates more than $15 million in revenue each year.
Her fashion brand, online shops, and affiliate links generate revenue for her.
What distinguishes Chiara's blog from others is her relatability when discussing God and her family's struggles, which everyone can relate to.
14. Heather Delaney Reese/$175,000 per Month
Heather and Pete have taken the blogging world by storm by providing value, engaging content, and entertaining their audience.
Their blog focuses on travel, lifestyle, and education but addresses more serious mental health issues.
Heather and Pete started the "It's a Lovely Life" blog in 2014, which follows both of their lives and their two children.
Their blog focuses on lifestyle and education, and they educate their readers on the dos and don'ts of blogging and how to start a successful blog.
"It's a Lovely Life" began affiliate courses with Amazon and offered paid courses to their audience after gaining a large following.
How Does Heather Reese Make Money Blogging?
Most of their income comes from product affiliate marketing and selling courses to their audiences. In addition, their blog is estimated to be worth between $2 and $5 million per year.
Rather than providing content you will read and forget the next day, these two offer an entire experience.
15. Sharon Goulay
Sharon's blog, Digital Nomad Wannabe, is part blog, part freelance writing, and part digital niche site.
For all intents and purposes, Sharon's website serves primarily as a resume for starting your own blog. She publishes her articles and even goes so far as to publish 'how-to' guides for starting your blog.
Her website's information is extremely helpful to new bloggers and has generated a lot of traffic over the last two years.
Sharon decided to discontinue posting her annual income reports after December 2015 for personal reasons. As a result, we'll be focusing primarily on that report as we examine her earnings.
Her income report for December details how much she earned and how she earned it. Most of her earnings come from "affiliates," which total $6,350 this month.
When she breaks down who her affiliates are and how much she's earned from each, it's clear that Amazon was the most profitable this month.
16. Jeff Rose/ $135,000 per Month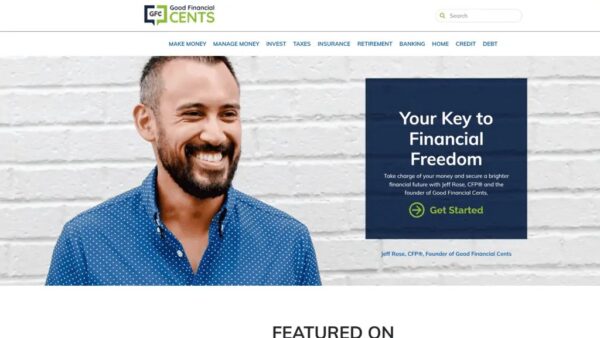 Jeff Rose, a Certified Planner, and former US veteran turned blogger, began blogging by establishing "Good Financial Cents," a Finance blog.
Jeff Rose believed that the online information about financial investing success was insufficient.
He thought there should be an online platform where people could learn about financial activities.
As a result, after earning his master's degree, he launched his blog, where he teaches and posts about financial strategies, investment plans, and how to make money daily.
Jeff published a finance book and is posting finance content on his blog.
How Does Jeff Rose Make His Money?
The majority of his income comes from affiliate links, digital product sales, sponsored posts, and blog advertisements.
The blog's annual revenue is estimated to be between $4 and $5 million.
Jeff makes money from online courses as well.
He is known for portraying cemented knowledge he gained through investing in success and failure. This is why his blog continues to generate revenue with a new audience every day.
17. Neil Patel/ $35,000 per month
Neil Patel has been working in internet marketing since the early 2000s, and he's established himself in various areas, including social media, SEO, paid ads, and burgeoning platforms like Instagram and Twitter.
His website Quicksprout makes him $1,000,000 a year, and Crazy Egg is worth $10,000,000.
His name is almost synonymous with internet marketing terms like 'SEO,' 'PPC,' and 'inbound marketing.
The multimillionaire blogger, analytics expert, investor, and online entrepreneur is the founder of Hello Bar, KISSmetrics, and Crazy Egg.
He created his blog, Neilpatel.com, to share blogging and digital marketing tips and strategies with his audience.
The blog is one of the must-read articles for aspiring bloggers and digital marketers. Neil focuses on helping beginners find their feet in the business and avoid making major mistakes he made before he became successful.
While there isn't an official report about how much Neil makes from his blog, he claims he makes an average of $1,828 for every blog post he publishes.
And, that coming from someone who has written over 5,000 blog posts, that's a lot.
18. John Lee Dumas/$195,000 per Month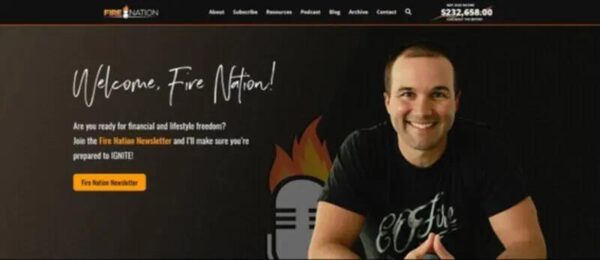 Entrepreneurs on Fire, known as Eofire.com, is a blog by John Lee Dumas that focuses on podcasting, online business, and entrepreneurship.
Eofire has been around since 2012 and has grown from making over $25k initially to a grossed revenue of over $13M.
The blog has over 4630 backlinks to the domain, an Alexa ranking of 39,159, and a large Twitter following of approximately 69,000 people.
John's main source of income from his blog is his podcast membership account, courses, and books.
He also makes a good living by promoting products on his blog, with a larger portion of his income coming from podcast sponsors.
John has promoted Big brands on his podcast or blog, including Podcasting Press, Audible, ConvertKit, BlueHost, and ClickFunnels.
If you want to make money through podcasting like John, there are many best podcast hosting platforms to check out.
How Does John Lee Dumas Make His Money?
Most of his earnings come from podcasts, affiliate courses, and Amazon journals.
The blog's annual earnings are estimated to be over $25 million.
The organic traffic is 68,948 visitors per month. There are additional traffic sources.
19. Pat Flynn/ $195,000 per Month
Many aspiring bloggers see Pat Flynn as a role model because of his success story of how continuous dedication to your passion can make you successful.
Pat Flynn has been writing for over a decade and uses his blog Smart Passive Income as a medium to share his personal experience and ordeals in the blogging world.
However, this blog is not the only one owned and managed by Pat; some of his other blogs include SecurityGuardTrainingHQ, FoodTruckr, and GreenExamAcademy.
His blog, Smartpassiveincome.com, primarily provides aspiring bloggers with simple, applicable tips and tricks for earning passive income through online business.
He is a prominent figure in the blogging community. Aspiring bloggers look to him for advice and strategies to start and run a profitable passive income blog.
Smartpassiveincome.com is ranked 47,543 on Alexa, with over 9000 backlinks and over 154,000 Twitter followers.
How Does Pat Flynn Make His Money
Pat's main source of income is his podcast sponsor, but he also makes a good living from Google ads and sales of his podcast training course "Power-Up Podcasting."
Pat also has a "How To Start A YouTube Channel That Makes Money" guide. Plat Flyn is known to be the richest affiliate marketer, and you can make money with affiliate marketing by getting started with these high-paying affiliate programs.
20. Michelle Schroeder Gardner/ $120,000 per month
Michelle Gardner is another example of making money from your passion. She advocates for frugal living and savings to change your life financially.
Her blog, Making Sense of Cents, provides her readers tips, strategies, and hacks for frugal living, making money from a side hustle, controlling emotional spending, and saving for a better life.
According to Michelle, the blog was inspired by her desire to improve her financial situation, and she is documenting her progress in the hopes of sharing it with others to help them do the same.
Her online business is why she could pay off her $38,000 student loan in less than a year.
How Does Michelle Gardner Make Her Money?
Michelle's primary source of income is affiliate marketing with companies like BlueHost and Survey companies.
Her affiliate marketing course, "Making Sense of Affiliate Marketing," also contributes around $50,000 to her blog's revenue.
She also monetized her blog with sponsored posts and advertisements. Both sponsored and display advertising (posting ads on her site) earn her anywhere from $12,000 to $23,000 monthly.
21. Lindsay Ostrom/ $100,000 per month.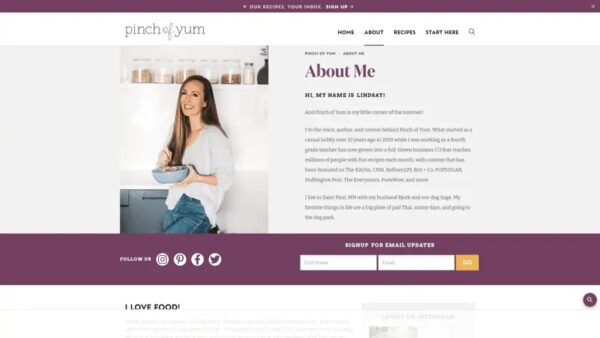 Lindsay Ostrom owns a popular food blog called PinchofYum. PinchofYum.com is popular for cooking and food photography and serves as a haven for many tasty food lovers.
Lindsay Ostrom shares photos of "food artwork" with her audience to demonstrate her love of delicious foods. She also includes simple recipes for them to try.
Despite popular misconceptions that food photography blogs are a low-paying niche, her passion has earned her six figures.
The figures alone motivate aspiring foodies who want to turn their passion for cooking into a profitable online business.
PinchofYum.com has an Alexa ranking of 20,961, over 11k linking domains, and a large social media presence with over 500k Instagram followers and over 14k Twitter followers.
Lindsay's primary source of income is affiliate marketing, with Amazon, Elegant Themes, and Bluehost being her top affiliate partners. She also earns much money from ad-sponsored content and products on her blog.
In addition, she has a book, "Tasty Food Photography," published in her name, where she shares secrets to taking appetizing food photos. The food business is one of the profitable business ideas you should consider.
22. Justin Weinger/ $28,000 per month.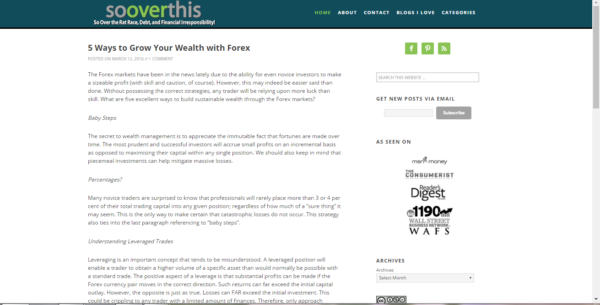 Justin Weinger owns the popular blog SoOverThis. However, SoOverThis was not founded by Justin Weinger but was purchased from Andrea, the founder, in 2013.
Andrea started the blog to help people overcome financial irresponsibility and debt and escape the financial rat race.
As stated in the blog's disclaimer, the blog's posts are not a substitute for professional financial advice.
However, Justin is a proponent of learning from your mistakes and improving, and he believes this should apply to all aspects of one's life, not just finances.
His blogs also discuss his journey from a 9 to 5 full-time day job to financial freedom, which his readers can relate to.
Alexa ranks SoOverThis.com at 2,052,415 and has 987 linking domains. Most of the blog's revenue comes from private ad sales and Google ads.
23. Jennifer Rauchet/$40,000 monthly
Jennifer Rauchet is another high-earning food photography blogger.
Jennifer Rauchet is the creator of "ShowMeTheYummy," a food and recipe blog she runs with her husband, Trevor, a professional photographer.
Before turning the blog into a full-time commitment with Jennifer, he worked full-time on videography, marketing, and websites.
Jennifer Rauchet shares her brilliant creative cooking skills with her audience, and the recipes for the delicacies are always available if you want to give them a try.
She also shares tips, tricks, and strategies for monetizing a blog on her website.
The blog has impressive stats and has grown tremendously since its inception. It has over 1.5k linking domains, 1.2k Twitter followers, and an Alexa ranking of 127,356.
The blog's revenue-generating capacity has grown dramatically since its inception, from an average of $28 per month to over $40,000 per month.
How Does Jennifer Rauchet make her money?
The majority of ShowMeTheYummy.com's revenue comes from sponsored content and advertisements. The blog also earns Money from Amazon affiliates and her video workshop, which she sells on her blog.
24. Abby Lawson
JustAGirlAndHerBlog is a popular home décor, DIY, and home organization blog that Abby created. Her blog is well-known for her keen eye for the teeny-tiny details that we think we don't need to organize in our homes.
Abby's blog encourages her readers to embrace DIY for home decoration projects.
Abby makes it a point to post on her blog at least twice weekly. Although she writes about simple topics, her blog posts are detailed and well-written.
In an interview, she claims that her husband fully supports and assists her with her blog, making it more than just a girl and her blog.
JustAGirlAndHerBlog.com's analytics show that the blog has 3.65k linking domains, 8.5k Twitter followers, and ranks 130,671 on Alexa.
The majority of the blog's revenue comes from affiliate programs such as ConvertKit, Amazon Affiliates, Flywheel for Hosting, Siteground, and Bluehost.
The blog has no sponsored content or advertising, but Abby upsells her courses and eBooks to a large reader base.
25. Harsh Agarwal
Harsh Agarwal founded ShoutMeLoud.com in 2008 as a hobby that he pursued passively and posts a few times per month.
After learning about the possibilities for monetizing his blog, he began working on it zealously, as evidenced by the income report he posted, which shows he earns more than $39,000 monthly.
Harsh's blog focuses on online money-making, blogging, and technology tips. According to his traffic statistics, the blog receives much traffic, with over a million page views per post.
It has also survived a change in Google's algorithm, while most other blogs have fallen out of favor.
The blog has an Alexa ranking of 8,460, over 10,000 linking domains, and over 47,000 Twitter followers.
Harsh generates revenue from his blog through various affiliate programs and direct ad sales. He also sells his eBooks on his blog and other platforms such as InstaMojo and Amazon.
In addition to blogging, Harsh has a YouTube channel dedicated to blogging and blog creation, where he shares video guides with his followers.
26. Matthew Woodward/ $35,000 per month
Matthew stands out among the highest-earning Bloggers who make a lot of money. He made money by doing what he was good at and was passionate about.
He makes HTML5 video games and sells them on his website TrueValhalla. In addition, he earns money through royalties on the rights to the games he created from scratch.
Matthew revealed in an interview that his income is more of a rollercoaster. In good months, he can earn up to $40,000; in bad months, he can earn as little as $4,000.
Despite the fluctuations in his income, he claimed to be content with the feeling of financial independence.
Matthew also believes that having multiple income streams as an online entrepreneur is the best way to go.
Matthew makes a large portion of his money by selling his products (HTML5 games and mobility engines) and consulting services through his websites. He also makes a good living from direct advertising.
TrueValhalla.com is ranked 983,598 globally by Alexa, with over 200 linking domains and 21,700 Twitter followers.
27. Paula Dennholdt /$20,000 per month.
Paula created her blog, EasyBabyLife.com, to share her opinion and personal experiences with expecting or new mothers to give them a head start in parenting.
Paula provides her audience with accurate facts, tips, and medical advice—from real doctors—on pregnancy and baby care-related topics.
After 11 years of consistent devotion and regular publishing of posts, the blog is now a central authority in the parenting and baby care niche.
Paula monetizes her blog through Mediavine Ad Network ads and affiliate marketing. Her prime affiliate is Amazon Affiliate, and she is reported to earn at least 5% from the products she promotes.
Analytics reports show that the website receives about 550,000 unique visitors monthly.
The website is also ranked 293,750 by Alexa, has over 620 linking domains, and a Twitter followership base of over 2,000 people.
Most of Paula's revenue is through ads from Mediavine Ad Network
28. Nathan Thomas
Nathan is an online entrepreneur with extensive experience in all aspects of making money online, including affiliate marketing, blogging, and selling products on eCommerce platforms.
He started IncomeBully.com to document his process and turn it into great content for his audience about local SEO, entrepreneurship, and blogging.
Nathan decided to start the blog primarily because he believed that the industry's top dogs were ripping people off with the prices they set for their courses.
As a result, he founded IncomeBully.com, where his audience can obtain all of the information for free. Nathan's blog is an excellent place to begin your research if you want to earn passive income through blogging.
Nathan's main source of income is his courses and coaching sessions, in which he teaches his students how to start and run a profitable offline agency.
He also makes money from referral links to SaaS products like Long Tail Pro. In addition, he runs an offline web agency in addition to blogging.
29. Will Tang
Will Tang has always been interested in the nomad lifestyle but only began blogging in late 2014.
His posts allow his audience to visit wonderful places worldwide without leaving the comfort of their homes, effectively transforming them into digital nomads.
Despite being in a highly competitive niche, Will was able to generate a substantial amount of revenue in his first year of blogging.
Will records and publishes podcast episodes in addition to his regular posts on his travel blogs.
Will's income report on his blog shows that sponsored campaigns and posts generate most of his revenue.
He also makes a good living by promoting affiliate products from SaaS and web design companies like BlueHost, MailChimp, and Elegant Themes. Will also continues to offer his writing skills for hire through freelancing platforms.
30. Create and Go
This list would be incomplete without mentioning two internet marketing geniuses who believed that two heads are better than one.
Lauren and Alex are the founders of Create And Go, a partnership that has produced a series of blogs earning six or even seven figures.
As a team, the duo has created several niche sites, the first of which was a health and wellness blog called Avocadu.com. The blog was a successful project that earned six figures in the first year.
Within the first three years of blogging, Alex and Lauren earned a gross income of over $1,660,000 while spending less than $600,000 on running the blog, making them the moniker "million-dollar blogger."
Because of the massive profits made by Avocadu.com, the duo blogger decided to launch Createandgo.com as a platform where they could teach other bloggers how to create and run a profitable blog.
Most Create And Go revenue comes from the website's sales of courses and digital products such as eBooks.
They can also make a good living by promoting hosting services, SaaS, and digital products. Popular affiliates include Social Media Warfare, Tailwind, ClickFunnels, Teachable, LeadPages, ConvertKit, Bluehost, and others.
31. Rosemarie Groner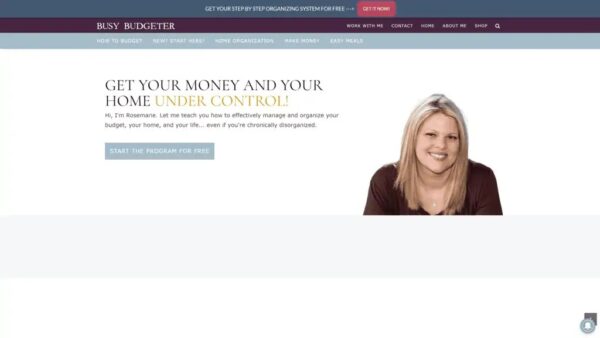 Groner was a regular stay-at-home mom who struggled with her family's budget before starting her blog.
This prompted her to create The Busy Budgeter and publish content to assist its audience in navigating their financial problems.
What is Rosemarie Groner's monthly salary?
According to Rosemarie Groner, The Busy Budgeter blog earns $86,000 monthly.
This figure is even more impressive, given that she only started the blog a little over two years ago.
Rosemarie Groner's Earnings
The busy budgeter blog earns money through advertising and sponsorships.
The blogger's popular platform also promoted her budget guide, "90 Day Budget Boot Camp."
This publication's sales also contribute to the blogger's income. However, the fact that the Busy Budgeter blog is relatable is what distinguishes it.
Whoever you are, there's a good chance you'll benefit from the blog's money management and budgeting advice. If you are a stay-at-home mom, you can start with these stay at home mom-jobs to earn extra income.
Other Wildly Successful Bloggers That Earn a Lot of Income
Collis Ta'eed and Cyan Claire's Blog
Tuts+: $175,000 per month
Envato's Tuts+ is not a new website. It was founded in 2006 by Collis Ta'eed, Cyan Claire, and Jun Rundelivering. It has provided excellent tutorials and content to designers and developers worldwide for quite some time.
Today, they provide a hub of useful content and a massive marketplace with 2,000,000 active buyers looking for site templates and useful paid tutorials that they provide as part of their platform.
They make money primarily through a membership area and commissions from digital goods sales on their platform.
Steve Kamb
Steve Kamb is best known for his outstanding work in the health and fitness industry. In his blog channel, 'Nerd Fitness,' he discusses fitness tips and tricks.
Steve attracted a large audience by performing various online training sessions and coaching programs and providing affiliate products and fitness training to the audience.
He went on to offer paid courses to teach people how to live happy and content life.
His channel quickly gained millions of viewers after he founded Nerd Fitness, as he always proved the value of his courses by showing before and after pictures of his clients.
These images aid in demonstrating the client's transformation, making his content authentic.
Heather Armstrong
Dooce.com – $5 Million per year
Heather Armstrong is a fantastic American blogger who is always on the move. She rose to prominence in 2001 when she launched the blog Dooce.com.
Heather extensively covered mental health topics in her blogs and opened up about the unspoken realities of parenthood. She also covers lifestyle and self-care topics.
Forbes has dubbed Heather the "Queen of Mommy Bloggers." She made a fortune by focusing on three business models: podcasting, affiliate marketing, writing, and publishing her book.
Trevor and Jennifer Debth
Showmetheyummy.com – $5 Million in revenue per year
Trevor and Jennifer Debth own the popular blog 'Show Me The Yummy.'
They discuss and inform users about the simplest recipes for delicious food. Soon after starting their channel, this couple began earning much money.
Show Me The Yummy's unique selling points include compelling videos, intriguing and relatable content, and exceptional graphics that entice viewers.
Online workout videos, affiliate marketing, sponsorships, ads, and freelancing all play a significant role in their monthly income.
Zoe Sugg
Zoella.co.uk – $7 Million per year
Zoe Sugg is a well-known blogger who takes an authoritative stance on the lifestyle and fashion industries. He began his career as a blogger, but many people now recognize her as a YouTuber.
In 2009, Zoe launched her 'Zoella' blog channel. She primarily focused on daily life activities and aided many people in making fashion decisions based on current trends.
Zoe has more than 9.5 million Instagram followers and 14 million YouTube subscribers.
Jon Morrow
Smartblogger.com – $12 million per year
Jon Morrow is the creator of one of the most well-known websites, Smart Blogger. He discusses strategies and inspirational material that will assist you in becoming a successful blogger.
Because Jon can only feel his face and is confined to a wheelchair, the only word to describe this brave man is unstoppable.
Despite this issue, he was named one of the highest-paid bloggers in 2021 and traveled to several countries due to his blogging career.
Jon Morrow makes most of his money by selling digital products and courses and affiliate marketing products and services.
Steve and Jennifer Chou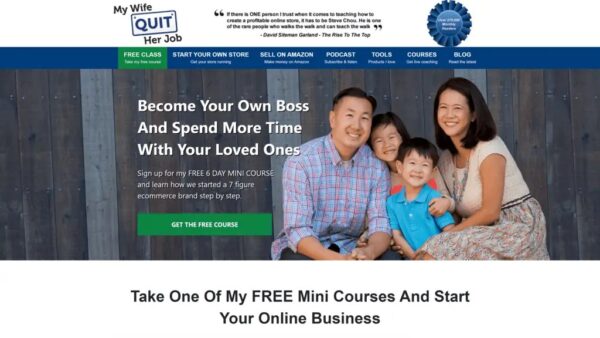 Steve and Jennifer run the popular blog My Wife Quit Her Job, teaching readers how to make money online through an eCommerce store and other means.
Most of it is generated by selling their digital product and launching a successful eCommerce store.
The rest comprises advertising, sponsorships, and affiliate marketing—a moving and relatable story.
They started their business because they wanted to have children, and Jennifer wanted to quit her job to care for them. As a result, they launched the eCommerce store and blog.
They can now both work from home and raise their children exactly how they want.
Chelsea Brennan
Chelsea Brennan's Smart Money Mamas is a blog for mothers who want to put their money to work for them by investing.
Chelsea Brennan founded it in 2017 as a side project.
Chelsea began blogging while working for a hedge fund investment firm.
Although she had a steady income, her job had no real social impact, which was very important to her. So Chelsea started the blog by asking moms in a Facebook group she was a part of to share their money concerns.
She began working on answering those questions in the form of blog posts on her newly launched blog after receiving approximately 60 responses.
Chelsea resigned from her job and focused full-time on her blog after two years of starting the website, engaging with her audience, and truly connecting with her mission.
She gave herself two years to give it a shot based on content creation, their existing savings, and a budget she devised.
Chelsea's blog earned $4,127 in revenue and $2,772 in net income in the first quarter of 2018. This was earned through affiliate marketing, Google Ads, and freelance writing for other blogs.
In the second quarter of 2018, she increased her revenue to $6,308 and her net income to $4,052.
She hasn't posted any other income reports since then, but her blog has expanded significantly to include a podcast, online tools, and a financial products shop.
Ryan Robinson/$100,000 per month
Another blog that offers its audience advice and tips on how to grow their blogs into successful and profitable ones is the Ryrob blog.
Ryan Robinson created it to share the knowledge he gained on his journey.
He describes how he rose to prominence in the field of digital marketing.
He also tells his readers how he became a consultant for companies like Adobe and Google.
What is Ryan Robinson's monthly salary?
Robinson earns nearly $40,000 monthly from the Ryrob blog, with a yearly income of around $500,000.
Ryan Robinson's Earnings
Affiliate marketing and money from the blog's online courses are the main revenue streams for the Ryrob blog.
In addition, Robinson consults with other businesses, which is a significant source of revenue.
Viewers are easily taking advice from someone who has had great personal success in blogging and has worked with some of the world's largest corporations.
Sven Lennartz and Vitaly Friedman' Blog
Smashing Magazine: $215,000 per month
Smashing Magazine AG, founded in 2006 by Sven Lennartz and Vitaly Friedman, is dedicated to educating those in the web design and web development fields by providing incredibly useful content to those looking to prosper and learn any of these lucrative skills.
Since 2012, the site has also been hosting web development conferences in cities worldwide, sponsored by some of the biggest names in the tech industry.
Most of the site's revenue comes from a membership area where users can sign up to consume many tutorials from its library of educational content.
Alborz Fallah/$125,000 per month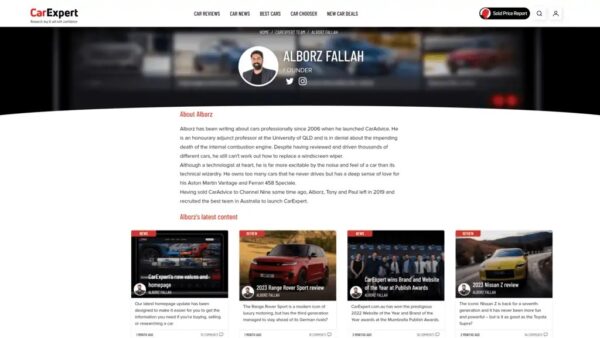 Car Expert is an Australian blog founded in 2019 by long-time car blogger Alborz Fallah.
This happened a few years after he sold Car Advice, his previous blog, to Channel Nine. The blog focuses on car reviews, comparisons, and general auto industry news.
Alborz Fallah's monthly income from the Car Expert blog is estimated at around $125,000.
Alborz Fallah's Earnings
Car Expert, a blog by Alborz Fallah, makes money through affiliate marketing and advertising.
In addition, the blog has sponsored partnerships with companies such as 7news and PriceMyCar.
In addition, the blog has a YouTube channel with nearly 260,000 subscribers, which serves as another revenue source. What distinguishes Car Expert is its complete objectivity when reviewing vehicles.
To maintain its neutrality, the blog has a strict policy against sponsorships and works with car manufacturers.
This ensures that the blog's audience always receives an unbiased viewpoint.
Grant Sabatier – Millennial Money
Grant Sabatier is the founder of Millennial money. Millennial money is a blog that was started by Grant Sabatier in 2015.
It's a personal finance blog dedicated to assisting millennials in earning, investing, and saving money to the best of their abilities. The goal is to increase access to financial freedom.
Grant was financially independent by the age of 30. This means that work became optional, allowing him to focus on what he wanted rather than what he needed to do to survive.
Within 5 years, he went from having no assets and only $2.26 in the bank to becoming a millionaire.
That success is largely due to his blog and the opportunities that have arisen due to it. For example, the latest income report from Millennial money was in 2017.
That year, they earned $401,681. Here's a breakdown of where it originated:
Direct advertisers & sponsored content – $17,800
Brand partnerships and consulting – $92,900 Affiliates and display advertising – $127,400
Other income (books, speaking engagements, coaching, courses, freelance writing) – $163,581
Most Profitable Blog Niches to Make A Lot of Money
Personal Finance Blog
Most people require assistance with personal finance. However, hiring an accountant to do that is not a suitable option for many people who live paycheck to paycheck.
As a result, they turn to finance blogs for assistance. These blogs cover topics such as investing, retirement planning, frugal living, couponing, and student loan repayment.
A personal finance blog can generate up to $200,000 monthly in revenue. This is a big step up from a desk job, and it has a lot of room for advancement.
Sponsorships, ads (23%), affiliate marketing, selling your digital products, and online courses are all ways to make money in this niche.
Lifestyle Blogging
Lifestyle blogging encompasses all aspects of living life and the events in your life. Therefore, you should be aware that you will be opening the door to writing about various topics that may appear monotonous but are vital.
All modern mothers will be pleasantly surprised to learn that "Mommy Blogging" is the most popular segment of lifestyle blogging.
Bloggers who invest time and money to write lifestyle blogs typically spend $50-$60 per month and see an ROI of over $60,000.
Health and Fitness Blogging
The demand for health and fitness has increased in this day and age. As a result, these two words have the highest search volume when searching for this keyword on Google Keywords.
However, the more mind-blowing part is that there are apps where you get paid to work out.
As a result, this niche is a very profitable field to be in while blogging. There are numerous sub-niches in this field of blog writing, the most popular of which are writing about celebrity fitness routines and how new moms can get back into shape.
You can earn up to $20,000 per month writing about these topics. You're probably wondering how people make that much money just by writing; that's not all they do. This field allows you to diversify into projects that will increase your revenue.
Affiliate products, information products, and, most notably, coaching services are examples of these activities.
Simply adding a coaching segment to your blog can increase your monthly revenue by 27%.
Travel Blogs
These blogs have only recently emerged, and they are taking the blogging market by storm. Travel blogging is not only exciting, but it will also fill your bank account.
In this field, you can expect to earn between $20,000 and $30,000 per month on average.
It doesn't stop there; once you start travel blogging, you'll open up to a world of possibilities.
Not only do you get a sense of escapism in the travel niche, but you can also make money through internal and external business models.
With the help of Google AdWords, you can increase traffic and profit from it through affiliate marketing. In addition, sponsorships can help you fill up pockets in an external model.
Well-known brands are increasingly sponsoring travel bloggers. For example, Matt Kepnes, who launched TravelCon with the help of his blog Nomadic Matt, now has over a million dollars in sponsors.
Fashion Blogs
The fashion industry already generates a lot of money; combine that with blogging, and you've got yourself an excellent niche to launch your blogging career. With a $300 investment, you can earn up to $30,000 per month.
That, however, is not possible without the necessary skill set. First, fashion bloggers must understand how to communicate their style through words, images, and videos.
If you have these abilities, you can earn at least 43% of what successful fashion bloggers are currently making.
There is much room for growth and earning money through blogging in this market. Most travel bloggers' income is from ad revenue, sponsored posts, and affiliate marketing.
Tech Blogs
Many bloggers believe that technology is crowding the internet and that technology blogging has no future.
However, they overlook that this field can pay you at least $5,000- $10,000 monthly. You can earn more money by combining Google AdSense, affiliate marketing, and sponsored posts.
You can create quality content for your blog if you are tech-savvy and have the necessary skill set.
Aside from that, this niche's potential for growth and profit is approximately 67% greater than that of other niches.
As previously stated, affiliate marketing, ads, and content marketing can all increase your overall revenue.
However, competition in this market has increased by 27% in the last year, making it more competitive and difficult to acquire traffic.
Parenting Blogs
As surprising as it may seem, parenting blogs generate 12% more revenue than fashion blogs.
While fashion is a growing niche, parenting blogs are known to make the most money.
This could be your niche if you have experience working with children, providing early childhood care, and building relationships.
New growth opportunities in this niche include bloggers releasing parenting books, childcare brand sponsorships, and much more.
Even if you don't take an aggressive approach, you can still earn $55,000-$63,000 monthly in this blogging niche.
Rosemarie Groner, a well-known blogger in this market, is currently very influential. Her blog generates more than $86,000 monthly in revenue from both external and internal sources.
Food Blogging
The food industry is another profitable niche to pursue while blogging. You could earn up to $90,000 monthly with the right strategy and mindset. There are a few skills required for such a return.
Culinary experience, recipe testing, and the ability to film while preparing various types of food are examples of these skills.
Food blogging necessitates travel and immersion in various countries' cultures and culinary techniques.
Because of the high CPMs in this industry, there are more than 42% chances of growth and success.
Best Ways to Monetize Your Blog
1. Conduct Extensive Keyword
Research to Increase Search Traffic.
One thing to remember is that good research = good optimization = good results.
Why is this the equation you should be concentrating on? A blog requires traffic to be successful, and the only way to get traffic to your blog is to make it credible and relevant.
Once you've determined which niche to write about, conduct extensive keyword research to optimize your content and increase organic traffic. Keyword research tools that can help you include the following:
SemRush is a well-known software company that provides its customers with online visibility and marketing analytics software subscriptions. This software will give you access to a variety of tools that will assist you in identifying top-ranking organic keywords, competitors, and more.
Ubersuggest is a free SEO tool that can help you find popular keywords. Many successful bloggers, including Neil Patel, use it.
Ahrefs: This is an extremely effective and efficient tool for analyzing backlinks and SEO.
Bloggers can use keyword research to identify the most recent trends, which words have the highest search volume, and, most importantly, to capitalize on the market and increase organic search traffic.
2. Affiliate Marketing
The majority of the bloggers we mentioned earned their living through affiliate marketing. If done correctly, promoting other people's products is one of the best ways to earn passive income from your blog.
When someone purchases an online product through your affiliate link, you are paid a commission (usually a percentage of the sales price).
Making a lot of money with this method is simple, but you might not make any money if you do it incorrectly.
Your chances of success are heavily influenced by the type of product you are promoting. "Does the product match your audience's needs and desires?" is a major checkpoint.
Do Highest Earning Bloggers use Affiliate Networks?
The majority of the highest-earning bloggers use affiliate programs. They use a variety of Highest Paying Affiliates to generate income.
Affiliate networks act as a link between merchants or businesses looking to promote their products online and bloggers.
This is the most convenient way to find multiple products relevant to your niche on a single interface.
While each affiliate network has advantages and disadvantages, they are a lifeline for most bloggers.
Examples of affiliate networks Top Bloggers use
Target Affiliate
eBay Partner Network
Amazon Affiliates
Shopping Site Affiliate
PeerFly
Rakuten Advertising,
CJ Affiliate (Commission Junction)
Shareasale.
Clickbank
Another strategy is to promote online products you have purchased and used on your blog, such as Webhosting, email marketing software, WordPress themes, etc.
However, you will need to write a post or create a guide for aspiring bloggers who want to venture into similar niches as yours. This method is most effective once your blog has gained popularity.
3. Promoting Products on Blogs
While affiliate marketing is one of the best ways to start monetizing your blog, selling your physical or digital products separately or in conjunction with affiliate marketing can generate even more income.
Creating your product can be time-consuming and labor-intensive, but the payoff is worth it.
Physical products relevant to your niche can be sold on your blog, as can digital products such as reports, software, courses, and eBooks.
Although Amazon is widely regarded as the best, nothing beats promoting your ebooks on your blog.
According to top bloggers in the industry, the most effective ways to promote your channel are through established marketplaces or directly on your website. However, selling directly on your website has advantages and disadvantages.
For example, control the sale process and the appearance of your sales page. However, this comes at the expense of the prestige and level of exposure that come with already-established markets.
You must also deduct the exorbitant fee from your profits for using their platform to sell.
If you're considering listing your product on a marketplace, Udemy, Amazon, and Envato are great places to start.
4. Offer Expert Services
Another effective way for top bloggers to make money online is to provide expert services to their audience. Freelancing, training, design, writing, consulting, and personal coaching are some services you can offer.
However, earning a substantial income from this approach necessitates significant marketing efforts to spread the word on the internet to reach your potential clients.
5. Sell Ads.
Top-earning bloggers sell ads. Selling ads is a great way to earn money directly from your blog. It works best if you can publish posts that are relevant to the ads you're selling.
If you want to make passive income online, this strategy is a legitimate and viable option to consider.
Blog stability, design, and site traffic are all important factors to consider when deciding whether your blog is ready to sell advertisements.
These are the criteria that advertisers would expect your blog to meet to determine whether it is worth advertising on.
A minimum of 10,000 monthly unique visitors is sufficient to attract the attention of serious advertisers for the amount of traffic.
Widespread adoptions to consider include: Direct Ads, Banner Ads, Google Adsense, BuySellAds (a platform for selling and managing ads), and similar platforms.
6. Sell Subscription-based Products
If you want to generate a consistent passive revenue stream from your blog, the most recommended approach is continuity income or recurring revenue.
This approach, however, necessitates consistent, high-quality engagement with your audience; your readers must believe they are receiving more value than the subscription fee for this to work.
Creating a membership site is an excellent way to generate recurring revenue.
Based on the income and growth curves, it is far more beneficial and profitable than selling eBooks in the long run.
Maintaining high retention by consistently posting high-quality content, and keeping old members hooked on your site while gaining new ones, is the winning strategy.
7. Sell Your blog
While this may be the least of your concerns right now, it could be a viable option. Some bloggers have cashed out really big and sold their blogs for millions of dollars. Then they start growing another blog again to sell subsequently.
If your blog isn't related to your services, products, or name, and your main source of income is ad sales, selling your blog might be the best option.
Your blog's worth is determined by the amount of revenue you generate from advertisements, the quality of your content, and the amount of traffic to your site.
You could receive offers in the six figures depending on how established and reputable your blog is. When buyers begin sending unsolicited offers to purchase your blog, this is a great indicator that it is worth selling.
If you have gathered a lot of traffic on your blog, you may decide to sell it.
Avoid making rash decisions based solely on the price offered. Before putting your blog up for sale, make sure to evaluate and estimate its worth properly.
8. Sponsored Reviews
Some of these high-earning bloggers get paid to write a product review or service. You can also apply to write reviews.
Accept only offers to write about products or services your readers would be interested in; a few dollars isn't worth jeopardizing your credibility with your audience.
The best way to ensure you get to write a great sponsored review is to use the product or service—at least for a trial period—to gain a personal opinion about it after using it and ensure the review is both honest and compelling.
What Makes a Blog Successful?
Numerous factors influence a blog's level of popularity.
First and foremost, your blog should be visually appealing and fast-loading.
Your blog's aesthetic will give viewers their first impression of it, and you want it to be good.
Furthermore, your blog should provide its audience consistent content that focuses on a specific topic rather than spreading the reader's attention too thin.
However, providing readers with regular content should not come at the expense of the quality of that content. Unfortunately, this is a common pitfall that many aspiring bloggers fall into.
Good Read: 37 Highest-Paying Online Jobs – Earn $50,000+ At home
Bottom Line
The possibility of earning thousands of dollars through blogging is no longer a myth, as bloggers make millions of dollars each year.
However, going down that road will present numerous obstacles and hurdles that require perseverance and unwavering commitment. Every successful blogger has gone through adversity, but the difference between you and them is that you can learn from their mistakes and failings.
To avoid sounding pessimistic, the road to earning five, six, or even seven figures as a blogger is a long and exhausting one. But if you approach it correctly, putting in the work and effort, it may be much closer than you think.
It is also worth noting that the niche matters, with technology and digital marketing ranking among the highest in terms of revenue-generating niches.
Frequently Asked Questions
Q: Can blogging be a full-time job?
Yes, blogging can be a full-time career. However, building a successful blog takes hard work, dedication, and time.
Q: Which blogger earns the most money?
Who are the highest-earning bloggers? (And how much do they earn?)
Timothy Sykes ($1 million per month)
Chiara Ferragni ($250,000 per month)
Melyssa Griffin ($238,000 per month)
Sarah Titus ($200,000 per month)
Pat Flynn ($200,000 per month)
Q: How Much Do Bloggers Make Per Sponsored Post?
A good starting point is $250 per sponsored post, though some brands may balk at this amount if you don't have the traffic to deliver the desired results. Some sponsored posts may cost more than $25. You are responsible for managing your value and deciding how much you are willing to sell your blog space and audience attention. The higher you should go, the more traffic you have.
Q: Should I go for regular or sponsored post for blog earning?
Sponsored posts have a much higher level of authority than regular blog posts. As a result, it is recommended that you charge more for these posts than you would for a writer for a standard post.
Q: How Much Does the Average Blogger Make?
The average blogger may earn between $0 and $1,000 per month because making money with blogging is all about content, strategy, and monetization. While many bloggers are killing it, others are earning little or not. You choose where you want to be.
Q: How do bloggers get paid?
Boggers are compensated for ad clicks, ad views, sponsored posts, affiliate sales commissions, product or service sales, and other innovative methods. So how can I earn $1000 per month by blogging? Connecting to an ad platform and affiliate networks is the simplest way to start making money blogging. With ads paying $5-$10 per 1000 pageviews and affiliate links paying $80-$130, you can earn $1000 per month with 25,000 – 30,000 pageviews.
Q: Best Blogging Platform to Make Money
WordPress is the best blogging platform for making money. It's free to install once you've set up a domain and hosting, and you can start with a free theme. In addition, you can easily update your design as you earn money and improve your blog.
Q: Can I make money blogging with free blogging platform?
Many people begin their blogging careers with free blogs on Tumblr, Medium, Weebly, Blogger, or LinkedIn. While all of these are legitimate blogging options, they are all limited in terms of how you get paid. You don't have the same monetization flexibility, and you don't have the same ownership security.
Q: Who is the highest-paid blogger?
Ariana Huffington, the founder of Huffington Post, is the highest-paid blogger in 2023, followed by Engadget's Peter Rojas.