Last updated Feb. 27, 2023 by Chim Gracia
Motherhood is a thing of joy, and it is something that comes with lots of sacrifices. Catering for the welfare of a child is one responsibility most mothers don't joke with. As a result, some even have to sacrifice their well-paying 9 to 5 jobs to have all the time they need to perform their parenting responsibilities.
While it is understandable that some mothers would want to sacrifice their careers to have time to care for their children, it will interest you to know that there are better options on the table. By getting a remote job, a stay-at-home mom can earn on the side while carrying out her parenting duties.
These jobs are on the internet, and with the proper search, you will be closer to getting your dream remote job. For this reason, we will reveal 18 legitimate stay-at-home jobs for mothers.
Blogging
Blogging is one popular online job for stay-at-home moms. The job is quite flexible, which makes it easier for them to fit it into the schedule. If you have excellent storytelling and writing skills as a mom, then blogging will be your best fit.
To begin your career as a blogger, you must first create a blog. Opening a blog in today's world is relatively easy, especially with the various CMS builders. WordPress is a typical example of such a builder.
Following the proper instructions, you can create a standard blog in a few hours on WordPress. If you have issues with opening a WordPress blog, you should contact the service of a website developer. 
While creating a blog is straightforward, building, sustaining, and profiting from it is not. To be successful as a blogger, you must fully understand your target audience and devise a way to get your story across to them quickly.
A good knowledge of search engine optimization will go a long way in helping your story reach its target audience fast. You can hire an SEO expert instead if learning SEO skills seem difficult.
Freelance Writing
Freelance writing is an excellent stay-at-home job for moms that don't have the resources to invest in a blog. Instead of writing for themselves on their blog, these people provide their writing services to people who need them.
A whole lot of opportunities are available for freelance writers online, depending on the writing they do. From articles, blog posts, press releases, product descriptions, grant writings, poetry, fiction, and more, there is something available for a freelance writer.
Nevertheless, getting a freelance writing opportunity is not a walk in the park. Freelance writers with a good writing portfolio have a better chance of landing a gig. Your writing portfolio makes it easier for clients to see some of your previous work samples. You can create one on Behance, constantly, and medium.
Virtual Assistant
It is much easier transiting into a virtual assistance career as a stay-at-home mom if you are a former front desk receptionist or a personal assistant. This is because your role is almost the same, except that you will be working remotely now.
Virtual assistant works from anywhere, and they perform various kinds of administrative tasks. For example, virtual assistant tasks include data entry, customer service, social media management, bookkeeping, content research, and more. Depending on the company, they are employed either as independent contractors or full-time remote workers.
Photo Editing / Photographer
If you are passionate about taking and editing photographs, you can make fortunes from it by monetizing it. Sites like Dreamstime, Shutterstock, Getty Images, Depositphotos, and Adobe Stock are good places to sell your photos online. However, these sites are competitive; therefore, you must ensure you meet up to their required standards.
On the other hand, photo editors work in places like news publishing companies, advertising firms, or web development companies. They mainly select and edit images used in publications. They also collaborate with photographers to discuss the objective of a project.
Selling on Amazon FBA
Selling online is a great business you can make money from as a stay-at-home mom. When it comes to selling online, Amazon is a great place to start, as they provide massive sales opportunities.
They have programs like Amazon's Fulfilment-by-Amazon that make selling straightforward and faster for users. But first, you have to create an Amazon seller account to start selling on the platform.
After creating an account, you will send your products to Amazon's warehouse, where they store them. The product can be a newly manufactured one or those you want to resell.
The product remains in Amazon's store until a customer orders it. After this, Amazon ships the product through 2-day prime shipping. They also provide customer support on behalf of sellers.
Affiliate Marketing
Affiliate marketing is one of the most sought-after services today. It involves promoting a product or service by actively or passively talking about it on social media platforms, blogs, or websites. The affiliate earns a commission when customers order a product or service through their unique affiliate link.
How much you earn as an affiliate marketer depends on your niche and the products or services you promote. Some affiliate marketers promote products that they can sell quickly but with little commission.
Others are more strategic and target products with more significant commissions. It would help to consider your social clout and network before choosing any niche. 
Proofreading
If you are good at spotting typos or cringe when reading poorly written articles, you will make a good proofreader. Because as a proofreader, you are responsible for identifying spelling, grammar, and punctuation errors.
Many companies hire a proofreader to ensure that their written documents are devoid of errors. This is because an article with all sorts of mistakes confuses readers, giving them a wrong interpretation.
Although their tasks seem similar to an editor's, they have their distinct role. While the editors assign work and review submissions, the proofreader ensures the final written product is free from errors. However, the company still determines to a large extent, your responsibilities as a proofreader.
Online Tutor
There are many things one needs to clarify about teaching jobs. For example, most people feel teachers don't earn well, claiming their rewards are in heaven. However, this is only the case with some teachers. Some teachers earn an average of $16 per hour for teaching online.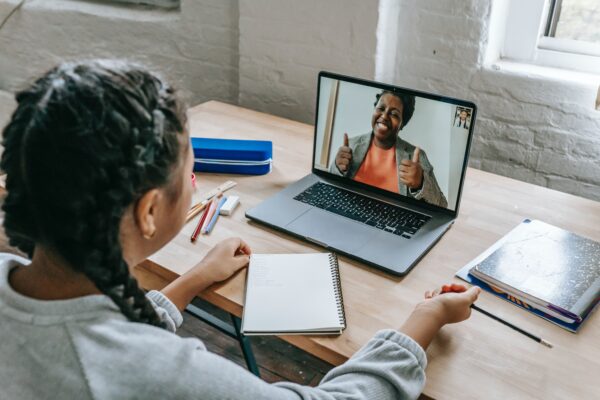 You will benefit from tutoring online if you are strategic and utilize the right platforms. You can start by creating an attractive teaching profile where clients access your capacity and credibility.
You will find these clients on online tutoring sites like TutorMe, PrepNow Tutoring, Skooli, Studypool, and others. You can also get tutoring gigs by asking to tutor your friend or colleague's wards online. Both ways, you will have the luxury to combine your tutoring job with your mom's duties, as your schedule will be flexible.
Life Coach
Transforming your everyday lifestyle as a stay-at-home mom into a career is a smart way to make a living. You do this by inspiring people's lifestyles and encouraging them to make better choices.
There are various ways to go about your life coaching career. You can start by sharing your stories on social media platforms. Some companies might contact you for partnership if your stories are engaging and attract good traffic.
As a life coach, you can also write personal development books, host seminars and webinars online, or provide a one-on-one coaching service for your clients. How successful you become as a life coach still determines how you're able to inspire and motivate your audience.
Social Media Manager
As a result of the impact of social media as a marketing tool, many companies are desperately looking for an excellent social media manager. A social media manager oversees a company's social media platforms. They produce engaging content, create social campaigns, increase followers on social media, and more.
This will be an excellent option if you have a knack for storytelling and enjoy using social media. In addition, it's a job you can easily combine with your duties as a stay-at-home mom and still have time for yourself.
YouTube Influencer
YouTube influencing marketing is another job a stay-at-home mom can explore. However, it takes months of consistently working hard, strategizing, and engaging your audience on YouTube before you can become a successful influencer.
As a stay-at-home mom, there are many things you can do on YouTube that will give you quality engagement. It could be sharing anything you find interesting or important, and it can be something other than your motherhood journey.
When creating video content on YouTube, you must stick to a niche. This way, you will accrue many dedicated fans and followers and subsequently increase your views.
Apart from posting quality videos, optimizing your videos is another way to improve your YouTube views. You do this by putting specific keywords in your YouTube video titles and descriptions.
You can monetize after you have successfully gotten a good number of views on YouTube. There are various ways you can do so. For example, you can create sponsored posts for interested clients, post an affiliate link in your video descriptions, or create ads for companies in your video.
Brand Ambassador
If you want a job that allows for a flexible schedule as a stay-at-home mom, then being a brand ambassador will be a rewarding career. As a brand ambassador, you will represent the company you influence and its products and services.
Ideally, you will be their spokesperson, promoting the brand to your audience. To be successful as a brand ambassador, you must master your storytelling skills and learn how to capture your audience's attention.
This way, you will build a solid online personality and have a significant following on your social media pages. 
Transcriber
If you need a job as a stay-at-home mom that allows you to make money online in your spare time without prior experience, then a transcription job is right for you. You will be responsible for converting audio and video files into written documents as a transcriber.
Generally, to be good at transcribing, you must be an excellent typist and have a great knowledge of the language. 
There are mainly three types of transcription jobs currently in demand: general, medical, and legal. You don't need prior experience or certification to get a job as a general transcriber. However, you will succeed as a general transcriber with good typing, listening, and writing skills.
On the other hand, medical and legal transcription jobs are technical and require specialized knowledge and training. In addition, you need certification and state licenses before you get a job in those fields.
Freelance Bookkeeper
Getting a freelance bookkeeping job as a stay-at-home mom is an excellent idea if you have previous bookkeeping or accounting experience. Your responsibilities remain almost the same, except that you will be working from home now.
As a freelance bookkeeper, you perform data entry tasks for your client. You will also need to perform accounting tasks like monitoring payroll and recording your client's transactions.
To succeed in this career path, you must have a knowledge of accounting and maths. You must also master the use of popular bookkeeping software like QuickBooks.
Take Surveys or Market Research
Taking online surveys is a fantastic way of earning passively as a stay-at-home mom, although it will take time to make you rich. The good thing about engaging in online surveys is that it doesn't take much of your time and resources. Some surveys even last as little as 5 minutes.
What most companies require from you when taking surveys is to give your opinion about a product, service, or even idea. After taking the survey, you will earn points, which you can redeem for cash, gift cards, or other prizes.
Toluna Influencers, Survey Junkie, and Opinion Outpost are some popular survey sites that pay users to give opinions online. These platforms are easy to navigate, and with consistency, they can provide you with the needed financial boost.
Childcare Service
One fun thing about motherhood is that it gives one a chance to be fully available for their children and bond well with them. However, the job of a mother is quite tasking and time-demanding.
Unfortunately, not every mother can cope with such demands and thus the need to employ a childcare service provider. With a childcare service provider, career women will have more time to focus on their career growth without worrying about their kids.
As a stay-at-home mom, you can take advantage of this opportunity and offer to take over the welfare of other children. Since you're already actively doing that for your children, it becomes much more manageable.
One way to do this is to contact your neighbor or friend with little time to take care of their kids. Then, you will volunteer to bring them to your home and cater for them at a fee.
Dropshipping
Dropshipping is another verifiable business you can do without having direct or physical contact with your customers. This way, you will reduce the hours you could have spent outside if it was physical work and divert such time to care of your home.
With drop shipping, you are selling a wide range of products online, but this time from a third party. You don't need to stock these products in a physical location or worry about shipping them, as the drop shipping company will take care of that.
However, you still have to do some things before you succeed in your dropshipping business. First, you must create an online store where customers can see the products you offer for sale.
For a start, you could create a simple e-commerce website where your customers can easily make their orders. After creating a website for your dropshipping business, the next important thing to do is marketing.
Doing marketing will help you maximize your reach and increase sales. Social media platforms are an excellent place to start promoting your business. 
Data Entry Clerk
A data entry clerk is one of the most sought-after remote workers today. They are the ones responsible for transferring paper formats into computer files. To be more specific, they handle such roles as typing in customer information and creating spreadsheets with a large number of figures.
If you enjoy typing and are conversant with spreadsheet applications and word processors, this job is right for you. However, in this job, attention to detail is also critical, as mistakes can cause a lot of damage to the company.
Places You Can Find Stay At Home Jobs
No doubt remote job opportunities abound on the internet, but getting yourself the right one is not as simple as most people think. Sadly, many unsuspecting remote job hunters have fallen prey to scammers while looking for jobs. As a result, they are skeptical about looking for remote job opportunities.
A good place to start your remote job search is by reaching out to people you think could need your service. It could be a friend, family, or previous colleague.
You can also offer your services on freelancing sites like Fiverr and Upwork. Although these sites are competitive, you can benefit from them with the right strategy and approach. In addition, sites like Indeed, Zip Recruiter, We Work Remotely, Flex Jobs, and more also publish different remote job opportunities.
Conclusion
Regardless of how little the amount you earn from working remotely as a stay-at-home mom, it is far better than staying idle. Many people started small with their first remote job but are doing well for themselves now.
Such people were consistent and refused to be discouraged by any poor outcome. They understood what they would benefit from getting a remote job as a stay-at-home mom; therefore, put in all their efforts until they reached their desired goal. 
Frequently Asked Questions
What is the easiest job to get hired at home?
Ideally, no remote jobs are much easier to get than the others. Recruiters mainly consider your experience and skills before employing you. Therefore, you will likely only get employed where you have experience.
How can a stay-at-home mom work financially?
A stay-at-home mom can earn a living from home by getting a remote job online or offering her services on freelancing sites.
How much does Amazon pay you to work from home?
You can get paid for working from home on Amazon through Amazon's Fulfilment-by-Amazon program. The amount you earn depends on how many sales you make.