Last updated Apr. 6, 2023 by Peter Jakes
If you are on a tight budget and hosting on a free web host is your only option, we have carefully reviewed and selected the best website hosting sites, especially for beginners. If you are on a tight budget and hosting on a free web host is your only option, we have carefully reviewed and selected the 11 best free website hosting sites you can find around. You can also explore the best web hosting for WordPress sites if you're starting with WordPress.
What Is Web Hosting?
Web hosting is a service that lets anyone rent space on the internet. Websites need web hosting to be accessible online. Some content management systems (CMS), and best website builders like Squarespace and Wix, include web hosting in their monthly fees. However, if you're building a site on WordPress, you'll need to buy web hosting from a company like MochaHost or IONOS. Find out more about web hosting.
Related: 27 + Best Web Hosting Services Providers (Ranked)
How Does Web Hosting Work?
Web hosting gives your website a place to live. The domain name, HTML code, images, text, and other parts of your website all need a place to live. Web hosting gives this content a place on a server to live. In short, a server is a computer that connects people to your website. In other words, a server is like a big office building or condo complex, and web hosting is like renting an office or buying a condo.
Domain Hosting vs. Web Hosting
You need a domain name before using web hosting to find a place for your website. Even though web hosting and domain hosting are similar, they are not the same thing. Web hosting is connecting your website to a server, while domain hosting is getting a domain name or web address for your website.
If web hosting is like renting space in a building, then domain hosting is like putting a sign with your name and address in front of your door. People use your domain to find your address on the internet.
Many service providers offer both domain and web hosting, which can be convenient because you only have to go to one place. Still, depending on your needs, you may consider getting them from different companies. No matter what, you need to get a domain name from a domain registrar before you can even think about web hosting.
Should You Go For Free Web hosting?
Free is wonderful, but it is not always the best option for you. However, if you are a beginner and want to try your hand at having or building a website, it is a good idea to try free web hosting. You will save money and be safe if you do not proceed with your plans.
Using free web hosting to build a website may be an excellent way to save money, but at what cost? This article will help you choose the best free web hosting sites; however, you should be aware that doing so implies that you should only use the website as a learning tool.
You can always start with them as a beginner and migrate when you have the means to get good-paying hosting.
What are the Advantages of Free Web Hosting Sites
The advantage of free web hosting sites is that it allows you to learn all the nitty-gritty of starting a website as a beginner. You learn at absolutely no cost. When starting a personal website, free web hosting is always a good option because it allows you to share your thoughts and learn Webhosting bit by bit. Another appealing feature of free web hosting is its ease of use. It does not have a lot of intricate features. It is simple and, thus, an excellent way to learn how to manage a simple website.
Non-profit organizations will also appreciate free web hosting because they are not looking to make a profit. The website can primarily be used for communication, information sharing, and uploading activity updates from the organization.
What are the Disadvantages of Free Web Hosting Sites
There are many disadvantages to using free website hosting sites, including customer support, poor security, and no up-to-standard hosting services. But, as the saying goes, "You get what you pay for"—in this case, nothing.
We do not recommend you choose a free web host if you can pay for a premium version because free web hosting has limited storage, so if you intend to upload a lot, this option is definitely not for you. Besides, the hosts can use your website for unnecessary ads to make money.
If you are on a tight budget and hosting on a free web host is your only option, we have carefully reviewed and selected the 11 best free website hosting sites you can find around.
1. Hostinger
(Overall Best Web hosting)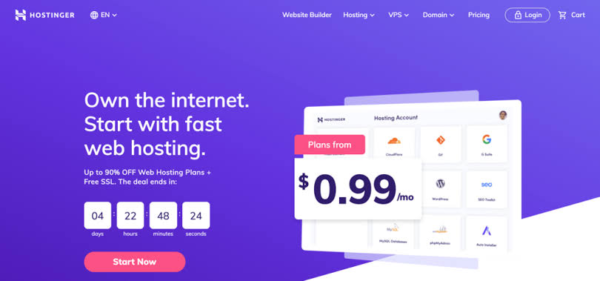 Hostinger, our first choice, is not a free web hosting service. However, it is one of the world's cheapest web hosting sites, with "next-to-free" pricing, making it an excellent alternative to free web hosts.
This web-hosting business was founded in 2004. Hostinger now has over 28 million international users and multiple offices in various locations around the world.
While Hostinger Single Shared Plan allows you to host your custom domain, their low price comes with a catch (pun intended). The single shared hosting plan does not include a free SSL certificate or daily backups.
Furthermore, the $1.99/month offer is available only if you sign up for four years, which is longer than the standard recommended subscription period (24 months). However, speed is not a problem with Hostinger, and it promises an average uptime of 99.95%.
Hostinger Features and Specs
Easy website builder
Auto Installer (WordPress, Joomla, etc.)
Email hosting accounts
24/7/365 live chat support
Full feature hosting at almost-free cost
Disk Space: 30 GB SSD
Bandwidth: 100 GB
Database: 1 MySQL Databases
Control Panel: hpanel
From the hPanel, you can do many things, like update the core version of WordPress, turn on or off plug-ins, and turn on maintenance mode. Then, you can get to your WordPress dashboard with one click on a navigation button in hPanel.
When you set up WordPress, LiteSpeed Cache for WordPress (LSCWP) is set up for you automatically. Its server-level cache and other optimization features help speed up the website so that users have a better experience.
Pricing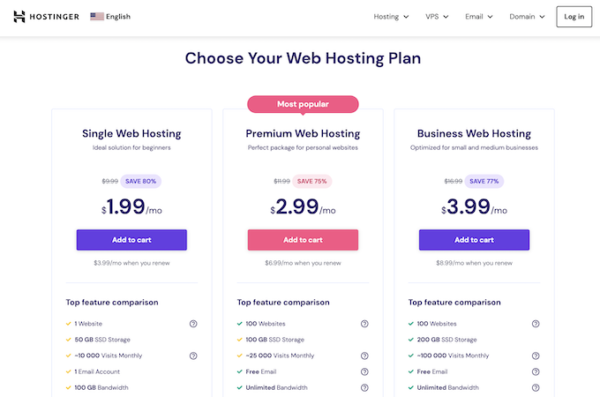 You can get Hostinger shared hosting plan for a "too-good-to-be-true" price of $0.99/month. There is also an option to upgrade to a higher plan for additional features like more domains, daily auto backup, etc.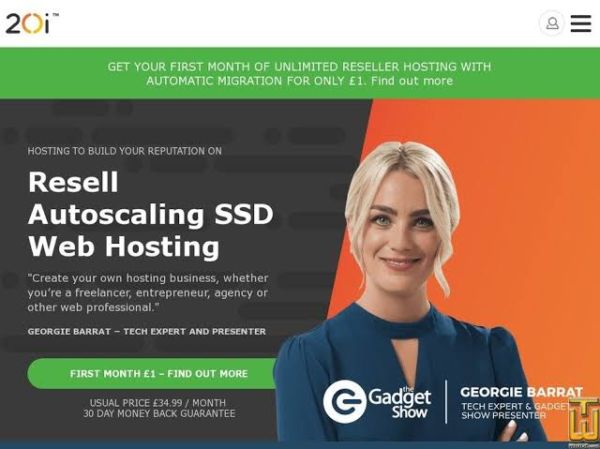 Another free web hosting service that we will recommend is 20i. It is one of the best web hosting in the UK you should consider. The UK-based web hosting provider is a new player in the web-hosting field, but the founders are well-known and have a track record that you can trust. Although they are not as prominent as Bluehost or HostGator, they provide a reliable hosting service.
20i web hosting Features and Specs
20i comes with the following
My20i Control Panel
easy app installation
free wildcard SSL
SSD storage
10GB disk space
250MB bandwidth
ad-free hosting
a free CDN service, and
allows website monetization.
These features are very impressive, especially for a free plan. The only downside to their so-called "free plan" is the limited bandwidth space—a measly 250MB each month. There is an option to upgrade to any of their paid plan, which increases the number of features, disk space, and bandwidth.
3. Dreamnix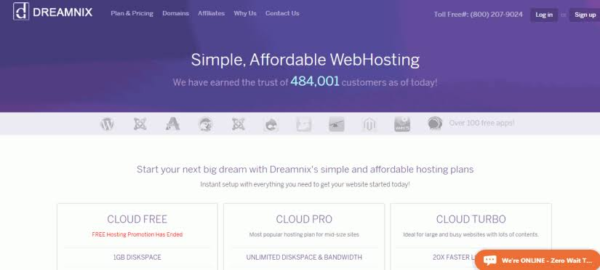 We won't call Dreamnix a "free" web host but an "almost-free" web host. This is because their ostensibly free plan is riddled with strict limitations that only allow you to test their product and nothing else.
Dreamnix web hosting Features and Specs
PHP & MySQL database support
Ad-free hosting
Auto Installer (WordPress)
SSD-powered servers
Cpanel Control Panel
1 MySQL database, 1GB disk space
1GB bandwidth and much more are available from the web hosting provider.
Dreamnix offers a money-back guarantee on its website. According to our review, it is dependable and has a reasonable uptime. Dreamnix's only notable flaw is its small number of data centers (three in total). They compensate for this with a vast network of servers spread across the globe.
Pricing
For the free plan, you can get started without any credit card information required—only for the paid plan. Upgrading Dreamix paid plan means more features like mailing lists, access to Cron jobs, unlimited disk space and bandwidth, and more.
Their lowest plan is priced at $2/month-$4/month, depending on how long you are willing to commit to their services.
4. Googiehost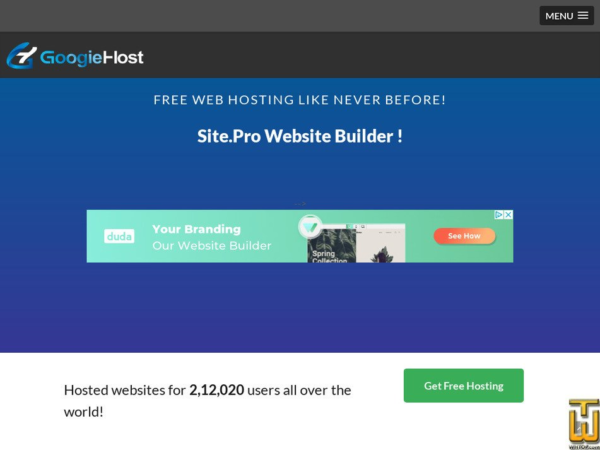 Googiehost is easily confused with Google host—more like a clickbait—but they are two separate web hosting providers. This web host is not well-known, but it has been around for over eight years and is a better catch in a sea of subpar free web hosting options. Currently, the web hosting provider claims to have over 212,000 users worldwide.
This web hosting provider doesn't strike you as a top brand in the web hosting industry. It is hilarious that you see silly grammatical mistakes on the site like 'Powerfull, Trsusted, Lastest,' among others. There are also security issues as Chrome seems to identify the website as insecure with the "your connection is not private" popping up anything you try to access the cPanel.
On the bright side, this web hosting provider is the only website offering their free user Cloudflare and cPanel features. Also, they don't force ads on their user's sites but show occasional ones on their site. Their free plan comes with 2 MySQL databases, 2 FTP accounts, 2 email accounts, unlimited subdomains, 1GB of disk space, and more.
What We Don't Like About Googiehost
Apart from their inability to project trust and concerning security problems, Googiehost offers decent free web hosting services. In addition, there is an option to upgrade to a paid plan after you have outgrown the free plan.
5. Awardspace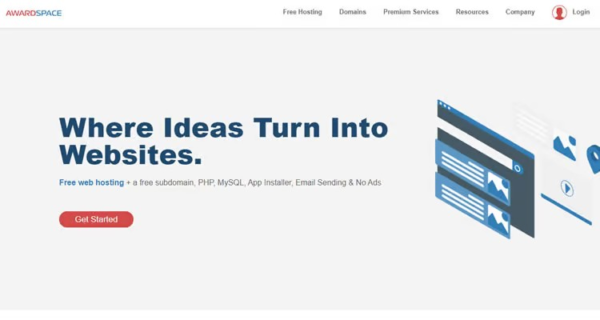 Awardspace has been in the web hosting business for quite some time. Since its inception in 2004, AwardSpace has competed with big names in the industry and has survived up till now. They are very innovative with their services and always strive to improve. Their recent update featured a complete website redesign and streamlining of their services.
AwardSpace Web hosting Features and Specs
The web hosting provider is big on features and security and offers the following:
spam protections
1 MySQL Database
ad-free hosting
auto installer (Joomla, WordPress, etc.)
free website builder
advanced control panel
1GB disk space
5GB bandwidth, and many more.
The free version does not have guaranteed uptime; this is only available on their paid plans. However, they claim to offer 99.9% uptime for the paid version, with the free version not far behind. They also provide a 30-day money-back guarantee with no questions asked for dissatisfied customers who are confident in the services.
Three options are available if you ever need to upgrade to a paid plan. Their cheapest plan starts at $5.20 per month and can go up to $10.30 per month.
For the first-time subscriber, Awardspace offers a 98% discount, bringing the price down to as low as 9 cents per month.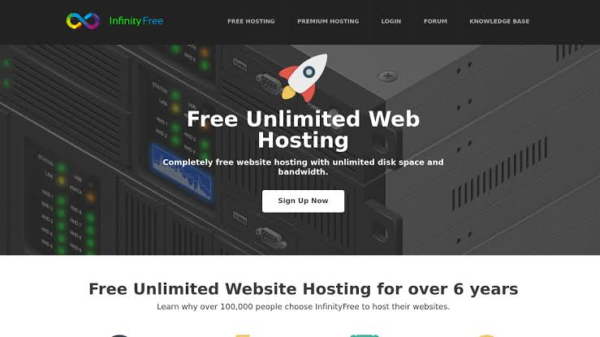 The phrase "free" wasn't added to InfinityFree just for the show. Web hosting makes an effort to render as many hosting services as it can provide for $0. Their website design and content relay trust and confidence.
Although the upload speed of the free version isn't great, the general service offered by this hosting provider is amazing. This web hosting company has been around for a while and boasts over 350,000 user-base.
InfinityFree is very generous regarding bandwidth and disk space, unmetered, plus an amazing 50,000 daily traffic. In addition, they claim to offer an uptime guarantee of 99.9%. You also get one FTP, up to 10 email accounts, and unlimited domains.
InfinityFree Web hosting Features and Specs
Some amazing features include the following:
a Softaculous Script installer
400 MySQL databases
free Cloudflare CDN
SSL and DNS service.
Pricing
InfinityFree offers a low-cost upgrade to their paid plan, though it is not the cheapest. Their paid plan includes unlimited access to everything, starting at $6.90 per month. In addition, when you upgrade to a paid plan, you gain access to additional features such as Railgun.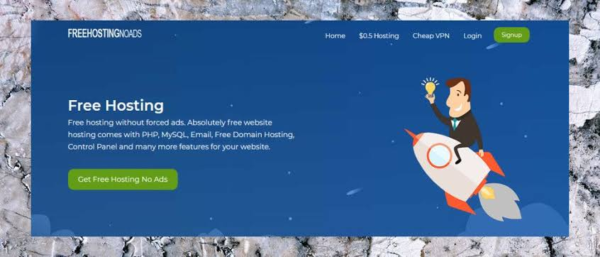 With FreeHostingNoAds, you get exactly what it says on the tin—an ad-free web hosting service. This free web hosting provider was created by Runhosting, a well-known web hosting company known for offering unlimited traffic and disk space for a low monthly fee of $2.49.
FreeHostingNoAds Features and Specs
There are some limitations regarding disk space, bandwidth, and the number of domains, as with any other free web hosting service. However, there appears to be some overlap in the features offered and the dashboards of FreeHostingNoAds, Batcave, and FreeHosting EU.
Some of the features available for free include:
An SSL certificate
Zacky Tools Installer (Control Panel
One-Click Install for Joomla, WordPress, and Grav).
The web hosting provider is completely free. However, if you want to access the benefits and features of a paid web host, you can migrate to their parent company Runhosting.
8. 000Webhost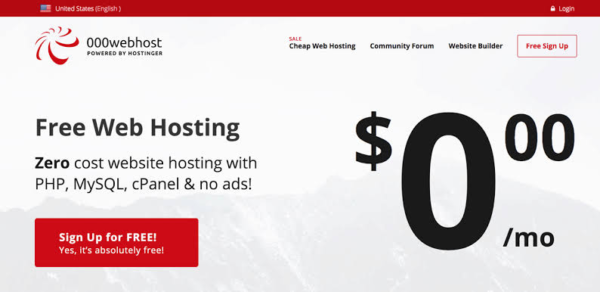 000Webhost is a free website hosting provider owned by Hostinger that has been in business for over a decade. Previously, this web hosting provider boasted a massive user-base in the millions, which changed after a successful hack on their entire database resulted in the compromise of over 13 million accounts. As a result, there have been many security upgrades, but many previous users are still wary of using the web hosting provider.
000WebHost web hosting Features and Specs
Some of the features that come with free web hosting include:
300MB disk space
3GB bandwidth
a WordPress auto-installer
ad-free hosting
a website builder
cPanel
PHP
MySQL database, and many more.
The primary disadvantage of the web hosting provider is that it does not provide support through tickets, email accounts, subdomains, or SSL certificates. There's also the issue of the mandatory one-hour sleep period per day, which means neither you nor your visitors will be able to access your website during this time.
000Webhost, as expected, is designed so that you will need to upgrade to their parent web hosting provider—Hostinger.
Pricing
An upgrade to Hostinger starts at $7.19/month for their one-month plan, and prices decrease depending on how much time you are willing to commit to the web hosting provider.
9. FreeHostia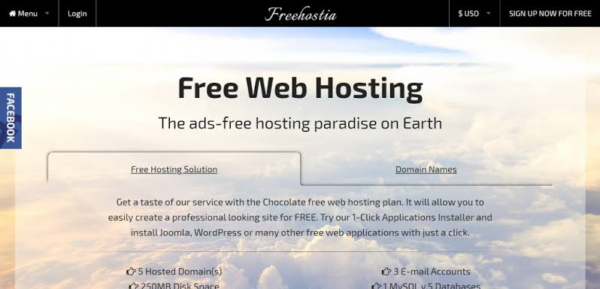 FreeHostia is a large web hosting company operating for over ten years and takes pride in its load-balanced cluster technology. This large web hosting company provides various hosting services, including dedicated servers. Unfortunately, they only have one data center in Chicago.
FreeHostia web hosting Features and Specs
With FreeHostia, you get the following:
a cPanel control panel
ad-free hosting
Auto-Installer (Joomla, WordPress, etc.)
6GB bandwidth
250MB disk space
free website templates, among others.
Pricing
The web hosting claims to offer an uptime of 99.9% for its free version, indicating the paid version would be better. There is an option to upgrade to FreeHostia's paid version, which is between $14/month and $65/per month.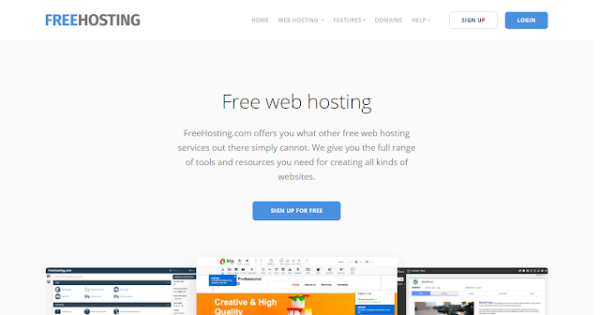 The word "Free" is all over this web hosting provider, but the features available are limited. A glance at the features available on their website may be deceptive, as the long list is simply a compilation of both the free and paid plans.
FreeHosting.com Features and Specs
Unlimited bandwidth
10GB disk space
cPanel control panel
1 MySQL Database
ad-free web hosting
Auto-Installer (Joomla, WordPress, etc.)
a free website builder and other features are available from FreeHosting.
One red flag we found on this free hosting site is that there is no guarantee of uptime, which can be concerning. Their pricing model is simple, with only two options—free and paid. You can get the paid version for $7.99/month, which is unlimited for everything.
11. ByetHost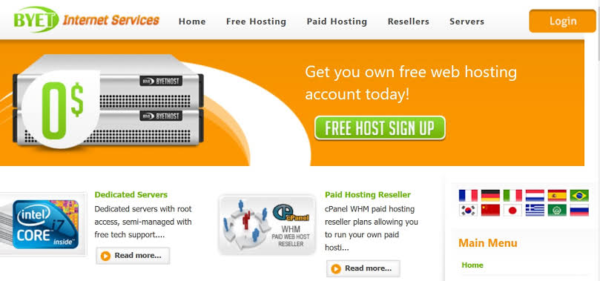 The best is saved for last! ByetHost claims to be the world's fastest free web host. This web hosting company is a division of Byet Internet, which also provides reseller and domain name services. They claim to have hosted over a million websites around the world.
ByetHost web hosting Features and Specs
Features available at the free level include:
VistaPanel control panel
50GB bandwidth/month
1GB disk space
24/7 customer support
access to their knowledge base and community, and many more.
ByetHost is the most generous to free users regarding features and customer support. But what's the catch?
Pricing
To access more advanced features, free domains, SSD, and cPanel control panel, you'll have to upgrade to their paid plan, which ranges from $4.99/month to $7.99/month.
How To Find the Best Web hosting For You
Price
You don't want to pay too much for hosting, but you also don't want to pay too little. Don't choose a host based on price alone. Most simple web hosting plans cost between $2 and $20 per month. Yes, there are ways to save money.
Some of them are deals that end when the subscription does. Others are hosting plans with bad support and aren't online very often.
Site Uptime
A good web host's uptime is the most important thing. If your site isn't up, you won't be able to make money or attract people to it. Therefore, you need a web host with good uptime. This means that your site is always up and running.
Most hosts offer a guarantee of at least 99.9% uptime to avoid the "just trust us" promise of nearly perfect uptime. But that guarantee doesn't mean much. It just means you can get a discount on your bill if your service goes down for no reason.
For example, HostGator is one of the best web hosting companies because it will give you a free month of hosting if your uptime drops below 99.9%. However, there is also a lot of fine print on these guarantees, like not accepting self-reported or third-party uptime data and not giving refunds for downtime that was out of the host's control.
Site Speed
Everything about your site is affected by how fast it loads. Want to be found on Google? Get a secure site. Want conversions on your site? Do it quickly. Want satisfied users? Move faster. The speed of your website affects every part of your business. When you look at different web hosts, you choose one that can serve every page quickly. Initially, you need a fast host that's "enough." It doesn't have to be super fast, but it does have to move quickly
Migration Features
You will save weeks if you can easily and quickly move an existing site. Unfortunately, even a simple WordPress website can be a pain to move. First, you'll need to install WordPress on your new host.
Then you have to export your old site's content database and import it into your new site. Lastly, you must set up WordPress repeatedly, including the theme, plug-ins, and settings. You can skip all of these steps, which is good news.
Some hosts easily move popular site builders like WordPress with just one click. However, if you're switching hosts and doing the migration yourself, look for a feature that makes it easy to change. This is a great way to make the final choice of the hosting options when you're down to just a few choices.
Traffic Volume
How much hosting you need depends a lot on how much traffic you get. Any standard hosting plan will work for a site with 300 visitors monthly. You should be good to go if your web host has good customer service.
As you grow, lots of little things matter much more. How often do you update the PHP on your server? Do you have a content delivery network (CDN)? Is your site backed up every day? If something goes wrong, can you fix it in 15 minutes?
Do you have a certificate for SSL? Can your server handle a huge increase in traffic during a marketing campaign? Always look for premium hosting that takes care of all this when you have a larger site.
And if you want to build a big site, look for a host that can handle millions of visitors per month without much trouble. You will be happy to pay more now to make sure that upgrades will be easy in the future.
Responsive Customer Support
Customer service is the most important thing a web host can give you if you run your website. Unfortunately, digging through user reviews doesn't always provide a clear picture of how good a web host's customer service is.
Keep an eye out for reviews in top publications that are too good to be true Also find a hosting provider that integrates well with major CRM tools and software
There is only one way to tell how good a host's customer service is; the free customer service test. Almost every web host has some money-back guarantee on their shared hosting plans. So you can set up your website and try out the service with only your time and any extra fees you pay, like domain registration.
Ask a lot of questions about customer service during that trial period. Then, get as much help as possible through live chat, tickets, and the phone to see if you like what you're getting.
Why Do web hosting Providers Offer Free Hosting?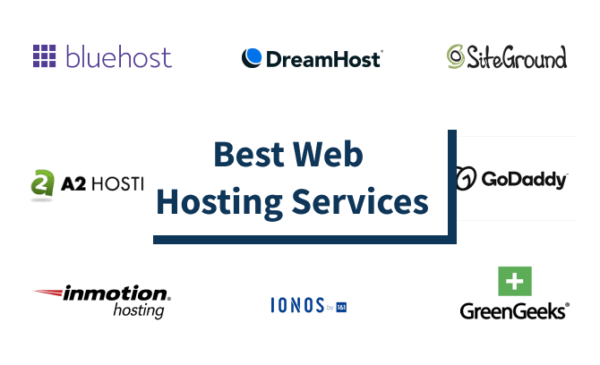 Free website hosting should be seen as a way to market a business. However, this means that the terms and conditions may change often, and because there is no financial transaction, there may be more downtimes since there are no SLAs (service level agreements). Free website hosting does have some restrictions, though.
Features like server space, site speed, traffic, uptime guarantees, and backups are often cut back, but that doesn't mean you can't find good cheap hosting. Remember that companies offer free website hosting to sell more expensive web hosting to people who need it.
What are the Risks Associated with Free Hosting
1. The Website can Shut down suddenly, or the hosting company can go Bankrupt
Free web hosting sites do not charge any fees for their servers. As a result, most providers will dismiss your website. This creates a significant risk with free hosting plans, as they can take your website down anytime.
Numerous reports have been of people whose accounts were deleted or barred without prior notice or warning after using free hosting platforms. In addition, many free hosting providers do not feel obligated to keep your website online indefinitely because you are not paying for their services.
2. Data Leakage can Occur
Data is a valuable asset for any business, particularly an eCommerce business. However, with free web hosting models, your data is more likely to be leaked or stolen because most providers do not follow and enforce the standard and fundamental security practices required to protect their users.
Again, because many of these providers provide their services and infrastructure for free, they often do not see the need to provide adequate security to protect their users and their data. This resulted in cases where hackers stole a user's sensitive information, such as usernames and passwords. For example, back in October 2015, 000Webhost ignored security warnings from a Forbes journalist and a security researcher, resulting in a massive security leak. As a result, they were hacked, and 13.5 million users' passwords, email addresses, and usernames were stolen.
3. Server Performance Issues
Poor server performance is the most obvious disadvantage of using a free web hosting model. To help save server costs, many providers will combine hundreds, if not thousands, of websites on a single shared server. Unfortunately, when that many websites share the same server resources, it's unavoidable that your website will experience several server issues, such as slow loading or frequent downtime.
Some service providers even impose restrictions or limitations on their users when they use their platforms. For example, 000WebHost requires users to endure one hour of "sleep time" daily, which aids in server capacity maintenance but ensures that your website cannot exceed a 95.8% uptime.
Should You Go For Shared Web hosting?
Sometimes, it is advisable to go for shared Web hosting rather than free web hosting. This is especially if you have a growing business and not just for blogging. Shared hosting is a type of web hosting in which more than one site is stored on the same server. The good thing is that all of the sites share the cost of the server, so shared web hosting is usually very cheap. Therefore, it is reasonable to host a website. Some options cost less than $10 per month.
But there are drawbacks to shared hosting. In terms of web hosting, all sites share a single server's resources. This means that if Site A gets a lot of traffic, it could slow down the performance of the sites next to it. Also, another site could take it down completely if the shared server crashed hard enough.
Should You Go For WordPress Hosting?
People who want to build their websites using the popular WordPress content management system (CMS) from WordPress.org use WordPress hosting. With this free, open-source blogging and site-building platform, you can set up your website and run it well.
Creating a site you host gives you the most control over how it works. This usually means moving the free WordPress CMS to a server or signing up for a web host's WordPress-optimized plan. With an optimized plan, the host automatically takes care of the back-end stuff, so you don't have to worry about keeping your plug-ins, CMS, and automatic backups up to date. In these cases, the WordPress environment is usually already set up on the server.
What is the Difference Between WordPress.com and WordPress.org Free Web hosting?
You can also host your website on WordPress.com, which is different from the hosting mentioned above. WordPress.org and WordPress.com use the same code, but WordPress.com hides the server code and takes care of hosting for you. This way, it's like some of the online site builders in our roundup. It's a simpler way to host WordPress but is less flexible and customizable. It's easier, but you might not like it if you want to change and improve every part of your site.
Is Free website Hosting Safe for Beginners?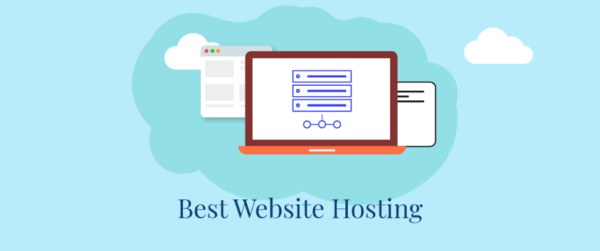 Free website hosting is just as safe as any other kind, with the caveat that stability and customer service aren't as important. It means you can't assume that backups will be made or that they will be reliable. Instead, you must take extra steps to save and download your data as needed. This doesn't mean that free website hosting services are bad or unreliable; it just means that you pay for stability, support, and reliability with paid services.
Free website hosting can be great for small hobby sites, but any serious site needs a paid web hosting service, even if it's just a contact page. Not only does this mean that your website is safer, but it also looks better if you don't have any extra website credits or even if you don't have any website credits.
2023 Web Hosting Trends
As the internet continues to grow and change at an amazing rate, the web hosting industry has changed to meet the needs and expectations of more and more people. As we move into the new year, these changes can be seen in the major web hosting trends for 2023.
● Fewer Data Centers on Site
Like everywhere else, the cloud is becoming the most popular way for people to host their websites. As a result, companies are eliminating their dedicated servers and switching to third-party, cloud-hosted servers instead.
Servers that run in the cloud have a lot of advantages, such as better scalability, more flexibility, lower costs, the ability to make backups, better security, regular maintenance, and better software capabilities. Cloud computing is here to stay, and in 2023, more organizations will likely move their operations to the cloud.
● Multi-cloud Hosting
Multi-cloud hosting sends a site's computing tasks to two or more different cloud computing platforms. As a result, one vendor takes care of some parts of a site while another takes care of others.
In recent years, multi-cloud hosting has become more and more popular. Using this model, a company doesn't have to rely on just one vendor for all of its needs and can take advantage of what each host offers. In 2023, as companies try to stay competitive in the virtual world, we expect multi-cloud hosting to become even more popular.
Related: 13 Best Web Hosting sites in the UK (Best hosting companies in the UK)
Bottom Line
Be warned! Using a free hosting site has its disadvantages and risk, but there is always an option to upgrade to a paid version with these web hosting providers. Also, you should know that most of these "free website hosting site" offers below-standard hosting service, which doesn't cut it if you want to make the most of your website.
Some of the limitations of free web hosting include limited features, low uptime guarantees, traffic, site speed, and server space. Most free web hosting sites are riddled with many limitations because they were created as a strategy to upsell their paid version. If you are looking for a better experience, functionality, or support, you should consider some alternative options that provide decent services for cheap price tags.
Frequently Asked Questions
Q: Is Bluehost better than GoDaddy?
Generally, Bluehost is a slightly better option than GoDaddy. It got more wins than the contender, which is quite significant – it's more functional and offers better security for a better price in the long run. Bluehost is a great option to start a website, whether a portfolio or a small business website.
Q: Can I host my own website?
You can host your own website, but this isn't the best option for most people. It will be more expensive and take more time than using a web hosting company because you'll have to buy your own servers and software and know how to keep them running.
Q: Which web hosting is best?
The best free website hosting services are:
InfinityFree.
Wix.
ByetHost.
HyperPHP.
000WebHost.
Google Cloud Hosting.
AwardSpace.
Freehostia.
Q: What is the Cheapest way to host a Web site?
Some web hosts offer free domain names and hosting, but you shouldn't use them for your business. The web host's domain name will come after yours (mycoolsite.webhostname.com). Shared hosting is the cheapest option, and we have a list of cheap web hosting services to consider.
Q: Is there any free web hosting without ads?
Several free hosting platforms do not force ad placement on their users' websites. Weebly, 000Webhost, and 5GBfree are the top 3 that we recommend.
Q: What should a Small Business-Friendly Web hosting site offer?
A small business-friendly Web hosting should have dedicated servers, an advanced cloud server platform like Google cloud, dedicated 24/7 customer support, and an SSL certificate for encrypting data.
Q: Should I get a web host?
In today's digital world, it's important to have a website for your business or your own use. You can build and host your own site or use a website builder that includes hosting. But if you want more control over your site and access to more features, it might be better to use a separate web hosting service.