Last updated Sep. 17, 2023 by Charles Zemub
18 best-ERP software (systems ranked& compared)
Enterprise Resource Planning (ERP) systems monitor business distribution, production, financial management, and other areas.
The systems help manage various aspects of a business's supply chain, human resources, and manufacturing process. Companies that use ERP systems provide transparency to their business running processes.
ERP stands for enterprise resource planning, and it allows users to manage various company processes, such as sales, marketing, financing, human resources, and supply chain operations.
Most ERP vendors build systems that follow best practices and which make many organizational processes more efficient.
Furthermore, the unit design of many ERP solutions allows small and developing organizations to implement and install an ERP system without incurring significant upfront costs.
Companies may swiftly add modules to existing core features as needed, allowing them to adapt more to change.
Rossum
Rossum is one of the best document-based operation software for your business. Manufacturing firms use this software to manage their day-to-day operation process.
Rossum helps businesses gather sales contracts, procurement orders, and other essential documents to lessen the stress of running such a business.
The software also uses a more advanced machine learning tool to collect, scan, and validate data from different documents following a quick process. The software's validation engine is designed to be trainable with user feedback.
Hence, Rossum inspires users to check fields and data using low confidence scores. The system can learn from users' behavior and automate similar conduct in future business processes.
Remember that Rossum is used to creating a document-based workflow to cover your business process from the financial to hiring stages.
Remember that Rossum integrates its services with other business solutions such as Oracle Netsuite, Zoho Books, and Sage Intacct. The price of Rossum is affordable and customizable.
Remember that this price will only become available to you through a personalized quote-based plan. You can also try the free version before returning to the paid version.
Why should you choose Rossum?
Its end-to-end communication is automated.
It comes with reporting and robust analytics features.
It is created as document-based operations.
SYSPRO
SYSPRO has some stand-out features, making it one of the best ERP Software in the manufacturing industry. Some of its powerful features include warehouse automation, document management, inventory management, project accounting, forecasting, and more.
Remember that any business can deploy SYSPRO through installed on-premise or cloud. The software integrates comfortably with its Manufacturing Operations Management (MOM) platform.
This platform enables its users to access shop flow data, factory performance analysis, tracking, advanced planning and scheduling, loss management, and other advanced manufacturing-specific features.
With all these features, you will experience a smooth-running process in your business. These features also enable you to digitize your factory and connect your machines accordingly.
The software can also be integrated with Web EDI and Microsoft Office 365. The price range of SYSPRO is customizable through a personalized quote.
Why should you choose SYSPRO?
It helps to install interactive technology that assists you in building a smart factory.
It has the potential to scale up your operations.
With its Manufacturing Operations Management (MOM) software, SYSPRO offers outstanding Manufacturing-specific features.
Odoo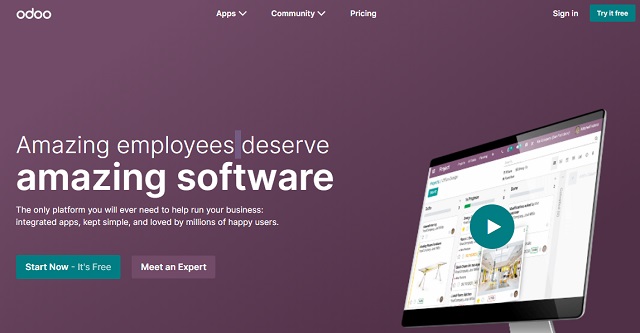 Odoo is a great ERP software solution with highly customizable and robust CRM features. The software has outstanding key features such as planning, work orders, maintenance, versioning, routings, supply chain rules, control panels, etc.
It offers manufacturing companies an all-in-one suite. This suite contains modules for shop floor automation and real-time communication capabilities. Hence, using its API, users can deploy these modules to capture data from different equipment.
Odoo is also integrated with Magento, WooCommerce, and Microsoft Office 365. Remember that the software also has mobile versions to accommodate mobile users.
The platform allows its users to access exceptional community apps and use its customizable option to customize the app for their interests.
The price range of Odoo ERP begins at $6 per month for every user. Remember that custom apps on Odoo are made available through custom pricing.
Why should you choose Odoo?
It has a flexible pricing plan.
It offers an all-in-one solution to its users.
It is open-source software with several features.
You can also read: 15 Best Audio Editing Software ( Best Audio Editing Software for Podcasts )
Kechie
Kechie is one of the best cloud-based ERP systems on this list. The platform is designed with robust Material Requirements Planning (MRP) features to give it an outstanding platform for manufacturing companies.
Kechie comes with deep inventory management features to give its users new abilities such as cost efficiency, capacity planning, eliminating excess inventory, better scheduling, and more.
The platforms also provide users with other advanced features like procurement, bin location, transfer orders, shipping and receiving, financial management, and more.
Kechie helps users in making data-driven decisions that will aid their manufacturing process. It has great reporting and analytic tools that allow users scale up their management process.
Kechie integrates perfectly with other tools like Shopify, Salesforce, and QuickBooks. The price range of Kechie is estimated based on your business needs. Hence, you customize it according to your plan.
Why should you choose Kechie?
It has a great logistics model that helps users optimize several processes.
It has a module specifically designed for Material Requirements Planning.
It comes with Multi-Warehouse Management support.
SAP ERP
SAP ERP is a unique ERP software solution that has gained popularity globally. SAP ERP comes with top-notch features, including lifecycle management, supply chain management, financial management, and human capital management.
SAP ERP is highly valued because of its Core Finance Module. The software also has other features like Order to Cash, Procure to Pay, Request to Service, and Plan to Product.
SAP ERP works well with other SAP products like HCM Analytics and SAP Hybrid Cloud for Sales and Talent Management. With its accounting features, you can carefully compile your organization's financial information into the general ledger.
Remember that you can customize this simple general ledger using reporting and analytics tools. The price range of SAP ERP is made available to its users through custom quotes. Hence, you should make a specific budget before using this software.
Why should you choose SAP ERP?
Its plan to produce features helps in connecting your core processes.
It helps in translating your entire information into a new SAP stack.
SAP ERP offers great business applications for all business types.
Infor VISUAL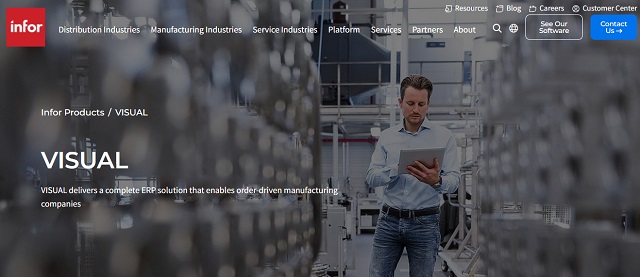 Infor VISUAL is one of the best ERP platforms for manufacturing businesses. Hence, if your business is in the manufacturing sector, you should see the need to use Infor Visual for your business operations.
The software features include financial, sales, configuration, throughput, and quality management.
Infor VISUAL comes with backend tools to improve your daily business operation. These backend tools include shop floor automation, dimensional inventory, and engineering change control.
The software also offers users some of the best features and modules that can cover all their operational cycles.
Keep in mind that this great assistance can provide every business with a great solution to facilitate the daily running of the company. Infor Visual is advantageous for all users, including Android, iOS, and other mobile users. So you are not limited by the device while hoping to use this application.
What's more? The platform integrates perfectly with Inforce, Infor F9, and CADLink for VISUAL. The price range of this software tool is available for quote-based plans, and you can deploy them according to your business needs.
Why should you choose Infor VISUAL?
It helps to enhance your business growth.
Using the software's powerful features, you can gain enough efficient quality control.
It is specifically designed to provide solutions to manufacturing businesses.
QAD Cloud ERP
QAD Cloud ERP is software designed to provide business solutions to the manufacturing industry. Its key features include resource management, financial management, quality control, and document management. The software has additional features to give medium-sized businesses an end-to-end business solution.
Using this software will make it easier to scale up your production and grow your productivity with time. The creators of this platform also make it available for Android and iOS devices. Hence, you can access the platform from almost every device within your reach.
The software specifically comes with an Integrated Customization Toolkit to give users non-invasive designs to monitor, debug, and track customization. The solution is integrated with several QAD products, such as QAD Cloud EDI, QAD EDI eCommerce, and more.
The price range of QAD Cloud ERP is based on a personalized quote plan. So, you have to decide your budget before using this platform.
Why should you choose QAD Cloud ERP?
It comes manufacturing-centric to provide the best solution for medium-sized manufacturing businesses.
It has several features to increase business productivity.
It can be easily customized to meet your personal demands.
NetSuite ERP
Netsuite's ERP is software created by Oracle to give businesses the best ERP solutions. Over the years, Netsuite's ERP has dominated the global software market as it provides outstanding solutions to businesses.
The software module consists of global teams' management, CRM, support, order management, commerce, change management, and marketing. Its features are highly customizable to enable your business growth.
No matter your location, you customize Netsuite ERP to meet the regional operations. The solution can be integrated with other third-party and web investment solutions such as Dell Boomi and Epay.
It is not limited to a particular language as it supports a wide range of languages, including Turkish, Chinese, and others. The price range of this solution can be customized. You can also use the free trial version before paying for the software.
Why should you choose Netsuite ERP?
It has outstanding modules.
Its prize range can be customized to meet your needs.
You will not experience many challenges using the software.
Read also: 20 BEST CUSTOMER RELATIONS MANAGEMENT (CRM) SOFTWARE
Sage Intacct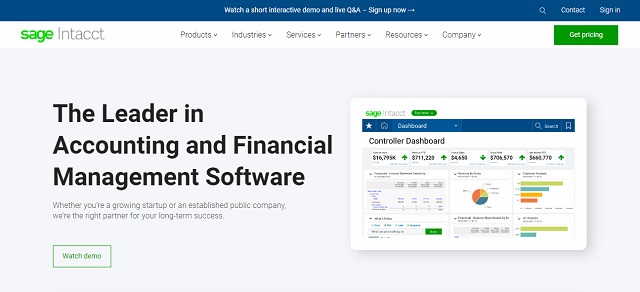 Sage Intacct is a cloud financial management ERP solution used across several industries. Businesses in the manufacturing industry often deploy this tool more than other sectors. The product has several automation tools to help business owners manage their core financial operations wisely.
These tools enable users to experience fewer human errors as they use the tool. You will also have enough time to concentrate on other basic operations of the business.
Stage Intacct comes with key features, including business activity statements, accounts payables, inventory management, automated journal entries, depreciation tracking, and a general ledger.
What's more, Stage Intacct integrates efficiently with products such as Development Sandbox, Salesforce, Clarizen, and more. The software partnered with MISys Manufacturing to give its users outstanding features. The price range of this software is customizable and available in a quote-based plan.
Why should you choose Sage Intacct?
It comes with high-security features.
It has simple financial management features.
Oracle ERP
Oracle ERP is one of the best ERP platforms often used by businesses in different sectors. The software provides a great solution to the manufacturing and warehousing industries.
Its top features are risk management, inventory, procurement, revenue recognition, compliance and governance, financial planning, and analysis. The platform has social collaboration capabilities to facilitate business growth.
Oracle ERP contains a Manufacturing Cloud module to help the manufacturing industry reach a great milestone in its operation process. It also integrates with other tools. The price range of this solution comes in three different plans.
These plans include Advanced Financial Controls versions priced at $80, Financial Reporting Compliance plan priced at $175, and Advanced Financial Controls version priced at $150. Keep in mind that each of these three plans is paid monthly per user.
Why should you choose Oracle ERP?
It enables users to experience flexible contract billing.
Quick in completing financial transactions.
Epicor ERP
Epicor ERP has operated for more than 40 years, rendering professional services to several industries, including manufacturing, distribution, and retail. The software is specifically created for medium-sized businesses.
When you use Epicor ERP, you will have access to new technologies, including big data, analytics, IoT, and mobility. These new technologies will make it easier for you to experience the smooth running of the manufacturing process of your business.
Epicor ERP's key product features consist of performance management, service management, performance management, production management, planning, and scheduling.
The software can be used as mobile applications on iOS and Android devices. Epicor ERP is integrated with Twitter, Salesforce, QuickBooks, and other endpoint applications like most ERP applications. The price range of Epicor ERP begins at a monthly payment of $175 per user.
Why should you choose Epicor ERP?
It offers a strong client support service record.
It provides you with only the needed modules.
Related: 13 Best Project Management Software
Kronos ERP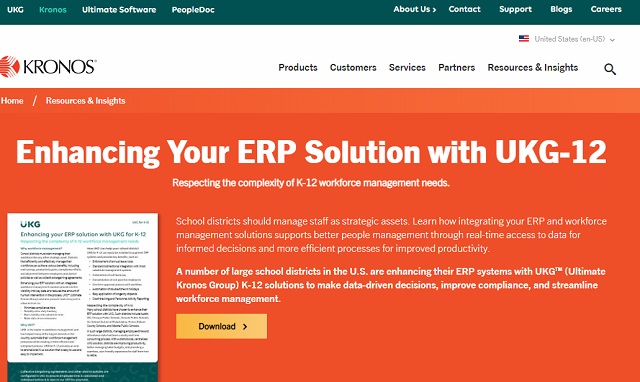 Kronos ERP is one best digital manufacturing software applications that offer several management features to the business. This solution contains several modules: payroll automation, ACA management, taxes, and budget management.
It comes with Workforce Dimensions Suites that give users real-time visibility of various labor exercises going on within their workforce. Top manufacturing companies use this software to grow their manufacturing processes.
Keep in mind that the software is also compatible with mobile devices. What's more? Kronos ERP enables its users to manage their workforce from any part of the globe. You will also have access to a strong internet connection.
It integrates perfectly with other Kronos products. So you can enjoy using tools alongside other products offered by the company. The price range of this product highly depends on your needs.
Why should you choose Kronos ERP?
It has highly productive tracking tools.
Makes the manufacturing operations to be smooth and easy.
FinancialForce ERP
FinancialForce ERP offers one of the best solutions for real-time reporting, customizability, and core financial tools. The software has great modules used for multi-location support, CRM, reporting, and analytics.
The software helps the manufacturing industry to experience a smooth operation. Its advanced features include revenue recognition, billing, order management, HCM, inventory management, and accounting. Keep in mind that this software is also available in mobile web-based solutions.
It is integrated with Salesforce, Rootstocks, and others. The price range of this software is based on your personalized quote.
Why should you choose FinancialForce ERP?
It offers real-time financial reporting.
It offers the boost to get rid of errors.
Scoro
Scoro is a software solution that serves as web-based work management. It is compatible with several industries with powerful features. Scoro's collaboration tools are useful when it comes to rendering various tasks in some industries.
However, the software works much better in the manufacturing industry. If you work with a manufacturing company, you use this tool to connect the back end of the process and manage the front-end functions wisely.
Scoro is integrated with various businesses such as Dropbox, QuickBooks, Xero, and more. Its features are calendar management, quote management, and more. The price range of Scoro is estimated at $37 per month per user.
Why should you choose Scoro?
It has simple and great features.
It saves more time. 
Tipalti
Aside from serving as invoicing and billing tools, it offers interesting business solutions for the wholesale and manufacturing industry.
Its features include payment currency selection, fraud detection, tax forms, invoicing, and more. Its automation tools make it possible for users to get rid of more than 80% of their personal problems.
Tipalti is compatible with Sage, LinkTrust, Quickbooks, and more. This software price depends on your personal interest.
Why should you choose Tipalti?
Its payment system supports 120 currencies.
It guarantees secured transactions.
SAP Business One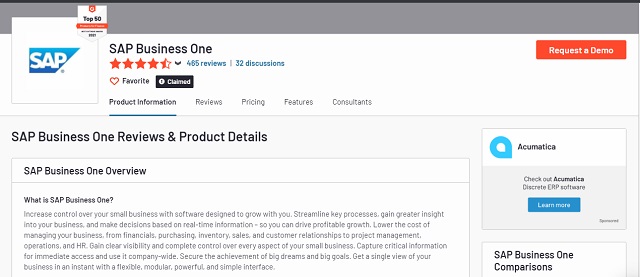 SAP Business One is an ERP software solution that comes from a top software provider known as SAP. Manufacturers prefer to use this product because of its positive impact on their business.
SAP Business One has several modules, including bills of materials, material resources planning, product orders, inventory management, accounting purchases, and others. The solution can handle any size of manufacturing business.
Its top features can help in scaling up your business. Keep in mind that SAP integrates perfectly with several SA products. This solution can work perfectly on both Android and iOS devices. The price range for this product is estimated based on your personalized custom quotes.
Why should you choose SAP Business One?
It has automation tools to reduce human error.
It gives room for both big and small manufacturers.
Method CRM
Method CRM is a software program that offers Quickbooks-based solutions for businesses in various industries. Manufacturers mostly use the solution to meet their day-to-day activities. Keep in mind that the product is designed with highly customizable features.
This implies that users can create necessary modules for interaction monitoring, inventory management, and other responsibilities. Method CRM has several features, including a commission tracker, transaction templates, and online document approval.
Keep in mind that you can customize charts, screens, graphs, and reports using this solution. Method CRM integrates perfectly with QuickBooks, Outlook, Google Calendar, Gmail, Mailchimp, and more.
The price range for this solution is estimated at $28 per month per user. If you prefer CRM Pro, keep in mind that you will be paying $49 per user per month.
Why should you choose Method CRM?
It comes with a high-quality CRM.
It helps in extending your QuickBooks integration.
Sage Business Cloud Enterprise Management
Sage Business Cloud Enterprise Management is a software program that provides businesses with a smooth operation for their day-to-day activities.
The software has several modules for business intelligence, logistics, warehousing, manufacturing, and more.
The platform also offers additional features such as payment processing, HR sales, CRM, eCommerce, and more.
Users can customize this solution based on their industries and other needs. The software integrates professionally with Symphony eCommerce, Process Weaver, Edisoft, and other solutions. The price range for this product is estimated based on your business needs.
Why should you choose Sage Business Cloud Enterprise Management?
It offers several social collaboration tools for its users.
It comes with All-in-One Suite features.
Thank you for reading this far. This article is continually been updated as we find more ERPs in the market ecosystem.