Last updated Sep. 16, 2023 by Charles Zemub
savings vs. checking account: what are the differences
If you're new to banking and looking forward to opening a bank account, you'll probably be torn between having and operating a checking or savings account. Which of them is better, a checking account or a savings account? Or is it necessary to have both?
Both checking and savings accounts have pros and cons, and the ideal choice may depend on your financial needs. However, it's important to know when you should opt for a checking account, or instances where opening a savings account is the right way to go.
What's the Major Difference Between a Checking and a Savings Account?
The major disparity between savings and checking accounts is their primary use. While a checking account is mostly used for daily expenditures, you use a savings account specifically for saving and multiplying your money.
With a checking account, you have no limits on transfers, while savings accounts are usually limited to mostly six times transfers for each cycle.
You can earn interest on your balance with a savings account; however, this differs depending on your financial institution. For checking accounts, they provide little to no interest.
This article will explain the major distinctions between checking and savings accounts. We'll also answer questions you might have about opening and maintaining both accounts.
What is a checking account?
A checking account is used primarily to make payments. When we say checking account, a lot of people still think of paper checks; it goes beyond that. While paper checks are still available with these accounts, you'll often have to pay for them.
When you open a checking account, you can do electronic wire transfers, use a debit card linked to your account, or use paper checks to make payments.
Checking account owners are offered debit cards instead of credit cards. These debit cards offered by banks and credit unions are not very much different from credit cards. The only major difference between the two cards is that they are linked to your checking account rather than your debts or loans.
Also, you don't have to worry about security. These debit cards come with the same levels of anti-fraud safeguards that you'll find in credit cards.
It's important to note that most checking accounts charge monthly fees of up to $10 for processing deposits made to the account and payments you processed.
However, depending on your financial institution, the charges can be waived if you meet certain requirements.
You can also read 13 checking account benefits you shouldn't overlook
Some of the ways to avoid paying monthly fees on your checking account include:
Keeping a minimum balance
Setting up payroll deductions via direct deposit
Making at least one transaction a month.
Be a student or young adult below the age of 25.
Because checking accounts don't generate interest on your account balance, you shouldn't leave most of your money in them. If you want an affordable, convenient, and secure way to store your money, receive paychecks, and pay your bills, then go for a checking account.
The monthly fees for checking accounts vary depending on your choice of financial institution. A lot of account owners find themselves paying high monthly fees and complaining about it. It's worth researching checking accounts suitable for you to find a more affordable and better banking option.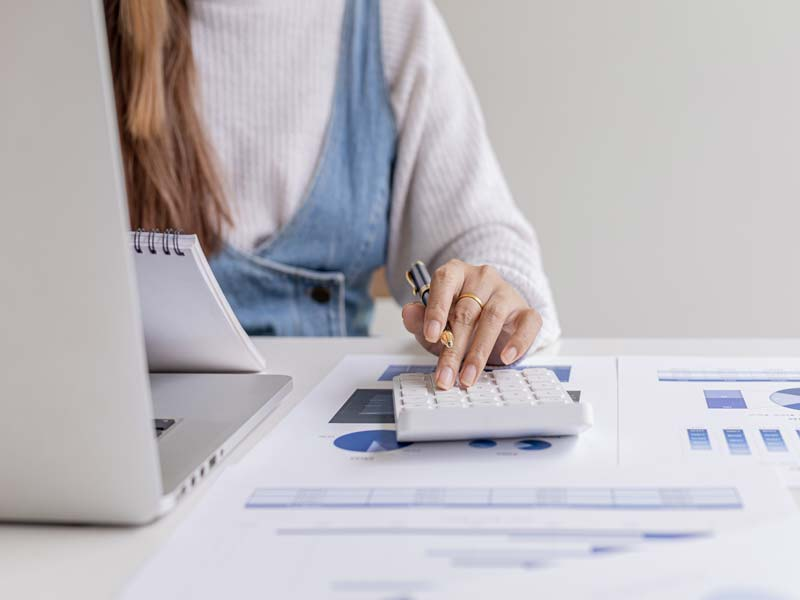 A great place to start your research is a compilation and comparison of dozens of no-fee checking accounts from online and brick-and-mortar financial institutions.
With checking accounts, carrying out regular expenditures is easy. You can constantly make bill payments and cash withdrawals seamlessly.
They usually just come with little or no interest. If you want to save money and generate interest, savings accounts are an option you can explore.
What is a savings account?
A Savings account is better suited for saving money you don't intend to spend immediately.
Under federal regulations, account owners can only make six monthly withdrawals or transactions from their savings accounts. Also, using your account's routing number to pay your bills will count against your six-withdrawal limit.
The FDIC announced in April 2020 that financial institutions would no longer be required to enforce the withdrawal limit. However, you'll need to check with your credit union or bank or to confirm if it is still enforcing a limit. Charges for each extra withdrawal are usually between $5 to $10.
The majority of banks allow customers to automate the saving process. For example, you can link your employer's payroll system to your savings account and have a portion of your salary deposited each month. This can help you stay faithful to your savings goals.
Most banks would require you to keep your money in your savings account for a long period to earn higher interest on your balance.
How do banks make money to pay interest?
Banks use your saved money to fund their different investments and loans. However, in most cases, they only give a very small percentage of what they make in the interest they pay to their customers. This is why finding savings accounts with a higher interest rate and returns or annual percentage yield (APY) is helpful.
To maximize your savings, you can open a high-yield savings account. Do you know you can make over 16 times as much money with high-yielding savings accounts even if the Federal Reserve lowers its benchmark interest rate?
You can also be assured about the security of your money. The Federal Deposit Insurance Corporation (FDIC) protects the money stashed in your savings account. Hence, should the bank fail or liquidate, you are guaranteed the safety of your money up to a limit of $250,000.
While most banks offer savings accounts that the FDIC insures, it won't hurt to be extra cautious and check with your bank before opening an account.
The Pros: Savings account provides higher interest rates, allowing you to save more money.
The Cons: Frequent money transfers and withdrawals may result in fees. You shouldn't use a savings account to make regular purchases.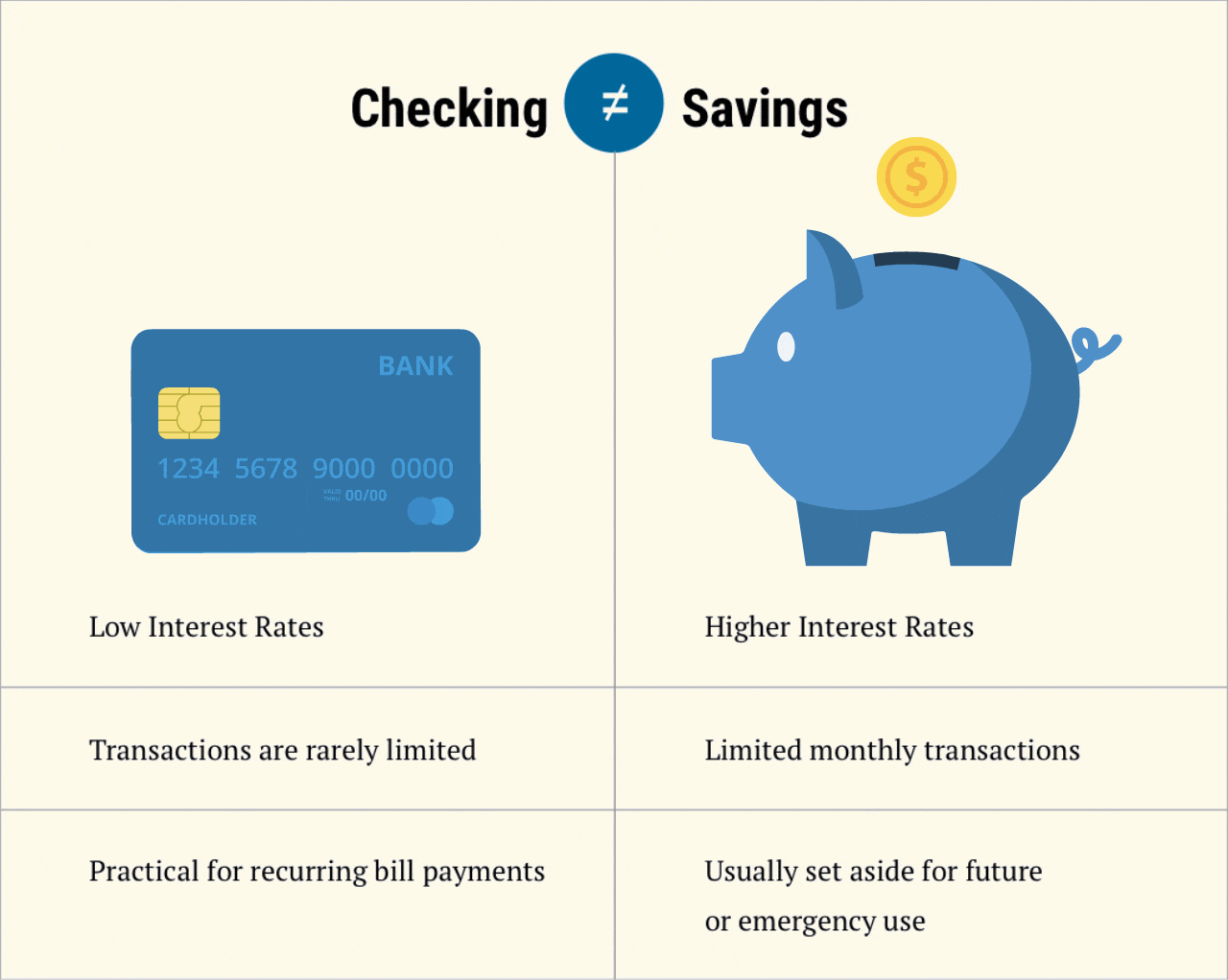 You can use the following questions as a guideline while shopping for the best checking or savings account for you:
What are the account fees? Does the account have a monthly maintenance fee?
Does the account have a minimum balance requirement?
Does an ATM or debit card accompany the savings account?
Does the account have daily withdrawal limitations on checking accounts? Or does it come with ATM withdrawal limits?
Is there a daily deposit limit on a checking or savings account?
Is the account subject to interest? And if yes, what is the account's annual percentage yield (APY)?
The value of high APYs for savings accounts
When you invest in either a savings or checking account that earns above-average interest, you can increase your balance more quickly over time, with little work and less stress.
The average APY on standard savings accounts is merely 0.06 percent, but certain banks and credit unions offer savings accounts that earn far more.
Mostly, you will find top savings accounts that offer rates of roughly 0.50% APY or higher. Discover the best savings accounts and Interest rates.
To know the impact of a higher APY on a savings account, let's look at the below scenario:
Assume you deposit $5,000 in a particular account, earning 0.05% APY. That money earns less than $3 after a year. However, if you place that same amount in a 0.50% APY account, you will go home with approximately $25 after the same period.
While a high APY does not guarantee wealth, it does let you earn more money without much effort.
Regular savings accounts are not the major way to earn high interest. If your deposits are sizeable, let's say $12,000 or more, with your financial institution, and you don't anticipate withdrawing your funds for many months, you can try other savings options, like certificates of deposit (CDs).
CDs typically offer higher interest rates, but they require you to deposit your funds for a fixed period and, most of the time, have large minimums. You can see CDs as investments; however, earnings are assured, unlike other forms of investments.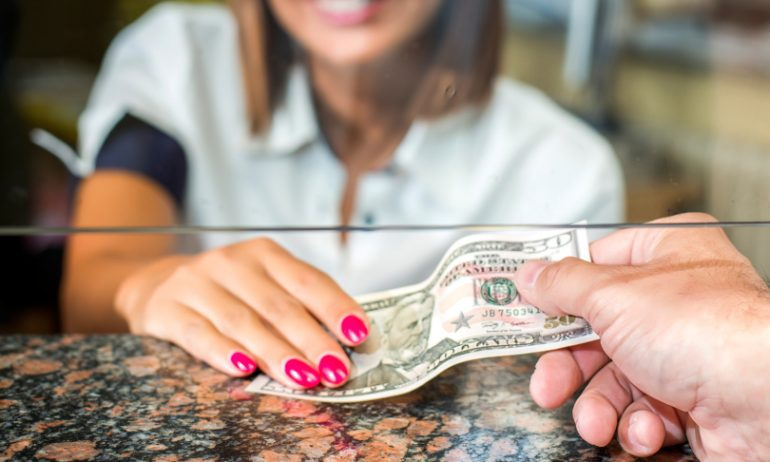 How To Open a Checking or Savings Account With Your Bank
Your personal information, including name, address, and date of birth, must be provided regardless of whether you register an account online or in person.
As part of your account-opening application process, you'll also be asked to supply your Social Security Number.
Is it a good idea to keep both my checking and savings accounts at the same bank?
There are various advantages to having both accounts at the same bank or credit union. Managing your finances and shifting funds across accounts would be a pleasure.
Some banks are known to have occasionally waived the monthly account maintenance costs charged on linked accounts. You may, however, be required to maintain a minimum balance in both accounts to qualify for the promotion.
There are some disadvantages to linking your accounts as well. It is extremely rare to come across a single financial organization that provides the best checking and savings account features at the same time.
Some of the greatest banks in the U.S. don't always have the best savings rates, and vice versa when it comes to checking accounts.
If you want to maximize your savings but don't want to give up your existing account just yet, opening a high-interest savings account at a new bank may become an you can explore.
Do checking and savings accounts have a high level of security?
It is guaranteed by the Federal Deposit Insurance Corporation (for banks) and the National Credit Union Administration (for credit unions) that a large proportion of deposited monies are safeguarded against loss.
The National Credit Union Administration (NCUA) insures the balances in checking and savings accounts held by credit unions under certain conditions. Individual and account types are covered up to $250,000 by NCUA insurance, which is the same amount as FDIC insurance.
Insurance provides protection for combined checking and savings accounts, which pay up to a maximum of $250,000 per depositor on deposits totaling up to $500,000.
Double-checking whether your financial institution is insured by the Federal Deposit Insurance Corporation (FDIC) or the National Credit Union Administration (NCUA) is always a good idea.
You can use the BankFind Suite to help discover whether a bank is FDIC-insured. For credit unions, use the NCUA's searchable database to find insured credit unions.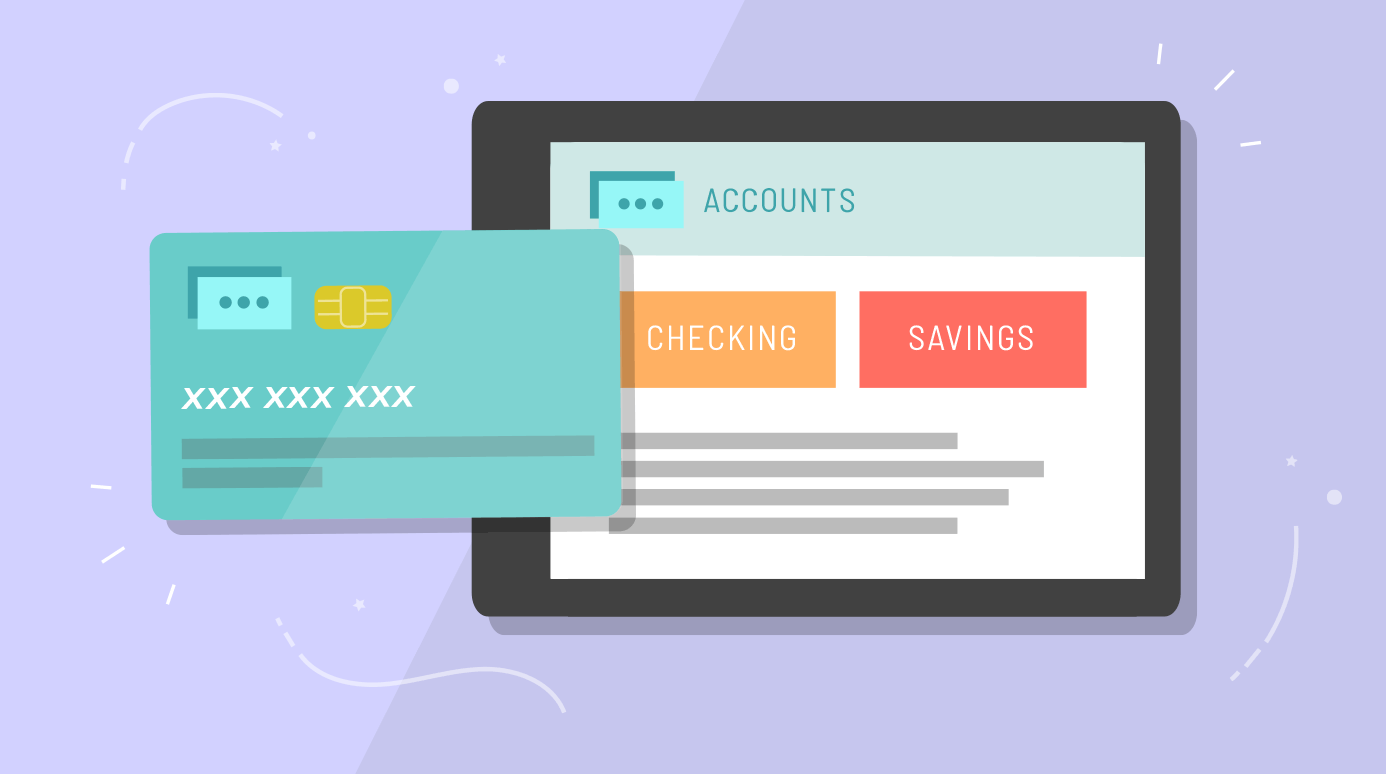 Frequently Asked Questions
1. Is a debit card checking or savings?
Debit cards and checking accounts are inextricably linked. Checks are another characteristic that is typical among checking accounts. The use of ATM cards and cheques for savings accounts is not widespread.
2. Is it better to keep money in a checking account or savings account
A checking account makes it simple to conduct transactions, whereas a savings account earns higher interest rates but requires you to keep your money in the account longer. It all boils down to your individual budgetary requirements.
3. Which is safer, a checking or savings account?
Both are safe as long as your financial institution is insured by FDIC (for banks) and NCUA (for credit unions).
Conclusion
If you've read this far, you should be able to recognize the similarities and distinctions that exist between savings and checking accounts.
We have also stressed the importance of thoroughly looking for monthly fees (and methods to avoid them) and keeping an eye out for high-adjusted annual percentage yield options before opening a savings or checking account.
Compare the two choices and consider which benefits are most important to you, how much money you're willing to set aside, and for how long you're willing to do so.
You will be able to make a beneficial decision based on the parameters you have identified.