Last updated Mar. 12, 2023 by Peter Jakes
Your e-commerce store's success depends on delivering the right product to your customers on time. So instead of adding order fulfillment to your workload, you can hire a third-party fulfillment company. Getting the best eCommerce Fulfilment service will prevent future sales losses, refund requests, and poor reviews. In this article, 13 Best eCommerce Fulfillment Services (2023 Pick for Small Businesses), you'll learn how fulfillment works and how to utilize it for your growing business.
Which fulfillment service provider is right for your business? Your choice of fulfillment services can determine whether new customers return or leave for a competitor.
Most online entrepreneurs who have outgrown their first warehouse space are overwhelmed by the options available, which is understandable. Outsourcing makes sense when you can't keep up with orders, but choosing the right company is essential.
What is E-commerce Fulfillment?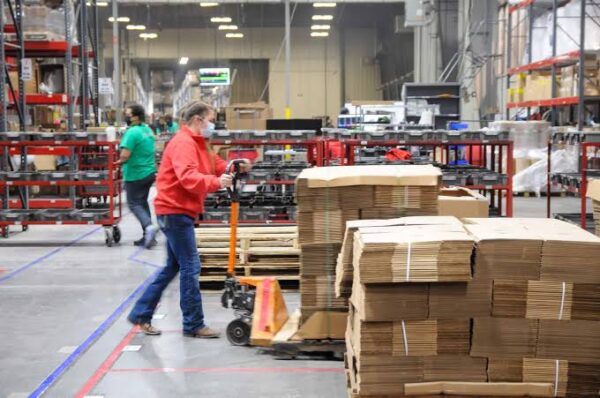 Receiving an order for products, processing it, and delivering the order to your customer are the processes involved in typical e-commerce fulfillment. A fulfillment company's role is to complete all of the above functions on your behalf—for a fee. While this is the most common service fulfillment companies provide, some go above and beyond.
The big picture of e-commerce fulfillment is that you won't have to worry about processing orders, to store items, or shipping them to customers at their request—a third-party company will do it for you.
E-commerce Fulfillment vs. Dropshipping?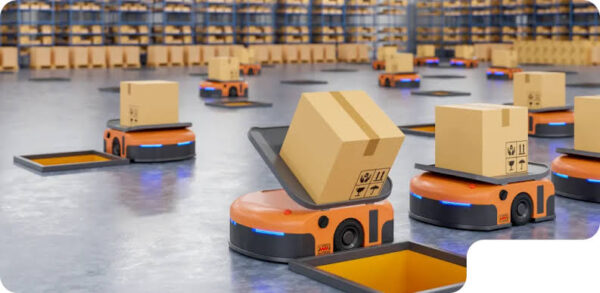 Outsourced fulfillment and dropshipping are similar. On both sides, a third-party company stores, handles, processes, and ships the product you're selling.
In dropshipping, the company you hire also contacts the product's manufacturer. Then, please list the product on your e-commerce and let your dropshipper know when a customer buys it.
eCommerce fulfillment helps manufacturers sell unique products. You must ship your products to the fulfillment company you choose so they can process and deliver them.
Related: 7+ Best 3PL Companies (Ranked and Reviewed)
13. Best Product Fulfillment Services and Platforms
1. ShipBob (Best Overall)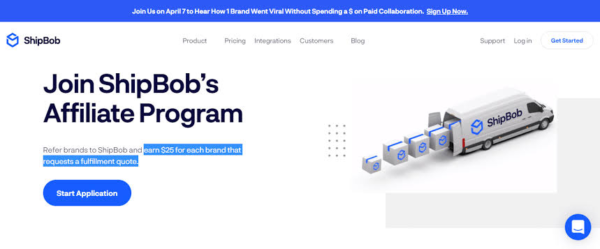 ShipBob is an omnichannel eCommerce platform that more than 7,000 online businesses trust. They say they're 99.95% accurate and help brands grow.
ShipBob helps you spread your inventory across its network of fulfillment centers to ship faster and cheaper. They have supply chain and fulfillment solutions in the US, Canada, UK, EU, and Australia. In addition, ShipBob's web-based fulfillment platform sets it apart from the competition. This easy-to-use portal provides a single source of truth for managing fulfillment needs.
You can track your stock levels in real-time from anywhere and get reorder alerts. In addition, you'll get supply chain reports and analytics. The platform works with Amazon, Facebook, Etsy, eBay, Walmart, and more. In addition, the service supports B2B fulfillment and retailer dropshipping.
ShipBob offers two-day US shipping. It's a logistics hub for Brooklyn, LA, Dallas, Chicago, and San Francisco. You can distribute your inventory across these locations, reducing costs, speeding delivery, and increasing customer satisfaction.
ShipBob offers direct-to-consumer shipping from warehouses nationwide. Connected technology powers the network.
ShipBob integrates seamlessly with major e-commerce stores such as:
SquareSpace
BigCommerce
Magento stores
Shopify, and
WooCommerce.
ShipBob ships for crowdfunding campaigns. Its platform offers supply chain and inventory management. It saves time and improves order fulfillment and warehousing efficiency.
ShipBob is an easy-to-use fulfillment service. ShipBob manages orders and returns. No charge for pick-up or packing, and fixed fees make budgeting easy. ShipBob ships large orders well.
ShipBob Key Features
Leading eCommerce integrations
Distributed inventory management
Network of fulfillment centers to choose from
Same-day or two-day shipping
Orders management
Returns management
Wholesale and B2Borders
Product storage
Kitting warehouses
Reports and analysis
ShipBob Pricing and Plans
The storage pricing starts at $5/month, excluding the product shipping rates.
Pricing is based on the types of products you want and their usage. For example, with its fulfillment services, ShipBob gives away its software for free.
Interested brands can request a quote for specific pricing, but their pricing page also includes a calculator to give you an idea of how much it might cost each month.
Pros of ShipBob
Tons of powerful features
Simplicity in usage
Complete control of your e-commerce business or guide on how to start an e-commerce business.
You do not need to store your products.
Cons of ShipBob
Pricing can be costly, especially for small businesses.
ShipBob is ideal for a business looking for a simple solution for e-commerce fulfillment.
You only pay to store your inventory and ship it to customers.
2. Red Stag Fulfillment (Best for Large, Heavy Items)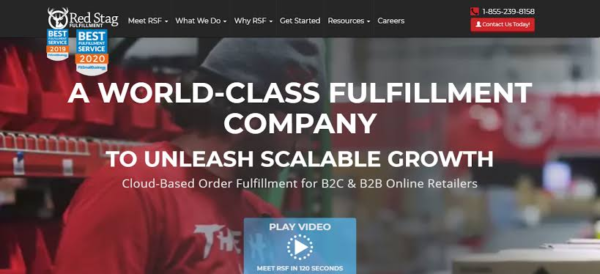 Need a fulfillment service to ship your bulky packages through multiple sales channels? Then, Red Stag Fulfillment is for you!
Red Stag Fulfillment is an eCommerce fulfillment service that has everything you need. For the past six years, they have been named the best fulfillment service for larger and more expensive items.
Red Stag Fulfillment can help you if you are in a niche area of e-commerce and have special packaging or shipping needs.
The fulfillment service provider offers a well-run operation that quickly collects, packs, and ships your products to your customers. They also handle all warehousing and returns.
One feature distinguishing Red Stag from other fulfillment companies is the ease of use of its management system. Tracking your inventory orders and shipping is simple, and the platform allows easy integration with various e-commerce solutions.
Red Stag Fulfillment offers 100% in areas such as managing order shipping speed, order receiving, and inventory accuracy while providing refunds for shipments and orders that are not compliant. In addition, red Stag Fulfillment does not charge SKU management fees, account management fees, hidden fees, setup fees, or long-term contracts that bind you to their services.
Red Stag Fulfillment Key Features
Easy and reliable back-end management
2-day product fulfillment network
Fast and cheap shipping
E-commerce integrations
Transparent service
Excellent support for American consumers
Guarantee service for your peace of mind
No setup fees, and a 30-day trial
Red Stag Pricing and Plans
You'll have to contact Red Stag's team to get a pricing quote. Pricing will vary according to your needs, such as fulfillment operations, inventory levels, and custom packaging pricing.
They offer new customers a month free trial period. So start Red Stag Fulfillment free trial now.
Red Stag Pros
Tons of automated features
Easy-to-use interface
An excellent choice for businesses with bulky products
A perfect option if you have a high volume of orders.
Red Stag Cons
Red Stag pricing is not straightforward and can be confusing.
What We Think of Red Stag Fulfillment
If you are concerned about trusting a third-party company to process, package, and ship your products to your customers, Red Stag offers both physical and warehouse security. Remove the hassle of dealing with your business fulfillment by using a fulfillment service that saves you time and headaches.
3. ShipMonk (Best for Subscription Products)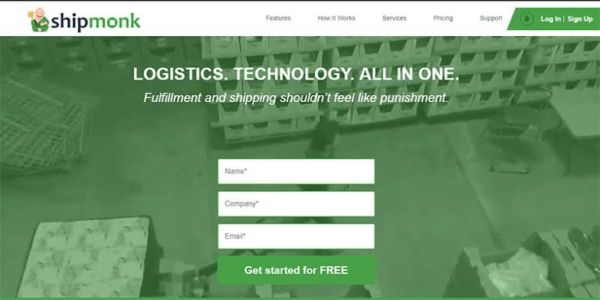 ShipMonk is a rapidly expanding eCommerce fulfillment company. They currently have ten fulfillment centers in the United States, Canada, Mexico, and the United Kingdom, with new locations in Europe set to open soon.
This award-winning fulfillment solution caters to e-commerce sites, Amazon sellers, eBay, Walmart, Shopify, and other sales channels.
Kitting and assembly are included in the subscription box service. It ensures that your customers have a satisfying unboxing experience. In addition, ShipMonk provides the following:
Packaging satisfaction
products assembly and
final packaging.
ShipMonk's custom API integrations help you automatically sync new purchase orders from your dashboard. They offer a consistent and scalable solution to support online businesses.
ShipMonk gives you full control, and you can choose from two-day delivery from your e-commerce store to Amazon Prime Style shipping.
ShipMonk Key Features
Goods management
User permits
Multiple warehouse options
Free integrations
Transparent shipping process
Many customizations option
Big shipping discounts
Support to help you save on shipping
Best-in-class support
Easy back-end store management
ShipMonk's services are ideal for growing businesses with their bank-level security. Their clients' data and privacy are safe from third-party intrusion. Also, they provide reports, guides, and ideas on how to scale up your business.
ShipMonk Pricing and Plans
Monthly subscription boxes start at $2.50 per box and include five items kitted together: They provide volume discounts, so your cost per box will decrease as your subscription service grows.
0 to 500 monthly orders: The first item in order costs $2.50, and each additional item costs $0.50.
Monthly orders ranging from 501 to 1,000: The first item in an order costs $2.25, and each additional item costs $0.50.
Monthly orders ranging from 1,000 to 2,500: The first item in an order costs $2.00, and each additional item costs $0.40.
Monthly orders ranging from 2,501 to 5,000: The first item in an order costs $1.80, and each additional item costs $0.35.
Monthly orders ranging from 5,001 to 10,000: The first item in an order costs $1.50, and each additional item costs $0.30.
More than 10,000 orders per month: Contact ShipMonk for a quote on custom pricing.
ShipMonk does not offer a free trial period.
ShipMonk Pros
Wide range of services for e-commerce companies
Nice payment experience
Excellent range of shipping options.
ShipMonk Cons
It requires a bit of getting used to. James and James
4. Fulfillment.com (Best for High Volume)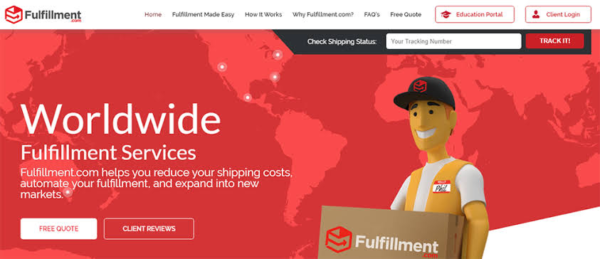 Fulfillment.com is a simple and easy-to-use cloud-based solution that has successfully delivered over 16 million packages while automating repetitive tasks and streamlining order fulfillment for over 7 years.
The company now operates seven international warehouses in various locations, including:
United States
Mexico
Australia
Canada
United Kingdom (
They ships orders to more than 150 countries worldwide.
If you have a high volume of business and want to look into fulfillment companies other than Amazon FBA, Fulfillment.com can handle large order amounts.
Although Fulfillment.com will be in charge of the product's processing, packaging, and delivery, you can manage the entire process from your account dashboard.
You can use the dashboard to:
set the amount of time before stockouts
track your order fulfillment parameters
check shipping delivery addresses
determine appropriate dates for reordering products
compare shipping carriers
review shipping rates for your orders, group orders, etc.
Fulfillment.com provides excellent customer service; you will be assigned a dedicated agent to assist you with any technical issues.
You control your logistics process from address verification to inventory tracking and more. The fulfillment platform also offers multi-channel customer support (via social media, phone, and email), automatic order grouping, and multi-language support.
Fulfillment.com Key Features
Warehouse security
Special services for collective financing projects
Access to various operator options
Logistics and inventory tracking
Product manufacturing options
Multi-channel customer service
Exciting and intuitive shipping software2-day delivery
Fulfillment.com Pricing and Plans
Pricing begins at $10/month and can increase depending on your needs and business size.
Fulfillment.com Pros
Handles large volumes of orders
Cloud-based platform for international orders
Locations of global fulfillment centers
Each customer is assigned an account manager.
Order processing on the same day
Many advanced tools, Enterprise-level warehouse, and client's back-end management
Fulfillment.com Cons
Not ideal for small businesses
Non-refundable deposit fee
Limited customer support availability
It can be tricky for beginners
What We Think of Fulfillment.com
Fulfillment.com is the ideal combination of highly optimized fulfillment facilities and the power of automation software. The cross saves you time and eliminates stress when delivering your product to your customers. Ideal for entrepreneurs who want to start or expand an e-commerce store.
5. Deliverr (Best for Startups with US Based Customers)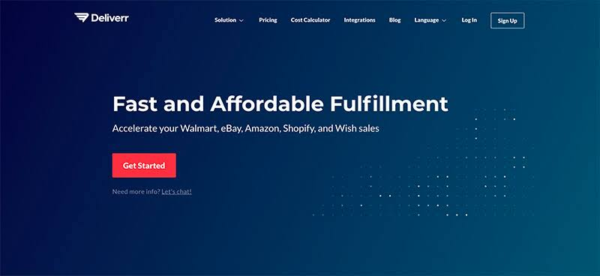 Deliverr fulfillment solutions provide a fast and convenient way to manage your business fulfillment requirements, especially from eCommerce platforms like Amazon, Shopify, Walmart, Wish, or eBay.www.payment.com
Deliverr adopts an "Amazon-style" kind of fulfillment service. So you can now easily handle the shopping cart and market orders while providing fast shipping for your customers on the platform.
Unlike most fulfillment service providers, Deliverr has no hidden charges in its pricing, which most customers seem to appreciate. In addition, users get access to a calculator that automatically calculates and adjusts their shipping rates, saving them time and money.
Signing up for the inventory and warehouse management service can be quickly done through your email address. The fulfillment provider guides you through your account setup process. Their service offers include:
barcodes
unique SKUs
2-day shipping to Wish Express
free delivery options, etc.
Deliverr Key Features
Free account to get started
nationwide shipping support
Improved SEO features
Filter options for customers to quickly find the product they are looking for.
Access to extra-fast shipping
Integrations with Shopify, eBay, Walmart, Desire, Amazon, etc.SKU test
Simple and fast shipping options
A cost calculator to help you run your numbers
Deliverr Pricing and Plans
Pricing starts at $3.99/unit, with the additional cost of 2-day Express shipping.
Storage services cost $0.72/cubic foot of space.
Deliverr Pros
Integrates with major eCommerce platforms and marketplaces, including Shopify, BigCommerce, WooCommerce, Amazon, Wish, and Walmart.
Fees include both receiving and fulfillment.
Inventory and order tracking in real time
2-days shipping
Transparent pricing
Great integration with leading tools
Support for your warehousing and fulfillment needs
Great customer experience
Easy-to-use interface (Amazon style)
Deliverr Cons
Not ideal for small businesses with small quantities
No returns processing
It does not offer kitting for subscription boxes
You might have to spread your products across their different warehouse locations for faster delivery.
What We Think of Deliverr
Deliverr is ideal for most businesses, but it is not suitable for small business owners who are just getting started with order fulfillment and e-commerce—it is an expensive option, and there are less costly options available.
6. Amazon FBA ( Best for High Volume/High Margin Products)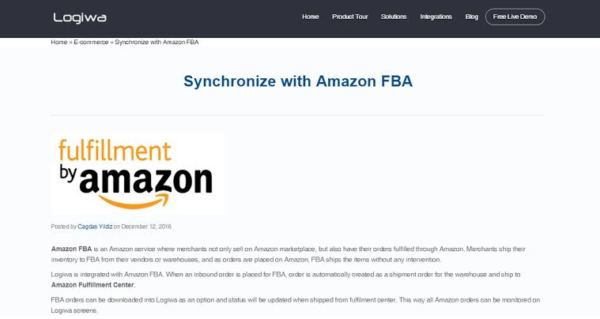 Amazon FBA is a program developed by Amazon to provide Amazon sellers with access to Amazon Prime shipping speeds and discounts. In addition, the programs enable you to outsource critical aspects of your online business to Amazon, such as fulfillment and customer support. However, to continue using the FBA service, you must maintain positive user reviews and high levels of quality.
The majority of Amazon's customers prefer FBA because of the Prime membership benefits that come with it. Furthermore, Amazon FBA supports a broader range of products, consistently delivers on promises, and attracts many customers to their service.
FBA integrates easily with other e-commerce platforms like Shopify and can handle all of your fulfillment orders and inventory with ease.
Shopify's built-in Fulfillment by Amazon integration is restricted by how your store's currency is set. Other integrations appear to be in the early stages, necessitating manual checks or tasks such as canceling FBA order fulfillment in Amazon's portal when a non-Amazon order is canceled.
FBA is typically used by businesses struggling to meet high-volume orders.
Amazon FBA Pricing and Plans
Amazon FBA charges are transparent and straightforward, allowing merchants to anticipate how much their fulfillment will cost.
For standard-sized packages, Amazon pick-and-pack or fulfillment fees are as follows (this includes picking and packing your orders, shipping and handling, customer service, and product returns):
Small (10 ounces or less, shortest side 0.75 inches or less, median side 12 inches or less): $2.41 for 10 ounces or less, $2.48 for 10 to 16 ounces
Large (longest side 18 inches or less, shortest side 8 inches or less, median side 14 inches or less): $3.19 for 10 ounces or less, $3.28 for 10 to 16 ounces, $4.76 for 1 to 2 pounds, $5.26 for more than 2 pounds, with a $0.38 per pound surcharge after the first 3 pounds.
Clothing costs an extra $0.40 per item, and lithium battery items cost an additional $0.11.
For standard-sized packages, Amazon charges $0.69 per cubic foot from January to September and $2.40 per cubic foot from October to December.
Storage monthly (January – September)
For standard items, the cost is $0.75 per cubic foot.
Oversize items are charged $0.48 per cubic foot from September to January.
$2.40 per cubic foot for standard items
Oversize items cost $1.20 per cubic foot.
They have an FBA calculator that you can use to make educated guesses. It's straightforward to use; find a similar (or exact) product, and Amazon will calculate fulfillment costs based on the precise product size.
Although FBA's pricing structure can be a little complicated, it's an excellent fulfillment company for either high-margin goods or high-volume inventory.
Amazon FBA Pros
The best option for high-end inventory.
Suitable option for high-volume inventory.
A well-known business name
Benefits eCommerce stores and brick-and-mortar stores with online sales
Deals with a wide range of inventory
Prime shipping is available for inventory.
Amazon FBA Cons
Inventory and other fees vary and change regularly.
Amazon obtains your customer information
Unfinished Shopify integration
7. Rakuten Super Logistics ( Best for Enterprise)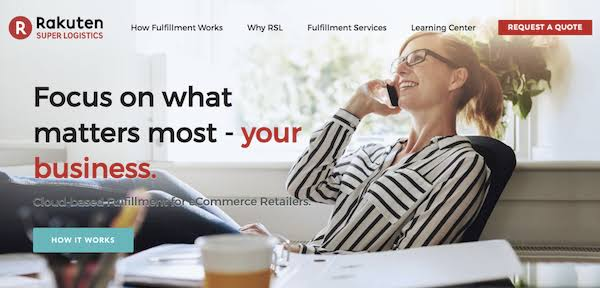 Rakuten Super Logistics is well-known as a 3PL provider best suited for large corporations. Rakuten Super Logistics provides its customers with packing, shipping, and marketing services. This multifaceted service provider understands what its customers require and responds to the call.
The company boasts an extensive network of fulfillment centers located strategically in different locations around the world.
Rakuten Super Logistics offers the SmartFill feature, a cloud-based platform that allows spying into your fulfillment processes from the comfort of your home. Rakuten SmartStock solution feature helps you store your products strategically to allow fast shipment to where you need
This fulfillment solution is best suitable for customers who want to ship a wide selection of inventory options. You can even ship products abroad with a limited shelf life.
An impressive feature worth mentioning is its seamless integration with most other e-commerce solutions, including Amazon, BigCommerce, PayPal, etc., giving you complete e-commerce support from different sales channels.
Rakuten Super Logistics is better suited for customers looking for deeper technical realization features. They offer customers many tools and features, including smart tools for order and inventory tracking, shipping organization services, and e-commerce fulfillment service tools.
Rakuten Super Logistics Key Features
100% Accuracy Guaranteed in Shipping
Smart stock Inventory Processing and Smart order fulfillment
Charging support for inbound shipments
Inventory tracking
Kitting and Subscription box services
Smartship Organizer to optimize costs
Rakuten Super Logistics Pricing and Plans
You'll have to contact the company for a custom quote.
Rakuten's Super Logistics team can be pricey for more prominent brands.
Pricing may differ depending on the size of your business, the volume of your order, etc.
Rakuten Super Logistics Pros
Seamless integration with third-party tools
Ideal for complex deliveries
Excellent performance
1-2 day ground shipping in the United States
Excellent customer service
Services tailored to the needs of large corporations
Provides merchants with integrated marketing services.
Reliable, Feature-Rich Technology
Rakuten Super Logistics Cons
Old interface
No global fulfillment centers
It can be an expensive option for big businesses.
No custom packaging
No DHL integration
What We Think of Rakuten Super Logistics
Rakuten Super Logistics provides complete control over your entire logistics process, advanced features, and powerful analytics. Many users found their services 100% accurate, which translates to excellent fulfillment service for your customers—you deliver your products to those who need them when they need them. Order fulfillment is also completed within a day.
8. RubyHas (Best for Competitive Shipping Rates)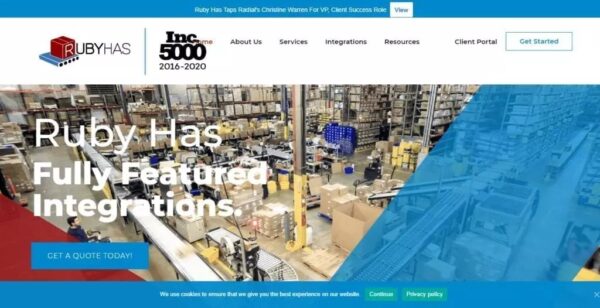 RubyHas is a Fortune 500 company that commands respect in the fulfillment service space. They have 7 fulfillment warehouses, 6 strategically located across the United States and one in the United Kingdom, allowing them to provide same-day shipping to most locations in the United States and global fulfillment services. RubyHas has over 500 customers and 99% on-time shipping.
Ruby Has fulfillment integrates with over 60 eCommerce tools, making it simple to add to your main sales channels and website.
They save up to 45% on freight costs for both domestic and international shipping. In addition, RubyHas ensure Data accuracy and inventory tracking through their automated warehouse management.
The fulfillment center covers an astonishing 374,000 sq. foot with impressive features like climate control technologies (ideal for climate-sensitive brands like health and beauty) and automation facilities.
RubyHas Pros
Same-day fulfillment and shipping are available: for all orders received before 2 pm from their US fulfillment center locations.
Integrates with over 60 eCommerce tools.
Subscription boxes supported and extensive integration with most e-commerce platforms and marketplaces.
Return Management: handle returns with high efficiency and good customer service
Provides affordable shipping rates
There are several fulfillment center locations.
Provides over 30 built-in API integrations
Offers high-quality pick-and-pack services.
RubyHas Cons
Complicated pricing: hidden charges when using RubyHas.
One customer success channel (phone support)
RubyHas recently bought a different e-commerce fulfillment called EasyPost—to extend their service. However, due to their lacking a fulfillment system and inventory, there have been cases of reported errors in order management from RubyHas.
9. Easyship (Best for International Shipping)
Easyship has more than 50 warehouses globally and ships items to more than 220 countries with over 100,000 clients.
They work with warehouse partners on four continents to ensure your inventory is close to customers globally without you having to deal with long-term leases.
Easyship helps with crowdfunding campaigns. So you don't have to be a big business to sell overseas. Easyship also enables you to figure out import taxes, duties, and tariffs, which can be hard to understand. Finally, they can help you organize your logistics and supply chain, so you don't have to pay extra fees when your goods cross international borders.
Easyship Key Features
More than 250 ways to ship. You can compare prices and save up to 70% on shipping to any part of the world.
Integrates with other platforms. Due to their open API, you can tweak the system.
Global fulfillment. Easyship has warehouse partners worldwide
Tax and duty rates are clear. Easyship takes care of all of your shipments' duties
Track all shipments at every stage.
Great customer support 24/7
Easyship Pricing and Plans
Pricing is based on monthly shipments and is free for less than 100 orders.
The service starts at $29 and $49 per month for up to 500 and 2,500 orders per month, respectively.
Easyship offers custom enterprise pricing for businesses that exceed these volumes.
Sign up for a 30-day free trial to get started.
10. FedEx Fulfillment (Best for International)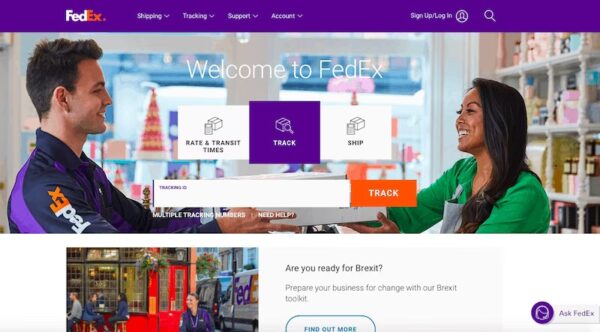 FedEx Fulfillment is a division of FedEx Corp that began in 2017 to help small and medium-sized businesses fulfill orders from multiple channels, such as websites and online marketplaces.
FedEx Fulfillment is a logistics service that helps its clients with warehousing, packaging, fulfillment, shipping, and reverse logistics. Sellers can also use the service to keep track of their stock and connect their different sales channels.
You can expect the service to give them complete visibility over their products and ways to track items, manage inventory, look at trends, and make intelligent decisions based on how shoppers spend their money.
Fast-growing small and medium-sized businesses can make their operations scalable and profitable with FedEx
FedEx Pros
Cut-off times for same-day fulfillment
Quick shipping, integrated supply chain solutions, and multi-platform fulfillment
2-day ground shipping to most US mainland deliveries,
Smooth returns/reverse logistics process
Well-established infrastructure and transportation system.
Unique selling points like and a with it
11. ShipStation (Best for Small Businesses)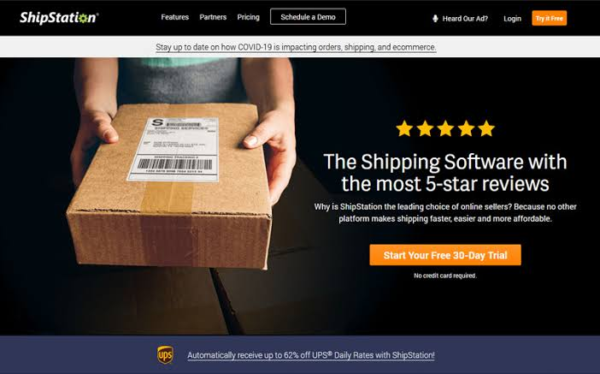 ShipStation is popular because of its seamless integration with big e-commerce platforms like Magento clients, BigCommerce, and Shopify.
Among all of ShipStation's incredible integrations, the most impressive is its shopping cart integration, which automates the ordering and shipping processes in the back-end. In addition, you can incorporate your brand image into everything that goes into the packaging, giving your company more credibility.
ShipStation promises to make running an e-commerce fulfillment business simple. You get customizable tracking information, a real-time shipping cost calculator, and even automatic order retrieval. The platform also allows for simple integration with third-party services such as reporting and logistics.
ShipStation is a great option to get the most l for your money. This fulfillment service could be the best thing that has ever happened to your company.
ShipStation Key Features
Time-saving
Eliminate errors easily
Update clients
Generate documents
Print your labels
Ship faster with packing slip scanning
Look for rates with previously negotiated carrier options
Delivery management tools
ShipStation Pricing and Plans
ShipStation's pricing begins at $25/month for basic features. Of course, this price can rise for more advanced features, but for the value, they are offering, it's worth it.
ShipStation Pros
Integrate seamlessly with your favorite e-commerce platform
Easy third-party tools
integrations of advanced features
Calculate shipping rates in real-time
ShipStation Cons
There are no phone calls for customer service.
What We Think of ShipStation
ShipStation is better suited for business owners who want to provide their customers with professional shopping experiences. This fulfillment service provides
batch order multiple label creation
Suitable labels
assistance in locating the best rate.
Furthermore, you will save time on shipping and spend more time working on your business.
12. Shopify Fulfillment Network (Best for Integration with other platforms)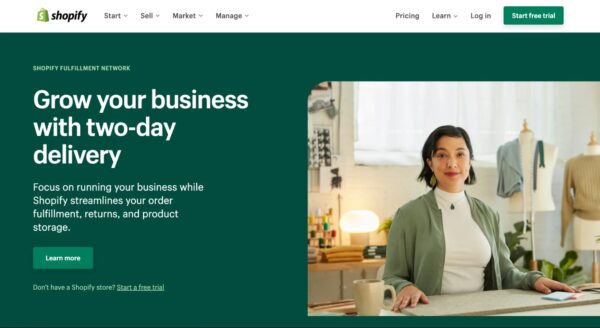 Shopify is a well-known and widely used eCommerce platform, but they also provide fulfillment services to its customers. Shopify Fulfillment Network is a global fulfillment network that offers online merchants inventory allocation and smart forecasting.
Collaboration with big names like FedEx enables Shopify to provide an excellent fulfillment experience to customers. They also provide customer support by utilizing smart technology and offering competitive pricing. In addition, all of their machine learning features give you access to demand forecast statistics, which help you determine where your products are in high demand so you can deliver more efficiently.
Furthermore, Shopify offers Inventory Allocation Technology, which predicts which inventory solutions and fulfillment centers will work best for faster delivery, leaving you with happier returning customers
Shopify Fulfillment Key Features
Excellent for building long-lasting customer relationships
Exact shipping strategy
Multiple channels to sell
Custom branding and packaging
Support for returns and exchanges
Excellent option of delivery in two days
Global Partners
Partnerships with leading shipping brands
Predictive reports for orders
Machine learning
Shopify Fulfillment Pricing and Plans
You only pay for your inventory when it sells, so you don't have to worry about extra costs.
The price of a product is based on weight, but if you buy more than one item, you'll get a discount.
Shopify users also get six months of free storage. If an item doesn't sell in six months, it will cost $2.25 per cubic foot to store.
Shopify Fulfillment Network Pros
Buy your shipping labels
Reduced operating expenses
Reduced shipping costs
Predictive strategies with machine learning
Synchronize all your inventory information
Excellent for Shopify users
Shopify Fulfillment Network Cons
Since it's still relatively new, its services haven't been well-reviewed like others
Need a bit of getting used to
Limited control over external providers
Advanced features can be expensive
Anyone can use Shopify Fulfillment, but the network is better suited for users who already use Shopify and want to improve their delivery services. With Shopify, you get everything that would make order processing and shipping of your product stress-free.
13. ShipHero (Best for Transitioning to Third-party Fulfillment)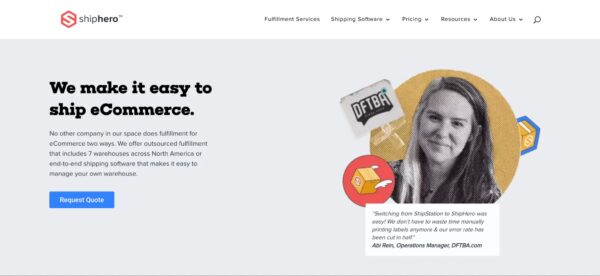 ShipHero offers a variety of in-house and outsourced fulfillment solutions. Businesses can use the company's inventory management software, shipping software, and warehouse management software (WMS) to run their in-house operations efficiently in addition to standard third-party services.
These products can help many small businesses make the transition to third-party eCommerce fulfillment as easy as possible. Clients can also use a hybrid approach to fulfillment by dividing inventory between ShipHero's warehouses and their own.
ShipHero has a nationwide network of warehouses where qualifying customers can get their inventory. It also offers various services from Canadian locations, such as parcel lockers for customer pick-up and Section 321 benefits.
The company employs a "no shipping zone" structure for shipping costs. Instead, it provides three shipping service levels (standard, two-day, and overnight) with flat-rate fees based on the size and weight of the parcel. Zone 9 and international shipments are the only exceptions to this fee schedule.
ShipHero Key Features
Monthly minimum of 500 orders
There are five fulfillment center locations in the United States.
There are two locations in Canada.
Solutions for shipping, inventory, and warehouse management software for in-house fulfillment
Shipping prices are fixed across three service levels.
View order status in real-time with photos.
Tax breaks and cost savings for large importers
Works with UPS, USPS, FedEx, DHL, GLS, and other regional carriers.
Eligibility for Amazon Seller-Fulfilled Prime (SFP)
ShipHero Pricing and Plans
Inventory Storage: 65 cents per cubic foot (Calculated per package based on weight, size, and service level)
Pick and pack: $0 for the first 3 picks, 25 cents per additional item
Picking items from inventory and packing them for shipment:$0 (Included in fulfillment fee)
Shipping: Free standard boxes, poly mailers, bubble mailers, book folds, and dunnage: $0 (Included in fulfillment fee). Flat-rate charge based on package weight, size,
ShipHero Pros
Shipping to the lower 48 states is reasonably priced and takes two days.
Standalone software options for in-house fulfillment
Flat-rate shipping costs: Control margins closely with ultra-predictable pricing.
ShipHero Cons
Minimum order volume requirements are restrictive.
The fee structure for zone-free shipping can cause value inconsistency.
Some fundamental features necessitate qualification and approval.
What to Look for When Choosing a Fulfillment Service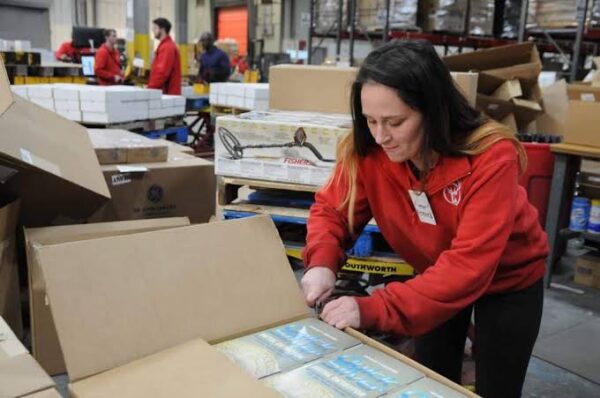 Here are eight things to consider when choosing an online order fulfillment company.
1. Shipping Speeds
Modern consumers expect faster shipping speeds than ever, thanks to Amazon Prime's two-day delivery.
How can you meet changing expectations? By working with a delivery company. 53% of consumers say they've abandoned an online purchase due to slow delivery. Top fulfillment companies should have efficient processes that get products to customers quickly. This is possible with strategically-located fulfillment warehouses and simplified order fulfillment software (which we'll get to).
2. Fulfillment Service Costs
Unloading fulfillment to a 3PL will incur initial upfront costs. However, you'll save on labor, overhead, packing supplies, etc. Make sure the fulfillment center you choose has the best deals.
Your fulfillment center shouldn't charge you for long-term storage since you're paying for fulfillment (your products are constantly moving). A warehouse is for that.
Due to their volume, fulfillment centers can get better shipping rates than individual eCommerce retailers. Make sure they pass along some of these savings to you. These lower costs allow eCommerce retailers to offer free or reduced shipping to compete with retail giants.
3. Warehouse locations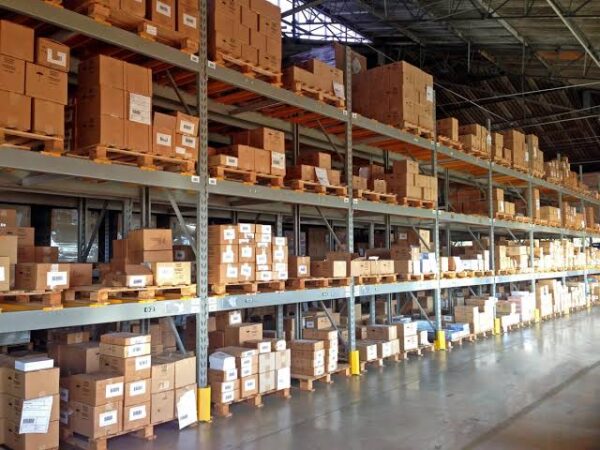 Customers expect lightning-fast shipping speeds, so the fulfillment warehouse's proximity to the customer is critical. The closer the order fulfillment center is to the end customer, the shorter the distance your products must travel, which means shorter shipping times (and lower shipping costs).
When choosing a fulfillment company, know where their warehouses are. A fulfillment company with few warehouses won't be able to deliver as fast as your customers expect, which could hurt user experience. Therefore, your fulfillment partner should have warehouses near your customers.
If you sell globally, ensure the fulfillment company you're considering offers global shipping. If you can't ship to customers, your business won't last.
4. Returns Management
You don't want a fulfillment center to be hands-off after shipping because customers return 30% of online orders. Some returns are uncontrollable (a customer didn't like the product), but a reputable fulfillment company will work with you to reduce controllable returns through better forward logistics.
Your fulfillment company's software should identify "returners." These are repeat buyers. By placing them, you can hold off on sending them promotional material during a big sale or send them emails after a purchase highlighting positive reviews of the product they bought to boost their confidence.
5. Order Fulfillment Software Features
You're a busy eCommerce business owner. You already use digital tools, apps, and platforms in your daily operations, so the last thing you want is slow, disorganized software. Therefore, it's essential to research the fulfillment company and the software they use.
Order fulfillment software features and capabilities vary by company. Choose a fulfillment partner who uses software that aligns with your needs and goals. Ensure their order fulfillment software is easy to implement and use daily and can integrate with other platforms and business apps you already use.
6. Fulfillment Branding
How can your brand stand out among millions of eCommerce businesses? Sending generic, dull brown boxes creates a disengaging, impersonal customer experience. Instead, choosing a fulfillment company that offers to a brand can help you build a brand and boost business.
Personalization attracts modern consumers. Customized, fun, and exciting user experiences will delight and retain customers.
Branding's conclusion? With 89% of digital businesses investing in personalization and 51% of digital marketers saying it's their top priority, choosing a fulfillment partner without considering branding potential can harm the user experience.
7. Fulfillment Services Transparency and Visibility
So many companies sell similar products that it can be difficult for consumers to choose. When they find a brand they trust, they'll stick with it. How to build trust? Transparency.
56% of consumers would be loyal to a company for life if it provided complete transparency, and 81% would try a brand's entire product line.
88% of consumers say tracking shipments in real-time is essential, and 69% say they're less likely to shop with a retailer again if a purchase isn't delivered within two days of the promised date. It would be best if you didn't make a promise you can't keep.
If your website promises two-day shipping, but your fulfillment company can't meet it, they may not return (especially if this was a new customer's first experience with your brand). Why? Because you've lost their trust. Choose a fulfillment partner who gives you complete visibility into their process, is reliable, and can be held accountable.
8. Packaging Options
Along with branding, you want a fulfillment center with flexible packaging options. Not all boxes are equal, so choose carefully (check out six types of packaging to use here). In addition, having packaging options reduces product damage.
Sometimes the inside matters more than the outside. So, make sure you have styrofoam peanuts, corrugated paper, foam rolls, shredded paper, bubble wrap, or air pillows.
How does an eCommerce Order Fulfillment Work?
Below is how an eCommerce fulfillment service works:
The product is delivered to the fulfillment company.
The stock is received, managed, and stored by the fulfillment company.
Customers make their purchases.
Customers' orders are routed to order fulfillment companies.
Orders are selected from inventory, packed, labeled, and shipped to customers.
Fulfillment vs. Dropshipping: Which One Should You Use?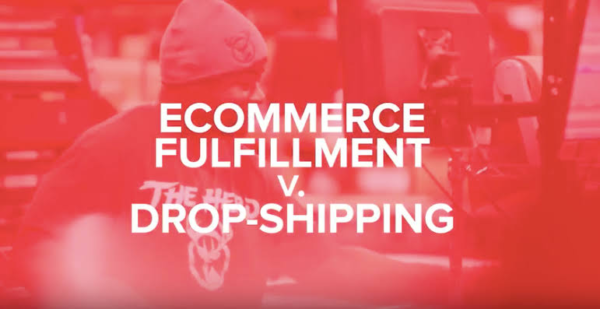 eCommerce Fulfillment Services:
Unique or patented product makers should better utilize e-commerce fulfillment. Your fulfillment company will charge you to store your goods. This method reduces shipping overhead.
Dropshippers
Great for stores that don't make or stock products. You can sell other companies products and keep the profit. You can sell any number of products.
What's the Difference Between 3PL and fulfillment?
A third-party logistics (3PL) provider is any company that provides an outsourced logistics service, such as order fulfillment, shipping, freight distribution, or import/export. It is an abbreviation for third-party logistics.
Fulfillment companies are 3PLs, but not all 3PLs fulfill orders. Shipping companies such as FedEx, UPS, and USPS are also examples of 3PLs, as are freight brokers.
Third-Party Fulfillment vs. Self-Fulfillment
To make the right choice, you should carefully think about all the options. Then, you can decide if you can handle the fulfillment tasks on your own or if it would be better for your business to hire a third-party company to take your online orders. Consider the following:
Do you have a place to keep your inventory?
Is there time to get the shipments packaged as quickly as possible?
Are you good at taking care of orders and running a warehouse?
How much will it cost to store things?
Will you meet the client's needs?
What are your privacy rules?
Do you have the time to handle the shipping process and the different shipping options as quickly as possible?
Are you good with technology and able to use fulfillment software to take care of orders?
Can you handle all of the tasks that come with fulfilling orders?
Do you want to be in charge of fulfillment for a long time?
When Should You Outsource an Order fulfillment?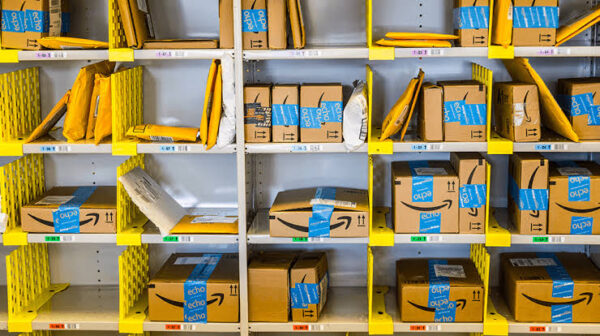 Most businesses start by fulfilling their orders, and some add a third-party solution later. As a result, it's hard to know when to switch, especially bootstrapping.
There are clear signs that it's time to start outsourcing.
Sales fluctuations
If your order volume fluctuates, you shouldn't run and staff your warehouse. Order fulfillment companies are flexible.
Unexpected sales spikes can also compromise your delivery promise. An expert can handle peak order volumes so you can deliver a consistent, efficient experience.
You're too Busy
If order fulfillment keeps you from focusing on growth, consider outsourcing. As a business owner, you need time to devote to sales and marketing, expanding to other eCommerce platforms and sales channels, sourcing new products and ideas, and improving your business.
You Lack Infrastructure
You may outgrow your infrastructure if you expand geographically. However, shipping across the country or the world increases costs and shipping times. This slows growth.
A global fulfillment partner can better serve high-volume customers by leveraging multiple locations and optimizing fulfillment.
How much do the Order Fulfillment Services Cost?
Fulfillment Services come in a variety of price points. In addition, the cost is determined by who provides the service. The monthly cost of stock and storage is approximately $0.30 per cubic foot. The pick-and-pack service costs about $2 per order. A shipment costs $200 to receive. Putting together a kit usually costs $0.50.
How Does A Fulfillment Service Make Money?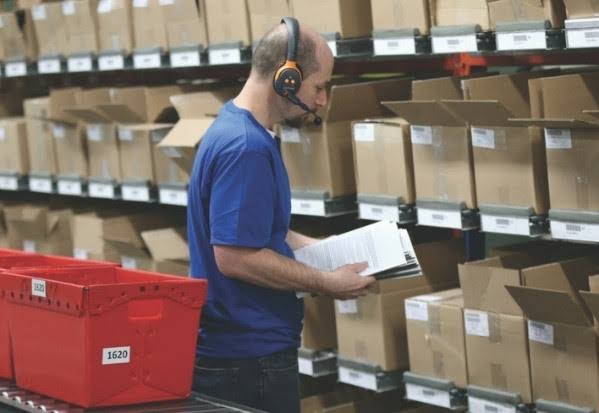 Order fulfillment comes with several fees, and each fulfillment center gets a share of them. Most of their money comes from the fees they charge to store things for a long time. But they also make money from other fees, such as:
Weight Fees
Returns and Taking Care of
Taking care of accounts
Packaging Fees
Setup Fees
Technology for Reporting on Customer Support
These places could also make money by charging one-time fees for other things. It could involve cancellations, SKU labeling, barcoding, processing credit cards, making marketing inserts, and putting products together.
Do the eCommerce Order Fulfillment Services Cover the Return Services?
Yes. Most of the time, the fulfillment company that handles your order and fulfillment needs will also address any customer returns. However, additional charges for handling returns may be imposed based on the prevailing agreement between you and your company.
Related: How to Start an Ecommerce Business in 9 Steps
Bottom Line
Before outsourcing eCommerce fulfillment, consider your warehouse space, capabilities, and inventory-shifting costs to determine if you're ready for third-party fulfillment service.
Outsourcing is the best way to handle everything easily for your e-Commerce fulfillment. All you have to do is choose the best one that fits your needs. To make your service more interesting, you can select a pick-up and delivery solution that fits your needs. All over the world, people use the fulfillment services listed above. Therefore, you can grow your business very effectively with any of them.
Frequently Asked Questions
Q: What Does a Fulfillment Center Do?
There is usually an A-Z process for shipping and fulfilling orders. They store products in their facilities and manage all inventory, warehousing, and shipping. Not only does this mean that the "after-sale" process is taken care of, but it also gives store owners a place to store all their products easily.
Q: Are Fulfillment Centers and Distribution Centers Different?
There are two main ways in which they are different. First, the business side of distribution centers is more important than where things are. Fulfillment centers store all of your products and ship them to customers worldwide. Distribution centers sell and ship products to customers but don't ship to retailers.