Last updated Mar. 17, 2023 by Favour Chinaza
Online tutoring is growing thanks to technological advancements and people's desire to learn at their convenience, pace, and time. Tutoring online is a great opportunity if you have teaching experience or knowledge in a specific subject. What's more? There are best sites to find online tutoring jobs.
Online teaching has emerged as a popular alternative to conventional tutoring, and this is a result of the numerous benefits associated with it.
These jobs are so fulfilling because they allow you to help others and offer the flexibility to spend more time with your family or do whatever you want.
If you're a teacher or retired, ensure you read until the end of this article to see how to make money selling your lesson plans!
You can teach students from anywhere in the world as an online tutor. However, you'll need a stable internet connection, a high-quality camera, a webcam, and more.
Good Read: 10 Simple Money Moves That You Can Make Today
Types Of Tutoring
There are two types of tutoring available to you. Which one is best for you depends on your teaching preferences.
Asynchronous Tutoring
Asynchronous tutoring occurs when the teacher sends a task or assignment to the student. The student works at their own pace and completes an assignment or project before the deadline.
The student and tutor are not required to be online at the same time. However, the student may contact the tutor or professor for assistance or clarification, and the tutor will respond following their schedule.
Asynchronous is a fantastic opportunity to work with an experienced tutor who lives in a different region and time zone.
Synchronous Tutoring
Another type of online tutoring is synchronous tutoring, which involves real-time interaction between the student and the tutor.
This can be done when attempting to learn a new language or requiring real-time assistance with important tasks. In addition, the professor or teacher may be working with a group of students simultaneously with this type of tutoring.
Who is Qualified to Become an Online Tutor?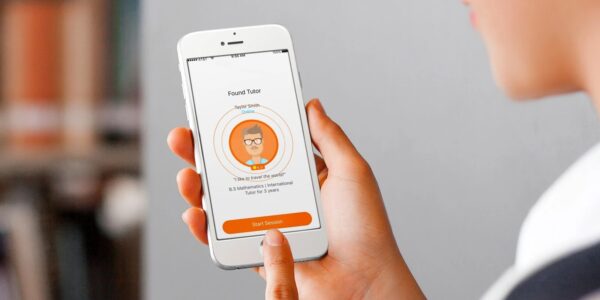 Online tutoring jobs differ from traditional tutoring jobs in that you are not required to stay at the office or wait for your students to come to you.
Most students prefer online tutoring because they rely on computers and online services for educational assistance.
If you already have some educational experience, this could be the job for you.
● Retired educator or teacher
If you're a retired teacher, you can help struggling students by sharing your knowledge. You are not required to work at a school or adhere to class schedules.
Online tutoring allows you to set your working hours and accept the number of students you can handle.
Some retired teachers may be able to sell their lesson plans to assist other teachers. You can also provide aspiring tutors online training without leaving your couch.
● Graduate Students
They can assist students who are struggling with research papers and assignments.
If you recently graduated from college and are still looking for work, you can start online tutoring to earn some money from the comfort of your own home.
● Family Provider
If you are caring for an elderly loved one or have a medical condition that keeps you at home, you can begin online tutoring and earn money without leaving your home.
● Stay-at-home spouses
Some parents prefer to take time off from work to spend more time with their children.
If you're a busy parent, you can still give your children the attention they require while earning some extra money for the family. You can check other stay-at-home dad jobs to make money aside tutoring online.
● Remote Employees
After a while in a steady job, you may conclude that a desk job is not for you. If this is the case, online tutoring will allow you to work remotely from wherever you are and whenever you want.
You must partner with a reputable tutoring website to be a successful online tutor. In addition, you should have some teaching experience or a few skills that qualify you to assist students who are struggling.
Your talent could be a foreign language you can teach others or a specific academic discipline in which you excelled.
There are numerous options for students and tutors, so you will most likely find what you are looking for.
Best Sites To Find OnlineTutoring Jobs
Here are the best sites to find tutoring jobs.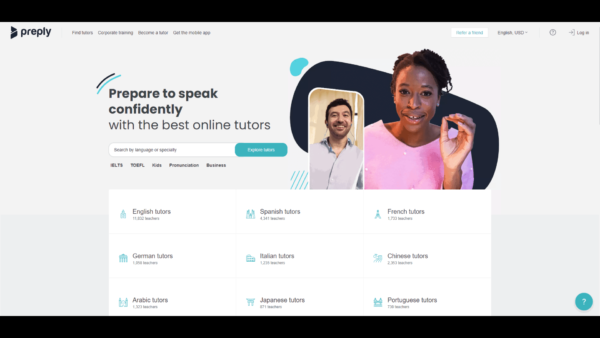 Preply is an online tutoring platform that gives you control over your hourly rate and the number of hours you'll spend teaching.
To become a tutor on Preply, you must provide basic information about yourself, a real photo of yourself, a description of your strength, a brief video introduction of yourself, and the hours you'll be available as a tutor.
Before you get verified on Preply, a complete check will be performed on the information you provided on your profile. In addition, your qualifications will also be analyzed.
To maintain a high level of quality, Preply manually checks and approves the tutors' profiles. Once you get verified, you'll be notified by the Preply team.
As a verified and qualified instructor on Preply, more than 800,000 registered students can access your profile and schedule lessons with you.
On Preply, English tutors can make an average of $15 to $25 per hour. There are over 100 different subjects on Preply, and you can decide your field of expertise.
Preply pays instructors via three methods – PayPal, Payoneer, and Skrill.
Pros:
Preply is an excellent company to work for, with friendly customer support, flexibility, and the ability to work from home.
You can work your way up to a large number of students.
Cons:
With each new student, Preply charges a 100% commission fee on your first lesson payment.
The commission for all subsequent lessons ranges from 33 to 18%. And It is determined by the number of completed lesson hours with students.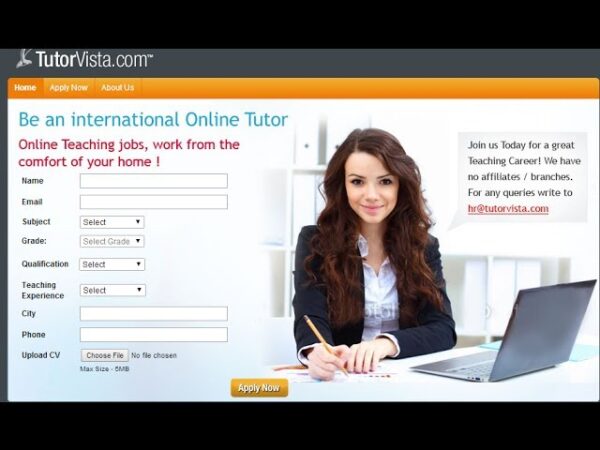 To become a tutor on TutorVista.com, you're required to have a Master's degree in any science-related field.
You must also be familiar with online tutoring tools and have relevant teaching experience.
On TutorVista, you can apply to teach subjects like Mathematics, English, Physics, Statistics, Chemistry, and Biology.
The average length of a teaching session is approximately forty-five minutes, and you are expected to put in at least four hours of work each day.
After your verification process on TutorVista, you will undergo a training session that briefs you on how to use a computer, various tutoring tools, communication skills, and more.
Tutorvista is available to users in almost all countries of the world.
On TutorVista, you get paid between $10 to $40 an hour. But this depends on a variety of factors.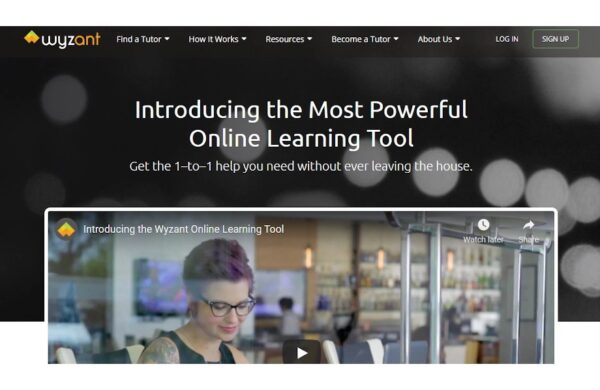 Wyzant provides students with pay-as-you-go pricing options, preventing them from committing to a set number of lessons.
Wyzant is a good option if you want to tutor on a part-time basis and don't mind a revolving door of students.
Wyzant has tutors for all levels and subjects. As a tutor, you create a profile that serves as a marketing tool for your services. Students or their parents look through the listings and contact tutors who interest them.
Before becoming a tutor, you must pass Wyzant's 20 multiple-choice questions, which you only have one chance to answer correctly.
After passing, you can create your profile and begin marketing yourself right away.
You are free to charge whatever you want, but Wyzant retains 25% of your earnings as a fee. Wyzant percentage commission isn't too bad, considering you get access to their client list.
Pros
Wyzant keeps tutor quality high by requiring them to pass a test.
Tutors on Wyzant can charge whatever you wish for your skill set.
Cons
Because the company takes a 25% cut of your profits, you must remember to price yourself accordingly.
The pay-as-you-go model allows clients to leave after one or two sessions.

Yup is the right platform for you if you are or have been a math teacher. You can teach when it works for you and help people from all over the world.
If you don't like working in a different time zone, this is a good place for you. However, you must live in the US and have taught for at least two years.
The website helps students who are having trouble finding a tutor. All parts of math are covered, like Algebra, Calculus, and Geometry.
The student will send you a problem or an assignment, and you will help them solve it.
You can do as many jobs as you want daily, and you'll be paid accordingly. First, fill out the application form and take a test to show how well you know the language.
After that, you'll have a practice session online that looks like a real one.
Once you've done these things, the website will start putting you in touch with students so you can help them with their work and make more money.
The application process takes about 24 hours, and you'll find out quickly if you qualify.
Once Yup hires you, the app will send you a weekly schedule of when students will likely reach out to you. Your rate depends on your experience, and you'll be paid through PayPal or a direct deposit.
Pros
Good for math teachers, both working and retired.
You can help students right now.
Tutors can work on their own schedule.
The Yup app is very intuitive for new learners
Cons
It's a lot of stress to go through an interview with Yup.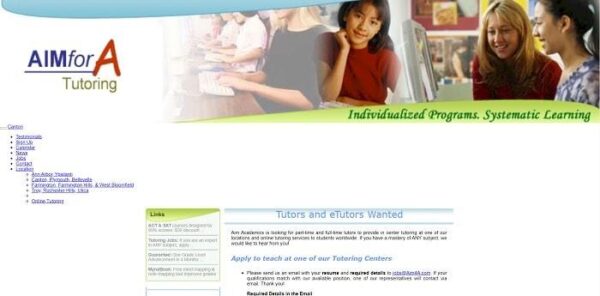 This tutoring platform is based in the United States. To work as a tutor on Aim4A, you'll be required to hold a bachelor's degree or a higher degree in the field you wish to instruct students in.
English and communication skills give you a better chance of being employed by Aim4A.
If you possess all the requirements needed to be employed at Aim4A, you can send your resume to [email protected] with information on your availability, Skype username, the reason for application, and more.
You can tutor students from any country in the world. Aim4A pays between $10 to $15 an hour.
Pros
No special online classroom programs to learn, just Skype.
Less intense application process.
Cons
Structured tutoring blocks and not on-demand.
Uncertain how many hours you're able to get.
Other Online Tutoring Jobs
SuperProf (Formerly Tutorhub)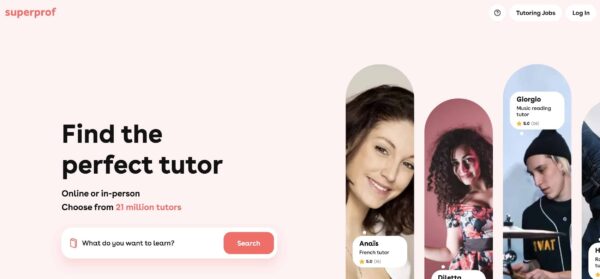 SuperProf is an online tutoring website that is based in the UK. It has over ten thousand registered students with over 1500 registered tutors.
To become a tutor on this platform, sign up and fill out your profile with information about your teaching experience and area of expertise.
Superprof gives you the freedom to determine your hourly rates. However, Superprof keeps 25% of the amount you're paid as a tutor.
Payment is made via PayPal, and it can only be redrawn when your account reaches a minimum of ten dollars
Pros
Allows tutors to set their schedule.
Good for UK-based teachers.
Cons
They don't hire tutors frequently.
The time difference will make tutoring difficult if you aren't from the UK.
Student Tutor covers the usual subjects for K–12 students. To be a tutor, you must be a student, as the name suggests.
When you apply, they will want proof that you are in college and have a GPA of at least 3.0. This makes it a great job for college students with good grades who wish to tutor.
You can also help students prepare for tests like the SAT and ACT. If this is your area of expertise, you'll need to show that you got at least a 700 on each part of the SAT. The ACT is the same way.
All college students should look into this tutoring company if they meet all these requirements and are looking for a flexible online college job.
Pros
College students can work as tutors with a lot of freedom.
Student Tutor pays its tutors well.
Cons
Depending on the course you want to teach, you need a high GPA and SAT/ACT test scores.
Studydraft is an online student-tutor global market that connects students who are struggling academically with subject-matter experts.
Tutors on this platform are allowed to determine their work schedules. They can also conduct lessons from any location in the world.
To become a Tutor on Studydraft, you must pass a pre-screening test, a grammatical knowledge test, and more.
You'll also be required to present a sample of your writing.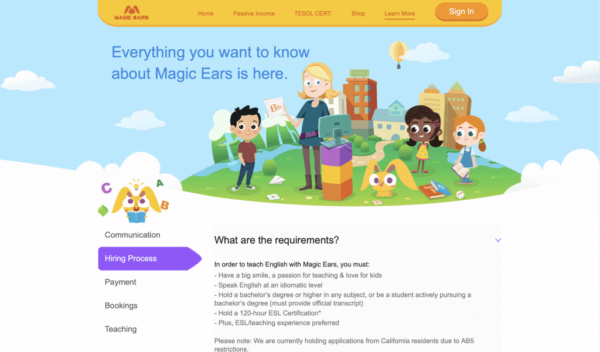 MagicEars may be a good job for a beginner online tutor if you are Canadian or American.
You can earn between $20 and $26 per hour, and your earnings will be deposited into your PayPal account on the tenth working day of each month.
This website is intended to assist Chinese students. The service is available to students ages 4 to 12, and signing up to teach is simple.
Simply enter your name and email address, and you'll be able to teach and assist others right away.
Each interactive classroom has 1 to 4 students who talk and interact with learning the fundamentals of the English language.
You can set your own working hours, which is a huge benefit, especially if you're new to online tutoring.
Before you can begin tutoring, you must have a bachelor's degree and proof of experience.
Because you will be teaching students in China, you should consider the different time zone working hours before accepting this position.
Pros
The pay is excellent, especially for newcomers.
Beginners are welcome.
It is simple to sign up and get your first job.
The cancellation policy is not strictly enforced.
Cons
Because the website is busy, you may have to wait a few days before receiving a response if you have a problem.
Some people may struggle to adjust to the different time zones.
TutaPoint has high standards for its tutors and offers online tutoring that has won awards.
They focus on professionals with at least two years of experience and hire tutors from all over the United States who work from home.
The application process takes about twenty minutes, and they'll need detailed information about your education, background, and three references.
TutaPoint also asks tutors to make a short video in which they introduce themselves. Again, they want tutors who are friendly, outgoing and have a lot of energy.
Pros
TutaPoint is a well-known tutoring company.
Since they want professionals, they will pay more.
Cons
The process for applying is much more in-depth.
To get hired, you need to have more experience and a certain kind of personality.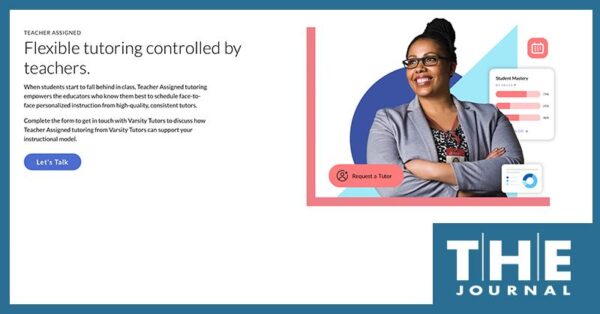 Varsity Tutors offers different tutoring, such as traditional one-on-one help and small online group classes.
One thing that makes them different is that you don't have to be in college to be a tutor.
Instead, you have to be at least 18 years old. This makes them a good choice for high school students who want to work but may not attend college.
Varsity Tutors has many clients and gives lessons on its live learning platform. If you get the job, you will be an independent contractor who sets their own hours.
You'll need to send in a copy of your high school transcript and do a phone interview to apply.
Most of their tutoring blocks are an hour and a half long, which is longer than most other companies.
But because these sessions last longer, you can make up to $30 an hour, which adds up quickly.
Pros
Teens can make money online in a great way.
There are more ways to teach than just one-on-one tutoring.
Easy to work with and pays well.
Cons
What are the Requirements to Be an Online Tutor?
Many companies will choose tutors who have already taught or who have a bachelor's degree in the subject they want to teach.
You can get more jobs with these advanced qualifications, but you don't have to.
Many online tutors don't need to have years of experience or certifications.
As you gain experience and skills, you can apply to companies with less strict requirements. Then, as time passes, you can switch jobs to get paid more.
You can also build your tutoring skill set with some online course platforms for learning and teaching.
How to Make Money Online Tutoring from Home?
There are a lot of students who need help in school. For example, they may need help with a report they have to turn in or a hard research paper they can't finish on time.
At the same time, there are many educated people with the skills to help these struggling students for a fee already set.
Online tutoring is a great opportunity for both students and tutors since they can set their hours and work at their own pace.
At the same time, the student and the tutor don't have to meet, so they can do all their work remotely.
Why Should You Be An Online Tutor?
Online tutoring jobs are everywhere and one of the work-from-home jobs hiring now.
You'll make more money without having to work set hours, and you'll also be able to help people who really need your help.
Online tutoring is satisfying because it lets you help someone get an education they couldn't get on their own.
Some students have health problems that last for a long time. So even if they can't leave home, you can still help them with their schoolwork.
Someone who wants to go to college or university but lives in another country might be unable to. So the next best thing might be to sign up for an online course.
Some people are willing to work abroad to make their lives better. Mastering a foreign language is the only way to do this. They will be able to do that with your help.
Some people might not be able to get a good education because of wars in a world where politics are often at odds. But you can give them the help they need no matter where they are.
Actually, being an online tutor will help you live a better life if you're bored or need extra cash.
At the same time, it's a chance to help people who don't have access to traditional education or who need extra help to succeed.
Good Read: 27 Best Online Course Platforms For Learning and Teaching (Top 10 Picks)
Bottom Line
Online tutoring can be a good way to make money without leaving your house. You can work while you're on vacation or with your family.
The best online tutoring jobs will not only help you change your life, but they will also help other people get what they want out of life. It's a great option for people who think they can't work at a desk anymore.
All of the sites on my list have been tried and tested. So choose one, try it out, and let me know how you like tutoring in the comments.
Frequently Asked Questions
Q: How much can online tutors make?
The pay for tutoring online varies greatly, but the jobs on this list range from $10 to $60. Each job's hourly wage is listed below.
Q: Which online tutoring platforms offer the highest rates?
WyzAnt, Preply, Kaplan, Tutor.com, and TutorMe are the online tutoring platforms with the highest hourly rates.
Q: How Do I Become An Online Tutor
The following steps to become an online tutor:
Obtain certification in a specific field.
Choose a subject to teach.
Make a course layout, select a platform, and submit your application.
Choose an online distribution channel to sell your courses through.
Organize your classes
To attract more students, promote your courses.
Q: What are the requirements for tutoring online?
You'll need a reliable internet connection, a computer, knowledge of a specific subject, and, in some cases, a webcam.
Q: Where can I get paid to tutor online?
WyzAnt is a company that provides low-cost, high-quality private tutoring in over 250 subjects and test preps. Tutoring can be done in person or online. Tutors on their website typically charge $30-$60 per hour, with the potential for more depending on experience.
Q: Do you need a degree to become a tutor?
A degree is required for companies hiring teachers to help Chinese children learn English. Some other companies on this list require a degree, but you will see the requirements for each when you apply to the individual tutoring jobs on this list.