Last updated Apr. 18, 2023 by Favour Chinaza
Taking surveys that pay cash instantly is a simple and quick way to make extra money. Taking cash surveys won't make you rich, but they are a great way to make extra money when you're not busy.
You can think of paid surveys as an alternative to scrolling through social media or playing games on your phone.
Participating in paid online surveys is one of the most straightforward ways to make money online.
However, there are thousands of survey sites on the internet. The countless survey sites make it difficult to differentiate paying sites from scam sites.
We've compiled a list of the best online survey apps that pay instantly through PayPal or gift cards, have low minimum payouts, and have high ratings to help you find the best ones.
Good Read: 10+ Best Paid Online Survey Sites in 2023
13 Best Survey Sites That Pay Cash Instantly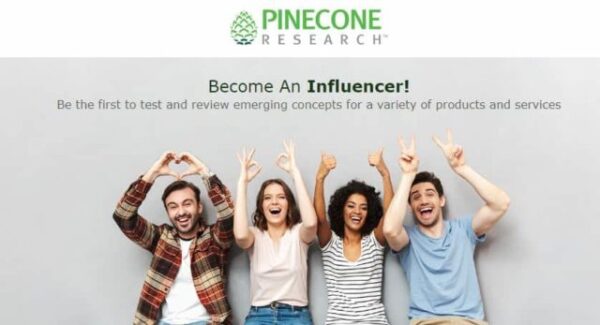 Pinecone Research is one of the biggest survey firms in the market, and they pay cash instantly. So it's a good option for individuals who want to make a passive income.
Many people want to find survey sites that they can trust and pay cash right away. Pinecone Research is one of those paid-right-away survey sites.
Pinecone Research is a company that polls to determine what people think about different brands. Many of their online surveys pay between $3 and $5 each. In addition, Pinecone Research offers opportunities to test products and quick paid surveys.
They pay you right away when you finish a survey and can be used as soon as you earn them, so you don't have to wait around.
There is no minimum payout amount, so you can get your money as soon as you reach the amount needed. You can get paid through PayPal, a bank transfer, or a paper check.
Pinecone Research is a great place to look if you want surveys that pay you cash instantly and high-paying online surveys.
Aside from surveys, Pinecone also allows you to make money from participating in focus groups.
When a survey is completed, money will be sent to your account through an electronic bank transaction.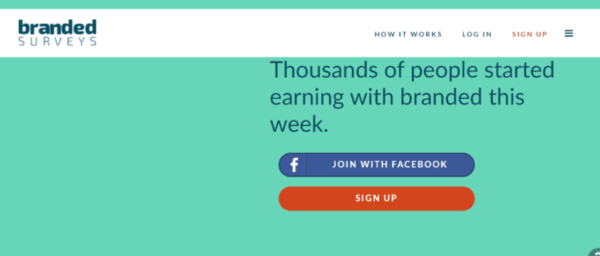 Branded Surveys is a company that does market research. Before 2017, it was called Mintvine. Branded Surveys have one of the fastest processing times, even for PayPal payments, when it comes to surveys that pay cash instantly.
The money will be in your account in just 1-2 business days. This is almost instant pay for paid survey sites.
When you finish a survey, you get points that can be turned into cash. The average pay per survey is between $0.50 and $3. Before you can cash out, you must have 500 points in your account. 500 points are worth $5.
Branded Surveys came out with a new mobile app in 2023. Push notifications made it even easier for users to take surveys. Both the Apple Store and the Google Play Store have the app.
Branded Surveys also has a loyalty program for users called Branded Elite. As you complete more surveys, you get more bonuses from Branded Elite. The full review of Branded Surveys will let you see how you could get paid instantly with Branded Surveys.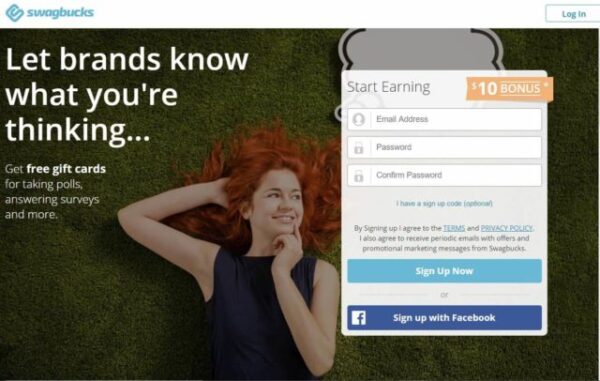 Swagbucks is one of the most popular websites where people can get paid to take surveys, watch videos, search the web, and shop online. Our full review of Swagbucks will help you learn more about how you get paid for each of the above.
Swagbucks has surveys that pay in points (called SB) that can be turned into cash or gift cards. The average amount you can earn from a Swagbucks survey is between 40 and 200 points, which is about $0.40 to $2.
The minimum Payout depends on how you want to use your points, but you can cash out with as few as 110 SB.
Swagbucks says it can take anywhere from 1 to 5 business days to get your money. The range depends on how quickly the third-party company (like PayPal or whoever gave you the gift card) can process your request.
Swagbucks is one of the best places to find surveys that pay cash, not just because they have low minimum payouts; you can earn up to $1000 with Swagbucks!
They also want to teach people about paid surveys, which is another reason they are so good. They have a page on their website about survey scams and debunking the idea that you can make a lot of money through online surveys.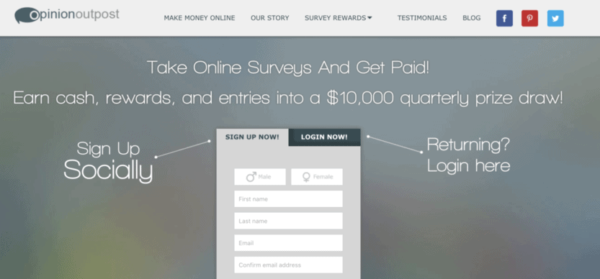 The market research company Dynata owns Opinion Outpost. On average, it takes 15 to 20 minutes to finish a survey on Opinion Outpost, but if you get a longer one, you can make about $5 per survey.
Opinion Outpost pays instantly in points that can be turned into cash, just like many of these other surveys that pay cash instantly.
You can get paid faster depending on how you want to cash out. For example, the minimum amount you can cash out with PayPal is 100 points, which is about $10. Or, it will cost you $5 to cash out and have your money put on a gift card.
When you ask Opinion Outpost to pay you, it does so in 15 minutes to 48 hours. That's almost as good as getting paid right away for taking surveys.
You can also get loyalty badges on Opinion Outpost based on how often you use the site. There are four levels: silver, gold, platinum, and diamond.
The higher up you go, the more achievement points you can get. A referral program also pays you up to $5 for each friend you bring in. Before you can get paid, they have to fill out at least one survey.
LifePoints is one of my top choices for surveys that pay cash instantly because they pay you for more than just surveys.
You can also get points redeemed by filling out online surveys about your experience with a certain product, participating in online discussions, or answering questions about a product they sent you.
You can use the points you earn to get cash through PayPal, Amazon gift cards, or even to give money to charity.
Each point you earn is worth about $0.09, and when you have 550 points in your account, you can exchange them for a $5 Amazon gift card.
You can do it even faster if you want to give your points to UNICEF. It only takes 205 points, which is equal to $1.80, to give to UNICEF.
You can also get your money from LifePoints surveys through PayPal, but you'll need 1,200 points to do so. That's about the same as $10 in PayPal cash.
Even though it will take longer to earn that many points if you turn them into PayPal cash, they are worth more. For example, converting your points to PayPal cash is worth $0.083 instead of $0.09 when you use an Amazon gift card. What's more? You can get a free Amazon gift card without participating in surveys.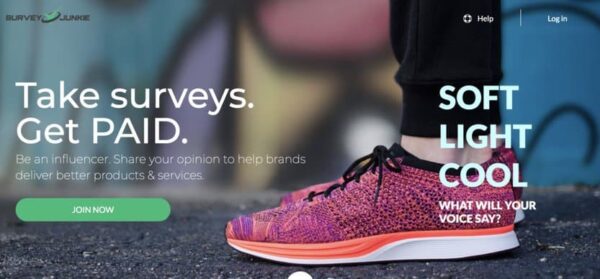 We can't write this review without adding Survey Junkie as one leading survey site that pays cash instantly.
Survey Junkie is one of the most popular and reliable online survey sites. Signing up is free, and it takes about 5 minutes or less.
To sign up, you have to fill out a few questionnaires so that they can match you with the right surveys. These questionnaires earn you points.
When you fill out a survey, you get points, and 100 points are worth $1. You can request a payout once you reach 500 points.
Survey Junkie used to make users wait until they earned 1,000 points before getting paid. Now that the payout threshold has been lowered to 500 points, you can get paid even faster.
Survey Junkie usually pays between $1 and $3 per survey, and you can get your money through PayPal cash, a bank transfer, or gift cards to major U.S. stores.
7.
Ipsos i-Say
Ipsos i-Say is part of a market research company that was started in 1975. It is unique because you can exchange points for PayPal, gift cards, or items through its GCodes catalog.
The catalog has things for the home, beauty, sports, and so on. Of course, getting enough points to buy anything from the catalog would take a while, but it's worth mentioning.
Ipsos i-Say lets you cash in your points once your balance reaches 500 points, or $5, for surveys that pay you instantly.
You can get your money instantly for a $5 electronic Starbucks card or Facebook Game eCard.
On Ipsos i-Say, you can't get paid immediately through PayPal. You need 1,530 points before you can exchange them for PayPal cash, and the process takes anywhere from 1 to 3 weeks.
Ipsos does pay for "screenouts," which is what they call "disqualifications," which is what happens when you answer a question in a survey that gets you kicked out of the survey. For every screen out, you get 5 points.
PrizeRebel is a legitimate paid survey company that has been online since 2007.
Prize Rebel is another paid survey site where you can join for free and earn points that can be turned into cash or gift cards.
You can also get paid to sign up for trials and email lists and take surveys. Each point is worth $0.001; you need 500 or $5 points to reach the minimum payout threshold.
As you take more surveys, you can move up to different account levels, which lets you do things like have your rewards processed automatically. It is one of the sites where you can take surveys and does other things like watch videos and do other tasks.
You can see how much the surveys pay before you take them, which is a big plus so you can use your time best. Also, you can earn points by referring your friends and family to PrizeRebel and get a cut of what your referrals earn by taking paid surveys.
They pay with PayPal cash and free gift cards. So the least you can get from PayPal is $5. They also have a referral program that gives you a commission plus 20% of the earnings of each person you refer.
Nielsen Media Research, a very legitimate company known for consumer engagement ratings for TV shows and networks, owns and operates Harris Poll Online, a paid survey company.
A Harris Poll survey can last anywhere from 5 to 25 minutes; the longer the survey, the more it pays. Unfortunately, you are only paid for surveys that you complete, which is unfortunate because disqualifications are common on survey sites.
However, Harris Poll will enter your name into its quarterly $10,000 drawing for each disqualification.
Harris Poll surveys pay in points that can be converted to cash, and you'll need 1,250 points to cash out via gift card. That works out to $10. Unfortunately, Harris Poll is one of the few companies not accepting cash payments via PayPal.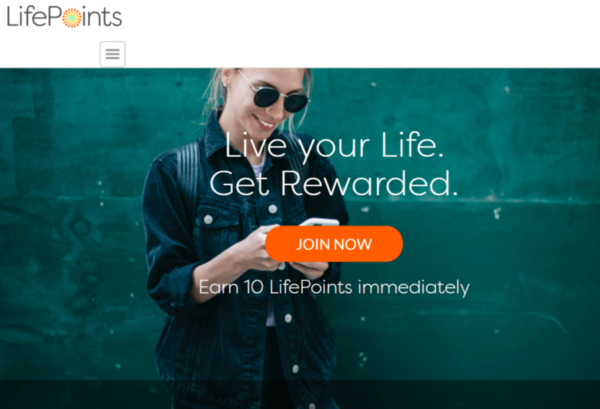 MyPoints is owned by the same company that owns Swagbucks, so there will be some similarities.
MyPoints, like Swagbucks, rewards you in points for online shopping, paid surveys, email reading, and video watching. For an additional 100 points, you can download a browser extension.
On the MyPoints platform, you earn points for every task you complete, and once your account reaches 700 points (the equivalent of $5), you can redeem your points for gift cards or cash via PayPal.
MyPoints says the money will arrive in your PayPal account in 4-5 days. Gift cards are typically delivered electronically and take less time.
MyPoints also offers a referral program in which you can earn 25 points for each person who joins using your unique referral link.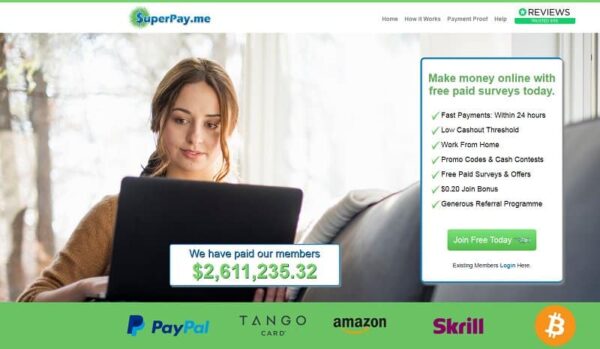 SuperPay.Me provides cash-paying surveys. Members are compensated for completing surveys, watching videos, and completing offers on the site. It is an excellent option for those looking to supplement their income online.
Members can earn money on the site by answering surveys, watching videos, and completing paid offers, according to the SuperPay.Me website, members can earn up to $50 per day by taking surveys for cash.
Most surveys cost $2 on average, and members can usually expect to be paid within 24 hours of completing them. Members can receive their earnings quickly and easily because the cash-out threshold is only $1.
Cashout payments can be made using Paypal, Bitcoin, Skrill, or Tango gift cards. Check out SuperPay.If you're looking for a quick and easy way to make money online.
You can be paid via PayPal, Bitcoin, Skrill, or Tango gift cards.
Minimum Payout: $1 minimum payout
CashKarma is a survey app that rewards you with points for completing surveys, signing up for offers, earning location rewards, and referring others to the platform.
You can also increase your earning potential by progressing through different member levels, with higher tiers offering bonus points for each survey completed.
One of the benefits of CashKarma is that you can earn points even if you don't qualify for a survey. Surveys show you are eligible for around $0.50 per point, with a minimum payout of $10.
CashKarma provides payouts in the form of PayPal cash and gift cards. You can also claim Amazon gift cards, which are instantly available for use within the app.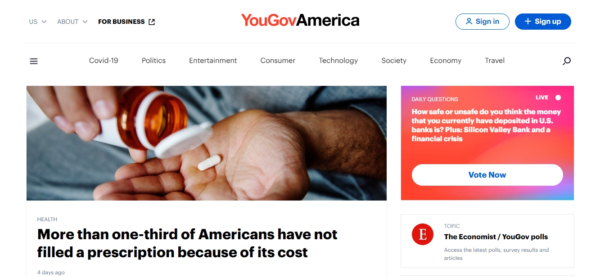 YouGov is a legitimate survey site that pays cash for online surveys, public data opinion, product testing, and other activities. It's a popular online money-making survey site and a good way to supplement your income; its minimum reward threshold is $50.
The number of YouGov points you earn for each survey varies depending on several factors, including the survey length.
YouGov members can earn points for participating in online focus groups by completing surveys. However, there are fewer surveys available than with other paid survey companies.
These points can be redeemed for gift cards, cash, sweepstakes prizes, or charitable donations. The number of points you receive for each survey varies depending on several factors, including the length of the survey.
The points have little monetary value; each point is worth about one cent. The minimum payouts for gift cards and PayPal are different: 500 points can be used to get a $5 gift card and $15 for PayPal.
It can take up to four weeks for your money to arrive via PayPal, but it is actually worth it.
Other Survey Sites That Pay Instantly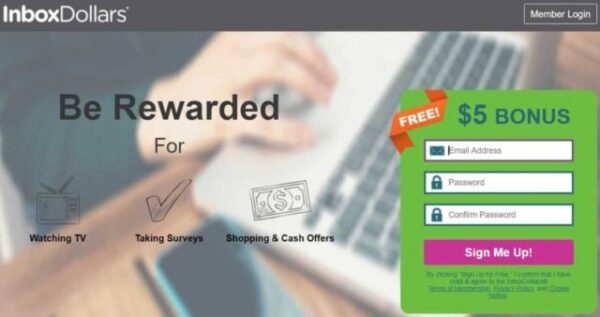 Inbox Dollars compensates you for completing various tasks that assist them in gathering valuable market research data. So it is really one of the legit online survey sites that pay.
Playing games, watching videos, reading emails, playing games, and redeeming coupons are all options in addition to paid surveys.
Most Inbox Dollar surveys pay between $0.50 and $5 and take between 3 and 25 minutes to complete. Longer surveys generally pay more than shorter surveys, and you can see your estimated earnings before you begin.
The most significant disadvantage of Inbox Dollars is that you must have $30 in your account before you can cash out.
However, they are still included on this list of surveys that pay cash instantly because they pay in cash rather than points! When you reach $30, you can request payments beginning at $10.
You can withdraw your earnings for PayPal cash, checks, gift cards, or Visa prepaid cards, and you can see the exact dollar amount for each survey you take.
Global Test Market is a worldwide survey panel. This means you can participate in surveys on this site regardless of location and country.
When you participate in online surveys with Global Test Market, you will get points in exchange for your time.
These points can be exchanged for Amazon gift cards, free products, or cash.
Because of its unique features, IntaGC is a real standout on this list. This includes cryptocurrency payouts and a minimum cashout of $1.
There are also numerous ways to earn money, such as taking surveys, referring friends, watching videos, searching the internet, and participating in product trials. InstaGC is also one legit way to get free iTunes gift card.
The average survey pays $0.50 to $1, which is quite low but keeps in mind the low minimum payout threshold.
You can begin cashing out with as little as $1 in gift cards. However, for PayPal, you must first redeem at least $50 in cash or gift cards before you can begin claiming PayPal payments for as little as $1.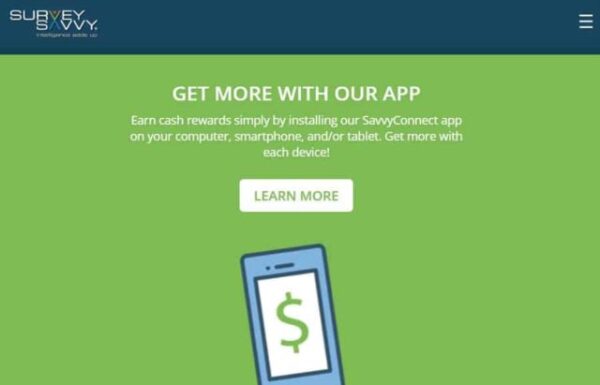 Survey Savvy is a well-known and well-established survey platform that pays in cash for each survey you complete.
It has been in operation since 1999 and is owned and operated by Luth Research.
With headquarters in California, Survey Savvy pays cash for surveys you complete. This cash is directly sent to your checking bank account.
Qmee is one of many legitimate survey sites that pay out cash immediately. You can earn money anytime and anywhere using the free browser and mobile app.
Before beginning an online survey on Qmee, you can see how much it pays. The amount paid for completing surveys varies depending on survey length, but it's a good way to supplement your income.
Aside from completed surveys, there are other ways to earn money on Qmee, including Cashback, Deals, Gaming, and Search.
Qmee's Payout is comparable to that of most paid surveys. You can withdraw funds using a verified PayPal account or a gift card. PayPal has no minimum transaction amount; you can also donate to charity.
According to the Qmee blog, the minimum Payout for gift cards is $5, but this can vary depending on the gift card. In any case, it's a great way to supplement your income.
Payment Methods: Verified PayPal account, charitable donations, and gift cards
According to the Qmee blog, the minimum to get paid is no minimum on PayPal and $3 to $5 on gift cards.
Survey Spot is a reputable website that rewards you with points for participating in online surveys and testing products.
These points can be redeemed for Amazon gift cards and cash later. Additionally, PayPal is a payment to receive cash on Survey Spot.
Forthright Surveys is a website operated by Bovitz, Inc. It was previously known as innoPoll before being rebranded as Forthright Surveys in 2017.
They are a market research firm that specializes in qualitative Internet surveys. Unfortunately, they don't have a mobile app for taking instant pay surveys, but their website is.
Surveys are emailed to you, and you can provide your phone number to receive text invitations. When you complete a survey, you earn loyalty credits and receive a loyalty bonus after every three loyalty credits.
You can receive payment via PayPal, Amazon gift card, Tango card, or Bitcoin (via Coinbase). There are no requirements for cashing out your credits.
Survey Club has been a legitimate survey website in business since 2005. However, they don't have typical lengthy surveys covering every topic. On the other hand, the full Survey Club review shows that it is a legitimate survey site that allows you to participate in studies and research projects.
Survey Club pays in cash right away. You are not required to collect redeemable points or reach the minimum payout limit.
Your payment will be credited to your PayPal account immediately. However, processing takes about 2-3 days, so you should be able to cash out your earnings within a week of signing up.
MySurvey platform rewards you with points for participating in the surveys carried out on its website.
It also enables you to exchange your points for gift cards in any online store or cash. PayPal is the payment method for receiving cash on MySurvey.
Paid Viewpoint
Paid Viewpoint is a survey panel that has earned a reputation for being reliable.
You can make money on the site by participating in short, uncomplicated surveys. This site also pays you for participating in screen surveys.
MindMover is a simple website with interesting surveys about consumer products. You assist brands in determining consumer habits and preferences, and they compensate you for your suggestions.
The good news is that this site pays in cash right away. You can earn between $0.50 and $2 per survey and receive your cash when you reach the $20 limit.
Each survey takes about 15 minutes to complete, depending on its length and genre. So you can start earning money in a week or two if you take surveys regularly.
iPoll (Interactive Polling)
On iPoll, you can offer feedback on goods and services in exchange for a monetary reward.
To participate on this site, you must provide demographic information about yourself. This will enable you to be matched with surveys that are most appropriate for you.
Every day, Quick Paid Surveys has opportunities to earn up to $1 per survey. You can also earn points by reading emails and referring friends. Quick Paid Surveys are one of the high-paying surveys that pay throu Paypal.
Despite the platform's $15 minimum payout limit, payments are processed within 24 hours of being requested. As a result, even though the platform does not offer cash-paying surveys, you will receive your earnings almost immediately once you have enough to withdraw.
However, your first payment will take 15 days to process as a fraud prevention measure. Once your first payment is completed, all subsequent payments will be much faster. In addition, payments are made through PayPal so you can earn money quickly.
MindSwarms is a survey site that offers higher rewards when compared to other survey sites on this list.
On MindSwarm, you'll be required to engage in a group webcam study which lasts between 15 to 20 minutes.
Mindswarms also has a mobile app that allows you to participate in surveys while on the go. For each survey you participate in, you'll be compensated $50. This money is paid via PayPal.
Darwin's Data is another well-established survey site that has been operating for some time.
For each survey you complete on Darwin's Data, you will get a prize of $25 in cash or gift cards.
To join, you must be 18 years old and above and a resident of the United States.
Esearch.com is one of the oldest survey panels still in operation today, having been in operation since 1995.
There are nearly one million members, and each survey can earn you up to $5. In addition, some sweepstakes offer extra cash prizes.
It is one of the oldest still in operation survey panels. There are nearly one million members, and each survey can earn you up to $5. They also have some sweepstakes that offer extra cash prizes.
It is one of the oldest still in operation survey panels. There are nearly one million members, and each survey can earn you up to $5. They also some sweepstakes that offer extra cash prizes in the survey app.
Furthermore, what distinguishes Esearch from many other survey sites is that there is no minimum withdrawal amount. No minimum withdrawal amount means you can quickly claim your earnings via PayPal and have access to cash-paying surveys.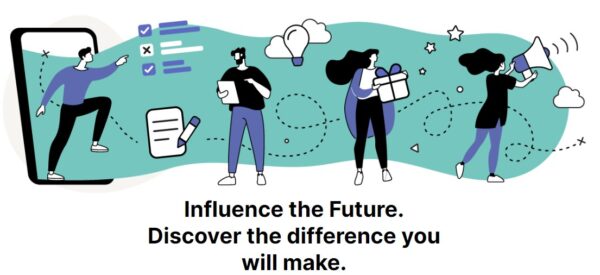 Toluna is a website that pays people to review new products and participate in surveys.
After you sign up for a free account, you'll receive an email with a confirmation link that, when clicked, will complete your registration and allow you to begin taking surveys. You'll also receive 500 bonus points simply for signing up.
Each survey offered by Toluna is worth between 15 and 50,000 points, depending on the length and time required to complete it. See how much you can earn with Toluna after 50 surveys.
You will have to qualify for surveys, just like on other sites. However, you do not receive disqualification points if you do not qualify. You are instead entered into sweepstakes.
The minimum number of points required to redeem a reward is 10,000, allowing you to plant a tree in Peru, Thailand, or Uganda. In addition, 30,000 points will get you a $10 gift card to major retailers such as Starbucks, Petco, and Kohl's.
Tips To Earn More with Survey Sites?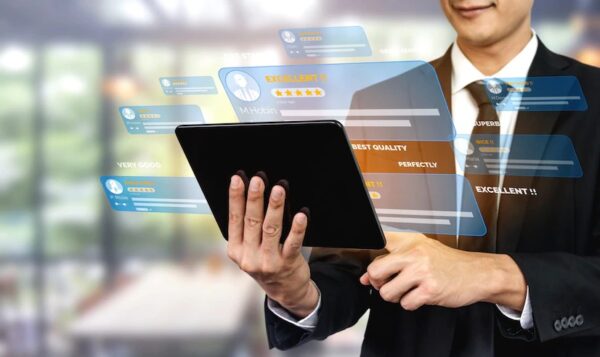 Even if you spend a lot of time on microtask sites, you'll not likely make a lot of money. However, note that microtasks is among the proven ways to earn $5 a day online.
The truth is that most sites don't pay out much per hour. But here are some things to think about if you want to make fast survey money more reliably:
Try More Than One Survey Site: Having more than one website in your back pocket is helpful because you can switch between them to find the best-paying surveys. So, don't be afraid to try Survey Junkie, Branded Surveys, and the many other websites that pay instantly.
Be honest in your Answers: Getting disqualified is your worst enemy, and you could get banned if you lie. Be honest so that over time you can take surveys that are more relevant to you.
Take the highest-paying surveys first:
If you sign up for several websites, you may receive dozens of surveys to choose from. Before you begin a survey, spend a few minutes estimating your hourly wage. You may be able to earn more by prioritizing the highest-paying opportunities.
Be picky with Surveys: It's not worth your time to answer 30-minute surveys for $0.10. So always be selective; if you can, try to find surveys that pay a few dollars.
Look for freebies: Some survey sites have a "free offers" section where you can earn points by signing up for free trials or newsletters. You can also keep an eye out on social media for exclusive bonus opportunities and refer friends to your favorite sites to earn free money or bonus points. You can also check some freebies sites to get free stuff online right away.
Stick to a few reliable survey sites: You don't need to sign up for hundreds of survey sites to make money. Instead, concentrate on the highest-paying options.
Ensure you Track Your Income: When taking surveys that pay instantly, set weekly and monthly goals for how much money you want to make so you can keep track of your progress.
Complete your profile: The company can match you with relevant offers by filling out your personal profile on each survey site.
If you have a life change, such as having a baby, getting a pet, or quitting smoking, please update your profile. Then, you could be eligible for new or different surveys.
Are There any Special Deals or Bonuses Available for Signing up?
Yes, some survey sites provide new members with sign-up bonuses, such as Swagbucks, InboxDollars, and MyPoints Surveys, which all currently offer a $5 sign-up bonus.
Read the terms and conditions of each site before signing up to learn more about any special offers or bonuses offered for paid online surveys to avoid survey scams.
How Do I Avoid Being Scammed on Instant Paying Survey Sites
Don't Be Carried Away with Instant Cash. Although the sites on our list are reliable, you should not believe every site that claims to pay you to take surveys. Survey sites should be avoided if they:
❌They Ask for payment. A legitimate survey site will never charge you to join.
❌Ask for private information upfront. Unless you've earned at least $600, you should not be asked for your Social Security number.
❌The survey site has no history or ratings. Companies with a long history are more trustworthy. You can read what real users have to say about them and check their payment history and available opportunities.
❌They Pay too little. Legitimate businesses will have some higher-paying opportunities that are worth pursuing.
❌Survey site has a glitchy or outdated site. Companies that do not maintain their websites may neglect their members.
❌The survey site makes it difficult to qualify for surveys. Don't bother with a company that consistently disqualifies you from surveys.
Though they promise to pay cash instantly, and the survey site appears to be legitimate, unsubscribe if you have reservations about it or if it spams you with emails.
There are so many high-quality survey opportunities available that you can avoid those that irritate you or aren't a good fit.
Can I Really Get Instant Cash With Survey Sites?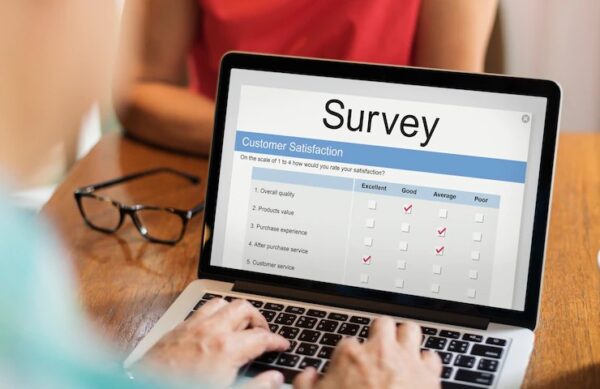 Yes, you can get instant cash with survey sites. Nothing beats receiving an email notification that you've been chosen to participate in PayPal surveys with an instant payout.
You quickly click on the link, complete the survey, and watch as the promised amount is credited to your PayPal (or bank account).
The instant PayPal payout surveys are fantastic! It's a great feeling to know you've just made some extra money with very little effort on your part.
Surveys are an excellent way to begin earning money online on the side. The online surveys are simple to complete, and most pay out instant cash once you reach the minimum payout amount.
Furthermore, there are numerous ways to redeem your points for instant cash, so you can choose the one that best suits your needs. Swagbucks, InboxDollars, and MyPoints Surveys make it simple to get started with market research surveys.
So, what are you holding out for? Begin taking surveys today with these cash-paying surveys.
Good Read: 5 Sites That Pay You to Do Completely Offers and Take Surveys
Bottom Line
Surveys that pay instantly are rare, but they exist. Online surveys are mindless and flexible ways to earn extra cash, but they don't pay very well. So, if you're going to take surveys, why not look for ones that pay cash right away? (or at least faster than average).
It's worth noting that you can register for multiple survey websites. They all conduct market research for slightly different companies, and signing up for multiple sites usually results in more survey opportunities.
If you enjoy this side hustle niche, I believe these websites that pay you instantly are preferable to platforms that require $10 to $25+ to cash out. Unfortunately, the survey industry is riddled with scams, and one of the main culprits is high cash-out requirements.
Hopefully, this online survey list that pays instantly or on the same day will allow you to enjoy some free money and gift cards in exchange for your time!
Frequently Asked Questions
Q: Is there anything I should know before completing a survey?
The qualifications differ from site to site, but they are usually related to your demographics—for example, if you are not a parent or guardian, you will most likely not qualify for surveys on parenting or children's products.
However, most sites require you to be at least 18 years old, live in the United States, and have a valid email address.
Q: Do surveys get paid immediately?
Yes, with some surveys, you get paid immediately. My picks for quick-paying surveys sites are:
Branded Surveys: Earn $0.50-$3 per survey and cash out with as little as $5.
Survey Junkie: Get paid $1-$3 per survey and cash out with as little as $5.
Swagbucks: Make up to $2 per survey, and new users can earn a $5 bonus.
Q: What survey sites pay on the same day?
Overall, Swagbucks is a market behemoth and one of the most well-known online surveys that pay on the same day. In addition, Swagbucks reward options include PayPal cash and an extensive list of gift cards, so I'd recommend it if you're looking for a fairly comprehensive GPT platform.
Q: What surveys pay the most instantly?
The Surveys that Pay Cash Instantly are
Branded Surveys.
Swagbucks.
MyPoints.
LifePoints.
Survey Junkie.
InboxDollars.
Toluna.
Pinecone Research.
Q: Which survey sites pay cash?
Swagbucks is one of the most popular and trustworthy paid survey sites. They've paid out over $600,000,000 in rewards to members worldwide so far. They give you points for playing games, accepting offers, searching the web, making online purchases, and watching videos! In addition, money, vouchers, and prize draws are available as rewards.
Q: Do any survey sites actually pay?
Survey sites like Swagbucks, InboxDollars, and MyPoints that are real and pay really do pay. Market research companies need people like you to fill out questionnaires and give their honest opinions to online survey companies.
Q: Can I complete surveys on my phone?
Most surveys these days work on mobile devices and have apps you can download to make money on the go, so you should be able to do them on your phone or tablet.
Q: Does Swagbucks pay instantly?
Swagbucks is one survey site that pays you cash instantly. This also depends on how you cash out—the money has to be added to your account, and then you have to ask for payment—Swagbucks is the fastest at giving you your reward. Swagbucks is your best bet if you want to take surveys that pay you cash right away, Swagbucks is your best bet.