Last updated Feb. 23, 2023 by Favour Chinaza
Earning money with apps is a quick and easy way to supplement your income in your spare time. New money-making apps always appear, offering ways to make money with your smartphone simply by doing simple tasks. This article will show you how to get paid to unlock your phone with the S'more app.
S'more is an app that has been around for a few years but is still evolving to compete with newer money-making apps. This one compensates you for doing something you do daily: unlocking your phone.
Free Money-making apps have become popular in recent years. Most apps pay you to do random things like watching movies, playing games, and answering surveys.
Like every other money-making app, the S'more app pays you for doing something random. For example, it pays you to unlock your phone.
Unlocking your phone to get paid may be simple, but it sounds fishy to many. This article reviews everything about S'more App to pass judgment on whether it is legit or a scam.
Related: Ultimate Rebaid Review! (Save $ 100's)
What is S'more App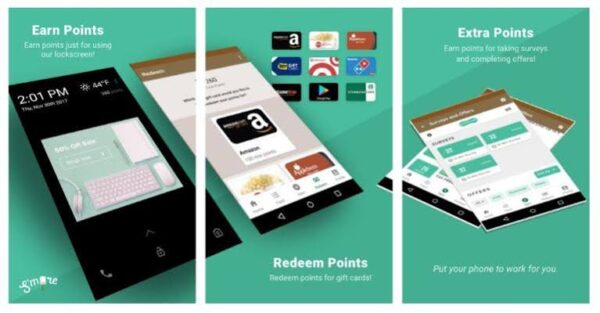 S'more is a money-making app that pays you to unlock your phone and watch short video ads.
It is an app for Android users. This app places advertisements on your lock screen, and it gives you points for each advertisement video you watch. Most of these videos run for 30 seconds.
The advertisements displayed by S'more are usually tailored to meet your interest. S'more stands out from the crowd of lock screen applications due to the many ways it enables its users to make money.
Because of this simple system, the S'more app is an incredibly low-effort way to earn a passive income simply by unlocking your phone daily. In this S'more app review, we'll review some nuances and tips for using this app, but that's the basic idea.
How Does the S'more App Work?
When you install the S'more app, there are a few options for making money immediately. First, remember that 1 S'more point is equal to $0.01.
Here are some of the early signup bonuses you can easily obtain:
Installing S'more earns you 50 S'more points ($0.50).
Add a Referral Code – Sign up with your friends and use someone's referral code to earn 25 bonus points for each of you.
Confirm Email – Earn 10 points by verifying your email address with the S'more app.
Add Basic Information – For an extra 45 points, enter your gender, name, and phone number, and enable location services.
Following these steps, you can begin your S'more account with $1.25 in points.
To continue using your phone, click an advertisement or swipe up on the screen. You'll get 10 cents per day regardless, just for having it installed.
Unlike similar apps, you do not earn more money by watching ads on the app. Ads may appear while using your device, but you can always swipe up on them to continue what you were doing.
The S'more app is only available for Android users
Apple doesn't let app developers control the lock screen, so the app isn't available for iOS. Here is where you can get the S'More app from the Google Store.
After you install the app, The S'more app will ask for your name, age, email address, and phone number. After that, your phone's lock screen will be a S'More screen.
How Does S'more App Earn Money?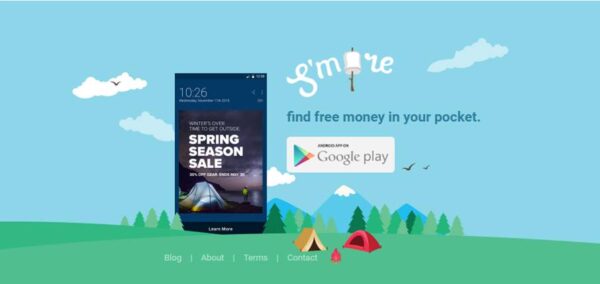 S'more is a company that markets products for its clients. S'more gets paid by advertisers to market a product, and it advertises the products by showing ads on your lock screen.
S'more App is also a survey site. It pays you for giving your honest opinion on a topic. But, again, S'more is the middleman; S'more collects advertising revenue on behalf of its partners and then distributes some revenue to you in exchange for your participation in its survey.
What S'more Points Worth?
In S'More, one point is equal to one cent. So just for getting the app, you'll get 20 points worth 20 cents. Your daily 10 points are worth 10 cents, so if you use your phone as you normally do, you can earn gift cards worth $36 a year.
That's enough for a simple meal or a free movie night. Remember that the daily 10 points come from having the app installed. You won't get 10 points every time you unlock your phone, which seems to be a common misconception among new S'More users.
Who can Use the S'more App
The S'more app is made for two types of people. One of them is advertisers who want to reach people on their phones. The other group comprises people like you who want to make money with their cell phones.
Advertisers can reach people whenever they use their mobile phones when using the S'more app. Because the ads are on the device's lock screen, this is possible.
So when people try to unlock their devices, they will see the ads that advertisers have put up. This is guaranteed because the app pays people to install it and keep it running in the background on their phone's lock screen.
The S'more app is only available to residents of the United States and adults. However, users above 13 years can download and earn money from the app.
What Is the Process of Making Money with S'more?
Once you download and enable the S'more app on your Android device, S'more will install a new lock on your phone. This new lock will display ads. Once you unlock and click on the ads, you'll earn points.
With S'more, you can earn up to 10 points daily for unlocking your phone. The S'more app also lets you make money by participating in paid surveys, watching videos, and engaging in bonus offers.
Pros and Cons of S'more
Here are some benefits and downsides of using the S'more money-making application.
Pros of S'more
Earn money every time you use the S'more app.
Simply installing S'more will earn you 50 points.
The app provides a variety of rewards in the form of popular gift cards such as Google Play and Best Buy.
Most prizes have a low minimum cash-out amount (500 points)
There are more ways to earn money than just your lock screen.
Like apps that pay you to refer friends, S'more's referral program awards points for each friend you refer.
Ads do not slow down or interfere with your phone's performance.
Cons of S'more
Currently, it is only available in the United States and its territories.
Instead of cash, a point system is used.
Access to personal information. By downloading and using S'more, you are giving it access to your personal information.
Points expire after 30 days if you are inactive and 12 months if you are active. As a result, surveys are very low-paying compared to regular survey sites.
Videos aren't always available.
Before you can begin redeeming points, you must use S'more for at least 10 days.
How To Make Money On S'more App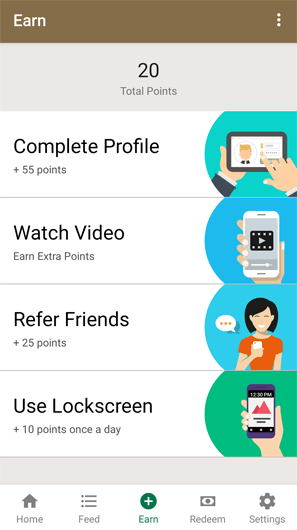 S'more offers a variety of ways for you to make money on its app. Here are some of the ways to make money on S'more:
Unlocking your Phone
S'more's main goal is to make money with your lock screen. But, surprisingly, it is not the most profitable way for you to make money from S'more.
You can earn 10 points per day by installing the app and allowing it to place its lock screen over yours.
It makes no difference whether you click on ads or not; you'll still get $0.10 per day as long as you use your phone with S'more installed. First, turn your phone on to use this feature. Then, to learn more, click an ad or swipe up to dismiss it.
After enabling S'more on your phone, S'more will install a phone lock on your screen. You will earn 10 points or $0.10 every day for leaving the application to run on your lock screen.
You don't have to click the adverts displayed on the lock screen. S'more will pay you regardless.
Participate in Surveys
Once you unlock your screen, S'more will offer you surveys. You can choose to participate in them.
Once you unlock your device, you can begin taking available surveys through S'more and its partnership with market research companies Pollfish and Peanut Labs.
You'll understand how these work if you've used online survey sites. To become eligible for S'more surveys, you need to answer a series of questions providing your personal and demographic information and interests.
If you qualify, you will be asked to complete the entire survey based on your responses. Market research firms use your responses to inform brands about what consumers want to see.
Not Many Surveys are Available
You will be compensated for your time. Unfortunately, S'more does not have many surveys available at any given time, and several members report that qualifying for the available ones is difficult.
Furthermore, payouts are low compared to most survey sites, with many ranging between 5 and 100 points ($0.05 and $1).
S'more will give you some points in exchange for your time.
One bad thing about S'more is that they only have a few surveys open at a time, and it's usually hard to get into them.
Another thing to watch out for is that S'more only pays out 5-100 points for each survey compared to other survey sites.
Complete Tasks
S'more will occasionally add bonus offers in the form of advertisements to your phone. These can range from downloading an app to registering for a free trial or paid offer from an advertiser. Extra points will be awarded if you complete these tasks same way the Quick Reward app lets you do tasks and surveys for money.
No Notification for New Tasks
Unfortunately, you won't know when these will be available until they appear on your phone.
You can't find and complete them by logging into the app unless you go through Peanut Labs surveys, which do occasionally have offers available.
Earn Decent Points for Your Tasks
However, they pay decent points, so take advantage of those that make sense for you. Downloading suggested apps earns you points and may lead you to discover new apps you enjoy!
If you complete the tasks S'more offers, you'll earn bonus points. Some of these tasks require watching a movie or downloading an app. To receive offers on tasks, you need to indicate interest.
Watch Videos & Ads
Just like making money streaming on Twitch with software, watching videos and advertisements is another way for S'mores to earn money passively. It is one of the best software for streaming on YouTube and Twitch. You can begin watching videos on your phone in the "Video" section of the S'mores app.
S'more gives you one point for every two short videos/ads you watch. This equates to $0.01 for every two videos and ads viewed, making this a very slow way to earn money.
However, you can activate this video feature to make quick cash if you're about to cash out. And it allows you to make money on autopilot by enabling ads to play in the background.
There is a Limit to the Videos you can watch.
But there aren't many videos to choose from. Also, you can't close or make the app smaller while playing the video.
Keep the app open and watch the whole video to get the credit. Again, watching videos is optional, so you don't have to do it, but it's a simple way to earn extra points.
Redeeming Points with S'more App
To redeem your points for one of several gift cards, go to the Redeem section of the app and enter your email address.
To verify your address, go to your inbox and click the link in the email. You should then see the complete list of prizes.
Here are some gift card options:
Company Amazon
Applebee's
CVS
GameStop
Google Play Goal
Except for Google Play, which requires 1000 points, and Amazon, which requires 100 points, all gift cards require at least 500 points.
Every point is worth $0.01, so an Amazon gift card is worth $1, while a Google Play gift card is worth $10, but each gift card also comes in higher denominations that you can save for.
How Much Can I Make With S'more?
Most people can earn between $5 and $10 monthly with S'more. However, everyone's earning experience with S'more will differ depending on how many people they can refer, the surveys for which they qualify, and how much time they spend watching videos.
Your location is also important; people who live in certain areas may see more survey opportunities and offers than others.
This is a typical way of earning with the S'more app after three days of use to give you an idea of the earning potential:
Installing the app: 50 ($0.50) points
Three days of using S'more on my phone: You will receive 30 points ($0.30) for using the lock screen feature.
Authenticating my email address: 10 dollars ($0.10)
Six videos per day (total of 18): 9 dollars ($0.09)
Three surveys yielded 66 points ($0.66).
Three referrals (assuming they stay active and qualify for rewards): 75 ($0.75) points
You can earn $2.40 in your first three days, but technically only $1.80 because $0.60 of your earnings came from bonuses just for joining and getting everything set up.
At this rate of $1.80 every three days, you could make about $18 monthly, but only if you keep recruiting new members.
S'more User Reviews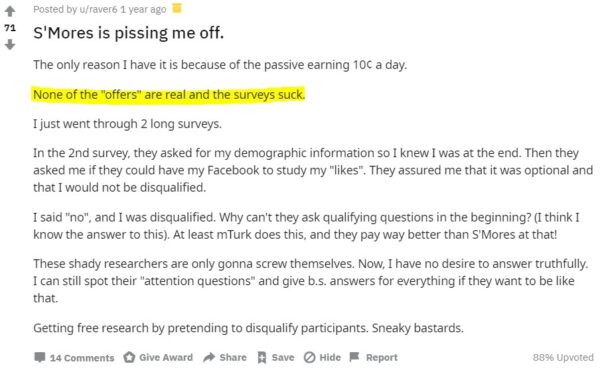 S'more is notable for its ability to help you earn more money by taking surveys, completing offers, watching videos, and referring your friends, so use those resources as well.
It Drains Your Phone Battery
This is a valid complaint, but it also applies to any lock screen app I've tried: it can slow down your phone and drain your battery. My phone's battery drains quickly, but with S'more installed, I notice a more significant drain.
The app, in some capacity, must remain running on your phone to be ready when you unlock your device, which is likely why it consumes some battery power.
Points Expire
The points you earn from S'more expire after a certain period, which is unfortunate. Many people see this and immediately dismiss S'more. However, if you keep using the app, you'll rarely have an issue with expired points.
To keep your current points, simply unlock your phone with S'more installed at least once every 30 days. In addition, your unused points will expire after 12 months, so make sure to redeem them before then.
S'more is Easy, but Pay isn't Great
From this S'more review, you may have guessed that the app doesn't pay much.
With apps and websites like these, you only make a small amount of money daily. Even if you unlock your phone, you can still get $0.10 a day, which can add up to $36 a year for doing almost nothing.
The payoff from the lock screen is low, but you can also do surveys and offers, watch videos, and refer your friends and family. You could make a lot of money just from referrals.
S'more App Ratings
Low App Rating
The app has a score of 3.1 out of 5 on Google Play. However, people are upset that they are no longer getting their daily 10 points, and many of them say the problem started right when they were about to have enough points to get a gift card.
Lack of Social Media Presence
The last thing the company said on Facebook was in September 2018 about an "inventory issue" with Amazon gift cards. Since the gift cards are sent electronically, it's hard to see how they could run out of stock.
Lack of Response
There is no in-app help, and people who email the company say they don't hear back. S'More hasn't posted any answers to Google Play complaints.
Is the S'more App Legit or Scam?
S'more is not a scam, and they are legit. The S'more app is just what they say they are. An app for your lock screen pays you a little bit each day to look at a few ads. You should consider it as part of your ways to make money on weekends, as you are free to browse your phone.
You could make a lot more money with other ways to make money in your spare time in the same amount of time you spend on S'more.
Based on about 22,000 reviews, S'more has a rating of 3.2 out of 5 stars on the Android Google Play store. Some bad reviews talk about bugs, like surveys that won't load or audio that plays randomly from the app.
Overall, users say they win money by "pretty much-doing nothing," which is why most reviewers give the game 5 stars. A blogger who used the app for over two years said she made $149.15.
Users can also make money by giving their friends a referral link and code. After your friends have used S'more for 10 days and are eligible to get their own 25 bonus points, you will get a 25-point bonus.
Only if you use your phone at least once in 24 hours will the app give you your daily 10 points. They will be taken away if you don't use your points in a year.
Is S'more Worth Your Time?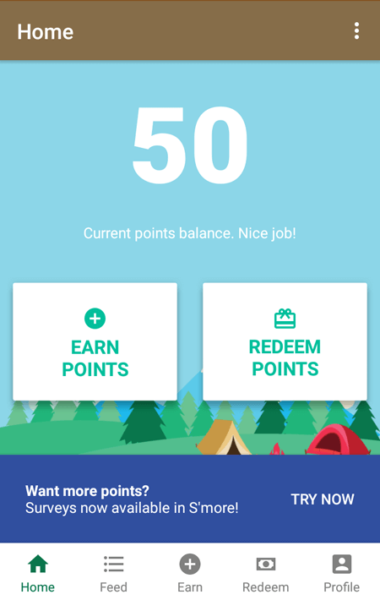 We usually don't like apps and websites that offer "free rewards," but S'more is pretty good and doesn't seem to scam users as most of them do.
They don't pay much, but you don't have to spend much time on them if you don't watch the videos they give you (which is not worth it). Of course, if you're an adult making over $40,000 a year, it might not be worth your time for an extra $40 a year, but otherwise, it's up to you.
It could be worth your time, at least if you don't mind waiting half a second to unlock your phone and swipe off the S'more adscreen.
Is S'more Safe To Use?
Some people worry about whether or not S'more is safe, but I don't see the big deal. We all see ads all the time, and that's all that S'more does: it puts ads on your home screen.
We haven't had any problems testing S'more, so we don't think it's dangerous to use. However, remember that when you use the app, they will probably collect some data and could sell it to third parties, so if you're worried about location data, don't turn it on in the app.
S'more Alternatives
S'more works with the majority of other lock screen apps. So you can download and use others, and their lock screen advertisements will overlap. The main issue is that having several installed at once can cause your phone to lag, so people with older phones may want to stick to one or two.
Because S'more is similar to other well-known lock screen apps, let's compare a few of the most popular ones:
Adme
Adme is a lock screen app that rewards you for using it regardless of whether you click on ads or not. The more you unlock your phone with Adme, the more money you can make.
Adme does not pay you more to interact with ads but for unlocks. Adme's algorithm ensures you are not abusing the system by repeatedly unlocking your phone to increase your balance.
You can cash out when you have at least $10 in your PayPal account.
Slidejoy
Slidejoy is currently the most well-known app of this type. However, Slidejoy differs from similar apps in that you can swipe away from ads, interact with them, or even swipe up to get a new ad to view.
Slidejoy will compensate you for using the app and unlocking your device rather than interacting with advertisements.
To cash out for PayPal, Google Play credit, or Square cash, you only need $1. After that, users can earn around $10 per month on average.
Fronto
Fronto is only available for Android. The difference with this lock screen app is that it will pay you to interact with advertisements.
You'll earn more points for each ad click, app download, or news story you read than if you simply unlock your screen. Regular unlocks are worth 20 points, whereas advertisement interactions are worth 100 points or more.
Once you've accumulated 25,000 points, you can exchange them for $10 in Amazon or PayPal cash.
Whaff Locker
Whaff Locker is one of the few apps that will not pay you to unlock your phone. Instead, its goal is to increase the number of interactions with each ad. It usually only pays users who swipe left to interact with the advertisement, video, or article.
However, other ways to earn money with the app include referring friends and downloading additional apps.
With a minimum balance of $10.50, you can redeem your earnings for PayPal cash or a gift card of your choice.
Related: TaskRabbit Review: Is it A Good Option to Make Money?
Bottom Line
We can't strongly recommend S'More as a way to make money because users are very upset, the company doesn't have good customer service, and the earning potential isn't very high.
But you might want to try it if you don't mind seeing ads and like the idea of getting a free meal out once a year just by unlocking your phone every day.
Frequently Asked Questions
Q: How do I make extra points with S'more
You can make a few more dollars by watching video ads (worth half a point each) and filling out marketing research surveys (worth 5 to 100 points each), as long as they are available and you are eligible. However, user comments suggest that there are times when there are no videos or surveys.
You might also get extra points if you take advantage of bonus offers that require a little more work, like downloading an app or participating in a free trial. These may or may not show up, just like videos and surveys.
Q: Can I donate my S'more points?
You can donate your remaining points to Boys and Girls Clubs of America if you're in a giving mood.
Q: Can I get my S'more points immediately?
Remember that the person who uses your referral code must keep the app on their phone for at least 10 days to get your 25 bonus points. Your referrals will also get a bonus if they use your referral code, giving them a reason to use it. Unfortunately, no one can tell you how often you can use your referral code.