Last updated Apr. 18, 2023 by Benedict Osas
Like every other reward platform, QuickRewards promises to pay its users for partaking in surveys and completing various tasks.
However, the question remains! Is it legit and reliable? Does it pay money to its users? This review covers everything about QuickRewards and other get-paid-to platforms.
Quick Rewards Review
QuickRewards is an online great reward program that pays its users cash rewards for participating in everyday activities. They include answering surveys and polls, watching videos, shopping on specific websites, signing up for offers, and even playing games.
The program is completely free to use and is designed to promote customer loyalty and long-term relationships. QuickRewards also benefits advertisers by providing targeted traffic at low prices, increasing their return on investment.
QuickRewards is similar to other market research panels like Swagbucks, Valued Opinion, Survey Junkie, and Opinion Outpost, which also pay users for completing online surveys and other tasks. 
Members can access QuickRewards from anywhere at any time to earn rewards for their participation. You can redeem these rewards for gift cards and other incentives.
By participating in QuickRewards, members can maximize their earnings and earn extra money in their spare time. In addition, the program is user-friendly and offers a variety of tasks to complete, allowing members to choose the ones that interest them the most.
Some QuickRewards Features
Here are some of the features of QuickRewards:
Earning Potential: Signing up on QuickRewards makes you eligible to earn money from engaging in various activities. When you complete a task, you will receive a "quick point" reward that converts to cash.
Payment Process: Unlike most reward apps, QuickRewards doesn't have a minimum withdrawal amount. If you make $0.01 on QuickRewards, you are allowed to withdraw it. It will enable you to redeem your quick points for gift cards or cash. Payments are made via PayPal. Also, if you request a payout, you will receive it within 24 hours.
Pay Per Survey: QuickRewards pays its users for each activity they partake in. The amount you receive depends on the exercise duration you engage in.
Security and Credibility: To limit fraudulent activities, QuickRewards prevents the use of VPNs by its users. In addition, QuickRewards requests a Social Security number from users who make over $600 yearly. This is for tax purposes.
Referrals: For each user you invite to QuickRewards via a referral link, you will receive a $3 cash reward.
Is QuickRewards Legit?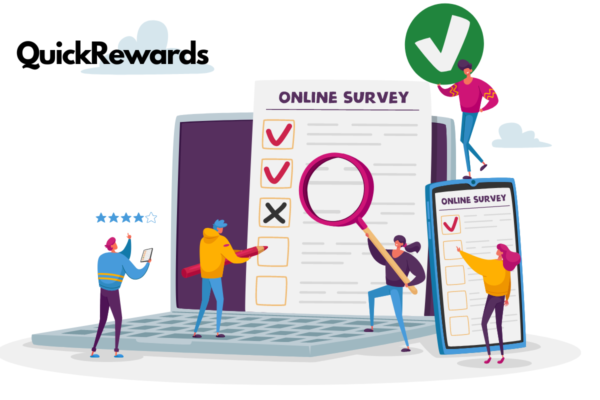 QuickRewards has been around since 2002, making it one of the oldest survey sites available. It has built a strong social media presence with over 7,000 followers on Facebook and over 5,000 followers on Twitter.
Based on this information, QuickRewards is a legitimate market research panel. Furthermore, QuickRewards has received positive ratings on several review platforms.
The Better Business Bureau has given it an A+ rating, indicating a high level of trustworthiness, with a score of 5/5. Trustpilot, another review site, has rated it 3.8/5 stars.
Sites like SiteJabber rate QuickRewards at 4.28 out of 5. Overall, these ratings suggest that QuickRewards is a reputable site you can trust to earn rewards for completing tasks.
How Does QuickRewards Work?
QuickRewards offers a variety of ways for American and Canadian users to earn money by completing various tasks. If you're interested in using QuickRewards, here's how it works:
First, you must create an account by signing up and confirming your email. Once you've done that, you'll be able to access the site and choose from three different programs:
Paid for Your Opinions Program
This program allows you to earn money from surveys and provide your opinion on various brands and products.
With this program, you'll receive exclusive coupons to save money while shopping at over 1000 brand-name stores.
This program allows you to earn money by completing various offers on the site, such as reading emails, visiting websites, playing games, and watching videos.
You can choose one or more of these programs to customize your experience on the site. After selecting a program, you can earn money by completing the available tasks on the site. For example, you can shop online, take surveys, and watch videos to maximize your rewards.
QuickRewards aims to offer a personalized experience for its users, tailoring the type of emails and tasks based on your selected programs. Furthermore, you are not limited to your chosen program; you can switch between programs anytime.
After creating your account and confirming your email, you can start earning money on QuickRewards. But first, head to the dashboard and browse through the various tasks you can complete, including taking surveys, watching videos, shopping online, and more.
Choose the ones that interest you and complete them to earn rewards. QuickRewards offers immediate rewards so you can see the money in your account immediately. So keep completing tasks to earn more and maximize your earnings.
Is QuickRewards Real?
Yes. QuickRewards is a real and legit "get paid to" platform. It offers a legitimate way to make money on the internet. To start earning on QuickRewards, you have to sign up and partake in any activity listed on the platform.
Since its founding in 2002, QuickRewards has given out over $7 million as a reward to its users who partake in activities such as watching videos, reading email messages, participating in surveys, playing games, and more.
There are lots of money-making opportunities on the platform. However, partaking in surveys is the best way to generate the most cash. Most businesses pay a good amount of money QuickRewards to get customers' data on a product or service. Hence, a survey is the best paying.
Once you receive your "quick points," you can convert them to cash, gift cards, deals, or coupons. Cash payments are made within 24 hours. In addition, QuickReward's gift card can be used in more than 50 well-known stores.
QuickRewards is only available to residents in Canada and the United States. Here are some key features of QuickRewards:
How You Can Earn Rewards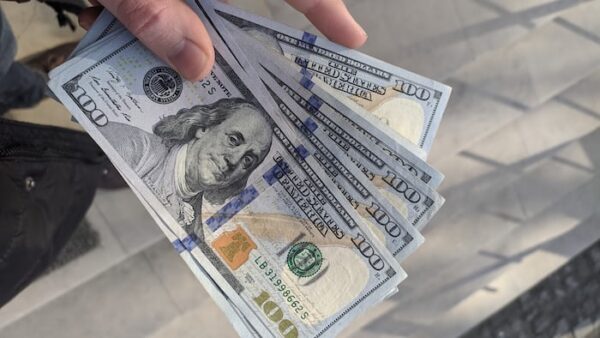 If you want to earn rewards, there are a few different ways to do it. One way is to shop with certain companies by selecting them and clicking the "start shopping" button. Then, when you purchase on their website, you'll earn some cashback. Just be aware that some offers may require you to spend a minimum amount.
Another way to earn rewards is by printing and redeeming coupons from coupom.com. You'll earn $0.05 for each coupon you print and redeem, but you must email the support team to receive your payment.
You can also earn rewards by playing games for at least 1 minute. For every game you play, you'll earn 25 points. Remember that these points can't be exchanged for cash, but you can redeem them for magazines or movies.
If you prefer watching videos, you can earn QuickPoints by watching video ads through Quickrewards. They work with companies like Smores.tv, Engage.tv, and VideoLoyalty to connect you with video ads.
You can also complete different types of offers to earn rewards. Some offers are free signups to websites, while others require a deposit. Be sure to read the description carefully and follow all the requirements to receive the credit.
The payout is usually low for free offers and a bit higher for paid ones, but be careful because sometimes offers pay less than the deposit you need to make.
If you shop online, you can earn rewards through cashback. QuickRewards partners with certain websites and offers cashback rewards when you purchase through their site.
Click the cashback offer link on QuickRewards' member dashboard to access the rewards. This is a great way to save money while shopping online, but other cashback websites offer better options.
Another way to earn rewards is by taking online surveys. You can find a list of surveys on the website's main menu, with different categories such as Targeted Surveys and Clinical Surveys.
To get the most opportunities, complete your profiling survey before taking other surveys. While taking surveys, be sure to read and answer each question carefully, as some have mechanisms to detect if you're responding too quickly or inaccurately.
You won't get compensated if you rush through questions or answer incorrectly. One information that needs to be included is the estimated time required to complete a survey. Knowing this information would help you calculate your pay rate for taking surveys.
QuickRewards Payment Options
QuickRewards offers various payment options, including PayPal and gift cards from popular retailers like Amazon, BestBuy, Walmart, and Wendy's. The unique feature that sets QuickRewards apart from other Get-Paid-To (GPT) sites is that you can cash out any amount via PayPal without any minimum requirement.
However, each company's minimum amount required to redeem gift cards varies. For example, you need at least $5 to redeem an Amazon gift card.
Quickpoints, on the other hand, can only be redeemed for magazine memberships and movie tickets.
QuickRewards Pros And Cons
QuickRewards offers a variety of tasks to earn rewards, such as taking surveys, watching videos, and shopping online.
Pros
One of the benefits of being a member is the ability to cancel your subscription at any time if you no longer wish to participate in the program.
Another advantage is that signing up only takes 30 seconds, and membership is free.
Additionally, there are lots of reward options available, including gift cards.
Members can sign up for unlimited daily offers, giving them more opportunities to earn rewards.
Cons
However, while QuickRewards offers many benefits, there are some drawbacks that users should be aware of before signing up.
Members need help logging in using a Virtual Private Network (VPN), which may be inconvenient for some users.
In addition, to redeem rewards over $600, members must provide their Social Security Number (SSN), which may concern some users.
There is also a risk that member accounts can be closed without payment, which could result in lost rewards.
Signing in to the platform is required at least every 90 days, which may be a hassle for some users.
Additionally, there are lots of promotional emails sent out, which may be overwhelming for some users.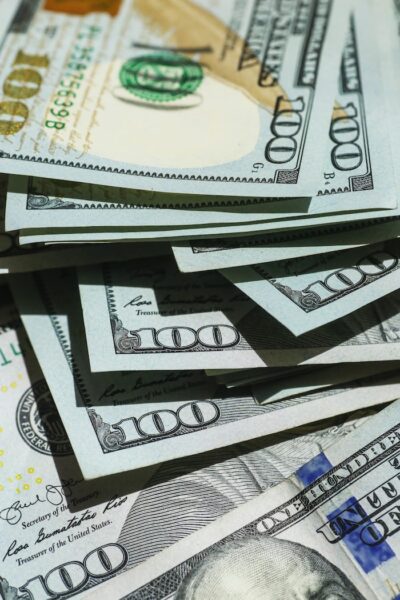 Quick Rewards APK
Unlike most "get paid to" platforms, QuickRewards has a mobile application for Android and iOS devices. In addition, it also has an official website.
The QuickRewards APK is free and accessible on the Google Play Store and consumes only 10MB of your phone storage. Although accessible, only United States, United Kingdom, and Canadian residents can complete offers and get paid.
On the Google play store, QuickRewards has over 100+ installations, and it recently released a 1.0 version. However, the QuickRewards app may not operate efficiently on devices below the Android 5.0 version due to recent upgrades.
Some Alternatives To QuickRewards
If you're looking for alternatives to QuickRewards, two popular options are Earnably and InboxDollars. Such platforms offer various tasks that allow users to earn digital rewards and gift cards.
Earnably is a free-to-use platform that allows members to earn rewards by taking surveys, watching videos, and completing online tasks. One unique feature of Earnably is its referral program, where members can earn 10% of their referral's earnings for life by sharing their unique referral link. 
Rewards, including cash, wallet codes, and gift cards, are awarded immediately, similar to QuickRewards.
InboxDollars is another popular website that rewards members for playing games, shopping, and taking surveys. The platform partners with brands to solicit consumer feedback on their products, and members can earn a $5 bonus just for signing up.
Members can perform various online activities such as trying new apps, exploring new products, and cashback shopping to earn real cash, unlike QuickRewards, which offers points as rewards.
Green Panthera is a reward platform paying users for seemingly normal activities. However, many have regarded it as a scam due to the lack of information on the parent company of Green Panthera and how long it has carried out operations.
So, Is Green Panthera legit? Well, there needs to be more information to classify this platform as legit. However, there has been a mix of user reviews from the platform.
Many claim the website is legit and pays up to $1 for each survey, while a minority regards the platform as a scam. On TrustPilot, Green Panthera has a 2.1-star rating from less than 200 reviewers. Less than 15% of reviews are good; the rest are negative.
Most of the reviewers complain about how long it takes to earn up to $30, and many users also point to cases where the company deactivates user accounts with lots of earnings.
KashKick
KashKick users can earn an average of $0.5 to $2 for each survey they complete. The amount you make from participating in KashKick surveys depends on the survey's duration.
Surveys on KashKick take between 10 to 20 minutes to complete. With a payment rate of 5 cents to $2, KashKick users can make up to $50 per month, depending on how dedicated they are. They also offers users a $5 signup bonus, but you can earn more by signing up for its delivery service.
KashKick has a minimum account withdrawal policy. You must earn a minimum amount of $10 to request a payout. Payments are processed bi-weekly and are made via PayPal.
Timebucks may not be as popular as Survey Junkie or other reward platforms, but it is real and not a fake or scam. It is a GPT (get paid to) site that pays its users for watching videos, completing offers, solving a captcha, downloading a free app, takings surveys, and more.
Timebucks was established in 2014 by a company in the United Arab Emirates; however, it was acquired by the Australian Clearing Pty company and has operated with little to no changes.
Timebucks is well known for the multiple money-making opportunities open to users. It stands out from other GPT platforms in this regard. Nevertheless, the payout on Timebucks is low compared to other "get paid to" platforms. But one thing is sure, Timebucks is real and not fake.
After seeing the various FlashRewards ads promising to give out $750 worth of gift cards to users who sign up, you must be curious to know how legit and real FlashRewards is.
FlashRewards is a real "get paid to" platform that offers gift card rewards to users who complete tasks and offers on the platform. The platform was founded in 2014 and has given over $12 million to its users who complete the assigned tasks.
If you sign up on FlashRewards and complete the requirements, you will be rewarded with cash or gift cards. Completing a task can take several hours or days. Also, FlashRewards has a 4.1-star rating from over 2000 reviewers on Trustpilot. Over 73 percent of the reviewers gave out positive feedback.
How long does it take for KashKick to pay you?
KashKick pays its users bi-weekly. You can request a payout if you have accumulated enough to meet the KashKick minimum threshold amount. You will receive your cash during its pay period.
How much can you earn on Viggle?
The amount you earn on Viggle depends on how long you watch a video, the type of show you watch, and more. On average, you can earn up to $60 per month.
Final Words
Reward platforms are not a "get rich quick" scheme. They do not pay enough to buy a house or pay for tuition. However, if you need legit reward platforms for quick cash, you can check out QuickRewards, KashKick, FlashRewards, and Timebucks.
Frequently Asked Questions On QuickRewards Reviews
What are QuickPoints?
QuickPoints are essentially rewards points that you can earn through QuickRewards by completing certain earning opportunities.
On the other hand, HiNative uses QuickPoints to indicate how quickly users can provide helpful answers to questions. The faster you answer questions, the more points you can earn.
Each QuickPoint is worth one-hundredth of a cent. This means that every 100 quick points equal $0.01, and 1000 quick points equal $0.10. Therefore, to make $10 on QuickRewards, you must accumulate 100,000 quick points. Quick points convert automatically to cash whenever it reaches a 100 minimum.
How many times can members sign up for the same offers?
As for signing up for offers, generally, you can only sign up for larger offers once. However, you can complete smaller offers like printing coupons, watching videos, playing games, and so on daily. This resets at midnight EST.
How can I make money from surveys?
To earn money from surveys, you can simply go to the QuickRewards survey dashboard and complete up to three surveys daily. The amount you can earn depends on the type and length of the survey, typically ranging from $0.75 to $15.
Is QuickRewards available in my country?
QuickRewards is currently available in the United States, Canada, and the United Kingdom, but the earning opportunities you can access to may vary depending on your location and other factors.
How often can I cash out my rewards?
The ability to cash out your rewards depends on the reward you choose and how many rewards you have accumulated. Some rewards may require a minimum amount to be collected before you can cash out, while others may allow you to cash out at any time.
What happens if I have issues with my account?
If you encounter any problems with your QuickRewards account, don't worry. You can always reach out to their customer support team for help.
Whether you're experiencing issues with verifying your account or delays in receiving your payments, the support team can assist you in resolving these issues.
Is my personal information safe with QuickRewards?
When it comes to the privacy and security of your personal information, QuickRewards takes it very seriously. They have implemented various security measures, including encryption, to protect your personal information from unauthorized access.
Rest assured that QuickRewards will not share your personal information with third parties without your consent.
Can I use QuickRewards on my mobile device?
In case you're wondering if QuickRewards is available on mobile devices, the answer is yes. You can use your mobile device to complete tasks and earn rewards.
Whether you're using an Android or iOS device, you can access QuickRewards and earn rewards on the go.
How much money can you earn?
QuickRewards provides multiple earning opportunities, so you can always find a way to earn some extra cash. While the rewards for completed offers may be low, consistently working on these offers can result in a decent side income.
Additionally, the fact that you can withdraw your earnings without reaching a specific payment threshold makes QuickRewards a great option if you want to earn quickly.
Is QuickRewards net real or fake?
QuickRewards network has a rating of 4.2 stars from 70 reviews. And this shows that many customers derive satisfaction from their purchases.
Customers frequently mention positive experiences with customer service, PayPal accounts, and Facebook pages. That's why QuickRewards is a legitimate site that provides earning opportunities and offers reliable payment options to its users.
Is QuickRewards Worth It?
QuickRewards is a worthwhile platform for those looking to earn some extra cash by doing routine online activities such as shopping, watching videos, or answering surveys. However, it's important to understand that this site is not a get-rich-quick scheme, and you should not expect to make a lot of money quickly.
However, if you stay active on the site and take advantage of all the opportunities, you can earn a decent amount of money each month. Making around $50 per month may seem like little, but it can help pay your internet service provider bill or cover other small expenses. So, try it and see how it works for you.