Last updated Mar. 11, 2023 by Peter Jakes
Why not get paid for online shopping? You'll be spending money to earn money. And, when you combine your cashback with your coupon code, you'll be at the top before even realizing it. So, we're bringing to you the Giving Assistant Review.
Giving Assistant, based in San Francisco, California, turns e-commerce transactions into donations for charities and nonprofits in the USA through their web portal.
Read through this article as we will be sharing with you what you should know about the app and everything concerning cashback.
What Is The Giving Assistant?
Giving Assistant turns routine purchases into philanthropic donations. Through their online shopping rewards platform, which makes it simple for customers to save money and donate for free to NGOs, this Certified B Corporation is on a mission to turn regular shopping into philanthropic action. Since the company's debut in 2014, they have raised over $5.7 million for charities with the help of its customers and brand partners.
How Do You Use Giving Assistant?
Visit Giving Assistant and create an account there.
Select the portion of your cash back you want to donate to a cause, then confirm your decision.
Using the search box or the list on the Cash Back Stores tab, locate the retailer where you wish to earn cash back.
Click the "Activate Cash Back Now" button to launch the store's cashback page and begin shopping.
Purchase what you need and pay for it.
Be on the lookout for the cashback to appear in your Giving Assistant account.
Is Giving Assistant Free?
Giving Assistant is a simple, automated browser extension that performs the legwork for you by utilizing its technology to identify the most excellent cashback offers for the brands you love. In addition, you only need to create an account since the service is free to earn money.
Is Giving Assistant Coupons Legit?
Giving Assistant operates similarly to other cashback programs; thus, the model is sound. It's vital to note that the business is happy to be a Certified B Corp and is BBB-accredited with an A+ rating.
The company is a Certified B Corp if it performs to the highest environmental and social standards. In this Giving Assistant review, we'll be learning more about the company.
How Do You Get Cashback From Giving Assistant?
The procedure is straightforward. First, go to Giving Assistant and sign up with an email or your Facebook account. Then, it only requires a few clicks.
Once registered, you can download a button for your browser to alert you to the deals that a particular retailer offers whenever you shop. There are hundreds of stores to pick from, and you can find almost anything there, from HP to Forever 21.
For instance, Hotels.com offers 7% cash back. They will provide more details on how to get it on the specific brand page, along with additional discounts like a $100 rebate or 12% off Halloween hotel reservations.
Giving Assistant will notify you of the specifications to receive cashback from that specific retailer when opting to start shopping right now.
You must start with an empty shopping basket, turn off AdBlocker, and finish the transaction within 24 hours. Once the trip is over, They will send the 7% cash back.
After that, Giving Assistant brings a tracker with you to the store so you can start receiving cash back. Make sure you have read and comprehended all the terms. For instance, you receive 7% for shopping at Macy's and 0% for Apple goods. You can choose a discount code to save even more money!
That's when things start to become interesting. For example, once you've gotten your money back, you might give all or some of it to charity. From a large variety, you can choose the charity of your choice. If your balance is over $5, you can get your earnings fee-free via PayPal weekly or check every three months if you choose to pay them out.
Pros of Giving Assistant
More than 6,000 brands collaborate with it, most of which are well-known internet retailers;
Accessing the deals and signing up are both free;
You can earn more money with the Giving Assistant referral program;
Giving Assistant provides dependable client support;
Makes a difference in society by giving to charities;
It offers high percentages of cash return;
Cons of Giving Assistant
Customers must wait a long time to receive their cashback benefits
There is no app.
Cashback Apps For Groceries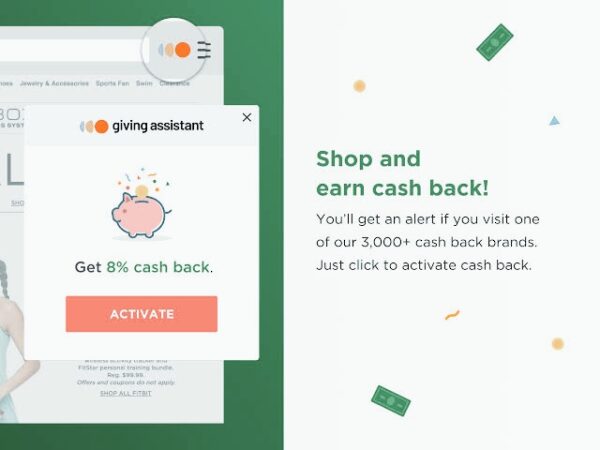 A cashback app gives you a rebate or discount when you purchase in person or online.
A lot of them resemble a more practical type of digitized coupon clipping.
The app displays which items are on sale for the week rather than requiring you to enter coupon codes or bring paper coupons when you visit the store.
Additionally, it will inform you of the steps necessary to take advantage of the deal. For instance, you might have to buy a product at a specific location, or you might be able to buy it elsewhere.
The finest cashback gateways automatically keep track of your transactions and credit your account with your rewards.
Some want you to upload your evidence of purchase, which you may do on your device.
Apps that provide cash back on groceries could give you money or points. If the program uses points as its currency, you may typically exchange them for gift cards, PayPal cash, or a cheque in the mail.
Ibotta provides a variety of methods to earn cash back, whether you spend in-store or online.
Hundreds of deals from more than 1,500 businesses are accessible, so you can luckily get paid with each buy.
Since its founding in 2012, Ibotta has paid millions of dollars to its users. It has a browser extension for iOS and Android (US residents only).
New users will receive a $5 bonus when uploading their first receipt.
This cashback app is ideal for consumers who pay for their groceries with a debit card or whose credit card rewards aren't higher than 1%. One of the few apps that integrate with Instacart is this one.
One of the few real cashback applications for groceries is Fluz. Compared to many of the other options on this list, Fluz only takes a minute and can save you as much as 4% at well-known supermarkets like Kroger, Ralph's, Safeway, and Whole Foods. These tasks often involve watching ads or uploading receipts. You can also place orders from Instacart using it.
Over 400 businesses transact with Fluz, including shops, eateries, and more.
When new users join through a referral link, they get a voucher worth 35% cashback of up to $10.
Another cashback website that rewards you for uploading your receipts from any retailer is Receipt Hog.
Take a photo of your receipts to collect "coins" that you may redeem for money or gift cards.
Residents of the United States and Canada can download this app on iOS and Android smartphones.
The app awards new users 50 points when they use a referral link to sign up.
Fetch stands out for customers who prefer simplicity because no barcode scanning or watching movies is required.
Users of the Fetch Rewards app can collect points by sharing their digital and paper supermarket receipts. Fetch accepts all tickets; you don't need to pre-select the products or clip coupons. The majority of receipts pay 25 points or a few cents. However, you can earn a lot more money by using sponsored brands and products.
You frequently purchase these goods, so switching brands is unnecessary.
The fact that you may upload the same receipt to both Fetch Rewards and Ibotta is a helpful hint.
New users get 3,000 bonus points when they use a referral link.
This cashback app is excellent for anyone who can afford to spend a little more time in the store looking for a few items and taking pictures of them.
When users of the Shopkick app shop in-store or online at major chains like Walmart, Target, Walgreens, and BestBuy, they can earn rewards.
When you buy eligible products and submit a duplicate of your receipt, you'll accrue points (referred to as Kicks).
You can exchange your Kicks for gift cards from a variety of merchants.
You may also earn "Kicks" by entering a particular store, scanning the barcodes of specific items, making a purchase and submitting your receipt, or watching in-app films.
Both iPhone and Android smartphones can download the software (US residents only)
New users get 250 kicks when they sign up using a referral link.
Best Cashback Apps 2022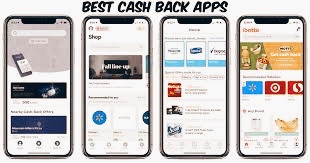 You can deposit the cash back you receive from these apps into your savings account or even use it to pay another credit card or bill with it. You might also spend some money to buy something else you'll require. There are a lot of practical ways you can use the funds.
The Ibotta cash back app is not only used for groceries.
You may use Ibotta, a free app and browser extension, to get cash back on purchases you make at grocery stores, trips, online shops, and more. To register, download the app and create an account on your device or computer via a browser extension.
The typical Ibotta user would make between $10 and $20 monthly, and more active users can make up to $300 monthly. You can redeem your $20 in cash back as a transfer into your PayPal or bank account or use it to buy gift cards once you've accumulated $20 in cashback.
Remember that you must add your chosen offers to your list before you shop if you want to start receiving cashback offers through the Ibotta app. Click on each request you want to add to do this.
After purchase, select your merchant and upload a photo of the receipt by tapping "Redeem" on the home screen.
A browser add-on called Honey searches the Internet for discounts or coupon codes that you can use to save money at the checkout. You don't need to manually search for and manually input discount codes because it automatically tests them on more than 30,000 websites.
By reducing the total cost of the products you would have to buy, coupons and discount codes like the ones Honey finds can make shopping cheaper. In addition, Honey is a free service that works with Chrome, Safari, Opera, Edge, and Firefox. It is also available as a browser extension.
Rakuten makes it simple to get cash back for in-person and online purchases. However, you must purchase at a retailer that is part of Rakuten's network to qualify for cashback.
Although you can browse tens of thousands of merchants already a part of their network, installing the browser extension will let you know when you can get cash back when you go to a merchant's website.
There are no fees, and Rakuten gives new customers a $10 welcome gift. In addition, you can get $30 for each referral that visits the site using your link and uses your referral link.
Frequently Asked Questions On Giving Assistant Review.
Below are the questions people commonly ask about this topic and their answers.
What is the Giving Assistant Browser?
By installing the Giving Assistant plugin, you can use the browser button to shop straight at retailer partner websites without visiting their website; It will automatically activate the cashback at checkout! 
Is Honey a Good Extension?
Using Honey to make savings on your online shopping is simple and cost-free. Although it's accessible as both an app and a browser extension, most customers undoubtedly find the browser extension simpler because it eliminates the need for you to utilize a different app when you purchase.
Final Thoughts
Customers can make money anytime they make purchases through this cashback service. However, the cashback program offered by Giving Assistant is very different; in addition to receiving your cash back, you can donate some of it to charitable organizations.
The Giving Assistant cashback is a good option for customers who wish to receive outstanding payments while making a difference in people's lives.
This cashback website is for you if you have a humanitarian heart. Thanks to its user-friendly UI, you may easily navigate the many site pages.
After reading through this Giving Assistant review, you should use the cashback site to give back to humanity.