Last updated Feb. 9, 2023 by Peter Jakes
Rebaid offers you the opportunity to shop on Amazon for free. Similarly, you can save up to $100 using this free tool and enjoy other excellent benefits.
In this ultimate Rebaid review, you'll know how exactly Rebaid works, its pros and cons, and how to leverage the platform for its benefits, among other features.
But first, you'll need to know what Rebaid is all about.
What is Rebaid?
Rebaid is a free money-saving platform that allows you to get rebates for various products available on Amazon. It is more like a platform used for getting rebates and discounts while shopping online.
You can use this site to find a rebate promotion for various major online retailers in the US, including Amazon, Target, Etsy, Walmart, and eBay. Note that Rebaid can only be accessible in Amazon's US marketplace.
Since its inception in 2019, Repaid has been used by many brands and independent sellers to offer discounts.
In some cases, the aim is to lure customers who wish to try their products for rebate discounts, even for as much as 100%. Consequently, it has made it possible for customers to find some of the best deals on Amazon.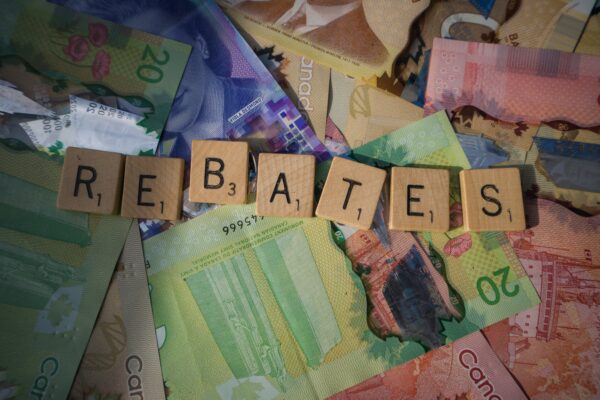 How Does Rebaid Works?
Rebaid is a platform that supports promotions for products listed on eBay, Etsy, Walmart, and other independent websites. It also helps customers save money and, at the same time, allows sellers to boost sales velocity using discounts and rebate promotions.
As a shopper, you can find exciting deals on Rebaid. Then select the item you want to get cash back on. From there, you'll be given a rebate code and be redirected to that buy link.
When you want to purchase an item, enter that code, and you'll get your rebate payment from Rebaid, either through a physical check or direct deposit, after making the payment at the total purchase price.
Furthermore, Shoppers can easily compare discounts online using the platform.
To make these comparisons:
Search for discounts available on the Rebaid website
Choose your desired product offer.
Fill in your name and mailing address to receive the rebate.
Purchase the item at full price
Verify your purchase
Receive your rebate when payment is open.
New users can only receive their rebate via a mailed check. Typically, it takes about five weeks to receive your rebate without transaction fees.
Also, as a new user, you can redeem a maximum of 10 offers per month and one purchase per promotion. Your monthly redemption limit will gradually increase as your platform rises.
It's possible to pay for your purchase using cash or an Amazon gift card. Ensure that you purchase the correct item and verify the purchase within two hours of claiming the rebate.
Sellers do not require you to leave product reviews before receiving your rebate check. However, if you decide to write a review, you can give honest feedback (positive, negative, or neutral).
How To Join Rebaid
To join the Rebaid platform, you'll need to create an account by signing up here for free. To complete your registration, follow the steps below.
After clicking the sign-up button, you will get two options on whether to become a shopper or a seller. First, click sign up as a shopper.
After signing up, you'll be redirected to your account dashboard, which displays your pending rebates, lifetime rebates, last rebates, and pending confirmations.
Scroll down the page to see all the different products offering rebates when purchased on Amazon.
Click the product you want and get your rebates.
If the item is sold out, check back another day, and it'll most likely be available.
How To Save Money Using Rebaid
You'll see different Amazon products as you browse through the Rebaid dashboard. Once you find the one that attracts your attention, click on it to know more about the product and how much you'll save on rebates.
Then click on the option to Redeem the offer, and start the process. On the first screen, you'll be given the option to choose your payment method; choose the method that works best for you.
Note that Rebaid only provides the option to get paid via a mailed check for new subscribers, and the rebate will be processed for up to 5 weeks.
Once you've completed two rebate offers and have been an active member for at least five weeks, you'll be given the option to choose direct deposit as a payment method.
The rebate will be processed in 2 – 3 days for direct deposit, but you'll have to pay a $1 service fee for choosing this method.
Then you can purchase the product at full price. And as soon as you get your Amazon confirmation code, head back to the Rebaid Dashboard. You'll see the pending confirmation with an option to enter the Amazon order number.
Once you order a product on Amazon, you'll get an email notification with the order number. Then copy and paste the order number into the pending offer to complete the process.
How To Make Money on Rebaid
Aside from offering Amazon product discounts, Rebaid also has a referral program where users can earn money. However, the program is only available and accessible to registered users. Sign up here to join the Rebaid platform.
Once you are successfully logged into your account, visit the main dashboard, where you will see the option for Referral Program.
You'll see your unique referral link, which you'll need for inviting friends and family to Rebaid. Copy and paste the link, and then share it with people to join Rebaid.
And when they use your link to register and complete one offer, you'll get paid!
Is Rebaid Legit for Amazon Shoppers and Sellers?
Rebaid is an excellent platform for both shoppers and sellers. For one, it helps shoppers to save money during online shopping. While for sellers, it helps them to promote their products and get to their customers.
In the past few months, Amazon has banned using several third-party rebate platforms on their marketplace. Sites like RebateKey are among those to have been Axed in recent months, and many sellers have had their accounts suspended.
The cause is partly because too many sellers used the rebate services as a back alleyway to 'bribe' shoppers.
They'd exchange rebates for getting positive reviews on Amazon, offering them free stuff for 5-star reviews.
The reason why Rebaid is still active and available on Amazon I'd because it explicitly prohibits the exchange of rebates for reviews and operates the rebate process separately from the seller.
Rebaid has also worked in tandem with Amazon's legal team on legalities. However, if sellers were to find a loophole and begin to abuse the service, Amazon may ban their API, as well. All these have made Rebaid a legit and safe rebate site to use.
Rebaid: Key Features
Here are some of the benefits and features of using the Rebaid platform.
Search Filter
A customized search filter helps you quickly navigate and find the best offers from the approximately 20 pages of available offers.
Some of the search options are:
Highest discounts
Lowest purchase price
Search by keyword
Newest offers first
Most popular promotions
However, there is no filter for non-Amazon promotions currently.
Rebate Promotions
You can find cash rebates for a variety of product categories. Likewise, many rebates are worth up to 100% of the purchase price, although you will have to pay for the sales tax and shipping.
There are three different ways users can receive rebates:
Direct deposit: Rebate would be paid to a linked bank account in three days with a $1 service fee.
Paper check: Check would be mailed within five weeks, with no extra fees
Discount codes: Get your discount at checkout using the promo code
Redeem Multiple Offers Monthly
You can claim rebates for up to 10 promotions per month. However, you are only permitted to claim one rebate per product – this is to allow other users to also enjoy the savings.
Each offer is guaranteed when you reach the offer terms and conditions. Essentially, you will have to agree not to return or sell the product and won't give a fake order number.
New offers are constantly launching; you can see when the redemption window opens to be one of the first to claim it.
Similarly, the platform displays the number of redemption claims available for a particular product daily. You can use the details to find the most popular offers and use your remaining redemptions to get other appealing items.
Deal Notifications
Rebaid also provides users with a weekly email newsletter showing some of the best offers, including 100% free deals. The service also sends real-time notifications for other offers upon submission of a request.
Another benefit of this platform is that your email inbox will not be filled with many unnecessary emails surpassing your essential communications.
In addition to getting weekly email summaries, you can also find the latest promotions on the platform's Facebook page. Both outlets can make it easier to stay up-to-date so that you won't miss out on exciting rebates.
No Redemption Minimum
There is no redemption minimum for cashing out your earnings on Rebaid. You will get your rebate within five weeks if you select paper checks and two to three days for direct deposits. If you claim multiple rebates consecutively, you may receive multiple payments.
SMS Text Message Follow Up
Rebaid provides a tool to contact its users who have successfully redeemed a refund via SMS text messages. The significant advantage of this communication channel lies in the opening rate, which, compared to usual email marketing, is considerably higher.
More so, sellers can now use these messages to request a product review (shoppers are not obligated or required to leave one), ask for a like on their product's social media page, and ask for the customer to subscribe to their company newsletter.
Refer Friends
Rebaid also has a referral program. After trying the platform for yourself and verifying it's legit for cash back, you can refer family and friends. More so, you'll receive a $10 cash bonus when they make their first rebate redemption.
Family, friends, and acquaintances may join through your unique referral link. Note that only one account per household is allowed to enjoy this benefit.
What are the Pros And Cons Of Rebaid?
Even though Rebaid is one of the safest and most legit rebate services to use, it still has its pros and cons. If you're still not convinced about this platform, check these pros and cons of Rebaid to see if it'll work for you.
Pros
Rebaid is free to use
The website is designed for ease to use.
Claiming your rebate comes with simple and easy steps.
Compared to other similar platforms, Rebaid offers more savings on cash back.
Rebaid offers cash payment
You can get some products for free on Rebaid
The rebates referral program is authentic.
Cons
It takes five weeks to process a mailed check on rebate.
Products on the website are not categorized, and there's no search function.
You'll have to unlock the direct deposit option.
There is a $1 fee for the direct deposit option.
Rebaid doesn't have an app for iOS or Android.
People Also Ask
How Does Rebaid Work With Amazon?
Rebaid shoppers can find all active rebate promotions on the site. Rebates usually range from 25-100% of the product value. Note that the rebate amount is set by the seller creating the promotion.
To redeem a rebate promotion, you must follow the redemption steps before being redirected to Amazon to purchase the item.
Then return to Rebaid and enter your Amazon order number to complete the redemption. Rebaid will then mail the rebate check to the shopper five weeks later.
Is Rebaid Trustworthy?
Rebaid has been proven to be a legit way to find free items online or at a discount. The platform is trustworthy and reliable for both sellers and shoppers. If you can pay full price on a purchase and wait for your rebate to arrive, Rebaid is an easy way to save money on stuff you buy. There are no hidden charges or costs for using this platform.
Is Rebaid only for us?
Rebaid is only available in the United States, so if you're not in the US, then this platform is not for you. In addition, to be an eligible member, you must be at least the age of majority in the jurisdiction where you live.
Also, Rebaid is only accessible to registered members. So you'll need to fill out the registration form and sign up to be able you access and enjoy their benefits.
What is a Rebate?
Rebates are a type of discount offered retrospectively after purchase rather than upfront like a usual discount. So when a product is offered as a rebate promotion, the customer will purchase the item at the full price initially, but on the promise that they will claim the rebate later and receive a partial refund.
Ultimately, it is an incentivizing marketing ploy to increase interest in a product and get people to purchase it initially at full price. Ideally, this rebate idea will improve the shop and product's rankings higher than an average discount sale would.
Frequently Asked Questions
What are Amazon Rebates?
Amazon rebates are offers given by brands or companies offering cashback when customers purchase their products. In order words, customers looking to get free stuff and great deals are offered rebates by companies in hopes of getting more sales.
To Amazon, it'll appear as a full-priced sale because companies send rebate payments to the customer through a visa gift card, PayPal, or other direct deposit that isn't trackable to your Amazon account.
Is RebateKey Allowed by Amazon?
Yes, RebateKey is permissible on Amazon. Similarly, it is not against the content list of Amazon and Amazon Prime ToS, mainly because it isn't a review-generating service.
The terms of the Amazon platform does allow price reduction on products. However, it explicitly states that you cannot give discounts on prices in exchange for a review. Therefore, as a review is not offered on RebateKey, it is perfectly fine.
How Do I Get Paid On Rebaid?
Rebaid has two payment options; direct deposit and physical check. You'll be given payment options as soon as your rebate is processed. The first is to receive a physical check which will take about 5–6 weeks to arrive, and the other option (direct deposit) has a $1 processing fee.
What is Amazon Rebates Key?
RebateKey is an incredible marketing tool that provides brands on website platforms like Amazon or Walmart ways to offer lots of rebates and rewards on their brands and products to attract more customers.
The buyers will benefit from the discounted cost of the products they purchase, while the seller will benefit from the increase in their full-price sales numbers, which help boost their rankings.
How do I sell on RebateKey?
To sell on RebateKey, you'll need to open a RebateKey account, create the rebate campaign, and include prices. Then publish and promote the rebate campaign to increase purchases.
Lastly, approve all legit rebates generated by RebateKey. RebateKey will then complete the rest and mails the checks out.