Last updated Mar. 2, 2023 by Benedict Osas
When you go grocery shopping, it's inevitable to not spend above your budget. Since October 2021, the cost of groceries has skyrocketed by 12.4%, partly due to food shortages caused by panic buying and factory closures.
Unfortunately, inflation continues to exacerbate this issue, leading many people to feel overwhelmed and helpless in their attempts to save money on groceries. However, it's not just the rising prices that pose a challenge, the mere act of stepping into a grocery store can be a tempting invitation to exceed your budget.
If you're struggling to curb your grocery spending, don't fret. Luckily, there are many ways to save money without cutting down on your budget.
I've compiled seven ways to help you shop smarter and avoid overspending. These tips will help you to save money on groceries.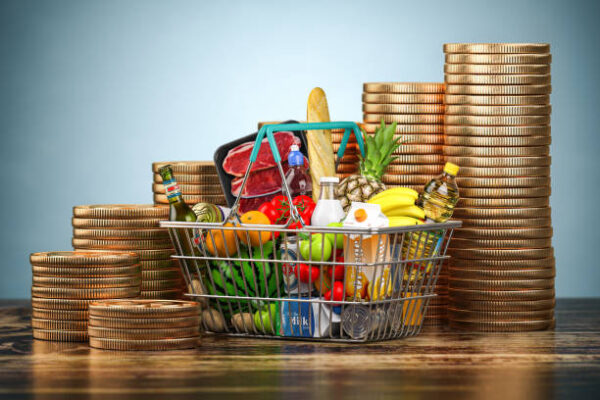 #1. Go to Aldi
The discount grocery store Aldi is a great place to buy meat, dairy products, and cleaning products. It is a discount grocery store that has locations across the United States and is known for offering high-quality groceries at low prices.
You can save money on your grocery bill by shopping at Aldi instead of other grocery stores
#2. Shop in the bulk section
Buying in bulk is a great way to save money on groceries, but it can be challenging if you have limited space or lack other storage options.
Fortunately, there are several ways you can reap the benefits of bulk shopping without having an entire pantry dedicated to storing your purchases.
Many grocery stores now offer a range of foods sold in bulk bins rather than prepackaged bags or boxes. These include staples like rice and beans and more exotic ingredients like spices and dried fruits.
#3. Keep more of your produce fresh with a little DIY effort
You can keep your produce fresher longer by placing it in a plastic bag and submerging it in water. This method works well for most fruits and vegetables and is a way to save money and also prevent your item from getting spoiled.
Another option is to place your favorite fruit or vegetable in a plastic bag with some water and refrigerate it until it's ready to be eaten. You can also use this method for berries; make sure they're dry before storing them in this way.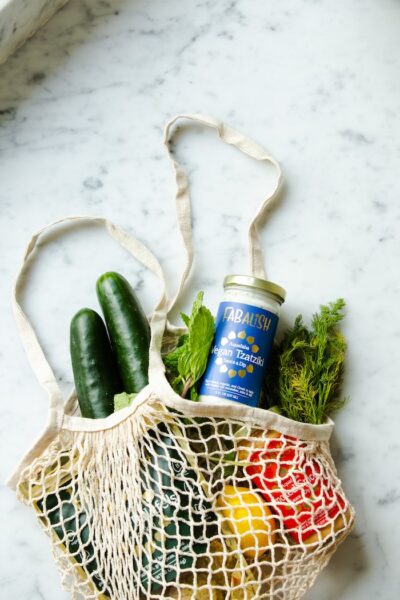 #4. Create a Budget and Stick to it
One of many simple ways to save money on groceries is to create a budget to try to keep your grocery spending under control. It's important to set a specific budget for yourself and hold yourself accountable by deciding on a reasonable amount, such as $50, and making sure you don't exceed that amount while shopping.
Using the calculator on your phone, add up the cost of each item as you put it in your cart. Writing out a physical list is a great way to stay organized and cross off items as you go, but using a digital list is convenient and ensures you don't lose your list. This will help you resist impulse purchases that can break your budget.
Another great way to stay within your budget is to plan your meals ahead of time and make a grocery list before leaving the house. Once you're at the store, stick to the list and avoid any surprises that could break the bank.
If you're shopping with your family, enlist their help in planning meals and finding items on the list. It can even be a fun grocery store scavenger hunt.
Shopping with a plan and working as a team makes it easier to stay within your budget, especially when you get used to saying no to candy and other tempting items. It is also recommended that you go to a grocery store without your credit card to prevent unwarranted spending.
#5. Avoid online shopping for groceries
Online shopping can be expensive, especially if you don't have an online grocery service membership. When you shop online, it's difficult to avoid unwarranted spending.
Online grocery stores also charge more than local stores because they have higher business costs since they don't have physical locations or employees on payrolls as brick-and-mortar businesses do.
#6. Use Coupons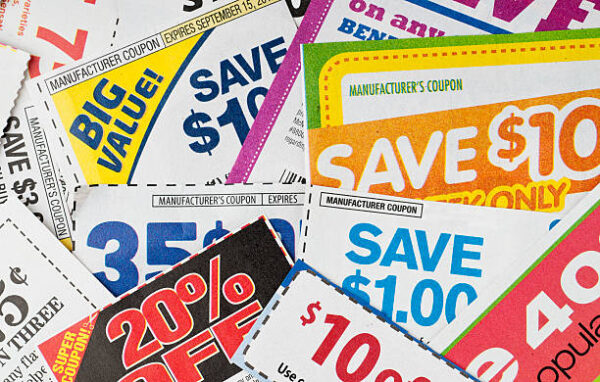 Coupons are an excellent way to save money on groceries. With coupons or gift cards, you can cut short your grocery expenses.
If you're looking to maximize your savings on groceries, signing up for your favorite grocery store's loyalty program can be a great start. But there are even more ways to save, like clipping coupons for additional discounts.
Keep an eye out for the weekly circular in the mail, which is a great resource for finding deals that matter to you. Take a look at the pages and cut out any coupons that you can use on your next trip to the grocery store.
Nowadays, there are digital options that are just as convenient and easy to use. You can download your favorite grocery store's mobile app and browse through available discounts.
With just a few clicks, you can load coupons onto your digital loyalty card. When you're ready to checkout in-store, the discounts will be automatically applied, saving you money without any hassle.
By combining loyalty programs, paper coupons, and digital discounts, you can maximize your savings on groceries and keep your food costs down.
#7. Use an app to save money on groceries.
Apps like CheckOut51 allow you to save money on your grocery bills. This app is free and has a database that offers over 50,000 coupons.
With coupon and discount sites, you will find the best deals at your local stores. You will also be able to compare prices between different stores.
Some Apps You Could Use To Save Money On Groceries
#1. Fetch
The Fetch app offers an easy way to earn rewards for your everyday grocery purchases. Simply scan your receipt from any grocery store, and you'll earn points for the products you've purchased.
The app includes a "Special Offers" section where you can find the best deals, but even without them, you can earn a minimum of 25 points for each receipt you scan. Once you accumulate 3,000 points, you can redeem them for gift cards from top retailers like Amazon, Target, Walmart, Office Depot, and Petco.
It's a simple way to turn your grocery shopping into a rewarding experience, and earn something extra for your purchases that you can use to treat yourself or buy necessities.
SIgn up on Fetch here.
#2. Ibotta
Ibotta has a unique way of giving you cash back on your grocery purchases without using any coupons. All you need to do is check the Ibotta app before you head to the grocery store to find cash back opportunities in your area.
After making a purchase, simply scan your receipt and within a week, Ibotta will send you cash back on eligible items. And if you redeem your first offer, you'll get an automatic $5 added to your account.
What's more, Ibotta is connected to many major grocery store chains, so you'll have plenty of options for earning cash back.
#3. Flashfood
Flashfood is a grocery app that not only saves you money but also helps reduce food waste. The app sends you alerts for deals in your area, often for items that are close to their sell-by date.
You can choose the items you want and pay for them directly in the app. Then, all you need to do is visit the grocery location to pick up your order.
Flashfood has partnered with grocery stores such as Giant, Meijer, and Food Lion, although the service is currently limited to certain locations.
#4. Checkout 51
Just like Ibotta, Checkout 51 is a cash back app that helps you earn money back on your grocery purchases. You can browse their extensive database for deals and cash back offers at grocery stores in your area.
And once you've made your purchase, you can scan the receipt and start earning cash back on eligible products. Once you've hit the minimum cash back threshold of $20, you can redeem your earnings via check or PayPal.
Checkout 51 releases new deals each week, so you can always be on the lookout for new ways to save on your grocery shopping. The best part? Their cash back offers can be combined with other coupons, so you can stack up the savings even more.
#5. Coupons.com
While Coupons.com is known for their printable coupons, their app has also been recently updated with a section that allows you to easily scan deals to your rewards card. This means you can automatically get discounts at the register without the hassle of clipping coupons.
In addition, the app has a section that shows you additional coupons that can only be printed for more savings opportunities. Coupons.com has partnerships with major retailers and shopping centers, so you can use the app to save money at your favorite stores.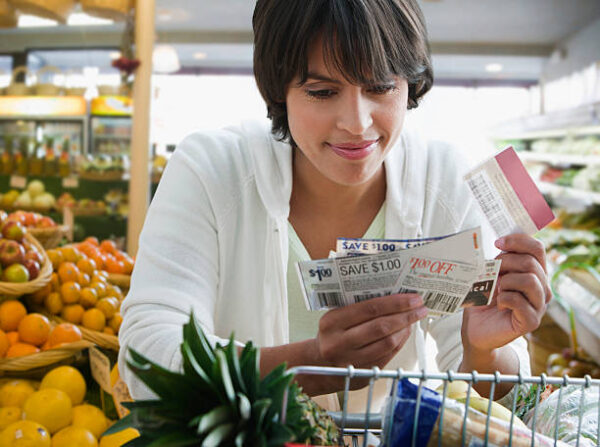 Some Frequently Asked Questions On Ways To Save Money On Groceries
How do I stop spending so much on groceries?
I understand the importance of sticking to a budget while grocery shopping. That's why i compiled above a set of practical recommendations to help you avoid overspending.
These suggestions cover everything from planning ahead to using tools like calculators to track your expenses. By following these tips, you can shop smarter and avoid the stress of overspending on your next trip to the grocery store.
How much should 2 people spend on groceries?
Determining a grocery budget can be a challenging task, especially when trying to feed multiple people. However, there are some general guidelines that can help you plan your expenses.
The USDA provides weekly spending recommendations for households with one adult female and one adult male. They suggest that a thrifty couple should spend around $119.40, a low-cost couple should spend $122.90, and a moderate-cost couple should spend $152.30 on groceries each week.
How much money should I spend on groceries?
If you're a family of four, you may be wondering how much you should spend on groceries per week. For a low-cost budget, you can expect to spend around $234.10 per week or between $936.40 and $1,014 per month.
On the other hand, a moderate-cost plan would require spending approximately $291.50 per week on groceries or between $1,170 and $1,263.5 per month. Keep in mind that these are general estimates, and your actual grocery expenses may vary depending on your family's dietary needs, location, and shopping habits.
What is a normal grocery budget?
When it comes to budgeting for groceries, there is no one-size-fits-all approach. The average monthly cost of food for one person ranges from $150 to $300, depending on factors such as age, location, and food quality. These national averages can vary widely based on your personal circumstances.
What is the 50 30 20 rule?
One popular budgeting method is the 50/30/20 rule. This budgeting strategy involves dividing your income into three categories: 50% for essential needs such as housing, utilities, and groceries, 30% for discretionary spending, and 20% for savings.
The 50/30/20 rule is a percentage-based budgeting technique that can help you allocate your income in a balanced way, allowing you to manage your expenses and save money.
What is the advantage of grocery app?
Another option to consider is the use of grocery apps. These apps can be beneficial in several ways. Not only do they offer various payment methods, including the option for pay-on-delivery, but they also provide convenience and ease of use.
With a grocery app, you can easily manage your grocery list, compare prices, and make purchases from the comfort of your home. Additionally, online payment methods offered by trusted grocery stores' apps are generally secure, ensuring that you won't encounter any issues with the billing process.
Which app gives best discount on groceries?
If you're looking for discounts on your grocery purchases, several apps can help you save money. For example, BigBasket offers exclusive discounts and offers on various grocery items such as grains, vegetables, oils, and more.
Another option to consider is Blinkit, which offers up to 30% off on all products. Jio Mart is another app to consider for grocery shopping. This app allows you to order groceries and household essentials from your local stores and get them delivered to your doorstep.
So, Why Not Try Out These Tips?
After learning various ways to save money on groceries, it's time to implement some budget hacks on your next visit to the grocery store. By doing so, you can be amazed at the amount of money you save, and you may even be inspired to get more innovative in the kitchen.
So why not try out these tips and tricks and see the positive difference it makes to your finances and meals.