The cost of decorating your home is no doubt expensive!

The cost of a few cushions, rugs, and curtains can add up to a month's rent. You don't need to deplete your savings or incur debts in order to decorate your house.
There are lots of sites that offer great discounts on home furniture.
The internet is steaming with lots of brands that sell home decors at an affordable rate, all you need to do is find the right one.
This article highlights nine cheap home decors websites and stores near you.
At Home
With more than 200 outlets in 40 states, At Home is a Texas-based retail corporation that sells home decors at an affordable rate.
"We remove any extraneous frills from our shops in order to pass all of those savings on to [the client]," – the company's website claims.
Sign up for "At Home Insider Perks" in order to get exclusive discounts, updates on new goods, and markdowns as they become available.
Big Lots (a retailer that specializes in bargains)
Big Lots is a retail business that specializes in a wide range of products such as furniture and home furnishings.
There are about 1,400 outlets in 47 states operated by the corporation.
Shoppers on a tight budget will appreciate the store's daily cheap rates and its free delivery service when you make purchases above $59 or when you place an order online.
BIG Rewards is a membership club that provides members with unique deals.
CB2
Crate & Barrel's inexpensive spinoff brand, CB2, is a great place to look for cheap home decors.
The "sales and offers" menu on the website lists decors with reduced pricing and offers free delivery when you purchase certain goods.
CB2 offers more than 20 retail stores in major cities like Chicago, New York, Los Angeles, and Miami. These stores provides an interior design expert that provides advice on the type of decor to purchase for your home.
Dormify
If you stay in a college dorm or a small apartment, you will find everything you need to furnish your place on Dormify.
Free delivery service is also available when you make purchases above $100.
Shoppers can participate in the referral program and receive incentives for bringing friends to the Dormify website.
H&M Home
H&M is more than a retailer of trousers and T-shirts; it is a lifestyle brand.
H&M Home offers a wide range of reasonably priced goods for your bedroom, living room, bathroom, and other areas of your home.
Those who enroll in the company's membership program will benefit from discounts and other benefits.
H&M stores can be found in almost all states in the United States.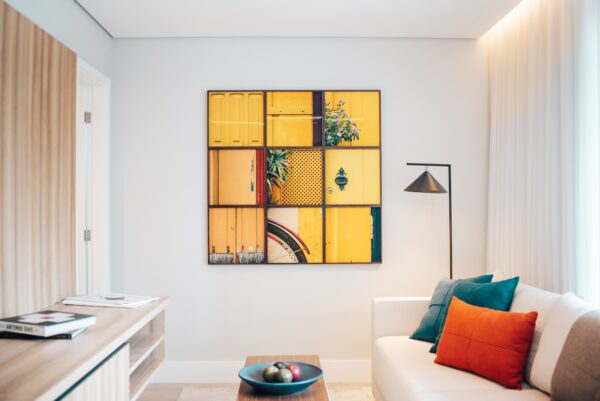 ReStore
This is a business that sells cheap house repair products, home furniture, and appliances. Proceeds from these sales are donated to charities in need of houses for low privileges.
Aside from the reduced costs of products on this platform, ReStore allows you to donate indirectly to humanity.
Hayneedle
In addition to offering a wide range of products that livens your outdoor space, Hayneedle is an online shop that specializes in home design and furnishings.
All purchases are eligible for free delivery.
The Home Depot
Power tools and gardening supplies are perhaps the first things that spring to mind when you think of The Home Depot, but this home improvement behemoth also provides a wide range of home design items.
Furniture, wall décor, lights, carpets, and other items are available for purchase.
Prices are affordable, special promotions are offered, and virtual DIY seminars are available at The Home Depot.
This store has an outlet in over 2,300 locations.
HomeGoods

HomeGoods, a sibling brand to TJ Maxx and Marshalls, sells products like bedding, housewares, carpets, furniture, and décor, all at affordable costs.
On purchases above $119, this brand offers free delivery.
HomeGoods outlets can be found in over 800 locations in the states.
What basic items can I use to dress up my space?
A straightforward gallery wall
The Rainbow Mobile: a mobile sculpture that is made of rainbow colors.
Wall covered with washi tape.
Make simple DIY interior décor using washi tape
Candles in teacups.
Flower vases that hang from the ceiling.
Decorate your home using macrame.
Photo clipboards on the wall
Hanging candle holders made of glass.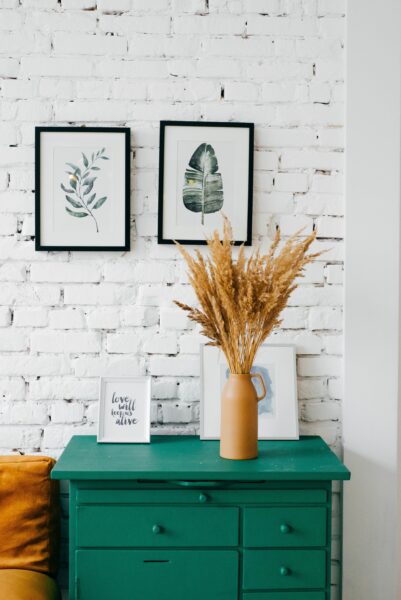 What is the 60-30-10 decorating rule, and how does it work?
A 60-30-10 decorating rule is a traditional decorating guideline that helps you to develop a color scheme for a home.
According to the rule, 60 percent of the space should be a dominating color, 30 percent should be a secondary color or texture, and the remaining 10 percent should be an accent.