Last updated Mar. 12, 2023 by Favour Chinaza
No matter where you're from, you've probably fantasized about packing your belongings and hitting the road. Maybe you want to see the Grand Canyon or prefer the beach. In any case, it won't be long before you begin to wonder: What's the best way to get around? Should I rent an RV?
Of course, that depends on the amount of time and money you have available. And there are just about the best places to get cheap RV Rentals to get you started.
Renting an RV is far less expensive than renting a car for an extended period. This is especially true for most people who have never done this (and even some veterans).
With such a wide range of options available now, it's easier than ever to find an affordable option that fits your budget.
What Is an RV Rental Company?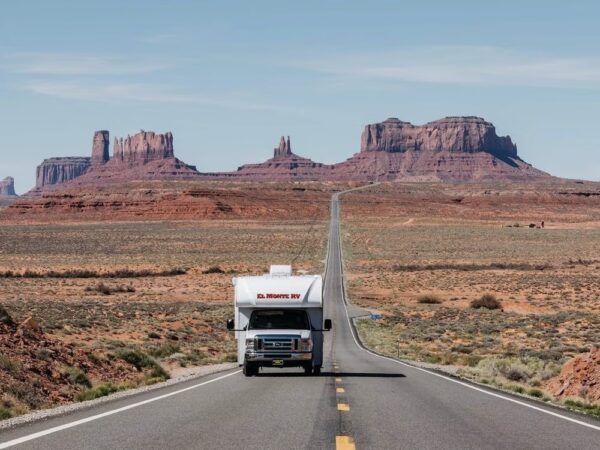 An RV rental company is similar to a car rental company except for renting motorhomes. Some businesses rent RVs from their professional fleet, while others allow peer-to-peer rentals.
Renting an RV is a fun and exciting way to travel, whether planning a long weekend at a state park or travelling across the nation for the entire summer.
Rather than purchasing the vehicle completely, renting an RV saves you significant money. It is also another option to consider if you are looking for ways to live rent-free.
Furthermore, it is less expensive than driving/flying and renting hotels/cabins. However, it should be noted that the actual cost of renting an RV will vary depending on several factors.
Indeed, comparing RV rental prices is not always easy because each platform has its fee structure and policies.
What Are the Benefits of Using an RV Rental Company?
RV rental companies provide the freedom and flexibility of a motorhome vacation without the expense of purchasing, maintaining, and storing your own RV.
They are also excellent for those considering an RV but who want to test different models first.
How Much Does an RV Rental Cost?
The cost of renting an RV varies greatly depending on the following:
who you rent from,
the type and age of the RV,
the extra services you require, and
the length of the rental period.
In the United States, however, the average per-night rental cost ranges from around $100 for an older Class C RV to $350 for a new Class A RV.
Here's a rough estimate of base rental costs (provided to NerdWallet by peer-to-peer rental site RVshare), but keep in mind that prices can vary greatly depending on the actual rental:
Class A: $150-$250/night (10 or more years old); $350-$450/night (newer).
Class B: $100-$200/night (10 or more years old); $200-$350/night (newer).
Class C: $100-$200 per night (10 years and older); $225-$400 per night (newer).
Travel Trailer: $50-$125 per night (10 years or older); $125-$200 per night (newer).
Fifth Wheel: $60-$150/night (10 years or older); $150-$300/night (15 years or younger) (newer).
What to Consider When Renting a Camper or RV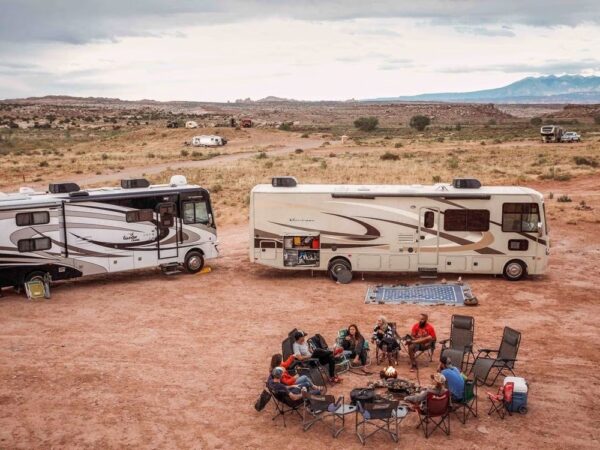 Just like there are cheap alternatives to hotels when travelling, renting and RV comes in handy when you are going camping. When you rent a camper or RV for your vacation, you can go to many places at your own pace.
For example, a romantic vacation for a couple includes beautiful views and meals eaten outside. At the same time, families love to go out and spend time with each other around a campfire or BBQ.
You can rent cheap campers and RVs in several ways, such as by taking advantage of rental companies wanting to move their vehicles or using peer-to-peer websites where private owners rent their campers directly.
There are so many different types of campers and RVs that you can rent, from high-end vans with modern fixtures and fittings to cheap rentals that combine your living and sleeping areas.
Think about your budget, your needs, what you're willing to give up and what you can't travel without.
Here are some things you should consider when renting an RV:
The Rental Vehicle
4-wheel drive vehicles or availability of snow chains
Manual or automatic transmission
Generator
Age of vehicle
Size of the vehicle
Electrical hookup
The Company's Rental Policies
Additional driver policy
Booking deposit and security deposit
Ability to rent extras such as a GPS or bike rack
Cancellation fees
Capped/unlimited mileage
Office rental locations
Early/late return fees
Availability and fees for one-way hire
Insurances
Pet Policy
Tolls policy
Minimum or maximum rental duration
Roadside assistance policy
The Provided Rental Facilities
RV's interior decor and comfort
Bedding
Number of beds, cabins and bed configurations
Storage
Kitchen facilities
Shower or toilet facilities
Related: 15 Cheap Alternatives to Hotels When Traveling
Best Places to Get Cheap RV Rentals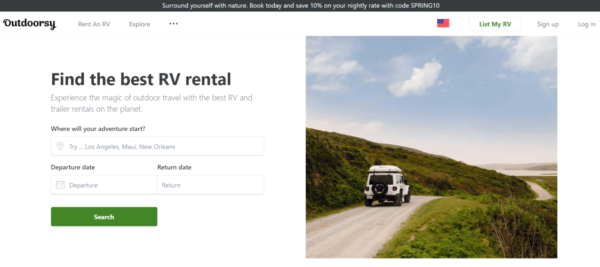 If you're looking for a place to rent an RV, look no further than Outdoorsy. This peer-to-peer marketplace offers more than 16,000 options for people who want to explore the great outdoors in style.
Everything from tiny trailers to massive motor homes available on the site has something for everyone. Outdoorsy's selection of rental vehicles includes everything from pop-up campers and travel trailers to luxury Class A diesel motorhomes with all the mod cons imaginable.
You can pick a range of base models or opt for an upgraded model with extra features like air conditioning or Wi-Fi internet access.
Even though the site has a lot of RVs, it also has pop-up trailers, vintage Airstreams, rooftop tent boxes, fifth wheels, and just about anything else on wheels.
Type your location and rental dates into the search box to find out what's available. You'll then see a list and available map of campers and RVs. Like Airbnb, you can narrow down the results based on the number of beds, amenities, type of vehicle, or price. And if you are going for Airbnbs, you can learn how to get Airbnb discounts.
You can make your search even more specific by saying that you're only interested in campers with a sink or an oven that allows pets or smoking.
Once you've narrowed your search, you can look at the product page for each car to learn more about it. Look at photos, find out about cancellation policies, and read customer reviews to see if the package meets your needs.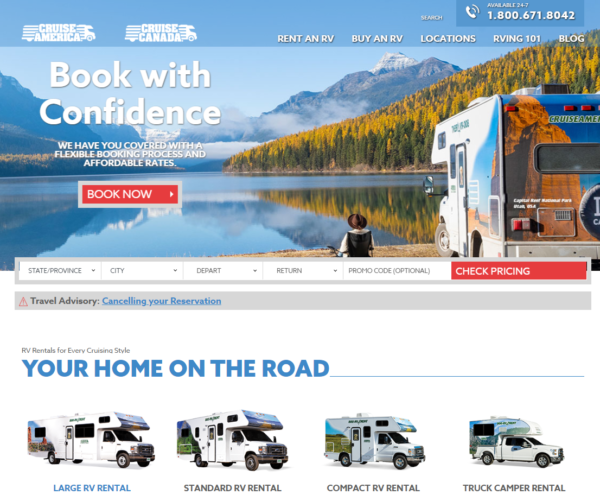 Cruise America is a famous rental car company located in most states. Cruise America offers an extensive range of RV options and good customer service.
The company's cars are available for rent by the day, week or month, but you can't reserve one online. Instead, you'll have to call or visit one of their branches to learn about availability and pricing.
Since there are only four options to choose from, you can't narrow down your search. However, the search results are very clear about the specs and amenities.
Each listing has details like the number of people it can hold, whether it has toilets or showers, and how much space it has outside.
Once you've chosen your vehicle, you'll need to fill out some more information, like how many miles you think you'll drive and whether you want to buy extras like kitchenware and bedding.
You can book online, and if you need to cancel, you don't have to pay a fee if you do it seven days or more before your departure date. However, if you cancel less than seven days before your trip, you'll lose your $300 deposit.
You'll find that Cruise America offers some of the most affordable rates in the industry: Their prices start at just $65 per night (plus tax) for a small RV with two beds and a bathroom.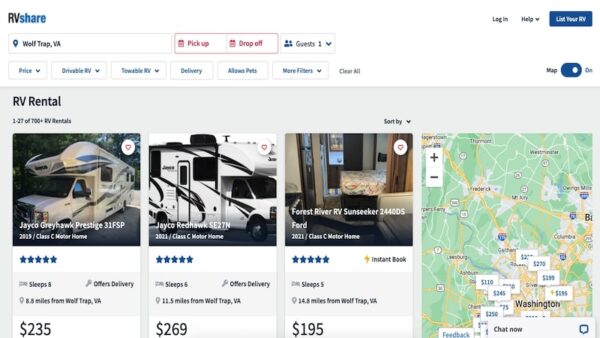 RVshare is a peer-to-peer rental marketplace. It works like Airbnb but for RVs. People rent out cars for money, so there are RV owners that rent RV on RVshare. You can rent out your RV anytime, which can help offset the cost of owning one or be a way to make some extra money on the side.
RVshare's large size is a big plus for finding the perfect RV rental, as the company has plenty of options to choose from, pretty much no matter where you're renting.
Of course, there are more traditional motor homes here than on its competitor Outdoorsy, but there are also #vanlife-ready ones. RVshare even offered a Barbie-themed RV for some lucky campers to spend the night at one point.
How Does RVshare Rental Work?
Unlike Cruise America, where the type of RV you get is fairly consistent no matter where in the country you book, every RV experience through RVshare is unique because you're driving an RV owned by a regular person, not a large corporation.
It does imply that you'll have to sift through listings to find what you're looking for — and in popular RV areas, there may be more than 1,000 listings to sift through (which isn't necessarily a bad thing).
RVshare has detailed search settings that make it simple to narrow down your search by location, features, and RV type. Among the extensive search filters are the dates, group size, vehicle size, price, and whether pets are permitted.
In addition, you can search for amenities such as a toilet, shower, refrigerator, generator, and hot water supply. Then, you can filter them by cancellation type (flexible, standard or strict, as determined by the owner).
Many people use RVshare because it's easy to find affordable RV rentals from other members willing to rent out their vehicles for low prices.
So if you're looking for an alternative means of travel that doesn't require booking flights, then using this site might be right up your alley.
Why Choose RVshare?
RVshare has the most options, so you're more likely to find one that fits your budget and is the right size.
If you don't want to drive it, RVshare's destination delivery option is a delightful way to have a camping experience without the stress of parallel parking a small house.
Escape Campervans is a small company with a big heart. It has a variety of models and price ranges, and its customer service rating is unusually high.
Escape Campervans offers several different rental options that include:
RV: Escape Campervans' signature model, the Escape Campervan, is available in three different sizes: Mini (3-berth), Micro (2 bed), and Crash Pad (1 bed). It features "the only foldaway bed left on the market." T5
Van: The T5 Van is an RV option for those who want to travel without paying much rent. Its compact size allows you to pack it into tight spaces like campgrounds or parking lots but still offers enough room for your entire family to sleep comfortably inside.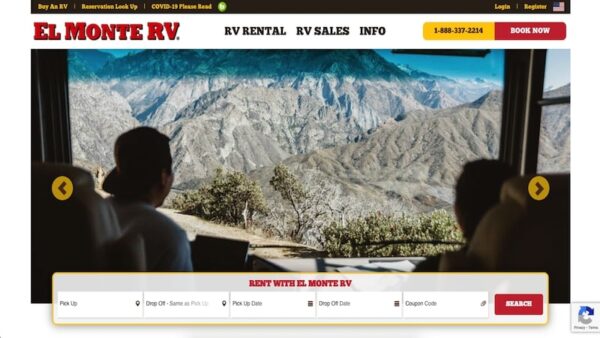 El Monte RV Rentals & Sales is a rental company in El Monte, California. It's been owned by the Munoz family since 1968.
The company offers 200+ rental RVs ranging from 20 to 40ft, plus campers and fifth wheels. In addition to its RV rentals, El Monte RV Rentals & Sales also sells new travel trailers and fifth wheels.
El Monte RV Rentals & Sales has an online price calculator on their website that allows you to get an estimate of what your rental costs will be based on the size of your vehicle, length of stay, and other factors (including whether you're bringing along pets).
-This can give you an idea of what type of vehicle might work best for the trip you want to take before physically visiting the company's location at 1310 E Santa Anita Ave., Suite B1-B2 in El Monte, CA 91731
USA RV Rentals is a great place to look if you're looking for an RV rental near you. It has a wide range of RVs, including pop-up campers, toy hauliers, and fifth wheels.
They have a good selection of sizes, features, and locations to choose from as well.
Prices are competitive, too, ranging from $35 per night for a camper van in California to $130 per night for a camper van in Florida, and they offer discounts if you book more than one month at once or make it an annual extension.
Advantage Caravans is a rental company that rents RVs of all shapes and sizes. They have locations all over the US, so you'll find one near you.
You can choose from three RV rentals: Class A motorhomes, Class B motorhomes, and travel trailers. Each type has unique features; for example, Class A includes a kitchenette, microwave, and air conditioning, while Class B has an entertainment centre.
Furthermore, we also offer length-of-stay options, including weekly and monthly rentals, at affordable prices.*
As a bonus: if your trip lasts longer than 30 days, but less than 90 days, then they will give you free storage space (up to 30 days)
Roam was founded in 2013 and is a subsidiary of Hertz. It's headquartered in Los Angeles. The company has more than 10,000 cars in its fleet, which includes everything from SUVs to minivans and sedans.
The prices are based on the vehicle size you choose: If you want something more significant than what's listed below, go for it, but, of course, you'll pay a little more for the upgrade (and if you're thinking about adding extra drivers to your rental agreement, be sure to check out our guide).
VroomVroomVroom is a UK-based rental company that rents campers, motorhomes, and trailers. They have many vehicles to rent, including some with pop-up roofs for extra space.
They also have an extensive range of caravans available at competitive prices for short-term or long-term rental.
This company has good reviews online, and I'd recommend giving them a try if you're looking for cheap RV rentals near you.
Apollo Motorhome Holidays is a great place to get a cheap RV rental. They have locations in many cities across Canada, including Toronto, Vancouver, and Charlottetown.
They have many vehicles to choose from, including Class C RVs and Class A RVs (the latter is more expensive). The prices vary depending on the model you choose and its size.
They also offer specials for members of the Canadian Automobile Association or various other groups such as seniors' associations or professional organizations.
Four Seasons RV Rental specializes in RV and car rentals but focuses on the latter. Their vehicles are available to customers worldwide, with location rates to Australia.
They offer a wide range of rental options, from small cars and SUVs to medium-sized trucks, so you can find one that meets your needs regardless of how far off the beaten path you want to travel.
Four Seasons has earned high marks for its customer service and reputation for keeping vehicles in good repair and cleanliness.
Their website also offers a lot of helpful information about each vehicle, including its dimensions and fuel economy.
So it's easy for renters to find out what they're getting into before they make a final decision. In addition, if there's ever an issue while driving one of these rentals (like a flat tire), renters have 24/7 roadside assistance available through the Four Seasons app or website; this feature comes standard with all rentals at no additional cost.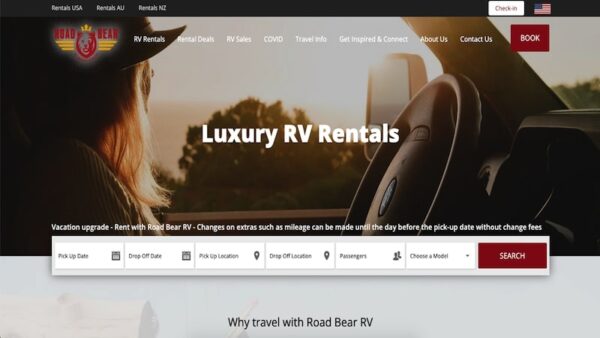 Road Bear RV Rentals & Sales is a Canadian company with locations across Canada. They offer a wide range of RV rentals and sales, including models such as travel trailers and fifth wheels.
Their rental fleet features over 100 RVs that can accommodate families of up to ten people.
Road Bear RV Rentals & Sales has received positive reviews from past customers who say they were pleased with their RVs' quality and customer service.
American Dream Vacations is a rental car agency that offers several options for travelling in your RV.
They're located in Florida, USA, and they have a reputation for good customer service and a strong, robust website that answers all your questions.
So whether you're looking for a family-friendly vacation or an adventure with friends, American Dream Vacations offers an RV rental option.
If you're in the market for a cheap RV rental near you, Fraserway RV Rentals Ltd. is one of the best options. They offer affordable rates and great amenities, including free Wi-Fi and satellite TV.
Their staff will help you find the perfect RV for your trip, for one night or an entire month.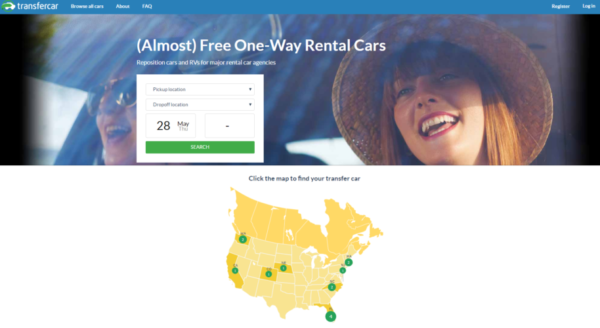 Transfercar is a convenient service that helps rental companies move cars from one office to another without using a truck or sending a driver to get the car.
Smart travellers can use this service by booking a ride for their vehicle from one place to another for free or almost nothing. Win-win for everyone. You can also make money sharing your car same way.
How TransferCar Works?
Depending on the length of the trip, the rental will include a certain number of free or low-cost days. Customers can extend their rental for a daily fee if they need more time. Since the rental is one-way, you'll have to figure out your way back.
By clicking on a location on the map on the home page, you can look for available campers and RVs.
The map will then show you the routes you can take from that location, and you can click through to see what vehicles are available.
On the list of vehicles, you can see how many campers or RVs there are, when they can be used and when they have to be at their destination.
On the list, you can also see how many free or cheap rental days you get and how much it costs per day to extend your trip. To rent a car from Transfercar, you must be at least 21 years old and get a certain number of free miles and days.
The rental price doesn't cover road tolls or other costs, and a bond may be needed (depending on the vehicle).
Standard insurance is usually included, and you can often buy more insurance if you want to. Cancellation fees vary from one rental agency to the next.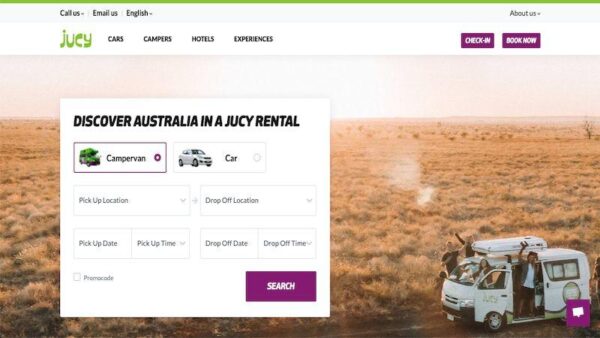 Jucy Rentals is the largest Australian RV rental company, with over 1000 vehicles. They have branches in Australia, New Zealand, and the United States, and their fleet includes campervans, vans, motorhomes, and RVs.
Other Places To Find Cheap RV Rentals
Relocation Deals
Relocation specials provide the best deals on cheap RV rentals. RV rental companies, like car rental companies, must have the right vehicles in the right place at the right time.
Matching supply to demand is arduous for any rental vehicle company with locations and vehicles spread across North America.
Typically, re-positioning vehicles necessitate employees driving the vehicles. Renters can also pay transportation truckers to load the campers onto their carriers.
It is an expensive method of transporting vehicles. Rental companies have one more trick up their sleeves: hiring you to do the work for them.
You might strike gold with one of these relocation deals if you are in the right place at the right time. Prices have been as low as $1 per day.
RV rental companies practically pay you to do their jobs with such discounts.
Re-positioning Deals
Rental companies will post re-positioning deals on their websites, usually within a few weeks of when the vehicles need to be delivered. Road Bear, for example, advertises deals six to nine months in advance.
Other constraints must also be taken into account. You are usually only given a certain number of days to make the trip due to the immediate need for these rentals to be at the destination.
Then there's usually a limit to how many extra days you can add to your rental. It would be best to decide whether the restrictions are worth the discount.
Of course, the daily rate only applies to the RV rental. Other fees, such as preparation, mileage, and liability insurance, may still apply.
Furthermore, rental companies will try to sell add-ons such as convenience kits containing bed linens and cookware.
Remember that you will be responsible for fuel and campsite fees. Imoova is a relocation website to look into in addition to RV rental companies.
Third-Party Booking Sites
You can also book RVs owned by other companies through third-party reservation sites. Some are affiliated with existing RV rental companies, while others are self-contained.
Whether you choose a national chain or a local rental company, most of these booking sites offer one-way, round-trip, or off-season discounts.
All you have to do is visit their websites or ask them. Some of them include Motorhome Bookers, Apollo, Motorhome Republic etc.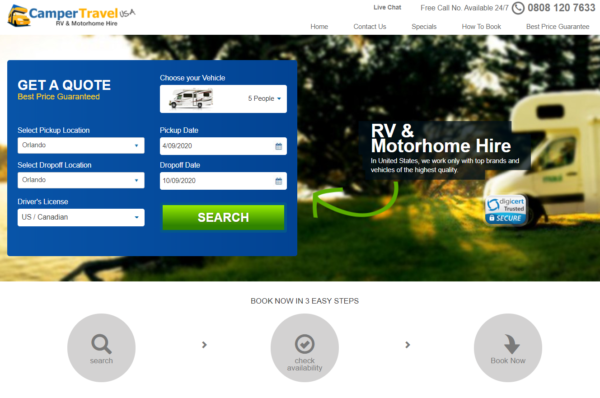 Camper Travel Bookings is an online service that helps people find great deals on renting campers and RVs. Camper Travel Bookings does not own the vehicles themselves, but the site is useful for getting quotes from several rental companies.
You can look for quotes online or talk to a customer service representative who will listen to your needs and help you find the best deal.
Once you book, you'll work directly with the rental company, so Camper Travel Bookings is about making finding the right camper easier.
Locally Owned RV Stores
RV rental stores are also owned and run by people in the area. You can find them by doing a simple search on Google.
These independent RV stores set prices, own and run their fleets, and are part of your local community. They are sometimes also part of a place that sells RVs.
In either case, these local shops can make their deals and serve the needs of the local rental community. People who have never rented an RV can also learn much from them.
Bounce
Bounce is a rental service for RVs, campers, and trailers. They have over 1,500 locations across the United States, with some as close as your local Walmart parking lot.
Bounce offers an impressive selection of vehicles, including pop-ups, slide-outs, and motorized towables. Renters can book daily or weekly rentals depending on their needs and preferences.
Long-term RV Rental Near Me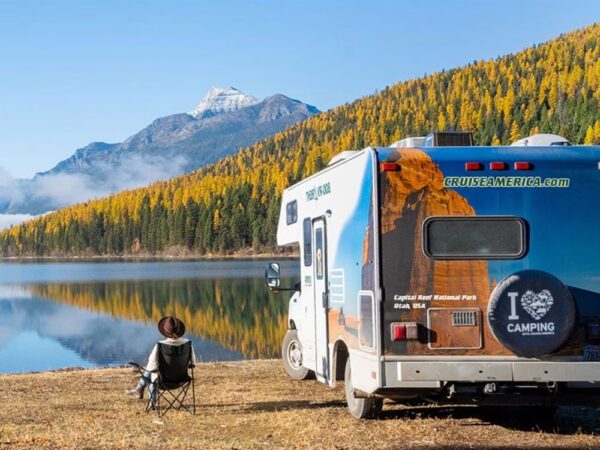 There are many reasons you might want to rent an RV to travel or even just for a long weekend with your family or friends.
For example, maybe you're a college student who wants to have a few days at the beach over spring break, and you don't want to spend more than $200 on it.
On the other hand, maybe your parents are visiting town, and you'd like to take them on an outing in the great outdoors.
Or maybe you're working from home and want a change of scenery for a few days—or perhaps you're working from home and need some separation from your work and your family.
You can find RV rentals all over the country, sometimes only blocks away from where they'll be parked. You can also find them online, where some websites will even let you select the exact model you want.
In addition, some come companies alike in long-term rentals, which can be very reasonable if you know exactly when you'll need it—tenant moves aren't so uncommon these days, after all.
Do You Need Insurance for an RV Rental?
Yes, you do. Your auto insurance policy might cover some of the costs of renting an RV, but this varies from company to company (state to state and policy to policy).
Therefore, before you rent an RV, you should call your insurance company and find out exactly what is covered, what isn't, and what you'll need extra coverage for.
Write down any terms you don't understand, and don't be afraid to call your agent back with more questions—what that's you're paying them for.
Each rental company has insurance coverage for cars, which usually ranges from basic to expensive. With more expensive coverage, the deductibles will be lower, and the liability limits will be higher.
Cheap RV for Sale Near Me
If you're considering buying a cheap RV for sale near me, it's worth doing some research to ensure you're getting the right vehicle at the right price.
If you're trying to cut corners and save money, you might wind up with a lemon that will cost you more in repairs than if you had just bought another one.
It's best to get an idea of your vehicle's condition before buying it. RVs are generally expensive and depreciate quickly.
Other options exist for those who don't want to spend so much money, such as an inexpensive Class B motorhome or van conversion. Whatever budget and RV style you're looking for, it's essential to research before buying anything.
Should I Consider Buying an RV vs Renting One?
Just like Leasing a car vs. Buying it, Renting an RV has it's disadvantages as much as buying it. Depending on how much you love living in an RV, buying one outright might be a better long-term investment.
But, then, add up the costs you'll pay RV rental companies, such as cleaning fees, mileage fees, and those "extras" (do you want to pay $110 every time you hit the road for a kitchen kit?).
Finally, when you think about how many times you want to take an RV trip, that number might make you feel sick.
In that case, buying your own RV might be cheaper than paying all those annoying fees. Also, if you buy your own RV, you can put whatever cooking tools you want.
What Type of RV Should You Rent?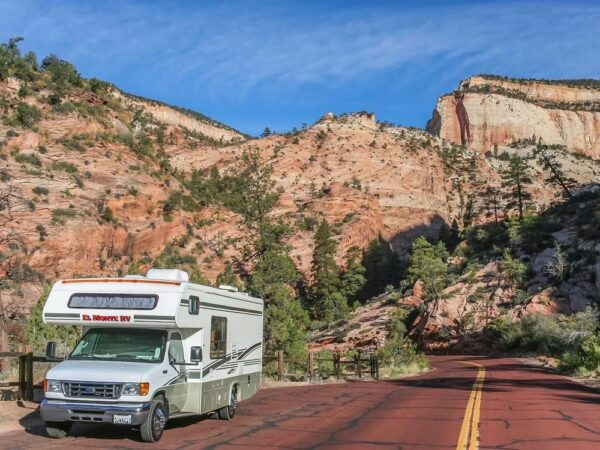 The word "RV" is vague and can even be misleading. You probably think of a big RV. But think about campervans, fifth-wheel trailers, pop-up campers, and other similar vehicles. But for this list, we'll only talk about vehicles with engines.
● Class A RVs are the biggest and have the most space.
Class A motor coaches are the most expensive and biggest ones that can replace a home and car for a nomadic lifestyle.
They are between 30 and 45 feet long and look like a bus. Because of their size (they can usually fit up to six people) and built-in features (like a washer/dryer combo), brand-new Class A RVs start at around $70,000 and can go up into the millions for high-end, fully customized vehicles.
● Class B RVs are great for two people and are easier to park.
Class B RVs are built on van chassis, and campervans are in this group. Class B RVs are easier to park at an RV park or campground because they are only 20 to 25 feet long. They can also fit in a garage, which is a surprise.
But there are limitations on space (four people will have to squeeze in) and amenities (think pull-out kitchens and no bathroom). So RV travellers travelling alone or with another person usually choose a Class B vehicle.
The price of a new Class B RV varies a lot. This is because, unlike Class A and Class C motorhomes, which are made to be used as motorhomes, Class B vehicles can range from a regular minivan with a pop-up tent and hot plate to a large cargo van with a galley, cabinets, and a toilet.
For example, a Chrysler Voyager 2022 starts at $32,115, and a basic conversion kit from a company like Titan Vans begins at $44,995 (the van is not included).
● Class C RVs are smaller and less expensive.
If you're looking at a Class C RV, that means it looks like a truck. Class B RVs can be as simple as a converted cargo or passenger van with a high roofline. On the other hand, Class C RVs are made to be RVs. They have a "cab-over" design that makes them stand out.
Class C motorhomes are much smaller than Class A motorhomes, but they still have many of the same features, like built-in kitchens, showers, and storage.
RV stores sell new ones for between $50,000 and $120,000. Class C RVs are best for small groups or families.
● Pop-up Trailers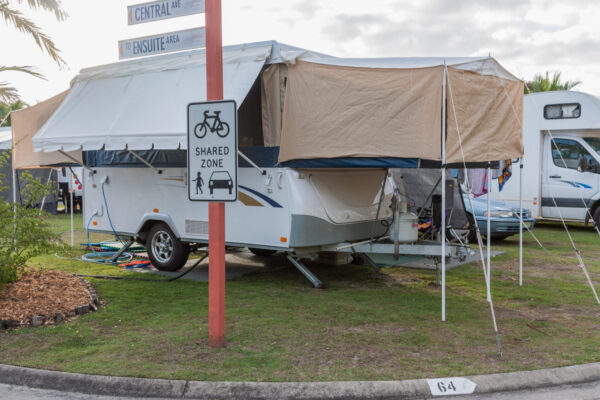 Pop-up trailers are lightweight and can be towed by nearly any vehicle. Soft-sided trailers are easy to store and can sleep up to six people.
They simulate sleeping under a tent and enable you to detach your vehicle to explore your destination. The disadvantage is that they can take some time to set up.
● Travel Trailers
Travel trailers are available in various sizes and floor plans, with kitchens, bathrooms, and frequently separate sleeping and living areas. Because most components are static, they don't require much set-up when they arrive, unlike a pop-up trailer.
Depending on the trailer size, they usually require a small to medium-sized SUV or truck to tow, allowing you to use your vehicle once you arrive at your campsite.
● Tiny Trailers
Tiny trailers are hard-sided campers with a small kitchen and bathroom and a sleeping and living area. Because of its small size, it is light enough to be towed by many vehicles, but you are sacrificing space for convenience.
Also, because most kitchens are located outside the main section, tiny trailers are impractical in bad weather.
● Fifth Wheel Campers
Fifth-wheel campers are the largest towable RVs, with plenty of space and amenities to make them a luxurious home-away-from-home.
However, they typically have a raised section in the front where the fifth wheel hitch is located, requiring a large pick-up truck to tow it.
Some fifth-wheel campers have slide-out sections that provide additional space once parked and the convenience of detaching your truck upon arrival.
● Toy Haulers
Toy haulers have a garage where you can transport your motorcycle, golf cart, or other small vehicles.
Toy haulers, available as motorized RVs or trailers, vary in size and weight, and the towable model will typically require a large SUV or truck.
Because the garage usually converts into your living space, toy haulers may require some set-up time once your cargo has disembarked.
The Cheapest RV to Rent?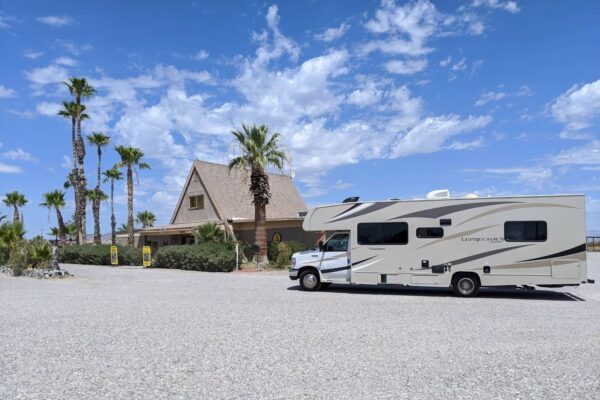 There are plenty of self-driving RV vacation options at a variety of prices. The cheapest RV to rent is a $600 per week, three-person, non-dingy camper van. It's not very spacious, but it's great for a group with the luxury of being in the same place for an extended period.
For example, if you're visiting family in a neighbouring state and don't have much to do besides visiting the city, this will be more than sufficient.
However, are you not wanting to put your belongings in storage? There are cheaper RVs for rent that are slightly more expensive and include a bed.
-This is perfect for those who want to travel light and bring back memories. The camper vans typically come with all amenities, including two separate beds, a bathroom with a sink and shower, a refrigerator, and a microwave.
Tips To Get the Cheapest and Best RV Rentals
● Plan ahead of time and reserve your RV Rental.
According to marketing and RV experts, RV camping is more popular than ever. RV parks in popular camping destinations take reservations up to nine months in advance. BOOK EARLY FOR YOUR CAMPING VACATION, INCLUDING YOUR RV RENTALS!
Because national and state parks are at capacity, booking early should be part of your strategy. By planning your trip ahead of time, you'll have the best RVs and the best RV rental rates.
● Set a maximum price for your search filter that you are willing to risk it.
When you get to the Outdoorsy, RVShare, or RVezy websites, set the search filter to no more than $100. You'll be surprised how many RVs and campers appear in the search results!
● Look for Peer-to-Peer RV Rental Platforms to Get the Best Deal.
The three main peer-to-peer RV rental platforms are Outdoorsy, RVShare, and RVezy. We strongly advise you to search all three to find the best deal. It costs nothing to explore all these platforms, so you can broaden your search to find the best RV rental deal.
Another significant benefit of a peer-to-peer RV rental is that the RV is usually fully equipped with all the equipment and accessories required for a fun camping trip. This is because the owner also goes camping in the RV! Chairs, a grill, flashlights, paper products, kitchen utensils and cookware, bedding, and so much more are frequently included in RV rentals. This could save you hundreds of dollars especially if you are on a saving budget and want to build your savings account!
When is the Best Time of Year to Find Cheap RV Rentals
The best time of year to find cheap RV rentals is determined by where you rent. The shoulder seasons are the most affordable times to rent an RV.
Early spring and late fall are typical shoulder seasons. During these times, the kids are all back in school, and many kids' sporting activities prevent families from renting RVs on the weekends.
However, there are times when there is less demand. For example, winter months are in high demand in the sunbelt states because people vacation to escape the freezing temperatures.
During the northern states' RV season, however, weekdays and non-holiday dates offer the best rates on round-trip and one-way rentals. You'll also find the most diverse selections of small to large RVs in your price range.
How to Find Cheap RV Rentals with Delivery and Set-Up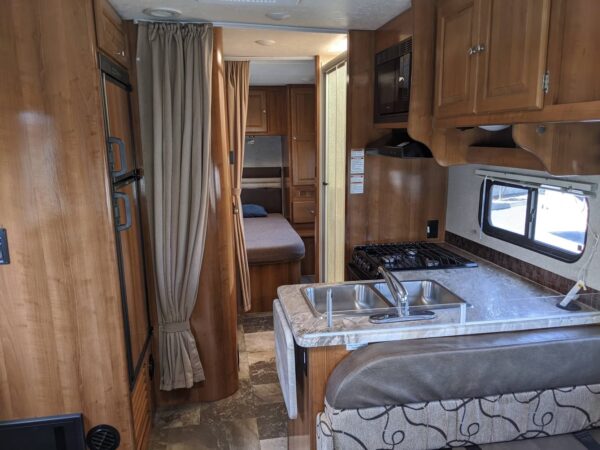 Finding low-cost RV rentals with delivery and set-up services is a popular add-on many RV owners provide.
Some companies charge a flat fee to drive up to a certain distance, pull the RV into your reserved campsite, set it up, and pick it up at the end of your RV trip.
Others provide various levels with varying pricing. It can be intimidating if you've never set up a softshell pop-up camper. The delivery fee includes the owner's fuel costs, time, dump station services, and other expenses.
This feature also eliminates the need for a tow vehicle and knowledge of how to drive an RV on the open road or surface streets, and no one has the "honour" of emptying the wastewater holding tanks.
Of course, nobody will buy a new SUV just because they rent an RV for the first time. But if they decide the RV life is for them after a few rentals, that's a different story.
So, what are your other RV rental options if you want to tow a recreational vehicle yourself, but it's heavier than your SUV can handle?
Some RV rental company owners offer tow vehicle rental services in the RV rental marketplace. If you need to rent a passenger vehicle anyway, it's a cheap way to get an SUV, pick-up truck, and an RV all in one place.
You should be aware that car rental companies such as Alamo, Avis, Enterprise, and Hertz have policies prohibiting you from towing anything with their vehicles.
As an added convenience, RV rental companies that offer vehicle rentals will pick you up from the airport. So save yourself the trouble and get everything you need from a single source.
What is the Most Important Thing to Remember When Renting an RV?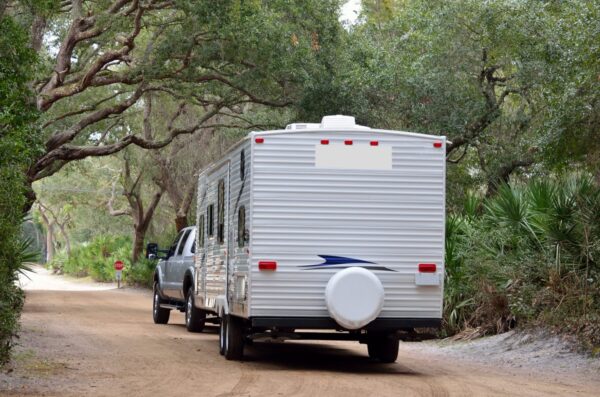 Just like asking if a car is a liability or asset, the RV lifestyle is not cheap. Budget is one question that first-time RV renters do not ask but should.
People don't do that with hotels, even though you have to pay for meals, parking, and other amenities besides the room. Likewise, you must budget for gas mileage when driving an RV."
Furthermore, fuel economy will be poor. For example, a Class A motorhome can have an 80 to the 150-gallon fuel tank, but it will only get 6 to 8 mpg. On the other hand, class C RV tanks range in size from 40 to 80 gallons, with a return of 8 to 15 mpg.
Class B vehicles are the smallest, with a capacity of about 25 gallons. Still, they have roughly the same fuel economy as Class C.
Keep in mind that RVs can be equipped with either a diesel or gasoline engine, which will affect not only mileage but also gas prices.
In terms of mileage, as previously stated, not all rentals include unlimited miles. Don't skim over the owner-listed details, especially when renting from peer-to-peer sites like RVshare and RVnGO.
Some may provide a daily maximum (typically 100 miles), which may or may not be included in your rate.
Excess mileage is usually charged at a minimum of 25 cents per mile, but this can vary depending on the RV class type. However, during slower travel months, discounts may be available. But, again, this is not a nickel-and-dime scheme but rather necessary revenue to cover maintenance costs and, to a lesser extent, to reduce abuse.
Here are some things to consider when choosing where and how much you will pay for your next trip:
Location: Rental rates vary depending on where you go. Areas such as California, Florida, and Texas generally have higher prices than other parts of the country. This is because these areas tend to attract tourists during peak seasons (like winter), which means there's more demand for rentals in those areas.*
What is the Real Cost of An RV Trip?
Fuel: RVs burn a lot of gas. A 1,000-mile trip will require 83-100 gallons of gas if the standard Cruise America vehicle gets 10-12 miles per gallon. Here are the typical miles per gallon for each RV type:
6-10 miles per gallon in class A.
18-25 miles per gallon in class B.
8-12 miles per gallon in class C.
8-12 miles per gallon when towing a trailer or fifth Wheel.
Damage Deposit: Most rentals require a $500 to $1,000 refundable damage deposit.
Mileage charges. In contrast to rental cars, finding an "unlimited mileage" rate for an RV is uncommon. Cruise America charges $0.35 per mile for most rentals, which likely adds more to the total cost than fuel — a 1,000-mile trip costs $350 in mileage fees alone.
Fees for Van Generators: generators are powered by air conditioning, appliances, and electrical outlets. They are also usually an extra charge for some rentals.
Some vehicles have a flat rate per rental, whereas most RV rental companies charge lie Cruise America charges $ $3.50 per hour generator fee. If you're not at a campsite with an electrical hookup, plan on using it for a few hours daily.
When you turn on the RV's generator, a meter keeps track of how long it is running. Unless otherwise specified, or unless you purchased an unlimited-use package, you will be charged per hour for the use of the generator.
Cleaning Costs:
Most RV rental companies expect you to return the vehicle's interior in the same condition you found. Failure to return a clean vehicle may result in a fee — of $250 in the case of Cruise America.
Insurance: You may be able to use your existing auto insurance, but if it does not cover RVs, you will need to obtain separate RV insurance. Find out more about RV insurance here.
Campground fees: You might think that living in an RV gives you the freedom to camp wherever you want, but you'll usually want to stay in a campground or RV park to take advantage of the amenities.
The cost of these facilities can range from $5 to more than $100 per night, depending on the facility.
Otherwise, you could go the boondocking route, where you park your RV anywhere it's legal to camp overnight (including Walmart parking lots), or you might be able to find a free place to stay through a service like Harvest Hosts, though membership is required.
Here's a general breakdown of overnight fees based on the type of campground you visit:
Overnight campsites with RV parking and hookups cost between $20 and $50 per night.
Luxury RV resorts cost between $60 and $100 per night.
State parks range in price from $5 to $50, depending on the park and hookups.
Miscellaneous Expenses:
Camping equipment, bedding, cookware, and dozens of other road trip necessities are frequently provided as "extras" for a fee. Cruise America, for example, charges $110 per "kitchen kit" and $60 per person for sheets and pillows.
While renting an RV may be cost-effective depending on your needs, it is not cheap. It's a unique way to take a road trip, but it's not a good way to save money on your next vacation. Being realistic about these costs in advance can aid in determining an overall trip budget.
Why Are Some RV Rentals So Cheap?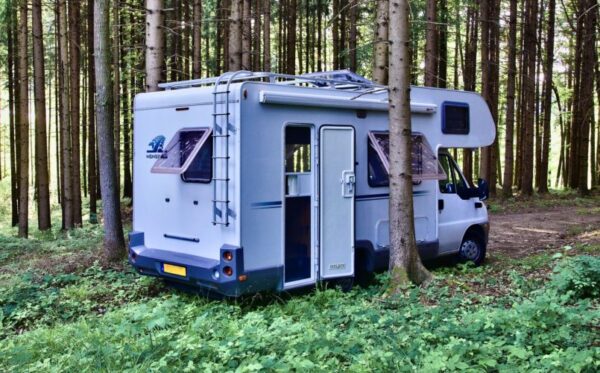 As a rental company keeps renting one-way RVs, they eventually realize their RVs are all over the country. Getting them back to where they belong should cost a lot of money. They might have to pay someone to drive them there and pay for their flight home.
The alternative is to offer travellers ridiculously cheap and appealing deals to get them to rent RVs and take them where they need to go.
Now, you may be responsible for fuel costs. But some deals may come with a partial fuel reimbursement of $50 to $500, a free tank of gas, or a free kitchen kit.
Most of the time, these extras would be added in the second or third week before a car had to be moved. Check with the company to see if the $1 covers the kitchen, linen kit, and other necessities, so you don't have to bring your own.
Is Renting An RV Worth It?
Renting an RV from these companies we mentioned is the most cost-effective option. In addition, some RV rental websites do not charge any transaction, service, or usage fees to Hosts or Guests.
If that isn't enough, some also charge a nightly rate rather than a daily rate, which saves you money because the rate covers the entire 24-hour period rather than just the working day business hours. Again, you have to decide what's best for you.
Related: 15 Cheap Places to Rent a Conference Room Near You
Bottom Line
Many people's dream vacation is to take a trip in a motorhome, but if you don't know what to look for, you could get stuck with expensive rental fees and hidden costs.
Think about what kind of camper best fits your needs, budget, and trip. There are many places to find affordable RVs to rent. RVs are a great way to see the country and meet new people, but they can be expensive.
The good news is that there are many different ways you can rent an RV for cheap. Use a peer-to-peer website like Outdoorsy to rent from a private owner and take care of your rental the same way the owner would. The owner has likely driven the route you want to take, so ask them for advice about your trip.
We hope that this list was helpful in your search for affordable RV rentals. There are many great options, and we can't wait to see where you go with them. Remember that you don't need to spend much on an RV rental if it doesn't fit your budget. You can always rent a cheaper one and upgrade later if you decide this lifestyle is suitable for proper.
Frequently Asked Questions
Q: Where is it best to rent an RV?
Cruise America, Outdoorsy, and RVshare are the best places to rent an RV. But the best choice for you may depend on availability, price, and deals.
Q: Is it cheaper to live in a house or RV?
Well, renting an RV is cheaper. However, remember that this way of life is not for everyone. For example, many people buy houses as an investment, but you can't do that with RVs (their value only depreciates over time).
Q: Is a hotel cheaper than an RV?
Condor Ferries and TripSavvy say renting an RV is less expensive than staying in a hotel. Renting an RV saves you between 20% and 60% on travel costs compared to staying in a hotel or other traditional vacationing options.
Q: How much is the cheapest RV?
Standard travel trailers and toy haulers typically cost between $25,000 and $35,000 new, whereas pop-up campers can be purchased for as little as $15,000 new.
Q: Is it financially smart to live in an RV?
It is economical to live in an RV. Living in an RV means living in a much smaller space with much less stuff. You have less space for everything – clothes, toys, tools, and so on – which saves you a lot of money. If you own your home, you save money on utilities and home improvement projects in addition to having less space.
Q: Cheapest State to Rent RV Rentals Near me
We found that the state to rent the most affordable RV is Montana. Montana has the cheapest RV rentals. In addition, Montana has no sales tax and no personal property tax.
Q: Are There Mileage Limits On Cheap RV Rentals?
The company would make that decision. While some people don't mind the mileage as long as the RV gets to the desired location, others may only allow the number of kilometres required to get to your location. Check for mileage restrictions, as you may be charged an extra dollar for each kilometre you exceed.