No matter where you're from, there's a good chance that you've fantasized about packing up your things and hitting the road. Maybe you want to see the Grand Canyon, or perhaps you're more of a beachy type.
Either way, it won't be long before you start wondering: What's the best way to get around? Well, that depends on how much time and money you have available.
For most people who have never done this before (and even some veterans), renting an RV is far less expensive than renting a car for an extended period, and with such a wide range of options out there now, it's easier than ever to find an affordable option that fits your budget.
Outdoorsy
If you're looking for a place to rent an RV, look no further than Outdoorsy. This peer-to-peer marketplace offers more than 16,000 options for people who want to explore the great outdoors in style.
Everything from tiny trailers to massive motor homes available on the site has something for everyone.
Outdoorsy's selection of rental vehicles includes everything from pop-up campers and travel trailers to luxury Class A diesel motorhomes with all the mod cons imaginable.
You can pick a range of base models or opt for an upgraded model with extra features like air conditioning or Wi-Fi internet access.
Cruise America
Cruise America is a famous rental car company located in most states. Cruise America offers an extensive range of RV options and good customer service.
The company's cars are available for rent by the day, week or month, but you can't reserve one online. Instead, you'll have to call or visit one of their branches to learn about availability and pricing.
You'll find that Cruise America offers some of the most affordable rates in the industry: Their prices start at just $65 per night (plus tax) for a small RV with two beds and a bathroom.
Escape Campervans
Escape Campervans is a small company with a big heart. It has a variety of models and price ranges, and its customer service rating is unusually high.
Escape Campervans offers several different rental options that include:
RV: Escape Campervans' signature model, the Escape Campervan, is available in three different sizes: Mini (3-berth), Micro (2 bed), and Crash Pad (1 bed). It features "the only foldaway bed left on the market."
T5 Van: The T5 Van is an RV option for those who want to travel without paying too much for their rent. Its compact size allows you to pack it into tight spaces like campgrounds or parking lots but still offers enough room for your entire family to sleep comfortably inside.
El Monte RV Rentals & Sales
El Monte RV Rentals & Sales is a rental company in El Monte, California. It's been owned by the Munoz family since 1968.
The company offers 200+ rental RVs ranging 20ft to 40ft, plus campers and fifth wheels. In addition to its RV rentals, El Monte RV Rentals & Sales also sells new travel trailers and fifth wheels.
El Monte RV Rentals & Sales has an online price calculator on their website that allows you to get an estimate of what your rental costs will be based on the size of your vehicle, length of stay, and other factors (including whether you're bringing along pets).
-This can give you an idea of what type of vehicle might work best for the trip you want to take before physically visiting the company's location at 1310 E Santa Anita Ave., Suite B1-B2 in El Monte, CA 91731
USA RV Rentals
USA RV Rentals is a great place to look if you're looking for an RV rental near you. It has a wide range of RVs, including pop-up campers, toy haulers, and fifth wheels.
They have a good selection of sizes, features, and locations to choose from as well. Prices are competitive, too, ranging from $35 per night for a camper van in California to $130 per night for a camper van in Florida, and they offer discounts if you book more than one month at once or make it an annual extension.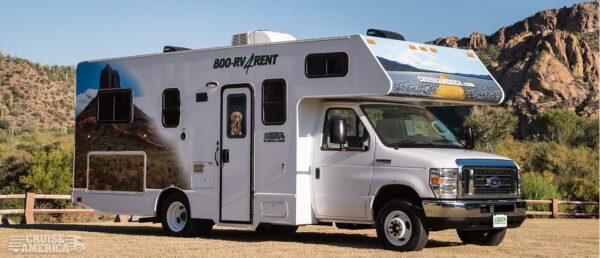 Advantage Caravans
Advantage Caravans is a rental company that rents RVs of all shapes and sizes. They have locations all over the US, so you'll find one near you.
You can choose from three RV rentals: Class A motorhomes, Class B motorhomes, and travel trailers.
Each type has unique features; for example, Class A includes a kitchenette, microwave, and air conditioning, while Class B has an entertainment center.
Furthermore, we also offer length-of-stay options, including weekly and monthly rentals, at affordable prices.*
As a bonus: if your trip lasts longer than 30 days but less than 90 days, then they will give you free storage space (up to 30 days)
Roam
Roam was founded in 2013 and is a subsidiary of Hertz. It's headquartered in Los Angeles. The company has more than 10,000 cars in its fleet, which includes everything from SUVs to minivans and sedans.
The prices are based on the vehicle size you choose: If you want something more significant than what's listed below, go for it but, of course, you'll pay a little more for the upgrade (and if you're thinking about adding extra drivers to your rental agreement, be sure to check out our guide).
VroomVroomVroom
VroomVroomVroom is a UK-based rental company that rents campers, motorhomes, and trailers. They have many vehicles to rent, including some with pop-up roofs for extra space. They also have an extensive range of caravans available at competitive prices for short-term or long-term rental.
This company has good reviews online, and I'd recommend giving them a try if you're looking for cheap RV rentals near you.
Apollo Motorhome Holidays
Apollo Motorhome Holidays is a great place to get a cheap RV rental. They have locations in many cities across Canada, including Toronto, Vancouver, and Charlottetown.
They have many vehicles to choose from, including Class C RVs and Class A RVs (the latter is more expensive). The prices vary depending on the model you choose and its size.
They also offer specials for members of the Canadian Automobile Association or various other groups such as seniors' associations or professional organizations.

RVshare.com
RVshare is a peer-to-peer rental marketplace. It works like Airbnb, but for RVs. You can rent out your RV anytime, which can help offset the cost of owning one or be a way to make some extra money on the side.
Many people use RVshare because it's easy to find affordable RV rentals from other members willing to rent out their vehicles for low prices. So if you're looking for an alternative means of travel that doesn't require booking flights, then using this site might be right up your alley.
Fraserway RV Rentals Ltd.
If you're in the market for a cheap RV rental near you, Fraserway RV Rentals Ltd. is one of the best options. They offer affordable rates and great amenities, including free wifi and satellite TV.
Their staff will help you find the perfect RV for your trip, for one night or an entire month.
Four Seasons RV Rental
Four Seasons RV Rental is a company specializing in RV and car rentals but focusing on the latter. Their vehicles are available to customers worldwide, with location rates to Australia.
They offer a wide range of rental options, from small cars and SUVs to medium-sized trucks, so you can find one that meets your needs regardless of how far off the beaten path you want to travel.
Four Seasons has earned high marks for its customer service and reputation for keeping vehicles in good repair and cleanliness. Their website also offers a lot of helpful information about each vehicle, including its dimensions and fuel economy.
So it's easy for renters to find out what they're getting into before they make a final decision. In addition, if there's ever an issue while driving one of these rentals (like a flat tire), renters have 24/7 roadside assistance available through the Four Seasons app or website; this feature comes standard with all rentals at no additional cost.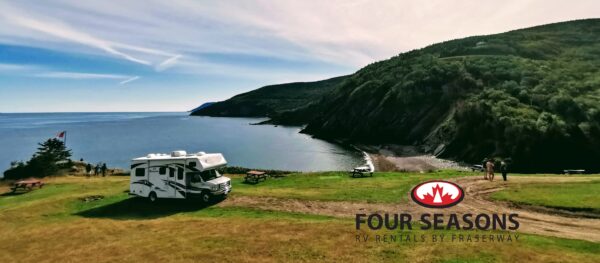 Road Bear RV Rentals & Sales
Road Bear RV Rentals & Sales is a Canadian company with locations across Canada. They offer a wide range of RV rentals and sales, including models such as travel trailers and fifth wheels. Their rental fleet features over 100 RVs that can accommodate families of up to ten people. Road Bear RV Rentals & Sales has received positive reviews from past customers who say they were pleased with their RVs' quality and customer service.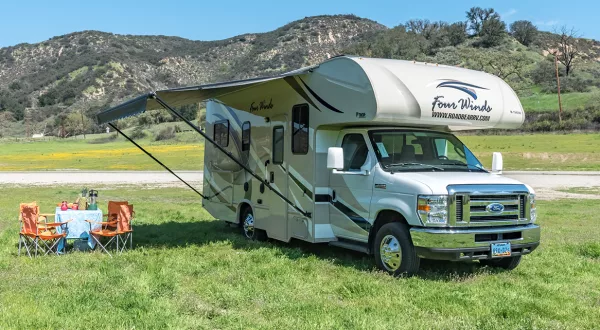 American Dream Vacations
American Dream Vacations is a rental car agency that offers several options for traveling in your RV. They're located in Florida, USA, and they have a reputation for good customer service and a strong, robust website that answers all your questions.
So whether you're looking for a family-friendly vacation or an adventure with friends, American Dream Vacations offers an RV rental option.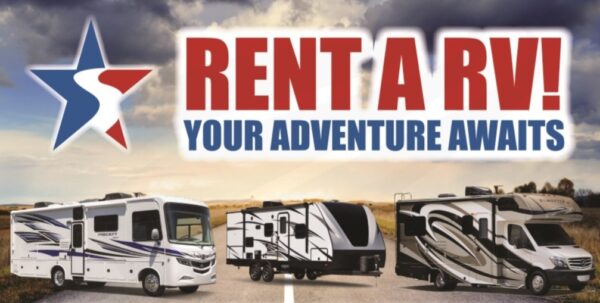 Bounce
Bounce is a rental service for RVs, campers, and trailers. They have over 1,500 locations across the United States, with some as close as your local Walmart parking lot.
Bounce offers an impressive selection of vehicles, including pop-ups, slide-outs, and motorized towables. Renters can book daily or weekly rentals depending on their needs and preferences.
Jucy Rentals
Jucy Rentals is the largest Australian RV rental company, with over 1000 vehicles in their fits.
They have branches in Australia, New Zealand, and the United States. Their fleet includes campervans, vans, motorhomes, and RVs.
Long-term RV rental near me
There are many reasons you might want to rent an RV to travel or even just a long weekend with your family or friends.
For example, maybe you're a college student who wants to have a few days at the beach over spring break, and you don't want to spend more than $200 on it. On the other hand, maybe your parents are coming in from out of town for a visit, and you'd like to take them on an outing in the great outdoors.
Or maybe you're working from home and want a change of scenery for a few days—or perhaps you're working from home and need some separation from your work and your family.
You can find RV rentals all over the country, sometimes only blocks away from where they'll be parked. You can also find them online, where some websites will even let you select the exact model you want.
SIn addition, some come companies alike in long-term rentals, which can be very reasonable if you know exactly when you'll need it—tenant moves aren't so uncommon these days, after all.
Cheap RV for sale near me
If you're considering buying a cheap RV for sale near me, it's worth doing some research to ensure you're getting the right vehicle at the right price.
If you're trying to cut corners and save money, you might wind up with a lemon that will cost you more in repairs than if you had just bought another one.
It's best to get an idea of your vehicle's condition before buying it. RVs are generally expensive and depreciate quickly.
Other options exist for those who don't want to spend so much money, such as an inexpensive Class B motorhome or van conversion.
Whatever budget and RV style you're looking for, it's essential to do your research before buying anything.
PPA
How much is the cheapest RV to rent?
There are plenty of self-driving RV vacation options at a variety of prices. The cheapest RV to rent is a $600 per week, three-person, non-dingy camper van.
It's not very spacious, but it's great for a group with the luxury of being in the same place for an extended period.
For example, if you're visiting family in a neighboring state and don't have much to do besides visiting the city, this will be more than sufficient.
Are you not wanting to put your belongings in storage? There are cheaper RVs for rent that are slightly more expensive and include a bed.
-This is perfect for those who want to travel light and bring back memories. The camper vans typically come with all amenities, including two separate beds, a bathroom with a sink and shower, a refrigerator, and a microwave.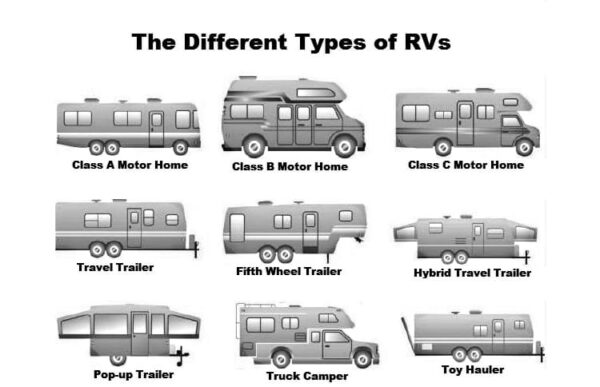 FAQ
Can you use an RV bathroom while driving?
I know it's tempting to think that a portable toilet only has to be emptied after a certain distance, but the truth is that you can't just stop and let loose whenever you feel like it.
Porta-potties are designed to be used and disposed of properly in designated spots. However, the time and effort needed to set up and clean up after using one are worth it when there's a perfect bathroom on board your RV.
So, before leaving the campground, empty your toilet by dumping its contents into the proper vessel, securely fastening the door shut, and adding some disinfectant spray or water before sealing it up again. After doing this, your RV is officially ready for travel.
Should you poop in your RV?
When you spend enough time in an RV, you learn to adapt to its quirks. One of its most unusual quirks, however, is a question that's been asked by new RV owners for years: should you poop in your RV?
When living in an RV, there's no need to distinguish what goes on inside the vehicle and what happens outside it. From the traveler's standpoint, everything you do is camping.
So why does it matter whether or not you take care of business while the vehicle is parked or in motion? There are plenty of reasons why many people feel strongly about one approach or another.
Can I put bleach in my RV black tank?
Bleach is not a good thing to put in your black tank. It can corrode the lines and valves of the tank and create a hazardous chlorine gas to breathe. Chlorine gas can be harmful if inhaled, and it might e be a fire hazard.
Many people think that bleach will eliminate all the waste in their tanks, but other chemicals are involved too, and those don't go away just because you put bleach in there. It just hides them from view.
If you have bleach in your black tank, you'll still have to dump it at a dumping station after every use. You won't be able just to flush it down the toilet like regular water.
How often should you flush your black tank?
No matter how many times you flush your black tank, if you let it sit for too long, you risk clogging the toilet and leaving a mess for someone else to deal with.
So how do you know when it's time to dump?
You can tell it's time to empty your black tank by checking how long it has been since it was last opened.
Should I leave water in my RV black tank?
When you're done with your black tank, should you leave water in it to help prevent odor? It's a common question that gets asked around mealtimes. My answer is always "Yes, but not too much."
If we follow the advice of some sources online, we end up with a highly diluted solution of sewage and water that will take a long time for all of it to evaporate.
The first problem with leaving only a tiny amount of water in the tank is that it will require many more flushes before it empties. If you've ever had to flush an RV toilet repeatedly during a trip, you know how frustrating the experience can be.
The second problem is that the extra black water remaining in the tank can potentially cause foul odors after being stored for weeks.
An easy way to fix this issue is to add a few extra rinses by dumping fresh water into the tank after you're done using it.
-This will dilute the waste and give it time to evaporate before you're ready to go again. I use my kitchen sink faucet as a hose when filling my tanks with fresh water since it's easier than serving a small bucket and carrying it around.
Summary
There are many places to find affordable RVs to rent.RVs are a great way to see the country and meet new people, but they can be expensive. The good news is that there are many different ways you can rent an RV for cheap.
Here are some things to consider when choosing where and how much you will pay for your next trip:Location: Rental rates vary depending on where you go. Areas such as California, Florida, and Texas generally have higher prices than other parts of the country.
-This is because these areas tend to attract tourists during peak seasons (like winter), which means there's more demand for rentals in those areas.*
We hope that this list was helpful in your search for affordable RV rentals. There are many great options, and we can't wait to see where you go with them.
Remember that you don't need to spend much on an RV rental if it doesn't fit your budget.
You can always rent a cheaper one and upgrade later if you decide this lifestyle is suitable for proper.