Last updated Jan. 22, 2023 by Peter Jakes
Flipping is currently one of the best ways to make money without stress. The most successful flippers make anything from $100k yearly reselling their thrift store finds. There are many items to resell and make a profit, but valuables are ideal.
Not every item found in a thrift store can be resold for profit. Much of the 'junk' people clear out and donate to the thrift store are mere items that no one would pay very much for. Therefore, reselling only the best items is a great way to become successful at flipping. Below are the ten best items you can resell for profit in thrift stores.
1. Furniture
One of the most in-demand valuable items in a thrift store is furniture such as ds, chairs, bedsteads, or sofas. More so, it is one of the most profitable items to sell in a thrift store. People are always looking to buy furniture, especially unique and high-quality ones.
However, to successfully flip furniture, focus on getting quality rather than quantity. Get pieces with character, fashionable and standard. Items that stand out are bound to attract customers even when they don't need to.
You can also look out for antique pieces that can be easily refreshed with new upholstery or paint. You can easily turn a visual eyesore into a money magnet if you can reupholster it. You can buy and sell furniture using the Chairish mobile application, which you can download from Play Store or Apple Store.
2. Antique Toys
Antique and vintage toys are other values that can reach a high selling price on an online auction. One of the reasons they are in high demand is the nostalgia attached. Generally, people like things that remix them from their childhood.
However, when it comes to buying antique toys to resell, the better condition is, the more likely they'll be able to sell them for a reasonable price. That being said, don't discount antiques and vintage that are in poor condition. They can also be sold to people interested in restoring them to their former glory.
3. Silverware
Vintage silverware is available in some thrift stores for low prices. Although silver tarnishes easily and may not look like it's worth much, it can still be polished to look as good as new. So any silverware you can get your hands on could be worth buying to flip on eBay.
Silverware is so valuable that you can even make $10-$20 for a silver spoon. Moreover, the market value for silverware is high, and people are always willing to buy. However, it can be tricky to determine the authenticity of silver, but checking for the hallmarks will help you in knowing if it's real or not.
4. Camera Equipment and Accessories
You can also find old camera equipment and accessories in thrift stores which you can flip for profit. This product's consumers are not restricted to camera operators or photographers. You can sell this equipment to those looking to go for a vacation, for example, that have a missing part of their camera.
Though they may seem outdated, SLR cameras and lenses are still in-demand today. They can be used for other things outside the camera. Similarly, old cameras are still very much valuable and can fetch you a substantial profit in the market.
5. Clothing And Wear
Everyone is always looking to try new clothes and wears them, which is why clothing is always in demand. And thrift stores are a good place to find some of the best designer clothes and shoes to sell for a profit. However, remember to only get the best, and the ones you feel will sell the most.
eBay is one of the renowned marketplaces for reselling designer clothes. There, you'll be able to find millions of prospective buyers around the world. When listing an item of clothing for sale on eBay, ensure to provide as much detail of your thrift store finds as possible. Doing this will help attract the right buyers and get a reasonable resale price for your clothing item.
6. Textbooks
Textbooks are valuables that cannot easily get discarded; they stand the test of time content-wise. So people are always in demand for books to gain more information, reference, and historical research. Therefore, textbooks are another great item for flipping in the thrift store.
Textbooks are generally expensive, especially second-hand versions with limited stock in the market. The good thing is that you don't need to resell them at the exact original price as when it was published. You can add a little more and drive more profit. There are textbooks that sell for hundreds of dollars, depending on the type and demand.
Moreover, you can sell second-hand textbooks at your local thrift stores or on marketplaces such as Amazon, eBay, and Bookscouter, which specifically buys and sells textbooks.
Related Article: 18 Ways To Get Cheap Baby Clothes
7. Video Games
Vintage video games such as Nintendo and Atari are still in demand, though not as much as the latest ones like PS5. Nonetheless, they're people who'd be interested in having a feel of how early games are played. You can also find these retro and vintage games at thrift stores which you can resell for profit.
Similarly, you can also find current video games people are playing now. But whichever you go for, try to market the value and show customers what they'd be missing out on if they did not buy them. Teens and young adults alike are more likely to patronize you.
8. Baby Items
Another valuable item you can flip for profit is baby gear. Buying new items for babies can be quite expensive, which is why parents look for less-expensive ones, such as second-hand items. So if you can find baby stuff from thrift stores, you can also resell them for a handsome price.
The good thing is that they're easy to find in thrift stores. Some of the common baby items in high demand are baby carriers, baby monitors, playpens, door bouncers, stair gates, bouncy chairs, balls, etc. You can sell these items for between $30-$100.
9. Sports Gear and Equipment
Sports gears and equipment are always in demand. In the past year or so, the demand for home workout equipment has increased, making reselling sports gear a good business. However, getting new sports products can be very expensive, which is why most people look towards second-hand equipment.
However, if you're going to be selling sports gear and equipment, it's good that you pick a particular niche and stick to it. There are many types of sports, and each sport comes with its gear, meaning you can sell them all at once. Moreover, focusing on selling a particular sport will help you to reach your target audience faster and vice versa.
10. Used Smartphones
As mobile phone brands upgrade their products often, so do customers to keep up with the latest trends. This is why you'd always find second-hand phones in thrift stores which you can flip for profit. And these used phones can fetch a lot of money, but depending on the brand.
More so, you can sell these used phones online to buyers from all over the city. You can find customers looking to buy second-hand phones on sites like Decluttr. Once you auction the phone, you'll receive several bids, which you can choose from and sell. The phone would be shipped to the buyer for free, and you'll get a commission for selling it.
Tips on How To Become Successful in Thrift Store Flipping
Thrift store flipping isn't as hard as it seems. It's an easy way to make money full-time or as a side hustle. The goal is to remain committed and have eyes for items that'll sell. Besides, here are some tips to boost your chances of succeeding and maximizing profit by flipping items.
Research before Buying: Before purchasing any item for reselling, you'll need to research to find out the market value and how profitable it is. You can conduct your research online or ask for the prices of items you intend to purchase. Doing this will increase your chances of making a profit and selling to potential customers.
Go For Quality As Against Quantity: In retaining customers in flipping, you'll need to focus on getting and selling quality items. On the other hand, getting too many substandard items will decrease your chances of selling, getting new, and retaining customers. So even if you can lay your hands on a few quality items in the thrift store, get them and sell them.
Pick a Niche: Focusing on a particular niche or area of expertise will also help you to drive customers in a flipping business. For example, you can choose to flip only clothing items or electronics, depending on your interest or how familiar you are with the products.
On the other hand, being a jack-of-all-trade may prevent you from reaching your target customers. The specialization builds brand – what people know you for and brings customers. For example, people will recognize you for flipping sports equipment, and once they need it or see someone around that needs your products, they'll refer to you.
Bargain To Gain Profit: flipping is all about reselling and making a profit. You buy an item from the thrift store and sell it for an increased price. But there are chances that you could bargain to buy at a cheaper rate which will increase your profit even more. So don't just buy at the store's cost; see if you can negotiate to beat down the price. You should also ask for a discount when purchasing many items at the same time.
Promote Your Products: As you may already know, a business cannot thrive without promotion. However, you don't need to spend big on promoting your products. Social media is a free space to do just that. You can join groups or create social media pages to promote your products.
Best Apps To Flip Items
Flipping can be done offline and online. You'll have to meet your customers directly to sell your products for offline flipping. On the other hand, online flipping requires joining an online platform to find potential customers. Here are some of the best apps to flip items.
Etsy
Etsy is a mobile app where buyers can connect with sellers selling unique and vintage items. You can upload pictures of your items on the platform, and Etsy will connect you with potential buyers. However, you'll have to face lots of competitors in the app, which is why your products need to stand out.
eBay
eBay is another fantastic online marketplace to flip items. The company has been around for quite a long time and is still one of the best places to sell and conduct market research. Moreover, it's a trusted platform with lots of potential buyers and reasonable seller fees.
Amazon
Flipping on Amazon can be a great way to resell items. For one, Amazon is one of the largest online marketplaces in the world. Besides, you can meet lots of customers looking to buy your products. However, they're terms and conditions, fees, and policies to abide by when selling on Amazon. Visit the Amazon website to find out more.
OfferUp
If you're looking for a means to sell items locally, consider signing up for OfferUp! The platform is simple, free, and easy to use. More so, it allows you to sell any kind of item.
You can also offer to ship some items. OfferUp is an online platform that makes buying and selling as safe as possible by verifying the identities of the buyers and sellers.
Poshmark
Poshmark is a mobile app designed for buying and selling designer items like clothes, shoes, and bags. In addition, designer and name-brand products sell very well here. And the good thing is that it's free to create your "closet" and list your items.
Furthermore, Poshmark doesn't charge fees until your item sells and buyers pay for shipping. However, Poshmark users often ask lots of questions and expect answers from you. So be ready to provide customer service if you want to sell here.
Decluttr
Decluttr is a place to sell used electronics and other items such as books, video games, e-readers, cell phones, and smartwatches. Legos are also items that can be sold by weight.
However, unlike other sites where you sell directly to the buyer, Decluttr buys from you instead. They also provide free shipping and pay you as soon as they receive the items (which must be in good condition). The con is that you must accept the price Decluttr offers for your item rather than setting your own.
LetGo
LetGo is an app quite similar to OfferUp. The only major difference is that it doesn't feature identity verification and the option to ship items. However, it's also a great marketplace to consider if you want to flip items easily. In addition, it is free and easy for users, and customers can always purchase your products.
Frequently Asked Questions Related To Thrift Store Flipping
What Is The Most Profitable Item To Flip?
Furniture and clothing are the most profitable items to flip. You'll make a good profit if you can find solid furniture to resell. Likewise, brand-name, clothing items, vintage clothing, and designer labels will fetch the best prices. Other profitable items to flip (in no particular order) are antiques, technological gadgets, sports gear, records and record players, electronics, and so on.
Can I Make Money Flipping Thrift Store Items?
Yes, you can. All you need to do is purchase valuable items from a thrift shop and resell them at higher prices. Flipping can be very lucrative, especially if you're good at finding valuable items at a bargain price. Besides, there're a lot of sellers using local thrift store flipping to complement their main income.
Is Thrifting A Good Way To Make Money?
For many, flea market flipping or thrift store reselling is a great way to make additional cash, build up an emergency fund, and save and pay down debt. You can convert those yard sale finds into a profitable business with great planning and forethought. However, selling high-value items increases your chances of making more money.
How Profitable is Thrifting?
The most successful flippers earn over $100k yearly, reselling their thrift store finds. There are lots of people who prefer to buy used or second-hand items. The market size of flipping has made it one of the most profitable businesses. However, reselling valuable items increases your chances of maximizing profits.
What Sells The Most In Thrift Stores?
According to business expert IBISWorld, Clothing is an item that sells the most in thrift stores. The industry generates 31.8 percent of revenue in the thrift store industry. Instead of paying higher retail prices, most people depend on thrift stores for their clothing needs. It's because it is cheaper than purchasing new ones.m
Making money by purchasing items from thrift shops and reselling them on eBay or other online marketplaces is a terrific way to supplement your income.
Thrift Shop Flipping is the practice of purchasing something from thrift stores with the intention of selling it for a better price.
Although it is difficult to stumble upon thrift shop bargains that are worth millions of dollars, thrift flipping is still a viable means to make cool money.
A website called Poshmark has made thousands of dollars from reselling thrift clothes. If you are about to go into the business, endeavor to purchase thrift items that are likely to be sold.
Here's a list of some thrift items to resale. This article also recommends ways to resell these items.
Other Items to Resell for Profit
Clothing
Clothes from well-known brands are one of the most profitable thrift items to sell.
Thrift stores are filled with clothes materials from well-known brands like Ralph, Lauren, Nike, Calvin Klein, and more.
Despite the fact that these clothes are from well-known brands, they come at a very affordable price when you visit thrift stores.
After selecting clothes that are likely to be sold, you can put them up on eBay.
Frames
Frames are another thing to look out for at thrift stores
Paintings and other framed artwork are often available for purchase at thrift shops. However, when picking an artwork to purchase, your main focus should be the frame.
Frames are more valuable than artwork, especially if the frame is elaborate or antique looking.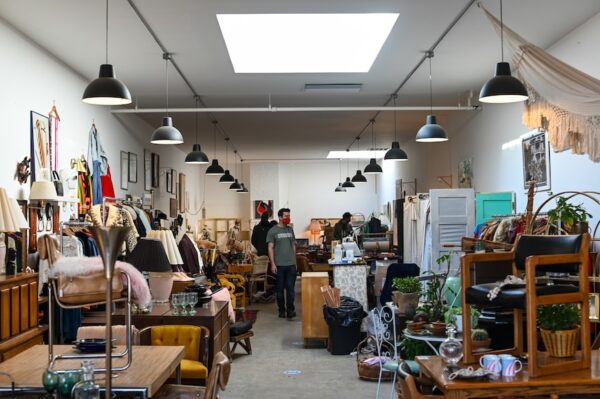 Pyrex Dishes and Cooking Utensils
Pyrex dishes and cookware is one of the most precious items you can find in thrift stores.
There are a lot of individuals on websites like eBay and Etsy that are interested in antique Pyrex and are prepared to spend a huge amount of money for it.
Old Tech Parts
Parts from old technology are in great demand. Sites like eBay show them being sold for hundreds of dollars.
If you come across an old stereo, a camera that can be classified as junk, or any outdated equipment at the thrift store, you can purchase it and resell it.
Video Games
Buying and reselling video games is a lucrative business. Furthering, it's easy to ship to customers because of its small size and low weight.
If you can find video games for current generation consoles like Xbox One or Playstation 4 in a thrift store, you'll be able to make a good profit by selling them on eBay or other online marketplaces.
Vintage video games are also worth purchasing. Older and newer games are often in high demand.
Records
Vinyl records are very collectible, and getting an appropriate one will earn you a significant profit after reselling.
Vinyl records are currently popular thanks to the millennials.
Maternity Clothes
Another profitable item that can be found at thrift stores is maternity wear.
While this item may not provide you with much profit, it's still a profitable item to purchase due to the high demand for it.