Making money by purchasing items from thrift shops and reselling them on eBay or other online marketplaces is a terrific way to supplement your income.
Thrift Shop Flipping is the practice of purchasing something from thrift stores with the intention of selling it for a better price.
Although it is difficult to stumble upon thrift shop bargains that are worth millions of dollars, thrift flipping is still a viable means to make cool money.
A website called Poshmark has made thousands of dollars from reselling thrift clothes. If you are about to go into the business, endeavor to purchase thrift items that are likely to be sold.
Here's a list of some thrift items to resale. This article also recommends ways to resell these items.
Best Items to Resell for Profit
Clothing
Clothes from well-known brands are one of the most profitable thrift items to sell.
Thrift stores are filled with clothes materials from well-known brands like Ralph, Lauren, Nike, Calvin Klein, and more.
Despite the fact that these clothes are from well-known brands, they come at a very affordable price when you visit thrift stores.
After selecting clothes that are likely to be sold, you can put them up on eBay.
Frames
Frames are another thing to look out for at thrift stores
Paintings and other framed artwork are often available for purchase at thrift shops. However, when picking an artwork to purchase, your main focus should be the frame.
Frames are more valuable than the artwork especially if the frame is elaborate or antique looking.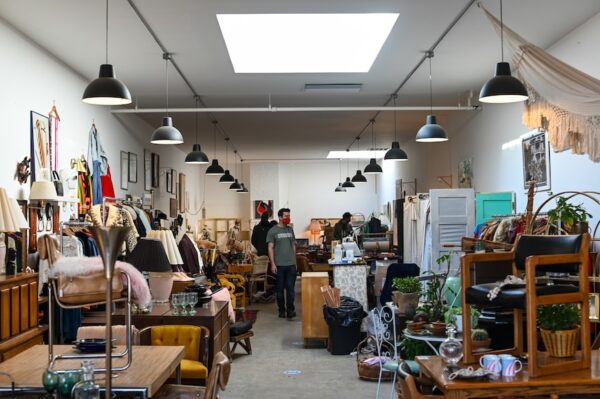 Books and Other Reading Materials
Books are one of the best thrift store items to resale. They are simple to obtain, in high demand and can be sent quickly.
Books can be sold on websites like eBay and Craigslist. You can decide to sell them in garage sales.
A book-focused online marketplace like BookScouter is another site to sell your books.
Purchasing a book collection is also a good decision to make as they enable one to earn bigger.
Textbooks
Purchasing textbooks from thrift stores, and reselling them is another way to make money.
College textbooks are popular online since students are always on the lookout for books that come at a lower price. Be sure not to purchase outdated versions of books for they are likely not to sell.
Pyrex Dishes and Cooking Utensils
Pyrex dishes and cookware is one of the most precious items you can find in thrift stores.
There are a lot of individuals on websites like eBay and Etsy that are interested in antique Pyrex and are prepared to spend a huge amount of money for it.
Old Tech Part
Parts from old technology are in great demand. Sites like eBay show them being sold for hundreds of dollars.
If you come across an old stereo, a camera that can be classified as junk, or any outdated equipment at the thrift store, you can purchase it and resell it.
Video Games
Buying and reselling video games is a lucrative business. Furthering, it's easy to ship to customers because of its small size and low weight.
If you can find video games for current generation consoles like Xbox One or Playstation 4 in a thrift store, you'll be able to make a good profit by selling them on eBay or other online marketplaces.
Vintage video games are also worth purchasing. Older and newer games are often in high demand.
Records
Vinyl records are very collectible, getting an appropriate one will earn you a significant profit after reselling.
Vinyl records are currently popular thanks to the millennials.
Maternity Clothes
Another profitable item that can be found at thrift stores is maternity wears.
While this item may not provide you with much profit, it's still a profitable item to purchase due to the high demand for it.
Clothing with Tags
Clothing with tags is one of the best thrift store items to sell for a profit since it is easy to resell.
If you come across a piece of clothing in a thrift store that still has its tag on it, you should buy it for reselling purposes.