Some of the links in this article are "affiliate links", a link with a special tracking code. This means if you click on an affiliate link and purchase the item, we will receive an affiliate commission.
The price of the item is the same whether it is an affiliate link or not. Regardless, we only recommend products or services we believe will add value to our readers.
By using the affiliate links, you are helping support our Website, and we genuinely appreciate your support.
Last updated Mar. 11, 2023 by Peter Jakes
What is Stilt Personal Loan?
Stilt is a financial services company that provides affordable, high-quality loans to immigrants, visa holders, and U.S. citizens.
Note: They don't apply to those with bad credit. This article answers the question on Stilt Loans Review: Personal Loans For Immigrants And Visa Holders.
Immigrants, visa holders (non-citizens/green card holders), and the underserved in the United States face numerous challenges when attempting to build credit, apply for personal loans, and plan for their financial future.
Stilt's personal loan services enable them to take another step toward financial health. Stilt Loans range from $1,000 to $35,000, with a 36-month maximum repayment period.
Read also, Steady App Review: Is it Legit?
How Does Stilt Work?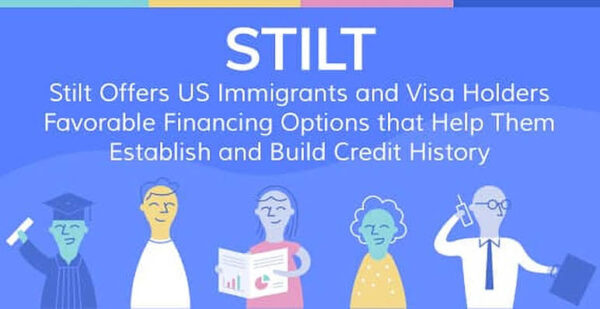 There are no fees if you pay off your loan early so that you can do it without trouble. Stilt is an online lender to make it easy and affordable for international students, people with visas, people with DACA, and refugees and asylum seekers to borrow money for various reasons. Still, not everyone can do Stilt.
Personal loans are a popular way to get money because they can be used in many ways. You can use a personal loan to pay off a debt to pay for your next trip.
But there wasn't always a wide range of people who could get personal loans. As a result, in the past, it has been hard for immigrants and underserved people to get products from large financial institutions. Stilt wants to change that.
Check out Titan Investing App Review: Investment Management for Everyone
Stilt Loans Pros
Stilt loans are available without collateral or a co-signer. So you can get a loan even if you don't have a Social Security number or a credit score.
Borrowers without a Social Security number can apply for loans.
There is no need for a co-signer or collateral.
Typically, Stilt loan approvals take 24 hours.
Only a soft credit check is performed.
It is ideal for first-time borrowers, international students, and those with a limited credit history.
Stilt Loans are a great way to improve your credit score.
You can pay in advance with no additional fees.
Stilt may be able to help immigrants, international students, and people with poor credit.
Stilt Loans Cons
The Stilt loan company is not a bank. Instead, it is backed by Y Combinator and a group of investors. Unfortunately, this led to a slowdown in funding in the first half of 2017. As a result, the most you can borrow from Stilt is $35,000. Such an amount may not be enough for some people.
You must pay back Stilt Personal Loans within two years, which could be problematic for people who use the money to go to school but don't have a job lined up or a low income right after graduation.
Students who take out private student loans to pay for school don't get the same benefits as those who take out federal student loans, like making payments based on their income or getting a break from paying back their loans.
How Does Stilt Loan work?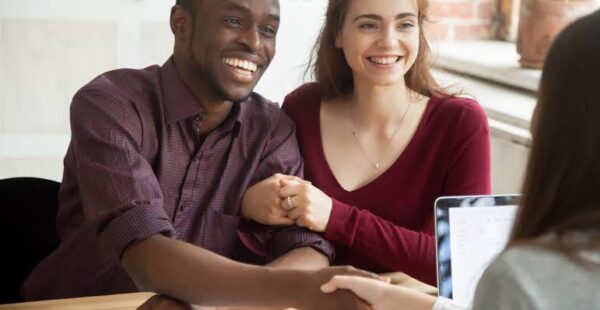 Stilt says it gives out personal loans to immigrants and people in the U.S. who are "underserved." depending on how much money you have.
You can apply even if you don't have a Social Security number or a credit history. But Stilt only lends in some states and doesn't tell you upfront about all of its interest rates.
Loan terms can be as long as 36 months. There are no prepayment penalties, so you can pay off your loan early without paying a fee and save on interest.
Why Choose Stilt Personal Loan?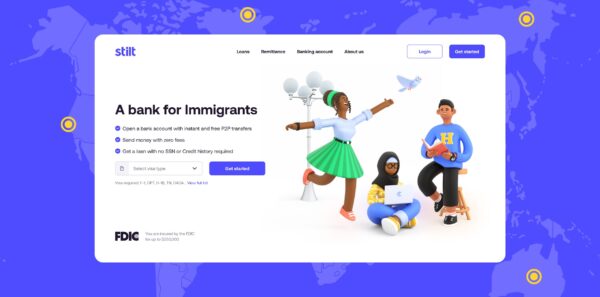 Since Stilt is not a public loan company, it primarily works with people who live abroad. Stilt's founders started the company to help international students pay for their education. They now lend for a variety of reasons, including building credit.
Most lenders look at borrowers' credit history to determine their risk, but this doesn't work for new immigrants. Even though ex-pats may have a good credit history in their home country, when they move to the U.S., their credit history is almost like it never happened.
Almost all traditional U.S. lenders won't lend to international students or other expatriates because they don't have a credit score, a history of financial activities, or a history of paying their debts on time.
See also Stansberry Research Review: Is the Service Worth It?
Does Stilt Affect Credit Score?
We do report to the major credit reporting agencies. The Fair Credit Reporting Act mandates that both on-time and late payments be reported to credit reporting agencies (FCRA).
How To Get a Stilt Personal Loan Approved
The simple application process allows you to get a loan quickly through Stilt. You must first fill out an application with the usual information. Then, Stilt will let you know that it has received your application and may contact you if they need more information.
Stilt will look at the following:
Your current employment
Your ability to find work
Your education, how you handle money,
any information about defaults, bankruptcies, or collections, and your credit score.
Stilt may decide to do a soft credit check from time to time.
After Stilt looks over your application, it will send you a promissory note if you are accepted. Of course, you must sign this, and the funds' transfer usually takes two to three business days.
After you get the loan, you can start planning when to pay it back through your Stilt account. You can easily set up autopay and pay back the loaned amount before it's due without paying the penalty.
Read also, Webull Review 2023: Pros, Cons, Free Stock & More
Stilt Personal Loans For Bad Credit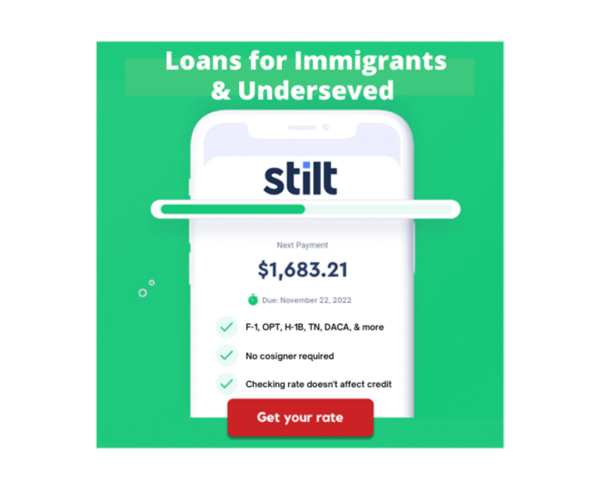 Traditional lenders typically require a co-signer for loan applicants with poor credit or no credit history. If you cannot make your loan payments and require the assistance of a co-signer, you must find one.
Unfortunately, Stilt does not accept co-signers. Because you cannot apply for a Stilt loan with a co-signer, you must demonstrate to Stilt that you meet their requirements on your own.
These requirements may be a problem if you are unemployed or have a history of collections or bankruptcies.
Co-signers are especially important for students and newcomers to the United States who do not yet have a credit history.
Unfortunately, even the most desperate borrowers frequently fail to find a co-signer. If a student or immigrant does not know a U.S. citizen or permanent resident with excellent credit, they may seek alternatives that do not require a co-signer. Stilt loans may be the way to go if you have bad credit but still need credit.
Is Stilt a Legitimate Company?
Yes, Stilt is a legitimate online lending company. It is a fintech company based in San Francisco. The year 2015 saw the start of Stilt Personal Loans. It is a well-known business that has been open for seven years.
It has a secure website and a privacy policy that is easy to find and read. This policy tells you how the information you give is used and stored.
Stilt personal loans are for people who are not U.S. citizens or who just moved here. Borrowers don't need a green card or a Social Security number to apply.
Stilt looks at your personal financial history instead of your credit score when deciding whether or not to give you a loan.
Don't miss this UserTesting Review: Scam or a Legit Way to Earn $10 Per Test?
How Long Does Stilt Take to Make a Loan Decision?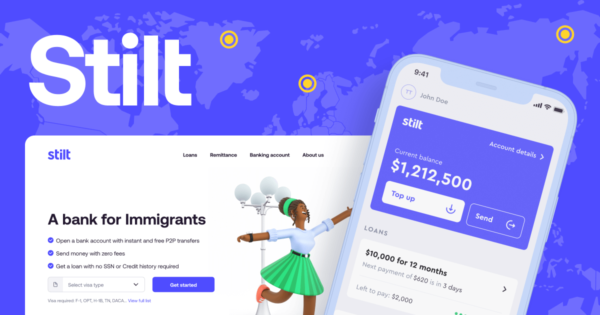 Time to approval and funding — If you apply for a Stilt loan, the lender promises to provide you with an update on the status of your application within 24 hours (one business day). If approved, funding usually arrives in your bank account within two to three days.
Does Stilt Loan Company Do a Hard Pull?
Stilt will only conduct a hard credit inquiry if you sign an offer letter. After you apply, Stilt will contact you within 24 hours with an update — you may receive an approval decision or a request for more information.
Related: Masterworks Review (2022): Why I Decided Not To Invest
How Long Does Stilt Take to Verify Documents?
Approval and funding time: If you apply for a Stilt loan, the lender says it will let you know within 24 hours how your application is doing (one business day).
If you get approved, the money should be in your bank account in two to three days.
The average time to get a response from them is one business day, but sometimes they get behind. You'll find out by 1 p.m. the next day if that's the case.
Stilt Loan Requirements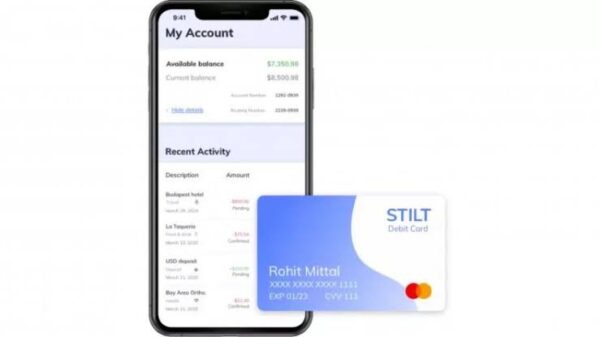 You don't need a green card or a Social Security number to get a loan through Stilt. But you need a certain kind of visa to be covered by the Deferred Action for Childhood Arrivals program (DACA).
If you want a loan from Stilt, your credit score must be at least 630. After that, it decides based on several things, like credit score, employment status, education level, and collections. Last, you don't need a co-signer for a Stilt loan.
Related: Drop App Review: Legit Way to Earn Rewards for Buying Things
How to Apply With Stilt
To apply for a Stilt loan, you must first complete a brief online application. Stilt says you must live in the United States and have the following to be eligible:
A bank account in the United States in your name
A personal phone number in the United States
A physical address in the United States in a state where Stilt is authorized to operate.
A legal and valid visa that is valid for at least six months
You will also be required to submit documents such as your passport, visa type, resume, and references. Please remember that Stilt will only conduct a hard credit inquiry if you sign an offer letter.
After you apply, Stilt will contact you within 24 hours with an update — you may receive an approval decision or a request for more information. Again, the funds should be deposited into your bank account within two to three days if approved.
Should I Get a Stilt Loan?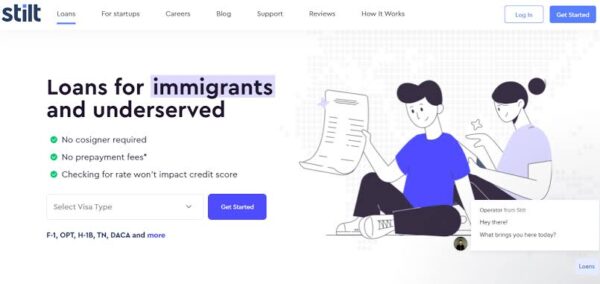 If you have a valid visa but no credit history in the U.S., you might want to look into a Stilt loan. Since Stilt loans report to some of the major credit bureaus, they may help you build credit in the U.S., And if you don't have a Social Security number or don't meet the requirements of other lenders, this lender can help you get the money you need.
You can fill out a prequalification form and look at your possible rate without hurting your credit score. However, since Stilt doesn't tell you upfront what its higher rates might be, you'll want to pay close attention to the interest rate it gives you and any other fees.
And if you think you might want to accept the offer, remember that Stilt will run a hard inquiry on your credit before your final request. Prequalification doesn't guarantee that you'll be approved for a loan, and the rates you're shown may change after you officially accept. A hard inquiry can also temporarily lower your credit score.
You should probably look elsewhere if you have good credit or long credit history in the U.S. it's always a good idea to ask a few lenders for prequalification and compare possible loan offers.
Related: Misfits Market Review: Can Ordering "Ugly" Produce Save You Money?
Stilt Loan Review Alternatives
Earnin App
Earnin does not ask for your Social Security number or credit score if you want to advance a small amount from your upcoming paycheck. To be considered for a loan, you must be a legal resident of the United States.
Customers can use the Earnin app to track the hours they have worked and then receive their earnings directly to their bank account. The app also supports individuals who are paid per task and offers a "pay what you think is fair" service, allowing customers to add a tip to each transaction.
MoneyLion
If you want to build your credit and don't mind paying a monthly fee, a MoneyLion credit-builder loan could be a good choice. You'll need a valid U.S. Social Security number to be considered for a loan.
AfterPay
AfterPay is a company that provides online post-payment services. It is also involved in several innovative omnichannel projects where customers can choose AfterPay online and in stores.
SoftSpace
SoftSpace is a digital payments company that is a market leader in e-banking and payment solutions. Soft Space's centrally managed Mobile Point-of-Sale platform allows anyone to accept credit card payments. The company has obtained EMV Level 2 certification and MasterCard and Visa certification.
DebtorDaddy
Debtor Daddy is a business that helps small and medium-sized businesses get their money back from people who owe them money. It uses automatic reminders, phone calls, and debt collection to help customers pay their bills. The company uses innovative technology and focuses on people to provide its services.
Crowdtap Review: Scam or a Legit Way to Get Free Stuff and Samples?
Bottom Line
Stilt is a good fit for people who want a personal loan but have certain factors that make them unappealing to many other lenders in the market.
The app frequently provides loans to international students studying in the United States and immigrants who may not yet have a Social Security number. The interest rates are high, but they may be your best option if you cannot obtain a loan elsewhere.
CoinOut App Review: Is This Receipt Scanning App Scam or Legit?
Frequently Asked Questions
Q: What is The Interest Rate for Stilt?
APRs range from 7.99% to 35.99% at Stilt. Even though their interest rates are fair, getting the best rate will depend on your education, employment, visa status, other financial factors, and any collection accounts you may have.
Stilt has an origination fee, but you won't know how much it is until your loan has been approved.
Q: What bank does Stilt Loan use?
Because Stilt is a financial technology company rather than a bank, your deposits at Stilt are FDIC insured up to the legal limits through their partner bank, Evolve Bank and Trust, Member FDIC.
Q: What States can Stilt offer Personal loans?
Stilt only serves 16 states: Arizona, California, Florida, Georgia, Illinois, Massachusetts, Michigan, New Jersey, New York, Ohio, Pennsylvania, Texas, Utah, Washington, Wisconsin, and Virginia.
Q: How long is Stilt Waitlist?
Stilt only works in 16 states: Arizona, California, Florida, Georgia, Illinois, Massachusetts, Michigan, New Jersey, New York, Ohio, Pennsylvania, Texas, Utah, Washington, Wisconsin, and Virginia.
Q: How long after my loan is approved do I Receive the money?
Like banks, it usually takes one to seven days to get the money after it has been approved. However, most of the time, if you meet all of the requirements, you get approved the same day you apply.
Q: What is the estimated funding time for a personal loan via Stilt Loan?
Stilt loan will usually approve or deny a loan application within 24 hours and fund loans within four business days of approval.
Q: What is the Repayment period for Stilt Loans?
Stilt loans can take up to 36 months to pay back. The monthly payments for their personal loans can be made by bank transfer, check, or online. You can also set it up to pay itself. Stilt makes it easy to pay off your loan early without paying extra fees because there are no prepayment penalties.
Stilt Personal Loans Disclosure: Please note that this is base criteria require to be eligible to apply for a loan and does not guarantee loan approval. If you meet all of the conditions listed above, we will review your application for a potential loan. The application can still be declined based on our risk assessment.