Last updated Sep. 14, 2022 by Jessica Green
There are countless numbers of receipt scanning apps that promise to pay for scanning your receipts. This is making it difficult to identify legit scanning apps.
If you're trying to make extra money from your receipts, you'll encounter scanning apps that are a complete waste of time.
Here's a review on CoinOut to help you determine if it's legit, a scam, or a complete waste of time.
Is the CoinOut App A Scam or legit?
CoinOut scanning app is a legit app that pays people who scan receipts on its platform. It is not a scam platform.
CoinOut is a relatively new app for scanning receipts. It is becoming popular in recent years.
If you buy a product from one of the stores affiliated with CoinOut, you will be compensated.
CoinOut has been highlighted in reputable publications like Business Forbes, NBC, and several popular media outlets.
How Do I Make Money On CoinOut
To make money from scanning receipts on CoinOut, you need to download the CoinOut app. This app is available on Android and IOS devices.
After downloading the app, you need to get registered. Once your registration is completed, you can start scanning your receipts.
To receive compensation for receipts received from an in-store, you need to place the receipt on a flat surface and press "SCAN" on the app. When the app verifies the receipt, you will receive a specific amount.
When scanning receipts, the name of the store, the item purchased, and the date of purchase should be made visible.
If you want to purchase online, you need to make the purchase via the CoinOut app. The app will automatically verify your receipts after your purchase. When making an online purchase via the CoinOut app, you have to connect your email address to CoinOut.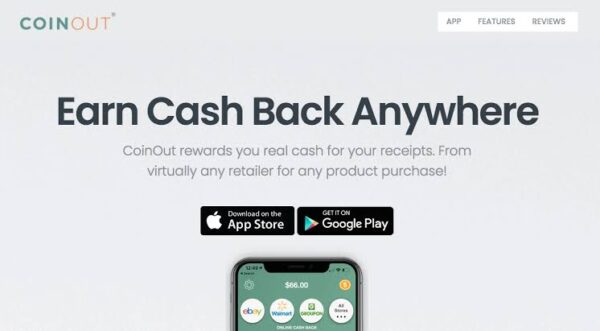 How Do I Make Purchase On CoinOut
To purchase items via the CoinOut app, you have to log into the CoinOut portal.
When you log into CoinOut, you will find different stores that sell different items. Select the merchant you want to buy from. This will direct you to the website of the store.
When you complete your purchase with the store, CoinOut will acknowledge your purchase and will compensate you.
Can I Earn More On CoinOut?
Yes! CoinOut provides a referral service that compensates people who refer others to the CoinOut app.
Every verified referral will earn you money. CoinOut allows you to cash out via multiple payment options. You have the option of withdrawing your compensation via PayPal, check, or direct deposit. You can also choose to redeem your reward for gift cards.
Conclusion
CoinOut will compensate you for receipts that show a store name, total bill amount, date of transaction, and receipts line items with prices.
CoinOut does not give out compensation for ATM receipts, lotto tickets, credit card slips, money orders, packing slips, and more.