Last updated Mar. 11, 2023 by Peter Jakes
What is Steady App?
Steady is a mobile app that offers a database of side income alternatives such as job postings, grants, and signup incentives.
The App also provides several financial tools and money-saving suggestions to assist users in making the most of their earnings. With millions of active gig listings, Steady is an excellent resource for people trying to make additional money.
In this Steady App Review, you'll look closely at the Steady App: Is It Legit? , its features, and its earning potential.
Steady App Review

As the world of work changes to include more remote jobs and flexible hours, people are looking for ways to make money outside traditional nine-to-five jobs. Steady App is a fintech startup and a mobile app that helps people looking for flexible ways to make extra money.
Steady was started in 2017 by finance experts Adam Rosman and Shaquille O'Neal. It was inspired by the fact that Rosman and O'Neal grew up seeing their families struggle with money.
Steady gathers gigs, part-time jobs, and freelance job opportunities from multiple sources and puts them in a searchable database in the App. Users can look for jobs in their area that fit their needs and schedules and apply for them.
How Steady App Works
By working with the Workers Fund, Steady can give some of its users cash grants. Steady has access to the bank account information of its users and can quickly figure out who needs money.
Steady helps people make better decisions about their money by giving them tips on how to make more money and spend less. The App also has a "Passport to Income" feature that helps users keep track of all their money in one place.
Steady also puts its users in touch with partner companies that can help them save money by offering no-fee bank accounts and cheap auto insurance.
Steady helps people make better decisions about their money by giving them tips on how to make more money and spend less. The App also has a "Passport to Income" feature that helps users keep track of all their money in one place.
Steady also puts its users in touch with partner companies that can help them save money by offering no-fee bank accounts and cheap auto insurance.
Read also, Stansberry Research Review: Is the Service Worth It?
Steady App Pros
Steady is a free app with an excellent user interface that makes it easy to use.
High chance of making money. According to the company's website, the average member can make $5,500 yearly through the App.
As soon as you sign up, you can start applying for gigs.
There are a variety of high-paying gig jobs on Steady. Besides ways to make extra money on the side, Steady also lists jobs that pay between $20 and $25 per hour.
Emergency grants: Steady works with The Workers Lab to give users who are having trouble paying their bills emergency grants of $100 to $1,000.
Reduced monthly cost: The premium plan has extra features, like more listings for well-paid jobs, and is very cheap. Monthly cost: $1.99
The Income Tracker and Income Booster are two extra features.
Steady App Cons
We didn't see as many traditional jobs on the Steady App as we had hoped.
High commission rate: Steady App takes 10% of what its members make, whether on the free or paid plan.
The Steady App filter doesn't meet the needs of many people.
It can take a lot of time. Most gigs pay between $5 and $75, but you have to download and use a separate app, which can take a lot of time.
Not every gig lists how much you can make.
Steady App Review Key Features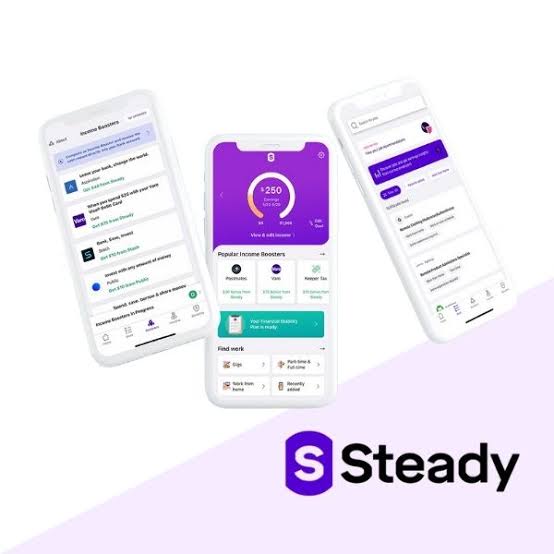 The Steady App has a few noteworthy features. Each one is examined in detail below.
1. Signup Process
Both iOS and Android users can get the Steady App for free. They ask users to make an account and answer survey questions as soon as they download the App.
People should take a few minutes to carefully answer the questions since the survey matches skills and experiences with job openings on the Steady App. The survey includes questions about the following:
What kind of work the user wants
Who wants to work and where
The ways of getting around that the user can use The user's availability
The highest level of education of the user
The user's work history
What kind of jobs or gigs is the user looking for?
After users complete their profile, they can see a list of ways to make money, such as full-time work, part-time work, work-from-home jobs, and gigs.
In addition, members can sort jobs by location, pay, when they were posted, and what industry they are in.
The signup procedure is straightforward, short, and simple to understand. The average time it takes a member to join is under 10 minutes.
See also, Fluz Review: A Cash-Back App For Stacking Rebates
2. Convenient User Interface
The Steady App's interface is easy to understand and use. It's easy to use the search function, and filter results by opportunity type, location, job category, and date posted.
Members can sign up and download the App in just a few minutes. Users can use the job search function to find jobs that fit their schedules and other needs.
3. Earnings Potential
If you sign up on the Steady App, you have a few ways to earn money through the following:
● Job Opportunities
At any given time, Steady has over 1.5 million job listings. The amount users earn varies according to location and gig type. However, according to Steady, the average user makes about $5,000 extra yearly income.
● Grants
People having trouble paying their bills can fill out a grant application right in the App. Filling out an application doesn't guarantee a grant, but linking a bank account can help a member's chances of getting money. Steady said that it has already given more than $4 million to users through emergency grants.
● Income Boosters
The Steady App has an "Income Booster" section about financial products that offer signup bonuses. Bank accounts and loan products are often recommended. Members don't have to sign up for these things if they don't want to.
4. Gig Variety
Many of the App's small jobs are delivering food, shopping for groceries, walking dogs, watching houses, and handling packages. However, members who want traditional part-time or full-time jobs can still use the App to find many options.
Users can even sort by the type of opportunity, so they don't have to look at jobs that don't interest them. It's important to remember that Steady's primary goal is to help people find side jobs, not full-time ones. This goal is reflected in the chances.
How much Can You Make with Steady?
Job Gigs on Steady App typically pay between $20 and $25 per hour, but the company claims that users earn an extra $5,500 per year after joining.
Of course, your earnings will be determined by your location, skills, and the amount of time you put in.
Related: ThredUp Review: Is It A Good Option To Sell Clothes?
What Kind of App Is Steady?
Steady App is an app that can help you find work and other ways to make money. To find opportunities, you need to tell the App where you are. Then, based on your skills, the App will find jobs you can apply for.
In addition to helping people find jobs, the App gives you information about how you can earn more, ways to increase your income, ways to save money, and discounts.
How Much Money Can I Earn With The Steady Platform?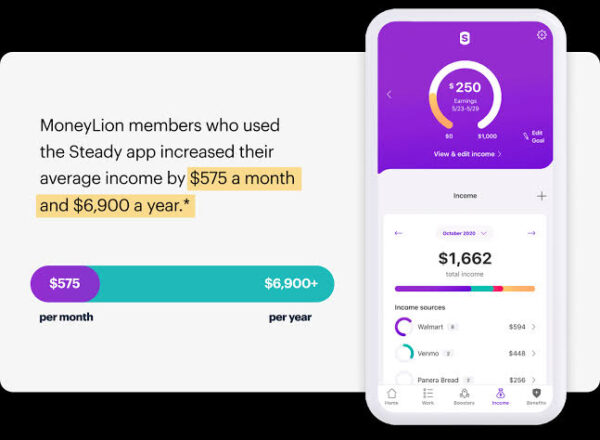 The company says Steady members make an average of $4,000 annually. Don't forget that this is an average, and what you can vary greatly.
Jobs requiring qualifications usually pay more per hour, and jobs in high demand can give you more work and a chance to make even more money.
Steady Income Tracker can also help you determine how to make the most money possible from odd jobs. The home tracker will help you determine which of your jobs pays you the most.
Once you know this, you can focus on the side jobs that give you the most money. Most of what you make will depend on your job and how much time you can put into your side job.
How Does Steady Make Money?
You may wonder how the company makes money, given that Steady is free and took significant time and money to create.
It operates on the "affiliate" or "lead-generation" model. Steady has many apps and services that require more people to help them keep up with rising demand. As a result, they are willing to pay companies such as Steady to find new users, drivers, hosts, caregivers, and so on.
It allows Steady to keep its website accessible for people like you looking for a side job. Steady is also compensated for referring you to apps or products that help you save money. For example, Steady may receive a commission at no cost if you sign up for a new cash-back credit card.
Thrive Market Review also: Is it Really a Good Way to Get Groceries?
Is Steady App Legit?
Yes, Steady is a real app that helps workers find opportunities to make money on the side. Because through the income booster platform, the company does offer specific opportunities that feel like sales pitches, but there is no pressure to buy anything, and the search tool is easy to find.
How to Get Started With The Steady App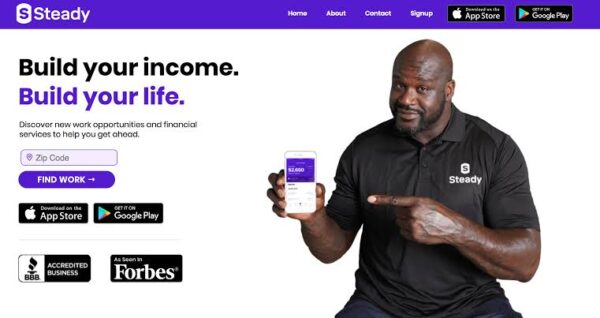 It's effortless to join Steady App and takes less than 5 minutes. Here's how it works:
● 1. Download the Stead app.
You can do this from Google Play if you have an Android phone or the App Store if you have an iOS device.
You'll need a valid email address and phone number to set up a free account.
● 3. Look at gigs and jobs.
Fill out the short work survey, which only takes a few minutes, to get personalized job suggestions.
● 4. Apply for jobs
Steady App gives you all the job descriptions and links you need to apply quickly and directly.
● 5. Work and get paid!
The companies you work for will send you your paychecks. Additionally, you can connect your bank accounts to the Steady App when you sign up to keep track of all your sources of income.
Steady lets its users send a text message whenever a new opportunity arises; this responsiveness is just one of the many things that Steady can do. If you want to get these text messages, you must check the box when you sign up.
Does Steady Offer Support?
To find answers to frequently asked questions about using the app or your account, head over to Steady's help center. Most of your questions will probably be answered there, as it covers all the fundamentals of using the App.
If you still have questions after reading through the FAQ, you can use the in-app or online contact form to get in touch with the service's developers. You can also send an email to [email protected].
On their Google Play page, you can send them a message with any inquiries or comments you might have. So we've seen that they're also very active on that medium.
Generally, Steady App has a sound support system in place for their members, as there are multiple easy ways to get in touch with their support staff.
Steady App Alternatives
1. TaskRabbit
TaskRabbit is a job board app similar to Steady in that it allows users to browse available positions and bid on them. In addition, taskers can find people who need assistance with errands, home repairs, and furniture assembly through the App.
When you finish a task, the tasker receives payment. Among the most frequently requested services on the TaskRabbit app are:
General Errands
Home repairs
Driving assistance
Moving help
Furniture assembly.
Landscaping
Painting
Pay rates are one of the key differentiating factors between Steady and TaskRabbit. Some of the jobs on TaskRabbit pay as little as $15 an hour.
2. Wonolo App
This app is a staffing marketplace you can access through a smartphone app. It is not as well-known as Steady or TaskRabbit. The App connects people who want to work with companies that need people to do specific jobs. People or businesses can post gigs in the marketplace, and workers can apply for them once they get the job description. Wonoloers are the people who use the platform to find work.
Wonolo, on the other hand, focuses on full-time and part-time jobs instead of gigs. When workers don't show up or call in sick, companies that need help immediately or quickly post job openings. They put a lot of the jobs into the following groups:
Driving
Delivery work
Restaurant Jobs
Construction jobs
Factory Jobs
Events Job.
3. DoorDash
The DoorDash app is not like Steady because it is an app that connects people to food delivery jobs in their local areas. It gives members a way to make extra money, but they are only allowed to work for one company.
DoorDash is available in more than 5,500 cities, and app users can sign up to become drivers. Drivers for DoorDash must live in a town where the service is available and have a bike, car, or scooter.
The App makes it easy to sign up as a driver, but it takes a few days to get an application approved. Dashers can choose how often they want to work once approved. Drivers open the App when they're ready to start taking orders.
They can say no to jobs that come through the App or say yes to them.
Check out Tiller Money Review: Automated Spreadsheets To Make Budgeting Easier
Bottom Line
The Steady App provides a personalized work profile that can put you in front of currently available jobs, allowing you to increase your income immediately.
In addition, anyone who wants to use Steady can find a variety of side-income opportunities, whether you're looking for a quick gig, hourly work, part-time work, or a combination of other options.
Steady is a real app that can help you find ways to make extra money in the gig economy. There are some good things about it, but there are also some things you should know.
Frequently Asked Questions
Q: Who owns the Steady App?
Co-Founders Adam Roseman and Shaquille O'Neal own the Steady App. They started Steady to help people access tools and resources that help them make more money. Steady App gives unique advice and information about money that isn't available anywhere else. As a result, they are helping Steady's members earn an extra $5,500 a year on average.
Q: How long does steady take to payout?
Steady sends a payment to your PayPal account once a month. Payments happen next month, so the money you earn in January will be sent in February. You will get an email with a complete statement.
Q: What kind of jobs are available on steady?
You can find almost any job on Steady, from freelancing as a graphic designer to driving for Uber. Even though you won't be able to apply for every job, the App can still show you many different ways to make money. The main types of steady work are:
Full-time jobs
Part-time jobs
Work from home(Remote)
Anytime Work (freelance paid gigs)
Q: Is it safe to link a bank account to the Steady App?
Yes. The Steady App connects to your bank account using Plaid. Its technology is the same as Venmo, Robinhood, Acorns, and Coinbase.