Last updated Apr. 18, 2023 by Benedict Osas
Thrive Market is a popular online marketplace that sells natural, organic, and non-GMO products at discounted prices. It offers 20% to 50% discount rates on all its products to promote savings amongst its customers.
Thrive Market is membership-based and is only available in the US. It does not offer international shipping or distribution. I'll review Thrive Market and its grocery shopping features in this article.
Is Thrive Market A Good Place To Shop For Groceries?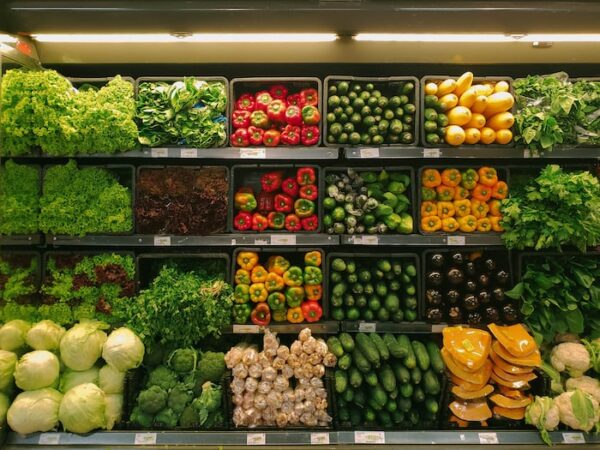 Thrive Market is a grocery delivery service that caters to a specific demographic of customers who prioritize high-quality organic food and can afford a membership fee. Despite the fixed price of $60, Thrive Market is an excellent option for those who share these values, especially when traditional grocery shopping is not viable or safe. The platform also helps if you want to save money on groceries.
In addition to their commitment to delivering high-quality food, Thrive Market's pricing, product selection, and mission are also on point. Although they may not have the same level of ubiquity or immediate convenience as larger companies like Amazon, their smaller size and focus on quality and values may actually work in their favor.
How Does Thrive Market Work?
To start shopping on Thrive Market, you must download the mobile app and sign up for a Thrive Market Membership to gain access to grocery products at discounted rates.
Thrive Market gives you the option to subscribe on a monthly or yearly basis. A monthly membership subscription costs $12, while an annual subscription costs $59.95.
When you become a member of Thrive Market, you will be offered various services to aid your purchase journey. For example, the auto-ship feature allows you to ship an order regularly to your location without placing an order.
Thrive Market also offers a blog that updates you with food recipes to try out. With Thrive market, you can shop in accordance with your dietary restriction.
Thrive Market allows you to filter your purchases by gluten-free, Paleo, organic, keto, grain-free, and more. In other words, you can shop by current trends, values, dietary restrictions, categories, and still maintain a good budget.
Once you place an order on Thrive Market, it will be shipped to your location in 2 to 3 business days.
What is Best to Buy at Thrive market?
Thrive Market is home to a variety of inexpensive natural grocery products. You can purchase over 6,000 products from various categories. Every product sold at Thrive Market is worth every amount you spend.
Whether you're searching for food, cosmetics, health, kids, pet supplies, or other essentials, Thrive Market has got you covered. You'll find popular brands such as Burt's Bees, Acure, Annie's, Seventh Generation, KIND, Bragg, and Primal Kitchen.
While Thrive Market offers staple items like meats and seafood, most of its inventory comprises shelf-stable options. For fresh produce, it's advisable to check out your local store, farmers market, or alternative grocery delivery options.
Here's a list if you're searching for the best item to buy at Thrive Market.
Vinegar and Oil: Thrive Market sells all kinds of vinegar and organic oil, from extra virgin oil to coconut oil, valley ghee, apple cider vinegar, avocado oil, and more. You can find an organic oil for as low as $10.
Grains and Beans: A 32oz of Basmati or brown rice is sold at $5.99. You can also find organic kidney bean pouches at $1.99.
Sauces, Spices, and Seasonings for as low as $2.99
Baking supplies for as low as $5
Snacks and treats for as low as $4
Thrive Market also offers thousands of organic brands that you'd find at your nearby supermarket or online. You'll also have an exclusive in-house brand called Thrive Market that packages organic products, similar to generic brands offered by supermarket chains.
Some Benefits Of Thrive Market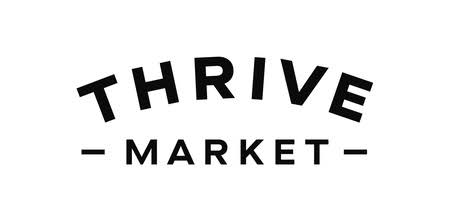 Thrive Market offers several benefits that make it a popular choice for shoppers. In addition to affordable prices, Thrive Market provides extra discounts to customers, such as Thrive Cash for reviewing products, free shipping on qualified orders, and coupon codes. Signing up for mobile alerts can also lead to exclusive discounts, such as birthday discount codes.
Shopping at Thrive Market saves time, eliminating the need for trips to physical stores. The website also sends helpful articles and recipes related to your purchases, making meal planning a breeze.
Thrive Market's service also helps shoppers save gas by reducing the need for frequent supermarket visits. And for those following special diets such as vegan or keto, Thrive Market offers a filtering system that allows customers to search for products that fit their specific dietary needs.
This feature helps make grocery shopping more manageable and convenient. In addition, they offer free personal shopping guides that provide diet-friendly recipes and advice on shopping.
Thrive Market Near Me
Thrive Market is an American-based online grocery store. It has no physical locations like Walmart or Target.
If you want, you can purchase their items on the Thrive market's mobile app, and the item will be delivered or shipped to you. Thrive Market's mobile app is also available on both Android and IOS devices.
Unlike Walmart or Target, which require you to visit a physical outlet, Thrive Market allows you to make cheap purchases without leaving your home.
Although Thrive Market is an online business, it has two fulfillment centers that distribute products to customers in the United States. One of the fulfillment centers is located in Batesville, Indiana, while the other is located at Tahoe Reno Industrial Center near Reno, Nevada.
Locate Thrive Market centres near you.
Does Thrive Market Count as a Grocery Store?
Yes! Thrive Market counts as a grocery store. It is an online grocery store that sells cleaning supplies, organic products, beauty items, and non-GMO products. It offers over 6000 grocery products at a discounted rate.
Here's a category of products sold at Thrive Market:
Beauty and skincare products
Meat and Sea Food
Wine
Bath and Body Supplies
Products for babies and kids
Supplements and Vitamins
Grains and snacks.
Frozen foods
Although Thrive Market has no physical outlets like Costco and Walmart, it is still considered a grocery store. Thrive Market offers various retail and wholesale products. Hence it is regarded as a grocery store.
Is Thrive Market Sustainable?
Thrive Market is a leading eco-conscious company making remarkable strides in sustainability. Their commitment to environmentally-friendly initiatives is evident in their operations as a certified B Corporation.
One of their exciting future plans is to increase the availability of sustainable products and bring on board more organic brands. Additionally, they are working towards plastic neutrality to reduce the environmental impact of plastic waste.
They are also committed to expanding access to healthy goods so that more people can enjoy sustainable and healthy living.
Since 2015, Thrive Market has diverted more warehouse-generated waste away from landfills by recycling, composting, and reusing. Their ambition to achieve Zero Waste Certification in 2022 demonstrates their unwavering dedication to sustainability.
Thrive Market has also achieved carbon neutrality through carbon offsets, wind-powered warehouses, and ground shipping. However, their plans for the future go beyond carbon neutrality as they seek to invest more in regenerative agriculture to become carbon negative by 2025.
This signifies their forward-thinking approach to sustainability, paving the way for a healthier and more sustainable planet.
Frequently Asked Questions On Thrive Market Reviews
How Much is Thrive Per Month?
Thrive Market offers two membership options to its customers – a monthly or annual membership plan. If you decide to subscribe monthly, you will be charged $12 per month by Thrive market.
However, an annual plan costs $59.95. This subscription plan gives access to every discounted product on Thrive Market for a month.
Where Does Thrive Ship from?
Thrive Market ships orders from two fulfillment centers. All non-perishable and frozen items are shipped from the Nevada, Hanover Township, and Batesville fulfillment centers.
You will also receive free shipping for your first order worth more than $25 and all orders exceeding $49. Thrive Market is currently capable of shipping to all contiguous states in the US.
Is Thrive Market Owned By Amazon?
Thrive Market is a single entity owned by Nick Green. It is neither owned nor managed by Amazon. However, it is becoming an alternate online platform for individuals looking to ditch Amazon.
Over the years, Thrive market has become a reputable online grocery store with thousands of fresh and healthy products, making it an excellent competitor to Amazon.
Who Owns Thrive Market
Thrive Market was established in 2014 by four businessmen – Nick Green, Gunnar Lovelace, Kate Mulling, and Sasha Siddhartha.
Lovelace and Nick saw the need to provide states in America with healthy and inexpensive foods. However, geographical and capital problems stood in their way. So, to solve the issue of geography, they introduced the idea of creating an online platform accessible to the residents of America.
After being rejected by multiple venture capital firms, Lovelace and Nick solicited capital from celebrities and wellness investors. Together with Kate Muling and Sasha Siddhartha, Nick, and Lovelace brought to life the idea of Thrive Market.
Does Thrive Market do fresh food?
Thrive Market offers a diverse selection of products, encompassing virtually everything you would typically find in a local health food store and much more. Regrettably, the company does not supply fresh dairy, eggs, and produce, so you would need to obtain these items from your neighborhood grocer.
Do you have to order every month from Thrive Market?
One of the advantages of a Thrive Market membership is that you can place orders as frequently as you like, with no requirements or limitations regarding order frequency. So whether you choose to order once per month, every week, or even on a daily basis, you have the flexibility to do so.
Furthermore, you stand to save up to 30% on high-quality products, meaning that the more you shop, the more you can benefit from substantial discounts.
Is Thrive Market more expensive than the grocery store?
Thrive Market is a digital shopping club that operates on a membership-based model and strives to facilitate accessible and affordable healthy living for all. By paying only $59.95 per year (or less than $5 per month), members can purchase top-selling healthful food items and wellness products in standard sizes, consistently priced at 25-50% below typical retail rates.
Is Thrive Market cheaper than Costco?
As far as cost-effectiveness is concerned, Thrive Market is actively working towards its green objective. That includes making organic, eco-friendly, non-GMO food and household items as reasonably priced as their conventional counterparts.
In this regard, the company is making noteworthy progress, as its offerings are typically as inexpensive or sometimes even less costly than similar products from other retailers like Costco and Amazon.
How to make money on Thrive Market?
If you want to make money on Thrive Market, there are several ways to do so. Firstly, you can refer your friends and family to the website and earn Thrive Cash as a reward.
Another way is to submit a review of an eligible product, and upon approval and posting, you will earn Thrive Cash. Lastly, you can purchase specific brands or products via the Thrive Cash section on the company's deals page.
Thrive Market Customer Service
Thrive Market is well known for its fast and reliable customer service unit. This platform provides a FAQs section that offers answers to any questions you may have about Thrive Market.
In addition, Thrive Market also provides live chat, email, and phone support to its customers.
Is It Easy to Cancel Thrive Market Membership?
Canceling your membership plan on Thrive market is easy. Thrive Market allows you to cancel your subscription in more than one way.
Here are the ways to cancel your Thrive Market Membership:
By Email: With this method, you can cancel your membership by emailing sup[email protected] and requesting the cancellation of your subscription.
By Phone: Calling Thrive market's customer service line and requesting the cancellation of your subscription is another easy method. The phone support function is available from Monday to Friday.
The Thrive Market Website: This is an easy way to unsubscribe from Thrive Market. Visit the official Thrive Market website and navigate to the FAQs section.
Then, click on the membership-related question that says, "how do I cancel my membership." This action will direct you to chat with an agent in real-time to help you cancel your membership.
Is Thrive Market legit? 
Yes. Thrive Market is a legitimate company that has garnered many positive customer reviews and ratings. With a 4.0/5.0 star rating on Trustpilot, based on over 3300 reviews, it is clear that the majority of customers consider Thrive Market a trustworthy and reliable company.
Additionally, Thrive Market has an A+ rating with the Better Business Bureau and handles complaints efficiently, according to customer reviews.
Is Thrive Delivery Good?
Thrive Market offers a seamless and problem-free delivery service. It ships orders to states in the United States. However, it does not take and ship orders to locations like Alaska, Canada, Hawaii, and Puerto Rico.
Thrive Market delivers orders within one to two business days. For example, it ships grocery orders all days of the week, but it only ships frozen orders from Mondays to Thursdays. Thrive Market makes use of shipping carriers like USPS, Lasership, FedEx, and OnTrac.
Shipping is free for grocery orders above $49, frozen orders above $120, and for wine orders above $79. Unfortunately, expedited and overnight shipping is unavailable on Thrive Market, and shipment is not made internationally.