Last updated Mar. 11, 2023 by Peter Jakes
StockTwits is a social media platform for stock investors that is free to use. It's a great way to gather more information for trading decisions or pique your interest in other stocks you may not have previously known.
StockTwits is similar to Twitter, but it is for investors. It is a trading social media platform. Learn more about StockTwits in this article "StockTwits Review: A Twitter For Stock Traders.
StockTwits brings together like-minded investors in real-time to exchange ideas and information about trades.
As a result, there are no full-fledged articles or long-form tips on the platform. Instead, it focuses on short bursts of information to assist investors in conversing, making decisions, and collaborating.
StockTwits users use $Cashtags in their posts. These are tags for each stock, similar to the ones you're probably used to seeing on other social media platforms.
The platform now has over 5 million members and over 200,000 daily conversations. It is an excellent way to learn about the market and what others are saying before purchasing stocks online.
Related: Stock Rover Review: Is it a Good Stock Screener?
StockTwits Platform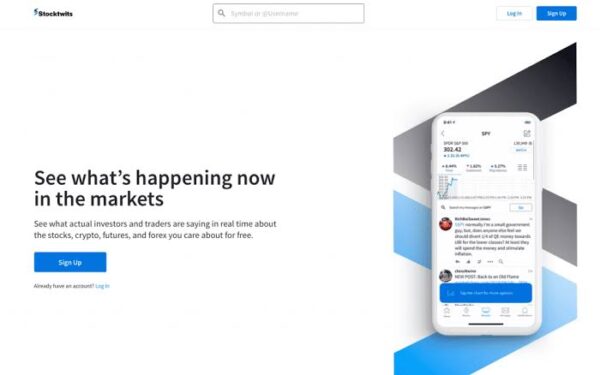 StockTwits is Twitter for Stock and forex traders, and if you know how to use Twitter, you'll be able to figure out how to use StockTwits quickly.
Members share short posts with information about specific stocks, using "cashtags" to link their posts to these stocks. Then, other members can use various tools to find important information in these messages.
Traders who have used online trading forums will find that StockTwits is a similar source of information. However, everything is much more streamlined and geared toward giving traders clear, relevant information they can use immediately.
It differs from much information on online trading forums, which tends to move away from helpful information and toward more general discussions.
StockTwits Review: How StockTwits Work
StockTwits is like Twitter for people who trade stocks and currencies. Because of this, StockTwits users almost always tweet about stock news, their own fundamental or technical analysis, and sometimes they post stock charts.
Even though it's fun to talk about stock trading, traders can benefit from StockTwits because stock symbols organize tweets, so we don't get lost in the conversations.
On top of StockTwits is a horizontal list of trending tickers with the most talked about stocks based on the number of tweets about each stock.
During regular trading hours and when news breaks, ticker orders change drastically. So if you want to find the most active stocks in the last 5 or 10 minutes, the StockTwits trending tickers list is a great free stock scanner.
See also Achievement App Review
StockTwits Pros
You have free access to the information platform from almost any device, like tablets and smartphones;
Traders and investors can talk to each other and share news, tips, and tricks in real-time.
After getting permission to use and install the app, you can send messages to other traders who use this broker.
StockTwits Cons
A limited number of valuable services and tools are available to Forex traders.
Inadequate protection against spam and junk mail.
StockTwits Review: Streams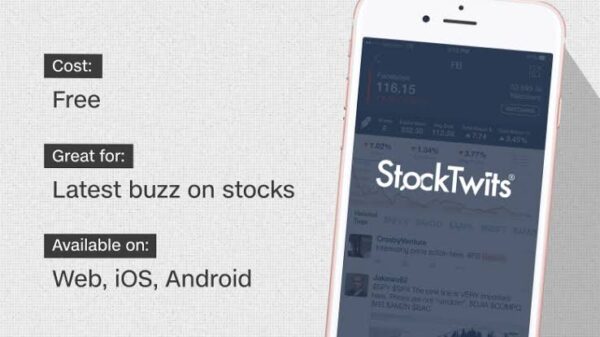 StockTwits offers real-time message streams that individual tickers and broad topics may categorize. You can organize streams in various ways, such as:
Suggested
Trending
Charts
Equities
Forex
Futures
Private Companies
Themed streams, like "trending," can help you develop new ideas. You can view the streams in the browser or pop them out into their windows.
In the sidebar, the streams of individual stocks also give some helpful information about the stocks as a whole.
Traders can keep track of the number of messages and how the market feels over time. The stream is pretty easy to understand. You can talk about ideas and find messages.
This section feels like Twitter, where you can sort messages by how popular or recently they were posted and separate media posts.
It's simple and easy to use as a whole. But, of course, the stream's quality depends on the messages people post.
StockTwits Heat Maps
StockTwits does a great job of putting together information and showing it visually through heat maps. The heat maps can be used to figure out which market sectors are doing well and which ones are not.
There is also a place on StockTwits for the best stocks. This section could be called "trending" because it shows stocks with more (or less) social activity. You can look at trending stocks, the stocks with the most messages, or the stocks that people are most interested in (based on the 24-hour volume of new watchers).
One of my favorite tools on StockTwits is this list of rankings. You can get some good trade ideas from the lists. StockTwits is a kind of social media scanner that lets you find stocks that are being talked about frequently. Even though social media interest isn't a reason to trade a stock on its own, these lists can help day traders and swing traders find stocks on the rise.
Value of Aggregate Social Data
As was already said, StockTwits is a "social scanner" that helps you find stocks based on what people are doing on social media.
I used the "StockTwits Social Media Mentions" filter in ETRADE Pro as one of my scans' hits (before Etrade removed the scanner from the platform). All this social information in one place can help you develop better trade ideas.
In the world we live in now, social media can have a significant effect on the stock market. Stocks have moved just because of buzz on social media.
When traders talk about the stocks they are following on Twitter, Reddit, and StockTwits, it brings in new interested traders. As interest grows, more people enter the market. Careful traders should focus on where this volume is coming from (i.e., social media).
Related: Stilt Loans Review: Personal Loans For Immigrants And Visa Holders
StockTwits Review: The Social Component
Now that we've discussed some of StockTwits' most essential features, let's talk about how you can use it as a trading tool.
StockTwits is a social network that was made especially for traders. It is a group of people who invest (or trading community, depending on how you use it).
Traders can follow each other, share, like, repost, and do other things with messages. This network, unlike Twitter, was only made for traders, and it shows.
Traders can make watch lists, mark their messages as "bullish" or "bearish," and use various helpful tools.
Best Stock Twitter Accounts
● CNBC (@CNBC)
The Twitter account for CNBC gives business and financial news in real-time. So whether you're a pro at trading or starting, the news channel's Twitter account will keep you updated on all financial news. At the moment, 4.3 million people follow the account.
● Stocktwits (@Stocktwits)
Stocktwits has over 950,000 followers on Twitter, where you can find real-time news on investor conversations worldwide. On its watchlist, it provides real-time news, such as StockTwits AMC Entertainment Holdings.
● Benzinga (@Benzinga)
Follow Benzinga on Twitter to stay up to date on the latest financial news and analyst upgrades. With over 200,000 followers, the Twitter account offers you all the market news you need to make intelligent investing decisions.
Other Good Stock Twitter Accounts Are:
Breakout Stocks (@BreakoutStocks)
WSJ Markets (@WSJMarkets)
Bespoke Invest (@bespokeinvest)
NY Times Business (@nytimesbusiness)
WSJ Deal Journal (@WSJDealJournal)
Stocktwits Watchlist
The StockTwits watchlist allows you to monitor optimistic and bearish attitudes for the market's most prominent stocks, indices, commodities, currencies, and cryptocurrencies.
To make a watchlist, go to your Home Page and click More Streams, which is right above your Home Stream. Then click Add New under Watchlists.
After you've done this, give the watchlist a name and put the symbols you want on it between spaces.
You can always add to the list if you forget something. Click More Streams and then click the watchlist you want to see. Simple.
Once you've been to a Watchlist, it becomes one of the three saved streams and has a button right above it to get to it quickly.
StockTwits Robinhood Compliance
Everyone who has an account with Robinhood can link it to StockTwits. Connecting to this option lets you keep track of your assets and buy or sell shares. However, you can only link your Robinhood account to StockTwits through the mobile app. On your phone, click "Connect Robinhood."
Does StockTwits Use Twitter?
Yes. There is an entire post dedicated to connecting Twitter and StockTwits. Most members have also made an account on StockTwits.com (you may use your Twitter, LinkedIn IDs, Facebook, or make yours) and linked that account to their Twitter ID so that StockTwits tweets and Chartly charts are automatically posted to their Twitter feed.
StockTwits Tools
StockTwits offers traders a variety of tools to help them improve their trading performance. For example, you will get access to the income calendar and heat map after registering. In addition, clients of Robinhood can connect their brokerage account to the StockTwits platform.
Earnings Calendar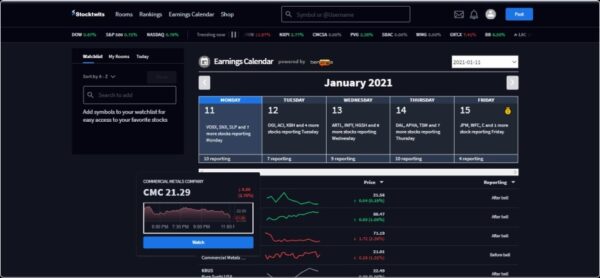 StockTwits put out an interactive earnings calendar. It lets you see information about the companies that are reporting income. In addition, this section shows information about the planned income for the current week. By default, StockTwits lists reporting companies based on their popularity.
Calendar options:
You can sort sales by date, company name, price, and report data
You can look at data from weeks before and a graph of the price change for the last 5 hours
When you click on the security icon, it will take you to a page with more information about the asset.
You can view data for previous weeks.
When the cursor is over a trading instrument's symbol, the current price and a graph of how the price has changed over the last 5 hours are shown.
See also, Steady App Review: Is It Legit?
StockTwits Services

StockTwits is a social network for investors and traders and an information gateway with various essential services. The desktop and mobile applications' operation is straightforward and obvious, and they are organized so that each visitor can get the most out of their time here.
Messages
StockTwits's primary goal is to allow its users to communicate with one another regarding shared resources. In the social stream, you can follow other traders, respond to their messages, and share your thoughts using charts, links, photographs, and GIFs. In addition, you can quickly discover your needs thanks to the site's efficient navigation.
Additionally, you can do the following:
Get messages filtered by links or diagrams, omitting republishing and replies.
Search for trading asset data using "cashtags" (#$cashtags) and claim ownership of the well-known hashtag. For example, if you type "$AAPL" into the search bar, you'll get market statistics on Apple stocks.
Block some unwanted messages.
You can equally filter messages in the feed by the following criteria:
People– This filter tracks certain investors' ideas, insights, and guidance.
Suggested– Investment ideas from users you follow, as well as suggested content about companies you are keen on
Charts– Financial data graphical presentation
Trending– Forecasts for trending stocks, which users frequently discuss
Watchlist– Tracks bullish and negative attitudes for the market's most popular stocks, indexes, commodities, currencies, and cryptocurrencies.
StockTwits News
You can't find the news section of StockTwits by looking at the site's menu. But StockTwits sends out news from the Financial Times, the Wall Street Journal, and other sources around the world. So to stay current on market news:
1. Type "News" into the search box at the top of any page.
2. Select intriguing news from the drop-down menu and navigate to the news provider's page to discover the most recent news on the left;
3. Select "More News" to find out more.
4. After tapping "Read Full Article," the system will take you to the resource where the article was published, where you can read the entire article.
You can also sign up for the free Daily Rip newsflash when you register. After signing up, you'll get an email daily with a summary of the most important financial news from the past day.
StockTwits Rooms
StockTwits Chat rooms are designed to make trading easier for you. You can build and administer your chat room here, as well as join other ones.
The owner of the Room sets the regulations. The StockTwits administrator does not intervene in the conversations, delete messages, or block members who breach the charter.
Simultaneously, the moderators monitor the threads and generally prohibit abusive and offensive language, opinion manipulation, and the spreading of spam in the publications. In addition, users are not permitted to distribute investing services or goods through rooms.
StockTwits have two types of chat rooms:
Cost-free rooms allow any registered user to become a member by clicking "Join Room" next to the icon;
Premium Rooms are paid services that give exclusive content, concepts, and analysis from leading minds in business and finance.
StockTwits Ratings

The ratings on stocktwits.com are based on an internal review of the information posted on the site. As a result, they show information about the most popular and talked-about assets among StockTwits users, not in the whole financial world. As a result, the platform does not rate brokers as other information channels do.
● Watchers
Instruments with the newest observers in the last 24 hours are given a score.
● Messages
Top 10 assets that have been talked about in the last 24 hours. List of the stocks that have been talked about the most on the platform, with price changes in percent.
● Heatmap
A graph lets you compare a lot of securities based on their activity and how the market feels about them.
StockTwits Bonuses
StockTwits doesn't have any bonus programs or deals for the money. But the site gives each user a bonus from their clothing store. You can order baseball caps, hats, T-shirts, sweatshirts, and sweaters with prints and words about investing for women and men.
The following are StockTwits store features:
Throwback, Bullish, $Cashtag, Bitcoin & Cryptos, and Stocktwits are the five collections.
Within 30 days, you can adjust the size.
Free returns for all products.
Delivery time: 3-7 days inside the United States, 1-3 weeks via foreign carriers.
Related: Titan Investing App Review: Investment Management for Everyone
What is StockTwits Plus?
The paid version of StockTwits, called StockTwits Plus, has more features than the free version. However, it costs $84.99 a year or $7.99 a month.
As a Plus member, you get content without ads, the ability to see stocks in dark mode (when the market is closed) and in market mode, and a Plus status in your messages.
Having the Plus membership is a beautiful way to tell the trolls from the real investors who share helpful information.
Is StockTwits a Good Site?
Yes, but only if you can cut through the noise and separate fact from nonsense. We wouldn't use it as the be-all and end-all of your investment decisions, but it's a terrific method to learn more about your trades.
Finally, there is no such thing as too much information.
Is StockTwits a Credible Platform?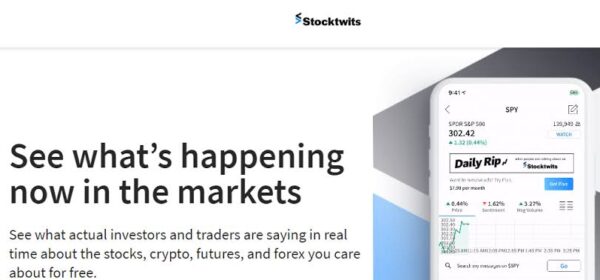 One big problem with StockTwits is that you can't tell how trustworthy the users are. When it comes to money, credibility is the most important thing.
For example, a stock tip from Warren Buffett is much more valuable than a stock tip from a clerk at a gas station. The only way to tell the difference between helpful information and noise is to look at where the information came from.
The only thing you can use to judge the credibility of a StockTwits user is the number of people who follow them, which is not the best sign.
Most of the time, figuring out if someone is trustworthy on StockTwits is the same as figuring out if they are reliable on Twitter.
StockTwits has a list of official accounts, but many of them are brands, and most of the messages in the ticker streams do not come from these accounts (from my experience).
It's hard to find a solution to this problem, but I like how TradingView gives its users a score based on their reputation. Finally, StockTwits members should remember that social media platforms are not the best places to get investment advice.
StockTwits Alternatives
What is Better Than StockTwits?
eToro
It is a social investment network that brings together traders worldwide and lets them freely share trading information and strategies.
Public.com
Public.com is an investment platform that assists people in becoming better investors. Members can create portfolios using any fractional asset, including stocks, ETFs, and cryptocurrency. They have a larger and more active community and offer services other than trading in US stocks and some cryptocurrency. Our cryptocurrency offering will also be more comprehensive than theirs.
Investing.com
Investing.com provides free real-time quotations, portfolio management, streaming charts, financial news, live stock market data, and other services.
Commonstock
It's a web and mobile app that socially lets people invest in traditional stocks and cryptocurrencies. It encourages people to learn, make money, and invest. They just released the beta version of the portfolio integration feature, and almost $1 billion in assets are already linked to it. As we make it available to more of our 6 million members, we hope to be the best place for people to follow and watch the portfolios of others.
MarketWatch
MarketWatch has the latest news about the stock market, money, and business. Find out about the stock market, how to manage your money, company news, and more.
Nasdaq
Nasdaq gives you the latest news about the stock market, stock information and quotes, data analysis reports, and a general market overview.
Curensee Global
Currensee is a social network for Forex trading where traders interested in the same things can connect and share ideas, insights, and trading data.
Bottom Line
The value of StockTwits to any trader is determined by the type of trader and person you are.
Traders that are continuously looking for a new edge in their trade and are comfortable traversing massive volumes of data to uncover the few nuggets of gold will find StockTwits to be precisely built to meet their needs.
On the other hand, traders who want to build their trading techniques methodically and based on credible information and opinions will discover that the signal-to-noise ratio on Stocktwits is too low to be worth their time.
StockTwits contains a wealth of actionable information that can assist traders in making profitable trades. However, this only works if traders invest the time and effort to uncover it.
Frequently Asked Questions
Q: How Much Does StockTwits Cost?
At $7.99 per month, everyone is welcome to join. You can also pay $84.99 for a year's subscription, which saves you $10, or $399 for a lifetime subscription. In addition, we've added Apple Pay so that anyone can pay with their iPhone app in a few seconds.
Q: Does Robinhood integrate with StockTwits?
Yes, Robinhood and StockTwits have been working together for a while now.
The partnership allows Robinhood users to share their trades on StockTwits. Users can also trade from StockTwits by swiping right to their Robinhood account, or they can use StockTwits to keep an eye on the stocks they own in Robinhood.
Q: Who owns StockTwits?
Howard Lindzon started StockTwits in 2008 as a way for traders and investors to share ideas. The platform made the cashtag (i.e., $AAPL), which we all know and love today, popular. Over a million people share ideas about trading and investing with each other in real-time on the site.
Q: Can you trade on StockTwits?
StockTwits doesn't let you trade directly, but it works with Robinhood, which enables you to do so.
If you have a Robinhood account, you can link the two to make a trade immediately when you see something on StockTwits. Just swipe right and sign in to your Robinhood account.
Q: Is StockTwits information shared in real time?
Yes, all of the information on StockTwits is shared in real-time. The rankings list is updated every five minutes, but all shared information is posted immediately.
Q: How do I follow stocks on Twitter?
Twitter users have long been able to embed stock ticker symbols in their messages. It now allows them to follow stock tickers in the same way that they can follow other news. On Twitter, you may find a complete list of stocks to follow under Business & Finance > Investing > Stocks.