Last updated Mar. 13, 2023 by Peter Jakes
You might need a jewelry appraisal for a lot of different reasons. You might need an appraisal because your insurance company says so. You might also be selling some of your assets.
You might need to know how much your wedding band or engagement ring is worth after divorce.
When most people consider selling their jewelry, they often include an appraisal as part of the process. But what exactly is an appraisal of a piece of jewelry?
No matter why you want a jewelry appraisal, it would be best to go into the process with your eyes open and your mind full of information about the ins and outs of getting an appraisal and the different types of available appraisals.
What is a Jewelry Appraisal?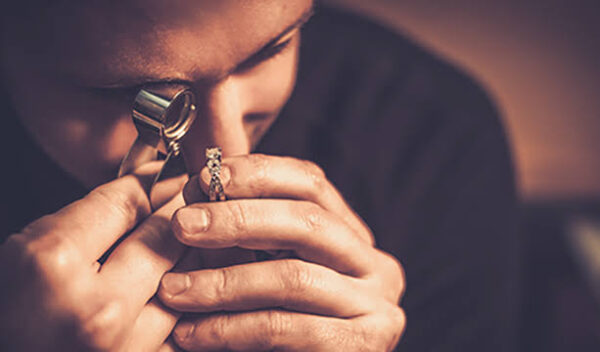 A jewelry appraisal is a process by which a qualified expert evaluates a piece of jewelry, such as a diamond or an engagement ring, and assigns a monetary value based on their findings.
You might want to get a jewelry appraisal for insurance, estate planning, or other legal reasons, or just because you are interested.
But many people use the term "jewelry appraisal" for similar documents. For example, a certified jewelry appraisal differs greatly from a jewelry grading, a lab report, or a jewelry certification.
Also, there is a big difference between a certified jewelry appraisal and a jewelry evaluation, even though these words are often used interchangeably.
Why Appraise Your Jewelry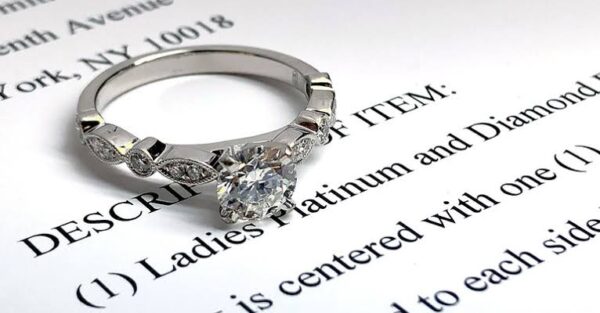 Having your jewelry appraised ensures that the item is properly described and valued to receive an adequate insurance replacement in the event of damage, loss, or theft and can aid in purchasing or selling an item.
Benefits of Jewelry Appraisal
Insurance companies usually want you to get an appraisal for any jewelry you wish to insure. Getting an assessment is also a good way to determine how much your most valuable jewelry, like your engagement ring or favorite necklace, is worth. In addition, jewelry is one of the things you can get from a pawn shop.
The value of each piece of jewelry is important to know, and an appraisal usually costs between $75 and $125.
If you lost a favorite piece of jewelry and didn't have the right paperwork, you would be told there wasn't enough information to find and replace it.
Another thing to think about is that when you're ready to sell a piece of jewelry, you'll be able to get a fair price for it instead of being lowballed.
Some of the uses of jewelry Appraisal are:
accounting and tax purposes,
determining the retail replacement value of an item for insurance purposes,
buying and selling goods.
Note that precious metals and jewels are considered when appraising a piece of jewelry.
Types of Jewelry Appraisals
There are various types of jewelry assessments, each best suited to a specific function.
Fair Market Value Appraisals
According to the IRS and the U.S. Department of Treasury, a fair market value appraisal of a piece of jewelry is the same as an appraisal of any other asset (like a house, car, etc.).
Fair market value appraisal is a good estimate of how much you could get for your jewelry if you sold it on the open market.
For instance, a diamond engagement ring just bought has a fair market value equal to what a general public would pay for the same ring at retail, not on the resale, wholesale, or used jewelry market.
A jeweler's appraisal is usually used for insurance replacement, the same as fair market value.
If you had to replace your old Rolex watch today because it was lost, stolen, or burned up in a house fire, how much would a new Rolex in the same condition cost at a store?
Hence, your Rolex's fair market value appraisal is how much a new Rolex is sold in a retail store like Walmart or Target.
But if you have a used piece of jewelry, you probably won't be able to sell it for such a fair market value price (retail price). Instead, you'll probably be able to sell it for the secondary value of the stone and metal, which is about 30–50% of the retail price after the buyer's markup.
Estate Appraisals/ Financial Planning
You might be planning for your retirement, putting together your own will with the help of an attorney, or you might be going through the will of a loved one and trying to figure out how much different things are worth so you can sell them or give them to the right people.
Most estates have jewelry, watches, coins, flatware, and gold. An appraiser will decide how much these things are worth based on their fair value on the market.
Liquidation Appraisal
Suppose you need to quickly liquidate jewelry, whether due to a divorce or estate liquidation, you can get a Liquidation Appraisal. These appraisals are usually significantly lower, reflecting the immediate need to sell.
Charitable Donations Appraisals
Donations of old jewelry to charities are often sold at auctions or used in other ways to raise money.
The donor gets a receipt that they can use to write off the donation on their federal taxes. For this, the jewelry can be valued at what it would sell for on the open market.
Ways to Get a Jewelry Appraisal
Here are the steps to get a jewelry appraisal:
1. Understand the Jewel Type You are Appraising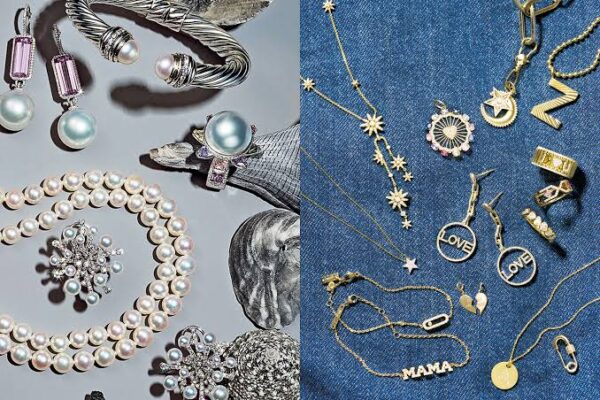 ● Diamond Appraisal
If you have a diamond, a skilled appraiser or diamond buyer can also offer a quality estimate of the replacement value of your diamond. However, many other ways exist to appraise and understand a diamond's value.
● Gemstone Appraisals
You must first understand its value to get the most money for your gemstone. While several factors influence the value of your gem, the most important is the 4c's, which are the same as they are for diamonds:
Color: What is the exact color or hue of your stone? The rarer and deeper the color, the more valuable your gemstone is.
Clarity: The more clear your stone is, the more valuable it is.
Carat: The greater the size of your gemstone, the more valuable it will be.
Cut: If your gemstone is processed, its value will be affected by its specific cut and quality.
Treatments: Is the gemstone color natural or enhanced through other means, such as heating? Non-treated stones are generally more valuable.
While conducting some appraisal for yourself using online charts and resources is possible, an appraisal is required to get an accurate picture of your gemstone's worth.
● Ring Appraisal
Like most jewelry, your engagement, wedding, diamond, or other ring contains metal and gemstones. A jeweler or the GIA will evaluate the stone and scrap metal valuations for any gold or platinum setting.
It is also important to understand that the large center stone is the only diamond that counts towards the carat weight in most engagement rings. Unless they are high quality and weigh at least 3 carats, side stones are usually worth only a few hundred dollars.
2. Determine The Kind of Appraisal You Need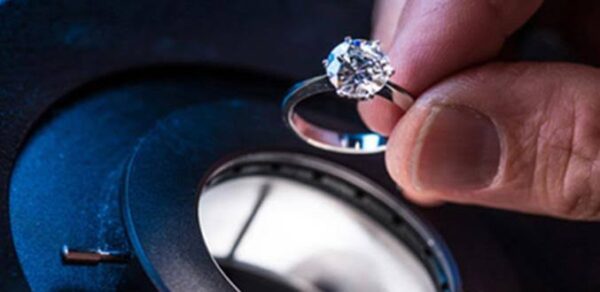 The best option is to choose a jewelry appraiser, but selecting the appropriate kind of assessor involves more than just that. Knowing what makes your jewelry unique is key in this situation.
So these are the few questions you may ask before seeking your appraiser: Does your product include priceless gems? Is it a vintage item?
● Jeweler Appraiser
You should choose an appraiser who is also a licensed gemologist if your jewelry contains any precious or semi-precious jewels. These experts have training in gem grading and can carefully inspect and appraise the stones in your jewelry.
● Vintage Jewelry Expert
The condition of a piece and the caliber of the materials used in its manufacture are just two factors that affect an antique item of jewelry's worth. One should consider rarity, provenance, history, and design when determining value.
3. Look for A Professional Jewelry Appraiser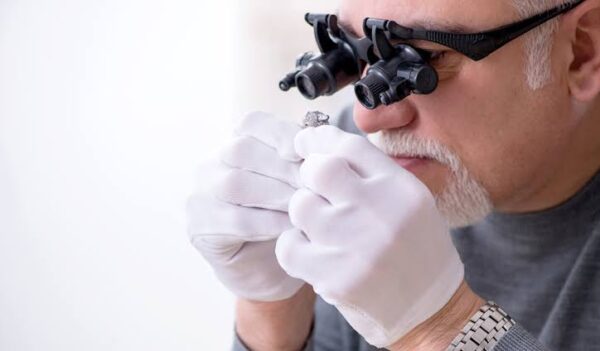 According to the GIA, joining a professional group is the best method to discover a reliable appraiser. By doing this, you may make sure the appraiser has the necessary credentials and expertise.
You may identify a member in your area since professional appraisal organizations have members nationwide and globally.
How To Find a Professional Jewelry Appraiser
Anyone, whether or not they own a jewelry store, can claim to be a jewelry appraiser. There are no federal or state licensing requirements for property appraisers, as there are for real estate appraisers.
As a result, it is primarily your responsibility to determine whether an appraiser is qualified to evaluate your jewelry.
This entails more than simply going to the nearest jewelry store because merely working in the industry does not qualify one as an appraiser.
Furthermore, most jewelry stores lack a gem lab or the tools to examine a stone and determine its quality. A ring appraisal, for example, may necessitate using a diamond appraiser.
Several industry groups, however, require their members to meet certain qualifications and follow a code of ethics. You can find a local appraiser by visiting the websites listed below in alphabetical order:
Gemological Institute of America (GIA)
International Germological Institute (IGI)
Gemological Science International (GSI)
Accredited Gemologists Association (AGA)
American Society of Appraisers
American Gem Society (AGS)
National Association of Jewelry Appraisers
Jewelry Judge
International Society of Appraisers
Association of Independent Jewellery Valuers
Appraisers Association of America
Aside from having a recognized qualification, the appraiser should also be a Gemological Institute of America graduate gemologist (GG) (GIA).
A gemological degree entails the ability to identify and grade gem materials. However, it does not provide the necessary training to become a jewelry appraiser. An appraiser should also be familiar with the current jewelry market.
4. Recognize Your Insurance Company's Requirements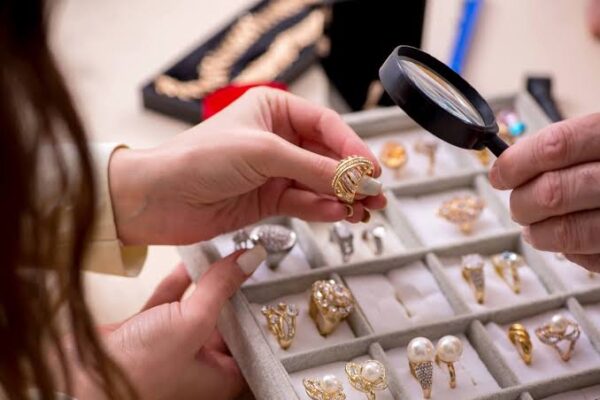 Brides Wedding Publication says most insurance companies will require you to get an appraisal for jewelry worth more than $5,000. However, the specifics may differ depending on the provider.
If you have jewelry, such as an engagement ring, evaluated for insurance purposes, it is best to speak with your insurance provider directly to understand their expectations.
Some businesses may require that your appraiser have specific credentials or that the appraisal be delivered in a particular manner.
How to Get a Jewelry Appraisal for Insurance
The majority of appraisals are performed for insurance purposes. This is because most people want insurance coverage that provides a return on the item's replacement value.
Experienced retail jewelers with appraisal training can most likely write an insurance appraisal, especially if the piece is similar to the jewelry they sell in their store.
More experienced retail jewelers may also have enough years of looking at jewelry to provide appraisals for types they don't sell.
When contacting a potential retail store appraiser, specifically ask if they have an on-site expert gemologist and what the scope of the appraisal that they can provide for you is.
Some jewelers will provide appraisals for insurance, estate tax assessments, and other similar purposes, but not every jeweler can meet every need.
You should have no trouble finding an appraiser for insurance purposes. However, before making a decision, consult with several people.
Also, don't assume that your homeowners' insurance will cover the loss of valuable jewelry. Most policies have low limits (e.g., $1,000) and only cover specific types of losses.
To be completely safe, you should purchase a jewelry insurance policy.
Importance of Appraising your Jewelry for Insurance
When you insure something, you must provide proof of its value and characteristics to replace it, whether with a similar type and quality equivalent or cash.
In the case of jewelry, if your appraisal is incorrect, you may not be able to recover enough funds from an insurance claim to replace your piece at fair market value.
If your jewelry appraisal is incomplete, what you know to be your prized possession may not be how the insurer interprets the brief description of your piece.
In either case, you may find yourself without an equal replacement for the jewelry for which you have been paying premiums year after year.
5. Know How Much To Pay For Your Jewelry Appraisal
No matter how much a jewelry appraiser charges for their services, they must be upfront with you about the costs before you start working with them.
Appraisal costs vary depending on the following:
Jewelry difficulty
Appraiser's qualifications and expertise
Your location.
However, on average, plan to pay between $50 to $150 per hour of the appraiser's time or around $50 to $75 per item. This depends on the items you are evaluating.
What to Look out for in Jewelry Appraisal Costs
Appraisers' fees can be based on their expertise. The more education and certifications an appraiser has, the more they can charge because they know so much about the subject.
The size of the jewelry can affect how much they charge. For example, the size of a major diamond or another gem may affect how much an appraiser charges.
Appraisers can charge a flat fee. If they have done this before, an appraiser may be able to tell just by looking at the item what a fair price would be for their work. Both the appraisal and the price are specified.
They can charge an hourly fee.
In this situation, the appraiser will calculate how long it will take to finish your evaluation and provide an estimated cost. Always verify if a minimum rate applies.
Most appraisers charge by the hour. Obviously, it will take longer to value a piece of jewelry with more parts than a simple gold band.
Appraisal Costs should never be on the Percentage
The amount your jewelry appraiser charges you should NOT depend on a percentage. Work with someone else if an appraiser sets the appraisal cost on the worth of your item, like charging 5% of the ring's value. There is a conflict of interest with this pricing structure.
When an appraiser bases their fee on a percentage of the jewelry's value, they are not acting ethically. If they do this, it will make them want to give the item a higher value so they can get a higher percentage of their commission. If you find an appraiser who works this way, you should find another one.
6. Determine The Jewelry's Initial Value Beforehand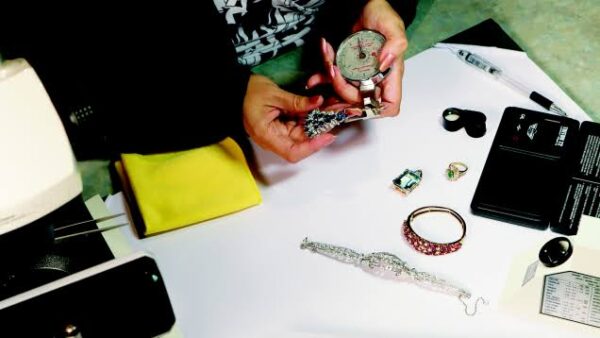 Sometimes, appraisers may inspect your jewelry in your presence to avoid misunderstandings about loss or damage. Making this fit everyone's schedules, however, is often difficult.
Fill out an intake form before donating your jewelry, including a basic replacement value and a description of the piece or items.
This document does not constitute an assessment but provides an agreed value between you and the appraiser if the object is misplaced or damaged while being evaluated.
How to Determine Value for Antique Jewelry Appraisal
If you want to open an Etsy antique store, antique jewelry is a go-to for products to sell easily. Also, if your jewelry is an antique or estate jewelry appraisal for insurance, this is how you go about it.
A professional appraiser carefully looks at your antique, vintage, or estate rings, brooches, necklaces, earrings, or any other piece you bring in to figure out how much it is worth.
Usually, this is done to get the "replacement value" to ensure you have enough insurance or to help you with a tax or estate plan.
A jeweler can tell you how much your silver, gold, or semi-precious gemstones, such as moonstone, tiger eye, lapis lazuli, or onyx, are worth if you want to sell them.
A "grade," sometimes called a "lab report," differs from an evaluation. Instead, labs like the International Gemological Institute of America (GIA) and the International Gemological Institute do the grading (IGI).
Only a trained gemologist can tell you how much your pin, ring, necklace, or another piece of jewelry is worth.
Several Ways to Value your Estate or Antique Jewelry
The intrinsic value of your antique jewelry: What is the market value of the scrap gold, silver, and platinum, as well as any loose gemstones in the piece?
Estate jewelry retail value: How much might this item fetch in a consignment, antique, or jewelry shop?
Replacement value: An appraisal for estate planning or insurance purposes attempts to determine the value of antique jewelry so that you can replace it if it is lost or stolen.
Wholesale jewelry value: How much would you be able to sell the item for to a wholesaler or retailer, who would then apply their markup when selling the estate jewelry?
7. Know What Your Appraisal Report Should Include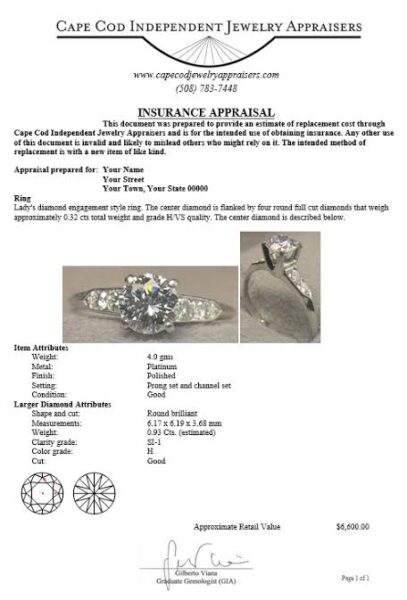 It is important to know what your jewelry appraisal report should contain.
Certified professional appraisers with a lot of scientific training in metals and gemstones will write a 15–20-page report that describes a gem's:
size
clarity
color, and
cut,
The jewelry's metals,
market value
name brand, and
estimated resale price.
A detailed appraisal report from an appraiser should include the following items:
Your Name and Contact Information: Your name, address, and other contact information.
Date of the Appraisal: Due to economic conditions and the jewelry market, the appraisal date is critical to the value of your item.
Stated Purpose of the Appraisal: This will affect whether or not you receive the cash value, replacement value, or agreed value of your jewelry.
A detailed description of the entire jewelry piece: Each component's weight, grade, and measurement should be included. Color grade is also important if your item contains a gemstone.
Notes on your gemstone: The report should indicate whether it is natural or synthetic if your item contains a gemstone. Also, did your gemstone receive any treatments? (or if it was untreated).
Setting: The setting for your item should be stated in your appraisal report.
Appraiser's Statement: Included if the appraiser needs to add any kind of explanation or conditions. Names of anyone else who helped evaluate the item may also be included.
Photograph of the Item: Appraisers should include a photo of the item, so there is no doubt about which piece is being discussed and valued.
Jewelry's Value appraisal: Of course, you will obtain the information you desire and require- the value of your jewelry. You will receive the corresponding value based on why you requested the appraisal and what you communicated to your appraiser.
The appraisal report for insurance purposes will also include the appropriate jewelry appraisal forms. In addition, various forms available from JISO.org will apply for whatever reason you obtain your appraisal.
Check out the Jewelry Insurance Standards Organization, a non-profit organization dedicated to serving the insurance industry by upholding the integrity of jewelry insurance standards.
Jewelry Appraisal VS. Jewelry Grading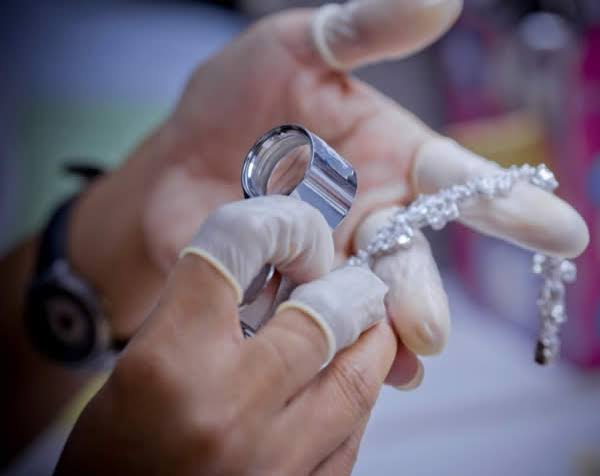 A jewelry appraisal is a process of putting a price on a piece of jewelry for a specific reason. On the other hand, jewelry grading thoroughly evaluates the stone's carat, cut, color, and clarity.
Trained professionals in well-known gemological labs like GIA and IGI do gradings.
The market gives jewelry a value based on how it is graded, so if you know your stone's 4 C's, you can know how much it is worth.
Ultimately, a jewelry grading report is the clearest, accurate, and objective way to determine how much your item is worth on the market at a certain time.
Get a report grade for your jewelry before you try to sell it (not just an appraisal)
Whether selling to an old family friend or a reputable online jewelry wholesaler or marketplace, getting a certified jewelry grading report is important.
Appraising jewelry is a scientific process, and only certified gemologists can accurately report the size, quality, and monetary value of your diamond, ring, jewelry, or watch.
These labs are known worldwide for their fair and accurate grading. To evaluate and price your item, they use very advanced technology.
Where Can You Get Your Jewelry Appraised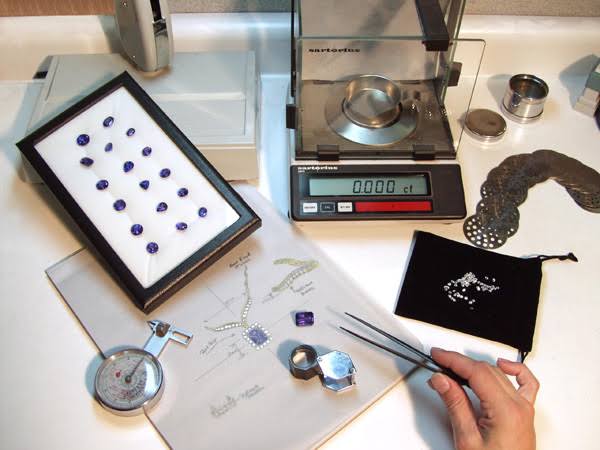 You can find out how much your jewelry is worth in a few different places. The best place to start is at a jewelry store near you. They are likely certified and can give you an accurate value for your jewelry.
In this case, you need to ensure that they do a resale appraisal, not an insurance or a tax appraisal.
For example, insurance appraisals will value jewelry at its retail replacement value, not its resale value, which is usually much less than its retail replacement value.
Get your grading report from a reputable gemological lab.
This will tell you how much your jewelry is worth. Then, a jeweler or a possible buyer will review the report's details and decide what to do next. You can also find Gemological labs near you.
You can have it weighed if your jewelry is made of a precious metal like platinum or gold and has no precious stones. A precious metal's value is only based on how much it weighs and where it stands on the market.
Can I Appraise my Jewelry for Free?
Some local jewelers will give you a free appraisal if you've been a customer for a long time, you're trading or selling an item, or the store has another reason to keep the relationship going.
Some jewelers in the area are certified by the GIA and can give a full, stamped appraisal.
Trustworthy online diamond and jewelry buyers and markets like Worthy.com will give you a free lab report from the IGI or GIA.
Where can I Get a Free Online Jewelry Appraisal?
Online diamond buyers and jewelry marketplaces like Worthy.com, ValueMyStuff, Jewelry Reports, Briteco, and Jewelers Connect will give you a free lab report from the IGI or GIA.
If you decide not to sell the item at any point in the auction process, you can keep a copy of the lab report at no cost. It's important to remember that IGI and GIA are independent, third-party labs, not in-house worthy technicians or jewelers. This means they have no reason to lie about the quoted price.
Also, the fact that it comes with an IGI or GIA certificate is emphasized in the Worthy auction, which makes buyers more likely to trust it and raises its resale value.
This is one reason the Better Business Bureau gives Worthy an A+ rating, which is good for both the buyer and the seller (you).
How Do You Get a Reliable Appraisal of Your Jewelry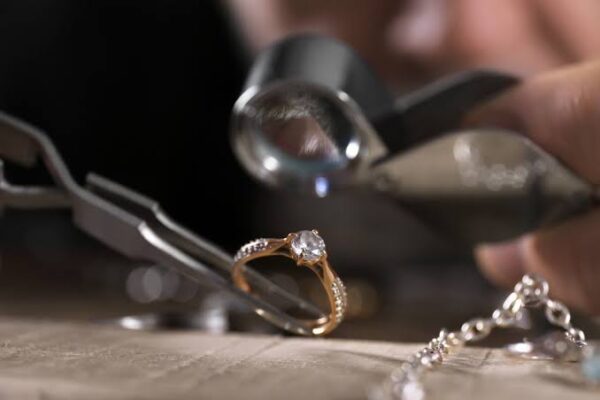 Getting a trustworthy appraisal of your jewelry is important because you may lose much money if you undervalue it. Besides, your jewelry could be stolen or exchanged. Also, if you overvalue your jewelry without knowing, it could backfire, especially for insurance purposes.
Almost anyone can claim to be qualified to appraise jewelry, regardless of whether or not they own a jewelry store. Therefore, as with real estate appraisers, obtaining a state or federal government license is unnecessary.
As a result, it is ultimately up to you to determine whether or not an appraiser is qualified to evaluate the objects you have inherited.
Because simply working in the industry is insufficient to certify a person as an appraiser, more steps must be taken than merely visiting the nearest jewelry store.
Furthermore, most jewelry stores don't have their gem lab or the tools required to analyze a stone and accurately identify its grade thoroughly. For example, an appraiser familiar with diamonds may be required to evaluate a ring.
Tips to Get Trustworthy Jewelry Appraisal
While looking for a trustworthy jewelry appraiser, look for a professional one.
Professional jewelry appraisers should be certified or titled by a reputable national appraisal organization, such as the National Association of Jewelry Appraisers. In addition, various types of appraisals necessitate varying levels of training.
● Gemological Credentials
Because there are no federal or state requirements for appraisers, it is critical to request credentials. The minimum gemological training should be a Graduate Gemologist diploma from the GIA or equivalent.
● Jewelry Manufacture.
A qualified jewelry appraiser must understand manufacturing techniques and recognize their contributions to an item's value.
Continuing Education Certificates and credentials from continuing education help ensure that the appraiser is up to date on the latest gemological and appraisal issues.
● Jewelry and Appraisal Experience
A wide range of jewelry experience gained over a long period often results in a more knowledgeable appraiser. Similarly, solid appraisal industry experience is essential.
● Awareness of Ethical Standards
Appraisers should adhere to the highest levels of professional behavior and be aware of their legal obligations. Consider the appraiser's professional affiliations and the appraiser's industry reputation. Work with a jewelry appraiser who is a member of Jewelers of America; our members commit to the highest ethical standards annually.
You can do different types of appraisal at the same time
You may require the fair market value of your jewelry. Alternatively, you may need to know the retail replacement value, which is the specific amount paid to you by your insurer if you lose your item.
You might also be interested in your jewelry's resale or secondhand value.
It is important to note that the retail replacement value (for insurance purposes) will be significantly higher than your jewelry's fair market or resale value. This is due to various factors, including insurance premiums and market volatility.
Furthermore, the resale value will be even lower than (approximately 20-50% of) the fair market value. And, of course, this figure is impossible to guarantee because you only sell your jewelry if you find a buyer.
How to Appraise Jewelry Yourself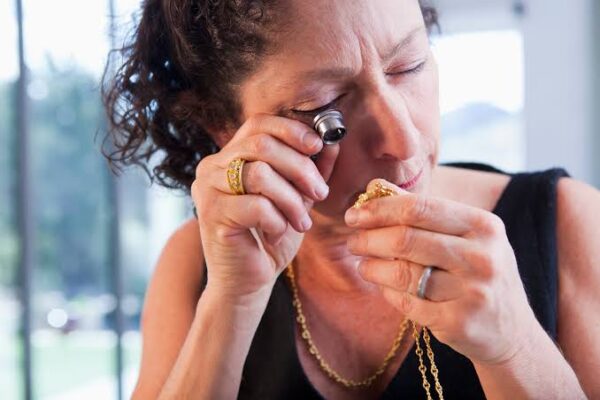 If you want to know how much your jewelry is worth in a retail store without getting a professional appraiser, you must put in some legwork and investigate the item first. However, there are ways to test jewelry at home, like using a magnet. Also, there are jewelry appraisal YouTube videos to help you do it yourself.
How to Appraise your Gold Jewelry at Home
You can perform several tests to determine whether or not the gold in your piece is genuine.
Weigh the gold
Gold has distinct properties. It is, for example, one of the densest metals on the planet. As a result, any metal used to try to replicate gold will be much less compact.
You can weigh and check the size of your bullion if it is made to a set of specifications if you have gold bullion and coins of a certain purported weight. Anything less than pure gold will not accurately weigh.
Furthermore, gold is not magnetic, unlike most metals, so a genuine gold bullion coin, bar, or piece of jewelry will not attract a magnet.
This will also tell you whether or not the gold you have contains other metals. Because gold is not the only non-metallic metal, a counterfeit coin could pass this test.
There is another way to test if gold is real
Another indicator is that gold has a distinct "ping" sound when struck. When struck, precious metals produce a high-pitched ringing sound. The sound of base metals is much shorter and duller.
You can also lightly drag your gold over an unglazed ceramic plate. If you see a gold mark on the ceramic, it is real gold. However, if the mark is black, it is a forgery.
Once you've determined that your gold is genuine, you'll need to calculate how much you have. Begin by deciding the purity. Most gold pieces have purity stamped on them (for example, 24k is 100% pure gold, 18k is 75% pure gold, and so on).
If possible, weigh your gold, find the current spot price for gold (by the gram or by the ounce, depending on what you have), and multiply it by the purity.
For example, if you have an 18k gold piece that weighs 1 ounce and the spot price of gold is $1800 per ounce, your piece is worth around $1350.
How to Appraise your diamond at home
A genuine diamond will not float, shatter in high temperatures, or hold your breath for over a second or two.
It is more difficult to appraise diamonds and gemstones on your own. They are valued based on several factors, beginning with the four C's. If the piece is antique, there may be additional value beyond the raw materials.
Your best bet is to find a friendly jeweler who will give you a free thumbnail appraisal. However, if you are more serious about determining the value, you should pay for the cost of an honest appraisal, especially if the value is significant.
Clean your jewelry before an appraisal
Depending on the object's state, you may want to give it a bit of a clean first to view any features such as metal stamps or engravings concealed behind grime and tarnish. This is especially true if the item is older.
If any stones escape during cleaning, protect the bottom of your sink by lining it with a towel.
Using a toothbrush and some warm, soapy water, scrub the part in a gentle circular motion. This is the most gentle method for cleaning jewelry at home; other ways, like household cleansers or detergents, are quite abrasive and may ruin the piece.
After thoroughly cleaning your jewelry, gently dry it and put it away. If you want to look at your jewelry more carefully, buy a magnifying glass or a jeweler's loupe if you can locate one.
How Can I Find Out My Jewelry's Worth?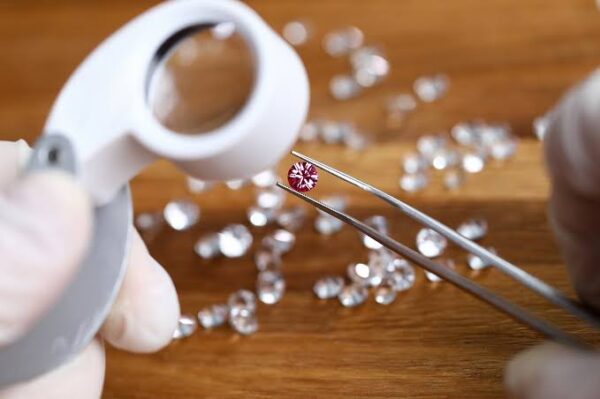 When you purchase a new piece of jewelry, one of the first things you should do is examine it for any hallmarks that it may have.
In most cases, a single hallmark will inform us of the composition of the metal used in the item. Any further hallmarks, if present, will identify the country of origin, the designer, or the manufacturer.
Fake chains have a false appearance. Solid gold jewelry's texture, weight, and uniformity are all highly consistent qualities.
For instance, if you have a gold chain that is gold in color, but portions of it have a darker hue or even a silvery tint coming through due to excessive use, this is most likely a gold-plated chain it is not particularly expensive.
A magnet will not be able to attract genuine gold. Therefore, the magnetic test is the most practical and transportable method for determining whether or not gold is real.
The test findings improved in direct proportion to the magnet's strength. The magnet will be attracted to imitation gold as well as other alloys.
Is There an App to Identify Jewelry?
Google Lens is a fantastic tool for identifying various items, such as animal breeds, plants, flowers, branded goods, trademarks, rings, and other jewelry pieces.
It does this by doing an analysis of the picture and comparing it to the samples that are stored in its database.
This goal may be achieved by downloading an image to the device in issue or utilizing the camera to shoot a photo in real-time.
Are Jewelry Appraisals Worth it?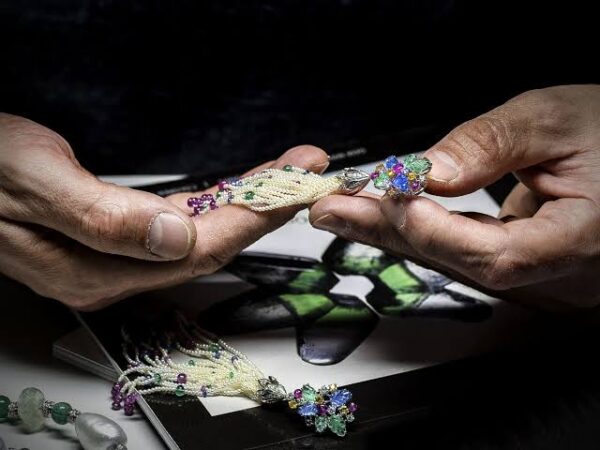 Because jewelry insurance premiums (the amount you pay each year to keep your coverage) are typically based on the value of the jewelry, what happens if that value is incorrect?
If the value of your jewelry is exaggerated, you may have to pay more to insure it. But conversely, you may be underinsured and face additional out-of-pocket expenses to repair or replace damaged or lost jewelry.
You must insure your jewelry for its current retail replacement value to repair or replace it.
Aside from insurance concerns, there are a few other compelling reasons to get a jewelry appraisal:
It serves as proof of ownership if your jewelry is stolen and recovered by police.
A current appraisal records the current value of your piece in case you decide to sell it in the future.
Whatever the reason, you'll need to understand some basic terminology and industry guidelines to get a qualified appraisal.
Check this New Paid Survey Site for Women & Jewelry Lovers
Bottom Line
If you want to know how much your jewelry is worth and what it's made of, a local jeweler or reputable pawn shop may be able to help you for free. In the same way, if you need to get an insurance appraisal for your jewelry, go ahead and pay for one locally.
It would be best if you were prepared to pay a greater fee for jewelry appraisal since it requires highly specialized training and acquiring certain equipment.
Because the prices of precious metals have a history of suffering considerable fluctuations, you will need to have assessments done frequently to retain correct insurance coverage for your valuables.
If you conclude that you want to sell your jewelry, understanding how much it is now worth will be important in ensuring you obtain a fair price.
Frequently Asked Questions
Q: What should I do if I disagree with my jewelry's appraised value?
If you disagree with the appraised value of your jewelry, you should seek the advice of another appraiser. Remember that the appraised value is not always the same as the selling price; it is simply an estimate of how much your jewelry is worth.
Q: How frequently should I have my jewelry appraised?
It's a good idea to have your jewelry appraised every two to three years or whenever there are significant changes in its value (for example, if you have it repaired or cleaned).
Q: What are the risks of not getting my jewelry appraised?
If your jewelry is not appraised, you may not recover the full value if lost, stolen, or damaged. Furthermore, if you do not have an up-to-date appraisal, your insurance company may refuse to cover the replacement cost of your jewelry.
Q: What steps should you take to have your jewelry appraised?
You'll need to find a qualified jeweler or appraiser to have your jewelry appraised. Many jewelry stores provide appraisal services, and you can also locate an independent appraiser through the American Gem Society (AGS) or the National Association of Jewelry Appraisers (NAJA).
Q: What is the process of jewelry Appraisal?
The first thing you can expect in the jewelry appraisal is that the jeweler will clean, check out, and evaluate the item. Next, they'll figure out what your piece is and rate its quality so they can give you a good description. Lastly, they will take digital photos of each part and provide a price for it. After determining the total value, the appraiser will format, print, and email your appraisal document to be updated.
Q: What should you bring to your jewelry appraisal?
When you go for your jewelry appraisal, bring any documentation about the piece, such as a sales receipt, previous appraisals, or diamond certificates. You should also bring your jewelry in a clean, secure container.