Last updated Apr. 18, 2023 by Favour Chinaza
Participating in paid surveys is a good way to earn additional dollars. But it isn't easy to find survey sites that pay for topics you are familiar with. For example, if you are a jewelry lover, there are paid survey sites for women and jewelry lovers where you can give opinions on Jewel designs.
Most survey sites will pay you for your detailed opinion on jewelry to enable manufacturers to produce jewelry designs that fit the public.
In addition, you will get points or gift cards to buy jewelry from grocery stores.
Related: 10+ Best Paid Online Survey Sites in 2023
Best Paid Survey Sites for Jewelry Lovers
Here are the best survey sites that will pay you to give an opinion on jewelry-related topics.
Branded Survey is a site with a 4.3 out of 5-star rating from more than 48,000 people on Trustpilot. This company is a market research company that has been in operation since 2012.
After signing up on Branded Surveys, you can begin to take surveys on topics related to jewelry. Each survey can earn you more than $5.
For each survey you complete, you'll be awarded points. One thousand points are equivalent to $10. These points can be redrawn to your local bank account.
Being part of the Elite program on Brand Survey can make you eligible for surveys with better payment rates.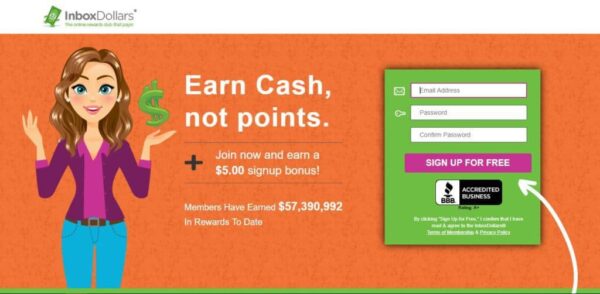 Prodege LLC purchased InboxDollars in 2019 after it had been in operation since 2006.
This site has an A- rating from the BBB, and it is estimated that Inbox dollars have given more than $80 million to its participants.
InboxDollars users receive cash rather than points. The more survey you complete, the more money you'll make InboxDollars.
The registration process to join InboxDollars is free. However, after signing up, you'll be paid $5, which is given to every new signee.
When registering on InboxDollars, the demographic answers you provide will enable you to become qualified to participate in surveys related to jewelry. You can also earn free Starbucks gift cards with InboxDollars
When you sign up for OneOpinion, you can take surveys. For example, go to the search bar and type "jewelry," You will see surveys about necklaces and earrings, bangles, and other kinds of jewelry. You can get 500 or 1,000 points for filling out surveys, but remember that 1,000 points are worth $1, so if you earn 500 points, you'll get 50 cents.
When you have 25,000 points and $25, you can turn them into cash through Amazon or PayPal.
You sign up for the site, and then you fill out surveys. For each survey you fill out, you get points (generally, you can expect to make 10 cents per point).
As with all of these sites, you won't make much money, maybe a dollar an hour or a little more, if you work hard, but you can use what you earn to buy useful things like virtual gift cards.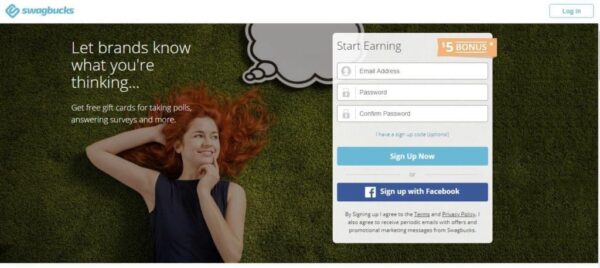 Swagbucks is owned and operated by Prodege LLC. Its mobile app has a 4.4 rating with over 60 000 positive reviews making it one of the most popular survey sites in the world.
For each jewelry survey you complete on Swagbucks, you become eligible to earn between $5 to $15. You can receive your money via PayPal.
It can also be converted into gift cards used in retail stores like Amazon, Lowe's, and Target.
New Swagbucks users who spend more than $25 at any stores affiliated with Swagbucks will earn a $20 sign-up incentive.
There are other sites like Swagbucks where you can get freeebies. Amazon, Best Buy, and Walmart are affiliated with Swagbucks.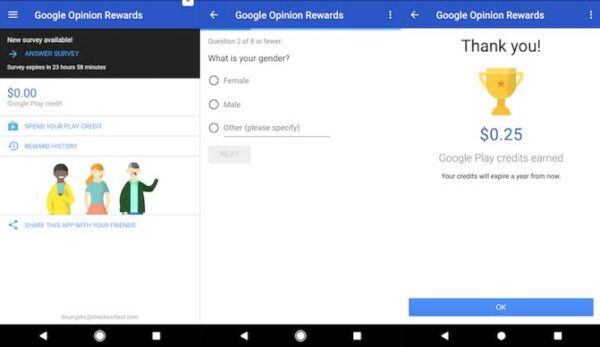 Google is everywhere, even in the business of paid online surveys. You'll download an app and answer some questions about yourself.
Based on that information, the Google Opinions Rewards website says you'll get surveys "about once a week, but it could be more or less often."
Most of the time, these surveys are short, and you may be done in less than a minute.
You'll get a message on your phone when a survey is ready. If you fill it out, you'll get "up to" $1 in a Google Play credit or a Paypal credit.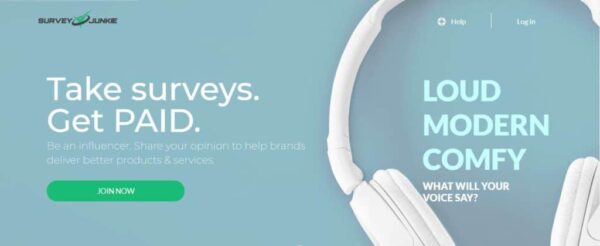 You fill out surveys, get points, and then cash in on those points. But, in the site's Frequently Asked Questions, it says, "Taking surveys will NOT make you rich."
But if you live in the U.S., Canada, or Australia and are 16 or older, you can take surveys and get points. Each point is equal to one cent.
Survey Junkie stands out because they have surveys on every topic, including jewelry.
Once you have 500 points, which is $10 (100 points are worth $1), you can cash out, but the website says it depends on where you live. Residents of the US and Canada do cash out easily.
According to Survey Junkie, you can make up to $45 per survey. Pay attention to the "up to," which means that the best surveys can earn you up to $45.
You might find that most surveys don't pay as much. As Survey Junkie says, this is not a good way to get rich.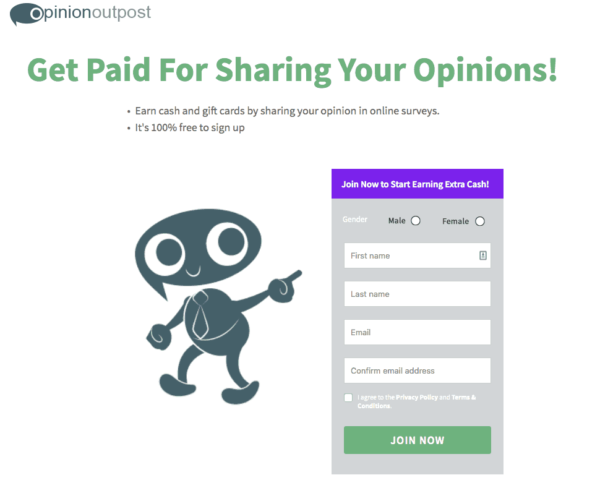 To get paid on opinion Outpost, you'll have to undergo a screening process. You'll also need to fill out the information about your educational level, employment status, and the number of kids you own.
Each survey you complete on opinion Outpost makes you eligible for a free Amazon gift card, a $10 iTunes gift card, or a $10 PayPal credit.
In addition, you will be access to Alawar.com games and travel credits.
8.
Ipsos i-Say
This survey site has a 4.0-star review on Google Play from 88,000 users and an A+ rating on Better Business Bureau. In addition, it has a lot of survey sections for free jewelry.
You can register on Ipsos i-Say with your email address or Facebook account. A few demographic questions will be asked to match you with surveys that are suitable for you.
They reward Points for completing a survey. For each survey, you can be awarded between 45 to 90 points, equivalent to $0.45 to $0.90.
However, the amount you get paid depends on the survey you participate in. To redraw from this site, you must accumulate up to 500 points. After that, you can be paid enough to buy nice jewelry on Amazon.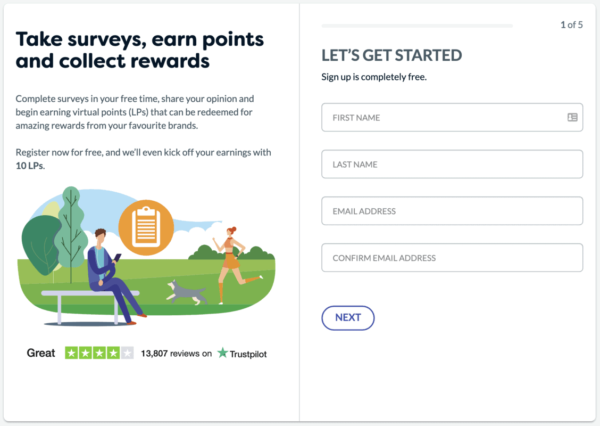 Founded in 1946 with the name Family Welfare Opinion, LifePoints is a survey site that has grown over the years with over 5 million users.
It has a 3.9 out of 5-star rating from 13,000 users on Trustpilot.
Registration on LifePoints is free. All you need for registration is an email address and some personal information.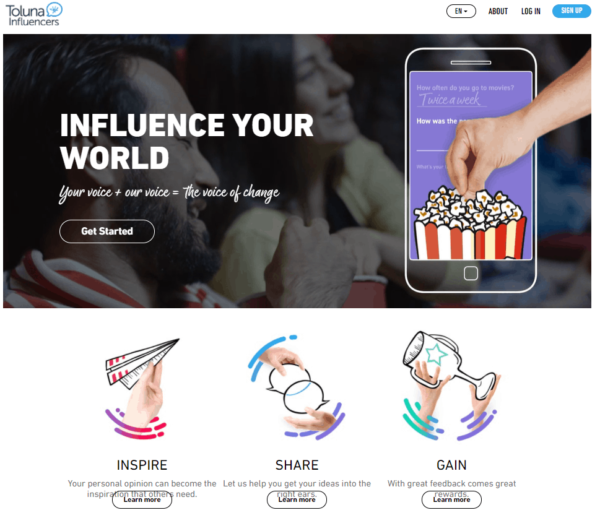 You can find Toluna Influencers surveys on their website or have them sent to you by email. If you are eligible for a survey, it will probably take 15 to 20 minutes to finish.
You could get anywhere from 15 to 50,000 points, and you'll have a dashboard to keep track of how many points you have.
Some users have said that you probably won't make more than a dollar an hour, but look at how much you will on Toluna earn after 50 surveys. So like many of these sites, it might be more fun and interesting than a good way to make money.
Tomoson is mainly a place to advertise and review products. They have a category for jewelry where you can apply to test a piece of jewelry and keep it for free.
It seems to be an online-only business, and not much is known about how it started (but it does look like it has a lot of clients).
It's basically a portal with two sides, and one side is for "influencers," or people who are paid to blog about certain products.
They can apply to review products here. The other side is for promoters or businesses that want to pay bloggers to write about their products. They can look at the applications of bloggers and let some of them get paid to write about their products.
PayPal is how Tomoson pays the people they call "influencers." They put a lot of emphasis on paying the fees, so you get exactly what a company says you'll get.
In addition, they use a system called "escrow" to ensure that both the company and the writer get what they want.
It looks like Tomoson has a right to be there. There aren't any claims about not getting paid at all.
But many bloggers seem to think that Tomoson supporters are ignoring them, and the smaller the blog, the more likely that is. So it looks like payments sent through PayPal get where they need to go.
There have been some negative reviews about Tomoson recently, like it being available for US residents only, products taking time to arrive, inability to get pieces of jewelry to test, and limited testing time.
Most of their jewelry comes from China and Asia, so you should know what you are going into and research more before signing up.
Giveaway monkey had a lot of jewelry freebies for jewelry lovers.
Giveaway Monkey is a safe and legal place to list and host giveaways. It is available everywhere, and the giveaways on the platform are real and well-chosen.
Your earnings will also be different depending on the giveaways you enter. For example, some giveaways pay up to $100,000, while others give out vouchers for $750 gift cards.
Also, getting your money or gift certificates back will depend on the giveaway you are entering.
Giveaway Monkey was started in 2012 and is still going strong in 2023. It is a site that hosts and lists giveaways. Every day, they offer the best online jewelry giveaways in the world.
Unlike other giveaway sites, they approve each giveaway by hand to ensure that it is real and interesting. In addition, they work very hard to keep you from wasting your time on things that aren't jewelry-related.
Is Giveaway Monkey Legit?
Giveaway Monkey is a real online reward site where you can enter giveaways and win prizes or cash. On Facebook, the platform has a score of 3.5.
Most users said the site was the best because you could enter giveaways hosted on the site.
Other users have also noted that the sweepstakes, contests, and competitions on Giveaway Monkey are curated and real.
The people who read giveaway Monkey are 83% women and 17% men between the ages of 20 and 50. They have a lot of fans who love free stuff. The United States has the most readers, followed by Canada, the Philippines, India, Germany, and the United Kingdom.
Depending on the giveaway, contest, competition, or sweepstakes you are entering, you may be able to cash in your earnings or gift vouchers.
In the rules of every giveaway, you can always find out how to cash in your points. So always Check to make sure of this.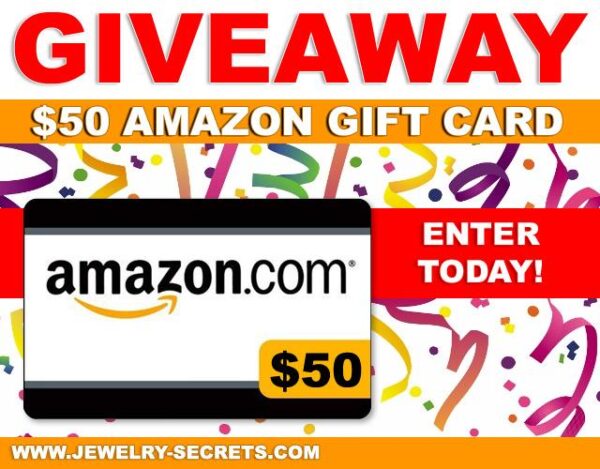 Jewelry Secrets is an online jewelry store that does lots of jewelry giveaways. They give you $50 Amazon gift cards to buy any jewelry you choose.
They also have a sponsor page where you can register if you have a piece of jewelry to give away. If your item is accepted, it appears on the Jewelry Secrets site as a used item giveaway.
Winners can get both new pieces of jewelry and vintage jewelry after signing up and completing a task. Their rewards are always $50 Amazon gift cards to buy just jewelry on Amazon.
Jewelry Secrets is not just a jewelry freebie site; they have a blog for learning about jewelry.
They educate, teach, and help you understand everything needed to purchase jewelry. You can learn about the following:
engagement rings,
diamonds,
how to save money on jewelry and truly know what you're buying.
According to the owner, Richard Scott, who's been a jeweler for over 30 years, he's like a friend who guides you in the right direction, whether it be jewelry, sales, diamonds, discounts, and all the goodies in between.
Other Ways to Get Free Jewelry with Survey
Jord jewelry gives you $30 gift cards for jewelry when you finish their survey on survey monkey. Jord is a high-end jewelry maker of the Diamond Family.
The Diamond Family is a fine jewelry store in St. Louis that has been around since 1978. Rocky Haddad opened it, the second generation of his family to work in the jewelry business.
When it's time to choose a jeweler, we know you have many options. We're proud to be one of them, and we work very hard to make a difference that can only be felt in The Diamond Family showroom.
So you can take a JORD Jewelry survey and win jewelry if you are lucky.
Tips to Make Money on Survey Sites for Jewelry Lovers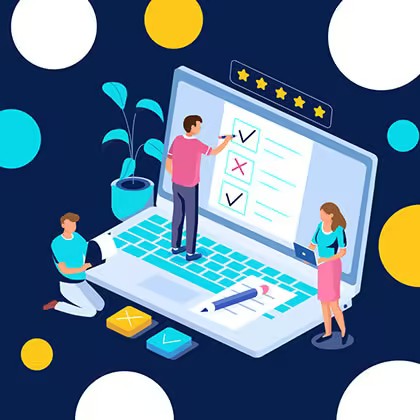 Paid online survey sites are a great way for anyone to make a little extra cash on the side. Some of them even have good names.
In addition, paid online survey sites are pretty easy to understand: people answer questions or do tasks online and get paid for their time.
But is it easy money? Unfortunately, no. However, if you follow a few rules, some paid online survey sites might be worth your time.
Don't ever pay to take a survey online: You should be the one getting paid. If you have to pay money to join one of these sites, it's likely a scam. On the other hand, shopping at a store through one of these sites is fine since you're buying things.
There are lots of legitimate survey sites that pay cash instantly you could check. They are safe but still read user reviews before using them.
Don't count on the money you make from online surveys: There are better side gigs. These paid online survey sites work best if you enjoy trying to get good deals and make extra money and if you don't mind spending a few minutes filling out a survey only to be told you don't qualify because you don't fit the right demographic.
Be honest about how much time it will take:
It sounds like a survey won't take more than a few minutes. Don't fall for it. The surveys can take up to 15 or 20 minutes at times.
Don't overshare information: If you are asked for your Social Security number, bank account number, or driver's license number, leave the survey. Velasquez says to be "careful" about what other private information you give to survey sites.
Most likely, it's fine to answer questions about a TV commercial, but giving medical information might not be worth the risk.
Make a specific email address for survey sites: Most sites email us several times daily. Therefore, you won't get many surveys offers in your main inbox if you sign up for these sites with a different email address.
Don't think you'll get paid right away: It can take days or weeks before you have enough points or money to cash out.
Take breaks: We often had long survey sessions where we had to keep our eyes on the computer screen the whole time.
The American Optometric Association suggests following the 20/20/20 rule to keep your eyes from getting tired: Every 20 minutes, take a 20-second break and look at something 20 feet away.
Don't invest significant time on survey sites: Good for you if making a little extra money is fun. On the other hand, if it feels like work, you should find a job that pays well.
Are Paid Surveys Worth It?
No matter what site you use, the money you make from surveys can be small compared to other ways to make money. Surveys cannot make you rich, but you can make between $500 to $2500 in a month. I made $1500 from User interviews in a month just taking surveys.
For example, the federal minimum wage is $7.25 per hour, but we make anywhere from 41 cents to $2.03 per hour.
Most survey sites also needed you to have a certain number of points before you could use them to get rewards.
You may not make that minimum amount on many sites even after working for five hours. (You might want to think about other things you can do to make money.)
Some survey sites will take your time and valuable information about yourself.
You often provide information like birth dates, ZIP codes, incomes, health problems, ethnicities, locations, etc. And after answering questions for hours, you don't think much about sharing those details.
But if there are others ways you are making money online, Surveys could be part of it. So don't depend only on surveys for your online money-making.
Related: 13 Best Survey Sites That Pay Cash Instantly
Bottom Line
Online surveys are a simple way to make money, and you can try some great paid survey sites. Of course, you can take surveys whenever you want, but they won't make you rich.
You can also find other jobs online if you want to make money on the side or work from home, but surveys are a good way to make a little extra money to spend.
It would be best if you worked hard, so we suggest you sign up for as many sites as possible to get the most chances. There are many ways to get paid for surveys, so research to find out which sites fit your budget and time frame.
Frequently Asked Questions
Q: Can I really get jewelry through Surveys?
Yes, you can. A lot of survey sites have sections for jewelry surveys. You can also register with Tomoson to test jewelry pieces and get some for free.
Q: How Do I Maximize My Earnings From Surveys?
We suggest joining as many survey sites as you can. You should sign up for a lot because the more surveys you take, the more money you can make. Most survey sites will only give you a new survey every other day or once a week. The more sites you sign up for, the more and more often you can take surveys.
You could easily go through the whole list and sign up for each in 10 to 15 minutes.
Q: Can I lie on my survey?
No, you should not. However, don't give all your specific details. You might think you can lie on your profile to get the best surveys, but survey sites are good at spotting this kind of thing because their business depends on it, and they quickly blacklist dishonest users.