Last updated Mar. 12, 2023 by Charles Zemub
The cost of shaving shouldn't scare you away from having clean and smooth skin. While the prices of cartridges and modern blades are ridiculously high, they are easy ways to get cheap razors. However, the best place to get these cheap quality razors is online. Buying razors online will save you tons of cash with the guarantee of getting the right type you need. There are authentic online stores to get cheap razors which we'll discuss in a bit, along with nine easy ways to get cheap razors (and razor blades).
How to get Cheap Razors
One should be careful about the places to get razors. You wouldn't want a razor that would damage your skin or the low-quality ones. There are great and reliable places to get cheap and quality razors with plans that would provide you with a decent shave.
1. Dorco
Dorco is an online company offering reusable razor plans for both men and women. More so, their razors are available on Amazon and are very reliable. In addition, their razors are refillable, favorable, and relatively cheap. Very impressive about Dorco is that- you don't need to sign up for a monthly shaving plan if you want; you can opt for a one-time order instead. In addition, their razor is available for free on Amazon Prime shipping.
They also offer a reusable handle and ten cartridges starter kit set of any blade size for first-time buyers. However, each blade size only has a single refill option. Notwithstanding, you can select the number of refill cartridges to as many as 16 refills and 12 cartridges 7-blades.
The price for the different blade options for Dorco differs. You can get three blades starter set for $14.99 and $1.25 for each refill (16 refills available for $19.99). The four-blade option, which is better, starter set is $18.99 and $1.37 for each refill (16 refills available for $21.99). There's also the six-blade starter set for $21.49 and $2.08 for each refill (12 refills are available for $24.90). Finally, the seven blades starter set is $29.99 and $2.58 for each refill (12 refills available for $30.99).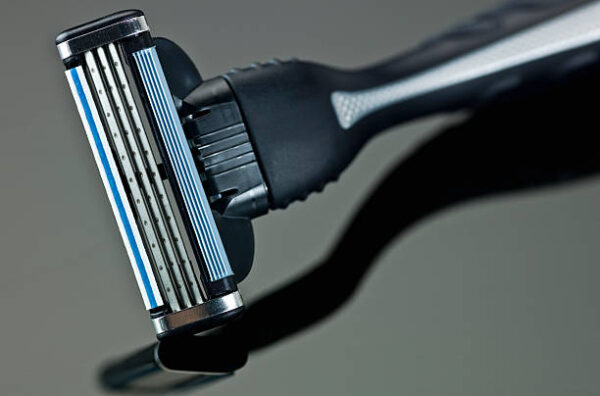 2. Dollar Shave Club
The Dollar Shave Club shaving option is reasonably cheap. They also offer you the freedom to choose how often you want your cartridges to be replaced and other hygienic items. There's also a $5 starter set available for you to purchase.
Furthermore, with Dollar Shave Club, you can get two different blade sizes with an average cartridge cost of $2.00 and $2.50. Four blades with four cartridges go for $8 per month ($2.00 for each cartridge). Six blades with four cartridges are $10 per month ($2.50 for each cartridge). However, choosing auto-shipments will offer you a $1 discount for each four-pack.
As stated earlier, Dollar Shave Club also offers hygienic items, including shampoo, cologne, shave butter (shaving cream), aftershave and toothbrushes.
3. Harry's
Harry's is another easy way to get a cheap razor blade. However, it only has a 5-blade razor option. But you can choose a reusable metal razor or a weighted rubber handle. There's also the option to add hygiene and shaving supplies to your order if you want.
The downside of Harry is the unavailability of razor blade sizes. However, you can get different handles and other accessories from their set. Additionally, they offer other additional quality products. Harry is excellent if you want to save money on the best quality razor.
They offer 5 to 6-blade razors, handles, and other add-on accessories. Their shipping schedule is flexible enabling you to order at any time of the year. Moreover, their one-time razor plan cost is; four cartridges for $9, eight cartridges for $16, and 16 cartridges for $30. On the other hand, their auto-refill plan costs; 4 cartridges for $8, 8 cartridges for $15, and 16 cartridges for $28.
Furthermore, users can save additional money by signing up for the Core Plan, which costs $15 per year, including a 10% discount on all orders, early access to the latest products, expedited shipping discounts, and free engraving on chrome handle and others.
4. Gillette
Gillette is one of the most popular brands that offer cheap razor blades with excellent quality. It also provides different service plans at affordable rates. There are many razor options to choose from and many benefits for choosing its platform. Firstly, shipping is free of charge for most reusable razor refills.
Gillette also offers you free purchase for every fourth order you make. You can also make one-time orders but you won't benefit from the free order offer. Gillette has four pricing options; the Gillette Mach 3 has 4-pack refills for $10 (cartridge costs $1.75), SkinGuard with 4-pack refills for $15, and ProGlide with 4-pack refills for $18 (cartridge costs $3.75), and Heated Razor with 4-pack refills for $25.
Gillette also offers SkinGuard and Mach3 starter sets for as low as $10 and free shipping. In addition, you'll get two blades, a reusable handle, shaving cream, and a user-friendly blade cover. Gillette doesn't offer the cheapest shaving plan, but it is cheaper to buy your Gillette cartridges.
5. Billie
With Billie, you can get affordable razors with quality and attractiveness. However, it is primarily a feminine shave club. What's good about Billy is that shipping is free, and you only have to pay $9. You can get your shipment either once a month, once every three months, or once every six months.
Their starter kit, available for the first month only, includes a magnetic holder, a handle, and two five-blade razor cartridges. The handles have different colors, including periwinkle, blush, the color blue, dreampop, and coral. Additional add-on accessories include wonder wipes, shave cream, and body wash.
6. ShaveMob
ShaveMob is renowned for its excellent and affordable razor-subscription plan. It's designed for men who want to buy cheap razors, even without signing up for their subscription service. Yes, it's just like the Gillette plan. There are many options available to choose from with ShaveMob:
The Baby Face with three razors
4 Cartridges for $9.99
12 Cartridges for $14.99
24 Cartridges for $24.99
The Average Joe with four razors
4 Cartridges for $10.99
12 Cartridges for $17.99
24 Cartridges for $29.99
The Caveman with six razors.
3. With Trimmer
4 Cartridges for $12.99
12 Cartridges for $22.99
24 Cartridges for $39.99
4. Without Trimmer
4 Cartridges for $11.99
12 Cartridges for $19.99
24 Cartridges for $34.99
Even great about ShaveMob is that they offer an entire order at once. So, instead of waiting months for your new razors, you can receive them all at once in your first package. This is an excellent option if you want to save more on handling, shipping, and packaging costs. There are also cheap razors available for ladies on ShaveMob.
7. Dollar Tree
Dollar Tree is a great local place to get cheap razors. The price for a razor is as cheap as $1. Moreso, you can get a free shipping order from their online in-store pickup or their website. Even as cheap as they come, their razors have excellent quality. However, they are no high-quality disposable razors available, but the price is worth it. While you leverage other platforms, it's a good idea to have this on the ground just in case.
8. Get free samples from freebie sites.
Some stores like Target and Walmart offer free samples on razors for you to have a one-off while preparing for a permanent subscription. In addition, numerous websites are providing similar services with free stuff for trails. They often give free samples of razorblades with zero charges (aside from shipping), and their razors are of excellent quality. In addition, they are usually attached with coupons, so if you like their razor, you can buy them at affordable rates at local stores near you. However, most of these "freebie sites" only offer free men's razor samples.
9. Checkout Coupons for Local Stores
You could search for coupons available in nearby stores and get local options at affordable prices. Numerous sites are available to check regularly to get outstanding deals at discount rates, including coupons.com, P&G Everyday Rewards, and RetailMeNot. There are other coupon sites available; you just need to find the ones with great deals for razors. Additionally, you could stop by any top pharmacy chains and get some at affordable prices.
Although they differ from other renowned means like The Dollar Tree, they are primarily on name-brand razors. You can visit any of the following chains around you to find some pocket-friendly razor prices:
What's good is that most of these pharmacies are always running several sale offers, with rewards programs that offer even more savings and match coupons from competing stores. So you can check them out and have yourself a cheap razor blade.
People Also Ask
What is the Best and Cheapest Razor?
Dollar Shave Club and Gillette are the best and cheapest razors. Additionally, they offer great affordable shaving plans and free shipping. Gillette also offers free purchase for every fourth order you make, whereas Dollar Shave Club allows you to choose how often you want your cartridges replaced and other hygienic items. There's also a $5 starter set available for you to purchase.
What can Replace a Razor Blade?
Instead of using a razor blade to shave, you can wax, use an electric razor or electric trimmer. There is Laser hair removal that also gets rid of hair for an extended period. Better still, you could go for the epilator method that removes hair from the root so that you wouldn't have to shave for a long time.
What is the Cheapest way to Shave?
The cheapest shaving option is to get a quality razor blade sharpener alongside cheap disposable razors and, shave in the shower using toilet soap instead of shaving cream (which can save you some costs), sharpen the razor at intervals. This method could save a lot and have you spend as little as $0.02 per shave.
Should a 13-Year-Old Shave Pubic Hair?
It's normal for a thirteen-year-old to shave. However, they should be careful as pubic hair differs from facial hair. There are no health implications attached to teens shaving their pubic hair. Hence, it is entirely safe. On the other hand, if a teen is not interested in shaving public hair, that's fine and should be allowed to wait until they are comfortable with the idea.
Frequently Asked Questions
How Often Should I Shave?
There is no definite schedule on how often to shave, but we recommend shaving every three to five days. Generally, how quickly your hair grows should determine how often you shave.
Why Does My 4-Year-old Have Pubic Hair?
Your four-year-old having public hair is no cause for alarm. Adrenal is a condition that causes kids to develop pubic hair, and these changes are entirely normal. You can shave it if you want, but be careful not to hurt their skin as they are generally more fragile than that of grownups.
Why do we have Pubes?
Public hair is like a protective buffer for our genital region because it's very delicate; it protects from germs and pathogens. It also helps in reducing friction, especially during sexual intercourse. You can shave your public hair if you want to. However, it is not compulsory.
Should I Shave my Pubic Hair?
Shaving public hair isn't compulsory; it is a choice and is completely healthy. There are several ways to shave your pubic hair, such as using a razor blade, waxing, or an electric trimmer. However, before shaving, you should be familiar with the method to avoid mistakes.
Is it Bad to Shave with an Old Razor?
Shaving with an old razor risks infections; it irritates the skin and is generally unhealthy. Besides, it is unsanitary and leaves you open to bacteria infection which could land you on a sick bed for days. If you find razors too expensive, try choosing cheaper razor options like Dollar Shave Club, Gillette, Harry's, or Dollar Tree. They offer cheap razors and affordable shaving plans to keep you clean and healthy.