Some of the links in this article are "affiliate links", a link with a special tracking code. This means if you click on an affiliate link and purchase the item, we will receive an affiliate commission.
The price of the item is the same whether it is an affiliate link or not. Regardless, we only recommend products or services we believe will add value to our readers.
By using the affiliate links, you are helping support our Website, and we genuinely appreciate your support.
Last updated Oct. 31, 2022 by Charles Zemub
RealtyMogul enables accredited and non-accredited investors to include real estate in their investment portfolios. With affordable minimums as cheap as $1,000 and thoroughly approved real estate projects for investment, RealtyMogul can help you in your goal of becoming a bona fide real estate investment.
However, not all platforms may suit your preferences or expectations as an investor. For example, RealtyMogul is best for investors interested in real estate looking to go beyond publicly-traded REITs but has a complex fee structure that varies by investment. Read through this RealtyMogul review to learn more and know if it meets your specifications.
What Is RealtyMogul?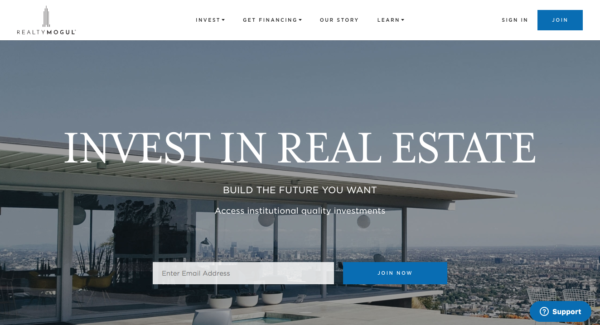 Established in 2012, RealtyMogul is an online real estate investment marketplace. Justin Hughes and Jilliene Helman founded the platform. They aimed to find better alternatives to traditional real estate funding by creating an online crowdfunding site.
Crowdfunding is the process by which investors, borrowers, and investment sponsors are brought together to create new investments. Commonly known as a "peer-to-peer" arrangement, it primarily involves individuals on both sides of the transaction.
Today, the platform has over 190,000 registered members. In addition, it has provided capital for more than 350 investments, with capital raised totaling over $450 million. Additionally, the platform sorts equity capital for commercial real estate. RealtyMogul is led by a team of professionals with working experience in real estate, technology, and finance.
How RealtyMogul Works
Realty Mogul is a fast-rising online real estate crowdfunding space. The platform enables accredited and non-accredited investors to invest money in various real estate investments. Investments such as office space, apartment buildings, industrial sites, retail space, medical buildings, self-storage, or hospitality establishments are all considered.
Furthermore, accredited investors can put a single investment into a specific property, which is known as "Private Placement." Also, both accredited and non-accredited investors are allowed to invest in REITs.
RealtyMogul Review: Features
Fees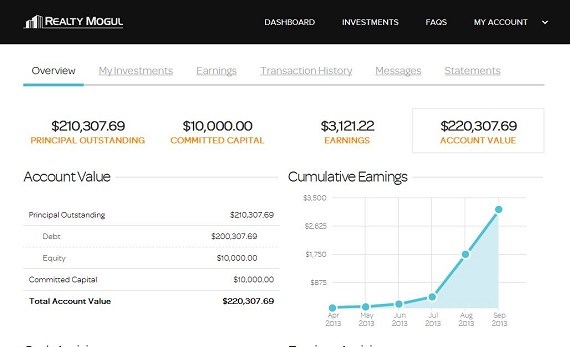 RealtyMogul is a free-to-join platform and costs investors zero registration fees. However, individual investments offered on the platform can charge their fees. The amount you'll pay varies (based on the details of the deal), but overall they're typical of what you'd expect from a crowdfunding platform.
Private Placement
With this investment, you'll be able to purchase shares in RealtyMogul limited liability company (LLC). That LLC will invest in a limited partnership (LP) or an LLC that holds the title of the actual real estate.
Don't be bothered by the multiple layers of LLC investment. It only helps the investment sponsors to minimize their overhead while offering you access to more investment opportunities. Additionally, RealtyMogul streamlines its distribution report throughout the platform by providing LLC shares.
Furthermore, Private Placement gives you more control over your investment choice than you get with a REIT. More so, you can invest in the individual properties that interest you.
RealtyMogul's additional role on these projects includes everything from criminal background checks of the agreement involved in the investments to
boots-on-the-ground inspection of the property.
REITs
RealtyMogul has two types of REITs:
MogulREIT I – offers a variety of commercial properties.
MogulREIT II – specializing in a multi-family houses.
You can use a retirement account to invest in the above types of REITs. However, if you're investing with a retirement account, they charge a higher minimum investment. Retirement account investing offers a minimum investment of $5,000, whereas non-retirement accounts offer a minimum of only $1,000.
Lower Investment Minimum
RealtyMogul aims to keep its platform accessible and reliable to a wide range of investors. So unlike other real estate crowdfunding platforms that require $10,000, $25,000, or $50,000, you can get started here with as little as $1,000.
High Return Potential
Unlike some crowdfunding platforms, RealtyMogul has a shorter track record. But according to the site, private placement investors may get returns as high as 10%, whereas REIT investors may grab returns in the 4% to 8% range.
Flexibility
Typically, investing in crowdfunded real estate offers less flexibility than buying exchange-traded funds or stocks through a Robo-advisor or brokerage. That's because these properties usually have longer holding periods. However, accredited investors with RealtyMogul are allowed to choose the individual properties they wish to invest in based on their goals and needs.
RealtyMogul: Getting Started
When you sign up on RealtyMogul, they'll ask you several questions to know if you are an accredited or non-accredited investor. Your accreditation status determines the real estate projects you can invest in on the platform.
From there, you can start to go through the investment options available to you on their site. You can browse through the many options to learn the estimated return, current funding, the estimated hold period, the type of property, and the minimum required investment.
Then, select an investment before you fund your account with the amount you intend to invest. You also have the option of either collecting your distributions as income or reinvesting them. Furthermore, you can receive monthly or quarterly distributions; it depends on the type of investments you choose.
RealtyMogul's dashboard grants users access to track their investments' performance and their distributions. Additionally, the platform creates and emails investment reports quarterly and annual tax documents to keep you updated with the information you need.
Who is RealtyMogul For?
RealtyMogul is relatively for non-accredited investors who want to access public, nontraded REITs. It is also great for accredited investors who desire to access private placements. Finally, it is recommended for investors interested in real estate even better than publicly traded REITs.
Furthermore, RealtyMogul allows investors to access inaccessible real estate deals with a bit more liquidity than some real estate crowdfunding platforms. So, f you're interested in diversifying your portfolio and can comfortably reach RealtyMogul's investment minimums without over-allocating to real estate, the platform may help you do that.
RealtyMogul deals primarily in nontraded REITs. These investments tend to be riskier than publicly traded REITs. But suppose you're interested in investing in any real estate crowdfunding platform. In that case, you should study warnings from the Financial Industry Regulatory Authority on the factors to look out for with nontraded REITs.
RealtyMogul Review: Pros and Cons
Like any other real estate investment platform, RealtyMogul has some advantages and disadvantages. Therefore, it is good to note this before making a decision. Below are the pros and cons of RealtyMogul to be aware of before opening an account.
Pros
Zero fees to join as well as low fees for most investments offered on the program.
You can get started by investing as low as $5,000
The platform is open to both accredited and non-accredited investors.
Accredited investors are permitted to invest in private placements. On the other hand, non-accredited investors can choose from one of the two REITs.
Redemption program accessible for REIT investors.
Investment has high return potential.
Cons
The minimum investment of $5,000 can still be too high for some non-accredited investors.
Fewer deals are offered compared to some real estate investment platforms.
Some investments require a minimum of up to $50,000, which is above the industry average.
People Also Ask
What is Better Than Fundrise?
CrowdStreet, Roofstock, Streitwise, and RealtyMogul are better alternatives to Fundrise. RealtyMogul, for example, is a popular option for investors to gain access to commercial real estate. The platform offers direct deals and REITs to its members.
Its REITs have a minimum of $5,000 and are open to non-accredited investors as well. Some of the impressive deals that platforms like CrowdStreet and RealtyMogul offer aren't available on Fundrise.
Can You Invest $1000 Real Estate?
With REITs available on RealtyMogul, you can invest as low as $1000 on real estate. Real estate investment trusts (REITs) stand as one of the best ways to invest $1000 and are beginner-friendly. A REIT adds investor funds together to purchase real estate properties.
By investing, you'd be a shareholder earning dividends from the funds generated by these properties. Investing in REITs is relatively similar to investing in mutual funds or stocks.
Can you Invest In Real Estate With Little Money?
"House hacking" is one of the strategies to invest in real estate with little money. You can purchase an investment property, and house hack it as your principal residence. Ideally, you want to ensure the total rental income is enough to cover all ownership expenses, including an allowance for taxes, vacancy, and insurance.
Frequently Asked Questions
What Fees Does CrowdStreet Charge?
CrowdStreet charge no fees for setting up an account. However, investors may have to pay fees to the sponsors directly to access their investment opportunities. The fee primarily covers their work for managing the properties.
Is RealtyMogul Trustworthy?
RealtyMogul is a reliable, safe, and secure platform registered with all the necessary licenses to offer financial services. It is a legitimate company offering a legit way for accredited and non-accredited investors to invest in individual properties.
Who Can Invest in RealtyMogul?
Accredited investors can invest in any of the investments that RealtyMogul offers. Accredited investors are those having a net worth, or joint net worth with their spouse, of $1 million and above (excluding their home's value) or an annual income of $200,000 and above ($300,000 with a spouse) for each of the previous two years.