Woodworking is one of the side hustles that pay well these days. Little wonder most people are delving into the business of recent. But not all succeed in the trade. This is because it isn't as easy as it seems.
To succeed in the woodworking business, they're procedures to follow. These processes are the secrets of successful woodworkers; they started from small, and now they've become millionaires. Continue reading to find out more on how to start a woodworking side hustle now.
What is Woodworking?
Woodworking is a skillful art. It's simply the act of using wood to create different artworks. It could be artifacts, wooden doors, bans, houses, etc.
Woodworking isn't as complex as the definition sounds. The process consists of different skill levels, which allows you to grow and create more complex projects as your skills improve. Usually, it takes time to become a skilled woodworker, but the more you improve, the more you earn.
By developing your woodworking skills, you can take gigs that allow you to repair wooden items such as dressers, tables, chairs, etc. Then you can move to even more complex projects like building a ban. Aside from getting the required skills and training to start a woodworking business, you'd need the right tools.
The tools you need for woodworking mainly depend on the projects you intend to make, but some common tools you should have for woodworking include a hammer, a saw, a tape measure, a screw gun, chisels, a combination square, and a sander.
By getting the proper training and tools, you can be on your way to raking $ 1,000's with your woodworking side hustle. You can start learning everything you need to start a woodworking business today and join those earning big from this gig.
How To Start A Woodworking Side Hustle
1. Improve On Your Woodworking Skills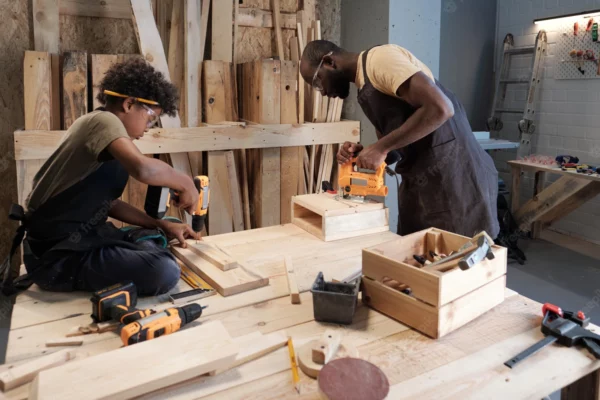 Developing your skills is the first step to succeeding on your woodworking side hustle. Then, you can leverage the Woodworkers Guild of America to build on your woodworking skills. They offer resources for people willing to learn the basics or improve upon their current skill set.
Besides, look for areas you lack and try to improve on them. Reaching perfection will give you more gigs and increase and retain your customers. You can look for and participate in woodworker workshops and classes to gain more knowledge.
2. Decide On The Woodworking Business
The next step to starting a woodworking side hustle is planning on the niche you intend to focus on. There are different categories of woodworking niches, and finding the right one will make it easier for you.
Examples of woodworking businesses to take include craft business (creating artistic jewelry, trinkets, and other items out of wood), carpentry business (making frames of house, doors, and windows), making custom furniture, finishing projects (like baseboards, floorboards, and other decorative parts of homes), and so on.
The type of woodworking niche to focus on should also depend on the most highly sort after in your area. Also, choose the one you are most familiar with or skillful with and let people know you are a jack of trades in that aspect.
3. Create Your Woodworking Business Plan
A business without planning is bound to fail, and so is a woodworking business. So to succeed in your woodworking trade, you'll need to create a realistic, effective, and viable plan for your aspirations.
Some of the important items to consider in your woodworking business plan include:
The amount to invest.
What is your target market, and how to reach them?
Source of capital, funding, or investment.
Your working hours.
The service to render.
Putting to note all of these will help make the business easier and keep you motivated.
4. Pick a Business Name
Even though it's just a side hustle, your woodworking business needs a name to enable customers easier identify it. When picking a name, consider the one that highlights the niche you chose. Also, choose one that is easy to remember and spell.
In addition, be intentional about the name, and make sure it contains the phrase "woodwork," for example, A&B furniture and craft woodwork. Remember to keep it simple and in alignment with the service you render.
5. Find a Location to Start Your Woodworking Business
Your woodworking business can be done from your home or on-site. But you should find the best location where you can work without distractions. Woodwork business like craft requires a workshop to work, while on-demand services like fixing and maintenance can easily be done from home.
If you choose to work from home, then create a website or social media accounts for people to reach you. It's advisable to always go for .com when registering a domain name for your business. Remember that your business name should relate to the services you render.
How To Make Money Woodworking Business
Take Woodwork Repair Gigs
One of the common ways woodworkers make money is by taking on repair jobs. People always need repairers to fix broken doors, chairs, cupboards, cabinets, etc. You can find clients looking for woodworkers on sites like Upwork, Fivver, TaskRabbit, etc.
You can even find listings for woodworking jobs on Indeed, Craigslist, and other job posting sites. Another way to find these kinds of gigs is by simply asking around. Make those around your neighborhood aware that you're open for repairs.
Sell Your Woodworking Projects
Another way to earn money from woodworking is to create your items and sell them. You can start by making simple items like picture frames, cutting boards, decorations, etc., and work your way up. These products are relatively cheap to make, and you can sell them at whooping profits!
You can make as much as $ 1,000's from a woodworking side hustle just by selling woodworking projects on the side and still have a full-time job. There are several places to sell your projects, such as Etsy, ShopHandmade, Craigslist, Letgo, yard sales, etc. In addition, you can place them for sale in places where passersby can see and purchase them.
Repair and Resell Woodworks
Another way to earn money as a woodworker is to repair and sell broken items. If you find making a project from scratch stressful or time-consuming, why not get damaged items, fix them, and sell them to make a profit?
You can even purchase damaged items from people for this purpose. For example, you can get things like old tables, shelves, chairs, etc., for a low price because they are no longer in use, old, or damaged. Then as a professional, you can get them back in shape and ready to sell for a good price.
You can find similar deals on places like Craigslist, Letgo, Facebook Marketplace, and so on. However, ensure you repair them to their best before reselling them to avoid bad reviews.
Teach Woodworking Classes
Although this idea is not-so-popular in making money for woodworking, taking woodworking classes can also be an excellent option. If you have the skills, why not teach others for a fee during your free time?
You can pick the handcrafted wood items you're familiar with to provide step-by-step procedures to complete the project. Generally, woodworking classes cost over $100 per class, which is why it's a great way to earn extra cash.
Start a YouTube Channel
One possible way to make money with woodworking is to create a YouTube channel on the subject. Many YouTube channel owners earn from the videos they post. Some even make full-time incomes.
In each video you make, for example, you could showcase a project built step-by-step. In other videos, you could discuss different woodworking techniques and how to utilize them. And in other videos, you could discuss reviews on different woodworking products.
Another great thing way to leverage YouTube channels is by advertising your products. You could, for example, urge viewers to check out your woodworking website (if you have one) to see the items you have for sale.
What is the Best Place to Sell Woodwork Items?
1. Amazon Handmade
Launched in 2015, Amazon Handmade allows users to sell their woodwork items. The fee for this program is $40 per month, and you'll be required to pay 12% in sales commissions. The extra cost is justifiable considering that your item would be displayed to an audience of over 112 million customers.
2. Etsy
Etsy is one of the popular online storefronts that allow sell and purchase of homemade products. With over 39 million active buyers, this is a platform where you can easily sell your woodwork items. Etsy charges a maximum of 20 cents per listing and 3.5% on each item you sell. However, unlike Amazon Handmade, there are no monthly fees on Etsy.
3. Craigslist
The advantage of using Craigslistise is that it is completely free and allows you to post limitless ads. However, the site is not completely reliable as users have complained about safety-related issues and the inability to complete transactions. Notwithstanding, there are still millions available on the platform, and there're chances you can sell more of your woodwork on the platform.
People Also Ask
How Can a Beginner Woodworker Make Money?
As a beginner, you can make money woodworking by building items and selling them in the local flea markets. For instance, you can make and sell a porch swing, a wall planter, a patio swing, and other outdoor furniture.
You can also build wooden utensils and make a few bucks off your craft. However, you need to be creative to earn big in this craft. If this doesn't work for you, you can consider buying broken or old wooden furniture, fixing them, and selling them as second handpieces.
Can You Teach Yourself Woodwork?
With the proper tools and safety equipment, woodworking is a skill you can learn on your own. If you are new to the trade, try learning the fundamentals and more advanced techniques by enrolling in a class. If you are a beginner with a new piece of equipment, it is safest and ideal to ask for guidance from a professional woodworker before making it a professional trade.
Once you have the basics of woodworking, you can opt for an apprenticeship to learn more and work with a professional woodworker. There are also credential programs to enroll in, such as the Woodworkers Guild of America, and Woodworker Career Alliance, offering educational programs and another network of woodworking opportunities.
Is Woodworking Hard?
Woodworking isn't a hard skill to learn, but it takes consistency and hard work to become a pro. It'll take you further in the lane if you are passionate about building projects. To learn woodworking, you can read books on the topic, take courses, get the right tools, and participate in an apprenticeship.
Having the right platform for learning woodworking will make it easier for you. Also, according to experts, the work will become relatively easier with time and consistency. So look for ways to gain more experience and keep working often.
Frequently Asked Questions
Is Woodwork a Skill?
Woodworking is a skill that involves using wood to build usable and functional items. It also involves the use of specific tools. There are no limits to the things you can make with woodwork; anything and everything is possible, from bans to astonishing furniture for homes. People attend training and classes and read books to learn this skill.
How do I Learn Basic Woodworking Skills?
You can acquire basic woodworking skills by participating in apprenticeship programs, reading books, attending classes, and/or learning online. There are also credential programs to enroll in, such as the Woodworkers Guild of America and Woodworker Career Alliance. Most of these classes require a small enrollment fee and offer opportunities to harness and earn from your skill after completion.
What Woodworking Tools Do I Need?
The tools you need for woodworking mostly depend on the projects you are working on, but some tools of the essential tools a woodworker should have included a saw, a screw gun, a hammer, a combination square, a tape measure, chisels, and a sander.
What Woodworking Items Sell Best?
Some of the best woodworking items that sell very well in the market are big wooden forks and spoons for cooking, cutting board, bowls, children's toys, boxes, picture frames, and custom signs.
Can I Make Money From Woodworking at Home?
Yes, you can. You can earn money woodworking from home comfort by selling your crafts online. You can opt to create an online store or use platforms like Etsy or Facebook Marketplace to market and sell your projects to customers online. Another way is to tell your friends, neighbors, and associates about your woodworking business and have them patronize you.