Last updated Mar. 2, 2023 by Peter Jakes
Finding a job while in college can be difficult, especially when juggling classes, schoolwork, extracurricular activities, and your social life.
In addition, it might be challenging to find time to schedule interviews, so once you have one, you should make the most of it. That's why these 15 Job Interview Tips for College Students is here to help you ace your interview.
When you haven't had much interview preparation, it can be challenging to determine what you'll need to do ahead of time to ace the interview.
It will be less stressful than attempting to prepare right before the interview, especially if you need to coordinate appropriate interview dress and rearrange your schedule to get to the interview early.
Why Make The Best of Your Job Interview?
The most recent information from the National Center for Education Statistics (NCES) shows that 40% of full-time students and 76% of part-time students worked while they were in college.
Not only does working give students money, but Brigham Young University researchers found that students who worked less than 15 hours per week usually did better in school and had higher grade point averages than their peers who didn't work (GPAs).
Many students also participate in work-study and internship programs while in school to get valuable experience and training on the job.
University students can get a lot out of working while in school, so it can be beneficial to have good interview skills.
Related: Guide to Answering Common Questions (100 Interviews Question and Their Answers)
15 Job Interview Tips for College Students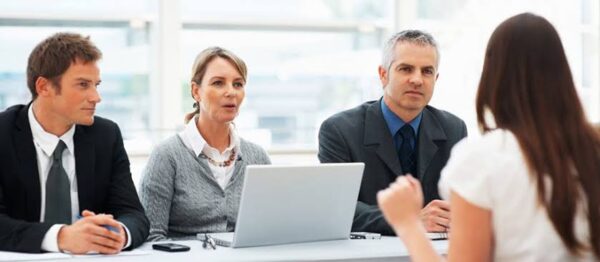 Job Interview Tip 1: Research The Company
Doing adequate research is the most vital job interview tip for college students.
It lets you show how your skills and experience align with the company's goals. And when you do research, you should look at more than one source because some websites are better than others for getting certain kinds of information.
And as you keep researching, don't forget to look at the company's website. If you don't know much about a company you're looking into, try to spend 30 minutes looking at the career pages if the website has any. Here, you can look at detailed job descriptions and learn more about the different roles that are available.
How Doing Research Helps College Students with Job Interviews
It's also good to look at a company's "About Us" or "Products and Services" pages to learn more about its mission and goals.
You know you've done good research when you can talk about how one of your personal goals is the same as the company's or when you can talk about how your skills would add to or even improve the services they already offer to customers.
Then, during the interview, discuss all the information you've gathered by bringing up specifics that fit your career goals.
For example, if you see that the company is involved in the community, say that you want to work for an organization that cares about the community when they ask why you want to work there.
Lastly, when you are doing research, ask around. If a friend or family member told you about this job, ask them what it's like to work there.
Using your connections is a smart way to find out what it's like to work at a company from people there. And if you want to learn more about researching companies, check out the career guide article here. It has more in-depth advice.
Job Interview Tip 2: Draw From All of Your Experience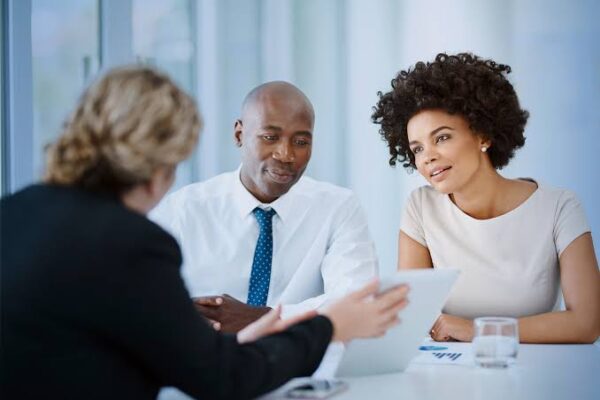 When I taught college students back in the day, one of the most typical misconceptions I noticed from interacting with them was that the experience they share must come from full-time, paid work.
This is, in fact, very untrue. During an interview, you should discuss things like your work with clubs, college research projects, and activities in student groups.
It could also be any community service or volunteer work for which you got school credit or did it on your own.
Whether or not you were paid to do the work has nothing to do with the value of the stories you choose to highlight. Instead, it's a set of skills you can show off.
So, choose stories that show off skills like customer service, teamwork, working with others, and being a leader. And don't forget to use the STAR method we just talked about.
Job Interview Tip 3: Know The Company
You must know a lot about the company you want to work for if you want to create a good impression during your job interview. For example, if you are interviewing with a public firm, you should know its stock price and annual reports.
In addition, you should be aware of the company's primary competitors, their products and services, their target clients, and how they advertise themselves.
But once you're there, don't push yourself too hard. Give answers that make sense and show the interviewer you know much about the organization.
You might also ask a few questions about the company or discuss some of its past activities, objectives, breakthroughs and work culture.
However, do not question how the company operates, provide negative feedback, or tell the interviewer what the organization should do better (unless requested).
Read also, Top 100 ITIL Interview Questions and their best Answers
Job Interview Tip 4: Learn About the Hiring Manager/Interviewer
It's essential to learn about the hiring manager or the person who will be interviewing you. The reason for this is that you might not know who will be interviewing you before a job interview, but if you can find out, do your research. Usually, the interviewer is in charge of the department for which the job is being filled.
Interviewers might use the interview to see if you're someone they can work with daily. In addition, you can look up information about the interviewer on the company's website, Google, LinkedIn, and several other websites.
Job Interview Tip 5: Fight The Stereotype.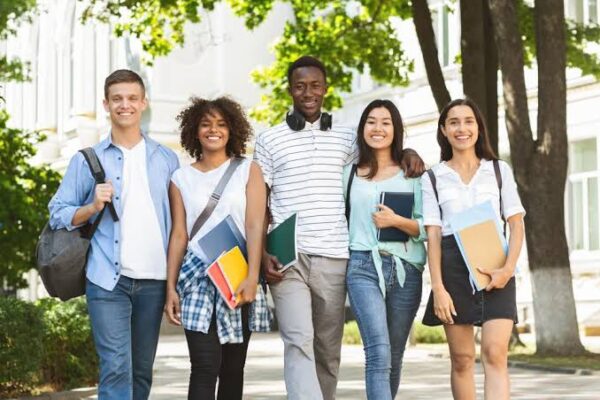 When getting ready for a job interview, many college graduates don't think about how to get past stereotypes. You ask, "What stereotypes?" During an interview, everyone has to deal with hidden biases.
For recent college graduates, these biases may include a sense of entitlement, lack of experience, poor communication skills, needing constant supervision and positive reinforcement, and a bad work ethic.
Whether or not these stereotypes are true, they exist, even if they are only in mind. It's up to you to change these ideas about yourself. The answer isn't to ignore them or act like they don't exist.
During the interview, it's up to you to show that even though these stereotypes may be true of some college students, they are not true of you.
Job Interview Tip 6: Prepare Some Powerful Stories and Examples.
You've just finished your third and final resume edit. You've had it reviewed by three other MBA students, and they're all impressed.
It looks fantastic! You look fantastic! How could anyone refuse to hire you? However, as impressive as you may believe you appear on your CV, the reality is that you will be remembered only for the tales and instances you provide during the interview.
This is where most recent college graduates fall short, and you may differentiate yourself from the competition. First, consider your educational background, including internships, externships, projects, volunteer opportunities, teacher assistance employment, leadership roles, and so on.
Select a few powerful anecdotes demonstrating your skills and abilities (technical, leadership, teamwork, etc.)
Then, format your stories using the STAR system (see the part headed Prepare a Few Powerful "STAR" Anecdotes) so they can be easily changed, structured, and shared.
Job Interview Tip 7: Watch Your Body Language.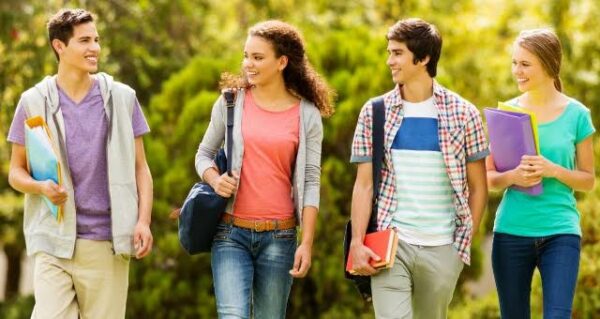 "A picture is worth a thousand words," as the adage goes. You, on the other hand, are your image. What does your photograph reveal about you? Take note of what you do with your body. People who have recently graduated from college should be aware of this for two reasons.
First, those seeking m work for an extended period are more likely than college graduates to be aware of their body language. As a result, individuals are more likely to do things that will cause an interviewer to reject them.
Second, when college graduates apply for jobs, there isn't always much that distinguishes them from one another. Lousy habits and bad body language may be enough to convince a hiring manager to choose someone else.
Don't slouch, chew gum, chat, or fiddle with things. Instead, speak clearly and loudly, make eye contact, smile, nod when appropriate, and sit up straight.
Check out these 10 Best Legit Online Jobs for College Students (to Make Easy Money)
Job Interview Tip 8: Keep It Real.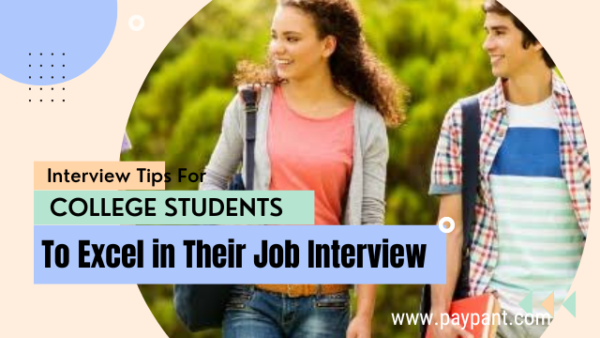 What does "keep it real" mean? That's right. Be true to yourself and tell the truth. The person interviewing you knows that you are in college.
They also know you're a "greenie," so don't act like you're Lee Iacocca or the answer to why the market share dropped last quarter. But, again, be interested and tell them how your skills and strengths can help their company.
Also, be truthful. We've already told you to be honest, but let's go further. Being honest doesn't just mean not lying—it means being genuine.
Rule number one: Never lie on your Resume or during the interview. It will come back to bite you in the butt.
Rule number two is that you shouldn't lie. It's usually easier to spot someone who is being dishonest than someone who is outright lying, and it's usually just as bad for your job interview.
Job Interview Tip 9: Don't Be Negative.
Not giving off a negative attitude if you want to get into college is critical. As stated in The Most Important Interview Tips for Job Seekers, showing passion and remaining positive is essential for a successful interview.
Conversely, being negative or saying negative things will reduce your chances of getting a job offer. So don't be negative under any circumstances.
Do not say anything negative about a past employer, supervisor, coworker, or fellow student, no matter what topic is asked or how much you are led during the interview. Instead, maintain the interview's focus on you, your skills, and why you're the best candidate for the job.
Job Interview Tip 10: Recheck all Your Interview Materials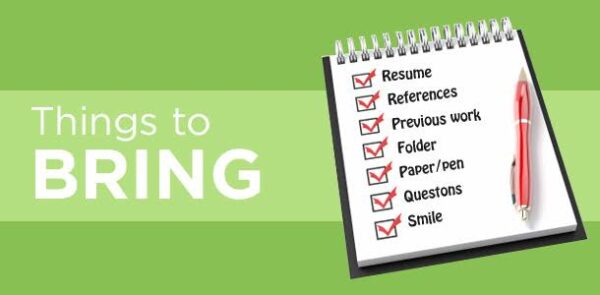 I know it's easier to say than to do, but the best way to be successful in your interview is to plan for the unexpected. So, if you have a video interview, make sure to check your check the day before.
Interview preparation means checking your microphone, audio, camera, etc. If you do this the day before your interview, you can find any problems before your interview starts. And if you have a face-to-face interview, ensure you get there at least 15 minutes early.
Extra tip: Remember that your interview can start as soon as you get there. So be nice to any receptionists you talk to or smile at people you meet while you wait for your name to be called.
Job Interview Tip 11: Bring a Copy of Your Resume and Cover Letter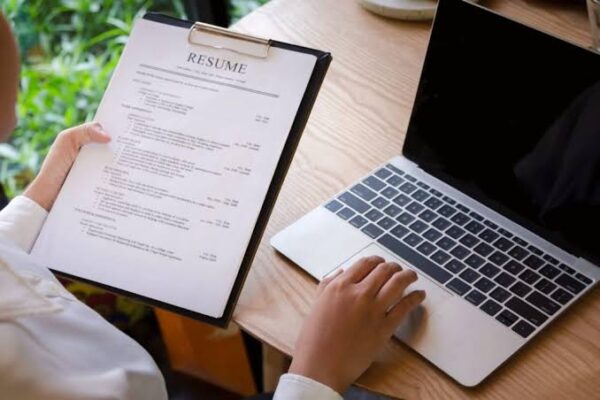 It's a good idea to print out your Resume and cover letter and bring them with you. Having extra copies is not bad because you might be talking to more than one person.
Also, get a list of references you can give the interviewer if they ask. Also, if you're interviewing for a job related to education and your grades are a plus, you might want to bring a copy of your transcript.
● Turn off your phone.
Even if you can get away with texting in class, you shouldn't do it during your interview. Also, if your phone keeps beeping or ringing during your interview, it's distracting and doesn't look good.
So, make it a point to put your phone on silent and put it in your bag or pocket during your interview—experiences, such as the work you did with clubs and student groups.
● Put your headphones away before entering.
Put your phone away before you go to your interview, even if you can't wait to hear the end of your favorite song. You want them to think about you as a possible intern or employee and not about anything else.
● Don't bring drinks or food.
Plan and get a snack before or after your interview. It's not professional to eat during your interview. This rule also goes for drinks. Even if you only got two hours of sleep, you should finish your coffee or throw it away before your interview.
Related article: 10 Best Websites To Buy Cheap College Textbooks(Buy Used Textbooks)
Job Interview Tip 12: Research Potential Interview Questions They May Ask You
We discussed how important it is to learn about the company you want to work for. You should also learn about the questions they might ask you at the interview. You can get help from Glassdoor.com and other job sites.
You can type in the name of a company you might want to work for and see what questions they asked other candidates who went through the interview process. You can even see how their interviews turned out.
● Practice Your Interview Answers
Check with your career services office to see if they do practice interviews. That will help you get ready for the real thing. Also, look over common interview questions and how to answer them, so you're prepared to discuss your background and skills.
Job Interview Tip 13: Preparation Before The Interview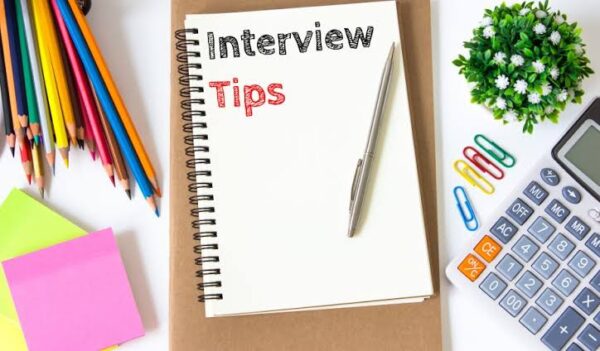 ● Dress for Success
If you don't have any professional attire (jeans and t-shirts don't usually suffice), it's time to go shopping. While some companies, particularly start-ups, are less formal than a bank or law office, it may be useful to learn how to dress for an interview before arriving.
If your job interview is via Zoom or a similar platform, avoid distracting clothing patterns and keep your dressing professional, even if you don't think they'll see what you're wearing from head to toe.
● Get to the interview venue early
If you don't know where the interview is, get there before the interview to find parking and double-check your directions. Make a point of leaving early enough on the day of the interview to arrive not just on time but early.
● Ensure your personal computer is configured correctly
If your interview is online, ensure you arrive early to minimize any technical issues that could cause you and the interviewer stress. Examine your speakers and camera attentively, and don't forget to check the distance and angle (eye-level).
Download any apps (such as Zoom) you may require for the interview and call ahead of time. Then, test the video and sound levels on the app before the interview begins.
Job Interview Tip 14: Write Your Pitch and Practice Sharing It
The traditional elevator pitch is a short statement (no more than 30 seconds) that summarizes the speaker and highlights the speaker's value to the company. Yes, it is a method of self-promotion. But you should try because you know you can. It's an effective tool for focusing on the positive aspects of one's personality.
Practice your "elevator pitch" by conversing with a friend, mentor, or parent in the role of an interviewer. Try your best to answer some common interview questions. To prepare for an interview, it is better to practice the interview process multiple times than to receive comments on your performance during each practice session.
Related: 15 Benefits of Paying Off Student's Loan Early
Job Interview Tip 15: Send a Thank-You Note After the Job Interview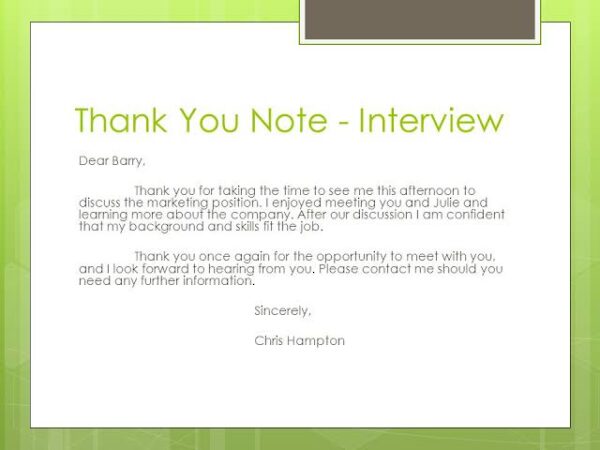 Even though you should thank the person who interviewed you, it's also a good idea to send a thank-you email. Not only is it polite to follow up, but it also shows that you are still interested in the job. Be sure to show how much you want the job if it's still a good opportunity and quickly explain why it's a good fit.
For example, you could say, "I'm so excited about the possibility of working as a publishing intern for your organization because it will let me use my strong writing, editing, and organization skills."
Bonus Interview Tips For College Students
Bonus Tip 1: Always Follow Up
Follow-up after your interview shows you're serious about and interested in the job. Plus, it keeps you in the mind of the person in charge of hiring.
Now, you should send two different kinds of follow-ups. The first is a note of thanks, and the second is an email to be sent after the interview. If you want to send a thank-you note, make sure to do so within 24 to 48 hours after your interview.
Bonus Tip 2: Show your Enthusiasm
Being excited is a great way to show the interviewer that you're interested in the job and thankful for the chance to talk to them. Paying attention to your body language and how you look is essential. Be sure to smile when they come in and immediately tell them how much you value their time.
You can say something like, "I can't wait to meet you! "I appreciate you taking the time." People who interview candidates usually take time out of their busy schedules to do so, and they always like it when candidates are grateful and excited about the process.
Plus, enthusiasm shows that you want the job, which is one of the most important things you can do in an interview.
Bonus Tip 3: Ask the Right Questions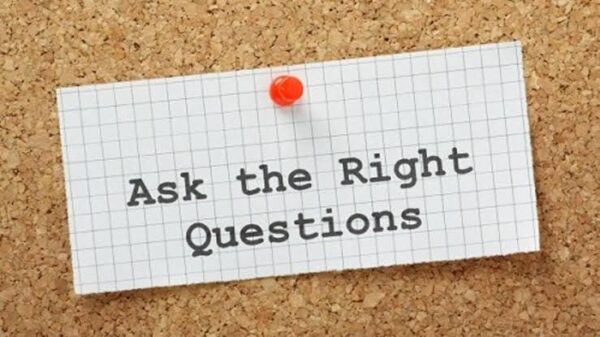 The interviewer will always give the candidate 5-10 minutes to ask questions at the end of the interview. Asking, "Do you have any questions for me?" The correct response is always "yes."
Doing so will demonstrate to the interviewer that you have taken an active interest in learning about the firm and the position.
Remember that the interviewer will probably not bring up these topics on their own, so you should have three questions ready to ask.
Some of my favorites include: "What worries you the most?" "What are the most difficult aspects of this position?" In addition, to stand out, you should inquire about the commonalities shared by the company's top performers.
By asking interesting and relevant questions, you can significantly increase the likelihood that the interviewer will remember you favorably.
Other Do's and Don'ts of College Interview Preparation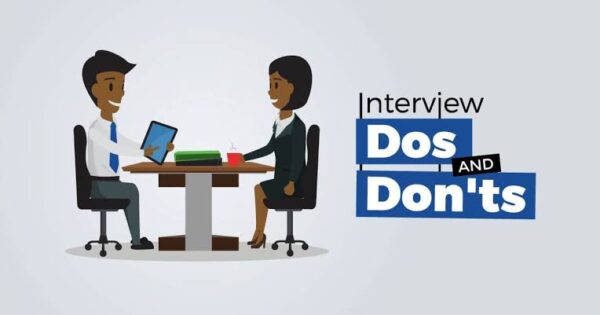 Please do not be late for the interview.
Don't wear sloppy or dull and drab clothing. Dress for the job you want rather than the one you have.
Use no slang or foul language.
Give your interviewer a firm handshake, but don't damage their hand.
Don't forget to dress like you already have the job.
Be friendly and pleasant to everyone you meet.
Consider thinking aloud. Inform the interviewer about your mental processes.
Complete the employment application thoroughly, cleanly, and precisely.
Please bring extra copies of your Resume.
Make no jokes during the interview.
Don't bring up personal matters during the interview.
Always act as if you're dead set on getting the job you're interviewing for but don't show any signs of desperation.
Do prioritize what you can do for the firm over what the company can do for you.
Do ask thoughtful, insightful questions.
Never, ever refrain from asking questions. You should have at least a question for your interviewer.
Do not inquire about the job benefits or perks.
Don't just say "yes" or "no" to interview questions; give your reasons.
Make an effort to obtain business cards from everyone you interview.
Within 24 hours of the interview, send a personalized thank you note to each person you interviewed with.
After the interview, take down notes right away.
Responding to unexpected queries should not be done with a long pause or by saying anything dumb.
See also, 15 Ways to Make Money in College (#11 Will Be Your Favorite)
Bottom Line
Being a new graduate or college student in any job market might be intimidating, mainly if you've never conducted an in-person or virtual interview.
Practicing and honing your interview skills is an excellent approach to guarantee you are ready to interview for a job. Pay attention to the interview tips to ace your interview.
Even if you don't obtain the job you apply for, an intense interview may indicate that the interviewer will keep you in mind for future opportunities.
Check out our Interview Questions Guide post to learn more about questions you will be asked during a job interview.
Read also, 10 Best Websites for Making Money Online for Students
Frequently Asked Questions (FAQs)
Q: What to do if you feel nervous in a job interview
When you meet your interviewer, smile and give them a firm handshake, a limp handshake is the worst thing you can do.
Ask a short question like "How's your day going?" when you first arrive to break the ice and get things going casually.
Think about your posture; when you sit down, make sure you sit up straight and don't move around. You can use your hands to emphasize your words, but don't do it too much. On the other hand, try not to sit too stiffly either, or you'll look (and feel!) awkward and nervous.
Remember to talk professionally and watch what words you use. If you start to go off on a tangent, stop right away and try not to say "um" too much. Take a moment to breathe.
Be calm when you answer questions, and give yourself time to think. You can think about what you've written in your notes and provide the best answer. Better than just jumping right in.
Q: How do I impress a college interviewer?
The different ways to impress your college interviewer are:
Dress to impress.
Prepare yourself.
Ask specific questions that the school's website cannot answer. Then, be prepared to "tell me a little about yourself."
Do not ramble. Be confident.
Don't let your guardians or parents speak for you.
Prioritize Your academic experience.
Bring something that symbolizes yourself.
Q: What should you not do in a college interview?
If you chew gum, arrive late, or appear uninterested, your rude behavior will leave a negative impression. Instead, demonstrate your independence as an adult. When you arrive at the interview location, check-in yourself, and do not bring your parents with you.
Q: How does a 17-year-old prepare for an interview?
Tips for Teens or 17-year-old to Have a Successful Job Interview:
Prepare answers to frequent interview questions.
Determine 2-3 main points you wish to convey to the interviewer.
Understand your Resume
Conduct preliminary research on the company.
Prepare a few questions for the interviewer ahead of time.
Arrive on time.
Q: Can a college interview hurt you?
A college interview won't hurt you. Very often, and sometimes, good interviews can make up for a bad GPA or test scores. Interviews not only show how interested you are in a college, which can increase your chances of getting in, but they also give you an edge over other applicants who didn't do an interview.
Q: How long should a college interview last?
Most interviews last between 30 minutes and an hour. Students are sometimes persuaded that a lengthy interview is a sign of a good one.
Q: How do I Ace an interview with no experience?
If you don't have experience in the field you are applying for, here are some tips to help you get ready for a job interview:
Find out more about the job. Before your interview, you can learn more about the company and the job you might be applying for.
Find out about the company.
Work on your ability to talk to people.
Q: Can I wear jeans to a college interview?
Instead of wearing a button-down shirt and jeans, they opted for a crewneck sweater and slacks since they felt it was more appropriate. So, should I let my kid interview for colleges in jeans? While some denim styles might pass as business casual, it's best to err on the side of caution and wear slacks.
Q: What do college interviewers look for?
As a college student preparing for an interview, you should be asked about your academic and intellectual interests, extracurricular activities, and "how you think on your feet" during an interview.