Last updated Mar. 4, 2023 by Peter Jakes
Since a wedding is a one-time event, renting a gown is the best option to take in getting a wedding dress. For one, it saves you the cost of buying a new one; you can instead channel the money (saved from buying a new dress) into planning for other aspects of the event. However, getting the best wedding dress vendor to rent a wedding dress can be quite tricky.
While some may not have the specification you're looking for, others may be too expensive. Notwithstanding, we've come up with a list of the top 3 places to rent your wedding dress, offering a variety of wedding dresses at affordable prices. In addition, the list contains what to expect and how to go about renting a wedding dress.
1. Rent the Runway: For Designer Dresses
RentTheRunway is a website that offers a variety of luxurious clothes and wedding dresses.
This website is filled with countless pictures of the model in order to provide you with information on the range of sizes available for a design, the body shape suitable for a dress, and more.
Additionally, this website provides backup sizes to individuals. It also oversees the cleaning of the dresses after use.
Rent the Runway is most popular for its wardrobe subscription service. But you can also find some designer wedding gowns to rent. The fashion company offers dresses of different measurements and designs, which are mostly unique as they come.
What's great is that their dresses, though exquisite, are quite affordable and can save you thousands of dollars over the cost of buying one. In addition, with a wide selection of dresses from over 300 designers on the Rent the Runway mobile app or website, you're sure to find the style you like!
Moreover, the site has a feature that allows you to browse according to your length, neckline, sleeve type, and more to help you narrow your choices of finding the specification you're looking for. And after you've picked the one you want, Rent the Runway allows you to test it even before D-Day.
Where to Rent Wedding Dresses Rent the Runway
The company has physical locations throughout the U.S. where you can check out the dresses in person. However, if you don't live close to one of their stores, you can always order it to be delivered to your door. Just select the item you want and hit the delivery button, and you'll have your dress in no time.
Aside from the specification feature, Rent the Runway also allows you to browse hundreds of dresses, read reviews about them and see photos of other ladies who have used them before you. This will help you to have a clearer picture of how you'll look in that dress.
However, it'll be a great idea to schedule your rental for at least four months in advance to plan. But the company also allows last-minute orders, and you'll get them delivered before or the next day. So you are free to pick the date you need the dress.
Furthermore, adding a backup style and size is a good idea for only $32.50 more when ordering. Finally, note that they deliver every dress clean, steamed, and pressed, so you can be certain that it's ready to wear even right out of the box. But if you realize the dress doesn't fit when it arrives, you can always send a complaint to which they'll give you another gown for your big day.
Returning the gown is hassle-free, given that the company includes a prepaid return shipping label having your order. After sliding your dress back into the garment bag, attach the label, and drop it off at any UPS store for free return shipping.
Aside from wedding dresses, Rent the Runway also rents other dresses for various events like red carpets, dinner nights, birthday parties, and so on. In addition, they offer other wardrobe services in exchange for a monthly fee, so you never run out of what to wear.
Because the service offers customers access to top fashion pieces, it has become popular among college students, fashion enthusiasts, working women, and moms who want to save some money but still look great.
Rent The Runway: Pros and Cons
Pros
It is a convenient way of renting a dress
An extensive list of designers (over 300 designers)
Their dresses are affordable
Overnight shipping available
Add backup style for low cost
Cons
Most of their dresses are limited in stock
Very high resale prices
Only ships to the U.S.
Physical stores are limited.
2. Poshare: For Glamour and Class
Another company renowned for renting the perfect dress for your wedding is Poshare. They've been in the business for more than three decades, making them one of the best bets to get the dress you're looking for. More so, their popularity has seen them featured in popular magazines like InStyle, Southern Bride, and People magazines.
Poshare has an array of elegant dresses made by famous designers to choose from, and each offers a personality of its own. Likewise, all the gowns are in perfect condition, and you can be lucky to find brand-new ones with the original tags.
So if you're looking for high-class styles to wow your wedding guests, Poshare is the place to go. Plus, the photos will turn out spectacular when you get a polished gown that stands the test of time. And this is what you'll get when you rent from this American company.
Poshare doesn't only rent; they also sell. So if you like your rented dress, you can as well buy it from their site. You can buy it before or even after your big day.
How To Rent Wedding Dresses At Poshare
The share rental process works quite differently from the other sites since the dresses aren't placed in one central location. Instead, the owner possesses their items, and the listing will inform you of the locality of the dress. But you don't need to be in the area to borrow the item.
However, if you're close enough, you can go ahead and pick up the dress in person. Otherwise, you can simply choose the option of having it shipped directly to your address. This is especially true if you live far from the location.
Keep in mind that it is possible to ship to addresses outside of the U.S. if you book with Poshare. When you inform them of the dress you're interested in, they'll alert their customer service team to start the process of getting your dress to you, regardless of your location.
To avoid shipping delays or other unfortunate, unforeseen circumstances, scheduling your dress to arrive two to three days before your wedding day is best. Besides, having these few extra days will help you focus on other aspects of the wedding and remove your mind off the wedding dress for a moment.
However, it's best to ensure that you check the information about the dress you intend to rent, such as the measurements and specifications, before placing and other. This is crucial because Poshare doesn't provide refunds even if the dress doesn't fit as well as you had hoped.
But if you return the gown within 24 hours of receiving it by mail (or the same day you met the owner to pick up the dress), you can get an exchange or site credit. After the gown you ordered arrives, your rental can last for 7 or 14 days, depending on the option you chose during the checkout process.
To return your rental, you either meet with the owner (for in-person pickup) or mail the items back with the same return shipping label that came in the box. When returning it, there's no need to wash or clean it before you send it back. But the same cannot be said for buying the dress – you'll have to do the washing yourself.
Poshare also offers bridesmaids' dresses at affordable prices. They have a variety of dresses that can go with any shape, size, or style of your bridesmaids. They also come in a variety of designs and colors to coordinate with the general palette of your wedding.
The company even offers a volume discount on dresses; this could come in handy depending on the number of bridesmaids you have. If you combine the amount you save from taking advantage of the volume discount and renting your gown and the bridesmaid's dresses, the savings can add up to a significant amount.
Poshare: Pros & Cons
Pros
Discount on volume rentals.
Allows rentals for up to 14 days.
Can get new-with-tags options.
Return shipping label included.
Bridesmaids' dress rentals are also available.
Cons
International shipping isn't automatic.
The owner keeps the dress.
Operates on a no-refund policy.
3. Lending Luxury: For Unique Style
Though the company's name seems like they rent "expensive" items, Lending Luxury is one of the places where you can find some of the most beautiful gowns at affordable prices. Similarly, it's a great place to save money renting your wedding dress.
The site has a variety of stylish bridal styles, and you're sure to find your favorite styles. However, you'll have to create an account on the site to access their many glamorous dresses. It is free to open an account, and the site is easy to browse through.
Lending Luxury offers dresses in a variety of styles, including strapless, floor-length, and ivory colors. You can use the shopping categories to sort by size, color, occasion, designer, and price. So regardless of what your wedding theme is, you're sure to find a style that matches your personality, looks, and specifications among the many choices in a breeze.
How To Order A Wedding Dress On Lending Luxury
Once you're able to narrow the selection and pick your desired wedding gown, the ordering process is simple. You can order via their website and have it shipped to you.
You have the choice of reserving the dress for a specific date. You can do this especially if you're looking for your dress with plenty of time to spare before the marriage ceremony. But even if you do late shopping, Lending Luxury will ship your gown to you immediately.
However, Lending Luxury only ships to locations in the U.S., and they don't deliver to P.O. Boxes. Shipping is usually done in one to three days, so it's best to order on time. Moreover, ordering on time will help you get the dress well even before your wedding day and avoid any disappointment (which is, however, unlikely).
Your rental will last for up to five days, and returning the dress is simple once your event is over. You don't need to dry clean it. However, when packing it back in the box, ensure to include all the original accessories you received, like belts or straps.
And before you wrap the package, insert a copy of your receipt inside so that they can easily identify your package when it gets to Lending Luxury.
One of the downsides of renting with Lending Luxury is you don't get a prepaid return shipping label. Rather, you're responsible for taking care of returning the cost of the dress when you take it to the USPS location for mailing.
Like Poshare, you can also buy dresses from Lending Luxury. So if you like the rented dress, you can as well make it yours permanently by meeting their asking price.
Pros and Cons of Renting From Lending Luxury
Pros
Availability of a variety of designer styles
Overnight shipping available
Shipping is free
Allows you to rent or buy the wedding dress.
Cons
Only ships to U.S. locations
Dress rental limited to only five days
You'll pay for return shipping
A bonus point on where to get wedding dresses is Etsy
Etsy
Etsy is one of the best places to discover wedding-related items.
The website is well-known for showcasing outstanding crafts. Wedding gowns are also available for rent on Etsy.
Etsy offers a wide range of rental wedding gowns. It offers conventional wedding gowns, maternity wedding gowns, and everything in between.
When renting a wedding gown on Etsy, you'll be provided with the seller's rental period and delivery information. Some sellers on Etsy offer free delivery services.
Yes! You can rent a wedding dress in the United States. Rented Wedding dresses in the US cost around $50 to $600. However, the price depends on the dress design and rental business.
Designer wedding dresses are often expensive and cost around $500 to $2,000.
If you have a wedding event to plan and you are in search of the best places to rent wedding gowns, you should check out these websites.
The places listed below provide you with a backup gown for emergency purposes, and also provide several benefits.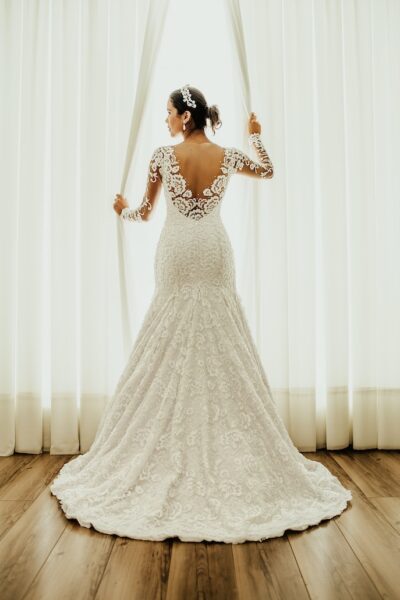 Frequently Asked Questions Related To 3 Places to Rent a Wedding Dress
Can You Rent a Wedding Dress In The U.S.?
Yes, you can rent wedding dresses from various stores in the U.S. Wedding dresses in the U.S. typically cost between $50 and $600 for rental, but they can cost more or less depending on the rental company and the dress.
How Much Does A Wedding Dress Cost In the USA?
Wedding dress prices vary depending on the type, design, and company. However, the average cost of a wedding dress in the U.S. is $1,000. The price typically ranges from $280 to $1,650, although you can buy a wedding dress for less or more than those prices.
Is It Cheaper To Buy Or Rent A Wedding Dress?
Renting a wedding dress seems to be cheaper than buying one. The cost of renting it and how long you'll use it are the two factors to consider. Buying a new dress is relatively costlier than hiring one. Moreover, you'll need the dress for only that day (your wedding), and afterward, you won't need it.
Is It Possible To Rent A Wedding Dress Online?
Renting a wedding dress online is very much possible. They're lots of online companies offering rentals online, such as Etsy, Rent the Runway and Lending Luxury. In addition, they offer shipping services so you can receive your dress at any location.
How Do I Get A Wedding Dress On American Airlines?
American Airlines will only accept your wedding dress as your carry-on bag – so you can either pack it into a standard carry-on suitcase with a maximum size of about 22 x 14 x 9 inches or pack it in a soft-sided garment bag no longer than 51 inches (130 cm).
Renting a bridal gown is an easy way for brides to save money on their wedding. A rented wedding dress comes cleaned, ironed, and straight out of the box making it referable to a newly bought gown.
What Color is Best for Wedding?
As a guest at a wedding, it's best to avoid wearing black and white dresses. This only should be reserved for the bride and groom to enable than stand out.
You can wear any color of the dress to a wedding. Pastels, jewelry tones, and earth tones are suitable color of the dress to wear to a wedding.
What is the Best Month to Buy a Wedding Dress?
January is the best month to buy a wedding dress. January is known as an engagement season, and it comes after the holidays.
What Does Bride Pay For?
To keep things traditional, the bride & her family are expected to pay for everything from wedding preparation to the bride's dress and bouquet to the officiant's travel and accommodation.
Which color dress is best for a wedding?

To keep things traditional, the bride & her family are expected to pay for everything, from wedding preparation to the bride's dress and bouquet to the officiant's travel and lodgings, as well as the bridesmaids' accommodations.