Last updated Apr. 4, 2023 by Peter Jakes
Did it ever occur to you that you could pay off your debt faster with small amounts in your bank account? This is exactly what the Qoins app does. This Qoins Review will explain how you can round up purchases and pay debt faster.
Paying off debt can be one of the most beneficial investments a person can make. This is true financially because paying off debt quickly means paying less interest. Being debt-free can also provide a significant mental boost and reduce stress.
Debt repayment is the approach taken by Qoins, an automated savings and debt repayment tool. Unlike many micro-savings apps, Qoins aims to help its members become debt-free as soon as possible.
However, Qoins lacks some budgeting tools you may be familiar with if you've used similar apps. In this Qoins review, we'll go over how the app works, its features, and its pros and cons.
It might be difficult to save for a house or invest for retirement when trying to pay off debt. Qoins is a brand new software to help you get out of debt faster by investing your spare cash.
In our Qoins review, we'll closely examine the service and its features to see whether or not it will help you better manage your money.
Good Read: Can You Pay Off a credit card with another Credit card?
What is Qoins?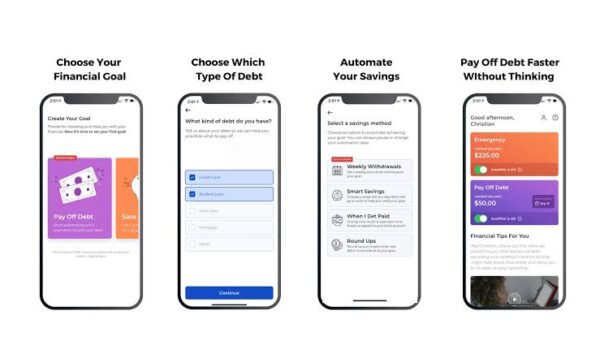 Qoins is a money-saving application. It automatically saves money for you and applies it to your debt or savings. It's especially beneficial if you've been feeling stuck in financial limbo.
Because it works automatically, you are guaranteed to make extra debt payments while using it. Debt payments allow you to pay off your debts faster and save on interest.
Choose How Qoins Decides to Pay off Your Debt
Since you link Qoins to your account electronically, it debits each rounded amount right away. So you don't have to be concerned about that money after it's gone.
Qoins hangs onto it. You can choose how Qoins uses that money to pay off your debt.
There are two ways to use Qoins right now. First, lump sum mode is a strategy in which Qoins sends your accumulated pennies to your lender once a month. This costs $1.99 per month, regardless of how much you save.
Threshold mode mails your payment whenever Qoins has saved a certain amount of your money. For example, if it makes $10 from your spare change, it immediately sends you a check. Pricing is a little more complicated for threshold mode. We'll get into that a little later in this piece.
How Does Qoins Work?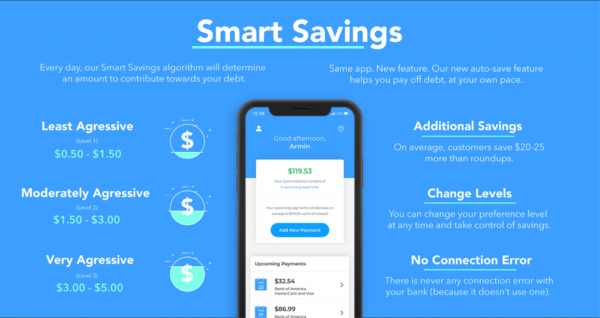 The Qoins platform focuses on two main goals: saving money and paying off debt automatically. First, you set the rules, and Qoins helps you stick to them by automating payments and moving money for you.
The Qoins system is pretty simple:
You pay off your debt whenever your spare change queue reaches a certain amount.
This could range between 1 and 10 checks per month, depending on how active you are with your app.
Qoins users enter basic loan information such as payment address and account number, and the app handles the rest.
While paying down debt with spare change may appear insignificant, it reduces the user's debt and the amount of interest to be paid.
Essentially, the Qoins app works on the debt snowball principle, reducing the amount owed a little at a time, reducing the length of the debt and, thus, the interest.
Qoins does charge a fee to cover the costs of running the business, mailing loan checks, and keeping funds in an account.
Qoins Sends Extra Payments to a Lender
When you sign up, you allow the Qoins app to connect to your bank account. Then, when you use your debit card to buy something, Qoins rounds up the price to the nearest dollar.
The difference between your charge and the next highest round dollar amount goes toward paying off your debt.
That means that for a purchase of $1.35, Qoins would take $0.65 out of your account. If you spent $9.77, it would take $0.23.
This money stays in an account you can't access. Qoins then uses that account to send extra payments to a lender of your choice. So your spare change helps you to get out of debt faster.
Create Savings Goals
The first step after signing up for Qoins is to set up various savings goals.
This could include anything from putting money aside for an emergency fund to saving for a down payment on your first home.
Once you've created your goals, you can choose the savings method for each one, and Qoins will help you work towards them automatically.
Qoins provides four different ways to save:
Round up: Qoins users can round up their daily transactions to the nearest dollar. Then, it adds the amount it rounds up to your Qoins balance. So, for example, if you pay $13.50 for a movie ticket, Qoins will round it up to $14 and add $0.50 to your Qoins balance.
Acorns' investment app operates on a similar principle, except that it invests your money instead of using it to pay off your debt. There are other investment apps for beginners if you want to invest and pay off debts simultaneously.
However, if you already have an Acorns account, you know how much of your personal wealth can be measured in pennies and nickels.
The idea of investing has been so popular that it's not surprising that other apps are copying it.
Smart Savings: Every day, Qoins takes money from your funding source and deposits it into your Qoins account.
Qoins saves for you in three ways: Least Aggressive (between $0.50 and $1 per day),
Moderately Aggressive (between $1.50 and $3 per day), and
Very Aggressive (between $3 and $5 per day). A Qoins algorithm determines the precise amount, but it will always be within the range Qoins users select.
When I Get Paid: Qoins users select a percentage or amount for Qoins to set aside each time they receive a deposit of $100 or more from their funding source. For example, you could instruct Qoins to set aside 10%, or $30, of any deposit over $100.
Recurring Weekly Withdrawals: Users can set aside a certain amount of Qoins weekly.
Qoins sends your balance to your lender as an extra debt payment once a month or deposits it toward your savings goal.
Qoins Features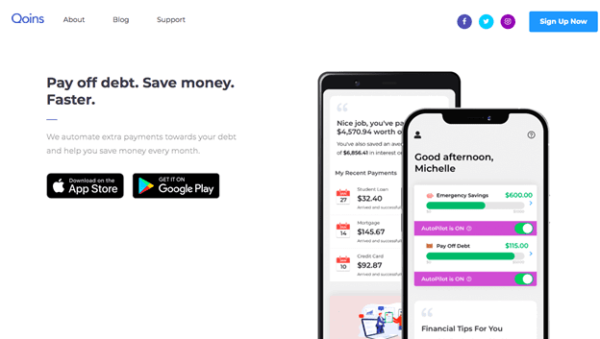 Create Debt Goals
You can use Qoins to create different debt payoff goals, just like you can with savings goals. You can currently pay off up to five debt balances at once, including debts such as:
Credit cards
Car loans
Mortgage
Student loans
The goal is to save money in the long run because paying off debt faster reduces the total amount of interest paid. There are ways to avoid student loan debts, but if you `didn't, Qoins is a good app to pay off your student debts.
Regarding payment, Qoins sends payments to you once per month at the frequency you specify. If you're paying off multiple debts, you can specify how much Qoins should be sent to each one.
Payments with your lender can take up to 10 business days to process, but they usually go much faster.
The Qoins Card can Help you Pay off your Debts.
The Qoins card is a prepaid Visa debit card that can help you meet your debt repayment goals faster. Unfortunately, the cashback rewards program was not available at the time of writing, but there are other cashback reward sites to earn rewards.
Qoins, on the other hand, plans to pay cardholders 10% cashback on round-ups when it launches, allowing you to get out of debt faster.
Additionally, the company intends to offer additional cashback rewards through partnerships with merchants, allowing you to double-dip on rewards.
There are no annual fees for using your Qoins card anywhere Visa is accepted. Virtual cards are also available; your cash balance is insured up to $250,000 by the FDIC.
Furthermore, withdrawal fees at StarNetwork and MoneyPass ATMs are waived. However, ATM withdrawals made outside of the network cost $2.50.
Qoins Marketplace
The Qoins Marketplace is a database of partners you can use to tackle other areas of personal finance, such as:
Credit reporting
Insurance
Loans
Side hustles
Tax relief
Qoins assists its members in finding useful partners, such as side gigs to supplement their income or cheaper insurance. However, loans are heavily promoted on my marketplace, and personal loans are the first list of partners I see.
This seems a bit off for an app specializing in helping members save money and get out of debt.
And, of course, Qoins is likely to be compensated for referring customers to these various partners, which isn't a good look.
Qoins marketplace is one of my favorite app parts, and I was surprised to see loans promoted so prominently.
Qoins Benefits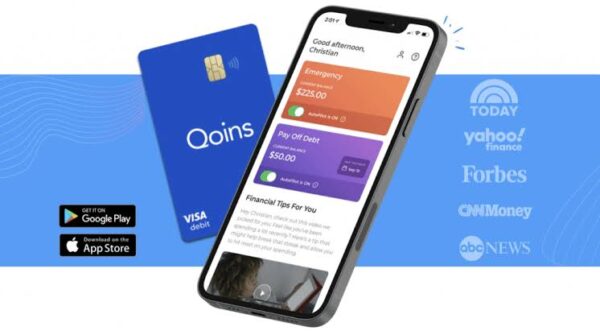 Qoins lets users pay off debt and save money without setting aside large monthly sums. You can even use this app to pay off debt and travel the world.
The app provides several key benefits for anyone looking for a simple way to pay off debt, which you can read about below:
● Bank-Level Encryption
Qoins and its users place a high value on security and privacy. As a result, Qoins employs industry-standard, bank-level encryption to ensure secure transactions.
Additionally, the company does not store banking information, keeping it safe from attacks and theft.
● Improved Credit Score
Debt has a significant impact on credit scores. Therefore, the sooner you pay off your debt, the better your credit.
Qoins enables users to save small amounts of money at a time to pay off debt. As a result, users' credit scores improve as debt is quickly reduced. You can also learn how to clean up your bad credit and improve your credit score.
● Payment Guarantee
Users can rest easy with Qoins. The payment guarantee ensures that your money will go where you want it to go or be refunded.
If an error occurs while Qoins attempts to pay on your behalf, your funds will be returned to you. Therefore, there is no risk of losing money when using Qoins.
● Pay Off Debt 10X Faster
Instead of paying minimum debt payments over the years, users can pay off their debts as quickly as they want.
Users can pay off debts up to ten times faster by opting into the various saving methods offered by Qoins and choosing to pay down specific debts.
● Track Your Payment History
With the Qoins app, you don't have to worry about where your money is going. Users can track every rounding transaction by day in the Accounts
● Activity tab
Users can view all debt payments made in their name under the Payment tab. In addition, the payment date, recipient, and amount are all visible, allowing users to confirm their payments and monitor the proper debt reduction.
How Does Qoins Make Money?
Qoins generates revenue by charging fees. As previously stated, using lump sum mode costs $1.99. In addition, Qoins pays your lender once a month as long as your purchases total more than $5. Therefore, the annual cost of the lump sum mode is $24.
Remember that you'll pay that $1.99 whether you've accumulated $5 or $25. It's a fixed fee. For people whose interest compounds monthly, this is probably the best option.
Threshold mode pays out whenever Qoins has saved a certain amount of money.
For example, if you want, Qoins will send money to your lender every time it saves at least $10. If your interest compounds fast, this can seem like a good option.
The issue is that Qoins charges $0.75 per transaction and $.05 per dollar for threshold payments. This adds up fast. If your threshold is $15, the transaction will cost you $1.50.
Qoins could earn $45 per month from your transactions, amounting to $4.50 in fees if you use threshold mode. That's more than double the normal price!
How Qoins App Helps You Save and Pay Debts from Your Change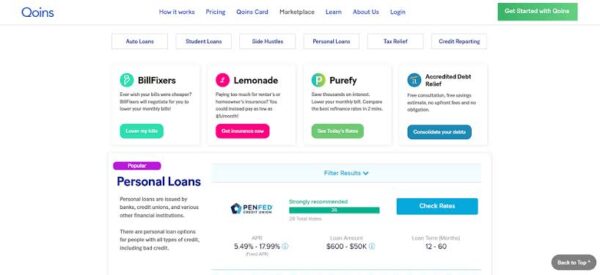 The average Qoins user will save in four different ways.
The first method is to use the round-up feature. With this, you can round up your daily transactions, such as buying gas or paying for a cup of coffee, to the nearest dollar.
When you round up, the amount you add is added to your Qoins balance.
There is also a wise savings strategy. Qoins will deduct money from your funding account source (typically a linked bank account) daily, allowing you to save money without thinking about it.
In the Qoins app, you can customize your preferences, ranging from the least aggressive to the most aggressive.
When you get paid, Qoins can put extra money into your Qoins savings account. If you want to be more aggressive, it could be as much as 5% or $30 of every deposit over $100.
Qoins will send an extra payment to your lender each month based on the amount you have saved in your savings account. You can pay off debt faster this way without even thinking about it.
Track Your Payment History with Qoins
The Qoins app gives me the option to track every transaction that has been made on my behalf. In addition, the Account Activity tab allows me to view each rounding transaction, sorted by day.
For example, on March 13, I saw that Qoins applied $2.31 to my debt repayment plan.
The Payment tab tracks each individual check mailed out by Qoins on your behalf. You can see the date it was sent, the address, and the associated debt account number.
This is an excellent way to monitor your Qoins activity and ensure the funds are applied to your principal balance.
When you check the balance of your loan account, you will discover that it will take eight calendar days from when you checked the mail to when it will be applied to your principal.
Qoins' rule of thumb is 7-10 business days for payment processing by a lender.
Qoins Pros And Cons
Pros:
Qoins aid you in saving money with the goal of getting out of debt faster.
Makes it more difficult to deviate from your plan by spending the extra money you set aside each month by automating your debt repayment or savings goals.
As you pay down your balance, you can improve your credit score by lowering your credit utilization.
Cons:
The $4.99 monthly fee quickly adds up, especially if you're already in debt.
Using round-ups makes it difficult to balance your checkbook and budget precisely.
Because of the unreliability of the postal system and paper checks and the inability to set your payment dates, Qoins cannot be used to manage your monthly payments.
Qoins charges you for something you can do for free — save money and apply it to your debt.
Qoins Pricing: A Review
The company offers transaction rounding, savings, and debt payments for a small fee.
Basic Users – $4.99/Month. Users have unlimited automatic savings and unlimited automatic debt payments with this option. This plan also offers users important financial education.
Goal Users – $2.99/month can save money from their transactions and apply it to one debt at a time.
Is Qoins Safe and Legit?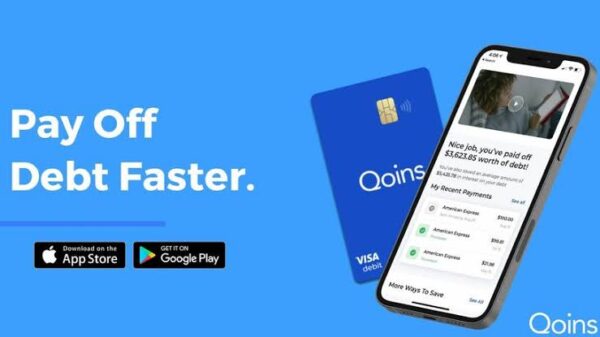 The Qoins app is the way to go if you want a hands-off approach to managing your debt and paying your bills.
Although it is not free and lacks many features of other money management apps, this program is safe to use.
Furthermore, it is a good fit if you want to take the right steps to financial freedom and independence without thinking too hard (or too long!) about it.
Numerous micro-saving and round-up apps are available, but most focus on investing or budgeting.
The goal of Qoins is to become debt-free as soon as possible. Putting money towards debt can be one of the best financial and mental investments you make if you end up eliminating high-interest debt faster.
What Kind of Debt Can I Pay Down With Qoins?
When you create your payment rule, you enter your basic loan information: payment address and account number.
Because Qoins has a database of remittance addresses for various loan providers, you may only need your account number to finish configuring your payment rules. But, of course, that's just the app doing its part to save you time.
For instance, I use Qoins to pay off a loan from a major U.S. bank, WellFargo. Their credit card payment address is listed, but my loan payment P.O. Box is not. So you can use Qoins to pay off the debt in any major or minor bank listed.
If you can't find your P.O. Box from the list of banks, you can use your most recent loan account statement to locate a mailing address and complete account number so that Qoins can send the funds to the correct location.
You can access the paper through your account website if you don't use paper. This was the final piece of information needed to set up my debt repayment plan with Qoins.
These actions were carried out in the payment rules tab, which appears when you open your Qoins app.
Should I Pay Debt with Qoins
Qoins is the best debt reduction app for consumers who want to pay more towards their debt or save money automatically. With the Qoins app, you can put your savings on autopilot. It is an excellent way to achieve financial objectives without the difficulty of developing new habits.
Qoins will be extremely beneficial to consumers with difficulty establishing a regular savings and payment routine to pay off their debt.
Those who have struggled to save or pay off debt will appreciate the Qoins app's seamless, automated debt reduction approach.
It's also an excellent option for those looking to pay off debt, improve their credit, and begin the journey toward financial literacy and independence.
Qoins provides users with a starting point for their financial future.
Good Read: Tally Review: Pay Off Debt Faster
Bottom Line
As we demonstrated in our Qoins review, this is the best debt reduction software for anyone looking to set up recurring payments to reduce debt or save money. Moreover, it's an effective strategy for meeting financial goals without establishing new routines. As a result, Qoins is ideal for consumers who struggle to save money and make timely debt payments.
The automatic, streamlined method of debt repayment offered by the Qoins app will appeal to those who have struggled to save or pay off debt independently.
It is an excellent option to get out of debt, improve one's credit score, and take the first step toward financial independence. Qoins gives its customers a starting point for their financial future.
If you need assistance creating a budget, YNAB or Mint are better options. However, if you want to stay on track with your debt payments and create a budget using other apps, you can try Qoins.
Frequently Asked Questions
Q: How do you use Qoins?
You just put it up, and it takes care of the rest. According to your savings strategy, Qoins will put money away for you. Then, it will transfer into your savings account or send another monthly payment against your debt.
Q: How do I cancel my Qoins account?
Select Settings from the menu (the person icon in the top right corner). Hit the subscribe button. Next, click the date of your subsequent bill. Finally, follow the instructions after selecting "Deactivate My Subscription" in the bottom left corner.
Q: What is the app that helps you pay off debt?
Apps for debt repayment may provide a variety of functions to assist you in prioritizing debt repayment and better managing your finances. Payoff Planner, Qoins, Tally, and Undebt. are among the top applications.
Q: How do you knock down debt?
Make more frequent than monthly payments. Prioritize paying down the debt that will most impact your monthly payments, and use the snowball approach if necessary. Reduce the term of your loan by keeping track of your payments and paying them on time.
Q: Is the Qoins app legit?
Users have saved over $2 million in interest and fees using the app to consolidate their debt. In addition, as with a traditional checking account, Zimmerman claims that the FDIC protects their funds.
Q: How much is Qoins?
As Qoins makes an additional monthly payment against your debt, you can sit back and watch your balances shrink as your money grows. Qoins Plus includes a Savings and Debt Repayment plan and costs $4.99 per month.