The first step to selling candles from home is learning how to make candles. Then, you'll need to set up an online store to market and sell your product. After that, you can turn it into a part-time business or full-time, whichever you choose. One thing for sure is that it's possible to make $1,000 selling candles from home.
However, note that the candle venture is not an overnight adventure. You'll need time, persistence, patience, and a constant yearning for learning. Don't expect to earn massively in your first few months, but with time, you'll begin reaping your rewards. So first thing first, you need to learn how to make candles before starting your journey of selling candles from home.
How to Make Candles at Home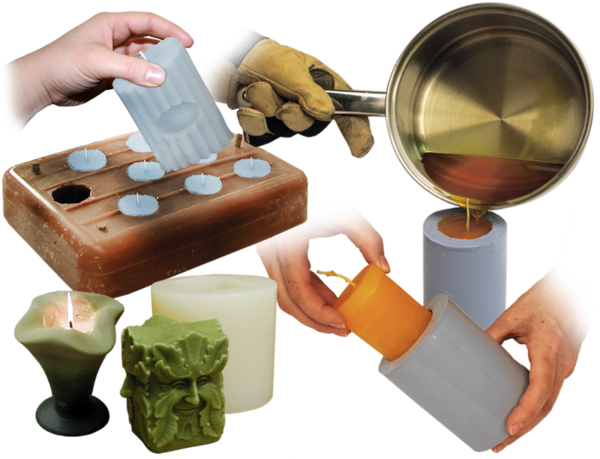 The process of making candles is quite easy. It doesn't require extensive knowledge, research, or training. However, it's essential to follow the steps of making candles carefully to get them right and avoid the frustration of starting all over.
1. Get Your Candle Making Supplies
The first step to making a candle is by purchasing all the necessary candle-making items. These supplies are available in chemical stores near you or at the market. It's best to go in person or assign someone experienced to shop for you.
It's advisable to compare the different items and products, including dyes, fragrances, melter, and even wax types, before purchasing to ensure you get the best.
Items you'll need to purchase are:
Wax melters
Candle wax dyes and colorants
Thermometers (for monitoring the temperature of the candle wax)
Heating source (hot plate or stove)
Measuring equipment and digital scales
Fragrance oil
Wicks
Candle wax ( preferably either soy wax or paraffin wax)
Jars (depending on the type of candles you intend to create, mason jars of various shapes and sizes can be used)
Labels for glass jars (glossy white labels are great for excellent packaging, you could also go for clear labels)
Caution or warning labels for individual candles
Boxes and shipping materials.
2. Measure the Wax
Use the measurement equipment to measure the required wax to fill the candle jar. If your candle jar is 16 oz, you'll need 13-14 ounces of wax, and 1-2 ounces of fragrance, depending on the outcome of your measurement.
3. Melt the Candle Wax
Melting the candle wax is the next important step in making your candles from home. To prevent burning, You may require a double boiler to melt the candle wax, depending on the wax you choose (soy wax or paraffin wax).
If you chose soy wax, please refer to the instructions from the specific wax brand, as soy waxes have varied melting temperatures. On the other hand, paraffin waxes will need to heat for a minimum of 185 degrees Fahrenheit to begin melting.
4. Add the Scent(s) of Your Choice (optional)
Adding scent to a candle isn't much different from creating an unscented candle. But if you must, once the wax reaches its melting point, you can add fragrance and other ingredients to the candle mixture.
Pour and stir the scent (of your choice) into the melted wax. Make sure you stir in the scent entirely and thoroughly.
5. Add Dye and Colorants
If you want your candle to be colored, or if you want to beautify it with designs, you should add dye(s) and colorants. To do this, measure the required dye based on the instructions on the dye of your choice. Then stir and fold in the dye and colorant into the melted wax. Continue until it is completely mixed.
6. Add Your Wick
Before pouring your candles into the designated jars, attach the wick to the jars or containers you intend to use. However, if you're pouring multiple candles simultaneously, it's advisable to add the wick to containers and jars beforehand to help save time.
7. Pour the Candle Wax
Before pouring the candle wax, check to ensure that the candle wick is secured, the wax is completely melted and mixed with the fragrance and dye, and the jar is ready. Pouring the wax into the designated jars shouldn't take long.
8. Check the Wick
It's important to double-check the candle wick to ensure that it is still in the right place and that it is upright. A wick that isn't visible after a candle has been poured will damage the entire candle. However, if you're experiencing trouble placing the candle wicks and getting them to stay properly, you can find a few tools in the market to help secure wicks easily.
9. Allow the Candle to Cool
As stated in the intro, an essential aspect of candle selling and making is patience. So, give enough time for the candle to sit and cool. It'll help it to set and harden well. In most instances, you'll need to wait for at least a few hours or even up to 24 hours for the candle to cool and harden before you can use or sell it.
The time you needed for the candle to set up mainly depends on the size of the candle you created and/or the type of wax and ingredients you used.
10. Trim The Wick Before Using
Once your candle has hardened and set successfully, you can go on and trim the wick. Trim the wick of the new candle by at least .25 inches before using or selling it to a customer.
It is advisable to use a professional wick trimmer as it'll help avoid damaging the wick and guide you through cutting it properly before use.
11. Add the Labels
If you intend to sell it, add your logo label and any specific candle level you might have created for the candle container or jar. It's also important to add a warning or fire label on the candle jar on at least one of the sides to abide by candle regulations regarding in the US. It will also help you avoid legal concerns or the chances of becoming an illegal business.
On the other hand, if your candles are not for sale, there's no need to add labels. Adding labels to them will be a waste of time and resources since you won't be selling to anyone outside.
12. Store the Candles
It's highly recommended to store the candles in a cool and dark place. Do not allow the candles to sit outdoors or remain in hot temperatures for a long period.
Furthermore, use bubble wrap and other packaging materials to keep the candles protected and safe while you store them away before selling.
How To Start Selling Candles From Home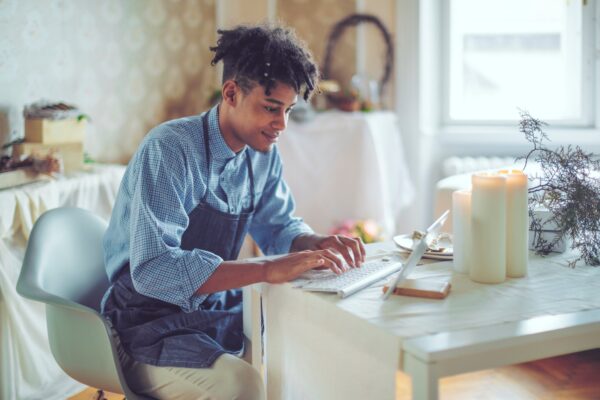 Now that you are equipped with the candle-making skills and know how to make candles, it's time you begin cashing out from your new skill. Remember that candle selling business can fetch you as high as $1,000 or more, depending on how dedicated you are.
The following ideas will turn your candle business into a profitable one in no distant time.
1. Create Your Candle Brand
Branding is key to making your candle business stand out. Remember that they're other competitors out there, and hence, yours have to be exceptional to create an appeal. You can start with something simple and continue to improve as time goes on.
Also, establishing a brand gives your business direction. With this, you'll know your target customers, the production level, marketing strategies, and more. Your brand should be unique and convey the idea of your candle business to both your customers and potential customers.
2. Create Your Logo
Creating a unique logo is also essential to start a candle-making business. Therefore, you should be creative when designing your logo. It'll appear on every candle you sell, and a good logo will attract customers.
Your logo should be appealing yet simple so that wherever one sees it, they'll recognize your product. If you're having trouble coming up with the perfect logo, check that of your competitors so that you may have an idea of what it looks like. Then, compare different designs and see which appeals more based on your verdicts.
However, do not copy that of your competitors to avoid legal issues. Creating one that connects with your customers and conveys the current conditions as well as the product (candle) you're selling.
3. Create A Website
Next is to create a website for marketing and selling your candles. It's much easier to sell your candles when you have a website. Your website will bring you closer to your customers and your customers closer to you with just a simple click and purchase.
You can choose to either create a website to sell your candles directly or use your site for advertising the product but making them available on another platform. You can sell candles on sites like Etsy or use options like Shopify to sell on your website. The main advantage of selling directly from your website is that it eliminates the service fee attached to other solutions like Etsy.
4. Create an Online Presence
Creating a website to sell your candles isn't enough. You'll need an online presence on social media to reach more customers. Today, using social media tools for marketing any business is very effective.
You can launch a social media presence to market a candle-making business on various platforms such as Facebook, Twitter, Instagram, Pinterest, and even Snapchat, whichever you're familiar with.
Choose a page name or URL that reflects your candle-making business and brand. Make sure it's similar to your website domain name so that it will create a linkage between all of them. Also, it's a great idea to streamline all of your social media accounts and give them the same title, URL, logo, and description.
To get good optimization and SEO, or search engine optimization, always include links to your official website, Etsy shop, or eBay account, and gallery across all your candle company's social media pages.
5. Create an Effective Marketing Strategy
You must ensure everything is near perfect if you want to make $1,000 selling candles from home. It also includes setting the right marketing strategy using both online and local marketing tactics. You can use techniques like PPC (pay-per-click) marketing, SEO, direct mailing, and social media to market your candle business from home.
It's best to create a marketing strategy that reflects your brand, fits your budget and reaches your target audience. Consider what will make you stand out amongst your competitors when marketing your candles. In addition, use a voice that will resonate with your intended audience to reach and appeal to them. Furthermore, using strategies like discount offers and promotional codes are most likely appealing to people, both online and locally.
6. Choose The Right Shipping Solution
Not all candle-making businesses provide the same shipping services and solutions, so it's important to research and weigh your options. Compare shipping companies, both private and federal, to know the lowest shipping costs near you. Also, research shipping materials, packaging materials, and cost-effective and high-quality boxes for your customers.
In addition, consider how you'll offer to ship your candles to your online customers. Will you include the cost of shipping in the candle price itself or advertise the offer of free shipping? Calculating your profit margins with the shipping costs of each candle you have for sale will help you to evaluate these factors and come up with a decision profitable for your business.
7. Keep Track of Your Finances and Revenue
Starting a profitable candle business requires a level of commitment which includes keeping track of your earnings. Keeping efficient and accurate financial records will help you in your bid to grow your business.
You need to keep track of your net income, gross income, and expenses incurred to maintain the business. You can use manual methods to do this, or better still, use finance tracking apps to minimize the chances of errors in calculation and documentation.
People Also Ask
What is The Most Popular Candle Scent?
Citron blossom cassis is the manufacturer's choice when it comes to candle scent. It is a dewy, floral, and sensual scent perfect for night candles. However, this fragrance is mostly masculine.
Another top scent for candles is Huckleberry Sugar Blossom. It is mostly a feminine scent that evokes feelings of comfort and coziness. Other popular fragrances for candles are Amber and Vanilla Blossom, Water Lily and Hyacinth, Red Currant Persimmon, and Saltwater Sea Musk.
Do I Need Insurance to Sell Candles on Etsy?
No, you do not need insurance to sell candles on Etsy. Generally, Etsy doesn't require users to have insurance to sell or operate a store. Additionally, Etsy doesn't provide e-commerce insurance or product liability for sellers. If you check the Etsy Help Center, you'll only find a single reference for insurance, which is shipping insurance. But shipping insurance isn't enough to protect you from product liability.
Notwithstanding, the platform does feature an Etsy Seller Protection Policy, but it doesn't cover product liability. Instead, it claims not to hold you responsible (financially) for "non-delivery or not-as-described cases resulting in a refund."
How Much Does It Cost to Make 100 Candles?
It costs about $150 to make 100 candles. Candle making cost starts at approximately $50 to get the starter kit. So you'll need to consider these factors if you're starting for the first time. You can make about 110 8-ounce candles using 1 case (50 pounds) of soy wax. It also includes buying fragrances and containers (candle jars) in bulk. However, it doesn't include shipping, as it varies depending on your location.
Frequently Asked Questions
What is the Average Price for a Candle?
Generally, the retail price of a candle ranges from approximately $35 for a large pillar or jar candle to $1.99 for a votive. Furthermore, scented candles made in well-decorated containers and elaborate boxes usually cost about $200 or more.
What Is a Good Size for Candles?
A good size for a candle is 8 oz. While it's essential to offer a variety of sizes if you intend to sell the candles, 8 oz candles seem to be the best seller, according to most candle makers. Making any larger than 8 oz, you may sell more expensive multi-wick candles. On the other hand, any smaller candle wouldn't get large enough.
What Type of Candle Sells the Most?
Soy wax candles are fast becoming the best-selling type of candle. Although paraffin wax candles still enjoy a considerable number of purchases due to their affordability and availability in commercial retail. However, as of late, even some bug commercial candle manufacturers have begun switching to soy wax duo for obvious reasons mentioned above.
Where Can You Sell Candles?
The best place to sell your candles is on your website. Using a website, you can control everything and be in charge of all aspects of your business. You can create your website on Shopify or WordPress. There are other platforms, but these two appear to be the most popular and easiest.
If you don't want to sell on your website, you can sell on already established platforms such as Etsy, Artfire, Amazon Handmade, Zazzle, etc. However, with using these sites, you'll need to pay a small fee for using their platform to sell your product, so keep this in mind.
How Much Money Can You Make Selling Candles?
The amount of profit you make selling candles depends on your investment and profit margin(s), with earnings for most candle businesses reaching about $1,000 a month. Typically, the standard profit margin for selling candles ranges between 50% and 80%.
However, for boutique and homemade candles, you can expect to rake anywhere from 100% to over 400%, depending on the ingredients and efforts put into each candle you create.