LifePoints, which is also known as the "LifePoints Panel," makes the claim that it is "the place to be for those who want to be heard." If you participate in the LifePoints Panel and answer survey questions about your behavior in relation to certain purchases, you will receive a certain amount of points in exchange. These points may subsequently be traded in for gift cards to a variety of well-known businesses, completely free of charge. You also have the option to give your points to a variety of other organizations.
Signing up for the site does not cost anything, and using the platform does not need any type of financial commitment on your part. Despite appearances, however, there is a limit to the amount of money that may be made, and it can be reached pretty rapidly. Your dashboard will display a number of surveys for you to do after you have signed up and finished filling up your profile. Unhappily, the majority of these polls rapidly exceed their maximum number of respondents.
What is LifePoints?
Items of common usage should serve as our starting point. Companies making and selling these items rely on regular consumers' opinions. They need your feedback in the form of suggestions, comments, and approvals.
Companies like LifePoints run international "test markets," where customers provide manufacturers and marketers with data, feedback, and other insights in exchange for rewards.
We do online market research and compensate our users for their participation in surveys covering a wide range of brands and goods, to quote the firm. As a thank you for taking the time to fill out our surveys, our members are rewarded with points that may be used toward merchandise, PayPal credits, and even contributions to the causes they care about.
When Does It work?
Sign up. Take surveys. Get rewarded. Their whole company approach is summed up in just three phrases. The reality, however, is more complicated.
1. Sign up
As soon as you verify your email address after signing up, you'll get 10 LifePoints as a welcome bonus. A quick survey about yourself, your family, and your tastes will earn you an additional 10 LifePoints. LifePoints claims that providing a response will improve the reliability of survey matching.
2. Take surveys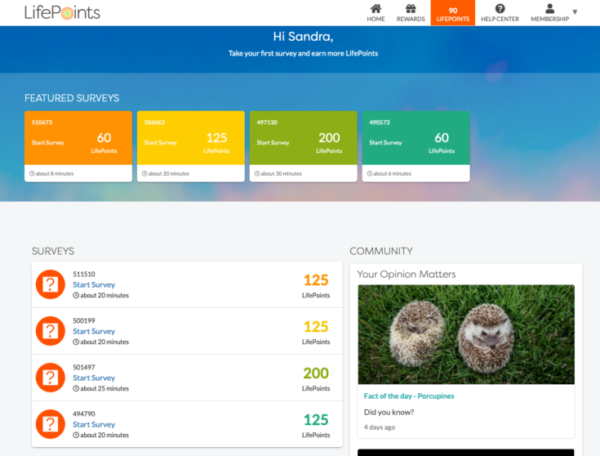 Once you've joined, you'll begin receiving invites to participate in surveys. Incredibly varied subjects may be covered in these polls, from medical care and medicine prescriptions to food brands and home electronics. While each online survey may focus on a different set of criteria, they always have some foundational characteristics.
Public Opinion Poll
Consumer Opinion Poll
Researching the Opinions of Your Customers
Customer Opinion Polls
Measurement of Consumer Knowledge of Brands
Analysis of Results
3. Get Rewards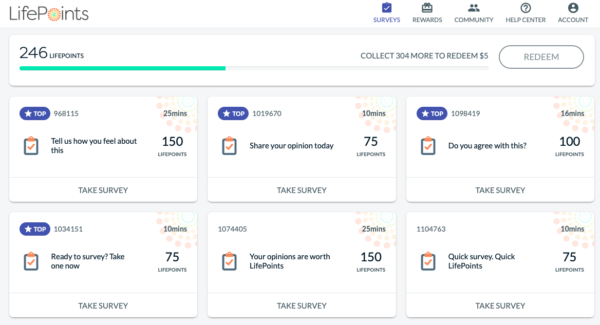 When you finish a survey, you'll earn points that will be deposited into your account.
Some surveys may pay 35 LifePoints, while others may pay as much as 350, all depending on their length, difficulty, and other variables.
At a later time, we'll go through the specifics, but after you've accumulated enough LifePoints, you'll be able to redeem them for prizes. These incentives may be cashed out as PayPal credits, redeemed for e- or physical gift cards, or donated to a charity of your choosing.
Life points rewards
Your participation in our surveys, in addition to the time and effort that you provide, will earn you LifePoints, which can be exchanged for a variety of other rewards. By taking part in surveys, you have the opportunity to earn LifePoints, which may later be exchanged for a variety of rewards and perks. These incentives may take the form of gift cards from retailers like Starbucks, Amazon, and iTunes, as well as coupons for online payment services like PayPal. It's also possible for you to donate your LifePoints to a worthy cause!
Life points review
The fact that LifePoints has received a consumer rating of 2.91 stars out of a possible 536 reviews demonstrates that the vast majority of consumers are unhappy with the products that they have purchased from the company. Customers who are unhappy with the service provided by LifePoints are likely to complain about the customer support offered by the firm, the amount of time they have spent using the product, and the difficulties they have had with error messages. When compared to the many other websites that provide work that can be done from home, LifePoints comes in at number six.
Numerous Polls Available
Users of the application have access to a wide variety of questionnaire formats and question types. If you want to earn money, you are going to have to put in as much effort as you possibly can into your studies and assignments, and LifePoints will provide you the chance to put in as much effort as you possibly can.
The individuals who will take part in the survey are not disclosed in advance; however, the price of the prize and an estimate of the length of time that will be necessary to complete it are. This is really important because you will have crystal clear knowledge going into the situation of how much time you will be investing as well as the possible return on investment for that time investment.
Lifepoints app
If you've been looking for a way to earn rewards while you're traveling from some of the companies and stores that you like shopping at the most, your quest is now done. You may get started right now by simply downloading the application. If you have the LifePoints app, you will always be the first to know about new surveys, and you will be able to access your community with just the touch of a finger if you have the app. If you have the app, you will always be the first to know about new surveys.
People Also Ask
1. Is LifePoints legit or a scam?
Yes, LifePoints is a valid option for anybody over the age of 18 looking for an online rewards network. If you are able to successfully complete surveys, you will be awarded the points that were promised. And after you've racked up enough points, the actual prizes will become available to you.
2. Is LifePoints worth doing?
LifePoints may not be worthwhile if you try to do it full-time. There are a variety of internet opportunities for making money, but remember that every little bit helps. It's up to you to decide how you'd want to spend your free time.
3. Can you make money on LifePoints?
If you're the survey-taking kind, you may find that LifePoints is a fun and rewarding way to make some additional money. Get paid for giving your opinion after signing up for free. You may trade in your points for a variety of rewards, including money and gift cards. Money made may be given to good causes.
FAQs
1. How long does LifePoints take to pay?
When your LifePoints total hits $5, you may cash them in four different ways. Digital gift cards or PayPal cash payments may take up to 10 days to arrive. While my PayPal payment took five days to arrive, this is far faster than the norm for electronic redemptions.
2. How do I withdraw money from LifePoints?
At the $5 threshold, you may cash in your LifePoints for one of four different payment methods. Payments sent by digital gift card or PayPal cash might take up to 10 days to reach their destination. Although my PayPal payment only took five days to arrive, most electronic redemptions come far faster.
3. Why are there no surveys on LifePoints?
It's possible that our survey invitations aren't reaching your inbox because your email service provider is marking them as SPAM and directing them to your junk mail bin. We want to make sure you get every one of our survey invitation emails, so please add @LifePointsPanel.com to your safe sender's list, address book, or contact list.
4. How can I earn fast money?
One can earn money fast by joining the ride-sharing industry. Making deliveries for companies like Amazon and Uber Eats, pet sitting and dog walking, babysitting, and putting up Christmas lights are all great ways to earn extra money, with the latter two offering the most potential monthly earnings at an average of $377 and $99, respectively.
5. How long does LifePoints PayPal take?
After you have redeemed your prize, it might take up to ten business days for you to receive it.
Summary
LifePoints is a typical survey panel that allows you to express yourself while earning money from the comfort of your own home. It is, in my opinion, a credible survey panel, but this does not ensure that you will be paid without issue.
Many people despise LifePoints because they are often invalidated and waste a lot of time. Many other members, on the other hand, have had a positive experience.