Last updated Mar. 25, 2023 by Favour Chinaza
Can you really make money by taking online surveys with LifePoints? Is LifePoints a scam or legit platform for earning some bucks? The answer is yes; This LifePoints Review shows you can make money taking surveys online with LifePoints.
There are a lot of online survey apps out there for earning extra money. A lot are legit, and some are pure scams. Some pay fast, and others don't have a slow payout.
You need to register with the right survey apps to be among the people cashing out from online surveys.
LifePoints provides survey opportunities in exchange for points that can be redeemed for rewards such as gift cards or charitable donations.
LifePoints is an easy way to obtain gift cards to benefit your daily life because signing up is free and requires no purchase.
But is it worth your time to answer a bunch of questions about what could be pennies on the dollar?
This LifePoints review will go over how the site works, how much money you can make, and how it compares to other paid survey options.
What is LifePoints?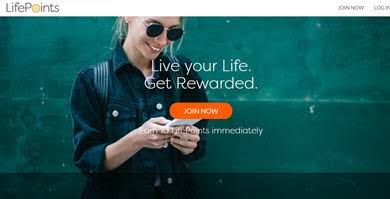 LifePoints is a free online platform that rewards you for taking surveys and participating in mini-polls, product testing, and behavior tracking.
They have over 5 million members from over 40 countries and have paid over $22 million in the last year alone!
The free sign-up process requires only basic information, such as personal information, your income and household size, and the types of purchases you've made or will make in the coming months.
You are compensated in points, which can be redeemed for free gift cards to popular grocery stores like the following:
Starbucks,
Target
eBay
Amazon
Kohl's
Macy's
Barnes and Noble
Bass Pro Shops, and
Google Play
The value of a gift card can range from $5 to $100, depending on the retailer.
Surveys are listed on your LifePoints dashboard, along with an estimated timeframe for completion and the number of points you can expect to earn.
Some surveys are labeled "TOP," but there is no indication of what this means.
LifePoints now serves as a market research hub, allowing consumers to influence the future of products and services by sharing their thoughts.
Good Read: 13 Best Survey Sites That Pay Cash Instantly
How Does LifePoints Work?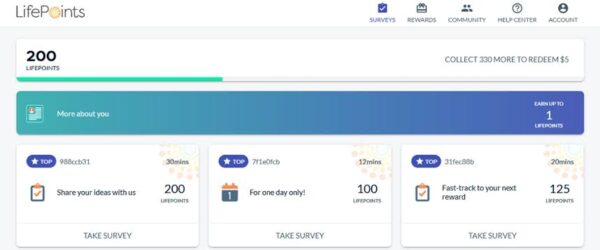 If you participate in the LifePoints Panel and answer survey questions about your behavior about certain purchases, you will receive a certain amount of points in exchange.
These points may subsequently be traded for gift cards to various well-known businesses, completely free of charge.
You also have the option to give your points to various other organizations.
Signing up for the site does not cost anything, and using the platform does not need any type of financial commitment on your part.
Despite appearances, however, there is a limit to the amount of money that may be made, and it can be reached pretty rapidly.
Your dashboard will display several surveys for you to complete after signing up and filling up your profile. Unhappily, the majority of these polls rapidly exceed their maximum number of respondents.
How LifePoints Survey Works
Surveys are listed on your LifePoints dashboard, along with an estimated timeframe for completion and the number of points you can expect to earn. Some surveys are labeled "TOP," but there is no indication of what this means.
For example, you can see a "Top" survey that takes 10 minutes and pays 75 points, while the one next to it, which is not rated "Top," takes 11 minutes and pays 75 points.
As a result, "Top" surveys do not appear to award bonus points. Users should treat the numbers displayed in the dashboard with caution.
You may not be eligible for any particular survey based on your demographic information and purchasing habits.
As a result of your participation, you can expect to receive either zero or very few points (less than five).
According to reports, new surveys are released daily, so LifePoints sends emails to members inviting them to complete the day's list of surveys.
In addition, there is a large community area where you can participate in giveaways, polls, and task-related promotions. To be eligible, you may need to have accounts on social media websites.
Signing up With LifePoints
Earning with LifePoint is simple: Sign up, Take surveys, and get rewarded. Their whole company approach is summed up in just those three phrases. The reality, however, is more complicated.
You must be at least 18 years old to open a LifePoints account. They have a presence in approximately 40 countries.
The LifePoints sign-up process is extremely simple. Simply enter your name, address, and email address to get started.
You'll gain 10 life points just for doing so. Then, after answering a few more demographic questions, you can earn 10 more.
If you're signing up on a laptop or desktop browser, ensure you also download the Android or iOS app.
Most people earn more money from their phones because they can fit in a survey here and there.
To Get Started With LifePoints:
1. Sign up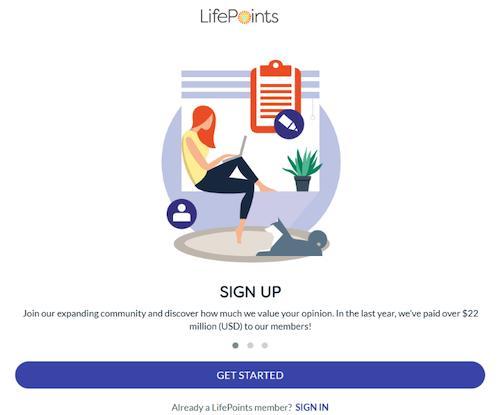 As soon as you verify your email address after signing up, you'll get 10 LifePoints as a welcome bonus.
A quick survey about yourself, your family, and your tastes will earn you an additional 10 LifePoints. In addition, lifePoints claims that providing survey responses will improve the reliability of survey matching.
2. Take surveys
Once you've joined, you'll receive invites to participate in surveys. Incredibly varied subjects may be covered in these polls, from medical care and medicine prescriptions to food brands and home electronics.
While each online survey may focus on a different set of criteria, they always have some foundational characteristics.
Public Opinion Poll
Consumer Opinion Poll
Researching the Opinions of Your Customers
Customer Opinion Polls
Measurement of Consumer Knowledge of Brands
Analysis of Results
3. Get Rewards
When you finish a survey, you'll earn points that will be deposited into your account.
Some surveys may pay 35 LifePoints, while others may pay as much as 350 depending on their length, difficulty, and other variables.
After you've accumulated enough LifePoints, you can redeem them for prizes. These incentives may be cashed out as PayPal credits, redeemed for e- or physical gift cards, or donated to your chosen charity.
Ways of Earning With LifePoints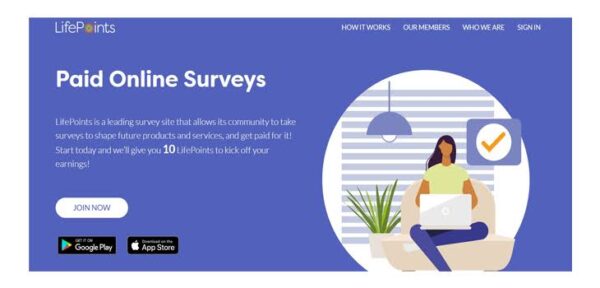 Location-Based Surveys
LifePoints offers the "Earn-on-the-Go" option for location-based surveys. As a result, you can now earn even more points based on your geographic location.
You must grant the app access to your location to make this work. If you agree, you will receive 50 bonus points for granting it access and a recurring 20 bonus points monthly for keeping it on.
The questions in the location-based surveys will be based on the places you visit or travel to the most.
Product Testing
The final way to earn consistent points is to test products. This is how LifePoints can provide feedback to businesses on a specific product.
Simply select what you want to test on your dashboard, and they will send you the product (for free!) while you answer questions about it.
Product testing is a fun way to earn points that few other online survey platforms provide. Of course, product testing may not earn as many points as surveys, but trying something new for free is still fun.
LifePoints Diary
Diaries are another way to earn LifePoints by tracking your consumer behavior in diary entries.
In other words, you can use the LifePoints mobile app's diary feature to tell companies about your experience. For example, you'll keep track of how long you waited in line for a story, how you interacted with staff, and so on.
LifePoints Diary is a great option because it allows you to earn points by doing things you would do anyway.
You don't have to take much time out of your day —write down what you're experiencing with a specific company as it happens.
Daily Challenges
You will receive daily challenges if you are a regular platform user. These daily challenges are surveys generated by tracking your previous responses.
You get monthly boosters for completing daily challenges, and if you complete the daily challenge every day, you get bonus Lifepoints for the month.
Weekly Prize Drawings
LifePoints members are also given weekly bonuses. Winners are announced weekly on our social media channels, so follow them to find out if you've won! They've paid over $22 million to LifePoints members in the last year alone!
Life Points Rewards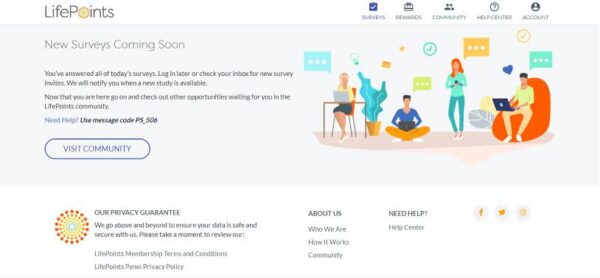 Your participation in our surveys and the time and effort you provide will earn LifePoints, which can be exchanged for various other rewards.
By taking part in surveys, you can earn LifePoints, which may later be exchanged for various rewards and perks.
Instead, you can "shop" for various rewards on the site with your points. Gift cards to major retailers, Paypal money, and donations to major charities are among the rewards. Different rewards have varying costs.
Lifepoints, according to their website, can expire — you must "spend" your points within three years of earning them.
That is why we recommend receiving new rewards regularly rather than saving up your points for a large reward in the future.
Choosing your rewards is as straightforward as everything else on the platform. First, go to your dashboard's rewards catalog and shop for your desired information.
You don't have to spend all your points on one reward; for example, you could get an Amazon gift card and then use the rest of your points to get a Paypal voucher.
How many Points do you need to have to make a Decent living?
That is a difficult question to answer. The value of points to dollars is not exact and varies depending on the prize. For example, a $5 Paypal voucher may cost more points than a $5 Starbucks gift card.
These incentives may be gift cards from retailers like Starbucks, Amazon, and iTunes and coupons for online payment services like PayPal.
It's also possible for you to donate your LifePoints to a worthy cause!
LifePoints Boosters
Many survey sites provide opportunities to increase your earnings. LifePoints is no different.
Boosters are methods for earning more points without completing tasks. These bonuses are typically given in percentages, meaning that with a booster, you earn a certain percentage more points for a given task.
Location services are one of the most profitable boosters. You can earn an extra 20% per task simply by turning on your location while using the app.
You can also earn boosters for maintaining your profile and being a frequent user.
Panelists who stick with it and keep providing feedback will be rewarded, so the longer you're an active user, the more earning opportunities you'll have.
Unfortunately, LifePoints does not have a referral system. Other survey sites provide bonuses for referring a friend; however, the other boosts available on this platform compensate for this.
How To Cash Out Rewards from LifePoints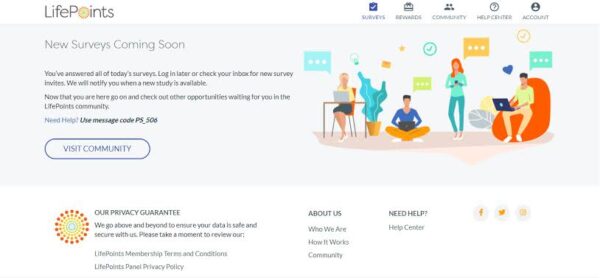 PayPal
A $10 PayPal voucher would require 1,200 points. When redeemed for cash, a LifePoint is worth $0.83 based on this ratio.
If you transfer your PayPal cash balance to your bank account, PayPal may charge you a fee.
Charity
You could donate your LifePoints to a charity of your choice at the same 550 points per $5 ratio—roughly $0.90 per point. For example, the Special Olympics and UNICEF are two charities.
Gift Cards
A $5 gift card would require 550 life points. When redeemed for a gift card, a LifePoint is worth $0.90 based on this ratio.
If you want to redeem your LifePoints for a gift card, go to the rewards center on the LifePoints Panel and select an online retailer.
Although you can redeem points once you reach 550, most gift cards in the rewards center require 1,100 points because they are sold in $10 increments.
Currently, the rewards center offers a $5 Amazon gift card in exchange for 550 points; all other gift cards require 1,100 points to be redeemed for a $10 gift card. Want more Amazon gift cards? You can also check for different ways to get free Amazon gift cards
Lifepoints Review: App
If you've been looking for travel rewards from some of your favorite travel companies and grocery stores, your search is over.
You can begin right away by downloading the LifePoints application. You will always be the first to know about new surveys if you have the LifePoints app, and you will be able to access your community with the touch of a finger if you have the app.
If you have the app, you will always be the first to know about new surveys.
LifePoints Review: Why Take Surveys on LifePoints?
Pros:
Various survey tasks are available: Unlike other survey sites, LifePoints offers a variety of ways to earn points. You can even earn points for doing things you normally do, such as shopping or eating out, and get even more points just for turning your location on.
Ways to earn money as a Teen: Teens 14 and older can participate in LifePoints, making it an excellent way for teenagers to earn some spending money. You can also look for other forms of earning money, like Babysitting jobs for 13-year-olds.
Variety of rewards: With LifePoints, you can redeem your points for cash or gift cards to save up for a large online purchase. You can also donate your points to a good cause.
The app is easily accessible: With 26 different languages and international availability, and this is a fantastic platform for people worldwide — including travelers looking to make money while traveling.
Plenty of quick surveys: There are always plenty of quick surveys available on your LifePoints dashboard. It only takes ten minutes or less to earn some points.
LifePoints Review: Why We Don't Like LifePoints?
Cons:
Unpredictable earnings: Compared to other best-paid online survey sites, one of the most significant disadvantages of LifePoints is that the value of points is unpredictable. There is no way of knowing how much you can earn for each survey.
The Lifepoints app has some bugs: Some users have reported bugs on the website and app, particularly when signing up and creating an account.
Lifepoints expire after three years, making saving up your points for a large payout difficult. However, this should not be a problem if you redeem your points regularly.
There is no affiliate program: Affiliate marketing is a great way to earn money from home using social media. Unfortunately, LifePoints does not currently offer an affiliate marketing program.
But if you want to make money through affiliate marketing, there are tons of highest-paying affiliate marketing jobs for beginners to try.
How Does LifePoints Make Money?

When researching an online money-making opportunity, finding out how the company makes money is important.
Any online survey site that offers easy ways to make money but charges a fee to sign up is one of the most common online scams. However, sites like Swagbucks are legit and won't ask for money to sign up.
Unfortunately, those sites that demand sign-up fees only make money from the initial fees nine times out of ten.
LifePoints are not like that; rather, it is a legitimate market research site, which means that the brands and corporations that use their platform to gather market feedback pay them. They do not accept payment from the panelists.
Use caution when signing up for a survey site or other online money-making opportunity that requires a sign-up fee. The majority of legitimate survey panels are free!
Is LifePoints Safe?
This mobile app has access to a significant amount of personal data. So what exactly does LifePoints do with your data?
Any information you provide during a survey is only sent to the client who requested it. It is not shared with any other clients or LifePoints members.
When you join LifePoints, you provide personal information not shared with clients or other members.
LifePoints acknowledges that it cannot guarantee that it will not be hacked. However, there is always the chance.
LifePoints, on the other hand, meets the standards and industry requirements of organizations such as the:
European Society for Opinion and Market Research (ESOMAR),
European Pharmaceutical Market Research Association (EphMRA),
Market Research Society (UK) and the
American Marketing Association.
Is LifePoints Legit or a Scam?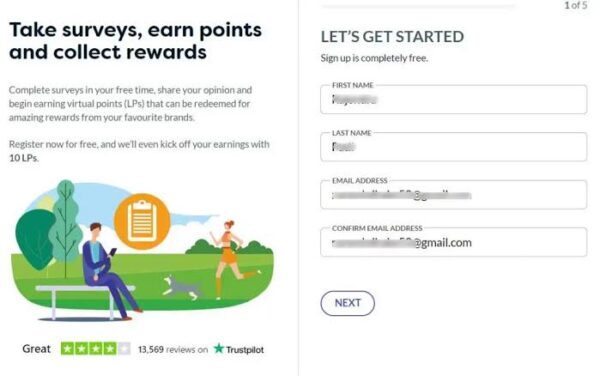 Just like SurveyClub is a legit app, Yes, LifePoints is also a valid option for anybody over 18 looking for an online rewards network. You will be awarded the promised points if you complete the surveys successfully.
And after you've racked up enough points, the actual prizes will become available.
It also has mostly positive ratings, with a Trustpilot score of 4.3 out of 5 based on over 29,240 customer reviews and a Google Play store rating of 4.3 out of 5 based on over 47k customer reviews.
The legitimacy of the surveys and payouts is solid and is rarely criticized. In addition, they are very responsive to feedback on the Google Play Store, indicating that they are paying attention.
LifePoints has over 5 million members in 70 countries, making them popular almost everywhere.
LifePoints Alternatives
SavvyConnect is a reputable and well-known online survey platform.
Along with a regular members' area, the app includes a VIP program that allows information to be gathered as you browse the internet.
The 'platform is completely reliable and does not share confidential information with third parties,' according to reviewers.
Respond to online surveys with Quick Thoughts, a free downloadable app, to earn rewards such as Amazon gift cards.
The surveys include polls, detailed questionnaires, opinions, and other novel data collection methods.
Quick Thoughts surveys pay up to $3 per survey and can be redeemed quickly. The app also has an affiliate system, allowing members to invite others for additional rewards.
Google Opinion Rewards is a mobile survey app on iOS and Android devices. Google created the app, which allows users to take surveys and earn rewards.
Members earn Google Play credits on Android devices, which can be used to pay for paid apps in the Play Store.
Swagbucks rewards you for watching videos, taking surveys, searching the web, and shopping online by allowing you to earn points toward free gift cards.
If you do all those things regularly, you may have even more opportunities to earn rewards than with LifePoints. For new members, the site also provides a $10 sign-up bonus.
InboxDollars is one of the simplest ways to make money online. You can earn money by shopping online, watching videos, playing games, and doing many other activities.
Survey Junkie is a legit survey website that rewards you for your time. It does have geographical restrictions, but its points are more valuable than LifePoints.
Survey Junkie also gives you points for taking surveys, which you can redeem for gift cards or cash. Earning 1,000 points is worth $10 in redemption value.
Is LifePoints Worth It?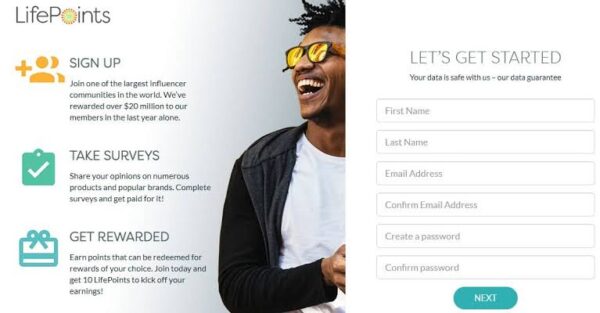 LifePoints may not be worthwhile if you try to do it full-time. There are various internet opportunities for making money, but remember that every little bit helps. It's up to you to decide how to spend your free time.
The only way to truly understand how much LifePoints are worth is to begin earning and shopping for them yourself.
You will not earn a full-time salary from this app, but you can save up for your next big online purchase or simply buy your weekly caffeinated treat.
You can expect to earn between 20 and 100 points per survey. There are also some surveys with 150 or 200 points. Naturally, as the survey length increases, so do the point earnings.
A 100-point survey could take 20 minutes and pay you less than $1. (Other paid survey sites pay roughly the same.)
You can see where this is going. You'd make about $3 an hour at this rate, less than the minimum wage.
You'll likely be screened out of some surveys, so that you won't be paid for your time.
LifePoints may not be worth your time as a full-time job. Though there are other ways to make money online that you could do, every dollar counts!
It all depends on how you spend your free time. If you're stuck on the bus with nothing to do, using the mobile app to earn a few dollars might be worthwhile.
If you're saving for a special occasion and every little bit helps, why not use your spare time to earn an extra $100 monthly?
Good Read: Swagbucks Review: Here's How To Earn $1000
Bottom Line
LifePoints is a typical survey panel that allows you to express yourself while earning money from the comfort of your own home. It is, in my opinion, a credible survey panel, but this does not ensure that you will be paid without issue.
Many people despise LifePoints because they are often invalidated and waste time. On the other hand, many other members have had a positive experience.
Frequently Asked Questions
Q: How long does LifePoints take to pay?
When your LifePoints total hits $5, you may cash them in four different ways. Digital gift cards or PayPal cash payments may take up to 10 days to arrive. While my PayPal payment took five days to arrive, this is far faster than the norm for electronic redemptions.
Q: How do I withdraw money from LifePoints?
At the $5 threshold, you may cash in your LifePoints for one of four different payment methods. For example, payments sent by digital gift card or PayPal cash might take up to 10 days to reach their destination. Although my PayPal payment only took five days, most electronic redemptions come far faster.
Q: Can you make money on LifePoints?
Yes, you can make money on LifePoints. It is a fun and rewarding way to make additional money through surveys. Get paid for giving your opinion after signing up for free. You may trade your points for various rewards, including money and gift cards. In addition, money made may be provided for good causes.
Q: Why are there no surveys on LifePoints?
It's possible that survey invitations aren't reaching your inbox because your email service provider is marking them as SPAM and directing them to your junk mail bin. Or your profile may not match, or too many people are still applying for surveys.
Q: How can I earn fast money?
You can earn fast money by answering surveys on LifePoints. However, there are other ways to make quick money, like ride-sharing. Making deliveries for companies like Amazon and Uber Eats, pet sitting and dog walking, babysitting, and putting up Christmas lights are great ways to earn extra money. The latter two offer the most potential monthly earnings at an average of $377 and $99, respectively.
Q: How long does LifePoints PayPal take?
After you have redeemed your prize, it might take up to ten business days for you to receive it.
Q: How much is LifePoints to a Dollar?
The actual value of your LifePoints is determined by how you redeem them. But you really want to know how many valuable points are required to make a dollar. The real value of LifePoints in dollars ranges between 0.83 and 0.909 cents per point. This means that you should be able to get a $5 gift card for 550 points.