Last updated Jul. 13, 2023 by Favour Chinaza
Wix vs. Shopify: Which Platform is Best?
There are numerous viewpoints on which platform is superior in the Wix vs Shopify debate. Wix vs. Shopify is a comparison of two e-commerce-friendly website builders.
Both Shopify and Wix allow you to easily and rapidly establish a website and sell items and services online.
So, what is the ideal platform for your website or online store? That is dependent on your specific business requirements.
And while they are both titans in the realm of website development, it is impossible to avoid a healthy comparison.
In order to determine which platform surpasses the other, this article will compare Wix vs. Shopify in terms of their simplicity of use, e-commerce capabilities, customer support, pricing, templates, SEO, app and add-ons, and security.
Good Read: How to Make Money on Shopify: (Fastest Ways To Boost Sales on Shopify in 2023)
A Quick Comparison of Wix and Shopify
| | | |
| --- | --- | --- |
| | Wix | Shopify |
| Ease of Use | Editing the front end of your Wix website has never been easier, thanks to its drag-and-drop editor. However, its editor may appear intimidating to newcomers. | Shopify is simple to use, especially when handling inventory, but it can be clumsy when it comes to fine details. |
| Design functionalities | There are over +800 stunning templates that are quite easy to change, but you cannot switch themes once your site is up. | Provides templates intended solely to assist you in selling online. |
| Pricing and Value for Money | Can create a store for free, but subscription plans are reasonably priced and feature-rich. | Provides a 3-day free trial. Furthermore, additional features may be worth the extra expense for larger stores. |
| Security | Wix includes free SSL, Level 1 PCI DSS certification, and built-in security safeguards. | Shopify offers the same level of security as Wix across all of its plans but with extra fraud prevention. PCI compliance is extremely significant because it is required to sell and accept credit and debit cards online. |
| E-commerce | Allows you to sell physical, digital, and service products but provides quite basic sales tools. | The best sales features on the market, including strong built-in analytics and inventory management capabilities. |
| SEO | Excellent marketing features, particularly with blogs, and Wix provides users with access to a suite of powerful SEO tools. | Excellent for social media integration and SEO, with a plethora of third-party marketing programs to choose from. |
| App store | Although it has a large app store, it has fewer e-commerce-specific connectors than Shopify. | Excellent app shop with a plethora of e-commerce connectors to help you increase your site's sales. |
| Customer Support | Email, social media, and phone support are available, and a really helpful forum. There is 24-hour phone and live chat support but no onsite editor assistance. | |
Wix Vs. Shopify: What are They?
Wix
Wix is a website builder that is best suited for beginners who wish to create a content-based website or manage a small online business.
Despite being widely acclaimed as one of the best website builders, Wix launched a new version called Wix eCommerce in 2020.
The new edition is aimed at online retailers, brands, and merchants of all sizes worldwide.
Wix eCommerce introduces a slew of new and intriguing features, ranging from enhanced shopping and payment experiences for users to company and finance management capabilities, among other things. These features are among the top reasons to use Wix.
Shopify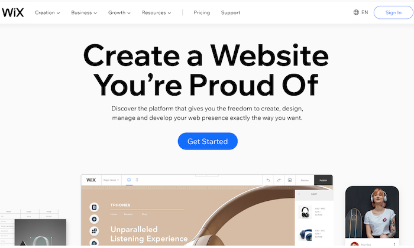 On the other hand, Shopify is a website builder primarily focused on offering all the features required to manage a small or large online store.
Shopify is one of the world's most popular shopping cart solutions, with over 4 million active retailers. If you want to make money on Shopify, it is easy to do with their website builder.
Shopify is always a viable solution, regardless of the size of your company. Its built-in functionality and scalability are the characteristics that contribute to user trust and reputation.
Wix Vs. Shopify: Pros and Cons
Advantages of Using Wix Over Shopify
✅Wix gives a fully free plan with no time limit (although you should realize that you can't sell with it).
✅Wix is a better tool for constructing a 'general-purpose' website. Adding elements like galleries, forms, and events to a Wix site is easier.
✅The Wix platform is often cheaper than Shopify.
✅If you utilize a third-party payment gateway, Wix does not charge any transaction fees.
✅A significantly greater choice of packaged templates is offered in Wix than in Shopify.
✅ Wix's multilingual features are undoubtedly superior – the software enables you to translate your site into more languages than Shopify.
✅You can showcase blog content on static web pages more easily in Wix.
✅You may send more automated abandoned cart reminders with Wix.
✅Wix includes built-in solutions for handling cookie consent (for certain script kinds) in a GDPR-compliant fashion.
✅ Wix's product choices/variations limits are substantially more permissive than Shopify's
✅Its built-in email marketing features are stronger.
✅ It's easier to design bespoke forms and capture data in Wix than in Shopify.
✅Wix gives you rudimentary autosave/archive features; Shopify doesn't.
✅Wix gives you a free domain name if you pay upfront for a year's service — Shopify doesn't.
Advantages of Using Shopify Over Wix
✅Wix's templates are not responsive; however, Shopify's are.
✅Shopify allows users to check out in many currencies, whereas Wix does not.
✅Shopify's dropshipping capabilities are more comprehensive.
✅Shopify is better for point-of-sale apps.
✅Shopify's SEO functionality outperforms that of Wix.
✅For the first three months of service, you can utilize the platform for free.
✅ Shopify's automatic tax computation features are stronger, especially concerning VAT MOSS.
✅Shopify allows you to switch templates simply; however, Wix requires you to rebuild your site if you wish to change templates.
✅There is a significantly greater choice of apps and integrations available for Shopify.
✅Importing and exporting content and products is simplified in Shopify.
✅Although Shopify's UI is less configurable than the Wix equivalent, it's undoubtedly easier to use.
✅A greater range of online payment gateways is available for Shopify.
✅The Shopify' Buy Button' enables you to utilize the platform to add a shopping cart to existing websites or social media profiles (and is accessible for as little as $5 per month under Shopify's 'Starter' plan).
✅ Shopify now supports more languages.
Wix vs. Shopify: Ease of Use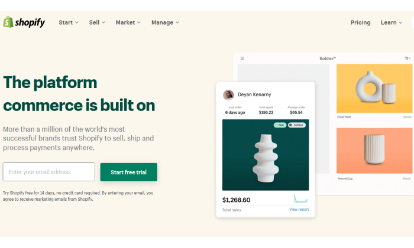 Shopify performs admirably in terms of usability. It makes it simple to set up and launch an online store.
With only a few clicks, you can do a lot on the Shopify platform, whether a beginner or an expert.
This is owing to Shopify's numerous built-in capabilities, which expedite the creation of an online store.
However, editing with Shopify requires you to switch back and forth between the preview and back-end sections to see the results of your changes. Wix is not one of them.
The truth is that creating a basic company website is far easier than creating a full-fledged online store since there are fewer decisions to be made.
To get an online store up and operating, you must decide on payment gateways, tax calculations, product variations, shopping cart functionality, shipping alternatives, return policies and procedures, etc.
Wix and Shopify are both relatively simple to utilize. Shopify makes it easy to start an online store, especially if you intend to scale it.
Wix is better to use if you're creating a content-rich website with rudimentary e-commerce functionality, such as collecting payment for services or selling a limited number of things.
Wix is far more user-friendly than Shopify. Wix offers three web-building interfaces, but Shopify only offers one, depending on your chosen pricing plan.
Wix ADI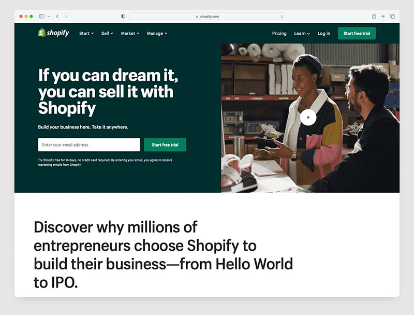 When creating a website with Wix, you can use one of three interfaces: Wix ADI, Wix Editor, or Velo by Wix.
Wix Artificial Design Intelligence (ADI) is a Wix feature that assists you in creating a website of your choice after gathering thorough information from you.
The Wix editor lets you choose your website templates, designs, and other features, giving you complete control over the website-building process.
Velo by Wix
The Velo by Wix interface is intended for developers who wish to extend the functionality of their Wix website.
Nonetheless, both systems are simple to use and include user-friendly features for beginners, but Wix is better known for its simplicity.
Winner: Wix
Wix vs. Shopify: E-commerce Features
If you want to start an e-commerce business, both Wix and Shopify provide e-commerce services. However, here's a comparison to help you decide which one is the best at it.
This comparison will include e-commerce capabilities such as inventory management, shipping choices, point of sale, payments, taxes, reporting, and analytics.
This is to determine which platform provides the greatest service.
Inventory Management
As an online vendor, you must be able to handle your products. Both Wix and Shopify provide inventory management features that allow you to track and control your company's inventory.
You can manage your inventory with WIX in two ways. The tracking method allows you to track individual goods that leave your stock, while the in-stock/out-of-stock approach informs you of a product's or variant's in-stock or out-of-stock status.
When you establish product types in Wix, you can also add SKU numbers to each variety of a product.
However, Shopify's inventory management features are far superior.
It sends an email to you and your customers when your product is out of stock, as well as a year-end inventory report and automated purchase orders.
It also provides information on your customers' behavior, preferences, hobbies, and purchasing trends.
You can get a financial performance and profitability report, business possibilities, and new product ideas from Shopify.
When it comes to controlling your store inventory, the Shopify inventory management software can provide you with any feature you can dream of.
Shipping Options
It is unavoidable for an internet seller to offer goods to people in another country. As a result, both Wix and Shopify offer shipping choices to alleviate your burden.
Shipping options such as free shipping, flat charge, and weight-based rate are available on both Wix and Shopify. And they both allow you to customize your shipping restrictions.
However, Shopify may have a tiny advantage here because, unlike Wix, it also has a 'browse abandonment' recovery tool.
This allows you to email customers who have browsed your store but have not added items to their cart.
(It relies on them having provided you with their email address in a previous visit, however).
When it comes to printing and purchasing labels in Wix, you can only ship with USPS (for the United States) and Hermes (for the United Kingdom), and you may need to connect some third-party shipping apps.
This is not the case in Shopify, where you can only use shipping label apps if your fulfillment location is not in France, the United Kingdom, Canada, Australia, or the United States.
Shopify Shipping
"Shopify Shipping," Shopify's built-in real-time shipping solution, now supports more nations and postal systems, including the United States, Canada, France, Australia, Italy, Spain, and the United Kingdom.
Shopify supports real-time shipment via USPS, UPS, and FedEx, whereas Wix supports it via USPS (US) and Correios (Brazil).
In the United States, for example, Shopify users may get real-time shipping prices from DHL Express, UPS, or USPS, as well as discounts of up to 88%.
Insurance up to $200 is also included on shipping labels purchased through the Shopify Shipping service, as long as you're on a 'Shopify' or above plan.
If you require additional coverage, you can purchase it individually from Shopify for $0.89 per $100 of coverage, up to a maximum of $5,000.
(Note, however, that this insurance service is —presently only offered to US-based consumers and is a 'BETA' feature).
If you've negotiated your shipping prices with carriers and want to show those instead, Shopify allows you to do so – but additional fees are involved.
This functionality is available by upgrading to a 'Shopify Advanced' or 'Shopify Plus' plan, paying an extra monthly cost, or paying for your Shopify plan annually.
Wix Vs. Shopify: Dropshipping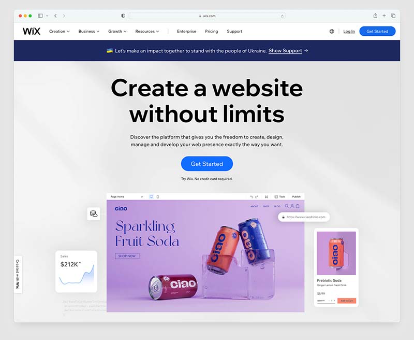 Although drop shipping carriers are available in both Shopify and Wix, Shopify further benefits by having its own Shopify Shipping services.
And by offering discounted shipping rates, same-day delivery, free packaging, and calculated shipping rates to store owners in the five countries mentioned above.
Shopify allows you to connect your store to many dropshipping companies via its app store — at the time of writing, there are 451 dropshipping apps for Shopify.
However, it's hard to establish which dropshipping companies make their goods ethically — many of the products on offer in Shopify's dropshipping apps are made in countries where working conditions can be very poor.
Searching dropshipping apps in the Wix App Market currently returns 36 results.
These give you integrations with key dropshipping suppliers like Modalyst, Spocket, Syncee, Printful, and Printify.
Two of the Wix e-commerce plans, the 'Business VIP' and 'Business Unlimited,' bundle an integration with the Modalyst dropshipping app.
However, you will need to be on the 'Business VIP' plan to use this dropshipping functionality to the full, as the 'Business Unlimited' plan restricts the number of products you can dropship to 250.
Ultimately, suppose you want to start a dropshipping business; Shopify offers more choices in the dropshipping department and is the best option I've come across in general.
But it would be great to see a list of ethical dropshipping companies and/or apps made available on the platform.
Point of Sale
As an online store owner, a good point-of-sale system enables you to accept in-person payments in your brick-and-mortar. And so, its importance is not to be overlooked.
Both Wix and Shopify have a built-in point-of-sale system. But Wix's POS system is only available for a select Wix US-based merchant, so Wix users in other countries must integrate POS apps.
Until recently, if you wanted to use POS with Wix, you could do only so via a card reader and a POS feature on the 'Wix Owner' mobile app or by connecting third-party services Square or SumUp to your Wix site.
All these options provide more limited POS features than Shopify and are unavailable in all countries.
However, Wix has now launched its own POS system — the suitably named 'Wix Point of Sale' — which, like Shopify's, works 'out of the box' and contains a similar feature set.
Wix POS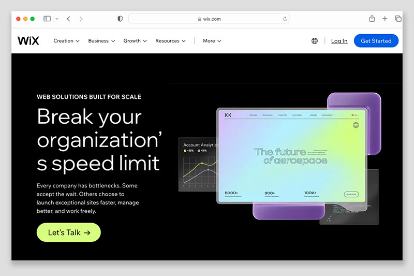 Unlike Shopify's POS solution, however, Wix POS is only currently available in the USA and Canada, and only to 'select users' at that.
If you live outside the US, you can still use the Square or SumUp options, though (depending on your location).
With Wix's POS system, you don't have to worry about additional fees to access most of this functionality.
You will still have to pay for hardware (and note that only Wix-approved hardware is supported), but there are no additional software costs.
However, it's important to note that with Shopify, you may need to invest in its 'POS Pro' add-on to get the most out of the point of sale. The fee for this feature is not inconsiderable: $89 per month per location.
Although Shopify's built-in point-of-sale features ('Shopify POS Lite') cover the basics of selling in a physical location, and will be fine for merchants with simple needs.
But Shopify has a powerful point-of-sale system in all of its pricing plans. You can personalize your Shopify POS system to your business and get the perfect POS setup.
There's no doubt that Shopify's POS functionality is more established and widely available — but depending on your requirements and location, you may be able to access POS features more cheaply with Wix.
Shopify POS system comes with a wide range of benefits.
Abandoned Cart Recovery Features in Wix and Shopify
Abandoned cart recovery is an important e-commerce feature that allows you to identify store visitors who added an item to their cart but did not finish a purchase.
You can then send a follow-up email to those visitors (with an incentive, such as a discount code, to encourage them to finish the sale).
The good news is that both Wix and Shopify have this capability, which is available on all Shopify plans and all Wix e-commerce options.
Because of programmable 'triggers,' both platforms provide you with a lot of flexibility over the conditions under which reminder messages are sent.
And hence making competing solutions like BigCommerce and Squarespace look fairly basic. One thing about Shopify features is how it lets you easily boost sales on Shopify.
These triggers are part of the 'editable workflows' that allow you to define if/then rules for sending your automated emails.
However, Shopify may have a tiny advantage here because, unlike Wix, it also has a 'browse abandonment' recovery tool.
This allows you to send emails to customers who have browsed your store but have not added items to their cart.
(It relies on them having provided you with their email address in a previous visit, however).
Wix and Shopify allow you to sell digital goods and collect VAT MOSS.
Wix and Shopify allow you to sell digital things (eBooks, music, and so on) in addition to physical goods.
Wix makes this slightly easier because it includes this functionality out of the box. However, Shopify requires you first to install their 'Digital Downloads' app (free), even though Wix makes it easier to get started with digital downloads.
However, Shopify is better for selling digital items, at least for EU consumers, because it manages an EU tax known as 'VAT MOSS' more effectively.
VAT MOSS is essentially a mandate that sellers of digital products to EU consumers add value-added tax (VAT) to each digital product on a country-by-country basis (i.e., one VAT rate for France, one for Germany, and so on).
Unlike Wix, Shopify automatically calculates the right rate – no fiddling around with manual tax rules and so on.
This very valuable feature makes Shopify a more obvious alternative for retailers selling digital goods than Wix.
In addition to the smooth handling of VAT MOSS, Shopify is more lenient with file size limits – your digital items can be 5GB in size compared to Wix's 1 GB.
Overall, suppose you're creating a store to sell digital goods. In that case, Shopify is a better option than Wix (or competing platforms in general — of the platforms we've reviewed, we've yet to find an online store builder that handles VAT MOSS rules better).
Payment Gateway and Tax
Wix allows your company to accept payments from Paypal, Stripe, Braintree, and other traditional payment methods.
When you use Wix, your consumers can use the "Buy now, pay later" tool, which allows you to make more sales.
When utilizing Wix, you may additionally turn tax rates on and off.
When using Wix, you may integrate third-party apps like Avalara to get the most out of your tax administration activities.
This software displays current exchange rates for every international transaction.
However, Shopify has its own payment mechanism, which competes well with other Paypal alternatives though not as widely available as other payment apps. This method avoids transaction fees that your clients may experience when using Stripe or Paypal to make a purchase.
Shopify allows you to create your tax regulations and calculate them for you.
However, each of Shopify's pricing plans has its own set of credit card and transaction costs. The lesser the rates, the more advanced the pricing plan.
Furthermore, Shopify offers over 100 payment channels, whereas Wix has roughly 50.
Selling in Multiple Currencies in Wix and Shopify
You tend to make more online sales when you sell in the currency that your store visitors use.
So, suppose you're selling in a variety of nations. In that case, it's a good idea to allow your potential consumers to choose their own currency — or, better yet, to show your products automatically in the currency of your site visitors.
Shopify supports complete, end-to-end multi-currency payments. You can accept them in two ways:
Via 'Shopify Markets,' a built-in worldwide selling tool that lets you accept local currencies and set language preferences for different nations.
By using a specialized third-party multi-currency program.
Both choices allow you to offer prices in a store visitor's native currency and will enable that visitor to check out in that currency.
However, 'Shopify Markets' only accepts payments through Shopify Payments (which, as previously said, is unavailable in all areas).
Although Wix allows you to display prices in different currencies using a currency converter drop-down menu, visitors to your Wix online store cannot yet check out in their own currency.
This is important since the checkout page is an important element of the sales process, and you don't want anything on it — like a price in a foreign currency! — to operate as a barrier to sale.
Reports and Analytics
An e-commerce platform with a robust reporting and analytics system is critical for assisting you in making business decisions.
With Wix, you may investigate your company's success by seeing the sales, traffic, or customer behavioral reports.
The more expensive a price plan is on Shopify, the more advanced the reporting and analytics functionality will be.
You can view data and reports on your products, visitors, orders, and payments with Shopify.
Shopify's reports can be filtered and altered to create your custom report.
Winner: Shopify
Wix vs. Shopify: Customer Support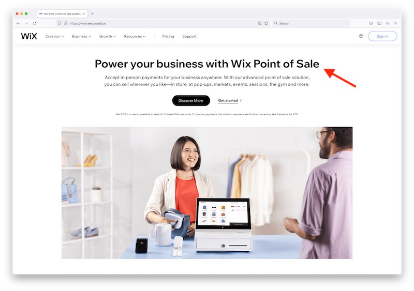 The Wix Help Center includes a comprehensive knowledge base appropriate for answering frequently asked inquiries and fixing typical technical concerns.
All Wix paying plan clients receive call-back and email support. Monday through Friday, between 5 a.m. and 5 p.m. PT, support is available in English, Spanish, and Portuguese.
Except on weekends, customer inquiries are normally responded to within 24 hours. Wix VIP subscription clients have access to priority support.
Shopify provides genuine 24/7 live assistance via email, chat, and phone. Shopify also provides access to a comprehensive online help center with guides, FAQs, and tutorials.
Furthermore, Shopify's online community has nearly 900,000 members, so that you can turn for assistance.
The competition for best customer assistance between Wix and Shopify is not close; Shopify wins.
Wix and Shopify are vigorously pursuing your happiness when using their services. Thus their help center and forum are stocked with all relevant information.
Wix customer service includes a wealth of how-to articles and video tutorials to help you get started. It also provides phone, email, and on-page help. However, Wix falls short when it comes to live chat assistance.
Wix's call-back feature is underutilized in non-English-speaking nations. You must also submit a call-back request to use the call-back feature.
Shopify's customer service includes live chat and all of Wix's help features.
Winner: Shopify
Wix Vs. Shopify: Security
Security is one of the main reasons to use a hosted option like Wix or Shopify instead of a self-hosted platform like WordPress.
Both companies are legally responsible for it, so you don't have to worry about keeping themes or plugins up to date.
Wix and Shopify both take the security of your site seriously; hence it is difficult to crown one a winner.
When using Wix or Shopify, the job of having to worry about your site's security is no longer in your hands.
This is because both Wix and Shopify operate on a closed-sourced platform that prevents anyone from accessing their source codes. Wix and Shopify both give you the following:
2-factor authentication: Wix and Shopify own a security team that eliminates any vulnerability that appears on your site.
SSL certificates: They also offer a free SSL certificate that encrypts the data you share with your customers.
PCI compliance: They both come with a Level 1 PCI-compliant server – the highest level of compliance that keeps your transactions secure.
Wix has one significant advantage in this regard: it also regularly backs up your site.
With Shopify, you'll need to use a third-party app or export your product data to a CSV file on a regular basis.
GDPR conformity in Wix and Shopify
In general, hosted website builders such as Wix and Shopify make managing the first three needs simple — but not the fourth.
However, unlike many of its competitors, Wix actually handles cookie consent fairly well.
Its built-in cookie consent banner allows you to block cookies for various popular marketing products before they are dropped (Facebook Pixel, Google Analytics, and so on). It even blocks custom code from being run without consent.
Shopify also allows you to deal with cookie consent appropriately — but not through any 'out of the box' methods. You'll need to install a cookie consent banner app to do so.
(While there are 126 cookie banner apps accessible in the Shopify app store, their quality and GDPR compliance vary.)
The short line on GDPR is that you can make a Shopify or Wix e-commerce site GDPR-compliant. However, doing so with Shopify may require more work (and continuing fees if you choose a third-party cookie banner solution).
As a result, Wix takes the GDPR victory.
Wix vs Shopify: Pricing Plan: Which Is Best?
When comparing Wix and Shopify, you can't overlook their pricing plan, as this factor determines a lot of things.
The below comparison will make you understand which platform is better in terms of pricing.
Wix Pricing Plan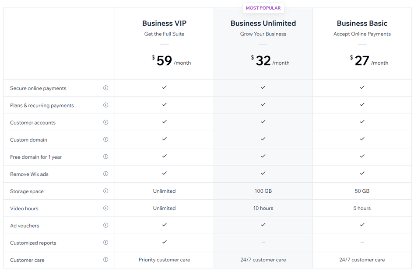 Wix comes with an eight-pricing plan which includes a free forever plan. And each pricing plan is directed towards a different set of people with other purposes.
A. Free Forever Plan: this plan attracts no costs and can be used for personal purposes.
B. Connect Plan: This plan costs $4.50/month. It is suitable for a website with little content due to its very limited storage space.
C. The Combo Plan: This plan, which costs $8.50/month, comes with no Wix Ads and allows you to upload up to 30 minutes of HD video to your website.
D. Unlimited Plan: This plan attracts the cost of $12.50/month and is suitable for freelancers and entrepreneurs. It comes with a site booster and visitor analysis app.
E. VIP plan: This plan costs $24.50/month and comes with features such as social media logo, professional logo, visitor analytics app, and prioritized customer care.
Wix's Business Pricing Plan
F. Business Basic Plan: This plan enables you to make secured online payments and comes with e-commerce functions such as abandoned carts recovery, an online booking platform, ticket & event management, and more.
It costs $17/month.
G. Business Unlimted Plan: This plan attracts the costs of $25/month and comes with more advanced e-commerce features than the business basic plan.
I. Business VIP: With this plan which costs $35/month, you can enjoy every feature your want for your e-commerce business.
Shopify Pricing Plan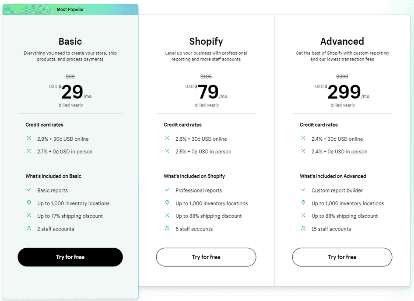 Shopify offers three pricing plans: the basic Plan, the Shopify Plan, and the Advanced Plan.
But it also offers two other Shopify plans designed for businesses who want a scalable e-commerce platform – Shopify Plus and Shopify Lite.
The basic plan costs $29/month and is suitable for new e-commerce businesses that don't plan to sell a large volume of stocks.
It comes with every feature you would need for your small business and doesn't limit the number of products you sell.
This plan's credit card fees (2.9% + 30¢) and transaction fees (2%) are higher than those in the other Shopify plans.
The Shopify plan costs $50/month but comes with a lower transaction fee of 1% and a lower credit card fee (2.6% + 30¢).
This plan includes features allowing for International selling and percentage-based International pricing.
It also allows you to use different domain names for other countries.
The Advanced Shopify plan comes with a credit card payment rate of 2.4% + 30¢ and a transaction fee of 0.5%. It provides great shipping conditions and allows you to set different prices for different countries. In addition, you can customize your reports.
It costs $300/month.
The other Shopify plans, which are Shopify Lite and Shopify Plus, cost $9/month and $2000/month, respectively.
All pricing plan comes with a 14-day trial period.
Winner: Wix
Wix Vs. Shopify: SEO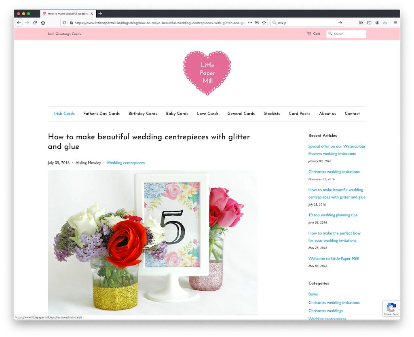 Wix and Shopify offer built-in SEO settings that let you rank higher on Google search results pages.
Meta titles and descriptions, image alt text, custom URLs, Google analytics, 301 redirects, SSL certificates, sitemaps, and mobile-friendly, fast, and canonical tags are all available in Wix and Shopify.
Wix and Shopify Site Responsiveness
Wix sites are not responsive; however, Shopify sites are. Given that Google's algorithm prefers responsive sites, Shopify has an instant advantage in terms of SEO.
Second, while you can utilize Accelerated Mobile Pages (AMP) on Shopify product pages, you can't on Wix (Wix only allows it on blog posts).
AMP is a Google-backed project that seeks to speed up content delivery on mobile devices by using stripped-down code known as AMP HTML.
Using AMP on your product pages can enhance search results by allowing for faster loading times and longer user 'dwell times' — both of which can be rewarded by search engines.
(You'll need to pay for an app with Shopify to unlock this capability, but the point is, it's there!).
Third, whenever you change a page or product URL in Shopify, it automatically creates a 301 redirect (a 301 redirect informs search engines that a page has moved location.
Failing to do so can significantly negatively impact search rankings, particularly for popular pages on your site).
The Shopify app store offers a variety of apps that can assist you in meeting Core Web Vitals targets, and its responsive template designs give the platform an advantage on this front as well.
Additionally, Shopify allows you to use the great 'Yoast' software to double-check your SEO work.
Yoast is an industry-standard SEO tool that analyzes your site's content and provides an easy-to-implement list of steps that could improve its performance in search results (the only other platform that currently allows you to use Yoast.
Shopify is unique among hosted website builders in allowing you to integrate Yoast with your store, albeit for a fee).
Automatic redirection is only available in Wix if you have a subscription plan (which isn't the end of the world).
You must establish this redirect yourself on the free plan, using a different portion of the interface.
Wix does include an option that SEO beginners may find handy – 'SEO Wiz.'
As the name implies, this wizard-style application asks you questions about your site and generates a checklist of SEO recommendations for you to follow.
Wix should also be praised for its new "SEO Dashboard" function. This is essentially a deep connection with Google Search Console, Google's package of tools for website owners to assist them in improving their results.
You may examine all of your Search Console data from the dashboard without leaving the Wix environment.
Wix includes built-in integration with Semrush, one of the market's most prominent keyword research tools.
This allows you to conduct ten pieces of keyword research every 24 hours for free (more if you have a paid Semrush account).
However, Wix has an advantage over Shopify because all its capabilities are built in.
On the other hand, Shopify mainly relies on third-party apps for SEO, and its sitemaps cannot be customized. Choose Shopify if you are in a highly competitive niche.
Winner: WIX
Email Marketing in Wix and Shopify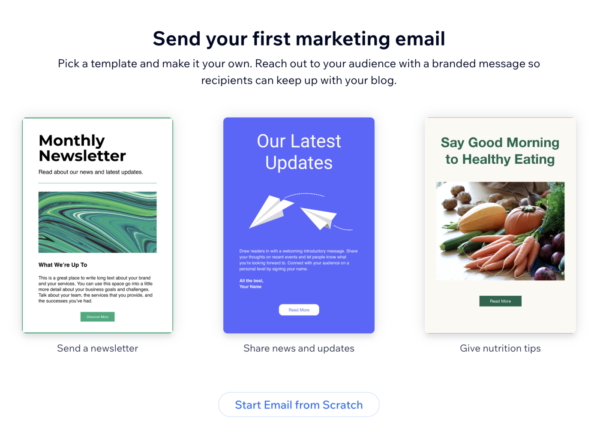 Wix and Shopify both have email marketing capabilities.
In Wix, you can send free e-newsletters to up to 200 subscribers per month; if that isn't enough, you can upgrade to Wix's paid email marketing tool (note: this was formerly known as 'Wix Ascend').
Depending on the plan, the latter allows you to send out more monthly emails, 500 to 1,000,000.
You can use several automation (emails that are triggered in various ways by activities taken by visitors on a Wix site, such as purchases or form completions).
Wix doesn't publicize pricing information for its email marketing services, but if you have a Wix account, you may access the applicable fees by logging in.
Shopify's new email marketing tool, 'Shopify Email,' allows you to send 10,000 emails every month for free, with a $1 price for every subsequent 1,000 messages sent.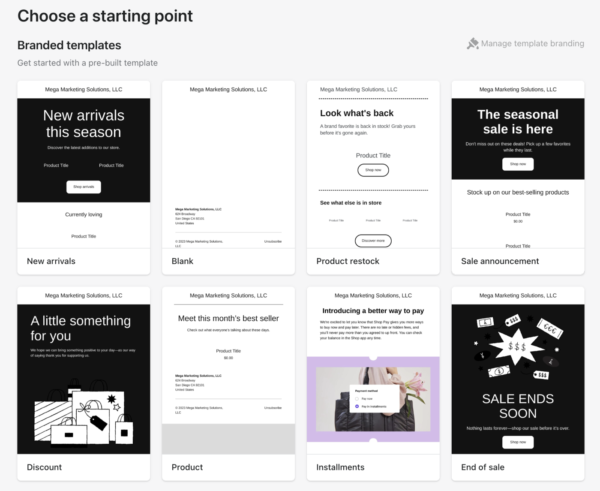 Both platforms' email marketing functionality does not currently compete with that found in dedicated email marketing tools.
For example, you won't find the extensive autoresponder features found in platforms like GetResponse or Mailchimp.
However, Wix does include some decent email automation options in its email marketing plans. Shopify also made some enhancements in this area, allowing you to design 'if then this that' rules that send emails automatically based on certain user behaviors.
Many customers may find Wix and Shopify's email marketing capabilities extremely useful.
And, if more advanced features are required, it's simple to integrate more professional email solutions like GetResponse, AWeber, and Campaign Monitor into both platforms.
Though this is slightly easier with Shopify due to a wider variety of dedicated integrations for these types of tools being available).
However, because Shopify allows you to send far more free emails to your subscribers every month than Wix – 10,000 vs. 200 — it's safe to say that Shopify is the clear victor here.
Wix Vs. Shopify: Themes and Templates
Since the design and layout of your website matter a lot, it is important to discover which platform allows you to create an impressive website.
Quantity of Templates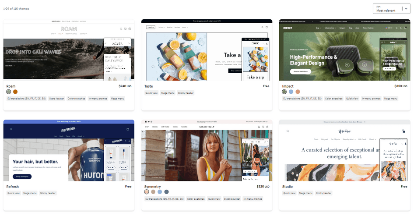 The Wix platform includes over 800 customizable templates for any type of website, from a portfolio site to an e-commerce site and from an event site to a media website.
This is significantly more than the 12 free Shopify themes.
If you're unsatisfied with the restricted selection of free Shopify themes, you can always pay a one-time cost for a premium theme. There are now 125 of these available, with prices ranging from $180 to $360.
Many of these paid themes come in multiple variations, expanding Shopify's template selection even more.
However, in terms of template number, Wix comes out on top – you can browse their template range here.
Quality of Templates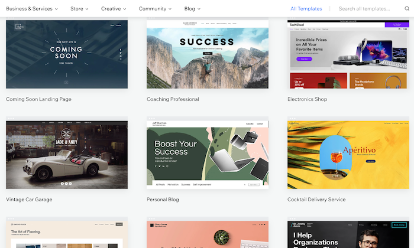 In terms of quality, the templates on both platforms are professional in look and current in design.
Shopify themes are explicitly targeted at e-commerce and are perhaps more sturdy in that setting.
On the other hand, Wix has a considerably larger selection of general-purpose themes — so if your goal is to develop a content-driven site and sell 'on the side,' Wix has much more to offer.
You may also start with a fully blank template with Wix, appealing to more creative users who wish to avoid a 'cookie-cutter' approach to establishing an online store.
The bottom line on design quality is that if you're searching for a dedicated e-commerce template, Shopify undoubtedly gives stronger layouts – but you'll have to spend a bit more to get the finest Shopify themes.
Shopify themes are extremely versatile and adaptable. Furthermore, because industry specialists build these themes, they make your site look professional.
Using Shopify themes allows you to change your site's theme whenever you want without losing your content.
However, altering your Wix templates may result in losing your website's content.
Template Performance on Mobile Devices
Shopify's templates are 100% responsive, meaning its components, text, photos, forms, etc., will instantly adjust to fit the device being read on.
For example, a desktop computer, mobile device, or tablet.
On the other hand, Wix employs an approach to design known as absolute placement, in which web items are positioned pixel by pixel.
In practice, this means creating two versions of your Wix website: desktop and mobile. As an end user, this means additional work for you.
That said, Wix does a fantastic job of automatically generating the mobile version for you – you won't always have to update it, especially if you're only making minor changes to a template.
However, there will definitely be instances when you will need to make minor changes to the mobile version of your Wix site to ensure that it shows appropriately.
This, however, is not always a terrible thing. You can develop a more streamlined version of your mobile site by hiding something that may feel redundant to smartphone users if you can edit both your site's desktop and mobile versions.
Without going to coding, this isn't really achievable on a Shopify site. However, it is preferable to use responsive templates rather than absolute positioning.
Absolute placement violates conventional web design practices and Google's recommendations for constructing a search-friendly mobile site.
Nonetheless, both Wix and Shopify have excellent themes and designs, making it difficult to choose a winner.
Winner: It's a Tie!
Wix vs. Shopify: Apps and Add-ons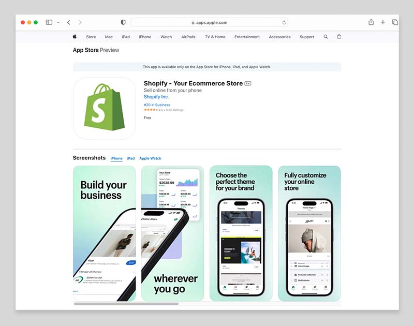 Third-party integrations are fantastic! They allow you to obtain capabilities and functionality that might otherwise be unavailable to you.
Both Wix and Shopify allow for third-party app integrations.
However, the Wix and Shopify app stores are quite different in nature. The Wix app store is primarily stocked with apps that allow you to add additional features to your site.
Whereas the Shopify app store is more concerned with integrations. For example, with email marketing, accounting, and CRM apps, then with add-ons.
However, because the Shopify platform concentrates on online stores, its third-party integrations are mostly for online selling. This distinguishes it from Wix.
Finally, the number of applications and integrations available for Shopify surpasses that of Wix.
There are 8,000+ apps for Shopify against 565 for Wix making Shopify the clear winner in the integrations and apps sector.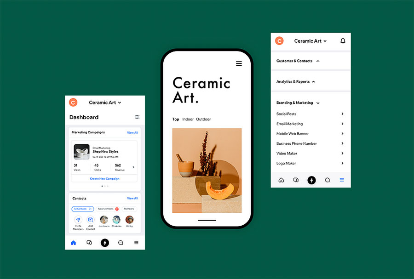 Shopify has approximately 5000 apps and add-ons organized into 12 categories and nine collections.
You'll find the features you need for your store if you go through our diverse set of apps.
However, they are all priced differently.
Wix, on the other hand, has over 200 apps and add-ons. Some of them are free, while others have a fee.
Winner: Shopify
Wix Vs. Shopify: Alternatives
Squarespace – Best e-commerce platform for creatives
Squarespace is an easy-to-use website builder with themes that look good and drag-and-drop features that are easy to understand. It has e-commerce tools that make it easy for users to set up online stores.
Bluehost – Best for hands-off WooCommerce store setup
Bluehost is a website hosting service that could be used instead of Wix or Shopify. Wix and Shopify are all-in-one platforms that let you build a website and run an online store. Bluehost works mostly on hosting and offers support for different website builders and online stores.
Bluehost provides solid hosting services at reasonable prices and with an easy-to-use interface. It has many features, like name registration, email accounts, security measures, and website backups. Also, Bluehost has a feature that lets you install WordPress with just one click. This makes setting up and running a website or online store that uses WordPress is easy.
BigCommerce – Best for medium to large stores
BigCommerce is a powerful e-commerce platform that lets businesses of all kinds use advanced features. It offers a scalable answer with a lot of ways to customize it, built-in marketing tools, and the ability to work with other systems. It also has businesses that make a lot of money. There are many different kinds of online stores, like clothing shops. Online shops that sell all over the world
WooCommerce – Best for WordPress websites
WooCommerce is a powerful e-commerce plugin that is built on WordPress and gives you choices for flexibility and personalization. It has a large number of themes, add-ons, and features that can be used to make and run online stores.
OpenCart – Best for selling digital products
Opencart is a popular e-commerce platform that is free and open source. It is a good option for Wix and Shopify. It gives you a wide range of options and features for building and running online shops. Opencart has an easy-to-use interface that makes it simple for sellers to set up and customize their online stores. With so many themes and add-ons to choose from, users can create their online stores to fit their brand and business needs.
Ecwid – Best for integrating with your current platform
Ecwid is a flexible e-commerce tool that can be used instead of Wix or Shopify. It stands out because users can easily add an online store to their current websites or social media pages. After all, it can be easily integrated. With Ecwid, businesses can set up and run their online stores quickly and without knowing much about technology.
The site has a variety of themes that can be changed, different ways to pay, and strong inventory management tools. Ecwid is good for sellers who already have websites, sellers who have a small number of items, hobbyists, and people who sell on the side.
Choosing Between Shopify and Wix: Which is Best for Your Business?
Shopify and Wix are good options for people wanting to start an online store.
The best platform for you will depend on the kind of store you want to start, the needs of your business, and how much experience you have with e-commerce.
Wix is a good and cheap choice if you want to get started quickly, like the ease of an all-in-one site builder, and don't plan to sell a lot of products.
But Shopify could be the way to go if you want to grow your business and have more freedom to change your site.
Since both systems offer free trials, why not try them and see which works best for you?
No matter which platform you choose, you'll gain from getting user feedback to discover what makes your customers happy.
Tools like heatmaps, recordings, and polls show you exactly how customers use your e-commerce site, what they like about it, and where you can make changes.
By listening to your customers' wants, you can make a high-performing online store that automatically leads to sales.
Good Read: Wix vs. Squarespace: Choosing the Best Website Builder
Bottom Line
Both Wix and Shopify are strong website builders in their own right. When choosing between Wix and Shopify, the best option for you depends on what you want your website to do. Shopify is one of the best e-commerce platforms if you wish to have a store with many features that can grow your business. Even though Shopify's plans can get pricey, the money is well spent considering all the built-in e-commerce features and the 6,000+ third-party connections.
But no one can argue that Shopify is the best e-commerce platform because it has more advanced e-commerce features.
Wix is the best option if you want to make a website that can be used for various things. It is easy to use and doesn't cost much. Wix is also a good choice if you need a website builder that focuses on content and only requires the most basic e-commerce features. Wix has cheap website plans, more design options, and is easy to use.
Pick Shopify If…
you require a serious e-commerce solution that can scale and sell globally,
You need everything (international funds, a wide range of markets, etc.).
You need shops in more than one language with good SEO.
You need more ways to accept payments and great POS tools.
You need help right now.
A Wix store is best if…
You want to build an online shop more easily and for less money;
If Shopify Payments isn't offered in your country (to avoid the extra sale fee)
Your website's main purpose isn't the store.
Making content is the best way to get people to visit your site (blog, landing pages, etc.).
You want more freedom in design.
Frequently Asked Questions
Q: Is it better to use Wix or Shopify?
Wix is better suited for small enterprises and creative bloggers emphasizing user-friendliness over powerful, scalable eCommerce technologies. Shopify is better suited to medium to large eCommerce enterprises with a sales mindset, a huge inventory, and a multinational customer base.
Q: Which is cheaper, Wix or Shopify?
Technically, Shopify is the most affordable E-commerce platform. The 'Starter' plan costs $5 per month, while the cheapest Wix plan that allows you to sell things, 'Business Basic,' costs $27 per month. On the other hand, the Wix 'Business Basic' plan allows you to create a fully-functional independent online store, but Shopify's 'Starter' plan merely allows you to embed your products on other sites. The $39 'Basic' Shopify plan is the most affordable option for creating a standalone store.
Q: Which is easier to use: Wix or Shopify?
While both Wix and Shopify are widely considered user-friendly e-commerce content management systems, Wix is far more so. This is because of its simple drag-and-drop site editor and ready-made online store templates.
Q: Why do people choose Shopify over Wix?
On the other hand, Shopify offers over 100 different payment gateways, making it more versatile than Wix. For example, Wix customers will be unable to use Apple Pay, Amazon Pay, or Klarna. Remember that you may be charged transaction fees if you do not use Shopify Payments, which will soon add to your overall expenditures.
Q: Which is better for selling in multiple currencies, Wix or Shopify?
Shopify's multi-currency functionality outperforms Wix's. Although Wix allows you to display your store prices in local currencies, your store visitors cannot check out in their native currency. On the other hand, Shopify does — and this can lead to increased sales.
Q: What is better for dropshipping, Wix or Shopify?
Shopify's e-commerce features are among the best in the industry, and the platform outperforms Wix in terms of multi-currency selling, dropshipping, and tax calculation. Choosing the correct online store builder is critical when starting an e-commerce business.
Q: How does Wix compare to WordPress?
While WordPress is one of the most popular content management systems on the market, Wix is significantly easier to operate, making it ideal for novices. However, because WordPress is code-based, it allows for substantially greater customization, making it suitable for individuals creating a site with specific needs.
Q: What are the main differences between Shopify and Wix for e-commerce?
The primary distinction between Shopify and Wix is that Shopify is a full-featured e-commerce platform, whereas Wix is a website builder with e-commerce capabilities. Shopify costs more than Wix, but it has more features and is more scalable.
Q: Is it easier to sell on Wix or Shopify?
Shopify makes it easy to start an online store, especially if you intend to scale it. Wix is better to use if you're creating a content-rich website with rudimentary e-commerce functionality, such as collecting payment for services or selling a limited number of things.
Q: Which is better for SEO, Wix or Shopify?
Shopify is more SEO-friendly than Wix because, unlike Wix, it uses a completely responsive design (which might contribute to preferential treatment in search results) and provides additional solutions to meet Google's new Core Web Vitals guidelines.
Q: How scalable are website builders?
Website builders are highly expandable, and you can easily modify your plan to match the needs of your expanding staff. Several companies offer enterprise-level capability with tailored pricing if you outgrow your service's top-tier plan. Contacting the customer service team for your system to learn more may be helpful.