Last updated Aug. 27, 2022 by Jessica Green
If you are a dog lover, there are several ways you can make money. Dog walking is one of them.
However, it is difficult to find clients in need of a dog walker. Hence some apps have been created to connect you with clients.
Here are apps that enable you to make money by walking dogs:
DogVacay
DogVacay connects you to clients in search of dog walkers. This app works best for pet sitting at night.
After meeting a client and completing a service, DogVacay will pay you for your services but twenty percent of your fee will be deducted by DogVacay.
Despite the 20% commission placed by DogVacay, you can make an average of $1000 a month.
DogVacay is available in all states in America.
Fetch Pet Care
This is one of the most reputable apps that makes you money for walking dogs. The app provides specialized services that include dog walking, pet sitting, pet medication administration, and more.
Lovers of cats, Reptiles, tiny caged pets, and dogs can find employment on this app.
Rover
Rover is the largest organization that offers employment to individuals seeking pet sitting jobs.
The services offered by Rovers is spread across the United States, Canada, the United Kingdom, and Europe. It connects pet owners to pet sitters near them.
Rover gives you control over the fees you charge and your availability. Requests for reservation and payments for dog walking are taken care of by Rover.
Creating a profile on Rover is free. However, Rover will take twenty percent of your income once you complete a job
Doggly Pets
This app began its services in New York City and now has a presence all over the United States.
Due to the low charge as commission, it has become one of the most popular dog walking applications.
If you make $100 in your first month, no commission will be placed on your account. If you make a minimum of $100 afterward, you'll pay a fixed monthly membership fee of $850.
Even if you make more than $100, the monthly membership fee remains the same.
When signing up, you must pay a registration fee of $10 to cover the cost of onboarding.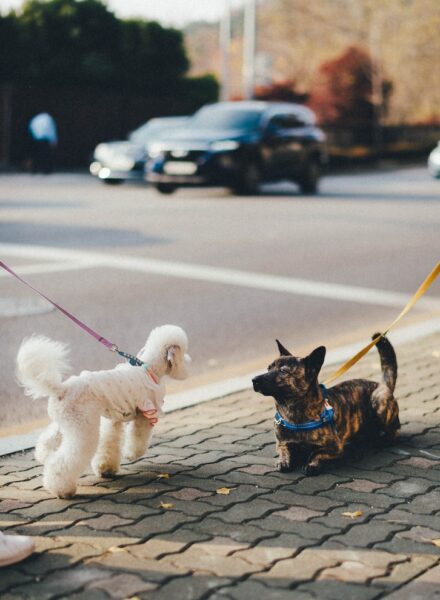 Frequently Asked Questions
Which dog walking app pays the most?
Rover is one of the highest-paying dog walking apps. It gives you control over the fees you charge, and it enables you to decide your availability periods.
Is there an app for dog walkers?
Yes! There are several apps for dog walkers. These apps will pay you for walking dogs and pet sitting.
How do I get clients for my dog walking business?
If you own a dog walking business, you need to get your company licensed and insured. Once this is done create a website and market your business in order to get clients.
How much does Rover take from your pay?
Rover lets you choose your own price for dog walking. However, it deducts a 20% percent service charge from every reservation you complete.
How much should I charge on Rover?
The amount you charge on Rover should depend on your expertise, working experience, and dog walking hours.