Last updated Aug. 27, 2023 by Favour Chinaza
17 Best Keyword Rank Tracking Software (Reviewed)
Rank tracking is tied to SEO performance. The best keyword rank-tracking software is required to monitor your SEO operations and position.
Every blogger should strive to employ the most popular keywords, especially those that will assist your website to appear in the first few pages of search results.
You will most likely appear at the top. 50 search results if you do proper on-page SEO.
To increase your SEO, you must correctly manage keywords to determine which terms are good for your specific domain and which are not.
This article will enable you to focus on using the most powerful keywords, enhancing your chances of ranking higher in Google and other search engines.
To achieve this goal, you'll need a tool to tell where a given phrase ranks in Google's search results without manually trawling through hundreds of search results and pages.
To assist you, we have created a list of some fantastic free online tools to verify the position of your desired keyword in Google.
You may use it to see how your site performs in SERPs and uncover keywords that are easy to rank.
In this piece, I'll go through the top keyword rank tracking tools to help your SEO efforts pay off.
What is Rank Tracking?
The act of measuring and monitoring a website's organic ranking position in search engine results pages (SERPs) for certain keywords (search phrases) is known as rank tracking.
Most individuals want to rank as high as possible in search engines like Google for the terms their target audience is searching for. This is because pages that rank on page one (preferably in position one) receive the most clicks.
A rank-tracking software tool is an SEO analytics tool that allows you to assess the efficacy of your SEO activities.
Rank tracking is the most effective method for monitoring a website's organic search ranks across the major search engines, specifically Google.
So, if you're implementing any SEO plan, you should use a rank tracker to assess effectiveness and make real-time adjustments.
A rank tracker tool will show you where you now rank for various search queries and how that position has evolved over time.
For instance, you could have risen from position five to position one or vice versa. These insights can be used to influence your SEO approach and monitor your effectiveness.
A good rank-tracking software program will:
Automate the recording of your keyword rankings.
Keep track of keywords, domains, subdomains, and web pages.
Perform extra tasks such as YouTube keyword rank tracking, keyword research, and so on.
Monitor competition performance via user-friendly dashboards.
Good Read: Moz vs. SEMrush vs. Ahrefs: Which SEO Tool is Best?
Why is Keyword Tracking Important?
According to a recent study, 67.6% of all clicks in Google SERPs (search engine results pages) go to the top five organic search results.
If your company relies on organic traffic and search engine rankings to generate leads and sales, you can see why ranking high for vital keywords in your industry is critical.
You must also determine what is and is not working on tweaking your SEO optimization efforts accordingly.
You'll need a dependable and accurate approach to track the ranks of your website pages for various target keywords. This is where keyword rank-tracking software can help.
Rank tracker software gathers data from Google and other search engines, allowing you to track the ranks of any of your domains, subdomains, or URLs for the keywords you choose to monitor.
It assists you in improving your rankings, tracking keyword performance, and identifying approaches to outrank your competitors. With greater SEO insights, you'll be able to develop your business.
Keyword tracking lets you understand whether your SEO approach is effective and whether your optimization efforts are paying off.
Here are the top five reasons to track keywords:
✅Monitor your competitors: Keyword tracking informs you of which keywords your competitors are ranking for and which are not, allowing you to make an informed decision and select the phrases you can truly rank.
Furthermore, keyword tracking and analysis expose how your competitors perform against your target keywords and their best-performing content with the most high-quality backlinks, social interaction, and much more.
✅Increase visibility: Keyword tracking indicates how well your target keywords rank in search engine results pages (SERPs). This data assists you in determining which keywords are best for raising the exposure of your company or customer.
✅Monitor rank drops: Keyword tracking tools can also be used to monitor rank reductions and determine the cause of the decline.
Rank decreases are often caused by your competitors outranking you, technical faults, penalties, and other similar factors.
By identifying this information early on, you may simply take the appropriate actions to solve the problem, or if it's a technical fault or a penalty, to avoid the same situation in the future.
✅Identify keyword opportunities: Essentially, by consistently tracking your most significant phrases, you'll be able to identify a variety of keyword opportunities based on search traffic, competition, search intent, ranking pages, and which ones to prioritize.
How Often Do Keyword Rankings Fluctuate?
The rankings of keywords change over the year. The changes have no set frequency: ranking positions can shift anytime.
That is why selecting a rank tracker program that updates its data daily is critical.
Generally, the more competitive a keyword, the more frequently the ranking positions will change. It's uncommon for the top-ranking results for highly competitive keywords to shift from week to week.
However, for less competitive keywords, you may be able to keep your ranking place for several years.
How to Choose The Right Keywords to Optimize for SEO
Have a specific objective in mind: It's critical to comprehend the value of your target keywords for your company before selecting them.
Does your company want to increase its sales or leads? To raise brand recognition or to increase client engagement?
Create a strategy for successfully generating qualified leads utilizing certain keywords or themes based on the ultimate goal.
Understand Keyword Types
There are numerous keyword types that you may employ to rank your business in search engines.
Short tail keywords (high search volume, high competitive rate, broad search intent, poor conversion rate) and long tail keywords (low search volume, low, competitive rate, specialized search intent, high conversion rate) are the most commonly utilized.
There are also "evergreen" and "fresh" keywords. As the name implies, fresh keywords have a sudden surge in search volume, but they are only useful for a limited period.
For example, when a new movie is released (for example, Barbie 2023) or a global event occurs (for example, a COVID-19 outbreak), terms linked to these events surface and receive massive search volume.
These keywords have a medium level of competition, a narrow search intent, and a high conversion rate.
Evergreen keywords, instead of fresh short-tail keywords, are always relevant.
Examples include "how to burn belly fat," "tips for losing weight," and other topics that are "evergreen" and that people will always look for.
Keywords are classified into numerous types and categories, ranging from primary, secondary, and contextual keywords to intent-targeting, geo-targeting, customer-defining, etc.
Analyze Search Intent
Search intent is critical to keyword research and your overall content marketing activities.
Fortunately, you don't have to guess why people look for specific terms. You can uncover the general intent behind a particular keyword and its relevance to your products, services, or content offerings by completing those searches yourself on Google.
Examine Your Competitors
Conduct a competition study to determine the target keywords your competitors presently rank well for and the websites that rank on Google's first page for your target phrase.
Use this data to select what content to prioritize developing based on the themes and phrases your competitors now rank for but where you can outrank them.
Use Keyword Research Tools
There are a plethora of fantastic SEO tools available on the market that may assist you in coming up with fresh keyword ideas as well as checking the search volume and predicted traffic for keywords you're researching.
Furthermore, checking where your site ranks in organic search results for desired keywords is time-consuming without the correct SEO reporting software.
It's less of a hassle if you only check your ranks occasionally. However, few SEOs are ready to wait months to observe how their efforts affect rankings.
Half of SEOs check their rankings daily or numerous times each day, with the remaining 37.7% checking them weekly:
Reviewing Google's search results for your chosen keywords manually is quite time-consuming when you monitor rankings closely—and at that frequency.
Using a keyword tracking tool is easier, more efficient, and less expensive.
But which keyword tracking tool should you use?
To find out, we examined over 100 SEOs about the keyword tracking tools they use to monitor how their site and pages perform in organic search results.
The majority of our respondents utilize the tools they offer to monitor both ranking rises and decreases:
17 Best Rank Tracking Software
1. SE Ranking – Best Overall Rank Tracking Software with Great SEO Tools ($18.60/month)
SE Ranking is an all-in-one package that allows you to check your ranks, find technical faults, track your competitors' rankings, and discover the keywords they employ in their SEO operations.
It's an all-in-one SEO tool, so when you join up for an account, you get much more than just a search engine rankings tracker.
You will also have access to a website audit tool, an on-page checker, a backlink tool, content optimization, keyword research, scheduled reports, and other features that will assist you in improving your overall SEO performance and automating your procedures.
However, regarding the keyword rank tracker, the function allows you to track daily results from Google, Yahoo, Bing, and YouTube.
You can limit the results to a specific nation, city, or zip code. You may also track users on desktop or mobile devices.
SE Ranking considers Google Maps results and Google Ads ranks in addition to Google search results. It can even check your performance for SERP features such as snippets and videos.
You can add up to five competitors, view their Google search performance, and compare their results to yours.
What if you have no idea who your competition is?
Then, using the same method, examine the top 100 search results. This will give you a sense of who you're against.
Using a guest link, you can quickly share ranking data with clients. You can also create automatic reporting templates that include traffic, conversion, and other important metrics besides ranking data.
Finally, you may add SE Ranking position data to your dashboards using Looker Studio.
Your team can use SE Ranking to check the top 100 search results for a specific term, conduct keyword research, and see how a keyword ranks in multiple geographies.
It also allows you to manage your SEO and marketing campaigns more efficiently by offering interfaces with Zapier, Google Search Console, Google Analytics, API, Google Data Studio, and API.
SE Ranking has a 14-day free trial (no card required).
Key Features of SE Ranking
All-in-One SEO Software: The SE Ranking platform has all the tools for marketing, SEO analysis, and keyword optimization for higher rankings.
PPC/SEO Competitive Research: Find out which keywords your competitors use in their organic and paid search campaigns.
In-Depth Website Audit: Get your website to the top 10 Google search results thanks to the Website Audit tool that suggests fixes for on- and off-page issues.
Backlink checker and backlink monitoring tools.
Competitors research tools
Website audit tools
On-page SEO checker
White Labels
Report Builder
Lead generator
Keyword grouper, social media analytics, search volume checker, traffic analytics, index status checker, and parameter checker are also features of SE ranking.
Pricing
SE ranking offers four pricing plans. The essential plan costs $31.20/month, the Pro plan costs $71.20/month, and the Business plan costs $151.20/ month.
For the custom plan, contact the SE ranking team.
2. SEMrush – Best premium SEO and Rank Tracking Software ($119.95/month)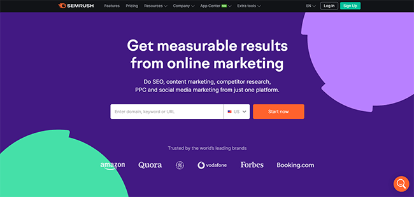 SEMrush is a marketing platform that includes a sophisticated rank-tracking feature. It is also one of the best website traffic trackers aside from keyword rankings.
SEMrush allows you to monitor your site's performance on Google SERPs and watch all the keywords your competitors are ranking for. It also allows you to spot issues with your SEO operations.
The SEMrush sensor tool offers you with up-to-date data that allows you to notice changes to Google's ranking algorithm.
Semrush is one of the most well-known names in the SEO SaaS software sector for a reason. It has an unrivaled feature set and some of the most powerful tools available anywhere.
This package has a superb range of SERP tracking tools. You may use the position monitoring feature to track any phrase or domain across search engines such as Google and Baidu.
You may use this vital data to track the progress of your campaign and identify and correct problems with keyword cannibalization.
You may also track Google and Baidu's SERP volatility by tracking changes in organic ranking positions and looking for indicators that the ranking algorithm has been updated.
In addition, learn about your competition and determine the domains with the highest organic and paid visibility.
And that is only touching the surface of what Semrush is capable of. Aside from the rank tracking software, it includes a plethora of other tools to assist you with all parts of your digital marketing operations.
Tools are available to assist with keyword research, on-page SEO audits, competitor analysis, content marketing, local SEO, social media management, link building, content production and optimization, PPC, website monetization, etc.
It's a little more expensive than some other solutions, but there's no better option if you have the money.
SEMrush provides data on how you rank in different regions, as well as the number of keywords a site ranks for, the amount of traffic the site receives from the keyword, the number of paid keywords the site uses, and the amount of traffic a site gets from its ads paid keyword.
Key Features of SemRush
All-in-One SEO Toolkit: In addition to ranking tool capabilities, you also receive content marketing, market research, advertising, and other tools.
Competitor Research Toolkit: This tool allows you to identify keyword and backlink gaps in your competitors' strategies, which you can then utilize for your own SEO success.
Instant SEO Recommendations: SEMRush has a massive database of keywords in all industries and offers instant recommendations for improving your SEO.
Other Features of SEMrush
Keyword research
On-page SEO
Competitors SEO Analytics
Content marketing
Local SEO
Social media management
Link building
Backlink audit, backlink analytics, and backlink gap tools
Competitive Research
Pricing
SEMrush offers three pricing plans – Pro, Guru, and Business plan.
The Pro plan costs $119.95/month, the Guru plan costs $229.95/month, and the Business plan costs 449.95/month.
All plans come with a 7-day free trial period.
3. SERPWatcher By Mangools – Affordable, Premium Rank Tracker for Enterprise Businesses ($69/month)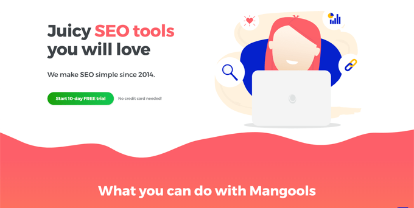 Mangools is a collection of SEO tools for beginners. Its rank tracker, SERPWatcher, is one of the most dependable and user-friendly we've observed.
SerpWatcher is a keyword rank tracking application best recognized for delivering daily updates on the position of your site on Google search engine result pages.
SERPWatcher attempts to keep things easy by providing you with all the information you need to calculate your website's organic traffic potential without any of the usual problems.
It is not as complicated as other rank-tracking tools and gives simple data in a clean layout.
This keyword rank tracking service gives you daily information on how your website ranks. It also sends you an email when there is a significant change in a keyword's ranking.
This program is extremely basic and straightforward to use. It's ideal for beginners who find other search engine rankings checker tools overwhelming.
Mangools says you can go from initial setup to keyword ranking review in under 30 seconds.
SERPWatcher has a number of other useful functions. The Performance Index, for example, informs you of your website's organic traffic potential based on current keyword positions and search volumes.
SERPWatcher also allows you to check rankings daily and displays SERP previews. And if it detects substantial changes, you'll be notified by email.
For both mobile and desktop search results, use exact rank tracking to show results by state, county, city, or DMA region.
The results can then be shared with clients or other team members via an interactive report you can send via a link.
SERPWatcher also allows you to track results for specific areas, tag keywords, track mobile and desktop rank results, check performance with a single key measure, and share interactive reports.
Mangools also provides other tools than SERPWatcher, such as SERPChecker (for search analysis), KWFinder (for keyword research), LinkMiner (for backlink analysis), and SiteProfiler (for insights and analytics).
Key Features of SERPWatcher
Freemium Model: You can use Serpstat for free to research keywords, analyze rivals, and do other things.
Powerful Plug-in: With the Serpstat plug-in, website analysis is always a single click away, so you don't have to waste time searching for the precise data you require.
Simple and intuitive interface: The platform offers a simple and intuitive interface that makes it simple to acquire useful insights from domain analysis, keyword research, backlinks overview, and so on.
Other features of SERPWatcher
Keyword Research tool
Search engine result page Analytics
Backlink Analytics
SEO Metrics and Insight
Pricing
SERPWatcher offers three pricing plans. And they all come with a 48-hour money-back guarantee and a 10-day free trial period.
The SERPWatcher basic plan costs $29.90/month when billed annually, but it costs $49/month when not billed annually. Therefore, you can get a 40% discount on all annual plans.
The Premium plan costs $39.90/month when billed annually, and the Agency plan costs $79.90/month when billed annually.
4. Wincher – Best Rank Tracker for Informative Insights ($27/month)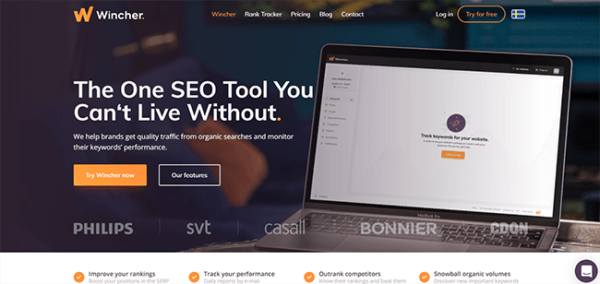 Wincher is a keyword rank-tracking application that makes it simple to monitor your keyword rankings.
Wincher provides daily updates on keywords and web pages that you are tracking. And, regardless of the number of keywords and URLs on your track list, Wincher provides a single-screen view of their updates.
It offers a simple UI that allows you to track your progress. You'll see all of the keywords for which you're ranking, their position in the SERPs, traffic, volume, and other pertinent data.
You can also use it to track the statistics of your competitors. This allows you to keep track of other websites in your niche.
The Keyword Research tool assists you in discovering new terms and phrases to target to increase your chances of success.
If local rankings are important to you, Wincher serves over 100,000 locations in over 40,000 cities. You can obtain rankings for 180 nations.
You'll also have full API access to create your own integrations. You may use Wincher to produce your own reports, sophisticated dashboards, and documentation. You can also connect your Google Data Studio account.
Key Features of Wincher
Track Your Keywords: This platform provides you with a bird's-eye view of your complete website and how you rank for certain keywords.
Discover New Possibilities: Find and concentrate on brand new high search volume keywords for improved ranks and traffic.
Obtain Ranking Reports: Get regular, automated ranking reports so you're constantly up to date. You have control over the frequency and timing of the reports.
Wincher offers fantastic keyword analysis. You examine search volume, predicted traffic volume, and cost-per-click data and discover keywords for which you already rank or have a good chance of ranking.
You may also view a keyword's ranking history for the last six months.
Simply upload your keywords from Google Search Console into Wincher.
Wincher also has automatic keyword ideas, keyword research from a seed term, and a keyword grouping mechanism to prioritize keywords.
Wincher can monitor rankings from over 130 search engines in over 100,000 places across 180 nations and languages.
You can also monitor the performance of your competitors by viewing an overview of their ranking positions and receiving daily updates and notifications of changes to their places.
Wincher also includes automatic and manual reporting, which are easily customizable. You can customize the frequency, ranking data period, and keywords for daily reports to be delivered directly to your inbox.
Advanced users can leverage full API access to construct integrations with any external platform.
Other features include tracking multiple devices, organizing and collaborating, and producing PDF reports.
Wincher also provides you with daily updates on how your competitors are performing. In addition, Wincher also suggests keywords that will enable you to rank high on Google SERPs.
With full API access, you can build integrations that your site needs.
Pricing
Wincher offers three pricing plans. All plans allow you to add unlimited users to your account, and they come with a 14-day free trial period.
The Starter plan: This plan costs 29 Euros.
The Business plan: This plan costs 59 Euros.
The Enterprise plan: This plan costs 249 Euros.
5. Moz Pro – Best for Quick Keyword Research($99/month)

Moz Pro is a Moz SEO tool that allows you to conduct keyword research and track your rank.
Moz Pro gives you a real-time and up-to-date snapshot of your keyword ranking over a week, month, or specific period.
It also tracks your mobile and desktop rankings across all search engines in over 200 countries.
And it's quite simple: you launch a campaign, choose your location your search engine(s), add your keywords, and then list some competitors.
It functions well, but there is no "Wow" factor when we use it. When it comes to choosing a keyword rank checker, there should be none.
Comparing Moz to SEMrush, Moz doesn't stand out from the crowd of rank checkers available.
You can use Moz Pro to discover why your competitors score well for a certain search and how you can outperform them. Moz Pro data also enables you to make SERP-related decisions, such as snippets.
Key Features of Moz Pro
Data you can trust: Moz takes pride in offering SEO data that is at the top of its field and gives you a complete, accurate picture of your overall rankings over time.
Target Top Positions: The platform contains tools to help you discover competitive advantage, such as the ability to target and track keyword positions on Google search, Bing, Yahoo, Dogpile, and other platforms.
Everything-in-one software: In addition to rank tracking, you can perform on-demand crawl website crawls, allowing you to repair any damaging problems before they affect your ranks.
Other features of Moz Pro include:
Keyword Explorer
Site Crawling and Audit
On-page Optimization
Link Research
Custom reports
Pricing
Moz Pro offers four pricing plans, including a 1-on-1 walkthrough and 24-hour online support. In addition, they come with a 30-day free trial period.
The Standard plan costs $99/month, the Medium plan costs $179/month, the Large plan costs $299/month, and the Enterprise plan costs $599/month.
6. Night Watch Pluggin – Best Rank Tracking for Local Ranks ($32/month)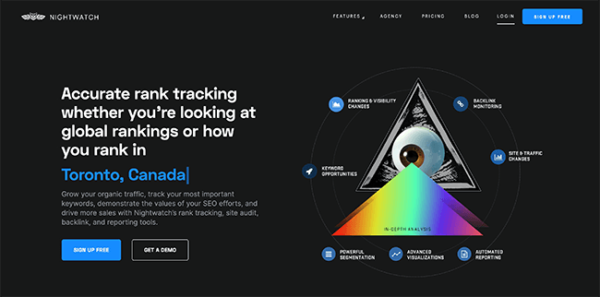 Night Watch is a keyword ranking software that conducts research in over 100,000 locations around the world to offer you with precise statistics on how your keyword ranks.
This feature distinguishes Nightwatch from the other keyword-ranking tools discussed in this article.
Nightwatch thrives when it comes to tracking local rank. Unlike most other rank trackers, it does not just pull data from the nearest Google Data Centre. Instead, you can connect to any Google Data Centre on the planet.
What does this mean exactly? This means you may monitor your keyword rankings in over 100,000 distinct geographic areas worldwide.
This is significant since Google routinely personalizes search results based on a user's location.
Assume you own a high-end hair salon in Los Angeles and want to rank for your brand name as well as keywords such as hairdressers in Los Angeles.
Obviously, you don't care if your company appears when someone searches for these types of questions in New York—you just care about how you rank in Los Angeles.
In the Nightwatch monitoring options, enter your zip code or location. You can only see what Los Angeles potential buyers see when they search for your target keywords.
In addition to Google SERPs, you can track your ranking in local map results and on all major search engines (Bing, DuckDuckGo, and so on).
It does not end there. In addition to its highly accurate rank-tracking technology, Nightwatch offers a number of marketing tools, such as keyword research, website audits, and reporting tools.
Nightwatch tracks your search engine ranking across many search engines all the way down to the ZIP code level, providing you with reliable and up-to-date information on your rank position.
Other features of Nightwatch include:
Website Auditing
Keyword suggestion tool
Global reporting tools
Backlink Monitoring
White-label reports
Search engine simulator
Youtube rank tracker
Local and large-scale rank tracking
Integrations
Pricing
Nightwatch offers four pricing plans and a 14-day trial period for all plans except the Enterprise plan.
The Starter plan costs $32/month, the Optimize plan costs $79/month, and the Agency plan costs $295/month.
The Enterprise plan is custom-based. Contact the Nightwatch team to get a price quote.
7. Serpstats – Best Rank Tracking With Multiple Integrations ($55/month)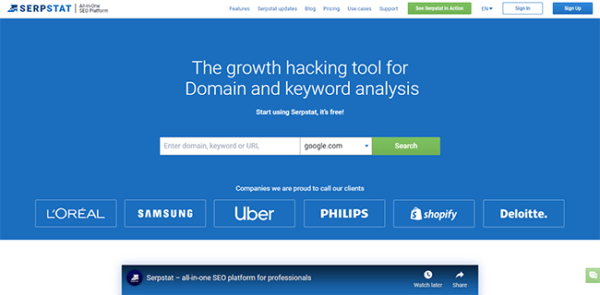 Serpstats is yet another keyword ranking tool that offers a detailed assessment of your site's position on Google's search engine result pages.
But first, let's return to the SERPstat Rank Tracking Tool.
This could help you with organic and paid search results for your domain or your competitors' domains.
You can look at your global rankings if you have a huge brand. If you are a small, local business, you may also look at the search rankings for a certain region.
Serpstat, like many of the rank-tracking platforms we've seen so far, integrates a variety of tools (30+ in all) into a single platform. It is more than just a rank tracker; it is also a site auditor, keyword research tool, backlink checker, and other useful tools.
You may use the built-in keyword tracking tool to check both global and local ranking positions for any domain in Google and Yandex search engines.
You may track organic and paid keyword rankings, generate automatic rank reports, determine your market share for researched keywords, arrange keywords by category, and much more.
In addition to rank tracking, we liked Serpstat's auditing feature. It does a thorough, expert-level assessment of your entire site, offering invaluable SEO information.
You can quickly identify and rectify issues that are affecting your SEO performance.
The keyword research tool is also quite handy. You can either produce a list of missing keywords from any site or enter a broad term to identify similar search strings and queries your clients are asking.
You may see search volume, competition, CPC, and other important information besides your keyword ideas to help you decide whether to pursue them.
You may track your market share with evaluated keywords and set up a daily, weekly, or monthly reporting routine.
This software enables you to assess your site's performance as well as obtain insight into the SERP factors that generate organic traffic to your site.
Serpstats also send you regular updates when your site's or your competitors' rankings change significantly.
With Serpstats, your team can do the following:
View and analyze historical keyword ranking data
Monitor changes in local search results
Share manual and automatic reports to clients
Compare three domains at the same time
View the market share fluctuations
Group keywords by tags
Other features of Serpstats
Backlink Analysis
Keyword research
Site and Page Audit
Competitors Research
SEO score checker
On-page optimization
SERP Crawling
Pricing
Serpstats offers four pricing plans.
The Lite plan costs $55/month, the Standard plan costs $119/month, the Advanced plan costs $239/month, and the Enterprise $399/month.
8. Ahrefs – Best Rank Tracking for Keyword Grouping ($99/month)

You can use Ahrefs to see where you rank in over 200 countries for a term. It has four monthly pricing plans ranging from $99 to $999.
Furthermore, Ahrefs allows you to track the search traffic your site receives to rank in a given place.
It also divides keywords into groups and tracks their growth at each stage.
The integration simply takes a few clicks to set up, but from our experience, the manual procedure is as simple – the term tracking is already set up for your site if you've already created a 'Project' for it.
After that, all you have to do is enter the keywords you wish to track.
The information provided includes the obvious, such as where your site ranks in search results, the SERP characteristics for which you rank, keyword difficulty, search traffic, and your current historical rankings for your keywords.
However, its rank tracking frequency is inconvenient: it only refreshes every three days unless you subscribe to Rank Tracker Pro[1], regardless of your pricing plan. This functionality comes at an additional cost.
Key Features of Ahrefs
Ahrefs keyword ranking tool enables you to do the following:
Sort keyword lists with tags and filters
Get data on featured snippets, site links, top ads, top stories, and nine other features.
Compare your site to your competitors
Gain insight into the sites competing for your position on Google SERPs.
Understand your site's CPC, clicks, search volume, and return rate.
Other Features of Ahrefs include:
Keyword difficulty checker
Site Audit
Content explorer
Site crawl
Backlink analysis
Site and Keyword Explorer
9. Advanced Web Tracking – Best White Label Reports of any Rank Tracking Software ($49/month)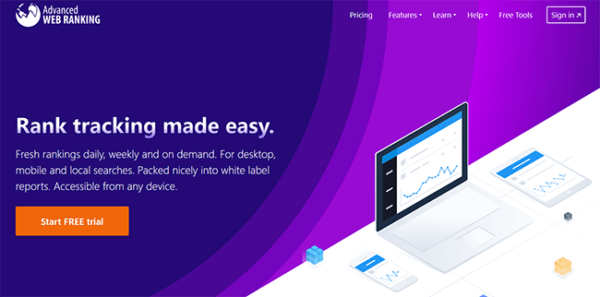 Advanced web tracking is a keyword rank tracking service used by over 24,000 prominent brands, including Microsoft and Amazon.
With this keyword rank tracking program, you can obtain detailed statistics on how your site ranks across numerous devices, locales, and search engines.
Advanced Web Ranking has all of the essential features you'd expect. You can get rankings for all devices (desktop and mobile) and local daily, weekly, or on-demand searches.
Aside from organic rankings, you can also track various SERP elements to observe how you appear in snippets.
Powerful SEO reporting tools enable you to build unique, white-label reports in minutes and share them with your clients. In contrast, competition research tools enable you to monitor the competitive SEO environment and compare SERP performance side by side.
Using advanced Web tracking software, you can track your site's rating in over 3000 search engines and 130 countries. It also supports all of Google's SERP features.
Key Features of Advanced Web Tracking
Obtain fresh keyword rankings for any device, language, and search engine in under one hour. Receive insights on a daily, weekly, or as-needed basis.
Choose any place (country, state, or city) or enter GPS coordinates for each keyword to receive local rank monitoring and volume searches.
Find Above and Below the Fold search results. Keywords can be visualized and segmented.
With the Visibility Distribution feature, you can measure search visibility in pixels.
Improve your website's exposure and that of your competitors' websites, improve your CLT to attract more clicks and identify new keywords to rank in the SERP features.
Tracking performance over time and limiting keyword cannibalization can help you improve landing page rankings.
You can use links and accounts to produce, customize, and share White Label SEO reports (PDF, CSV, or JSON). Metrics such as visibility, click share, market share, estimated visits, and average rank can be used to evaluate your success. Data from Google tools can also be integrated into your reports.
Discover keywords your competitors rank for and create an efficient marketing strategy to outrank them. Track up to 50 competitors' ranks over time and compare their visibility throughout the selected keyword set.
Advanced users can use API to construct integrations.
Other Features of Advanced Web Tracking Software
Unlimited Users and projects
Google Analytics integrations
Competitors analytics
White labeling and report branding
Support for multiple languages
Localization automation
Pricing
Advanced Web Tracking software offers four pricing plans.
The Starter plan costs $49/month, the Pro plan costs $99/month, the Agency plan costs $199/month, and the Enterprise plan costs $499/month.
All plans have a 30-day free trial period and a 30-day money-back guarantee.
10. Authority Labs – Best Rank Tracker With Daily Updates ($49/month)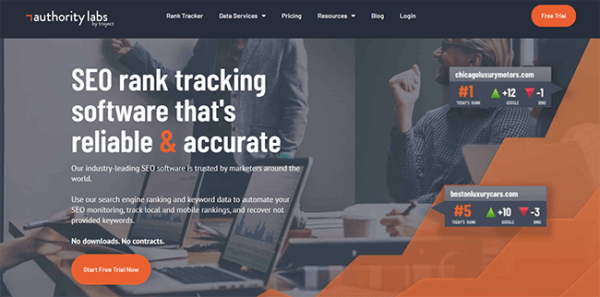 Authority Labs is a keyword ranking software that regularly monitors your position on Google's SERPs.
It even tracks your search results by state, city, and postal code to provide you with the most up-to-date information on your ranking results.
This program may track local and mobile rankings and provide daily reports. It can also recover "(not provided)" data that you might find in other rank-checking programs.
All you have to do is provide Authority Labs with the domains, keywords, and locations you want it to check, and it will handle the rest.
Other advantages include competition tracking, which provides you with a much-needed edge over other sites in your niche.
You can also add an unlimited number of users. As a result, you can create accounts for your colleagues or clients.
Authority Labs also uses Google Data Studio (GDS). That is, you can use the reports generated by Authority Labs in your Data Studio reports.
Reports can be white-labeled by including your company logo, colors, and branding. You can also include search engine rankings, search traffic, and rich snippets in your GDS reports.
Integrating your data with other Google properties, such as Search Console and Google Ads, is also simpler.
It also delivers keyword ranking results for mobile and desktop devices. The "Not Provided" keyword tool is another component of Authority Labs.
This tool gives insight into terms your competition isn't ranking for, allowing you to identify possibilities to improve your ranking.
Key Features of Authority Labs
Daily Data: Not all rank trackers give you daily data, and this daily rank checking feature will allow you to always know where you stand and react to changes as they happen.
Global Tracking: You can expand your reach by adding pages from any country or language supported by the major search engines.
Unlimited Users: You can provide anyone with their own login for reporting, including your team members, clients, boss, etc. – all at no additional cost.
Other Features of Authority Labs Include:
Competitors analysis
White Labels
Unlimited users
Customizable Branding
Pricing
AuthorityLabs offers four pricing plans, and they all come with a 14-day free trial period.
The Plus plan costs $49/month
The Pro plan costs $99/month
The Pro Plus plan costs $225/month
The Enterprise plan costs $450/month
11. Accu Ranker – Best Rank Tracker for SEO Agencies & Professionals ($109/month)

AccuRanker is a keyword ranking program designed for SEO agencies and businesses.
The SERP History tool tells you which SERP characteristics drive traffic to your site, allowing you to plan your next move.
The In-Depth Analysis feature allows you to segment and filter your data before sharing it with your coworkers.
AccuRanker can be integrated with third-party digital marketing tools such as Google Search Console, Google Analytics, Google Sheets, Adobe Analytics, Google Data Studio, and Databox.
You can add and administer an unlimited number of domains. You can categorize landing pages and organize vast amounts of keyword data. Higher-level plans allow you to add as many users (or clients) as you require.
AccuRanker's price is likewise very straightforward. There is just one strategy.
You choose how many keywords to track, and the monthly fee will either increase or decrease. You can change, upgrade, or cancel your subscription at any time.
AccuRanker provides you with on-demand and regular information on the performance of your website on different search engine result pages.
It also allows you to view past data to make more informed decisions. AccuRanker also allows you to segment and share your data with your team.
Key Features of AccuRanker
Fast Keyword Tracking: Accuranker updates its keyword database every 24 hours. You can refresh every two hours and receive on-demand ranking changes in a matter of seconds.
Affordable Enterprise Features: You can access data through an API, get insightful data and analysis, and get advanced metrics across multiple landing pages.
Third-party integrations: Track everything from one simple location and on any device owing to the platform's robust connectors such as Google Analytics and Google Search Console.
SERP Features: Accuranker is unusual because it is one of the few rank tracker tools displaying SERP features. This is used to track things like featured snippets, picture packs, and so on.
Other Key Features include:
keyword research,
competitive analysis,
data segmentation,
SERP analysis,
dynamic tagging,
keyword management,
Pixel tracking,
24 billion keyword research database,
integrations,
API,
unlimited users, and more.
Pricing
It offers a pricing plan that starts at $116/month. Its pricing plan depends on the keyword limit you want for your site. All plans come with a 14-day free trial period.
12. SEO PowerSuite – Best free rank tracking software (Starts from Free/$299/Year)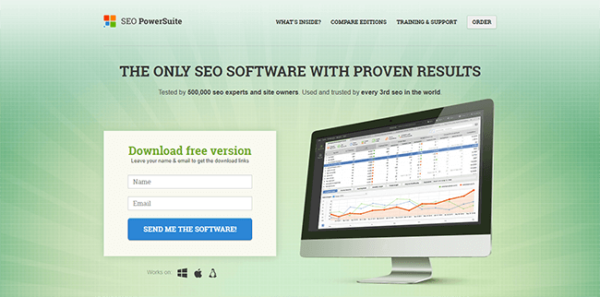 SEO PowerSuite is an SEO platform that includes a toolbox for tracking keyword rank.
You may track the keyword rankings of an unlimited number of websites in over 450 global and local search engines using SEO PowerSuite.
It is quite economical, making it an excellent alternative for a company with a large client base. It can track endless keywords, but you must utilize a proxy to do so.
SEO Spyglass, Website Auditor, LinkAssistant, and Rank Tracker are the four tools SEO PowerSuite sells. We'll concentrate on the last one.
The Rank Tracker is simple to use. Once you've configured it, all you have to do is press a button, and it will check Google to see whether your pages have moved up or down in the search results.
There's also a graph that shows your site's evolution over time.
It examines 327 search engine results, allows you to analyze up to ten competitors, and displays your ranks in other verticals like as photos, videos, and news. You can also view your ranks in different parts of the world.
A white label function allows you to provide professional ranking reports to clients. SEO Powersuite also allows you to bulk import keywords, group keywords by tags, and do other things.
Key Features of SEO PowerSuite
Accurate Rank Monitoring: This tool offers you with search traffic, as well as precise ranks and graphs to indicate the progress of your keyword optimization.
Profound Link Analysis: SEO Powersuite also has the most extensive backlink index online and analyzes over 50 backlink factors to give you new link-building opportunities to identify and buy backlinks.
In-Depth Competition Analysis: Using the software, you can reverse engineer your competitors' SEO tactics to rank your content higher.
Other functional SEO solutions it offers include
powerful keyword research,
competitive analysis,
backlink research & audit,
traffic and PPC insight,
social media stats,
link-building opportunities,
site audit,
link audit and analysis,
link management,
link search,
task scheduling,
Sitemap & Robots.txt generation,
white label SEO reports, and
integrated services.
Pricing
SEO PowerSuite offers three pricing plans, which include a free forever plan.
The free forever plan costs $0 and offers you solutions with certain restrictions placed on them. But it enables you to track the ranking of unlimited keywords and websites.
The Professional plan, which is suitable for in-house SEO specialists, costs $299/year. And the Enterprise plan, which is designed for SEO experts, costs $499/year.
13. Raven Tools – Best Rank Tracker For All Major Search Engines ($49/month)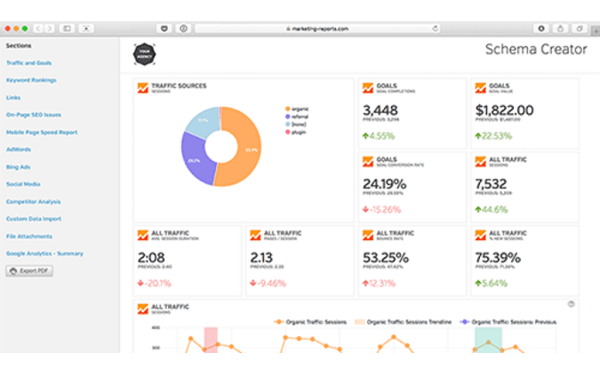 This keyword rank tracking software offers options for tracking your keywords' rankings on Google search engine result pages.
The Raven tool includes a feature called the SERP Tracker. Your team may use this tool to maintain track of your term ranking across devices, search engines, and regions.
The rank tracker delivers SERP ranking data daily, weekly, and monthly for all major search engines, including Google, Bing, Yahoo, Baidu, and Yandex.
You may track universal keyword positions and keywords based on zip code (for local ranking keyword positions), language, device kind, and other factors.
If you wish to track a large number of keywords, you may submit them in a list style or just copy and paste them in separate rows to track everything in one click.
Raven Tools also provides historical ranking data, allowing you to review previous results and watch your SERP movement over time.
To visualize it better, you may export your ranking data in thorough, white-label SEO reports.
Aside from rank tracking, Raven's website auditing, backlink, and competition analysis tools are also available.
With Raven Reimagined (the platform's new and improved version), you can use cutting-edge capabilities to uncover your competitors' ad text, spy on their keyword choices and landing pages, and get a closer look at your ranking data with updated visualizations.
When using Raven tools to watch a term rank, you can choose to filter your search to ZIP codes.
Key Features of Raven Tools
Raven Tools also allows you to do the following:
Check ranking clicks, CTR, and impressions.
Analyze click-through rates of high-performing pages and keywords.
Identify opportunities based on a keyword's performance
Segmentation of data
View average position data
Other Features Offered by Raven Tools
White Label SEO Reports
Site Audit
Keyword Research
Backlink Research Tools
Google Analysis Integration
Pricing
Raven tools offer five pricing plans ranging from $49/month to $479/month.
They all come with a 7-day free trial period and a 30% discount when billed annually.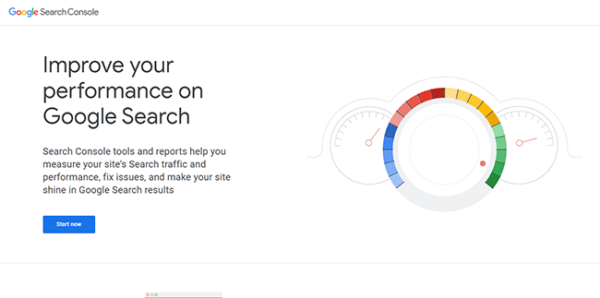 Google Search Console is a Google product that allows SEO experts to make the most of their SEO efforts.
To watch your rank on Google Search Console, simply select the query from your top searches list that you wish to track, and your average ranking position for this page will be displayed above the graph.
You can also see information such as average click-through rate, impressions, and clicks.
Google Search Console may also be utilized to receive a detailed perspective of how your pages perform in the SERPs, which countries are clicking on your pages, and which devices are accessing your pages.
Furthermore, Google Search Console may be used to submit sitemaps to assist your page rank and obtain insight into your page experience and key web vitals.
It can also be used to create and export reports. It's a wonderful free tool for tracking page ranking and performance.
It provides a keyword ranking tool that provides insight into how your site performs in Google SERPs when a specific keyword is used.
Features of Google Search Console
Google Search Console tools and reports help you measure your site's search traffic and performance and fix issues so you can rank higher. Google Search Console is free, and features include:
Keyword tracking
See which queries bring users to your site
Analyze your site's impressions, clicks, and position on Google Search.
Submit sitemaps and individual URLs for crawling
Review your index coverage to ensure that Google has the freshest view of your site.
Receive email alerts when Google identifies issues on your site
See which URLs are affected by issues and tell Google when you've fixed them
Google Search Console is a great free SEO tool that every business can use for keyword tracking. However, it doesn't have the competitive insights or keyword suggestions that other rank tracker tools offer.
Search Analytics Reports
HTML Improvement tool
Keyword Analysis through Search Queries
Data Highlighter
Site Coverage
Sitemaps
API
Pricing
Google Search Console is a free service offered by Google. And so you can access all the services and solutions it offers without paying a dime.
15. Rank Watch – Pocket-friendly Keyword Rank Checker ($29/month)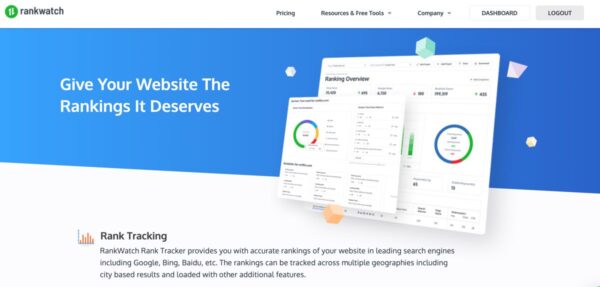 This keyword rank tracking tool provides accurate data on how well your site ranks for a certain term. It tracks your ranking across multiple websites and search engines.
RankWatch evaluates your site regularly to keep you informed of the effectiveness of your SEO strategies. This tool examines and displays your term's ranking in over 170 countries.
You can pick between daily and weekly rank updates, with the weekly rank update plan allowing you to track more keywords for the same price.
The interface is straightforward to use, and the team looks to be based in India; thus, the prices are reasonable.
RankWatch also includes an SEO site assessment, hidden keyword discovery, a competition finder and analysis, and a backlink report.
Email notifications are an exciting feature: you may create a personalized alert to be notified quickly of changes in your rankings.
The rank update frequency option in Rankwatch allows you to stay up to date on the most current ranking changes.
Using the Rank Watch feature, you may capture ranking screenshots for historical records and rapidly categorize and filter terms for optimal management. Email ranking alerts ensure that you never miss out on significant changes.
When it comes to pricing, Rankwatch offers several options. You can get daily or weekly rank updates, with the latter allowing you to track more keywords for the same price.
Given the workforce in India, the user-friendly interface and low pricing make it a cost-effective solution.
Rankwatch is more than simply a rank checker; it also has extra tools to assist you in improving your SEO strategy. Examine its full set of possibilities for an all-in-one SEO solution.
See the power of Rankwatch for yourself. It provides valuable information, assists in monitoring and enhancing your website's search engine performance, and does so at a minimal cost. So, what's the point?
The Keyword Ranking Features it offers include:
Position History Tracking tool
An advanced rank-tracking algorithm
Desktop and Mobile Rankings
Sub-domains and sub-URL tracking tool
Google featured snippet tracking tool
City-based tracking tool
Rank Updates frequency feature
Advanced filter and keyword categorization
Webmaster Analysis
Search Volumes
Automated ranking alerts
Other Features of RankWatch
Backlink Analysis
Competitors Analysis
Site Audit
Keyword research and hidden opportunities
White Label Reports and Advanced Reporting
Keyword Archive
CEO Dashboard
Google Analytics Integration
Pricing
RankWatch offers four pricing plans that come with a 14-day free trial period.
The Medium plan costs $29/month, the Large plan costs $99/month, and the Extra Large plan costs $449/month.
The Custom-tailored plan lets you decide how much you would pay per month. With this plan, the amount you pay depends on you.
16. WebCEO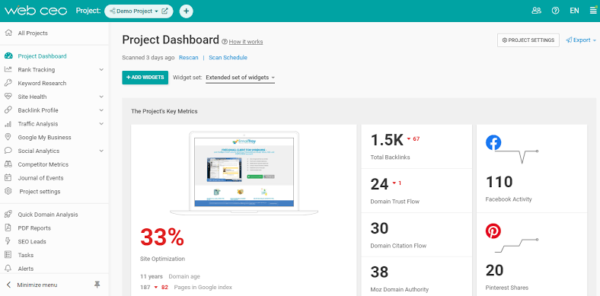 WebCEO is a keyword rank checker tool experts, digital firms, and in-house SEO teams use. It provides everything you need to be at the top of your SEO game.
Using it, you can track keywords, Google results, paid results, and even SERP features. In addition, you can monitor how your keyword ranks in mobile and desktop searches.
You can check and watch your keyword tracking for different places worldwide using WebCEO.
It allows you to see keyword ranks in over 370 search engines and down to the city and ZIP code levels.
In addition, WebCEO allows you to monitor your competitors' performance, evaluate your keyword ranking on YouTube, analyze historical data, add SEO metrics to your SEO reports, and much more.
Other Features offered by WebCEO
Site Analysis
Link Building
Domain Analysis
Keyword Suggestion tool
Pricing
WebCEO offers four pricing plan that comes with a 14-day free trial period and a 16% discount when billed annually.
The Solo plan, which is designed for beginners in SEO, costs $37/month. The Start-up plan, which is suitable for small and mid-size businesses, costs $99/month.
The Agency plan costs $99/month but comes with scanning fees. The Corporate plan costs $299/month.
17. Pro Rank Tracker – Most Accurate For Tracking Keyword Rankings By City, Region, and Device ($25/month)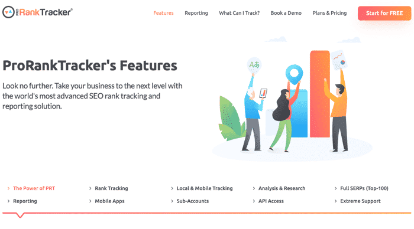 Pro Rank Tracker is a 7-year-old keyword tracking product with two apparent target markets: SEOs looking for an affordable rank tracker tool and agencies looking for the same but with white-label reporting.
So, the first thing to highlight is that this rank tracking tool includes a freemium plan that allows you to check up to 20 keywords with rudimentary capabilities for free, indefinitely.
Even if you change to a paid account, you can get 100 tracked keywords for $13.50 per month or 250 tracked keywords for $29 per month.
The program tracks keywords across several search engines for mobile and desktop platforms, including Google, Yahoo, Bing, YouTube, and Amazon.
What we liked best about Pro Rank Tracker is that it provides separate keyword rank tracking for Android and iOS devices, which may be quite beneficial for anyone active in mobile marketing.
However, we must acknowledge that the UI resembles a WordPress dashboard and is somewhat cluttered compared to other ranking-tracking applications.
It provides basic rank tracking and reporting, as well as a freemium option, scalable pricing, and white labeling reports.
Other Good Rank Tracking Tools for Your Business
Rank Ranger

Rank Ranger is a comprehensive SEO suite that covers competitor analysis, link management, organic keyword research, social analytics, and site audits, among other things.
As a result, it provides you with all the tools you need to optimize your site for search engines, including a rank tracker. Its tracker connects with Google Analytics and Search Console, allowing it to import your current ranking data.
It also allows you to use several search engines for each campaign and search engines like Google Jobs, YouTube, Google Play, and others.
These are the kinds of features that can only be found in a similarly data-rich rank-tracking tool like Nozzle.
Rank Ranger examines your campaigns for keyword cannibalization issues, which stands out from the rest.
It's a complete rank tracking solution designed for agencies or large enterprises who want to work with many data sources and/or develop white label ranking reports.
Morningscore
Morningscore is yet another all-in-one SEO tool — with a twist. It employs gamification to make tiresome SEO work more enjoyable.
Morningscore, like other all-in-one solutions, provides a comprehensive set of SEO capabilities.
It includes a strong rank tracker, a keyword research tool, an SEO reporting tool, a backlink monitor, and an auditing tool.
All of these features work in tandem to provide a seamless experience. You may, for example, begin by using the keyword research tool to identify fresh prospects.
Once you've identified individuals to target, add them to the rank tracking tool with a single click for daily updates.
You can use the domain keyword analysis tool to quickly discover all of the distinct keywords for which your website ranks in Google and the specific ranking position.
You can also use the comparison tool to see how your competitors rank for the same keywords (or vice versa).
The Rank Tracker interface is quite simple to use. You may see all of the keywords for which you rank at a glance and do various actions by right-clicking on them.
For example, you might wish to explore historical data, add it to a group/folder, or Google it.
Pricing
Paid plans start from $65/month. A 14-day free trial is available.
BuzzSumo
BuzzSumo is a content idea creation tool with over eight billion article archives that allows you to track your performance, generate ideas, and publish content with high-ranking keywords.
It is a cloud-based tool developed to help marketers address marketing difficulties. However, it provides an advanced keyword rank tracking tool, which qualifies it for inclusion in this article.
BuzzSumo gives you access to billions of data points to help you figure out how to make a keyword rank higher. It also provides trend data to help you capitalize on good possibilities.
You may use BuzzSumo to see what keywords your competitors are ranking for, identify their finest content, and discover undiscovered keyword ideas.
Pricing
BuzzSumo offers four pricing plans, which include a free forever plan.
The Pro plan costs $99/month, the Plus plan costs $179/month, and the Large plan costs 4299/month.
All paid plans come with a 30-day free trial period; you get 20% off whenever you subscribe annually.
SpyFu
SpyFu is a comprehensive SEO toolbox with rank tracking capabilities.
The toolbox may assist you in tracking your current rank positions and ranking histories, creating backlinks, analyzing SERPs, and much more. The tool can also be used for keyword research and domain comparison.
SpyFu, as the name implies, is one of the greatest competitor analysis tools for spying on what your competitors are doing to inform your SEO strategy.
It can assist you in developing a comprehensive picture of what your competitors are doing, from where they rank to what keywords they've purchased on Google Ads and more.
Overall, SpyFu is one of the better solutions for tracking your own and your competitors' rankings.
Sitechecker

Sitechecker is a simple application that easily tracks changes in keyword positions, visibility, and other aspects of search engine indexing. Sitechecker also presents suggestions for improvement.
Rank Tracker is a service provided by the Sitechecker platform, which also contains tools for site auditing, monitoring, backlink tracking, and an SEO Chrome plug-in.
The tool is recommended for business owners, marketers, and SEO agencies.
Some of Sitechecker's features are as follows:
Receive daily updates on changes to top keywords, as well as weekly emails on keywords with the greatest growth potential.
Monitor your ranks in Google, Bing, Yahoo, and Yandex from anywhere, on desktop and mobile.
To rapidly locate the most significant terms, sort your keywords by search traffic, landing pages, groups, position, and text. You may also order them based on the magnitude of rank changes over time.
Determine whether your keywords have a ranking URL that differs from what you expected and correct it.
Compare results for several dates and investigate changes to keyword placements.
Examine screenshots of the first 100 SERP pages and compare your ranks to those of your competitors.
Sort your findings in a table, add comments, and tailor the results to your specifications.
Create customized CSV and PDF reports that include your company's logo and name.
Key Features:
Track your site rankings for keywords in any region, mobile or desktop, on any search engine.
Filter and sort the data in a convenient table. Then, customize the view to include the necessary parameters at your discretion.
Allows for commenting to track insights better and allow for bulk edits/adjustments.
Pricing:
Note: You get a 20% discount when you pay for the annual plan.
Types of Rank Tracking Software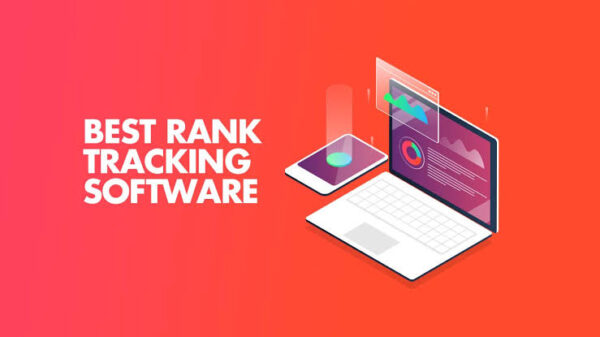 There are numerous keyword rank checking programs available.
Some are expressly intended for SERP tracking, while others are all-in-one software that includes all the tools you need to address your SEO needs, including the keyword rank tracking capability.
However, the numerous rank tracker solutions can be divided into three main groups, each with its own advantages and disadvantages.
The following are the classifications of rank tracking software:
Desktop Applications
These are independent apps that you install on your computer. They don't require a web browser to function and can run enormous lists of keywords by simulating human behavior, lowering the danger of being censored by Google.
Online Browser Apps
These add-ons extend your online browser's functionality, allowing you to obtain precise keyword rankings numbers quickly. However, search engines frequently ban web browser plug-ins when running a large volume of keywords.
SaaS Applications
Software-as-a-Service solutions that are hosted on a web server. They provide a more stable choice for individuals seeking a simple way to acquire keyword track rankings on demand without being prohibited or needing to install software on their machines.
Why do Keyword Rankings Fluctuate in SEO?
There are numerous reasons why keyword ranks change. An authority domain, for example, may post new material that is better suited for the target phrase and outrank the competitors, pushing everything else down the SERPs.
Algorithmic updates are one of the primary causes of ranking fluctuations. Search engines, such as Google, update the algorithms they employ to determine ranking places regularly.
And with each new upgrade, they have the ability to alter the present ranking landscape.
Some upgrades have a greater impact than others. Following the infamous Google Medic update in 2018, for example, a large number of websites in the health and medical, financial, and legal areas experienced a significant change in their rankings.
Aside from these major fundamental improvements, Google's algorithm is changed about 500 times every year. However, these minor changes rarely have a significant impact on search results. And are commonly known as the "Google dance."
A Google patent also mentions a method for dealing with spam. This patent explains that anything might happen when moving from one ranking to another. You could, for example, momentarily lose or gain rankings in the process.
How Do I Improve My Ranking Position?
SEO (search engine optimization) can help you enhance your ranking position. This entails optimizing your website for various ranking factors.
There are numerous methods you can use to improve your site. Still, I recommend starting with a site audit to discover any obvious technical SEO flaws that are preventing you from ranking higher in the SERPs.
Numerous SEO software solutions are available to assist you in doing a site assessment.
Other methods for improving your ranking position include optimizing your on-page content, constructing backlinks, etc.
Furthermore, if you use WordPress, you will be able to make use of strong WordPress SEO plug-ins such as Rank Math. This gives you greater control over your SEO.
However, it is important to note that raising your rankings does not always imply increased visitors. You must verify that you are targeting traffic-generating keywords. You'll need a keyword research tool to aid you with this.
Rank Tracking Isn't Just About Your SERP
The purpose of rank tracking is to monitor the overall growth of keyword positions as well as their impact on organic traffic.
However, ranking tracking cannot take place in a vacuum. You should not focus exclusively on the positions because this will not help you understand how keywords' SERPs influence the website's overall organic traffic potential.
If you're constantly ranking on Google's first page for a slew of keywords, that's fantastic. Still, if you don't see any changes in your traffic or revenue, you'll need to shift your focus to increasing conversions by enhancing your meta descriptions or the page these links arrive on.
You should also consider how much traffic each keyword generates. For example, while you may score #1 for "the best movie to watch after a breakup," the search volume for such a keyword will likely be modest.
Furthermore, not all keywords are made equal (for your company). Some keywords are more "valuable" than others because they have a larger potential revenue-per-lead.
One method for estimating the magnitude of the search opportunity is to do a crude revenue estimation experiment with a few pieces of information:
The monthly search volume for the target keyword
A rough estimate of the CTR from the Google SERP to your website, assuming you rank on page one (about 15% is a reasonable starting point).
Your company's conversion rate and the amount of income generated by an average customer
This data will assist you in converting search volume into an estimate of prospective revenue.
Changing the conversion rate and revenue-per-lead can significantly alter the magnitude of the opportunity.
Also, ranking on page one for a keyword with a low revenue-per-lead may not be as crucial as ranking on page one in the middle for a term with a larger revenue-per-lead.
Tips for Using Rank Tracking Software To Rank on Google
When using SEO rank-tracking software, remember a few simple rules:
Google doesn't favor rank tracking and can temporarily ban your IP address if it detects too many queries in succession. So, it's better to log out of your Google account and use incognito mode or search-engine-friendly tools to avoid any ban.
Targeting a single location won't get you anywhere. Track keywords for various regions to get the whole picture.
Monitor keyword trends, as they can tell you much more than the keywords themselves. Google personalizes search queries for each user according to many factors, but keyword trends reflect the general situation.
Check the level of competition when you choose keywords to rank. Otherwise, your campaign might not be cost-effective at all.
Best Features to Look For in Rank Tracking Software
There are several factors to consider while selecting the finest keyword rank tracker for SEO.
I've mentioned some of the factors to look for below, which will determine whether you select the best program for you.
1. Pricing Structure: Different tools have different pricing structures, which must be considered.
You will very certainly use the tool you select for a long time, adding more websites and keywords as your organization expands.
That is why selecting one with a transparent and inexpensive pricing structure is critical.
2. Frequency of updates: The majority of the SERP tracking tools described in this post provide daily updates. Others offer updates every three days or once a week.
You may also buy solutions that perform on-demand SERP inspections and updates. But, once again, determine what is best for your company and budget.
3. Reporting Functionality: This is an important aspect to consider if you work in a team. Other SEO reporting features vary amongst SEO products.
Choose a program that lets you simply build graphs and other graphics using the metrics you want in an easy-to-understand manner for everyone on your team.
You may check out the keyword tracking tools that would be ideal for you and help you increase your SEO performance with a 14 – 30-day free trial.
4. Platforms Monitored: The majority of online searches took place on the Google search console and were analyzed using Google rankings.
However, depending on the countries you're working in, you may want to track the local market using Yahoo, Bing, DuckDuckGo, Baidu, and Yandex with SERP tracking tools and keyword rank trackers.
5. Keyword Tracking by Device and Location: Most rank tracker software now allows you to divide tracking for desktop, local, and mobile devices.
It can assist you in achieving the finest keyword rank for your blog and sites by providing keyword tracking tools.
However, not all tools work the same way regarding localized rank tracking and analyzing search query ranking data to improve your SEO performance.
6. SEO Integration Options: Can you integrate your keyword rank tracker directly with Google Analytics and Google Search Console?
This can be quite valuable because it allows you to have a comprehensive view of your SEO efforts, so having this choice is advantageous.
How to Choose The Right Keywords to Optimize for SEO?
Choosing the ideal keywords is critical in SEO and employing proper search engine rankings software. You want to focus on keywords that will drive the maximum traffic and conversions.
Here are some pointers on how to select the best keywords for your business:
✅Conduct research. The first step is to conduct research to determine which keywords are most relevant to your business. Use a tool like Google AdWords Keyword Planner to find keywords with high search traffic and low competition.
✅Make use of long-tail keywords. Long-tail keywords are more particular and targeted phrases than broad keywords. They have lower search traffic and less competition and are easier to rank for.
✅Consider your client's requirements. Consider what your customers are looking for when selecting keywords. What keywords or phrases would they use to find your products or services?
✅Improve the content of your website. Once you've decided on your target keywords, you must optimize your website content for them. This includes including them in your titles, headings, body content, meta tags, and alt text tags.
✅Keep track of your progress. When you begin optimizing for certain keywords, tracking your progress with a tool like Google Analytics or SERP checker is critical. This will assist you in determining which keywords are most effective for you and which require improvement.
By following these guidelines, you may select the best keywords for your company and begin seeing greater results from your SEO efforts.
Which Rank Tracking Tool is the Best Fit for You?
Each of the internet rank tracking tools discussed here has advantages and disadvantages.
A keyword tracking tool can assist you in directing your search engine optimization strategy. But which one is best for you? A few factors will determine that:
Your budget: The cost of rank trackers can range from free to hundreds of dollars per month.
Your budget will undoubtedly dictate which rank tracker you can afford and how many of those other components you can include.
Furthermore, rank tracking features are frequently included with SEO solutions that also include extra functionality.
Whether or not SEO makes sense for your company: Some industries lend themselves nicely to SEO, while others do not.
Even with the best agency in the world, you won't gain organic search volume if people aren't Googling what you're selling.
Your business' objectives: SEO is a long game and best suited for long-term success. Be patient if you're just getting started with SEO. It can take time to build (and keep) your rankings!
✅Choose Google Search Console if you're a beginner.
✅Choose Google Search Console if you want a free tool.
✅Choose SE Ranking or SEMrush if you are an individual or small business.
✅Choose SERPWatcher, SEMrush, or Ahrefs if you want the greatest dashboard.
✅Choose ProRankTracker, SE Ranking, Advanced ✅Web Ranking, AgencyAnalytics, or SEMrush if you manage an agency.
✅Choose SERPWatcher, SE Ranking, SEMrush, or Ahrefs if you want an all-in-one SEO platform.
Good Read: 31 Best Website Traffic Trackers of 2023 (Check Other Website Traffic)
Bottom Line
The services they offer are advanced and powerful. So, no matter your choice, you'll always be at the top of your SEO game. All the rank tracking tools mentioned in this list are more than up for the task. What tool you should go for depends on your current situation. Assess what features you need and your budget. This will make it clear which of these keyword rank checker tools is right for you.
Keep a constant eye on your keyword ranks on search engines like Google to stay ahead of the competition. The most effective approach to accomplish this is to use a reliable keyword tracker program. The good news is that most of these tools offer a free trial, so you can see if a particular tool meets your needs.
Frequently Asked Questions
Q: What Is Rank Tracking Software?
A rank tracker is SEO software that automates the process of monitoring your keywords' position in the SERPs (Search Engine Results Pages). They can be separate products, such as AccuRanker, or they can be part of an SEO toolkit.
Q: What are the most important ranking factors?
There are dozens (if not hundreds) of ranking criteria, and no one knows how Google's algorithm operates. However, based on multiple studies, we have a solid notion of the most important ones.
According to one study, direct website visits are the most essential ranking criteria. Content relevancy, total backlinks / referring domains, loading speed, and bounce rate appear to impact ranking significantly.
Q: How often do keyword rankings change?
The rankings of keywords change over the year. The changes have no set frequency: ranking positions can shift at any time. That is why selecting a rank tracker program that updates its data daily is critical. Generally, the more competitive a keyword, the more frequently the ranking positions will change. It's common for the top-ranking results for highly competitive keywords to shift from week to week. However, for less competitive keywords, you may be able to keep your ranking place for several years.
Q: Why is it Important to Track Keyword Rankings for SEO?
Keywords are important for SEO because they link searchers to relevant content. They connect the information users seek with the material they supply to meet that demand. You can put your brand, products, and services in front of your target audience when they're actively searching for solutions like yours if you use the correct keyword research and rank-checking tools. Simply put, keyword research is critical to your business, as is having a tool to track your achievements and mistakes.
Q: Why does my rank tracking tool data not match the results I see on Google?
When you check your site on Google, you may not always see it ranked in the same position as expected based on your rank tracking tool data. This is frequently due to personalization, geo-targeting, or temporary search visibility.
Q: How accurate is Google Search Console's ranking data?
The data from Google Search Console is accurate and trustworthy. It is calculated using actual search results displayed to search users. GSC monitors a URL's position in the SERPs for several search queries and calculates the average ranking position across these searches. While Google Search Console provides an accurate average, due to geo-targeting, your position can change considerably from area to location. That is why utilizing a rank tracker, such as Nightwatch, which maintains rating data for specific regions. Nonetheless, Google Search Console is a really useful free SEO tool.
Q: Does ranking position depend on location?
Yes, each search user's ranking position is unique. Many factors influence a searcher's results, but their location is one of the most crucial. This is particularly relevant for local search inquiries, as Google considers proximity when determining which business listings to rank. As a result, it's critical to select a rank tracker that allows you to track local ranks in specific locations.