Last updated Oct. 31, 2022 by Peter Jakes
Rebaid is a legit cashback site offering a very high cashback percentage for specific items on Amazon and other platforms. But its selection of items is relatively limited, so finding the product you need can be pretty impossible sometimes.
Cashback sites or apps can be useful if you shop online. Their offer will give you a percentage of the cash you spent on your purchase. So, you'll have the chance to make money each time you shop.
Rebaid is one site that offers cashback in a different way than most other cashback sites. In this Rebaid review, we'll discuss all there is about the platform. In addition, we'll discuss if Rebaid is the best site to get cash back.
What is Rebaid?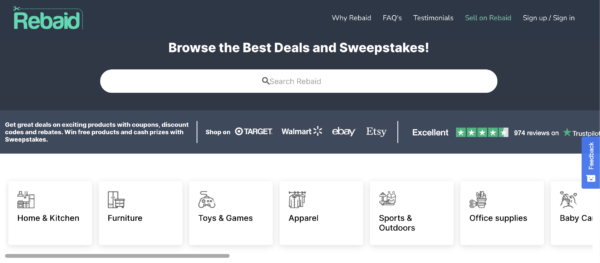 Rebaid is a cashback site offering rebates when you complete their offers. They aim to offer exciting deals on products and provide an effective method for small brand owners to reach the pinnacle of success on Amazon and other related platforms.
It is an online marketplace that lets you get cash rebates on a variety of items from different product categories, including:
Beauty and makeup
Jewelry
Baby
Clothing and jewelry
Health supplements
Snacks
Cooking Utensils
Home and Garden
Stickers
Toys
Pet supplies
Sellers can offer a discount of up to 100% when you purchase a promoted item and verify your purchase. According to Rebaid, there are approximately 3,000 products launched every month.
The platform primarily provides items selling on Amazon. However, you can find rebates for products at Target, Walmart, eBay, and Etsy.
Now, to fully understand how well you can earn from this site, we'll extensively discuss the earning opportunities it offers.
How To Earn on Rebaid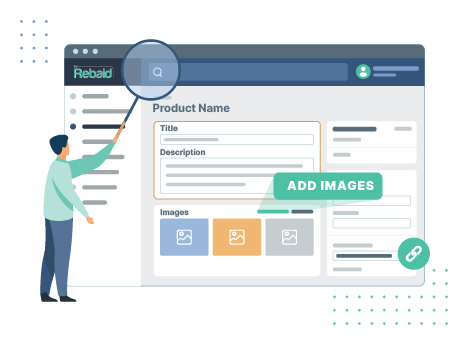 1. Cashback Offers
The primary of earning rewards on Rebaid is by taking advantage of their cashback offers. All you need do is browse through the many products offers with rebate discounts that can reach up to 100% of the purchase price.
Then, click the "Claim Rebate" link on the offer page, and you'll be redirected to one of their partner stores, such as Amazon, to make the purchase. After completing the purchase, return to the Rebaid website to confirm your order number. After confirmation, your rebate will be processed. It's as easy as these simple steps!
However, unlike other cashback sites, Rebaid primarily deals with Amazon. As a result, you could only find Amazon deals exclusively on the platform when it was launched. But the site has since expanded, and now you can also find deals from other platforms like Etsy, Walmart, eBay, and Target.
The good thing about this is, as you may already know, Amazon is the most popular online store today. So, you'll find offers that'll be of interest to you. It is these factors that make the cashback site beneficial.
That's because if a cashback site offers more interesting deals, there's a high chance you'll be interested in availing of the said offers. Therefore, you'll be able to get more rewards.
Also, a very important thing to note about Rebaid is that it is not a platform where you get paid to review items – so you're not required to leave any reviews of any product you get.
2. Referral Program
Most, if not all, online rewards platforms offer some form of referral program to users. In Rebaid's case, you'll be able to invite friends or family to join the site and get a referral bonus as a reward. For every person you successfully invite, you will earn $10.
However, the person you invite must use your referral link to join the site for them to become your referral. Additionally, they must redeem at least one offer for you to qualify for the referral bonus. Therefore, ensure the person you invite is interested in receiving cashback rewards and signs up using your link.
Furthermore, you can only withdraw earnings from referrals 38 days after the referred person redeems an offer. After that, the referral payment is made by check that'll be mailed to your registered address.
How Do Users get paid on Rebaid?
One of the good parts of choosing Rebaid is that for every rebate you get, the platform will pay you in USD, and you'll receive the payment as soon as you complete the purchase. So, you don't need to meet a threshold to withdraw your earnings.
As soon as you confirm your purchase, your rebate will be processed. After that, you can choose to receive the payment via direct bank transfer or mailed check.
However, as a new user, you'll have to make do with payments via check until you're able to redeem two product offers. It is a part of their security and agreement to make sure people do not cheat.
Once you've redeemed two product offers and been an active member of Rebaid for more than five weeks, you can then start receiving your payment through direct bank transfer.
However, if you choose to receive payment via direct bank transfer, a 1% fee will be deducted from the amount you'll redeem. So, don't be surprised when you don't receive the full amount if you choose direct bank transfer as a payment method.
On Rebaid, every payment is guaranteed. The only time where a rebate payment will be canceled is if you fail to confirm your order number on the (Rebaid) site after your purchase. Or if you fill in a fake order number, cancel a transaction, or return your order for a refund.
Payments made via check on Rebaid usually take around 5 to 6 weeks before reaching your doorstep. So, it's quite a long wait. On the other hand, direct bank transfer payments will get to you within five days of your redemption. So, this is another reason to go for the direct transfer option as soon as you qualify.
How Much Can You Make on Rebaid?
As with most cashback sites, the amount you can earn depends on how often you shop. So, if you redeem product offers more frequently, you stand a chance to earn a significant amount. But you have to make sure the product offer you'll redeem is of some use to you. Redeeming offers primarily for the sake of earning rewards isn't advisable as it is counterproductive.
The other factor that affects the amount you can earn on a cashback site is the percentage of your cash back. And in this regard, Rebaid has quite a high cashback rate. Their rebate percentage typically ranges from 25 to 80%. And from time to time, you will get a 100% rebate offer.
However, the selection of products available is quite limited, and you might not be able to find the products you need. Also, there's a limit to how many items you can get a rebate for monthly. It starts at ten products monthly, and then it'll regularly increase depending on your activity on the platform.
Rebaid Review: Key Features
Here are some of the benefits the Rebaid platform offers.
Rebate Promotions
You'll find cash rebates in a variety of product categories. There're hundreds of rebates worth up to 100% of the purchase price- although you'll still have to pay for sales tax and shipping.
You can get your rebates through paper check (a mailed check sent within five weeks with no fees), direct deposit (get a rebate to a linked bank account in three working days with a $1 fee), and lastly, discount codes (receive discounts at checkout using the promo code).
The discount code feature is new and isn't common. In most cases, you'll need to copy and paste your order number to the rebate promotion page to verify the purchase and claim your rebate. While this cashback site requires a level of effort, it's significantly less complex than most mail-in rebate sites that require users to mail or upload a copy of their store receipts.
In most cases, the rebate offer will dire to the product page on Amazon or another participating marketplace. However, some sellers may have your search for a product using a specific keyword to claim the offer.
Redeem Multiple Offers Monthly
You can claim rebates monthly for ten promotions. However, you're only allowed to claim one rebate per product to enable other users to also enjoy the savings. Each offer is also given when you satisfy the offer terms and conditions. Essentially, you agree not to return or sell the product and won't fill in fake order numbers.
New offers are always launching, and you can also check when the redemption window opens to be one of the lucky few to claim it. In addition, the platform also displays the daily redemption claims available for a particular product. You can use these details to check the most popular offers and then use your remaining redemptions to get other appealing items.
Redemption Minimum
There isn't a redemption minimum on Rebaid to cash out your earnings. You'll receive your rebate within five weeks if you choose paper checks as a payment option and, at most, three days for direct deposits. However, you may receive multiple payments if you claim multiple rebates simultaneously.
Search Filter
As there're approximately 21 pages of offers, a customizable search filter can enable you to easily find the best offers. The search capabilities include the highest discounts, search by keyword, lowest purchase price, newest offers first, and most popular promotions.
However, currently, there isn't a filter for non-Amazon promotions. You'll see the marketplace you must buy the product on by clicking the offer page. Once again, 99% of the promotions on Rebaid are on Amazon, so you'll seldomly purchase from a non-Amazon seller.
Partner Offers
The rebate promotions are the advantages of using Rebaid as it offers the highest savings potential. However, you can find more discounts at participating online stores. These discounts can enable you to purchase electronics, candies, gifts, and other household items for less money.
Some of these discount codes are only available on Rebaid and can be higher than the normal discount offer for new customers if you use the merchant website directly.
Referral Program
You can refer friends or family members and receive a $10 cash bonus on Rebaid after their first rebate redemption. So after trying for yourself and verifying that it's a legit site for cash back, you can refer your friends to leverage the platform and earn in the process.
Family, friends, and acquaintances can join through your unique referral link. However, Rebaid only allows one account per household.
Deal Notifications
As a Rebaid user, you can receive a weekly email newsletter highlighting some of the best offers, such as 100% free deals. You may also receive real-time notifications from the service for other offers when you forward a request.
One advantage of this platform is that it won't fill up your email inbox with lots of unnecessary emails that may overtake your essential communications. Unfortunately, many similar platforms send too many messages that you might consider opening a separate account to receive product offers.
In addition to the regular email summaries, you can browse and find the latest promotions on the platform's Facebook page. These two outlets can help you to stay up-to-date so that you won't miss an exciting rebate.
Is Rebaid Legit?
Rebaid is a legit and trustworthy cashback that offers rebates when you complete their offers. They aim to offer compelling deals on products and provide an effective method for small brand owners to reach the pinnacle of success on Amazon and other related platforms.
Rabid is a safe platform that guarantees you'll receive your cashback rebates. The seller may forward text messages after completing a purchase, but the site doesn't sell or disclose your personal information or shopping history.
Rebaid Review: Pros and Cons
Pros
Easy payout methods.
Very high Cashback percentage.
The platform is legit and pays its users.
There is no minimum payout threshold.
Multiple payment options.
Excellent user experience.
Cons
Only people from the US can join the site.
You'll have to wait a couple of months to receive multiple payout methods.
The site's check method of withdrawal isn't convenient.
People Also Ask
How Does a Rebate Work?
Rebate works as a form of cashback against the purchase of the items given to the buyer by the seller or manufacturer of that particular item after they sell them. From the sellers' point of view, rebate helps them attract more customers to purchase their products. Sometimes, the buyers misplace the receipt of payment, preventing the seller from paying the rebate. While from the buyer's point of view, a rebate serves as an incentive or cashback for their purchases which is a profit.
How Does Rebaid Make Money?
Rebaid makes money each time you visit a website (via Rebaid's shopping portal) and purchase a product. Rebaid will be given a commission from the store you purchase that product. And yes, they use a percentage of that money to provide you with cashback for your purchase.
How Much Does Rebaid Cost?
The current cost of using Rebaid is $2.95 per redemption. The money covers only basic redemption features. There're two different pricing options available. The Basic service costs $2.95 (per redemption) with no monthly fees. Otherwise, you can upgrade to a Pro account for a fee of $79 per month and $2.95 per redemption. For accessing more advanced ones, such as SFB instructions, search-find-buy campaign creation, and messaging, you'd need to use Rebaid for $79 per month.
Frequently Asked Questions
Is Rebaid Only For the US?
Yes, for now, Rebaid is only available and accessible in the US. So, this platform is not for you if you don't live in the US. Rebaid is not available in countries like the UK and Canada as the platform is still working on expanding its reach. Therefore, for now, users can not use Rebaid outside of the US.
Can You Get Rebates From Amazon?
Yes, you can. To qualify for a rebate on Amazon, you may be required to include proof-of-purchase documentation, including your Amazon.com sales receipt and the product UPC. Also, ensure to keep the product's packaging until the rebate arrives. You can print an invoice from your account if you need the receipt. To do this, go to Print an Invoice.
Does Rebaid Violate Amazon's Terms?
No, it doesn't. Amazon does not permit sellers to offer discounts or free items in exchange for a review, and reviews are not required on Rebaid. However, you can leave a review if you wish, but it's not a requirement on Rebaid.
Are You Required to Leave a Product Review on Rebaid?
No. Leaving a product review on Rebaid is optional. However, most sellers will appreciate your honest feedback. Rebaid, Amazon, and other similar marketplaces prohibit sellers from asking for customer reviews in exchange for rebates to minimize fraud and dishonest reviews.
Can I Use Coupons on Rebaid?
Yes. You can use additional product coupons and/or gift cards to complete your purchase. However, you must agree not to cancel your order, exchange or return the promoted item after claiming the rebate.