Last updated Aug. 29, 2022 by Jessica Green
It takes a lot of effort to stay healthy. But with some form of motivation, anyone can thrive to stay healthy.
There are apps that pay you to stay healthy. This apps monitor your lifestyle and provide daily notifications that keep you focused on staying healthy.
But it takes more effort to make money. Fortunately, there are apps that pay you to stay healthy.
Pact
Pact is a well-known software that rewards users for making good life choices. It's an app that encourages and rewards you to stay healthy.
This user-friendly app is created with the aim to enable you to stay healthy and fit. It creates a simple weekly objective that helps you stay healthy.
When you fulfill a weekly objective, you will get compensated by other Pact participants who failed to meet their objectives. However, if you lose, you'll compensate others.
Pact participants can expect to make anything from $0.30 to $5 per week.
Good coins
GOODcoins is another software that awards you for staying in good health.
For carrying out activities like jogging and cycling, you can earn points. Your points can be redeemed for anything at the GOODcoins store or donated to a charity of your choice.
Charity Miles
Charity Miles is a software that enables you to stay fit and make money. It also enables you to raise money for charitable courses.
Cycling, walking, and running are all ways to raise money for charity. You may earn anywhere from 10 to 20 cents for every mile. Charity Miles donates the money you earn to a charity of your choice like Habitat for Humanity or Stand Up to Cancer.
FitCrown
If you're searching for applications that pay you to work out, you may want to check out Fit Crown.
Fit Crown is a fun and rewarding way to exercise your body. It can be compared to Pact. Fit Crown allows you to participate in exercise challenges with friends or other people.
This software allows you to use running software like Run Keeper to keep track of your progress.
Fit Crown allows you and your friends to save money in a virtual bank account. If you fail to complete a mission or challenge, you'll forfeit your stake. But if you complete a mission, you'll win all the money saved in the virtual bank account.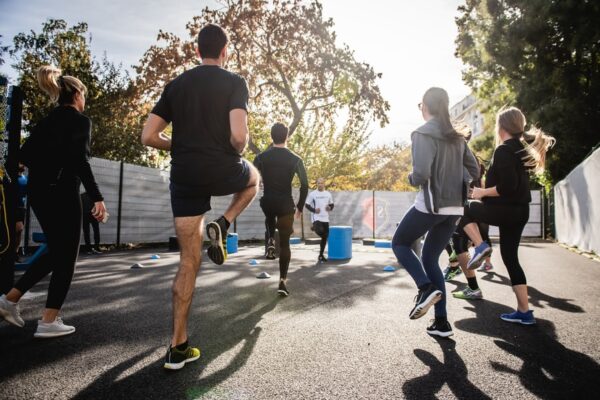 We Fitter
You are paid to walk or run with this fitness tracking app. It's worth a go if you want to get back into jogging and increase your cardiovascular fitness.
RunKeeper, Nike+, Google Fit, and MapMyFitness are other fitness applications that integrate with We Fitter.
You get points for running, walking, or doing any other activity. You can use these points from the We Fitter website to buy healthy food and sports gear.
Achievement
Achievement is a great place to start if you're looking to get rewarded for being healthy.
It enables you to earn money for walking, sleeping well, and exercising. This app also helps you to keep track of your weight.
Achievement rewards in points. The monetary value of 10,000 points is $10.
With this app, you can also earn money by posting health-related tweets, completing health-related surveys, and doing research projects.
Achievement seamlessly integrates with Moves, Fitbit, MyFitnessPal, and other popular fitness applications and gadgets