Last updated Aug. 29, 2023 by Favour Chinaza
27 Best Money-Making Apps For Fast Cash
The internet is making it easier than ever to earn a little extra money, whether through side gigs or by being rewarded for particular purchases.
You can hunt for gig offers with the gig economy, offers and other opportunities to generate money with a money-making app simply by browsing on your mobile phone.
Approximately 36% of Americans work in the gig economy, and money-making applications have played a big part in breaking down boundaries that traditionally held employees inside the office.
You may use free applications to generate money to pay off debt, augment your salary, fund a pastime, or even sustain yourself full-time.
The finest money-making apps allow you to work on your own time by completing a short signup process and receiving quick and easy cash.
As the world moves closer to completely embracing the burgeoning gig economy, there is an abundance of money-making apps to augment or replace your full-time employment. There are several solutions available depending on your aims and interests.
At a glance, Rakuten is the best option for quick and easy cash-back, while Swagbucks provides both cash-back and other simple earning opportunities.
Drivers who use the Uber app to drive or deliver can easily earn money on their own time. However, Upwork's freelance marketplace takes the cake in terms of long-term earning potential.
Freelancers can apply for as many gigs as they like while developing a respected personal brand that will lead to future work and greater prices.
It allows you to earn money for pizza without working for a minimum wage of $15 per hour.
What is a Money Making App?
A money-making app is designed to help you earn extra money by accomplishing simple tasks.
It is a free money app that allows you to make payments via PayPal, gift cards, and other methods. You can earn money quickly if you have a Smartphone or other gadget that can connect to the internet.
Several apps will pay you immediately for joining up, and you can continue to earn money by doing things like going shopping, eating lunch, or simply walking.
You may also get paid for downloading and installing apps on your Smartphone. If you enjoy playing games, you might be able to earn money by playing games using apps.
You can also obtain prizes and earn points by using cash back apps and data collection.
Good Read: 20 Ways to Make Money from Your Hobby
27 Apps That Will Earn You Fast Cash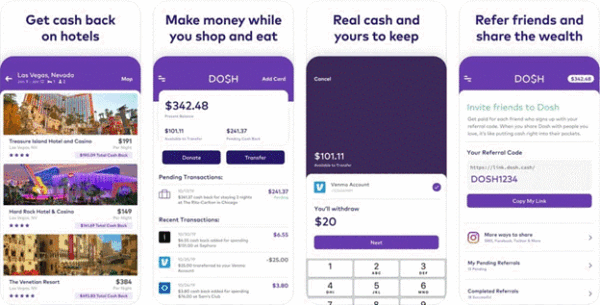 Swagbucks has a big index of surveys that is accompanied by a sorting feature that allows users to concentrate on the most beneficial surveys and avoid those that won't be worth their while. Swagbucks is worth your time, so it is our number one money-making app for fast cash.
When you sign up as a first-time user, you will be rewarded with a $5, and the credit time is instant, while it might take 3-5 business days for you to receive the cash in your bank account.
The site is often regarded as one of the best-paying survey apps in the market. This survey app is quite versatile because it provides multiple ways for users to make money by completing offers, watching videos, and playing games.
There's no limit to withdrawal on this site. However, most of their cash back rewards begin from $3.
It also offers users a broad range of payment options, such as Paypal and other leading retailer gift cards.
Pros:
100% free to join and make money right now
Offers cash out via PayPal or Amazon Gift Cards
Easy-to-use website and mobile app
Cons:
Lower payouts for watching videos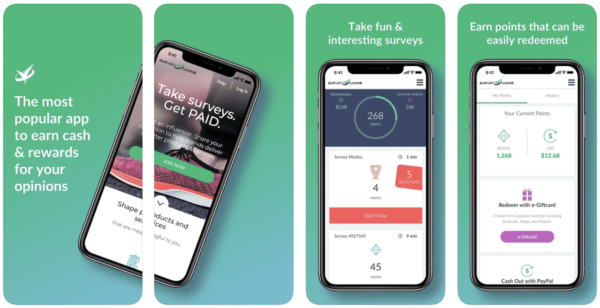 Survey Junkie is a legit survey site and one of the oldest and most renowned online survey sites, with over 5 million members.
Due to its easy-to-use interface, it regularly gets positive reviews from users. It is a survey app that pays you for sharing your opinion on a topic.
Upon registration, Survey Junkie asks for information about you to match you with the perfect surveys.
Survey Junkie gives you a certain number of points for each survey you complete. 100 points represent a dollar.
The minimum amount for withdrawal is $5, so you have to earn 500 points to withdraw.
The money will be deposited into your PayPal account immediately. However, for bank transfers, it might take up to 1-5 business days before you see the money.
You can choose to redeem the money by converting it into gift cards. Although there is no signup bonus for a new user, there's hardly any doubt of making money from this site with its alluring offers.
The payment options on this survey site include PayPal, bank transfers, and virtual gift cards.
Pros:
It is free to sign up for
Offers bonus points for signing up
It is easy to use
Provides additional points for sharing online behavior
Cons:
Offers lower payouts than some competitors
Has limited survey offerings
User Interviews is one of the best-paying platforms in the survey market. With it, you can earn up to $100 an hour for sharing your opinion or even make a quick $5.
It's a platform that was created for one-on-one market research and online center groups. To earn money on a User Interview, you must give critical and detailed feedback on a new product, a website, or an app.
Nonetheless, it requires a lot of time and commitment, unlike the time spent on other survey sites.
To get started on User Interview, you need to sign up after downloading the app. After successful registration, the User Interview dashboard will show you surveys and studies that fit the information you provided when signing up.
You can then apply to participate in a study. User Interview will send you a text/email when they accept your application.
This site has no minimum amount for withdrawal, no signup bonus, and the users are being paid on completion of their job. Before participating in a study/survey, a User Interview tells you how much you will earn.
User Interviews payment is made via Amazon, Visa, and PayPal gift cards.
Drop App will pay you money for shopping in a store that partners with them. You can also earn free cash to play games and answer their online surveys.
Once you have downloaded and linked your debit or credit card to this free app, it will track every purchase of products that you make from the stores enlisted on their site and then reward you with points.
And if you refer a friend to the Drop App, you and your friend will get free $5 cash.
In the gaming tabs, you can earn $20 and more for installing a game and reaching a certain level in the game. Every money-making activity you perform on the site will earn you points.
These points will be added to your account and redeemed as gift cards that users can use at the retail shops of their choice, such as Amazon, eBay, and more.
Although Paribus is a free money-making app, you will actually need to spend money before earning money.
This is because Paribus is an app that enables you to earn back a percentage of the money you spend on an online purchase. It is quite different from the other apps on this list.
Paribus acts as a manager, and it looks into every online purchase you make. It will inform you if a product you purchase has reduced its price.
And it allows you to seek a refund when there is a price reduction for a product that has been purchased.
If you bought a gaming console for the price of $240 today and then it is offered at a discounted price of $200 a few days later, Paribus will allow you to get a refund of $40. You only have to click the refund button on the Paribus app.
Paribus, upon getting your permission, scans all your emails in order to get online receipts for every product you purchase. This lets it know about your online purchases and products you need to get a refund on.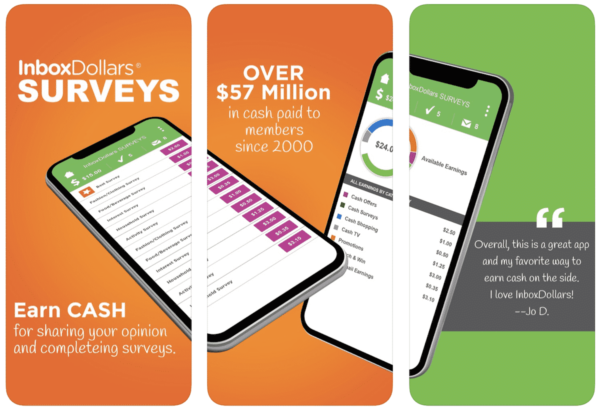 Signing up on InboxDollars is another great way of making fast cash without stress. You will be rewarded $5 as a bonus for signing up. And it is one of the apps that pay you to refer friends.
This lovely app can earn you up to $50 in one month just for watching funny videos, reading promotional emails, completing little tasks, and taking their surveys.
Unlike some apps on this list, InboxDollars enables you to track your earnings in cents and dollars, not points.
InboxDollars pays between $0.01 and $5 for completing an interesting 5 to 20-minute survey. It will also pay you for watching videos on sports, entertainment, lifestyle, and more.
You can also earn on InboxDollars by playing games, shopping online, printing coupons, uploading receipts, redeeming coupons, and by using InboxDollars's search engine.
InboxDollars payment is made via PayPal and gift cards.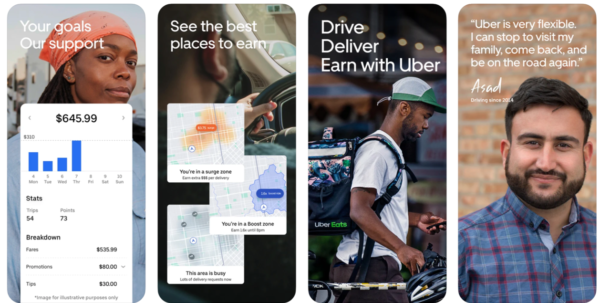 Uber is the finest money-making app for car owners since it provides customers with two ways to earn: instant payouts and streamlined software for accepting new employment.
If you qualify, this ridesharing and food delivery behemoth makes it simple for anyone with a car to earn leisurely money. You must also:
Meet local driving requirements (including a valid driver's license)
Drive for at least a year in the U.S., or for drivers under 25, three years
Have a vehicle with four doors that meet Uber's local requirements
Provide the necessary documents, including proof of residency, insurance, registration, and more
Go through the driver screening process
As an Uber driver, you may take trip requests from passengers or deliver food via Uber Eats, all from the same app.
You can withdraw money up to five times each day. Your earnings for each trip are determined by a number of factors, including:
Standard trip fare: A base rate calculated based on the length and distance, which varies by city
Surge pricing: Earn more during peak periods with high demand
Tips: Keep 100% of tips from passengers
The same method is used to pay drivers for Uber Eats. Don't forget that you'll have to pay for your car's upkeep as a driver. Uber also takes a service fee out of the drivers' pay before they get paid.
Since Uber drivers are considered independent workers, you'll have to pay taxes on the money you make.
Pros
Earn money on your schedule by accepting work when you want
Drive passengers and deliver food through one driver app
Cash out up to five times per day
Make $10 to $20 per hour after expenses
Cons
Model year requirements can prevent participation
Drivers must pay a service fee, which varies based on factors like cost and time.
Earning potential is limited by location and demand
The driver app can be finicky
OfferUp, which bought a competitor, Letgo, makes it easy to sell things online with a store that is simple and easy to use.
OfferUp is the best free money-making app for selling old things to make money because it makes it easy to list items and lets users choose whether to sell locally or across the country.
Users can add a new product by uploading a picture, writing a description, and setting a price. You can set a firm price that will go to the first interested buyer or an asking price that can be negotiated.
Through the app, viewers can talk directly with the seller to ask questions or show interest.
OfferUp is mostly used for local sales, but users can also send items. You can set an item to "buy now" and set a price for shipping, so you don't have to keep an eye on deals and messages.
Since most deals happen close to home, sellers usually pay in cash. When an item is shipped, buyers have two days to look at it and decide if they want to buy it. The cash is then sent to the seller within five business days.
Promoting your things helps people who might want to buy them find them. You can promote your item by either making a one-time payment or buying a ticket.
Users can show that they are who they say they are by verifying their contact information or linking a Meta account.
For local transactions, OfferUp protects users by suggesting safe public places to meet based on lighting, security, and more.
Pros
Message potential buyers directly in the app
Simple to upload an image and sell
Set either a firm price or an asking price, with room for negotiation
Receive cash payment for local transactions or ship products nationwide
Cons
Unless you choose to ship, you're responsible for delivery
Search results favor Promote Plus members and other promoted items
Shipping an item incurs a 12.9% fee (or a $1.99 minimum fee)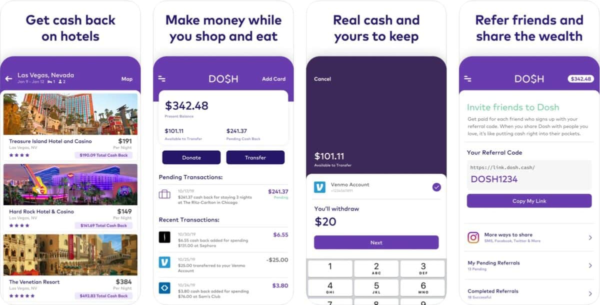 Dosh App is one of the best online cash-back apps that will earn you money.
This app helps users to earn extra cash whenever they purchase any product online. You can also earn 10% to 40% cash back when patronizing a Dosh's partner restaurant or hotel.
When you sign up, you will be instantly rewarded with a bonus of $5.
The extra cash from this app can be used to shop, book hotels and travel activities, and also dine out with more than 100,000 nationwide merchants and brands.
However, if it's cash you prefer, you will be paid instantly into your PayPal account.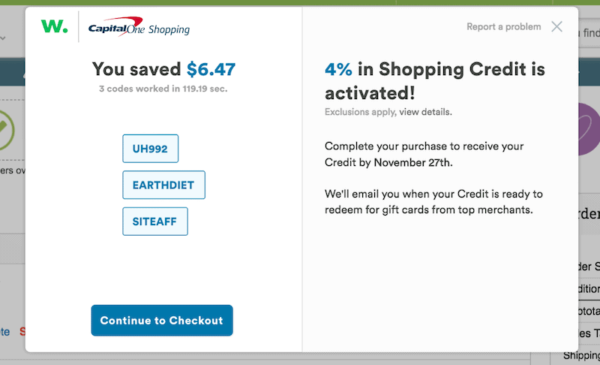 Capital One Shopping (formerly Wikibuy) is a savings/coupon shopping app and browser plugin that lets you compare prices between different online stores, helps you find better coupon codes, and even helps you find better deals among the many sellers on Amazon.
When you buy things online through Capital One Shopping, you can earn points that you can use to purchase gift cards.
For example, you can get 1% back when you shop at Dell.com, 2% back when you shop at Walmart.com, 9% back when you shop at JCPenney, or 4% back when you shop at Groupon. Friends, saving money is the same thing as making money.
Use the Capital One Shopping app to start your shopping trip and win rewards. Average credits at many stores are between 2% and 10%, and some stores offer double credits for a short time.
Pros:
100% free to sign up and use
Does in-store comparisons with free mobile app
Automatically adds promo codes at checkout
Price drop alerts on wishlist items
Cons:
Tracks your online activity (although very secure)
Have you ever signed up for a service, like an online magazine or an odd video streaming service, and then forgot you did?
If the fee is small enough, you might not notice it for a while. Rocket Money, which used to be called Truebill, would like to let you know.
Connect your main savings account or any other bank account to the free app, then let it do its job. Rocket Money is an app perfect for cutting down your bills.
The app will look at how you spend your money and find regular charges you might want to eliminate. You can keep paying a bill if you're going to. Rocket Money can end the subscription for you if you don't.
And this app has more to offer. Rocket Money can talk to your service providers and try to get your regular fees lowered. The service can also keep an eye on your utilities, like your cable, so you can report problems and try to get your money back.
Pros:
Free version available
Will catch old subscriptions and forgotten service charges
Offers trends, insights, and price reductions
Cons:
Keeps a large percentage of your savings (free version)
Must allow access to bank account and transaction history (although very secure)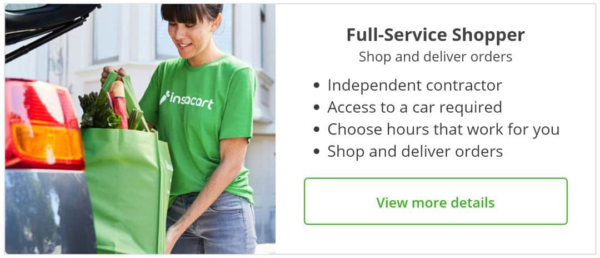 Instacart is one of the best odd job apps to make extra cash. People may use Instacart more than any other shopping delivery service in the country. It does business in all 50 states and always opens up in new places.
As a full-service buyer for Instacart, you can make money. Instacart will do a background check after you sign up and answer questions about yourself, your phone service, and your car.
Once you've been accepted, you can open the app and set your schedule for the next week. In some places, you can immediately take orders as they come in.
No matter what, you can either turn down new orders or take them. How much you make depends on your hours, where you live, how far you have to drive to bring an order, and how hard the order is. You might also get a tip.
Pros:
Gives you 100% of tips
Lets you set hours
Requires less driving than Doordash
Offers entry-level work with minimal requirements
Cons:
May require heavy lifting
Caps hours at 29 per week
Robinhood is an investment app that makes investing fun, which can be good or bad depending on how disciplined you are as an investor.
The Robinhood app is smooth, sleek, easy to understand, and fun to use. I look at it at least 20 times daily, and sometimes even more. It's addicting, making it easy to trade daily, which is a bad way to spend.
My main investment plan is to put money into low-cost, diversified index funds, which you can do without Robinhood. But I also like to buy individual stocks; the best app for that is Robinhood.
Robinhood is known for letting customers buy and sell stocks, ETFs, mutual funds, and options in a trading account without paying any fees.
Pros:
Commission-free trades on stocks, funds, and options
Next-level cryptocurrency platform (also commission-free)
Intuitive, easy-to-use website and apps
Robinhood gives you a free stock when you open an account
Cons:
Customer support only via email and chat
No checking or savings accounts
Can't invest in tax-advantaged retirement accounts like IRAs
This app is good for gamers who wouldn't mind earning fast money for themselves. With the Long Game App, you can win up to $100 for every game you play.
You must download the app, sign up, and link your account with your bank details. It's quite normal to be uncomfortable linking your bank account details to the app, and you can proceed if you don't feel edgy about it.
But if linking your bank account worries you, open a new one that you can link to the app.
You are expected to fund the account with a minimal amount of $5, create an automatic saving deposit, and get rewarded with free coins that can be used to play games on the app.
Users are being rewarded with 40 coins for every $1 deposited into their accounts. The best part is that you can earn 300 points (that can be used to play games) for just linking your account.
Upwork is the best app for making money because it's easy to use streamlined communication, and freelancers can earn more over time. This is true whether you're looking for a side job or trying to build a full-time freelancing business.
Upwork is the best app for skilled workers to connect with clients and manage jobs all in one place. It is a freelance marketplace that helps the gig economy grow.
Upwork is the best overall because it has the most skill categories, tools for making a profile, and the most ways to make money.
No matter your experience, Upwork makes it easy to make a profile and apply for new jobs. Freelancers can find work in over 1,600 areas, including digital marketing, code, translation, administrative work, and more.
You can do anything on Upwork that you can do on a computer. You can apply for one-time jobs or find long-term work with clients through Upwork. You'll be a more attractive choice for jobs in the future if you get new reviews and your Job Success Score goes up.
Freelancers who meet the requirements may be invited to special chances. If you are a newbie, you need to learn how to navigate the app and how to get your first gig on Upwork.
Upwork's Payment Protection program holds money for a project in escrow. This helps make sure that workers are paid safely and on time.
You can get paid in many ways, such as by direct deposit, PayPal, wire transfer, etc. Freelancer fees run from 5 to 20%, which is not good.
Fee percentages go down the more money you make from a single client. Your account doesn't get the money until 10 days after the end of the weekly billing run.
Pros
Simple profile set-up to find work in over 1,600 skills
Attract new clients based on reviews, total earnings, and score
Pursue ongoing or one-off projects by applying directly or receiving an invitation
Payment protection ensures payment for successful work
Cons
Service fee between 5% and 20%, depending on total earnings per client
Payment is delivered 10 days after the billing period ends
Clients can easily shop for and select lower rates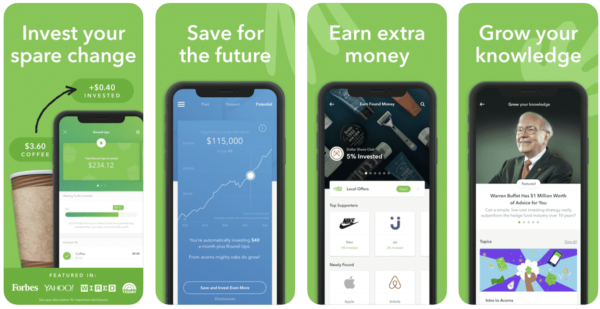 The Acorns app is one of the best means of making fast money from your Smartphone. It provides users with free cash to invest in stocks.
However, users will be required to link the app to their debit or credit card. This is because Acorns will need to round up all the charges from your online purchases to the nearest dollar, and then it will help you invest the difference.
So, if you want to buy a dress from an online store that costs $12.47, Acorn will round up the charge to the next dollar. This means that the dress will cost you $13.
Acorn will help you invest the $0.53 change. This change will be kept in your investment account, and you can earn double of what you invest.
Users are often rewarded with a $5 free signup bonus and can earn more than $1500 annually.
M1 Finance is a robo-advisor that manages and rebalances an investor's account with the help of an algorithm.
We do suggest the platform to both new investors and more experienced investors who are looking for a hands-off, easy-to-use investing platform with a great user experience.
The team at M1 Finance has done a great job selling their service to Millennials, who are becoming more interested in investing.
When I look online for personal finance and investing information, M1 Finance ads are hard to avoid on most websites.
M1 Finance is a good choice for new investors who want a simple way to start investing and a website that is easy to use.
Pros:
Free trades and no Assets Under Management fees
Invest, borrow, or trade money all in one place
Very intuitive mobile app and web platform suited for savvy investors
Cons:
Limited customer support
No human advisory services—robo only
Limited trade windows
If you do odd jobs for a living, you might want to check out TaskRabbit, a site that helps people save time on everyday tasks. TaskRabbit is similar to Craigslist, but it has more safety features.
Clients check out and review Taskers so people can be sure they aren't getting ripped off.
As a Tasker, you can do things like paint houses, assemble furniture, or fix things around the house.
You might be able to charge more per hour if you have a lot of knowledge in a certain field, but the site also has jobs for people with less experience.
But if you get good customer reviews, you could build up a good side business on Taskrabbit.
To sign up, just make a biography and keep it up to date with your hours. The clients will take care of the rest. On the site, they can make arrangements.
Once the job is done, you'll be paid through the app and get to keep all the money you made, plus tips.
Pros:
Based on the hourly rates you set
Offers over 50 services
Doesn't feature fees or commissions
Pays by direct deposit
Cons:
Only available in select cities
Mixed customer service reviews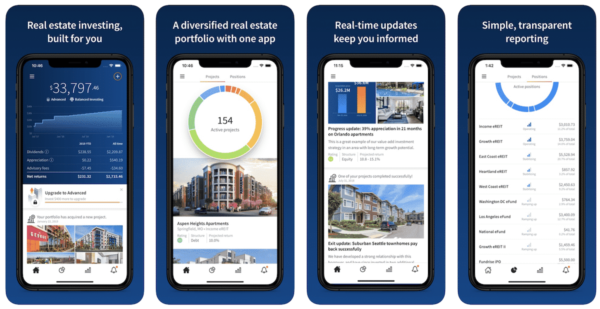 The Fundrise app is one of the smartest means of earning fast money online.
This app allows you to invest in real estate and generate up to 8 -10% of your investment with an initial deposit of $500.
If you're looking for a passive way to make money through real estate, then this app is for you. The payment options range includes PayPal and more.
The credit to your account is instantaneous, and there is no limit to the amount you can withdraw from your account.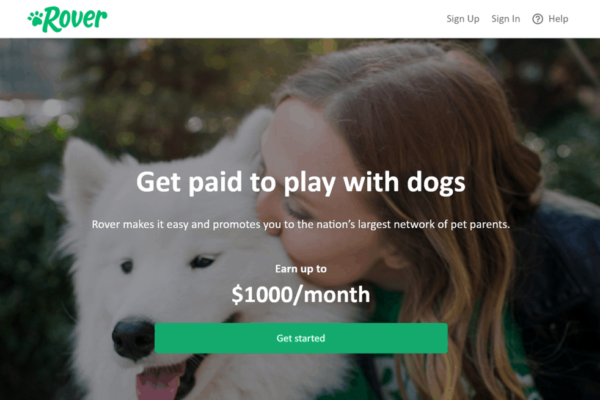 Rover could be for you if you love animals and want to make some extra money by taking care of other people's pets.
Rover offers dog walks, pet and house sitting, boarding, drop-in visits, and doggy daycare. After Rover's team checks your past and approves you, you can make a profile and start booking gigs.
Pet owners who have used your services can leave reviews on the site, which can help build your image and reputation.
Rover, one of the best dog walking apps, says that caretakers who offer to board animals make up to twice as much as other sitters.
Rover lets you set your own prices, but it takes 20–25% of your charge. You could market your pet-sitting business and avoid these fees if you wanted, but the ease might be worth it. Rover lets you pay online in a safe way.
Pros:
Has high earning potential
Lets you set your schedule
Takes a smaller commission fee than Wag
Provides pet care education and vet tech assistance
Cons:
Doesn't offer direct deposits
Charges a $5 fee on payments unless you use Paypal
Decluttr is similar to Poshmark, but it has its own twist. Instead of clothes and accessories, it is a place to sell your electronics easily. You can sell your computers, phones, tablets, video game systems, DVDs, and Blu-rays through the website.
The app is simple to use. After you sign up, you must scan the barcodes on your CDs, video games, and DVDs, and the app will tell you if they are accepted or not.
Decluttr will offer you tech things like cell phones and laptops based on their make, model, and condition.
You are guaranteed to get the original price from Decluttr, or you can ask to have your tech things sent back to you for free.
The app works best on devices that aren't too old and are in good shape. If you want to eliminate a big cell phone from the early 2000s or old games or platforms, you might want to switch to a different one.
Pros:
Shows current most popular resell items on the site
Offers free shipping
Provides quick, direct deposits, Paypal, or charity donations
Has solid BBB and TrustPilot ratings
Cons:
Requires at least 10 media items or 1 tech item per order
Offers are subject to change upon inspection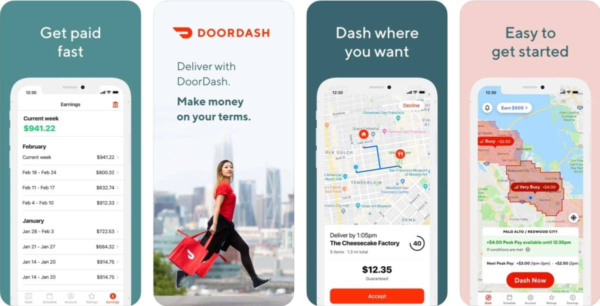 Another site that lets you use your car and free time is DoorDash. Doordash is the market leader for food delivery apps. It is a famous competitor of Uber Eats.
With DoorDash, you can have food delivered from some grocery stores, markets, and grocery shops that are part of a chain.
DoorDash sets a minimum base price for each order, which can be anywhere from $2 to $10, depending on time and distance.
You can see the base pay amount for an order before you take it. This amount may increase if it's Peak time or you earn Challenge bonuses in the app. You get to keep all of your tips as well.
Since Doordash recently bought Caviar, you can now buy it through the Doordash app if you live in an area where Caviar is used.
Pros:
Guarantees some work with optional scheduled shifts
Offers Peak Pay at busy times
Doesn't prohibit passengers
Encourages generous tipping
Cons:
Charges $1.99 for instant payments
Has limited shift availability, especially in more rural areas
Poshmark started in 2011 and is best known for its used clothes, shoes, and items in good condition.
You can also buy and sell electronics, home decor, goods for your pets, and beauty supplies on the site.
The site is easy to use. After you sign up, you can post pictures of your items, write a short description, and set the price. Shoppers make deals, which you can choose to accept or not.
Once Poshmark gets your cash, it will email you a pre-paid shipping label. When the buyer gets their order, Poshmark will send you a check or make a direct deposit.
The best way to do well on Poshmark is to post good pictures and descriptions and sell well-known names.
Pros:
Great user experience
Covers items that are lost or damaged during shipping
Pays for shipping
Issues payments within 3 days
Cons:
Charges a seller fee
Has mixed customer reviews
Fiver is where workers can find work in more than 200 fields, like SEO, writing, graphic design, and virtual assisting.
After making a free account, you can make a biography that tells people about your skills, services, and prices.
On the site, buyers can look at your profile and book jobs. When the job is done, you get paid. Users can get paid through direct transfer, PayPal, or a pre-paid Fiverr card.
The more sales you make, the more levels you can move up to. As a top-rated seller, you can post more items and get help from customers faster.
Freelancing can be a great way to make a lot of money. A site like Fiverr could help you start your job and earn you more money than doing online surveys or delivering packages.
Pros:
Has a high earning potential
Doesn't require you to bid on projects
Provides a wide variety of project needs
Lets you set your rates
Cons:
Charges sellers a 20% commission
First gigs can be hard to land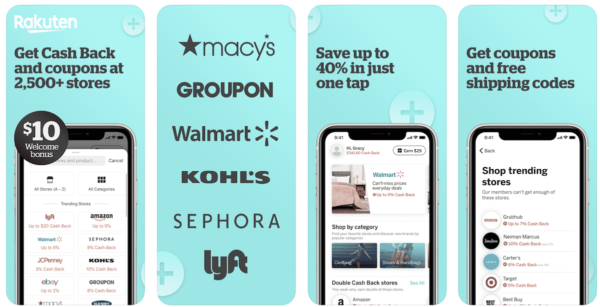 Rakuten is a legit app. If you shop through their app or website, you can make money. It's free to use in every way.
Rakuten makes money when people use their software to buy things, and they have chosen to share that money with you.
You can earn anywhere from 1% to 40% on purchases made through Rakuten from more than 2,500 stores, including famous ones like Amazon, Target, Sephora, and Nordstrom.
You can search for your favorite stores or look through Rakuten's helpful categories, such as toys and beauty goods, or special deals, such as double cash back stores.
Rakuten is legit, but you might have to wait a while for your benefits. Rakuten only sends out payments once every three months. Payments are sent directly to your PayPal account or in the form of a check.
With this app, you can save money at over 2000 stores mentioned on the site and earn between 1% and 20% cash back from these stores.
Rakuten will give you $30 if you tell a friend about them. This app gives its users a number of ways to pay, and there is no limit on how much they can take out of the Rakuten app.
Check out Turo if you want your car to make money for you without you having to drive it. You can rent out your car to other Turo users in the US, Canada, and the U.K. through the app and website.
It's popular because it often has lower prices than rental car companies. You can set your own rental rates or use the ones Turo suggests.
You can also use the site's planner to get an idea of how much you could make each month based on the car, where you live, and how often it's available.
Your car is covered for theft, damage, and responsibility up to the amount of $750,000, which is a nice feature of Turo.
65–90% of the money you make on the trip is yours to keep. Most types of cars can be rented on Turo, but Jeep Wranglers are the most popular model generally.
Pros:
Lets you earn more by adding extras like refueling
Has a snooze feature if you want to take your car offline temporarily
Can provide passive income
Gives you control over rental fees
Cons:
Takes substantial commissions
Long turnaround time on customer support for claims
It's quite amazing how one can earn money just for having an opinion. Do you know that Google would love to pay for your opinion on topics?
Google Opinion Reward is an app developed by Google. It is available in over 34 countries and pays you for participating in very short surveys occasionally.
Your opinion on the hotel you stay in and the products you use is needed by Google, and so they are willing to pay for your honest answers.
You will be rewarded with $1 per survey you participate in (most of them take just 20 seconds to complete), and your money will be reflected in your account in less than a week.
If you use IOS devices, you will be paid via Paypal, but if you are an Android phone user, you will be paid via Google Play Credits that are redeemable on the Google Play Store.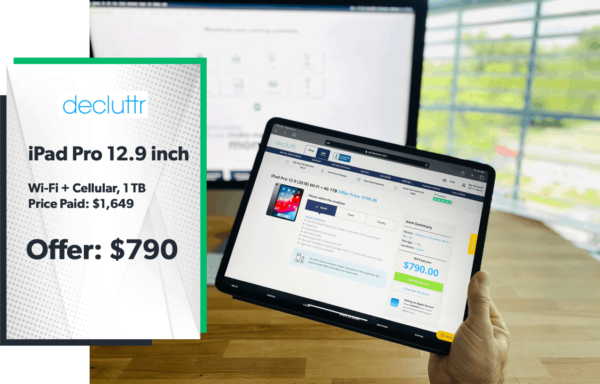 Decluttr is similar to Poshmark, but it has its own twist. Instead of clothes and accessories, you can sell your computers, phones, tablets, video game systems, DVDs, and Blu-Rays through the website.
The app is simple to use. After you sign up, you must scan the barcodes on your C.D.s, video games, and DVDs, and the app will tell you if they are accepted or not.
Decluttr will offer you tech things like cell phones and laptops based on their make, model, and condition.
You are guaranteed to get the original price from Decluttr, or you can ask to have your tech things sent back to you for free.
The app works best on devices that aren't too old and are in good shape. If you want to eliminate a big cell phone from the early 2000s or old games or platforms, you might want to switch to a different one.
Pros:
Shows current most popular resell items on the site
Offers free shipping
Provides quick, direct deposits, Paypal, or charity donations
Has solid BBB and TrustPilot ratings
Cons:
Requires at least 10 media items or 1 tech item per order
Offers are subject to change upon inspection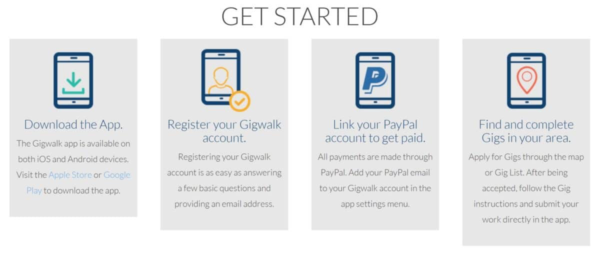 Gigwalk is a one-of-a-kind app that helps businesses collect data and get things done.
Even though the name isn't as well-known as some of the other sites in this review, more than 1.7 million Gigwalkers get paid to do different jobs.
Most jobs have to do with a brand. For example, you might be asked to check that a product is priced or displayed properly in a store.
It's easy to sign up. Set up an account, answer a few questions about yourself, and then link your PayPal account to start getting paid.
The app keeps track of all your work, and you can set your schedule based on what jobs you want to do. Tasks can take from a few minutes to a few hours.
Pros:
Lets you choose gigs that interest you
Offers simple 5-minute gigs
Doesn't have fees outside of Paypal
Has high earning potential for some tasks
Cons:
Only offers Paypal payments
Has limited opportunities in smaller cities
Other Best Money-Making Apps To Earn You Quick Cash
It's easy to make money with the Airbnb app. With it, you can rent out your extra room and make up to $1,500 per month.
Airbnb lets you make money immediately by renting out your room, house, or any other empty property. You can put your property on the website of the accommodation aggregator and reach billions of people worldwide.
Since Airbnb is so famous, you don't have to worry about advertising or marketing. Airbnb takes care of everything for you, from promotions to getting bookings.
You can easily rent out your empty property and make some money. Airbnb protects your home and things with $1M in insurance against property damage and $1M in accident insurance for every booking.
Airbnb also lets you share your stories and give tours of your area. You can also make extra money by giving extra services like dining, transportation, and cultural activities.
You can find people who want to rent a room for a few days or weeks through Airbnb. All you have to do is sign up for a few nights out in a month in your extra room.
Even if you don't have a place to rent, you can still make money on Airbnb by:
Becoming a Short-term Rental Property Manager
Joining a Vacation Rental Franchise
Becoming an Airbnb Consultant
Signup for the Airbnb Rental Arbitrage
If you are a thrift lover, then you shouldn't pass up on this app as you can earn fast money on the thredUp app. It's the best app to sell thrifts.
When you order a free kit, you will be given a bag filled with thrifts such as shoes, handbags, and clothes you probably don't need again. Then, you would be paid by the brand that purchases them.
It's a way to earn money from items that are no longer useful to you.
Tapestri is my new favorite app. It pays people up to $25 monthly to share their location information.
It's passive; you don't have to do anything with the app to make money. Just leave it set up every month, say "go," and get your goal money.
You probably already share your location with a lot of apps on your phone, like Starbucks, Snapchat, Waze, and pretty much everything else, so you might as well get paid for it.
Tapestri uses your anonymous data and the data of thousands of others who have installed the app to help big brands learn more about how people use their products.
They mostly want to know where you shop, how often, and for how long. This helps brands figure out how to advertise their products in the most effective way possible.
People who use Neighbor make passive income by storing other people's things in their homes. With this app, you could make money from a shed, closet, or attic that you don't use.
Renting out your space takes a little bit of time upfront, just like any other way to make passive income.
But Neighbor does most of the work for you by putting you in touch with renters in your area.
You'll put up an ad, and renters will contact you to book your space. You have 48 hours to look at the candidate's profile, ask questions, and make a decision.
If you don't do something within that time, the reservation will be canceled on its own.
Ibotta is one of the best cash-back apps today for earning fast money.
This rebate app allows users to enjoy cash-back whenever they shop online from major stores.
When you sign up, you will be rewarded with a $10 bonus, and when you refer three of your friends to the app, you will be instantly rewarded with $100.
What a hassle-free means to make money! This app has payment options that fit its users, such as PayPal gift cards and direct bank transfers.
The Sweatcoin app keeps track of how much you move around. It keeps track of what you do, encourages you to reach your physical goals, and prizes you.
How is it that Sweatcoin can pay you to walk? Easy: They make money by putting ads on the app's store page.
For about 1,000 steps, you'll earn 0.95 Sweatcoins, which are worth about $.05. This won't make you a lot of money unless you run marathons, but if you're healthy, why not make a little extra cash?
You can cash out early if you want, but be patient because you can get more money if you meet certain goals.
You can get $100 in cash for just over 7,000 Sweatcoins or $1,000 in cash for 20,000 Sweatcoins. That's a much better payoff for all your hard work!
Digit is one of the best apps available online to check your accounts. When you sign up, you will be rewarded with $5.
Once you link this app to your checking account, it uses its algorithms to add up small cash amounts that can be easily withdrawn into a different FDIC-insured savings account.
Blackout Bingo is a competitive bingo game where you can play against other people. Users who pay attention will do better in the game.
Bingo fans can play for free to earn "Zs," which can be exchanged for gift cards or other items. But you have to play for about five hours to get one star.
Pay at least 60 cents to play games with $1 to $755 prize pools to win cash. (You have to pay to win cash, so we only gave it a 2.5 out of 5.)
This app is best for bingo players who want to win cash prizes and are ready to spend time and money to do so.
If you like bingo and can pay the small entry fees, this app could be fun and give you a chance to win.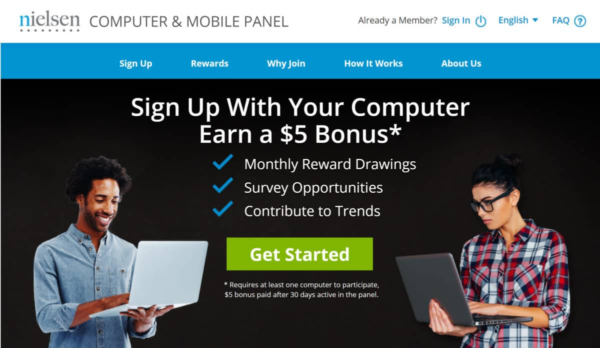 Nielsen is one of the best apps that will earn you fast cash. And guess what, it's free.
It is a company that needs data on web usage trends, and so it is willing to pay you $50 for keeping its app on your phone and allowing it to run in the background.
You only need to download the Nielsen app and keep it on your preferred browsing device.
Nielson is a reputable company that will not infringe on your privacy. It only needs data on your internet browsing history and how you use it.
It uses this data to help companies with their customer research activities. This app also organizes a $10,000 giveaway every month. As a user of this app, you can earn up to $100 from your comfort zone without any hassle.
5 Miles is one of the best marketplace apps that will earn you money in no time. This app will allow you to buy and sell anything that you desire.
Only you decide who you want to sell your things to, the amount you are willing to sell, how far you are willing to travel to make the trade transaction, or even if you want to pay in person.
5 Miles is also very helpful in finding a safe location to meet up with the other party to finalize the transaction. It also has various payment options that will make withdrawal hassle-free for you.
The payment of money into your account is instant, there's no delay, and there's no limit to withdrawals.
This unique app allows you to make up to 14% every year on any amount of money you lend out to your friends and other persons as a personal loan.
You need only $25 to start earning fast money on the LendingClub app. The app has a range of payment options to make your withdrawal easy to do.
Trim app is a unique app that enables users to save money. It doesn't help you make money but acts as your financial manager and helps you cut your bills automatically.
The Trim App does the following for you:
Bill Negotiation: It reaches out to companies and negotiates with them on how to cut down your bills. It also enables you to get better rates for all your bills.
Build your Savings: With your permission, Trim automatically deducts money from your accounts for savings. It is an FDIC-insured company, so don't panic.
Lower Credit Cards APRs and Bank Fees: It will reach out to your bank for a refund when there are unfair bank fees. It will be negotiated with your bank.
Finds and Cancels Unwanted Subscriptions: Trim will help you find and cancel subscriptions that you don't need. It will also negotiate for a reduction in your subscription bills.
And yes, it isn't a money-making app. But it can enable you to get back up to 50% of your daily spending.
Swag I.Q. is an online trivia app that allows you to earn up to $1000 for answering easy questions that were designed to test your level of knowledge.
It also pays you for playing games with opponents on the platform. To get started, you have to download the app on your Android or IOS device.
When signing up, your PayPal and phone number will be needed. And you have to be above 13 years old to be verified.
Swag I.Q. is available in countries like the USA, Ireland, Australia, India, France, Canada, and Germany.
The payment option of this app includes PayPal, bank transfer, and more.
Pinecone is a research app that offers survey invitations to users so they can earn $3 per survey. It also pays you for testing and reviewing new products and services.
However, the invitations sent are not so much, but every two weeks, there is a cash sweepstakes of $500 and another $4500 quarterly that users can join and win.
The Vindale research is a free app requesting your information before matching your profile to the best-fitting surveys.
When you sign up, you will earn a free $2 as a bonus. It also permits users to earn up to $75 in specific surveys. This app pays its users via Paypal, and the money is instantly credited to your account.
Survey Voices is one of the best-paying survey apps that can let you earn up to $300 per week.
You will get paid for just talking about how you feel about popular products and brands. In other words, you get paid for giving feedback after using a product.
Shopkick is a shopping app that will let you earn fast money from shopping that you have already done.
You will get points for scanning and purchasing products from Shopkick's partner's store. Shopkick will also pay you to complete several surveys for major brands.
Who wouldn't love to get a free $10 Amazon gift card? That's what you will get for just trying out this site.
You will get paid for shopping online from the stores listed on the site. You will also get paid for printing coupons, watching videos, taking surveys, and playing games.
And when you purchase a $20 product, you will be rewarded with 1750 bonus points. These bonus points can be redeemed and can earn you an Amazon gift card.
Fetch Rewards is a good mobile reward app that lets you earn fast money for just shopping. When you sign up with the app, you will be rewarded with $2.
All you require to earn on this app is to download the app, get a referral code, scan the receipt of the store you purchased things from, and you will be paid instantly on Paypal.
Do Money-Making Apps Really Work?
Yes, apps that make money do work. But it's important to keep your goals in check. Most of the time, you won't be able to make a lot of money.
Most of these apps were not made to help you make a full-time living. Instead, you should think of them as tools you can use to make extra money in your free time.
At the same time, there are some money-making apps that, if used regularly, can make a good amount of money.
One example is the shopping area that gives you cash back. You probably shop online if you're reading this.
And if you don't use a cash-back app like Swagbucks or Rakuten, you're paying more for everything you buy than you have to.
Depending on how much money you spend online in a year, apps like these could save you hundreds of dollars.
And then there are apps like DoorDash and Uber, which are great options if you're looking for a part-time job or a side hustle.
This category of apps for making money takes real work, but it also gives you a lot of freedom and pay that usually ranges from $15 to $25 after tips.
Are Money Making Apps Safe?
Most apps that help you make money are safe, but you should know a few things before downloading one. First, you should know that almost all apps that make money collect some kind of information about their users.
This could include basic information like your name, where you live, etc., but it could also include more personal information like how you use the internet.
Read the app's privacy policy if you're worried about data collection. Of course, privacy rules are often written in legal language.
So, it's a good idea to check the company's FAQ or knowledge base to see if they give clear and easy-to-understand information about what data is taken and how it is (or isn't) used.
People also worry about the safety of their financial information, like their bank login information or account information.
Usually, to get paid by an app that helps you make money, you have to give the app your route and checking numbers or link your bank account through a third-party service like Plaid.
Most people think that services like Plaid are safe, so we believe you should feel good about using them. On the other hand, we don't like directly entering our bank account information because we don't always know how to secure an app.
When this happens, you should set up a free online bank account that you only use for apps that make you money.
How Do You Avoid Scams?
Pay close attention to user reviews when looking at money-making apps, especially those on the Google Play Store and iOS App Store.
Companies can't change or get rid of reviews that show on the official app stores, which is different from some other user review sites.
So, if an app is a scam, it's likely that you'll find out quickly from what other people say about it.
Sort the reviews by how bad they are, and read three to five of them to see the most common problems.
If many people have trouble getting their money out or can't reach customer service, it's best to stay away from the app.
You can also search r/BeerMoney, which is a famous subreddit where people talk about their experiences with different apps.
How Do Money-making Apps Make Money For Themselves?
There are many different business plans and ways to make money with apps that these companies use to make money.
Companies that do online surveys sell the information they gather to other businesses that want to improve their goods and services.
Many apps that are part of the gig economy take a cut of each exchange.
Cash-back shopping apps like Rakuten are some of the highest-paying apps for a good reason: when you click on their links to go to sellers' sites, they get a good commission, which they then share with you.
Apps that give you money always get something in return, whether it's your data, comments, business, or something else.
Keep that in mind when deciding which ones to use, and make sure you're okay with the balance.
Good Read: The 17 Best Odd Job Apps to Earn Extra Cash
Bottom Line
When making this list, our top goal was to ensure every app on it was real and worth using. There are a lot of other apps out there. Some of them work for some people, but others just take your information and waste your time without giving you a real chance to get paid. Depending on your position, you might want to look into them, or you might not. But the best things are on this list.
It's great to be able to make money quickly, but some of these apps take hours to finish a poll. Still, these apps will allow you to buy a pizza when you want to. Only a few of the apps in this piece can give you real money. The rest can only help you make money quickly or passively. So please don't count on any of them as a steady way to make money. We hope our list of apps has given you ideas for making money quickly from home. Don't waste time; start making money right away.
Swagbucks is our pick for the best money-making app because it gives you many ways to make money. If you want a cash-back app, Rakuten is a great choice. Survey Junkie is the best in its class if you wish to take paid surveys. You won't get rich by making money with these apps, but they can help you make a little extra cash. Some of them, like Uber and DoorDash, can be turned into profitable side jobs.
Frequently Asked Questions
Q: Are Money-Making Apps Real and Safe?
Most apps that help you make money only give you a small amount of money for doing easy things like taking surveys, watching videos, or buying things. Apps that are real will also have a lot of information about how they pay users and keep them safe.
Learn more about the company if you don't trust a money-making app. Read reviews from other users online or in the app store before you give out any personal information. Usually, if an app seems too good to be true, it is.
Q: What Is the Best App To Get Free Money?
You know that there are many ways to make extra money with one or more apps that make money. The best way to get free money is to look for signup bonuses or deals that are only good for a short time.
For example, if you sign up for Rakuten and make a purchase, you get a $10 bonus. A store where you often shop may offer 40% cash back for a few days. Some of the best apps for getting money are the ones that give you cash back.
Q: What are the best apps for making money fast?
You can make money quickly by selling things on apps like Craigslist and eBay. DoorDash and Uber are also good choices if you don't want to sell. You can make good money per hour with these two apps and cash out your gains every day (for a small fee). These are some of the apps that pay the most and the fastest.
Q: Do apps that let you make money pay you through direct deposit?
Some apps let you make money pay through direct deposit, while others might use PayPal or a gift card. You should read the app's terms and conditions to determine how you will be paid.
Q: What are the benefits of using money-making apps?
Money-making apps have many perks, such as letting you work from home, set your own hours, and choose which jobs you want to do. Also, many apps that help you make money offer bonuses and rewards for finishing tasks or referring others.
Some apps even have widgets that you can reach from your phone's lock screen. These widgets can give you the most up-to-date earnings, jobs, and more information.
Q: What Apps Make You the Most Money?
This post lists the best apps for making money. Taking surveys is a quick and easy way to make money. It's also good to get cash back on your purchases, which can be more helpful than store membership cards.
Especially if you were going to buy those things anyway, if you have a $5 or even a $10 signup bonus and may get paid, these deals can be profitable.
Q: Are Lyft and Uber good for making money through an app?
Lyft and Uber are two of the most well-known apps that can help you make money. You can give rides to people in your area with both services and make a good amount of money this way. But it's important to remember that you'll need a car that's in good shape and meets Lyft or Uber's standards.